Saturday, September 28 - Weiss Birthday Party & Dance - A big group gathered for a fun afternoon in Plainview to celebrate Roni and Sampson's recent birthdays. It was held at a place that has gymnastic classes as well as other things. The younger kids had a large time bouncing on the in-ground trampolines.
Friday, September 27 - Goose on the Loose - Aspen's geese were enjoying the cool morning, grazing out in front of the house.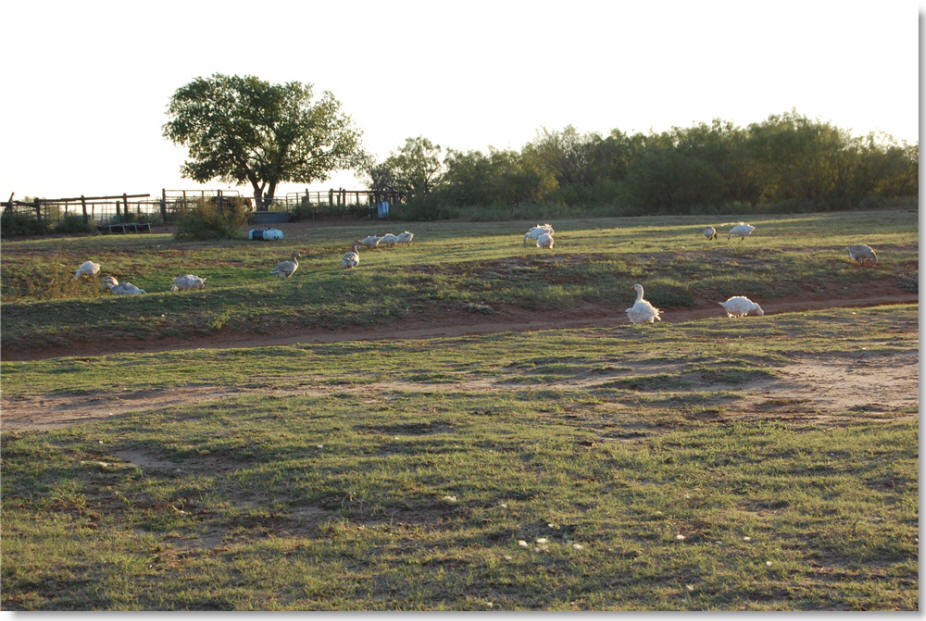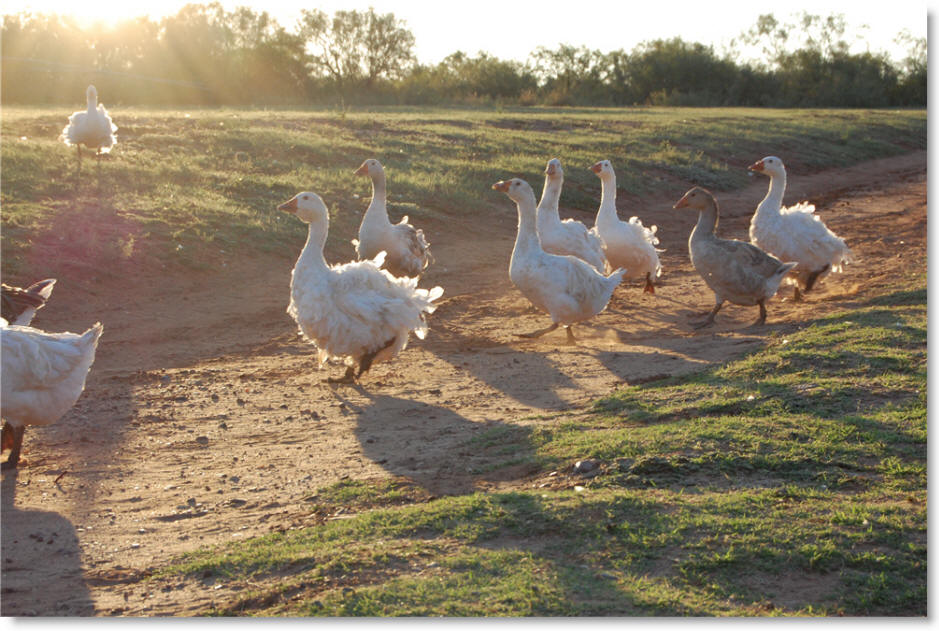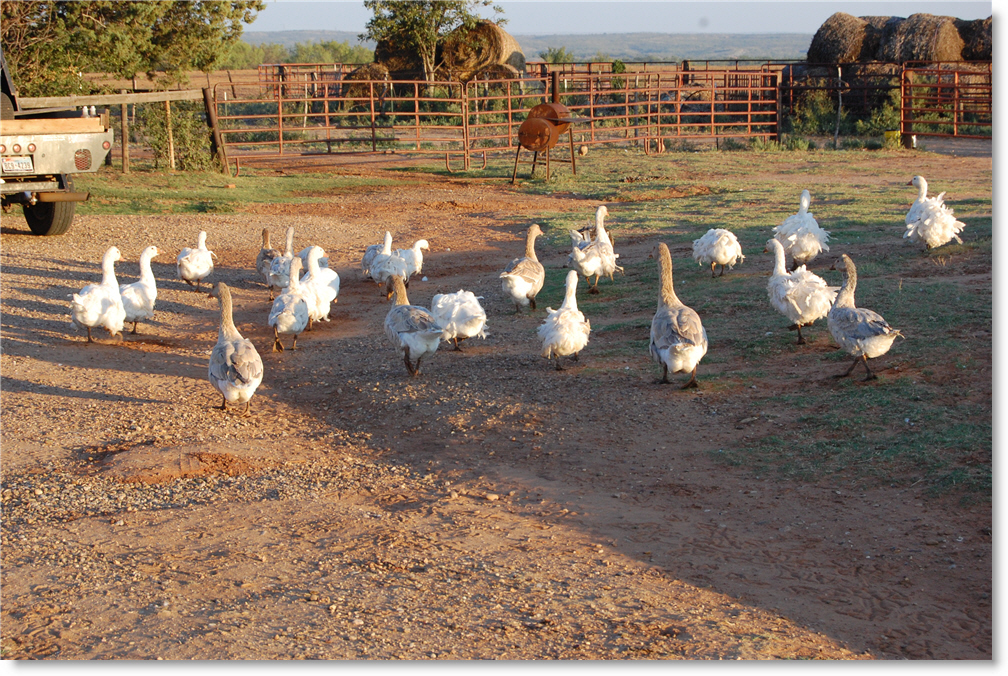 Tuesday, September 24 - Trip to the Fair - We had a fun group and nice weather today for our fair visit. Mambo, Granny, Sunny and Jim, Windy, Carolina, Stockton, Hannah and Avery, were the members of our little band.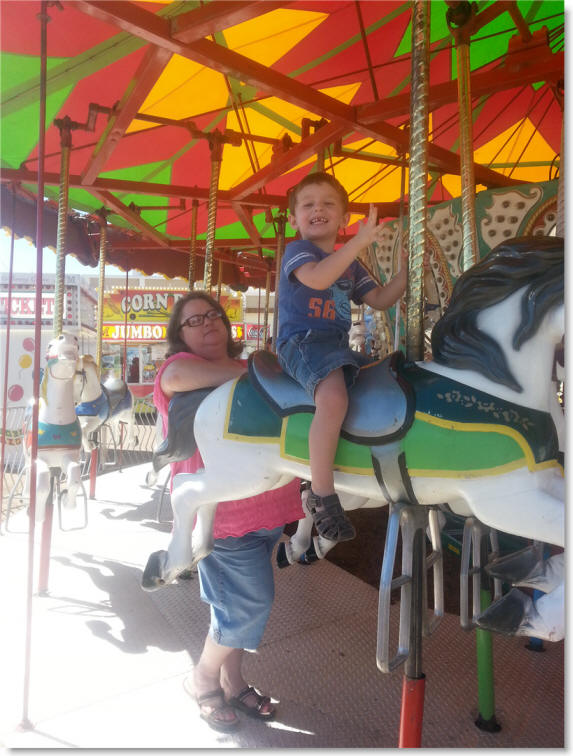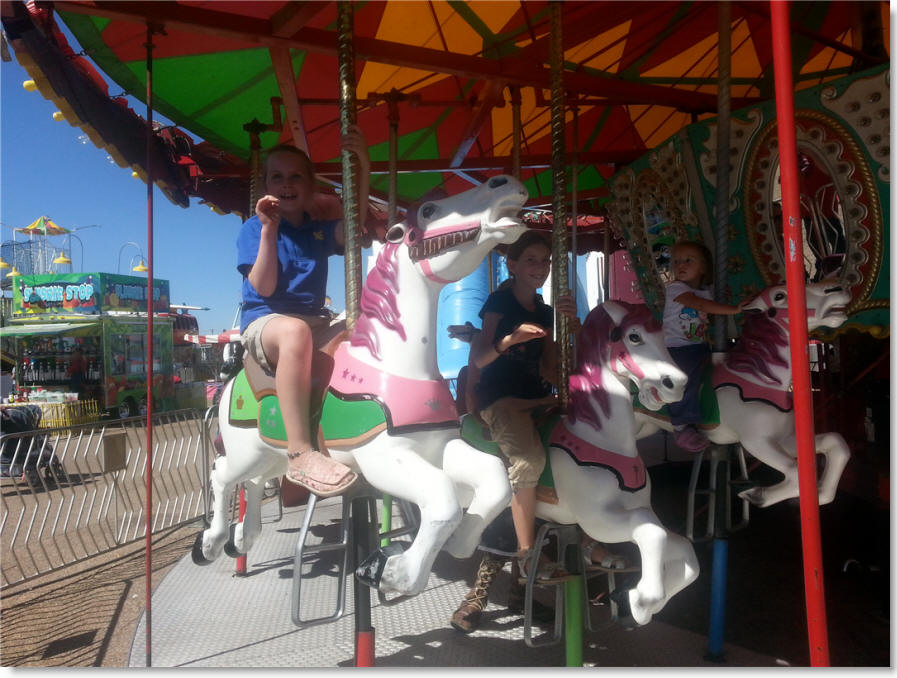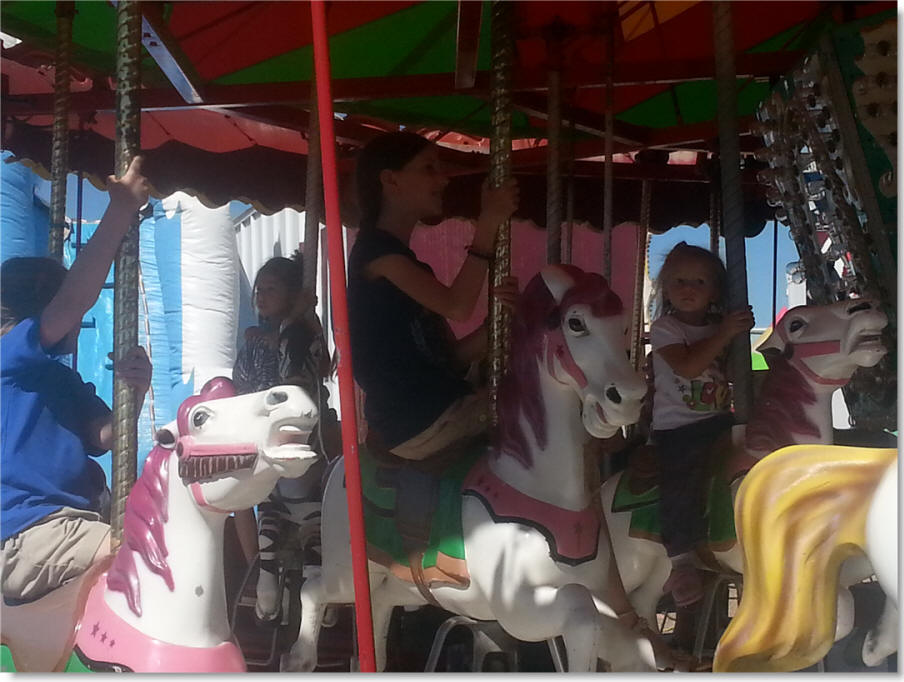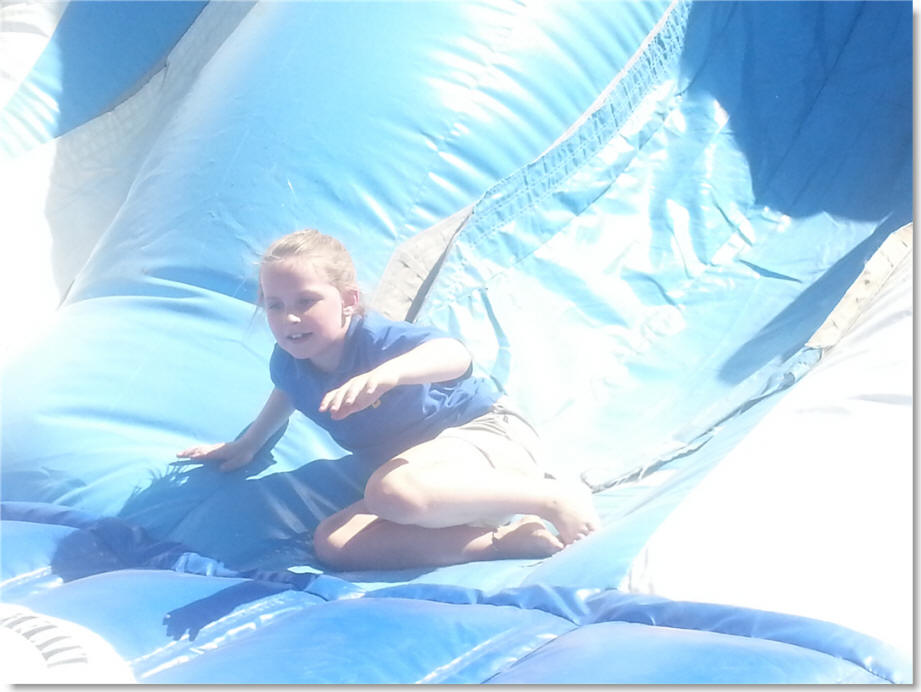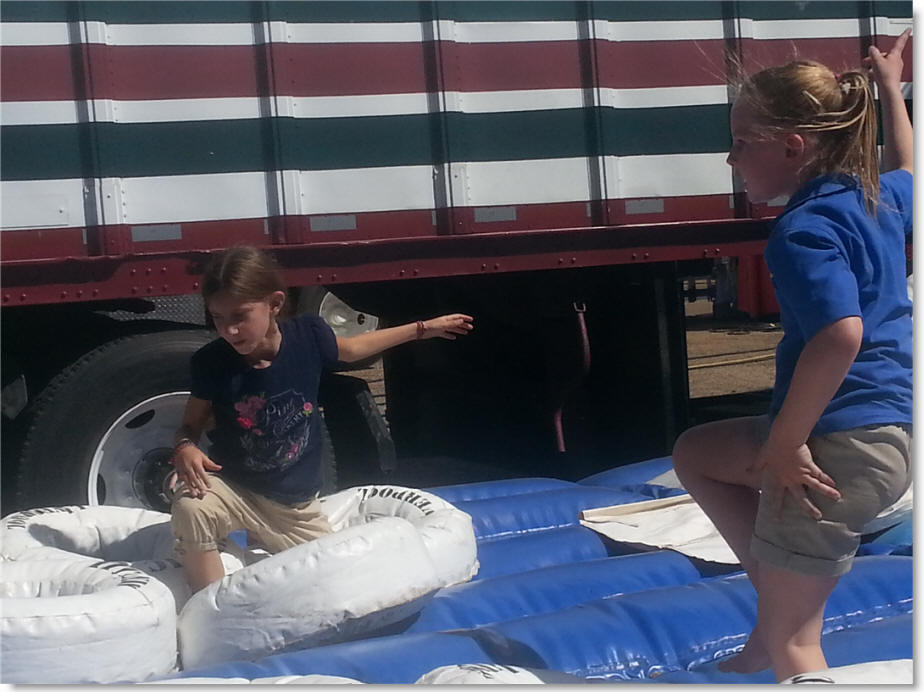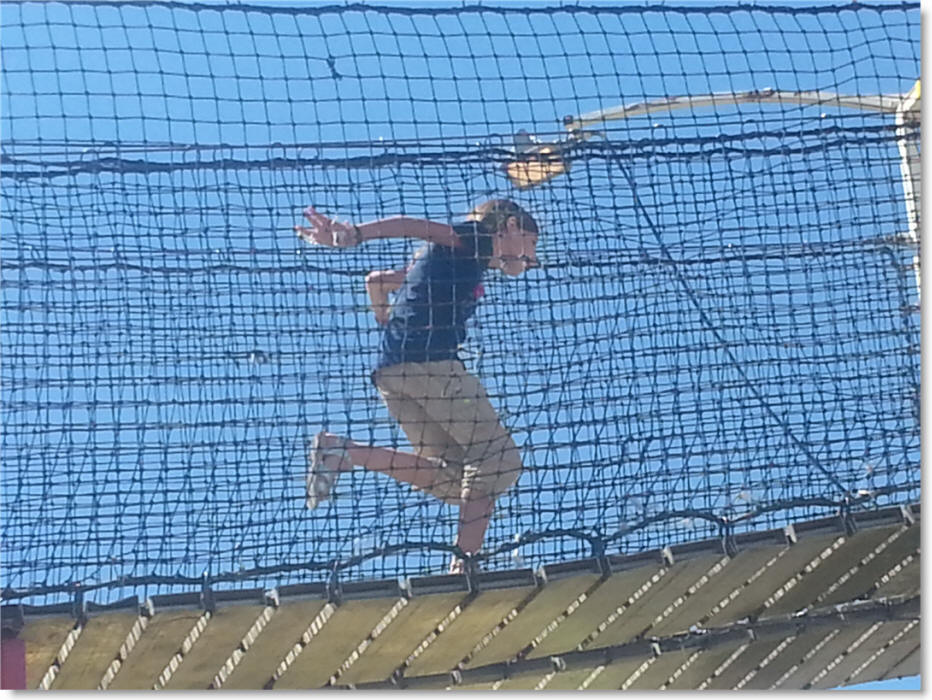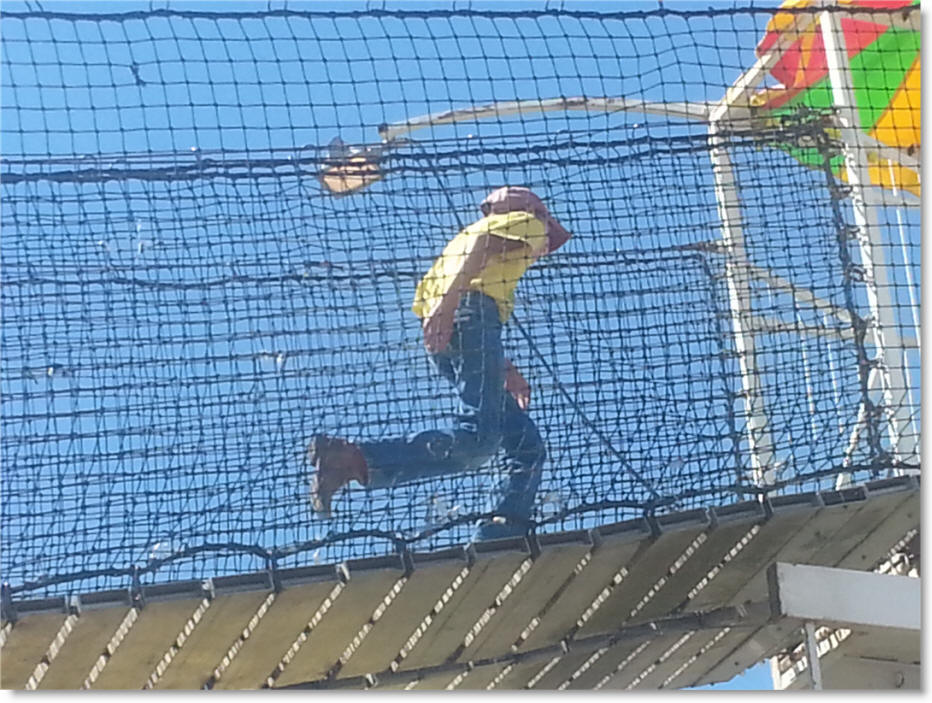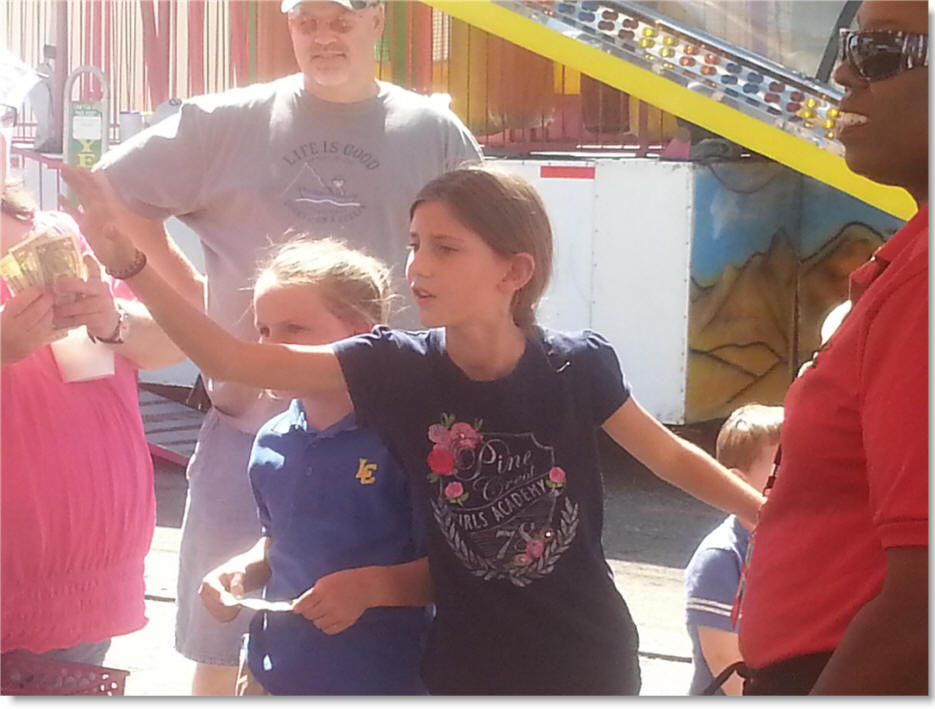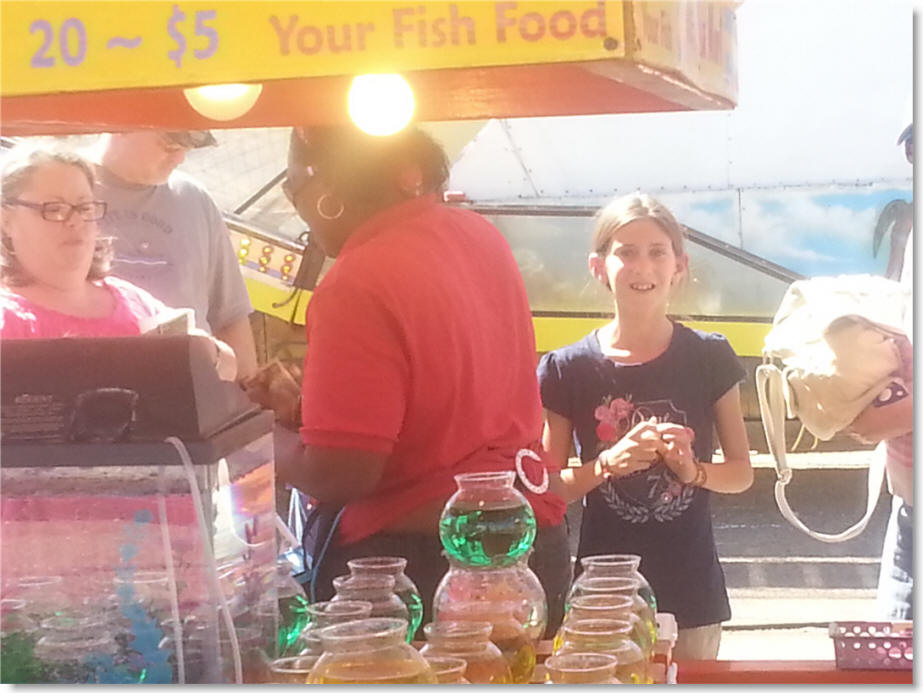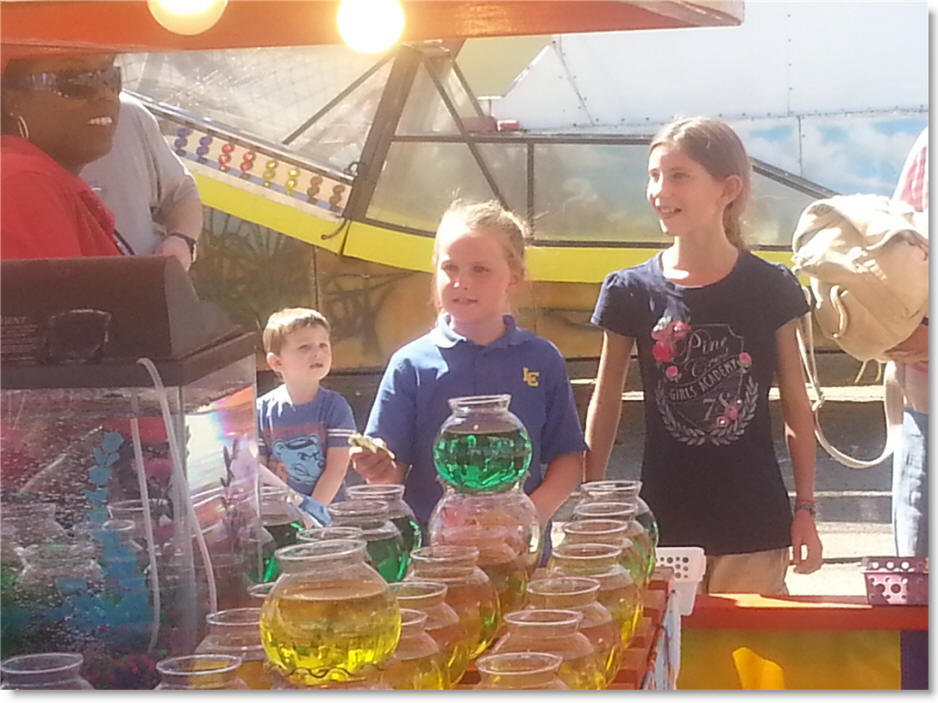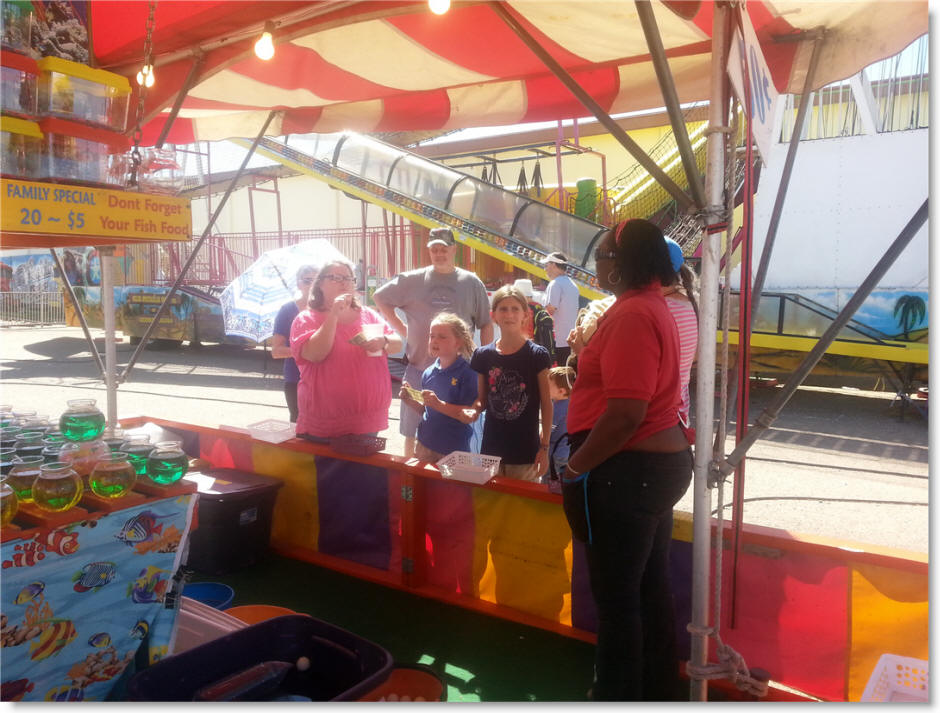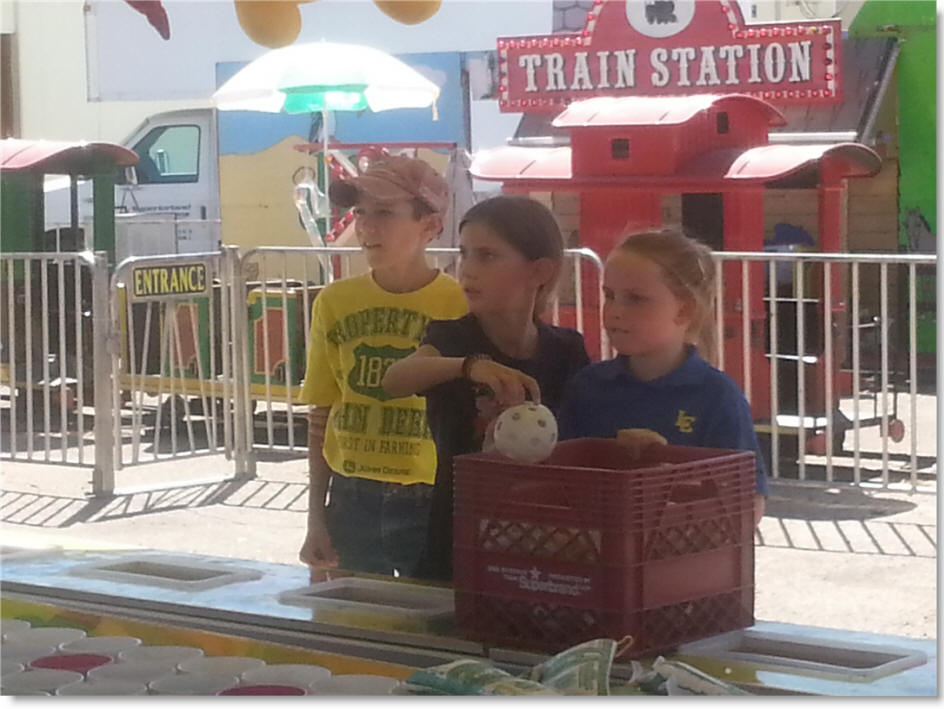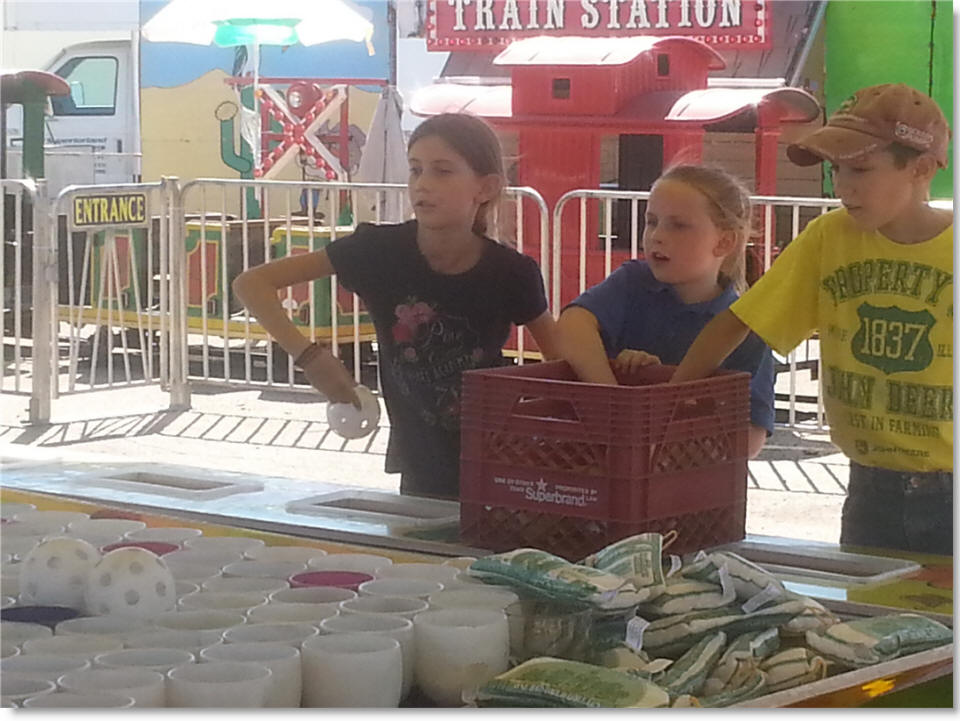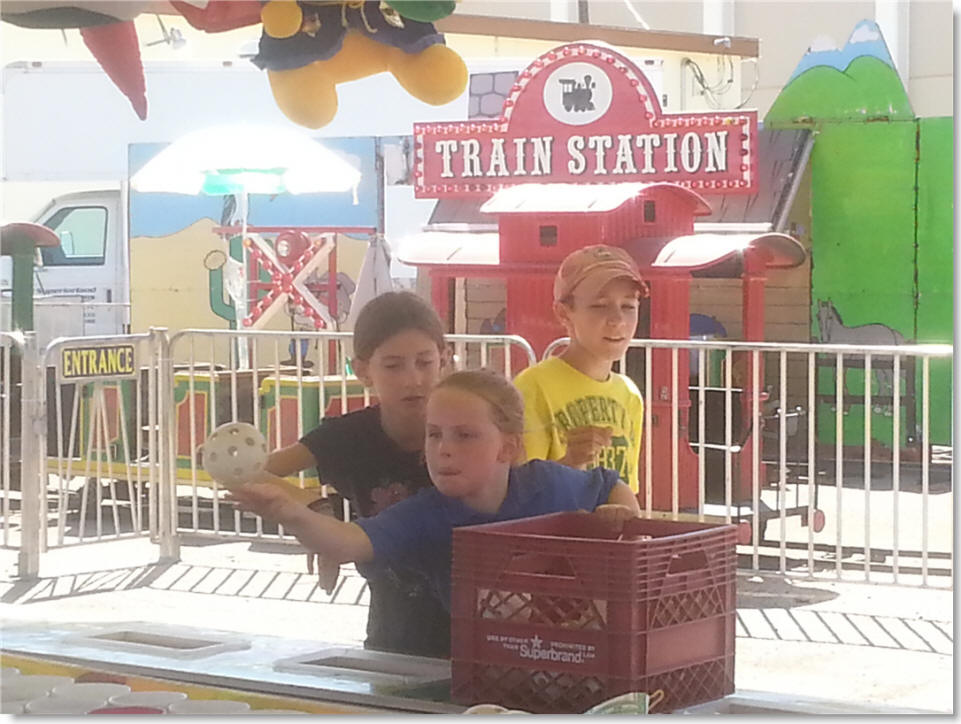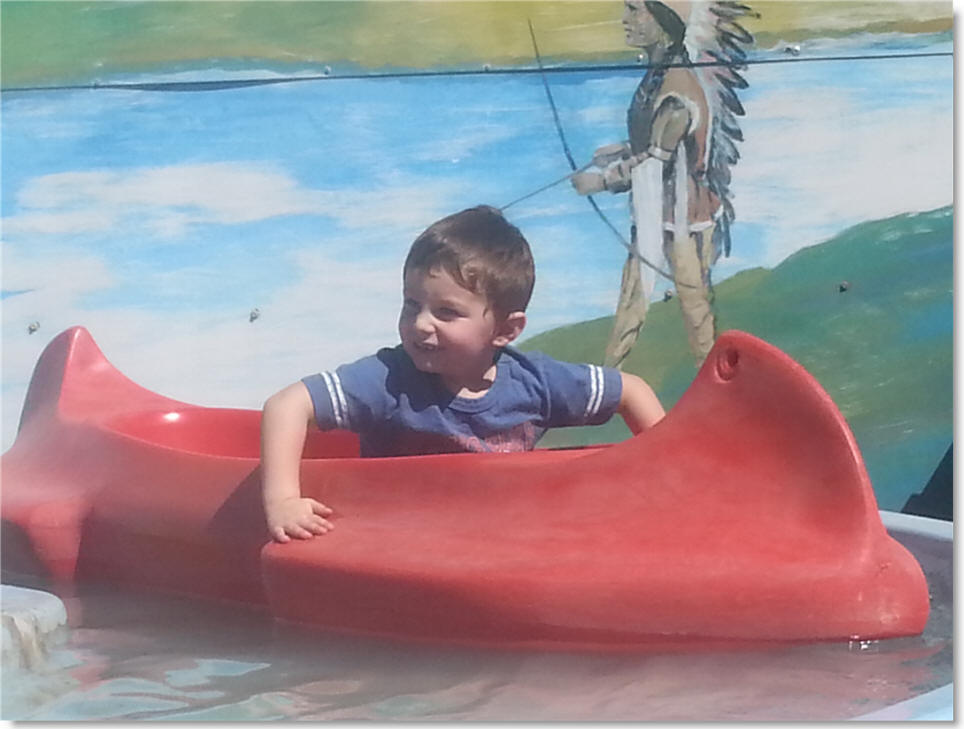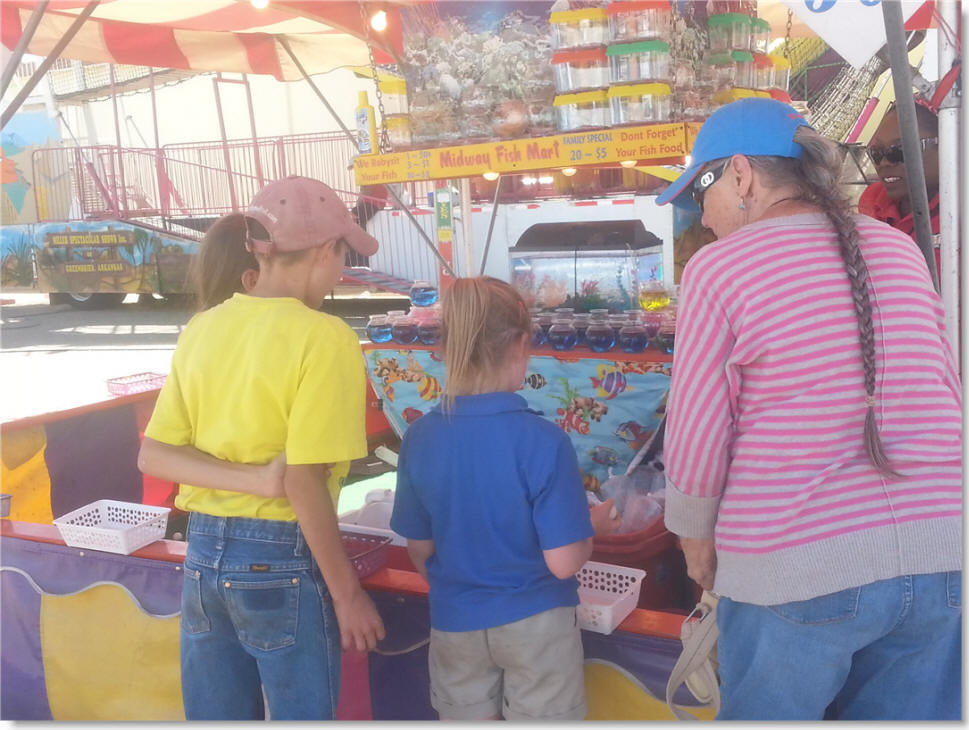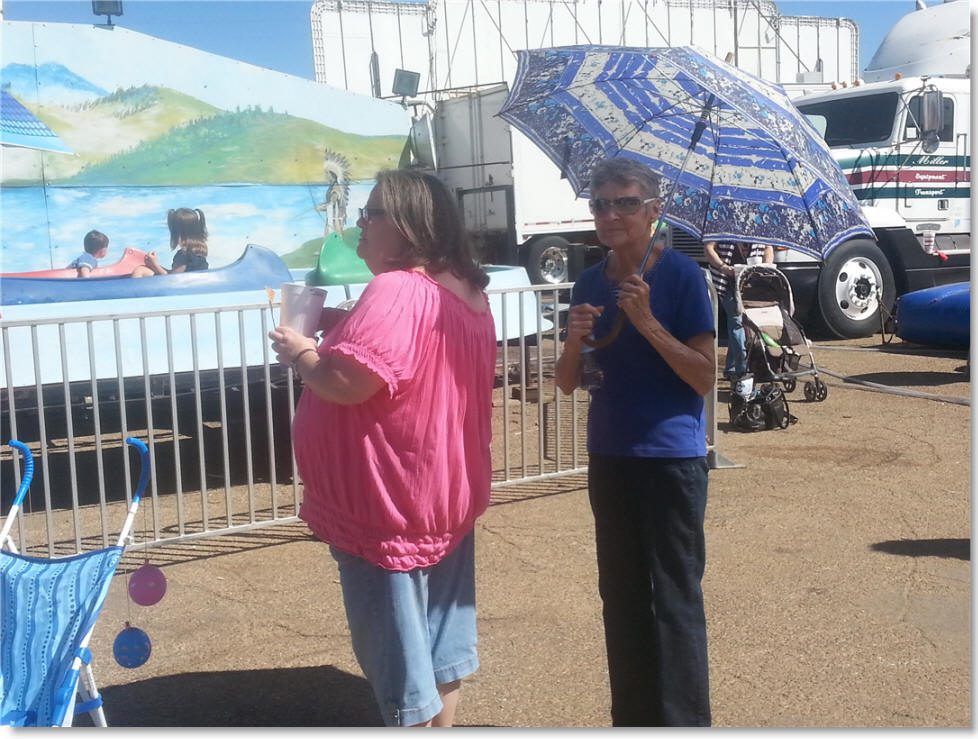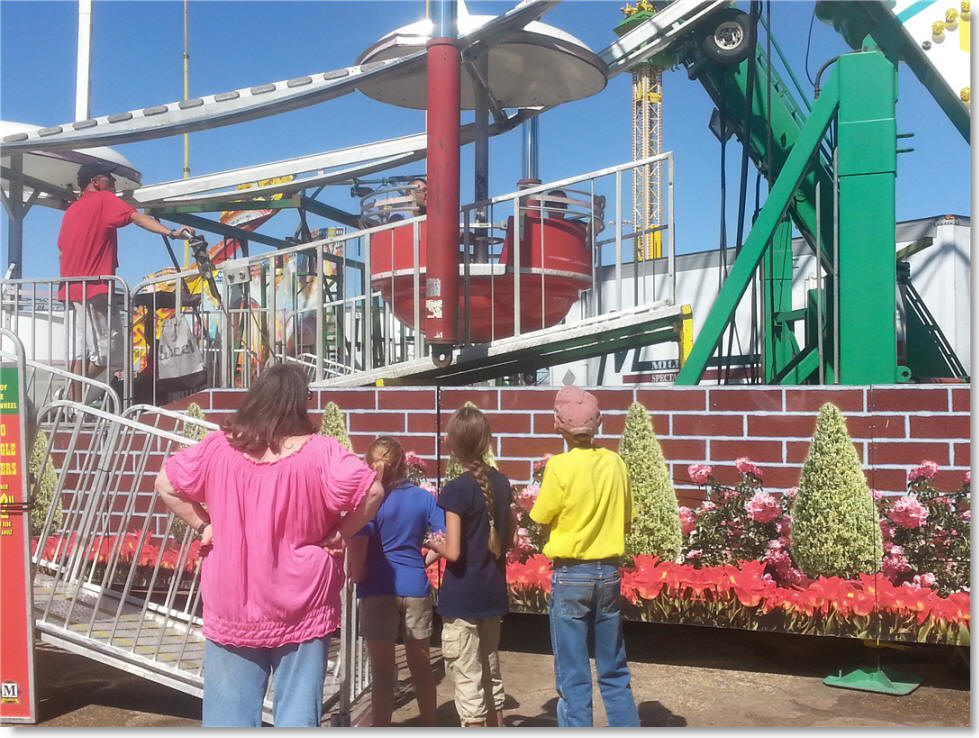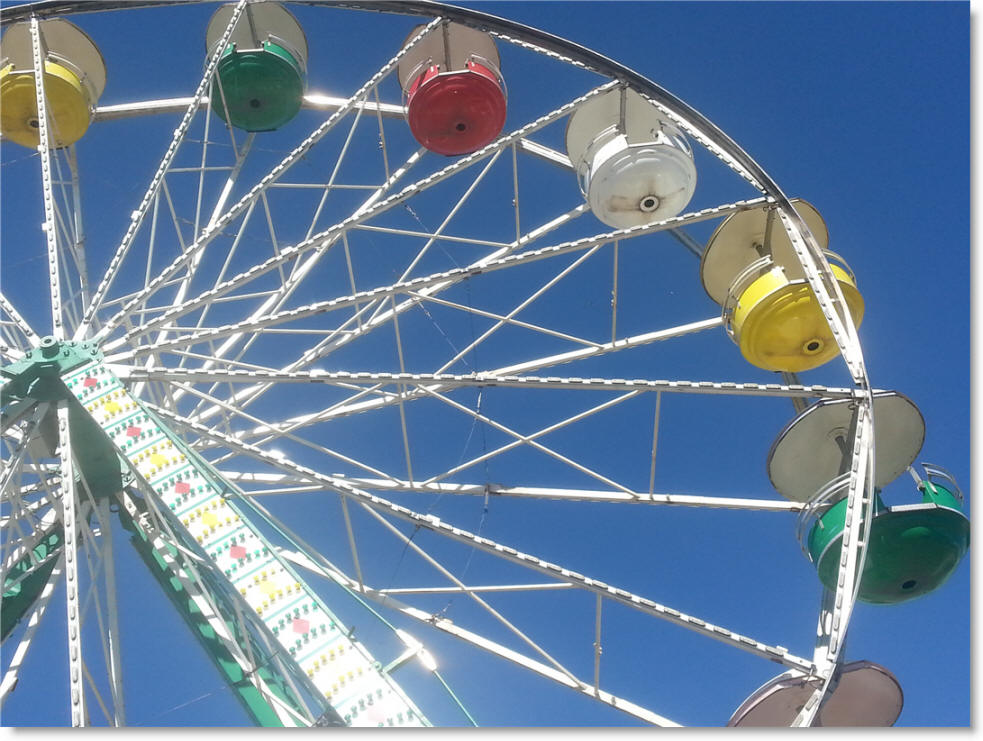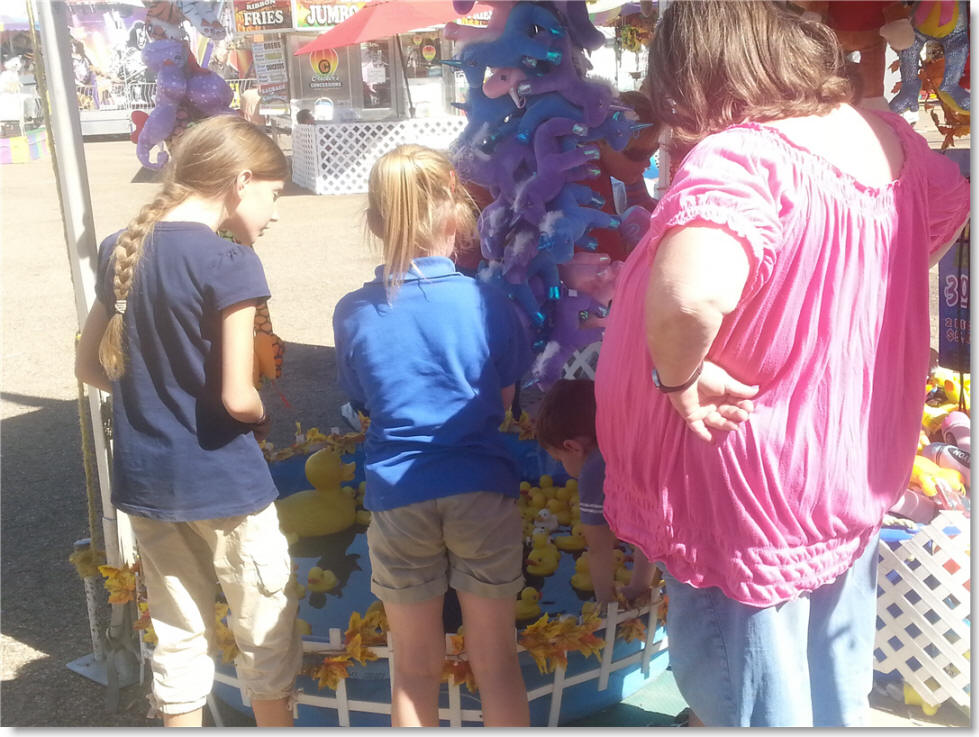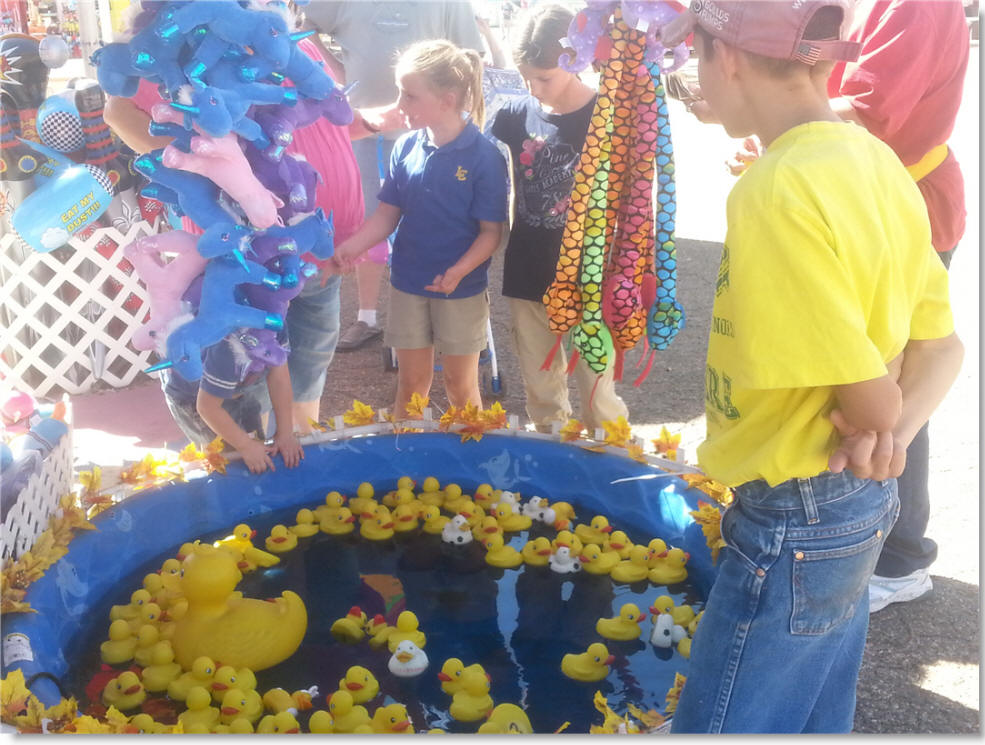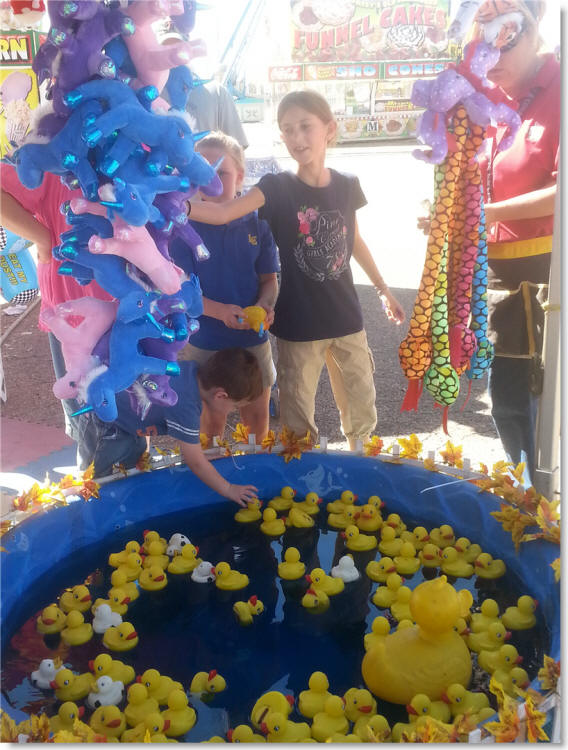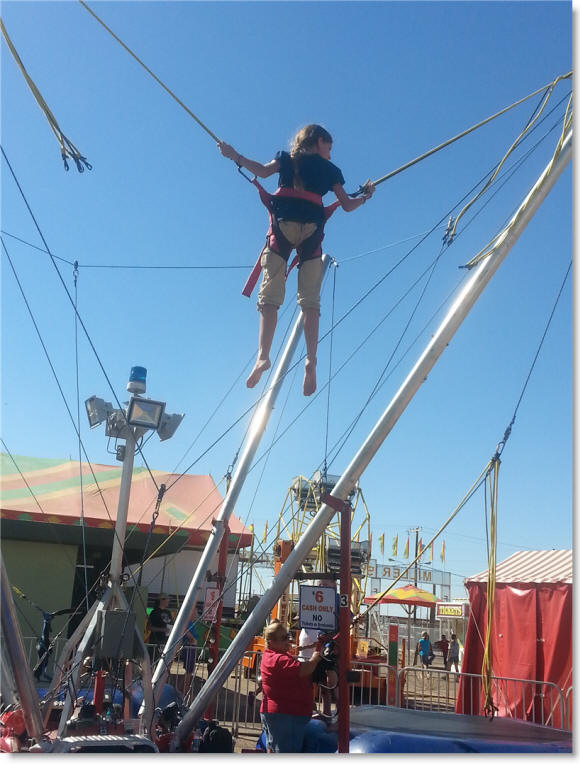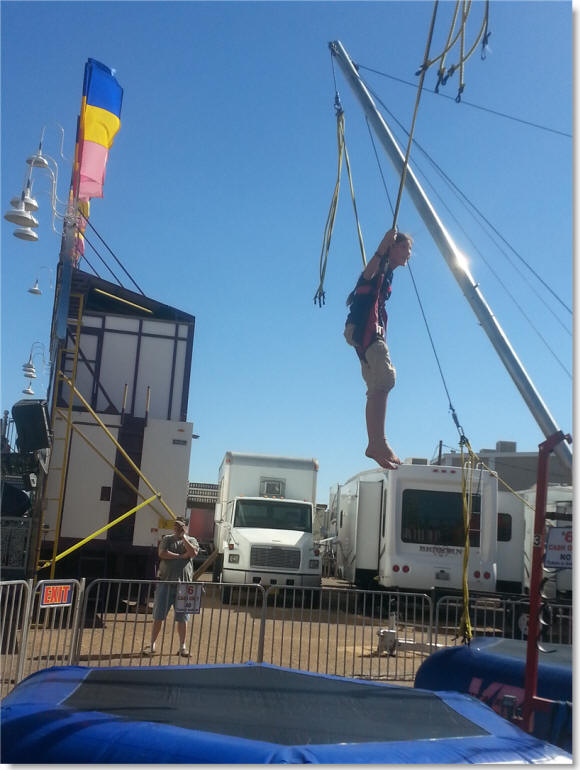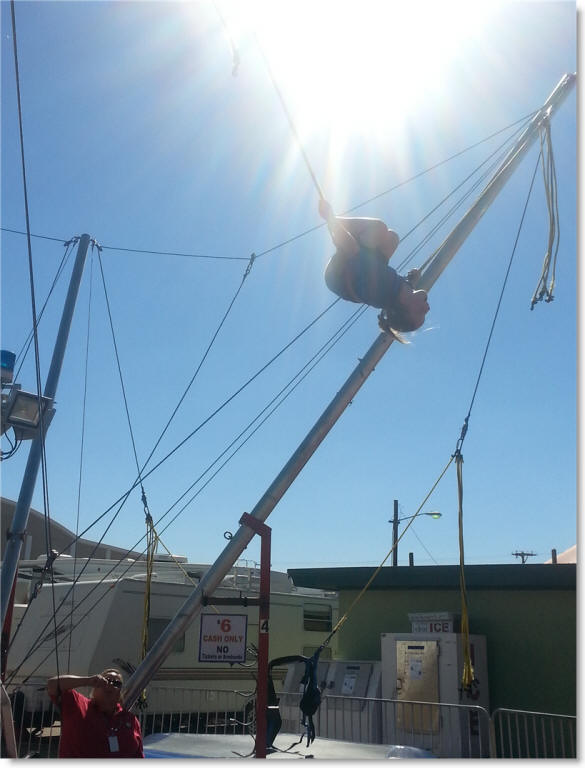 Men at Work - This afternoon the guys were here working on a windmill. They had it suspended from their well truck lift. They were replacing some broken parts. Then they switched over to working on the pickup motor. I suspect they enjoy getting this greasy.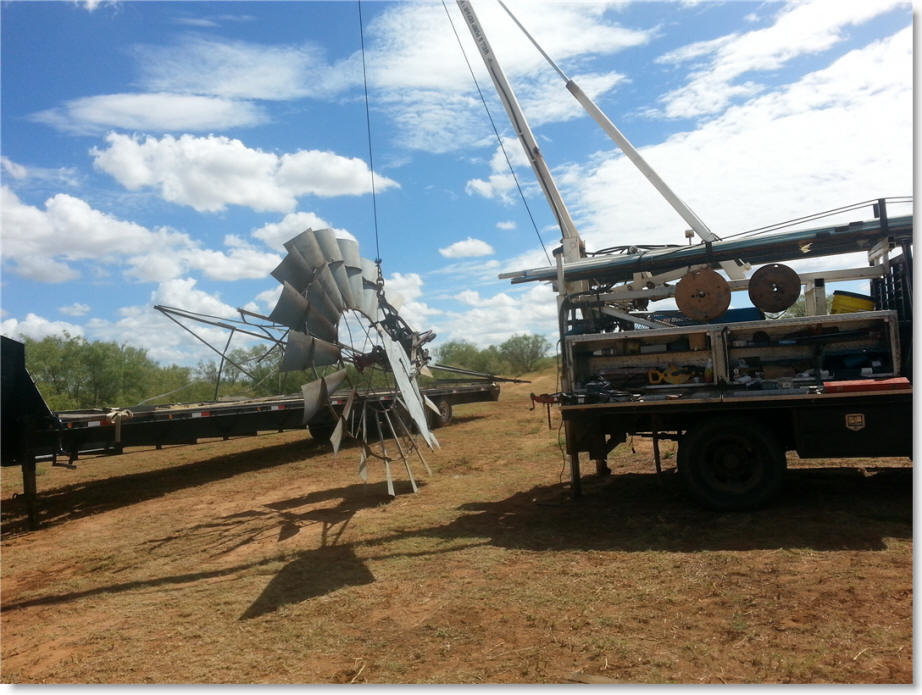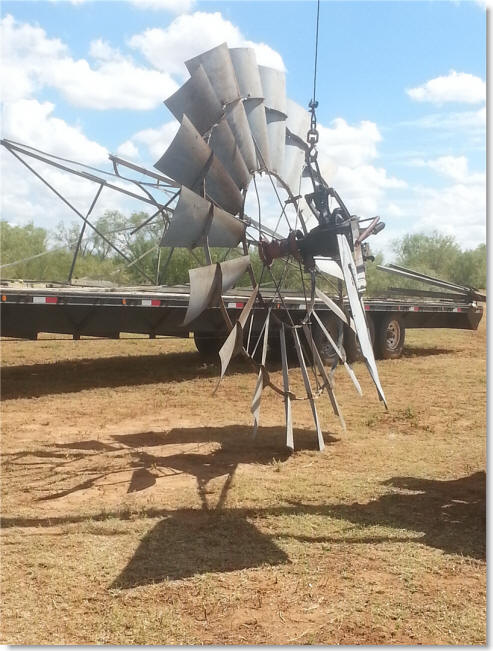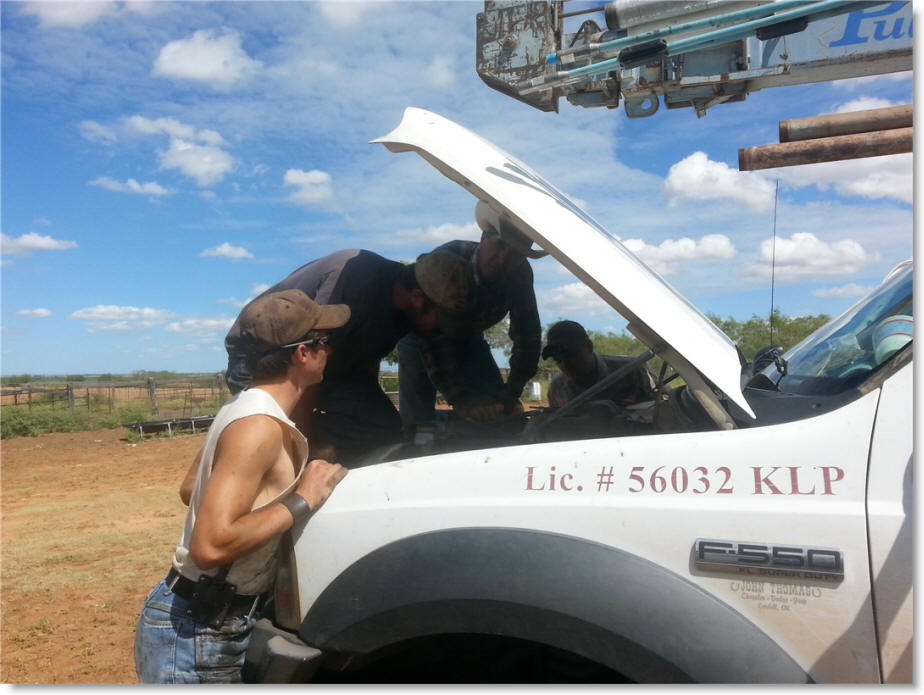 Monday, September 23 - New Lizard - To Stockton's delight, he found a new collared lizard. This one is quite a bit smaller than his others. He looked it up in his reptile book and found out it is a reticulated collared lizard.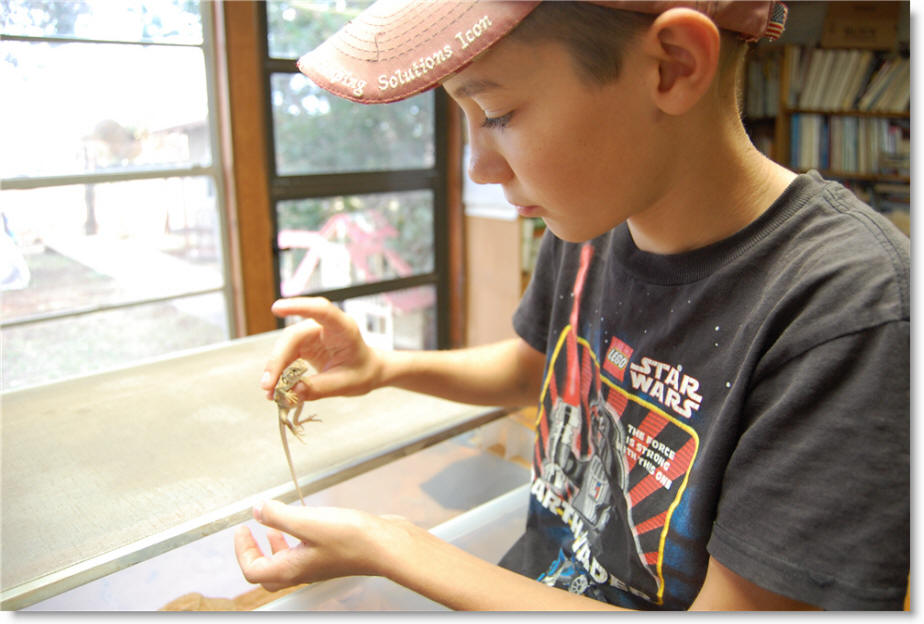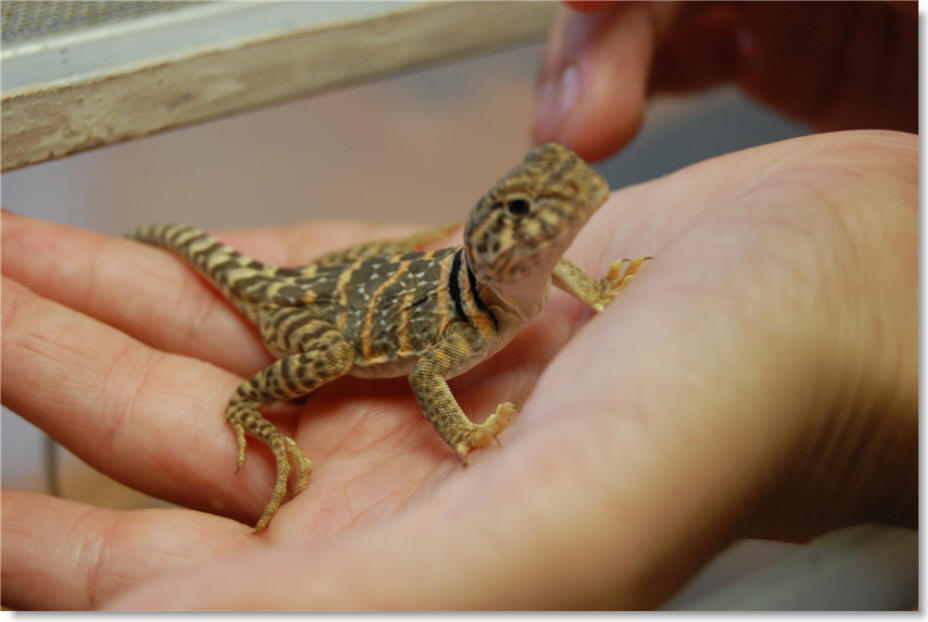 Looking a Little Pale These Days - Cim and Laredo worked for Brent Whitaker today on his road striping crew. Cim worked with the white paint and Laredo, the yellow. They were a bit scary looking, actually.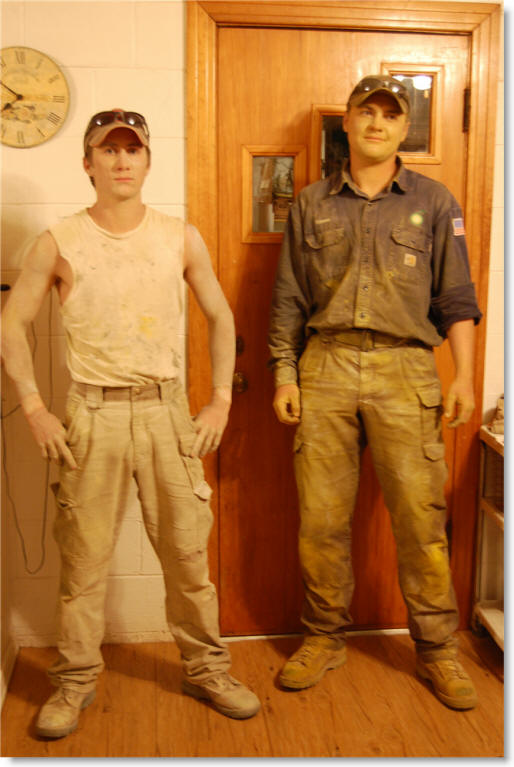 Tonight's Sunset - If you're a regular visitor to ShannonRanch, did it ever occur to you that you probably see more sunsets from my house, than you do from your own?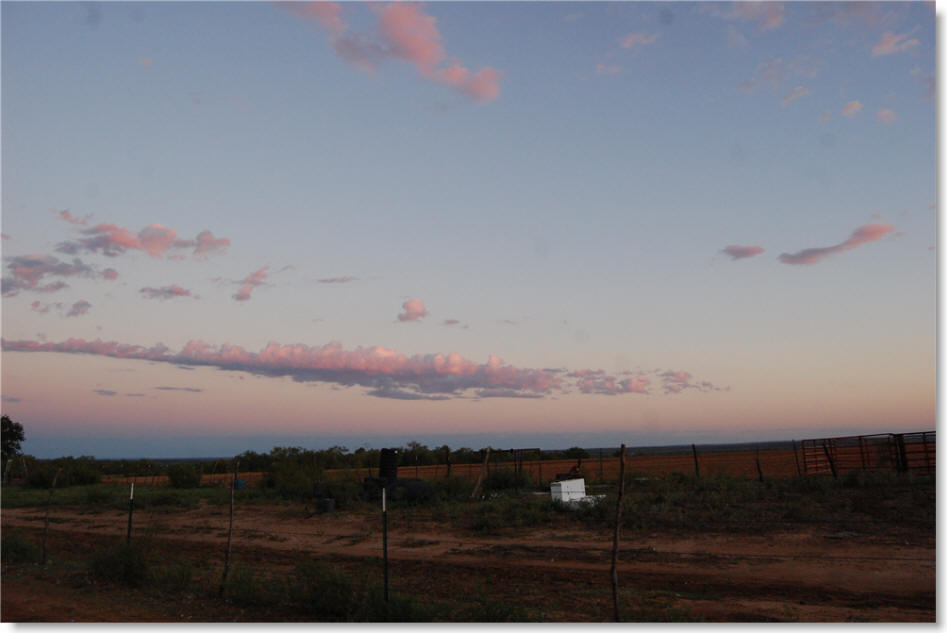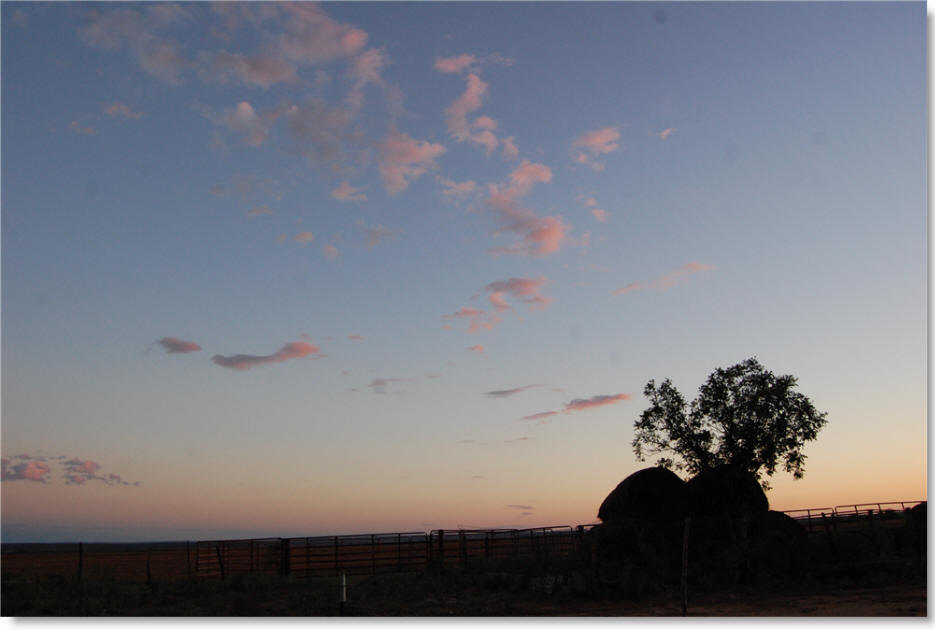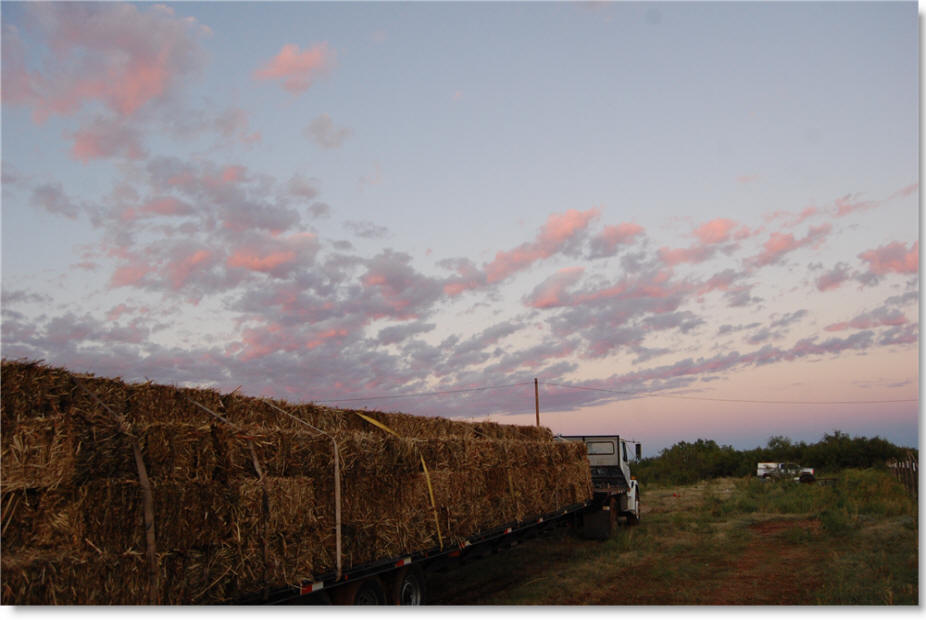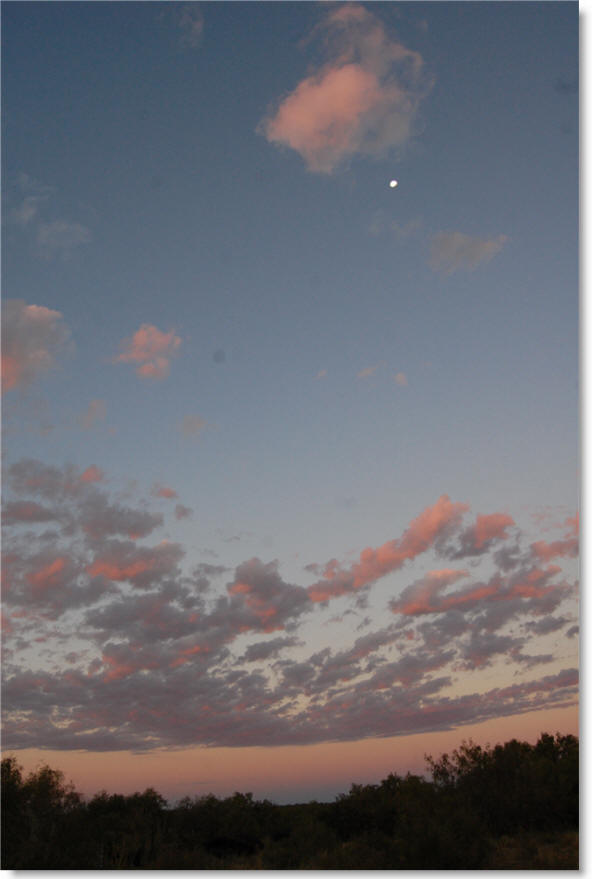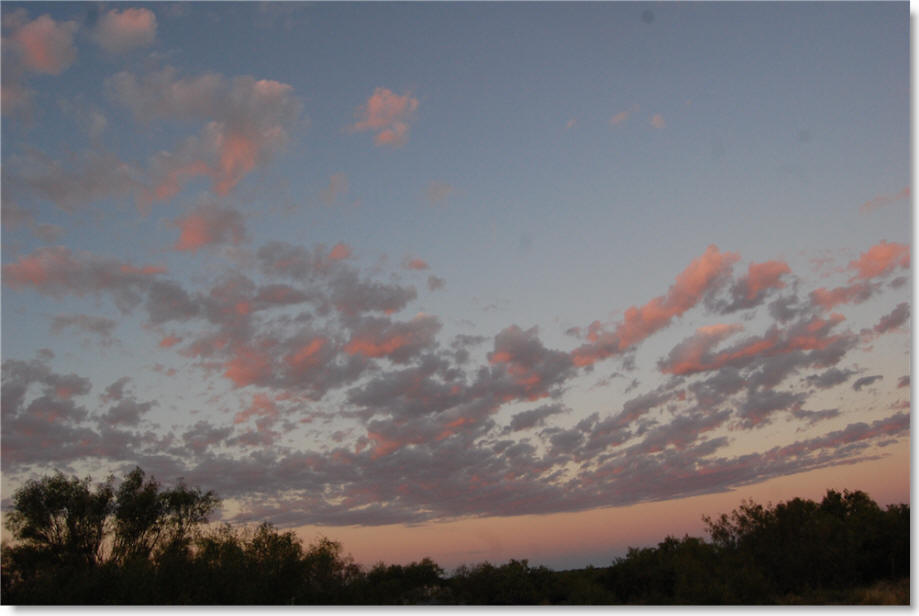 Sunday, September 22 - Very Puzzling - Mambo came to stay a while. One of the things she brought was a stack of new puzzles. The kids couldn't wait to get started on this one.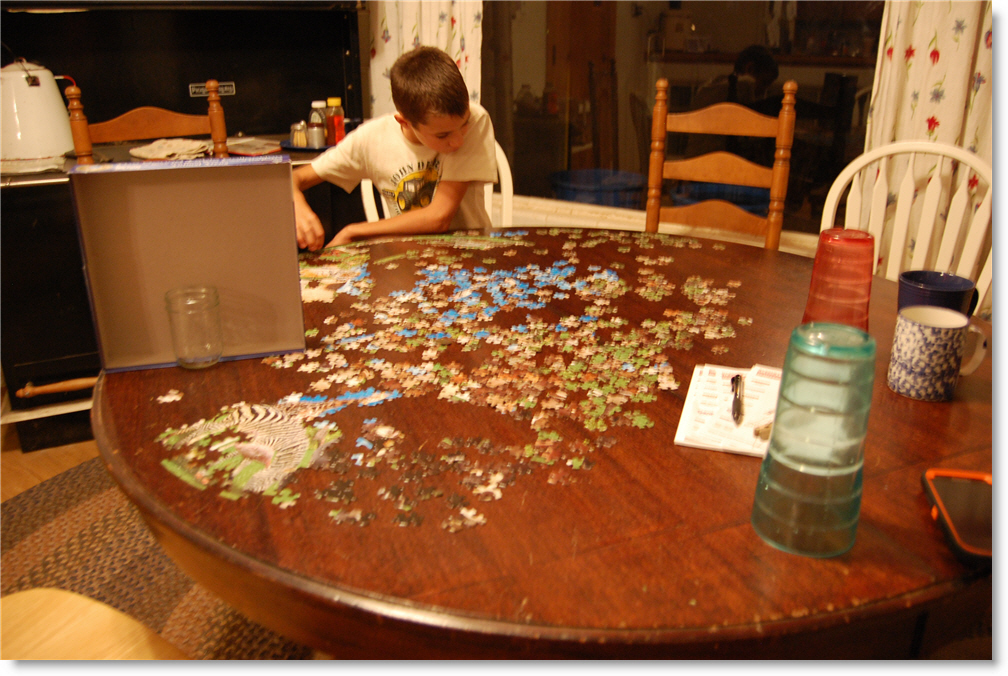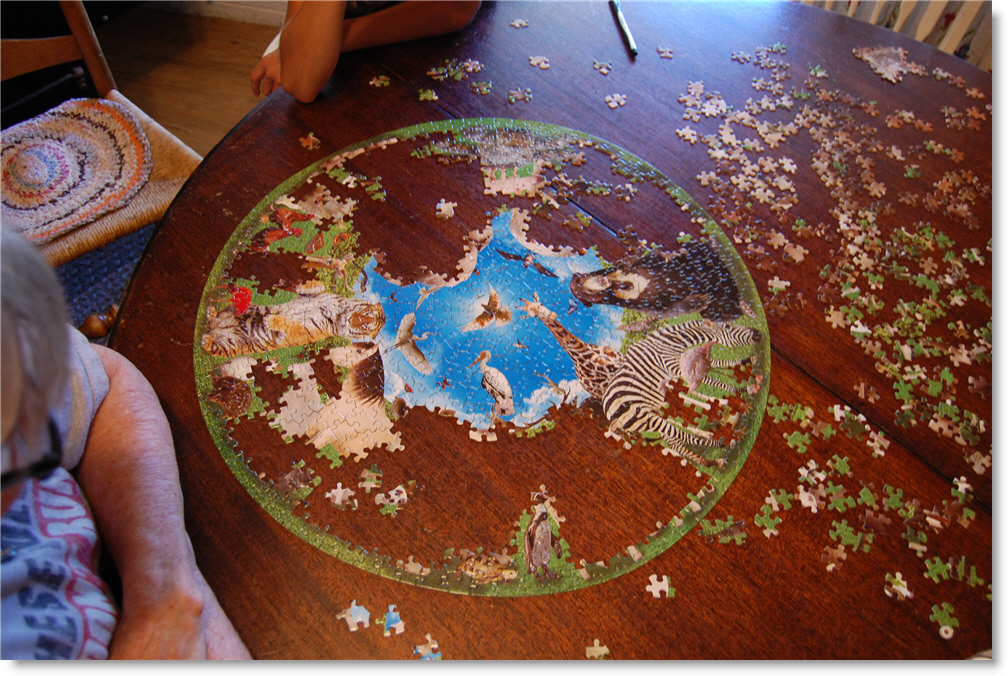 Friday, September 20 - Freak Snowstorm - What? You didn't hear about it? Well....actually, I was defrosting the chest freezer and Stockton came along to help. After we broke some of the frosty ice free, he took it outside to play with it.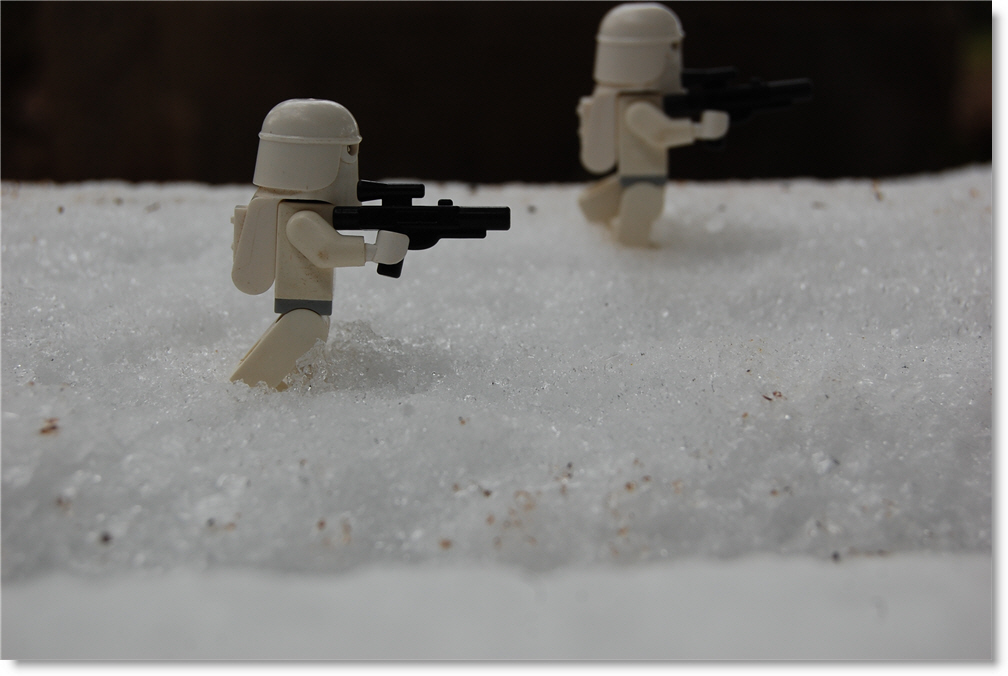 Wednesday, September 18 - Breathtaking Clouds - This morning there was some cloud cover that combined with the dark blue of the sky to form an amazing display in combination with the sunrise.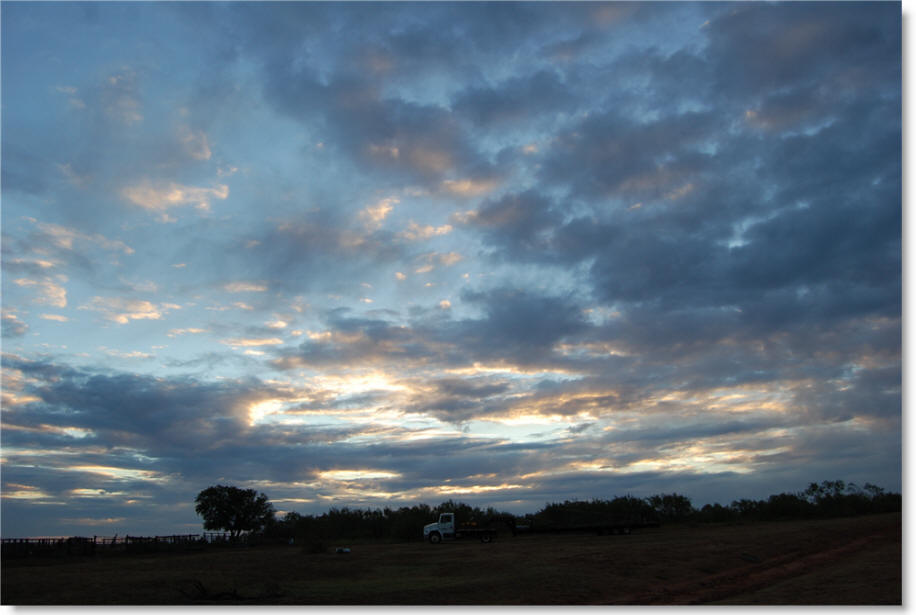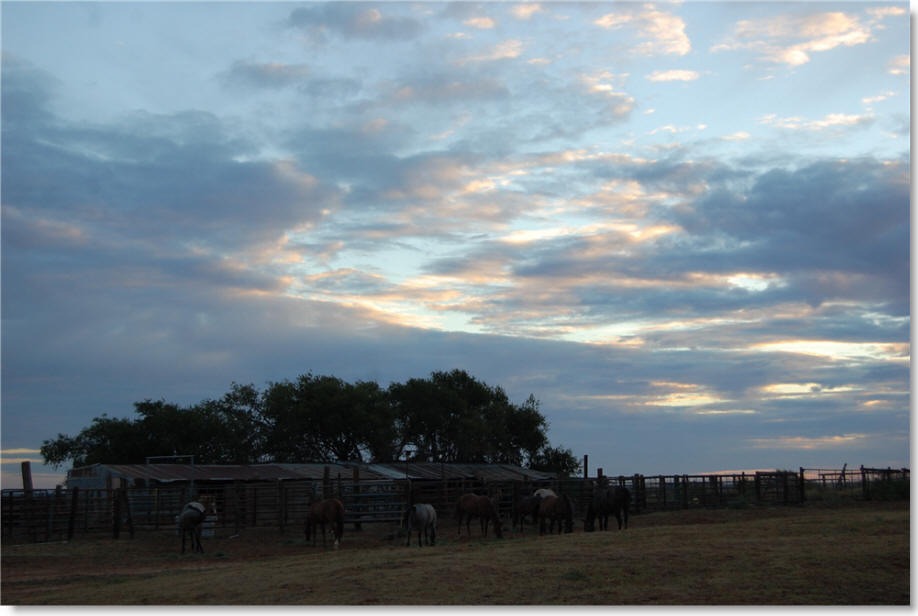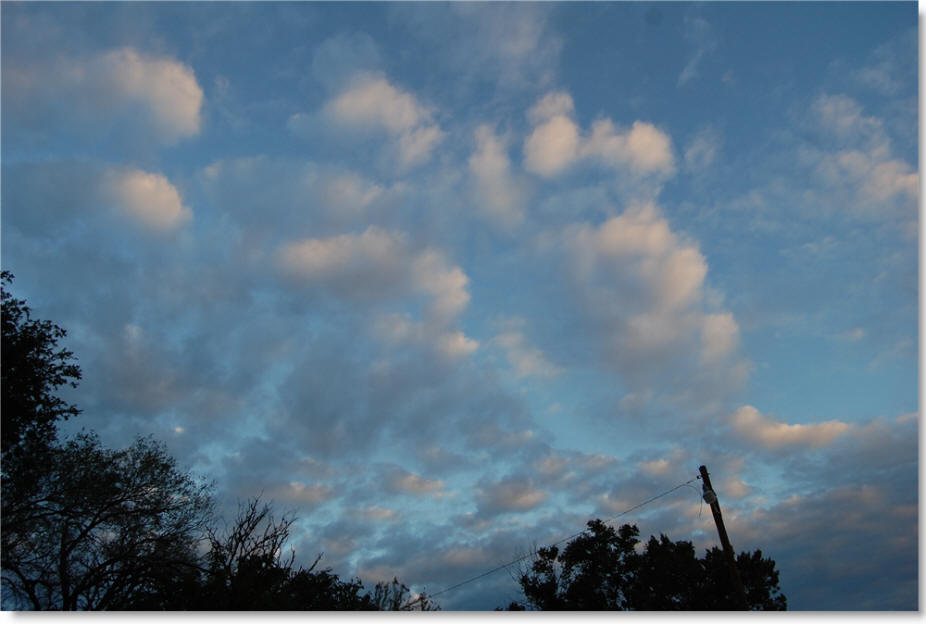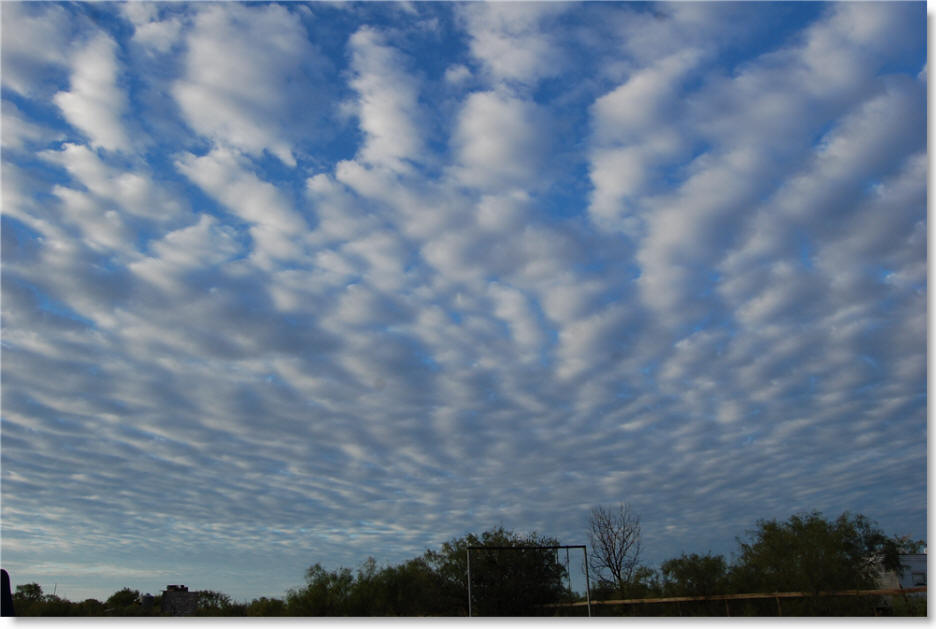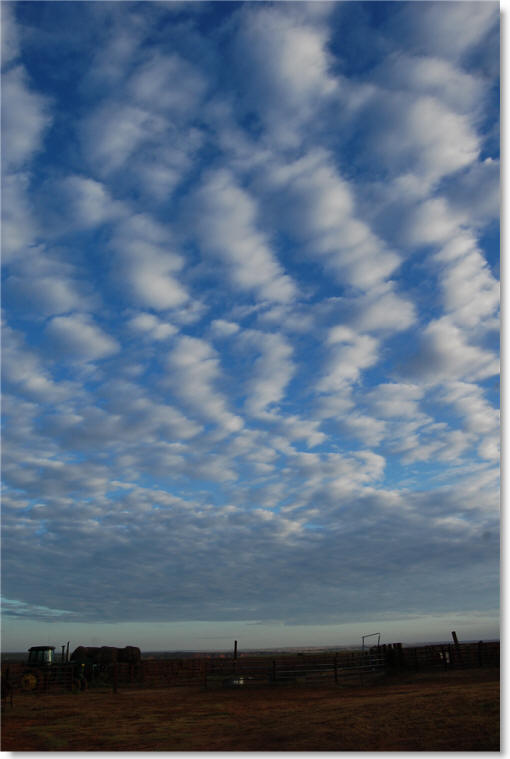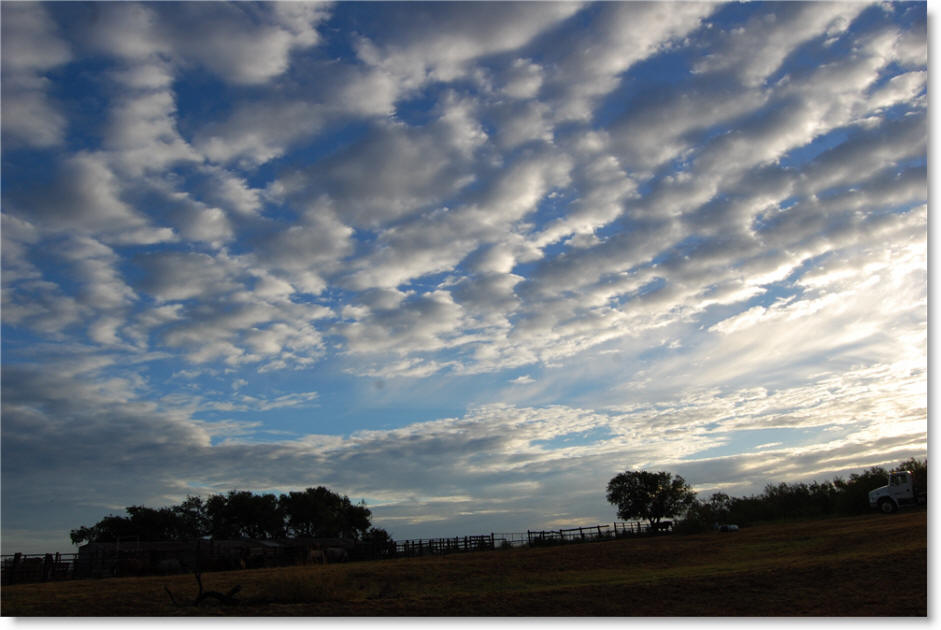 Pureed Vegetable Soup - This is a favorite around here and I've featured it on this site before, but I'll bet there are still viewers out there that haven't tried this one on your family yet. Even Stockton, who won't touch an onion or eat anything even touching an onion, loves this soup, even though it's got a whole onion or two in it! Simply take any of the following vegetables and boil until soft. Pumpkin, squash of any kind, onion, garlic, potatoes, carrots, cauliflower, beets, turnips, etc., use your imagination. Once softened, drain and mash up or puree in a blender. Add salt, chicken broth or broth powder, or your favorite spices. Serve with crusty bread and parmesan cheese.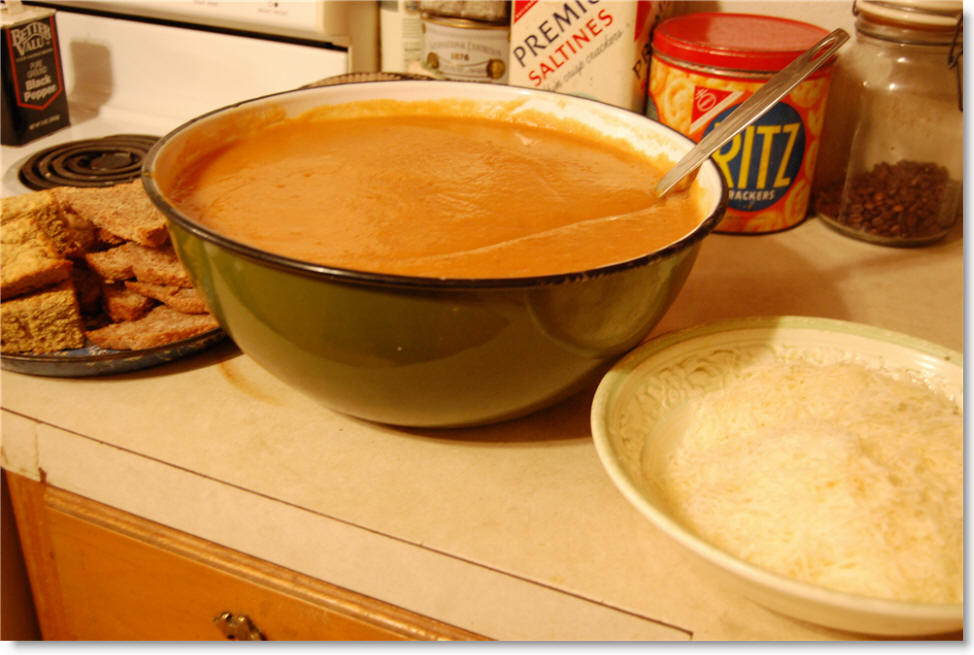 Monday, September 16 - A Little Rain
We needed it, and we'll gladly take it!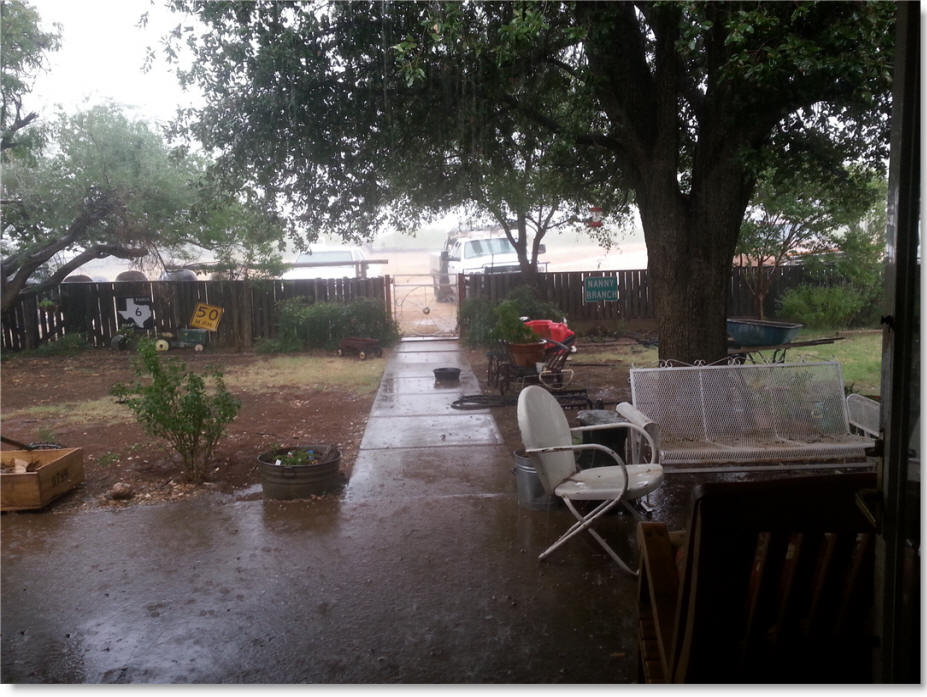 Come on, please let me in...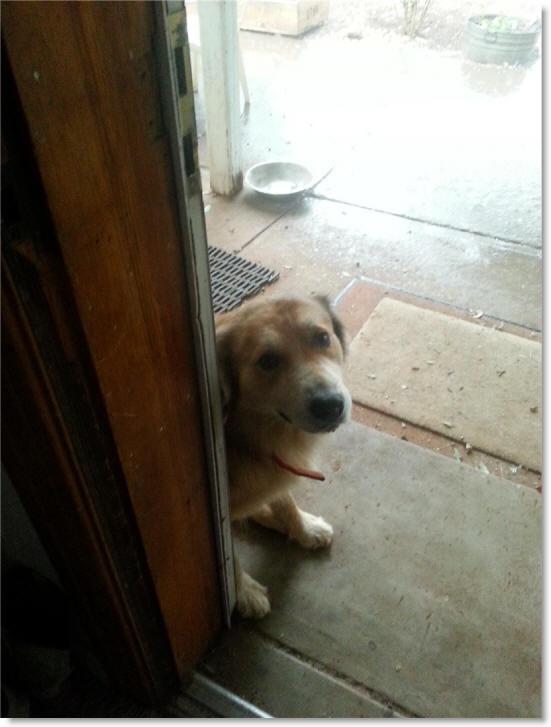 More Organizing - If you've been to my house, you'll recognize a few changes. If you've never been here...welcome!
The little three-shelf rolling metal thingy was in the kitchen. I moved it into the dining area beside the wood stove where I need a place to sit bowls and spoons, etc., when I'm cooking.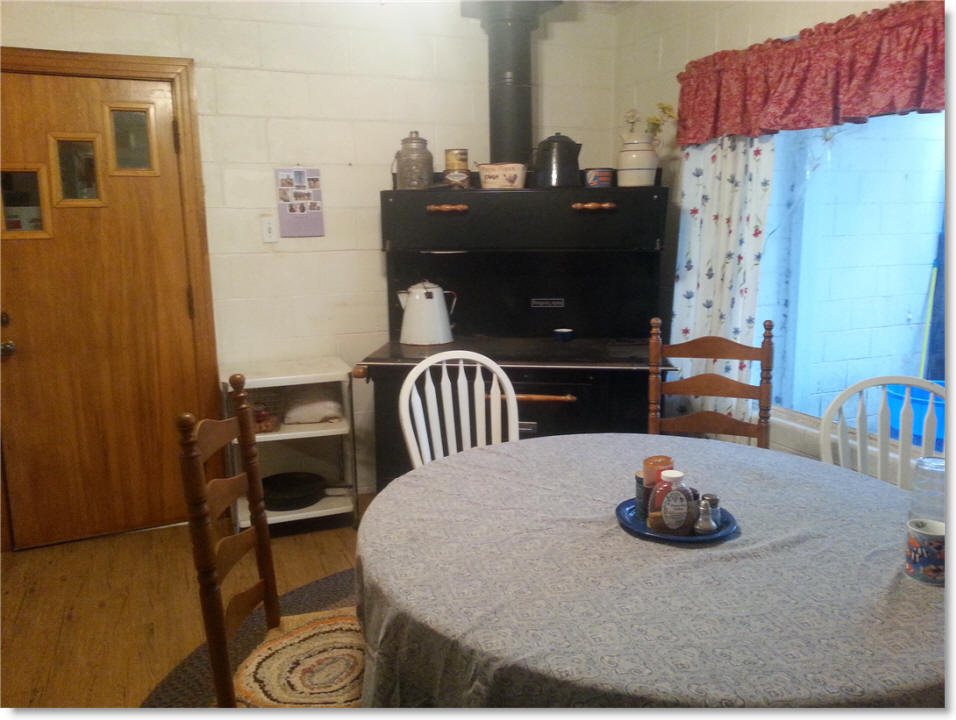 There used to be a couple of moveable metal shelf/cabinets here. By moving them, the dining room is opened up. I hope to get Nathan to put a wider piece of wood on this partition and get a couple of stools and have a bar area for more eating space.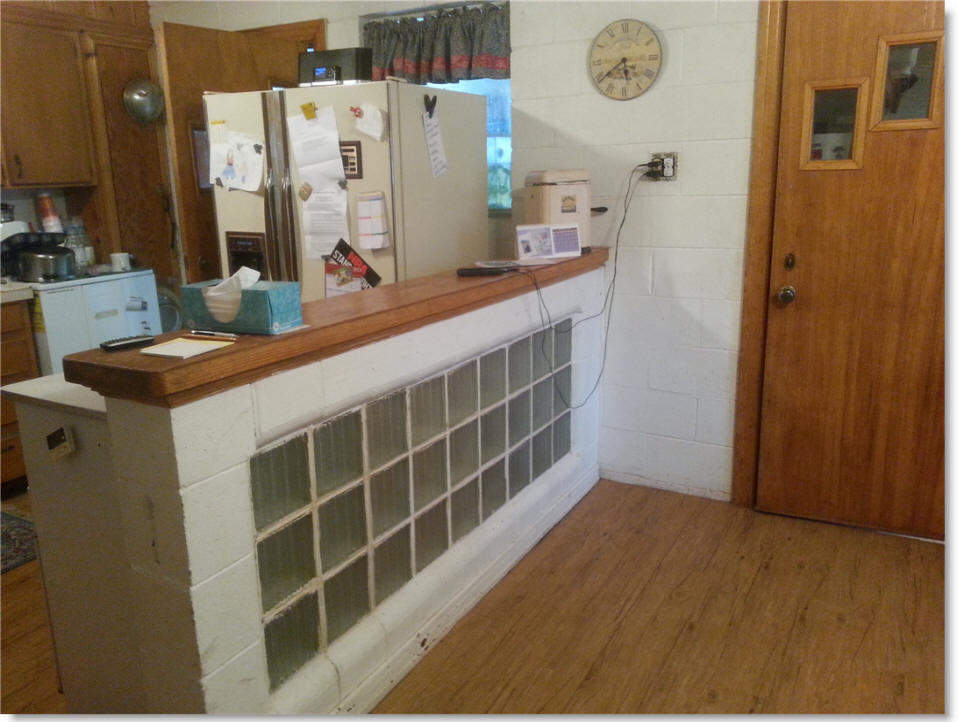 Here's where one of the metal cabinets went...on the other side of the partition in the kitchen area. It takes the place of the rolling three-shelf thingy.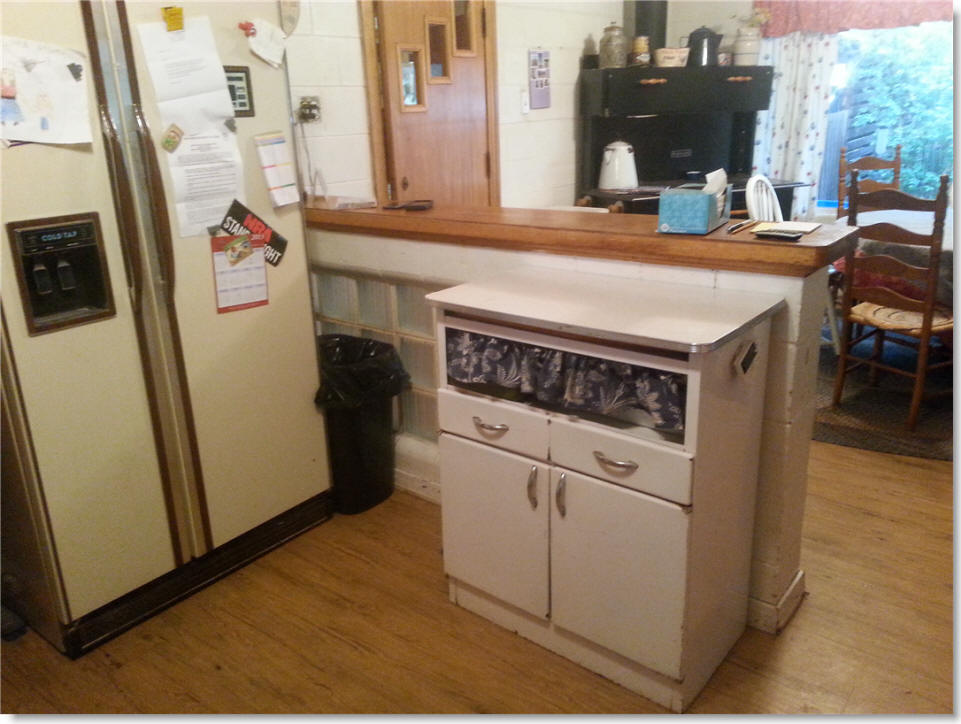 The other metal cabinet went into the school room. It will be used for art and scrapbooking supplies. There used to be a book shelf here (see the picture below). The bowls are to catch rain water from a couple of leaks in the roof.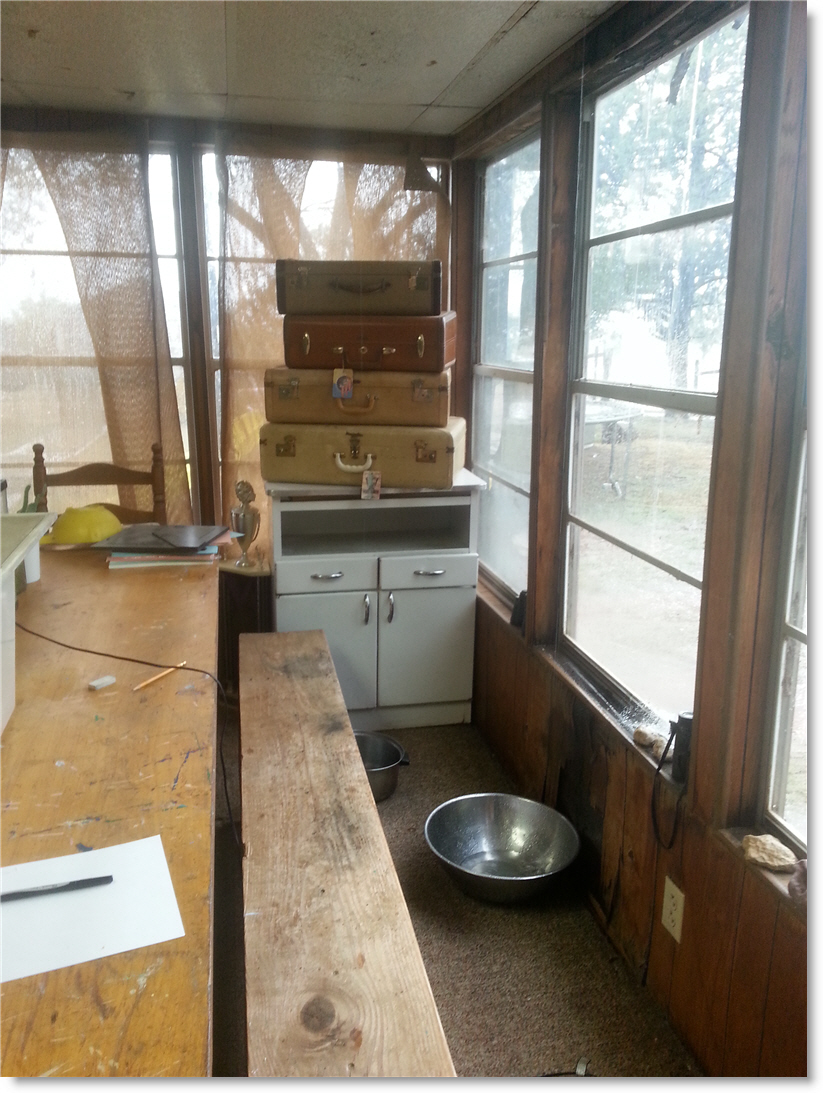 The book shelf works better on this side of the school table where the kids can better access it.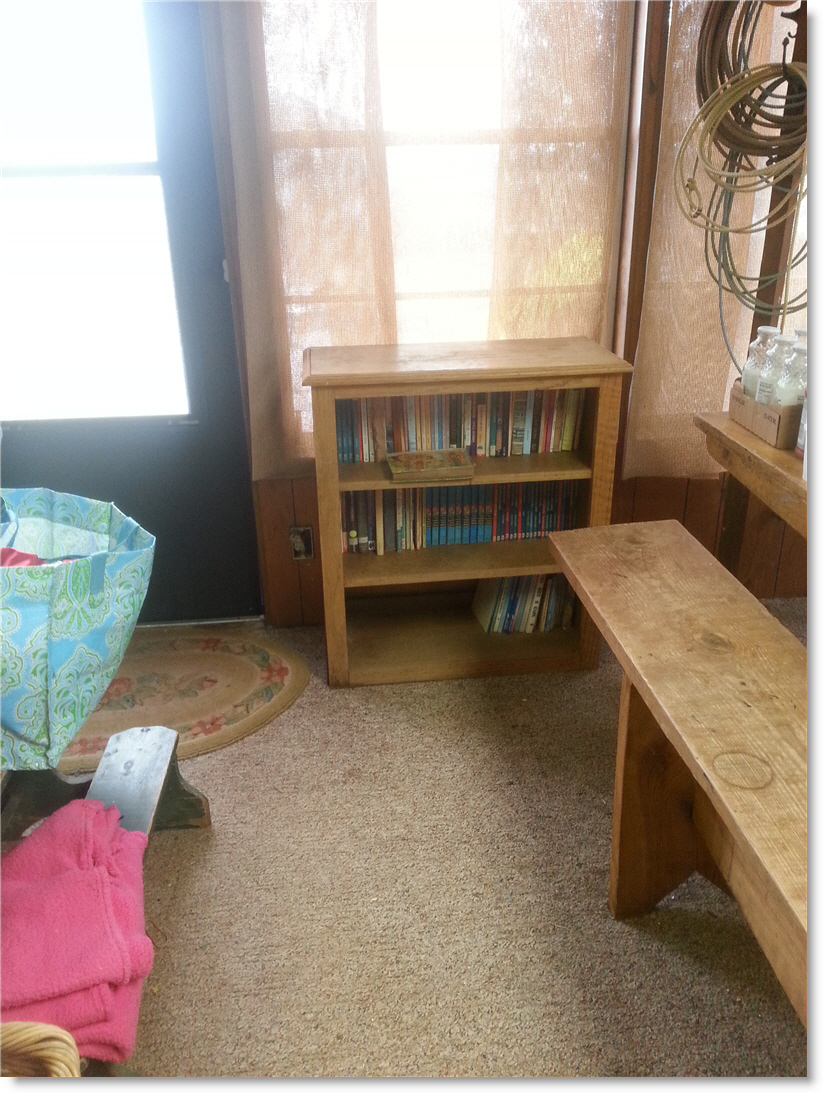 Tuesday, September 10 - Breakfast in Bed - Stockton decided to give his little sister a treat this morning. She was quite surprised.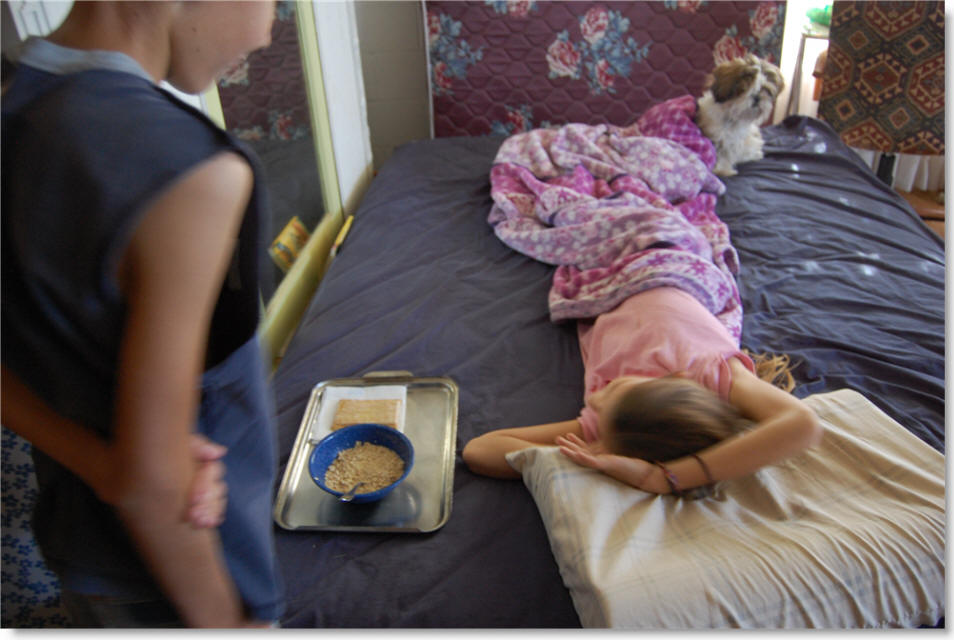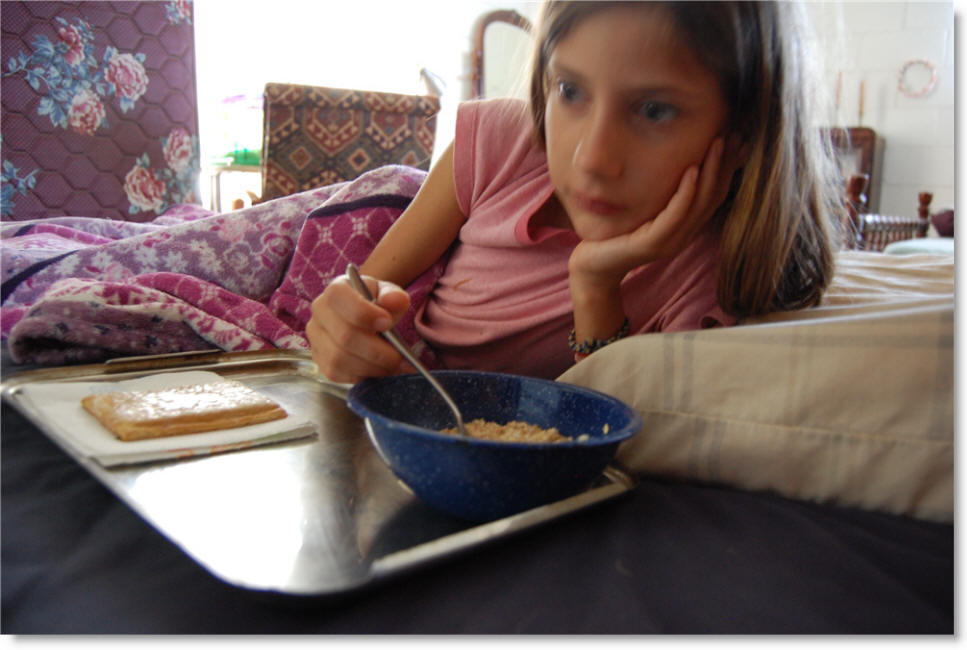 Monday, September 9 - Sunset. Plain and Simple.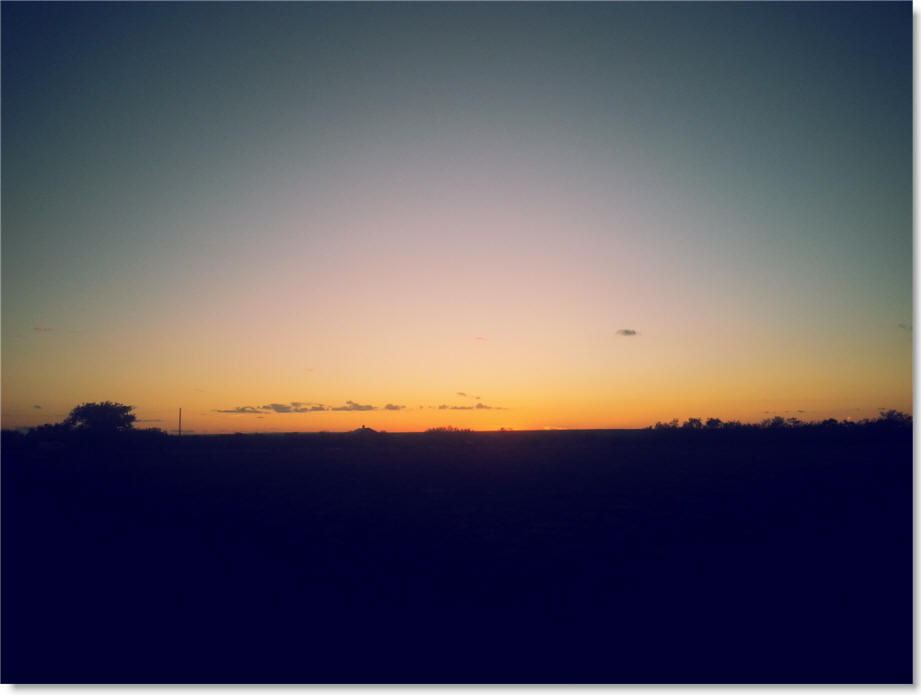 Saturday, September 7 -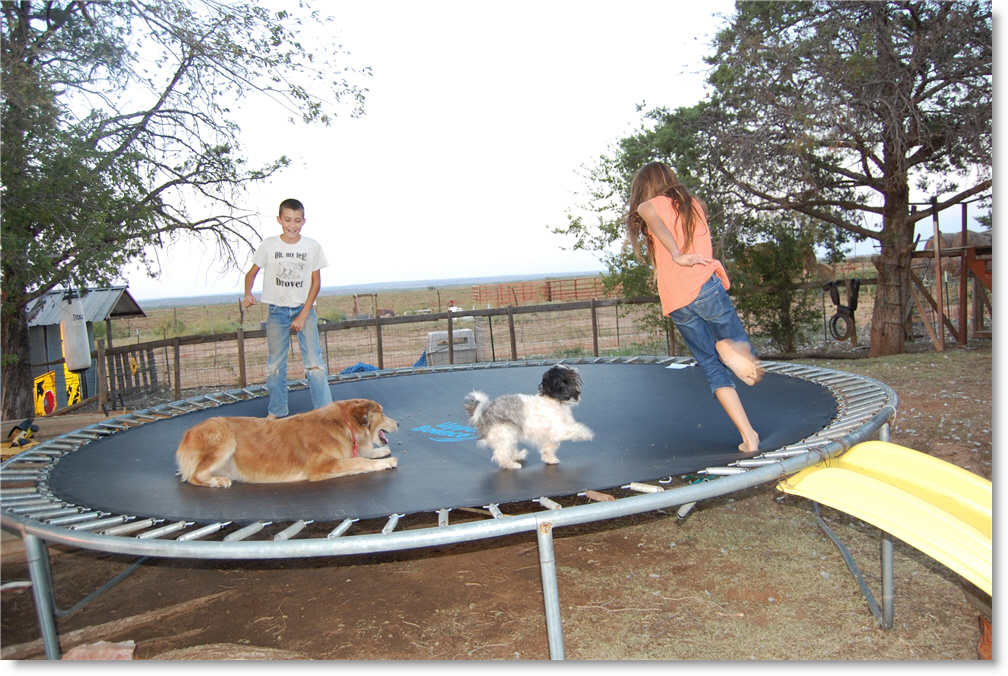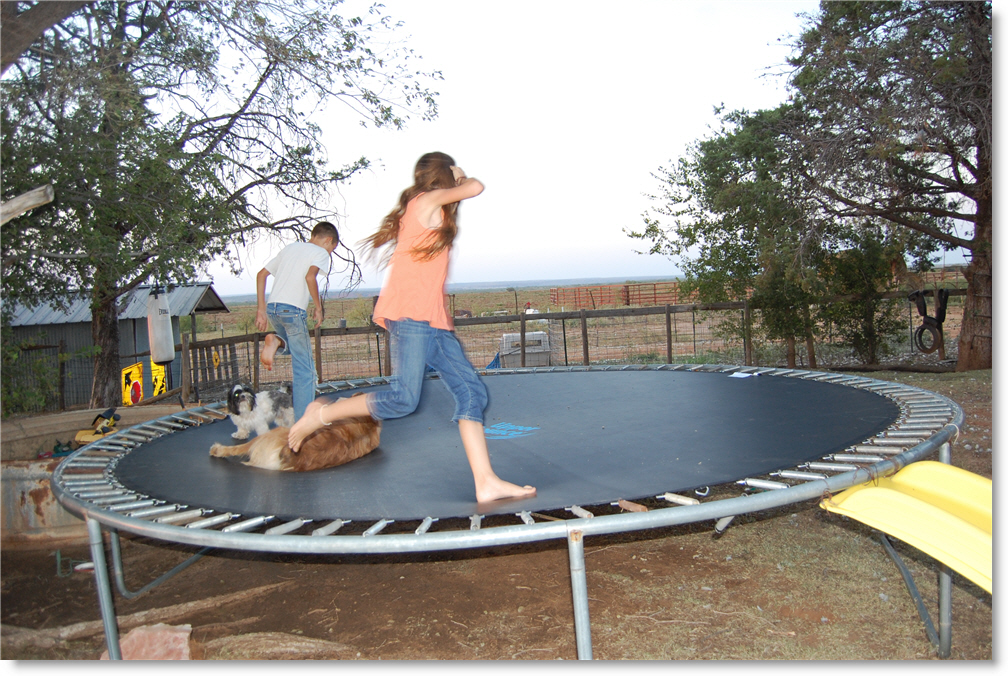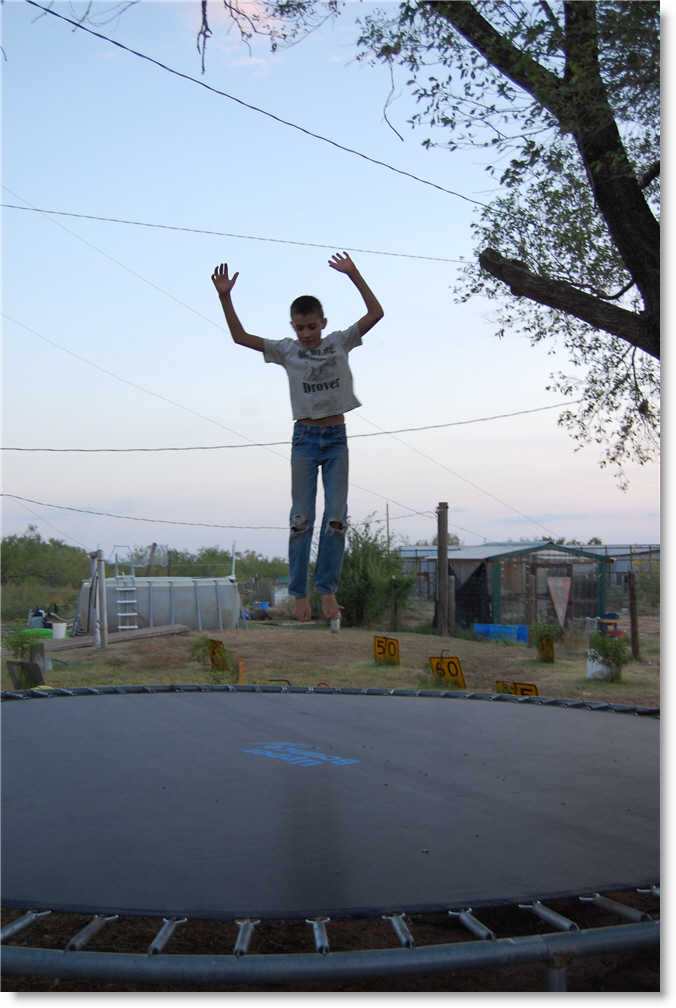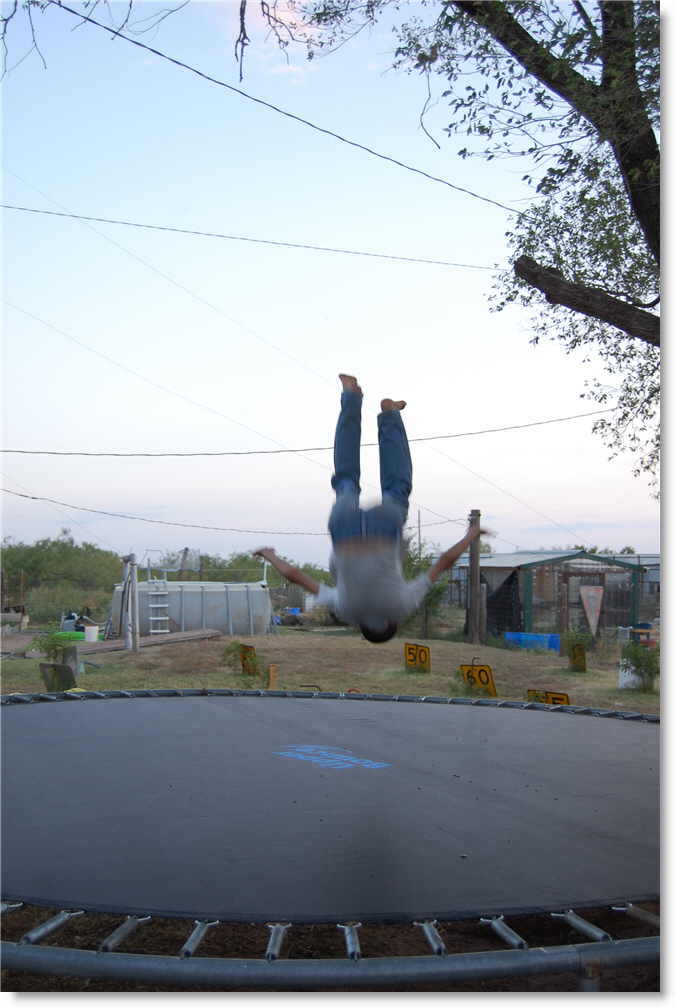 Friday, September 6 - Nice evening to be outside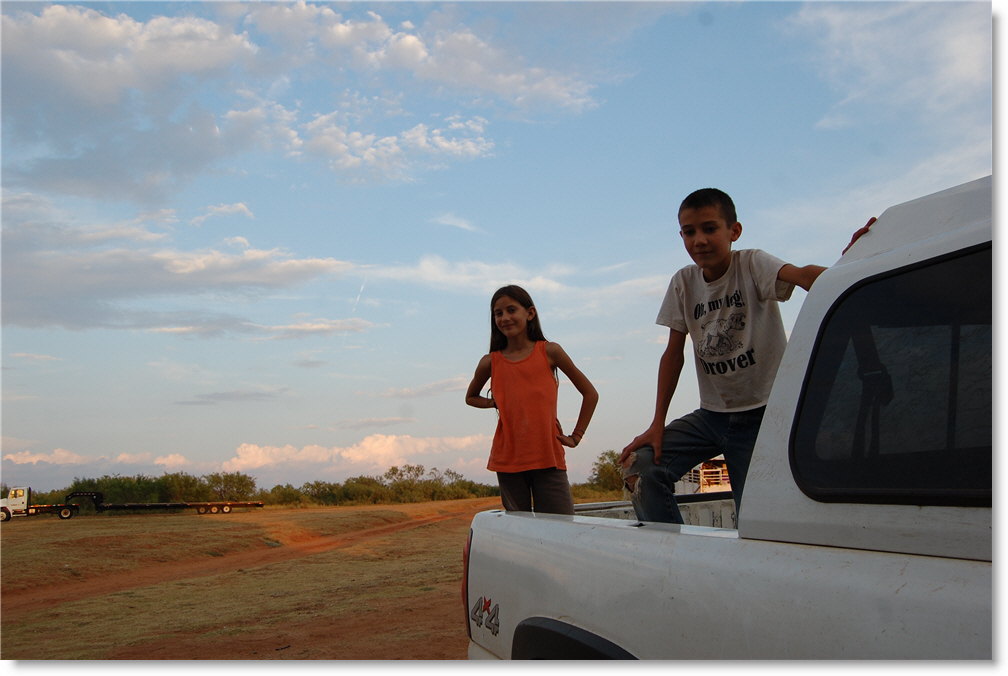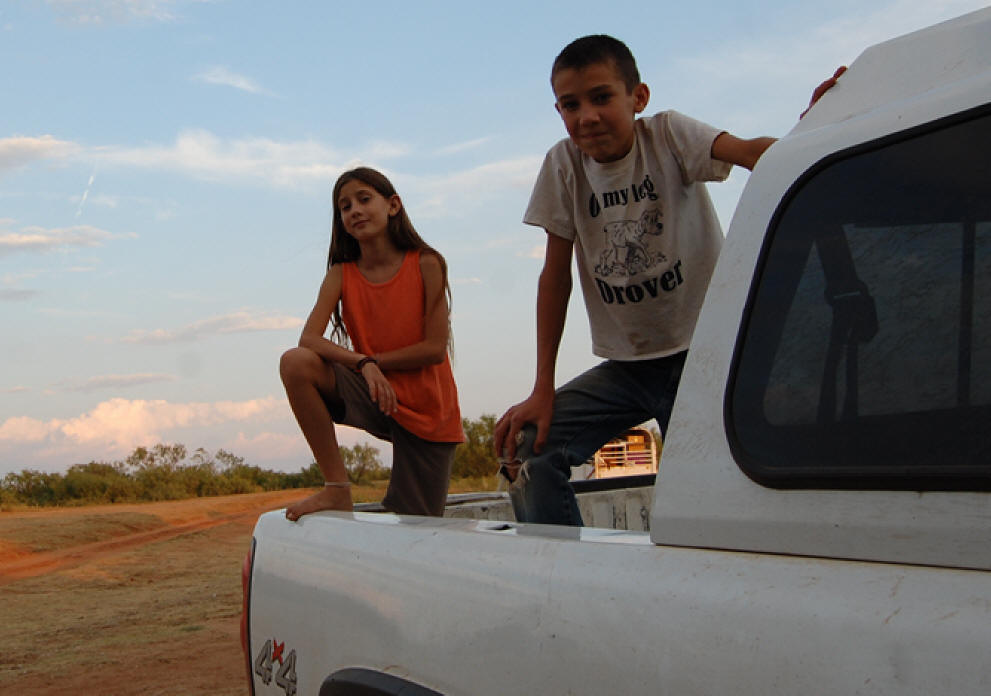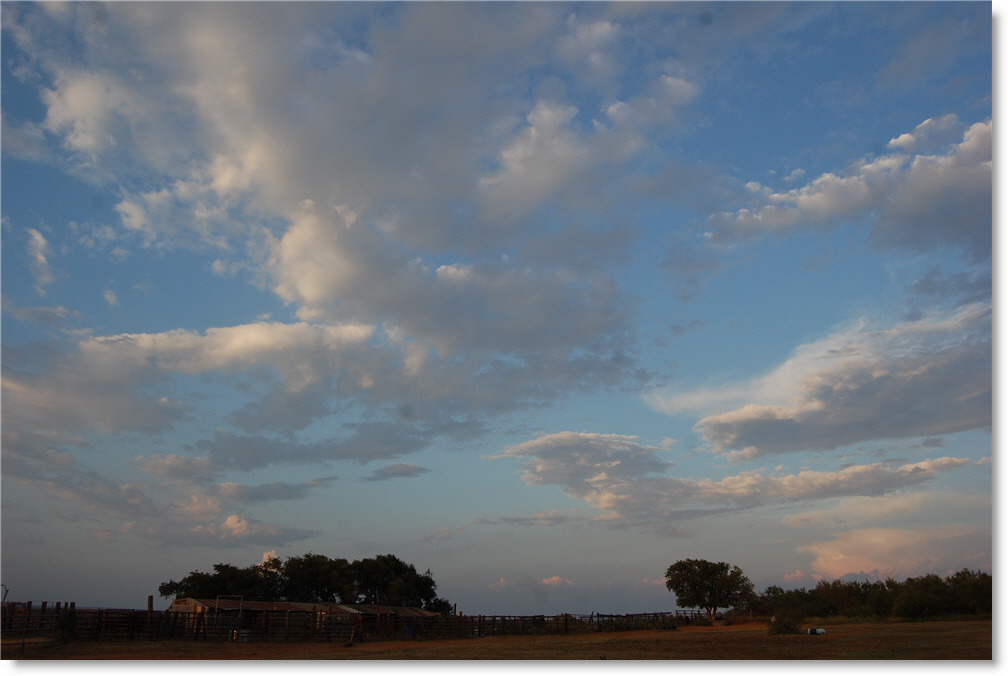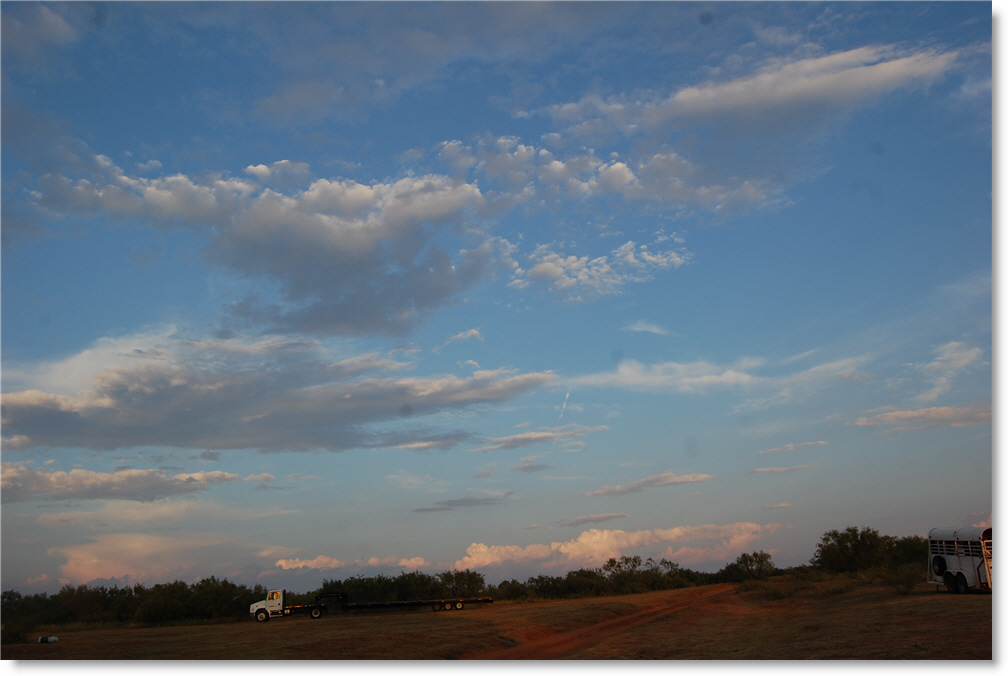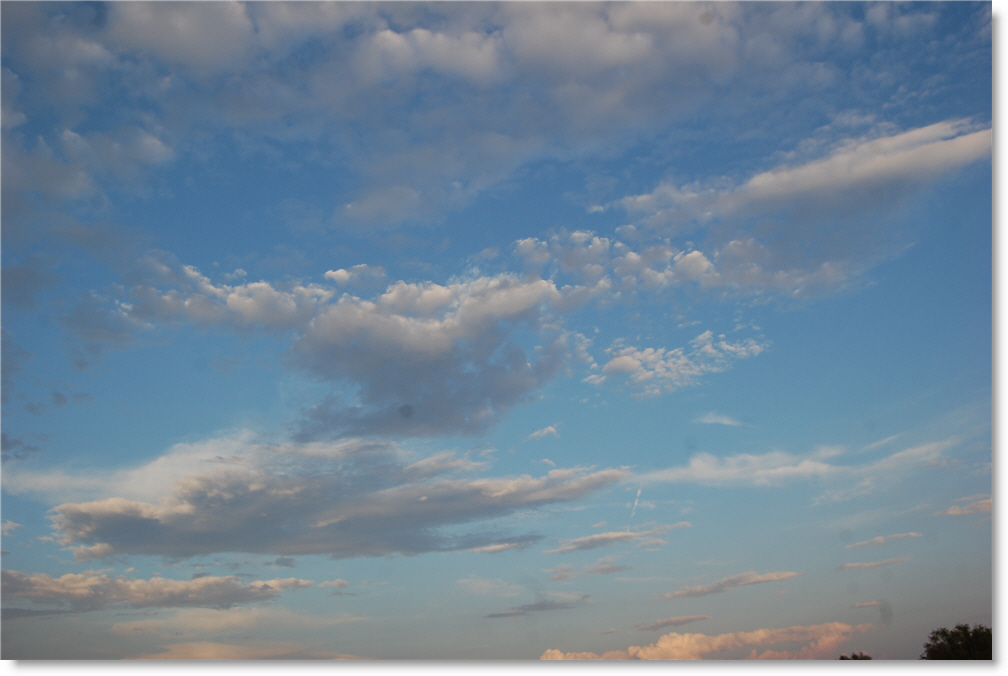 Carolina and Coconut and the Crazy Canine Bouncing Pictures - They often play on the trampoline together. I notice Carolina is also talking on the phone while she jumps, probably to Elaine Phipps.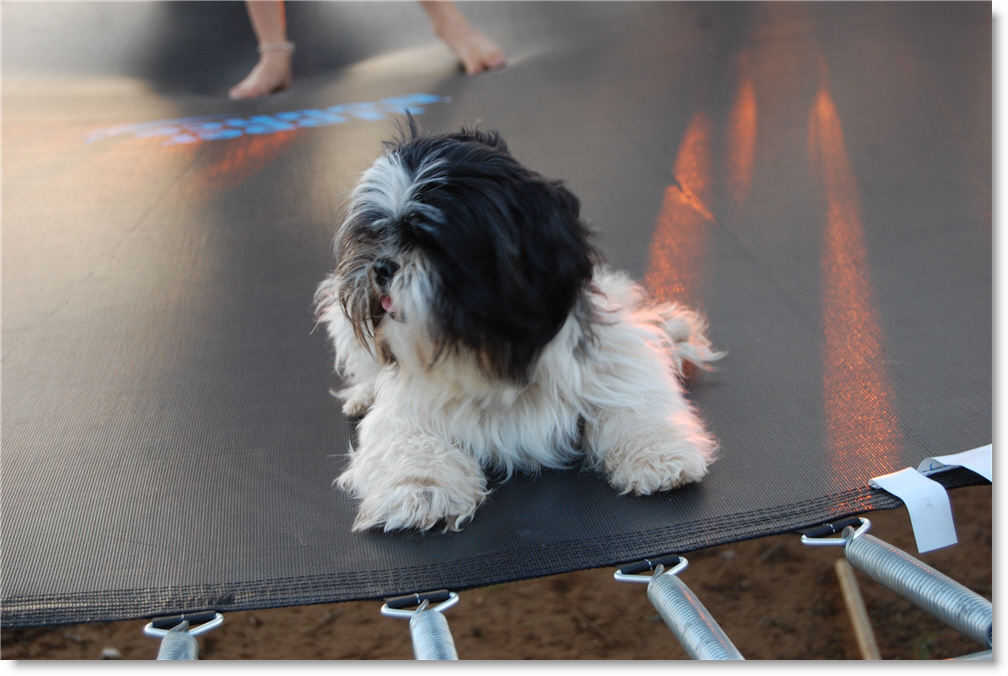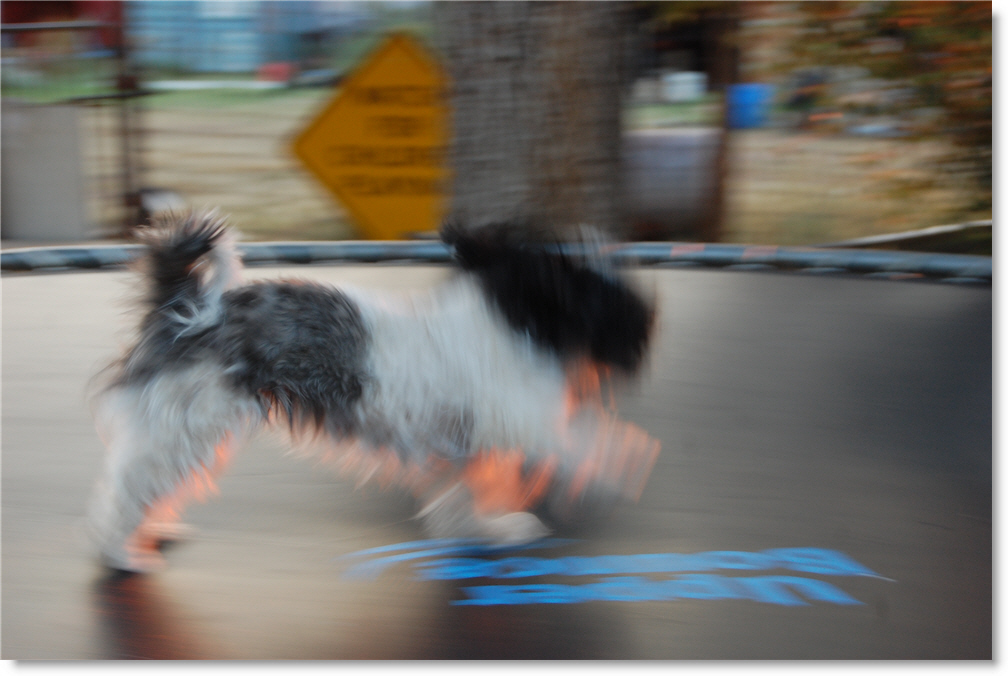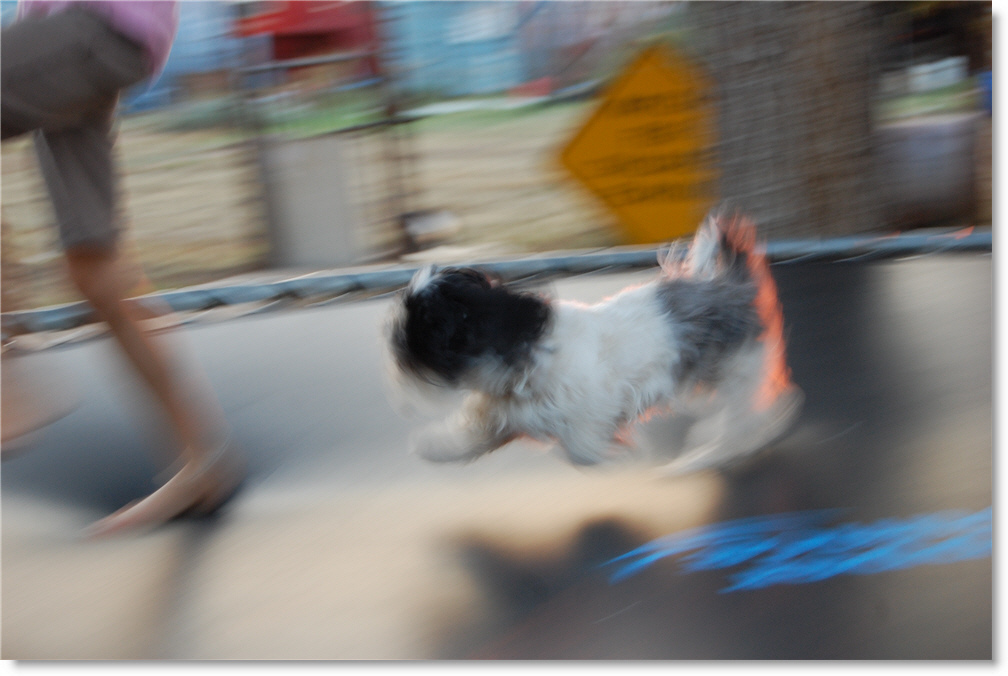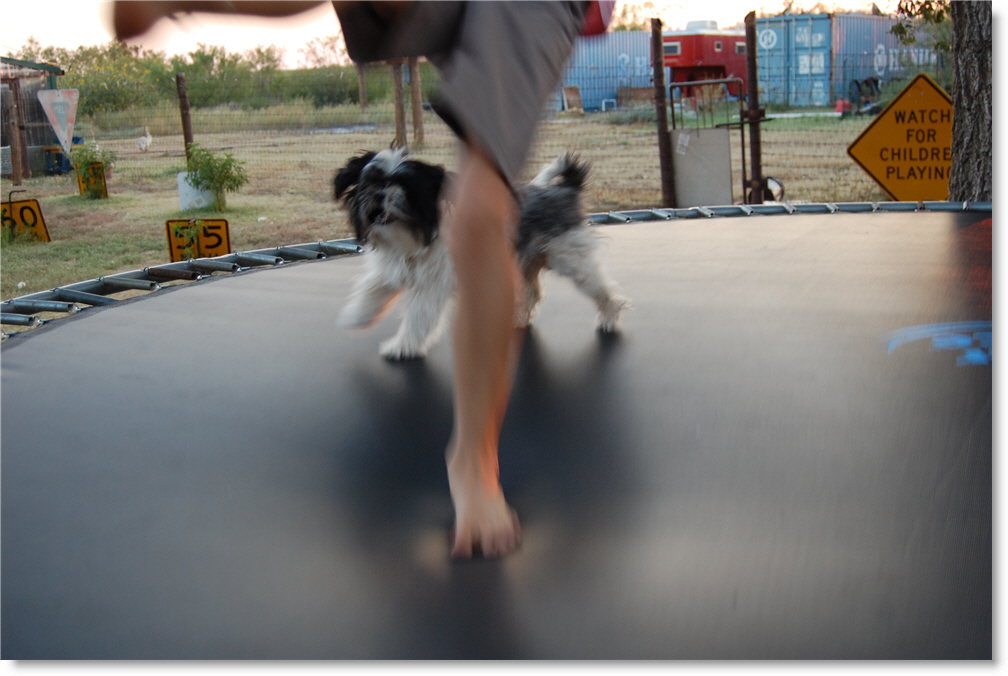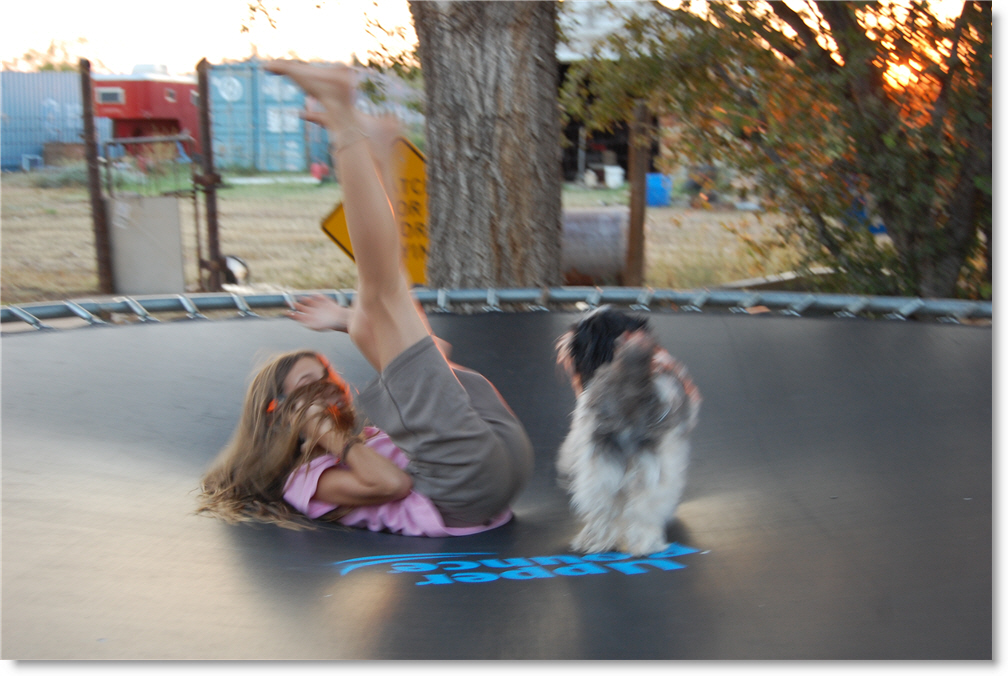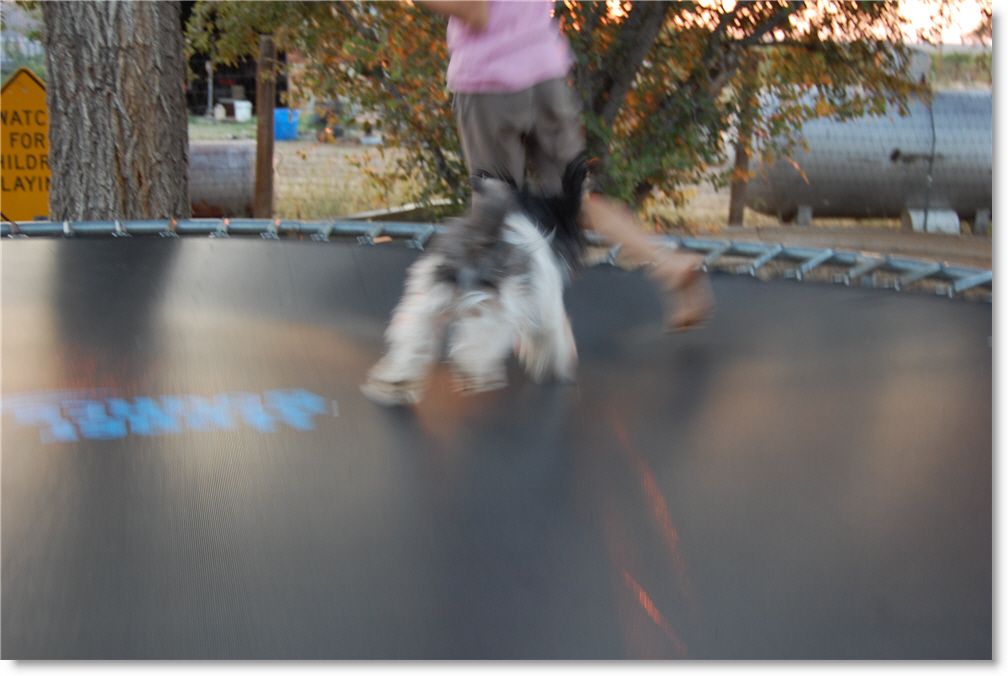 Monday, September 2 - My Artists - Look what Stockton and Carolina did today.
Here's the inspiration picture. This was our April reenactment trip to Mexia. (See Mexia Reenactment, April 2013)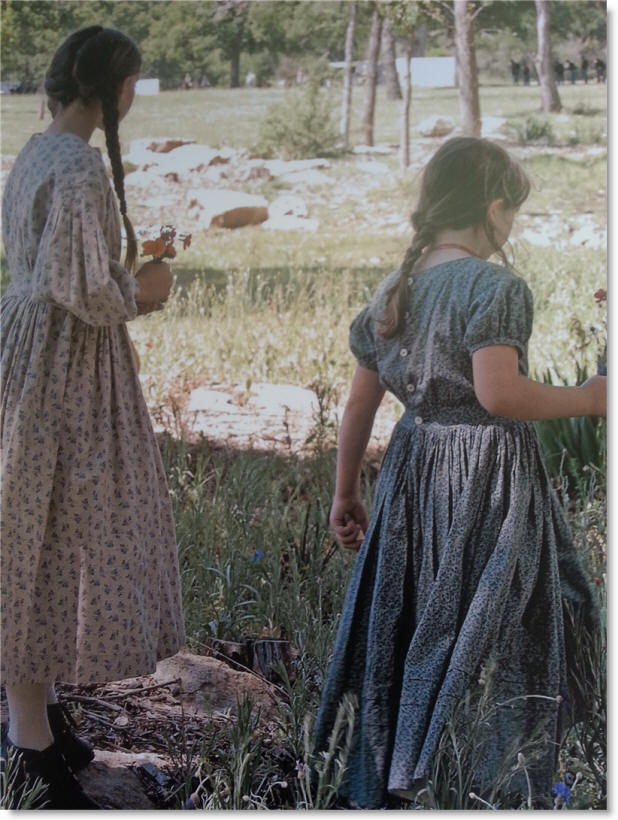 Stockton drew a favorite bird, a zebra finch, from a picture on the internet.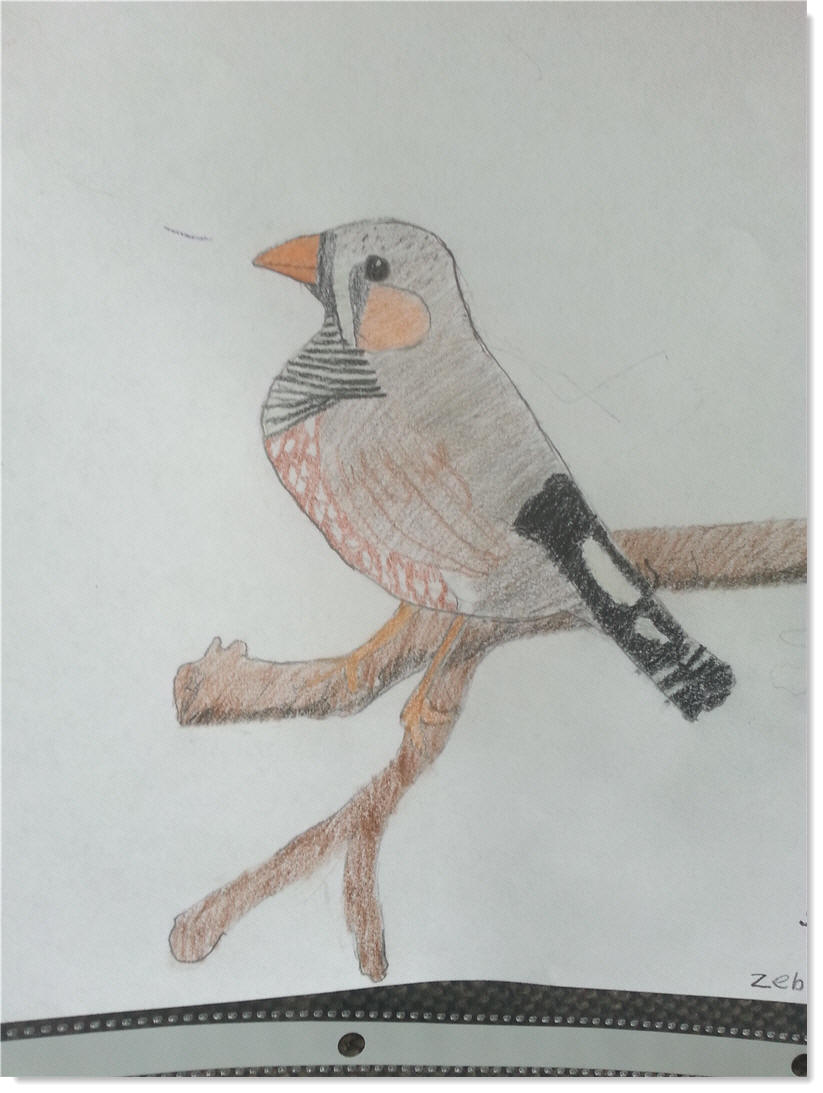 Dog Bath - Every now and then this becomes necessary.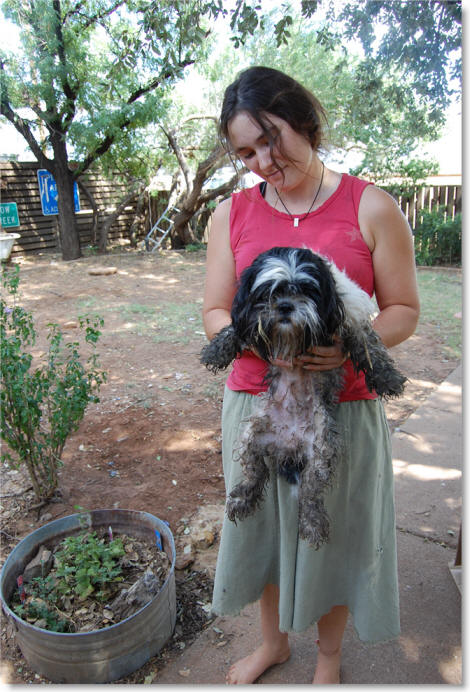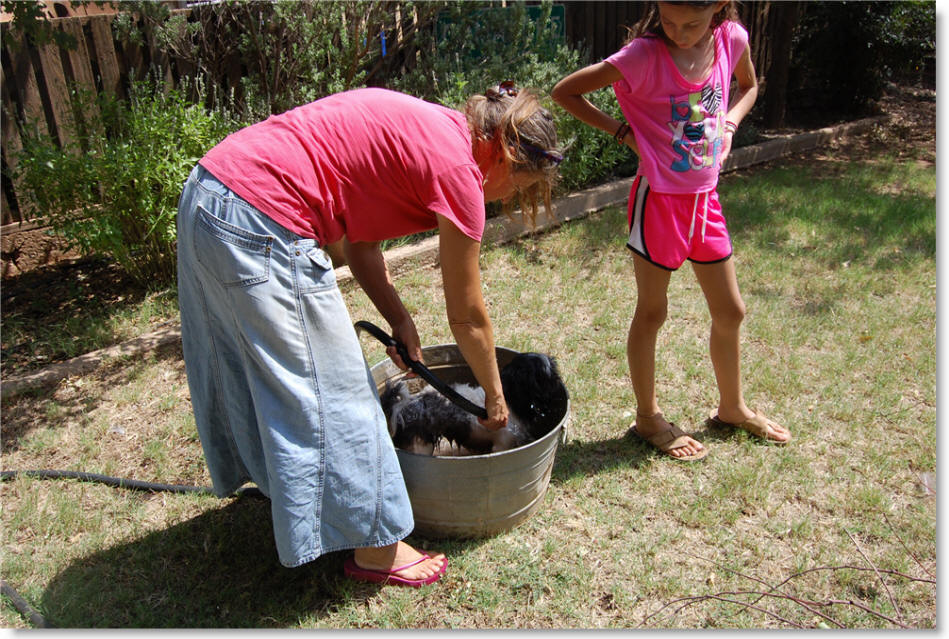 "Hey, this isn't too bad."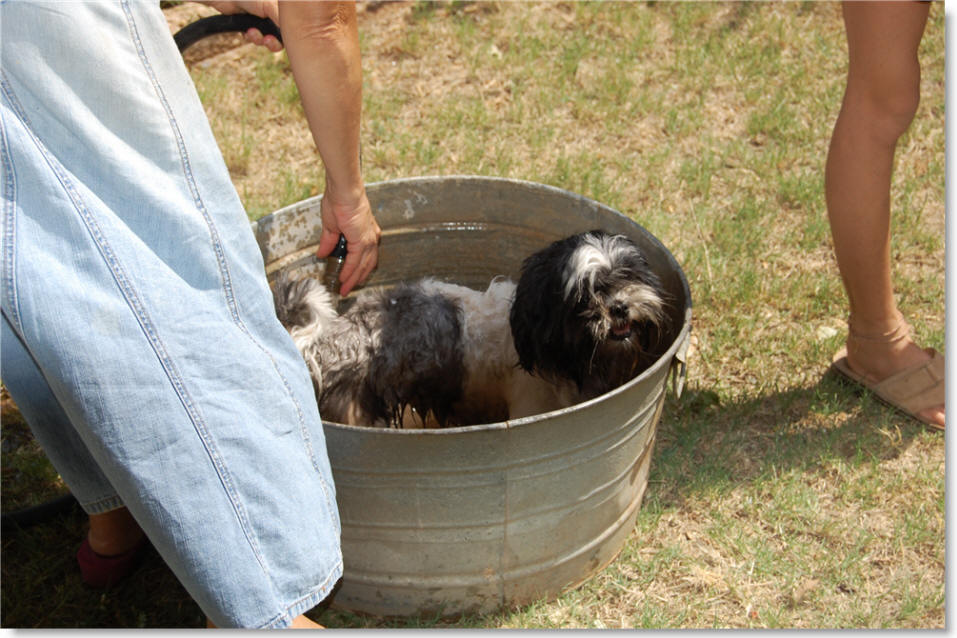 "Wait a minute, that's cold!"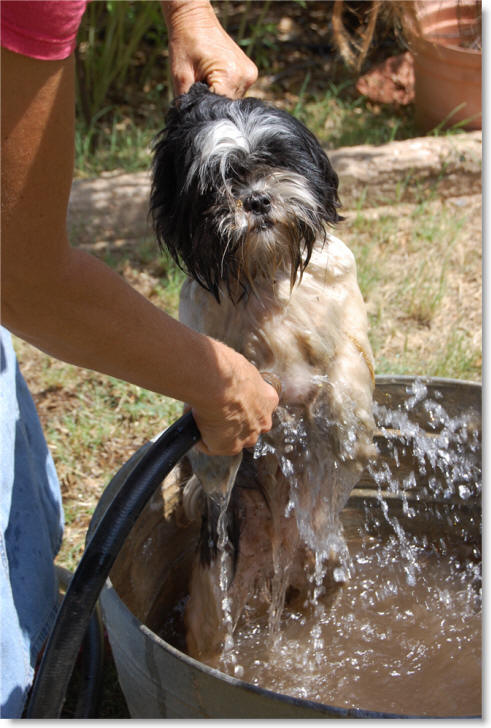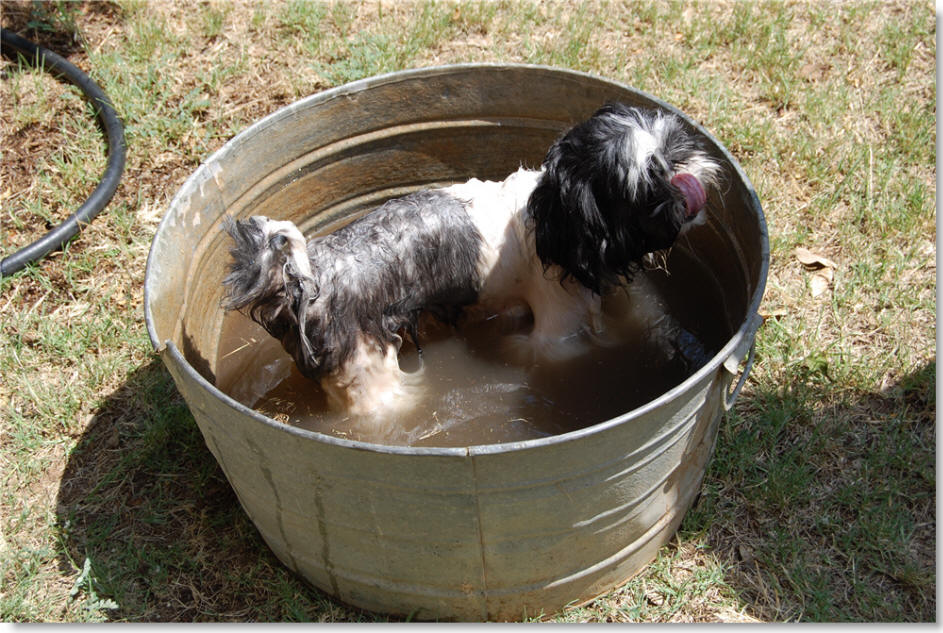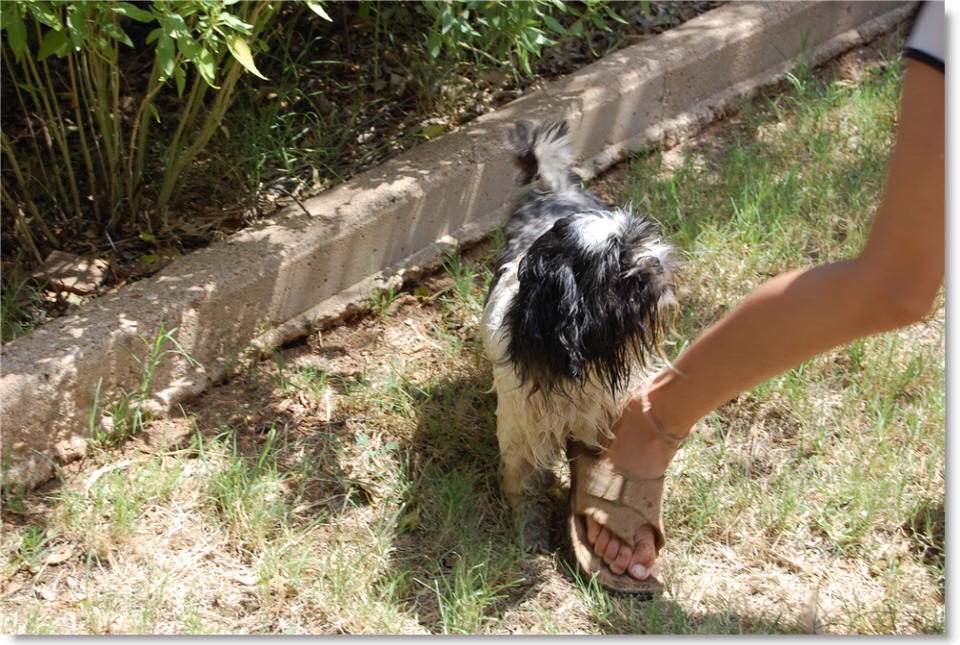 "I feel....refreshed!"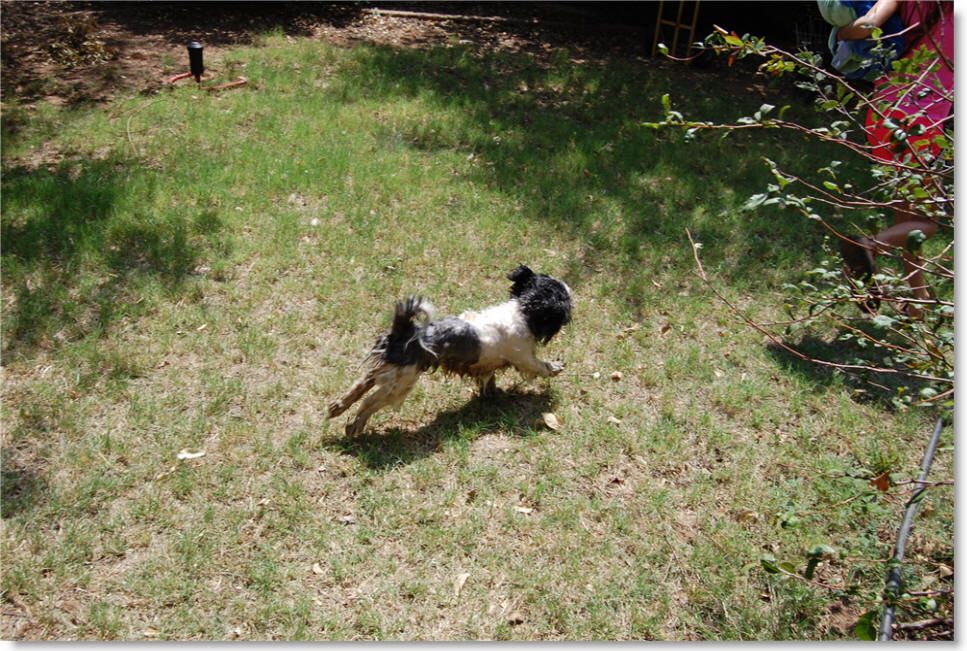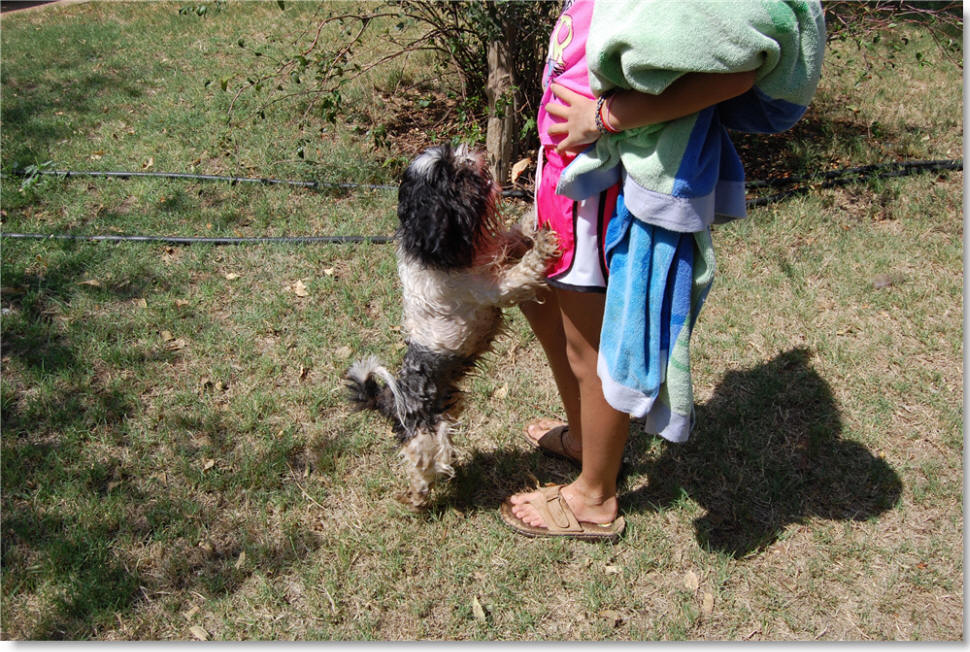 Not sure we accomplished much.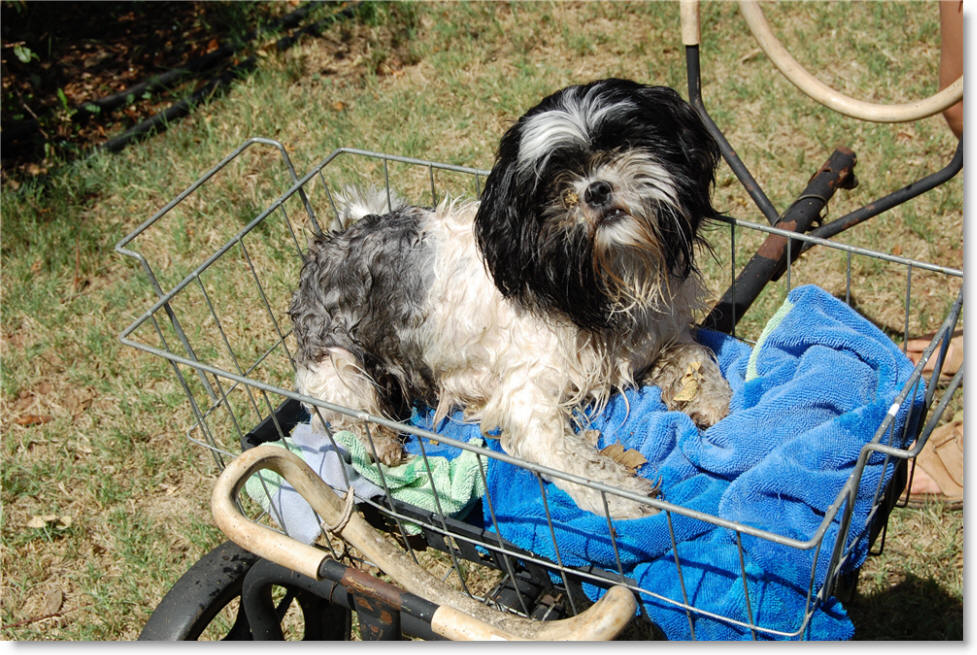 Not to be outdone, Rusty jumped in the horse tank and then came back to show coconut the proper way to dry off.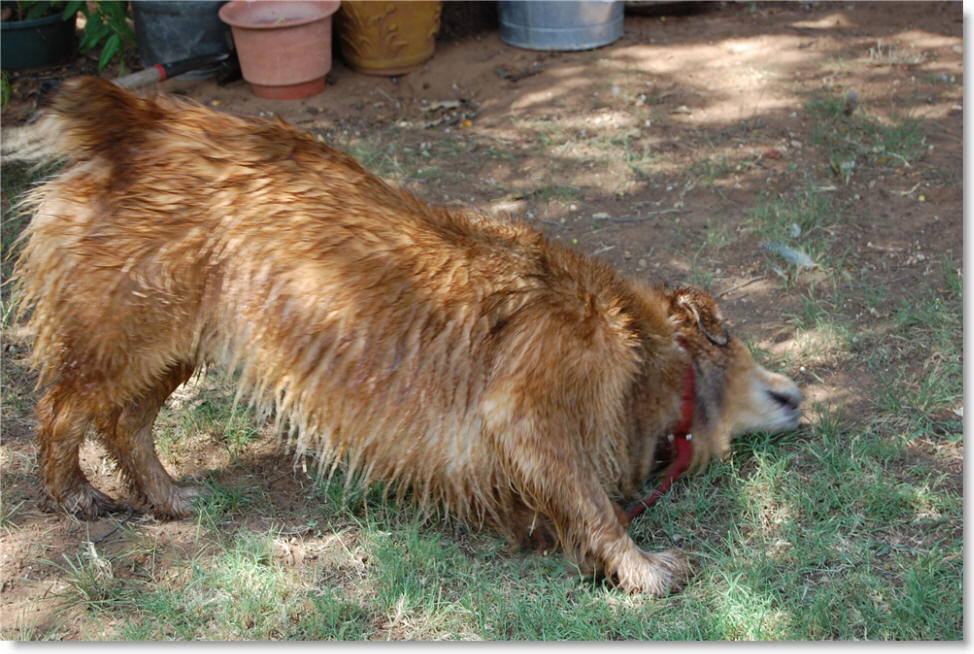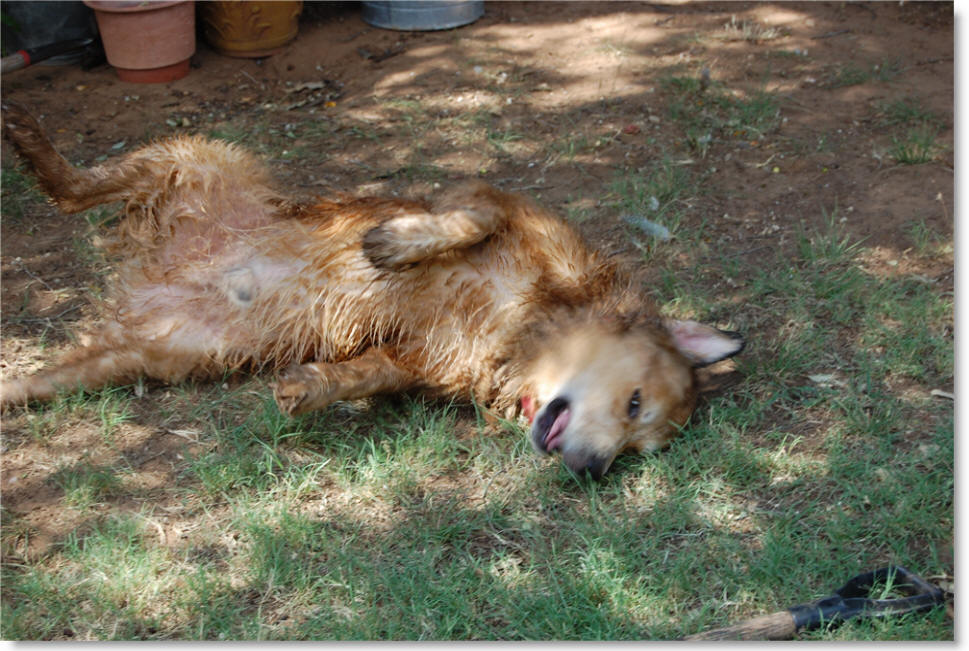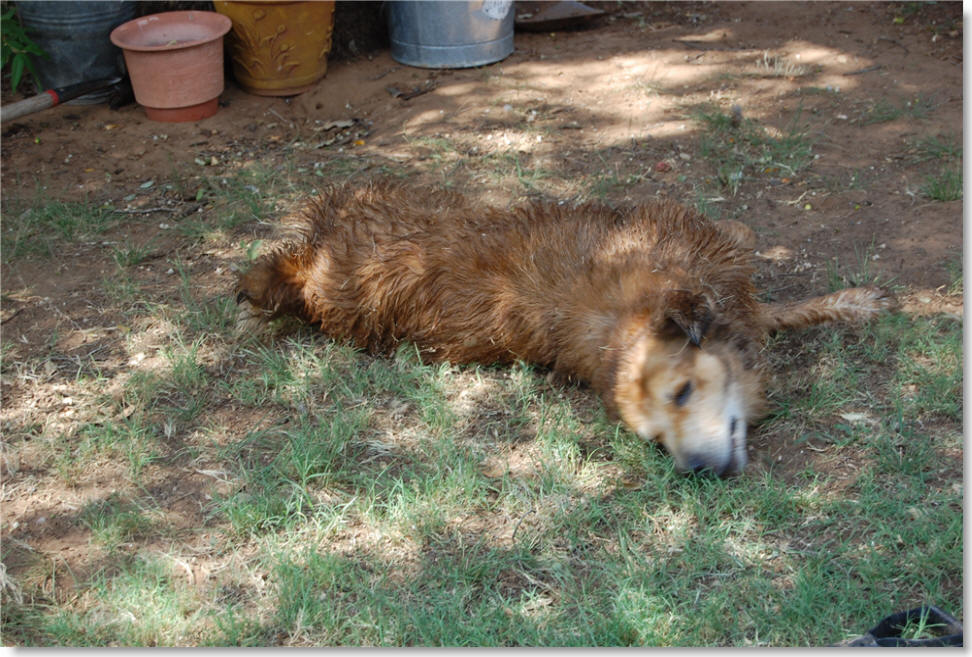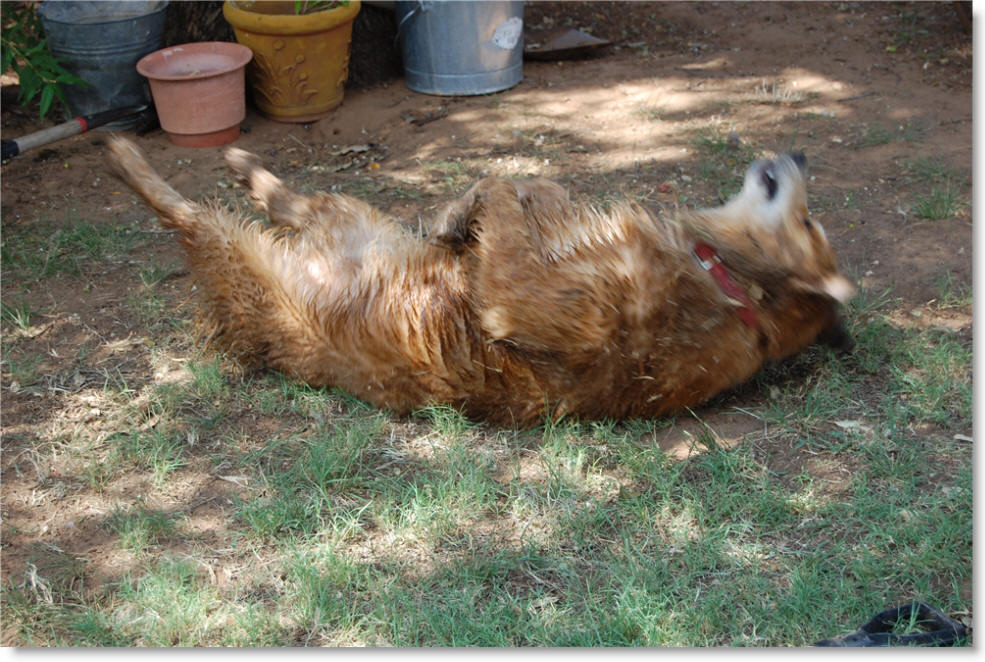 "Perfect. Just the look I was going for."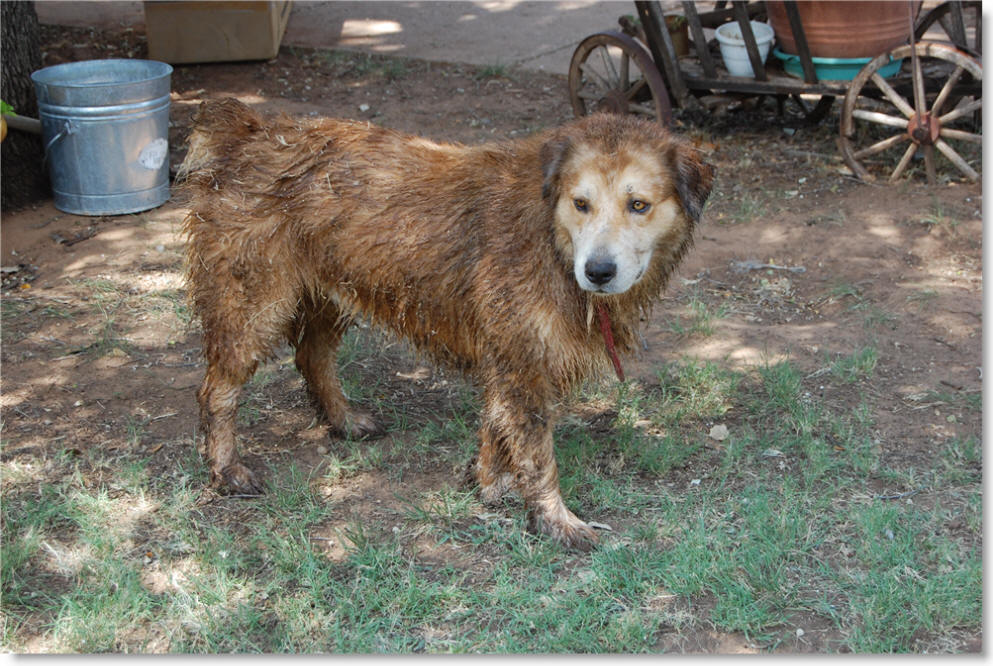 Reorganization - I've been doing some cleaning out and reorganizing in a few rooms.
In the kitchen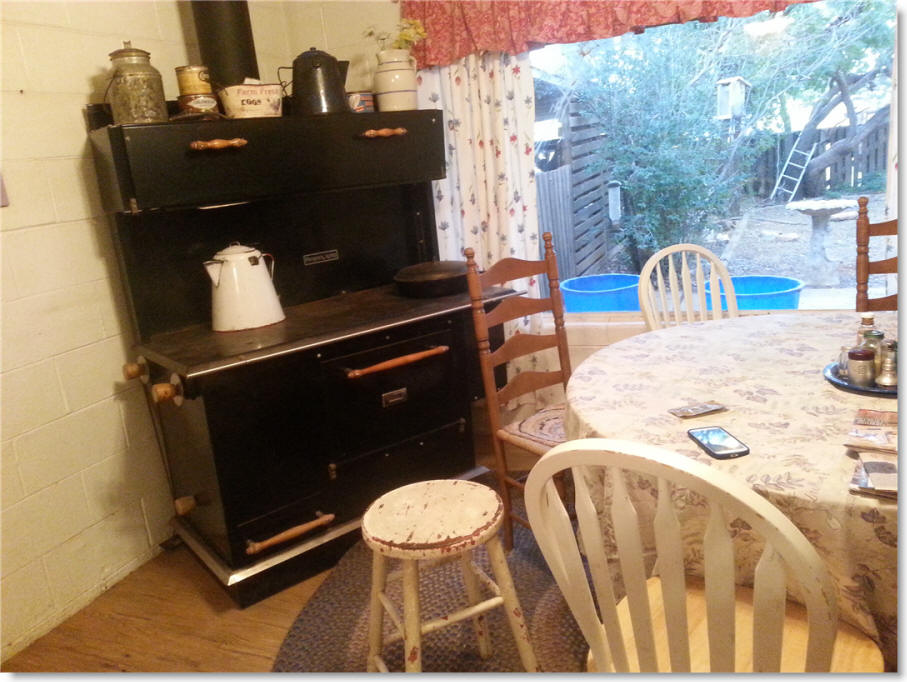 In the schoolroom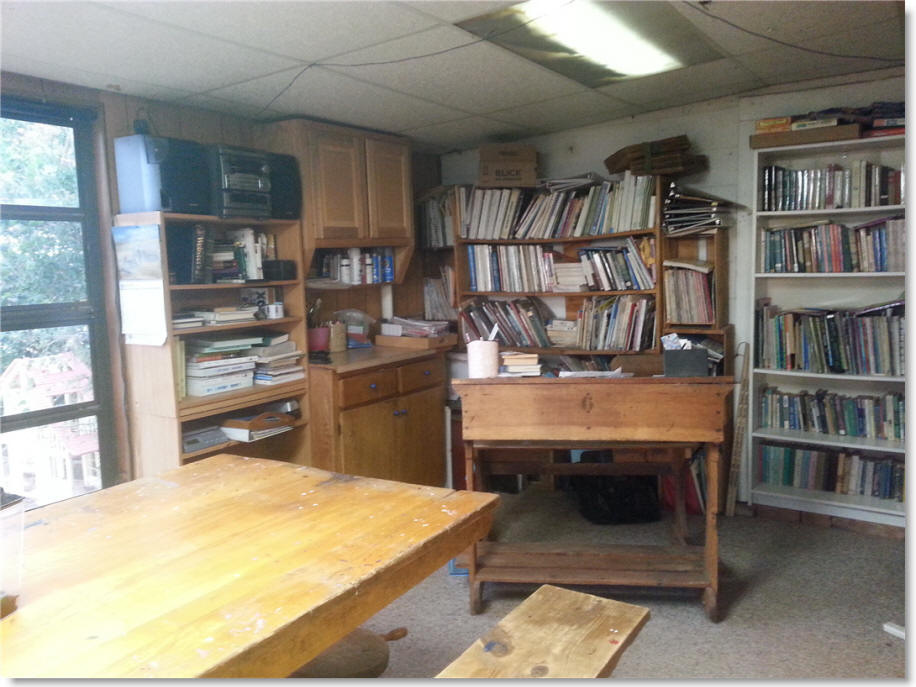 In the pantry/laundry room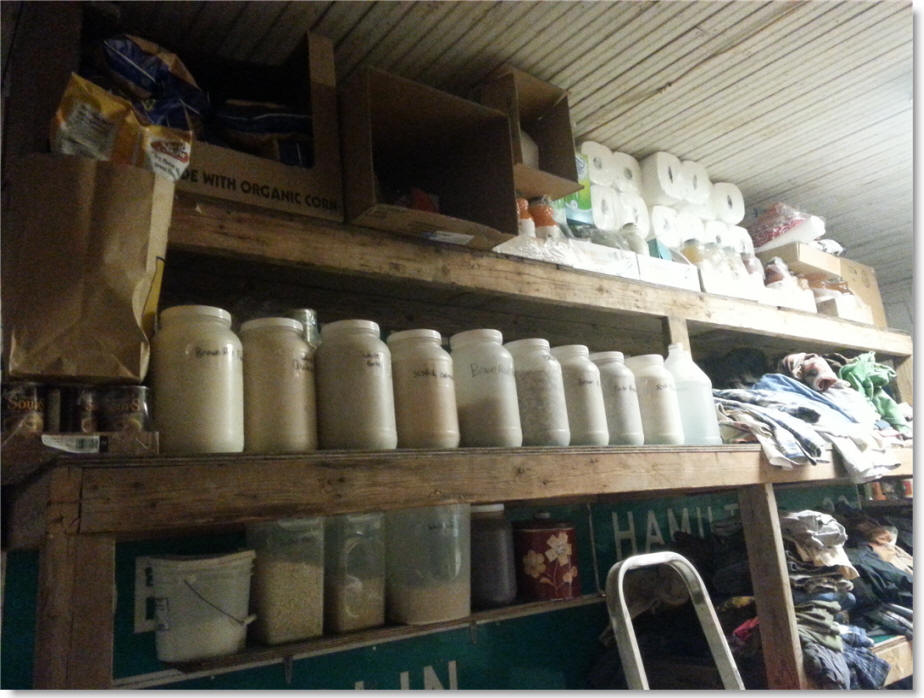 Recipe book/vitamin cabinet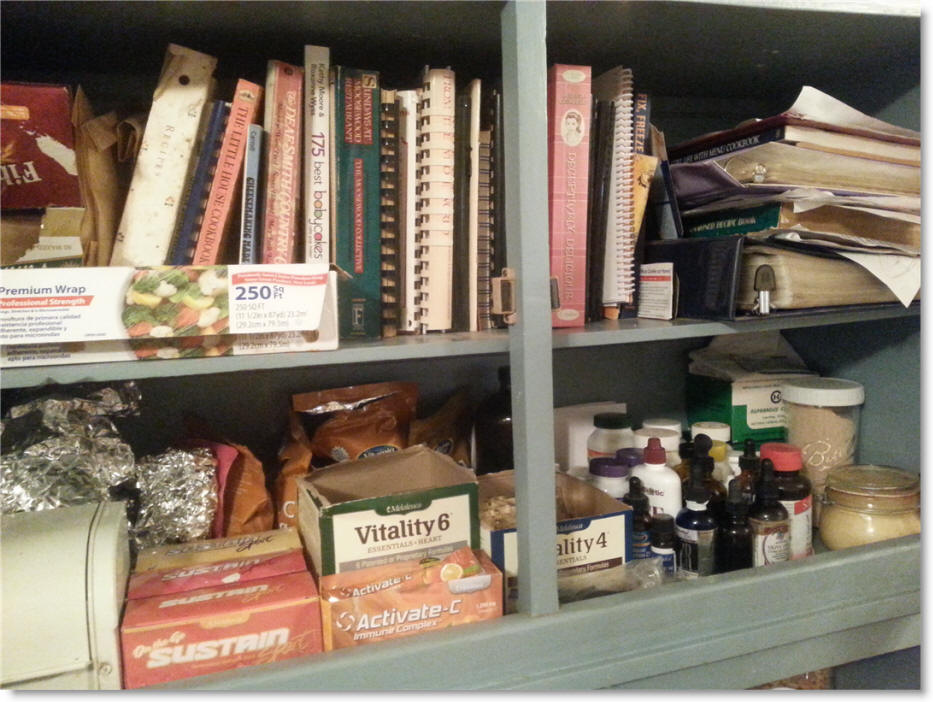 Check out our past news. Just click any link below: