Wednesday, July 25 - Wild Fire! - This was the scene not far from our mailbox as we drove towards Matador. We wanted to get a better idea of where this smoke was. It's so hard to tell from our house.
Apparently, we later found out, lightning had ignited a field of CRP grass near Matador. However, volunteer crews were able to get control of it in just a few hours.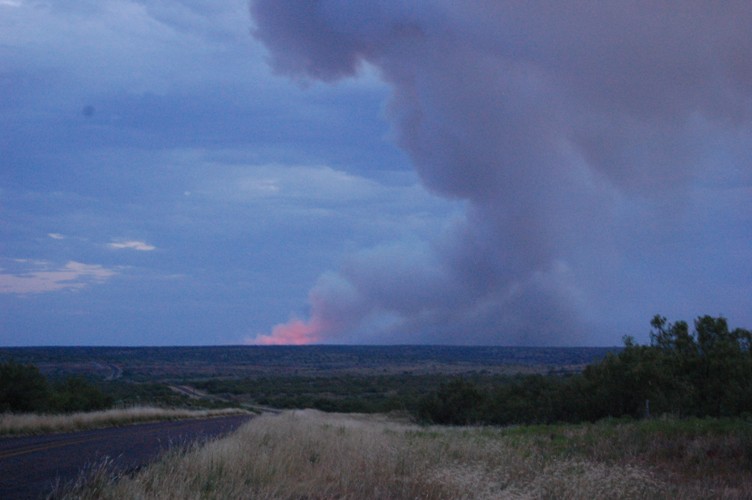 When we first noticed the smoke, it looked like it wasn't very far away as seen here looking behind Aspen's poultry house.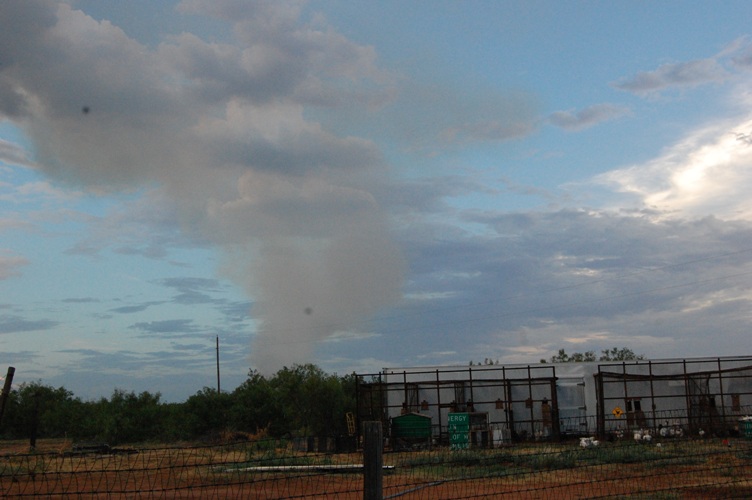 This was the cloud that sprung up and began casting down a few lightning bolts and rain drops this evening, most likely what started the fire.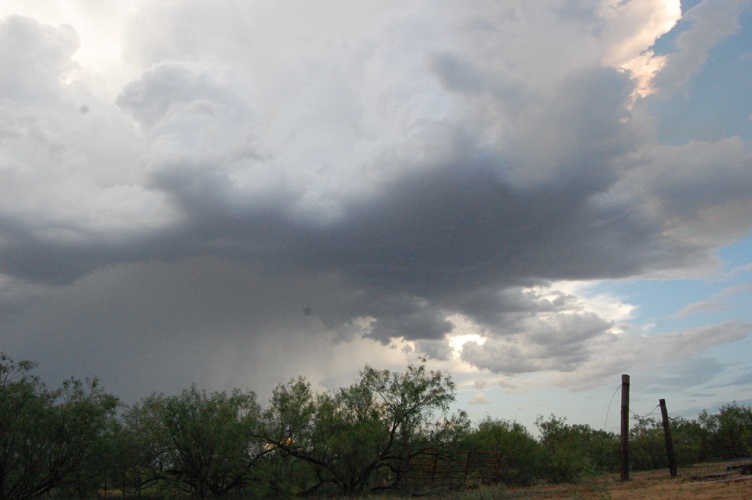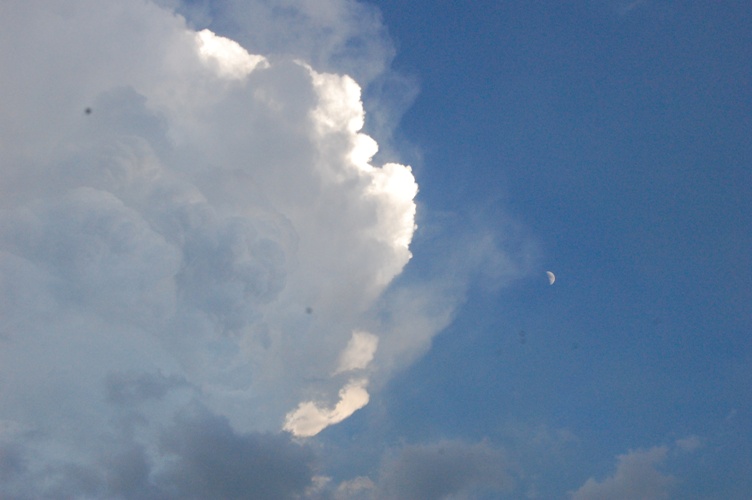 Aspen's new geese seem interested in all the excitement.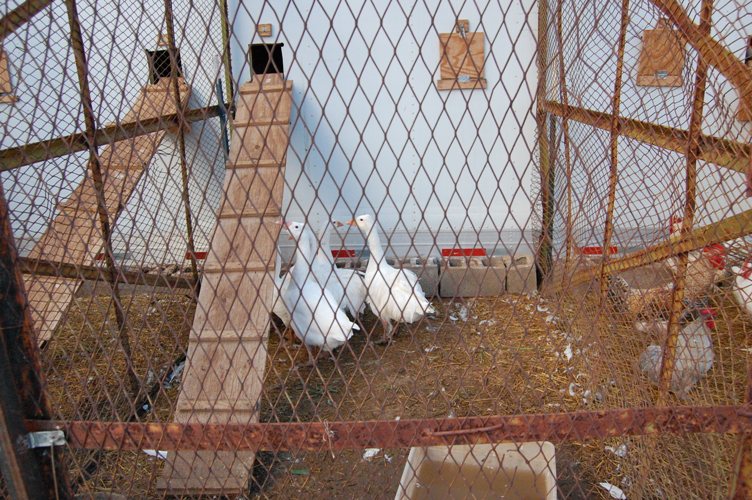 Atlanta and Laredo had to run a few errands today including picking up this horse in New Deal. Uncle Jake sold her to Uncle Chris, but we're keeping her here. She's going with Nathan and Chris to the mountains this weekend to scout for Elk.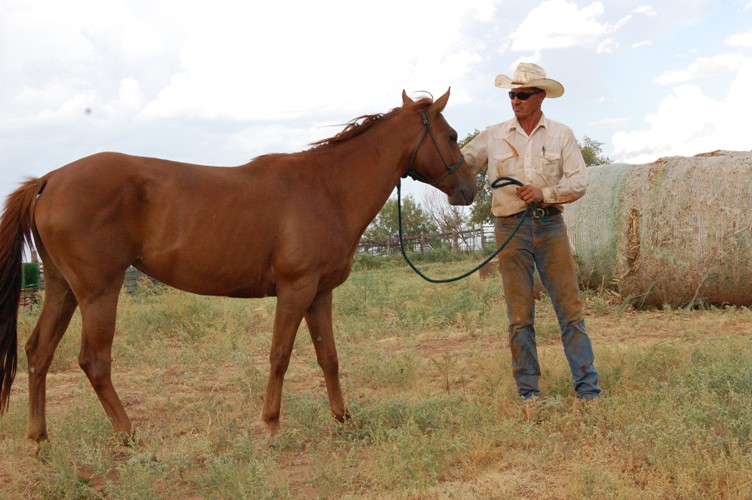 Aspen decided to cut the sleeves off of some of her shirts. Carolina grabbed them up and made quite an interesting outfit out of them.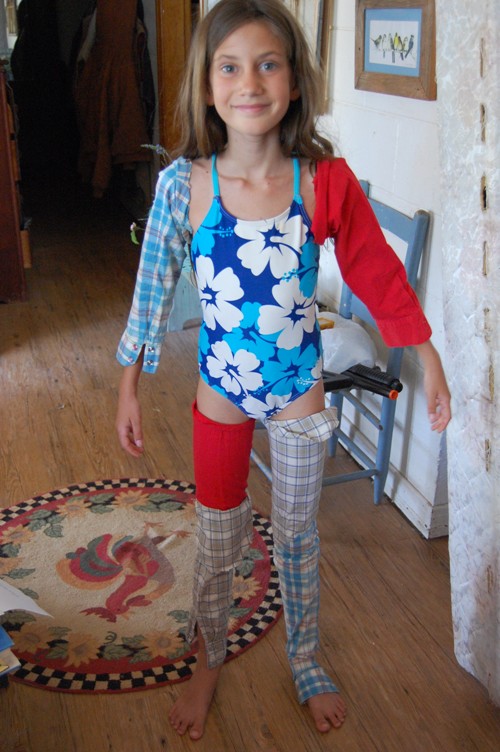 Stockton has a miniature rose bush that sure has some lovely blooms on it right now.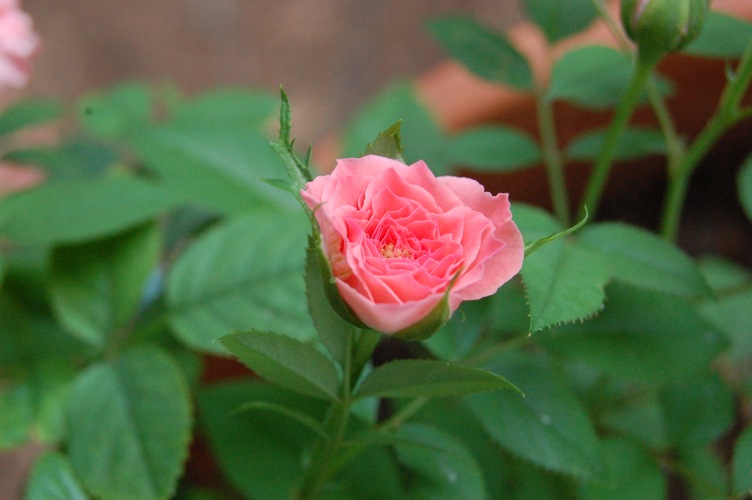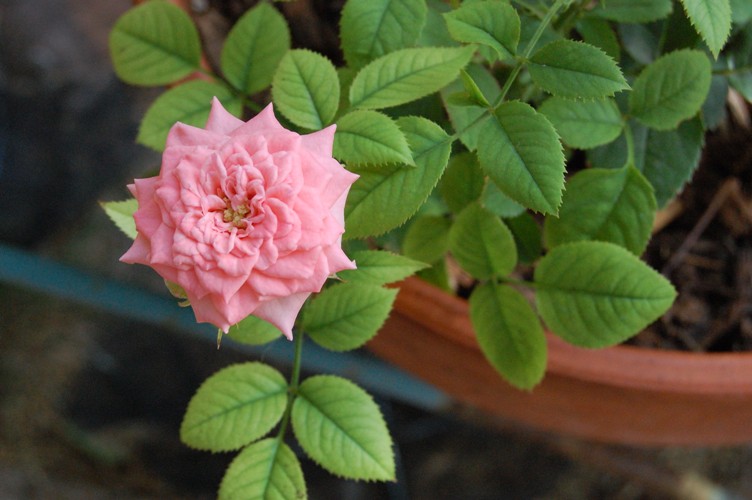 Saturday, July 20 - Friends - Kayla Alexander came over to spend some time with Aspen.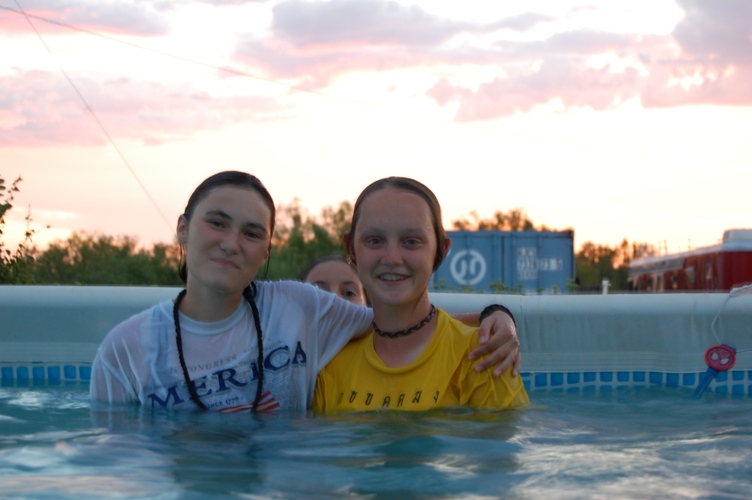 They've got a nice sunset to look at while they swim.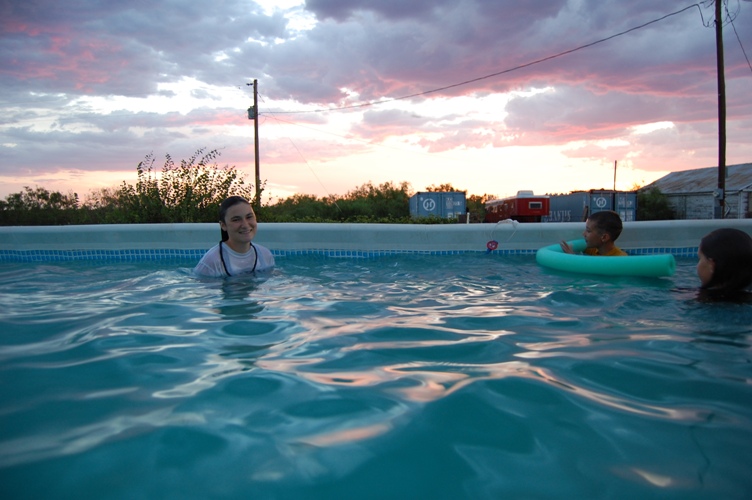 This morning Atlanta, Cimarron, Laredo and Aspen took off for Amarillo. No, they aren't going to a trade days, but they are planning on making a few trades along the way.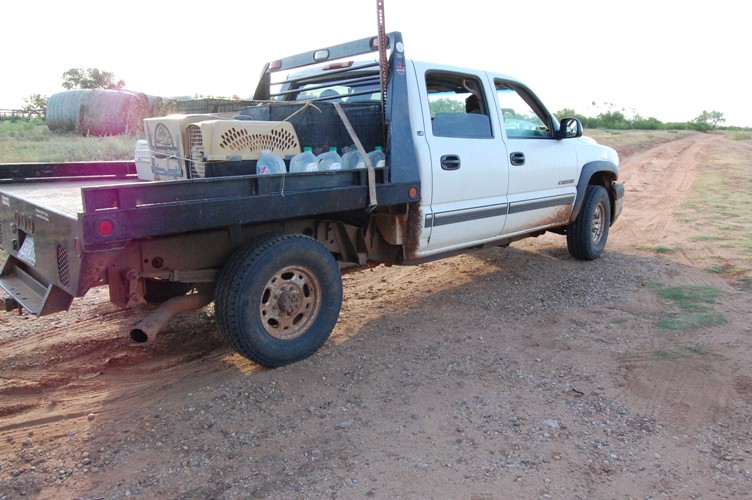 They are taking two big calves to the sale barn in Amarillo first. A couple of people are planning on meeting Aspen there to buy some of her poultry (in the cages and boxes on the back of the pickup). Then they're going to leave the trailer there and run up to Fritch to pick up some geese. After that they're going to 6th street to pickup up an antique icebox that Atlanta is buying for her future home. The last stop is a trip to the gun show at the Amarillo Civic Center.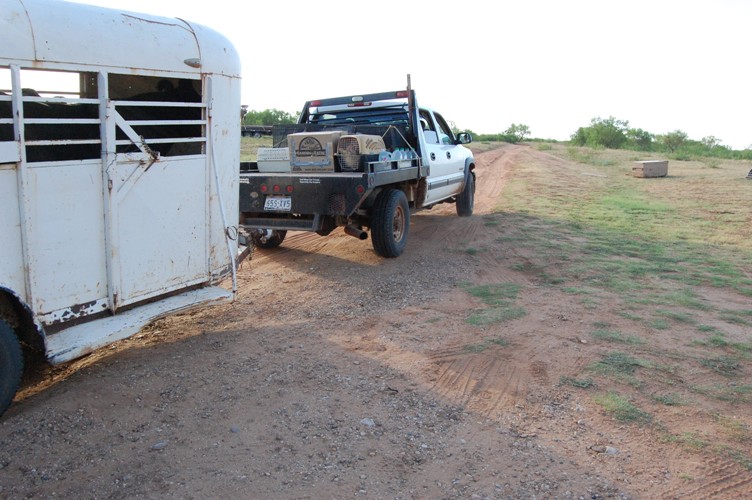 Thursday, July 26 - Shower for Macy Davidson - This evening Atlanta and Windy attended a wedding shower at the Ramsey's in Quitaque. This was the view north as we crossed the river bridge coming home.

Macy is the twin sister of Molly who we got to see at another shower for the other sister, Mary Kate earlier in the month. Atlanta spent a lot of time with Macy, Molly and Mary Kate when she was younger.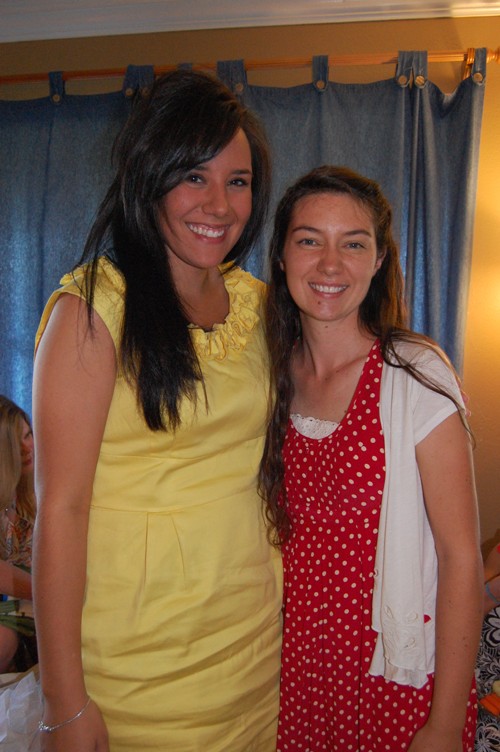 Tuesday, July 17 - Garden and Herbs - The garden is starting to produce, but we have to keep watering regularly, it's so hot.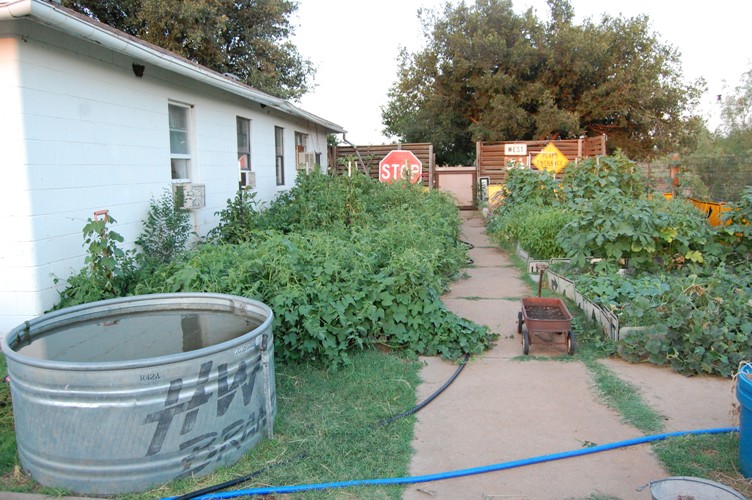 Stockton and Carolina are putting in a few herbs of their own. Basil, thyme, and mint are doing their best to get established despite this heat.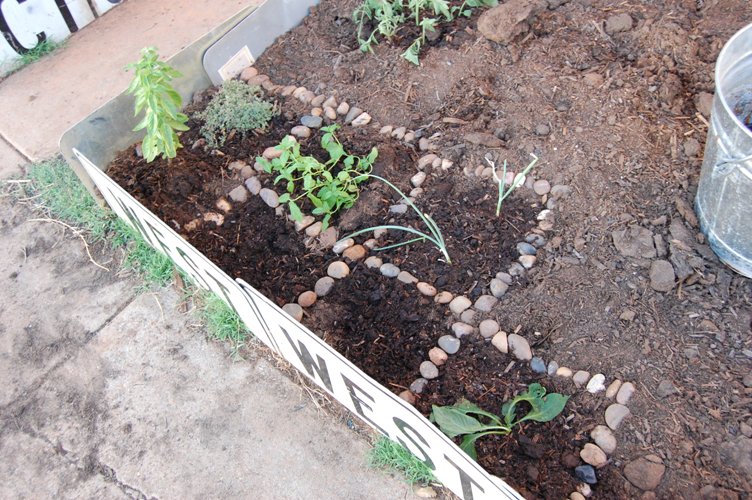 We strung twine around the strawberry bed frame to form a lattice pattern on which the morning glories can climb.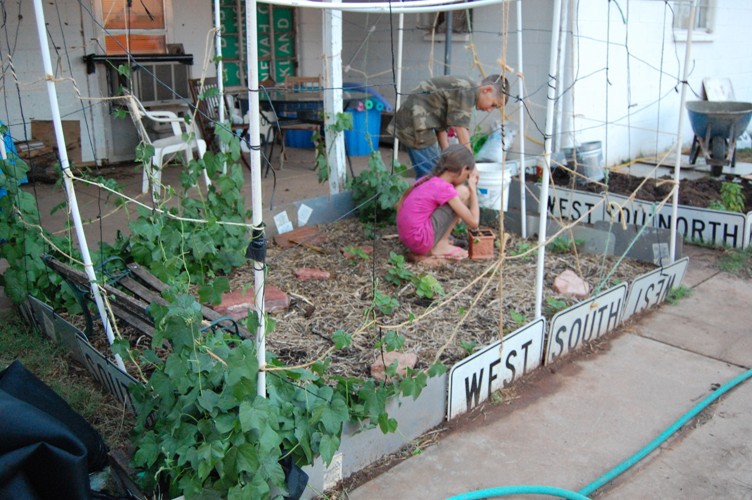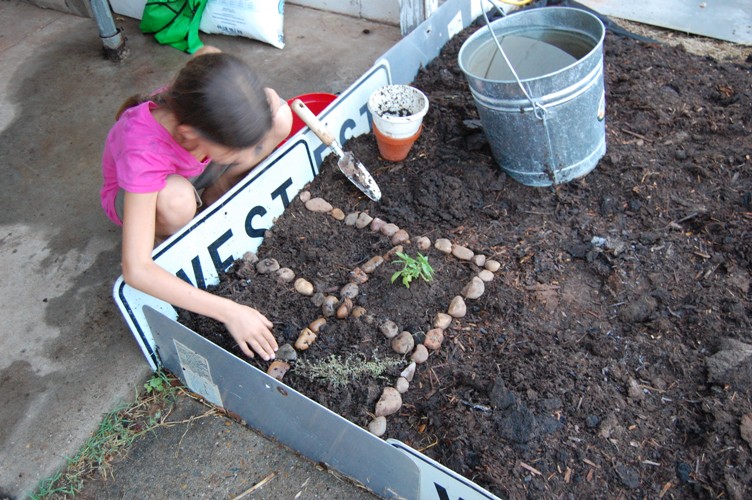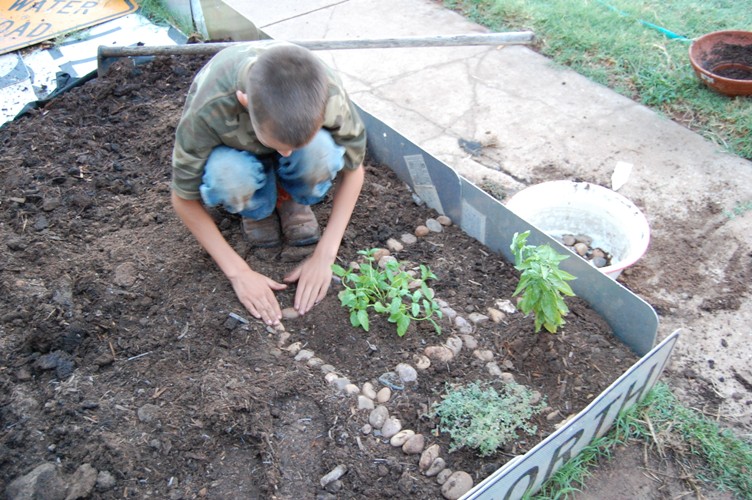 Monday, July 16 - Color Swirls in the Sky - A beautiful evening with lots to admire.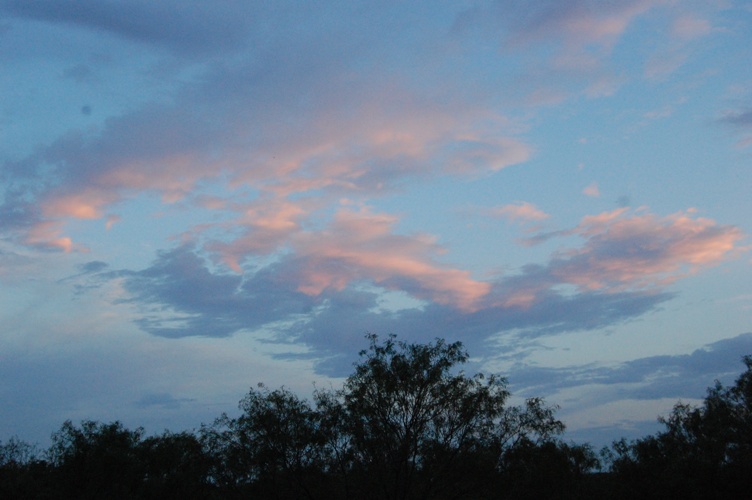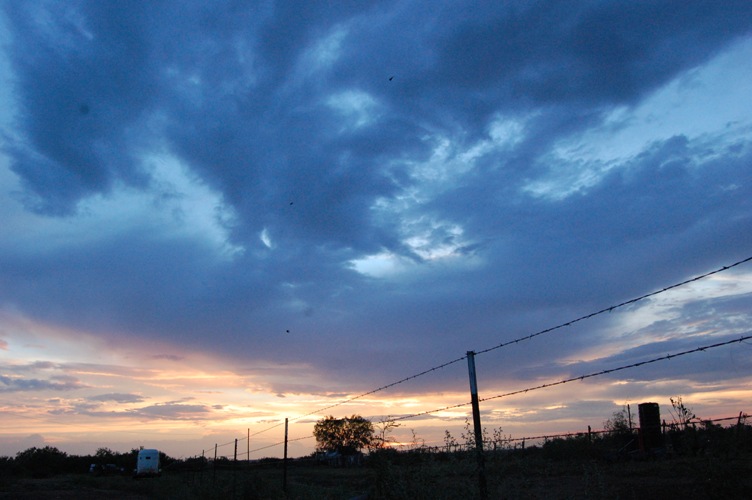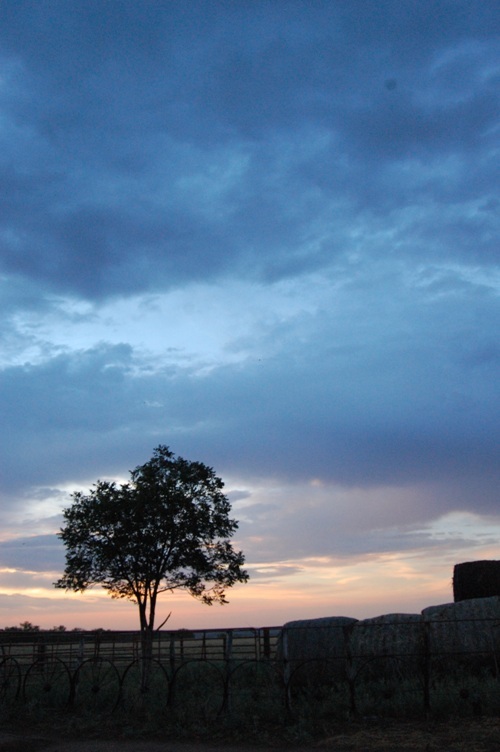 Nathan and Cim are cleaning up the cab of Cim's "new" pickup. Some mechanics in NM took the cab off a pickup we had behind the shop that needed engine repairs and put it on the chassis and engine from Cim's pickup. Now he has a white pickup.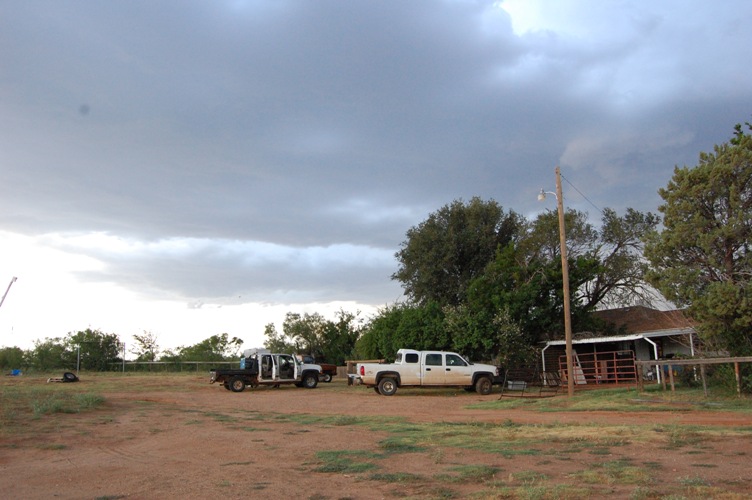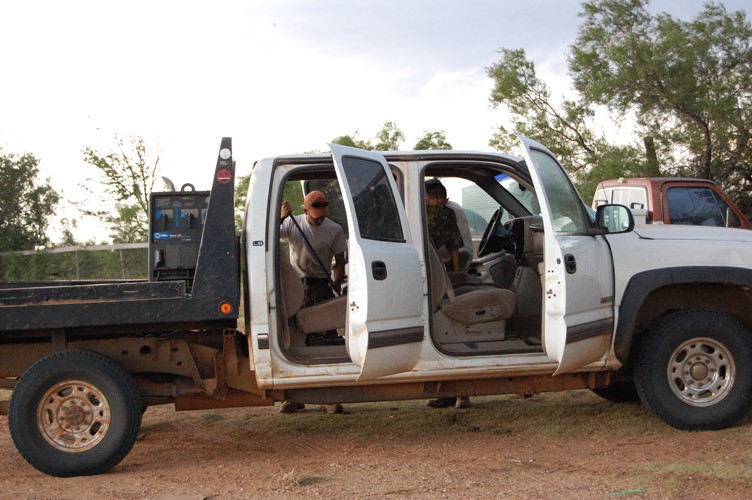 This cloud looks quite ominous, but it didn't give us any rain.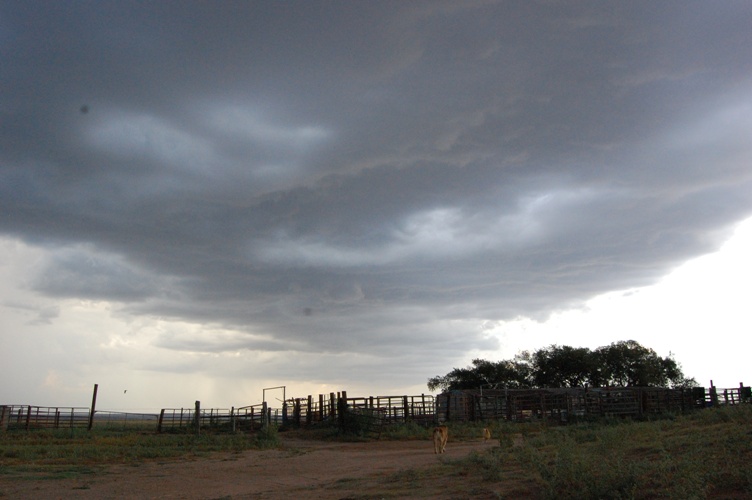 We got a few drops and the whiff of a nearby shower.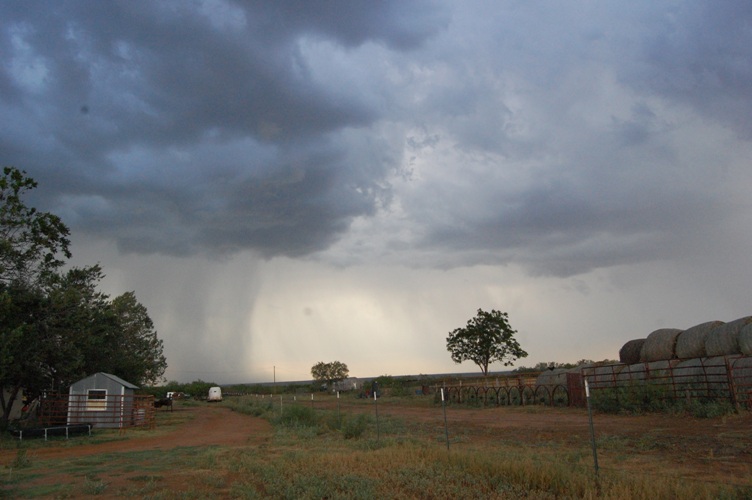 Sunday, July 15 - Cooling Rain! - Tonight we got a nice shower. We set out on the back porch and enjoyed it.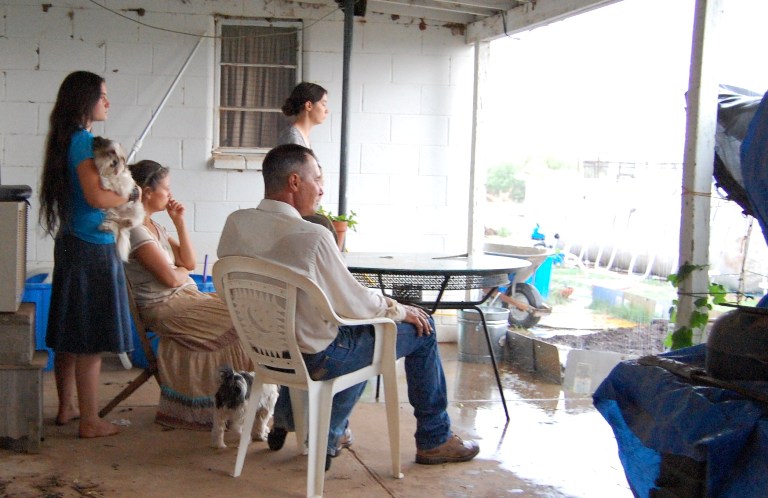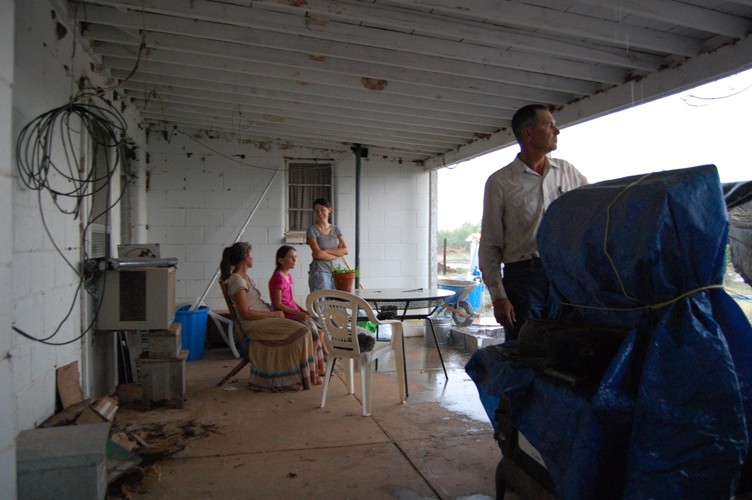 Our old trampoline matt makes a nice shade for the strawberries.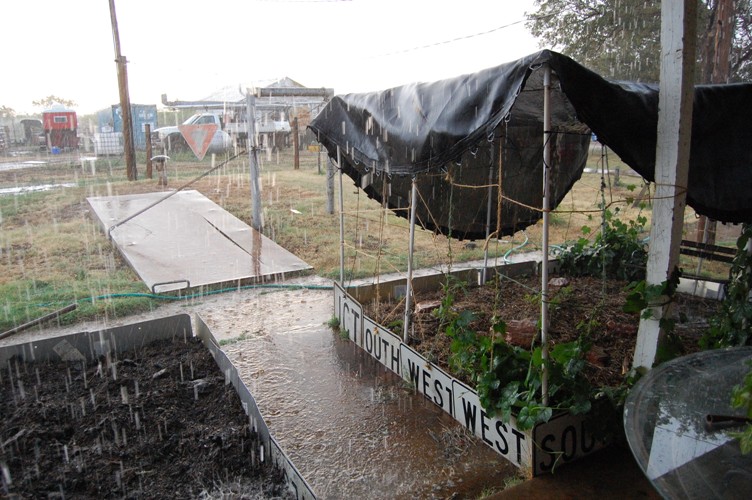 Saturday, July 14 - Fishin' Buddies - Stockton and Nathan discussing their trip to the fishing hole.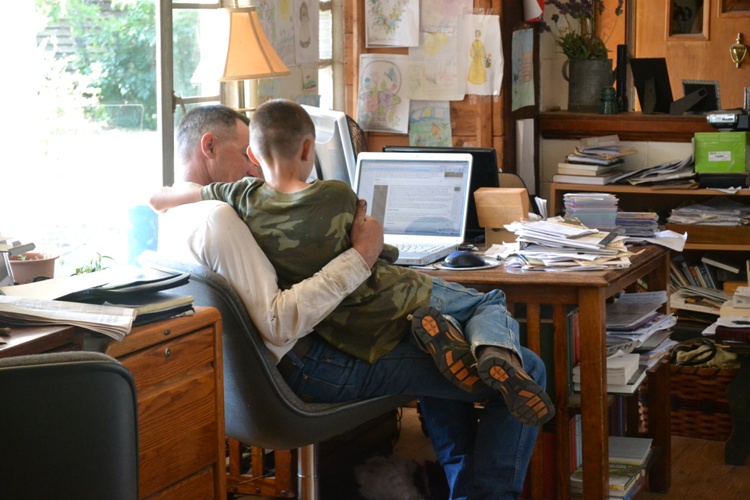 Stockton caught this big bass and brought it home to his fish tank hoping it would live.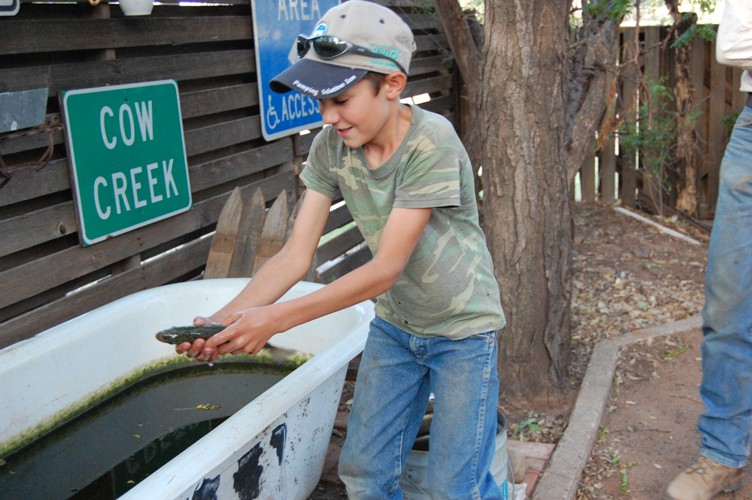 Thursday, July 12 - Fabled Trip to Shop for Antiques Finally Arrives - I say "fabled" because we've had the idea to take a mother/daughter day of antiquing since Atlanta was about to turn 12. We've talked about it and tossed it around for 10 years now, waiting until the time and money were lined up right. It had begun to take on a fairy tale feeling...you know the feeling...possible and yet not really within the realm of reality. Well, we gave up on the time and money and today we finally just made it a reality on Atlanta's 22nd birthday. We had so much fun. We ate brunch at a French bakery (spinach and cheese popovers and a cream filled pastry), then hit the infamous 6th street in Amarillo. We carted home a pickup full of stuff, but not before eating supper at the Olive Garden.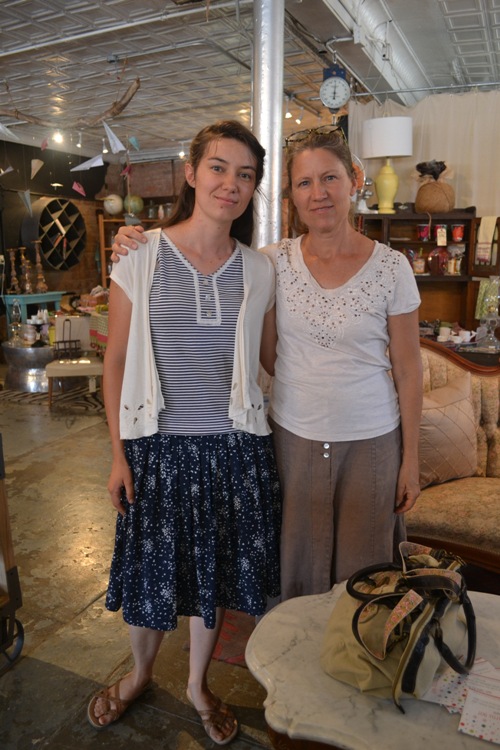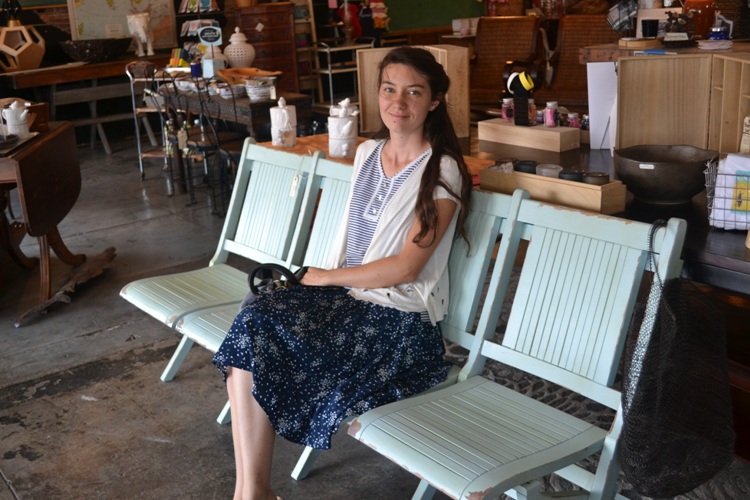 Atlanta may have to go back and get this cool restored icebox if Jordan thinks it's a good deal.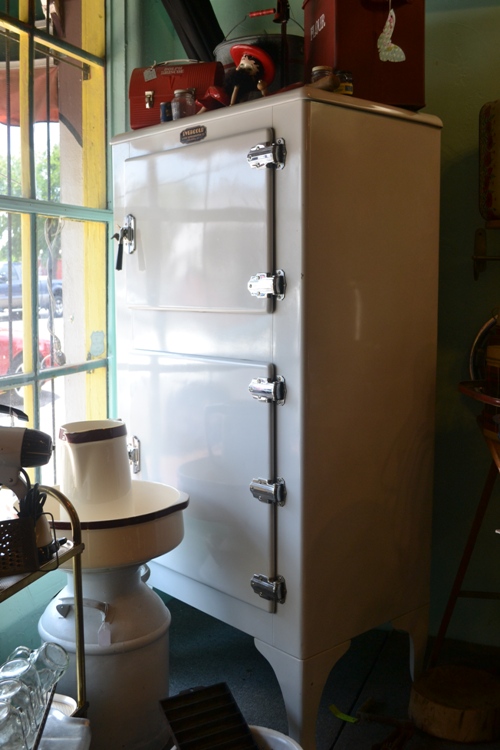 Wednesday, July 11 - What's Going On Around the Shannon Ranch today?
You asked.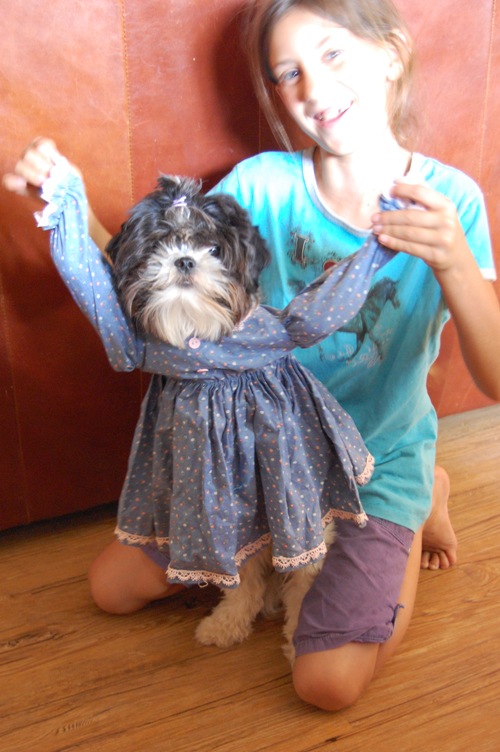 Stockton reading his new book from Atlanta, Men of Iron, while eating a bowl of cereal.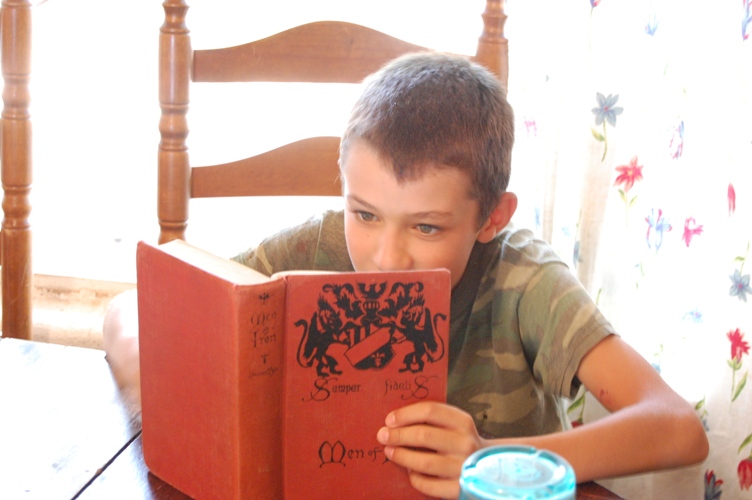 Our wheat field is getting dry, but the horses are staying fat eating something.

Rusty's bored.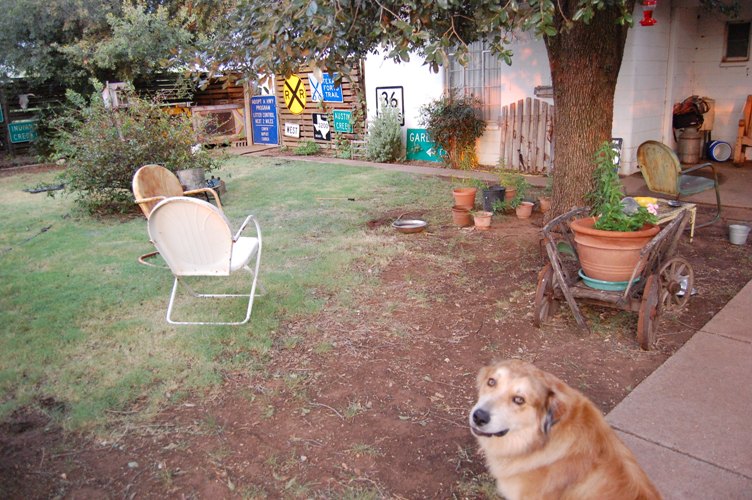 Rusty's tired.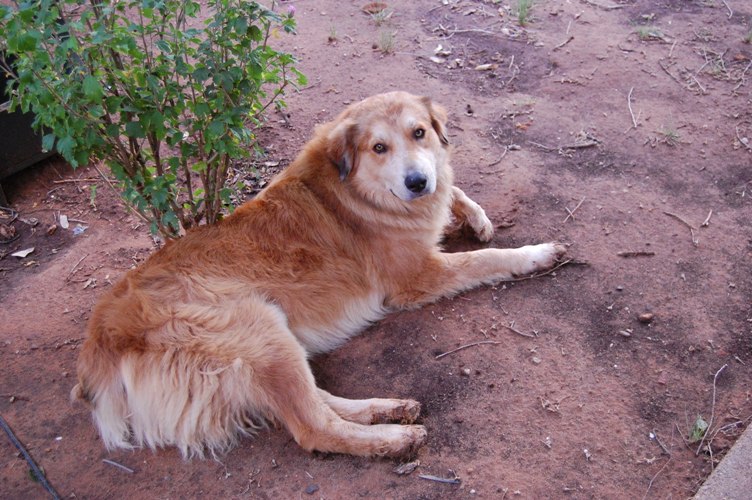 Rusty's really tired.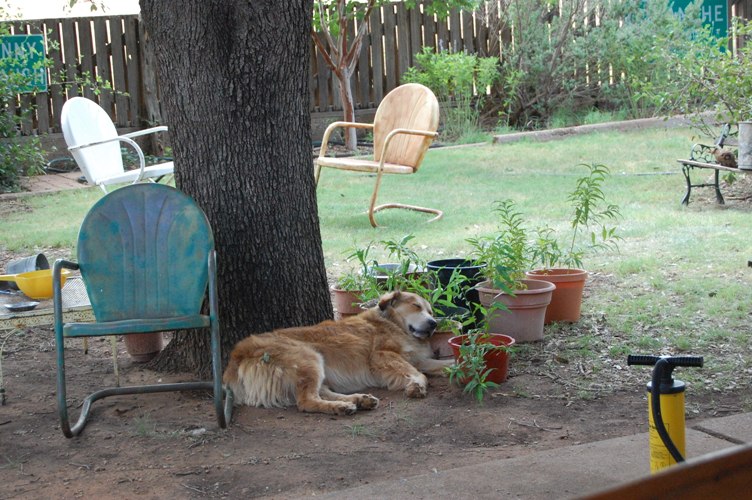 Sunday, July 8 - Sunrise, Sunset - Just hum the theme to Fiddler on the Roof to yourself as you look at today's pictures.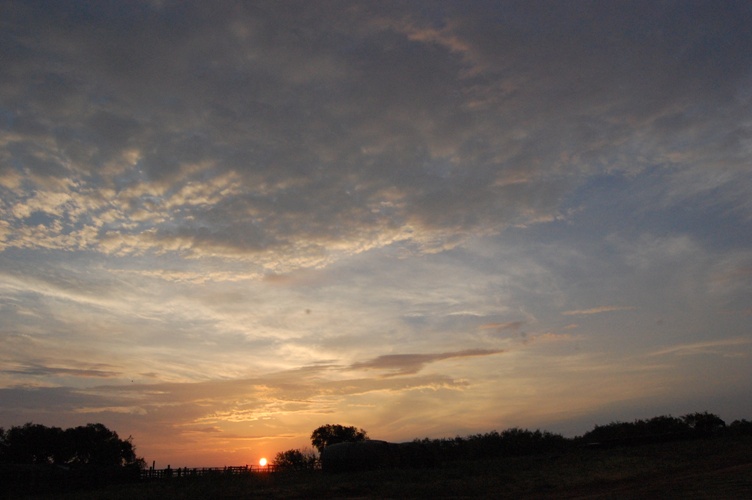 Atlanta trying to get her best shot.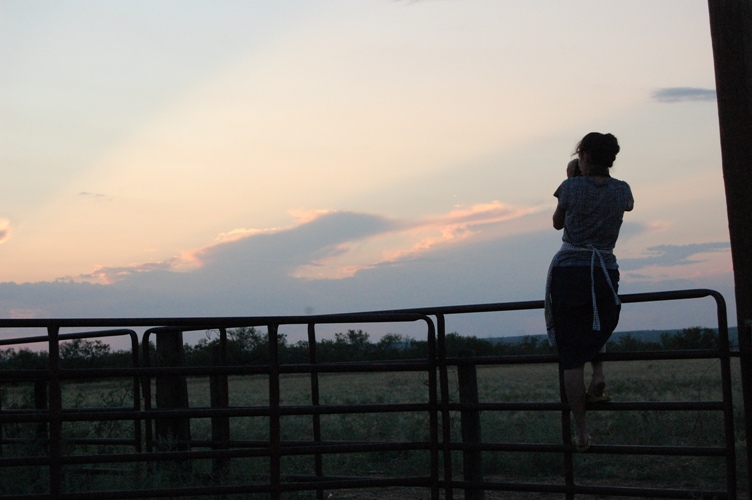 A curtain of rain can't hide the setting sun.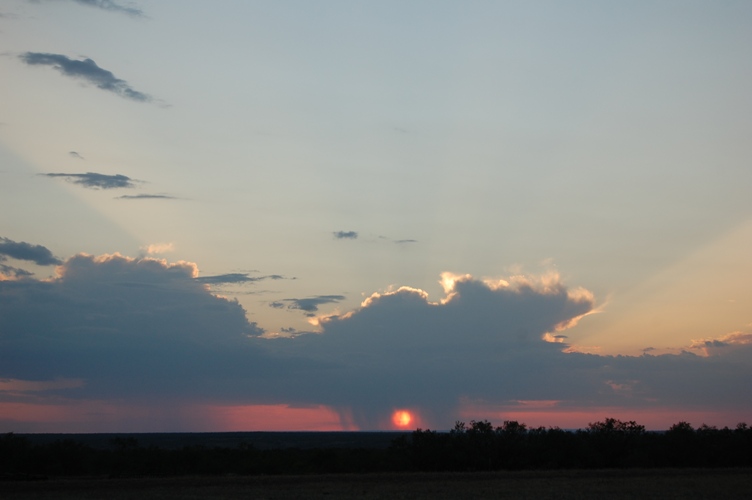 Friday, July 6 - Homemade Pizza - Aspen outdid herself when she made these yummy pizzas for supper tonight.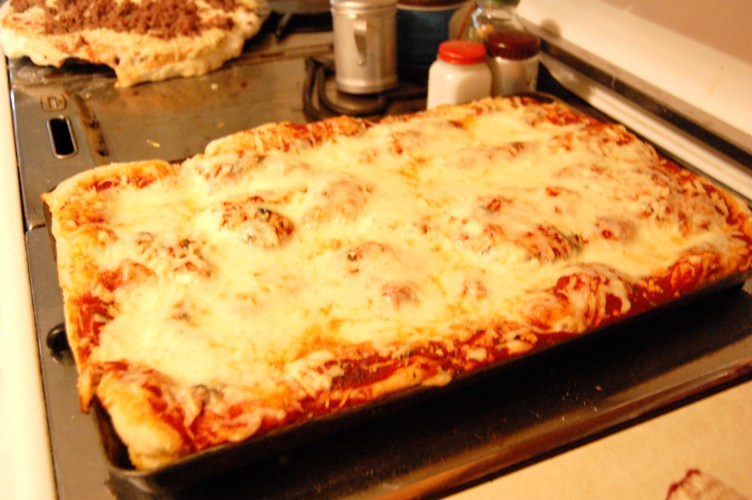 Thursday, July 5 - Fun Day with Family
How about a ride on a whale? Mambo brought some fun floaties with her.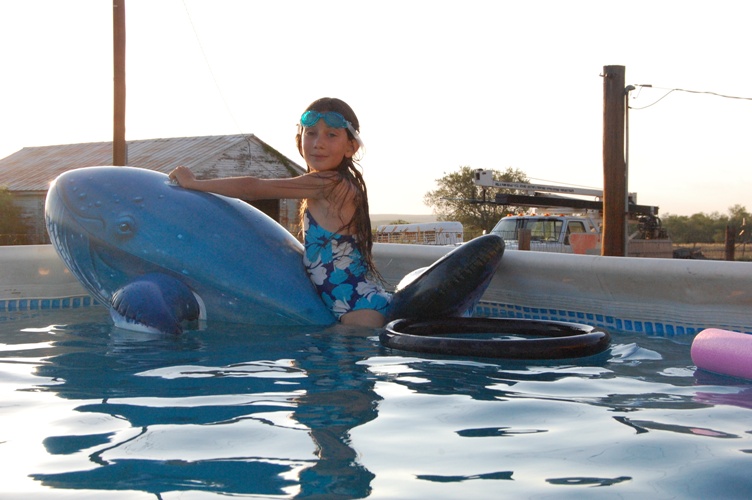 I guess tying up cucumber vines really isn't considered "fun".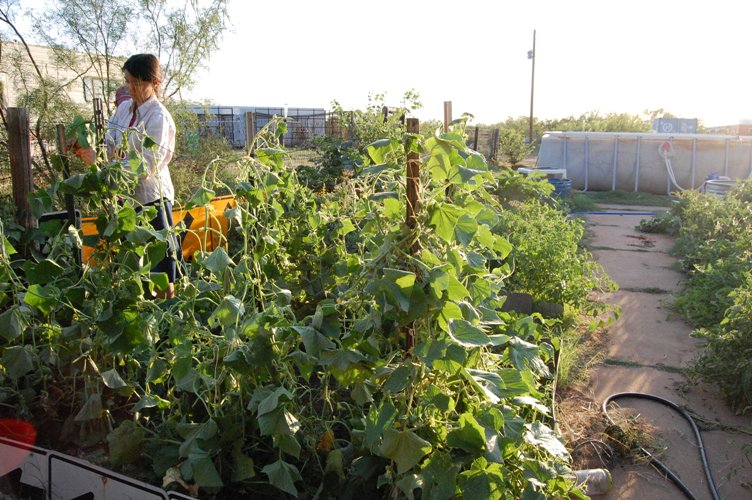 Stockton's having fun with his new tank he got for his birthday.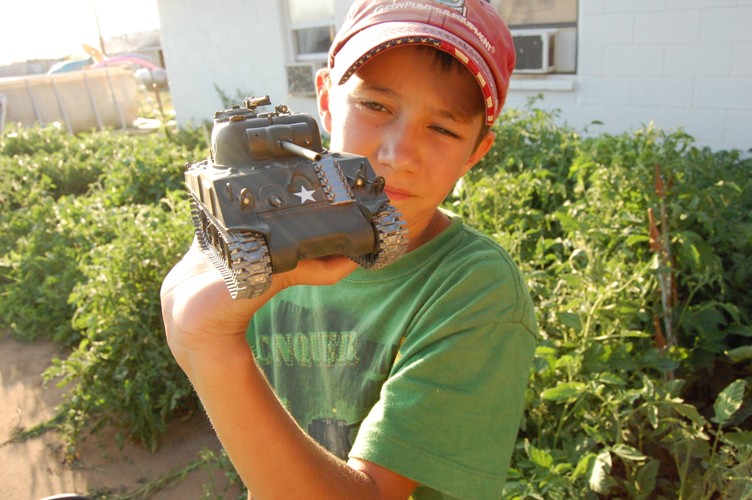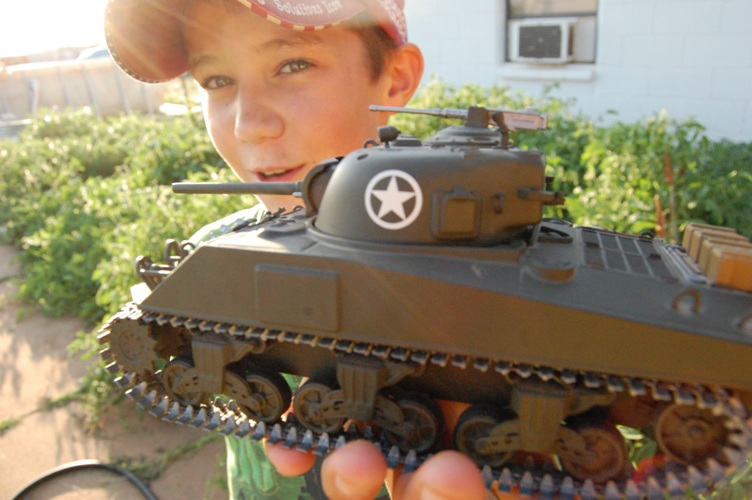 Nathan's making some good fun possible. The new bikes the kids got in May (see Corporate Field Trip May 16) soon had flats. For their birthday, we got some solid inserts for them.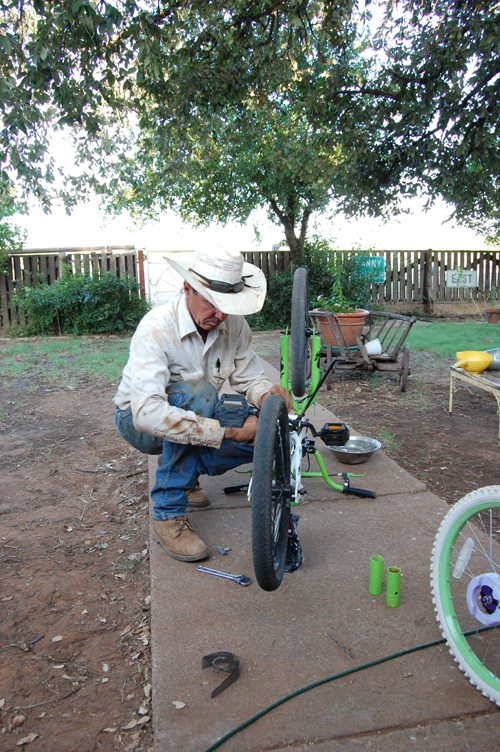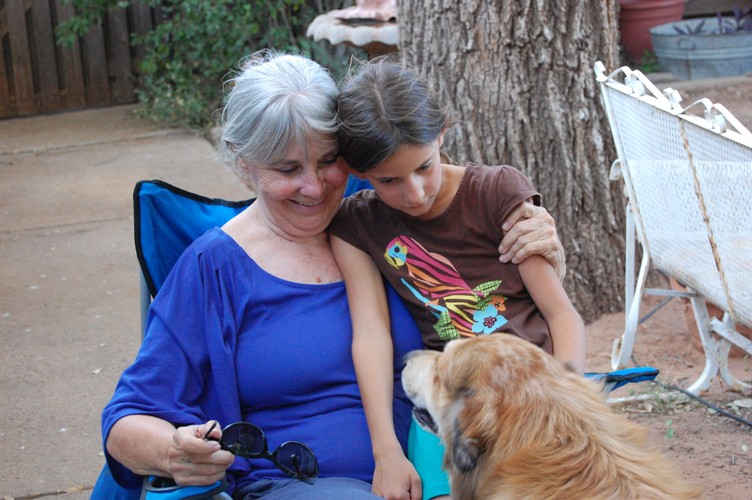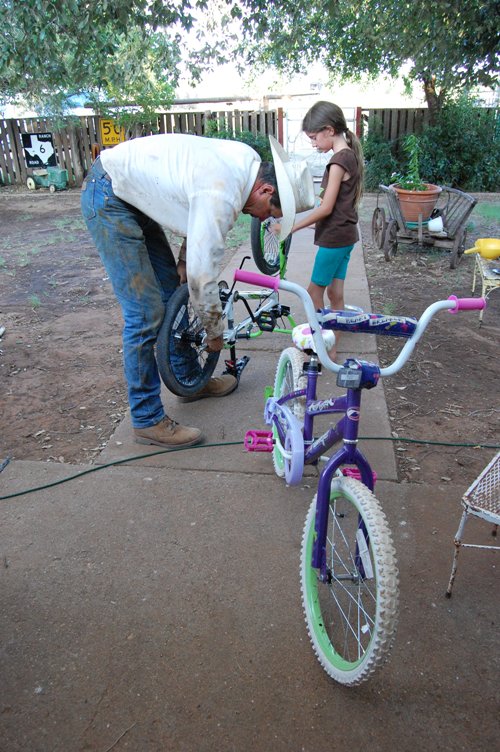 Now, that's fun!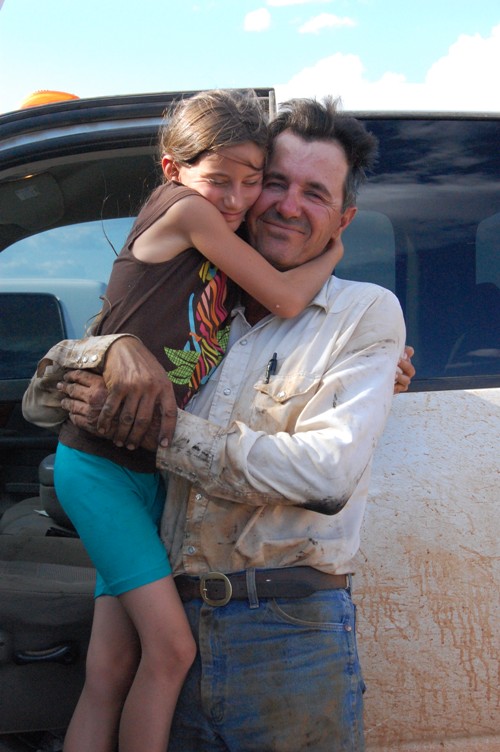 Wednesday, July 4, 2012 - Birthday Celebrations - Not only do we celebrate the birthday of America, but around here, July 4 comes smack between Carolina's birthday on the 3rd and Stockton's birthday on the 5th.
Georgia and Atlanta helping to get ready for the party.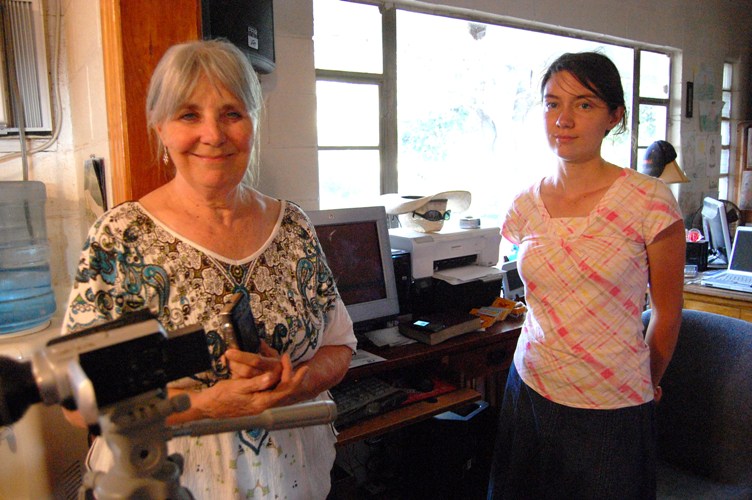 Besides Nathan's mom, we had the Phipps family, The Tidwells, and Granny to join us.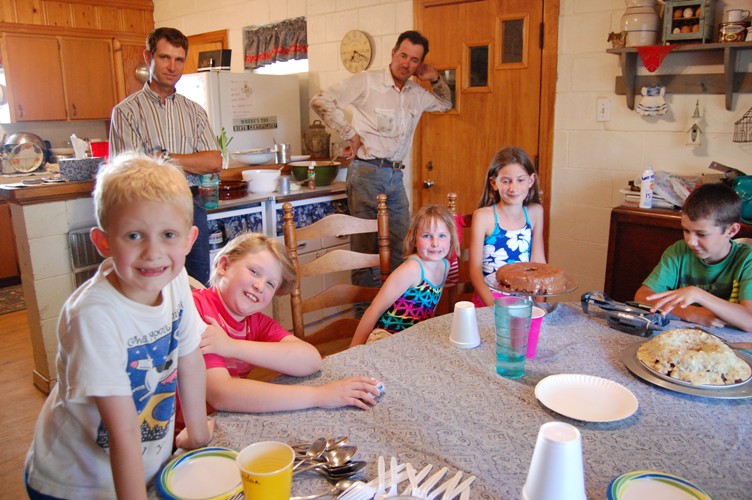 It was so hot, the icing had a hard time staying on the cake.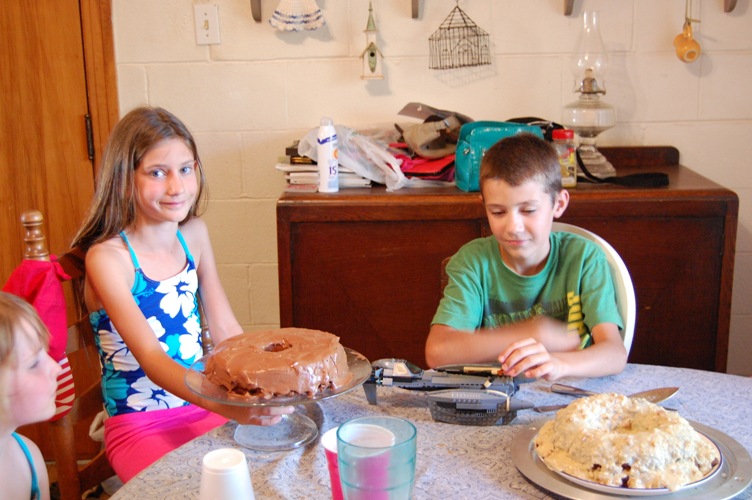 Stockton looks very pleased with his starwars lego set from Mambo that he opened earlier in the day.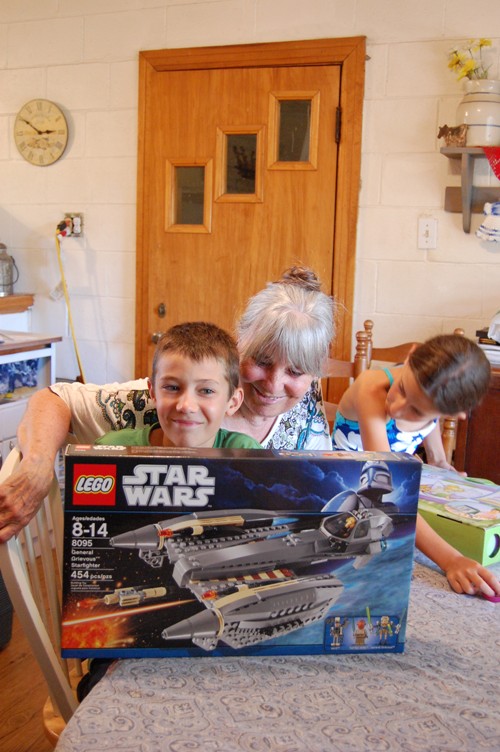 Earlier, the kids, Mambo, Granny and Sunny played some card games.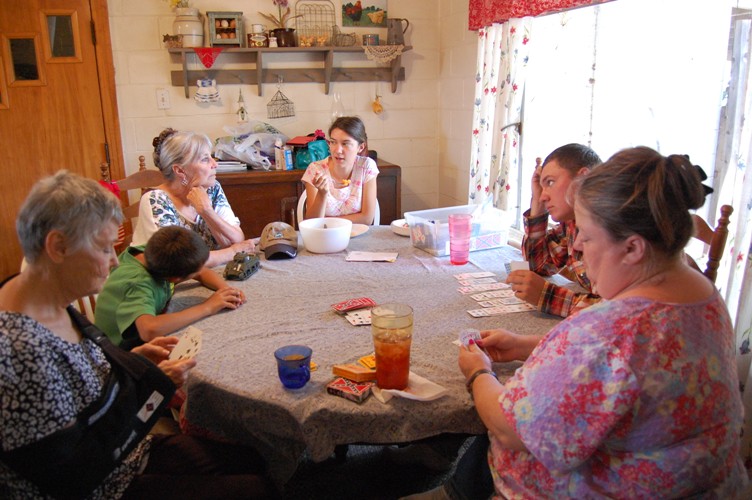 Time to open gifts!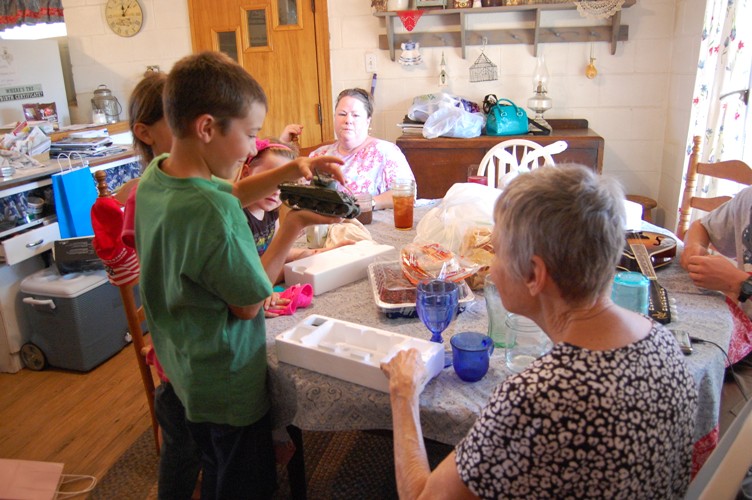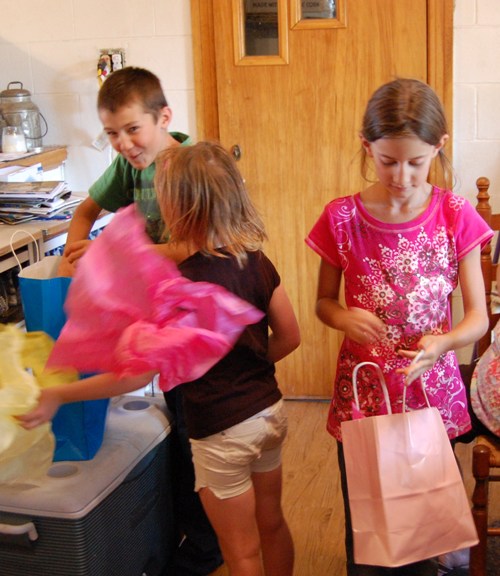 Tuesday, July 3
We were treated this evening to a full moon rising.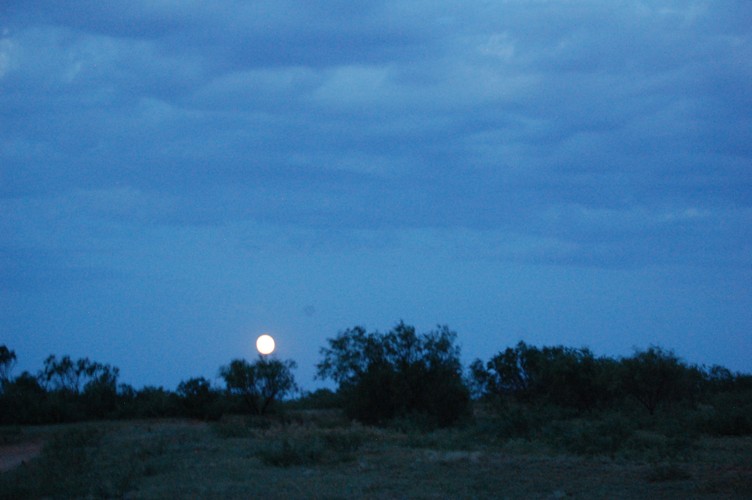 A new trampoline mat to replace our torn one.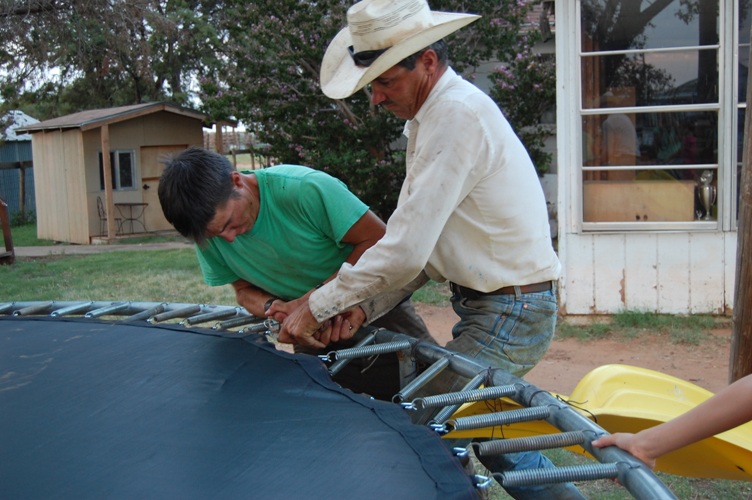 This has caused quite a bit of excitement.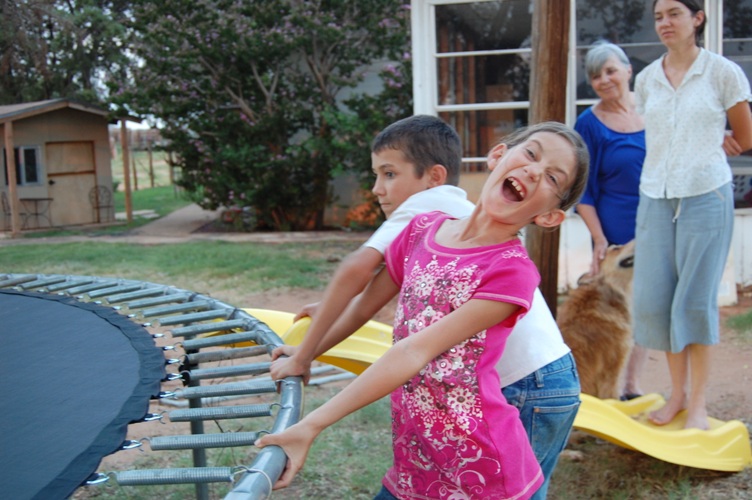 On your marks, get set.....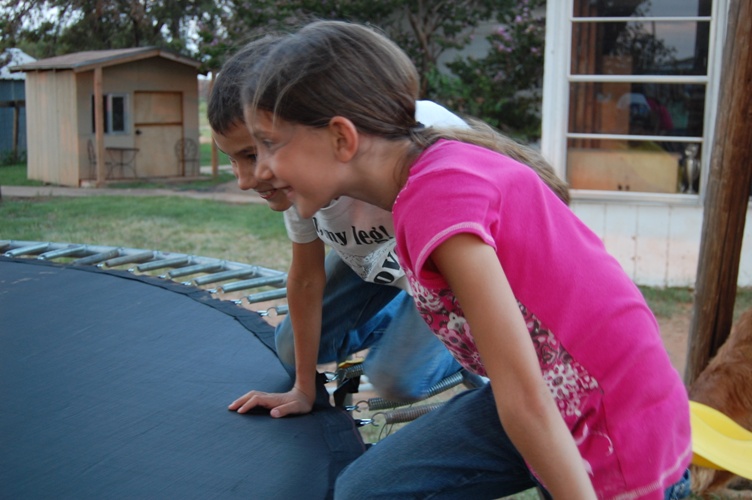 Go!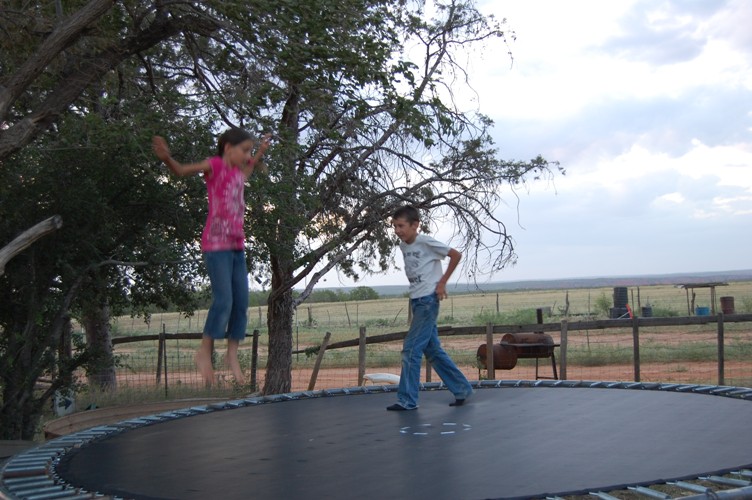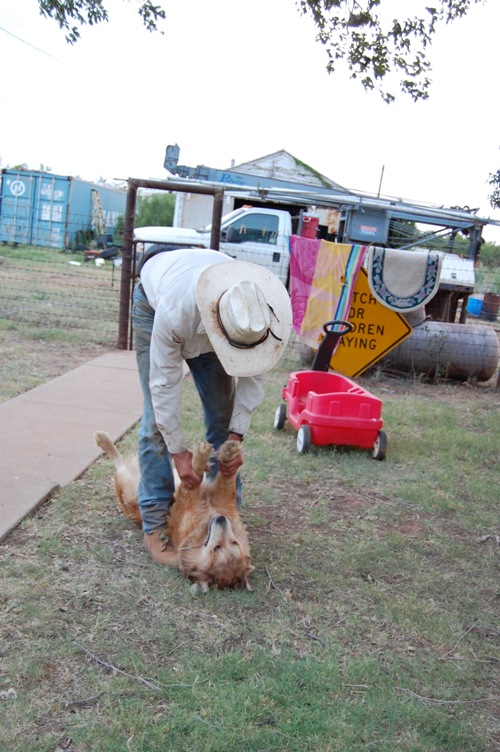 We had biscuits and eggs for supper. I had to snap a picture of Stockton's plate.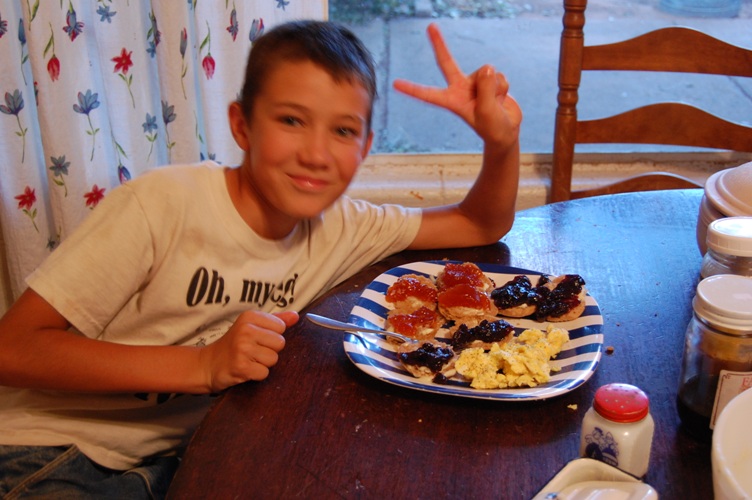 A sunset that's pretty in pink.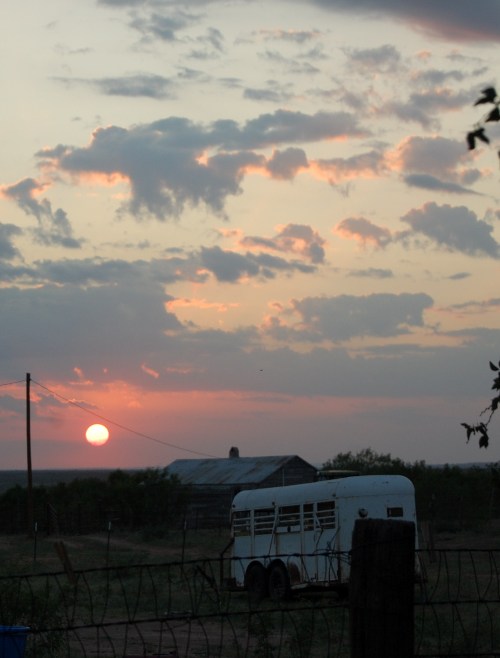 Sunday, July 1 - Party at the Phipps- We had another enjoyable evening over at the Phipps house. Tonight's get together was in honor of Caleb's graduation.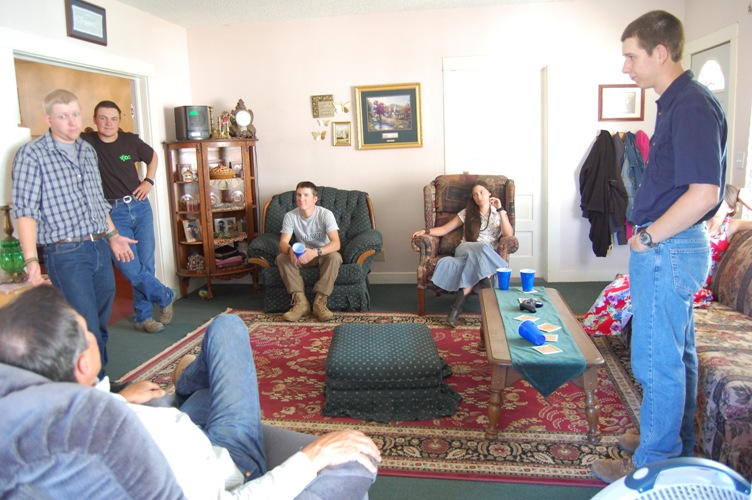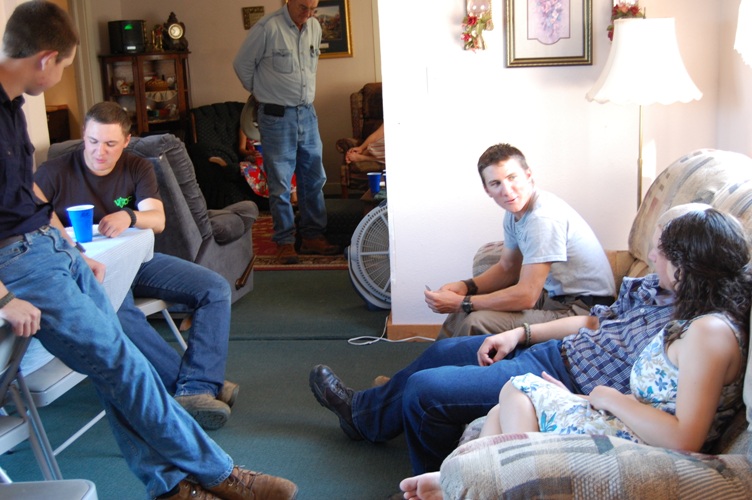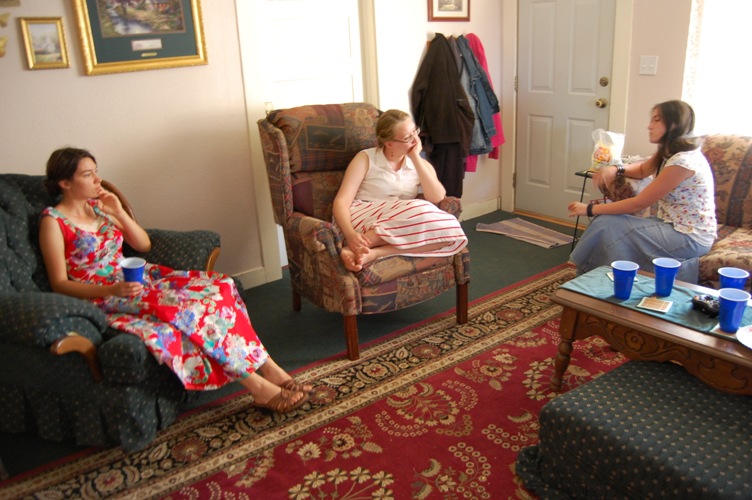 Regina's famous strawberry jello cake with whip cream frosting.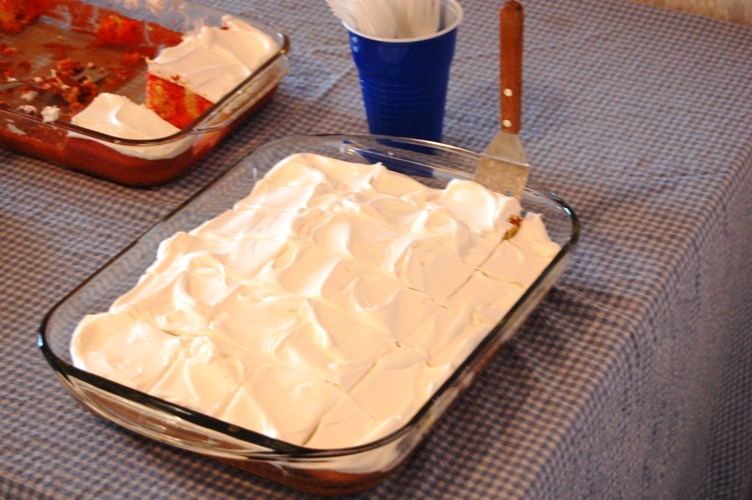 As usual, Elaine and Carolina had a blast dressing up.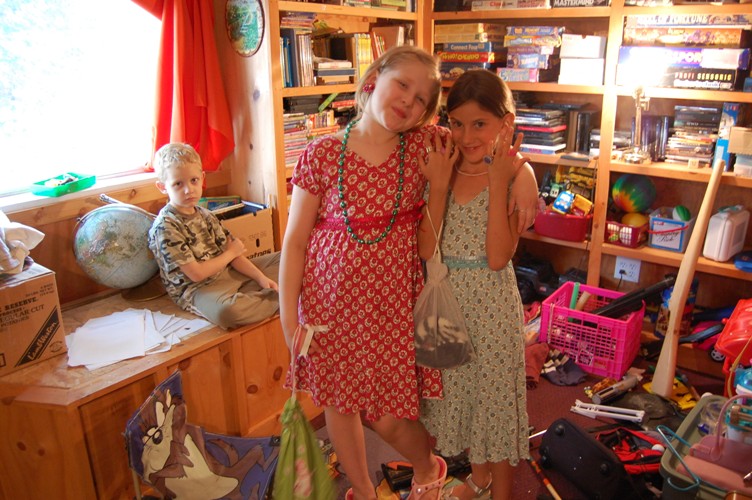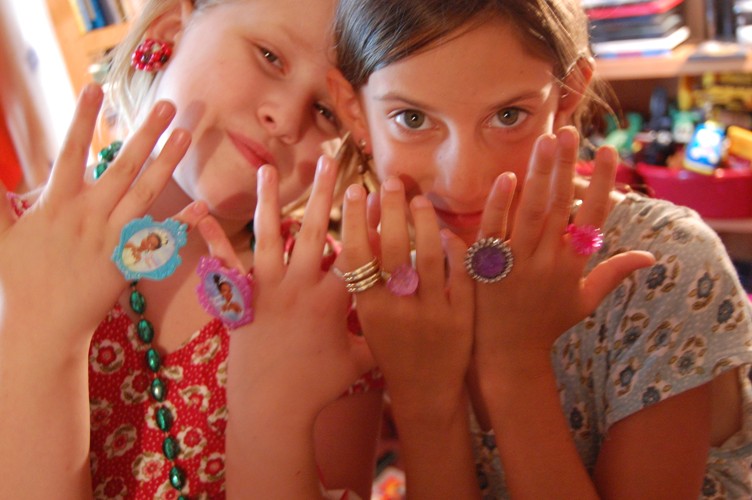 In the afternoon, Atlanta and I went to a wedding shower in Turkey for Mary Kate Davidson.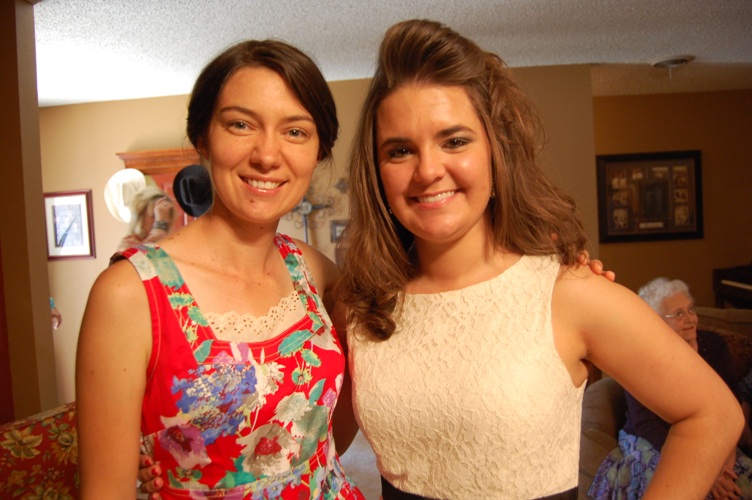 This is Molly who married a year or so ago and has this darling little boy.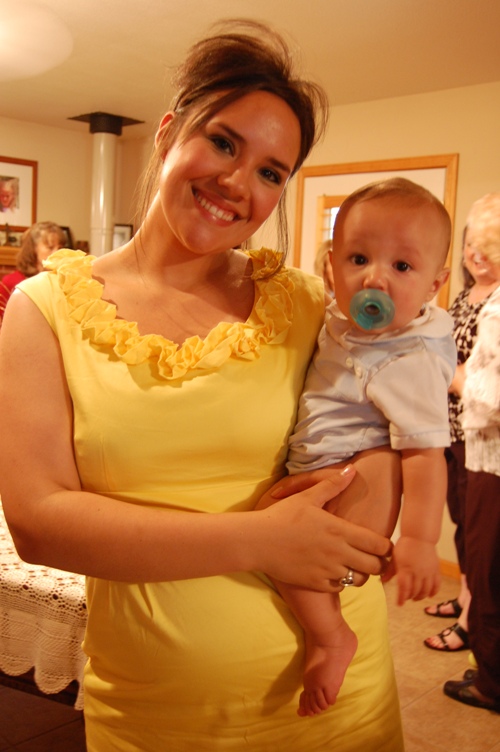 Be sure to click on the June News below if you haven't seen it yet. Even if you've looked at it already, I added a few new pictures today.
Check out our past news. Just click any link below: