Friday, December 28 - Home School Dance at Turkey - We had another big turn out at the old gym in Turkey. Everyone had a great time, visiting and dancing.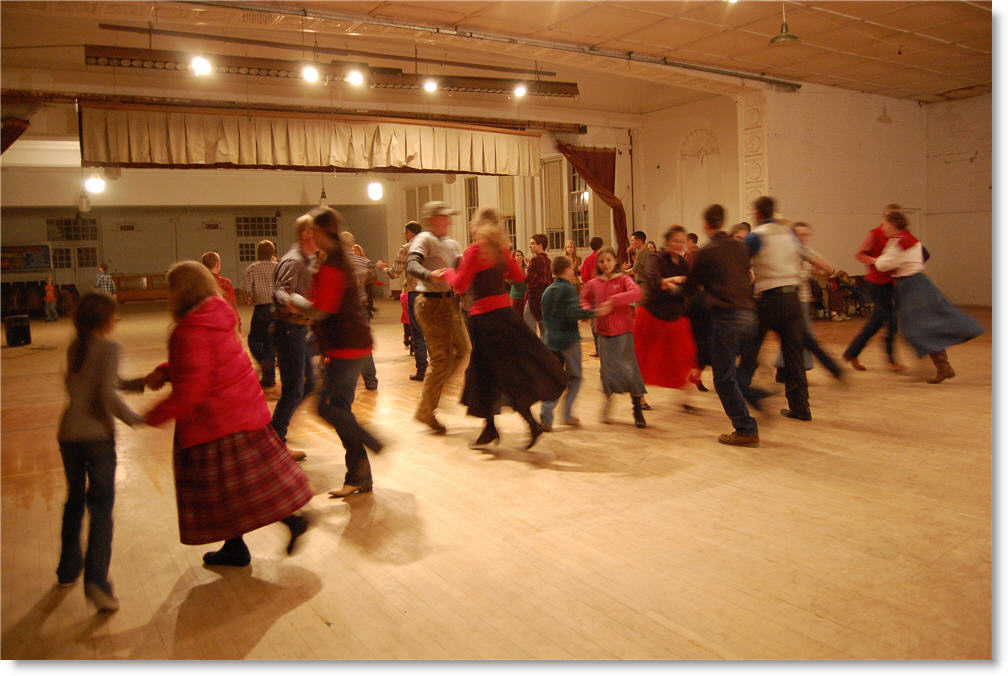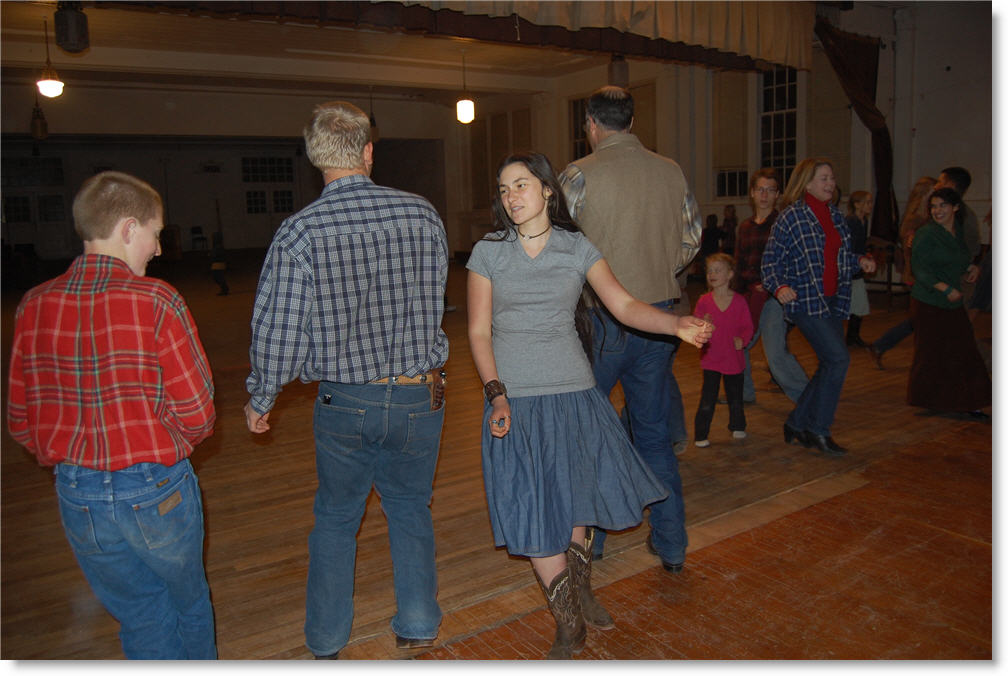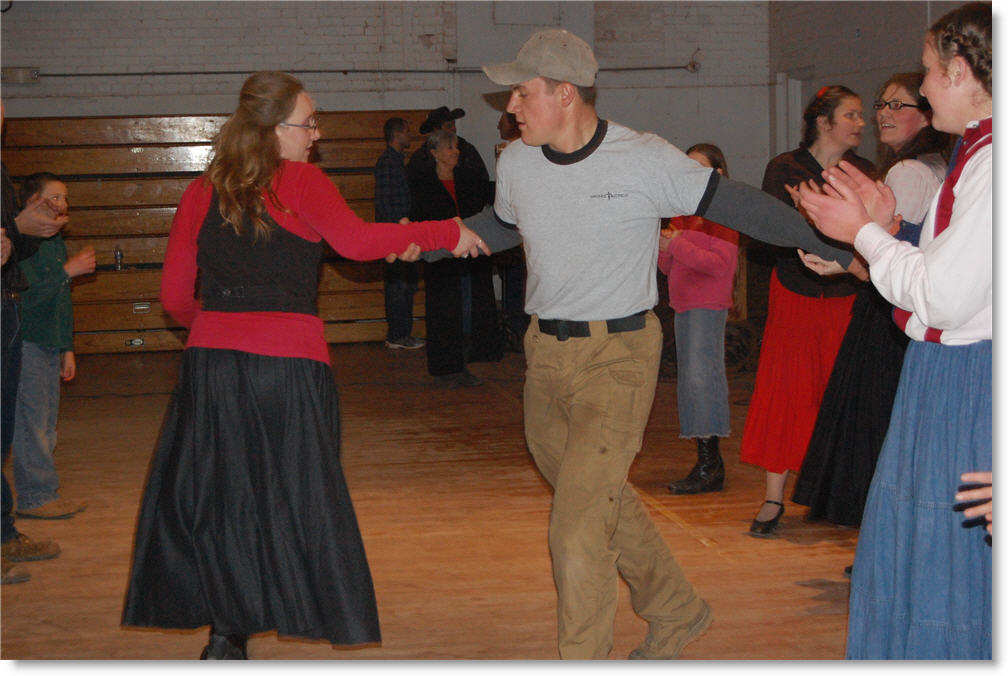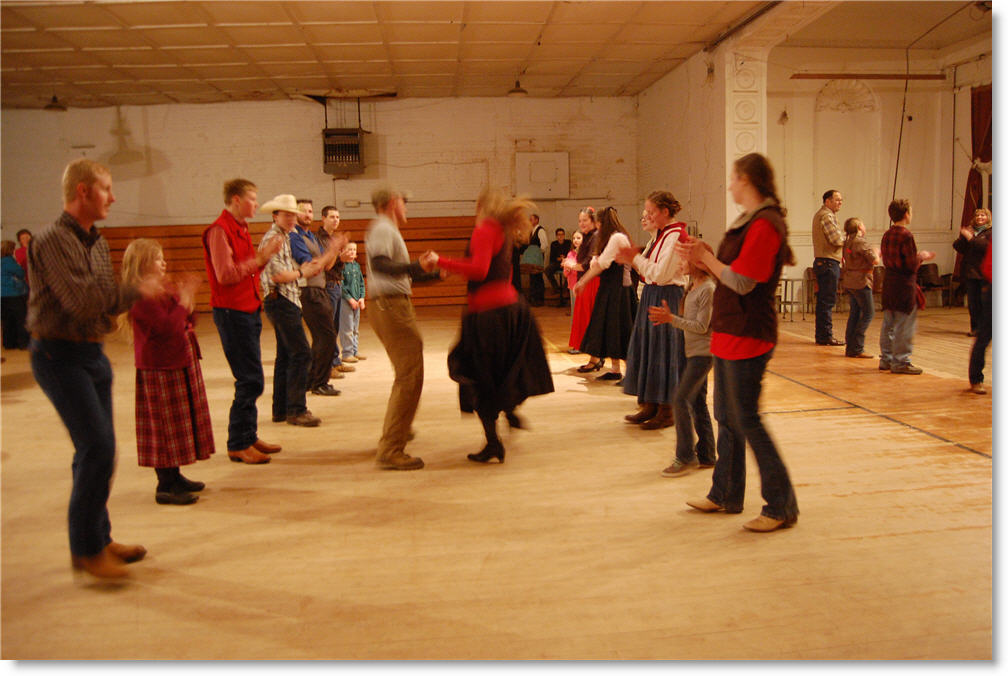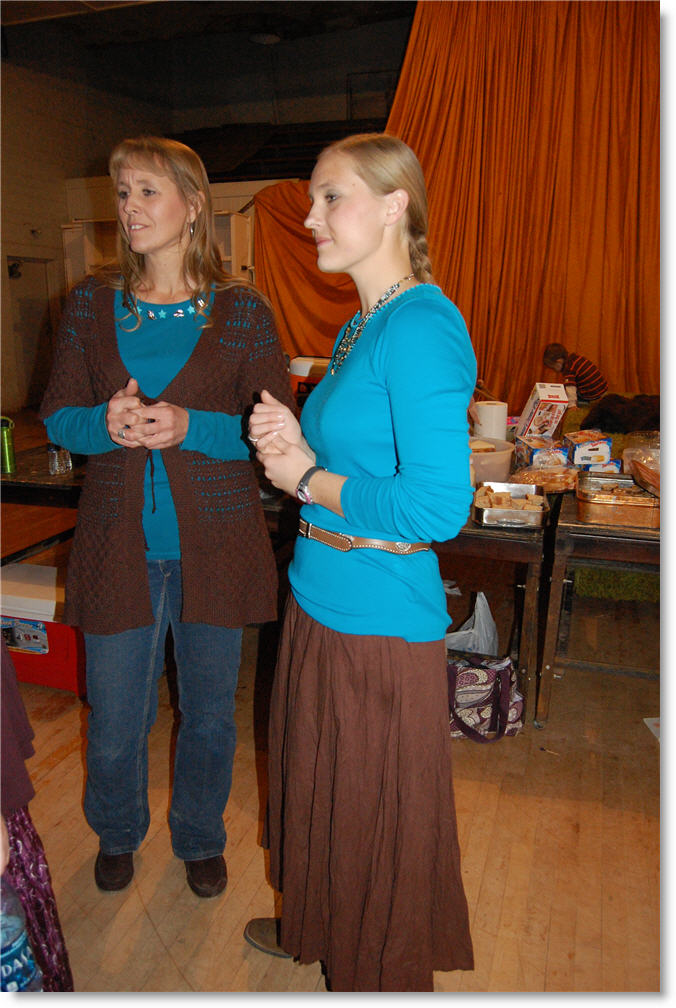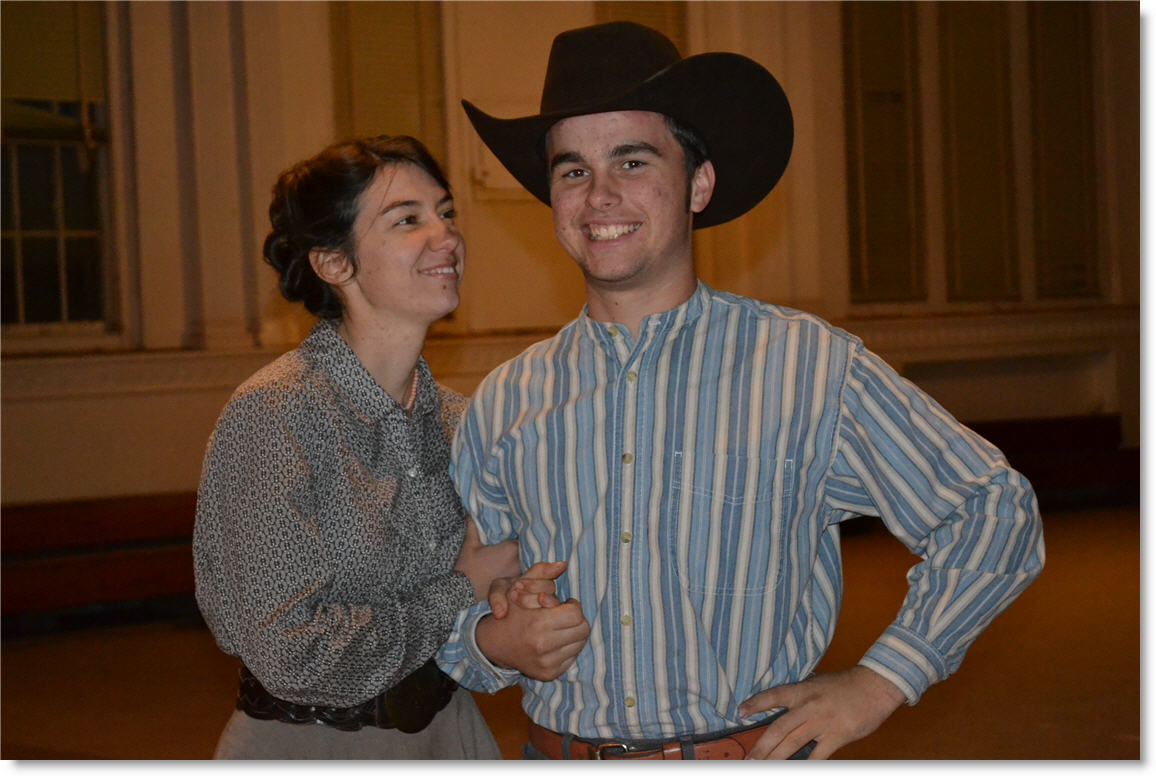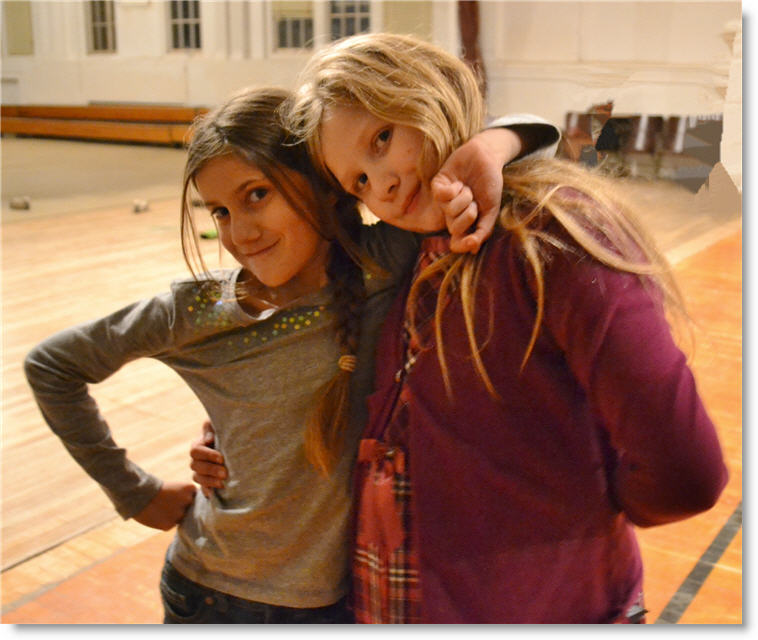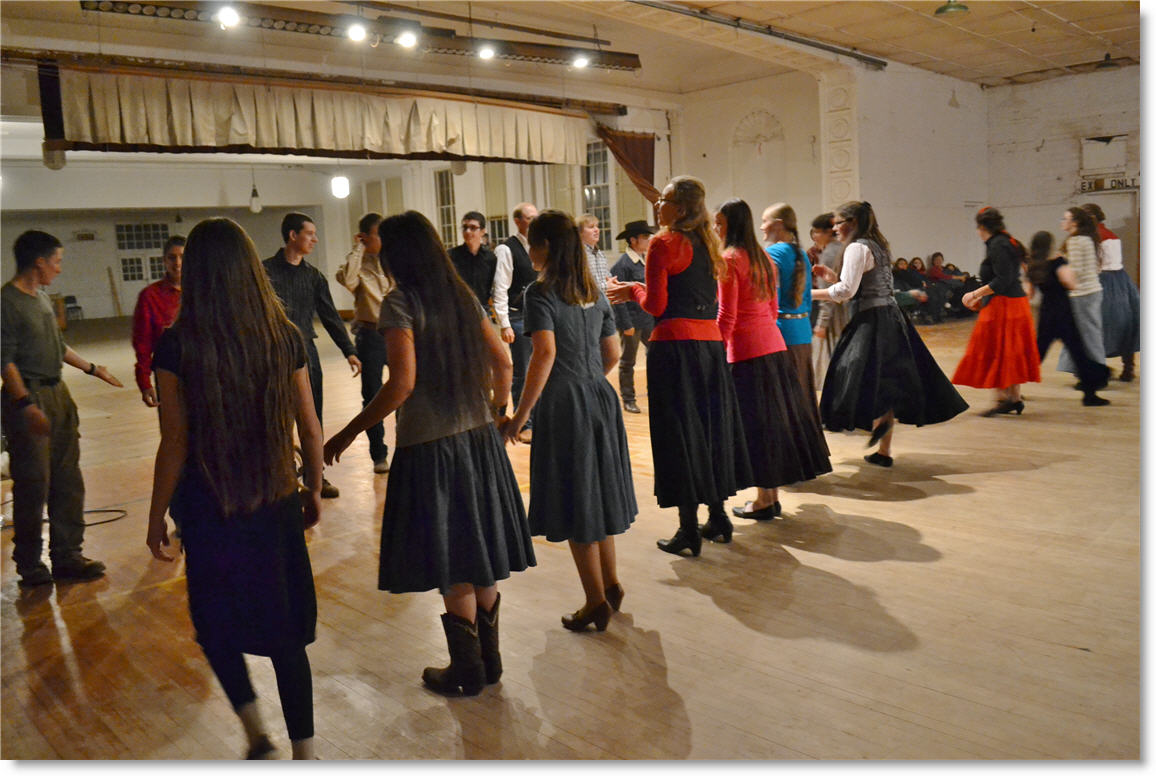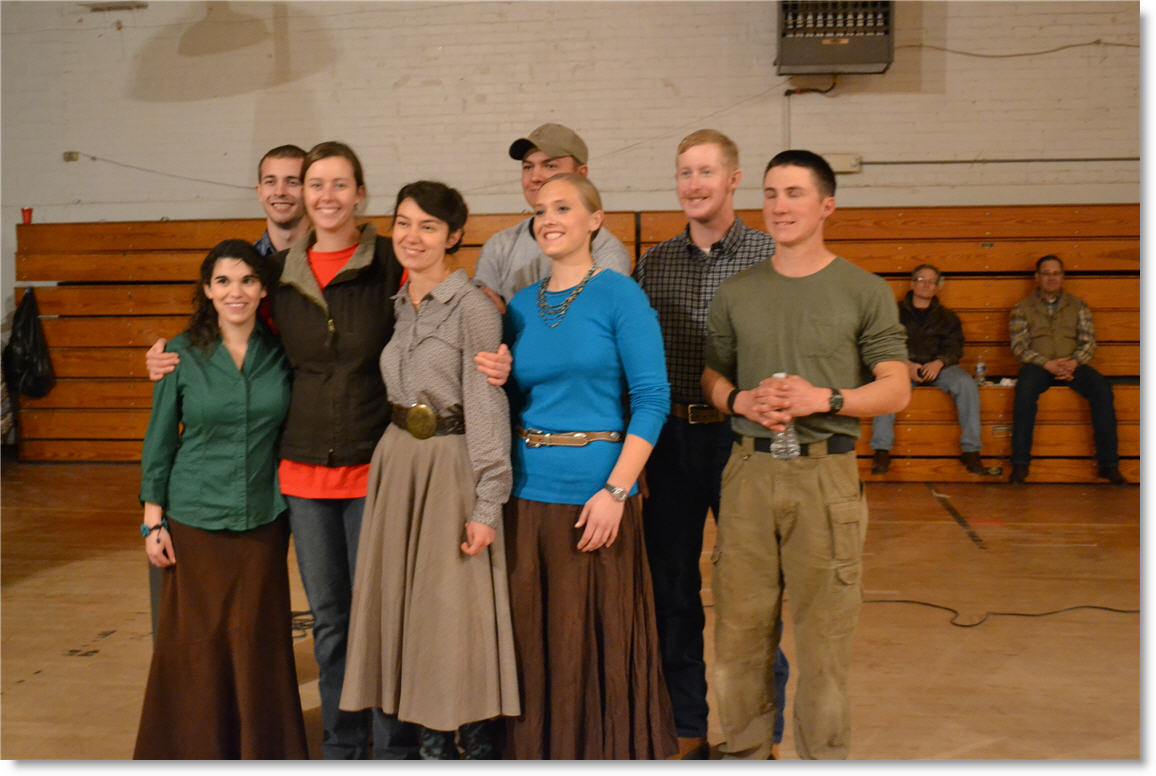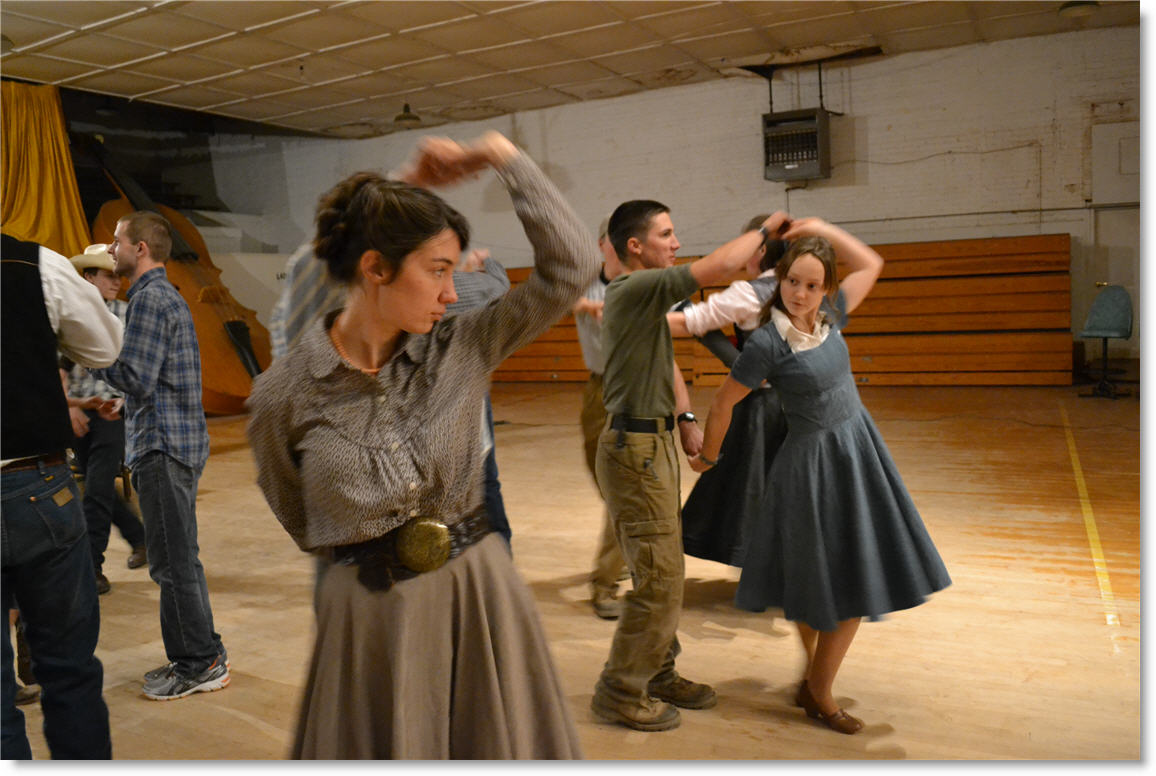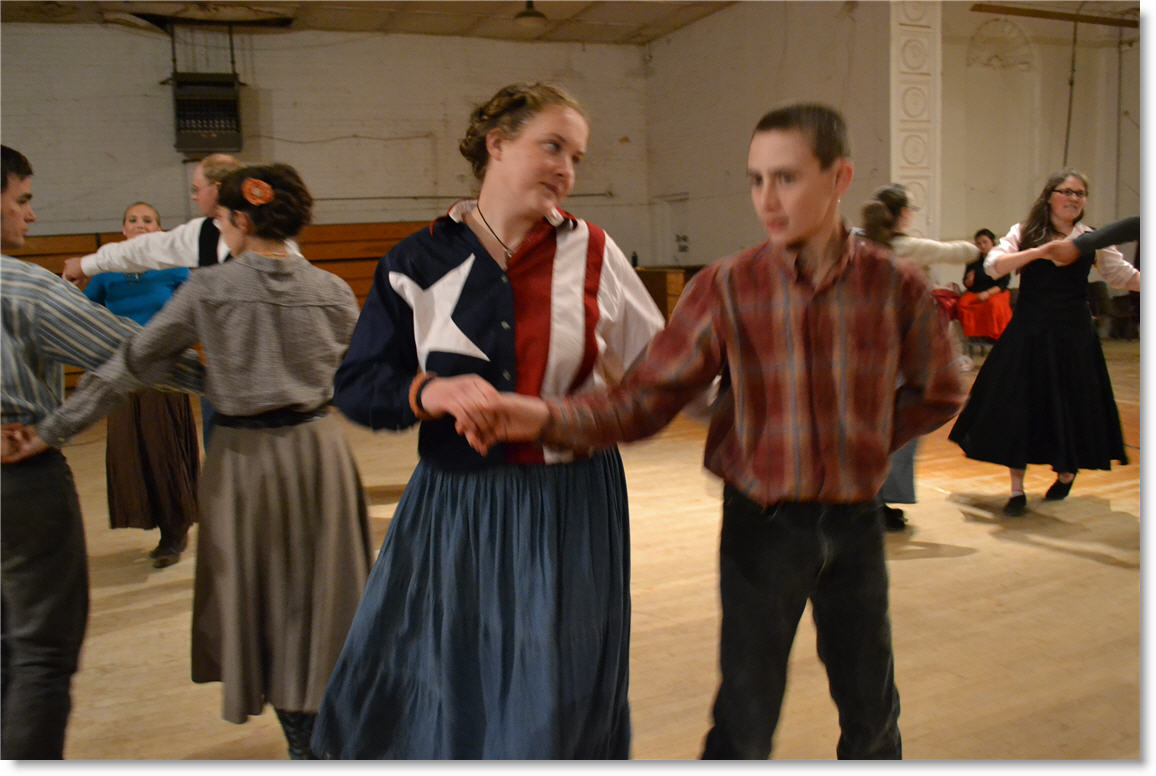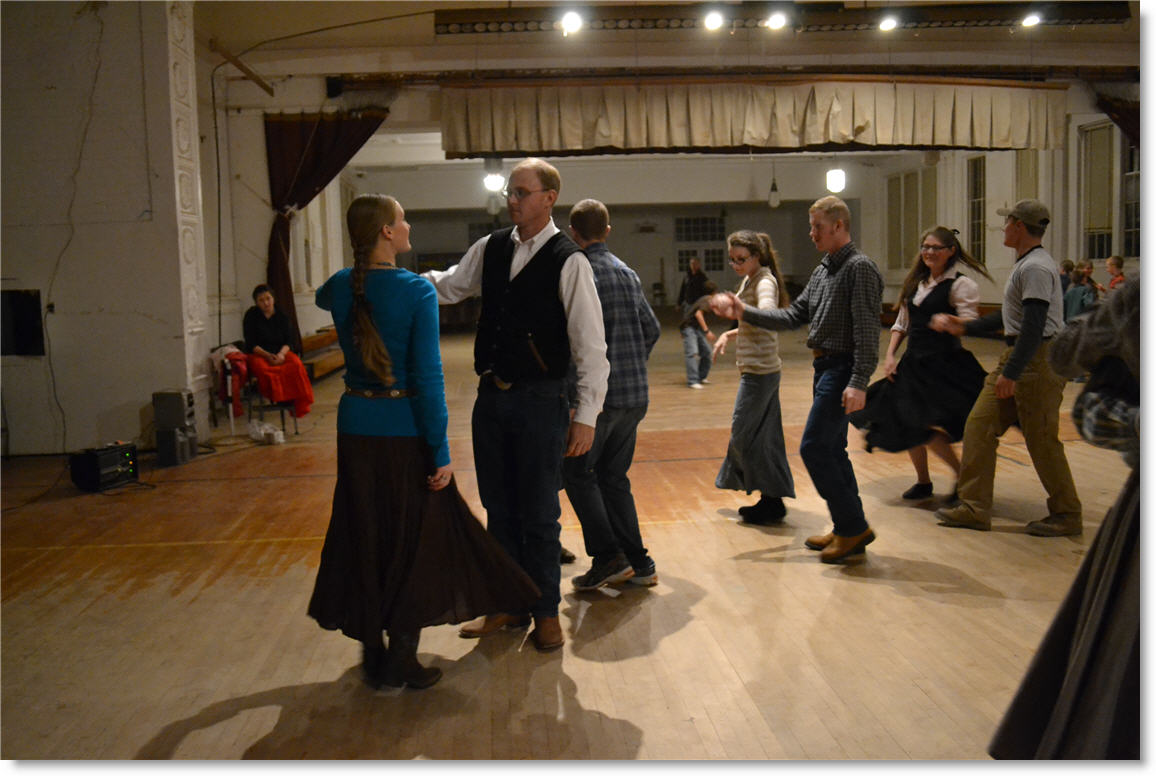 A Day with Friends - Earlier in the day a few friends hung out with us at the Ranch for a while until the dance started.
The big kids found time for a game of Risk.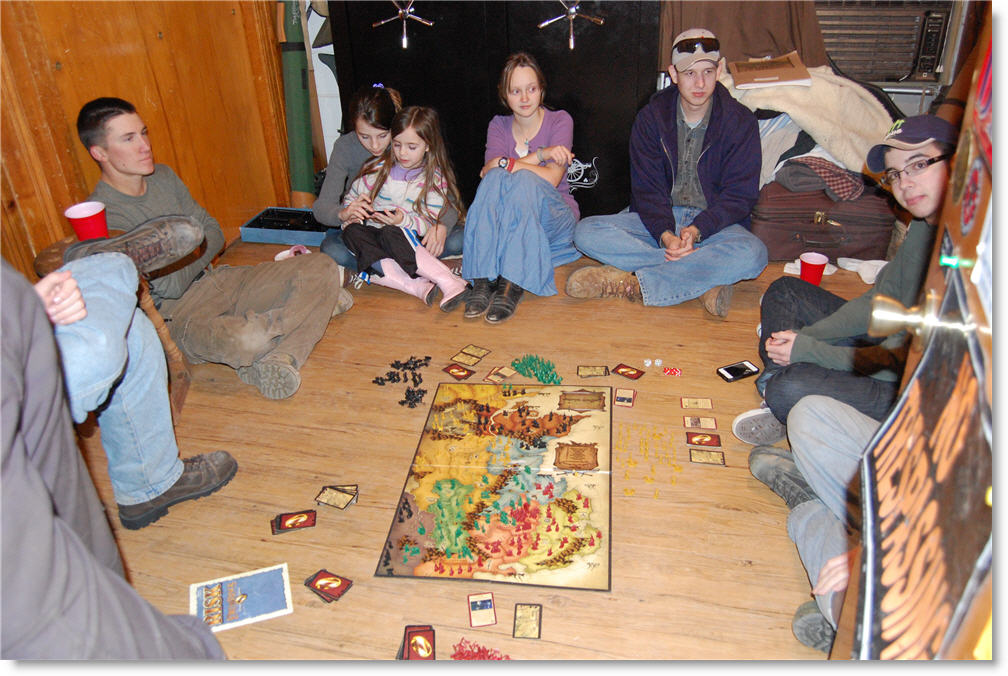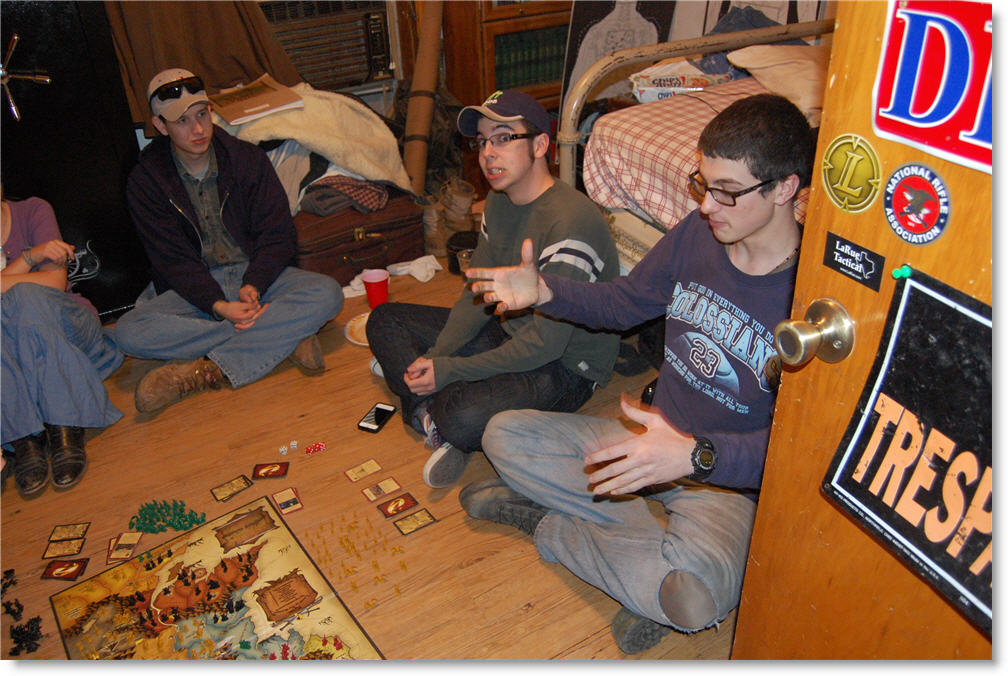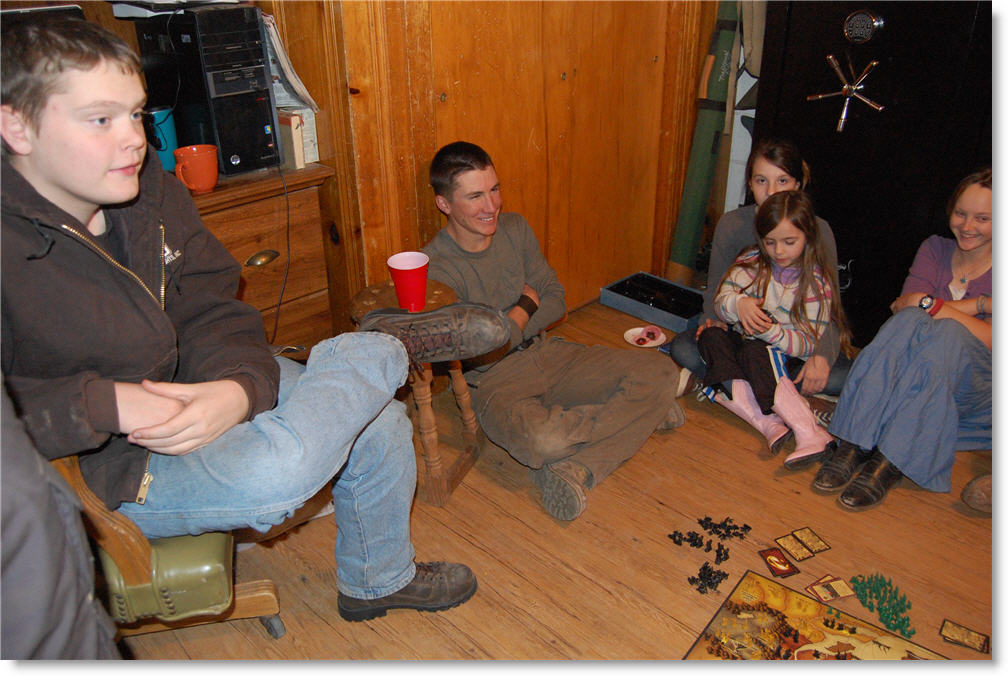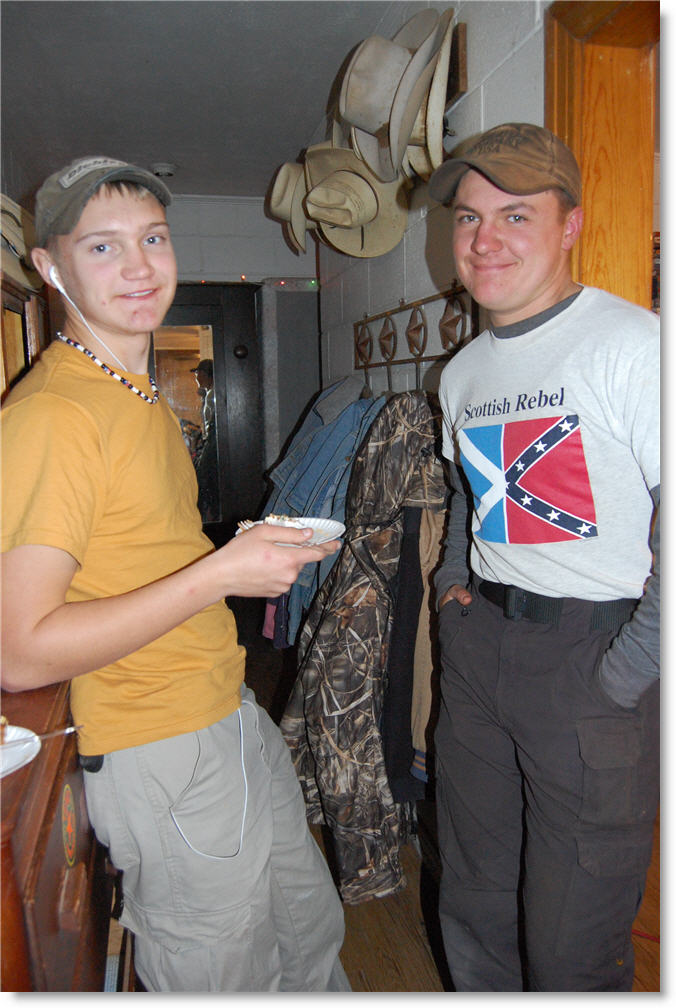 There were lots of little ones running around, too.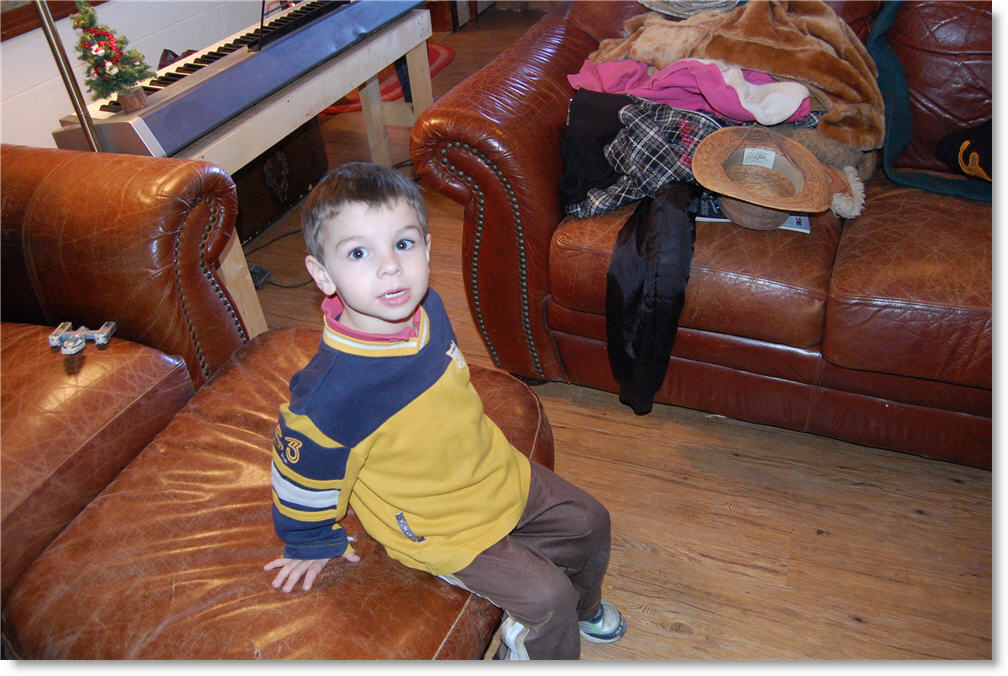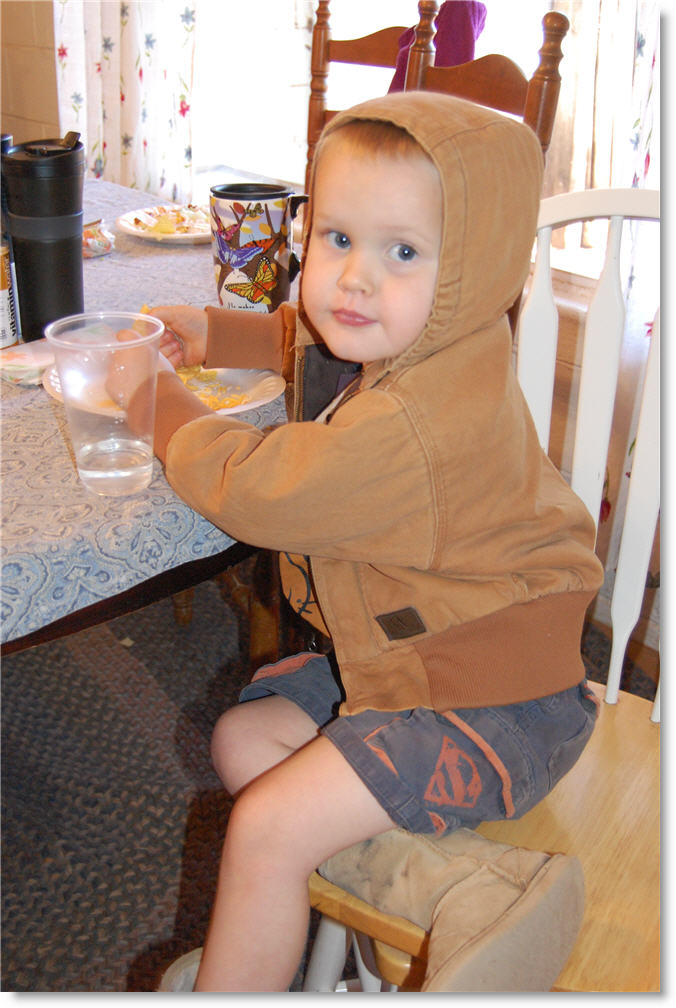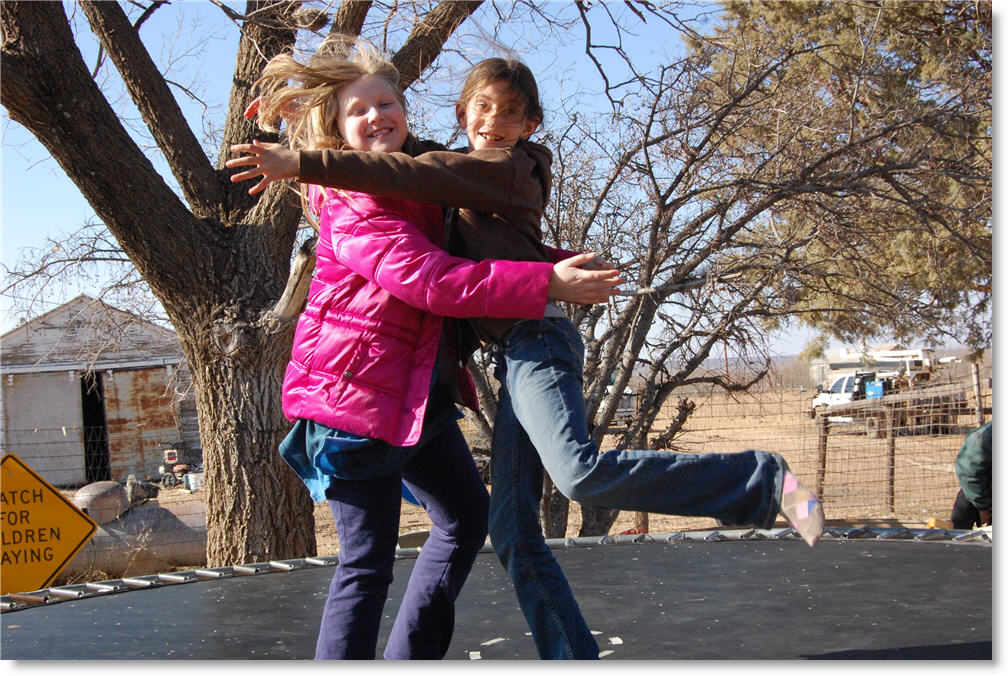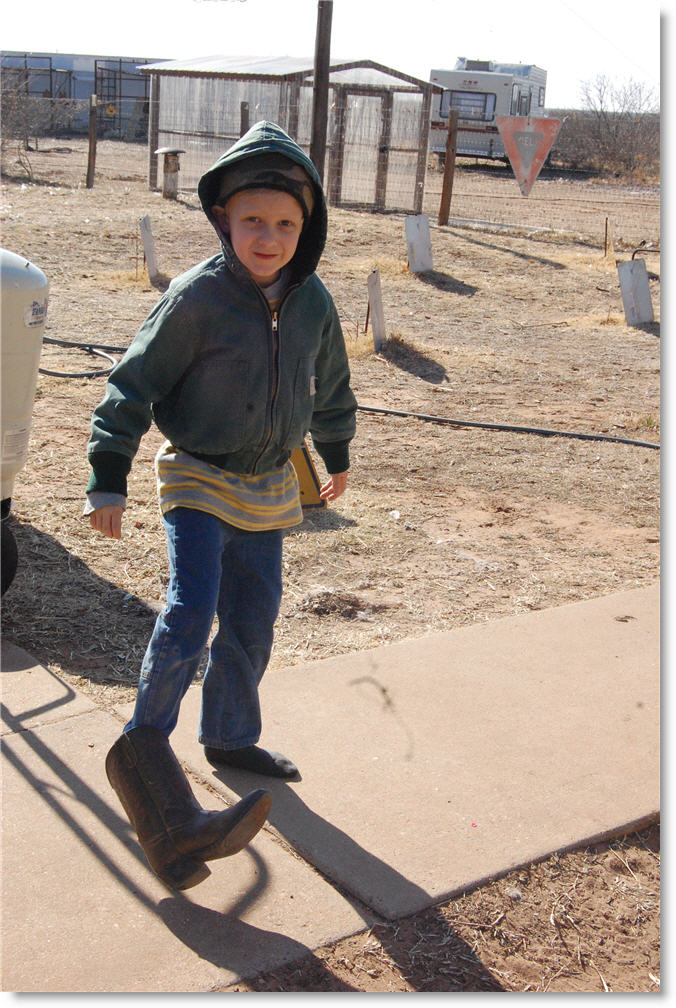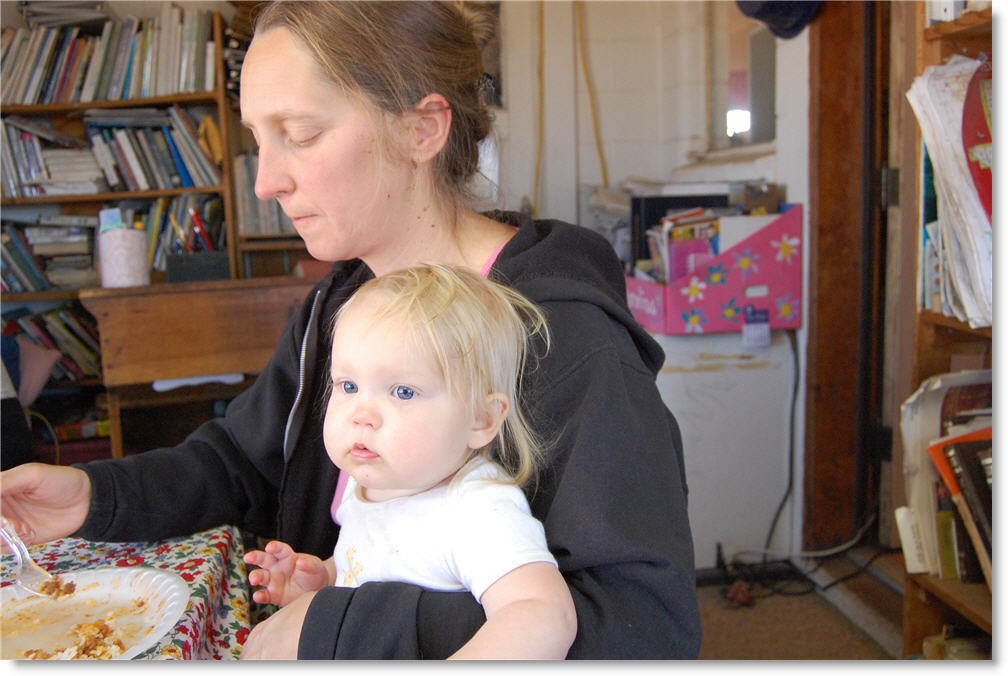 The big people had fun, too.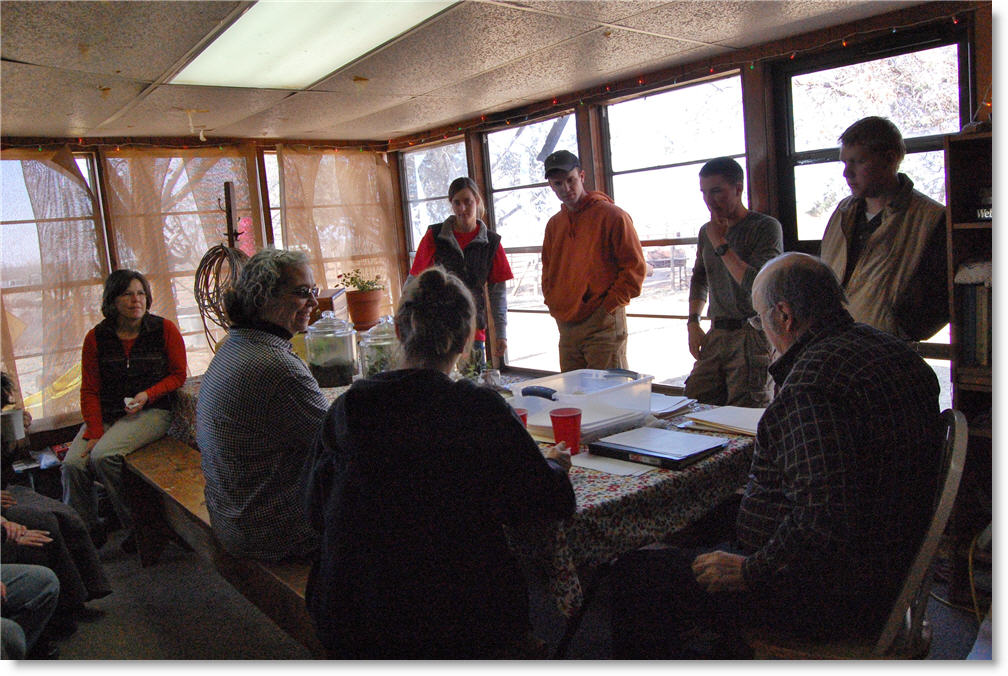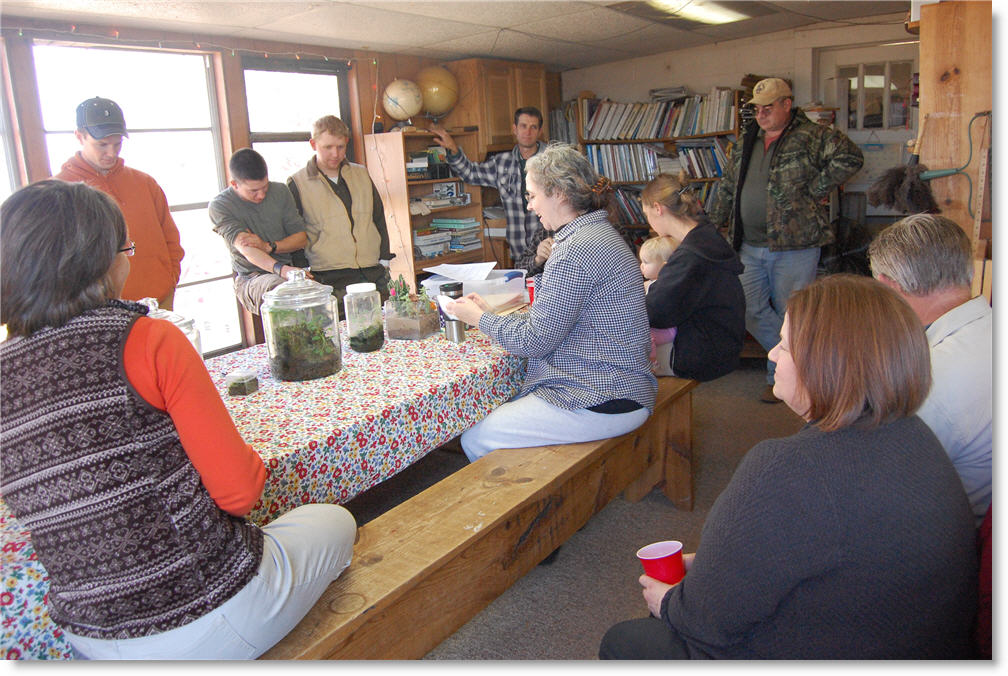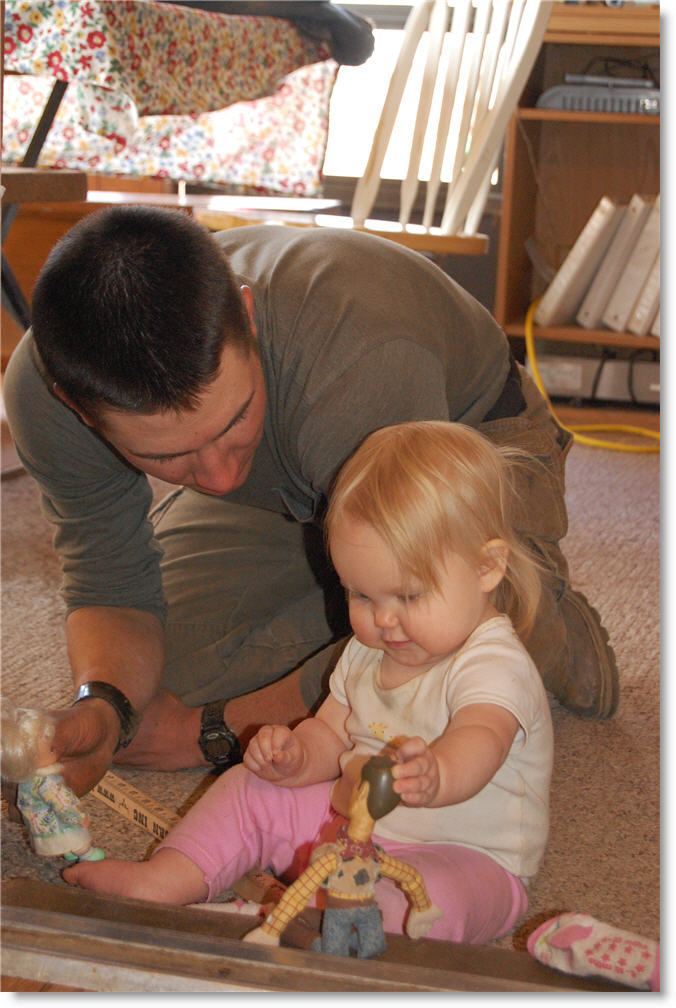 Wednesday, December 26 - Christmas in Wilson - More Christmas fun was waiting for us when my family met together at my sister's house in Wilson just south of Lubbock.
Everything must be just right.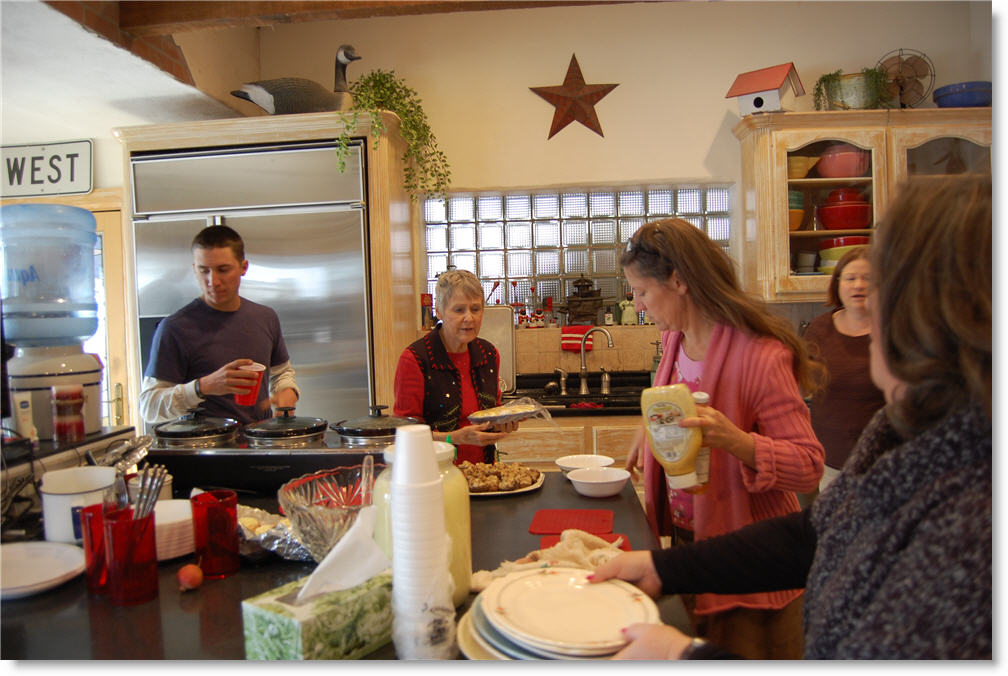 Carolina, Macy and Carly are ready to eat.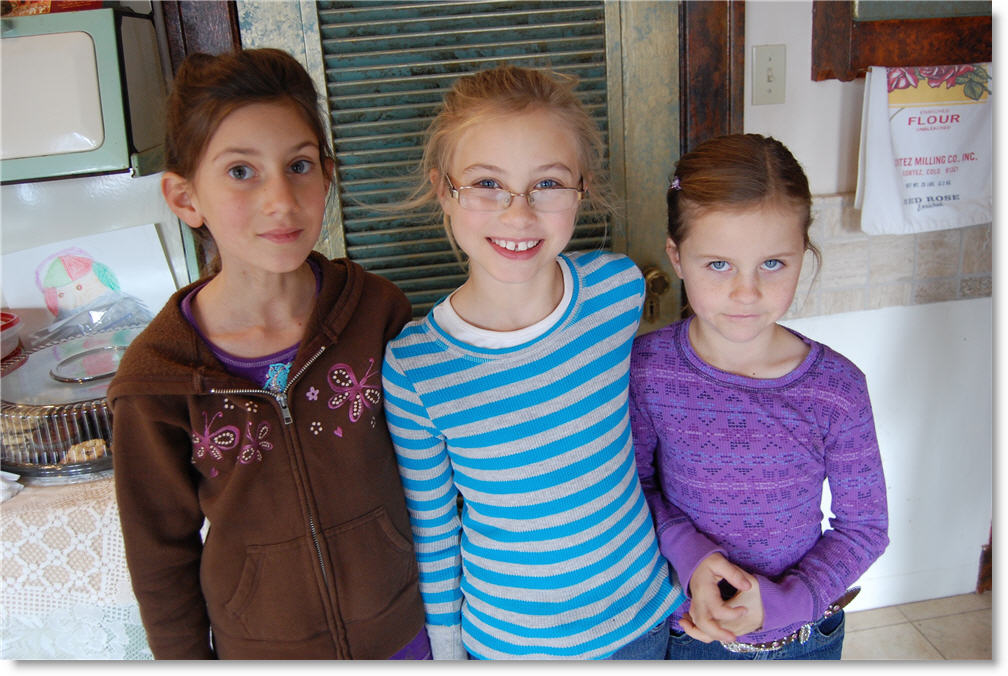 Yummy desserts and goodies.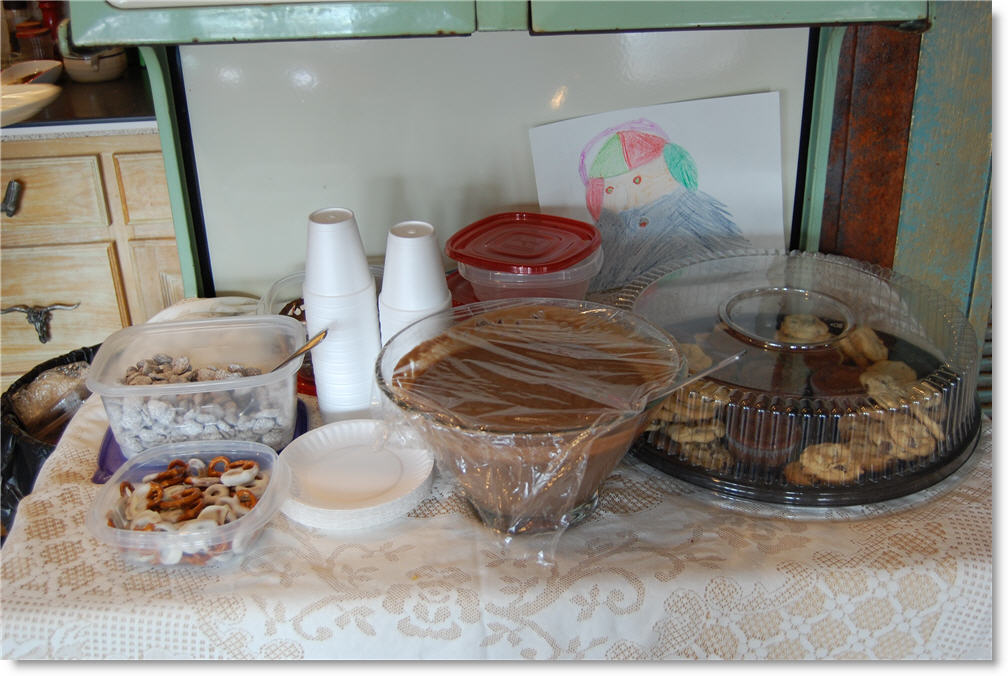 Sunny made these little strawberry santas.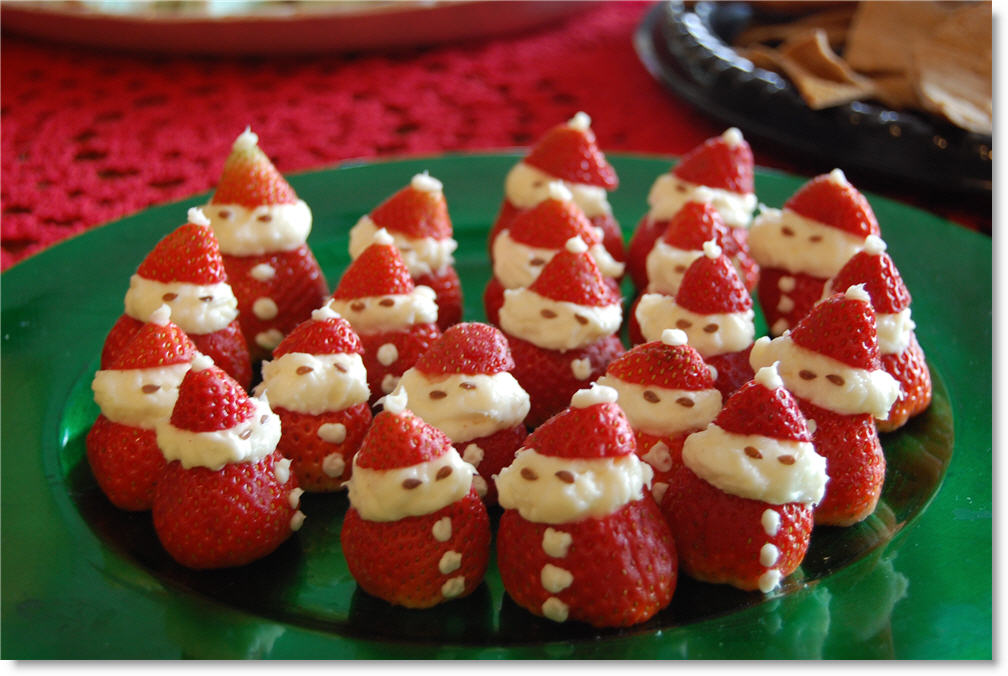 The appetizer table is filling up and looking quite...appetizing.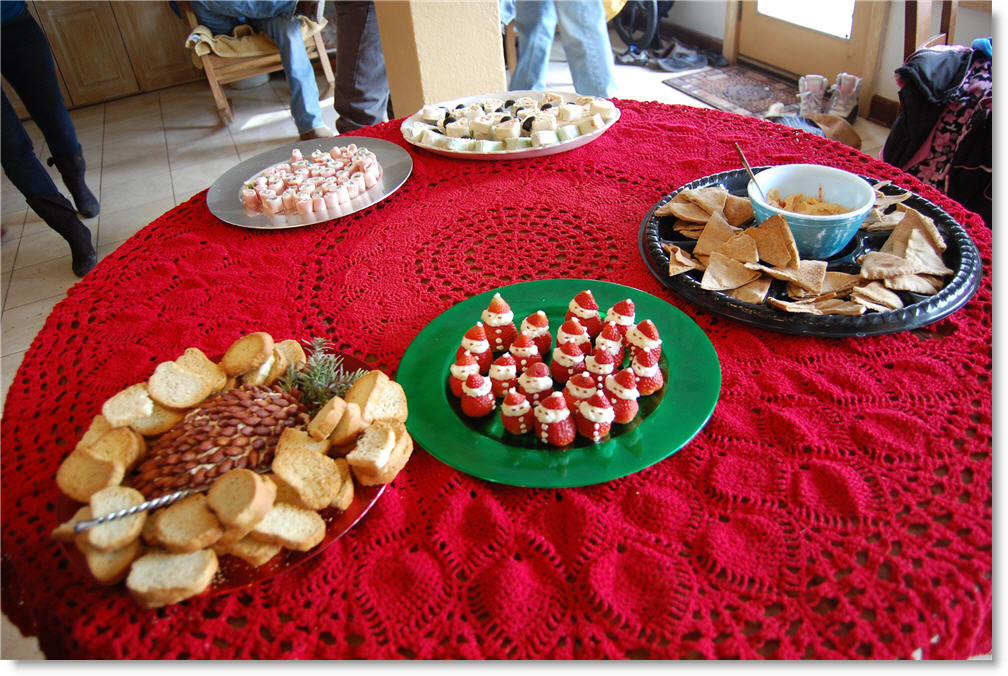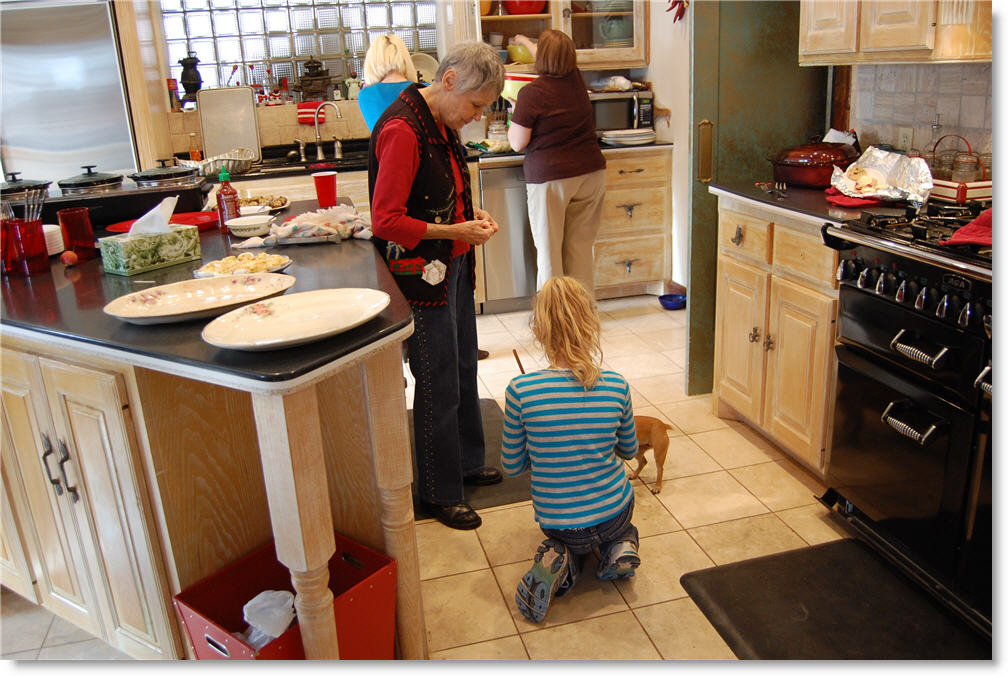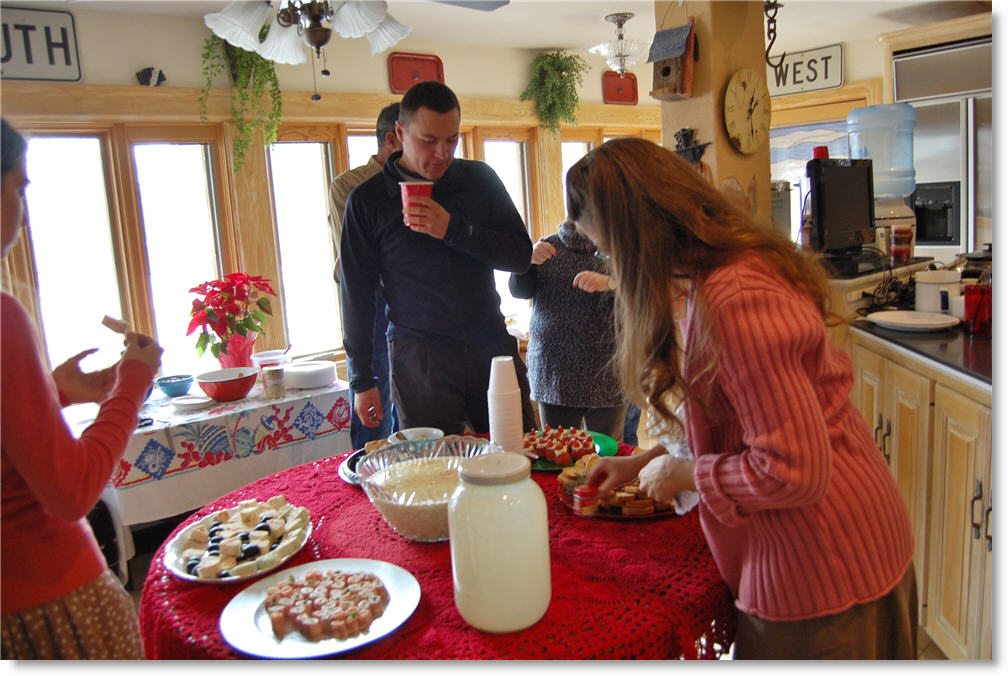 Catching up.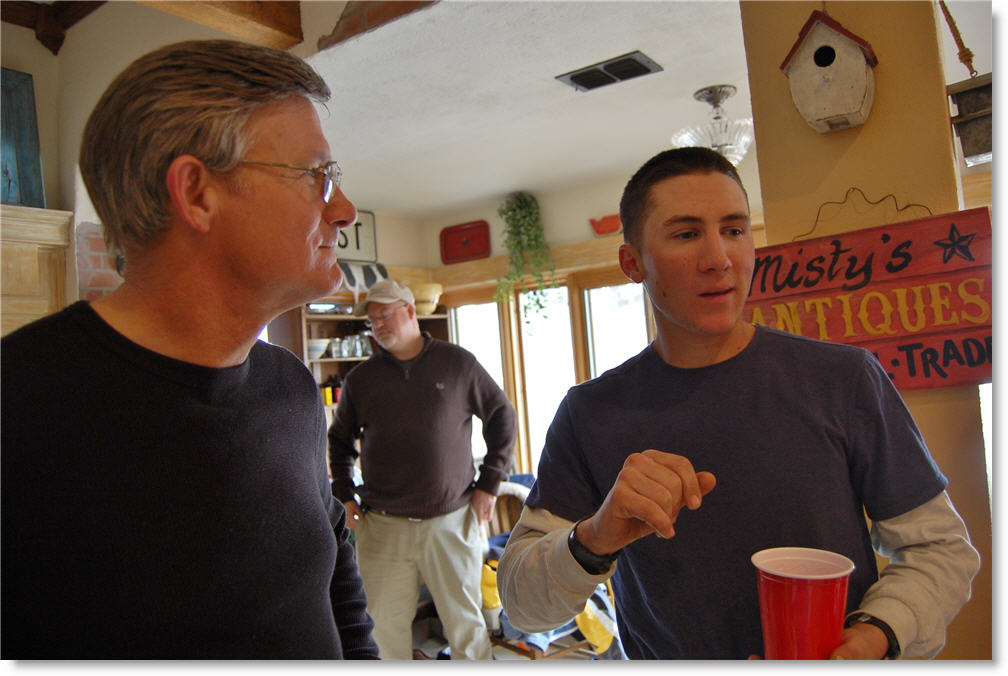 Colby and her kids, Carly, Macy, James and Blaine.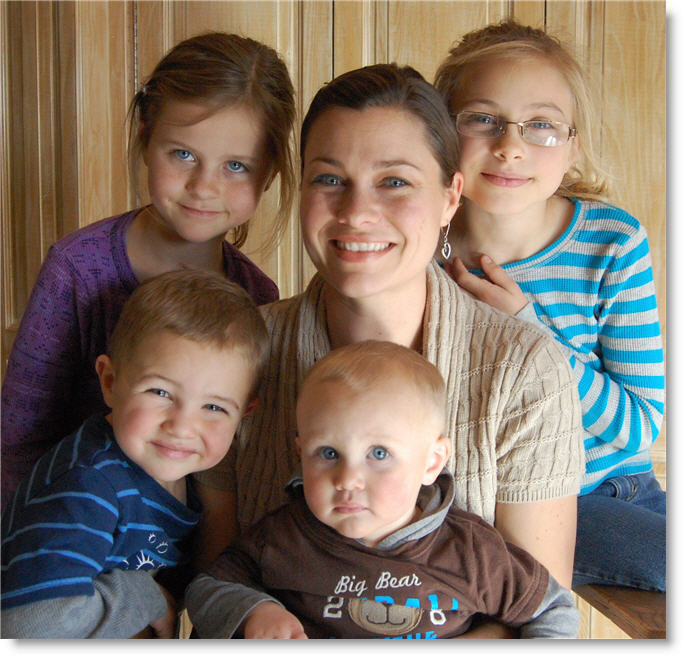 Sunny and Jim with Hannah and Avery.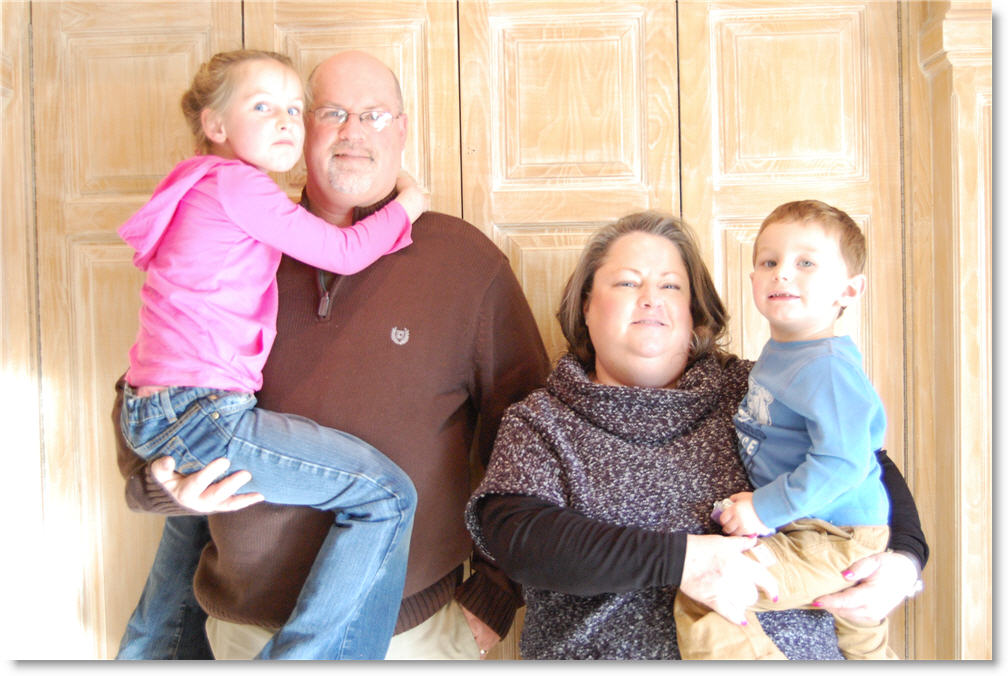 Kevin and Blaine.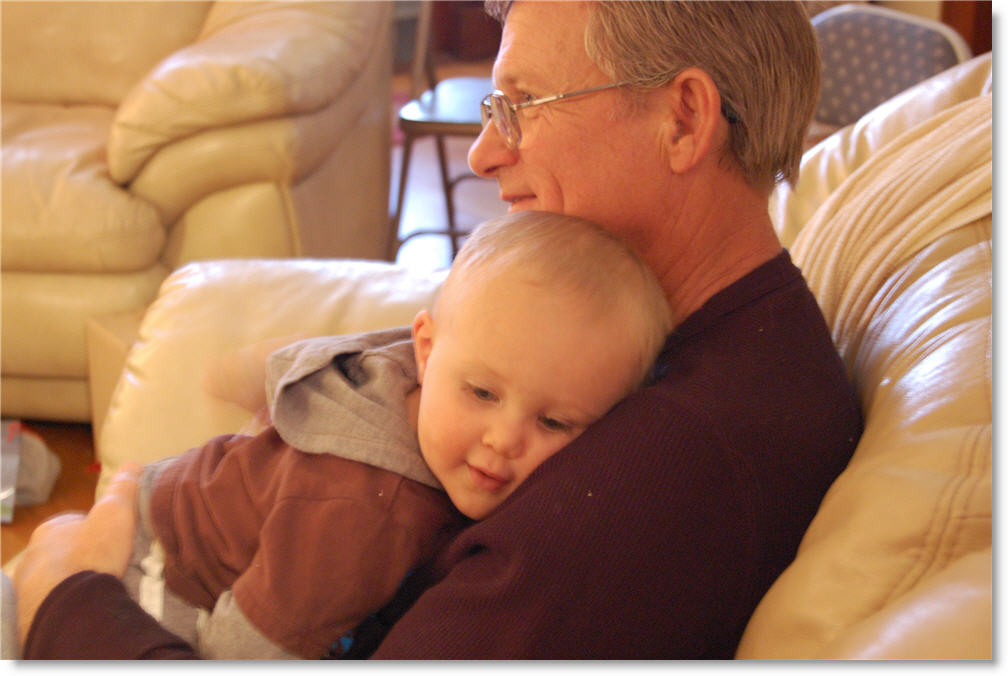 The Shannon's (and Jordan) take time to pose for a family picture.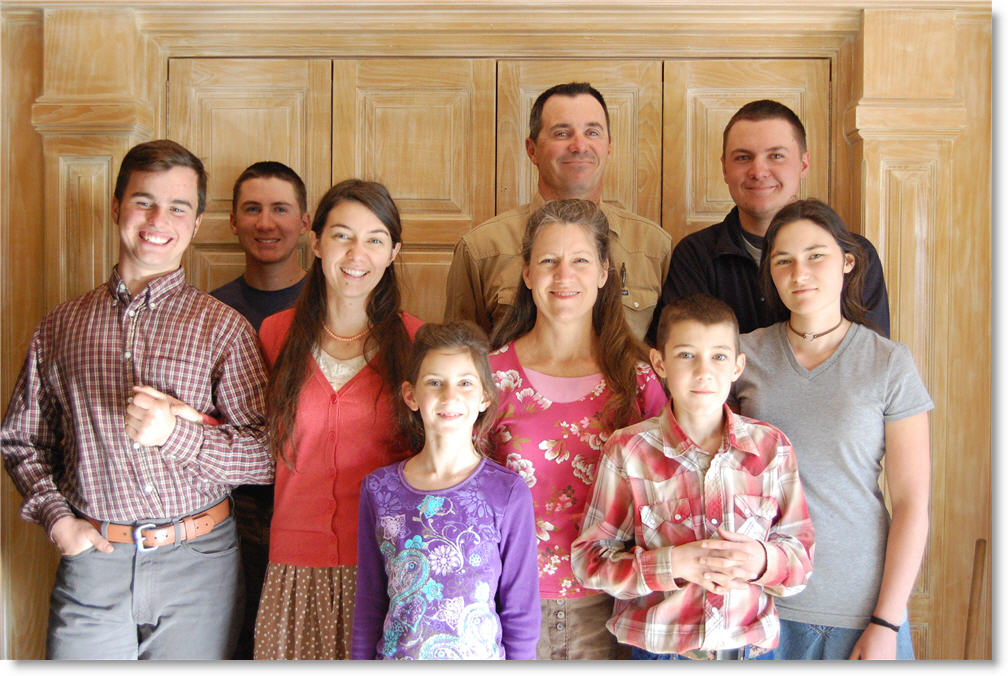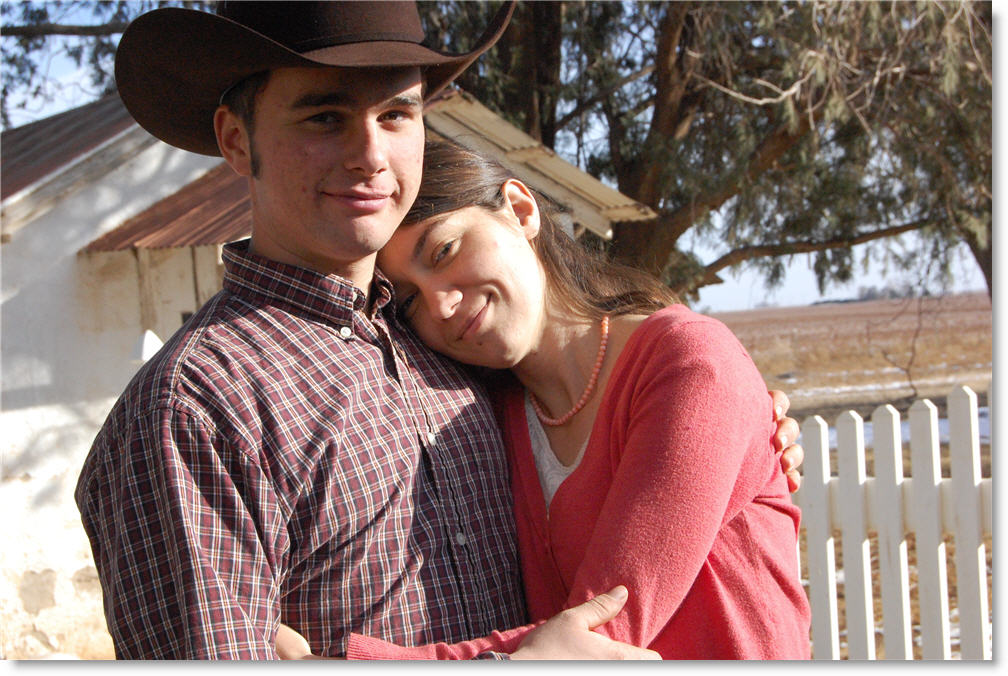 See more pictures of Christmas at Misty's at the link you'll find down the page.
Tuesday, December 25 - Christmas Morning
A sunrise bursting with color was the first picture of the morning. Can you spot one of our mares in the brush?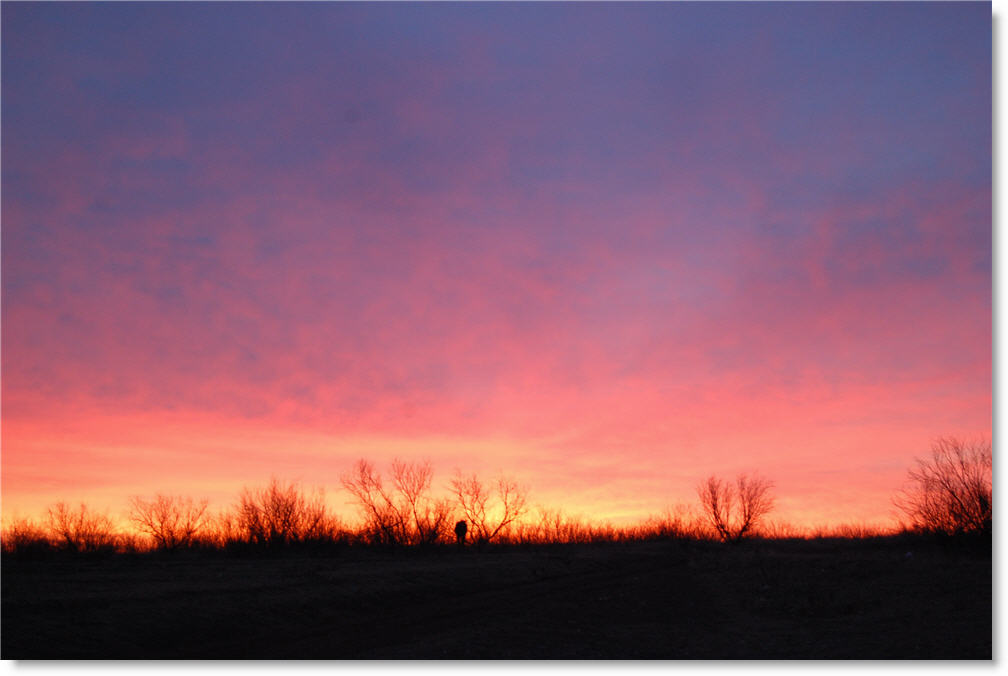 Time to find your stuff from Santa!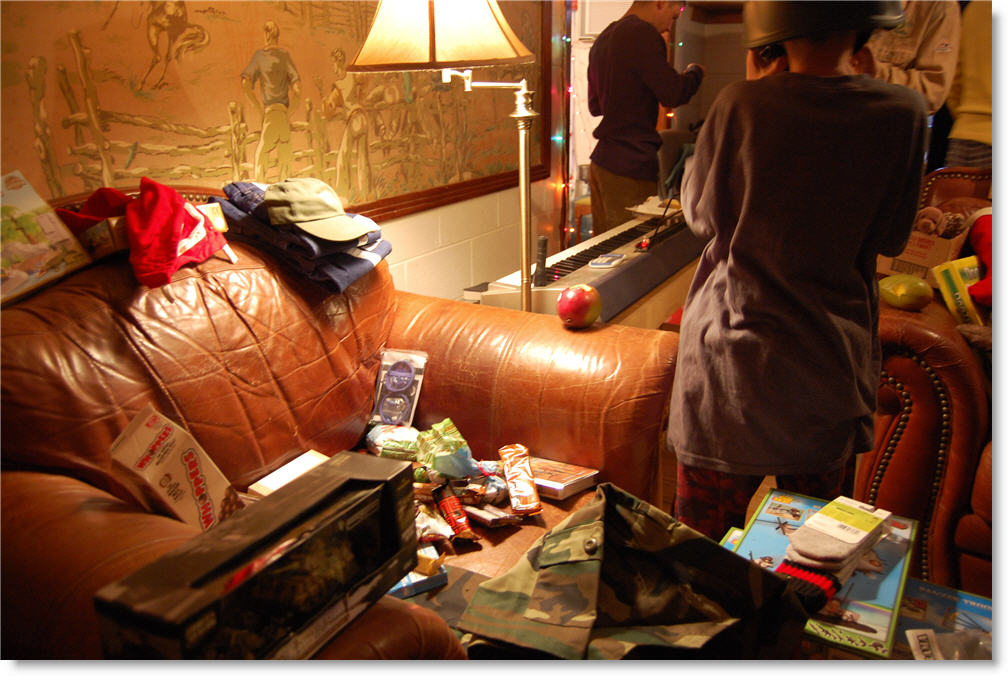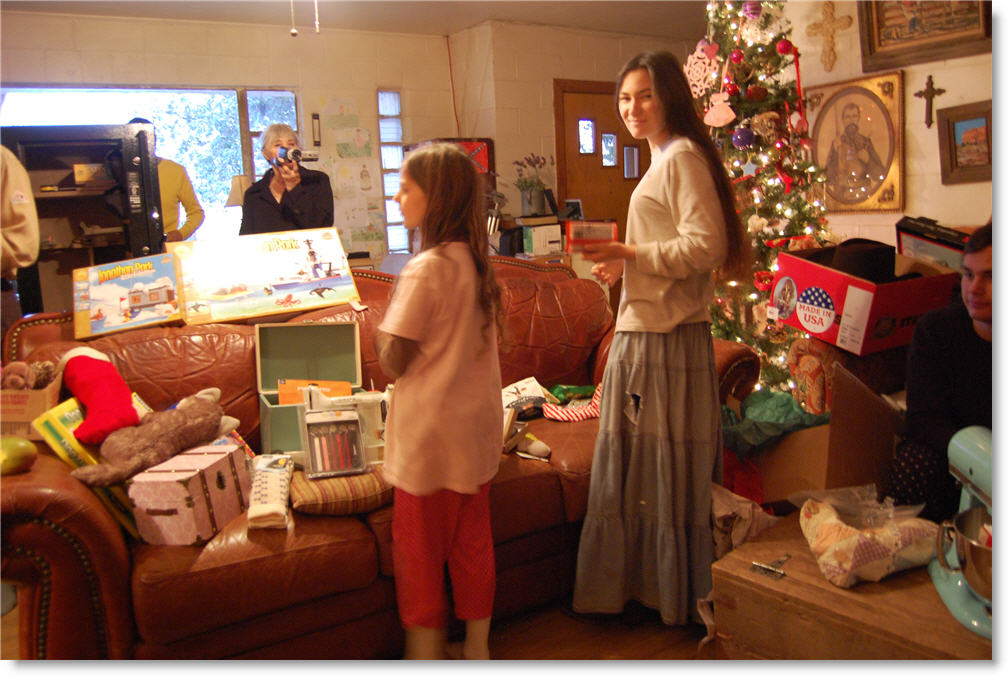 Stockton likes his greenhouse, but it was too cold to stay out too long.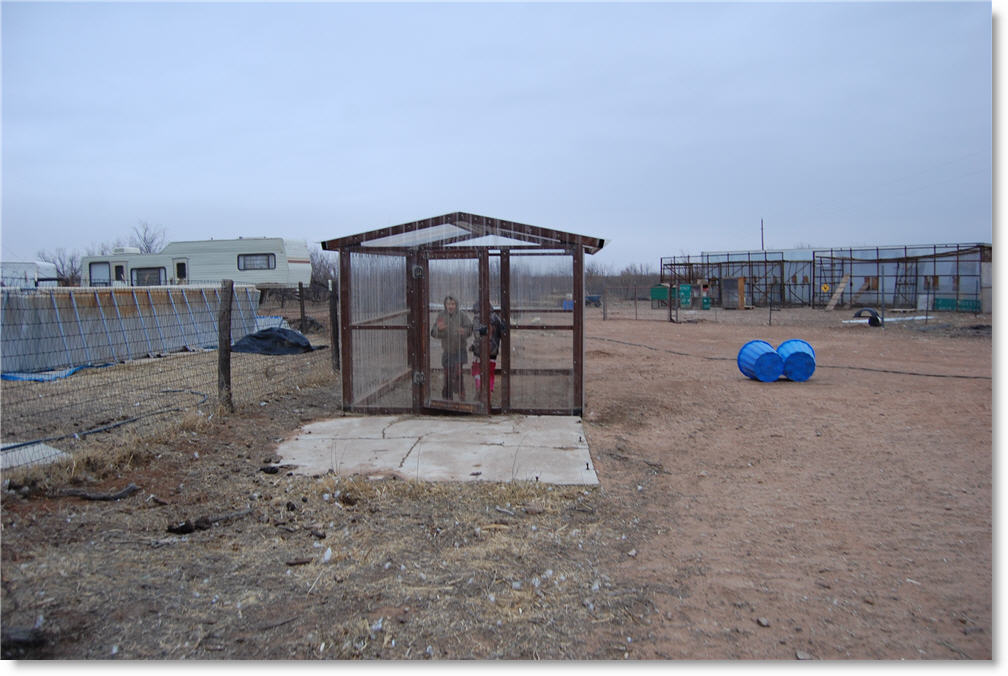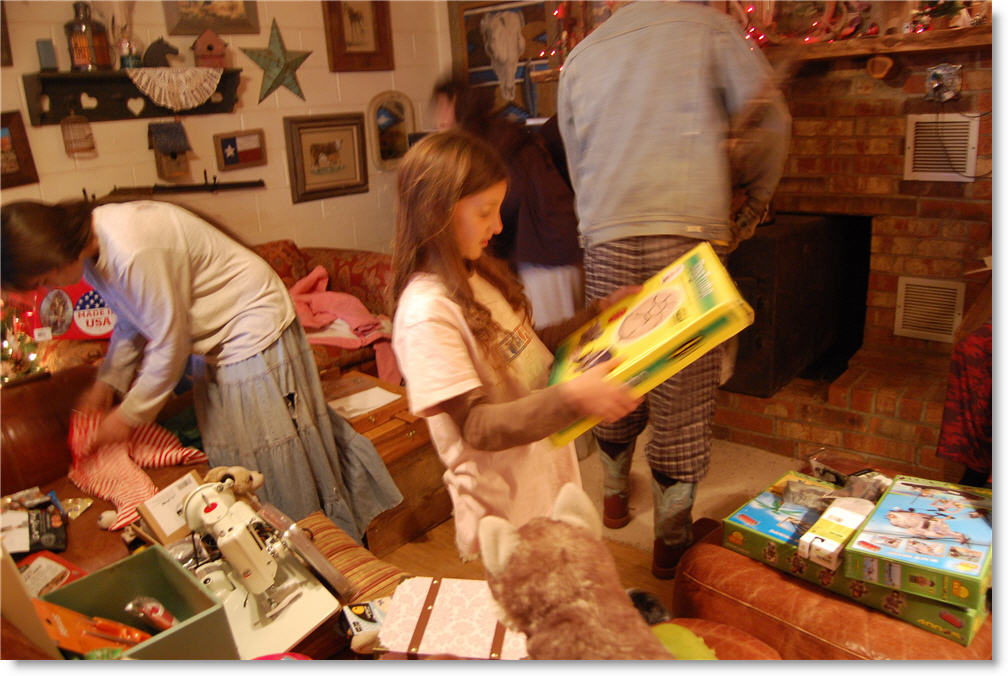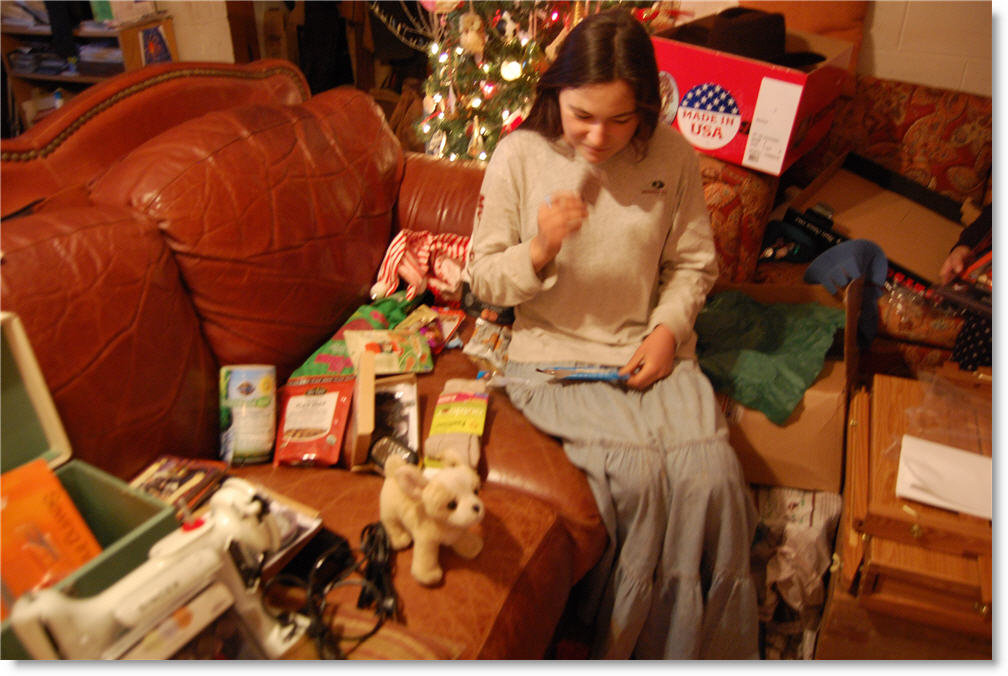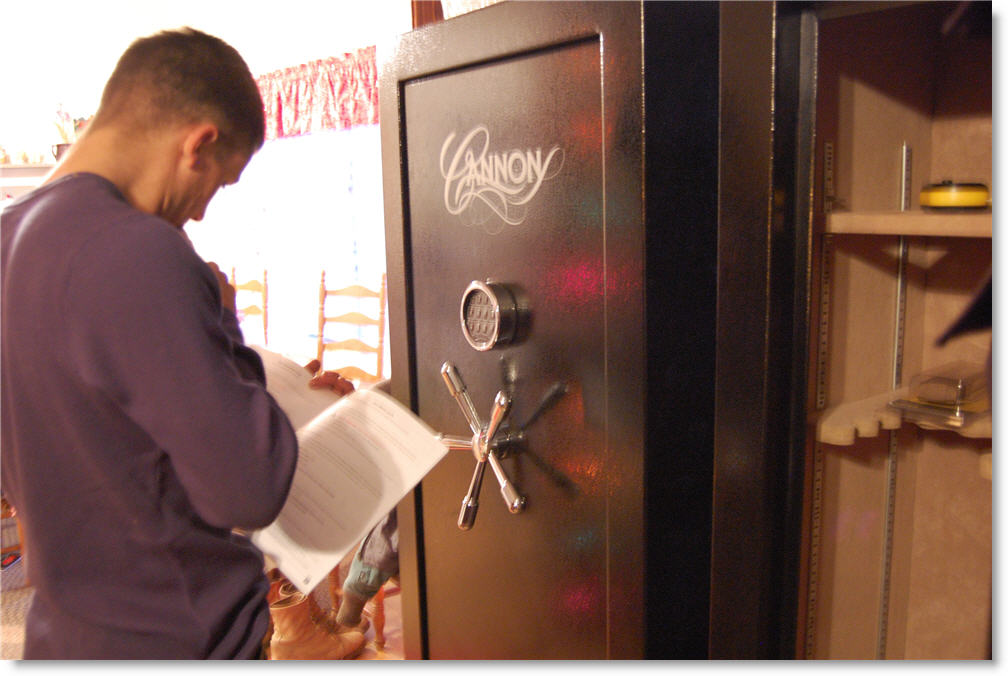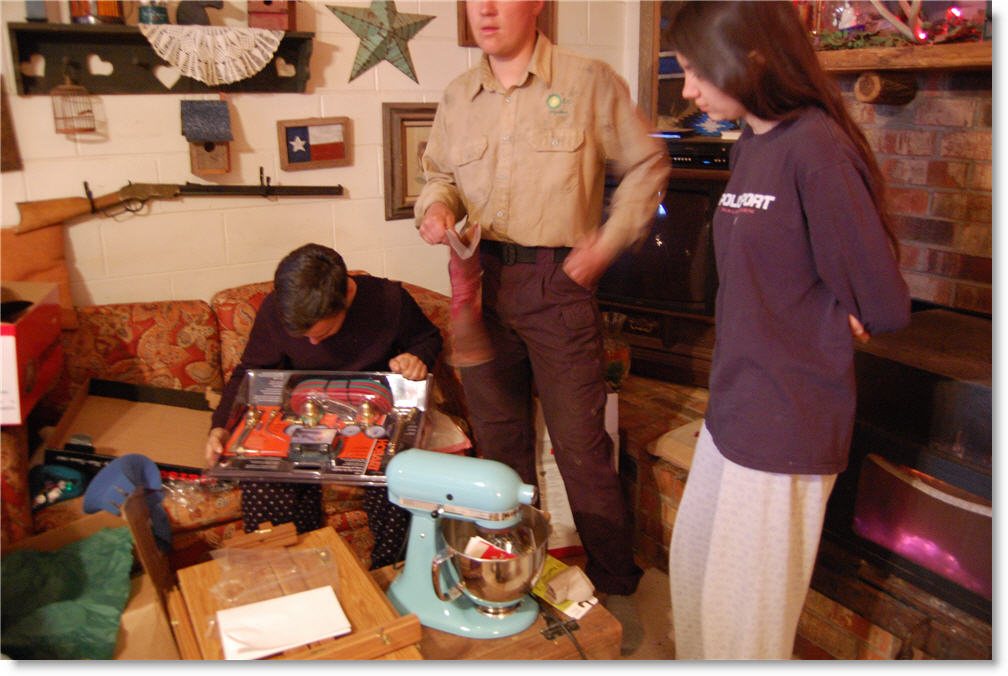 Stockton displays his new lego sets. He set a goal to put them all together before the day was over.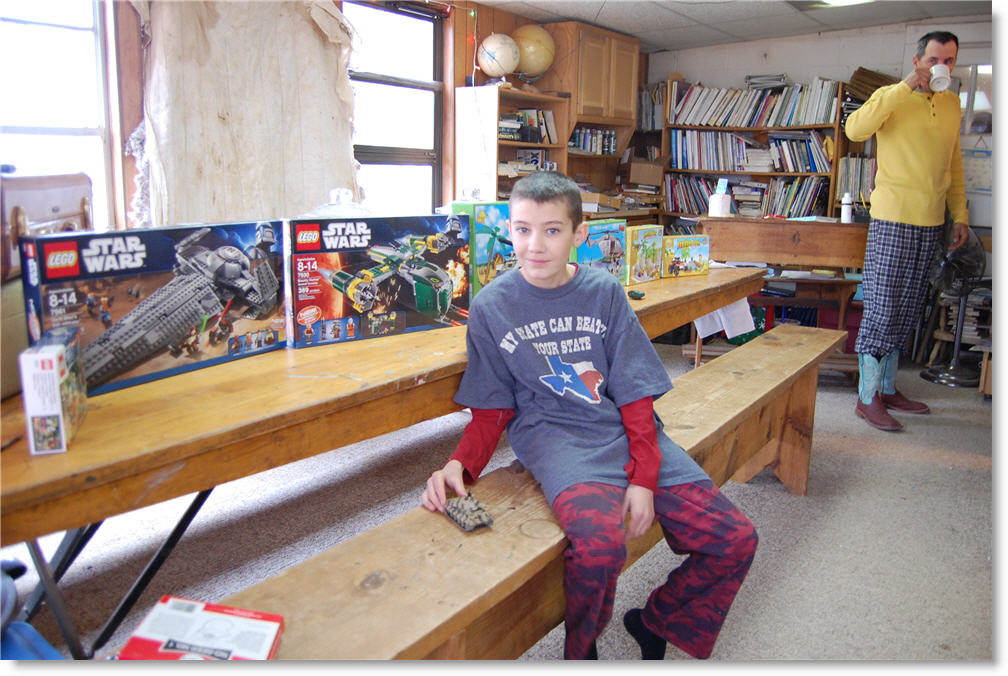 Carolina got some legos of her own.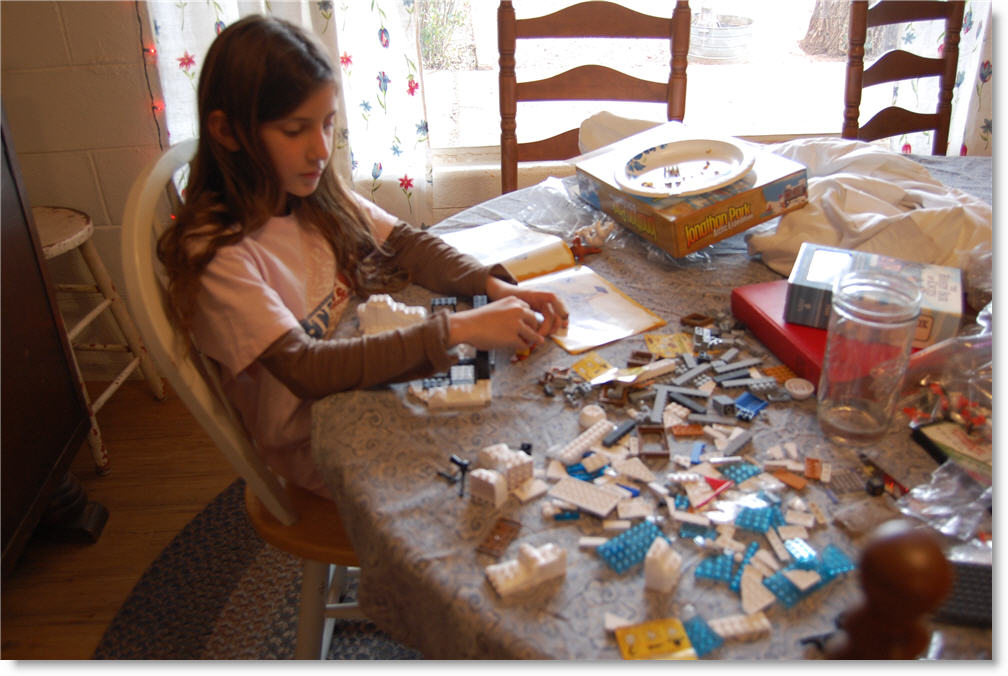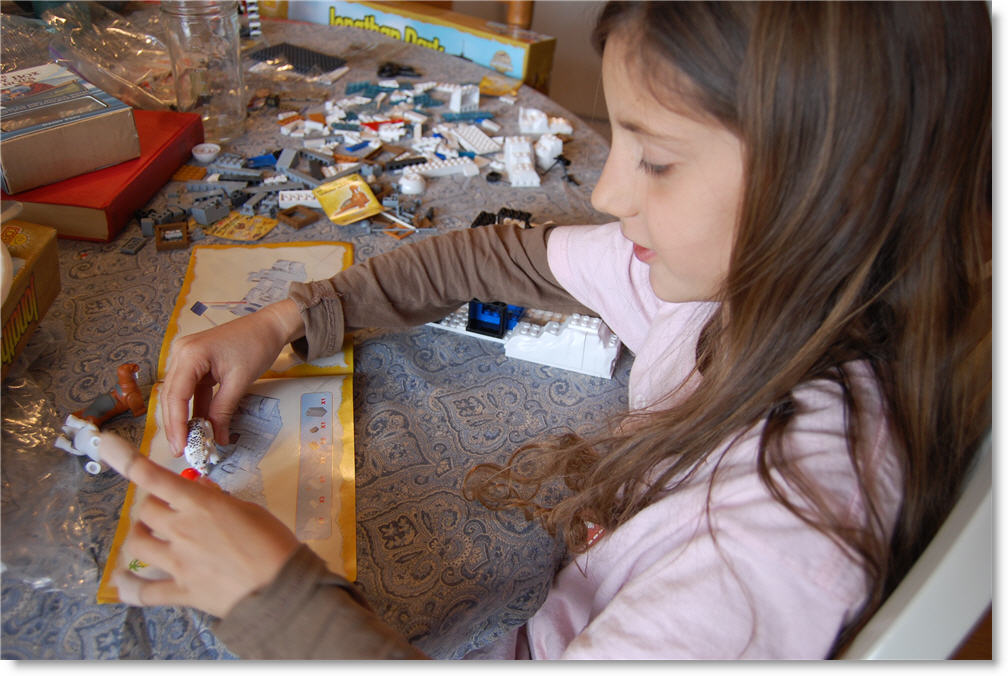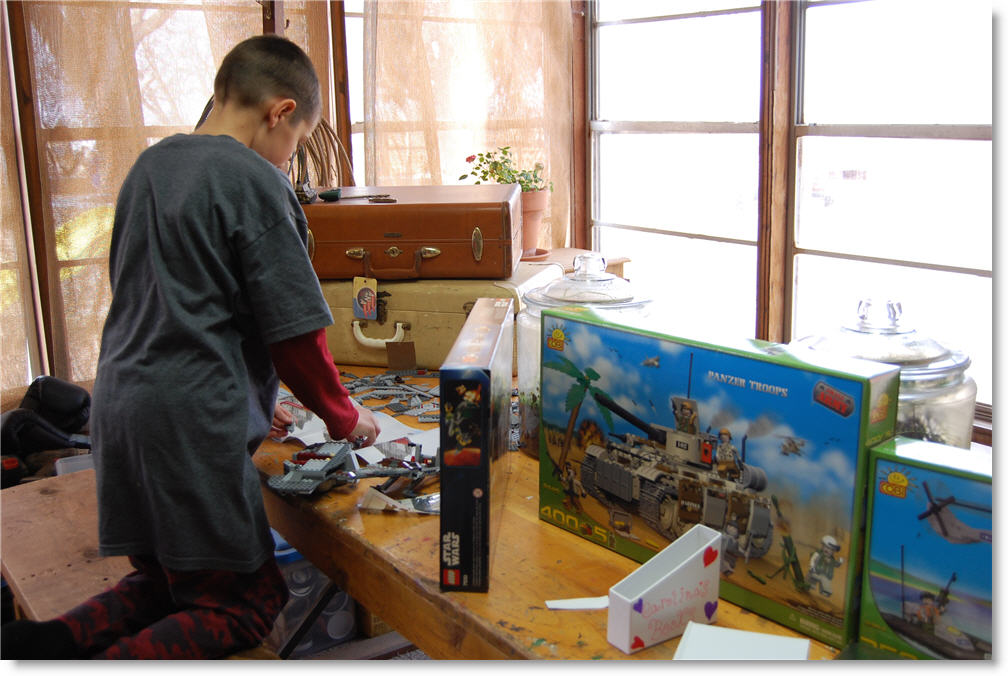 FYI, he met his goal.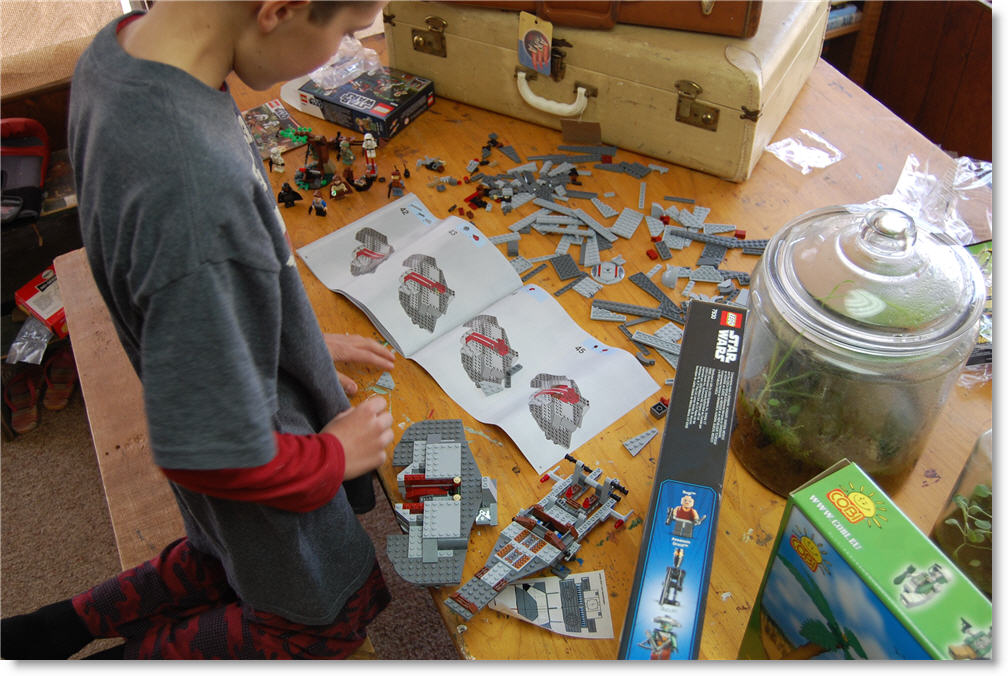 We stayed by the fire and watched some movies today.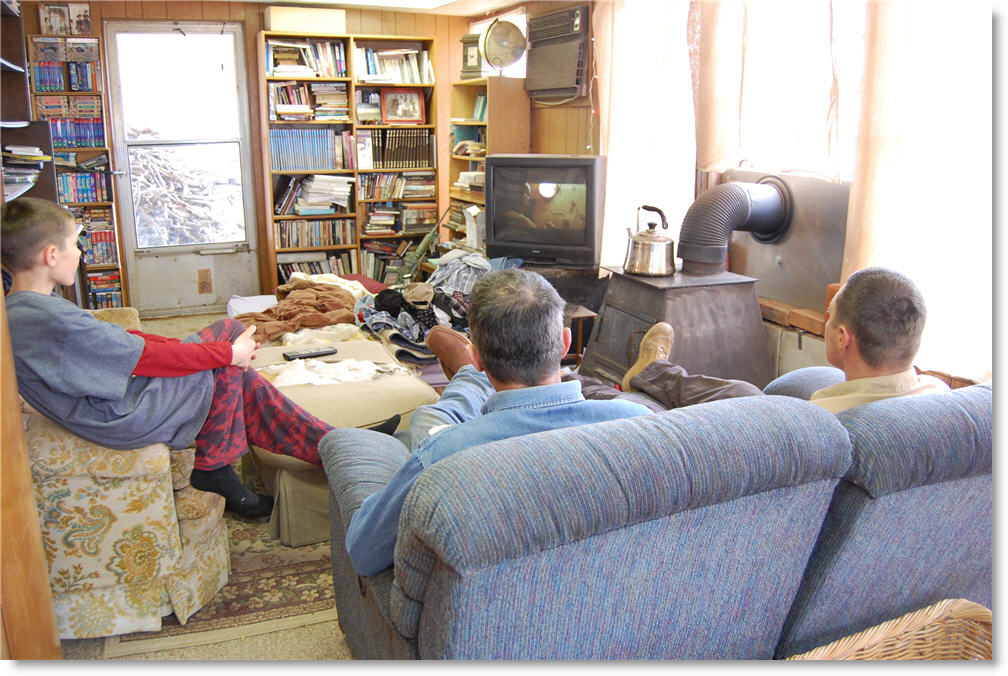 Jordan helps Atlanta assemble her new easel.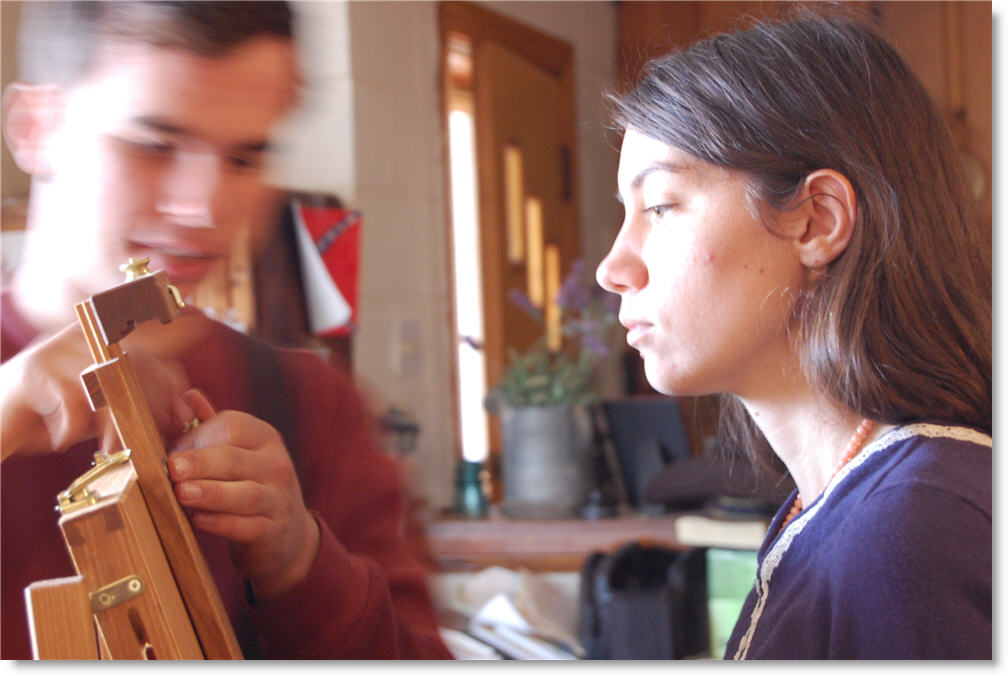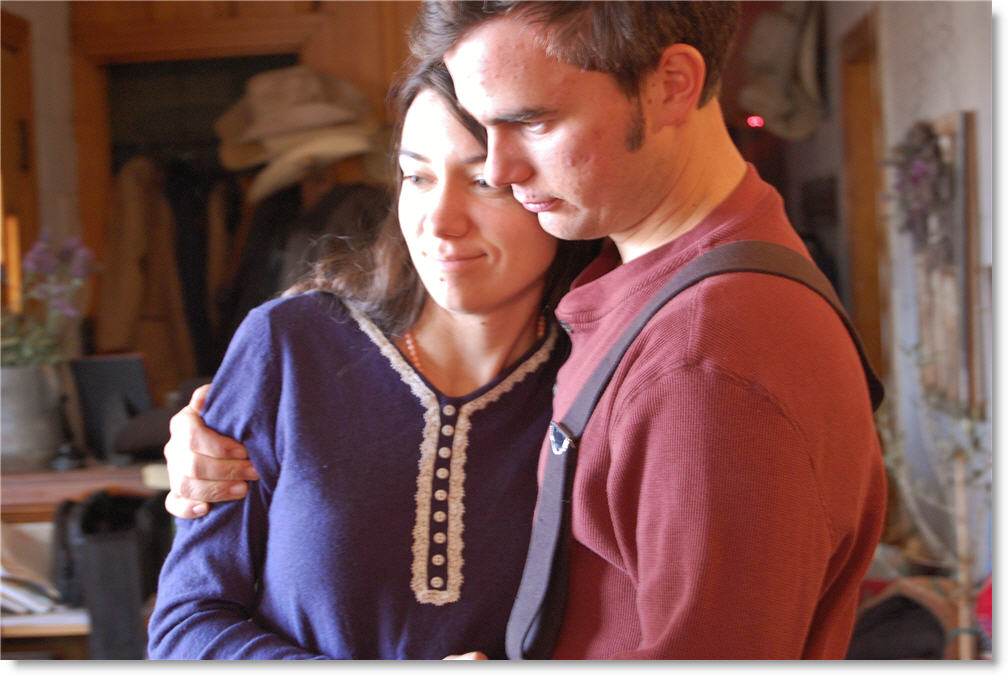 Monday, December 24 - Christmas Eve Gifts - Around here Christmas eve ranks right up there with well...Christmas. We had a nice supper and then launched into the gifts to each other which we had been accumulating under the tree.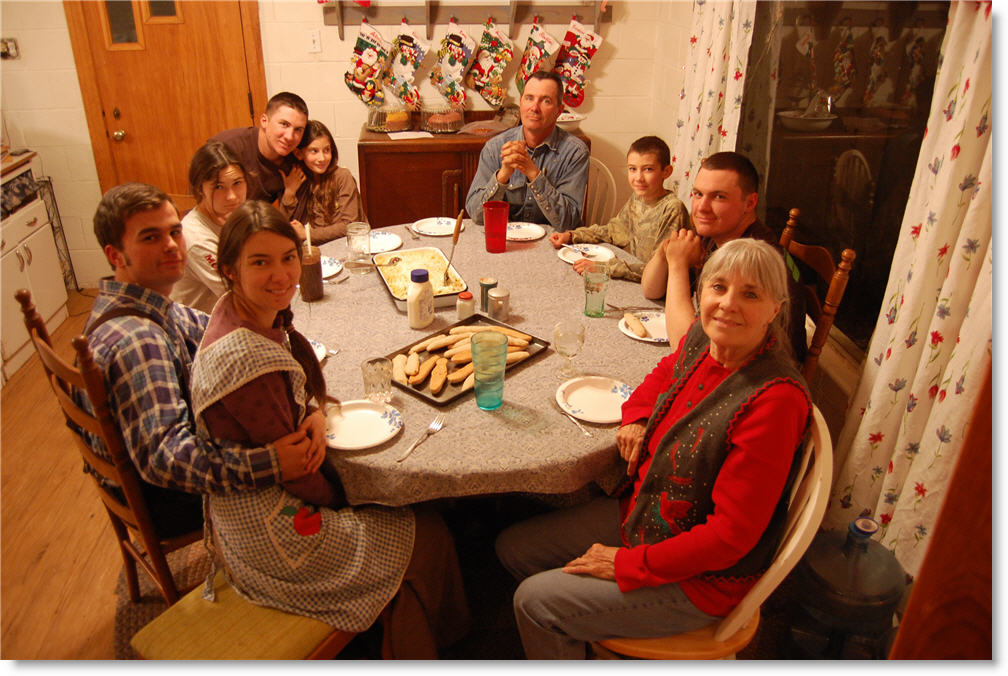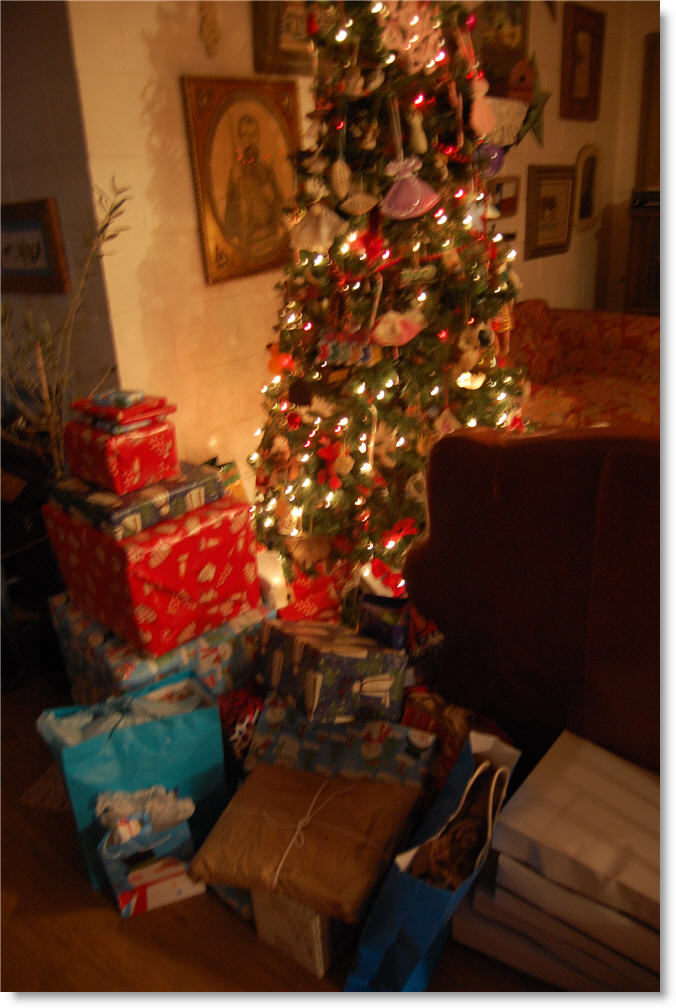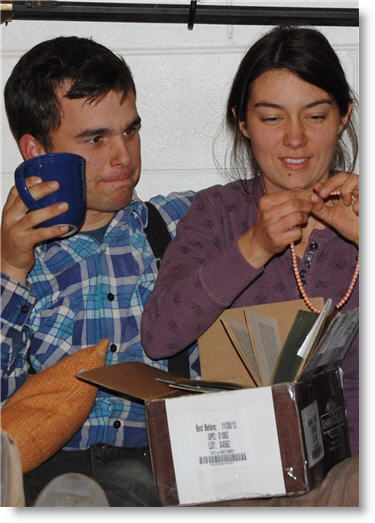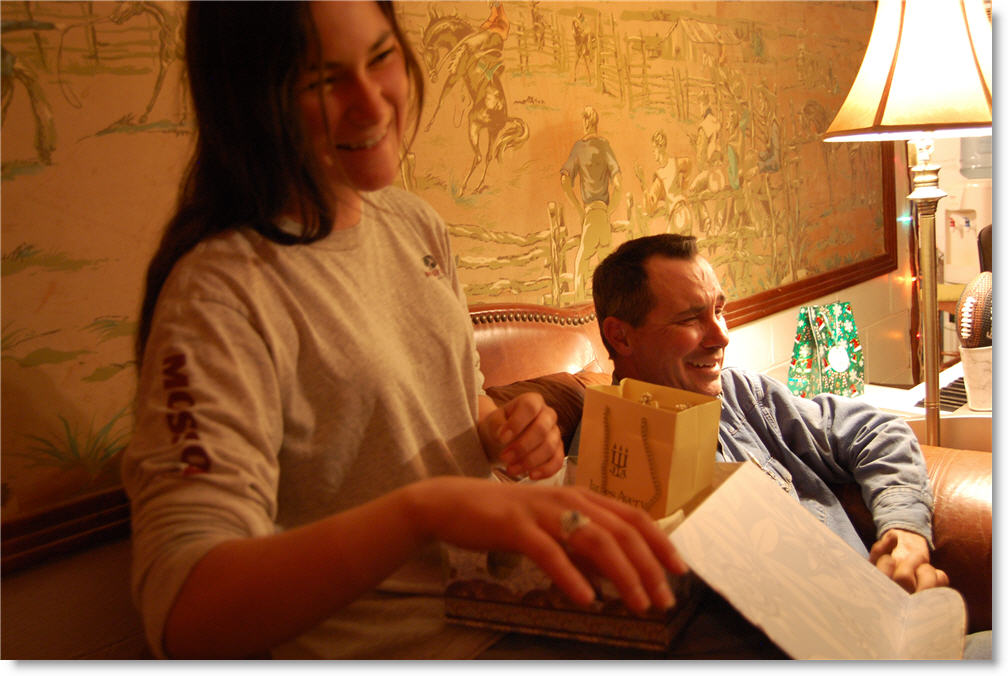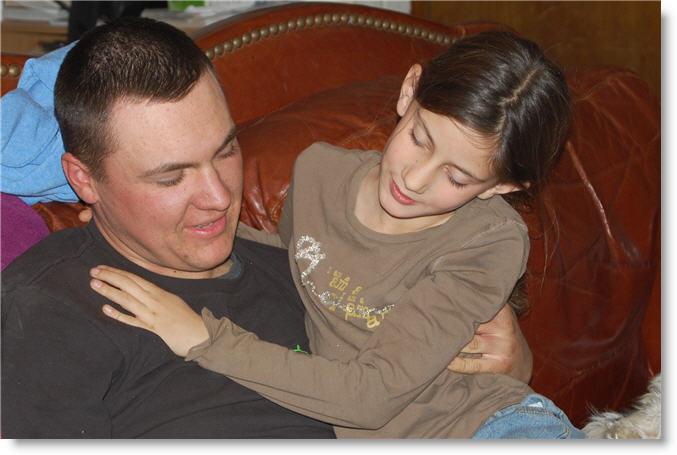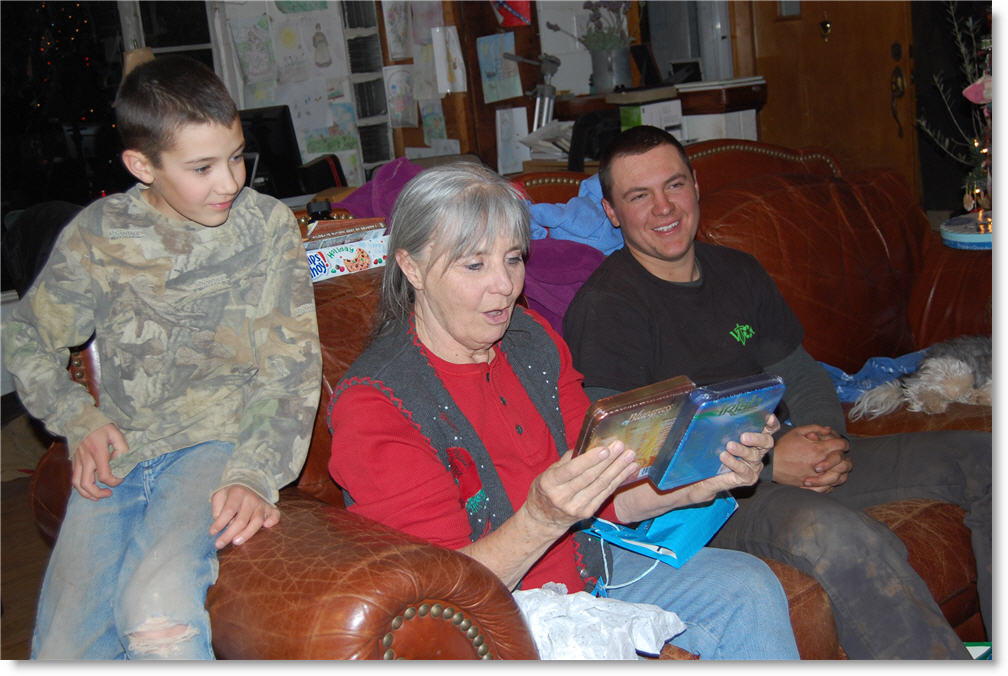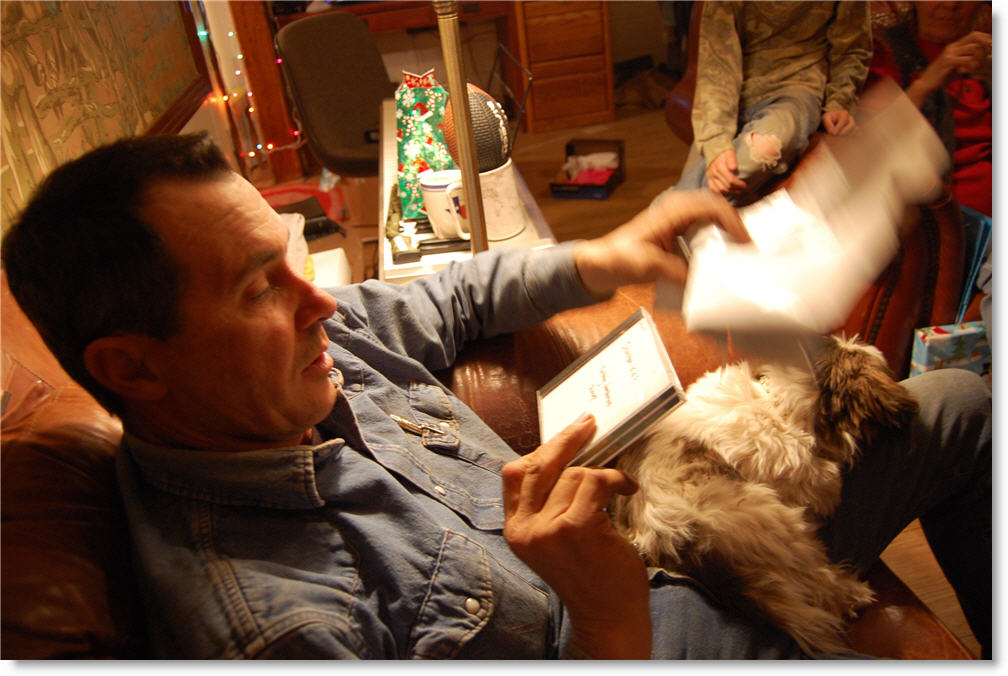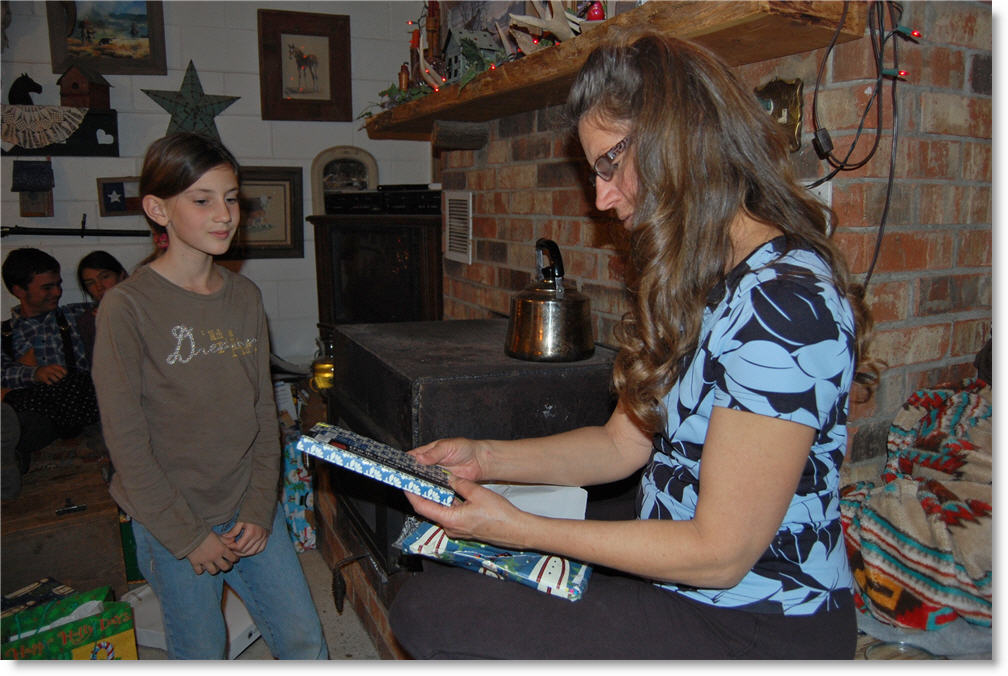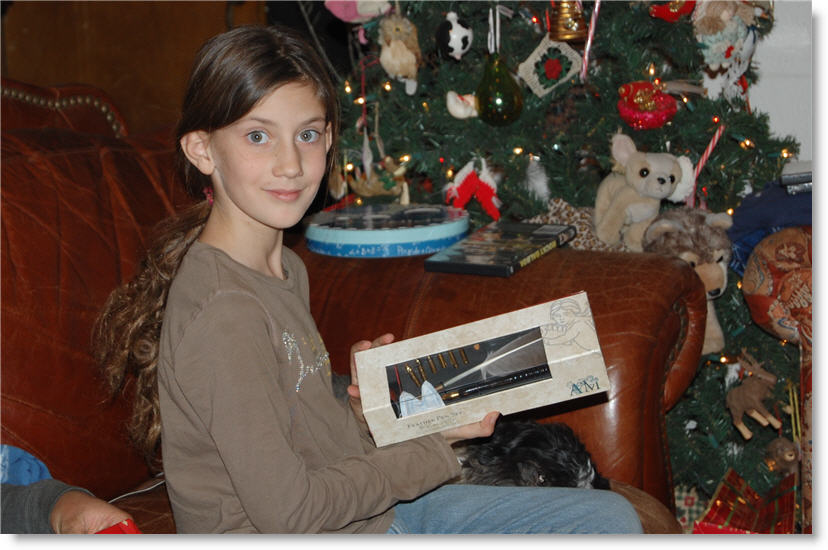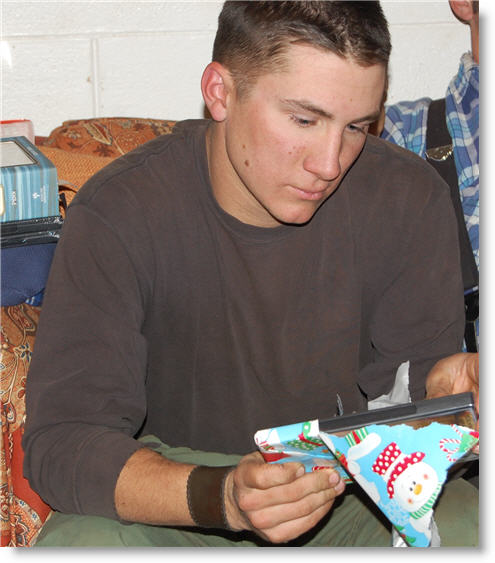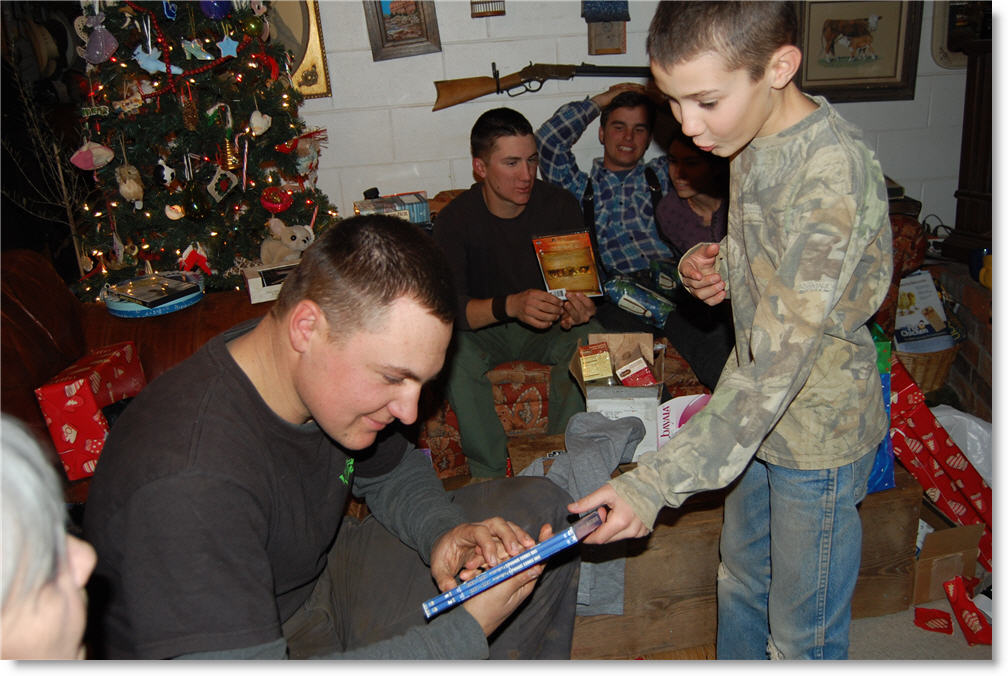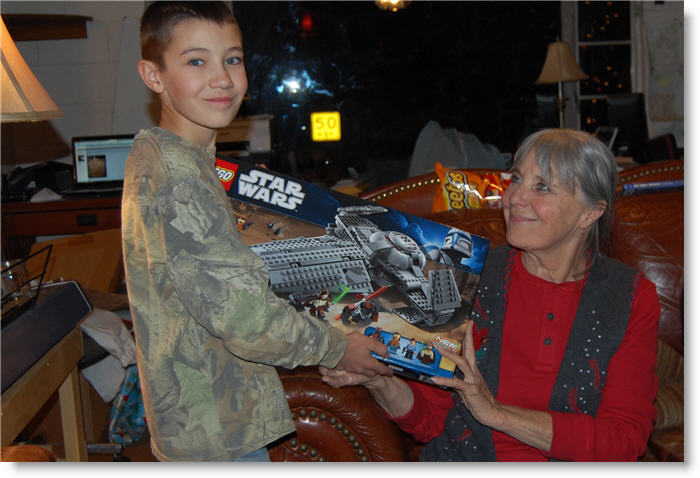 See all the Christmas Eve photos by clicking on the album shown further down this page.
Wood Pile - Earlier in the day the boys were busy stacking wood on the back porch. They wanted to have plenty to burn during the next few days. Don't they look proud of themselves?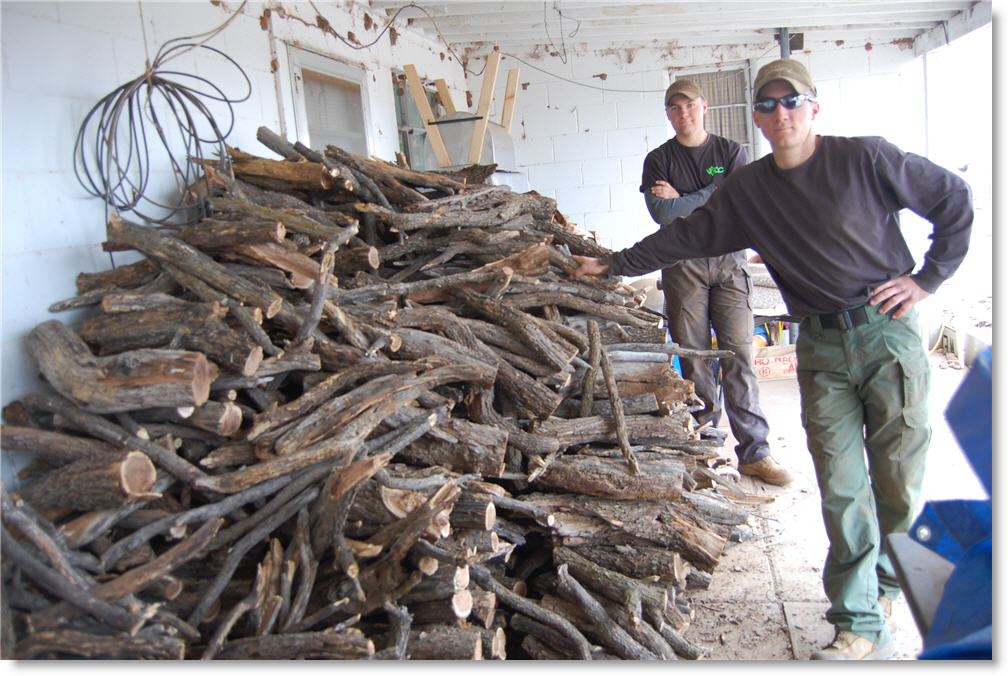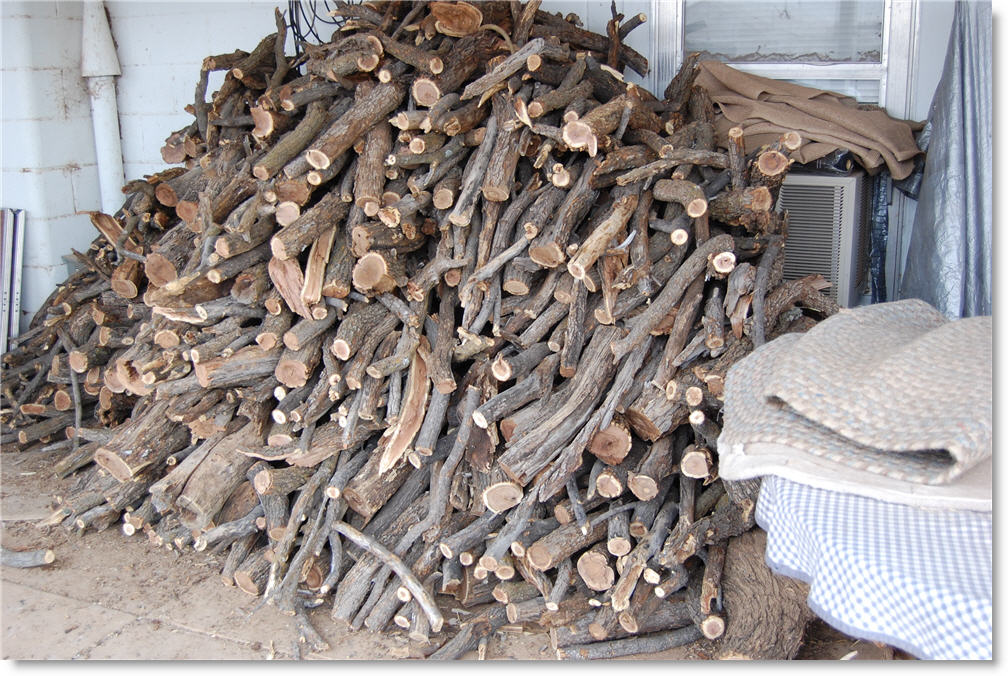 Nathan and Jordan were putting the finishing touches on Stockton's greenhouse out behind the shop.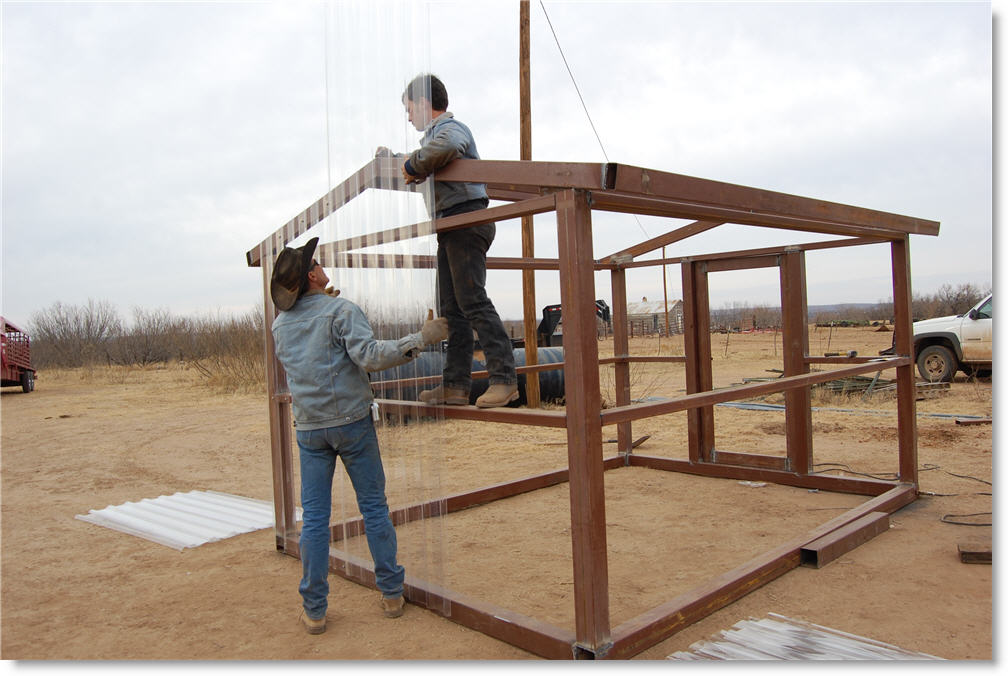 New Calf - Meanwhile, we discovered that Bossy, one of our milk cows, had calved during the night.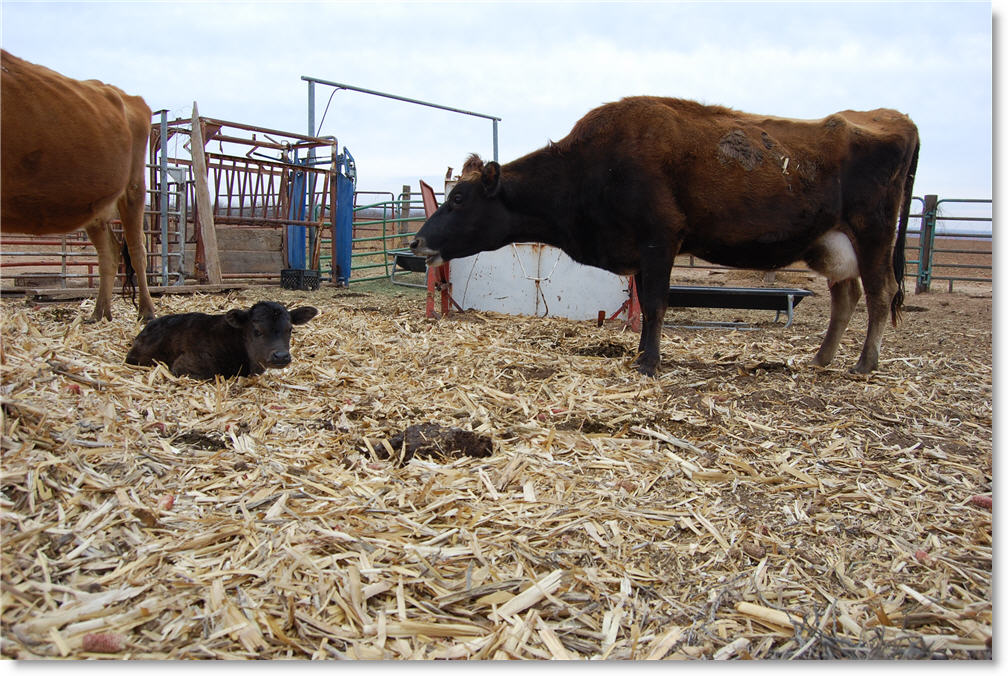 Meet Laddie.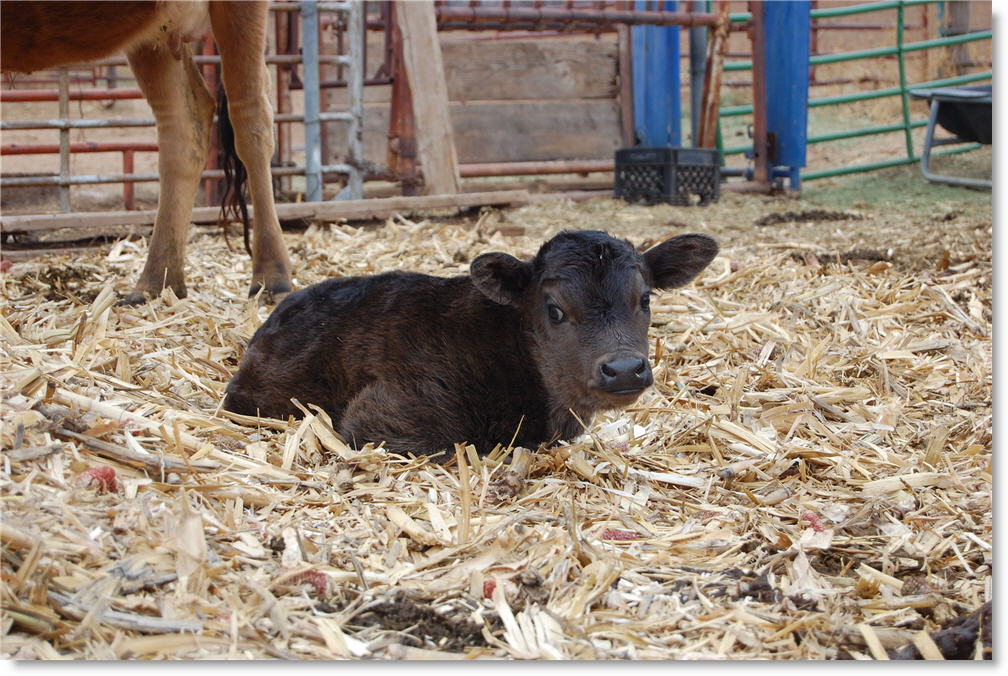 As the weather grew steadily colder, the greenhouse (complete except for the trim which hadn't come in) was moved into place. We had to be very diligent to make sure Stockton didn't wander into the sunroom where the windows would have given away the Christmas surprise.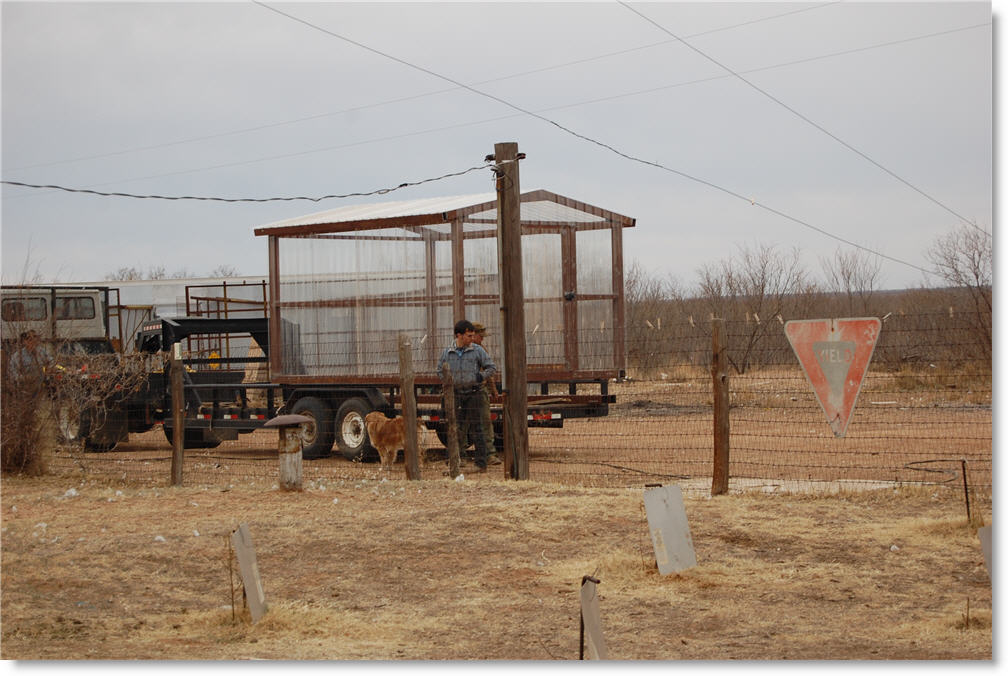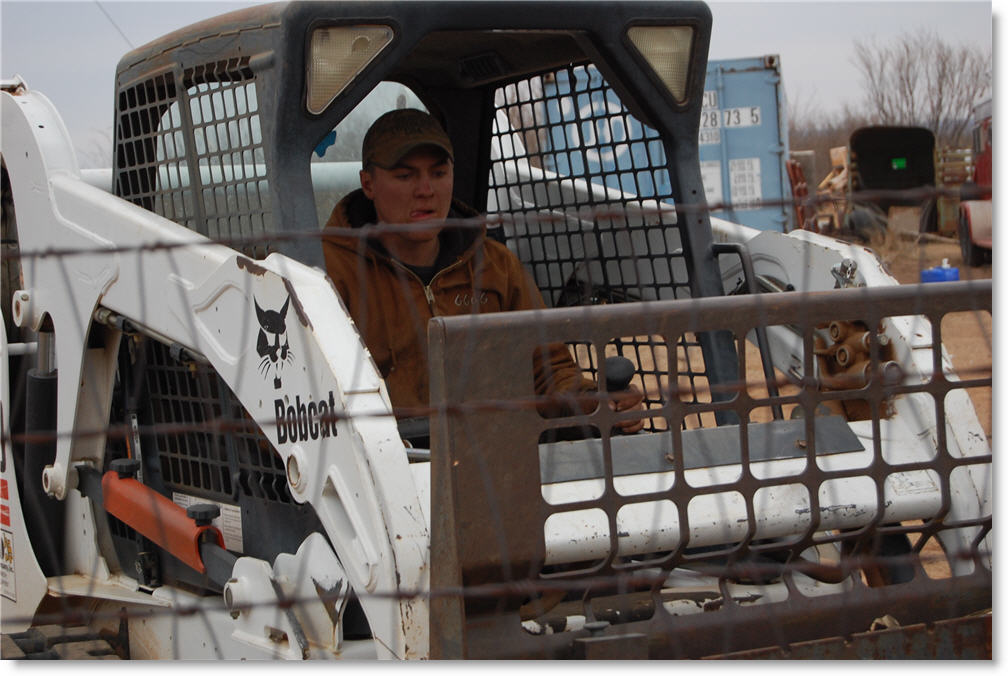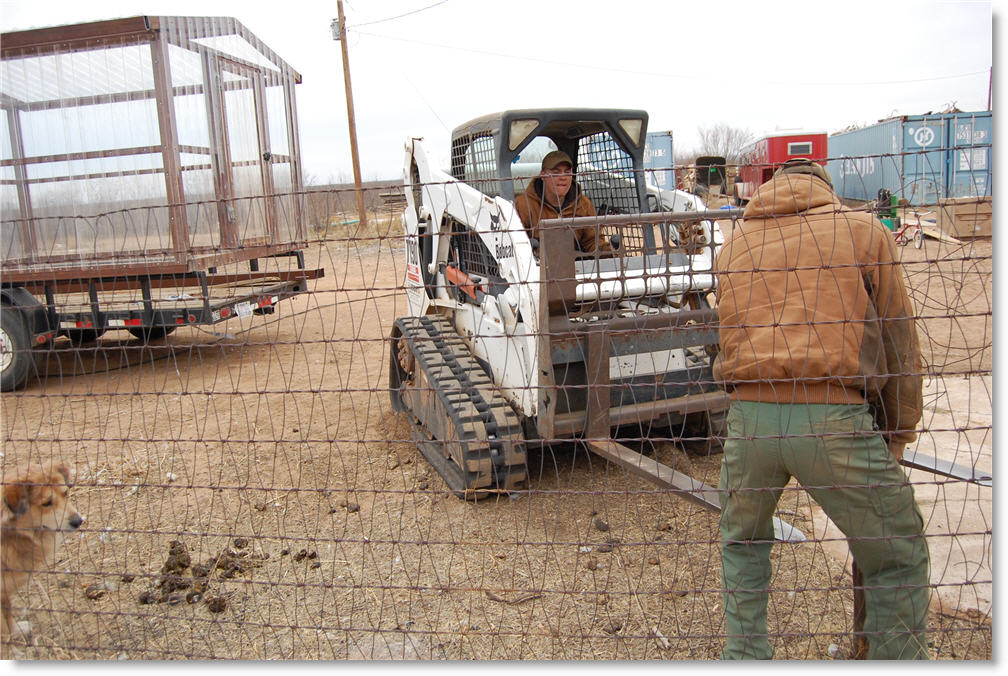 We set it behind the backyard fence by an old slab of concrete that would serve as a porch.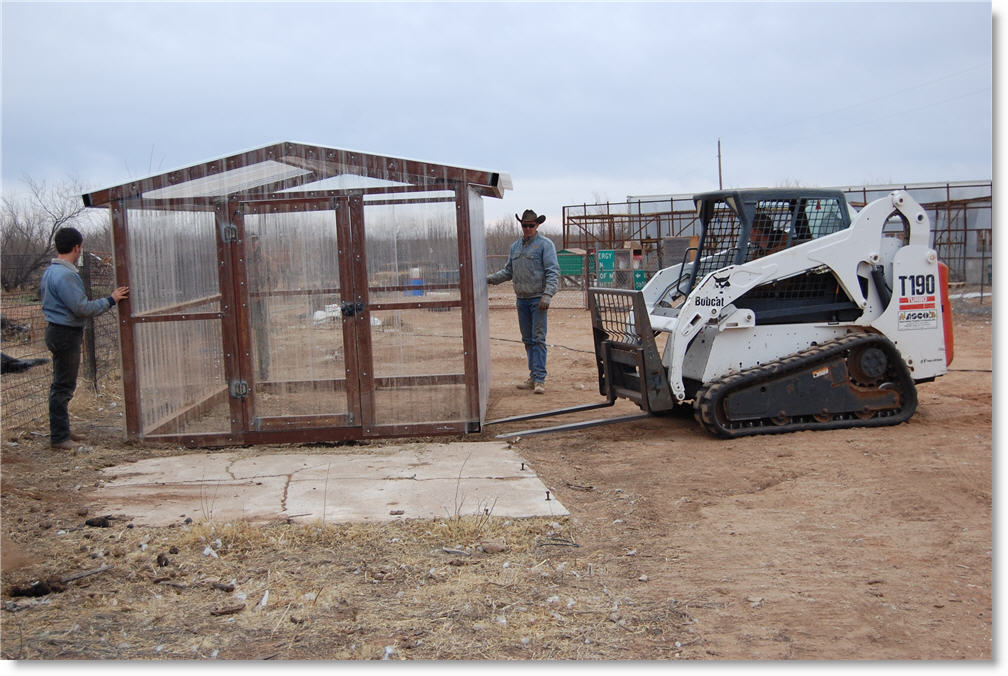 Sunday, December 23 - Christmas with the "Rainey Bunch" - It's been many years since we've made it to the Christmas family gathering of my aunts, uncles and cousins on my (Windy) Dad's side of the family. It was fun to see everyone. There were lots of people I hadn't ever even seen before, or if I had seen them, they were very small back then and/or a lot younger! Hopefully, it won't be so many years again before we make another gathering.
Carolina and Kerry discover they are cousins.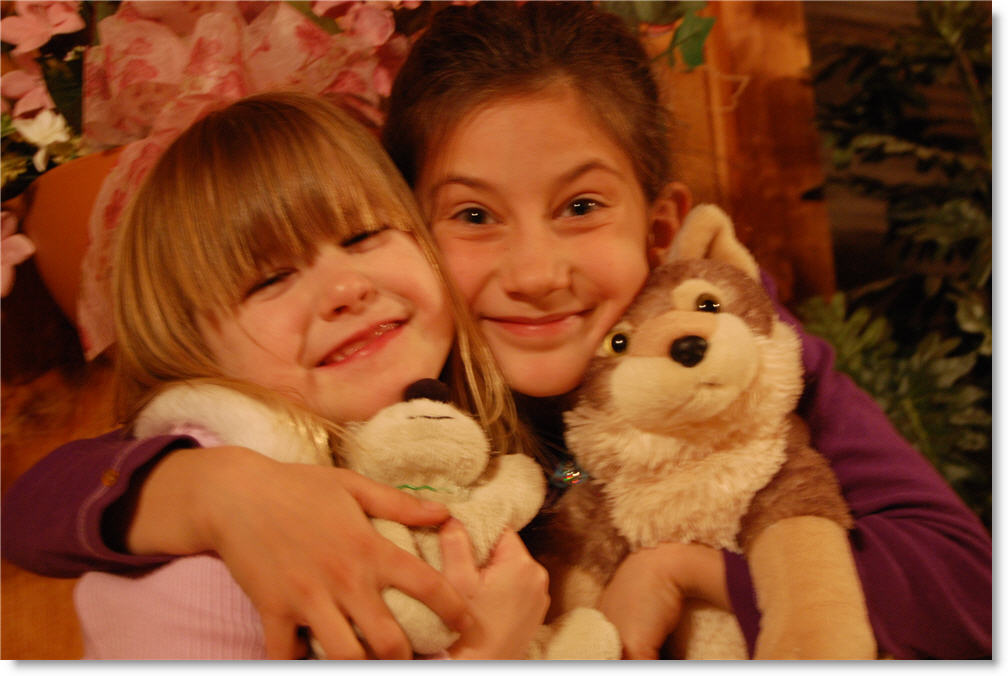 Aspen enjoying the visit.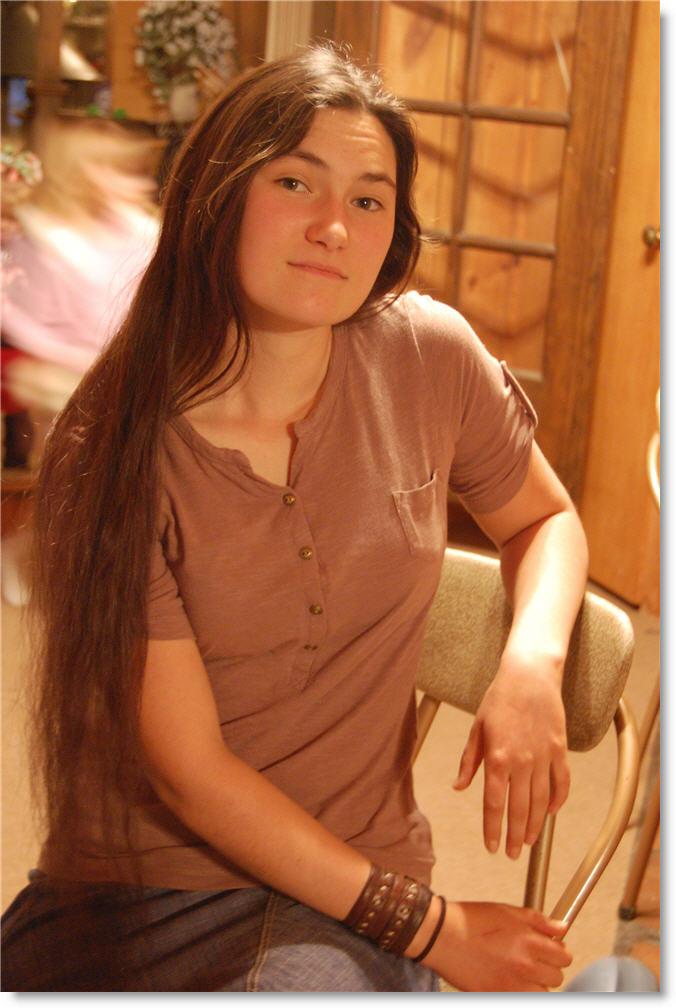 Sunny and Jim.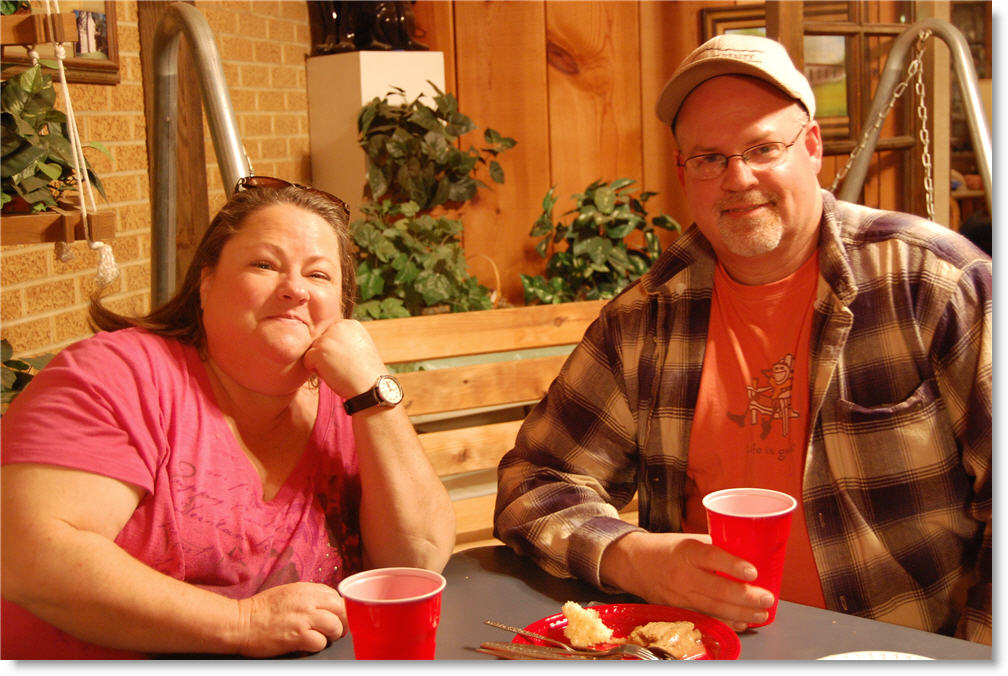 Ray and Inez' comfortable home.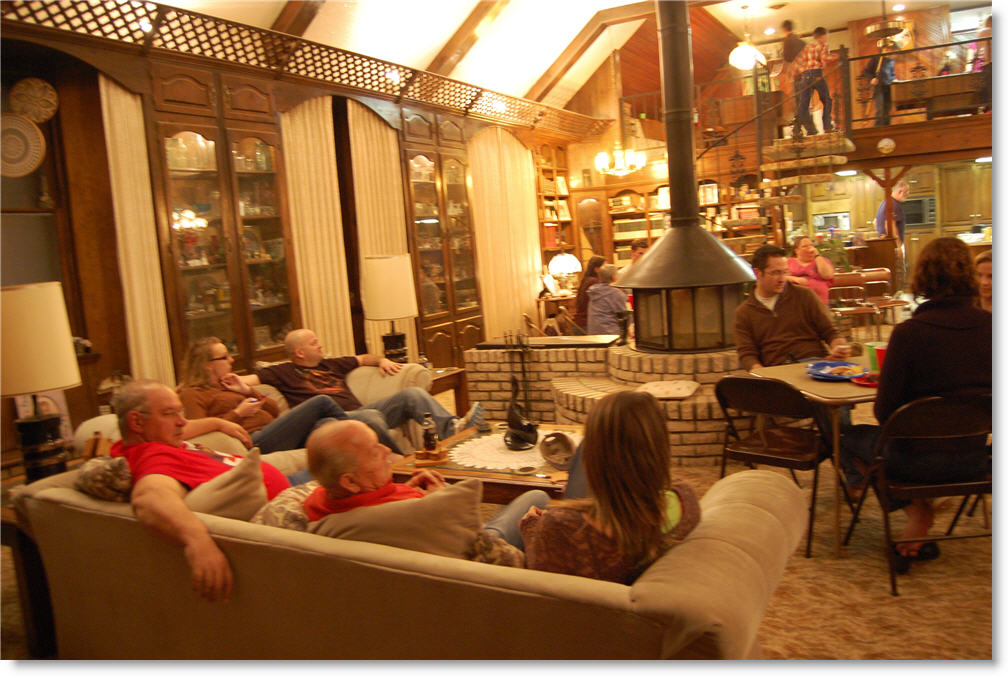 Windy and cousin Randy.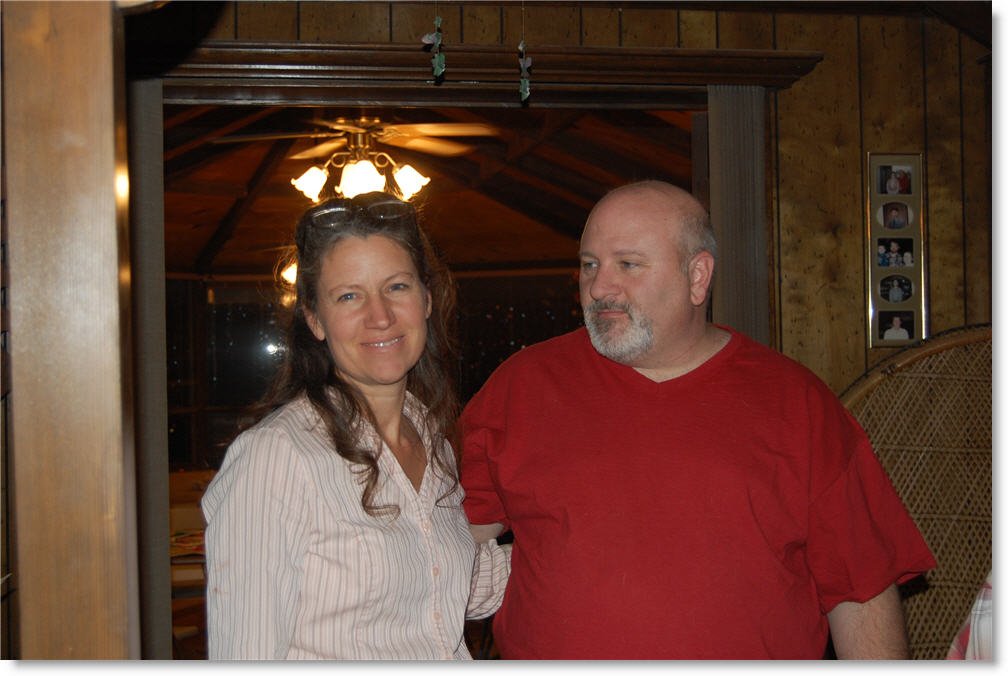 The boys after supper.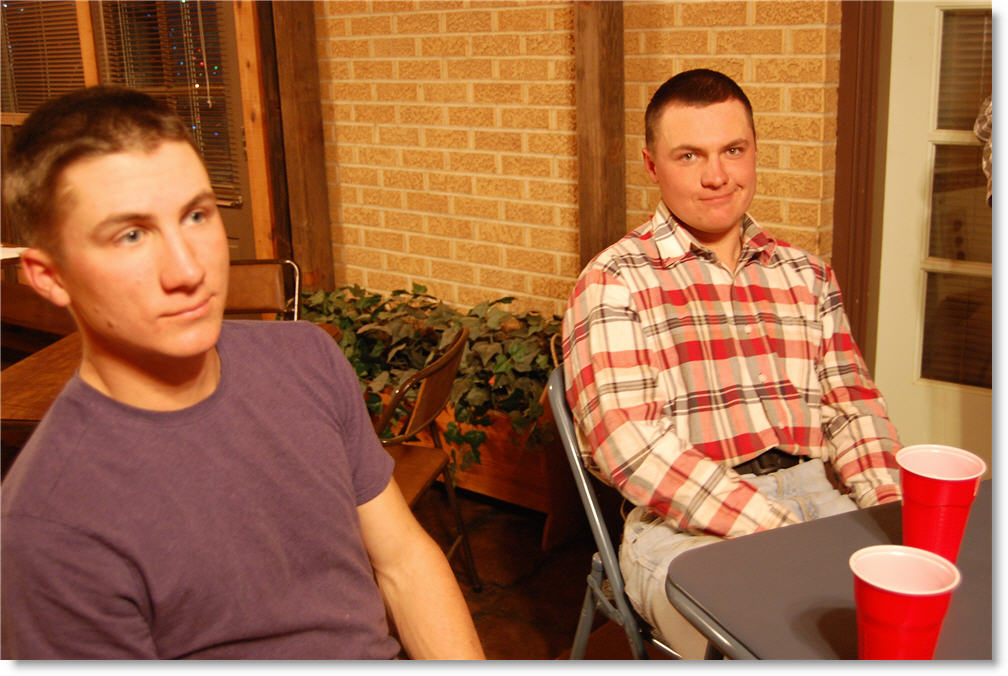 See all the photos of the Rainey gathering below.
Saturday, December 22 - Busy Preparations - There was lots of activity around the ranch today. The Christmas clock was ticking and there were still things to be done.
Nathan's working on a surprise for Stockton; his very own greenhouse. If you've been around Stockton lately, you know he has a thing for plants. Hopefully, this greenhouse will give him somewhere for his interests to flourish.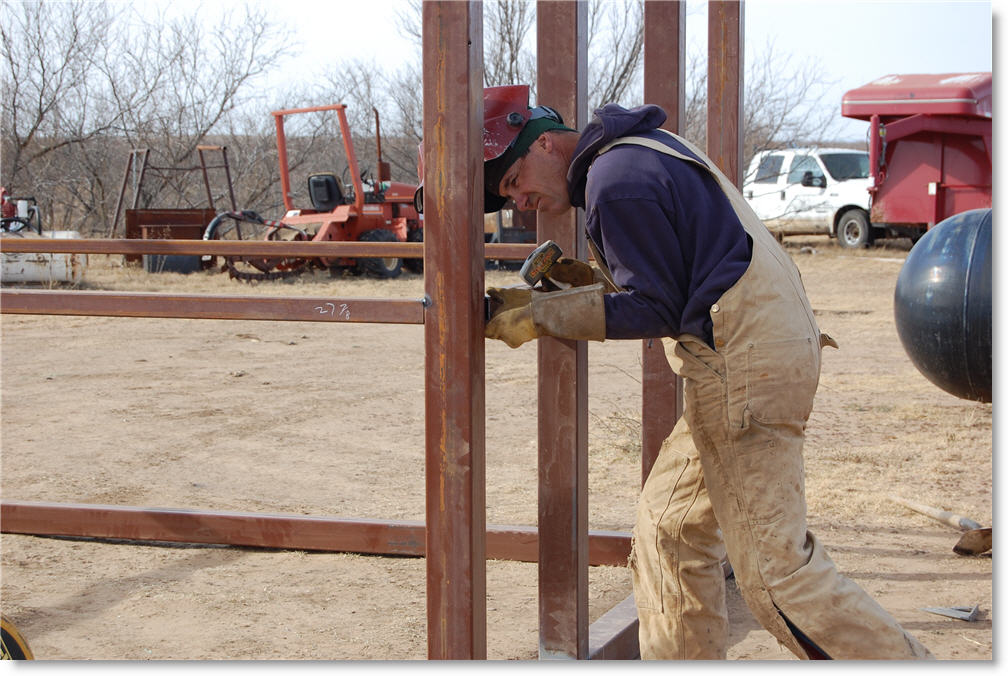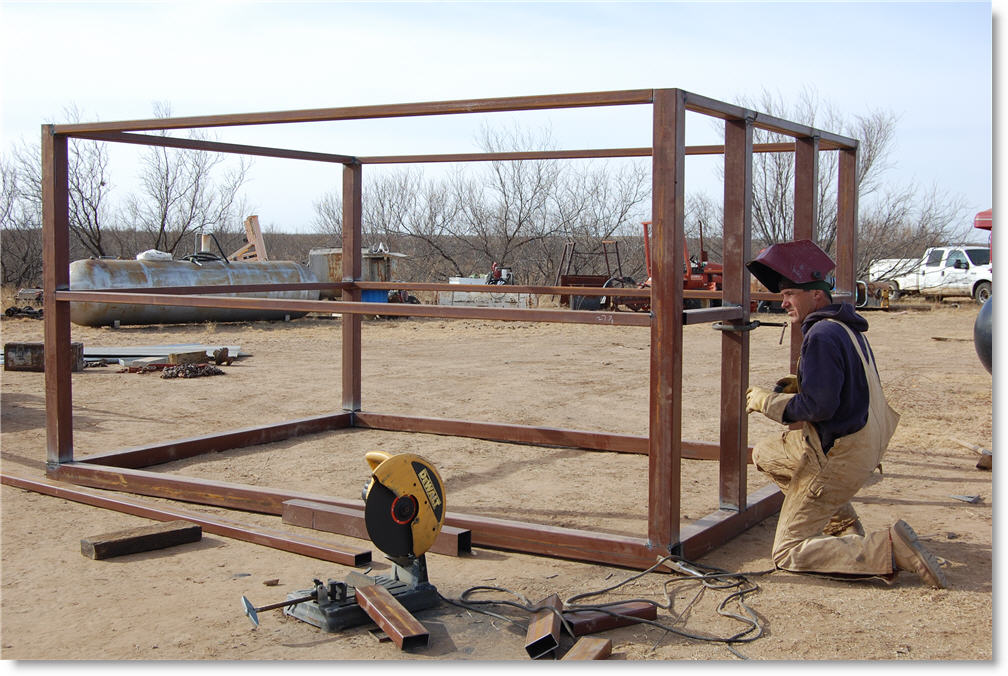 Jordan is in the shop making more doll beds for the Etsy shop that he and Atlanta have taken over.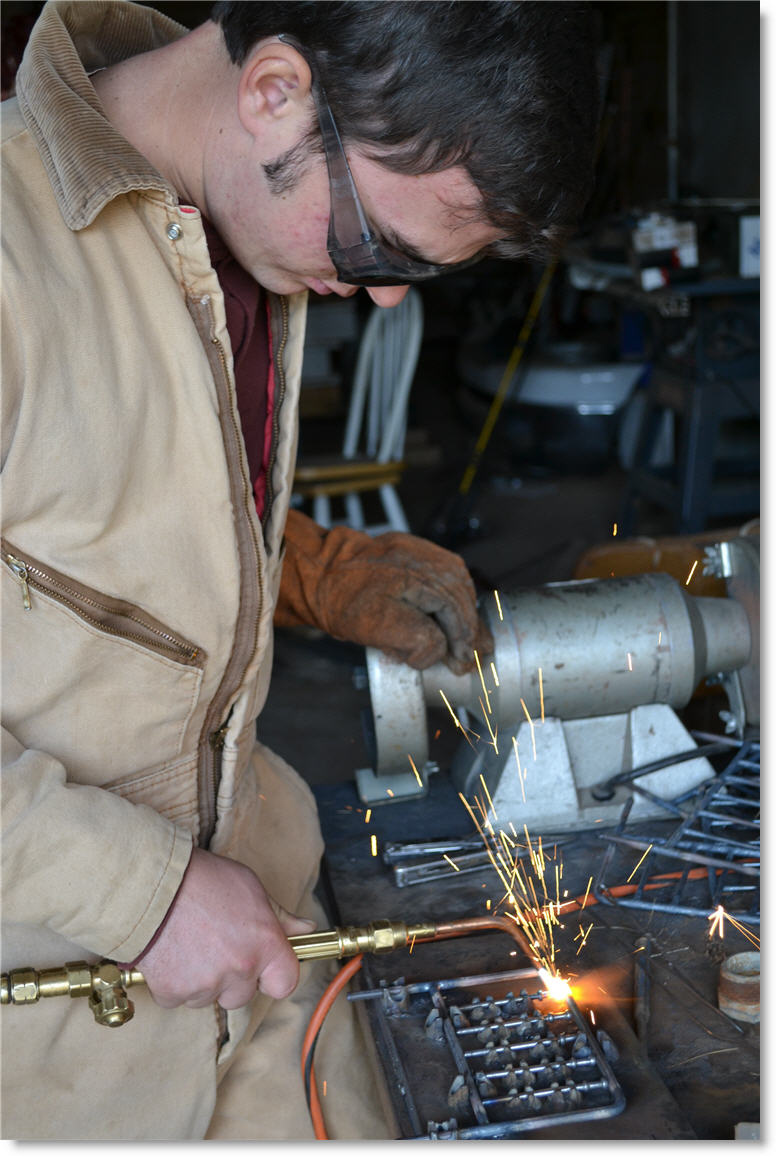 He's trying to get a few stacked up for Atlanta to sell once he goes back to Tennessee after the holidays.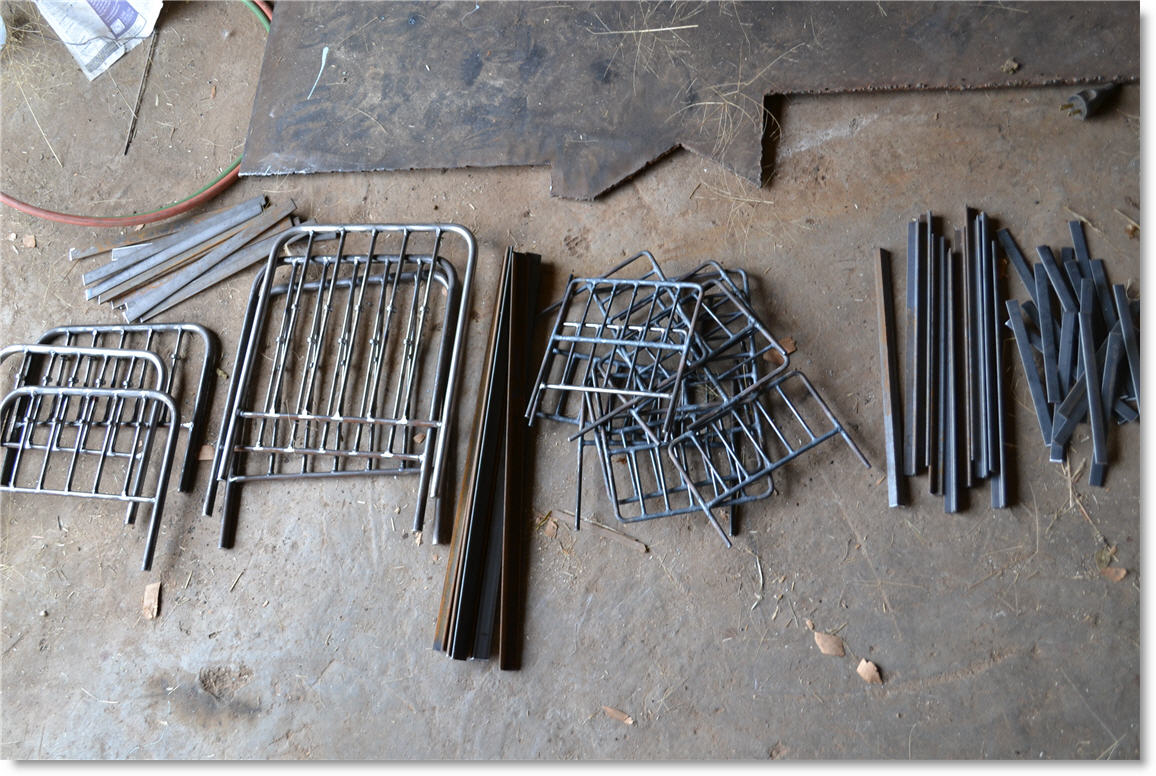 If you haven't visited the shop lately, you don't know what cute stuff they've been turning out. Take a look at some of these darling pictures I snagged from Dream Come True Vintage-style Doll Beds.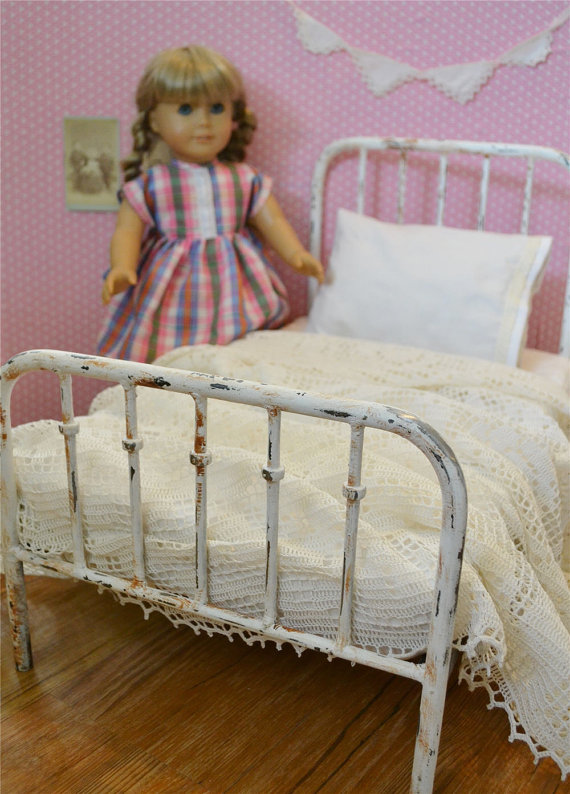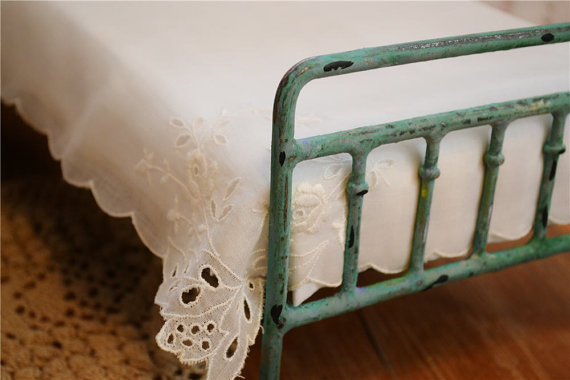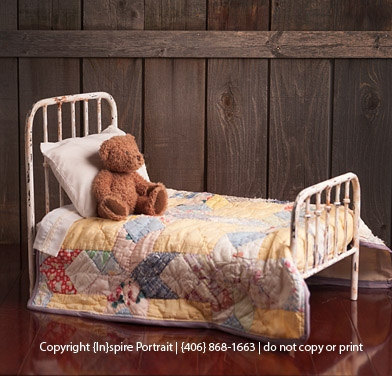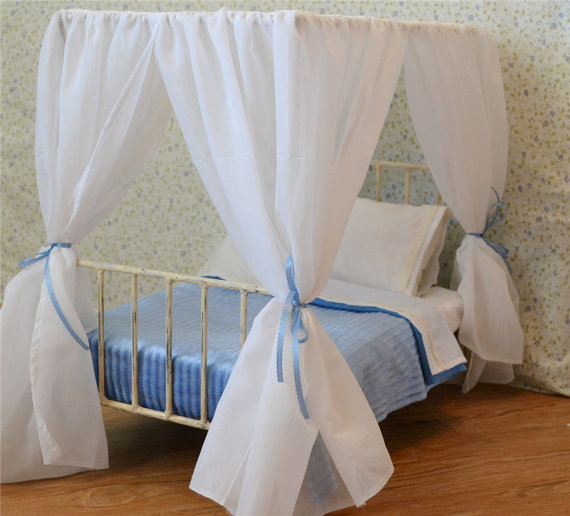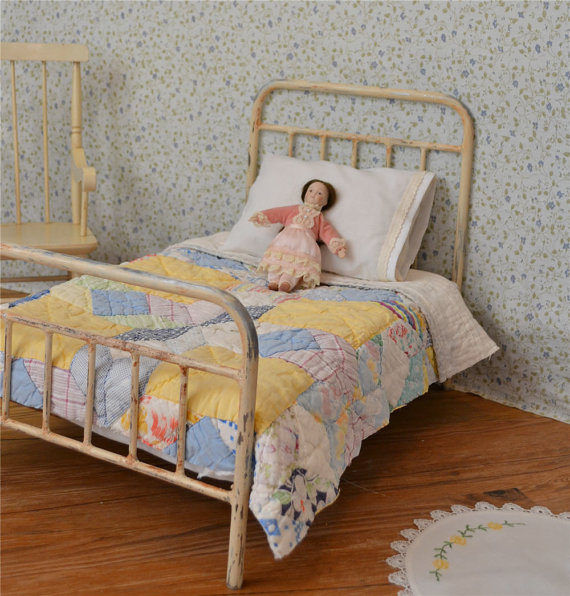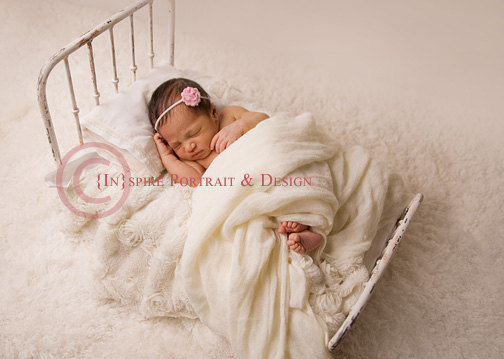 Wednesday, December 19 - 1860's Christmas Ornaments - Atlanta downloaded this pattern off the internet. Our friend, Amy (www.thistleandlilly.blogspot.com), came up with this pattern featuring a dress style from the Civil War era. Atlanta and Carolina made these darling ornaments today. Carolina's is pink and Atlanta's is purple. Didn't they turn out cute? Make your own by downloading the free pattern here.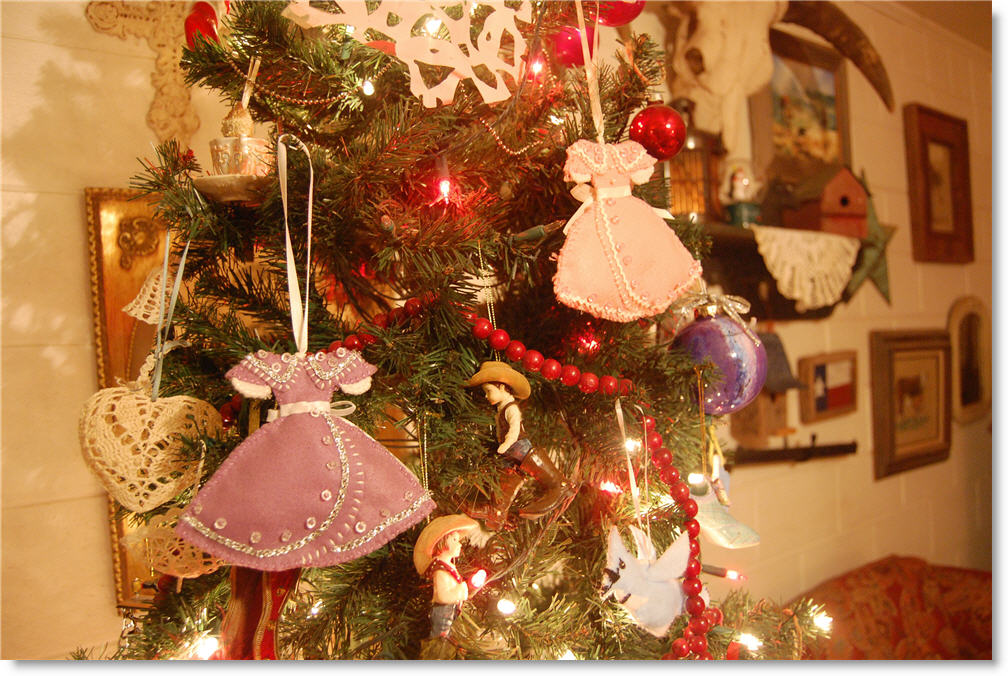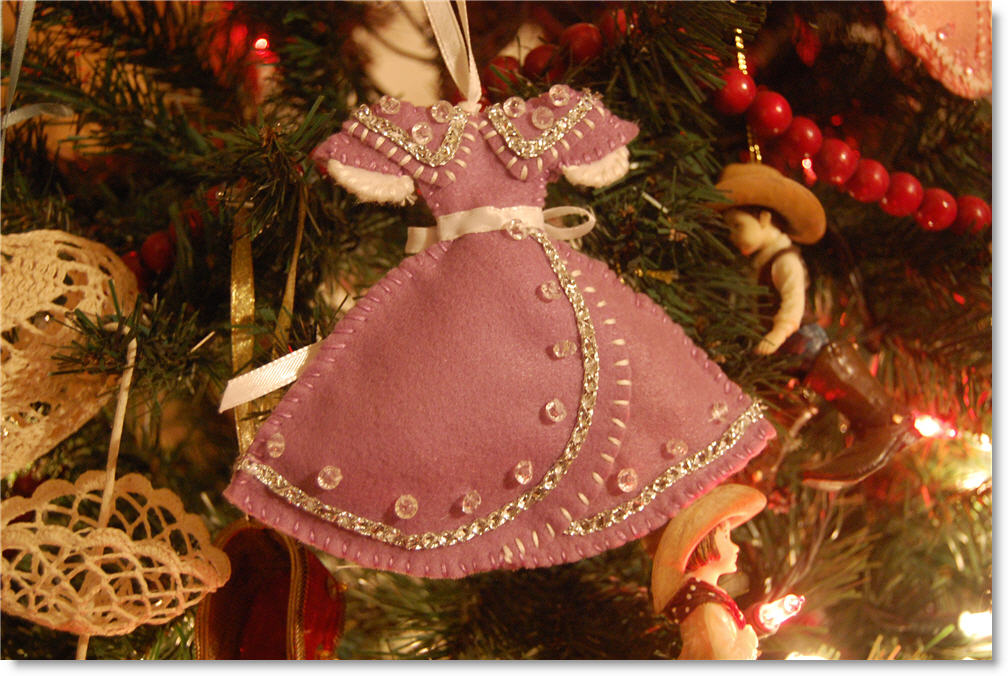 Sand Storm - Jordan got a chance to see a real West Texas sand storm today. It's been a while since we had this much dirt in the air, but the ongoing drought has rendered the fields and even the pastures vegetation-less. We had gusts up to 55 miles per hour and it's still blowing tonight as I write this. Gusts of up to 60 miles per hour are predicted.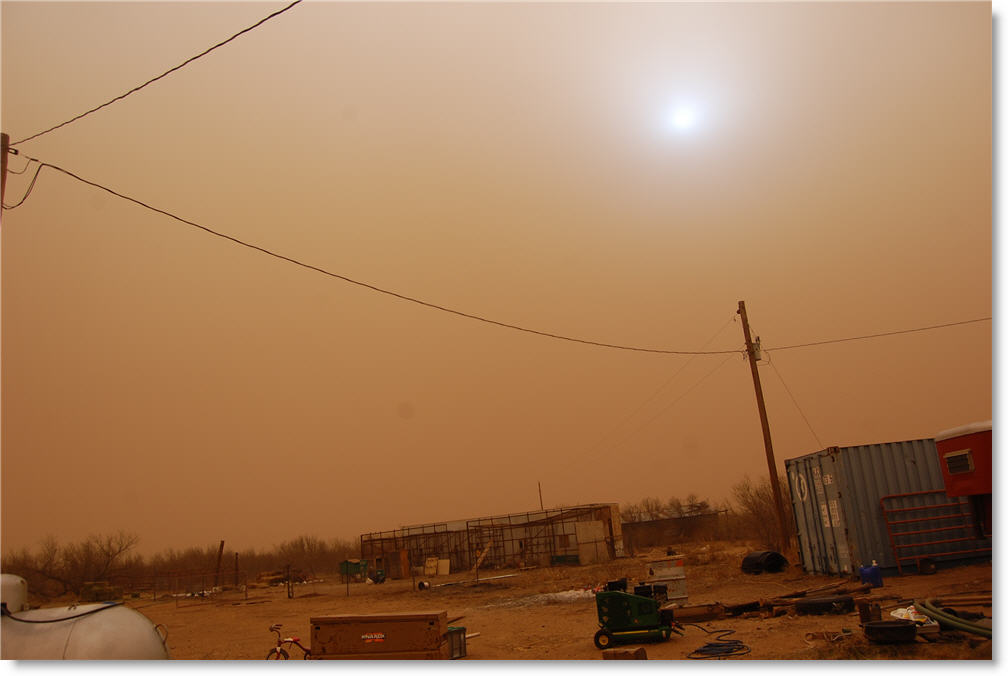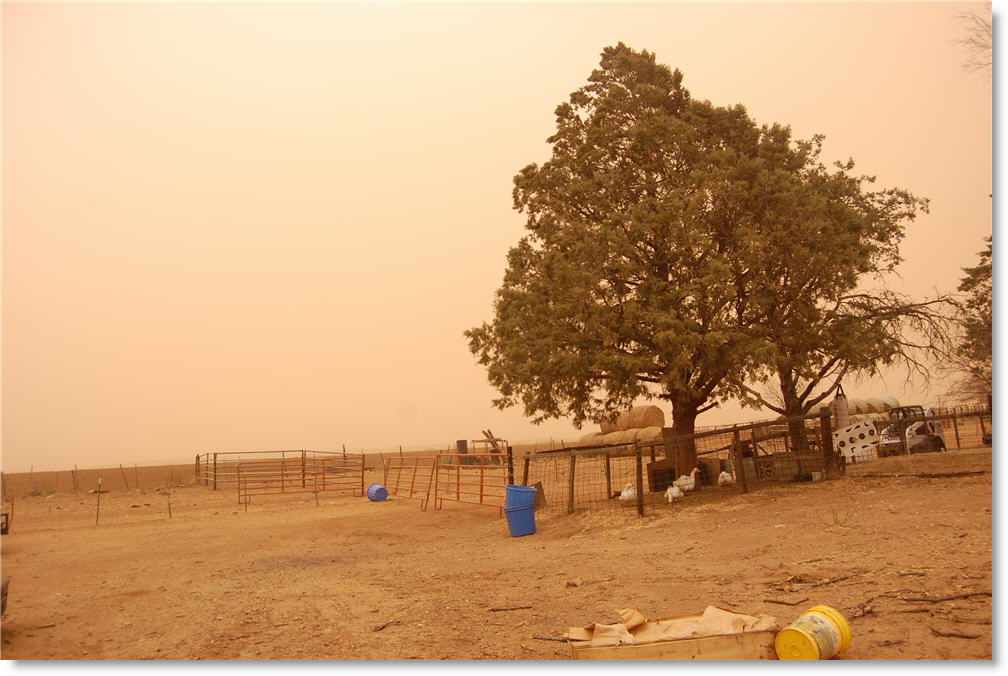 Jordan says these look like pictures from the "dust bowl years". That's a depressing thought.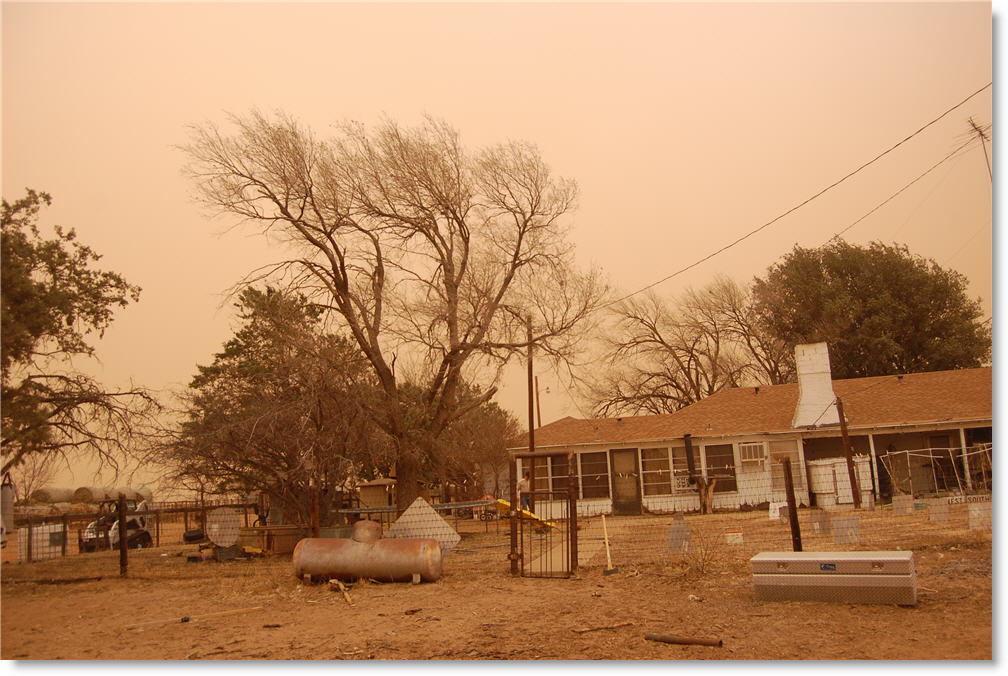 This picture of Stockton on the propane tank turned out quite funny. He looks like a huge giant boy leaning on a telephone pole.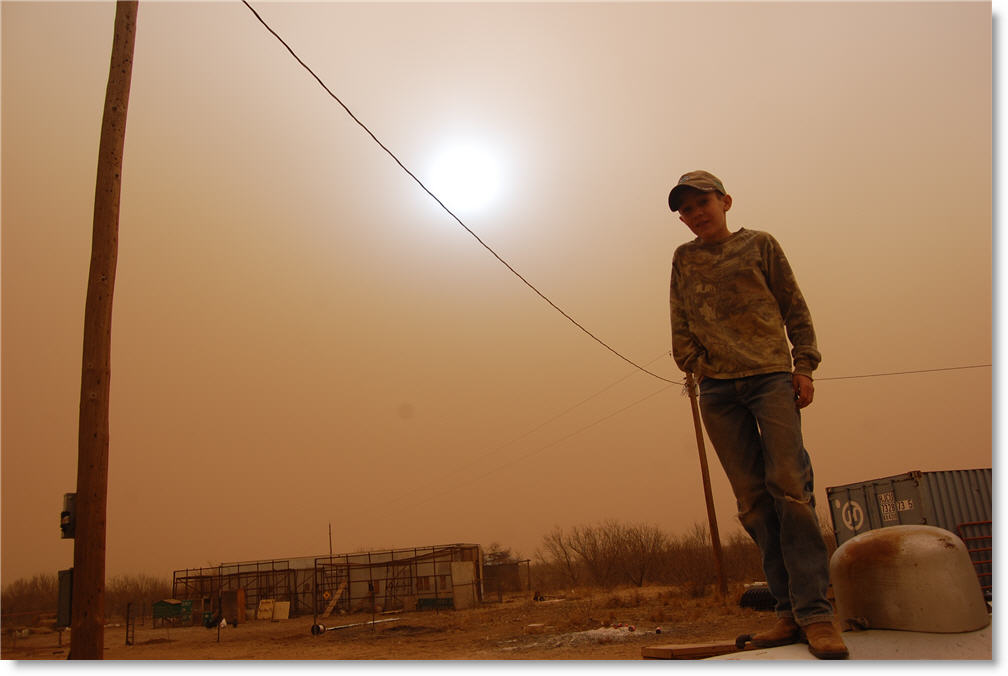 Tuesday, December 18 - The day ends with a fuchsia and purple sunset.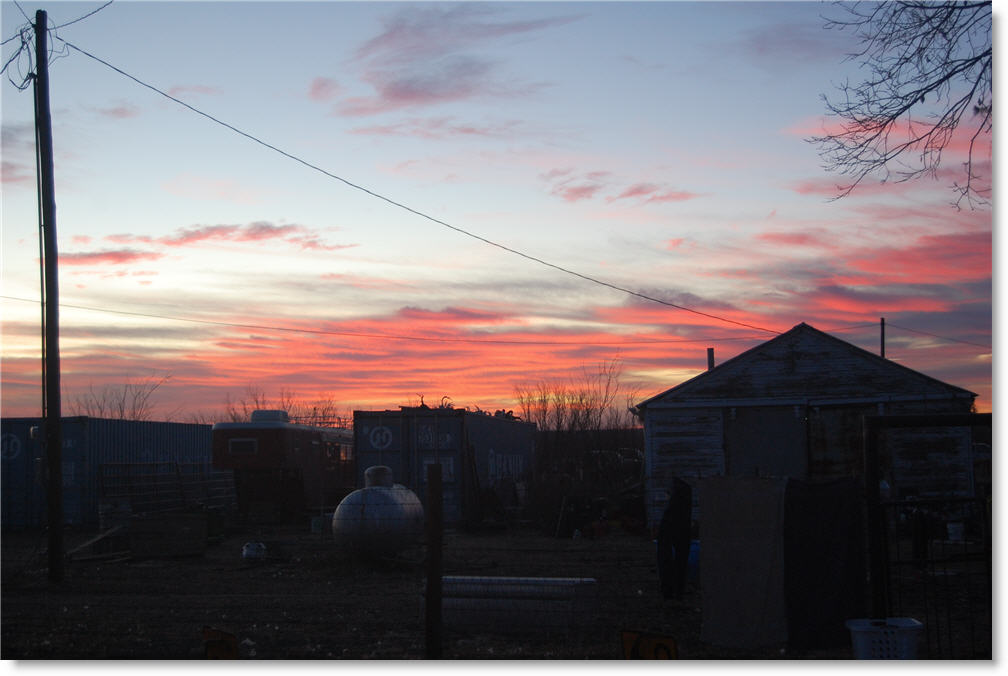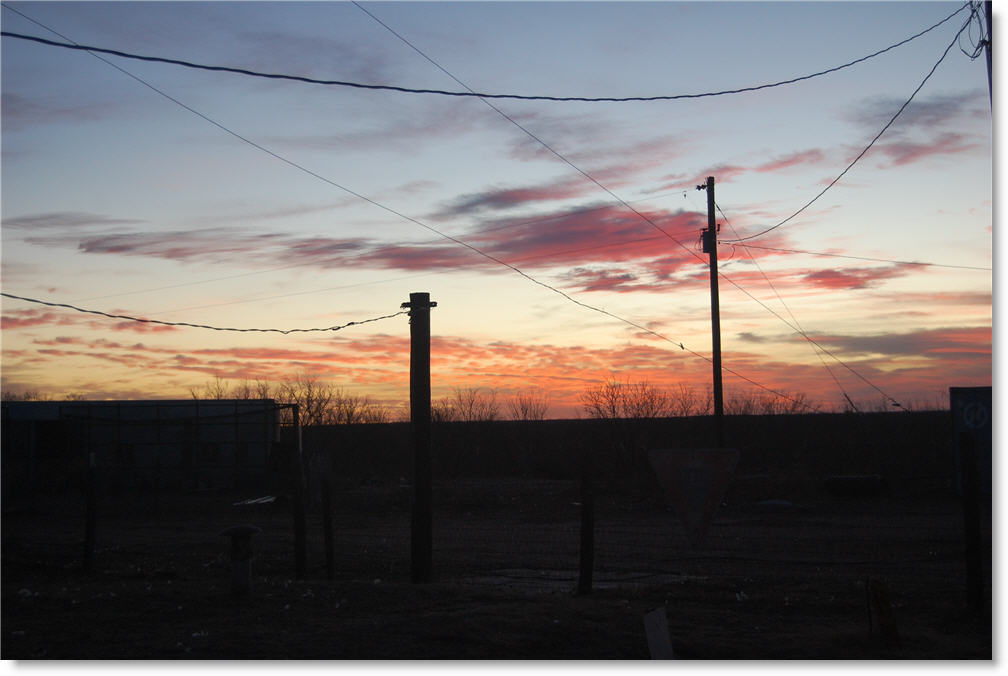 We let Rusty in the house for a while and Carolina played with him for a little while. Here she's scratching his shoulder which he must have enjoyed because he would close his eyes and get really still.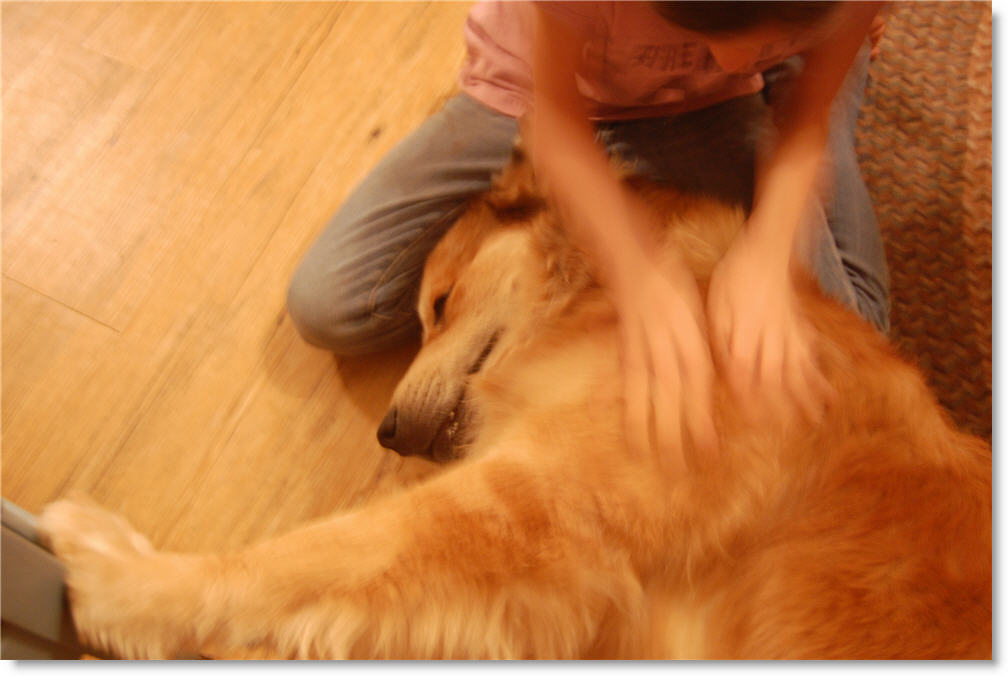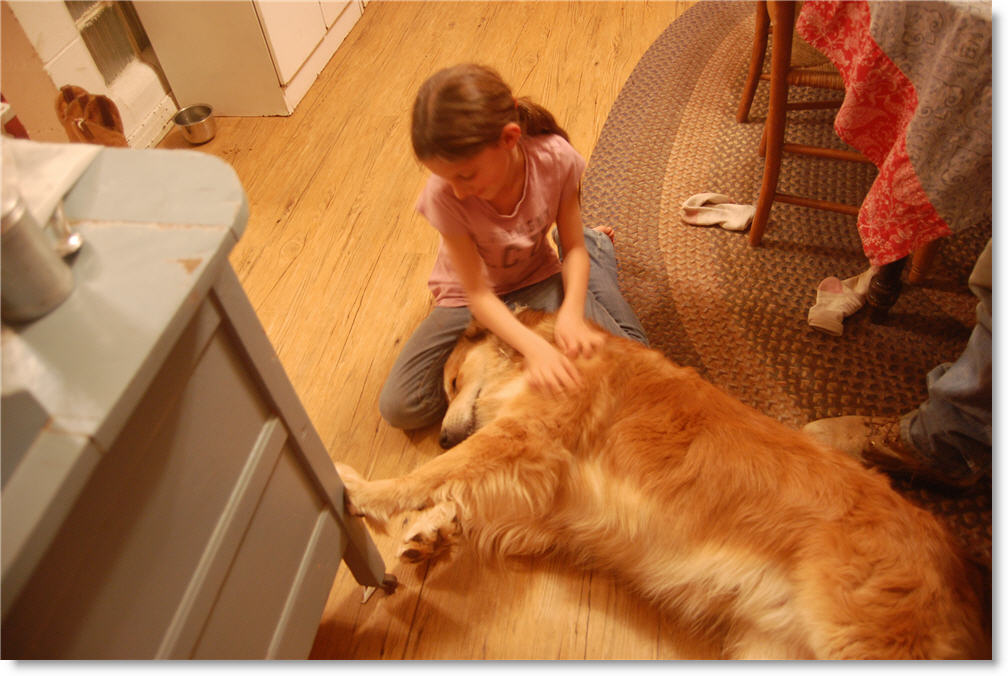 Oh no, not Rusty too! Tell me she's not dressing him up.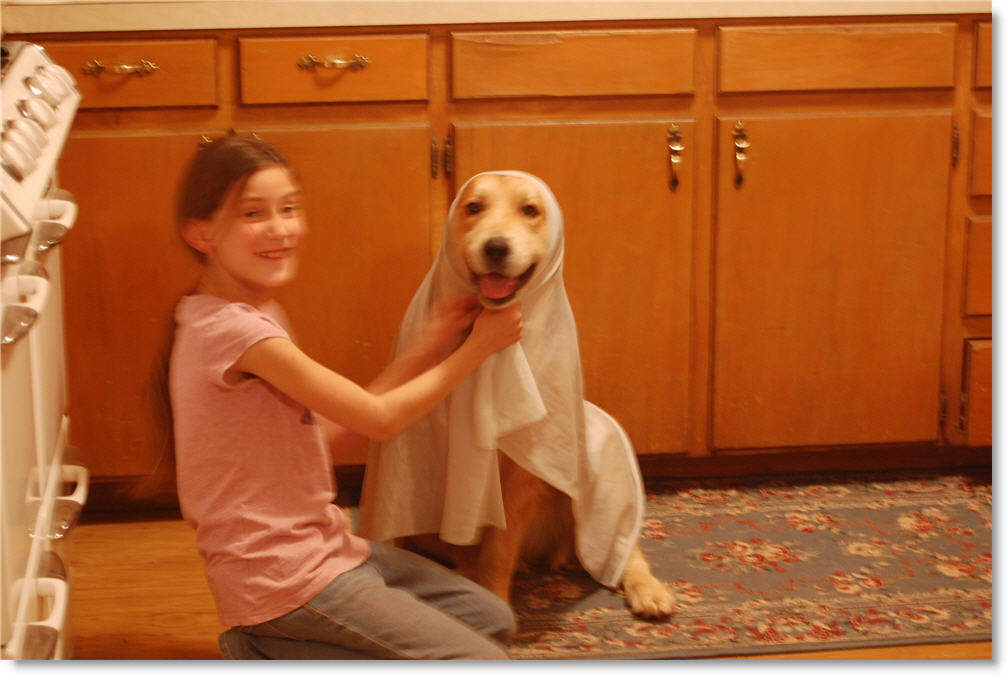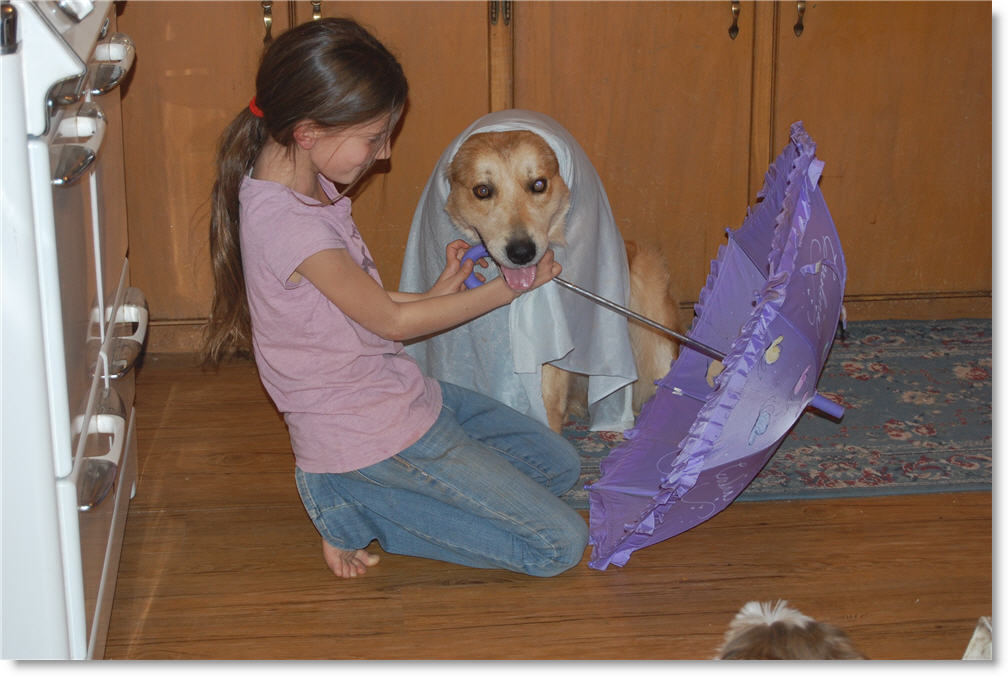 Trail Ride - Atlanta and Jordan went riding around the ranch today. I snapped this as they were coming in.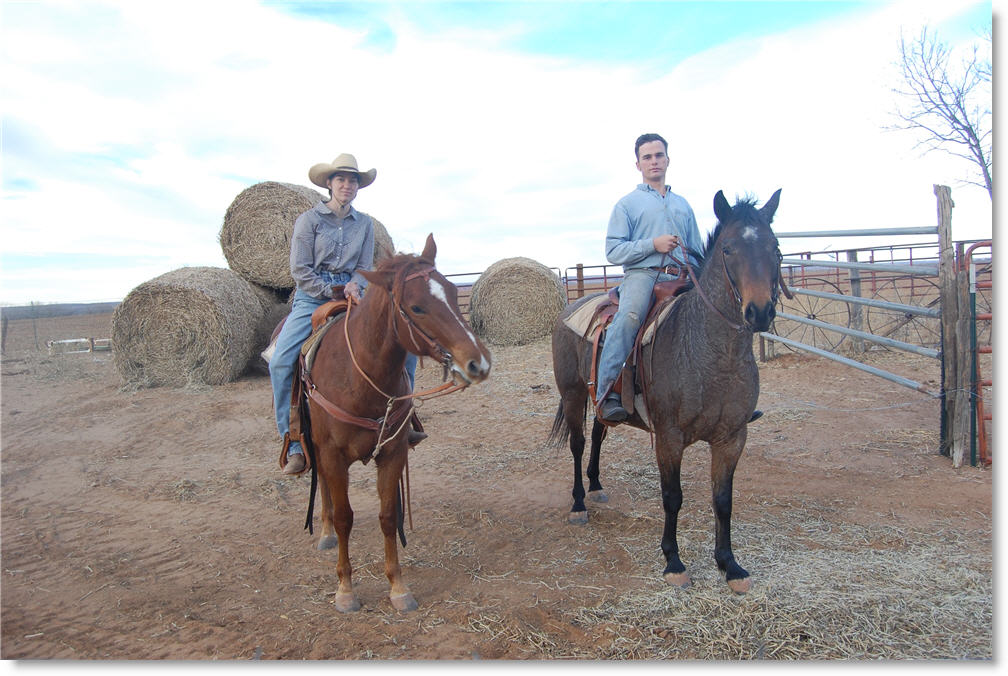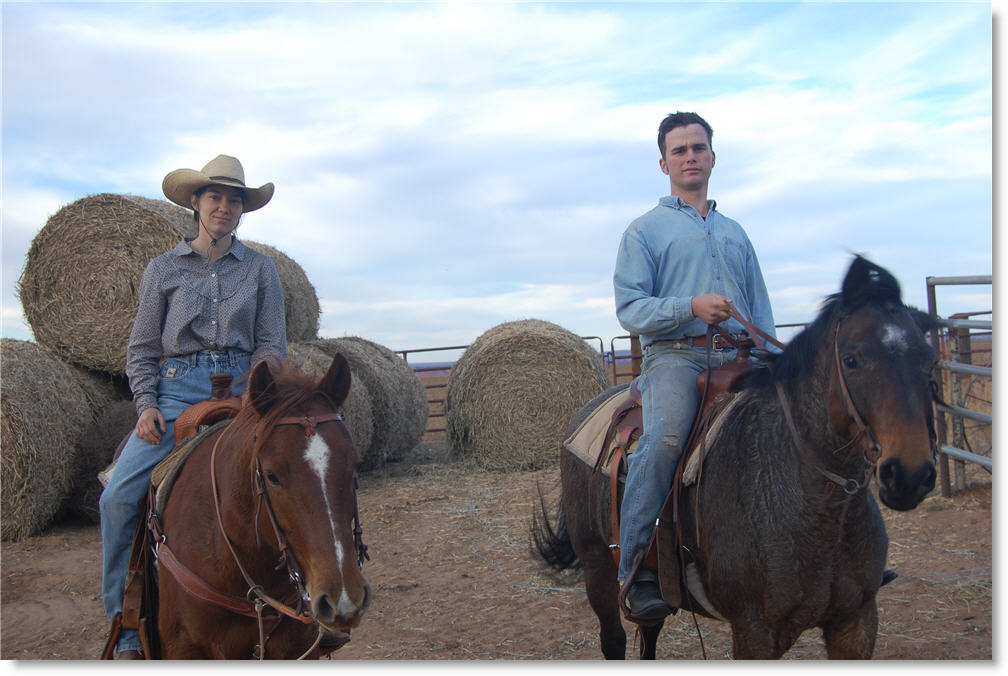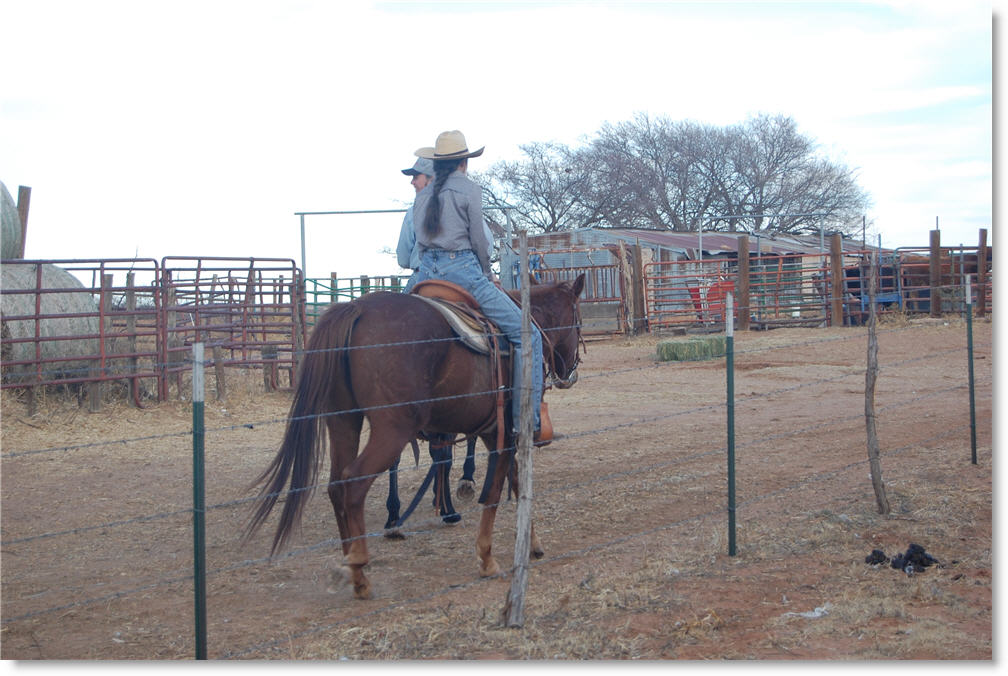 Carolina and Stockton had been hiding behind a large tumble weed waiting for them to come in. They popped out and chased them to the barn.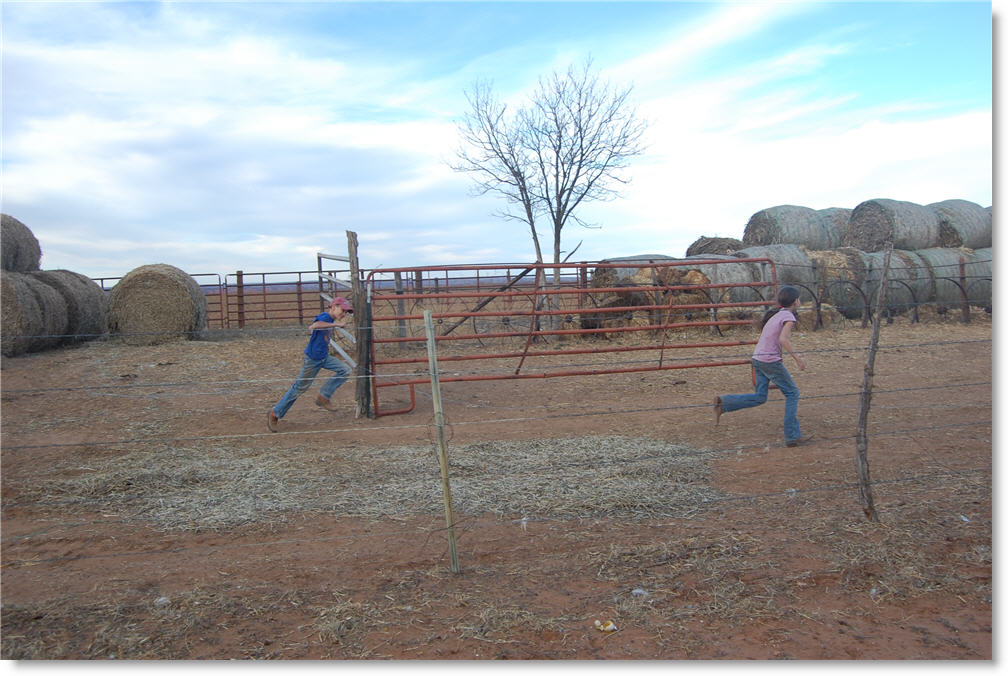 Sunday, December 16 - Sunday Morning Sunrise - Let me share these lovely pictures with you.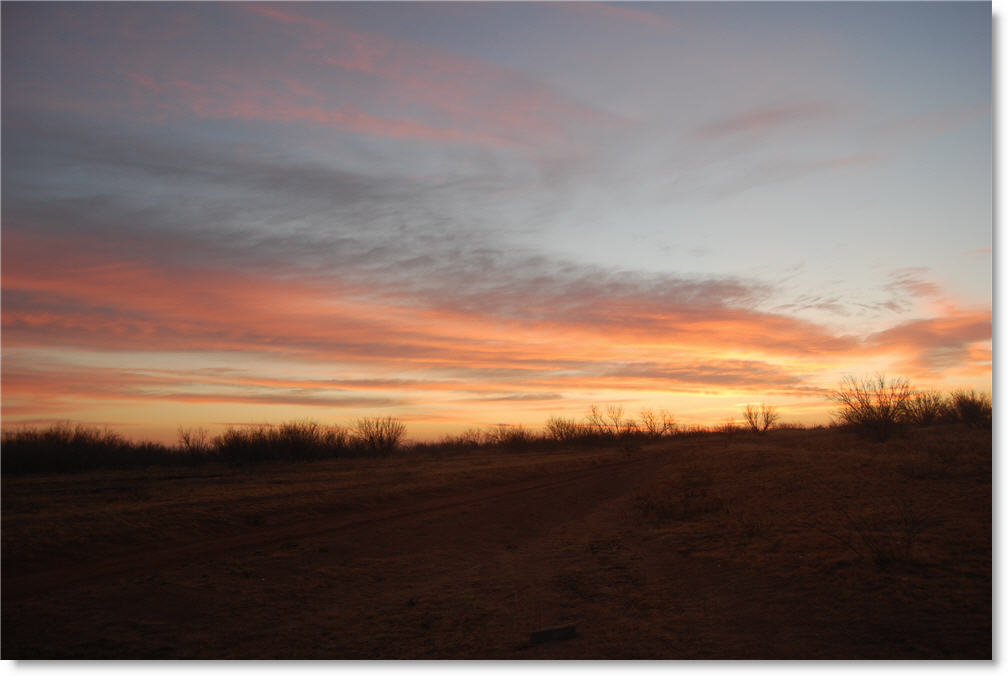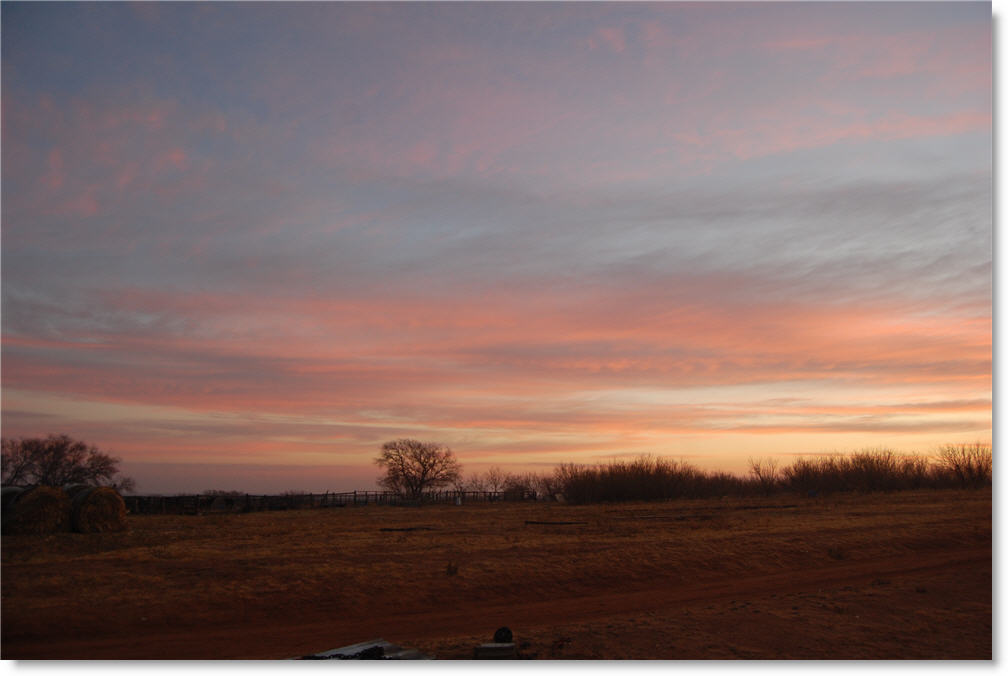 Monday, December 10 - Haircuts - Today the boys all got haircuts. Jordan wanted Atlanta to practice cutting his. So she had her first try at it. It looked really good when she got done.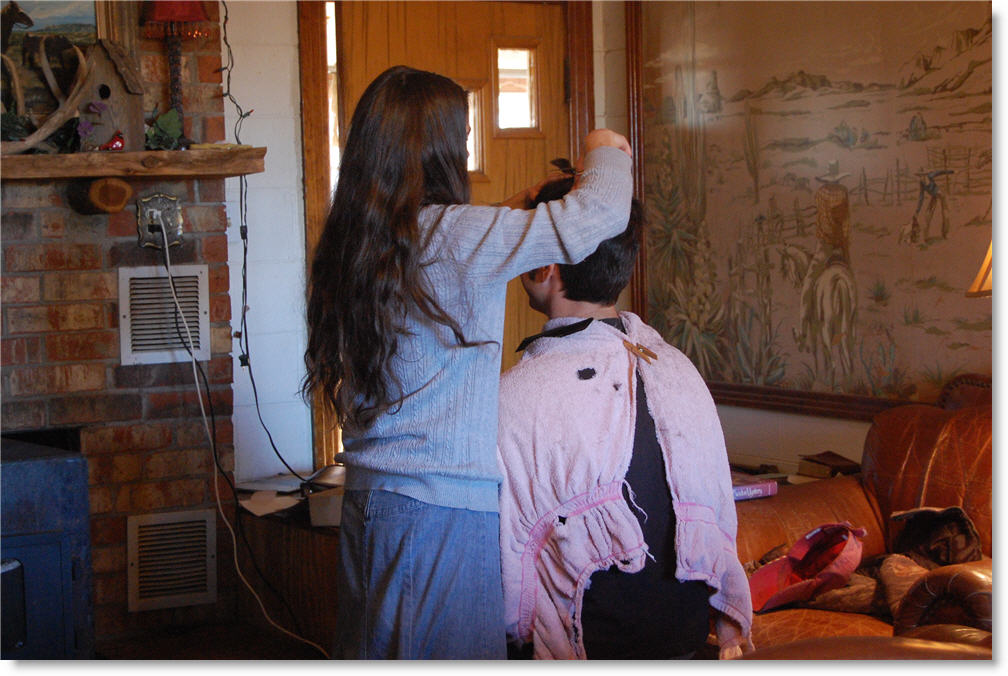 Carolina had a new idea. She wanted to see what kind of pack animal Coconut would make.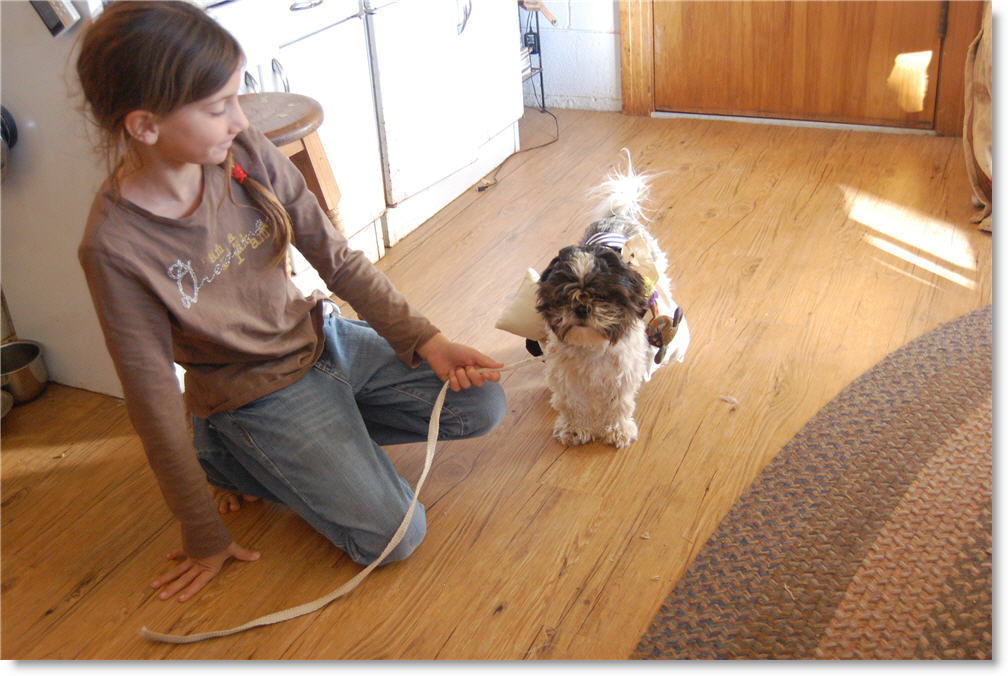 She packed up some sacks and some of Coconut's toys and rigged up a pack saddle for her.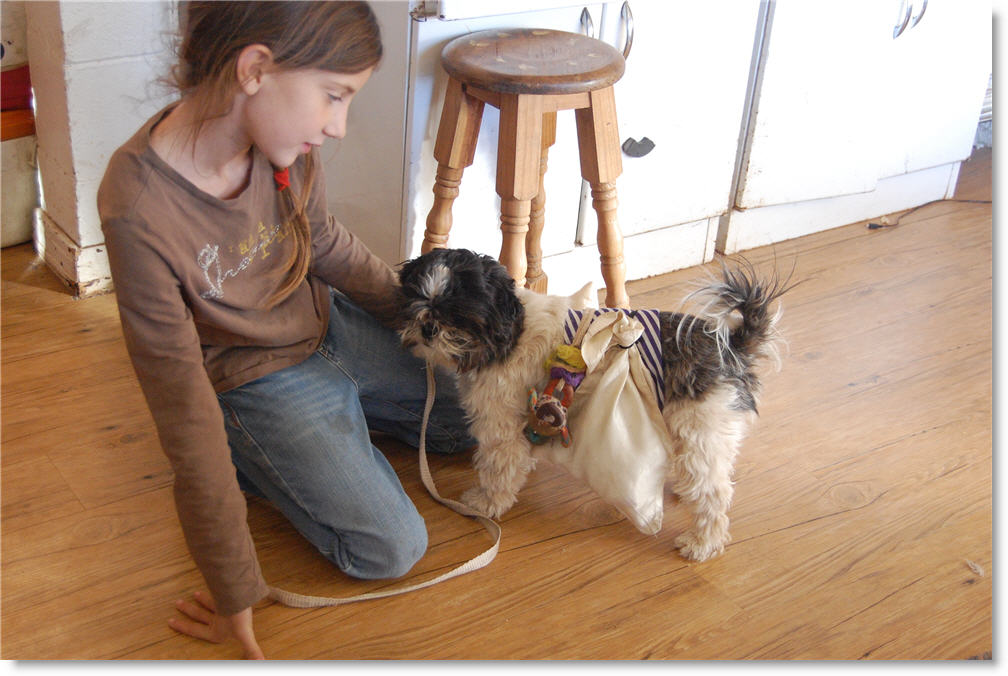 At first she had the sacks full of pennies and it was too heavy, so she mostly just has them stuffed with pillow stuffing now.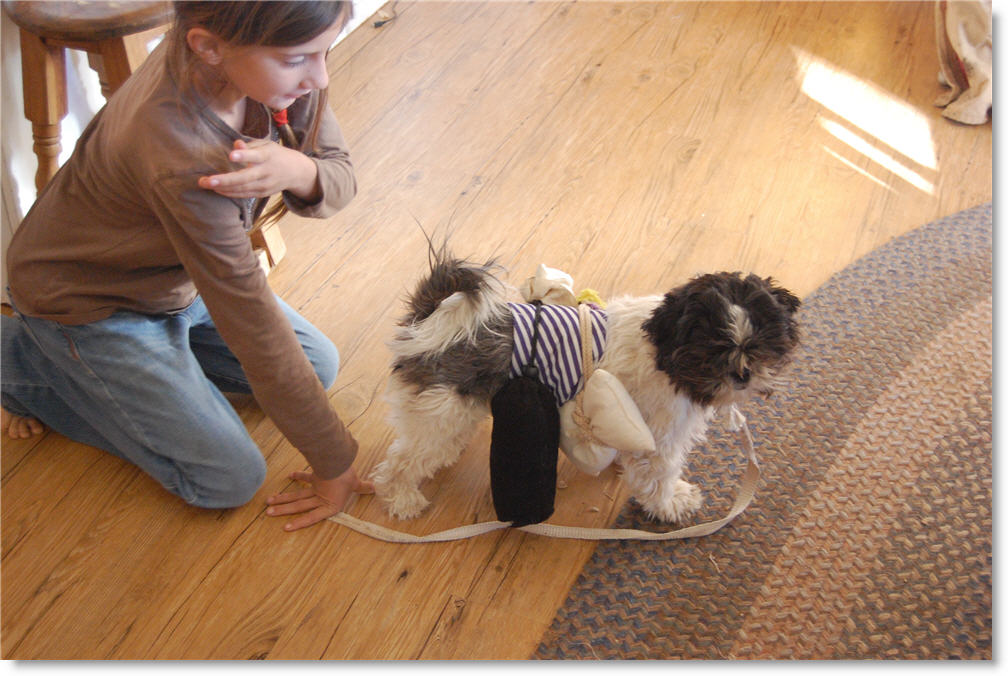 Poor Coconut seems to be taking her new role of "beast of burden" pretty well.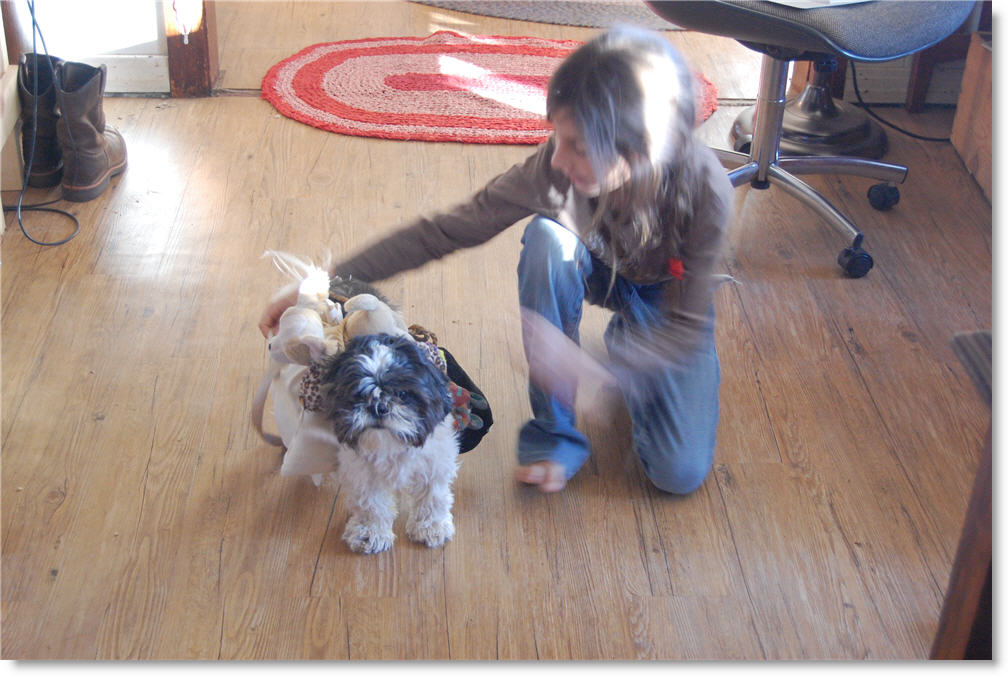 Tonight, Nathan was wrestling with Rusty and had him down. He was having as good a time as Nathan was. I snapped this funny picture of him with his ears "up".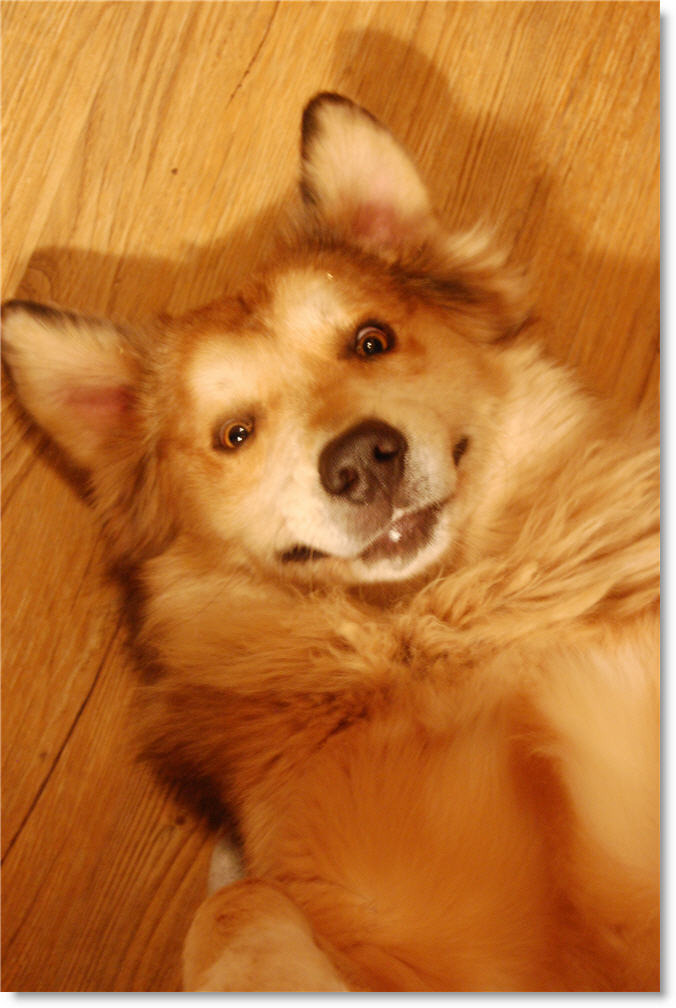 Friday, December 7 - Remembering Pearl Harbor Attack - Stockton and Carolina worked on a page for their history notebooks today in honor of the 71st anniversary of the attack on Pearl Harbor.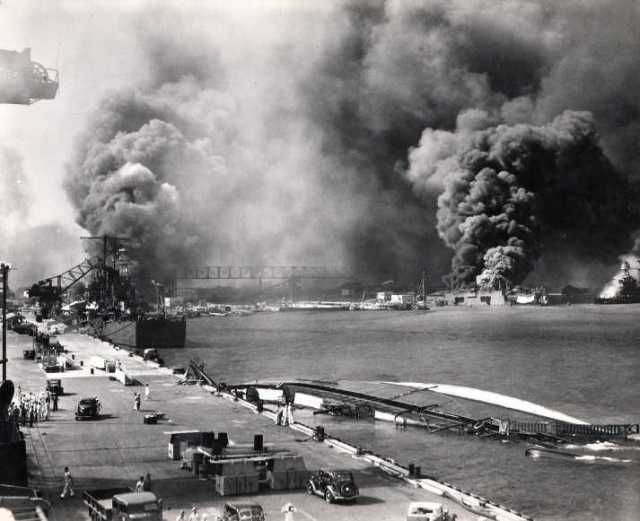 Carolina's drawing.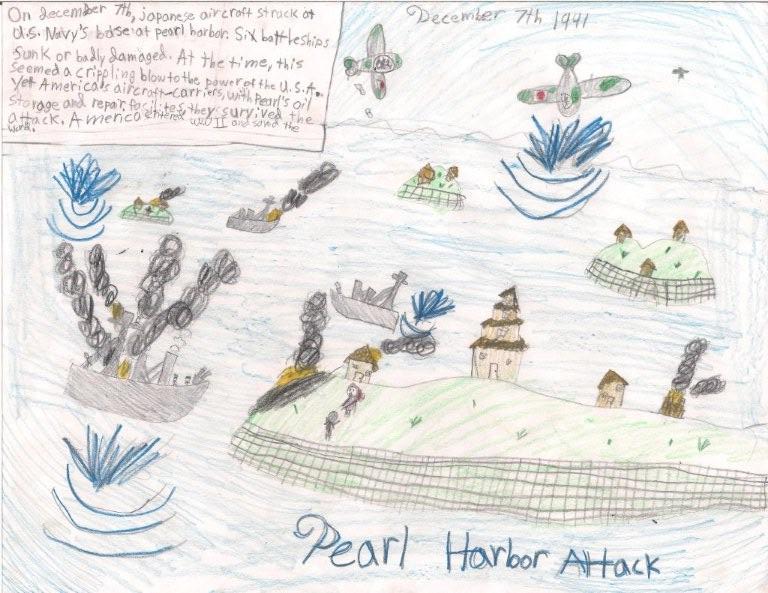 Stockton's drawing.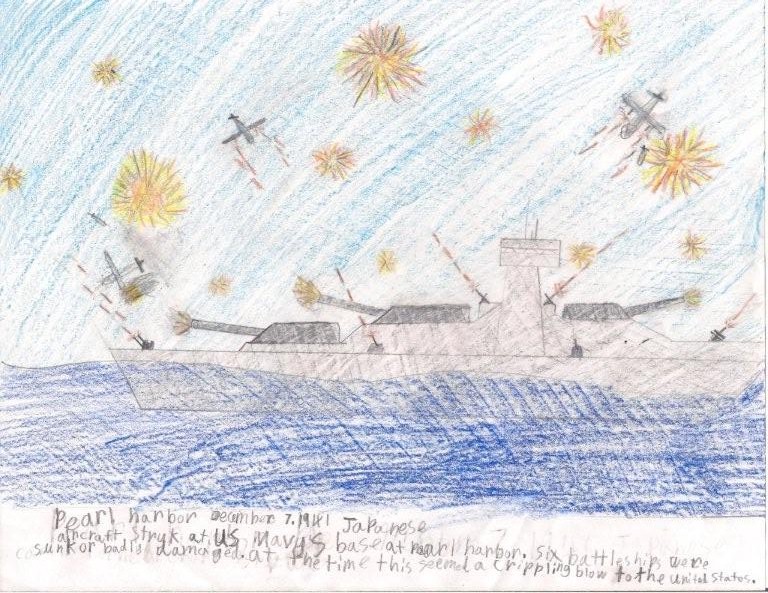 That night we were all taking turns reading up on the little known facts of the attack. I snapped this picture of Jordan and Stockton over the computer.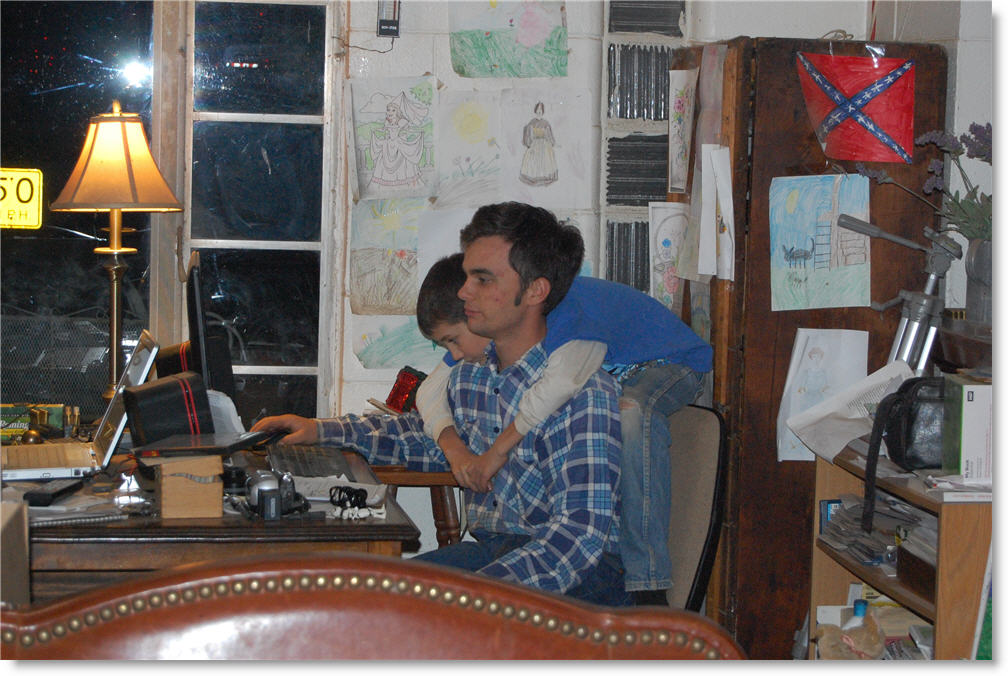 Here is the Arizona the way she was meant to be.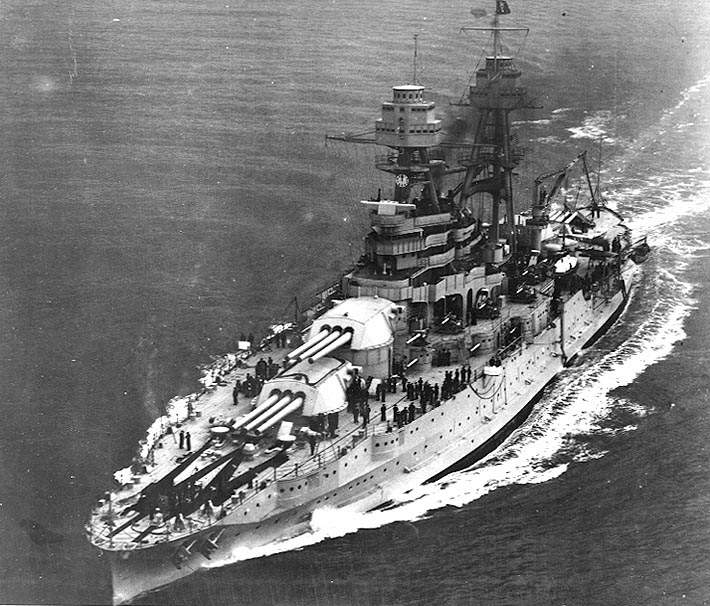 ...and then after two bombs exploded on her deck.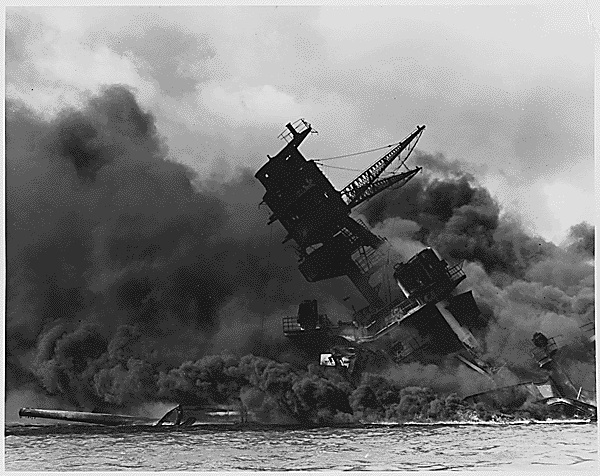 Did you know that 23 sets of brothers died on the Arizona that day? Also, a father and son. Well over 1100 men are still entombed inside the wreck off Pearl Harbor. Veterans today who were crew members can still be laid to rest inside the Arizona. Their ashes are taken down by divers and placed inside the Arizona hull.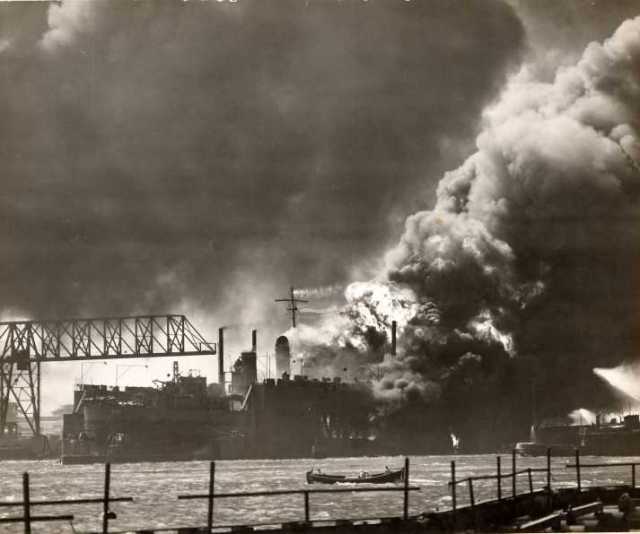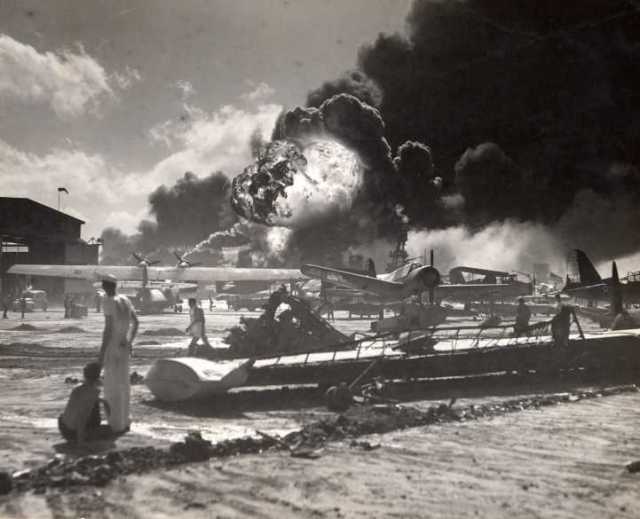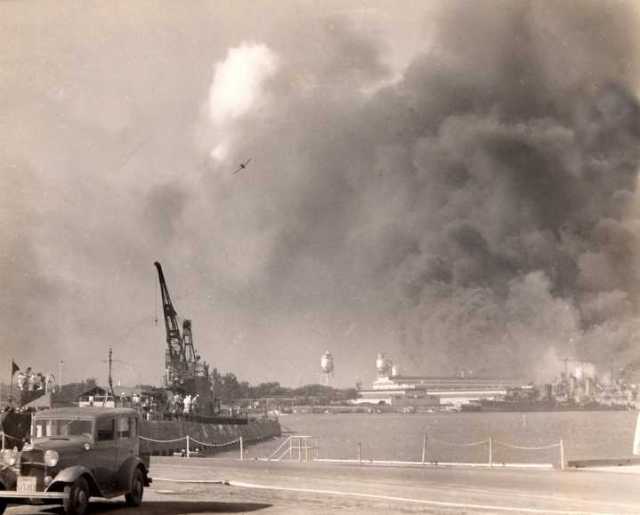 How terrifying this day must have been for my parent's generation. I suspect it felt something like 9/11 did to me.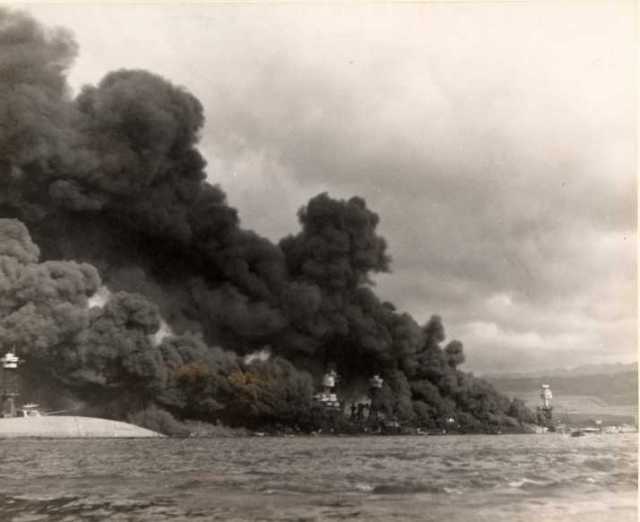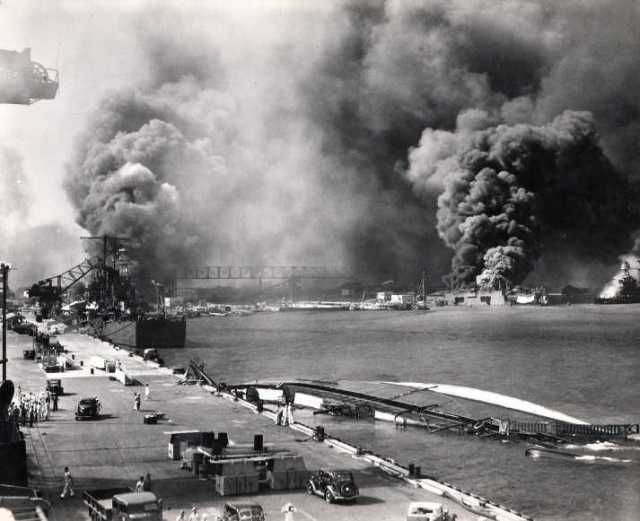 Did you know the Arizona had a band? They were on deck that Sunday morning preparing to perform. They were all killed.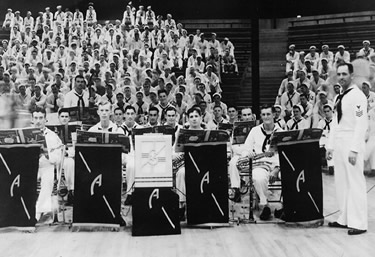 A memorial was built over the Arizona wreckage.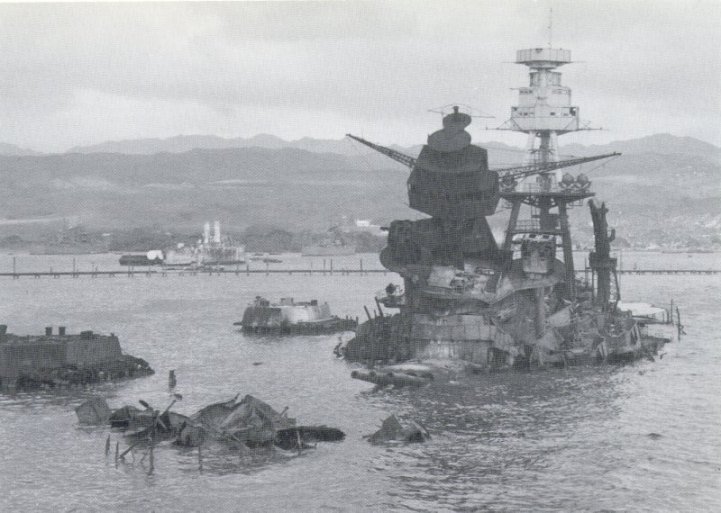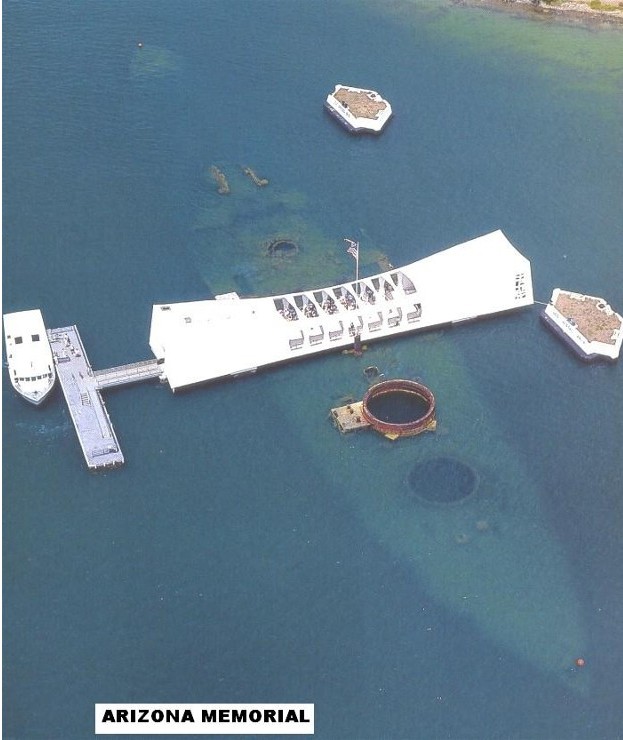 Oil has been slowly leaking from the hull for 71 years. It's now detected to be only a small amount per day. Legend has it that it will leak until the last survivor has died. There are only 17 sailors and 1 marine who survived the Pearl Harbor attack still living.
The memorial was built in part with money raised at a concert given by Elvis Presley.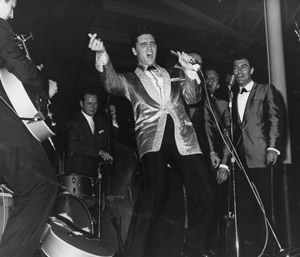 I got to visit the Arizona Memorial when I attended the University of Hawaii in the summer of 1980.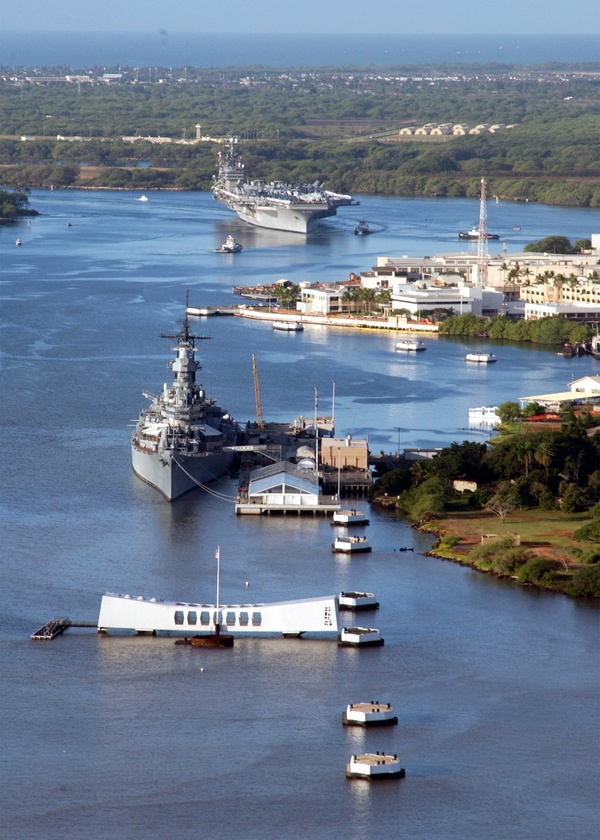 Tuesday, December 4 - Stockton's Stockade - This afternoon, Stockton was busy building a brick fort for his Star Wars guys to inhabit. It turned out really nice.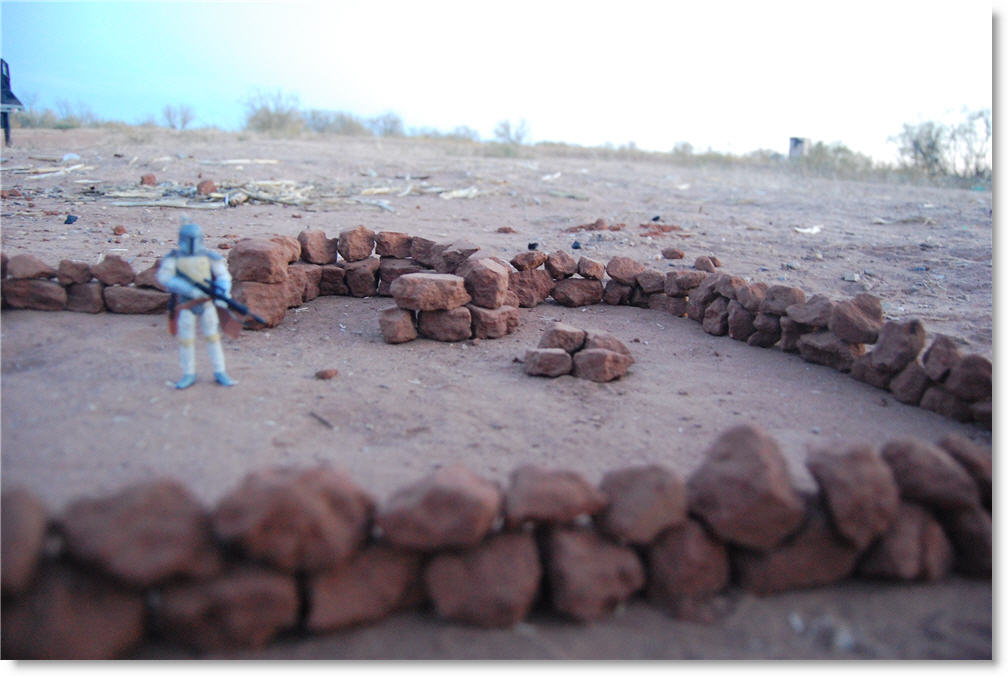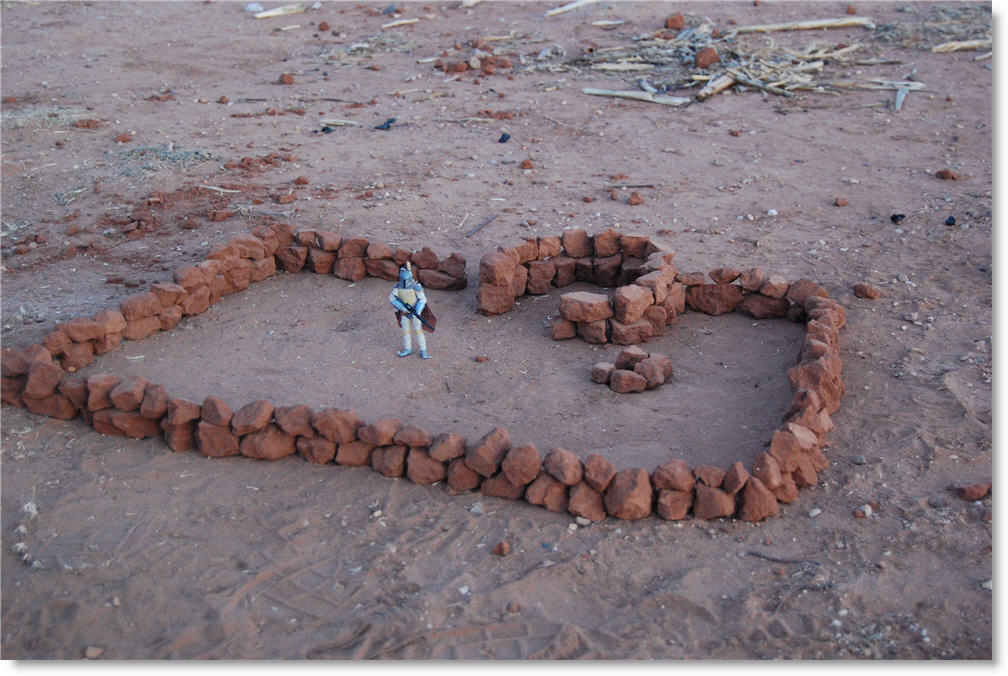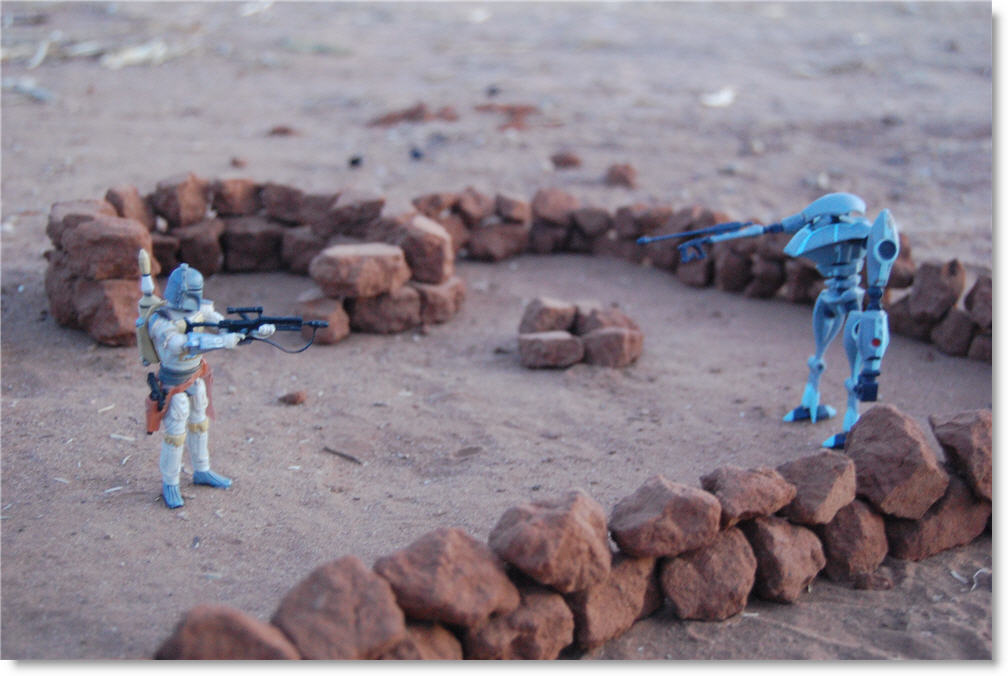 Carolina and Coconut were also enjoying the warm December weather.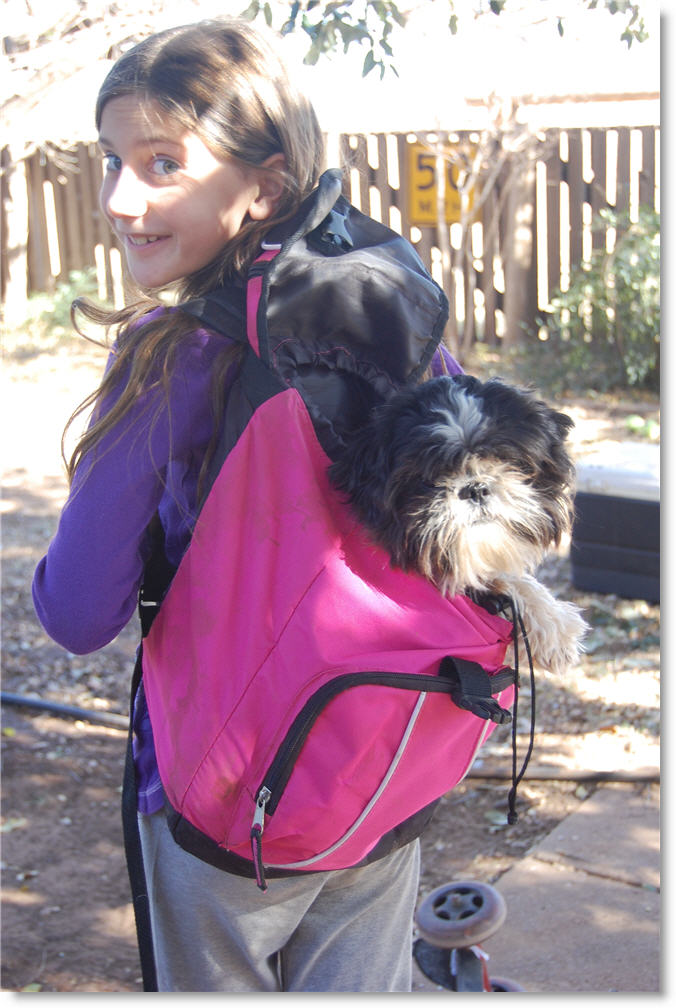 Yummy raw breakfast - Aspen made this raw persimmon pie this weekend. She let me have a piece for breakfast. The fresh persimmons that we gathered in Roaring Springs on Friday were mashed up in the blender added to freshly made almond paste then spiced up with cinnamon and nutmeg and sweetened with agave nectar. The crust was made by grinding up hazelnuts and then mixing it with some of the filling to hold it together. The whole thing was topped with dried coconut. The remainder of the persimmon paste was used to make some breakfast bread for the guys this week.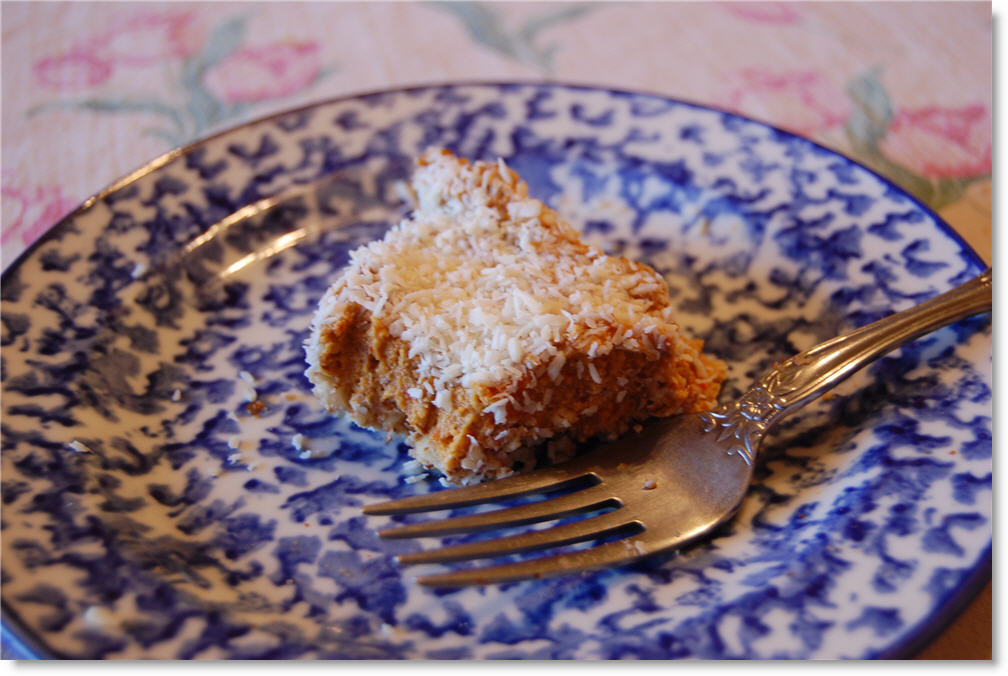 Puppy Truce - I guess the dogs have decided to let bygones be bygones. They seem pretty happy to nap together on Carolina's chair while she works on her online geography maps.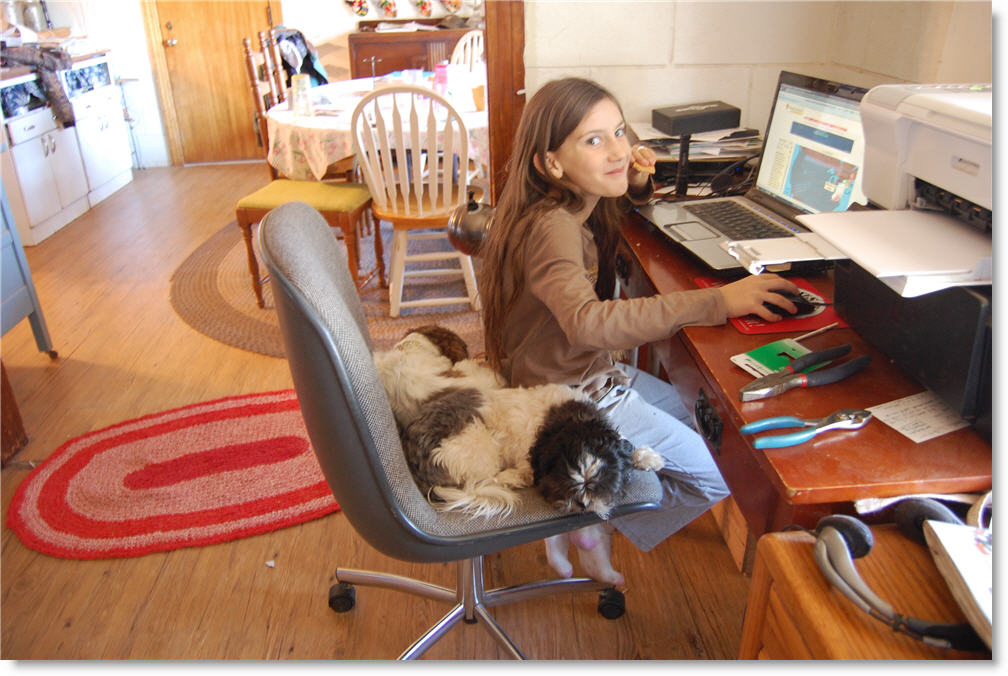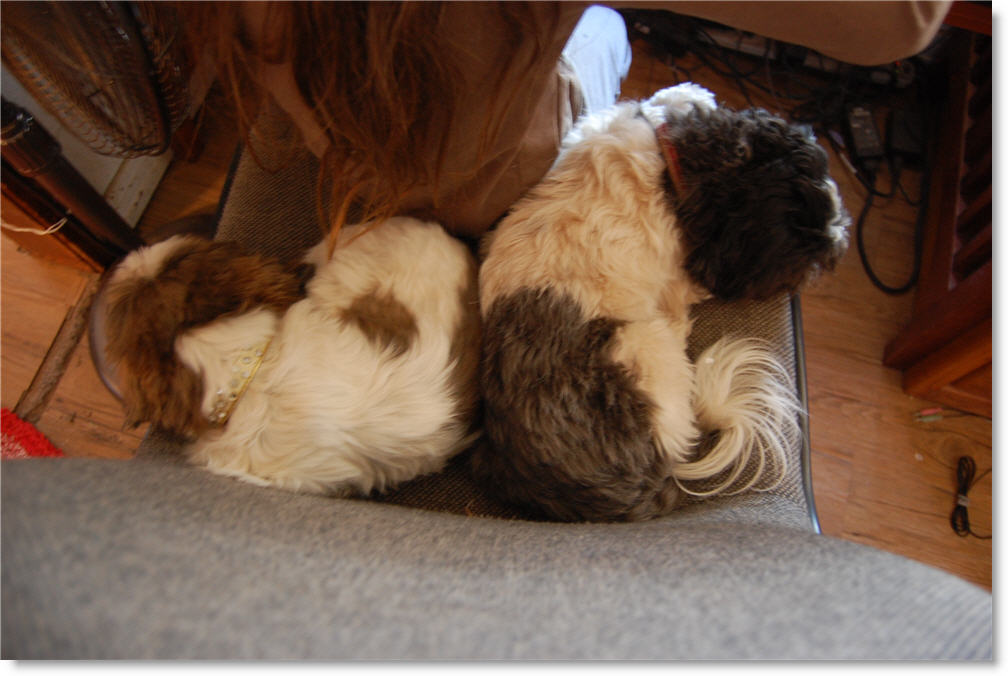 Monday, December 3 - Beautiful Beginnings - Swirling clouds hover over the ranch this morning as the guys head off to work.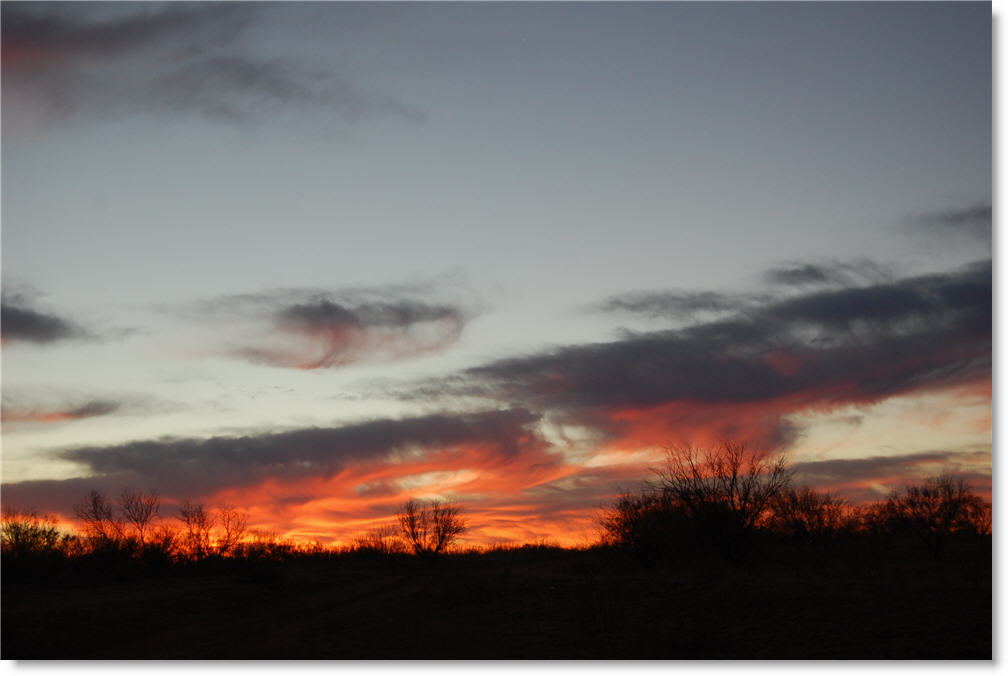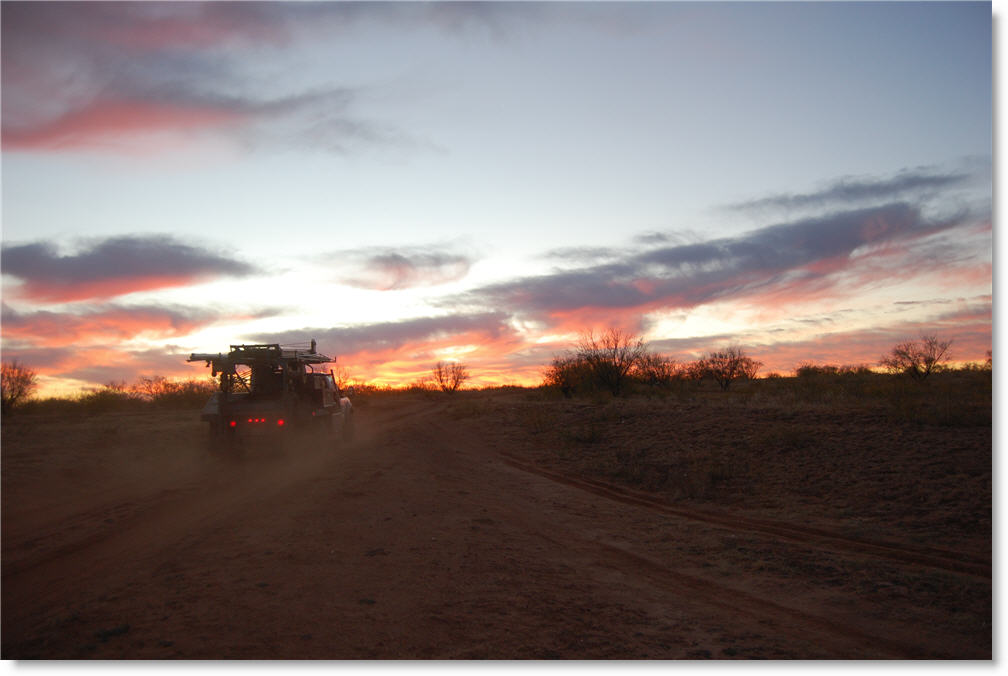 Late Breaking News - Trip to Roaring Springs - Be sure to click here and read about the last few days of November. If you don't check out this link, how will you find out what's going on in this picture?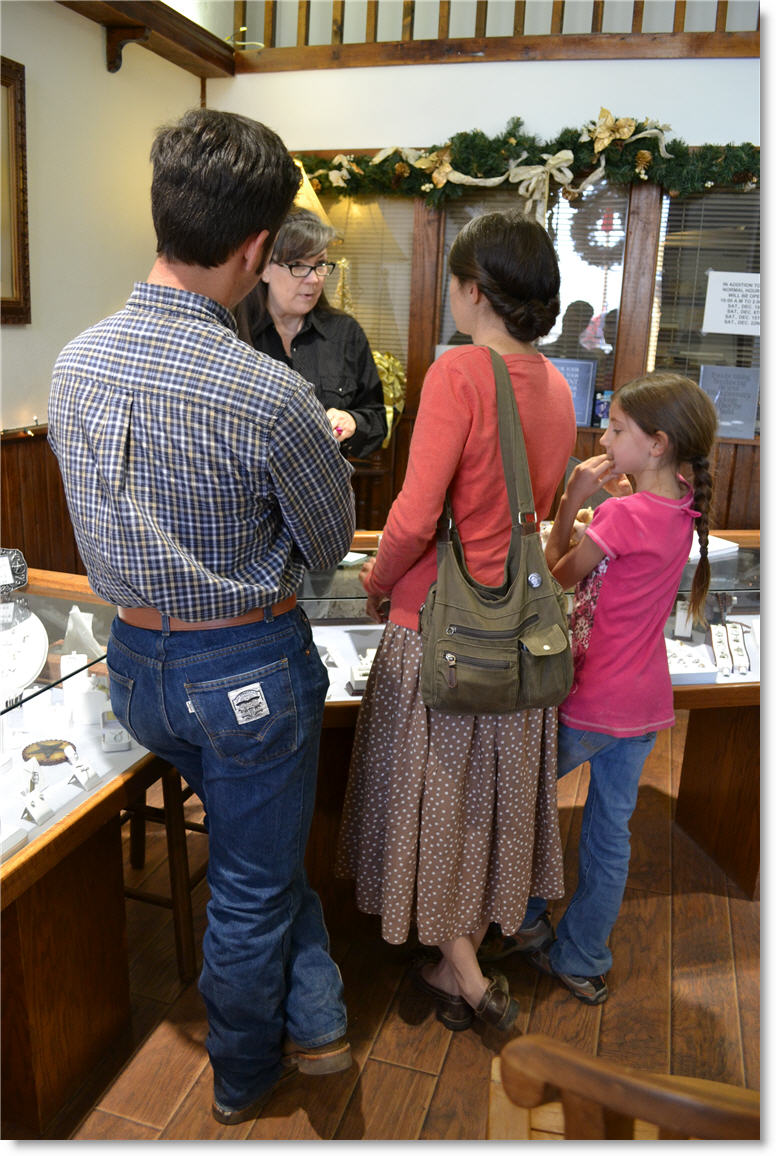 Check out our past news. Just click any link below: