Thursday, January 31 - Packing up - Atlanta has started packing up her stuff. It's hard to believe that in a few weeks she'll be so far away.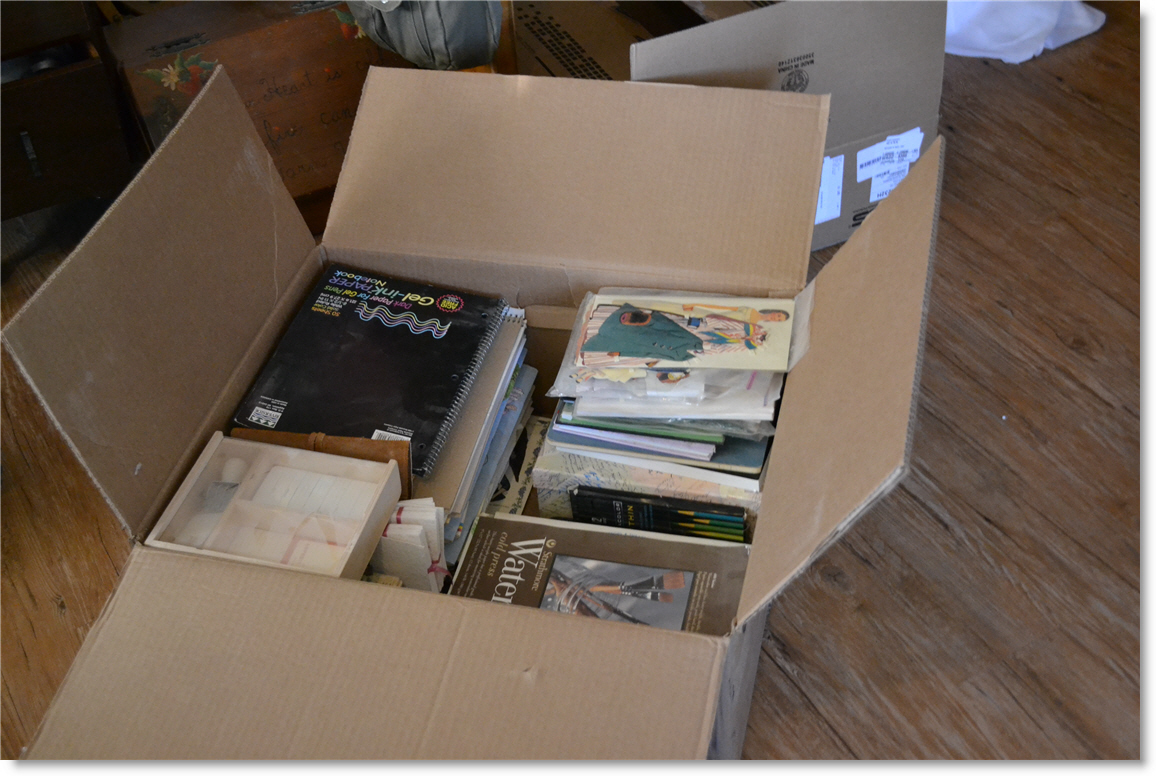 Wednesday, January 30 - Hudson - Today we drove to Lubbock to see a new baby. Chance and Kayla Maynard of Matador had this darling little boy today. Chance works with the guys on the Shannon Well Service crew.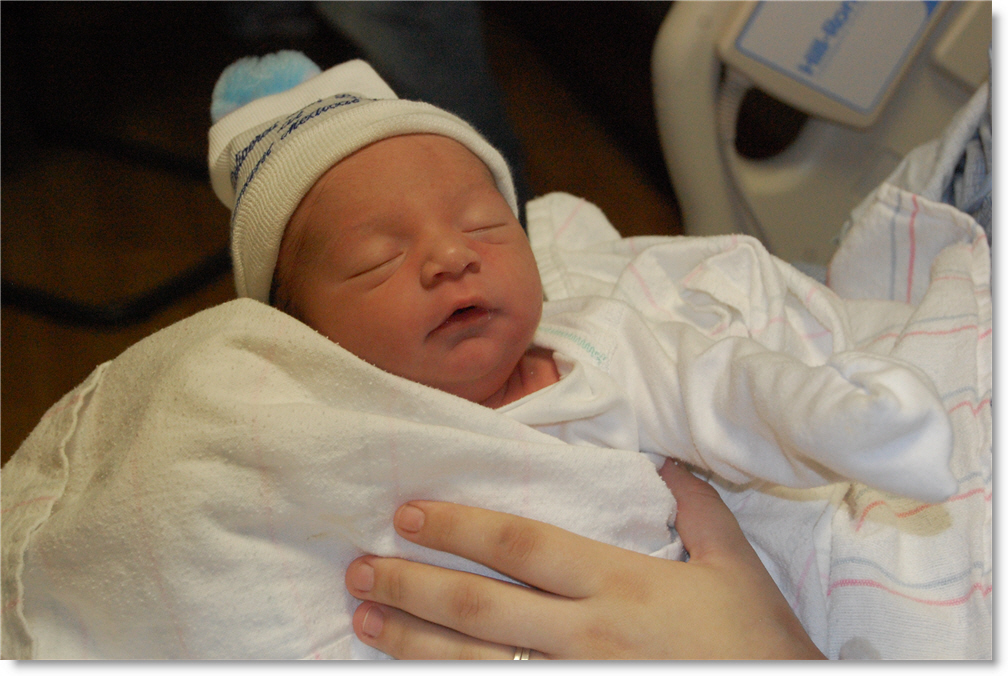 Tuesday, January 29 - Greenhouse Update - Stockton started moving a few things out to his greenhouse. He also planted a few small beds of greens.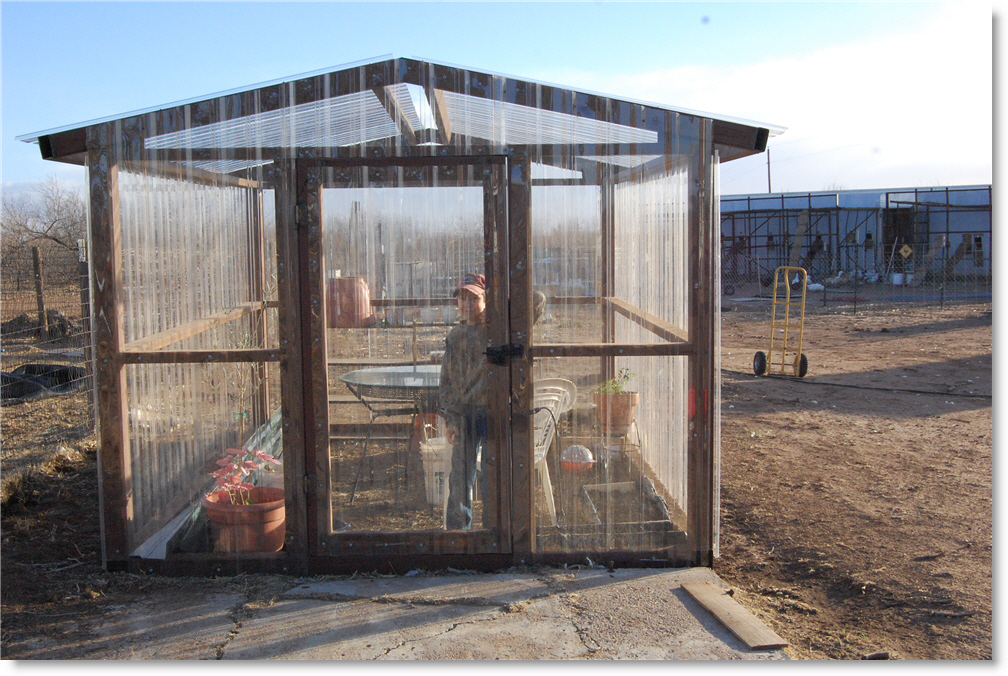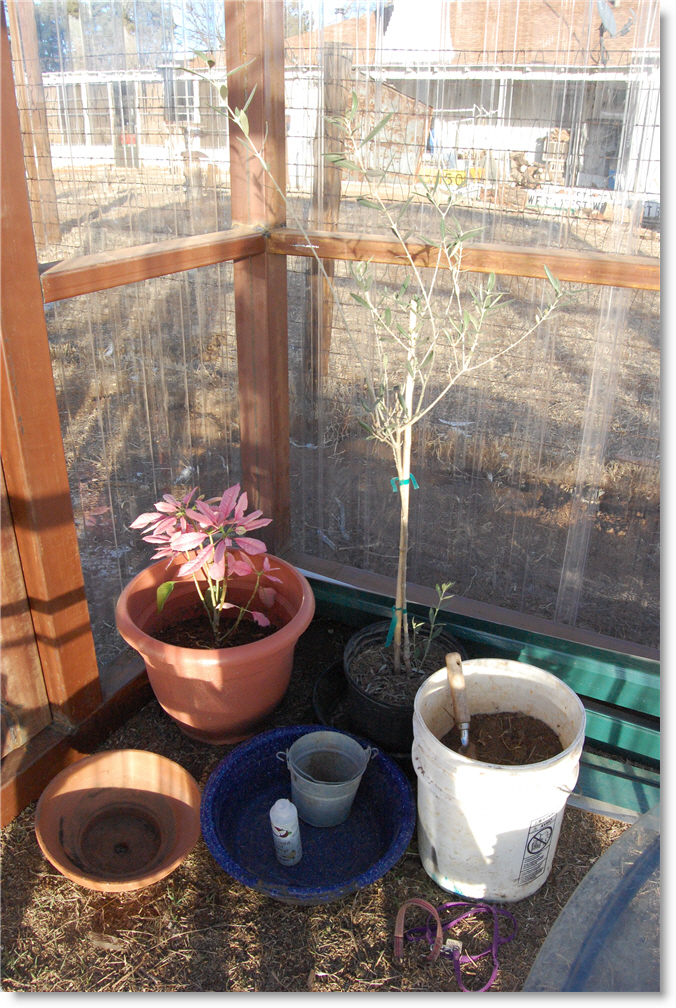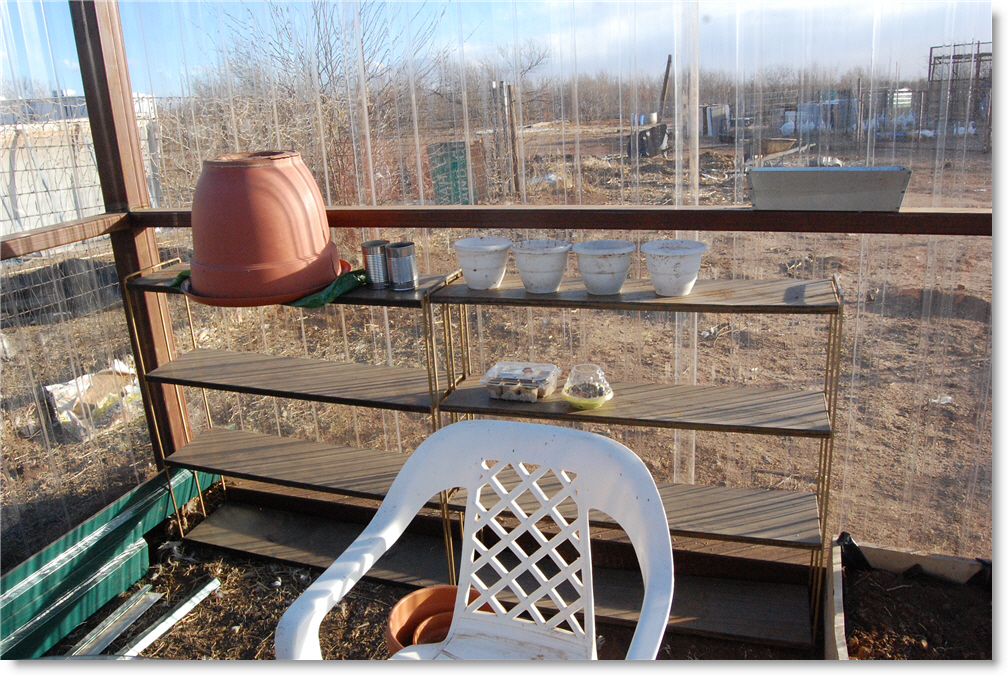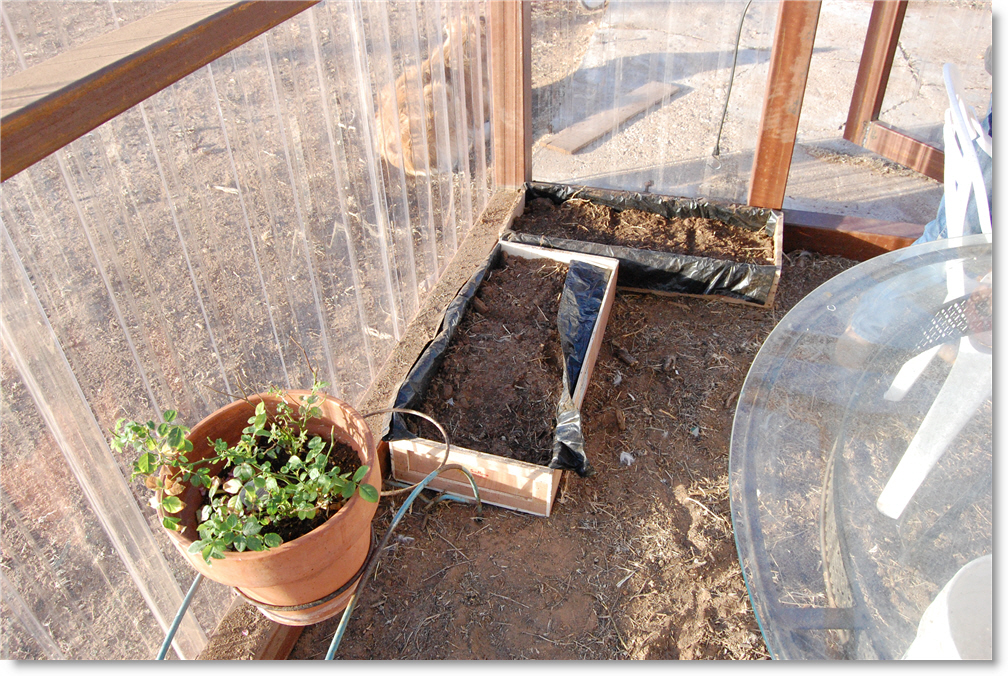 Monday, January 28 - Incredible Sunset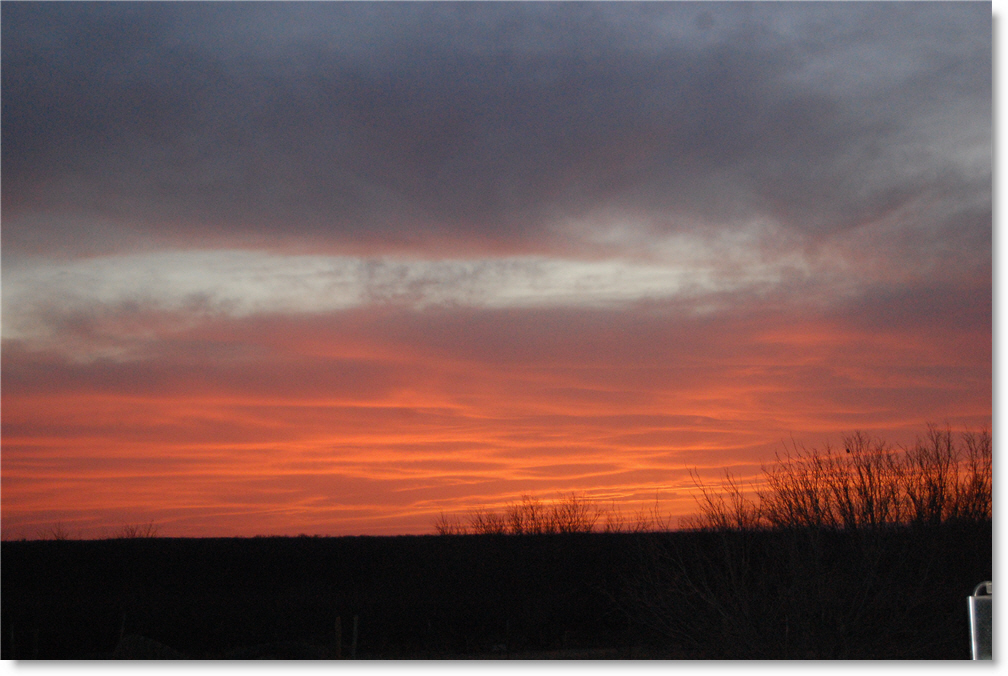 Sunday, January 27 - Another Incredible Sunset
One has to feel sorry for those poor people who live in areas with trees and never get to experience the WHOLE sky every day!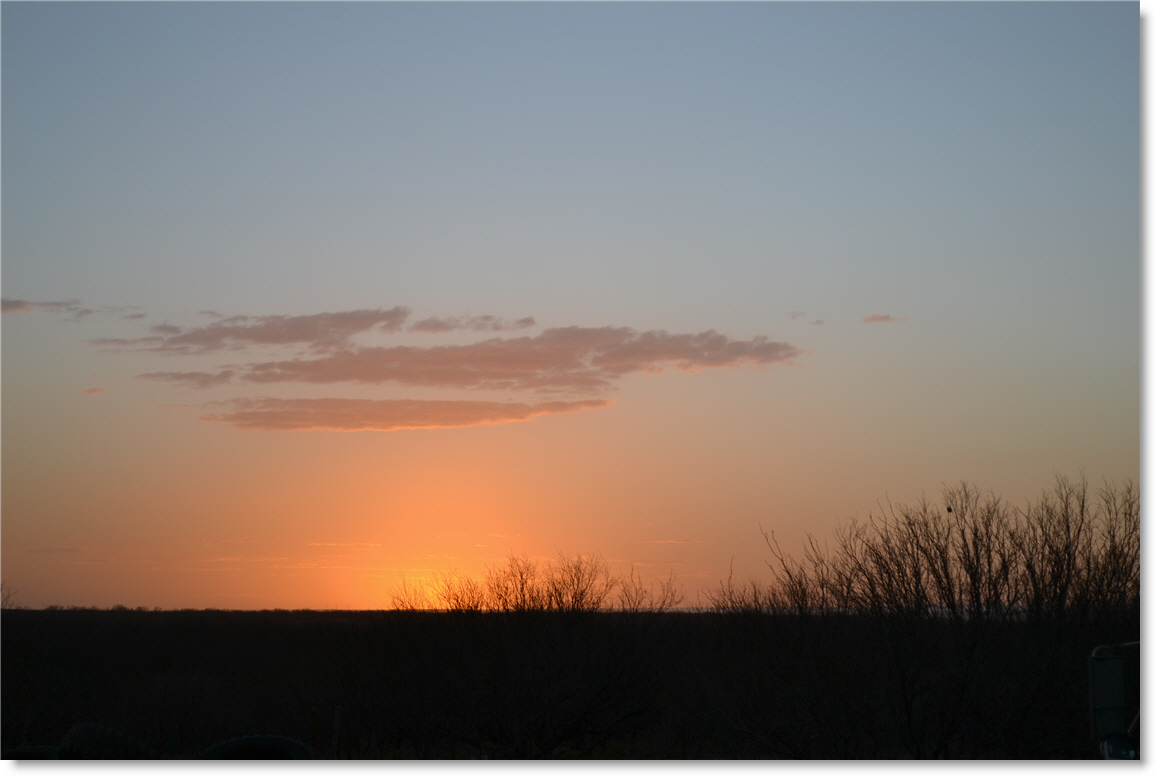 A Haney Delivery - We got to visit with the Haney's again tonight when they brought some cups and saucers and small dishes that they found for us at a second-hand store in Amarillo. We had asked her to watch for some because we don't want to use paper or plastic at the 1860's style wedding in March. They came through with flying colors.
The kids had fun playing a game after supper.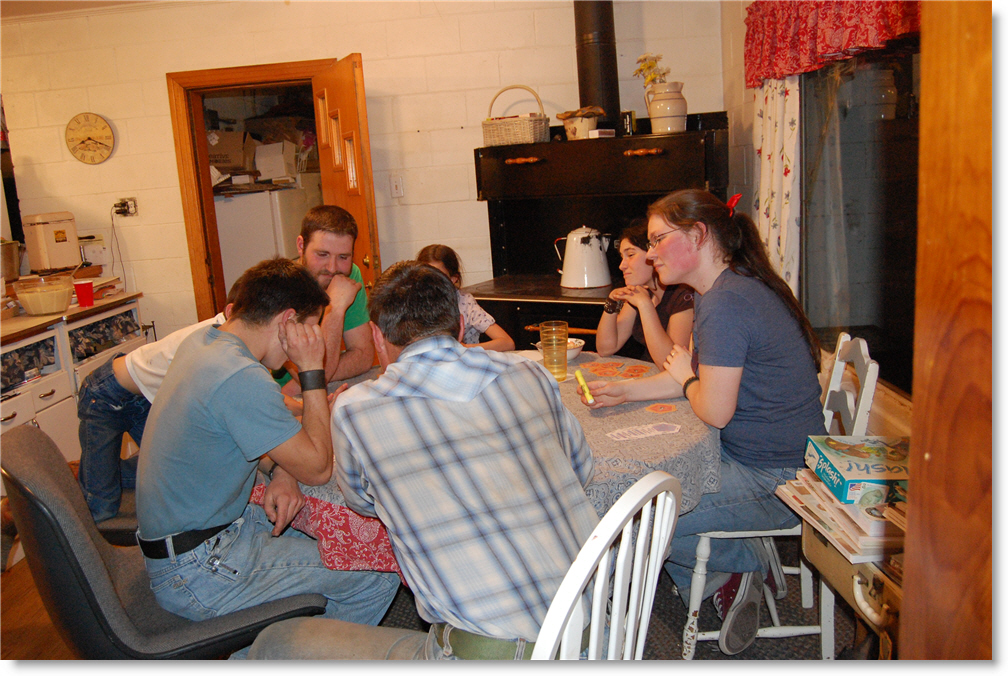 Saturday, January 26 - New Mandolin - Cim ordered a new mandolin and it came in on Thursday. Unfortunately, that day at work he smashed his finger between the mill iron and the well plate as they were pulling the pipe out of a well. We thought about getting him stitched up because it got hit so hard it busted out both sides of his finger, but we just bandaged it instead. They were only a few miles from home so Nathan called me to come and pick him up early. Not long after we had it bandaged, UPS brought his new mandolin. It was really torture for him not to be able to play it.
I said he couldn't play it. I didn't say he didn't try.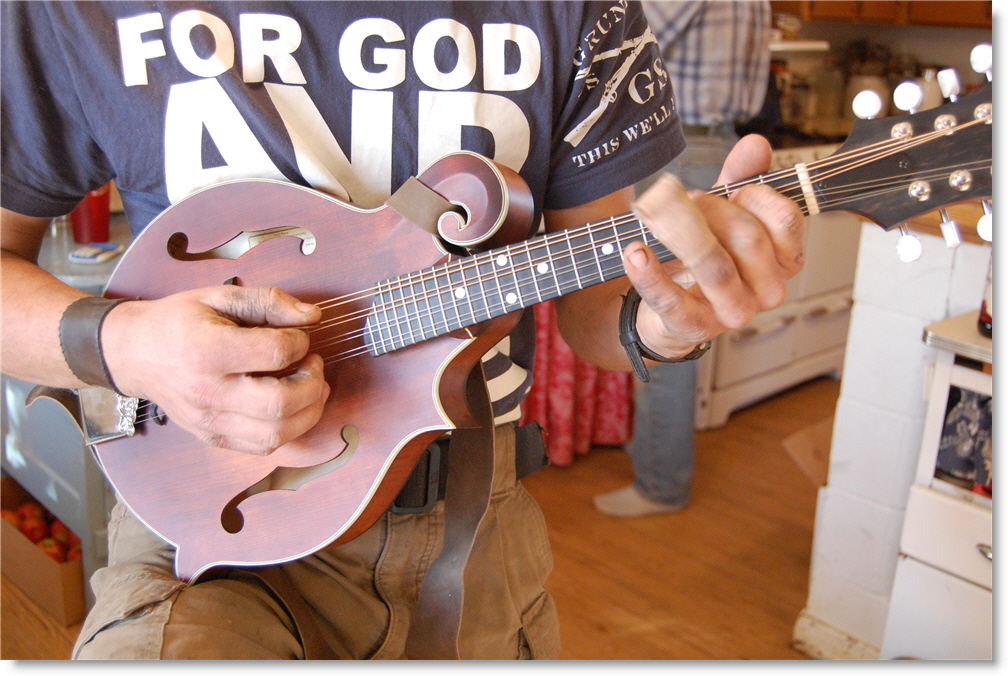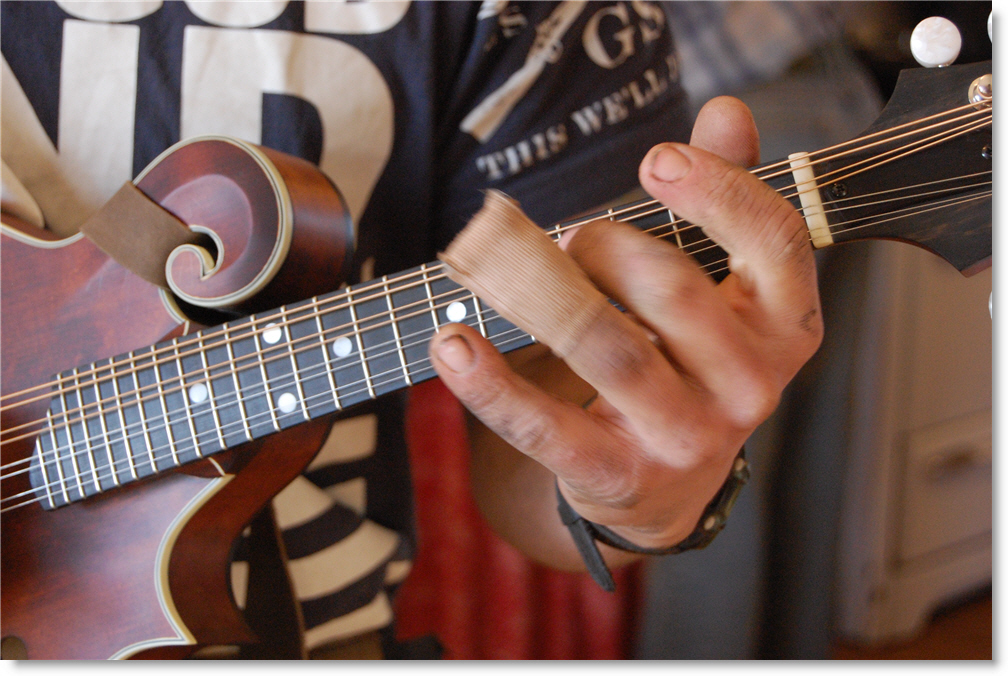 Visit from Granny and Hannah - While Sunny and Jim were out of town, we got to spend some time with Granny and Hannah.
I don't know where Hannah is, but by the look of everyone's faces, she must be doing something really spectacular on the kitchen floor.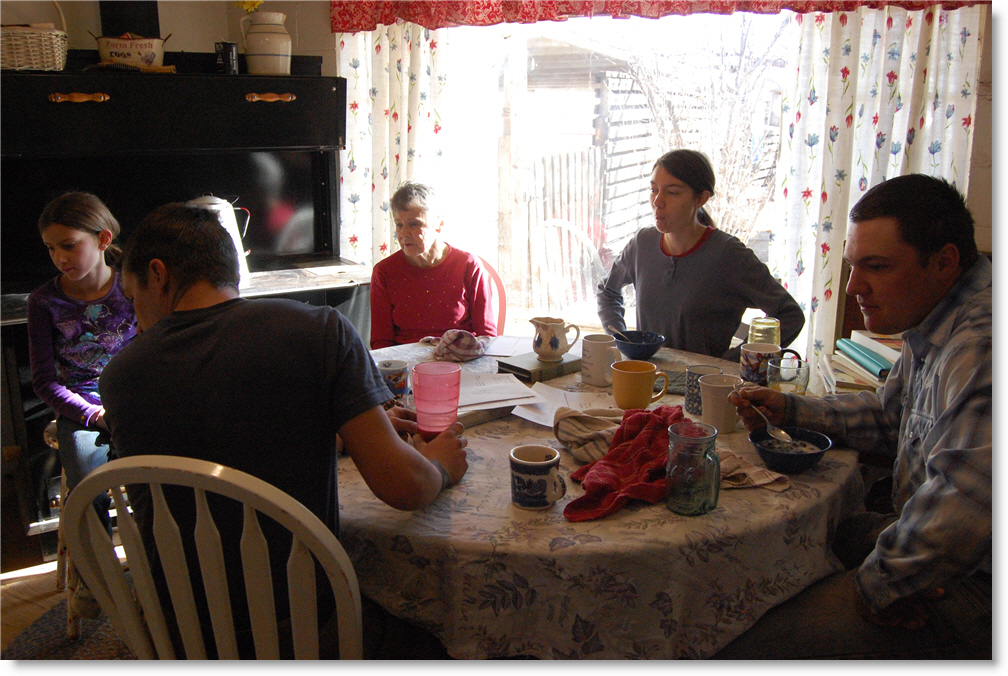 Granny looks through a nursery catalog with Stockton.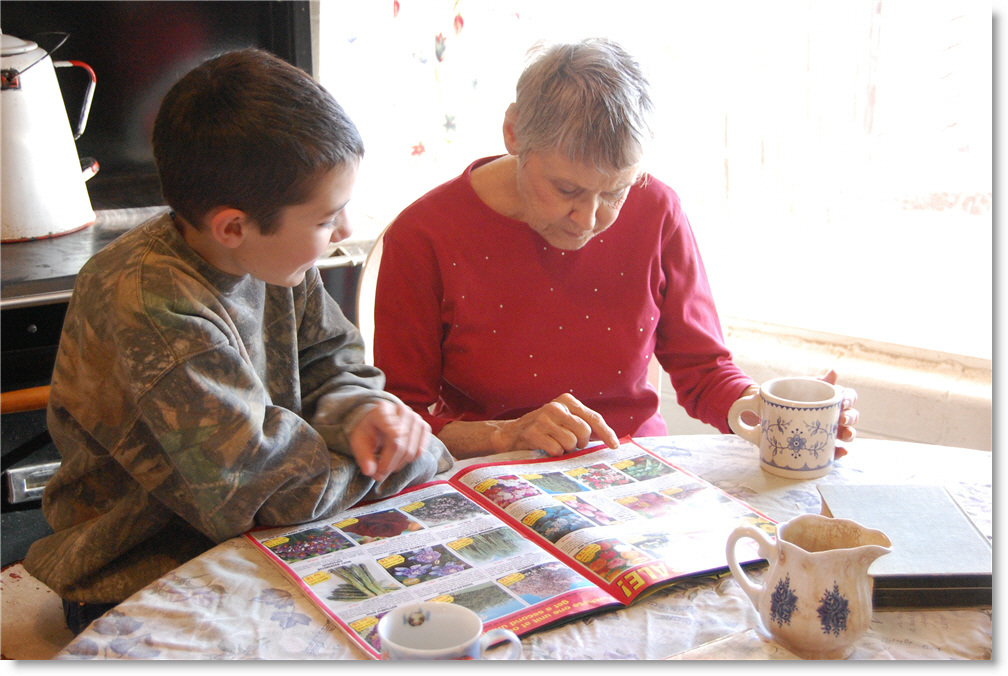 The Rusty Show
Carolina had Rusty performing a few tricks for the company.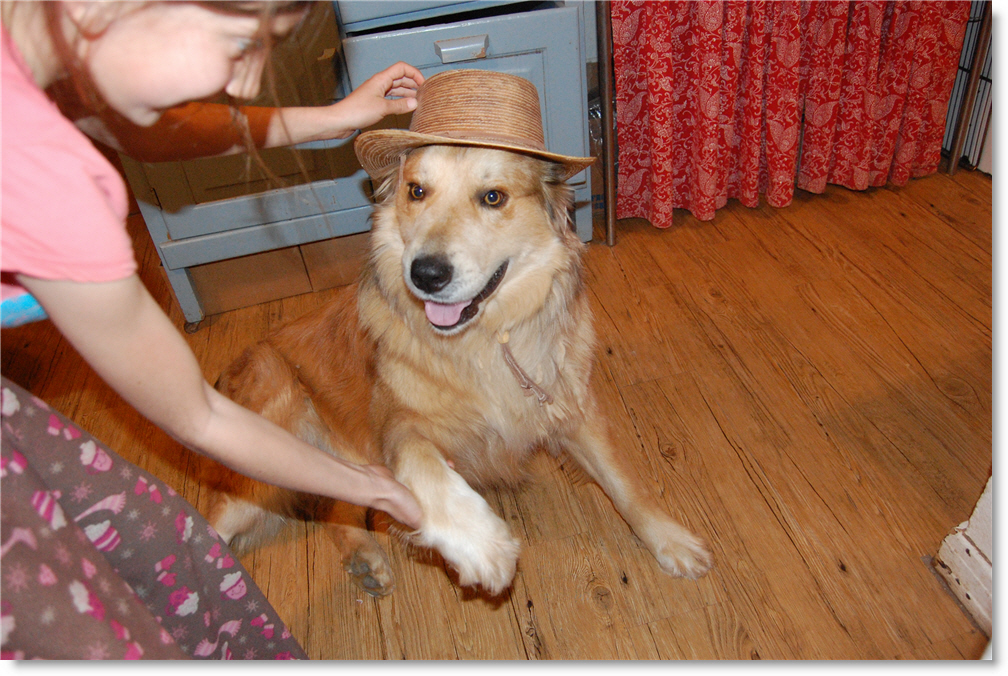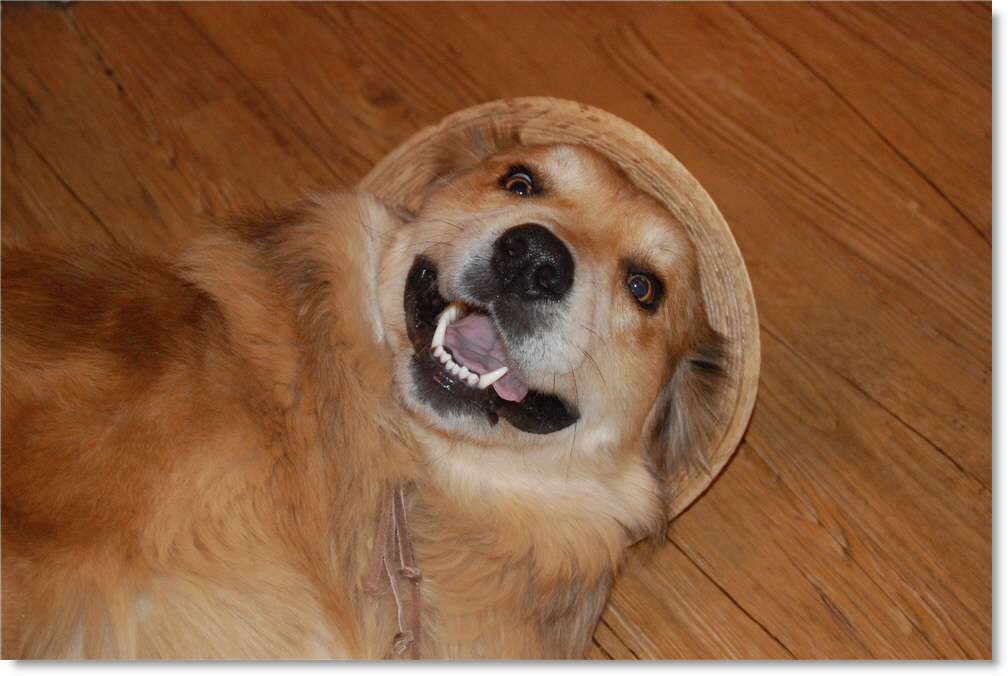 Blue Sunrise - Pretty Skies this Morning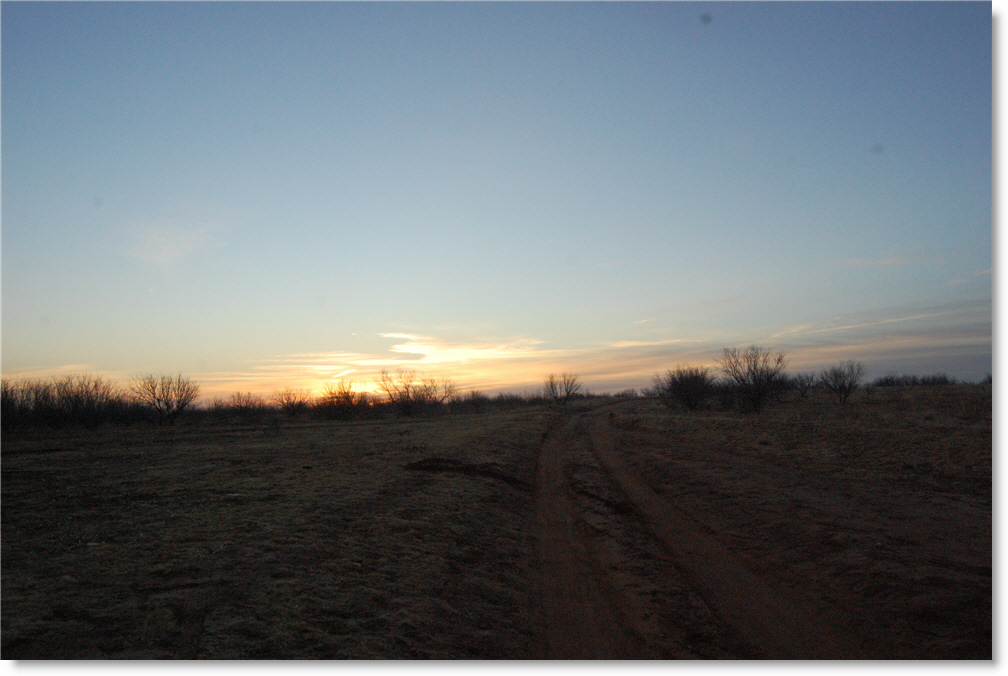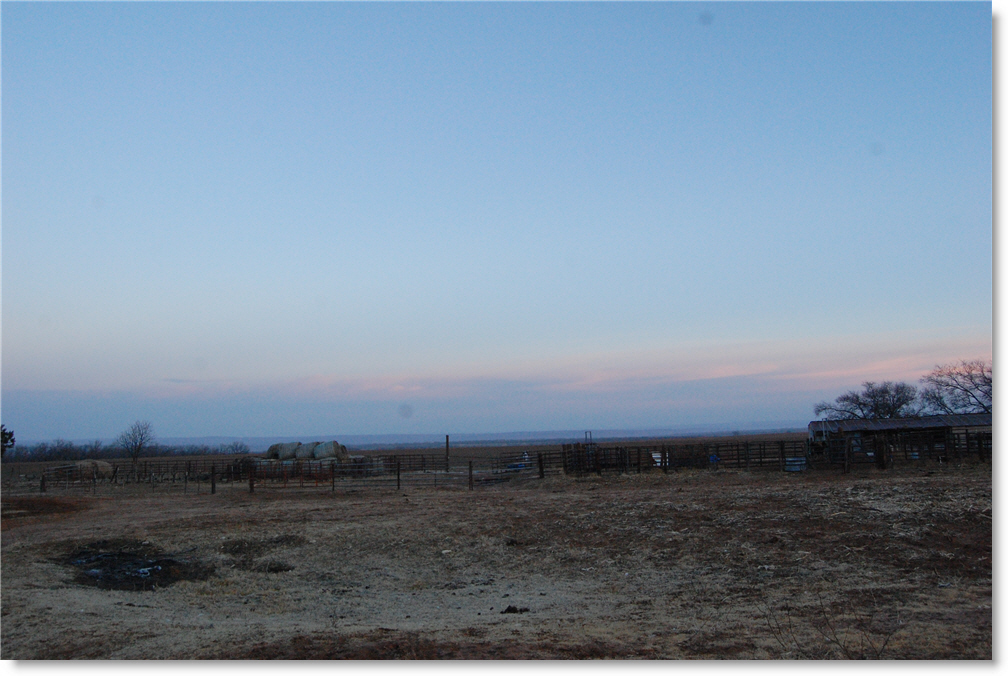 Special Dress Under Construction - Atlanta's been doing a lot of sewing for her upcoming March wedding. She's made dresses for Carolina, Aspen, Windy, Sarah and helped Rebecca with hers. Now she's starting on the most important dress of all. Of course, you won't be able to actually see it until the wedding, but a few glimpses at the material shouldn't hurt. Read all about it on Atlanta's Blog, Story of a Seamstress.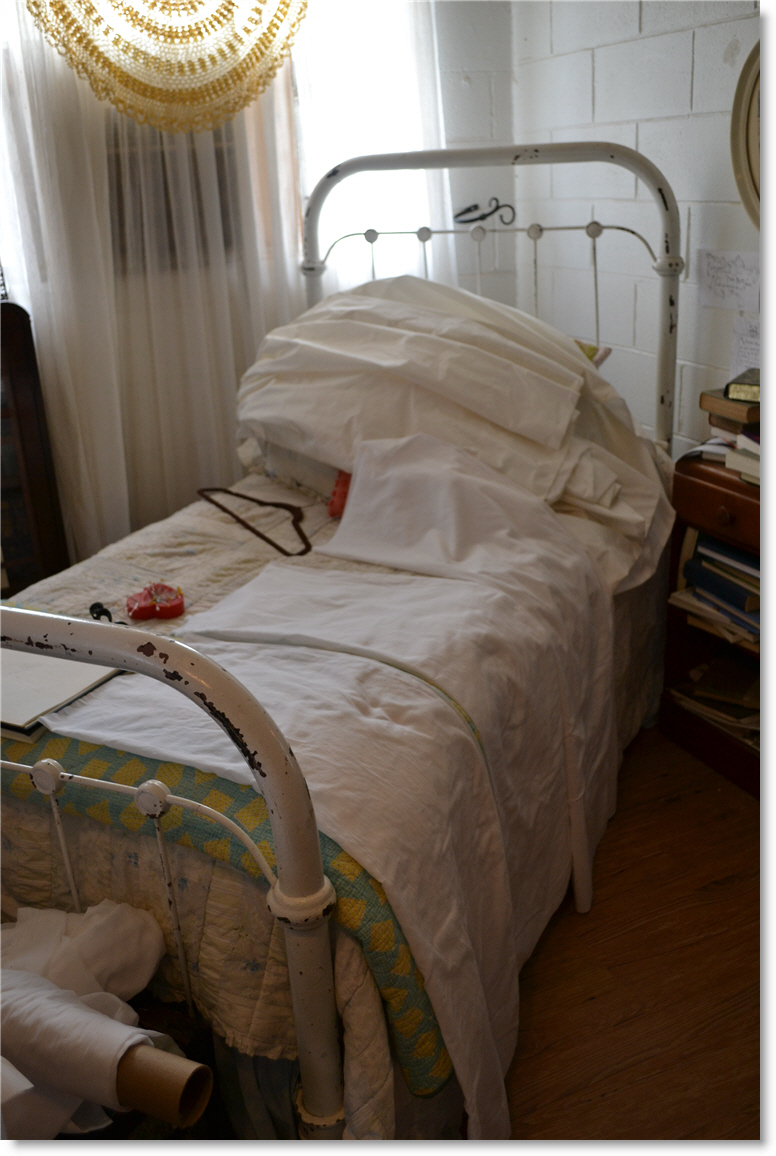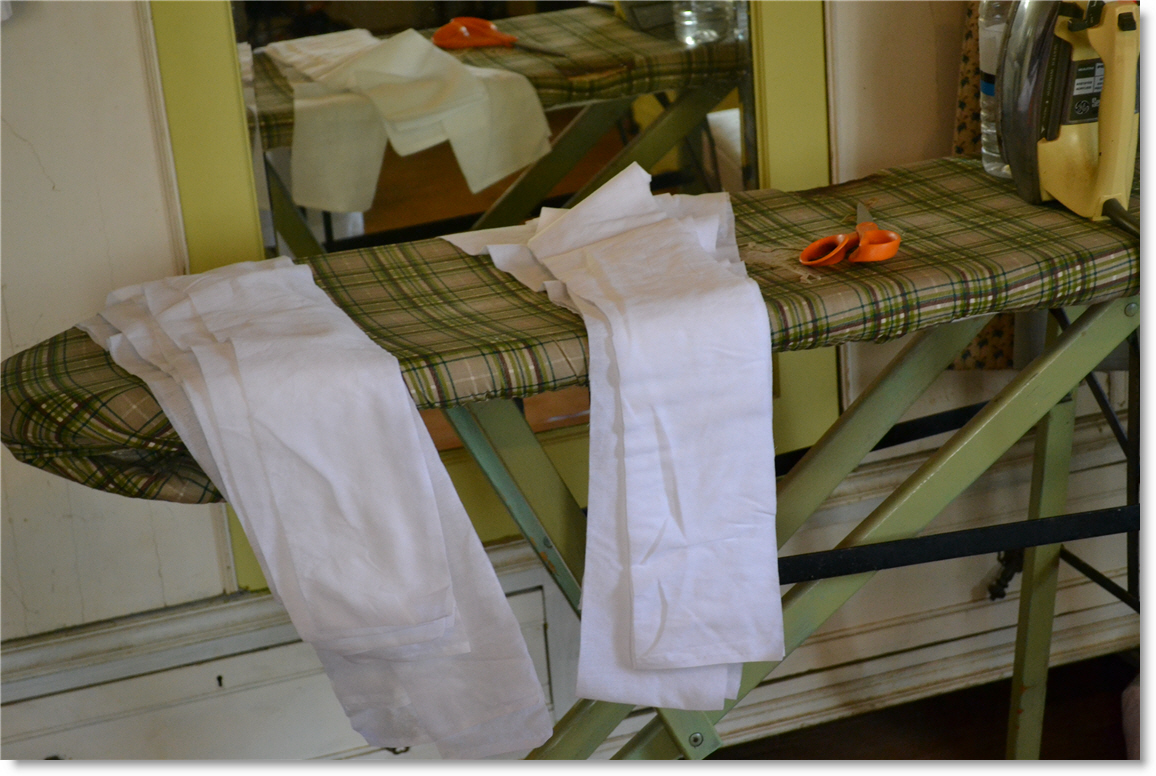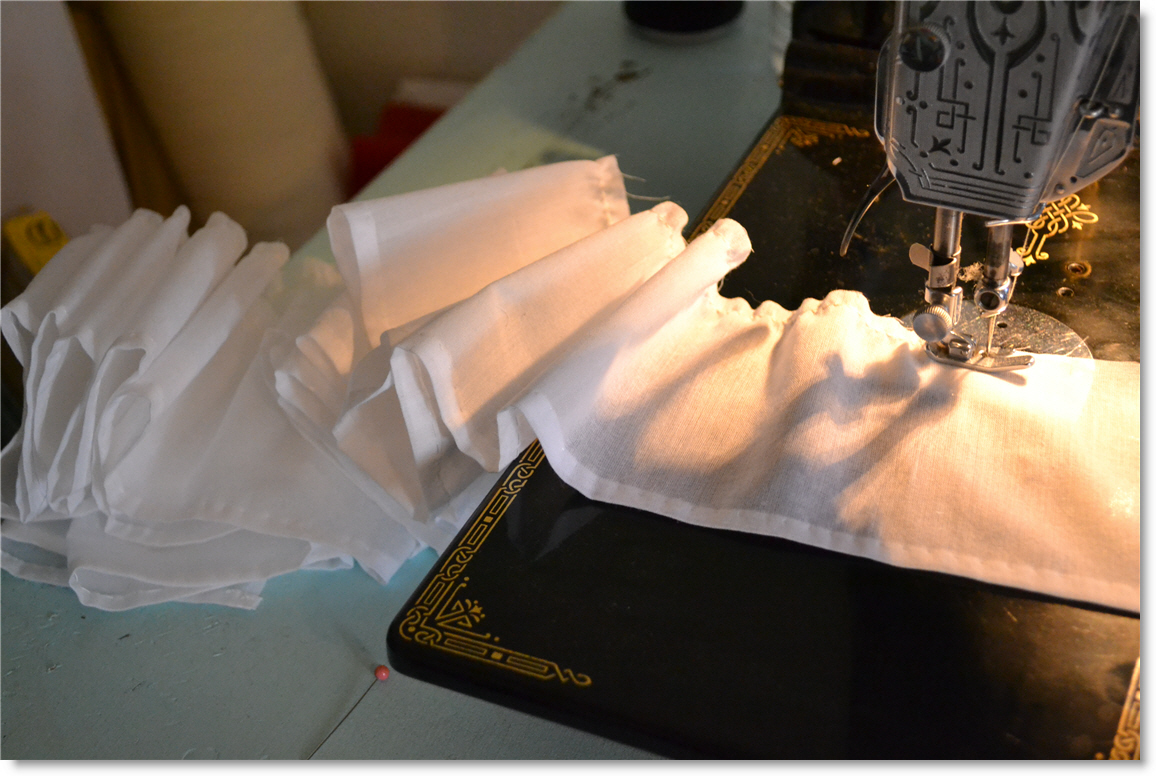 Friday, January 25 - Doggie Hide and Seek - What happens when a boy hides under a blanket on a slippery floor and then calls his dog to find him?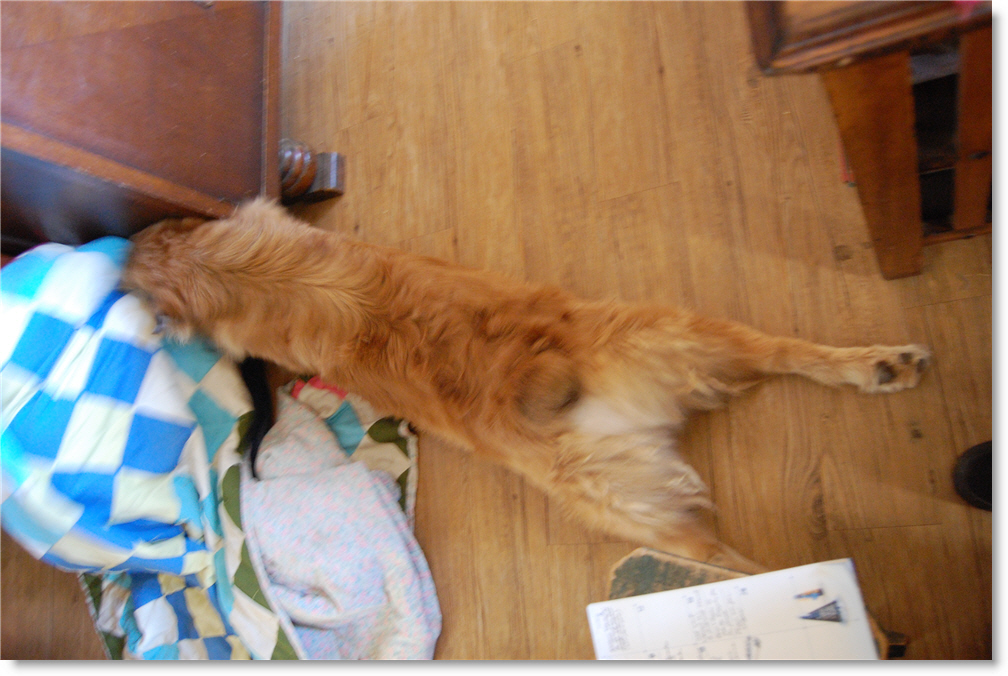 Wednesday, January 23 - Peacock Update - Thought you might enjoy a few pictures of Aspen's trio of peafowl. They're really growing, but won't start laying until this time next year.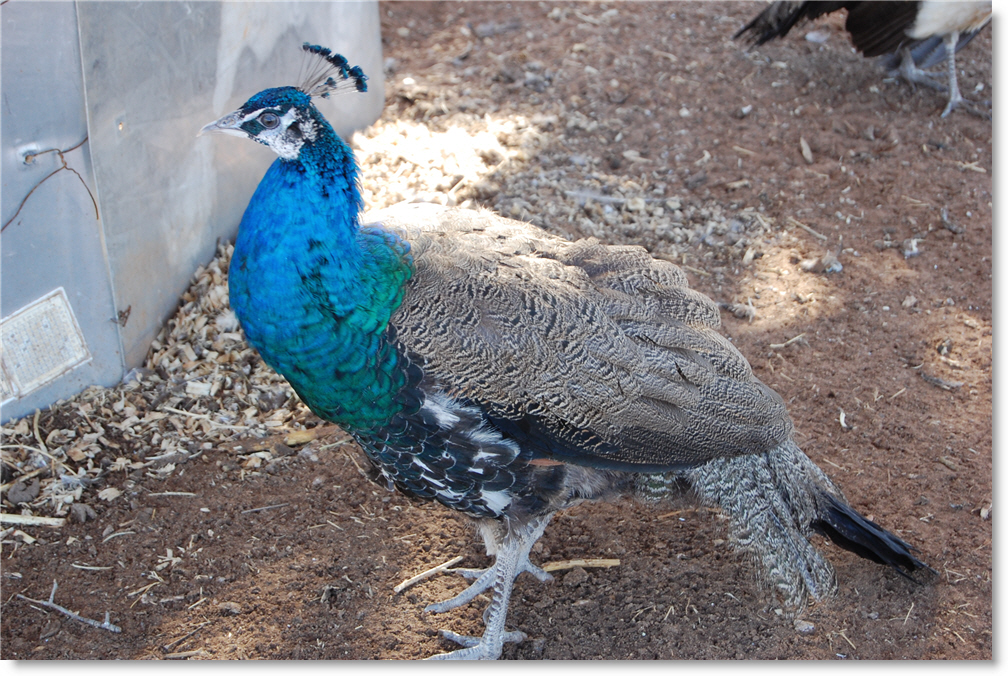 The peahens are pretty, but can't compare to the cock.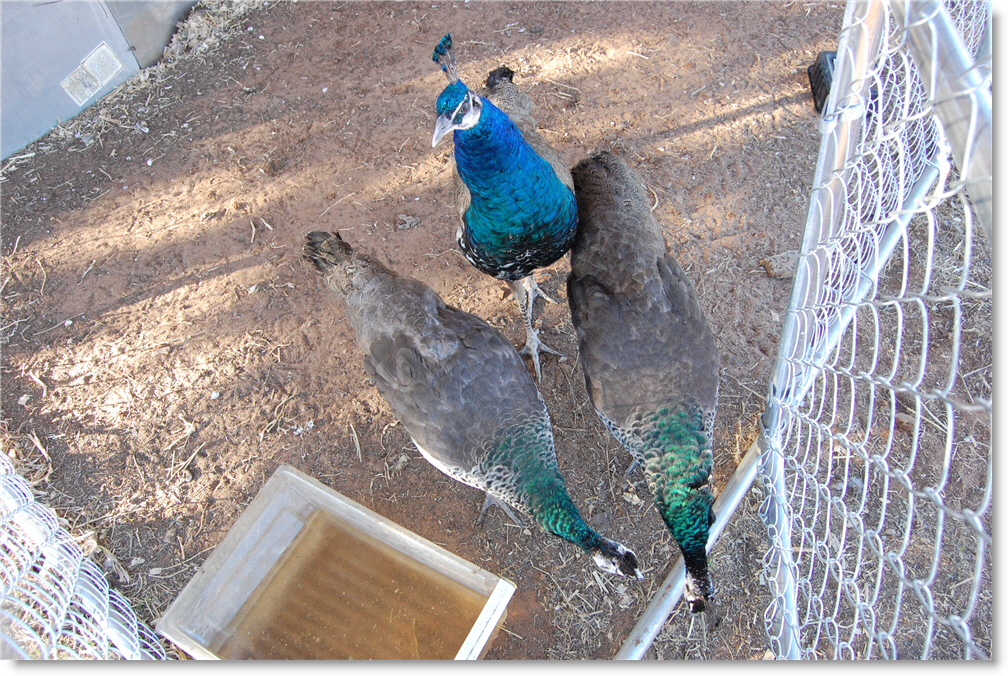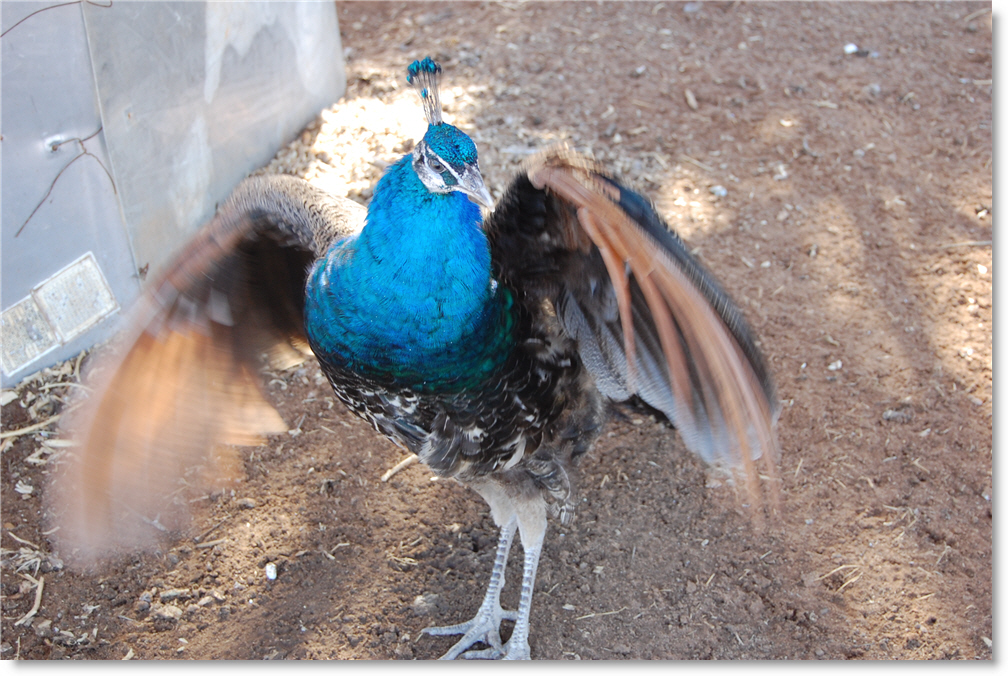 Tuesday, January 22 - Girl's Work Week - Rebecca and Michelle Roberts came on Sunday for a few days of sewing and other stuff related to the upcoming wedding. Rebecca is going to be Atlanta's maid of honor.
Weaving together paper flowers and bendable grapevine for hair flower wreaths.
Do you see anyone's little brother trying to hide from the camera?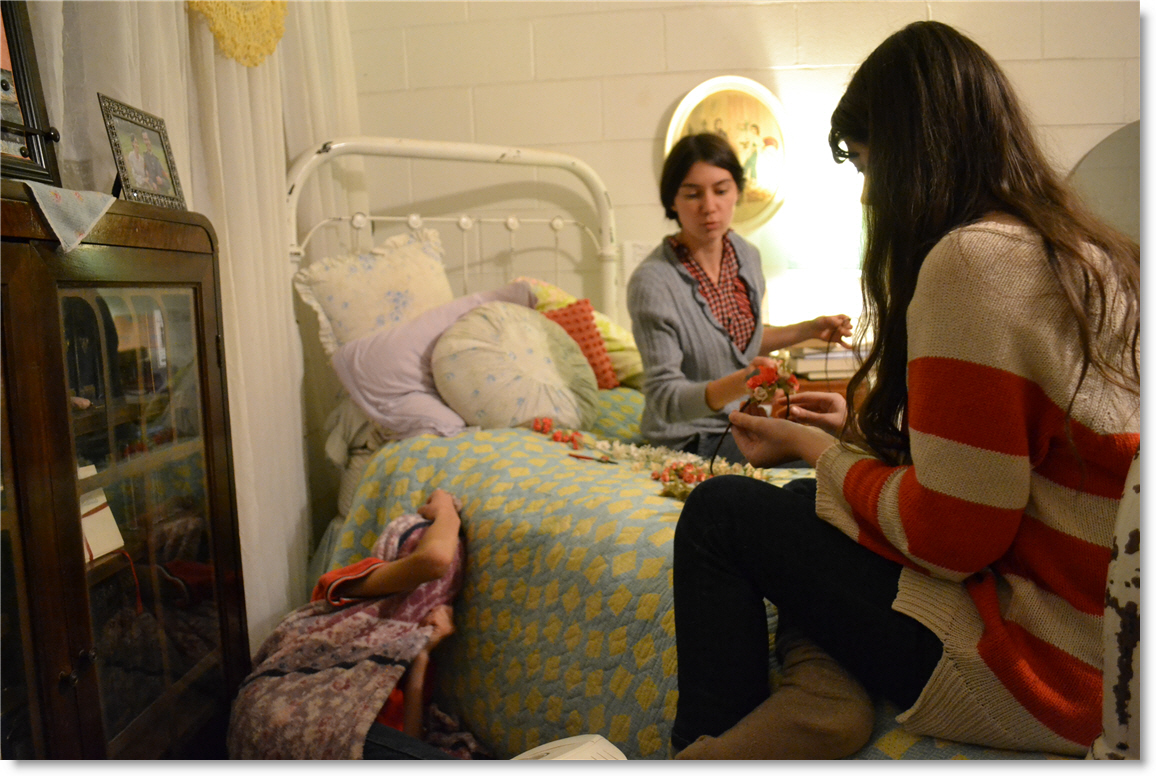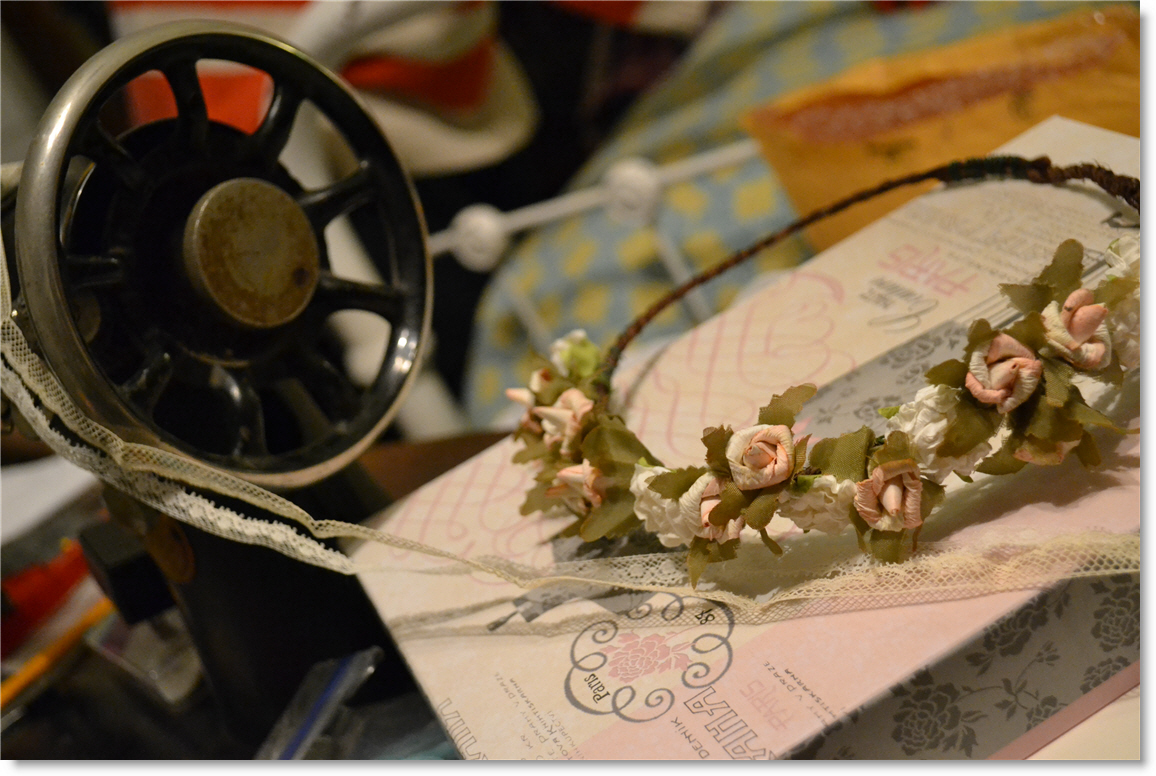 I don't think Carolina enjoys getting her head measured for a wreath.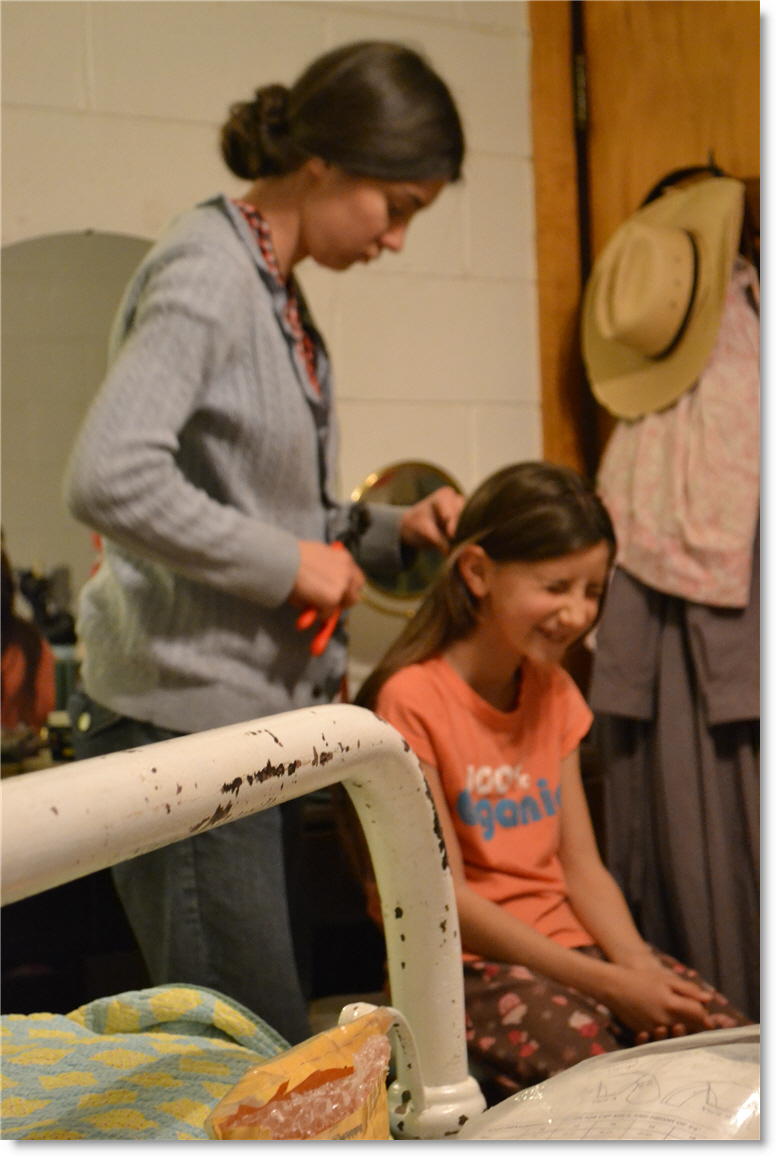 Trying on the finished products.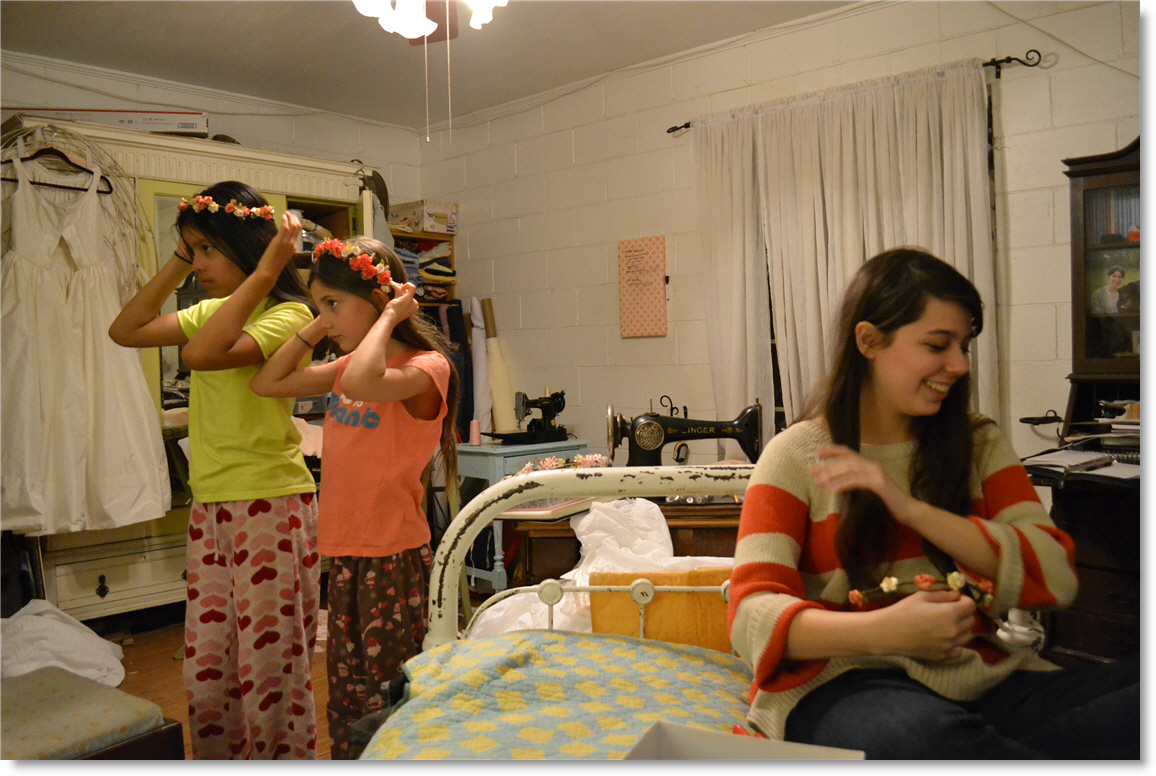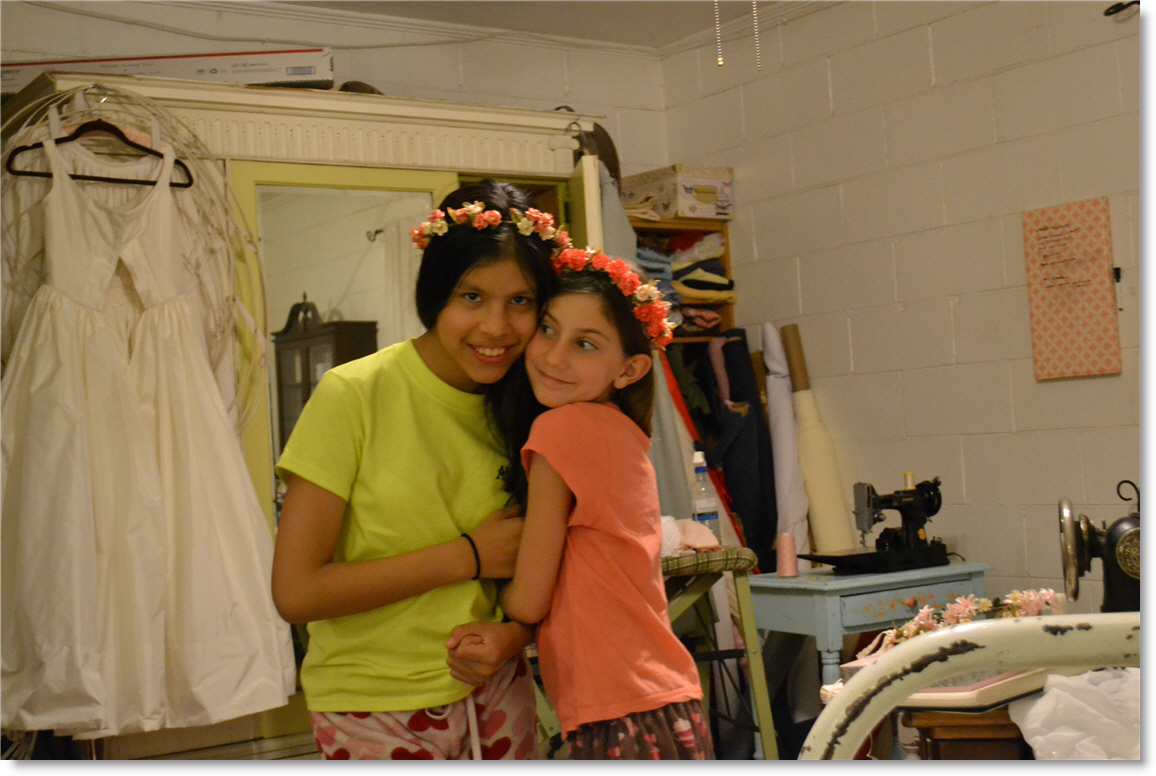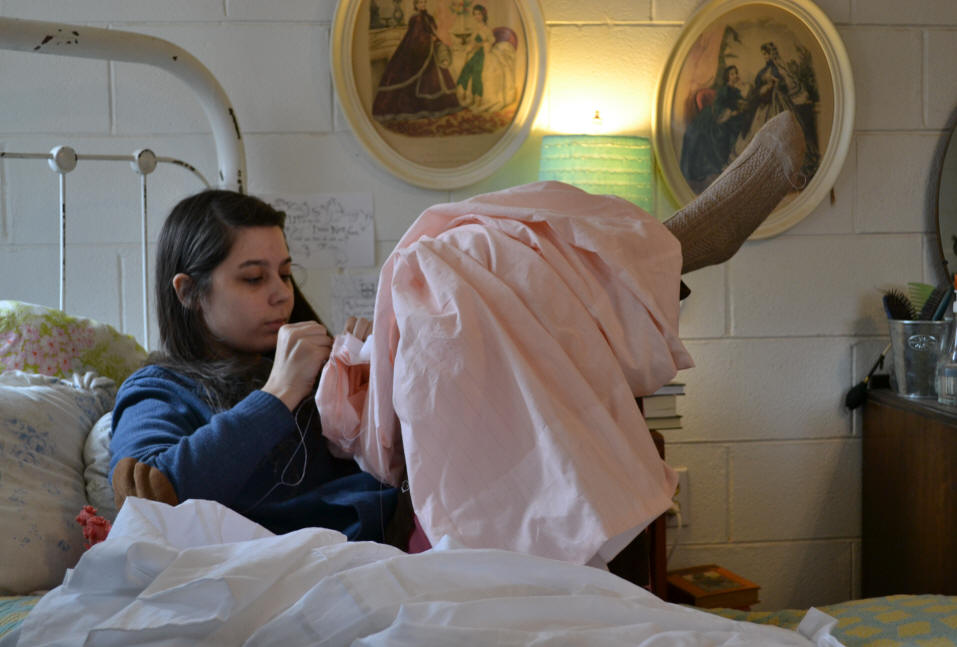 Sunday, January 20 - Try a New Horse - You'll remember that Stockton's horse, Gus, died this past October. Today he tried out one of our older mares. We've been trying to build her up a little so she can be ridden. She's about 27 years old but still has a lot of spunk.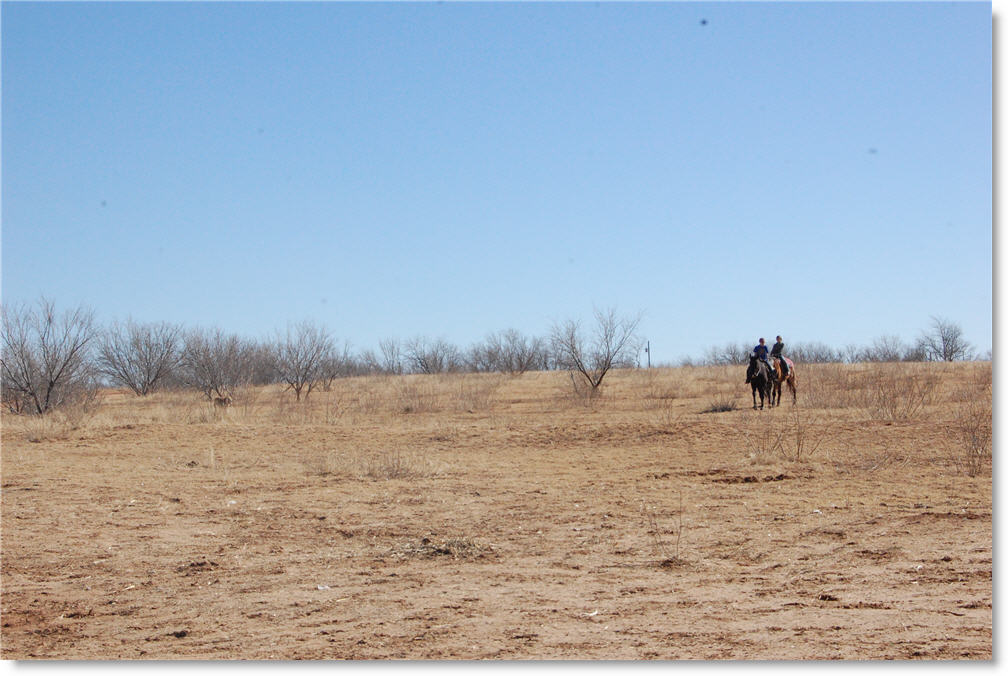 I think it will be a nice match for the two of them until we find him something else. Carolina is riding Stars and Bars. Stockton's black mare is named Moxley.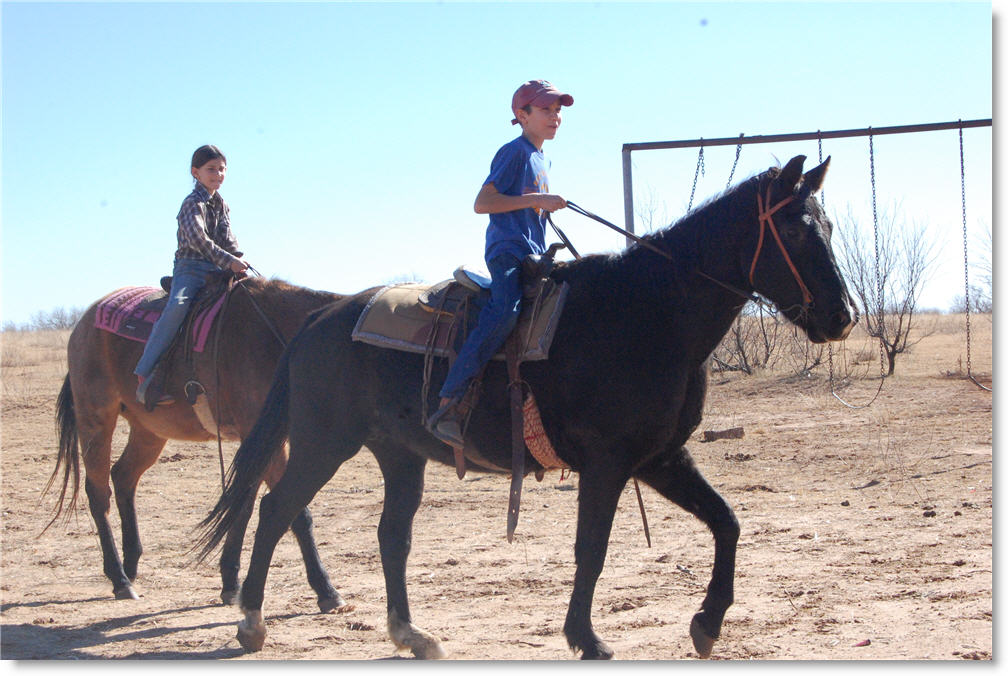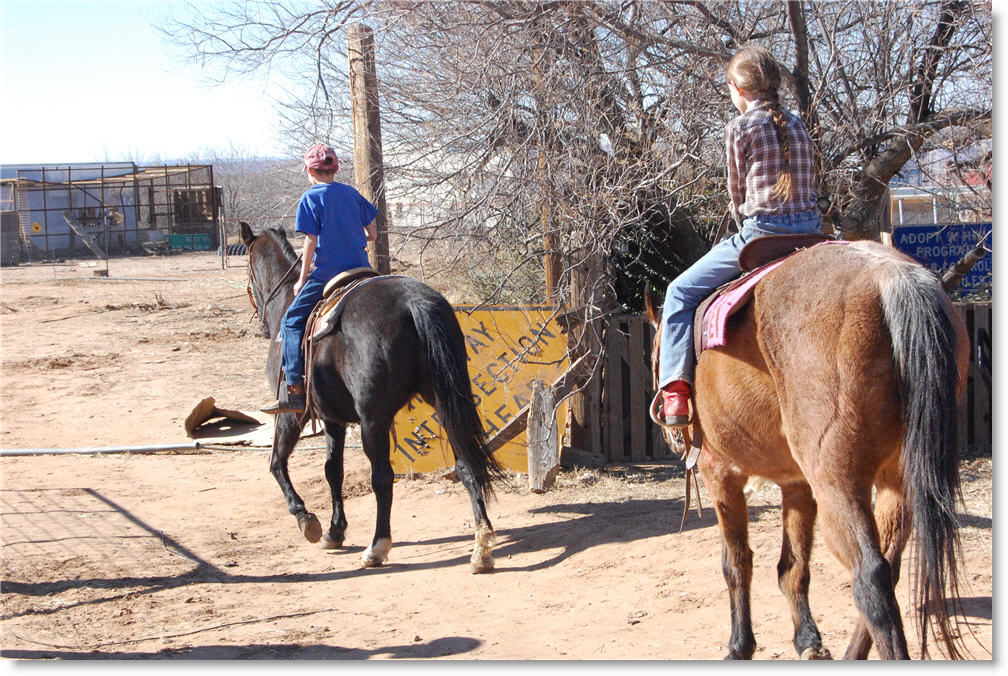 Saturday, January 19 - Birthday Surprise - The kids got up early and cleaned the house for my birthday today.
This was the scene when I came walking into the kitchen this morning. Carolina had made me a cute card, and there was a mystery box on the table.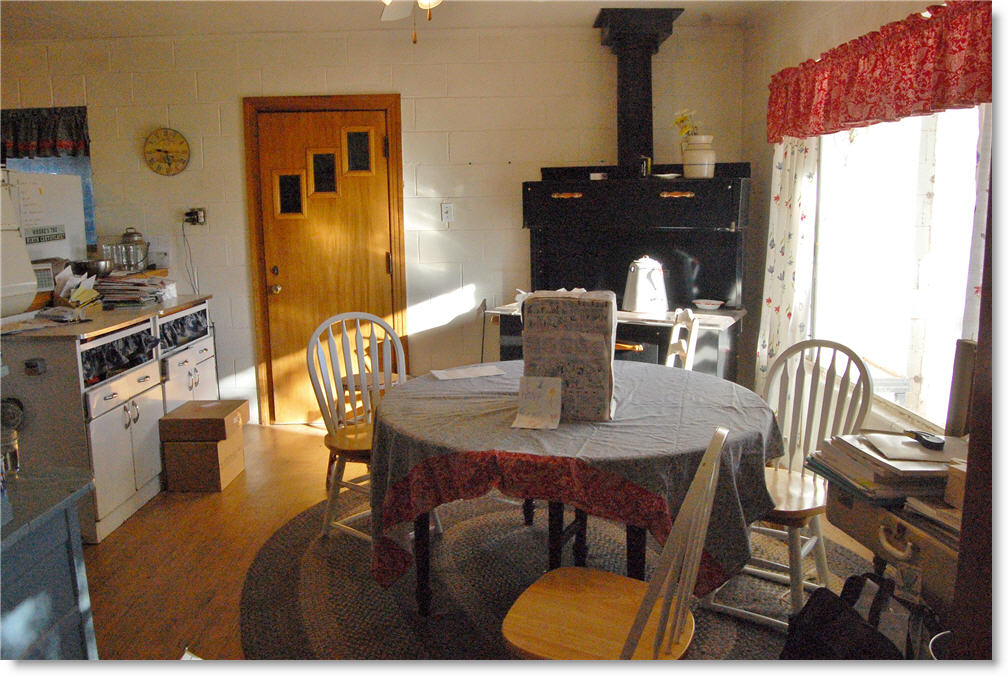 Later in the day when Nathan returned, I got to open the box. Even with the top open, it was still a mystery as to what it was.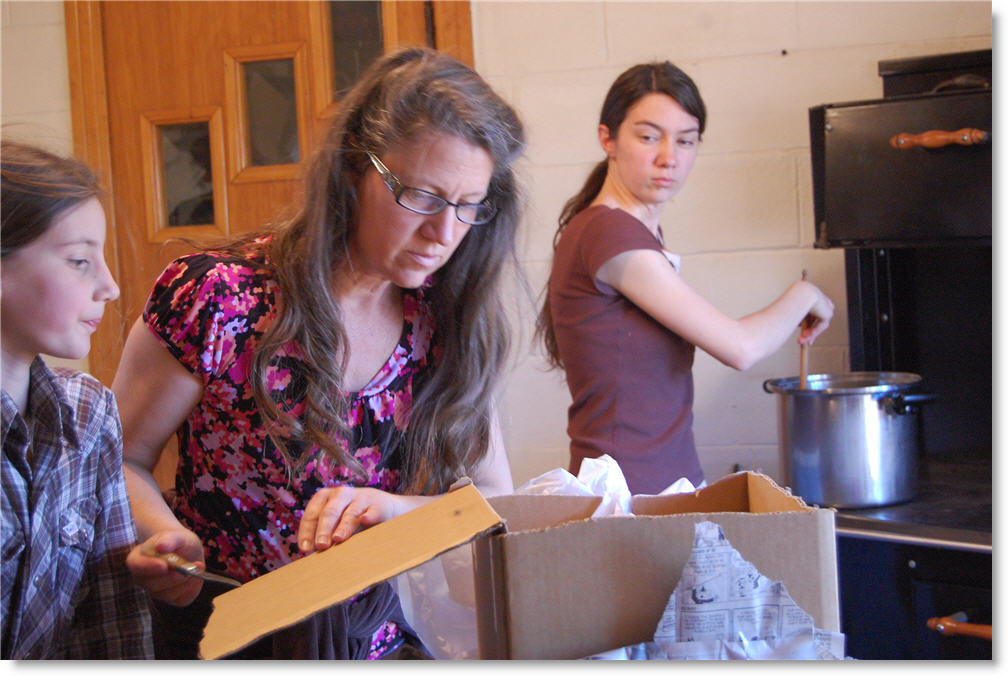 Nathan, who purchased the gift at an antique shop in Paducah, offered his help.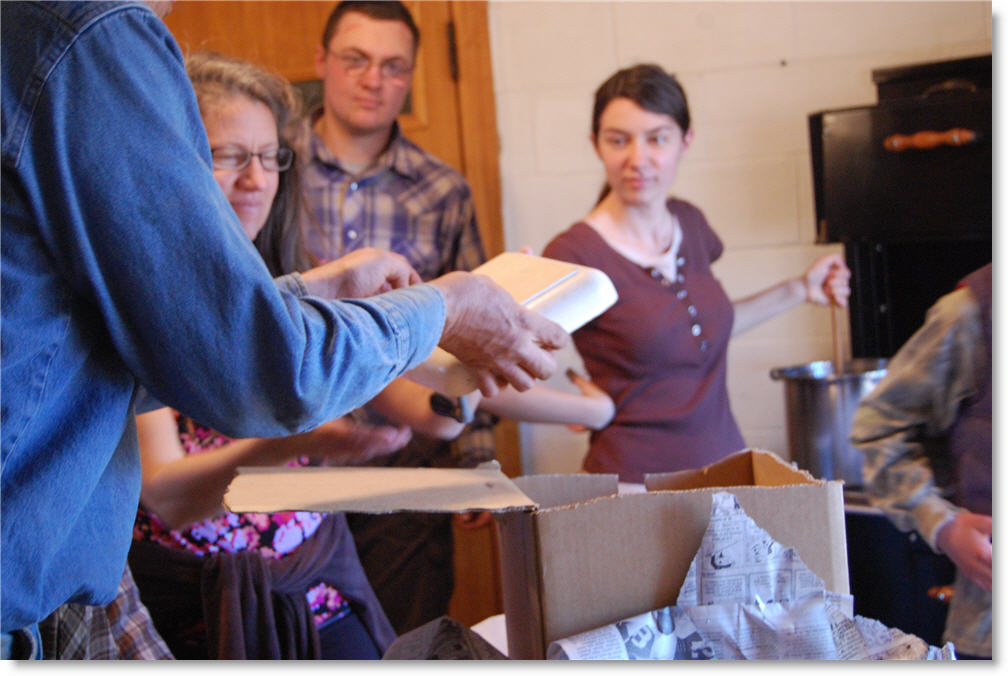 Hey, it's a little antique ice cream maker.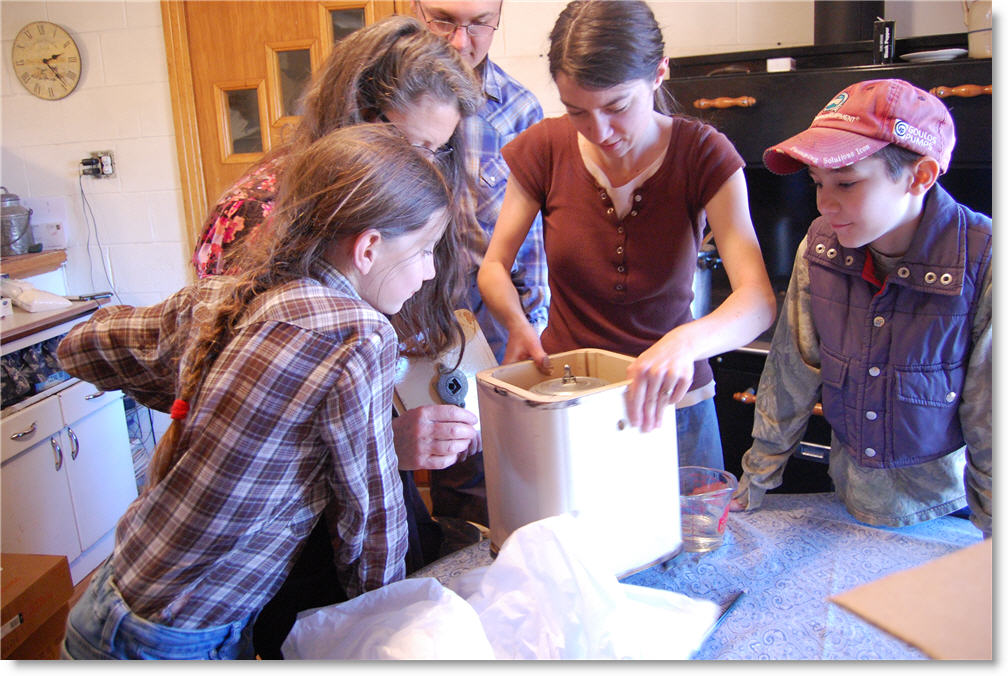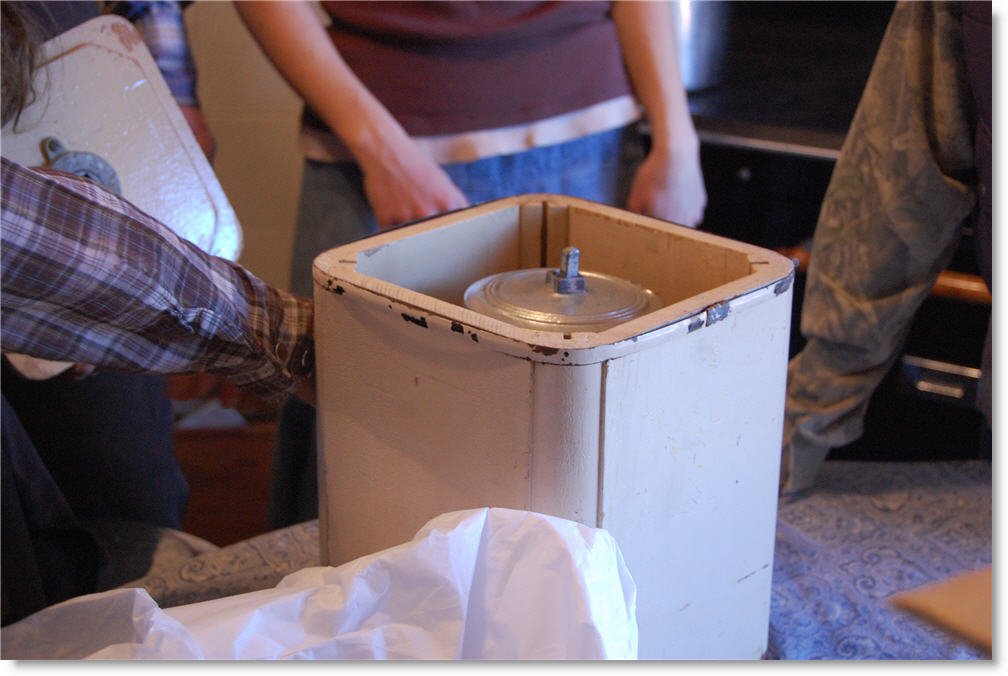 After looking it up on the internet we found out it was made in the 30's or early 40's. It can also be used as a butter churn.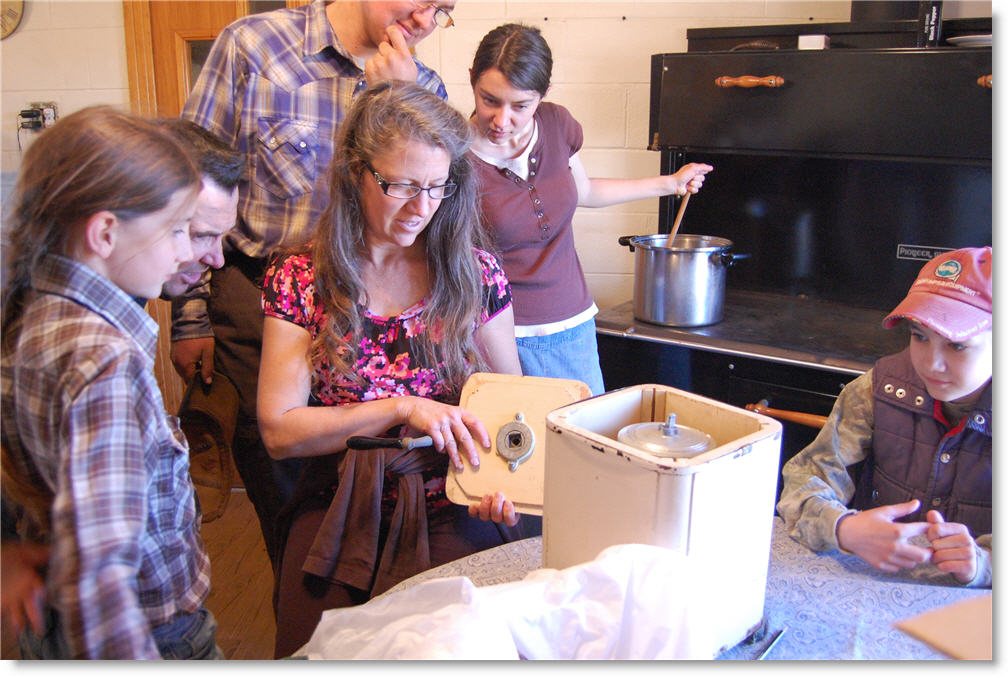 In the evening, the Phipps family came over for supper. We had such fun that I forgot to take any pictures. :(
Wednesday, January 16 - Falcon Encounter - Today Stockton heard a loud bump on the window. He looked outside and saw this large bird laying there and Rusty headed over to investigate. He ran outside and gathered it up.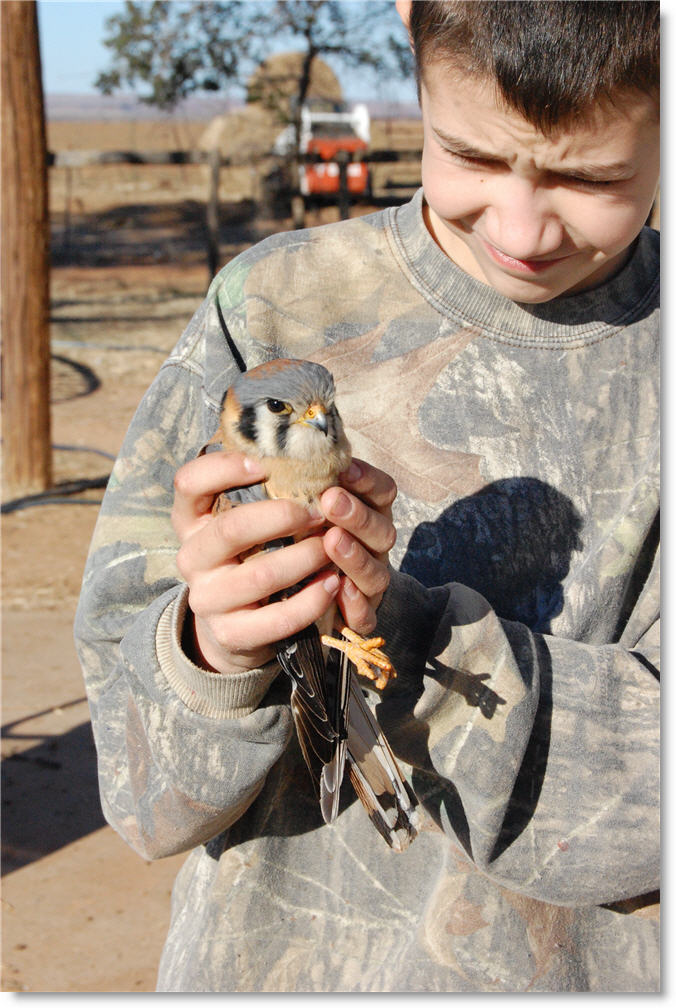 I knew from my bird watching that this was a small common falcon known as an American Kestral.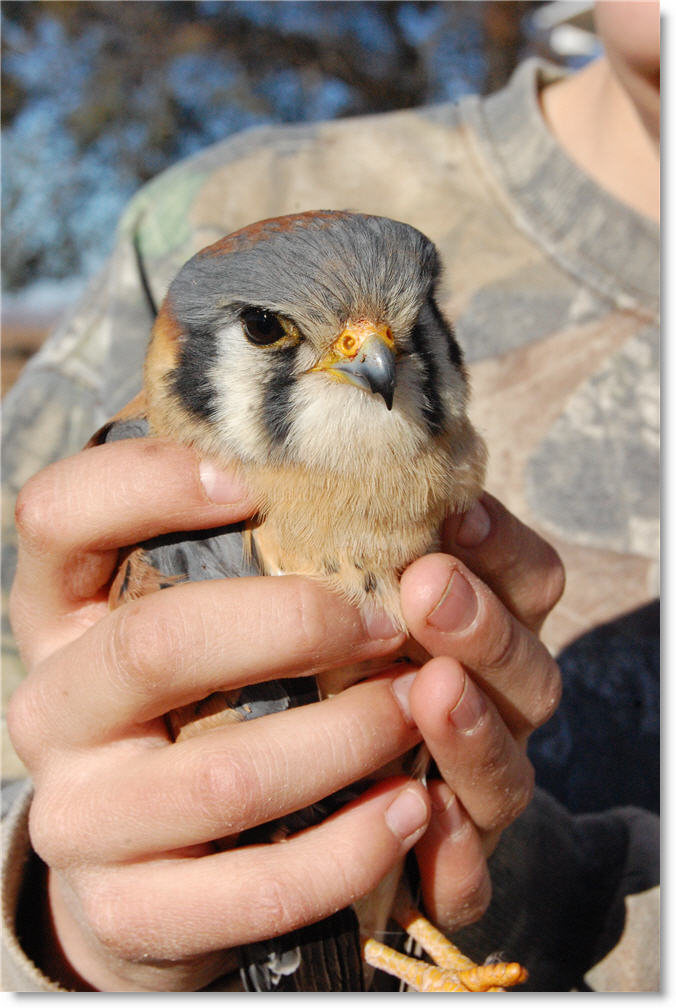 We enjoyed being able to inspect him at such close range.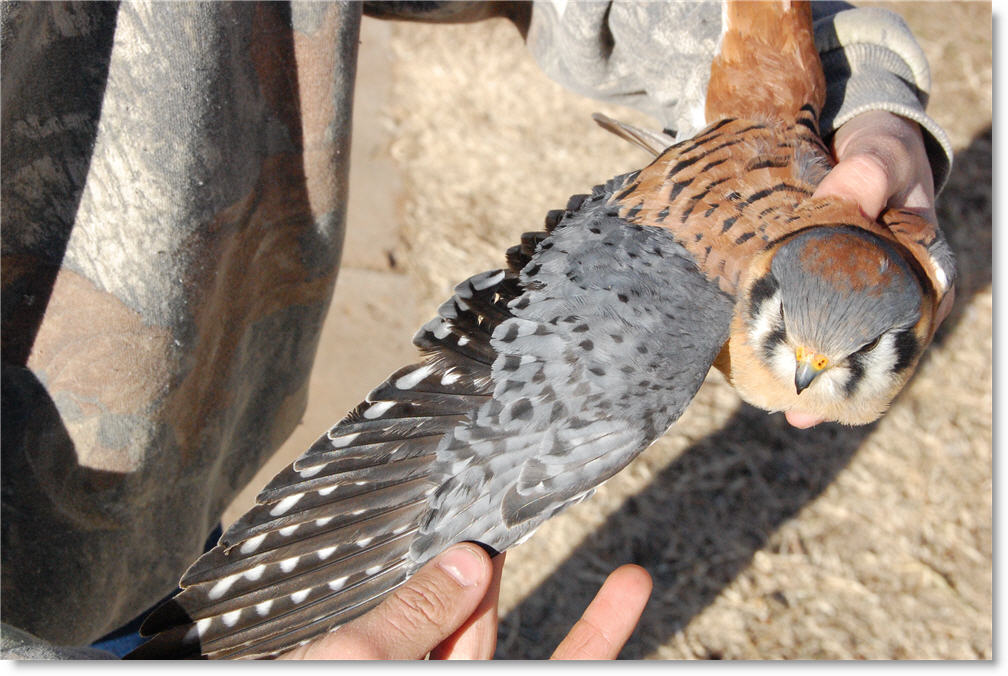 He finally started to recover and look around at us. Maybe he enjoyed getting such an up-close look at humans, too. Stockton wanted so bad to keep it, but mom said no. We tried to feed it some raw meat, but he wasn't interested and soon pushed off and flew away. He looked them up on the internet and found that they are kept by falconers, but are very hard to keep because their weight must be meticulously kept within a gram or two for them to be able to survive and hunt correctly. He's decided to pursue the idea of falconry a little more. He'd like to find someone to apprentice under. If anyone knows of a falconer, let us know.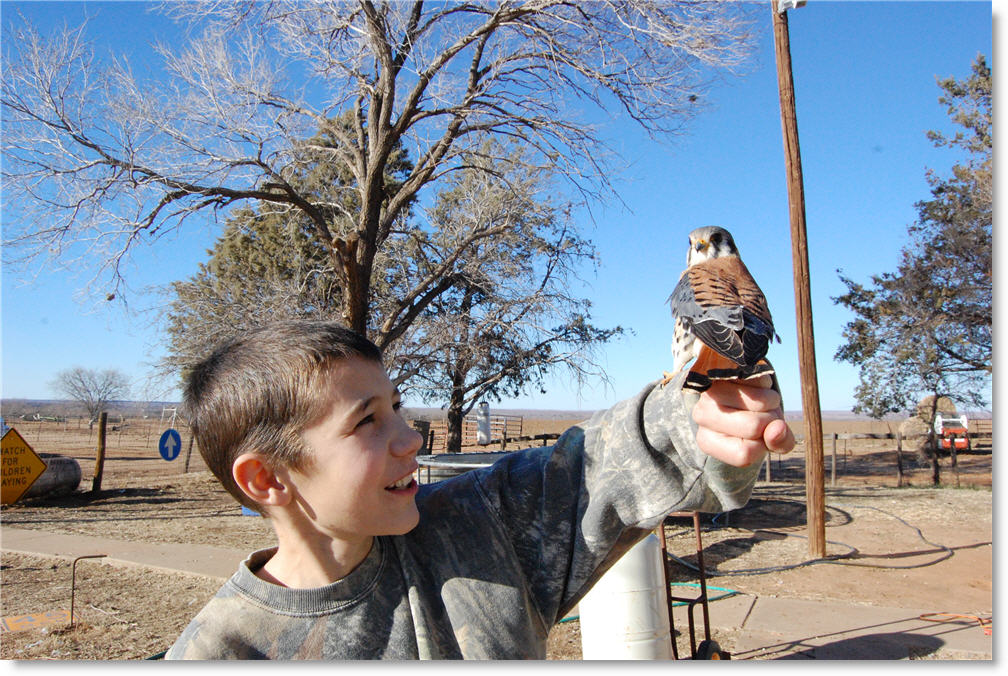 Tuesday, January 15 - Another Dog Spoiling Alert - Rusty's in the house again. This time he's getting some attention from Laredo while the kids watch a movie.
Monday, January 14 - Doggie in Trouble - Someone left the front gate open and Coconut and Gypsy ran away. When Carolina went to get them, Coconut kept running and wouldn't come to Carolina. Needless to say, when Carolina finally caught her, she was quite put out.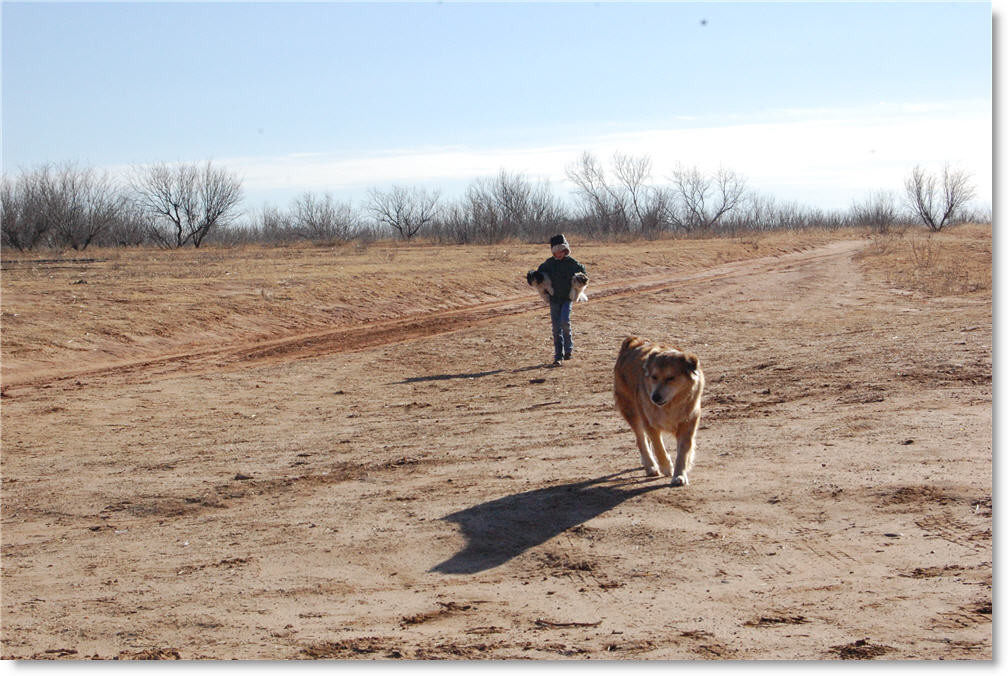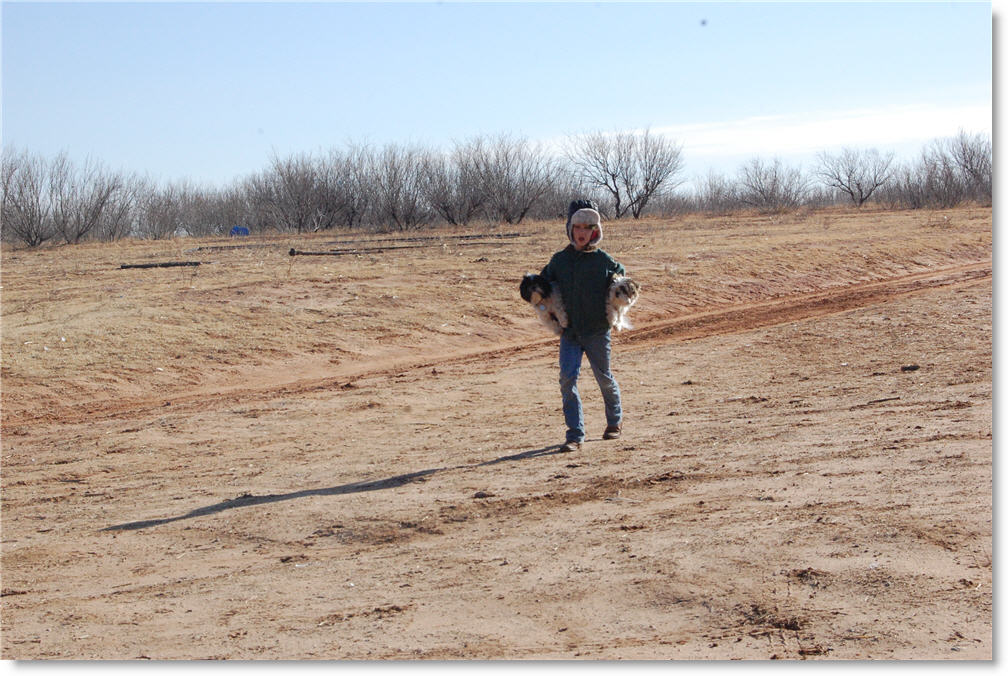 I don't know if there's any correlation between the two events, but later in the day, Coconut was not only having to carry these packs, but also to pull this "sled" of pillows around the house.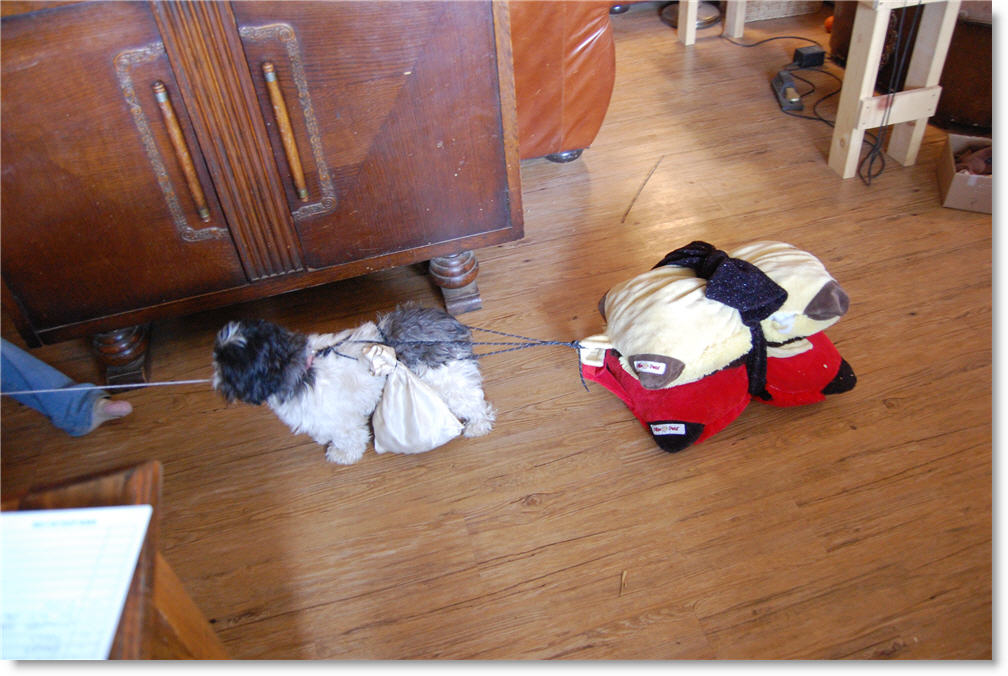 I guess she shouldn't have been a bad girl.
Tufted Tit Mouse - This little cutie hit our front window (which seems to happen regularly). We've been dying to get a better view of one of these spunky birds. They come to the feeders, but don't stay to eat the seeds. They just grab one and fly away. You never quite get a good look at them.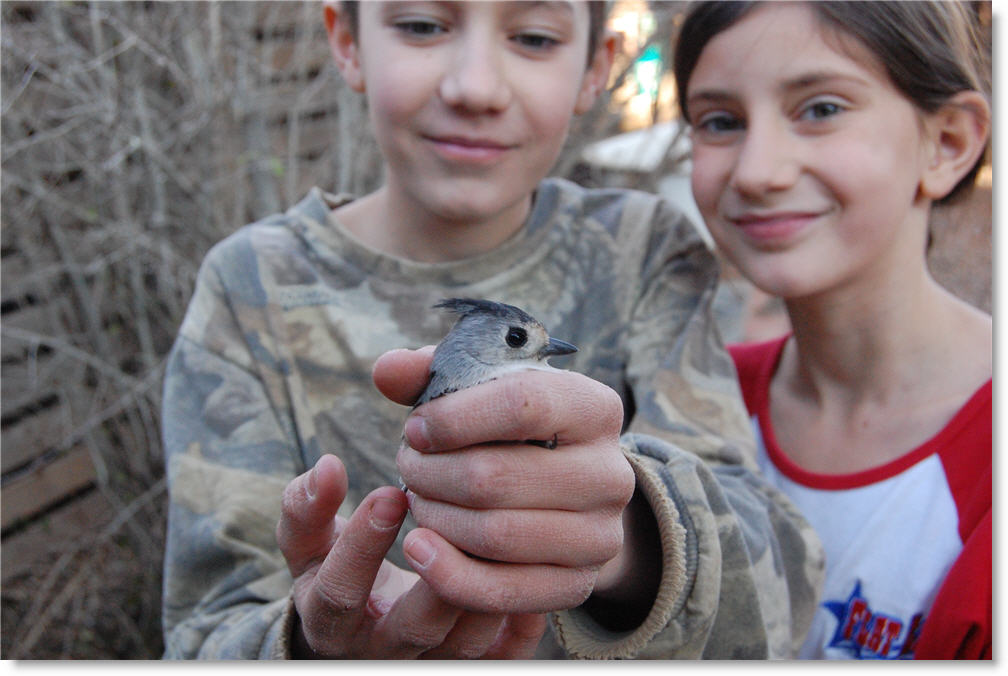 They do look a bit mousy with their big dark eyes.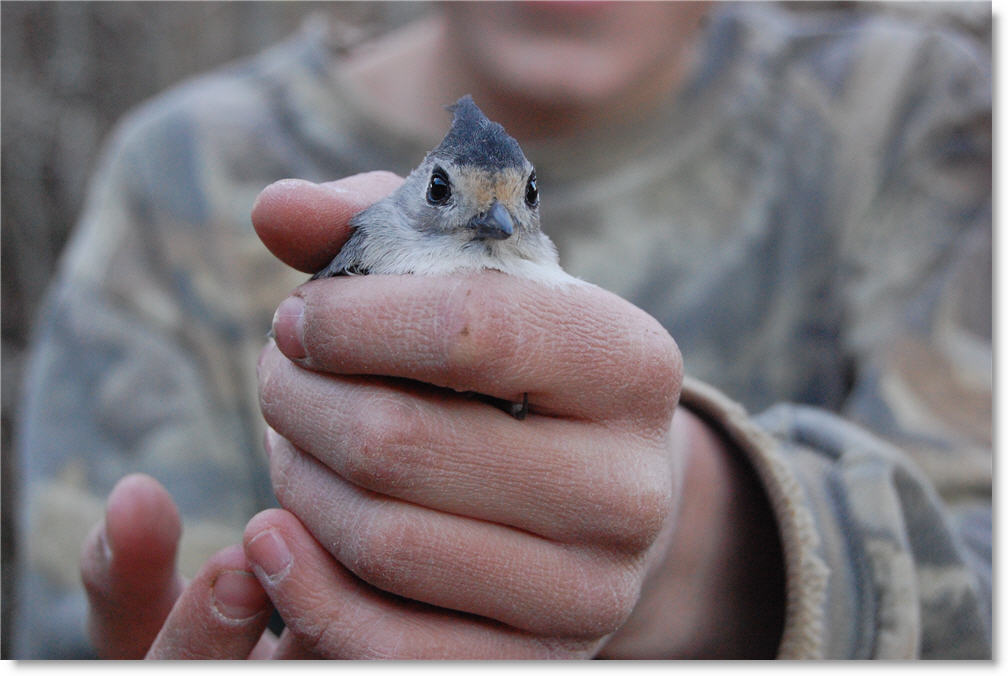 Sunday, January 13 - Visit with the Haneys - Visitors from Amarillo came this afternoon and visited for a while. We've been with the Haneys several times at area dances, but hadn't really had a chance to talk. We had a good visit and got to know each other better.
Cim found out that Kerry and Carmel played the guitar and piano so the three of them had a blast playing a few gospel favorites for the rest of us. Cim's playing the mandolin in the background, but you can't see it.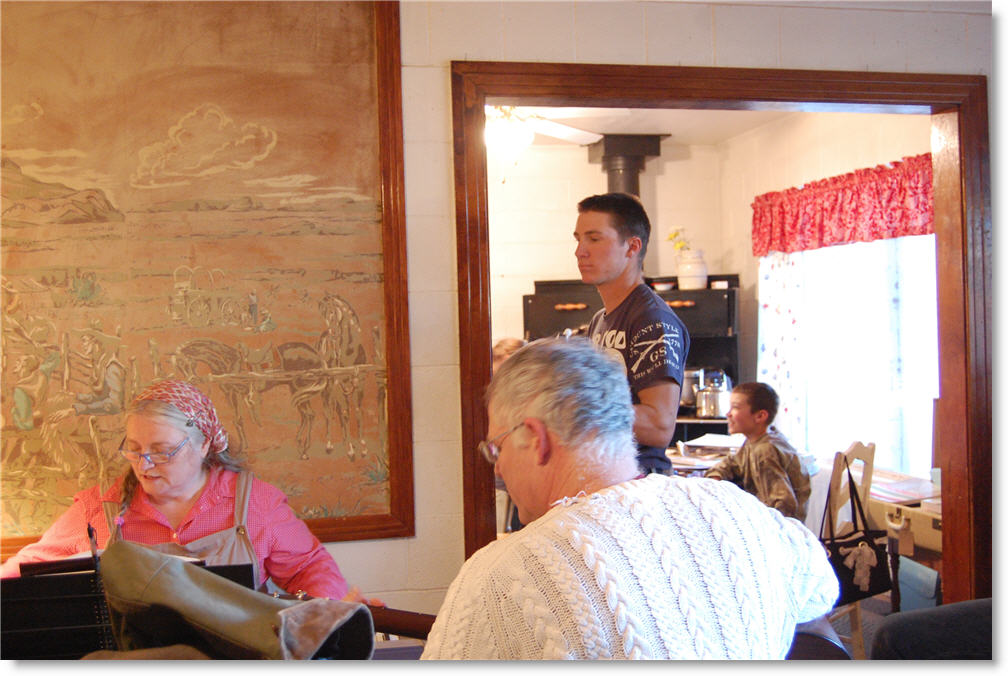 Saturday, January 12 - Trying out Her New Machine - Carolina got this 1960's version of the popular Singer Featherweight sewing machine. Atlanta already has a couple of these. One from the 30's and one from the 40's, but will be taking them with her to Tennessee. Carolina seems to have the "sewing gene" so we wanted to encourage that interest. Today was the first day we've had free for them to get it all out and see how it works.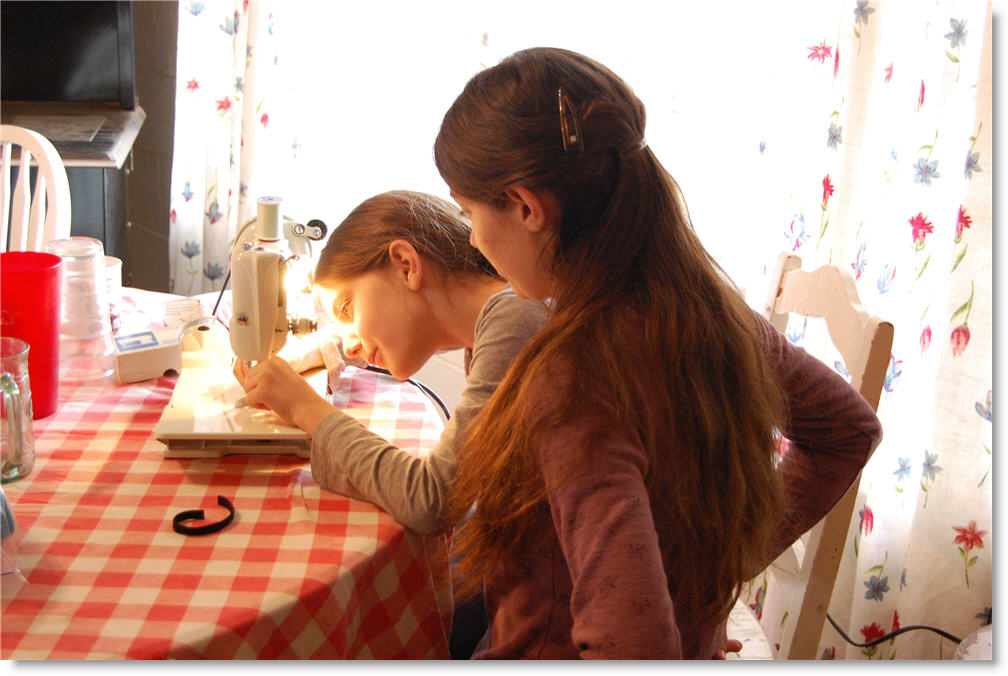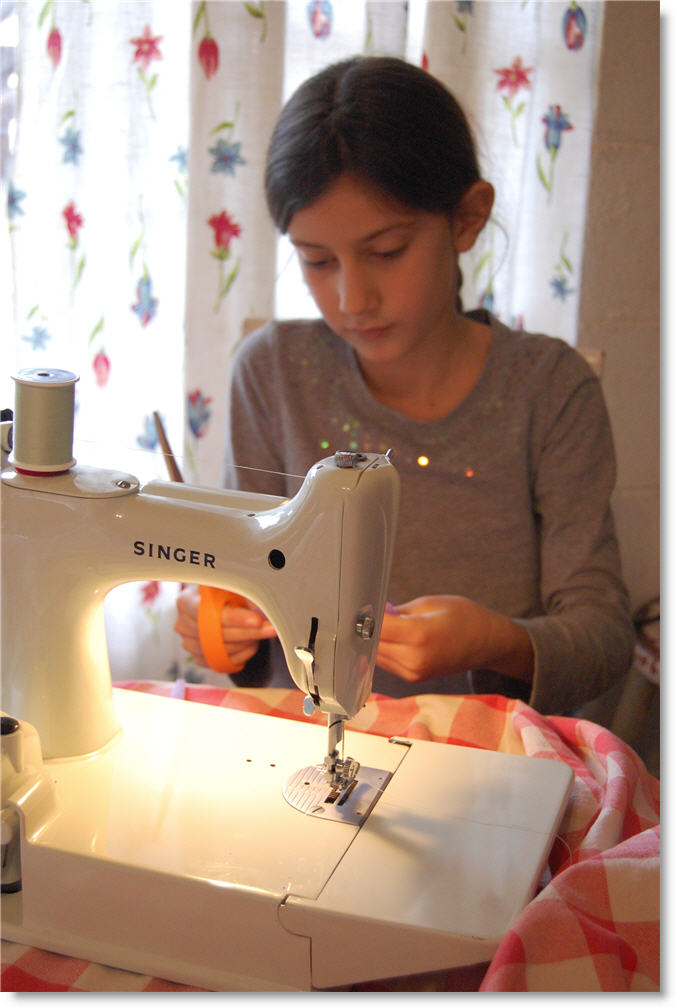 Carolina made us all a cute little coaster to put on our desks.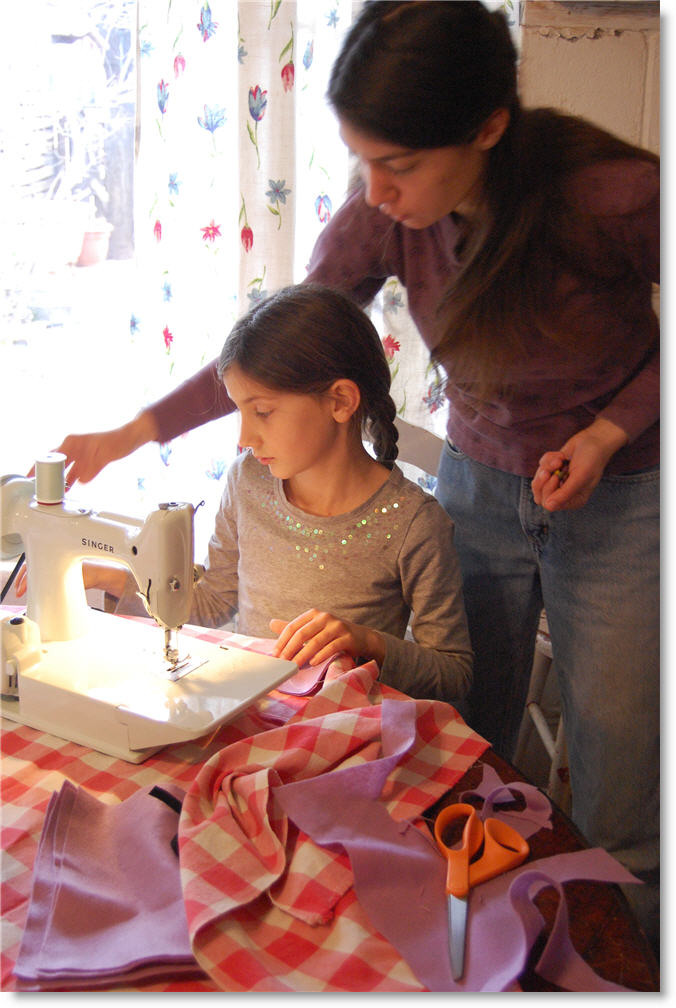 Pen Planning - Aspen spent an hour or so planning out how to spend her gift certificates she got for Christmas. She has two from Tractor Supply and one from Gebos. She wants to separate all her geese into breeding pairs so that their offspring will be pure.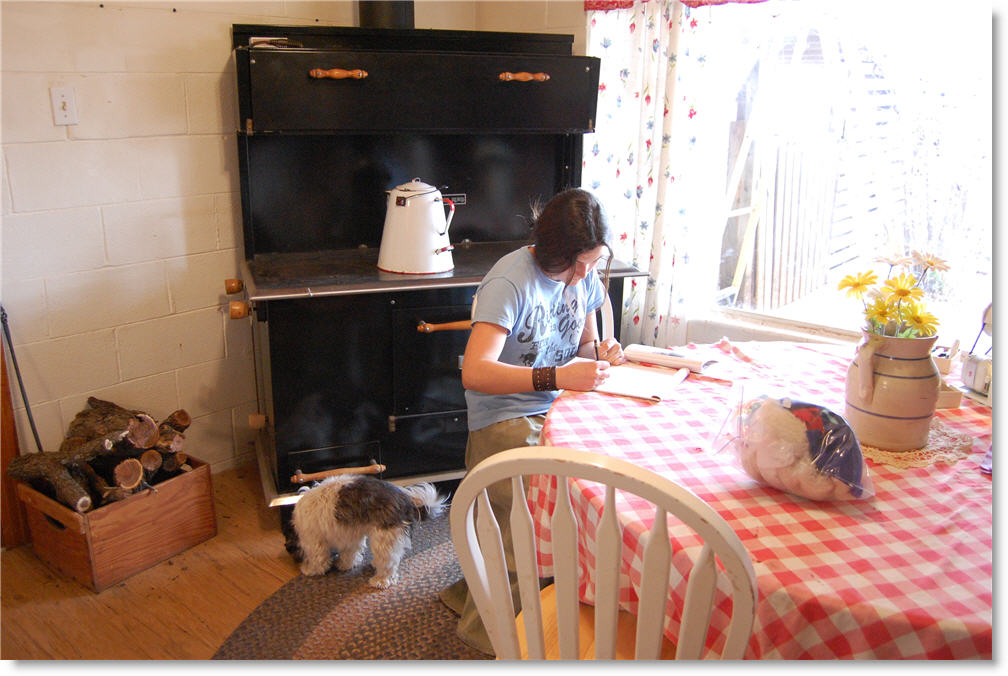 Canning on the Wood Stove - We had one last deer that Atlanta shot on the last day of the season that we've been soaking and salting. It was time to can it, so what better time to see if we could use the new woodstove to do the job.
The test was successful. It wasn't hard at all to keep the canner up to pressure for the 90 minutes that it takes to can meat. You just had to feed a couple of split logs in every 15 or 20 minutes. I really like that we can use the same fuel for several purposes. We can heat the house, heat water for tea, thaw meat, bake bread, cook super and can in the pressure cooker all with the same pieces of wood.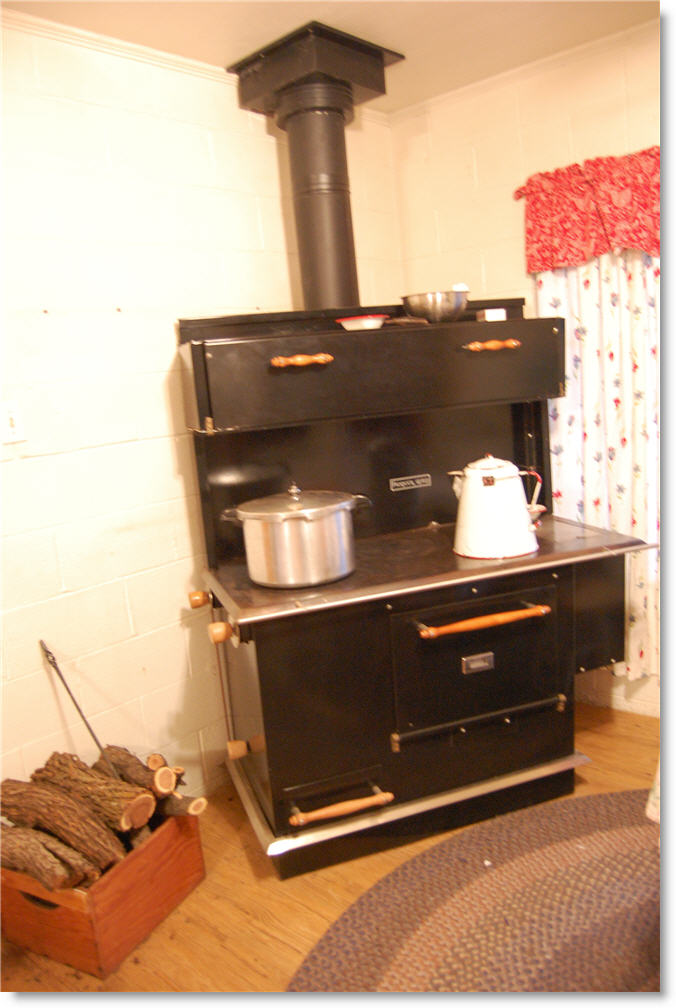 Evening Pictures - I zoomed out the front door when I glimpsed the sky out the front window. I had to capture the subtle colors.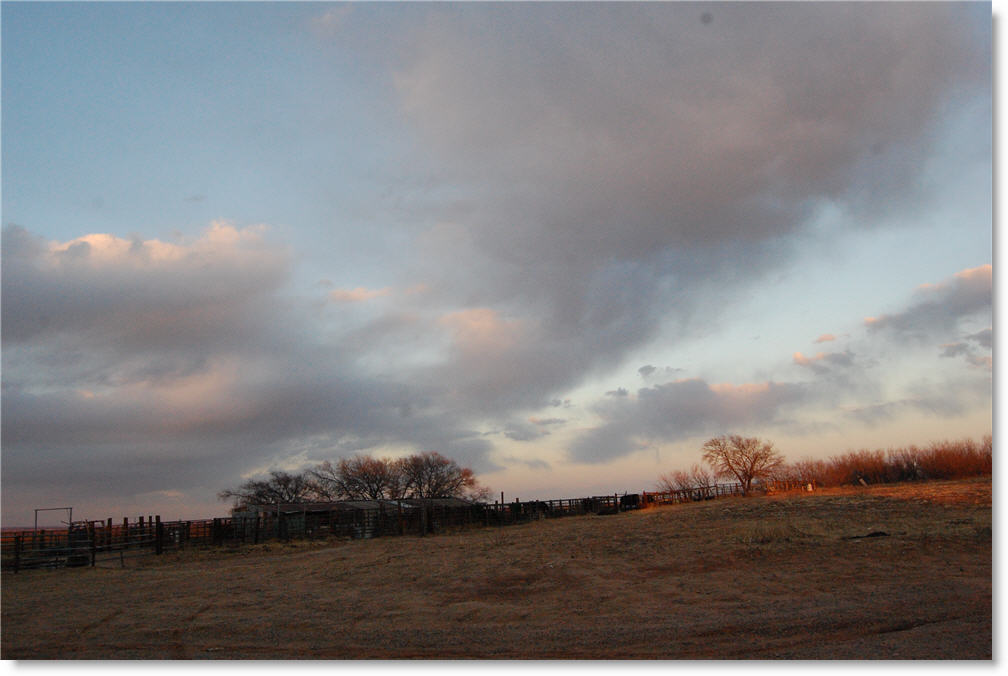 Then I decided to jog down the pasture road and see what the sunset was doing behind the house. This old cabin in the pasture fits right in with the colors of the evening sky.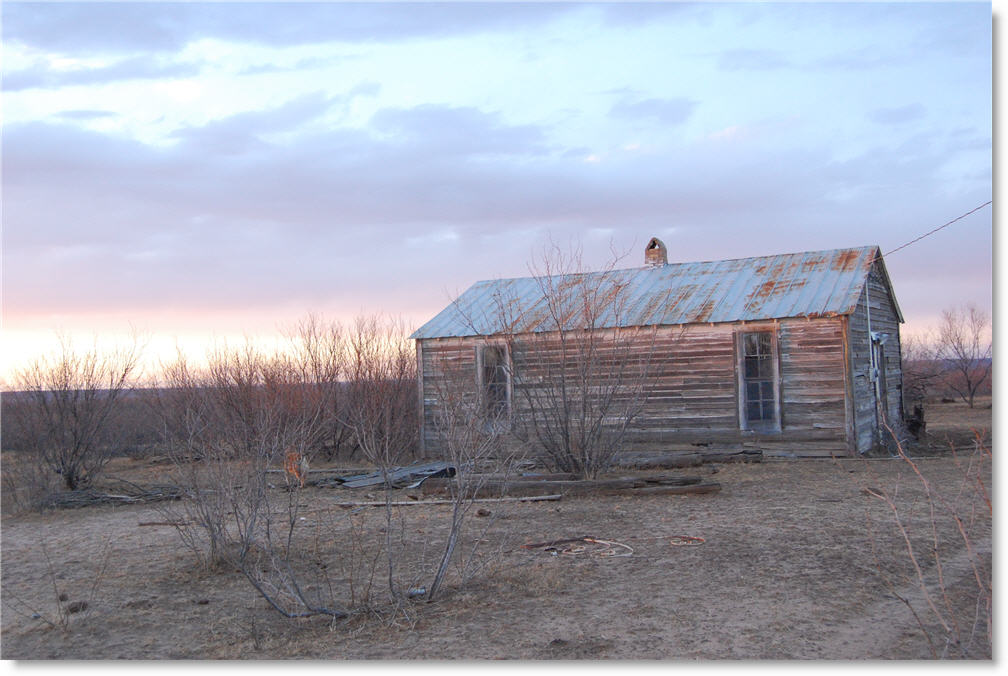 The sunset didn't let me down. It was worth the little jog I took.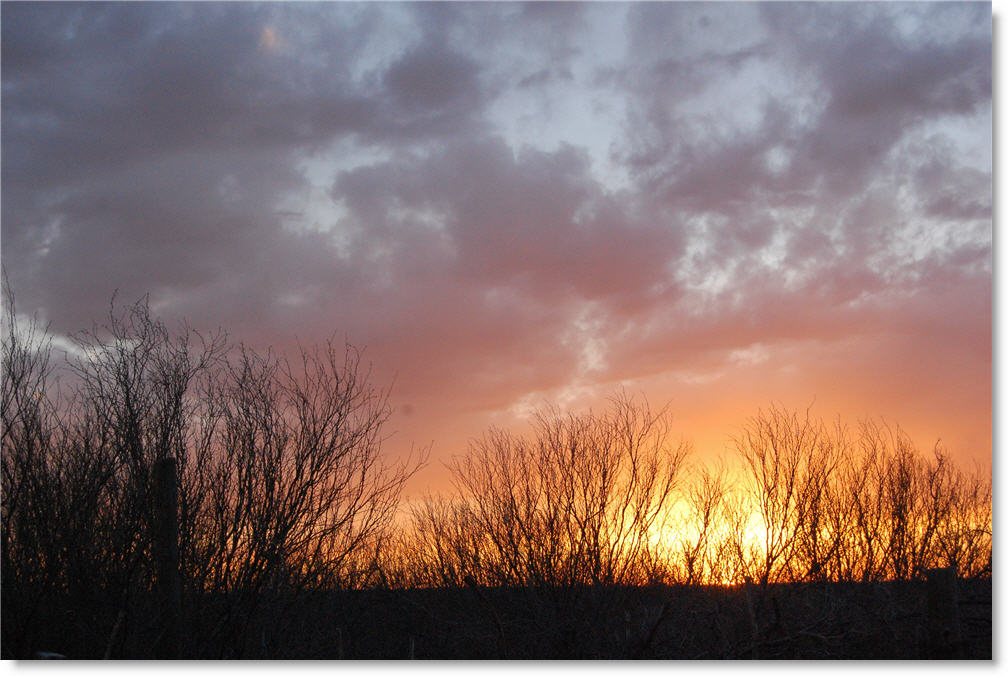 Friday, January 11 - Singin' R Ranch - We thought we had already found the place where Atlanta and Jordan's upcoming Texas BBQ would be held. We had a couple of facilities in Roaring Springs reserved and thought we could make them work for our needs. However, my neighbor told me about a new place she had heard about from her daughter. Apparently, this place has existed for a couple of years, but hadn't drawn the attention of the locals much. We had an appointment to look at it today.
Downtown Roaring Springs. We had to make a quick stop at Thacker Jewelry to pick up the rings Atlanta and Jordan had purchased and were getting engraved.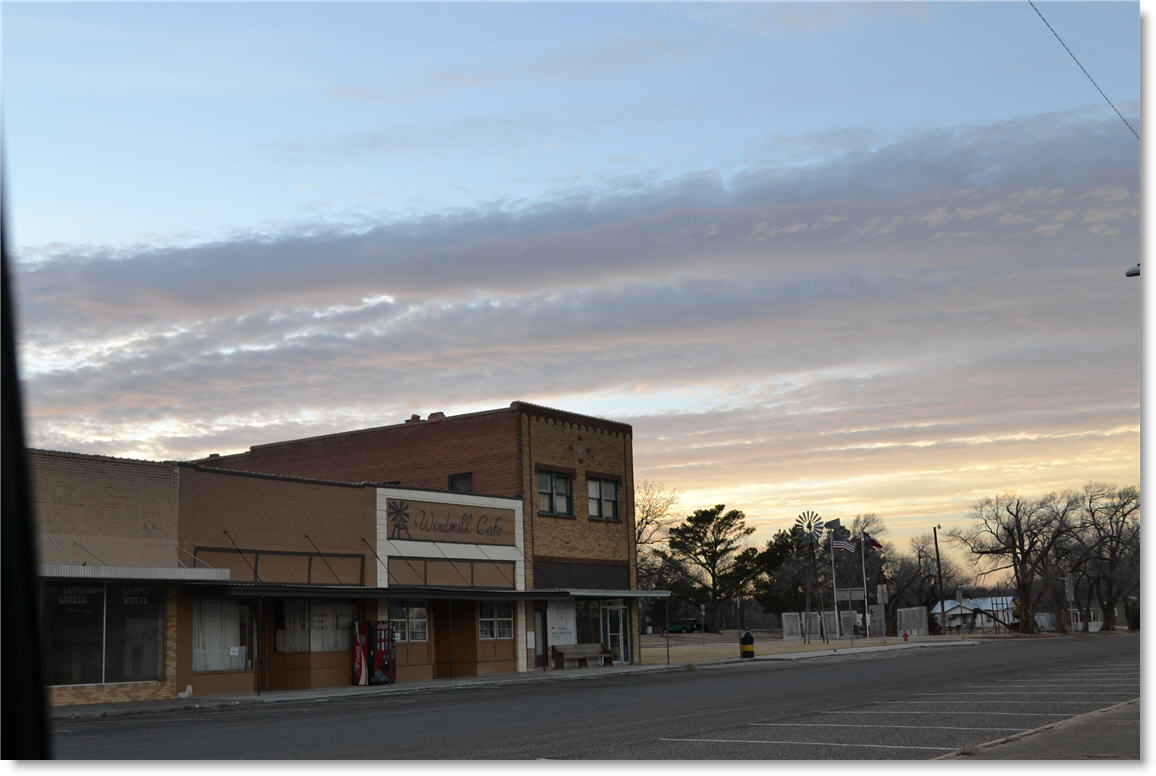 This is the Singin' R Ranch barn which is only a few miles east of town.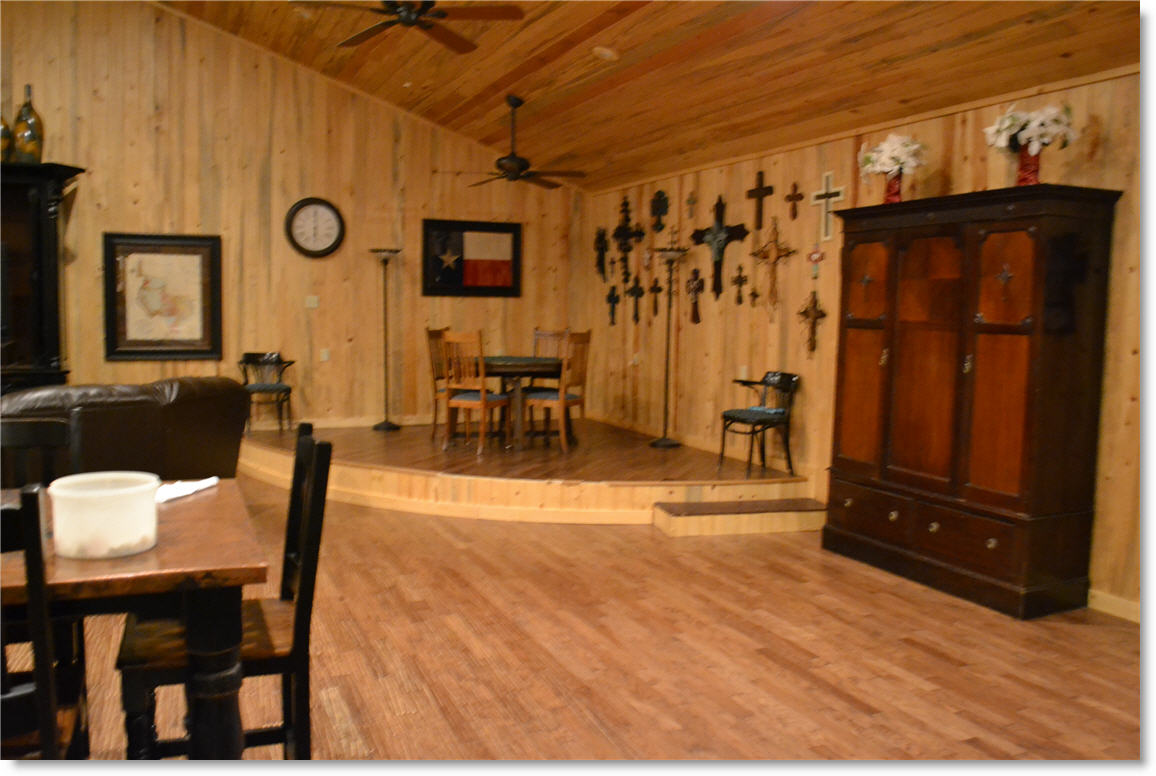 There's lots of room for dancing.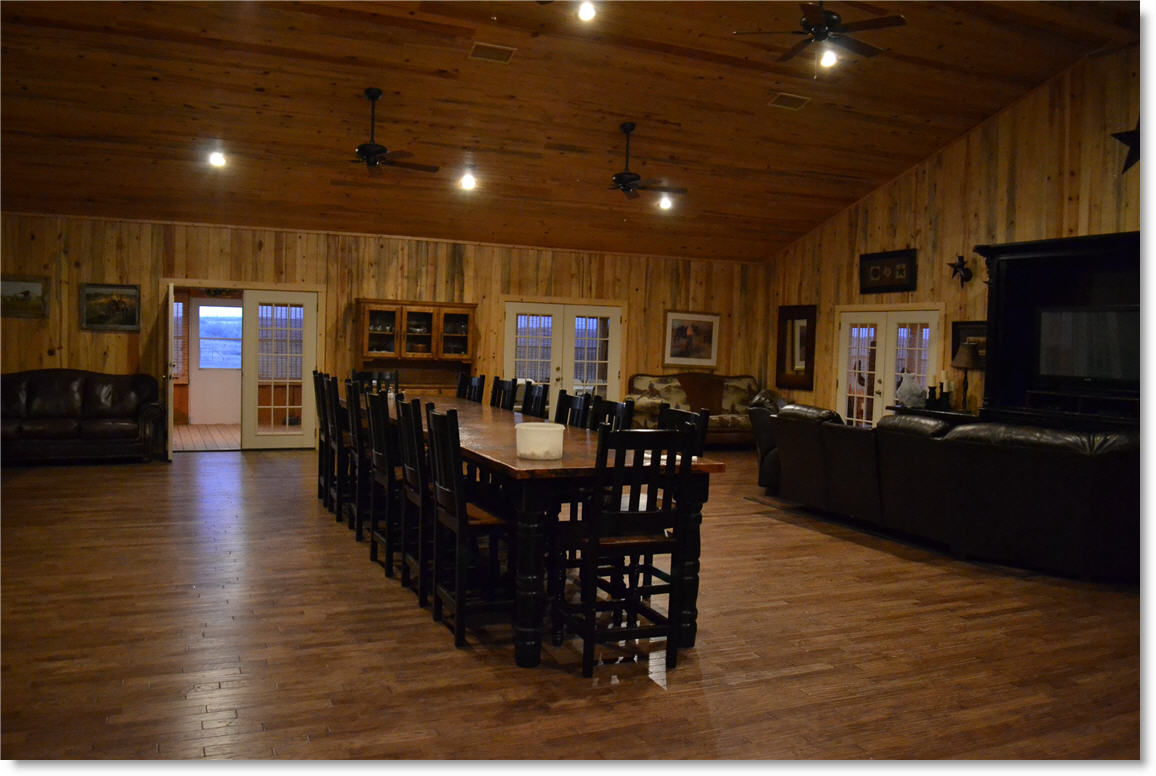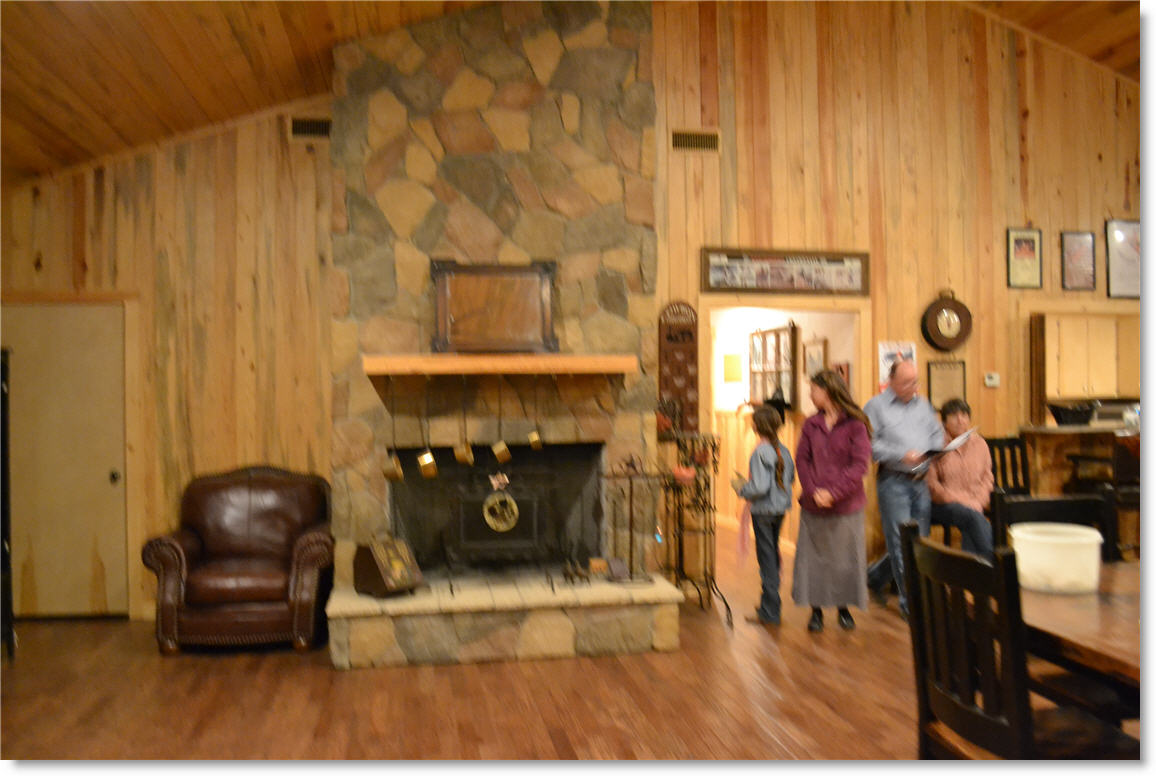 A nice kitchen, too.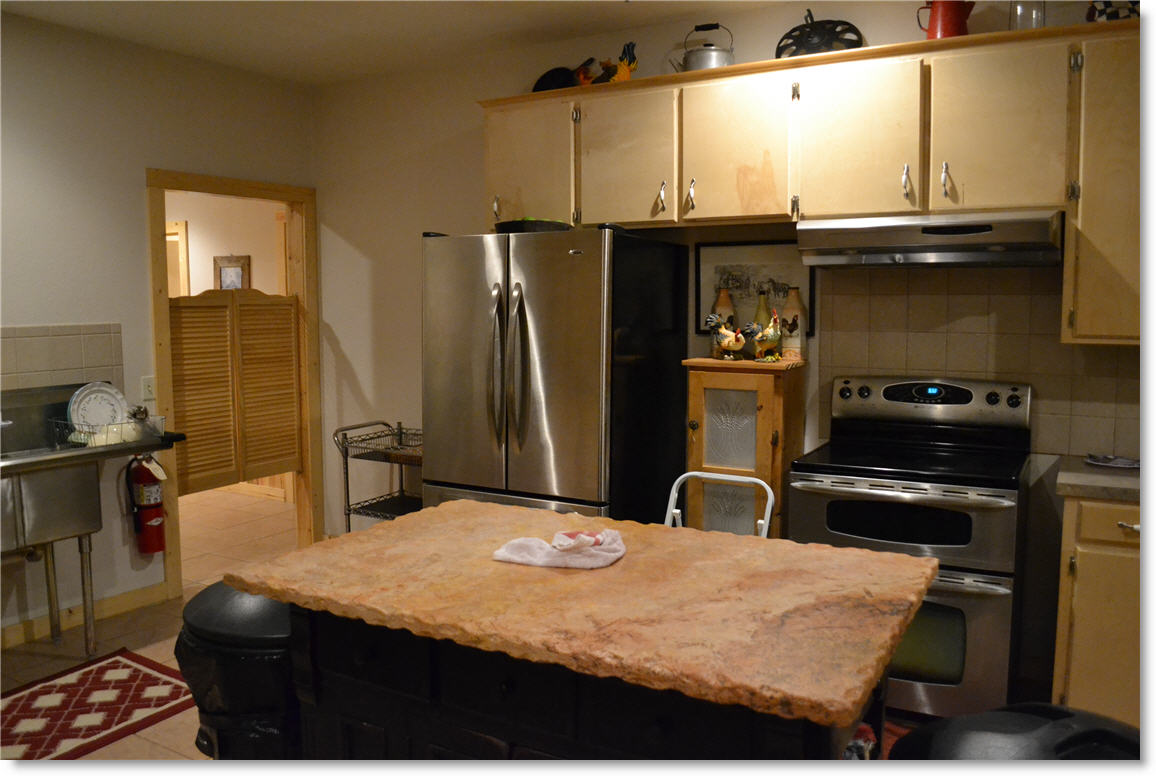 This wrap-around porch will be perfect for visiting at the BBQ.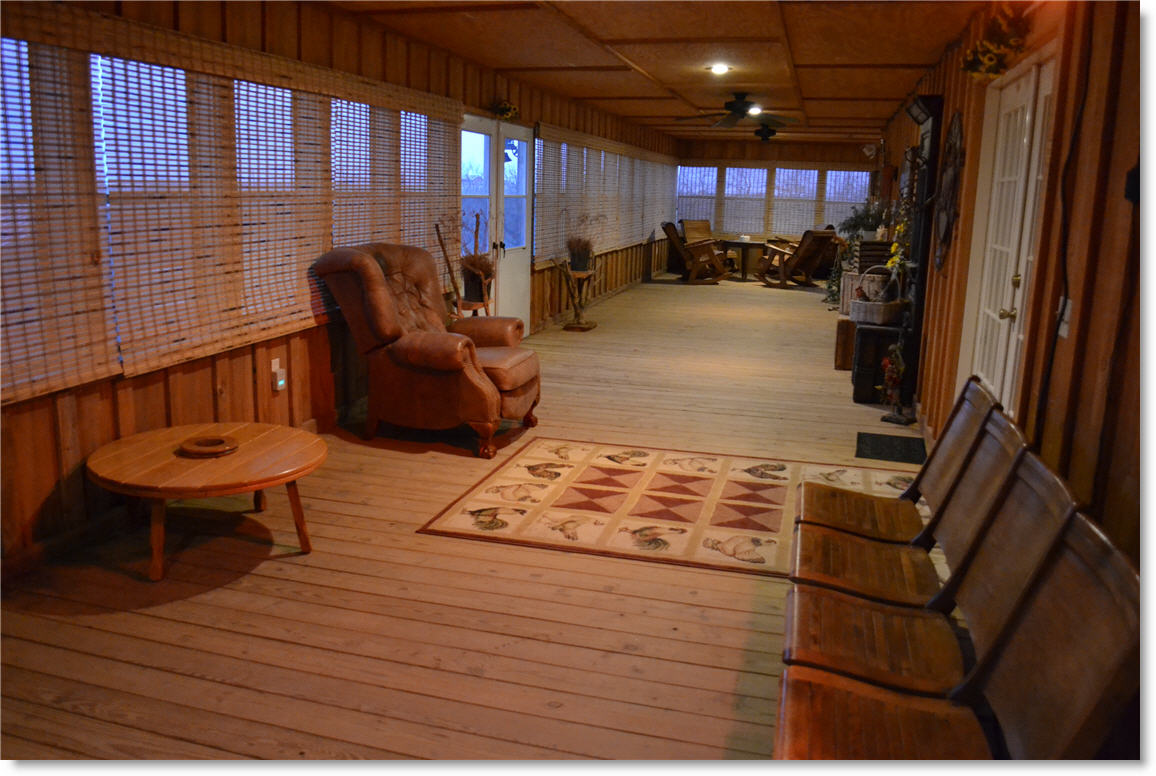 There are six RV hook-ups with water and electricity.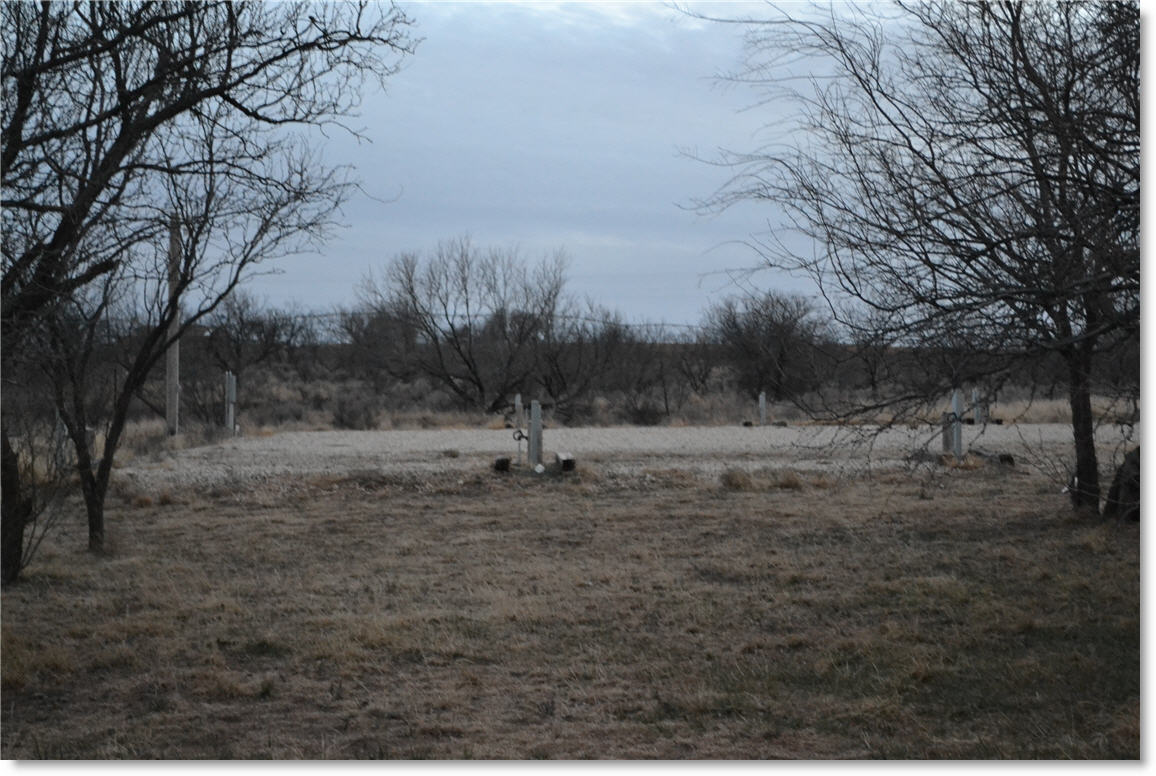 There are even three bunkhouses available for overnight rental. Invitations will be going out soon, so mark your calendars for Saturday, March 16!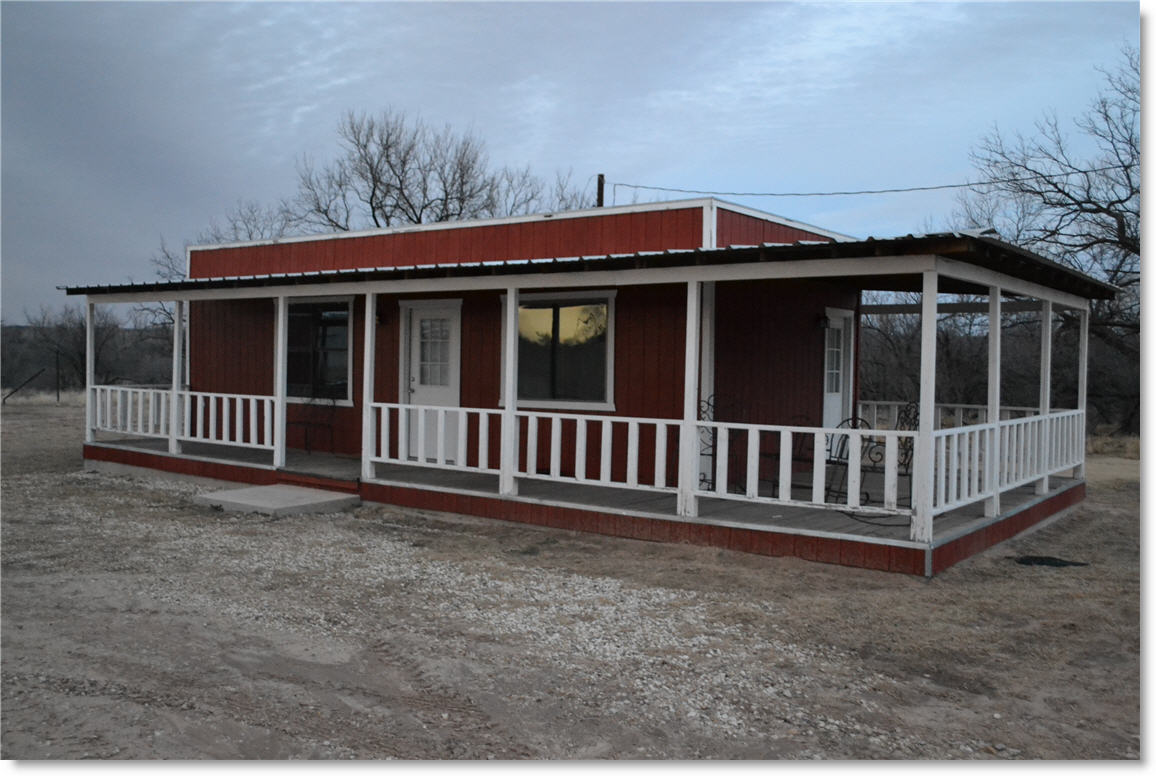 Thursday, January 10 - Colors of the Morning - Check out this impressive sunrise that I captured this morning.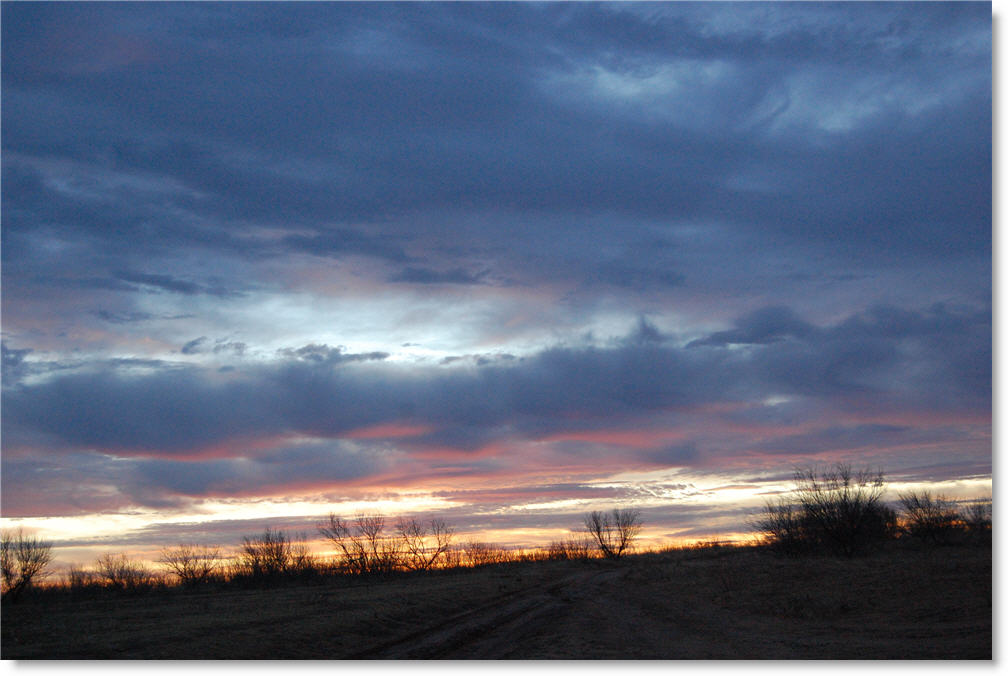 Woodstove Installed - Since everything was wet and cold outside, it was the perfect time to get the new woodstove installed. We had picked up the triple layer chimney pipe, ceiling conversion box, chimney cap and other important stuff when we were in Lubbock a few days ago. Unfortunately, when Nathan climbed into the attic, he discovered that there was a roof peak right where the pipe needed to go out. So, we had to reposition the stove. Rather than have it completely off center against the wall, we decided to put it catty-cornered.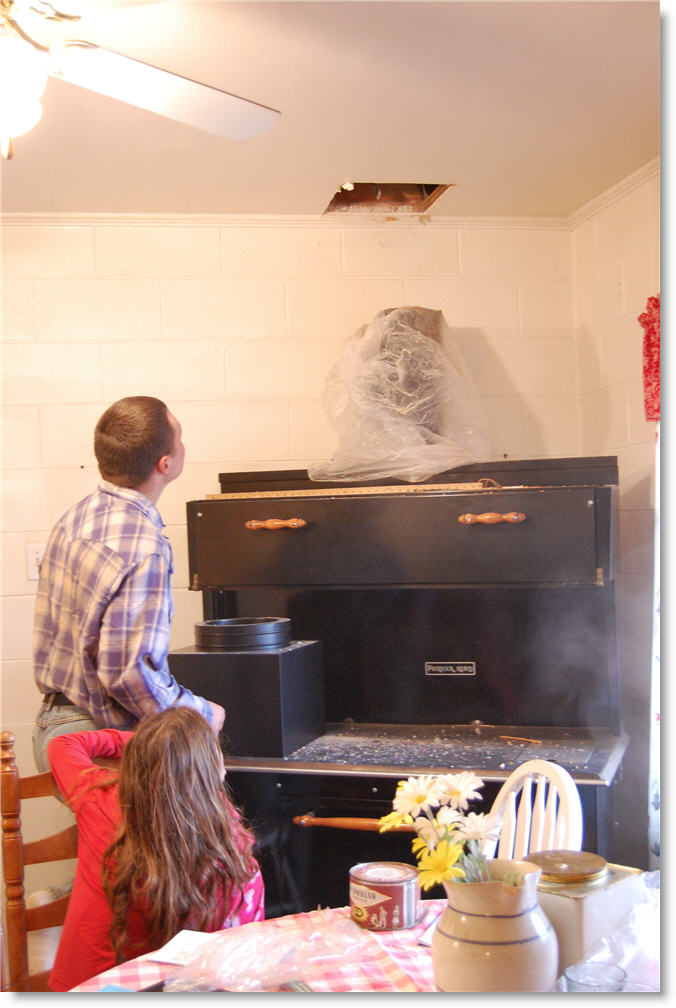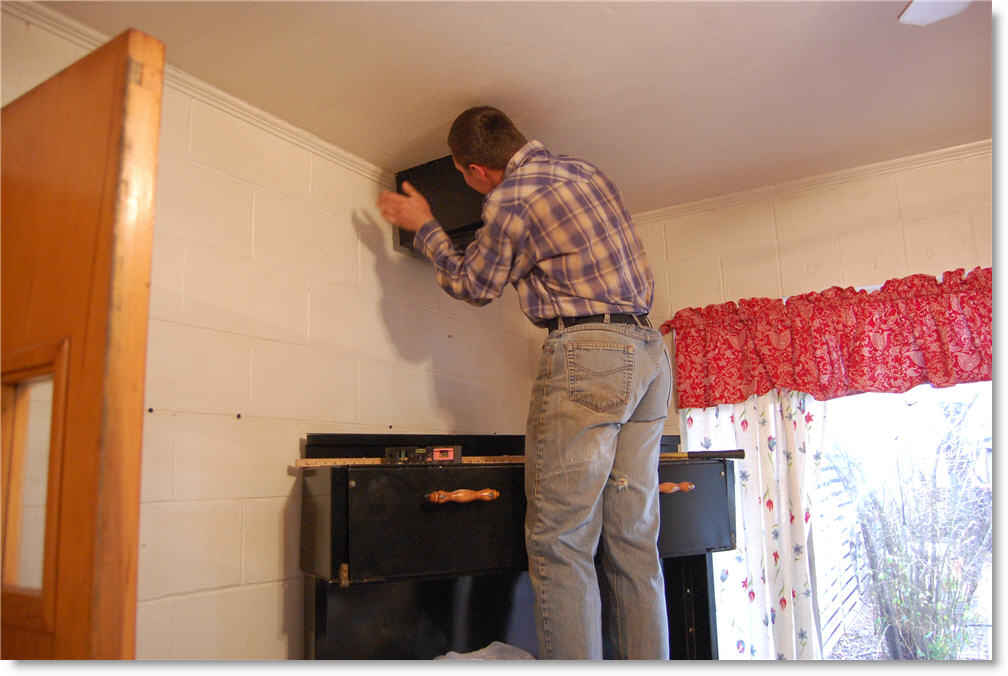 Building the first fire.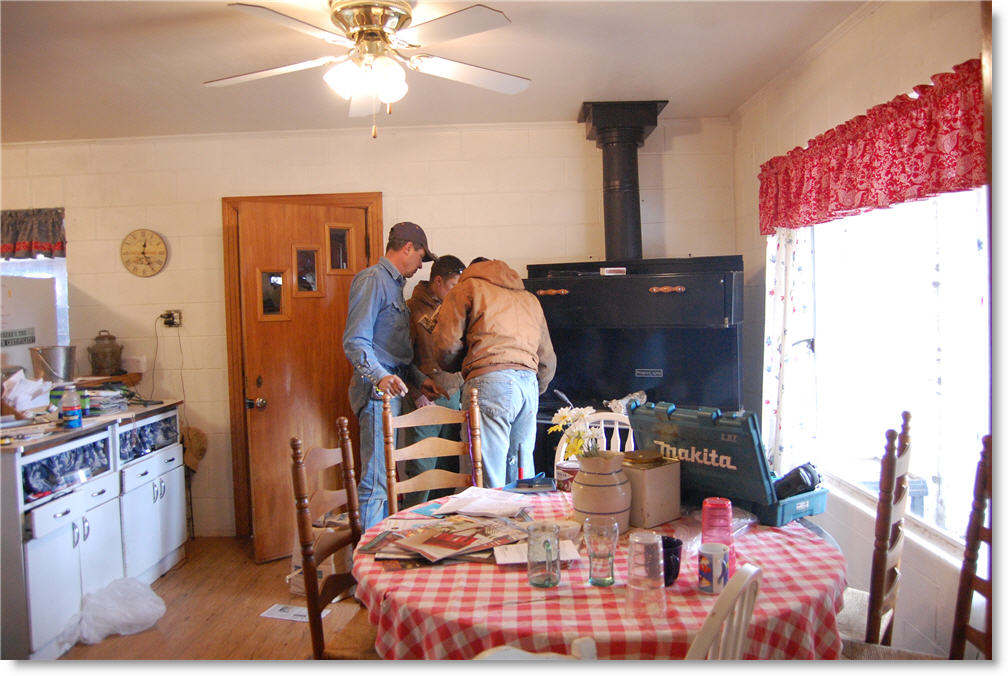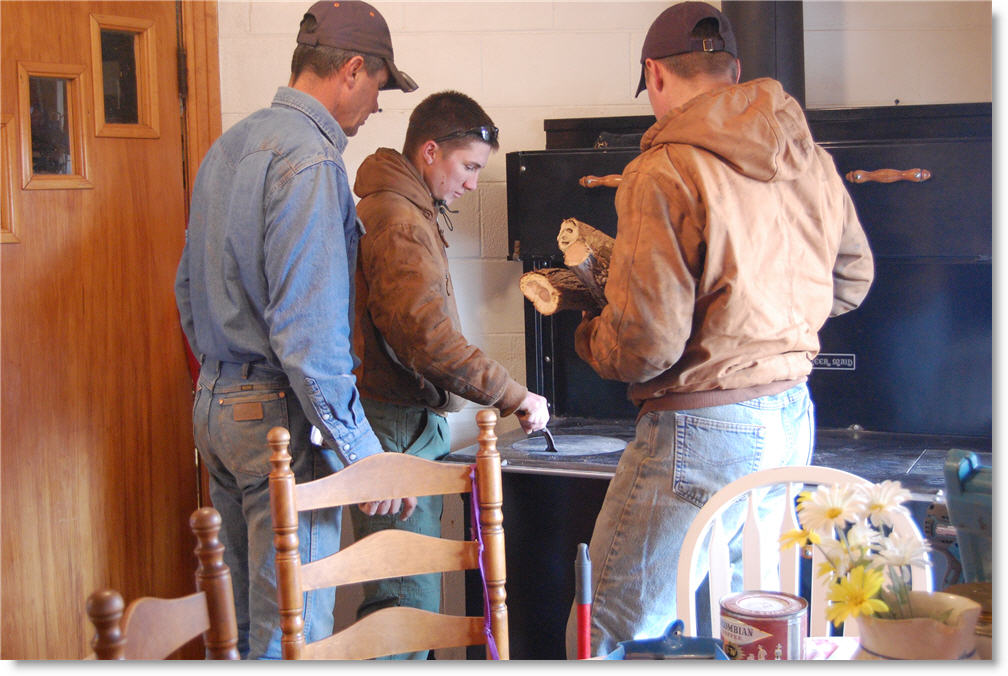 Doesn't it look nice? It's so warm and cozy in the kitchen now.
We had to remove the two leaves from our table to make it less crowded. I guess we'll have to sit at the big table out in the school room or eat in shifts from now on.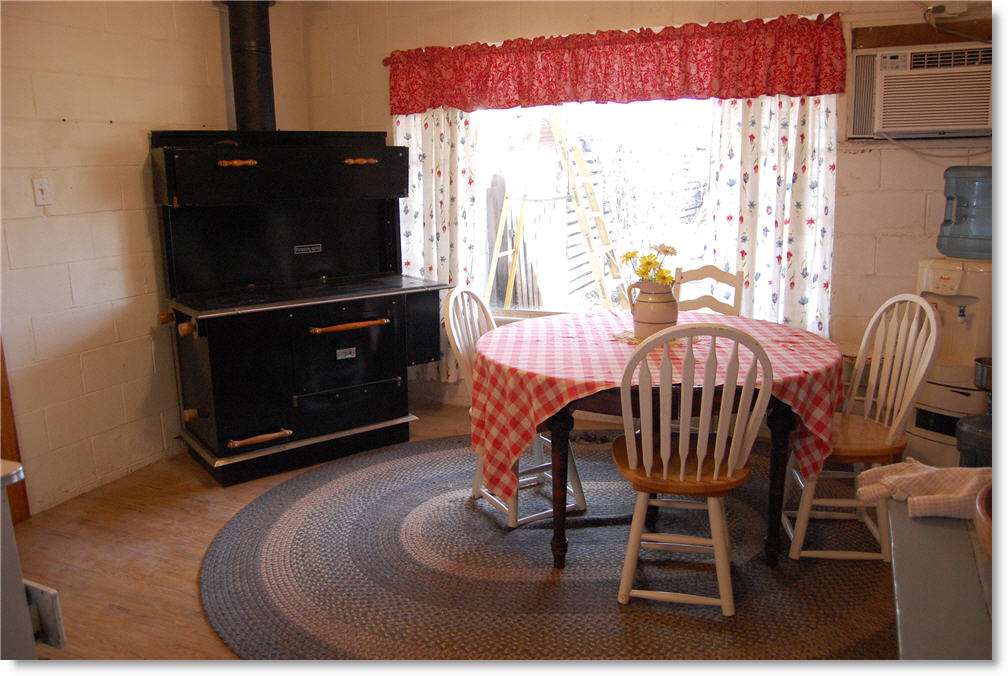 Later that night, Stockton and I went through a seed catalog ordering some heirloom seeds for him to get started in his green house.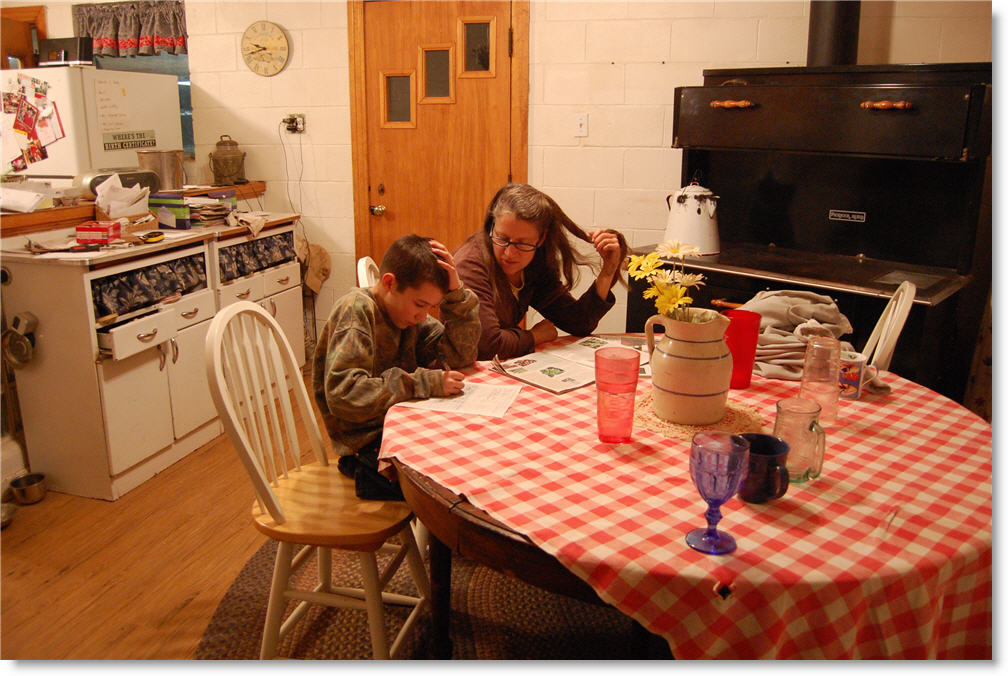 Tuesday, January 8 - New Geese from Florida - Aspen's been on pins and needles waiting for this package to arrive. Finally, this morning we got a call from the post office that they were in Childress. She's been paying them off for a few months and then waiting for the weather to be just right for shipping.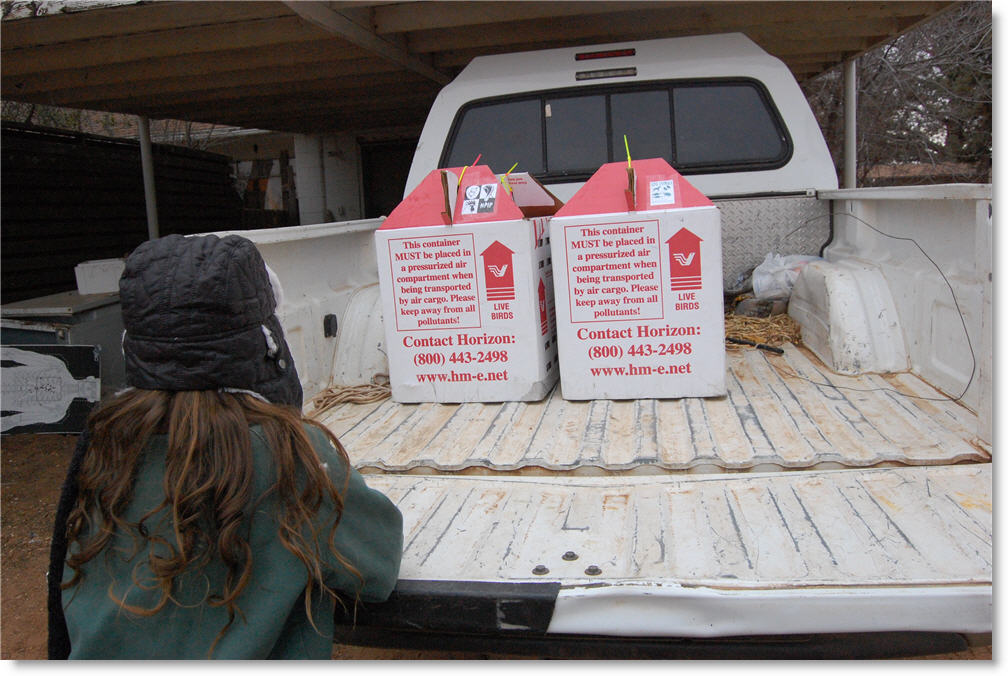 Rusty was a little suspicious of the new arrivals.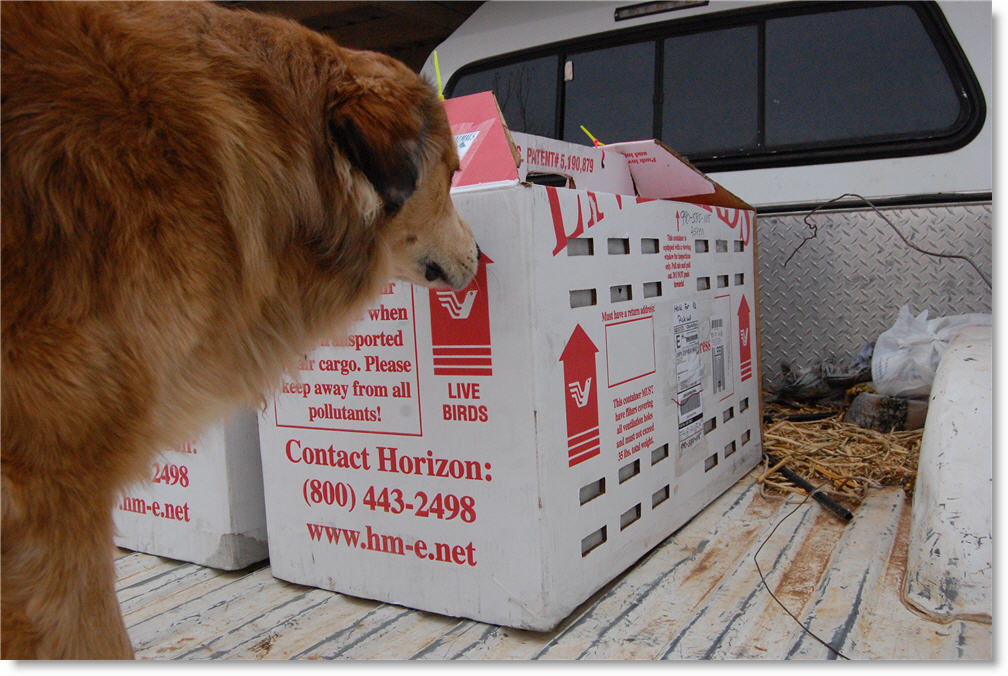 Aspen had their temporary pen ready. She wanted to separate them from the rest of the flock just at first.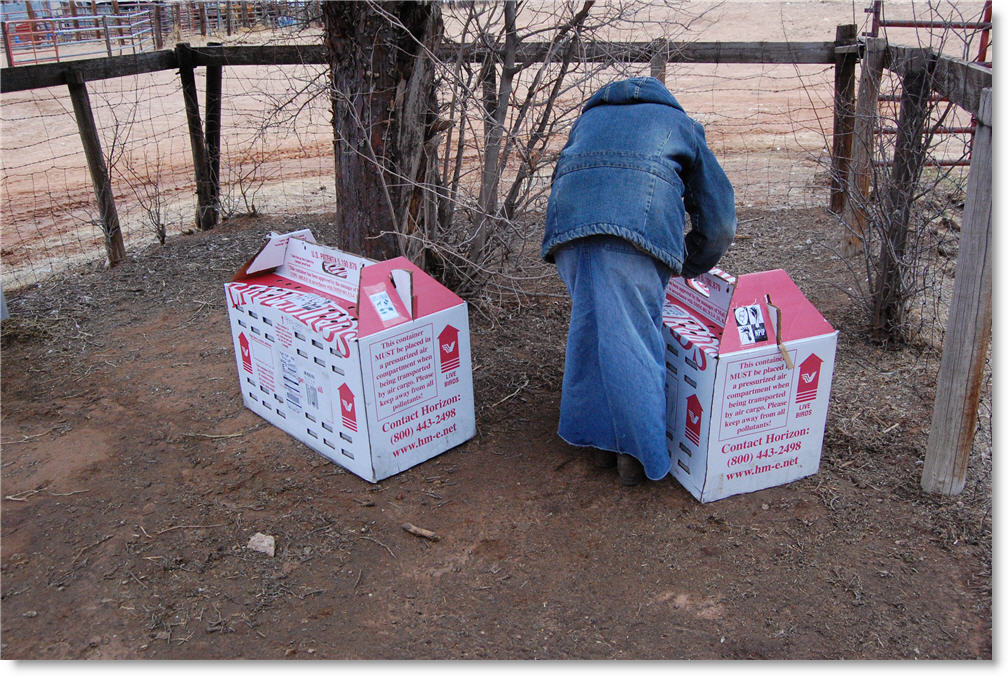 They were ready to get out of their boxes.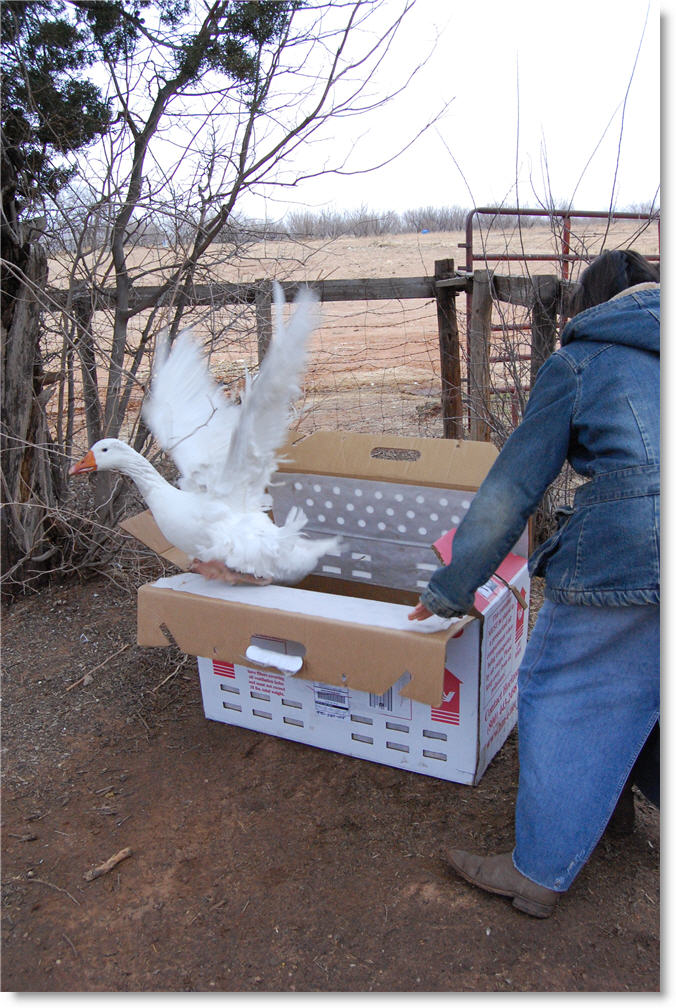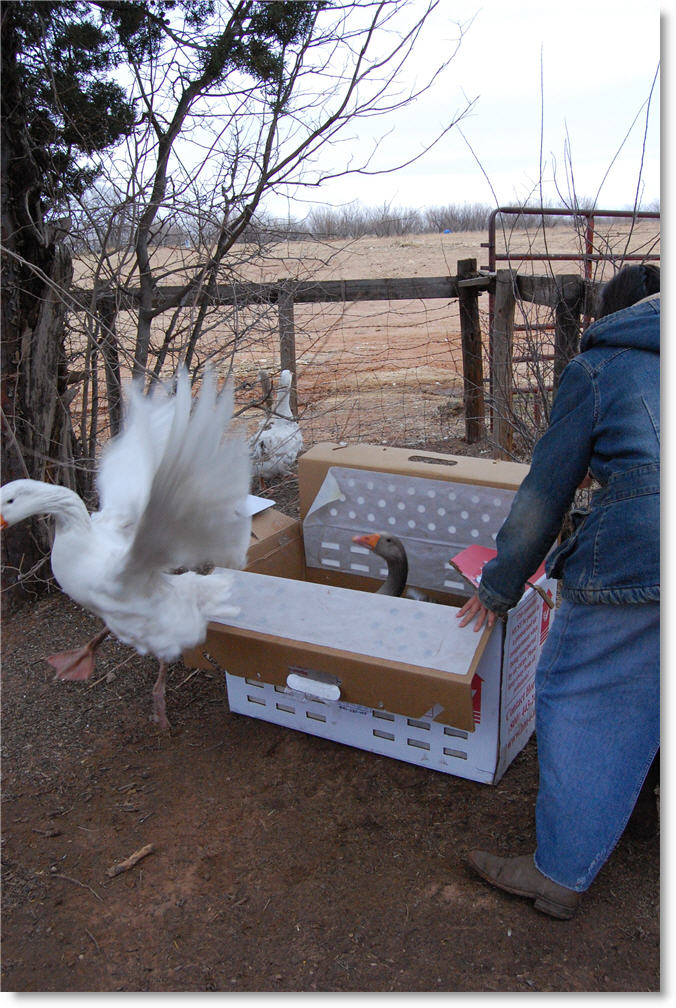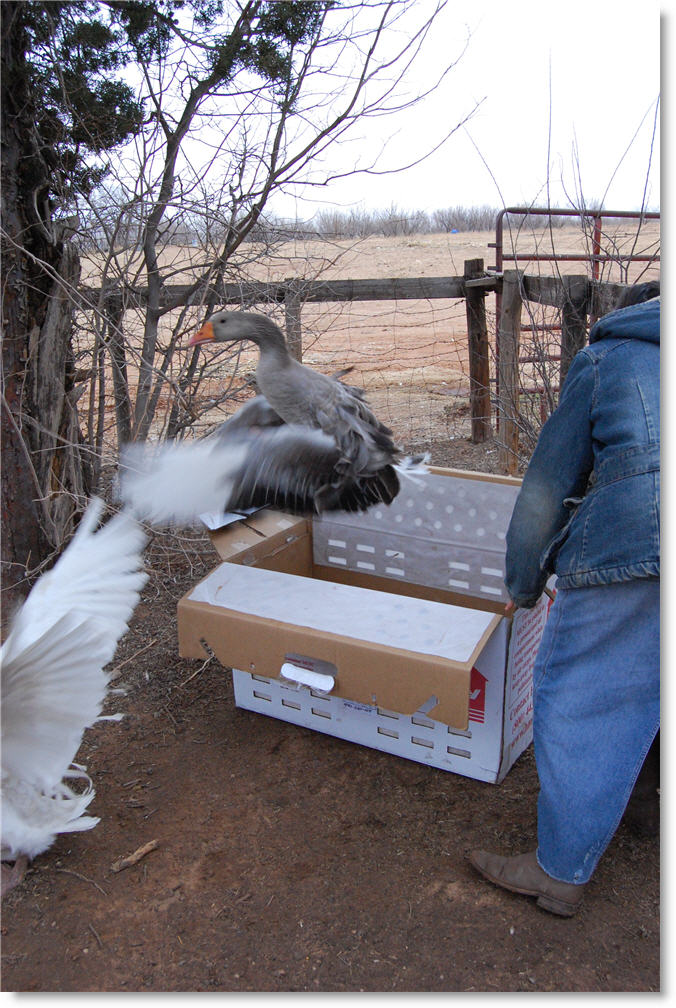 Can't you just hear them say: "Guys, we're not in Florida anymore. Either that or I've gone color blind. I can't see any green."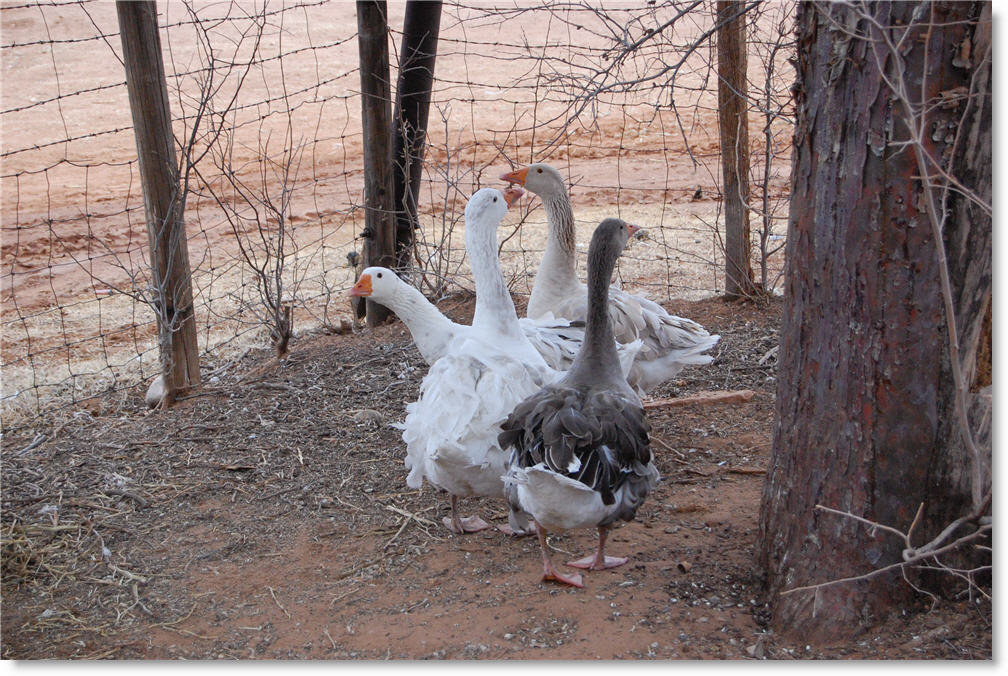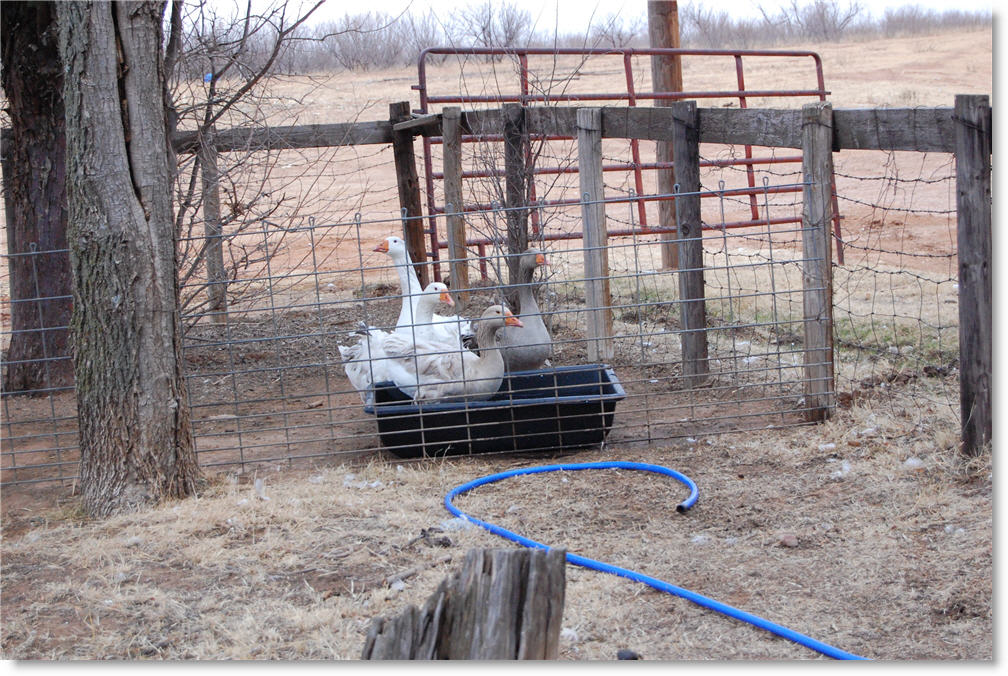 These geese are from a famous line and she will be pairing them up with some others that she already owns. She's already starting a waiting list for people interested in purchasing Sebastopol goslings.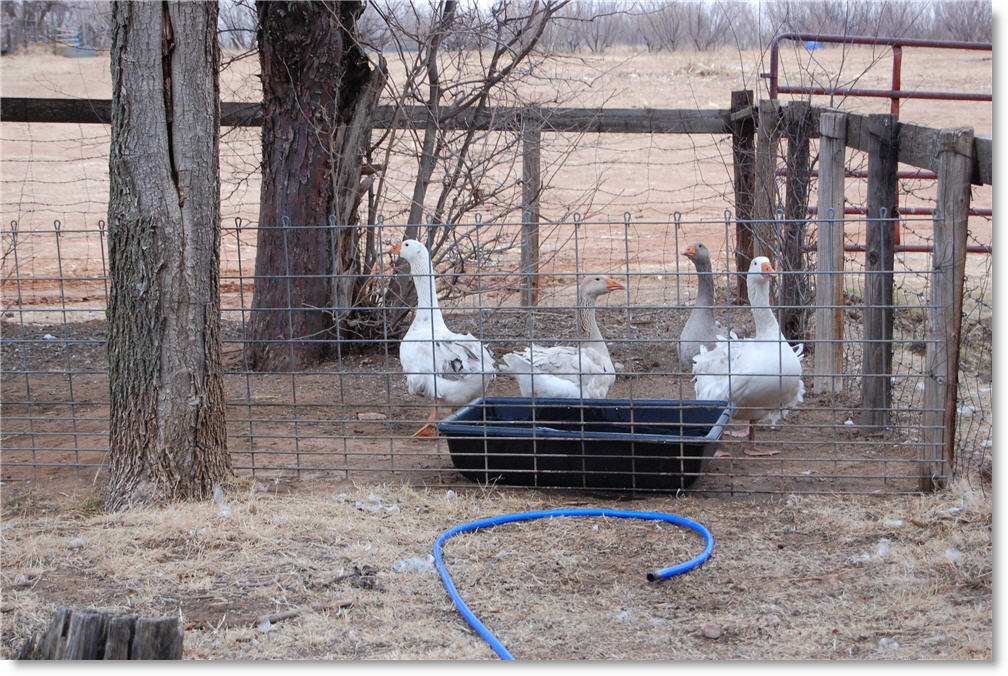 Sunday, January 6 - Beautiful Lord's Day - You can't start a day any better than this.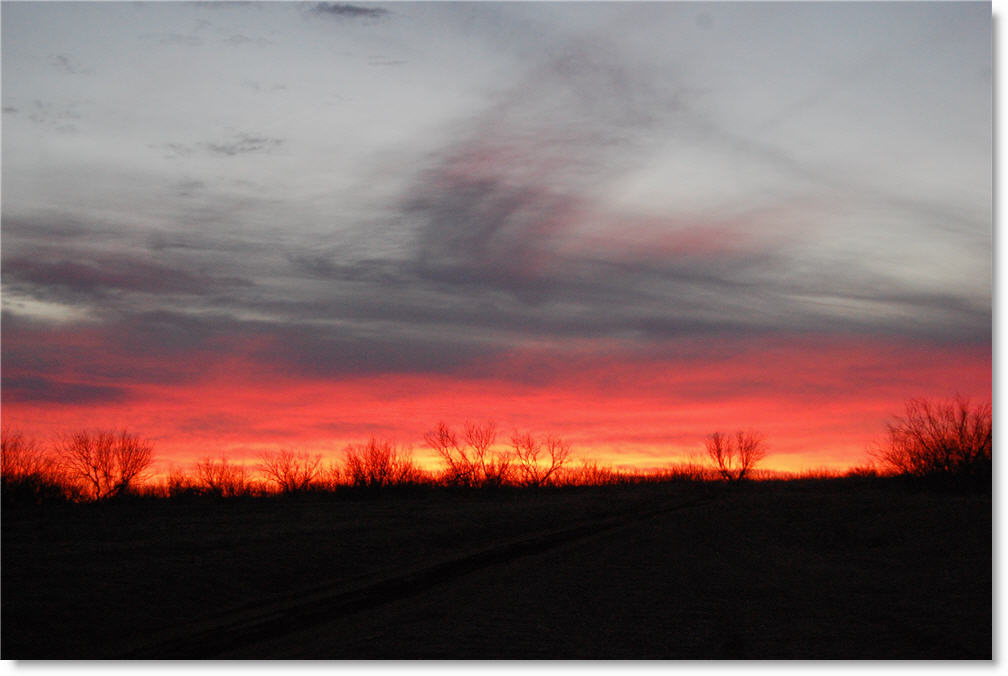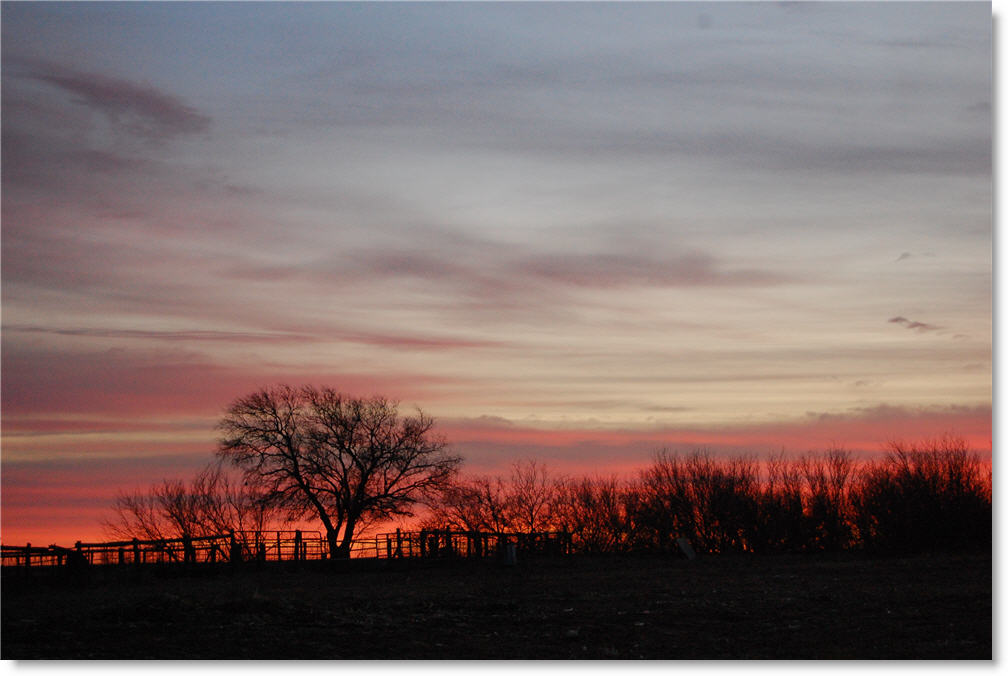 New (used) Wood Stove - Several years ago we responded to an add placed in our local free classified newspaper. It was for a Pioneer Maid wood cook stove. I had seen them advertised in the Lehman's catalog and had hoped to get one some day. It turns out that we knew the family that was selling the stove and since they were asking a fair price, we bought it. However, we hadn't ever installed it in the house since it would require making a hole in the roof. It's just been sitting under the carport all these years. Since we've had such a cold spell and I've also been having issues with my 1940's gas stove for a while, Nathan decided to move it in the house today.
First we had to move the shelf and buffet that I had on this wall and the table, too.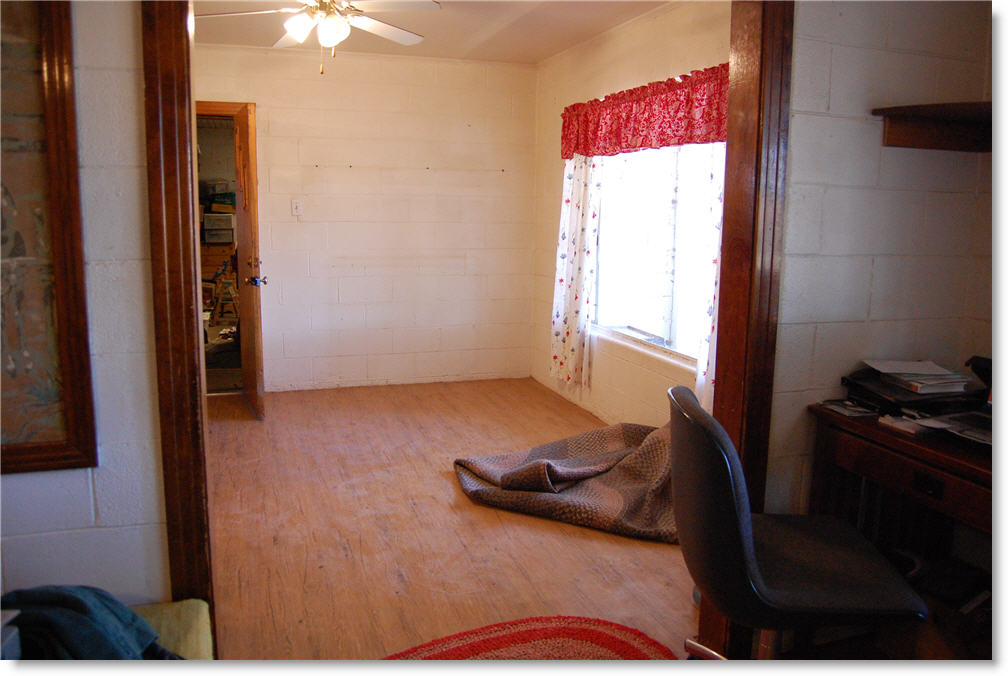 They had to bring it in the front way.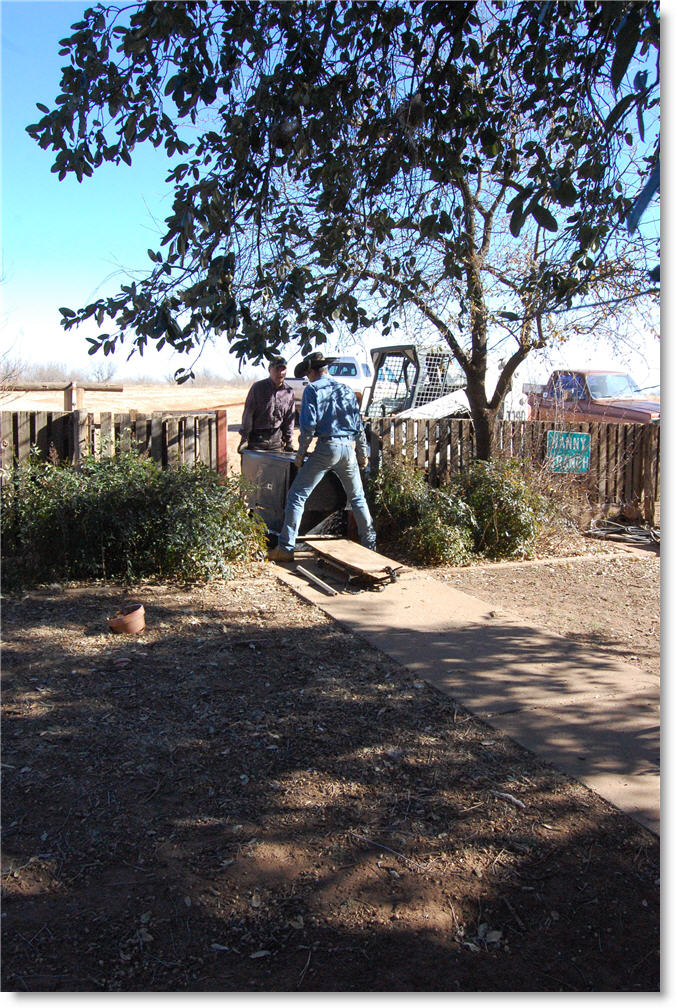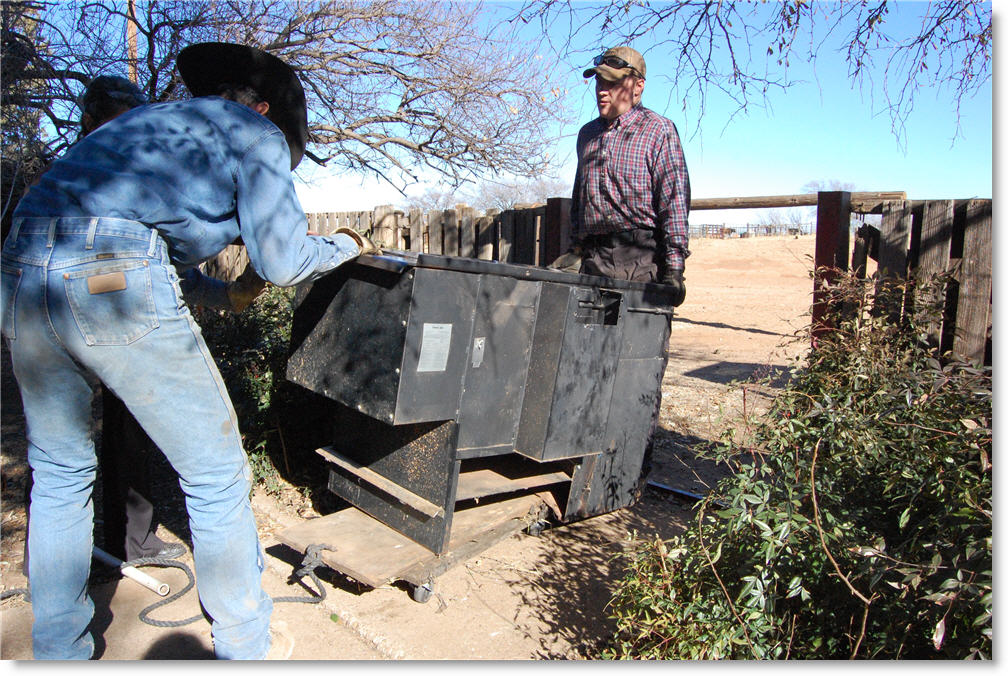 In case you can't tell, it's very heavy.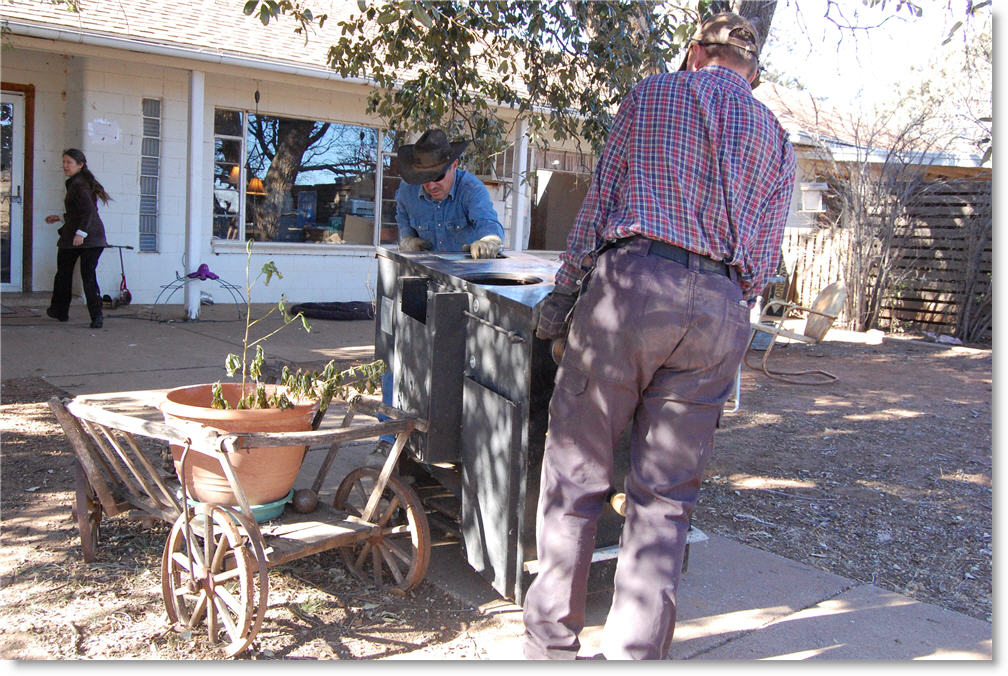 Rusty looks a little worried that he might get a foot mashed.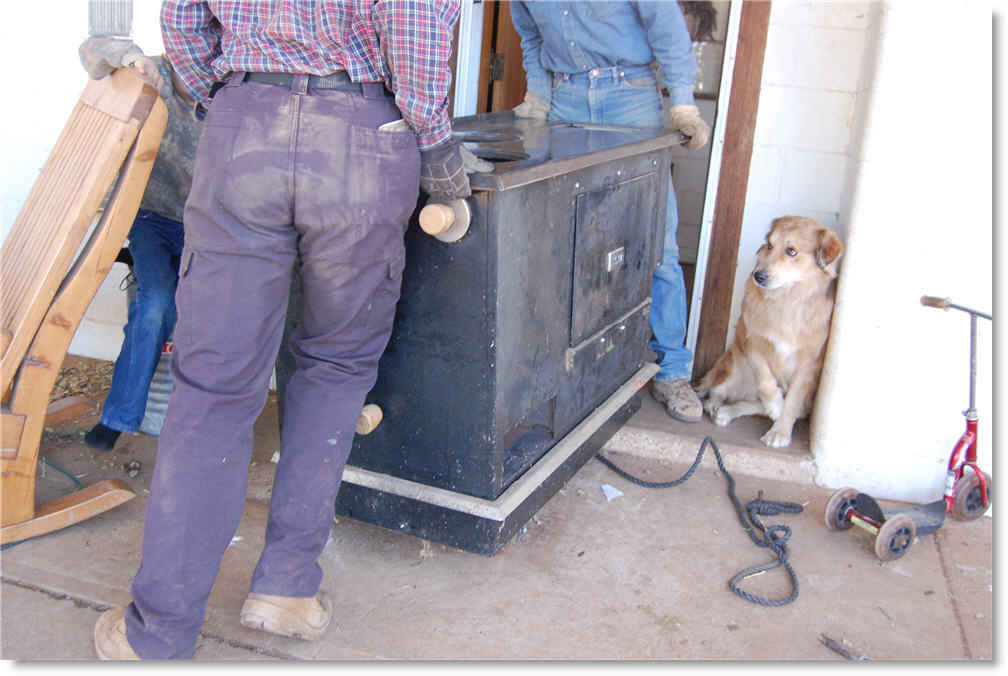 Almost there!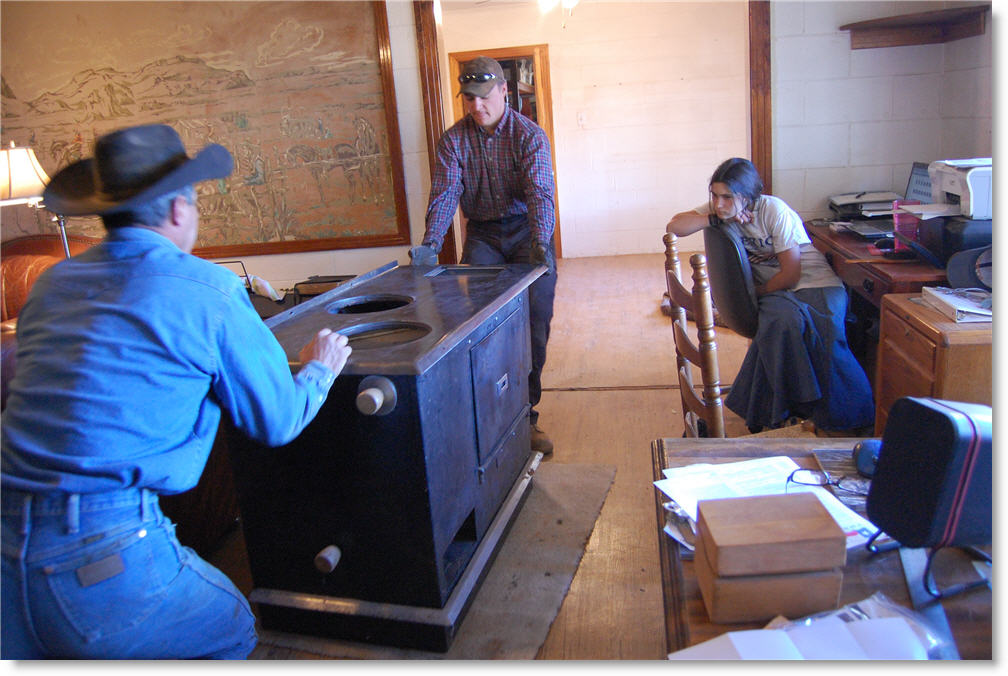 It fits nicely in the dining room.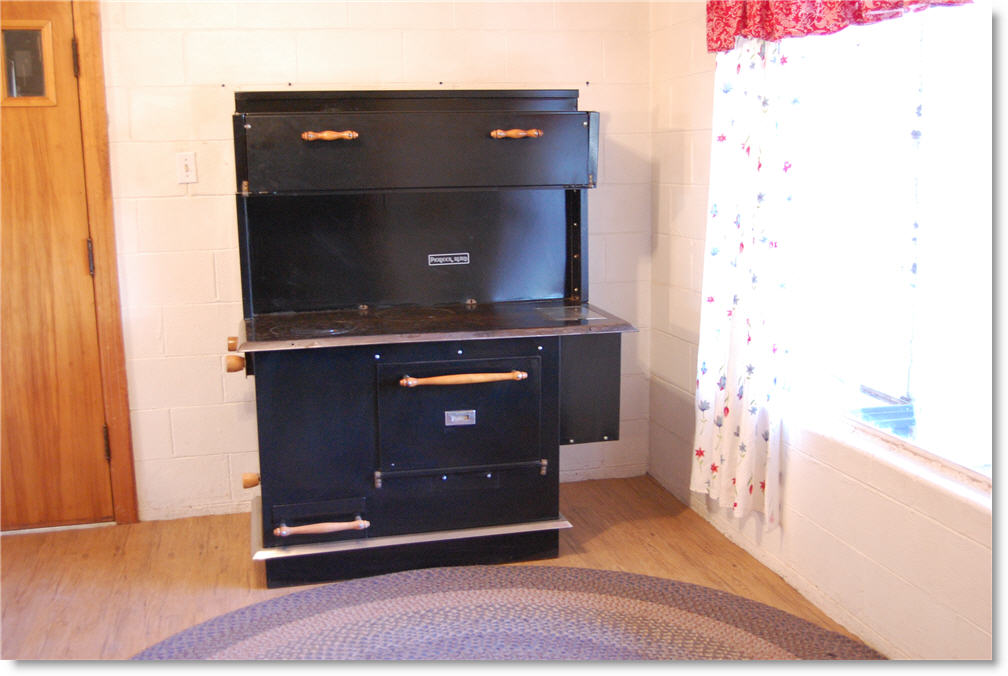 Unfortunately, we'll have to wait until we can get the stove pipe and chimney supplies from town before we can actually use it.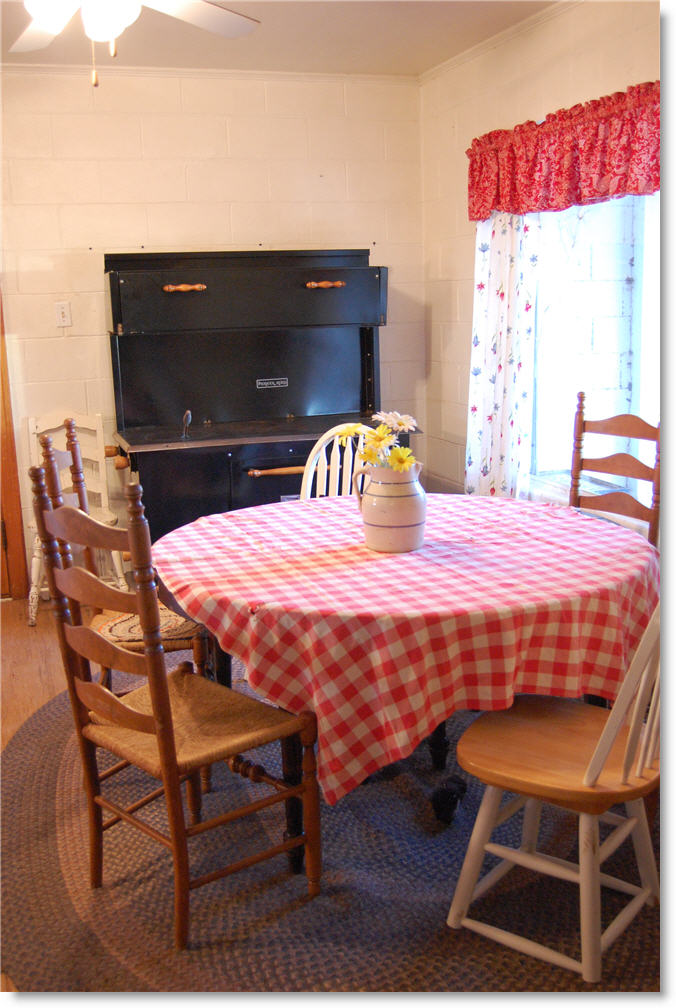 Not to be out done, Carolina went and got her toy cast iron stove to play with all afternoon.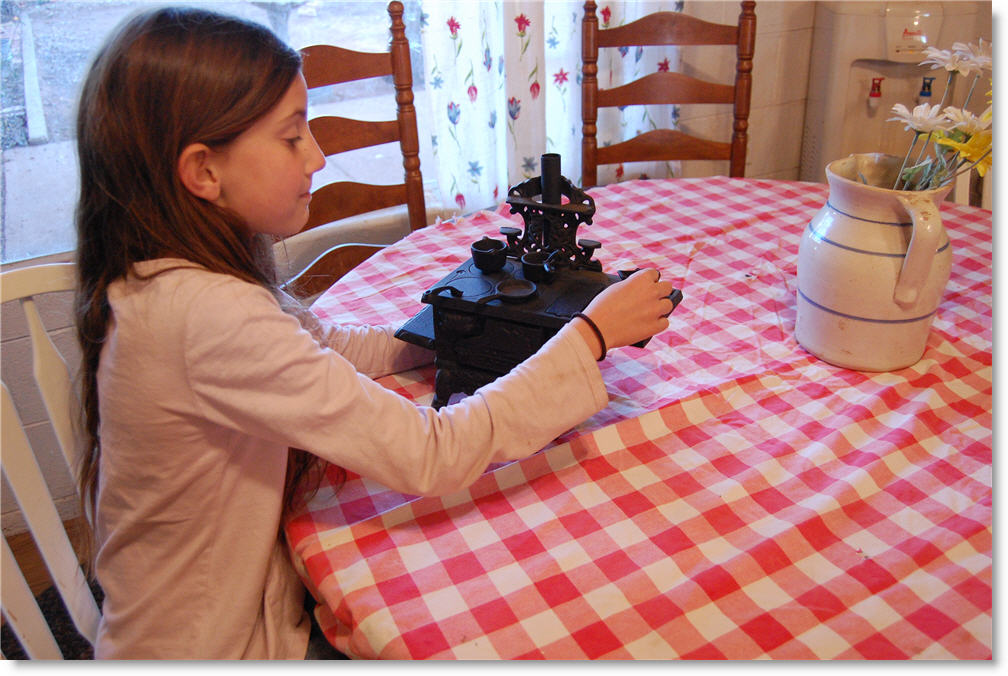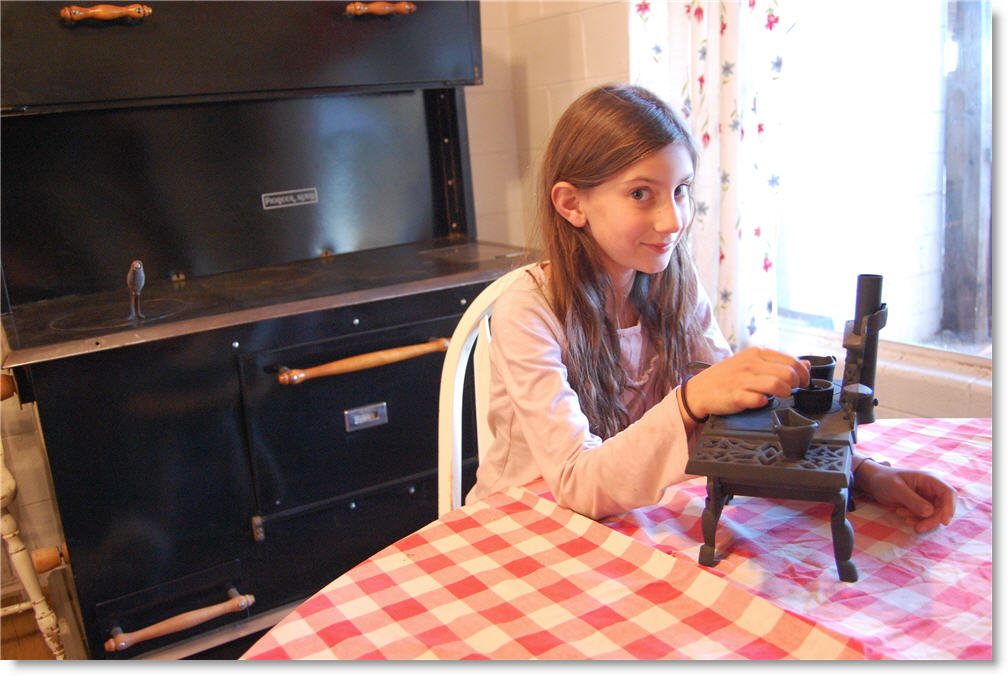 Saturday, January 5 - Dog Spoiling in Progress - We've started letting Rusty come inside for a visit in the evenings. He starting to become very comfortable in the house.
He's getting the V.I.P. treatment from Carolina and Aspen.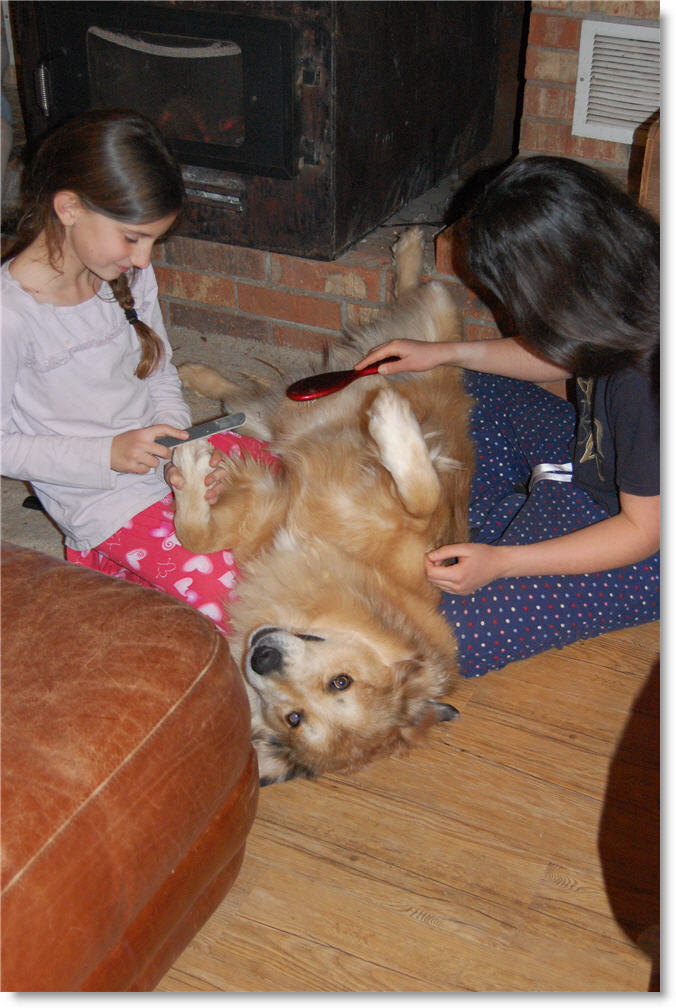 Friday, January 4 - Weird Animal Pictures (like you haven't already seen enough).
Take a gander at Aspen's goose.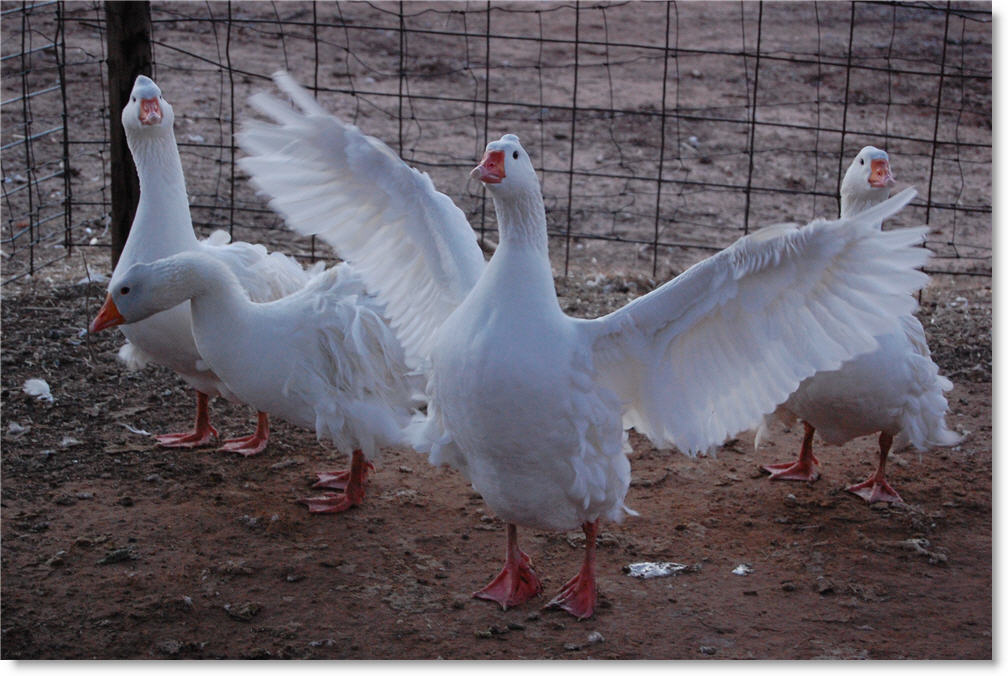 Coconut stars as Baby Jesus in one of Carolina's productions.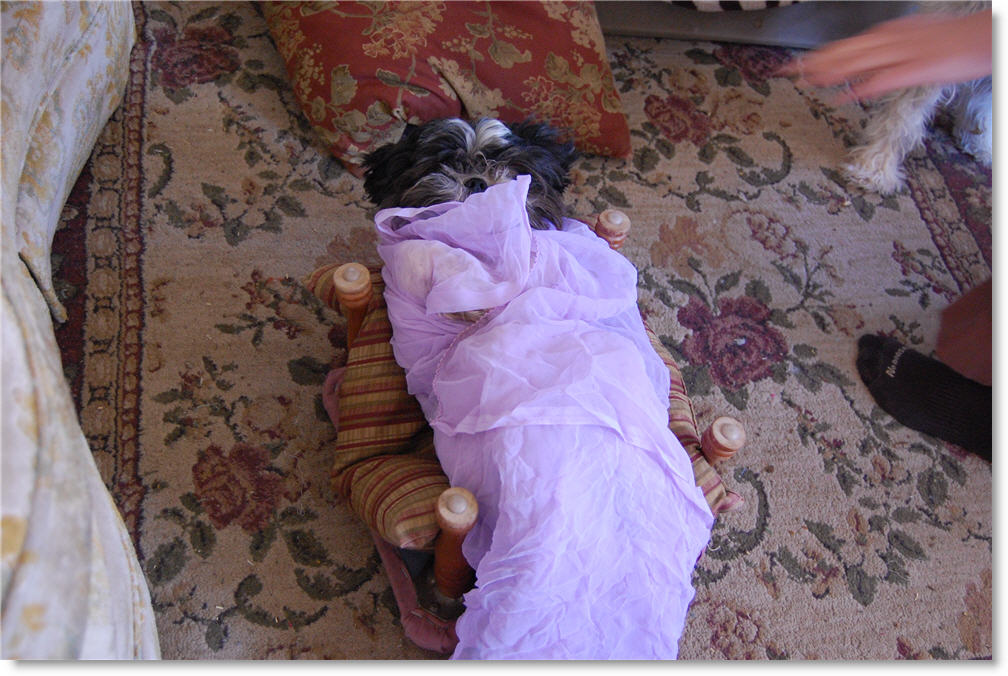 Okay, not so weird, but still, I little too much information about a dog's nose.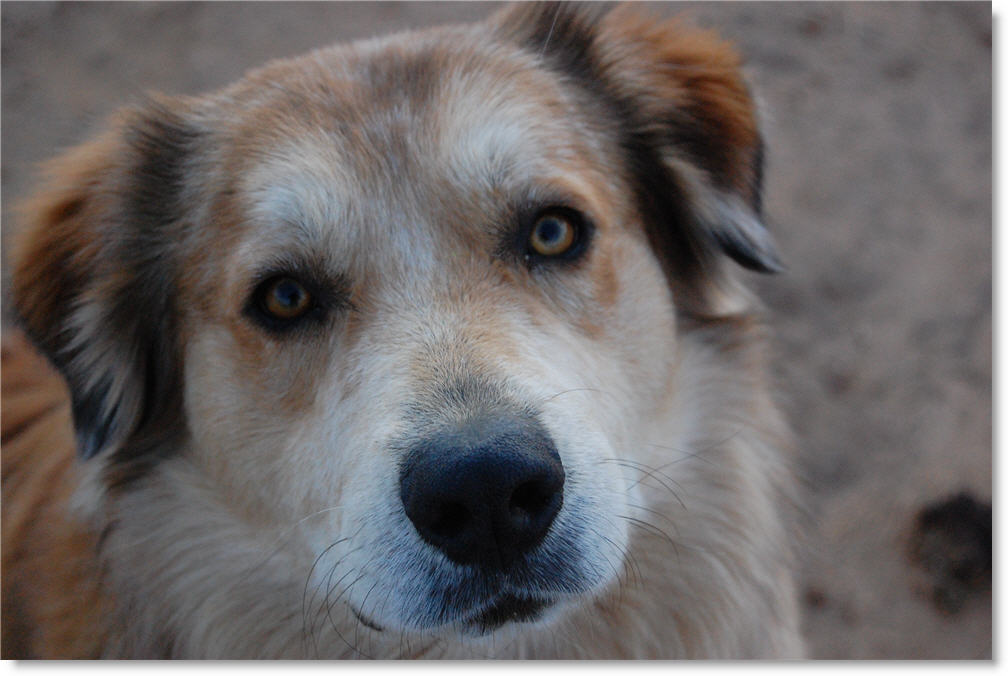 Snow White Shih Tzu.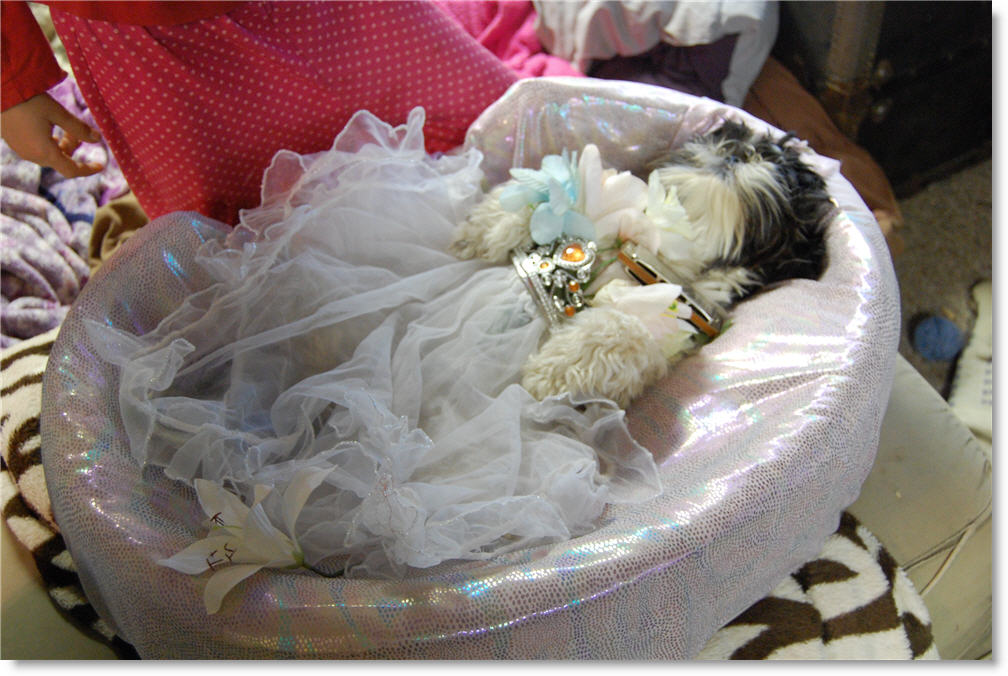 In town they have girl scouts coming to the door. We're not so lucky.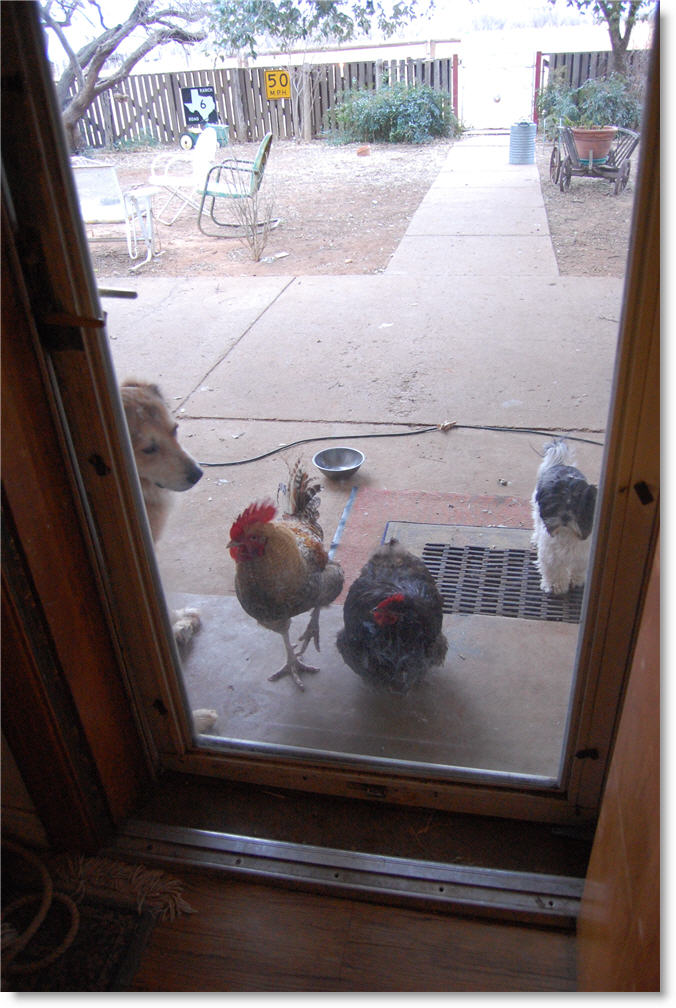 Coconut falls asleep in a box.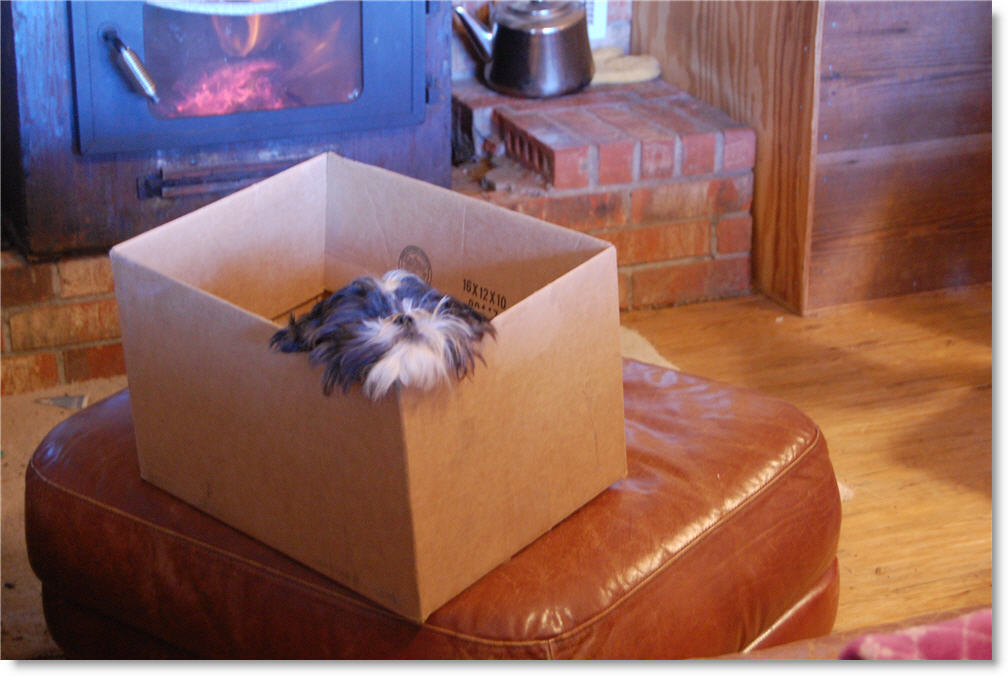 Tuesday, January 1 - New Year's Day - Sunny, Jim, Hannah and Granny came for the day. We had lots of good food and good fun.
Sunny got to try the new Settlers of Catan board game the kids like.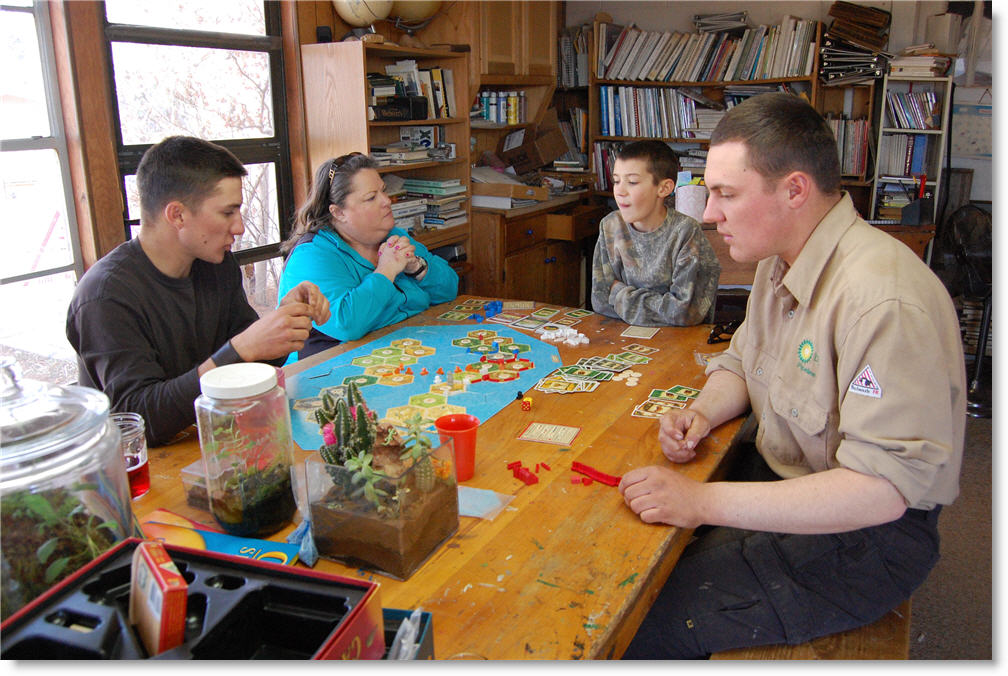 Carolina and Hannah enjoyed their monkey shines on the trampoline.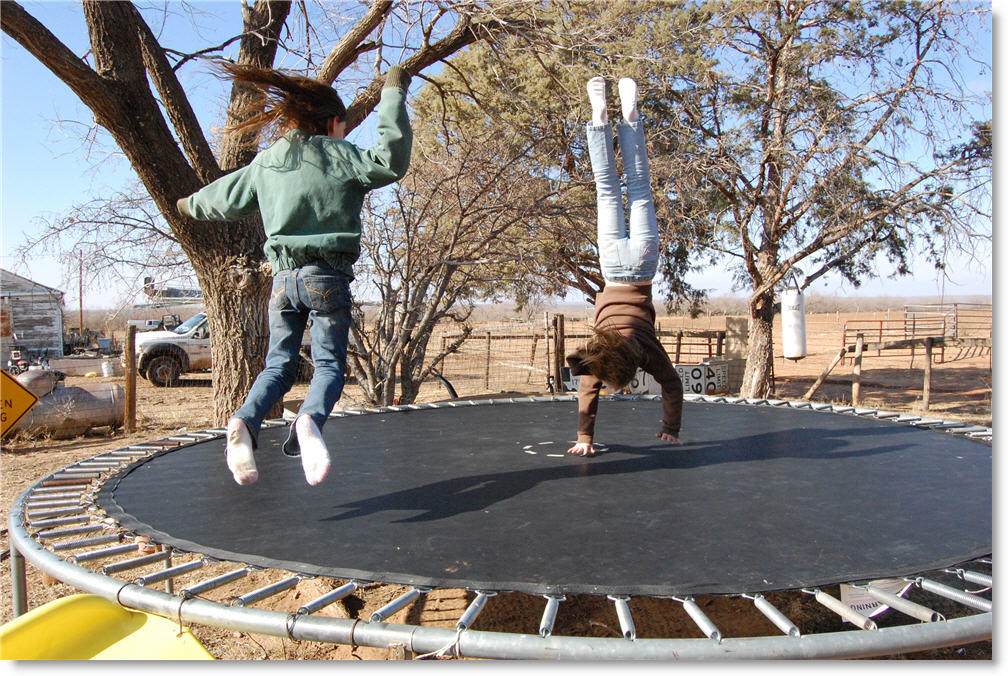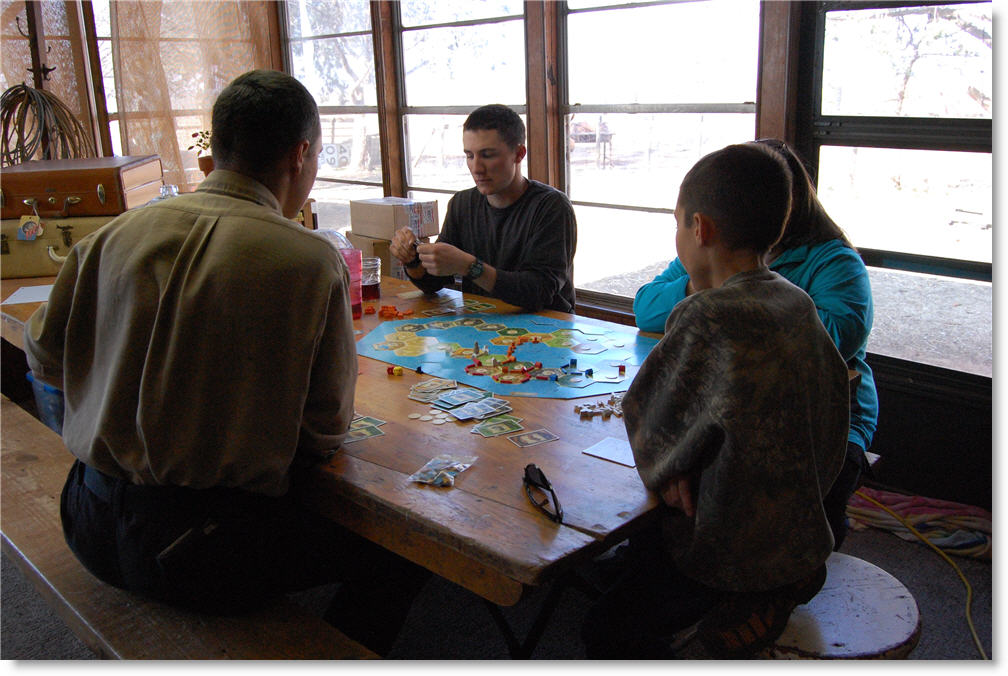 Laredo takes it easy while watching a movie and waiting for the red phone to ring.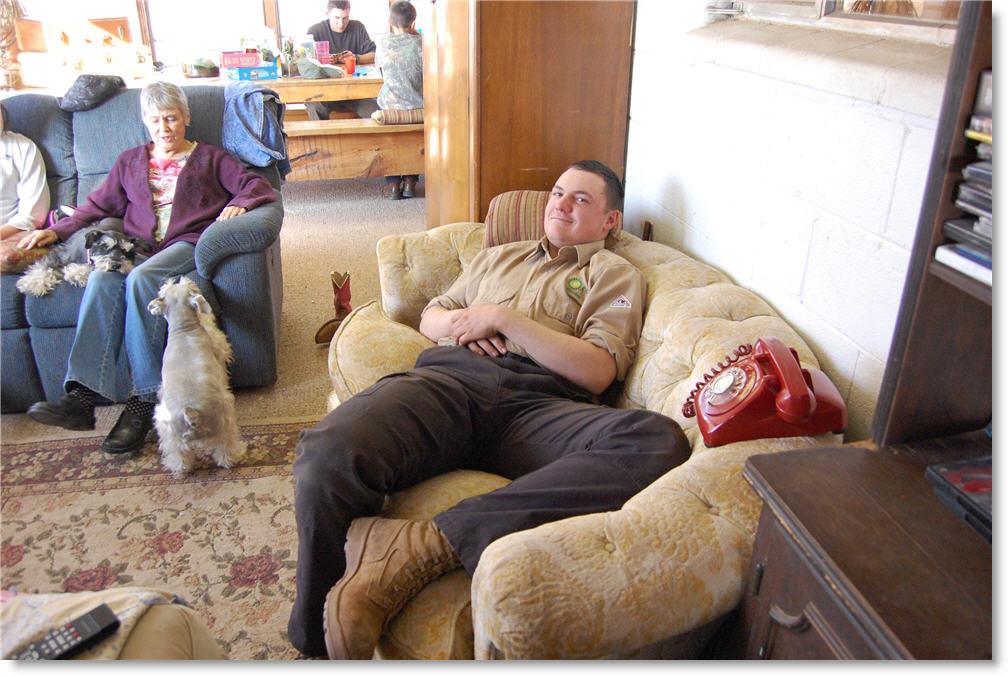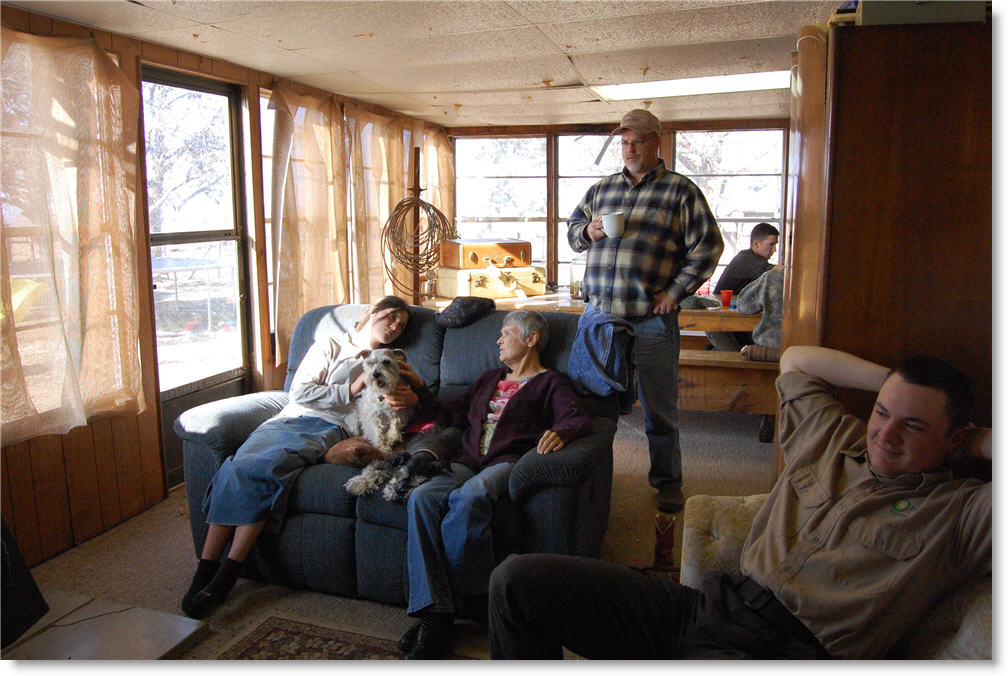 Hannah and Granny stayed on for an extra day or so to play.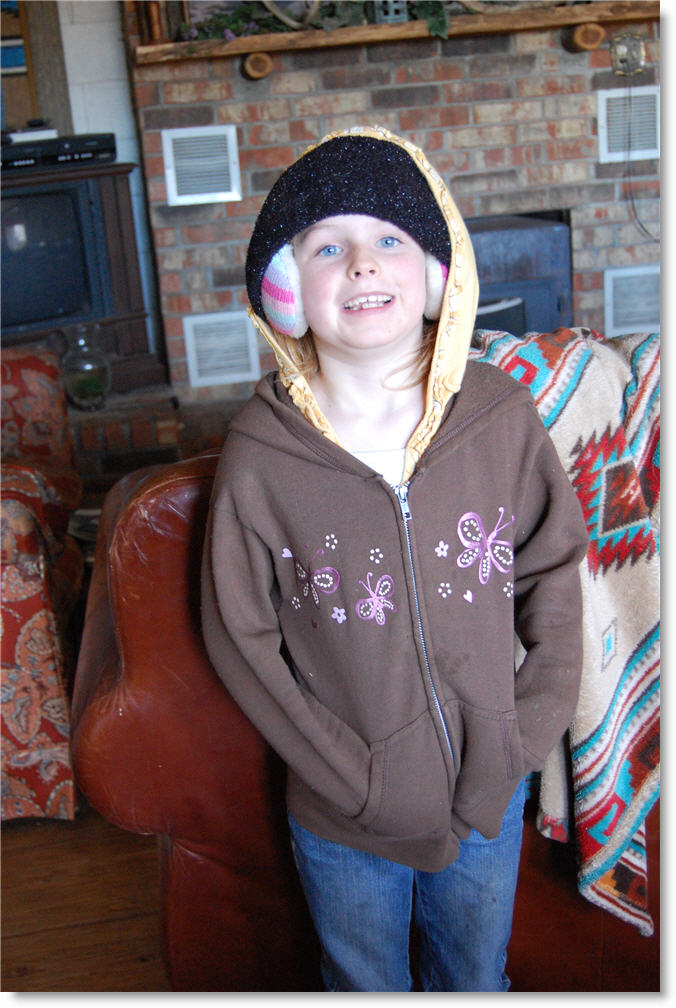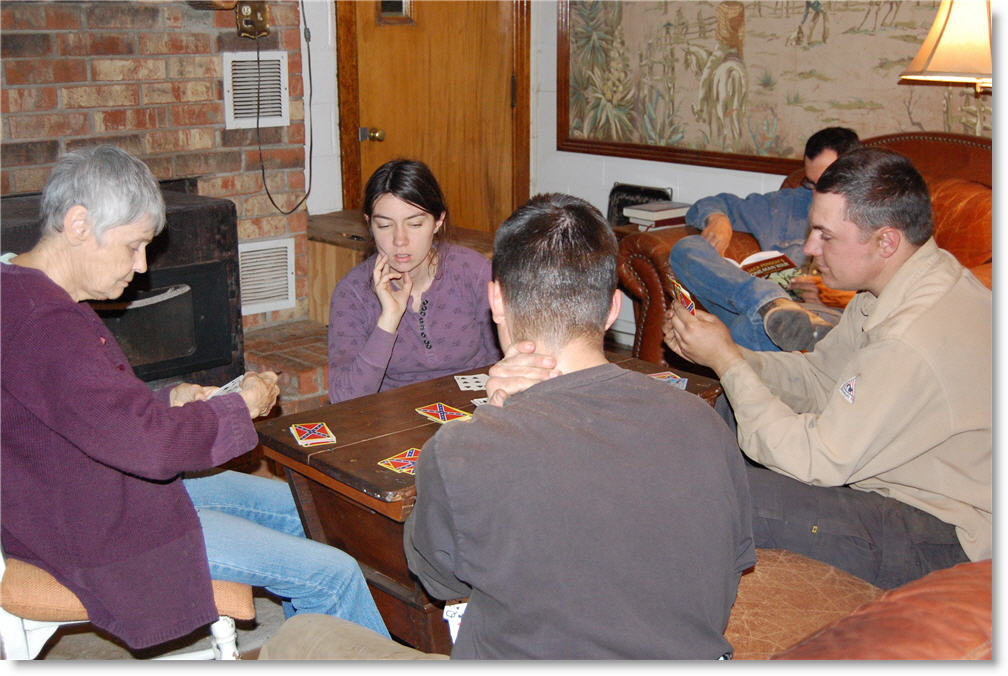 Check out our past news. Just click any link below: