March News:
Tuesday, March 29 - Catch and Release - The kids have had more fun catching and releasing our resident birds. We've gotten some really nice close-up pictures, too, that will come in handy when we get ready to do some bird sketches. They've marked some of the birds with paint on their legs so they can track their movements.
Stockton was so excited when he finally caught a cardinal.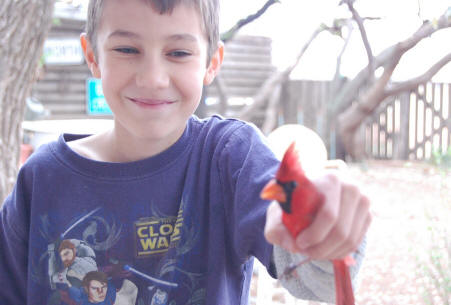 We all enjoyed getting a closer look at this beautiful guy.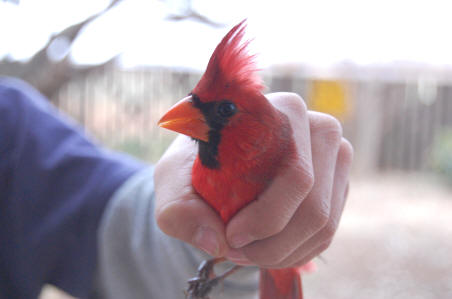 Carolina made this fantastic sketch of him.
Isn't this an unusual sparrow? I've misplaced my bird book, so I'm not sure of the variety.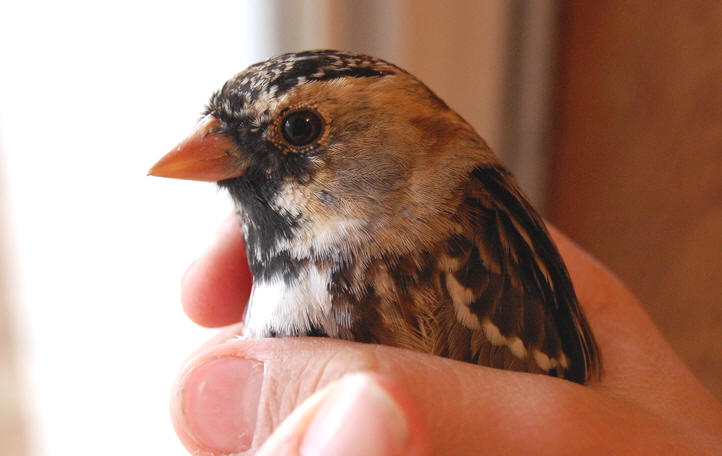 This pair of white-crowned sparrows were trapped at the same time. The male is one Stockton had caught before. It had red paint on it.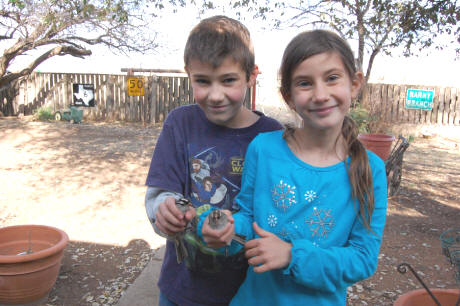 The Gypsy Project - Carolina made a bridge between the couch and chair and another to the ottoman. She was trying to teach Gypsy to walk on the bridges to get to a treat. I think Gypsy was enjoying learning a new trick!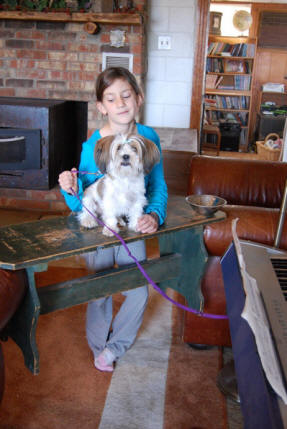 Monday, March 28 - The Bird Trap - Stockton decided he needed to try and catch a bird since he had so much fun holding the stunned bird last week. Here's the trap he set.
When a bird goes in for sunflower seeds, Stockton sneaks into the garage and pulls the string.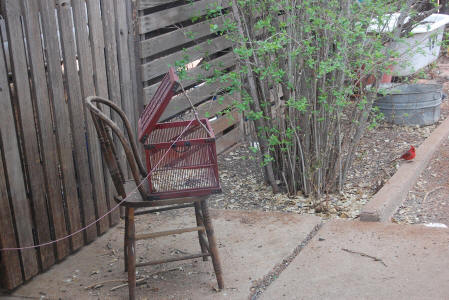 It didn't take long for him to catch a bird. This time it was a male white crowned sparrow.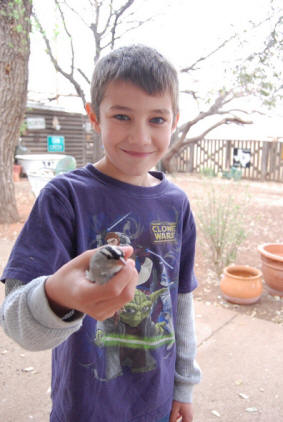 He let it go right after this and re-set the trap. He's hoping for a cardinal, next.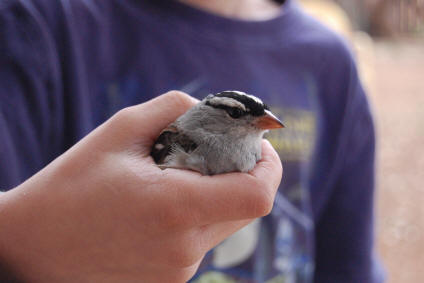 Saturday, March 26 - War Shirts - This afternoon we went over to the Phipps house to celebrate Grant and Anthony's birthdays. Cimarron had purchased some army surplus t-shirts and we had made a stencil to use to decorate the back. He wanted to put "501st" on them because that's what they call their air soft group. Even little Josiah got a shirt. He called it his new "war shirt".
Notice Josiah's shirt. It's a little long.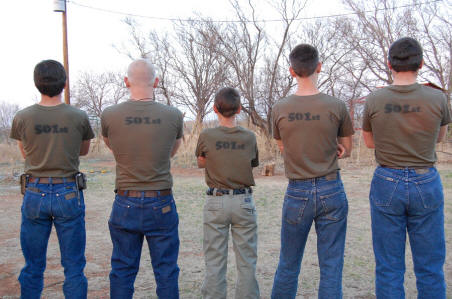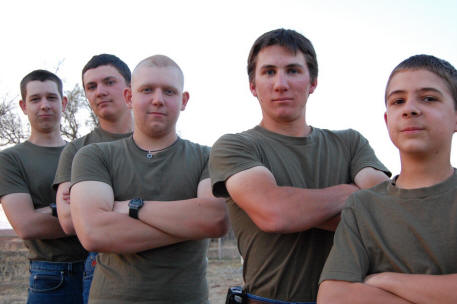 Wednesday, March 23 - Almost a Pet - Today, Stockton heard a bird hit our big front window. He ran out and found a female white-crowned sparrow on the ground. She was pretty stunned, but otherwise seemed okay. He and Carolina enjoyed petting her and seeing her feathers up close. After she got better, they went out to let her go. She wasn't too eager to leave and would set on their fingers and look at them without flying away. They were able to take turns holding her for about 15 minutes until she finally flew away. They had just talked me into letting them keep her in a cage for a while when she took off.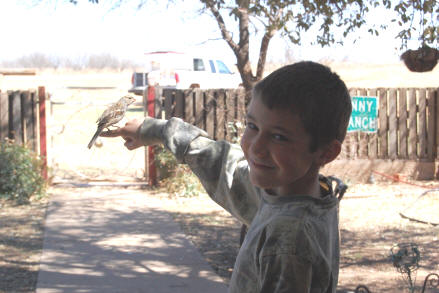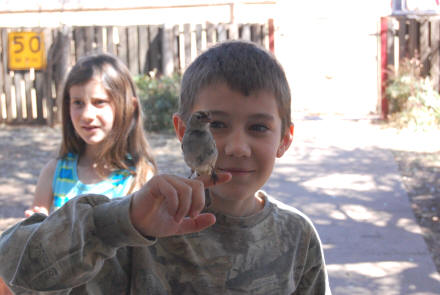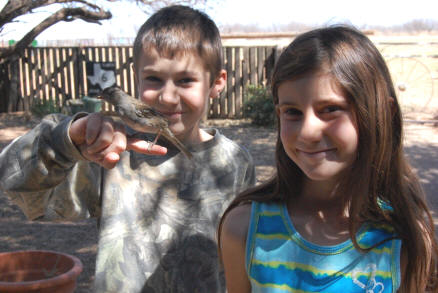 Tuesday, March 22 - Atlanta Back Home - We met the Roberts in Vernon again and switched back girls. I think everyone had a good time during their visit. Here are a couple of pictures of Rebecca's birthday party that Atlanta took.
They ate out at a restaurant called Yesterday's.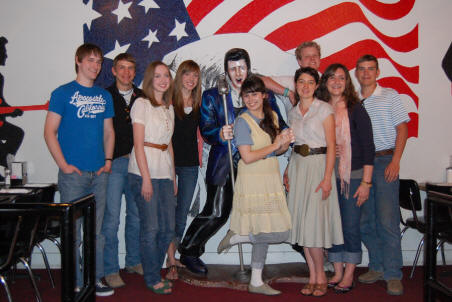 Then they went back to the Robert's home for cake and ice cream. J.R. and Eve are the proud parents of 17-year-old Rebecca.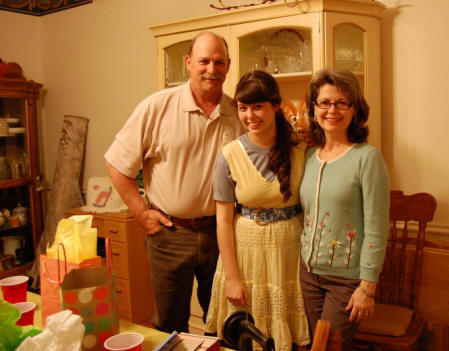 The Big Turtle - One the way home we picked up this big snapping turtle that was crossing the road. Stockton's going to keep it in his sandbox for a few days.
Why do turtles always look so mad?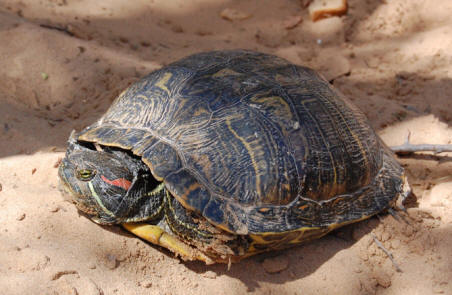 Monday, March 21 - Horse Training - Nathan and the boys have been working with some of the horses lately, trying to teach them new skills. Here they are swinging a rope around them, roping a stump and having them pull it around.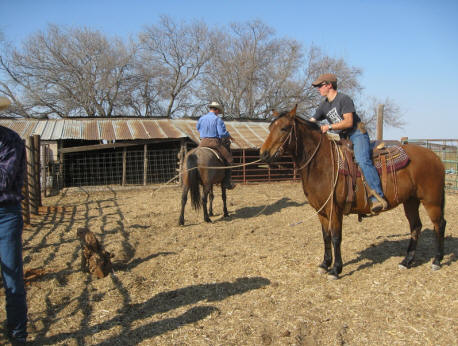 Saturday, March 19 - World War II Reenactment - When word reached the boys that Atlanta and Rebecca and some other kids were going to watch a WWII reenactment in Jacksboro at Ft. Richardson, they couldn't stay away. They may be hooked and have to get in on the action next time.
The weather was nice for the event.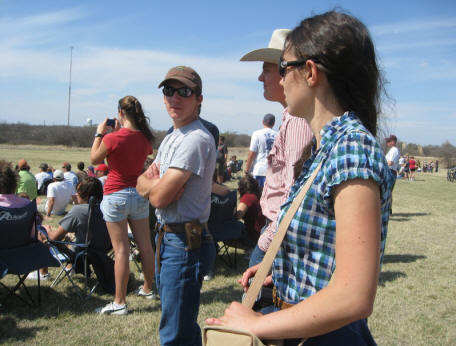 Photo taken during the battle reenactment.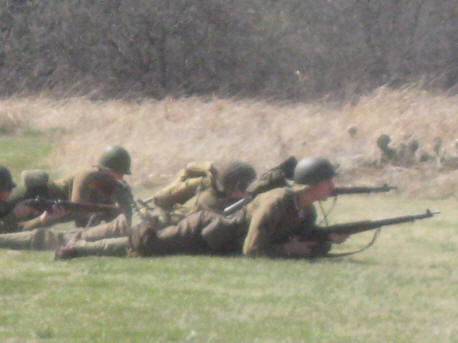 Friday, March 18 - Evening Sky - Another brilliant sunset was out my kitchen window tonight. I just had to share it with everyone.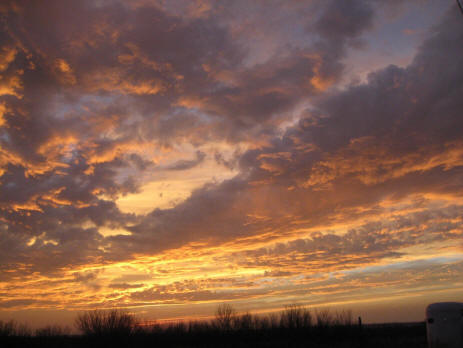 Thursday, March 17 - The Girl Switch - Our good friends, the Roberts from Decatur, wanted to get their daughter, Rebecca, with Atlanta for a few days, and especially for her upcoming 17th birthday. We decided to make a trade. They took Atlanta and I brought home their younger daughter, Michelle, for a few days. We met in Vernon this morning to do the deal.
Carolina and visiting friend, Michelle, spent some time everyday watching Scooby Doo DVDs.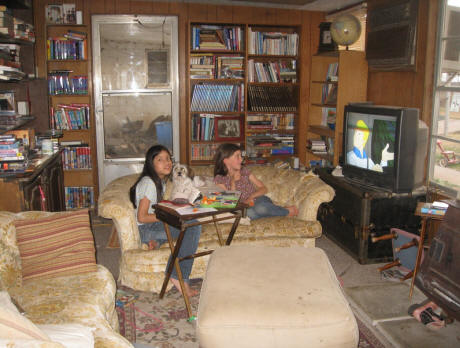 Tuesday, March 15 - Spring Break - We had a visit from the Tidwells and Granny for a couple of days. It's their Spring break and they said they wanted to go someplace fun and cheap!
Hannah and Carolina found a deep spot in which to play.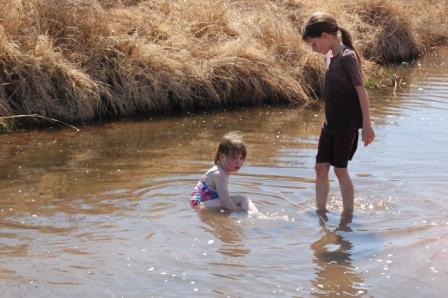 Not everyone is lucky enough to have their own guard posted while they play in the sand.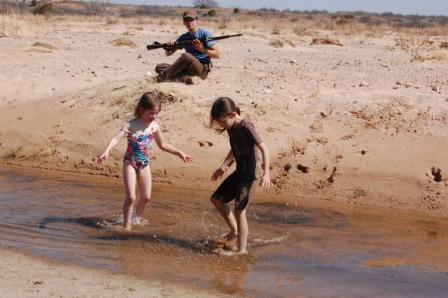 Saturday, March 12 - Dinner at the Phipps with New Friends - I was contacted by a lady in Memphis, Texas that was interested in ordering from the food co-op. I found out she was a home school mom, too! When the Phipps asked us over for dinner, I told Regina about the new family. She said to invite the Barcaks as well. So, we had quite an evening. There were a total of 18 kids running around having fun. Never a dull moment!
Both the Phipps and the Barcaks named their youngest boys, Josiah.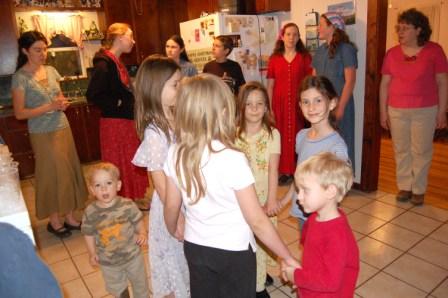 Getting to know each other.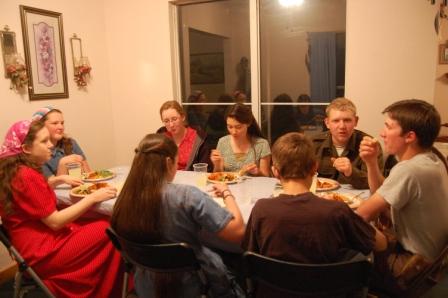 Theresa Barcak brought a yummy salad with lots of topping choices.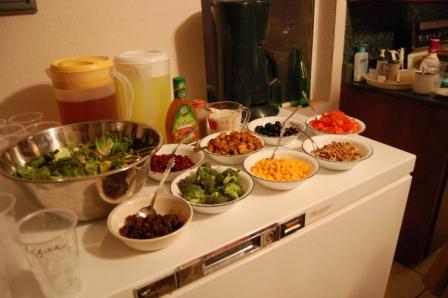 Regina made three big pans of scruptious lasagne.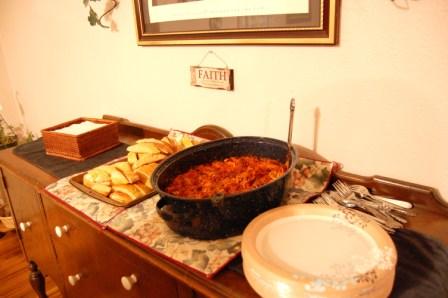 Atlanta made homemade French bread.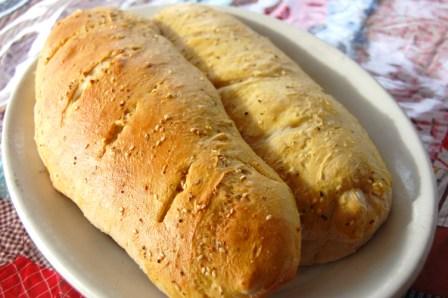 After supper, the big kids moved the furniture out of the dining room and practiced some swing dancing.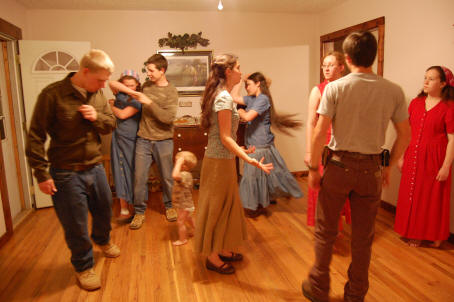 The "Calf-Napper" - We had a funny thing happen this morning. When the boys got out early to feed the cows, they noticed that our milk cow, Bessie, was not only out of her pen and out on the wheat field, but also had a calf. What?? She may be expecting a calf, but she was definitely not ready to calve. We all jumped in Cim's pickup to go investigate. Here's what we found:
Here's Bessie. She looks so innocent. Who would think she was in the process of kidnapping this calf?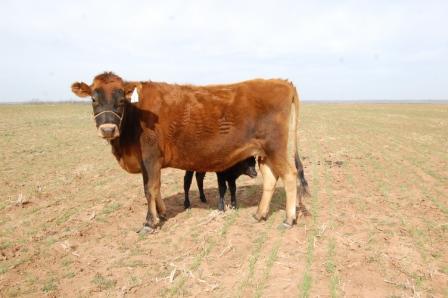 The little calf didn't seem to mind who gave him his breakfast.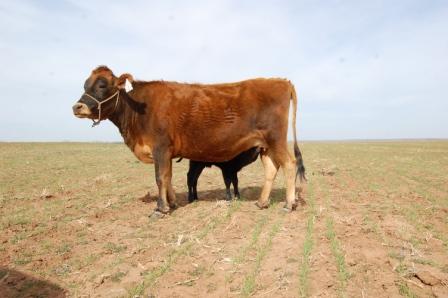 We decided it couldn't be her calf because it was obvious she hadn't had one. We called Nathan, and he said to lead Bessie and the calf back up to the pens and wait for the real momma to show up. When Atlanta, Cim and Laredo went out about 30 minutes later to get her, the calf was nowhere to be seen. They looked all over for it, knowing that cows will hide their calves and let them sleep while they graze further away. Still, they couldn't find it. Meanwhile, the real mom showed up. She had a big, tight bag and was anxiously calling for her baby. She ran up to Bessie and mooed at her as if to say, "Where's my baby? You were supposed to be watching it!" She frantically looked around a bit and then ran off in a different direction. About this time, another cow and calf got spooked from all the commotion and went running off. Bessie immediately ran off with them. The kids were trying to decide what to do next when they found the missing calf asleep next to a stump in some tall grass on the edge of the wheat field. Before they could grab it, it took off running across the field in the opposite direction from where it's mother and Bessie had gone. They said it could run like a deer and it was all they could do to keep close enough to it to keep it in sight. It didn't help that Milo, our border collie, was chasing it as well. It ran all the way across the field and into the adjoining pasture where a different set of cows were. Meanwhile, Cim had run and gotten his pickup and driven into the pasture to try and head off the calf. When Atlanta and Laredo caught up to him he was just coming out of a plum bush where he had unsuccessfully thrown himself at the calf. Finally, after a few minutes of more chasing, they tackled the calf. He was very scared and crying his head off. This brought several long horn mommas over to see who was hurting one of their calves. Atlanta said she was very afraid they might get attacked by these protective ladies. Finally, they managed to get the calf into the back of the pickup and back to his real mom. Whew! They were really tired when they came back to the house. Bessie had showed up at her pen dragging her lead rope along. She seemed ready to get back in. Of course, we didn't milk her that morning because the calf had gotten most of it already.
Here's the real mom and the little runner the next day. I hope she's learned her lesson. Never leave your baby with a milk cow that loves babies!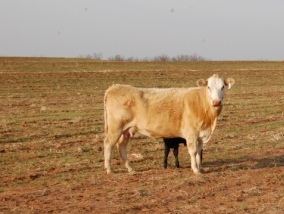 Wednesday, March 9 - Papillon Bleu UK - I have a new friend in England. Her name is Patricia and she has a wonderful blog (www.papillonbleuuk.blogspot.com). She makes dolls and she makes photos and videos, too. She puts them all together in darling little doll houses and tells stories about them. Your kids will love the videos on her blog and her Youtube channel. She purchased two of our beds and bedding sets to use on an upcoming book she's writing about two orphan girls. Once she's finished, she's promised to send Carolina one of the little orphan dolls to adopt. I know you'll enjoy visiting her blog and Etsy shop.
Here are some of her art dolls posed with our beds. They're waiting on a guest to arrive at their party. You must visit the blog to find out who it is!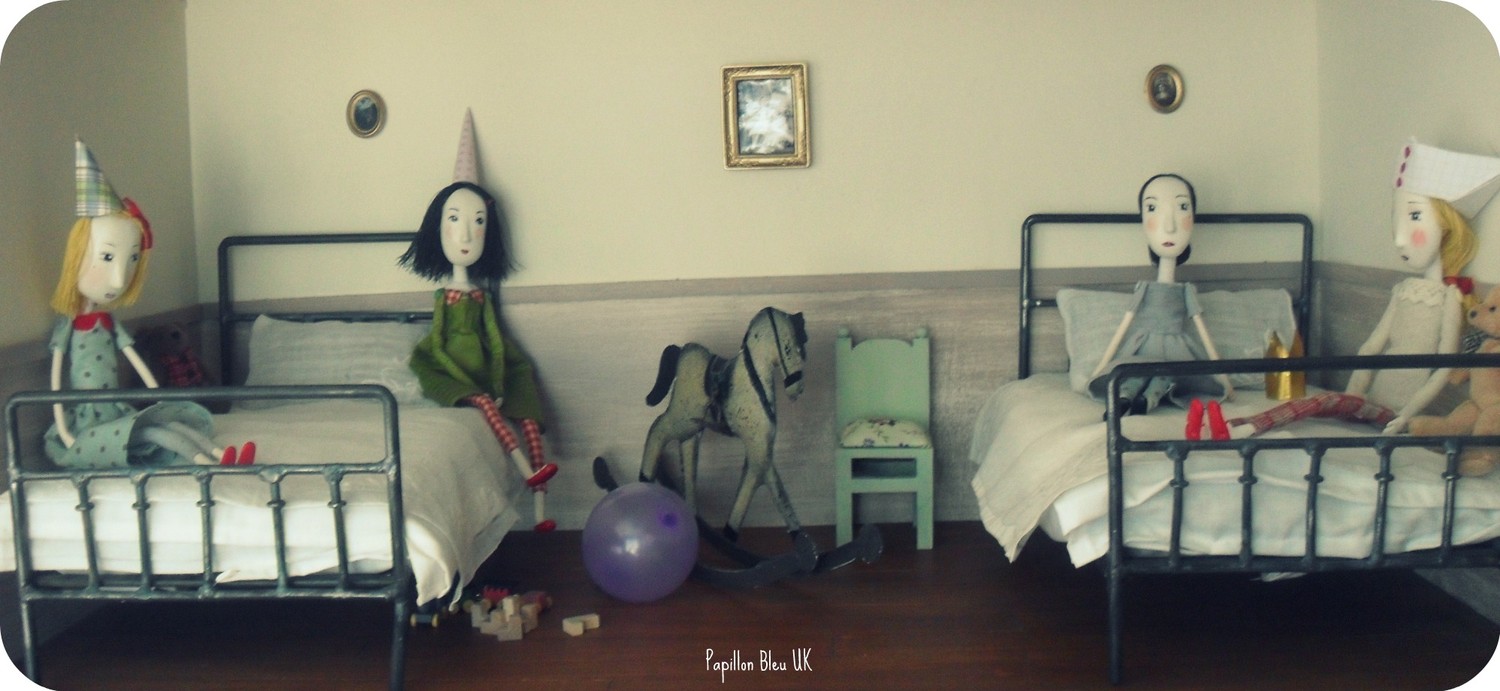 Tuesday, March 8 - New Laundry Room Shelves - Every housewife's dream...more storage! Nathan and the boys built me a wonderful built in set of shelves in the garage. It separates the laundry area from the playroom. I love it!
Here's how it all started out.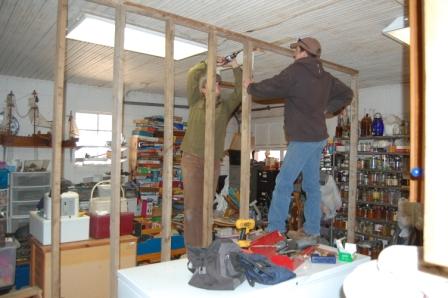 Of course we used signs (from a TXDOT sign job 5 years ago) instead of buying lumber. It's kind of like going to the train station and seeing a list of destinations.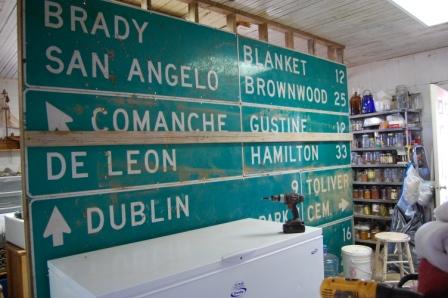 Here's my wonderful shelves all finished.
And here's a bunch of hams doing monkey shines.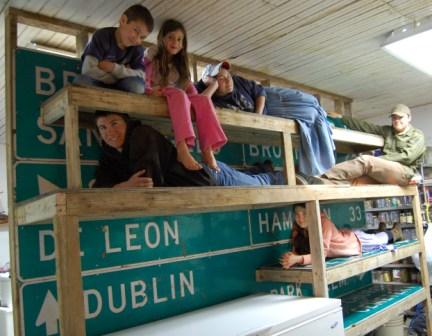 More pictures later when I get them loaded with stuff. On the back side will be more shelves for the playroom side. :)
Monday, March 7 - Typical Day - It was just another school day...well, maybe not too ordinary. After school, everyone was up to something. Here are a few pictures I snapped around the house.
Atlanta and Cim were practicing swing dances on the front porch.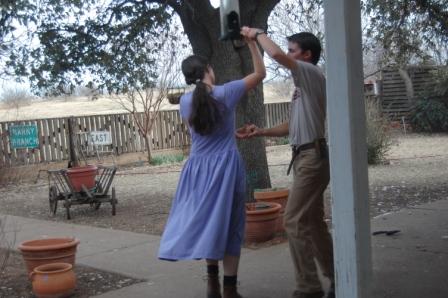 Aspen was giving Gypsy a long overdue haircut.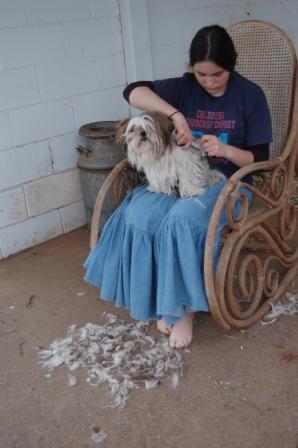 Carolina and Stockton were making "corn soup" over a campfire they made in the front yard.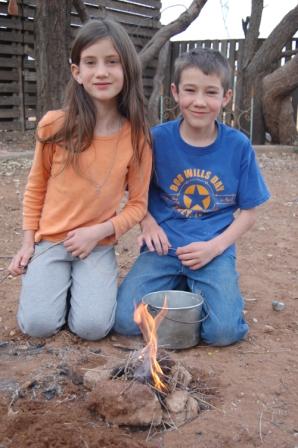 Sunday, March 6 - Arial Dress Finished - Atlanta got an order for another adult size fairy tale dress. This gal wanted a dress like the one Arial (of Little Mermaid fame) wears sometimes in the movie. Isn't it lovely?
Would you believe this dress is going to Kalamazoo, Michigan?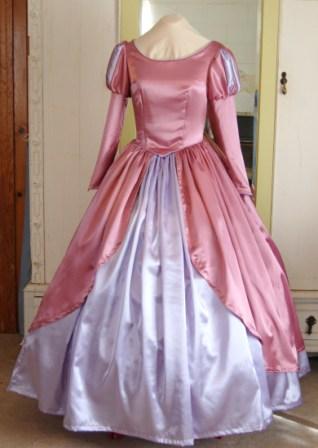 Nathan also made a couple more doll beds to cover orders we got this week.
If you haven't seen all the fun items we have for sale lately, check out our online store here.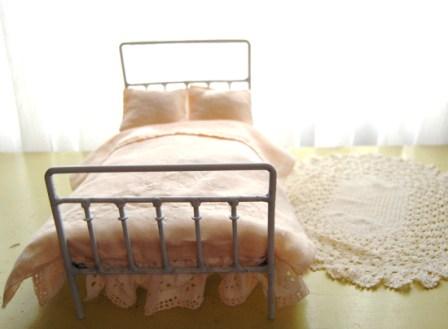 Saturday, March 5 - Air Soft Battle - The boys went over to the Phipps' house today for a day of air soft gun battles. They had fun and stayed to supper.
Returning Warriors - Who would have thought you needed this much stuff for an air soft battle??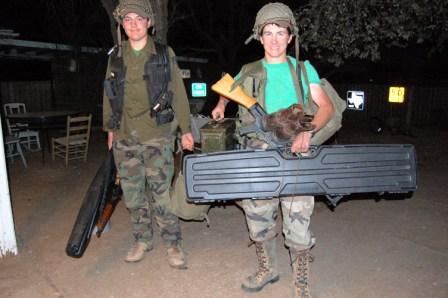 Friday, March 4 - Laredo's New Gun - (As if we didn't have enough) Laredo bought himself something he's wanted for a long time. He shot it this evening for the first time. It's an AR-15.
I caught the shell being ejected from the gun in this picture.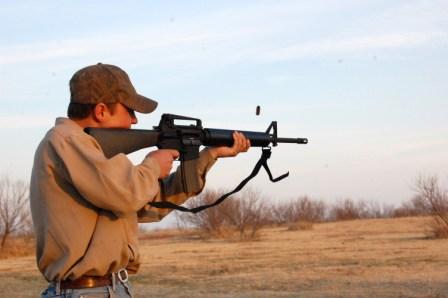 Working Cows - All the new cows had to be run through the chute and ear-tagged and doctored up, etc. The two little kids were still feeling puny, so they stayed in out of the wind and dust, but everyone else helped.
Laredo puts an ear tag in their left ear.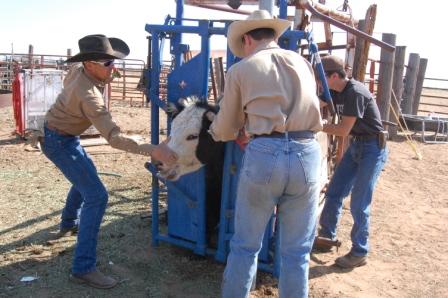 Atlanta gets the next dose ready. This is to immunize them against a disease that causes them to abort. It's a must when you buy cattle that have been exposed to other cattle.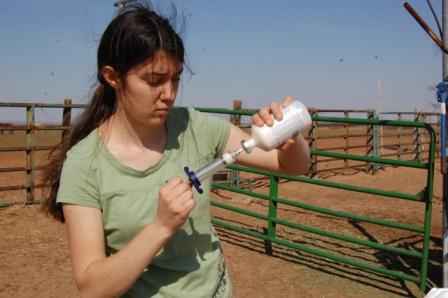 Aspen records the numbers and a description of each cow.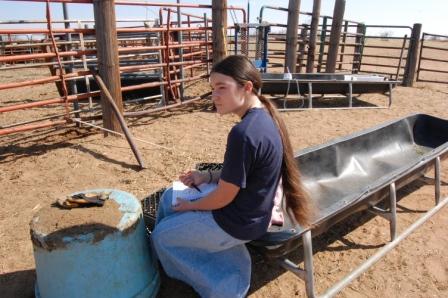 Cim giving a shot. The cows got a vitamin boost and some wormer as well.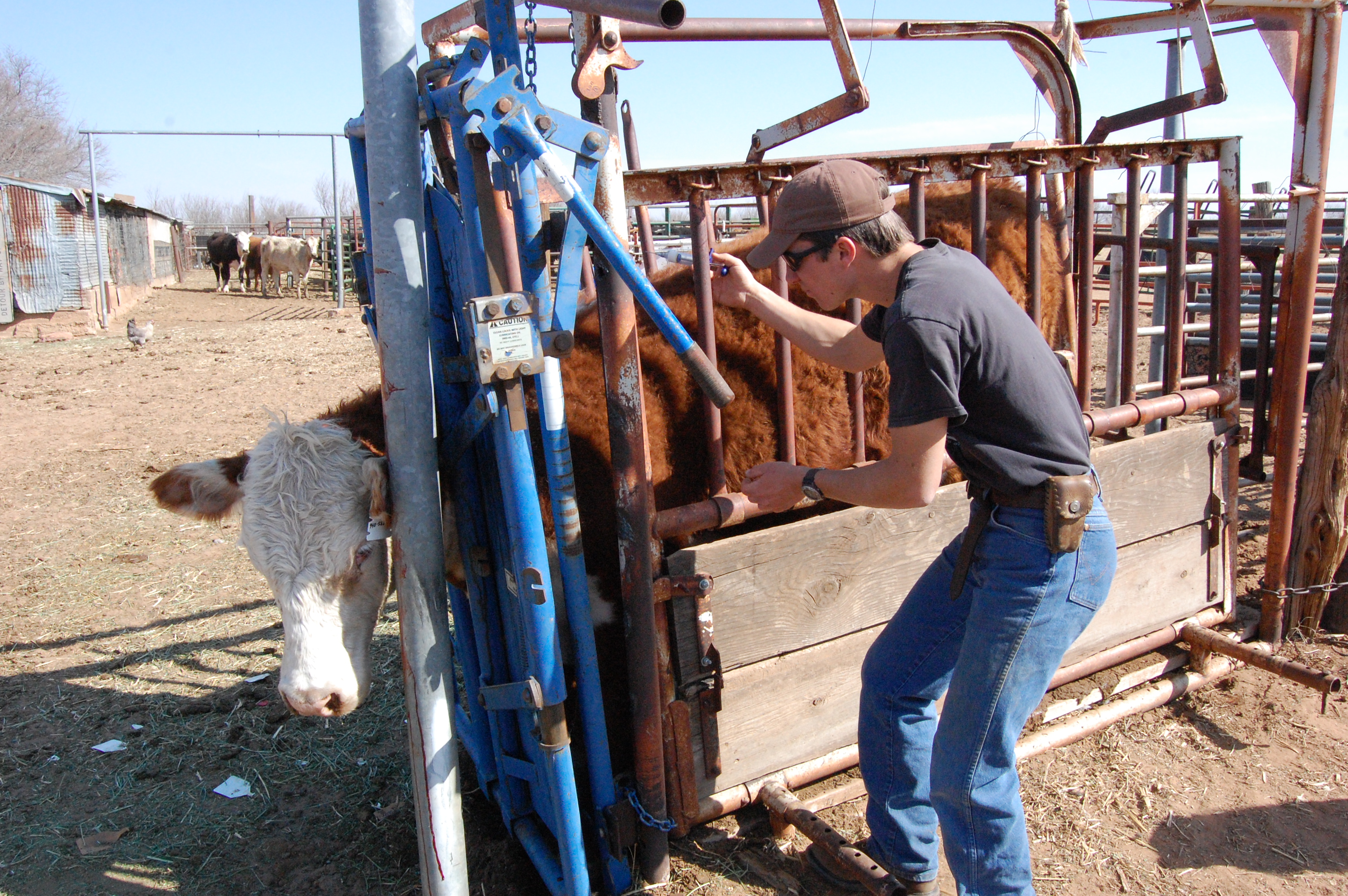 Organic and Grass Fed - We also raise long horn cattle whose horns are so long that they can't be run through the chute and therefore aren't medicated in any way. We've been having a few of these cows slaughtered, ground, and packaged in 2 lb. packages of ground beef and hamburger patties. Since all the meat from the cows was used to make the ground beef (not just the left-overs after all the other cuts of meat have been done), it tastes wonderful, like steak! If you're interested in some of this organic, grass fed beef, give us a call. (940-585-1178)
100% sunshine, green grass and water.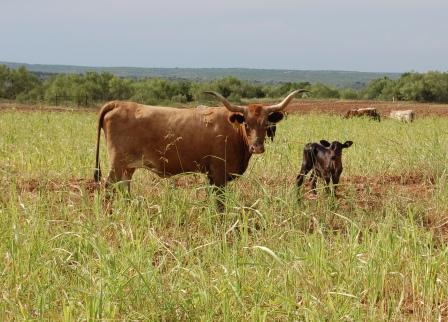 Thursday, March 3 - New Cows - We bought a few replacement cows today. They were delivered this afternoon.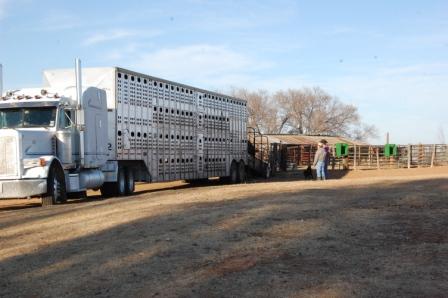 Nathan feeding cake. (large cubes of cow feed that comes in 50 lb. sacks)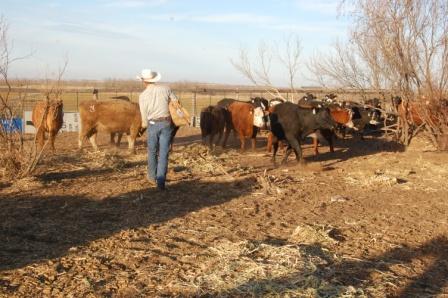 One of the truck drivers had a little help. This is Brant and daughter, Brantley, with her sorting stick.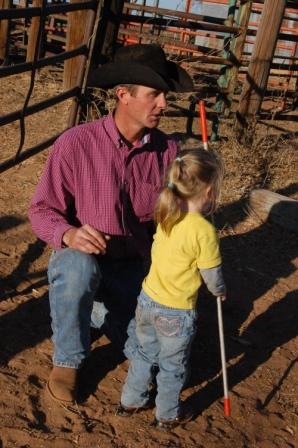 She and Aspen had some fun at the swings.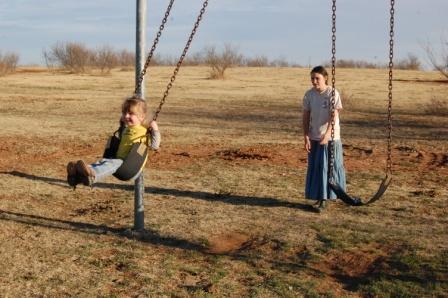 She was wearing spurs which plowed little furrows in the ground each time she swung back!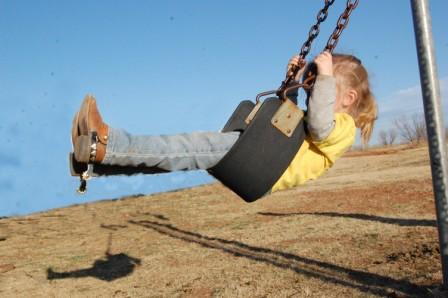 Swing Dance Video - Cim put together a little flash video that is a compilation of the five swing dances that the kids participated in during our retro-themed dance in Turkey. I know you'll enjoy it. Check it out here.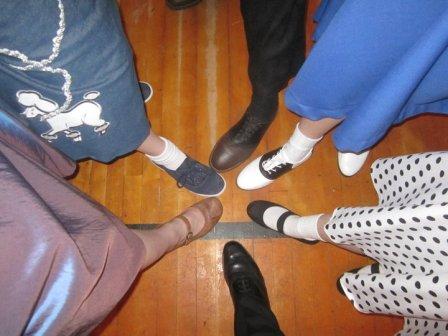 If you missed the story about the Retro Dance, you can still check out the February News! (see Dance Time, Feb. 19).
Catch up on past news! Just click on a link below.