May News:
Tuesday, May 31 - Garden Surprise - While digging for more home grown potatoes, Stockton found a nest of rabbits. We couldn't leave them in the potato patch, because we were about to water there, so we've adopted them.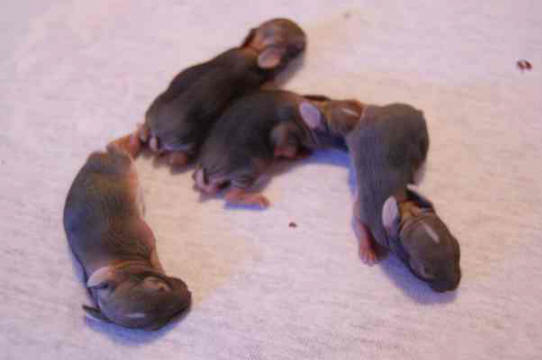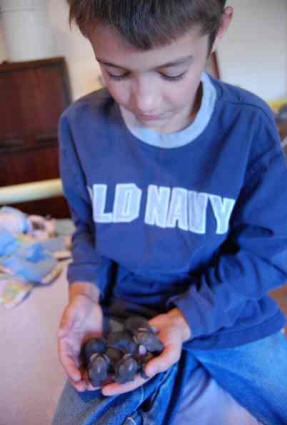 At this point they look more like mice than cotton tail rabbits.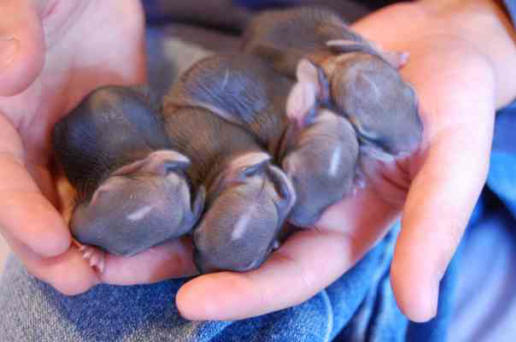 Atlanta and Carolina posed this picture. Who do you think came to visit Mrs. Rabbit?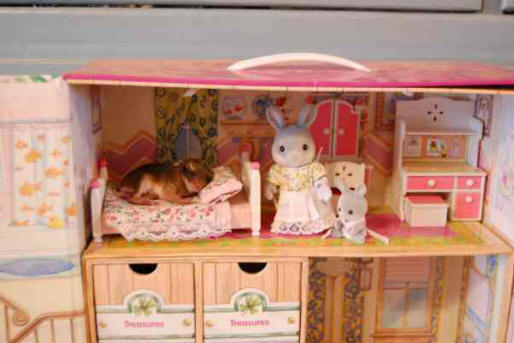 One of her country cousins!
Monday, May 30 - More Bed Orders - Nathan and I were busy today finishing up orders for beds and bedding from our online Etsy store. Most of our beds go to adult ladies who collect dolls and accessories. This little bed painted "antique pink" was a second purchase for this customer.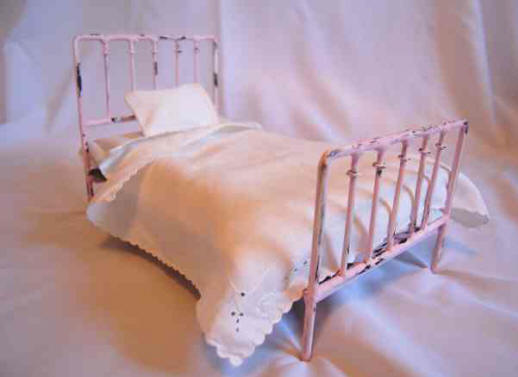 Sunday, May 29 - Late Birthday Cake - We gave Cim his birthday present close to his real birthday (May 16), but we never had officially celebrated with a cake. Carolina and I (mostly Carolina) made him one today.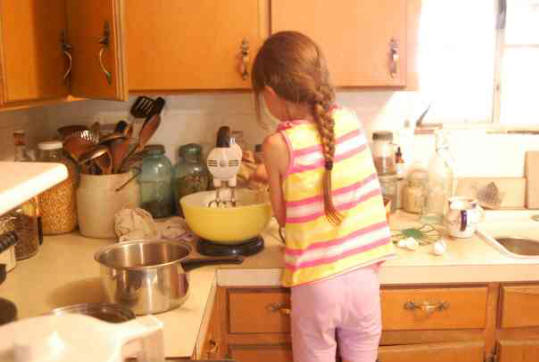 Carolina really enjoyed making the brown velvet cake.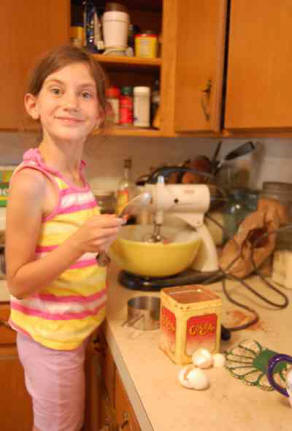 Cimarron, now 19.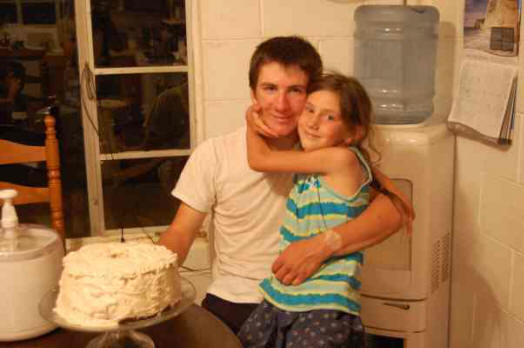 Everyone ready for cake and ice cream.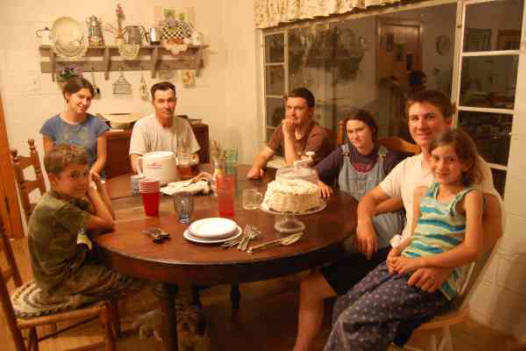 Friday, May 27 - Cleaning the "Pool" - These 100 degree days have caused Stockton to start begging for the stock tank to be cleaned and filled for swimming. I usually don't allow swimming until all the year's school work is done, but it's been so hot in the house that I think we will make an exception this year.
Cim and Laredo cleaning the tank bottom. We've been using it this winter to water the horses.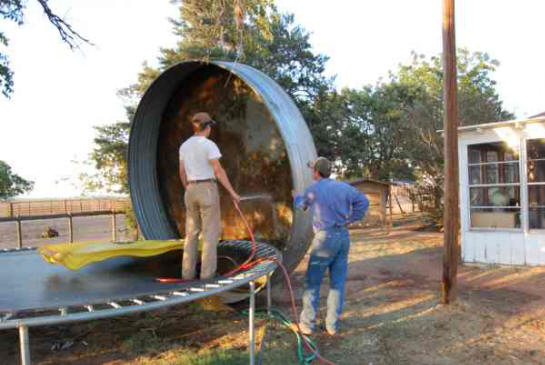 Thursday, May 26 - End of Day Colors - Unfortunately because of the drought and lack of clouds, I haven't taken many sky pictures lately. It was good to see these beauties floating above tonight.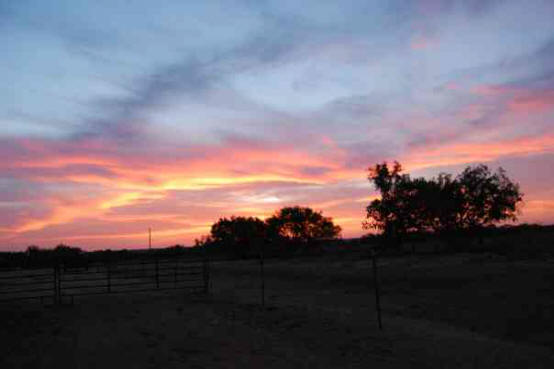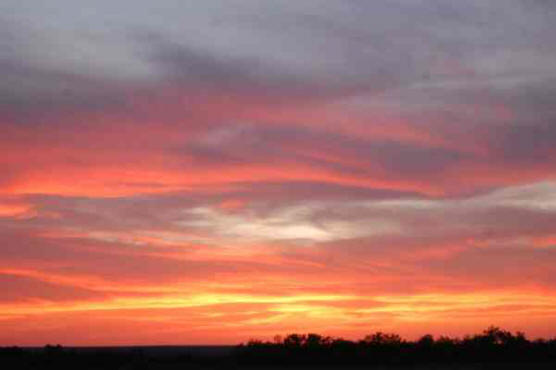 Wednesday, May 25 - Sad Loss - Today Nathan's dad lost his fight with cancer. Nathan had been with him since Sunday morning trying to help him get through the aftermath of one of his last chemotherapy treatments. It was just too overwhelming for his weakened state. He was a fine man who will be missed. Please keep Nathan and his brothers in your prayers.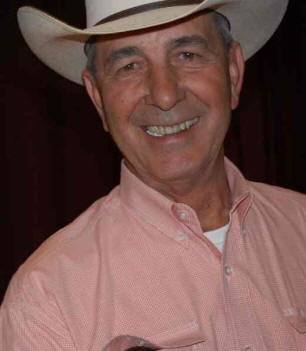 Here he is taking Carolina on a pony ride on his horse, Penny, a couple of years ago.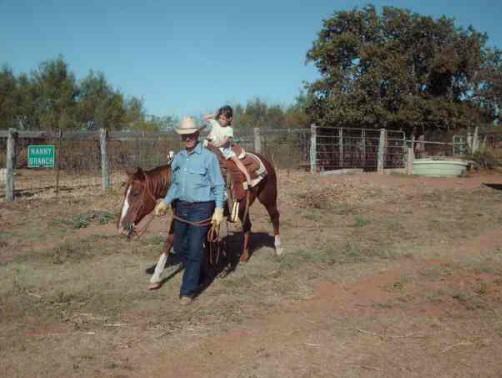 This portrait from 2008 shows he looked very much like he did as a boy, except for the six shooters.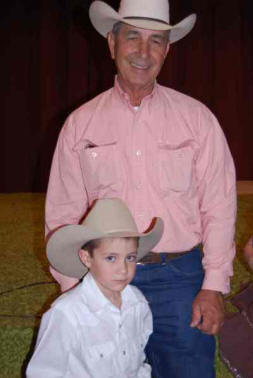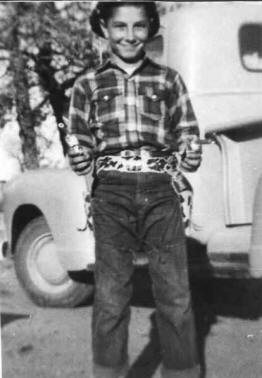 Saturday, May 21 - New Floors - We've been planning for a long time to replace some of the old and stained carpet in the house. A water leak in one of the bedrooms brought about the renovations a little sooner than we had planned. However, it all went really fast once we got the furniture out and the carpet up.
We were able to go over the existing commercial carpet in the kitchen/dining room. The "wood floors" look so much better and we be easier to keep clean:)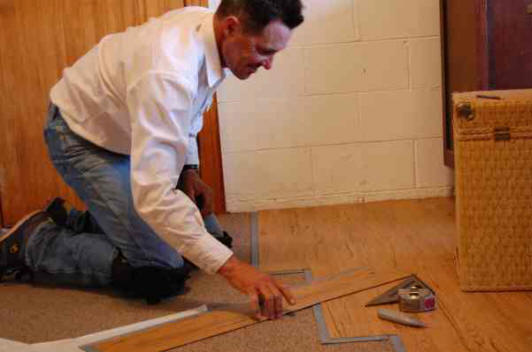 Cim and Laredo did their own room and my bedroom, too. (with help from Stockton and Carolina).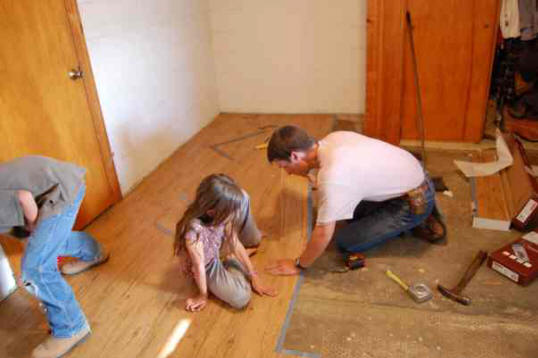 Everyone started enjoying the new floors right away. Milo came in and discovered a cool spot under the kitchen table. Cim and Aspen practiced a few dance moves.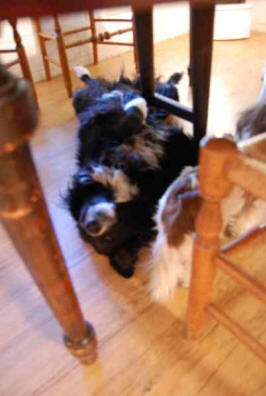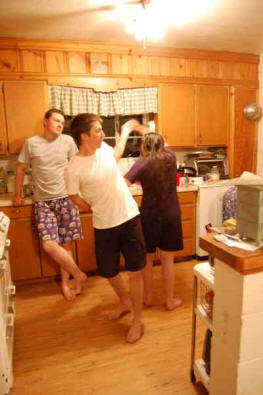 Wednesday, May 18 - Baby Swallow's Foster Parent - Stockton has been helping the mom and dad swallow feed their six babies. Their nest is under our front porch and easily accessible with a ladder. He finds worms and offers them to the eager eaters.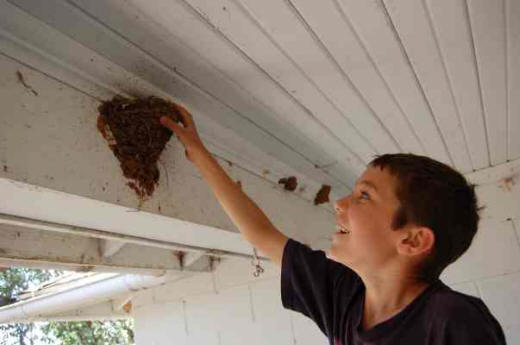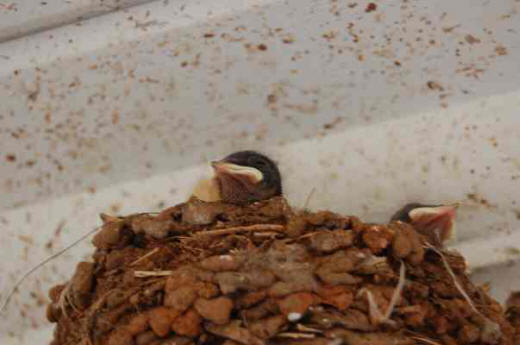 Tuesday, May 17 - Yard Work - We got Laredo to help us plant a few flowers and put up some fencing in the front yard flower beds. I was hoping the little wire fence would discourage the chickens from getting in the beds and scratching, but it doesn't phase them. It's still kind of cute, though. My plan is to paint it black, I think.
Aspen has several little hens that hatched out some chicks. They find creative places to rest, such as these pots.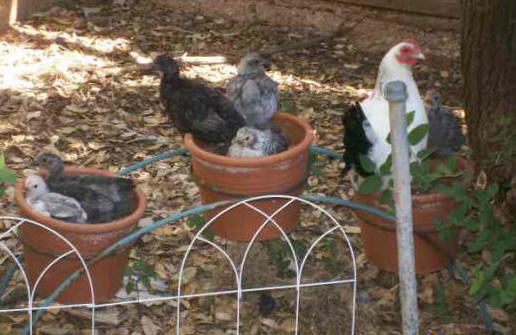 Here you can see the fencing and the new plants.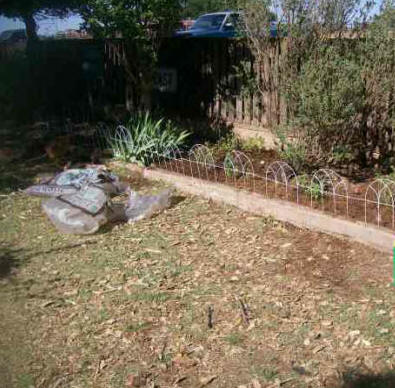 The same man who sold Aspen her new chickens also gave Stockton and Carolina each a bunny. Here's Stockton holding "George".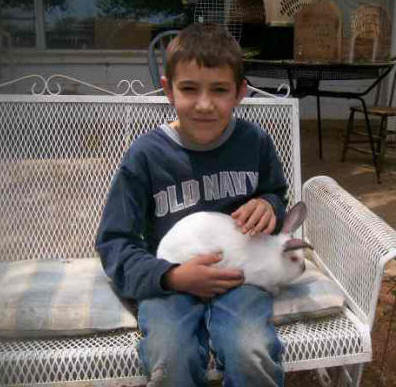 Carolina chose a more traditional name for her bunny, "Flopsy".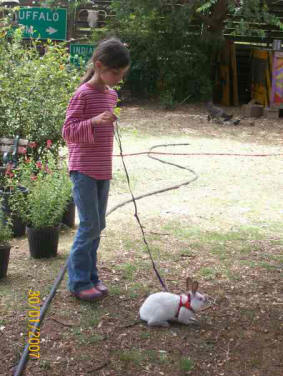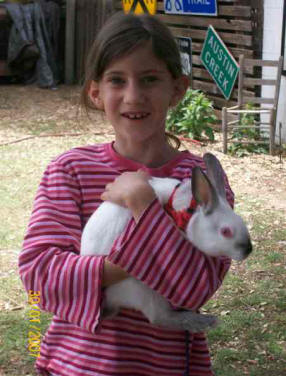 Can you spot the chicks roosting on the tractor?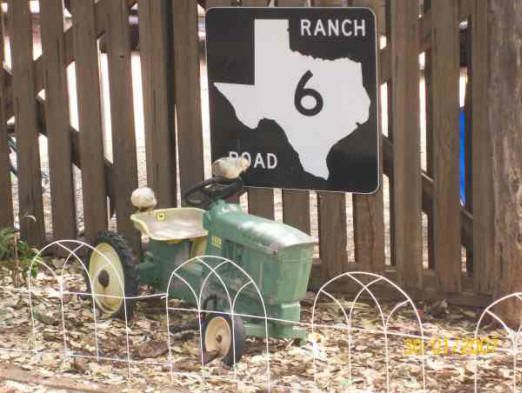 This hen is named "Beep Beep". She hatched out 11 chicks under the floorboards of the chicken house. We knew she had a nest, but couldn't find it. She's the best little mom.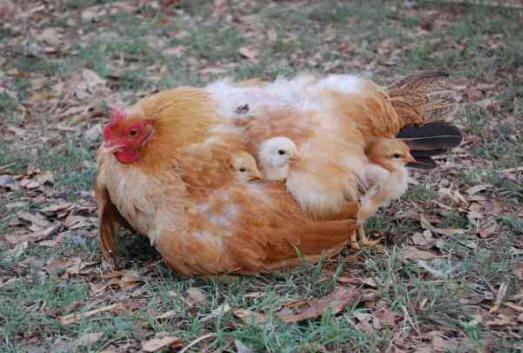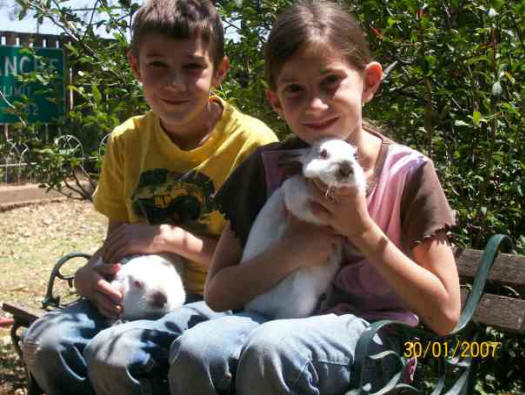 New Potatoes - Atlanta harvested our first potatoes out of the garden. We tried a new system. We put newspaper down then sliced up some potatoes with eyes and placed them on the newspaper eye up about a foot apart and covered the whole bed with about a foot of hay. That's it. No dirt. Of course, now it's very "compost-like" in there. You can harvest the potatoes that are ready without destroying the whole plant. It can keep on growing the immature potatoes.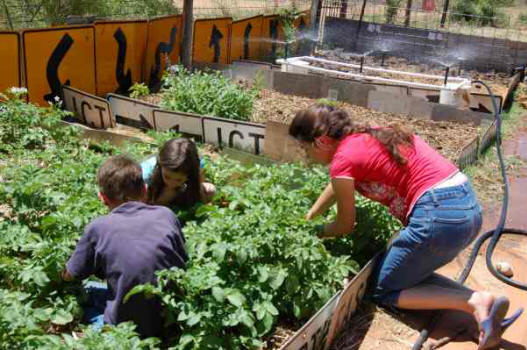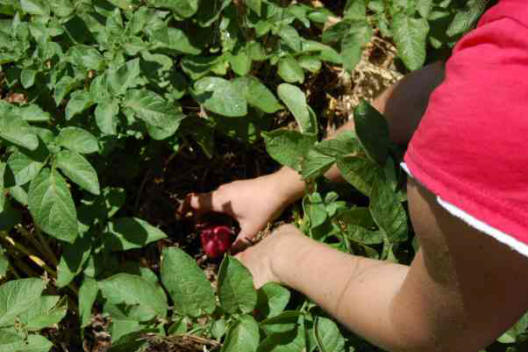 These made the best creamy potato soup I've ever tasted.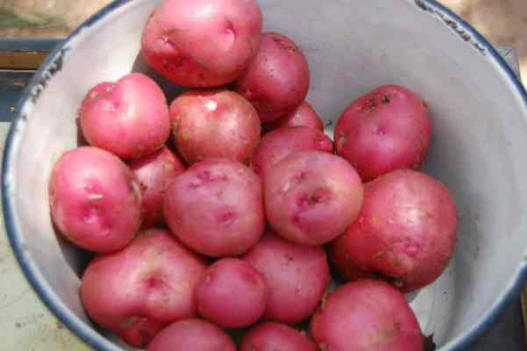 More Modeling - Carolina was called upon again to pose for some pictures for Atlanta's Etsy shop.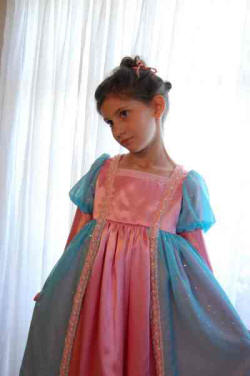 Monday, May 16 - Sitting with Lora - Aspen and I drove up yesterday evening to sit with Lora for a couple of nights and a day. She's getting stronger everyday and is starting to participate in some at-home therapy.
Aspen provides a little occupational therapy of her own. Lora braids her hair.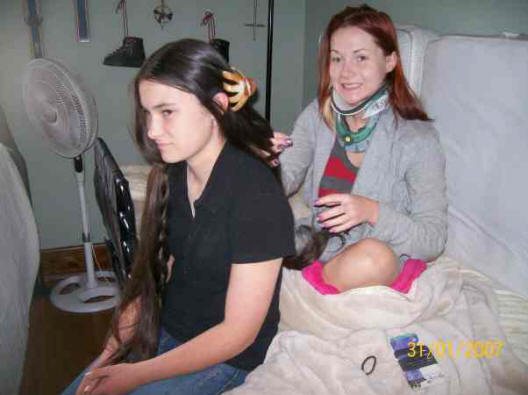 Before we left Lubbock Tuesday morning, we got to see Hannah on her way to school. She had lost her first tooth the night before and received $6.00 from the tooth fairy. She was so excited.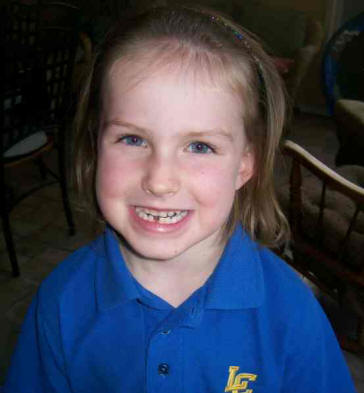 Saturday, May 14 - Music Man Trip - The four older kids and three of the Phipps kids from Turkey took another road trip today. They drove to Decatur to watch a production of Music Man by our friends the Roberts and their drama group. Several of their friends were in it. It was held at a historical museum there in Decatur that has a nice stage area. Below are several good pictures the kids took on the grounds of the museum while they were waiting for the show to begin.
Atlanta and new dress she made for the occasion on the porch of a historical cabin.
Aspen, Laredo, Anthony & Grant Phipps.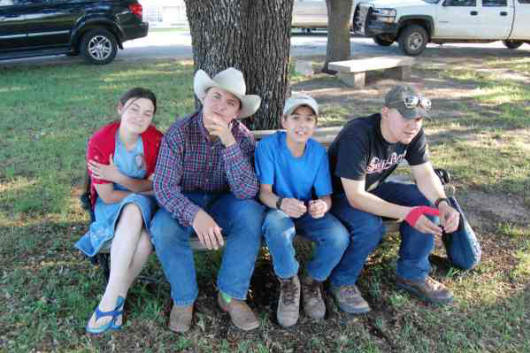 Grant sliced his thumb on the way down there and had to keep it bandaged up.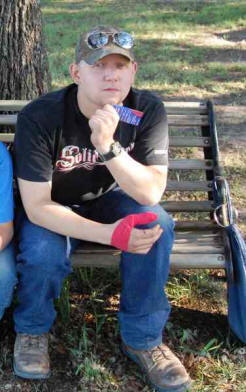 Atlanta with Desarae Phipps.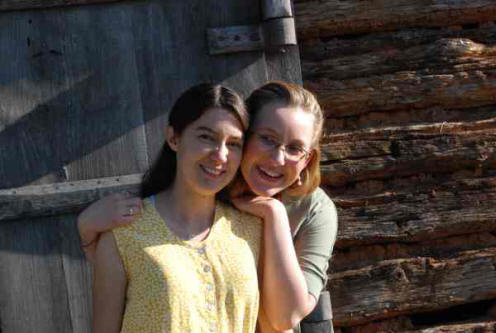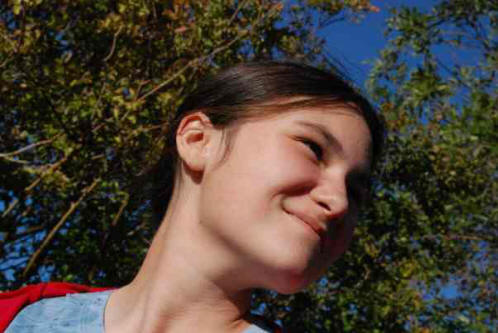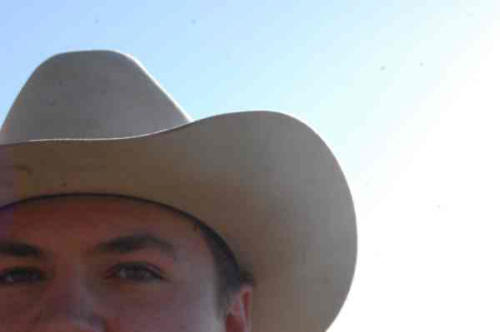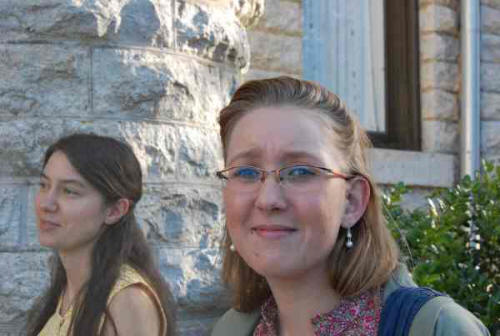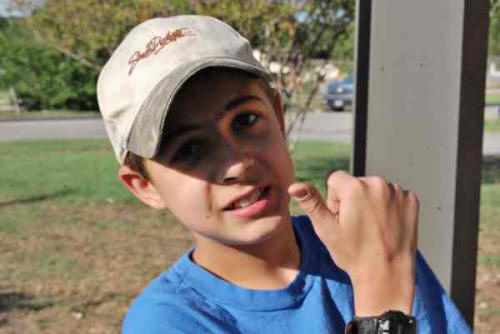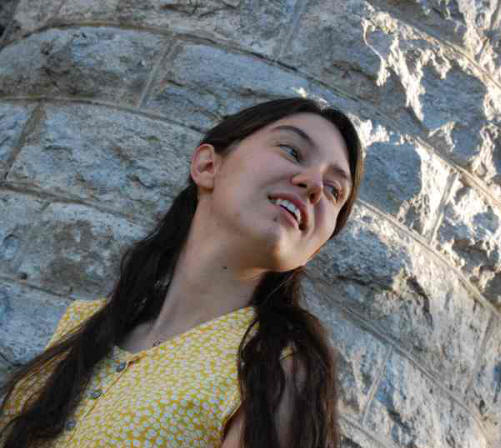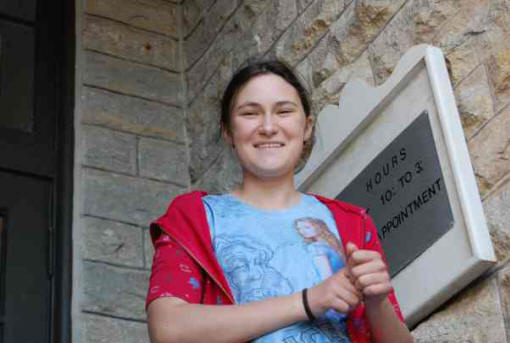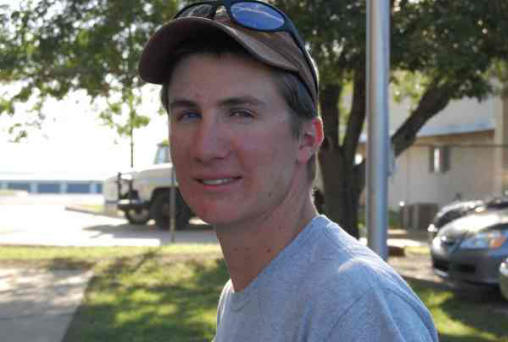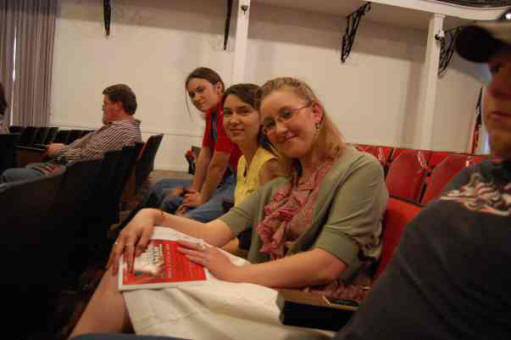 Friday, May 13 - Killdeer Egg - We found this killdeer nest out behind Nathan's shop. I call it a next, it's really just a collection of sticks and a few rocks.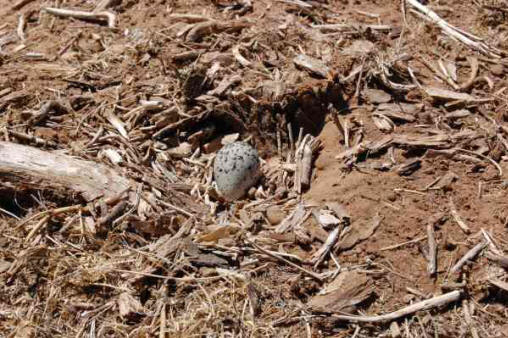 Can you spot the nest? It's right out in the open near the stick in the middle of the picture.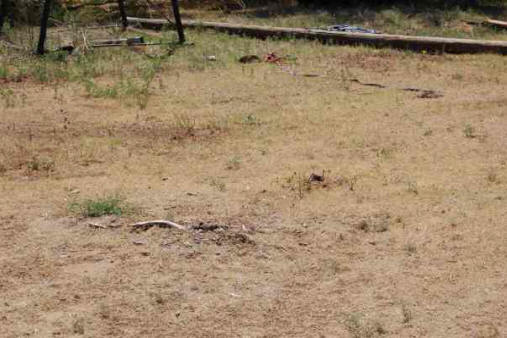 Friday, May 13 - New Chicken Breed - After music lessons today, Aspen, Stockton, Carolina and I drove to Tulia to buy some chickens. A breeder there was selling some of his flock. Aspen bought several of these beautiful "Coronation Sussex" roosters and hens.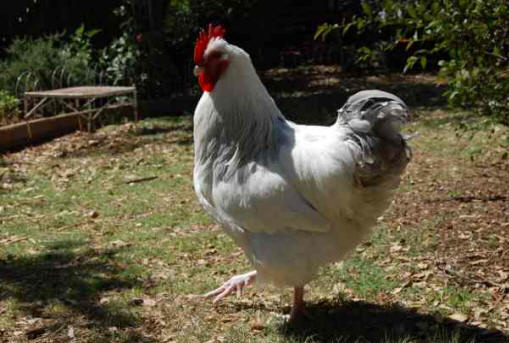 There were 14 hens and 4 roosters in the group Aspen bought.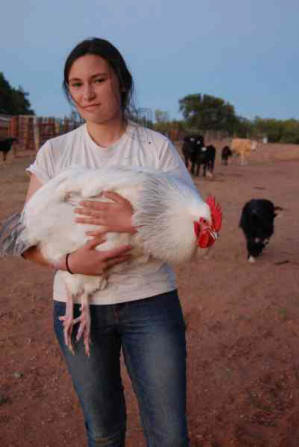 Wednesday, May 11 - The New Fish - When Atlanta and I came home today, we made a pit stop at Wal-Mart to buy some fish for Stockton and Carolina. Stockton wanted to spend some of his Bob Will's Day prize money on a "dragonfish". It kind of looks like an eel of some kind.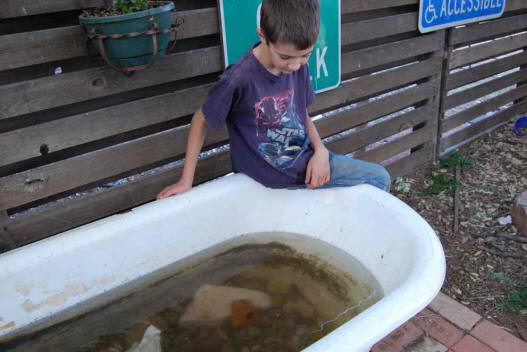 They put him in the bathtub fountain in the front yard. Can you see him?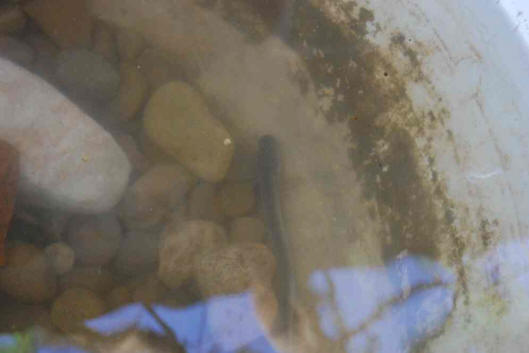 Carolina has these three little colorful fish.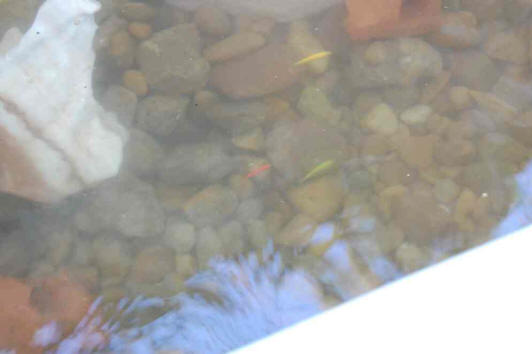 Update on Lora - Lora is stabilized. Other than her head injuries (multiple skull fractures and contusions in the brain) it doesn't seem there are any other broken bones. She is having long and short term memory issues, some hearing and eye problems on the right side and other issues related to swelling and bruising of her brain tissue. Like most head injuries, her condition is also unpredictable and unique. She had a small "seizure" of sorts Tuesday morning which led Misty to take her back to the hospital for more extensive testing. She's still there and may be for a few more days. Misty finally got a neuro surgeon to look at the MRI and talk to her about Lora's condition. It's so frustrating trying to weave your way through the layers of a hospital stay and get information "straight from the horses mouth" so to speak. Keep Lora and her family in your prayers, please.
Monday, May 9 - Windy and Atlanta in Wilson - Today we came up to Misty's house to see Lora and sit with her for a couple of nights so Misty and Kevin can get some rest. They've got lots of people bringing food and signing up to sit with Lora. It makes it easier to have such a large support group. I also finally got to see Audrey's new baby, Stanley, from Rhode Island. Audrey flew down to help out with her sister.
5 month old Stanley; big blue eyes and sweet smile.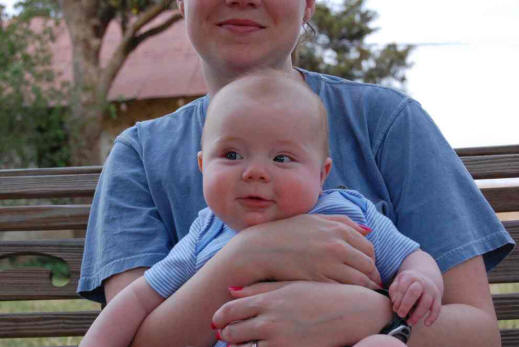 Who do you think he looks like? We can see both Audrey and Joe in his features. He's already a big boy like 6'5" Dad.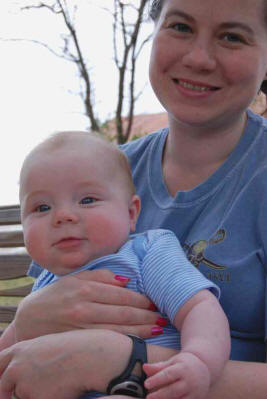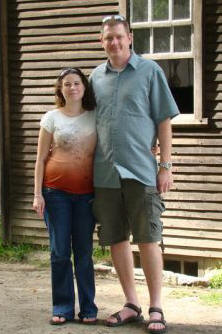 Great Aunt, Windy, finally gets her hands on him, and Great Granny enjoys him, too.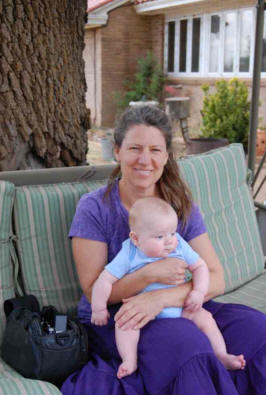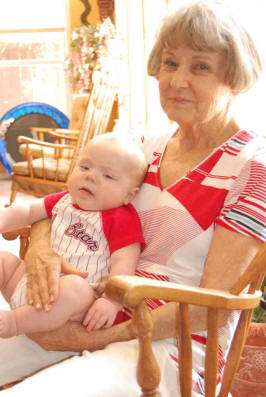 Pig Drama - Nathan caught a little wild hog last week. We've been keeping him in a stock trailer and feeding him. Jim and Sunny said they wanted him, so I brought him with me (in a large dog carrier) when I came to Lubbock. Atlanta and Granny and I took him to their house to put him in the hog pen Jim had prepared. (Jim and Sunny were not home at the time) Unfortunately he was too little and slipped out of the pen soon after we got a nearby farmer to help us put him in there. The last we saw of the little guy was him running through the dirt field east of Sunny's house with their german shepherd hot on his heals. Oh well...
Nathan getting wild hog baby out of the back of his pickup.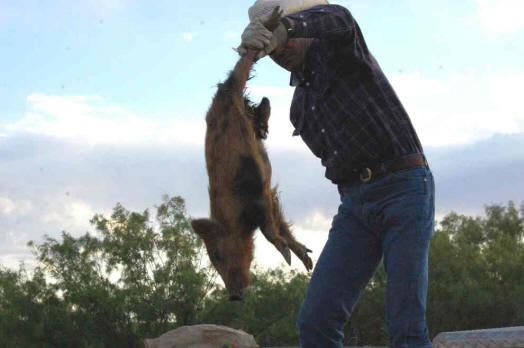 Various Snapshots from This Week - Here are a few pictures that were taken around here over the past few days.
Gypsy gets another hair make-over.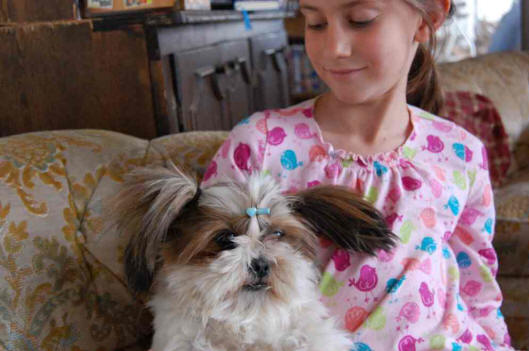 Atlanta took some roses that Regina Phipps brought over last Saturday night and made them up into "rose water" from an old recipe.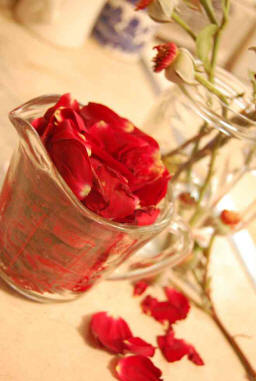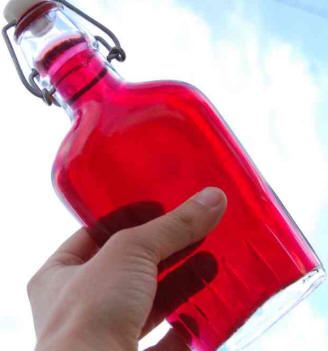 Atlanta modeling a regency dress she's made up to take with her to the Jane Austen society convention she will have a booth at next October. She hopes to have lots of ready-made things made up and to take custom orders there as well. Next to her are some of the nine bridesmaids dresses she's also working on right now for an internet customer.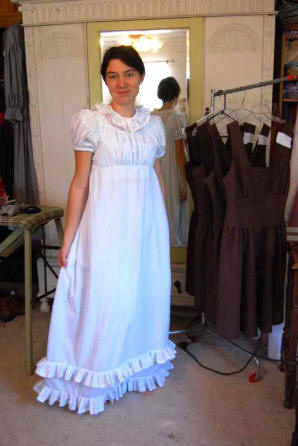 We went to a shower on Saturday, May 7. Atlanta made little pound cake muffins to take.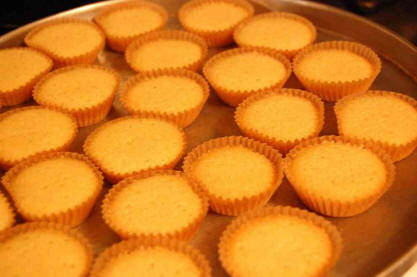 As I prepared supper one night, Atlanta snapped this picture of the sun beams shining in the west window around me. I wonder if this wasn't one of those days when there was so much smoke in the air from Texas fires.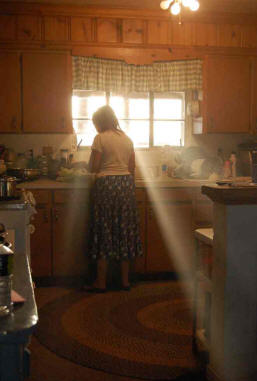 Atlanta also had a couple more Rapunzel dresses, as seen on Disney's Tangled movie that she made this week for customers of her Etsy shop.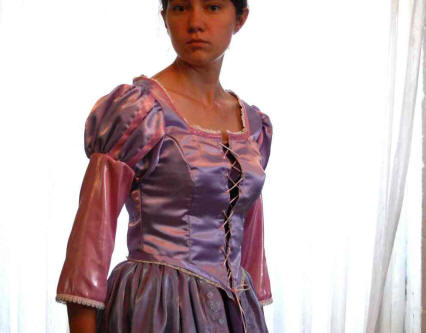 Sunday, May 1 - Niece in Bad Accident - Last night we got word that my sister's daughter, Lora Pringle, had fallen from a moving vehicle and been airlifted to Lubbock. She has a severe head injury. Please pray for her.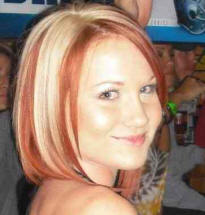 Catch up on past news! Just click on a link below.