Wednesday, November 30 - Tiny Dress - Atlanta got an order for a colonial style costume dress for a young girl. They also wanted a twin dress for her doll. Isn't it so cute? It fits an 18 inch doll.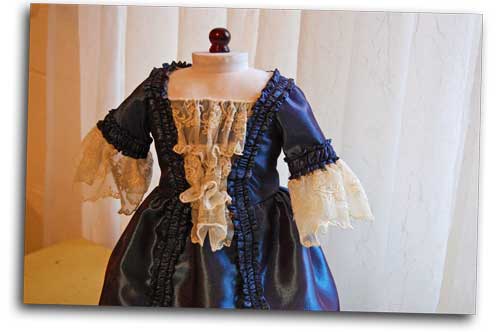 Look at the detail in the handmade trim.
Time for More Wood - The boys gathered a large load of wood and got it chopped and stacked on the porch.
Cim and Daniel seem very proud of themselves.
I know I'm proud of this supply of good firewood.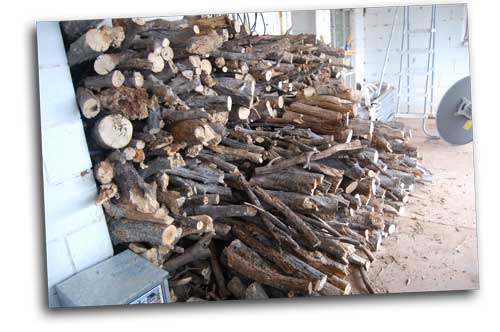 Sunday, November 27 - Coon Skin - Cimarron shot into a group of wild turkeys and hit one. At least he thought he did. When they got over to the carcass, they were surprised to find that it was a raccoon instead. Go figure. No one is sure why the turkeys were all gathered around the raccoon. Jordan, who does a lot of trapping in Tennessee, knew how to skin it leaving a perfect "tube" of fur.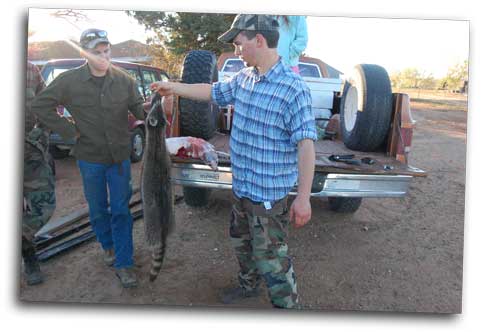 Friday, November 25 - Two Amazing Sights - This lovely golden late afternoon scene is the first amazing sight.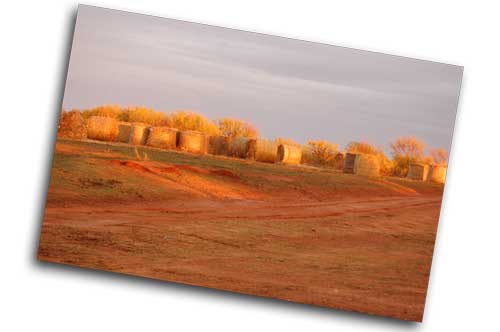 The second is a huge pot of chicken and dumplings that Atlanta made for supper.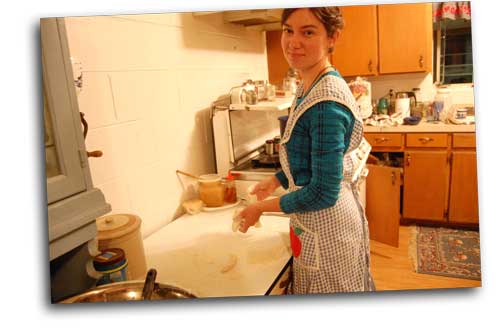 I told you that you'd be amazed! Rest assured the boys did their best to eat it all.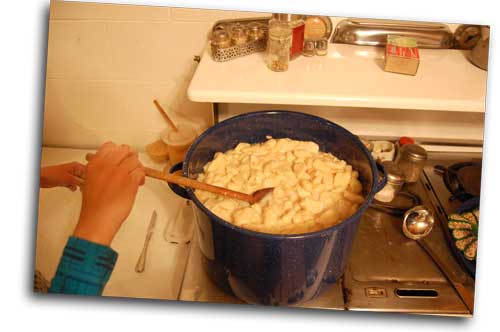 Thursday, November 24 - Thanksgiving - Today we traveled to my sister, Misty and Kevin's house in Wilson and had a fantastic meal. Some of Kevin's family was there, too. Afterwards, we went through Lubbock on the way home and spent a little time at Gander Mountain looking at...you guessed it...guns.
One could fill up at the snack table alone.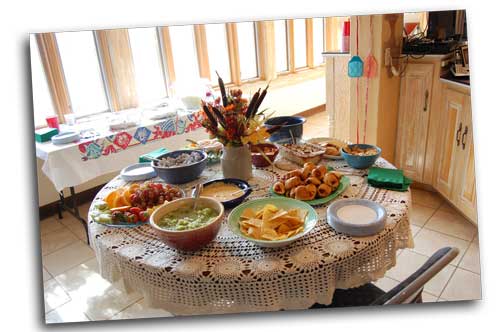 Misty's kitchen looks like the pages of a magazine.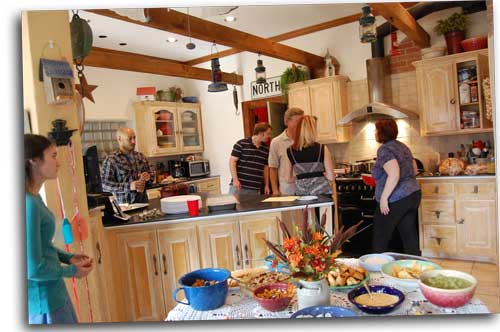 Aspen waits for lunch.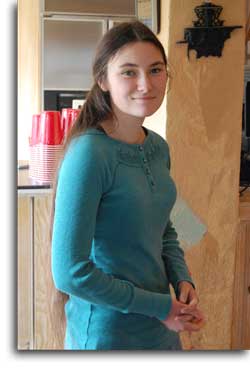 Jared and Lora visit with Atlanta.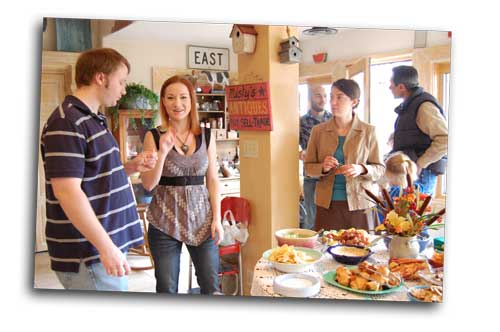 Carolina, Stockton and Hannah have fun on the trampoline.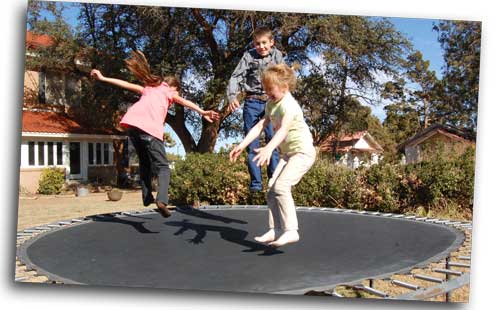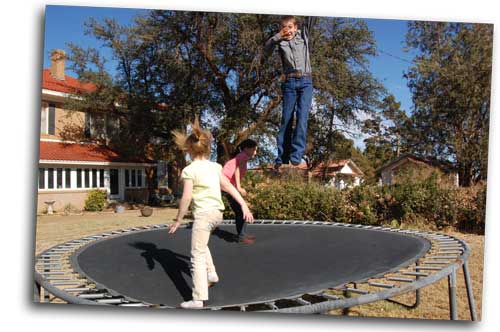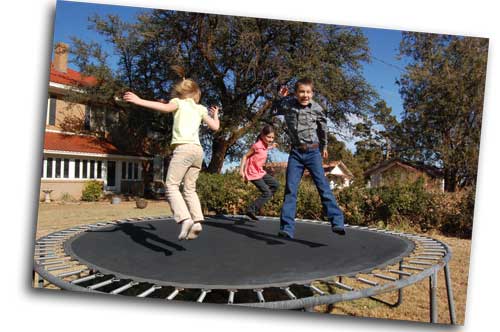 Misty decorated the tables with these autumn colored bouquets and what a cute idea, rolls served in little apple baskets.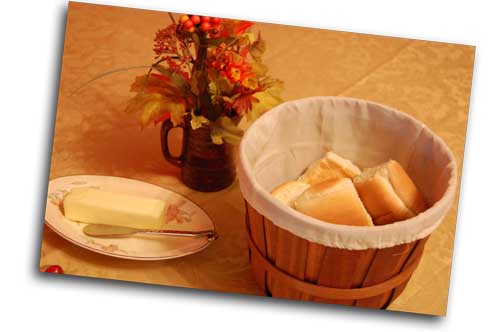 The dessert table is always popular.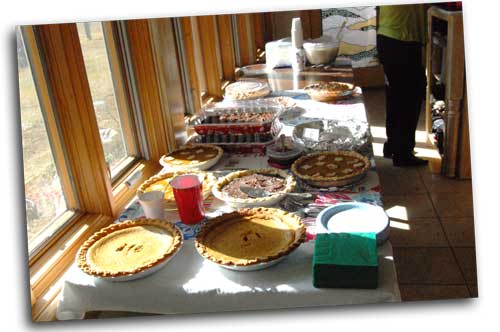 Atlanta enjoys spending time in a different kitchen, for a change.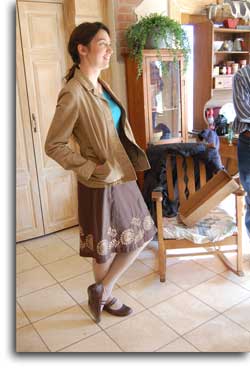 Jordan, Laredo, Cim and Daniel, patiently waiting for lunch.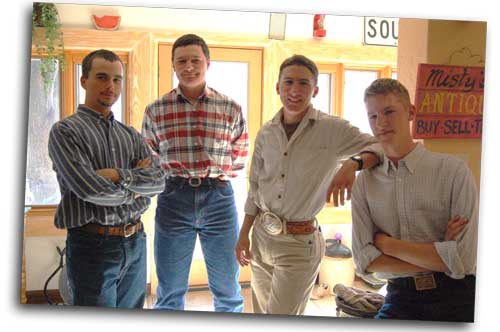 Yeah! Let's eat!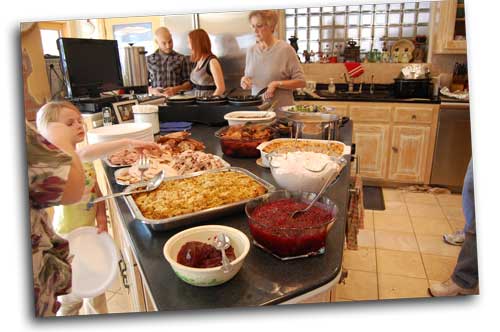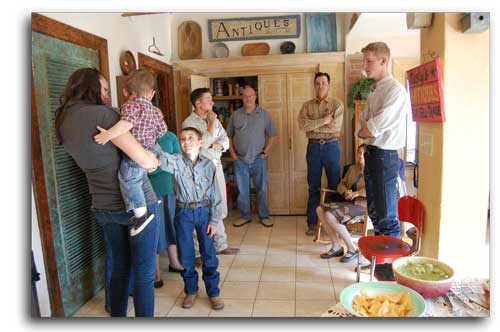 Lora and her boyfriend, Arick. She's back at work and doing great. (answered prayer after her summer accident. See Niece in Bad Accident, May 1, 2011)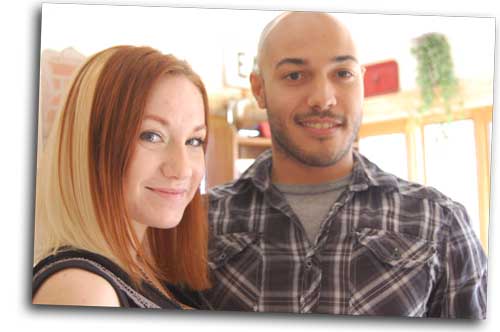 What a feast!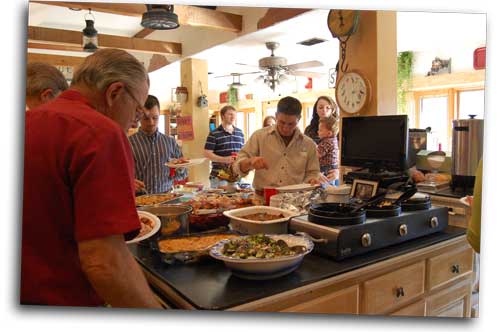 Cim and Daniel played a few tunes before we left.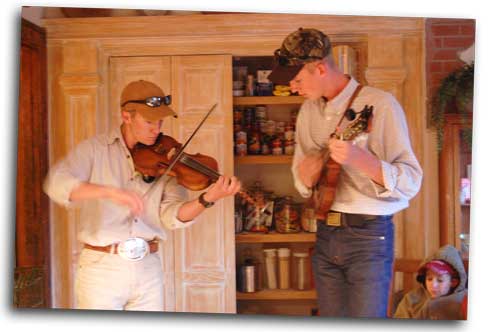 I didn't take any video of this (drats), but I did video them two days later when we had a few friends out for the day. Click the white arrow to start the video.
Tuesday, November 22 - Hannah! - Sunny, Granny and Hannah came for a visit today since she was off from school on Thanksgiving break. The kids had so much fun playing on the hay bales. We hardly saw them all day.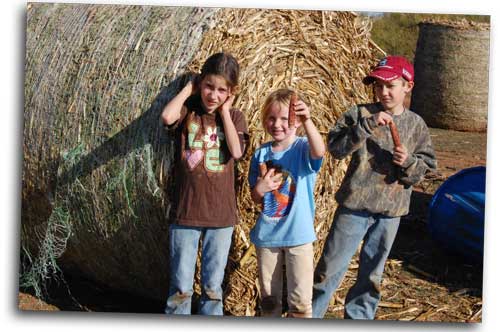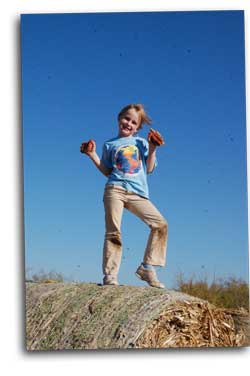 It's probably a good thing we didn't see all these shenanigans.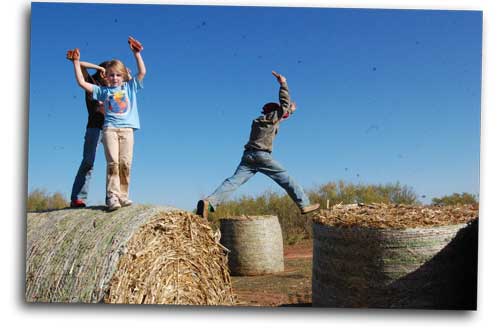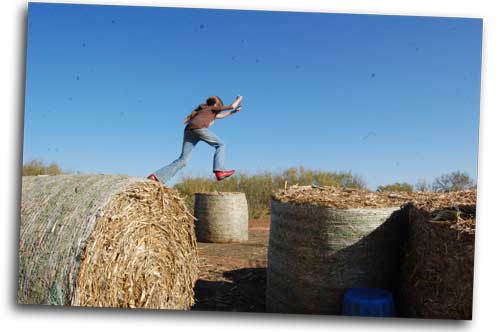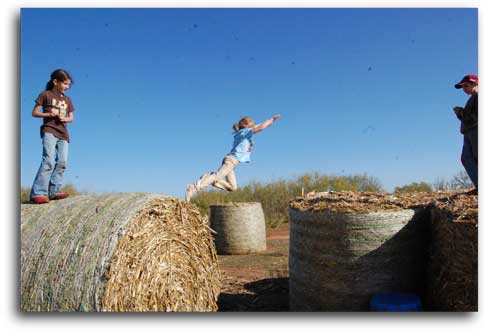 Monday, November 21 - Rain! - Wow. Look at this amazing downpour we got today. Our front yard became a lake for a couple of hours.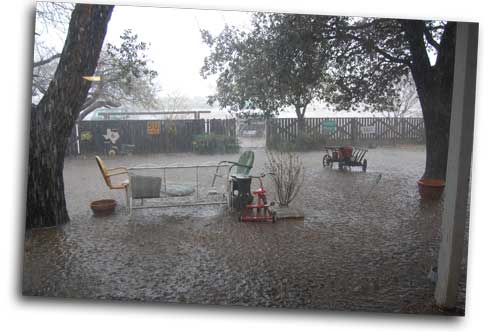 Sunday, November 20 - Firewood - Today after church the boys gathered wood, cut it and stacked it.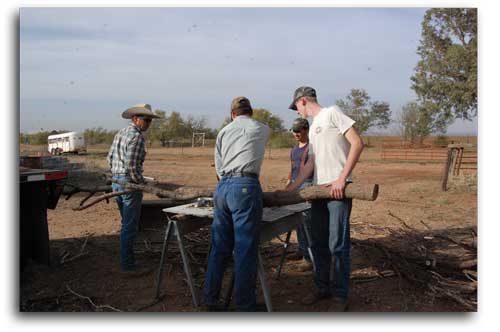 Everyone gets in on the act.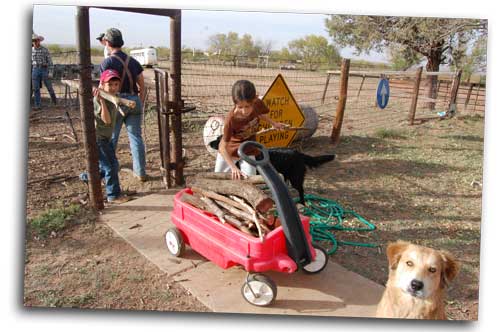 Rusty and Milo look on.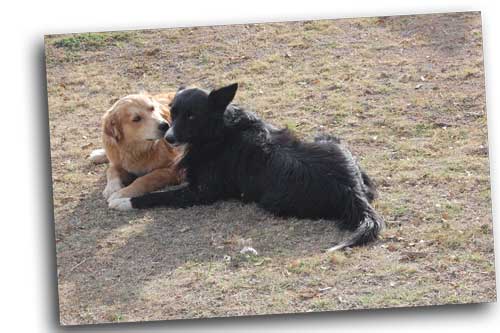 Everyone assembled for a nice lunch.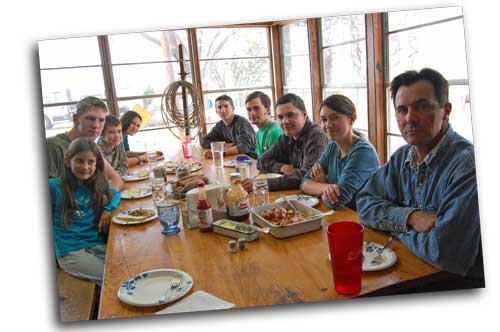 Saturday, November 19 - Tennessee Boys - Last Monday, the 14th, Jordan Goodwin and Daniel Amick from Tennessee met Cim and Laredo down in Cross Plains to work on the mowing crew for a few weeks. Last night, we finally got a look at them. Daniel has grown and Jordan looks about the same. They're good workers and everyone's enjoying having them around.
Laredo, Daniel, Jordan, Cim, Carolina and Stockton.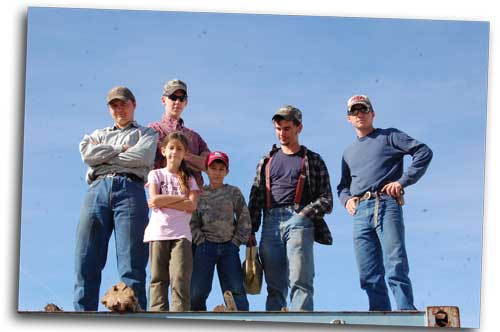 Don't ask me what they're doing on top of the storage container.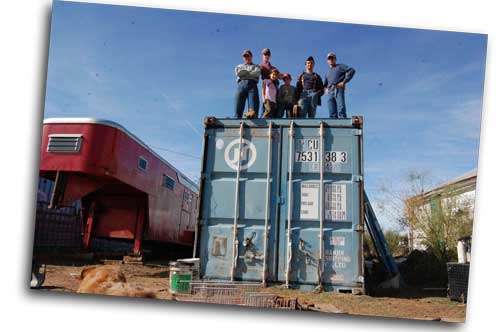 Wednesday, November 16 - Gicon Pump Welcome BBQ - Today the supply company for the well supplies Nathan will be using sponsored a BBQ in his honor to introduce him to Matt Washington's old customers. There was a good turn out and Nathan had a chance to meet some new people and see some old friends.
Nathan speaks to the diners for a few minutes.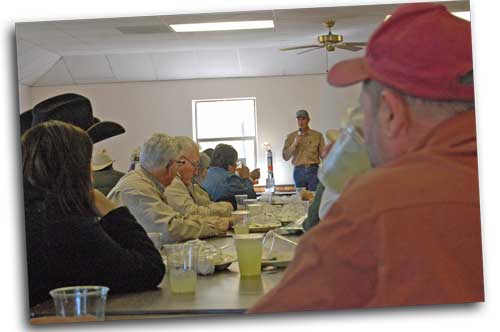 Tuesday, November 15 - Too Dog Gone Fun - Stockton couldn't stand it. He had to jump on the hay bales again. The kids have had more fun playing and climbing around on these large round bales of corn stalks we bought.
Milo enjoys the view from up high.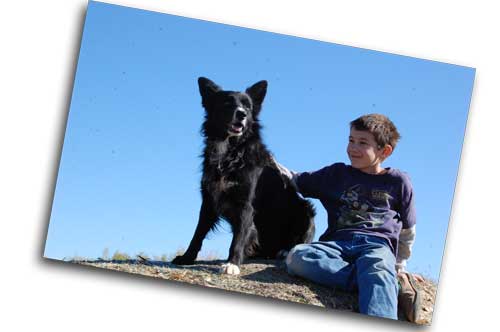 Coconut's not too sure about it.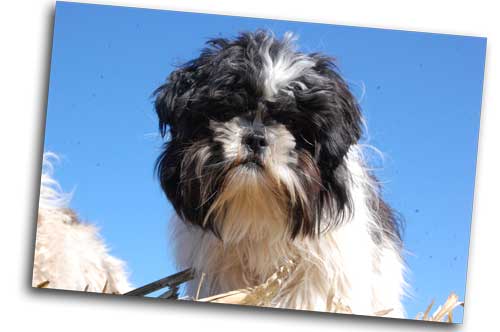 Gypsy can't be left out of the fun, either.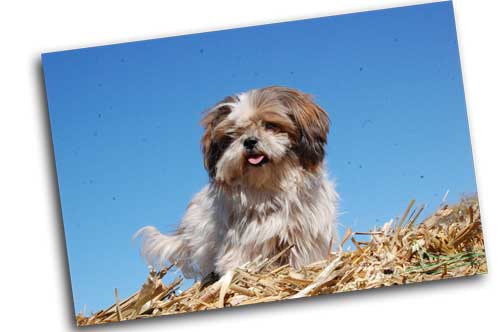 Monday, November 14 - Occupy Northfield - In a protest move, Coconut and Gypsy have taken over the front yard. They've started to dig-in to protest having to stay outside like dogs. They're demanding that they be let in the house and given every opportunity that the kids have.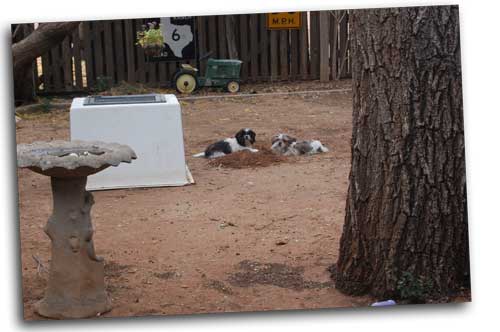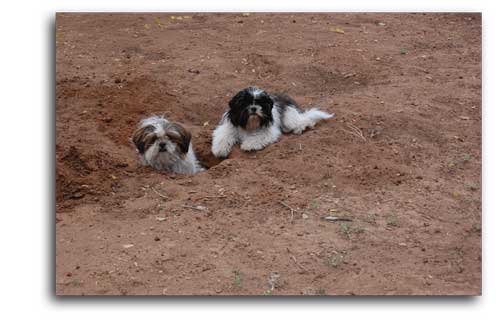 Room Renovations Begin - Atlanta will be slowly re-doing her room over the next few weeks. She started out by painting her sewing table. Her favorite colors are robin's egg blue and coral, and she'll be using various shades of the two throughout. I'm not going to show you the final version of this piece because Atlanta will post about it on her blog eventually. When she does, I'll link to it. For now, check out this past post that shows Atlanta's room ideas and inspiration pictures: www.storyofaseamstress.blogspot.com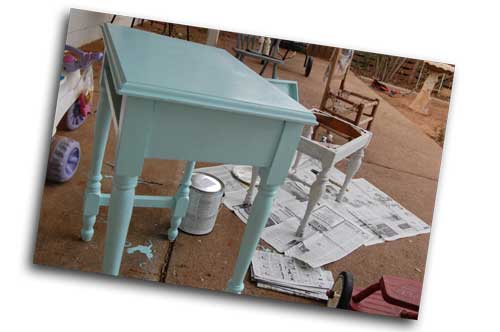 Making Hay While the Sun Shines - The kids took advantage of the mild weather and played this afternoon on some of the hay bales that have yet to be stacked. I got a lot of cute pictures.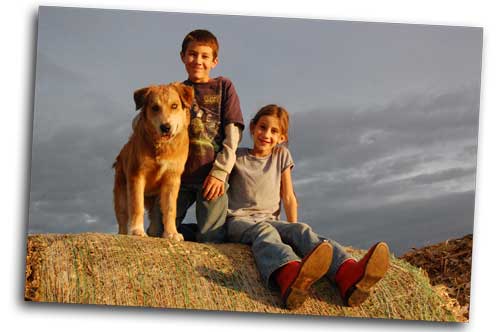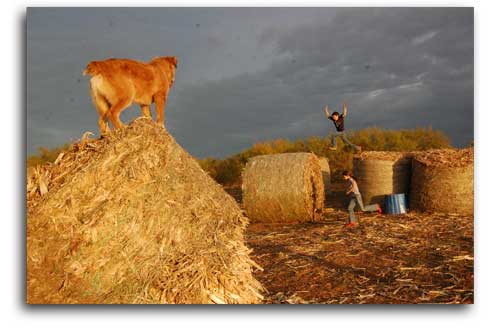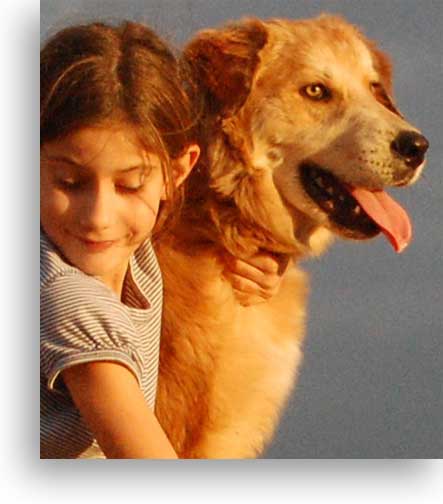 Our wheat field is beginning to show a little green after a recent shower.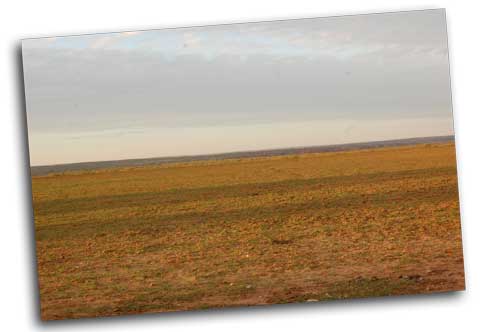 Bossy, our milk cow, enjoys her evening meal, but seems worried about my presence.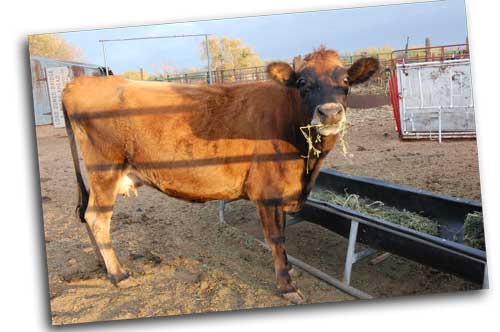 Stacked hay bales against a colorful sunset.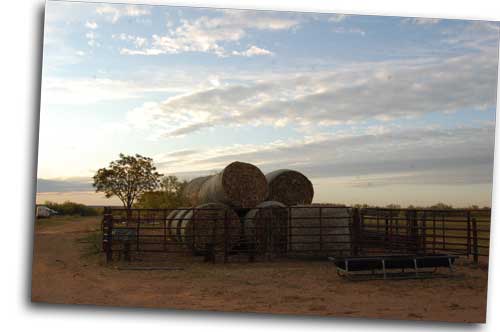 Carolina with hay bales in the distance.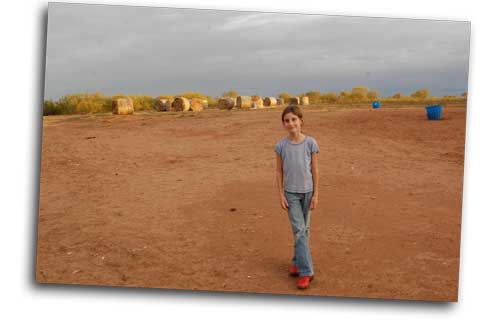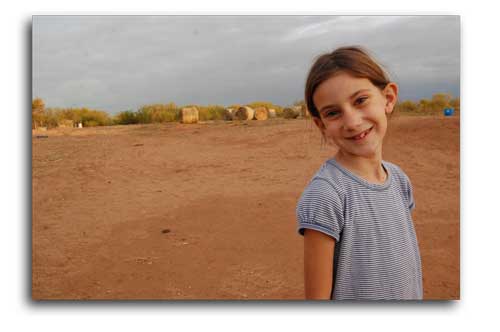 Sunday, November 13 - Men at Work - Nathan, Cimarron and Laredo left out this afternoon for Cross Plains. They start mowing Callahan County tomorrow. Nathan will return tonight after hauling the last tractor. The boys are going to run the mowing crew themselves. (gasp...sense of terror... prayers)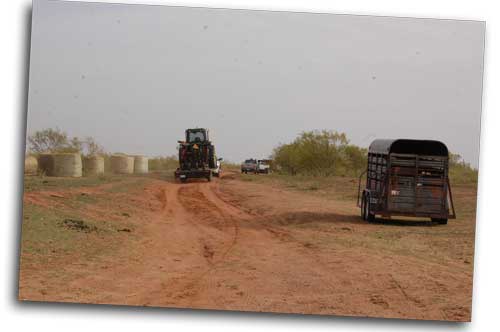 The next morning, Nathan left out under this beautiful sunrise in his newly purchased Windmill rig to start his new business, Shannon Well Service. He has decided to take over an existing business in our area that came up for sale. He will be repairing, maintaining and installing windmills, solar pumps and house well pumps.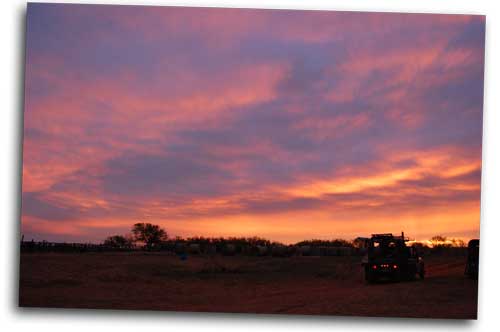 Saturday, November 12 - 19th Century Ball Gown - Atlanta just finished this blue silk dress for a customer in England. It will be worn at a historical Christmas ball. It turned out lovely. Read more about it on Atlanta's blog: www.storyofaseamstress.blogspot.com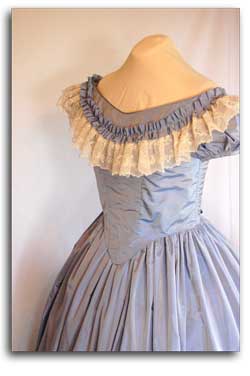 Wednesday, November 9 - Bake Day - Aspen was busy today making a few goodies. She tried a new recipe call "no bake chewy brownies" that have coconut, almond butter, honey and cocoa.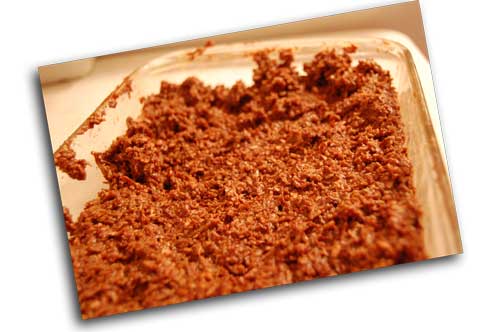 She also made a few loaves of her now famous bread.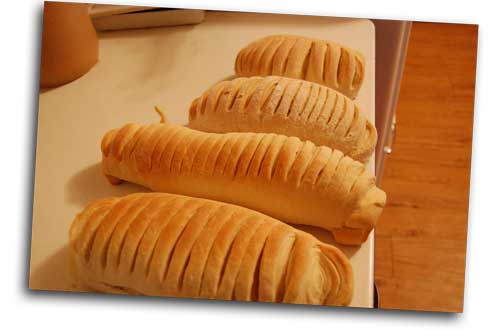 Saturday, November 5 - Band of Brothers - Cim wanted to get his friends together for a day of "guy stuff". We decided to invite their respective family members as well and make a day of it.
Daniel Hernandez, Anthony Phipps, Cim, Caleb and Grant Phipps enjoy soup for lunch.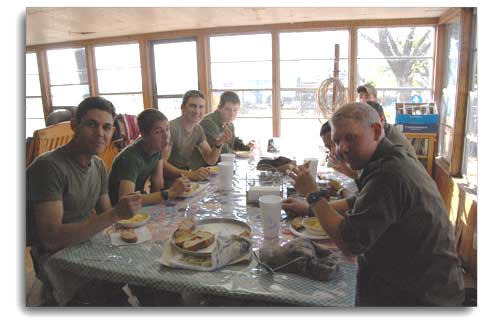 On the other side of the table; Peter Hernandez, Laredo, John Hernandez and Grant.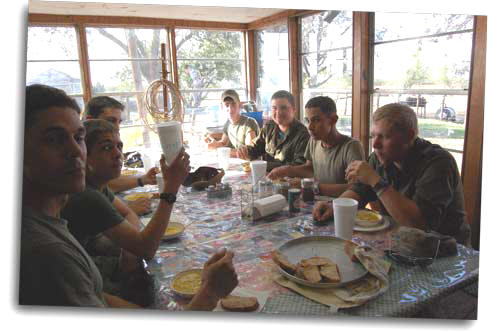 Jacob Campbell, Quint Phipps, Nathan, Joe Macha and Pete Hernandez around the kitchen table.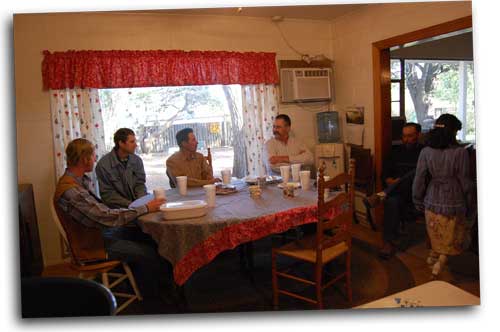 Outside the girls find a place to visit. Sarah Macha, Brianna Hernandez, Johanna Macha, Ivy Hernandez and Aspen.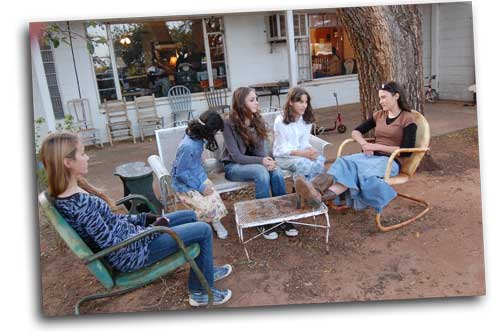 Do you ever get the feeling you're being stared at?

Dance practice - The kids then went over to the Turkey gym that night for some swing dance practice. They're getting pretty good.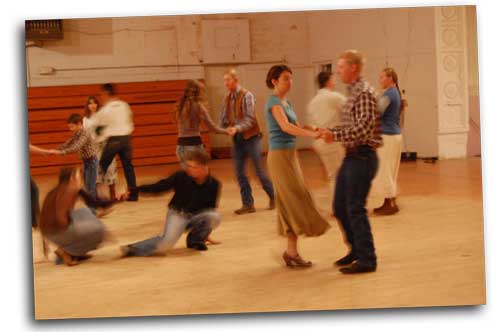 Some little brothers and sisters got to tag along. Carolina and Elaine are waiting for partners.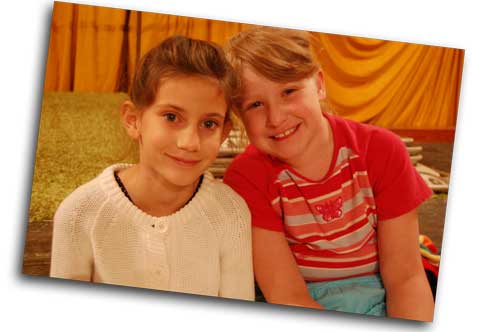 Stockton dances with Sarah Macha.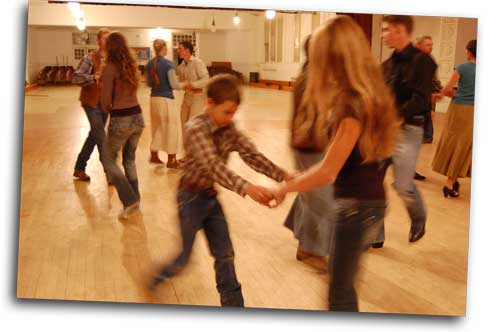 The Virginia Reel always has to be danced, too.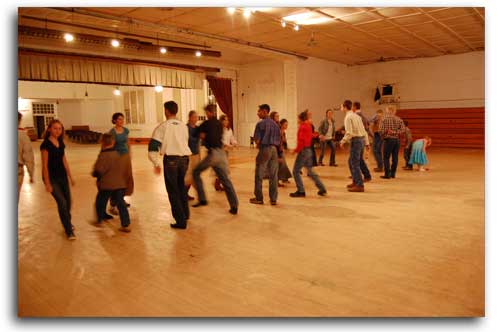 Anthony Phipps, Sarah Macha, Ivy Hernandez and Cim.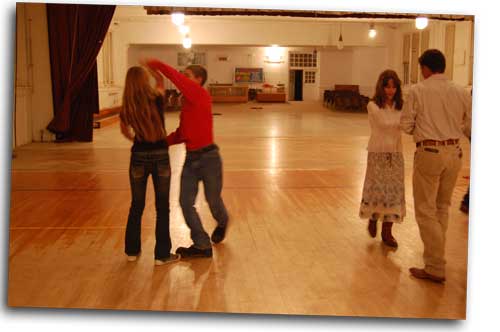 Stockton and Elaine Phipps.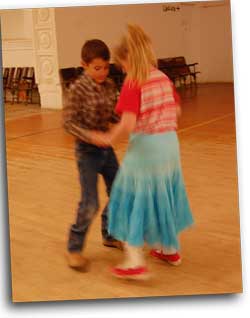 Peter Hernandez, Atlanta, Desarae and Grant Phipps.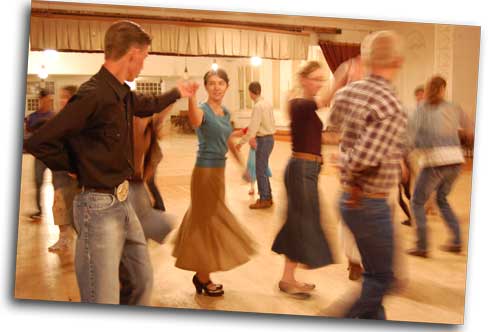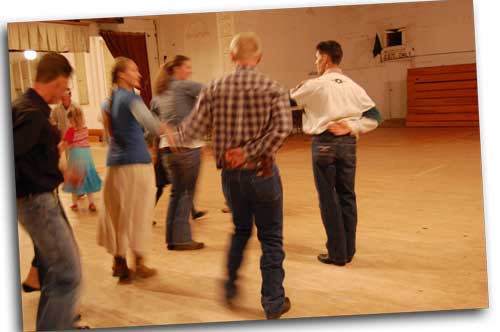 Aspen and John Hernandez.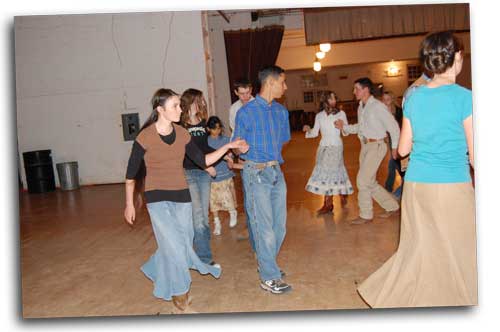 Dusty Horn dances with the broom during the broom dance.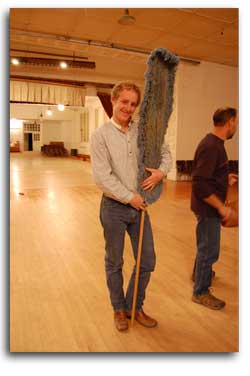 Thursday, November 3 - Christmas Bazaar - Today was a fun day. We traveled to Lubbock early and set up a booth at the Lubbock Women's Club in the downtown area. Ladies from all over Lubbock came to enjoy a luncheon and some early shopping.
Atlanta poses by our booth.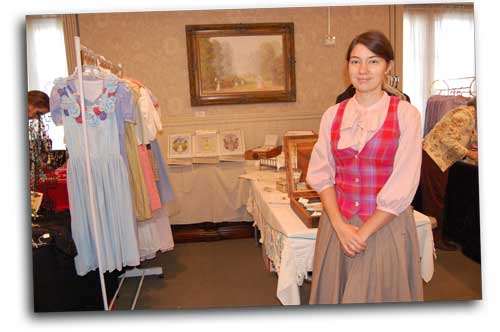 We offered clothing, jewelry, doll beds and more.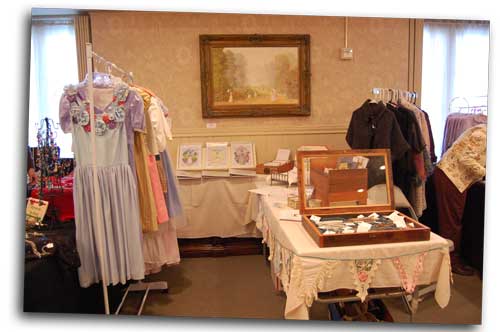 It was fun to see what all the other booths had to offer.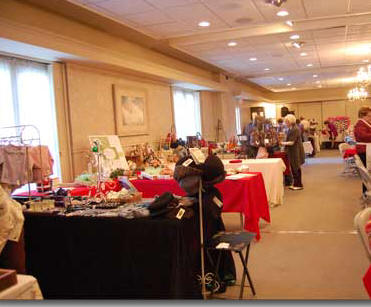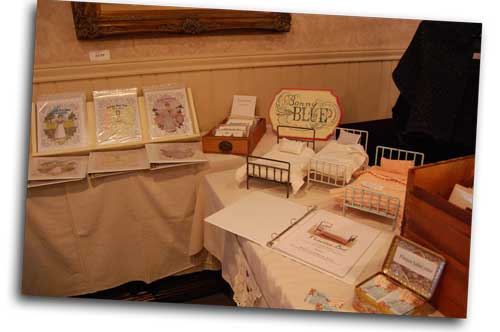 Granny went with us and kept us company all day.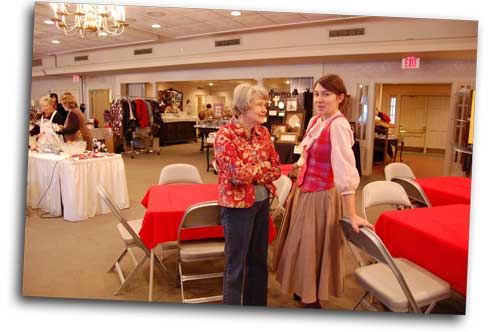 Vicky is a member of the club and helped put on the event.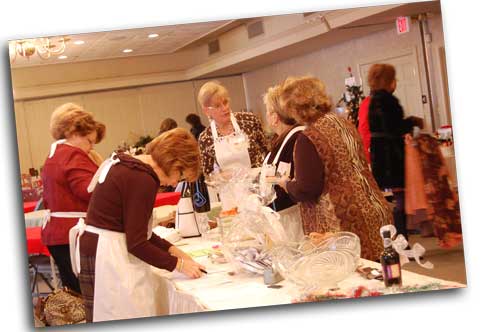 Check out our past news. Just click any link below: