Welcome!
Read the July 2011 News:
Tuesday, July 26 - Here Come the Dendy's - We had a visit today from Kristen and her girls as well as Granny and Hannah. The kids played around the house with American Girl dolls, G.I. Joe and Barbie dolls and then swam for a while in the 108 degree weather. We had a nice sandwich lunch, too. Just as they were leaving, Regina Phipps and her three youngest came over for a swim. It was a fun day with friends.
Maura, Hannah, Carolina, Clara and Stockton in the pool with Atlanta supervising.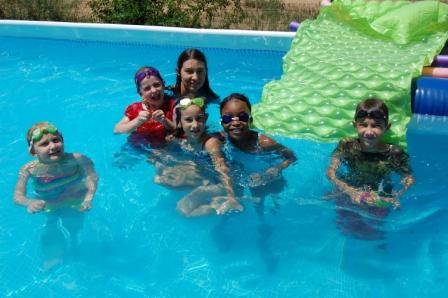 Aspen, Granny and Kristen cling to the bit of shade still left against the house and watch the swimmers.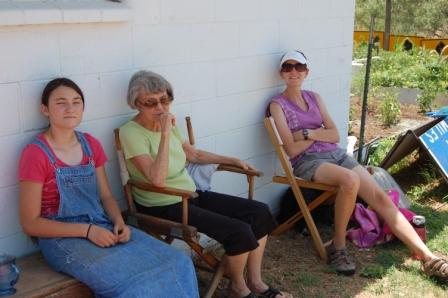 Meanwhile, unsupervised Rusty and Coconut wrestling and getting filthy under the trampoline.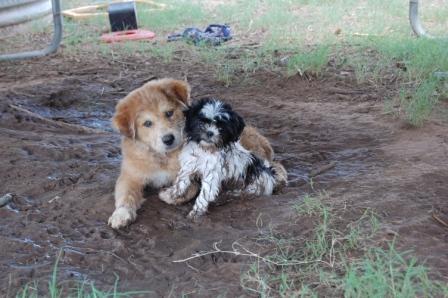 Sunday, July 24 - Prickly Reptile - Nathan came in with this today to show the kids. Carolina immediately said, "Mom, get the camera and take a picture of it. Then email it to me because I have a horny toad file!"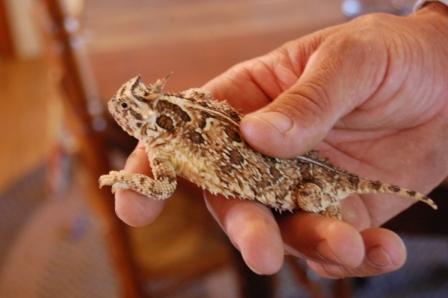 Tuesday, July 19 - Mid-Morning Nap - Along about 10:30 this morning I couldn't find Carolina. Finally, I found she had gone back to my room and turned on the air conditioner and was having a nice sleep. As you can see, she took Coconut with her.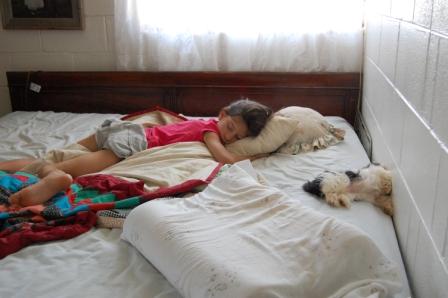 Old News, New Pictures - Bessie, Bossy and Belle - I never did report on our acquisition of two new milk cows. It happened several weeks ago, but I never could remember to take my camera with me out to the barn. Well, today I finally did. One of our new cows was already giving milk and with her we also bought a calf that she had on her. We've been milking her each morning and then turning her calf in with her for the rest of the day. In the evening, we separate him back off.
This is Bossy and her calf, Le Foo.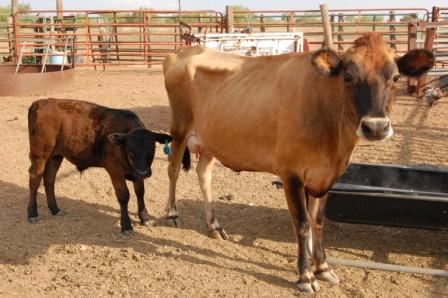 We also bought this pretty little Jersey heifer who is supposed to calve out in October. Her name is Belle.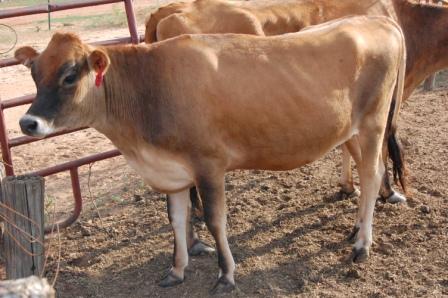 This is Bessie. We were milking her until she dried up. She's supposed to have a calf in February.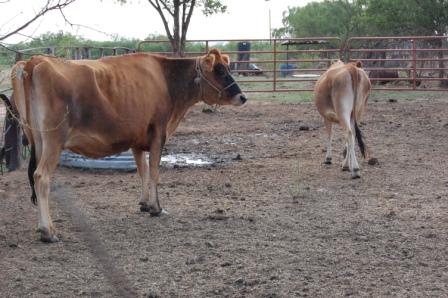 Sunday, July 17 - Late Birthday Celebration - Because of the out-of-town highway mowing that everyone's involved in right now, we hadn't been able to properly wish Atlanta "happy birthday". The crew worked on Saturday this week so they only had this one day home to rest up before going back one more time to finish up Callahan county. So this evening after supper we had some fruit pizzas to commemorate her special day which was officially July 12. She turned 21 years old.
Atlanta poses before slicing into the fruity treat. Cimarron kids around with his turkey hot dog. (he's obviously been watching too much groucho marx)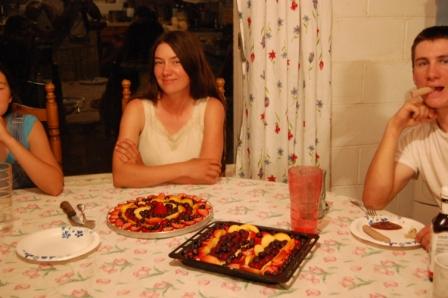 Carolina assembled the toppings as Windy sliced up the fruit.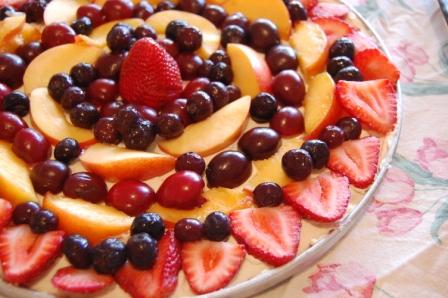 Tired but still smiling, everyone stops for a pose.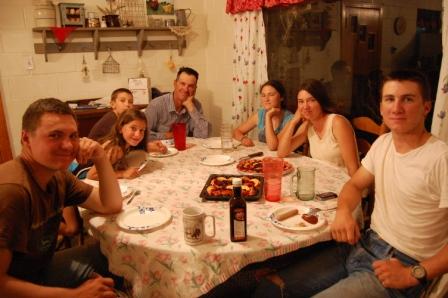 Aspen, Atlanta and Carolina, gorgeous sisters, if I do say so myself.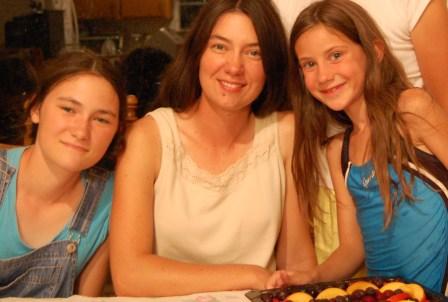 After the party we noticed Coconut had gotten in her water bowl again.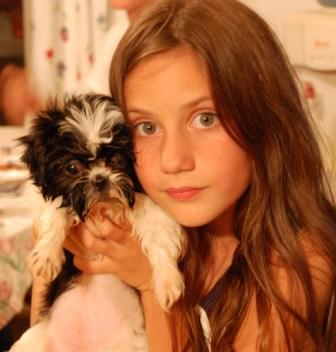 Target Practice - Atlanta wanted to try out her new pistol that she got for her birthday. Nathan insisted that Windy practice with her own gun, as well.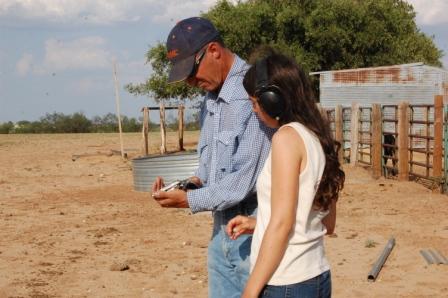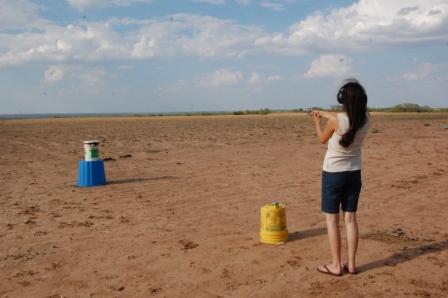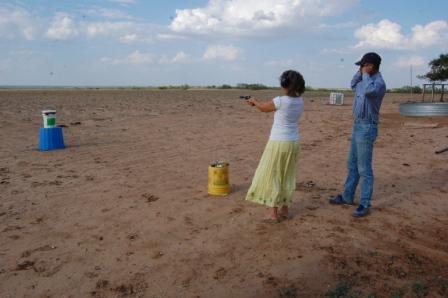 Sunday, July 10 - Doggie Buddies - All the dogs are starting to get along. The old dogs are slowly accepting the new dogs. It may take a while before they're fully accepted, but they don't know whether they are or not...so I guess it doesn't matter.
Coconut shares Rusty's spot under the hutch for a power nap.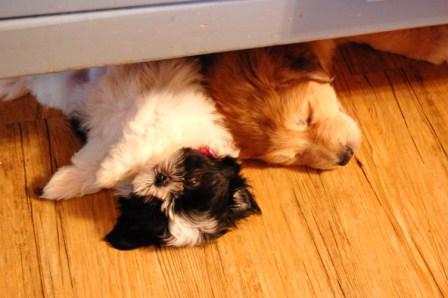 Rusty also enjoys snoozing at the bottom of the slide, especially when it's holding a bit of water.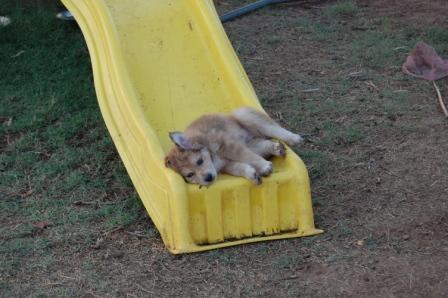 Milo seems to be laying down the law to his new ranch security understudy.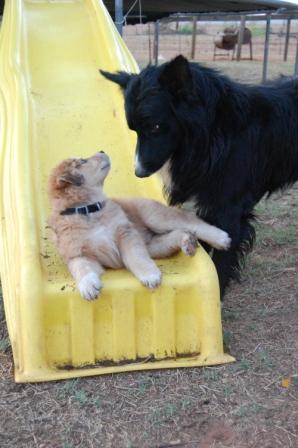 Saturday, July 9 - Antique Baby Bed Replica - We had a customer from our Etsy online store ask if Nathan could make a metal bed similar to this one: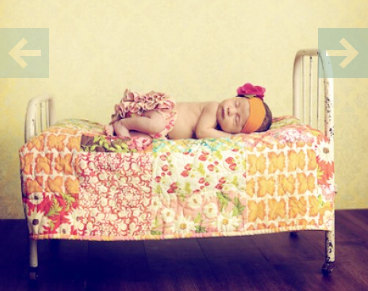 The customer is a professional photographer and wants to use it as a prop. Nathan was able to copy the bed and I came up with a mattress and a "shabby chic" antique white paint job. How do you think we did?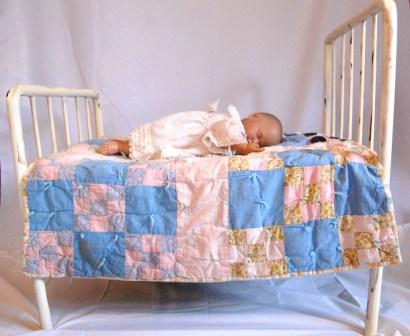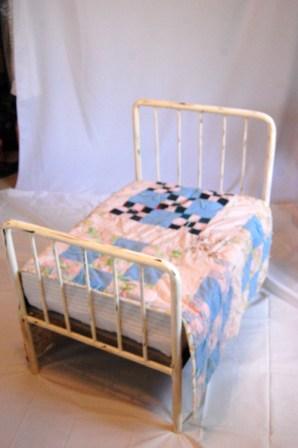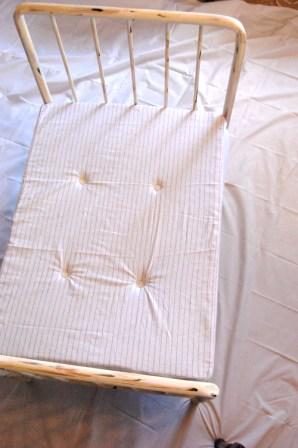 The whole thing breaks down to ship flat. The headboard and footboard unpin from the bed frame pieces. We shipped it off this morning. We're thinking of adding it to our line to be offered for sale to other photographers.
Monday, July 4 - We cooked out hamburgers today to celebrate the 4th. Soon after we got busy getting the mowing crew off to Brownwood. That evening there was this beautiful sunset to see.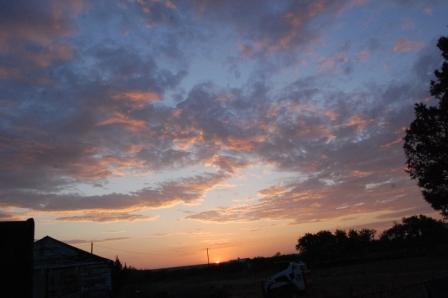 Sunday, July 3 - Birthday Celebrations - Today was Carolina's eighth birthday with Stockton's tenth birthday coming up on July 5. The kids helped Windy make the icing for the cakes.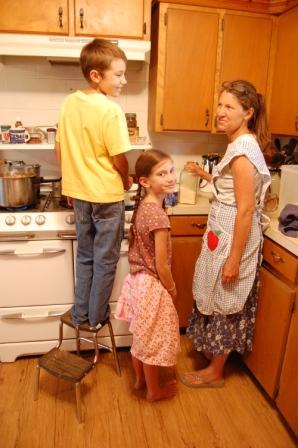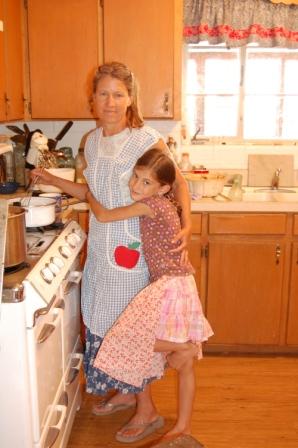 Carolina and Coconut are becoming fast friends.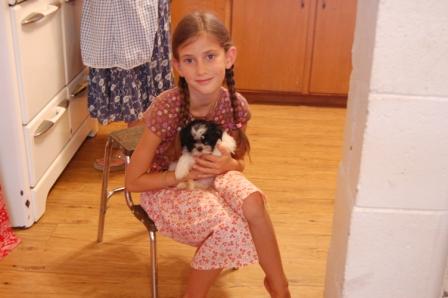 Carolina chose a brown velvet cake. Stockton wanted German chocolate with coconut pecan frosting.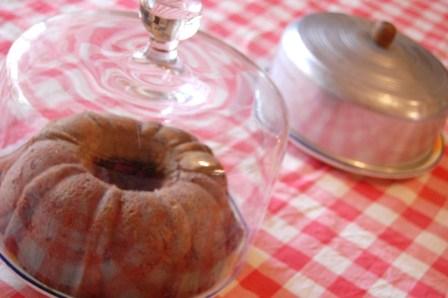 Stockton and Rusty are already pals.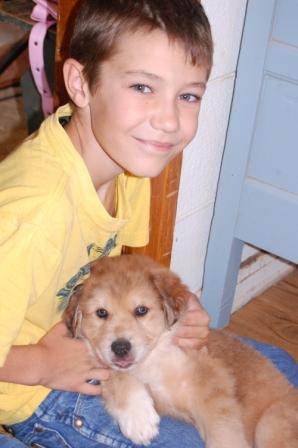 We had some specialty candles that the Roberts had passed along. They were shaped like horse heads. Carolina wanted to use them on her cake. It took several people to get them all lit before they fell over in the soft icing.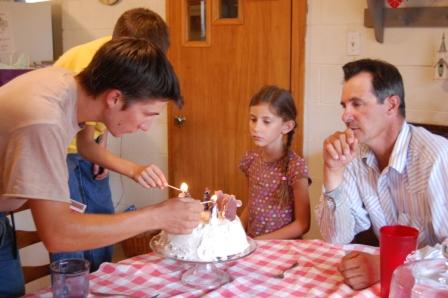 Finally came the "happy birthday" song.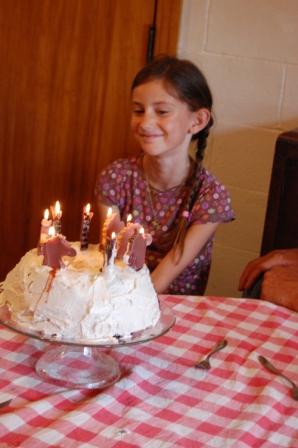 We re-iced the top and picked off all the wax before cutting.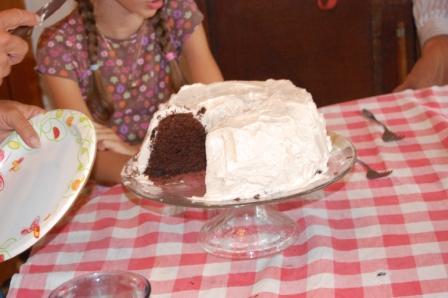 The big kids went in together and ordered Carolina and Stockton some plastic figures off the internet.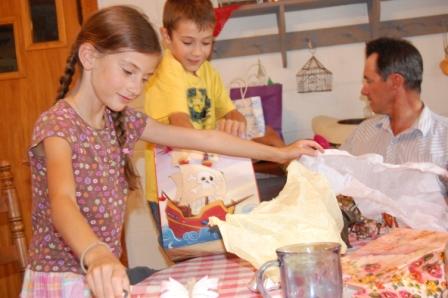 Stockton with his new "knights and dragons".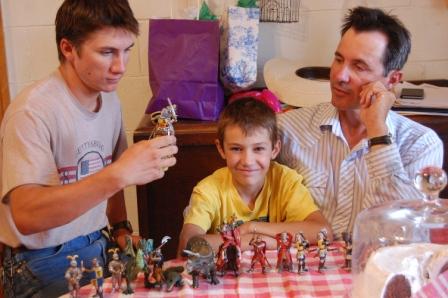 Carolina with her "fairies and princesses".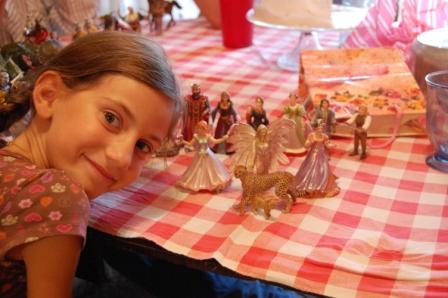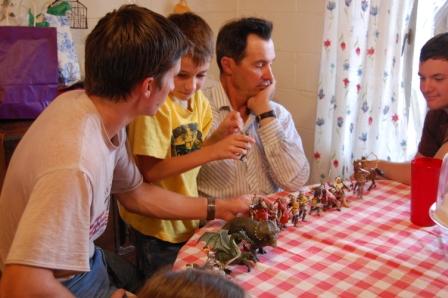 We also enjoyed having cousin Samantha Rainey visiting this past week with us. She and Aspen are about the same age and have lots in common. She was such a big help with the chores all week.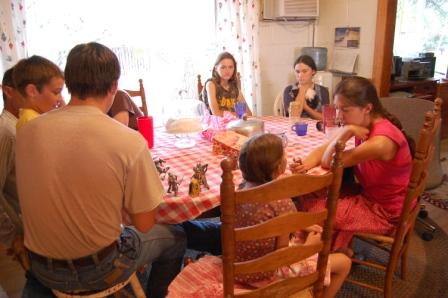 We all got a laugh when Rusty came around the corner with a fly trap all around his head. He'd gotten into it over by the trash can where I had it hung. He wasn't sure what to do next, so he just kind of stood there waiting for help.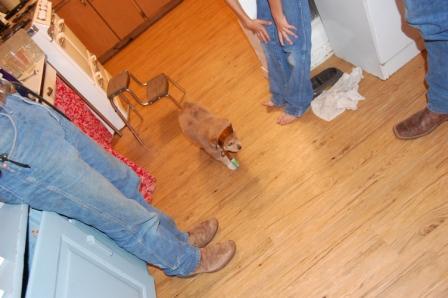 Saturday, July 2 - Package from Mambo - Today a birthday box arrived in the mail. All kinds of goodies from Nathan's mom were inside. Carolina and Stockton had more fun sorting through all the stuff.
Coconut helps Carolina open her gifts.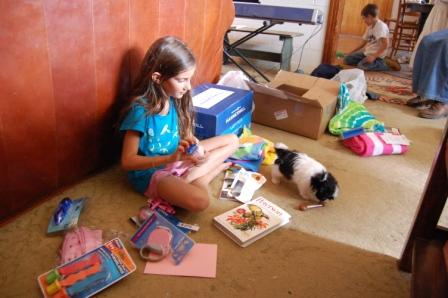 Finally! Rain! - Tonight we had a small isolated cloud come up and rain on us. It really poured for several minutes. It was so wonderful to smell the rain again and hear the thunder after not having the pleasure for so many months. We got about 1/2 of an inch. This won't exactly break the drought, but it's a start.
We stood out on the back porch and watched it rain.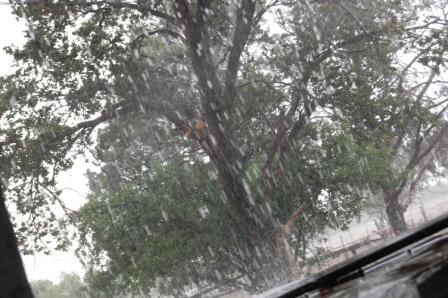 Right after this picture was taken, a huge lightning strike lit up the whole back yard with a green flash. We all screamed and ran inside. After the storm was over, we discovered that our swimming pool pump would no longer come on. We speculate that the lightning struck the surface of the water and sent electricity through the hoses into the pump. It seems good rain comes at a price.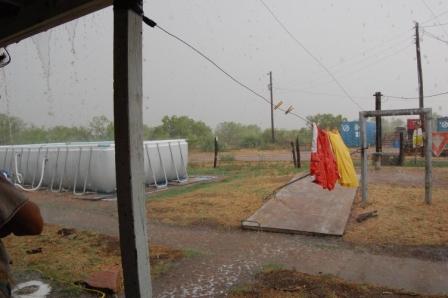 Friday, July 1 - New Puppies - After weeks and months of discussion, Nathan and I decided to get Carolina a puppy for her birthday. She's wanted one for a long, long time and daily argues with Aspen over Gypsy. Once this was decided, Nathan hit upon the idea of getting Stockton a puppy, too. Now that the decisions were made, the logistics of the plan proved to be a bit challenging. However, it all came together today. Nathan picked up Stockton's Australian Shepherd in San Angelo and then Carolina's Shih Tzu puppy in Snyder on his way home. We had spent the day in Lubbock and got home just after he did. The kids were so excited and seem to really love their surprises.
Carolina and "Coconut". Stockton with "Rusty".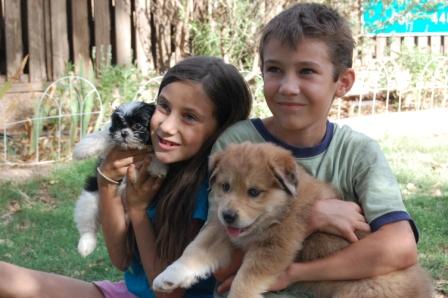 Does Coconut look worried to you?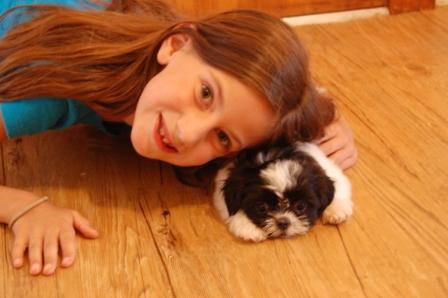 The puppies are the same age, but that's where the similarity ends.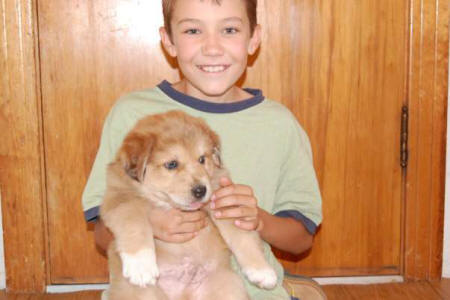 Coconut climbed into her bowl of milk for a nap and had to be washed off. Then she fell asleep in her towel.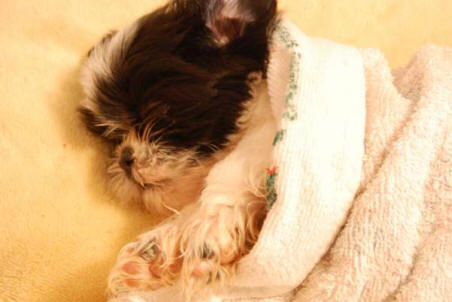 Rusty prefers the cool floor under the blue kitchen hutch.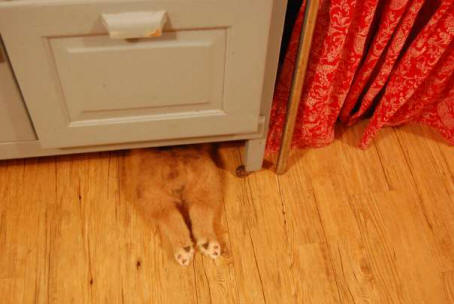 New Workers - This week we added a couple of guys to the mowing crew. They are Bryan Cole and Zeb Parham from Graham and Bryson. They're great workers and the boys and Atlanta really enjoyed working with them this week.
Bryan, Zeb, Cim and Laredo.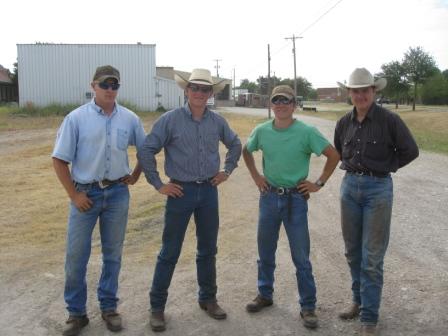 Catch up on past news! Just click on a link below.