Wednesday, April 25 - Visit with an Oriole - When this male oriole hit our window, Stockton ran out and picked him up. He was okay but was kind of dazed for several minutes. It gave us a chance to observe him up close.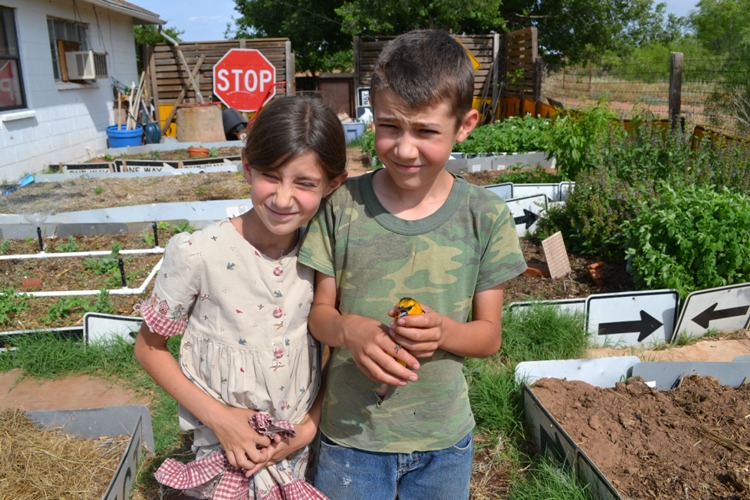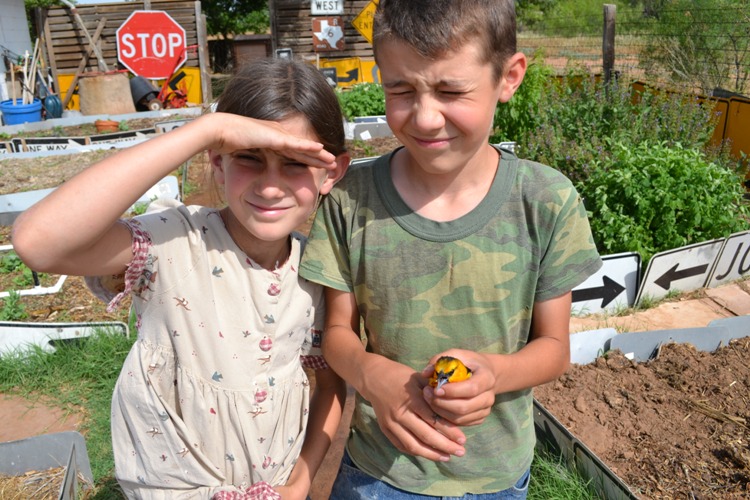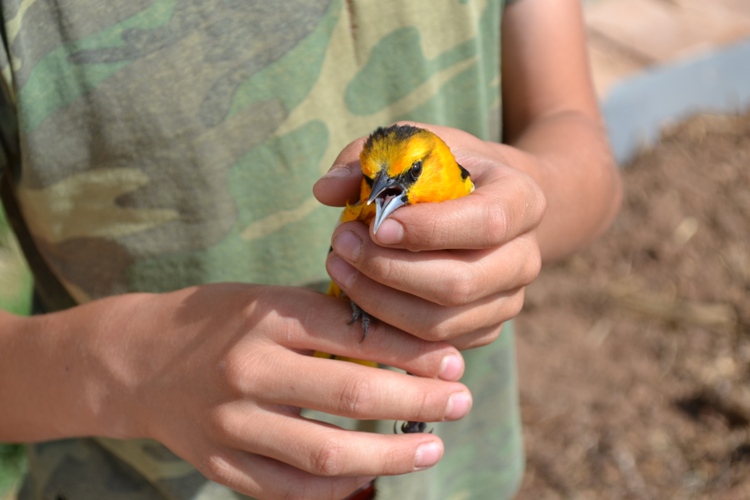 When Stockton tried to release him near the sprinkler, he just wanted to keep resting on his finger.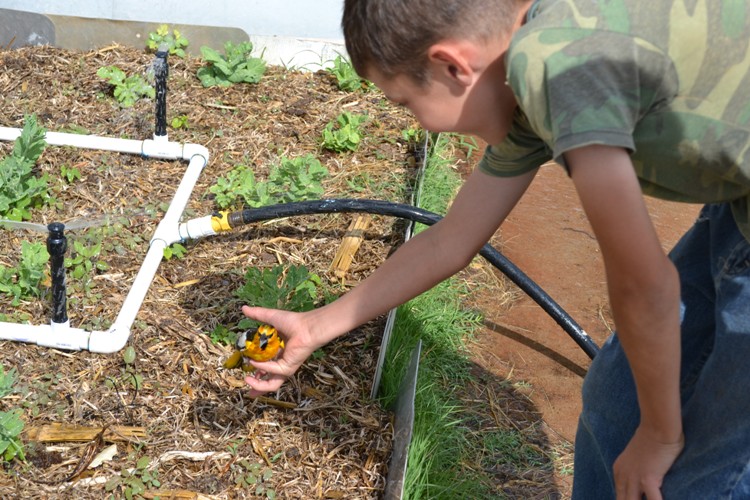 Tuesday, April 24 - Chicken Palisade - Not something you see every day. Stockton and Carolina thought they would make a little pen for a couple of chicks they were playing with in the front yard.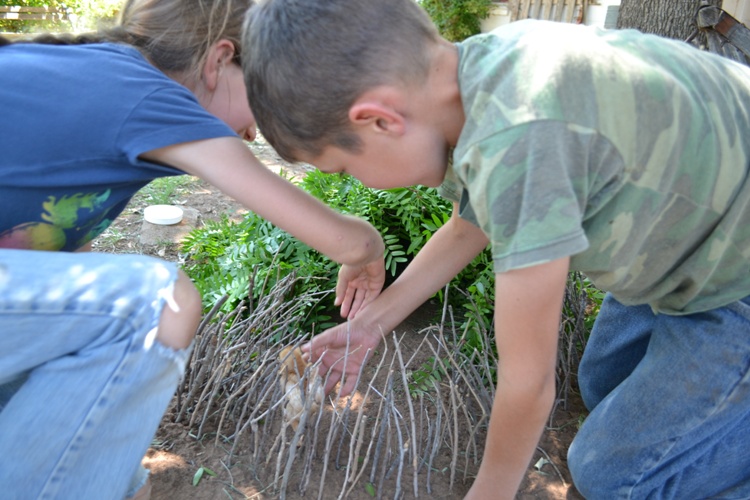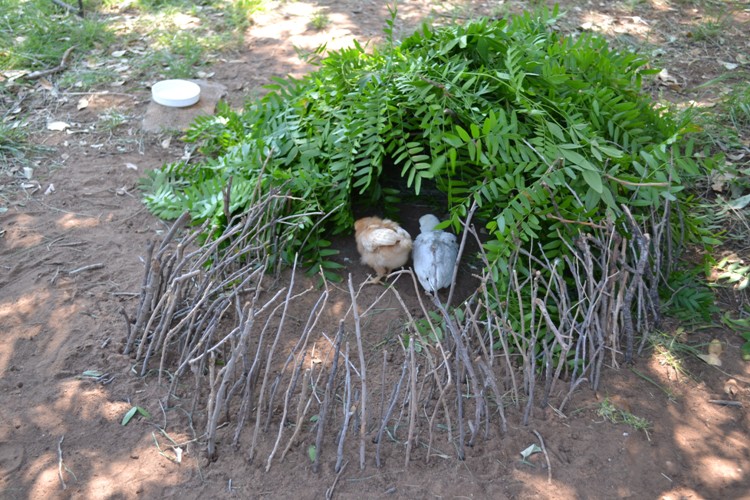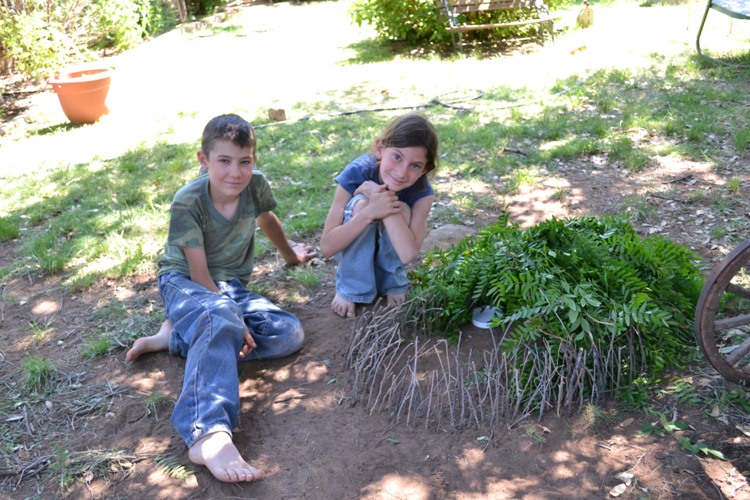 Coconut's Day at the Beach - This picture is pretty self explanatory. Actually, it's not the beach, just the sand box.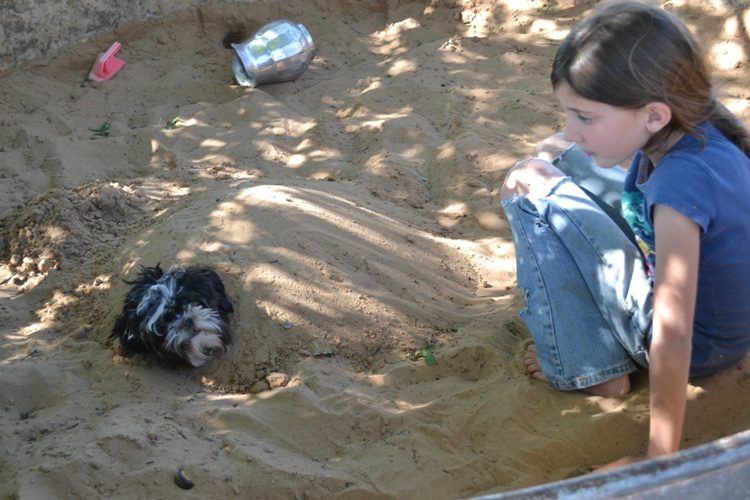 New Windmill Truck - Nathan found a great deal on another windmill truck. The bad news was that it was in Wisconsin. However, our friends the Phipps were thinking of taking a trip to visit relatives up north and were able to pick it up for us.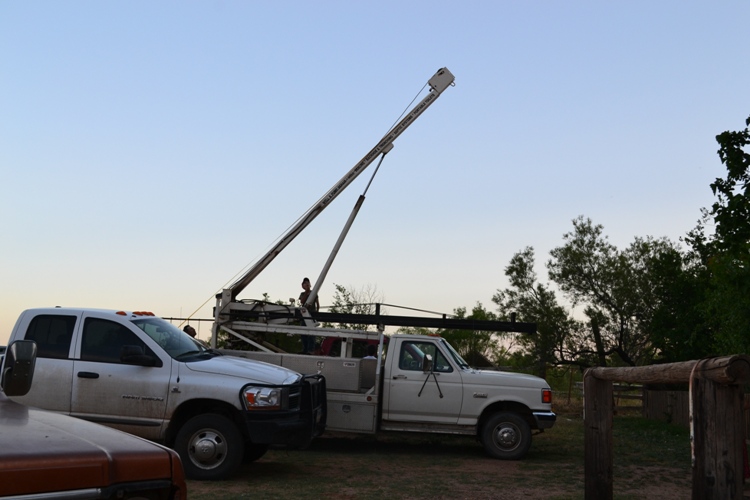 The kids are helping Nathan measure how tall the lift goes up.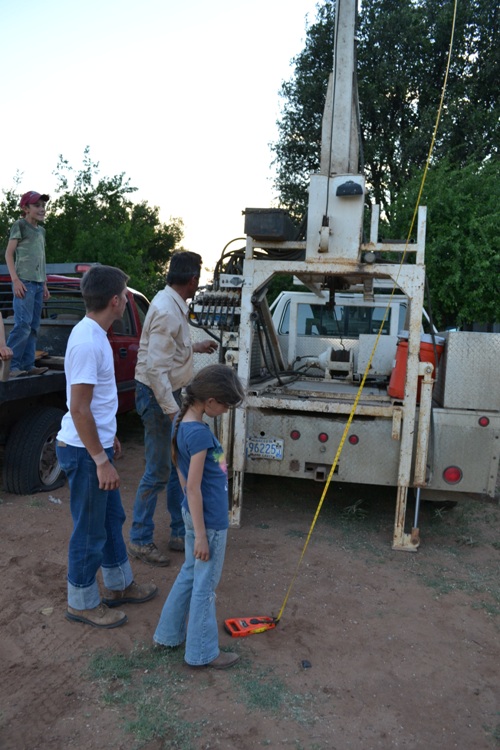 Now he's experimenting with the controls.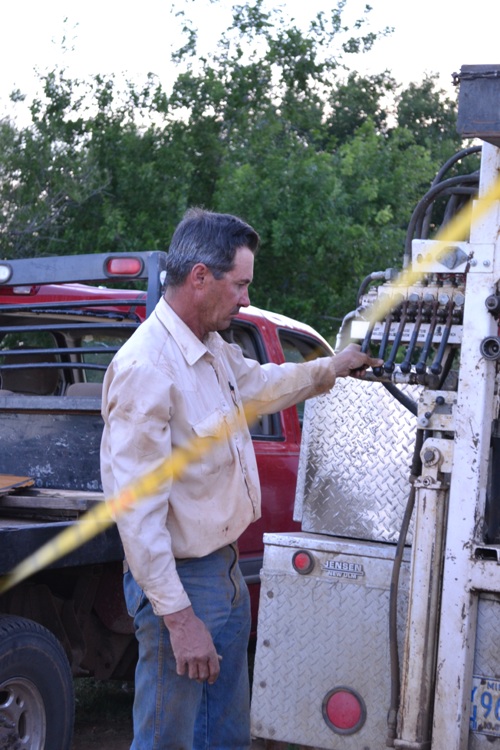 Sunday, April 22 - Trail Ride - Atlanta and Laredo got out this afternoon and enjoyed some horse time. Laredo was trying out his new used saddle that he bought off ebay.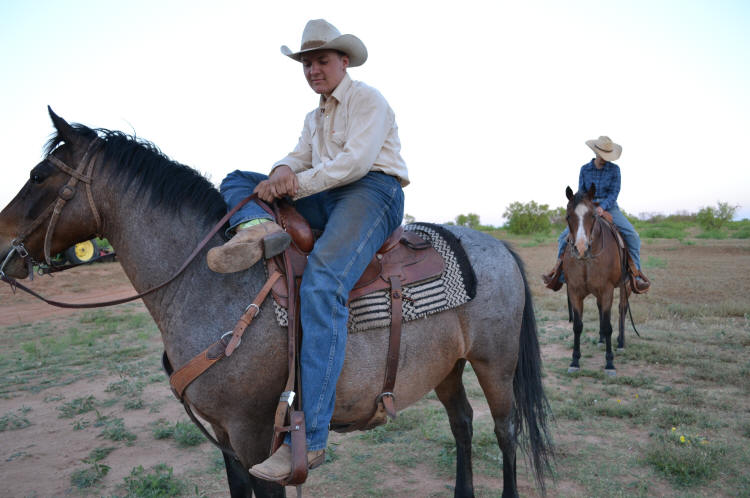 Atlanta rides "Stars and Bars" since her horse, Dixie, died last year.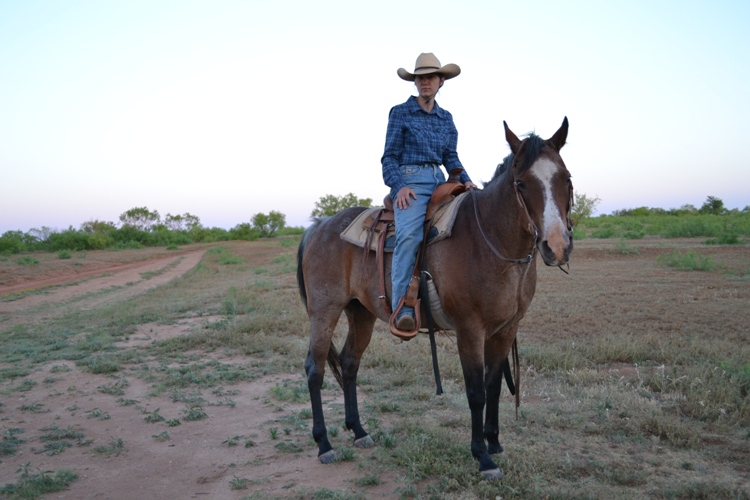 Laredo's horse is "Butternut".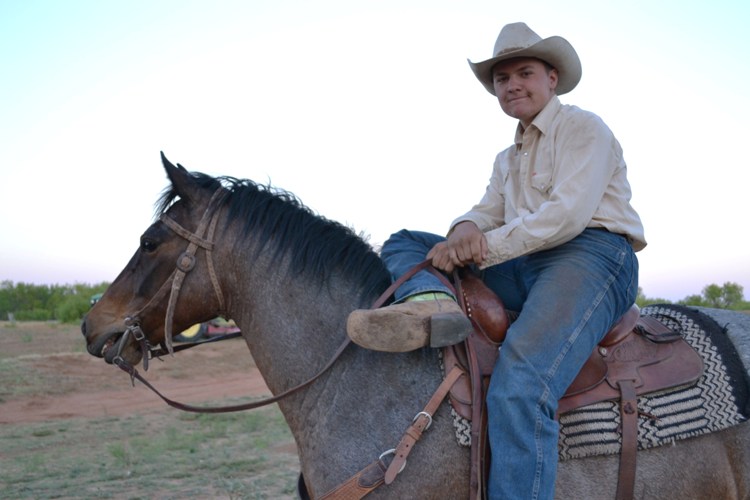 Saturday, April 21 - Video of the Fishin' Hole - Enjoy this video of another trip to the fishing hole. Atlanta, Stockton, Carolina and Nathan in action casting and catching some little bass and more.
Carolina's Ranch - This little pickup is headed to a bigger spread under the trampoline. Carolina had fun fixing this all up today and then came and got me to take pictures.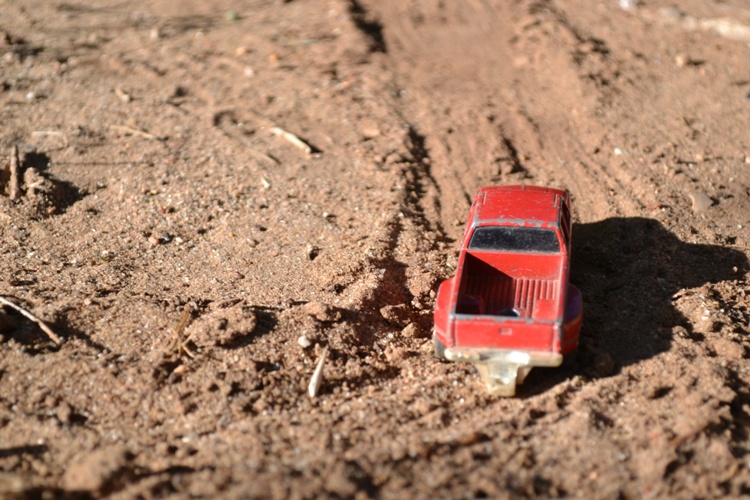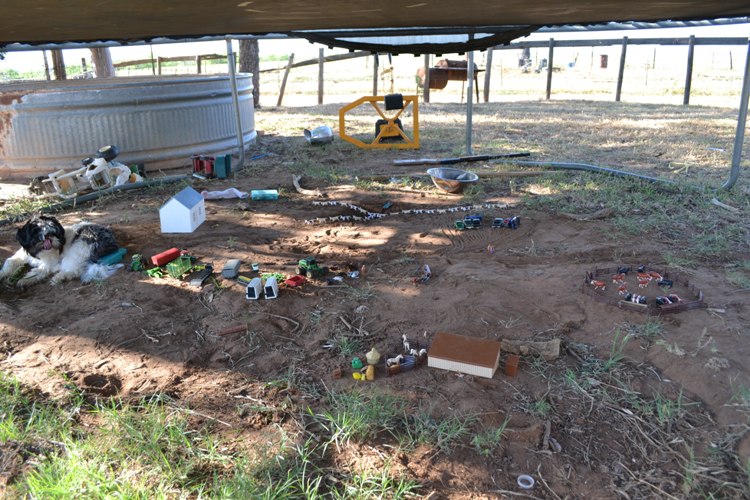 Thursday, April 19 - Green Smoothies and Green Terrariums - We've recently been experimenting with a few new "fads" that are gaining in popularity. Sunny gave us a blender and we've been keeping it hopping making nutritious smoothies.
Orange juice, carrot juice, spinach, kale, yogurt, berries and more are going into this smoothie.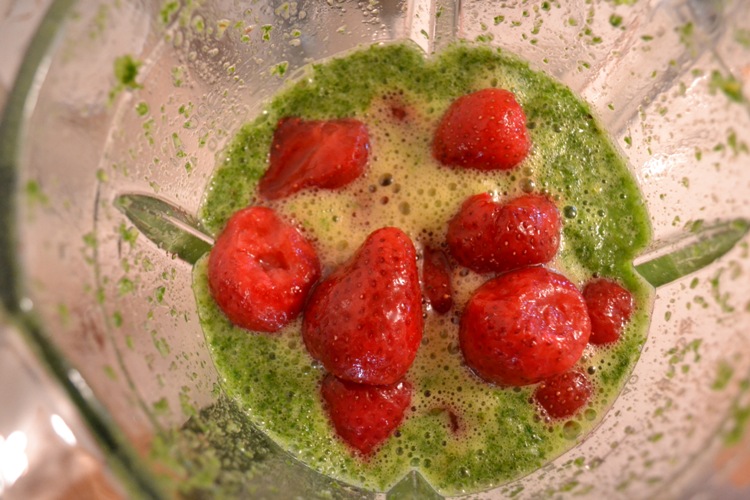 The kids and I had fun putting together a few terrariums. I remember making these when I was a kid.
This one features a piece of a broken statue that Stockton found out in the pasture.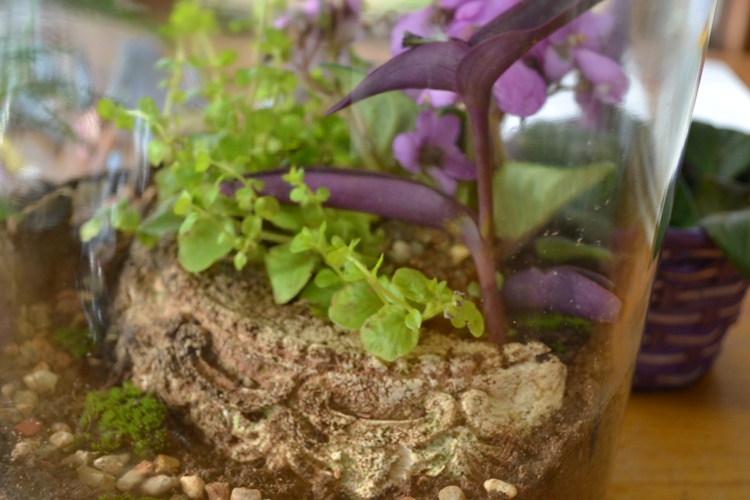 Bird's eye view.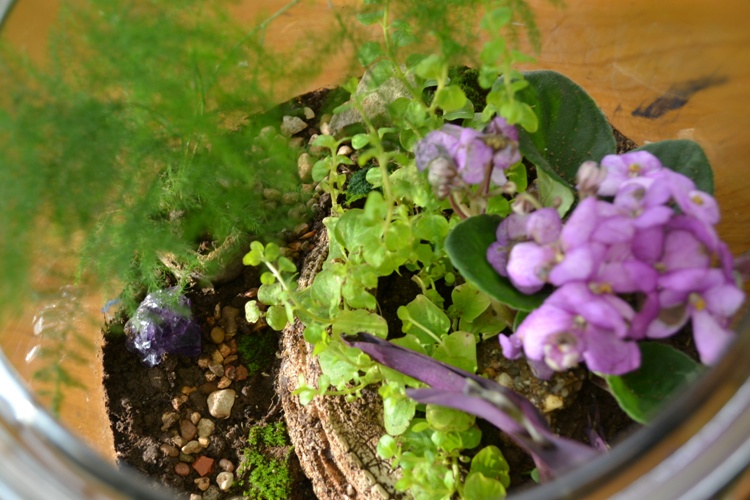 A little goose getting a drink out of a concave rock pool.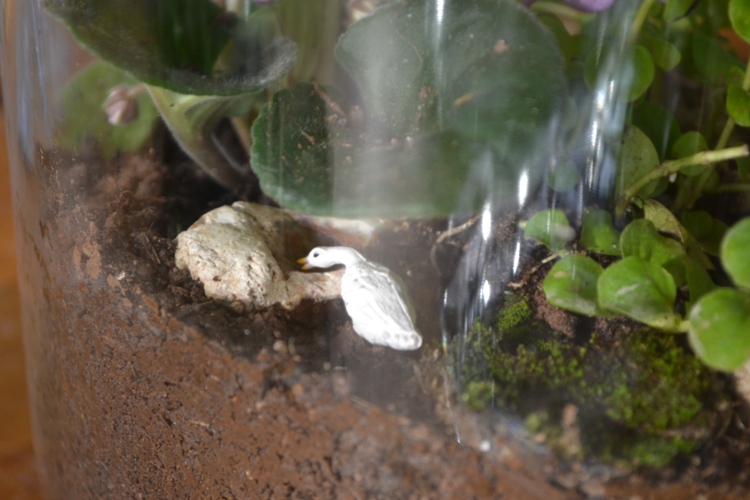 Carolina's deer and fawn peek out from behind a rock.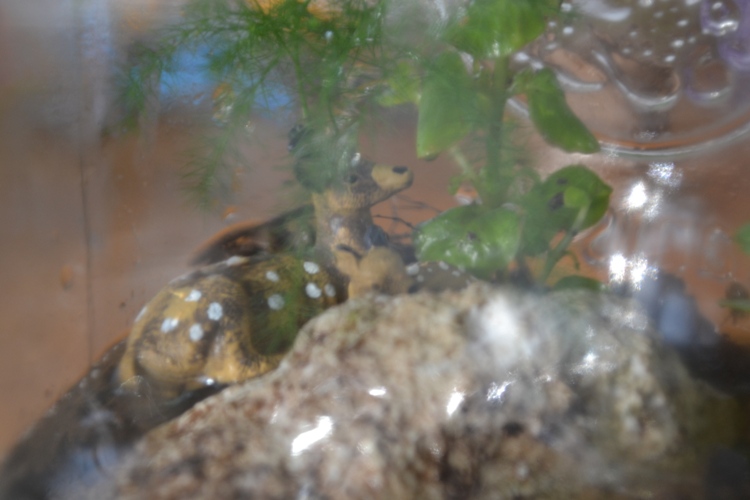 Stockton had a different take on the terrarium idea. He's made a memorial to Iwo Jima.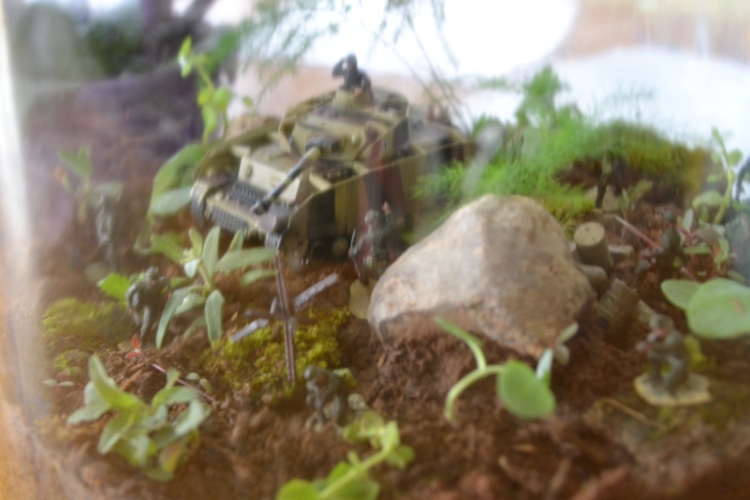 A tank and little G.I.'s are in amongst the foliage.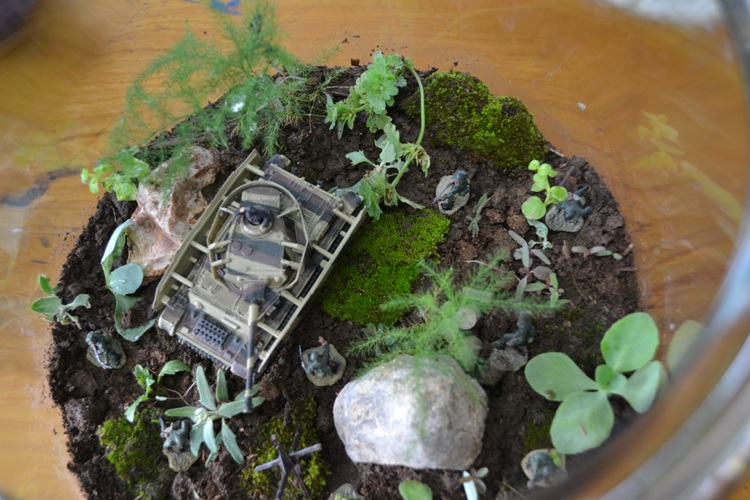 Wednesday, April 18 - More work in the Garden - A few picks from our morning in the garden.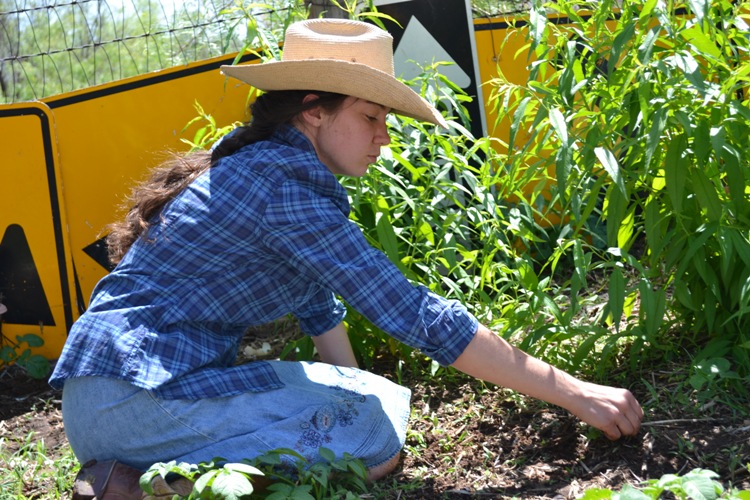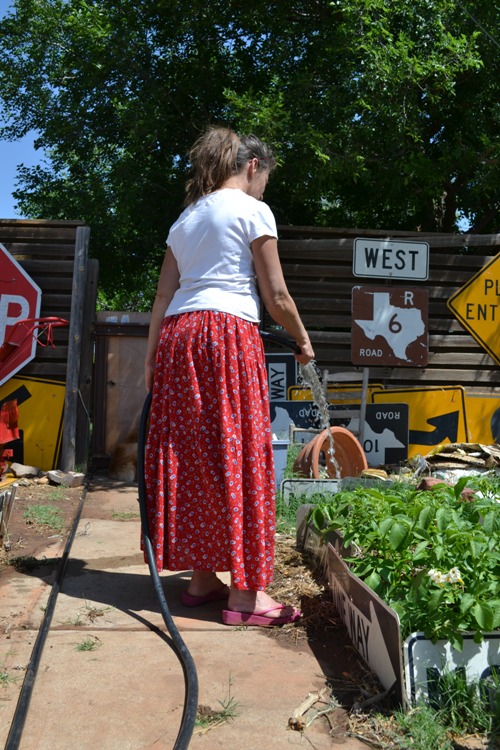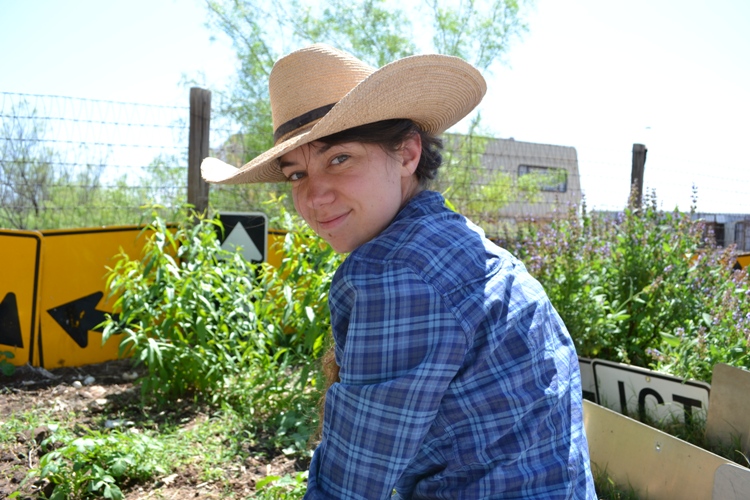 Tuesday, April 17 - A Big Fish - Stockton and Nathan went fishing at a little spot Nathan found down by the river. When they returned, Stockton came running in with this fish.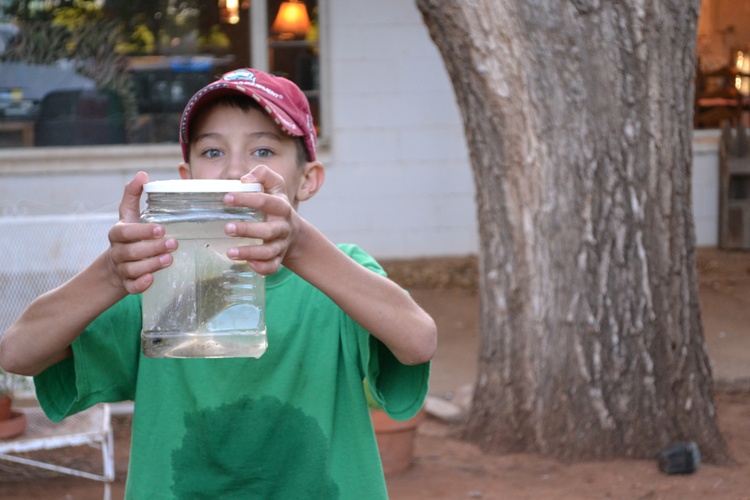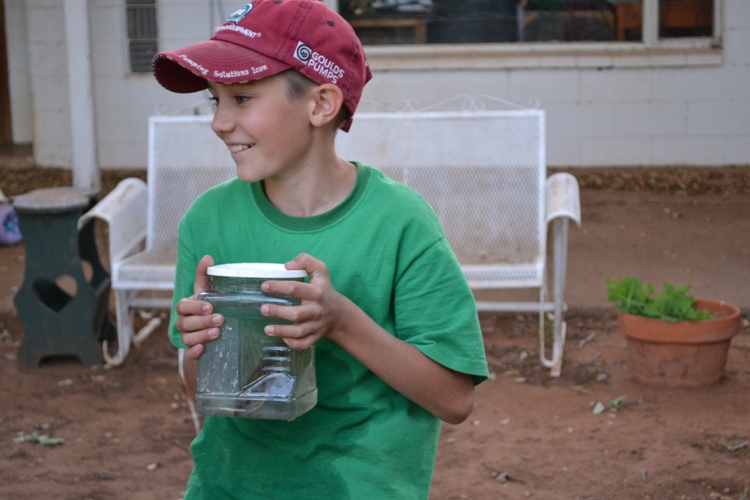 He poured him into his bathtub fish tank in the front yard.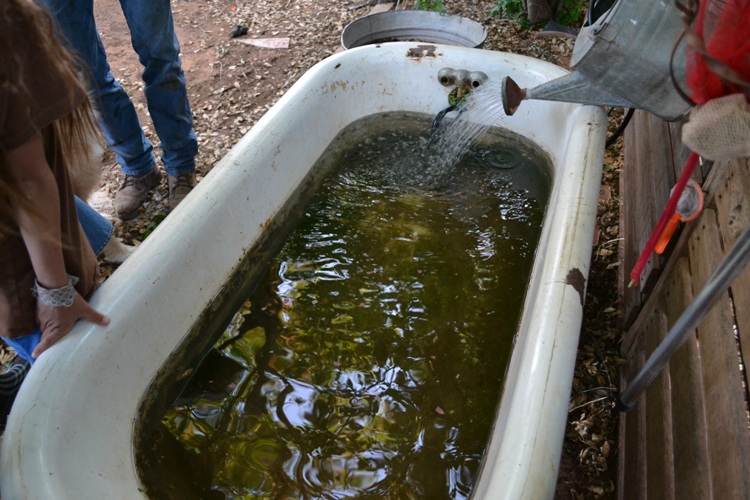 More Shiloh Pictures - Our friends, the Amicks from Tennessee, sent us some of their pictures from the Shiloh reenactment. Some of the pictures were taken by a reenactor friend of theirs that carried the camera into battle. Here are a few of the amazing shots.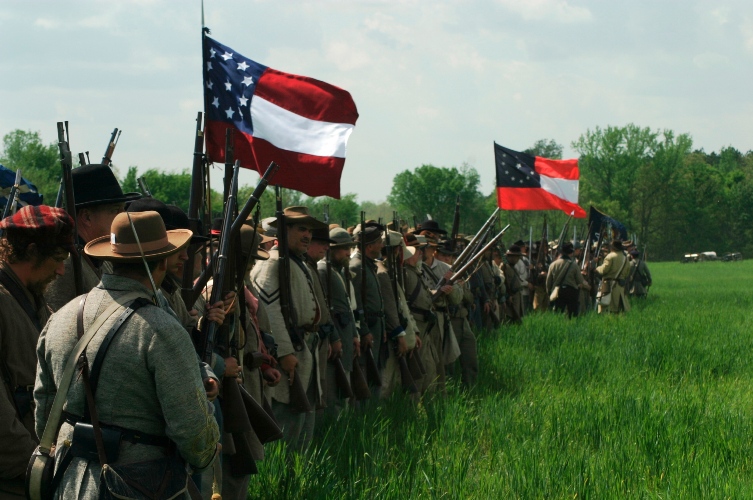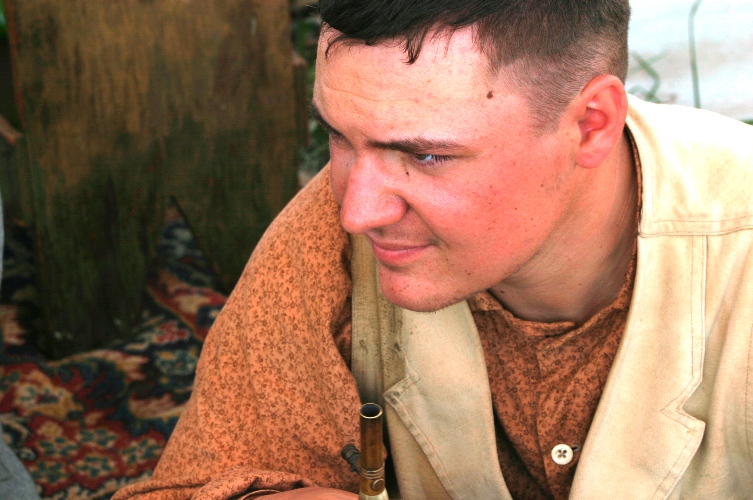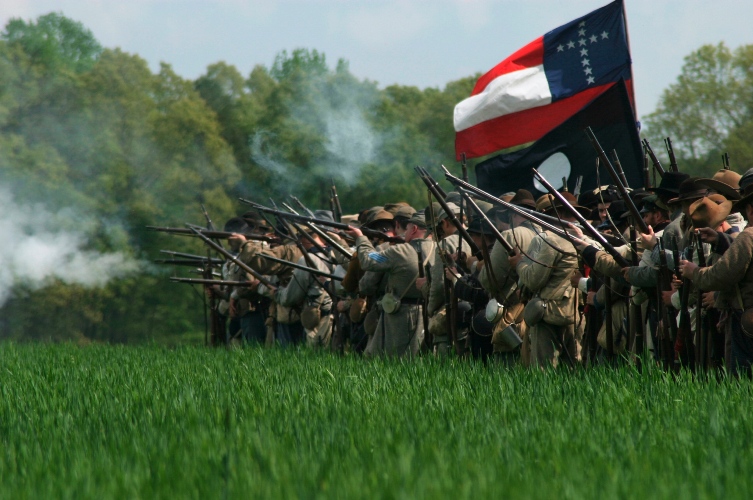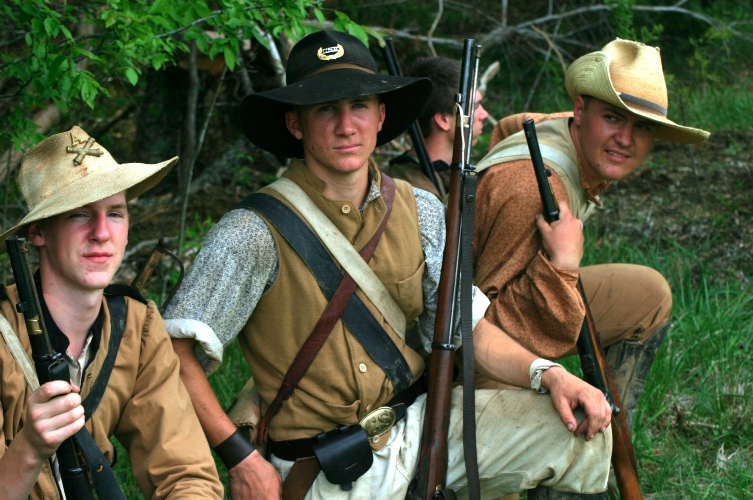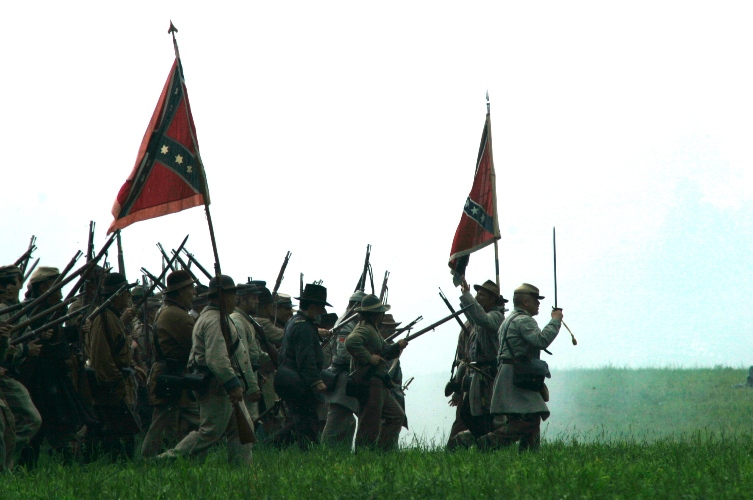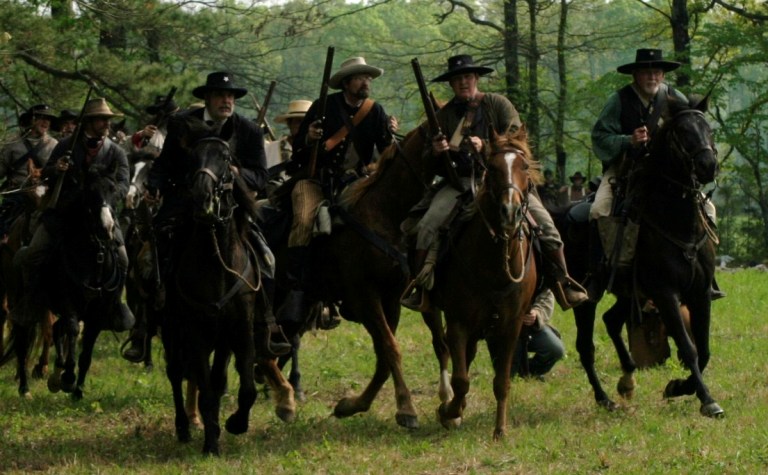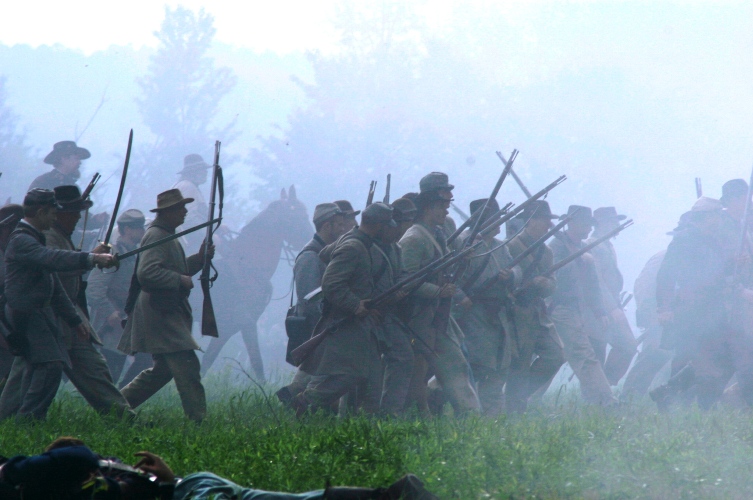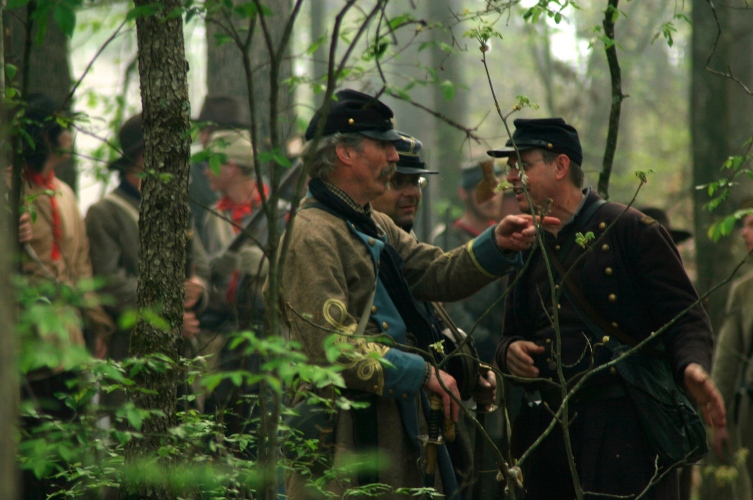 Laredo decided to aggravate Jordan's brothers and hold them against their will.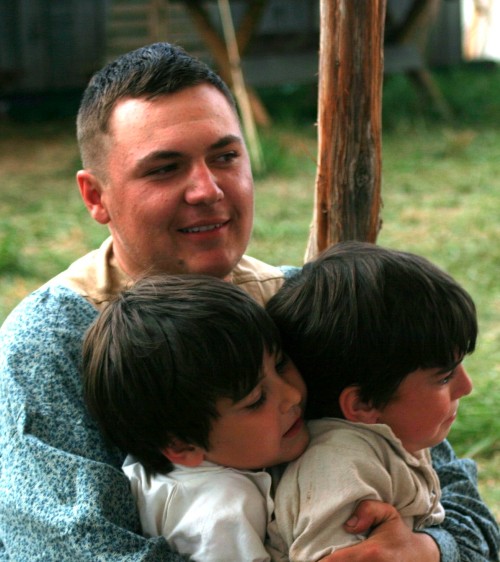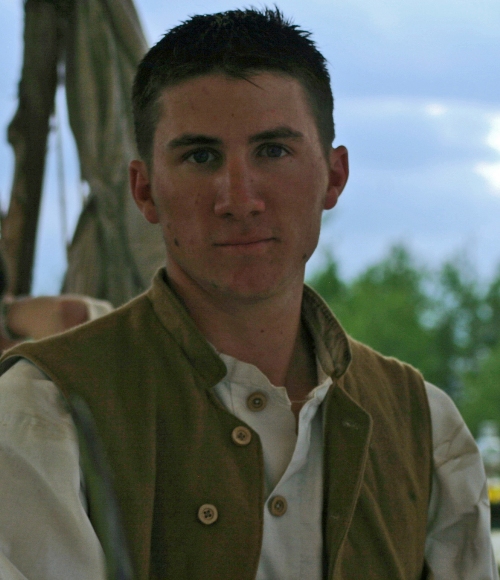 This is another of Jordan's brothers, Jeremiah, and his dance partner.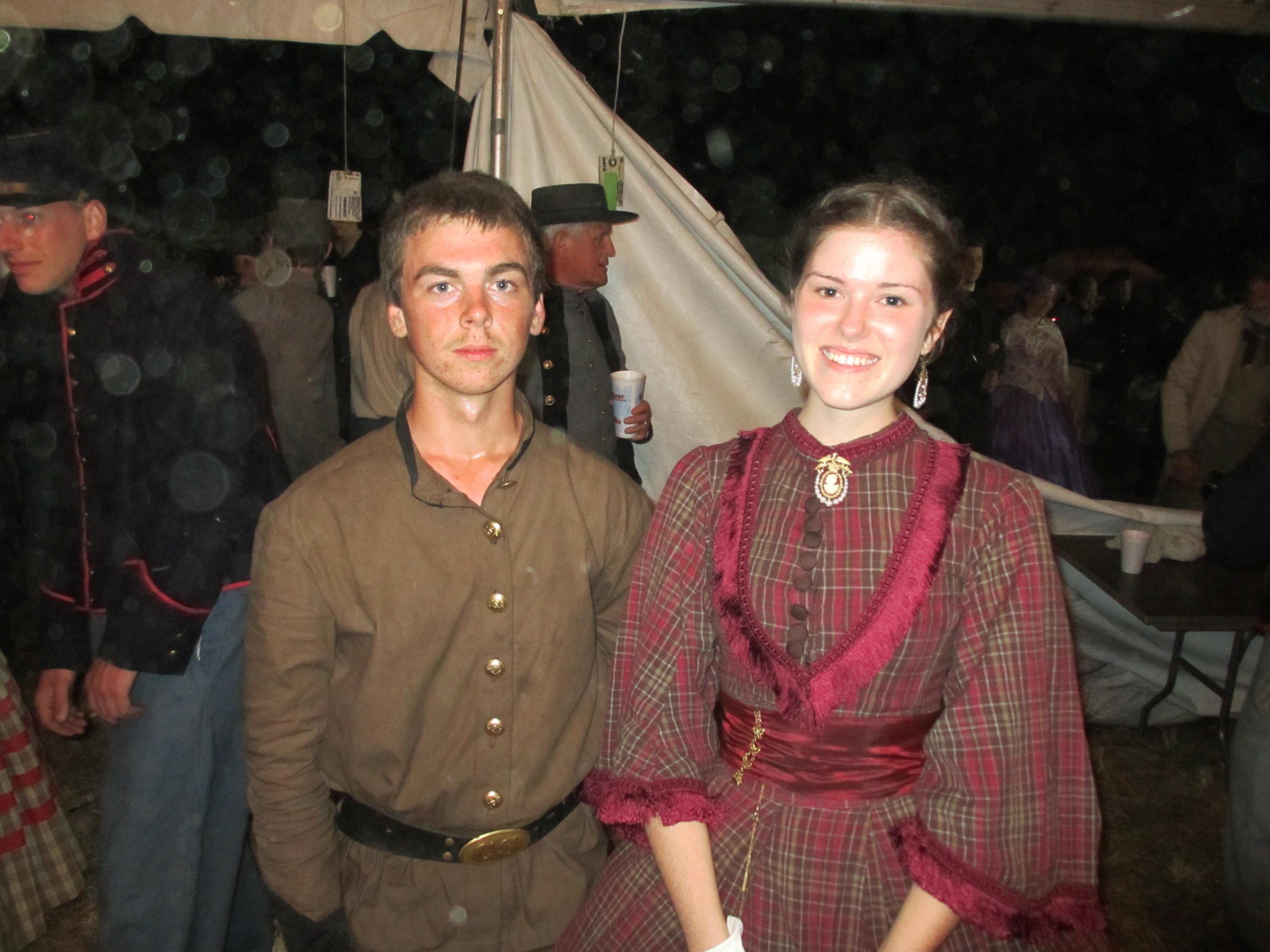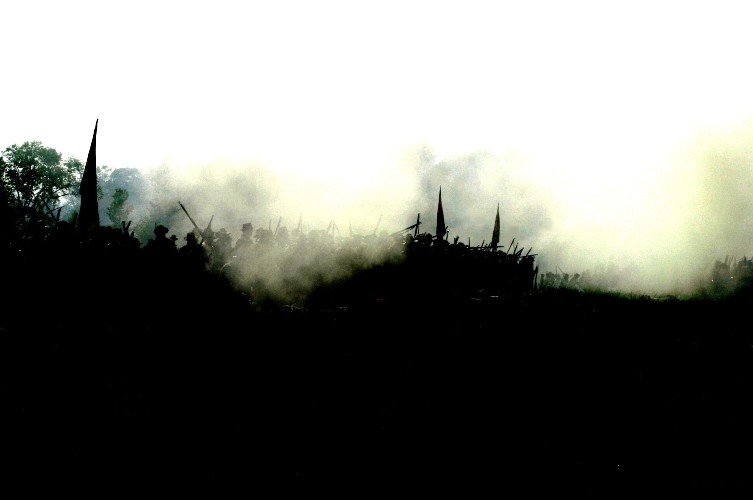 Sunday, April 15 - Snapshots - Here's a couple of pictures taken today.
Aspen and her new "Khaki Campbell" duck.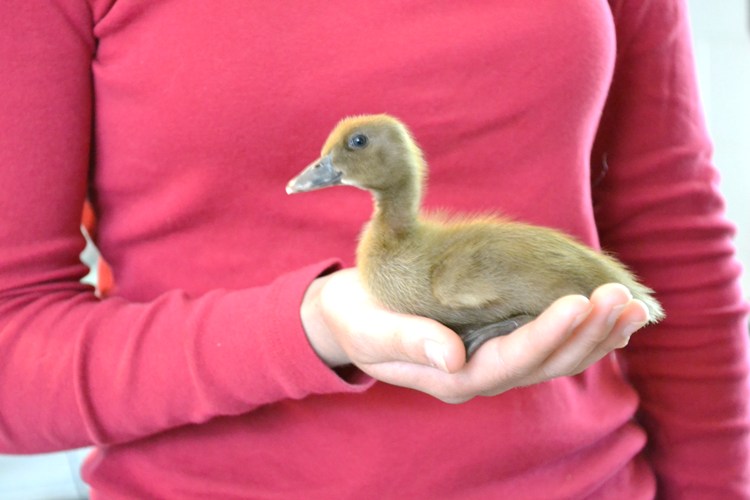 Another fine sunset, although the camera lens just doesn't do it justice.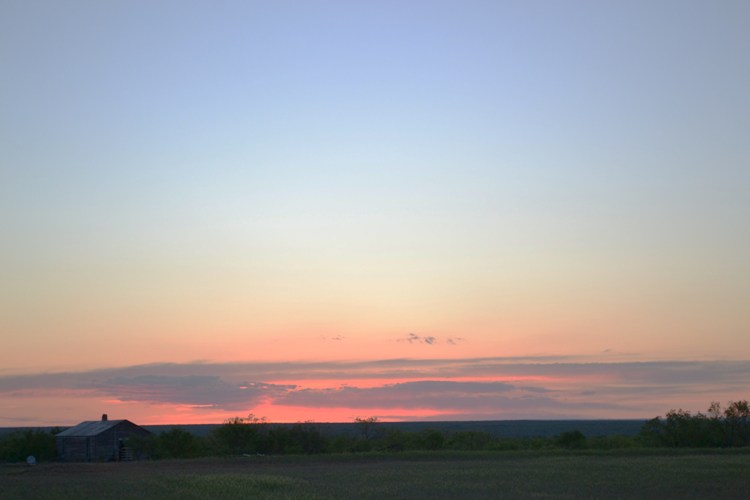 Saturday, April 14 - Forties Swing Dance in Decatur - Cimarron and Laredo decided at the last minute to go to the annual "Cotillion" held by the Joy Academy in Decatur. This is a home school co-op where several of our friends teach and attend. Atlanta and Aspen also attended last year, but couldn't go this year. (see Home School Cotillion, April 9, 2011) This year's theme was "WWII USO Dance". Laredo wore one of Granddad's old Air Force uniforms, and Cim wore an original navy uniform I had purchased just the day before at an antique shop in Plainview for $40.00. They looked so cute and had a lot of fun, too.
Cimarron dancing with Rebecca Roberts. She and her mom, Eve, were in charge of this year's cotillion.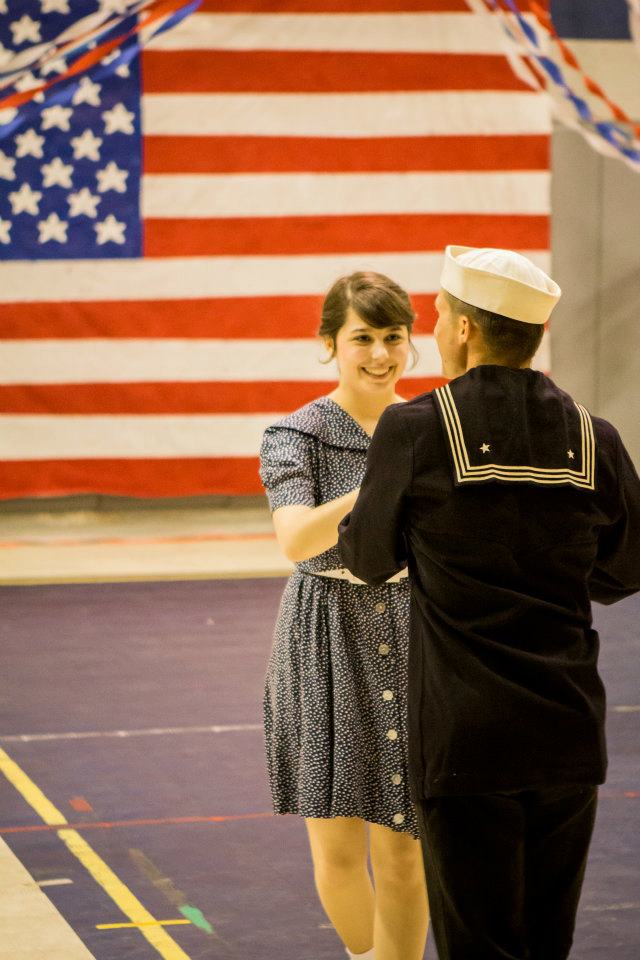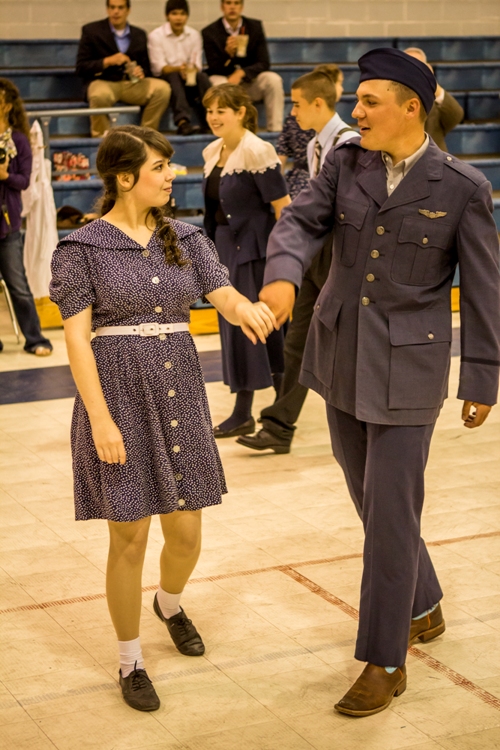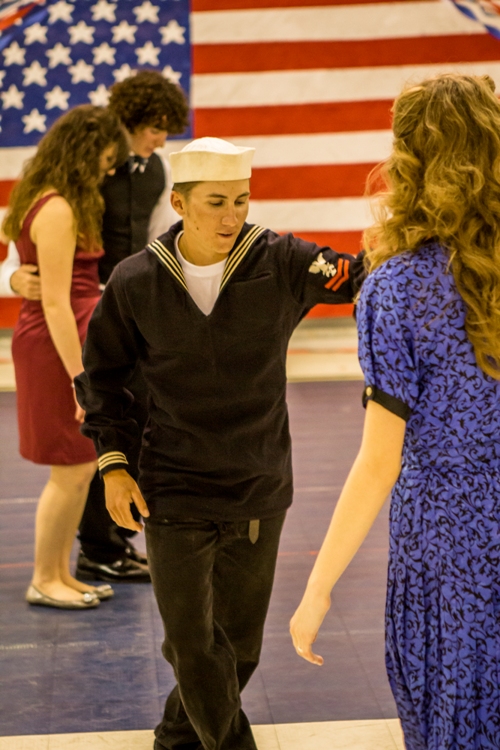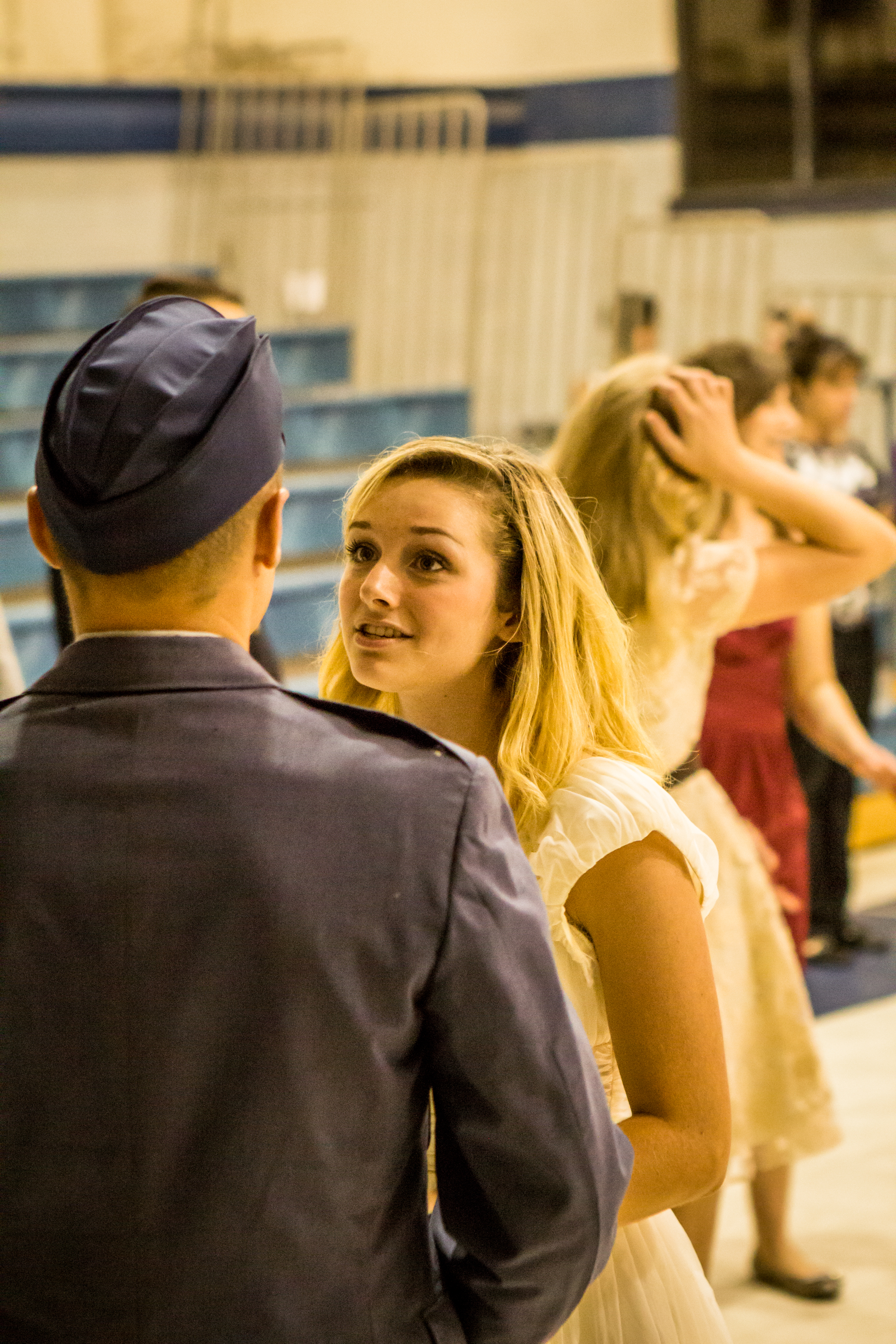 Some of the guys in uniform. Besides Cim and Laredo, the two Renfro brothers were wearing their actual uniforms from A & M University. The lovely ladies are Maddie and Rebecca.

Here's the whole group. The older gentleman in the middle was a WWII vet who was the guest speaker. The boys said it was very interesting.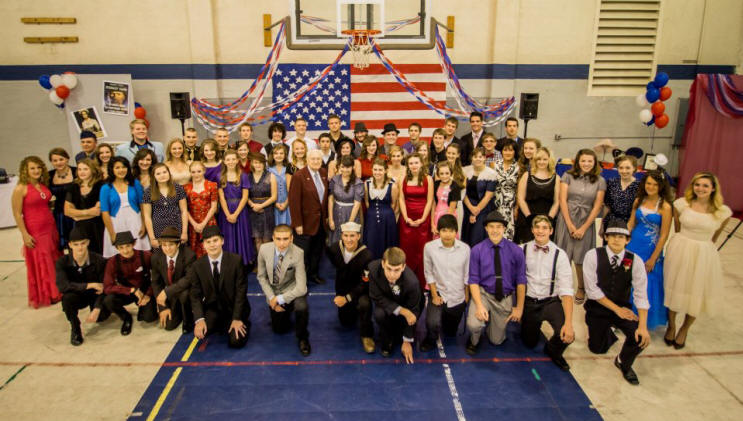 Monday, April 9 - A Little Outside Reading - It was so pretty today, the kids and I did some of our school work in the front yard.
This was snapped by Atlanta from her window.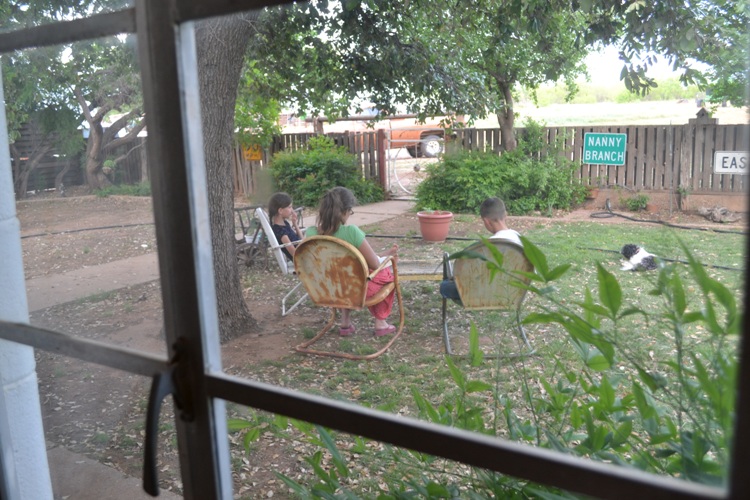 The Fish Trap - Nathan and Stockton found a deep hole near the river with some good sized fish in it. Stockton wanted to try and trap some of the fish, so Nathan helped him make a fish trap.
Never too tired to spend time with the kids, even after a long day of windmilling.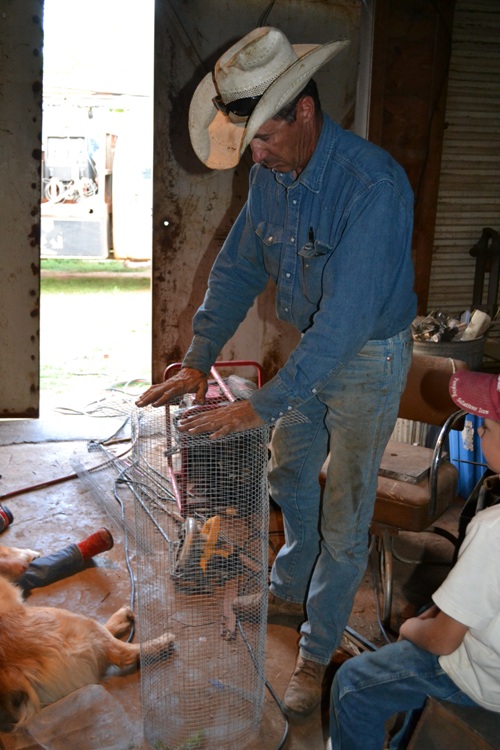 Stockton's excited about catching a "big one".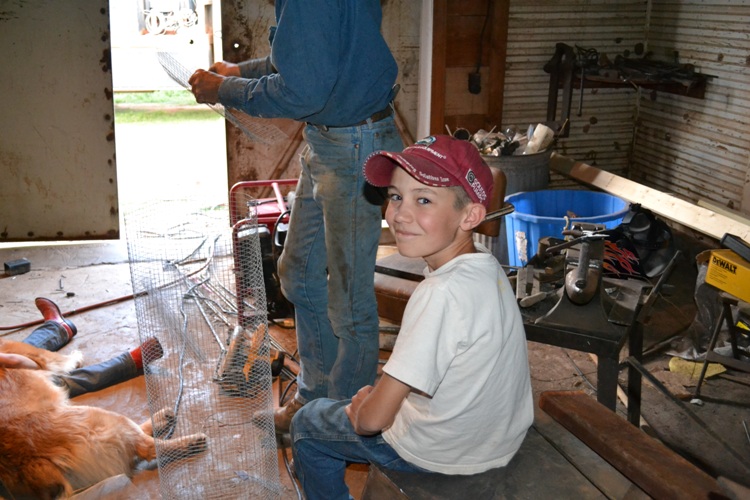 Carolina and Rusty watch closely.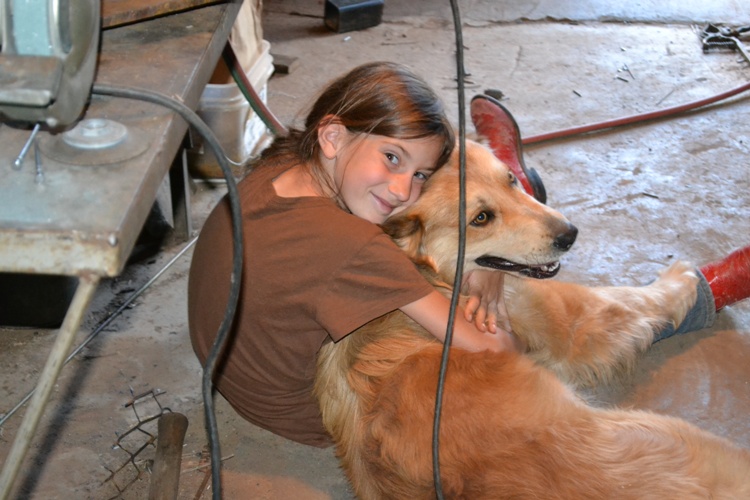 Sunday, April 8 - Fun in the Garden - This afternoon we did a little work in the garden. It was such a beautiful day. Look how much fun we had.
While pulling grass from around the raised beds, Atlanta got a little assistance from the kid's ducks. They learned that the sound of tearing grass meant a feast of rollie pollie bugs.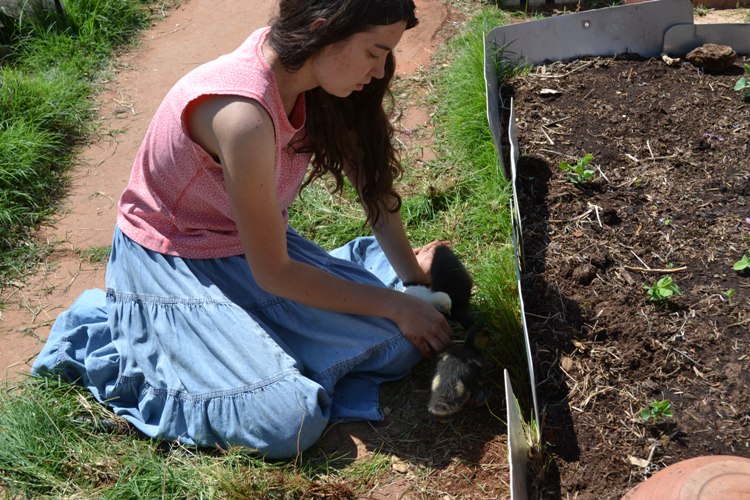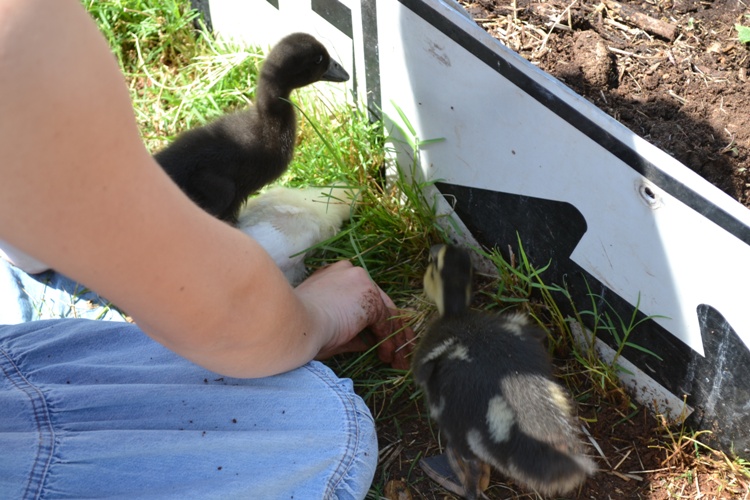 The potatoes are coming along.
The sage plant that comes back every year is blooming. So fragrant and pretty.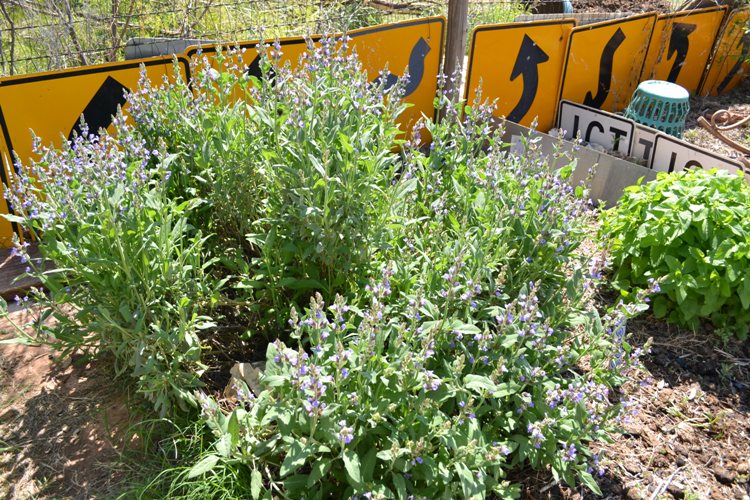 Would you like a closer look?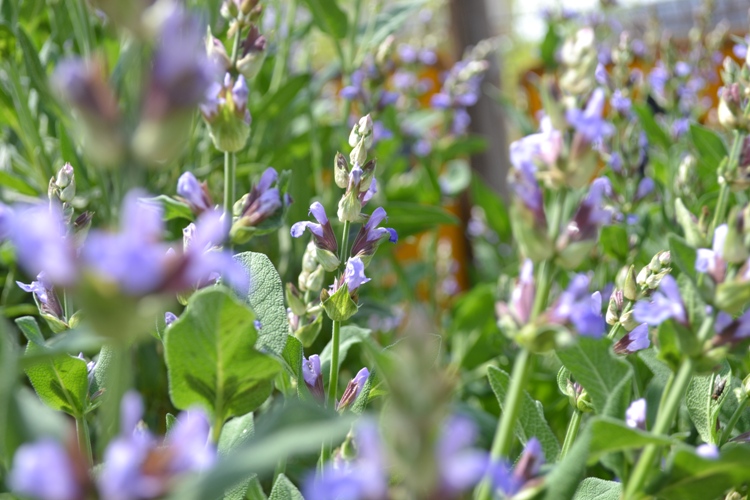 How about closer? You can see the bumps on the leaves.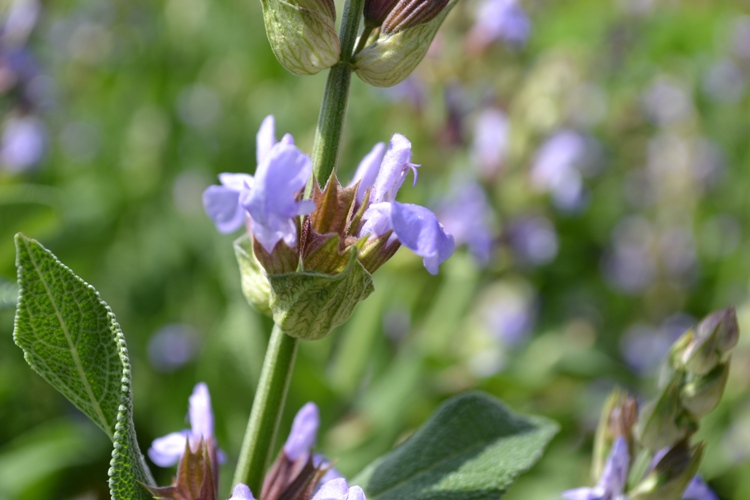 Do you see anyone in this picture?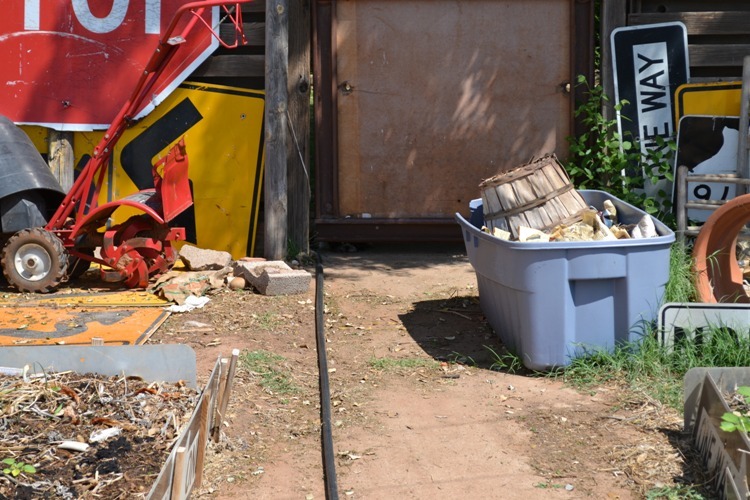 Now do you see? Coconut was peering under the garden gate. She really wants to "play" with the baby ducks.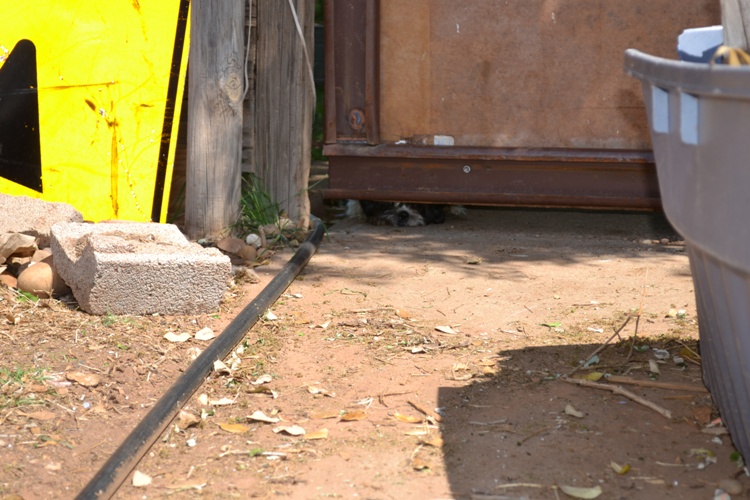 These tasty greens make up part of our green smoothies every day. By the looks of their leaves, I believe some insects are also enjoying them with us.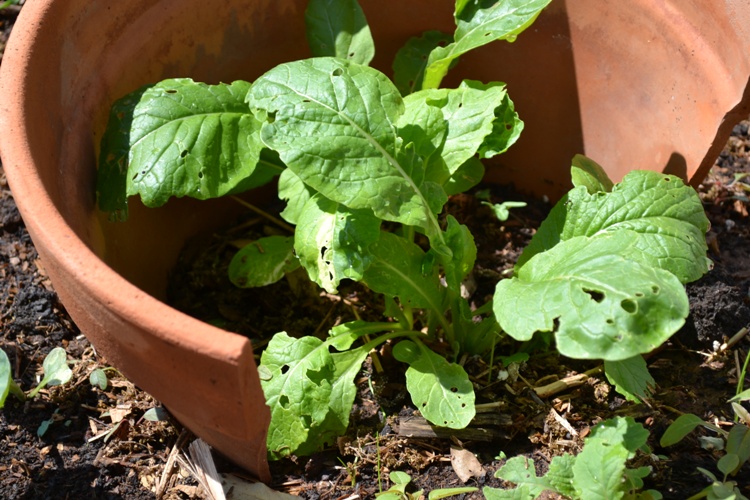 These newly hatched chicks got to spend the day out of doors in a moveable cage.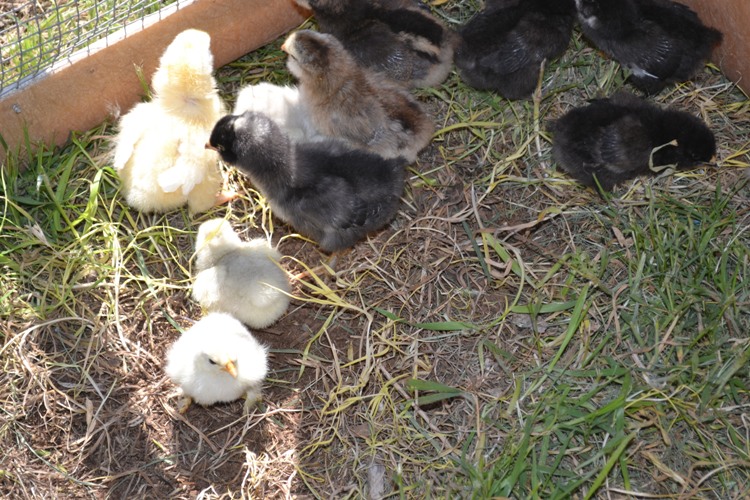 The boys brought us a pile of composted dirt out of the horse pen to use in our beds. The next morning, Aspen came out and found a large racer snake on top of the pile. Too bad she didn't have a camera.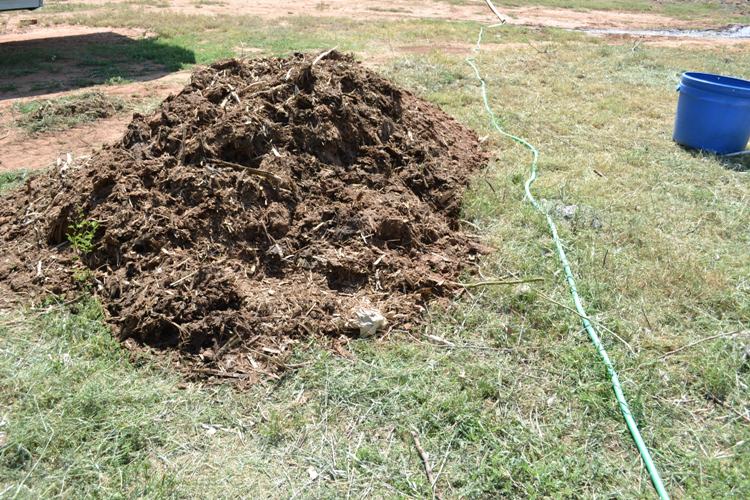 The ducks enjoy a little swim.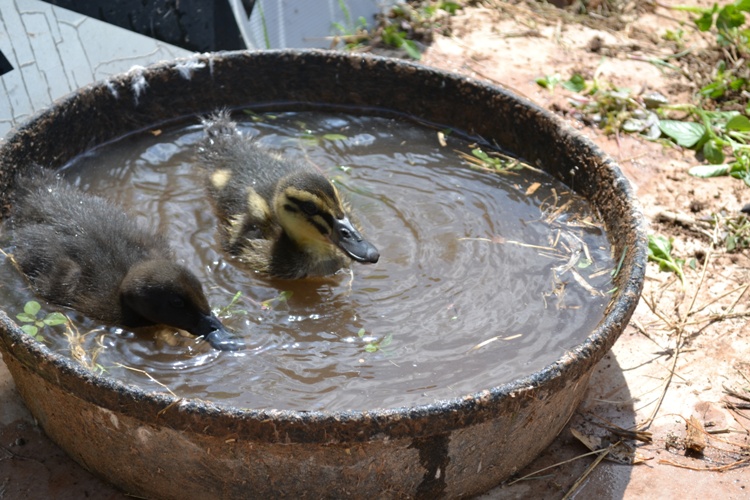 Carolina and Stockton are having fun with their ducks and helping us get some work done, too.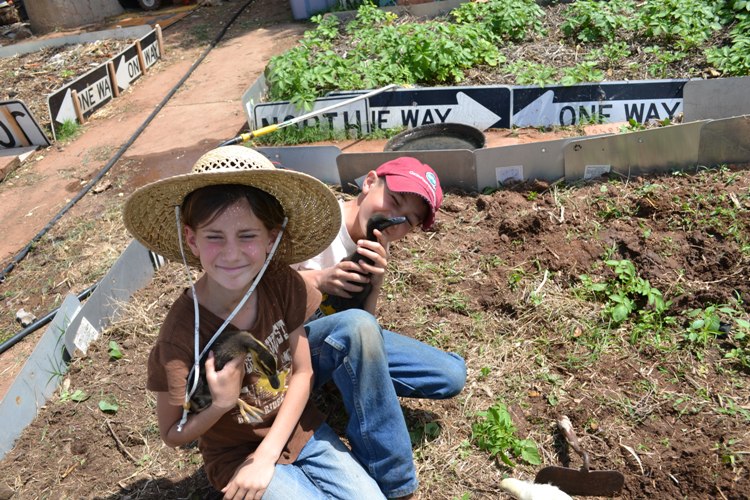 Aspen pulling weeds.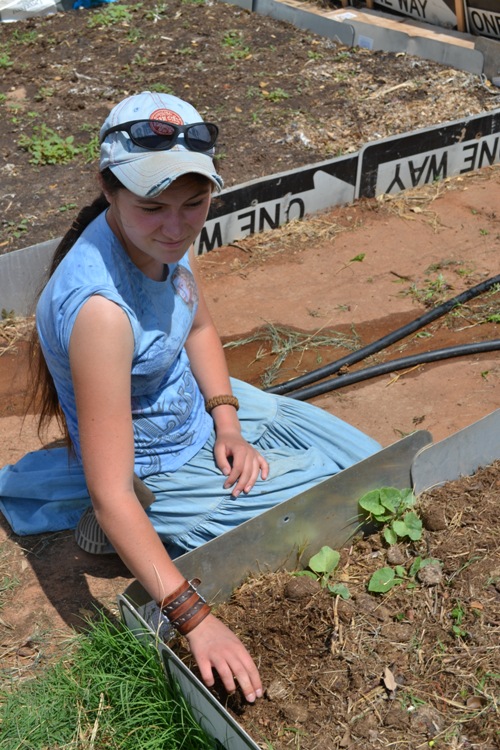 Monday, April 2 - At the Goodwin's - The kids stayed on in Tennessee for a few days so they could spend some time with Jordan's family and some of their other friends.
Sarah, Sam and Peter talk Atlanta and Jordan into wading in their creek.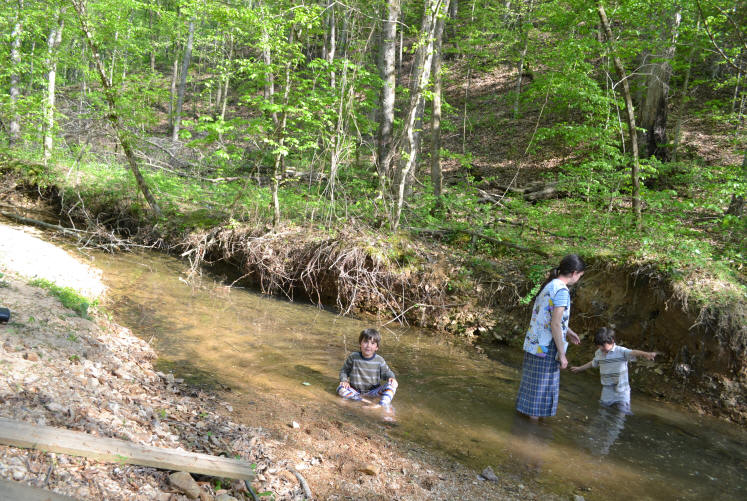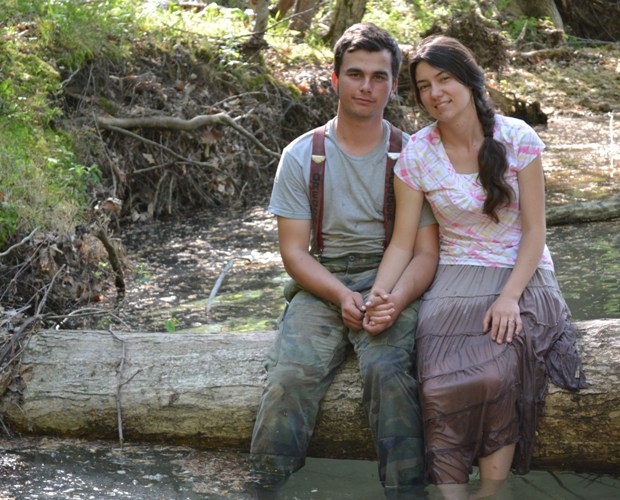 Now it's time to take a walk and dry off.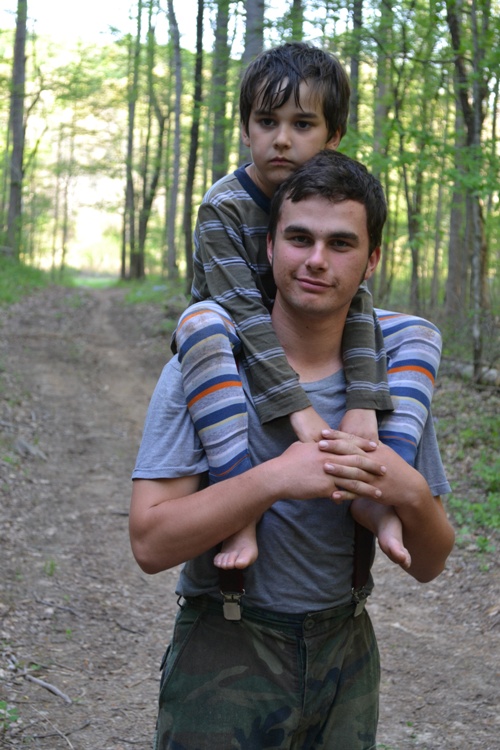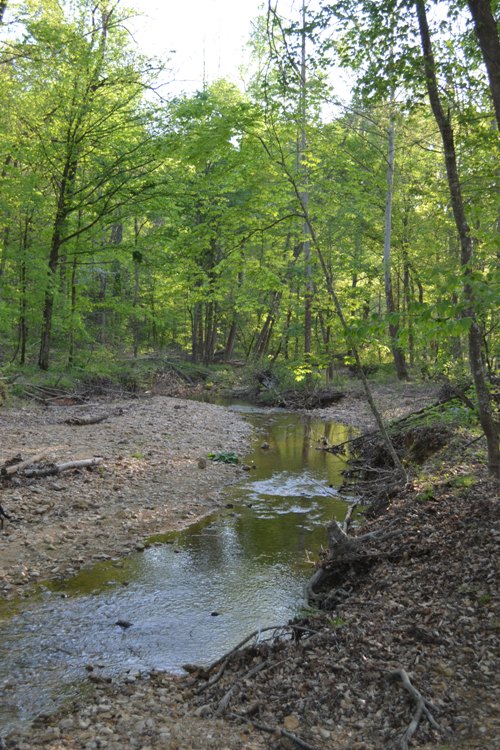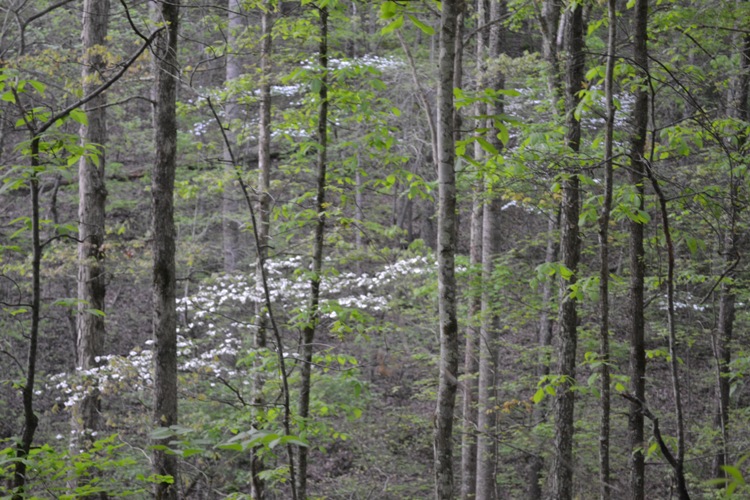 These wildflowers are called "lady slippers". Looks more like the house shoes people wear to Walmart.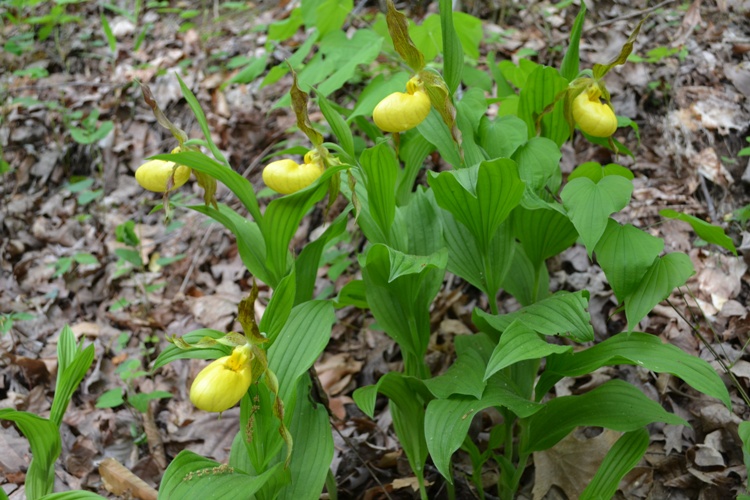 Wild irises.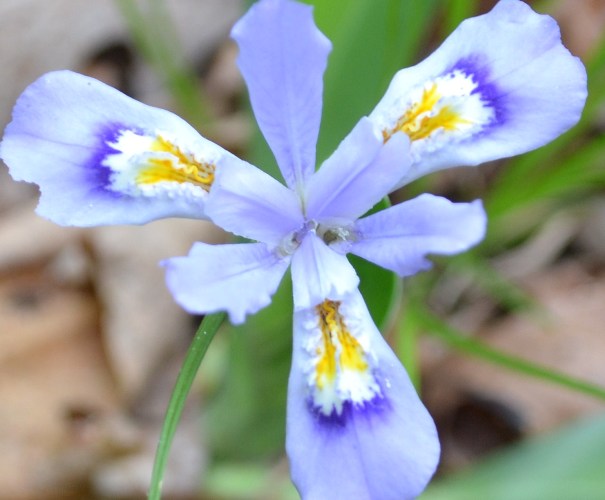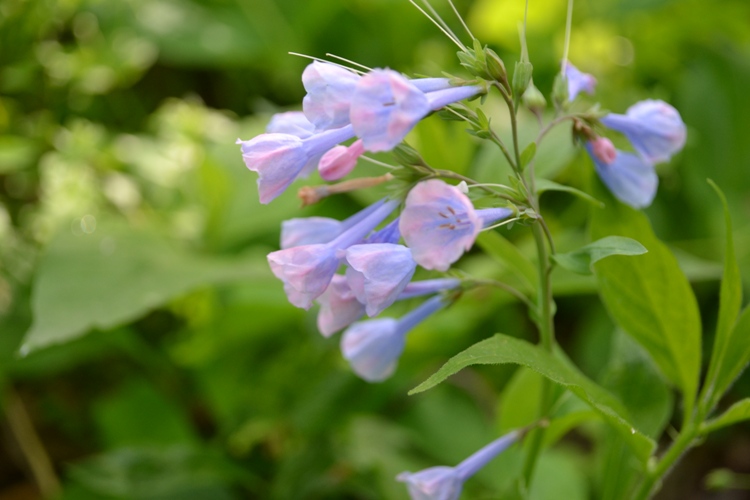 Lovely sunrise the next morning.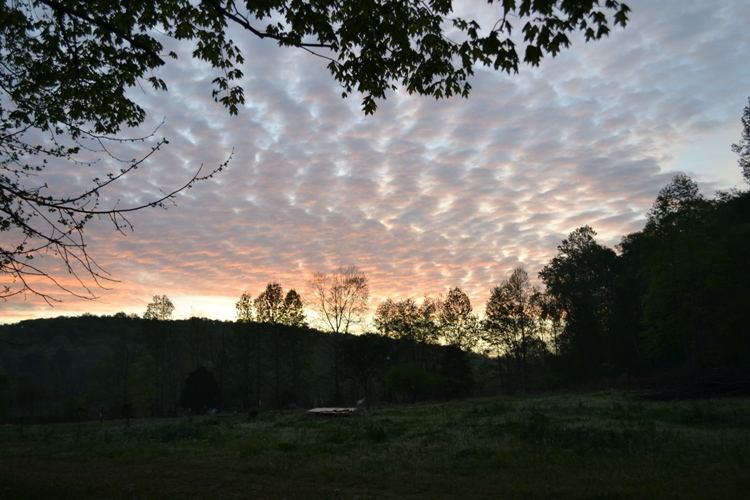 Atlanta helped Jordan and Sarah with some planting in their garden.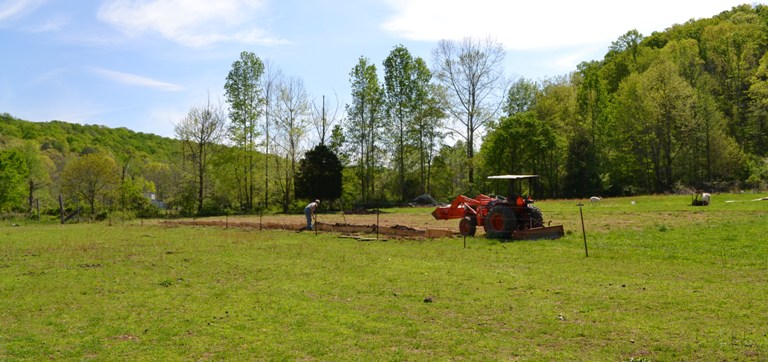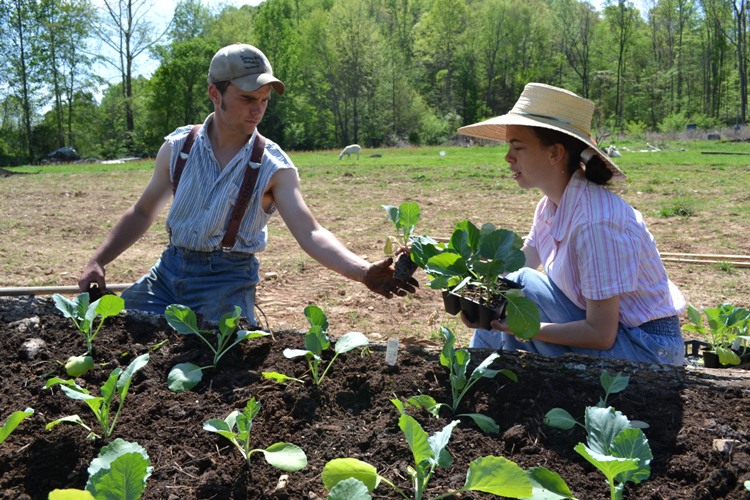 They laid out where their house would be built.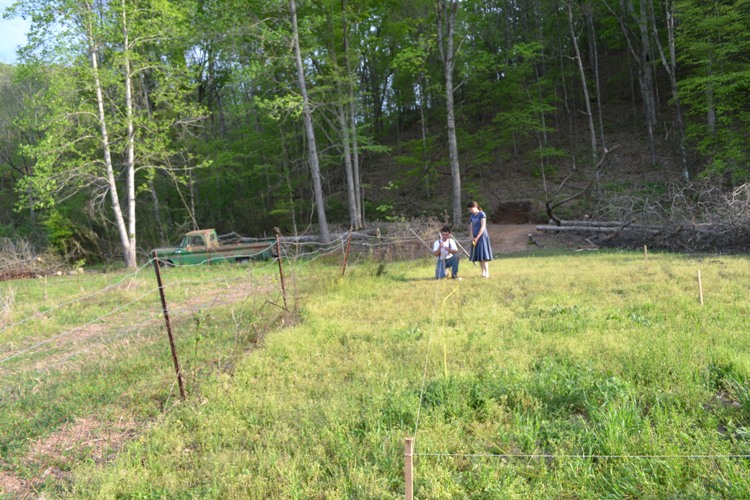 Here are some of the logs Jordan has cut for it.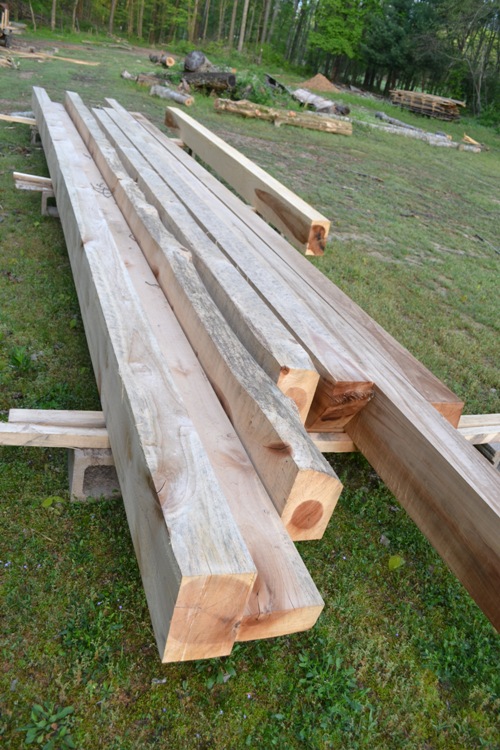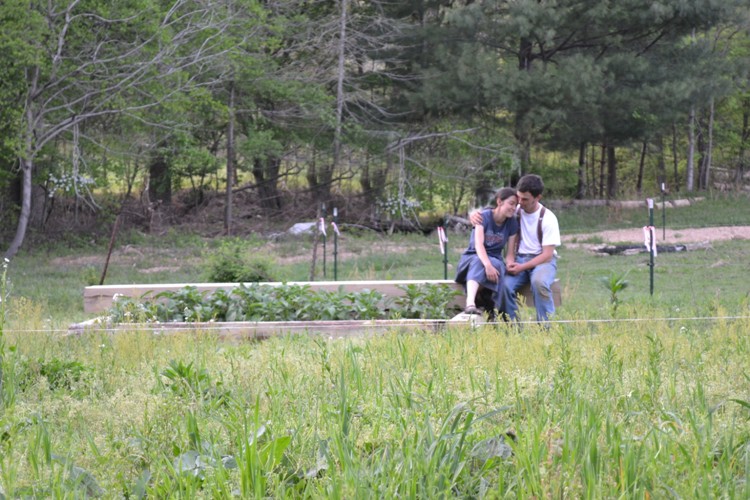 March 28 - April 1 - National Civil War Reenactment - Atlanta, Cimarron and Laredo traveled back to Tennessee this week to attend a large reenactment held near the battlefield grounds of Shiloh. Many of their Tennessee friends were also there and they had a great time. Atlanta took some nice pictures of the camp and the battles.
Cim inspects his pistol.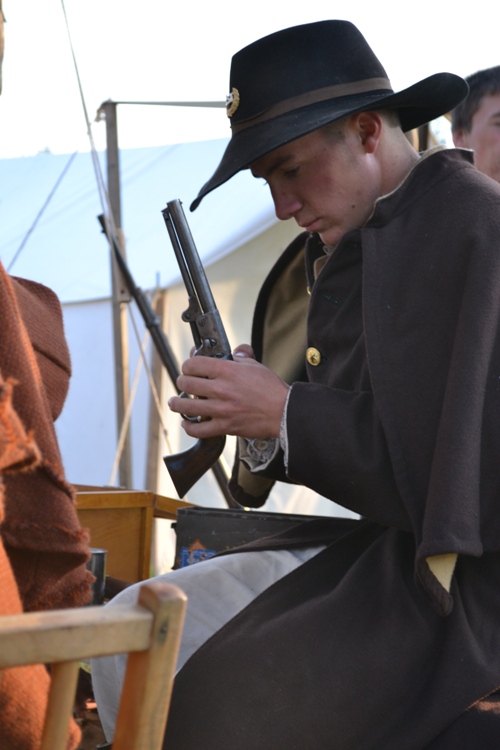 Atlanta prepared this delicious breakfast for the guys.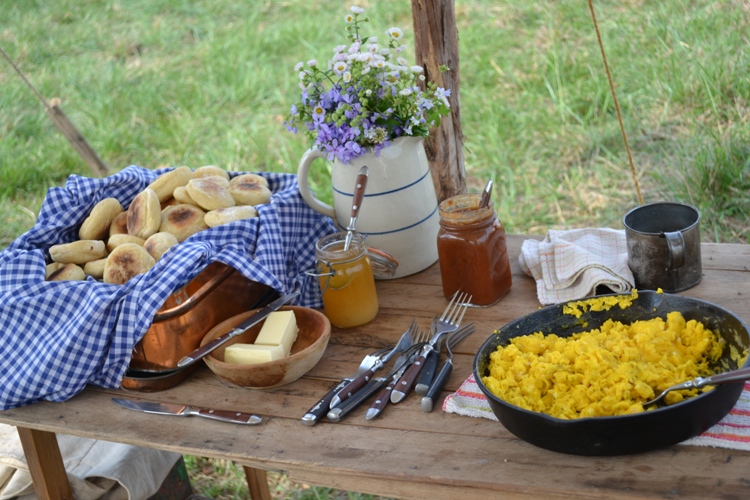 Cim, Jordan Goodwin, Laredo and Daniel Amick under the "fly" tent.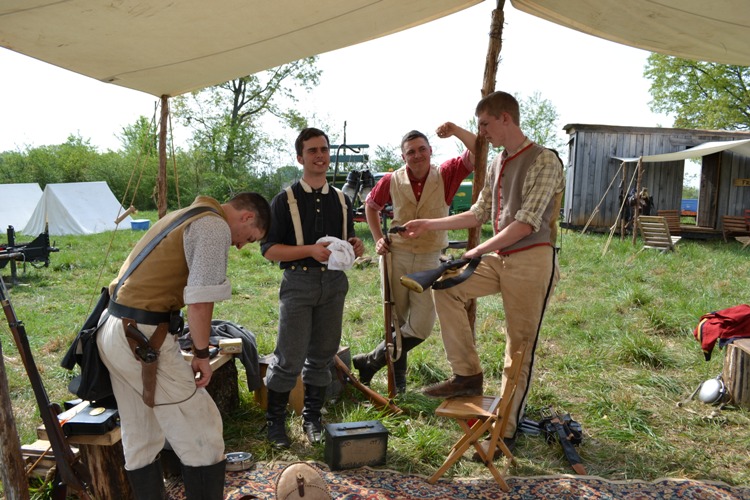 A large group of Confederates begin to gather nearby.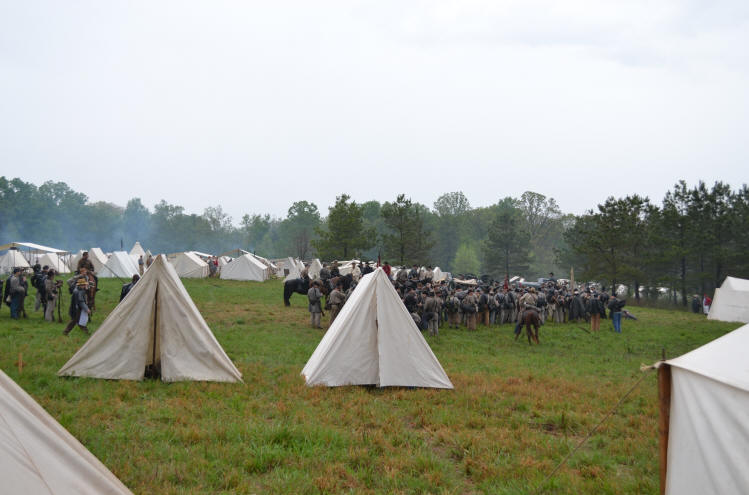 Time for a little music.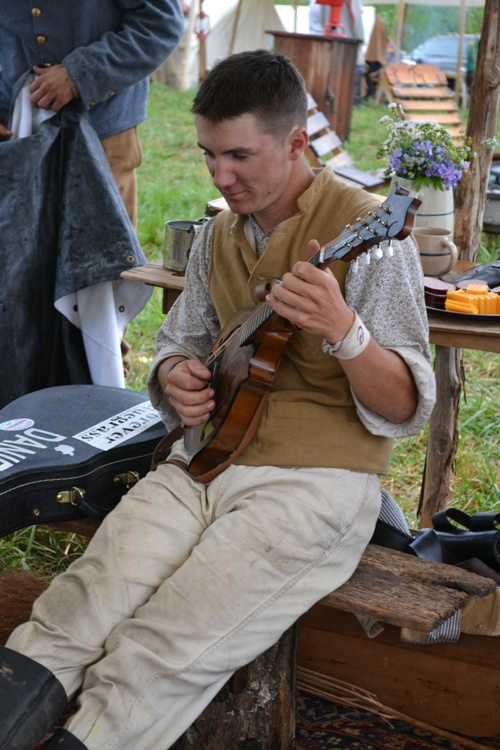 Austin Vick, Rachel Amick and Isaac Vick join in.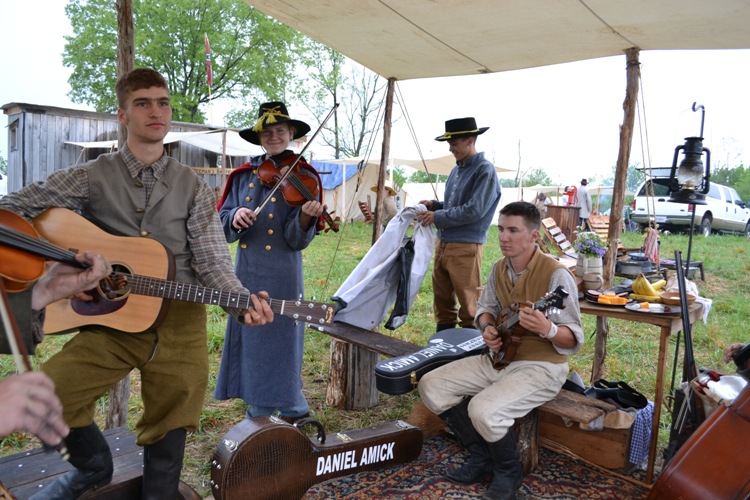 Early morning mist mingles with the smoke of many campfires.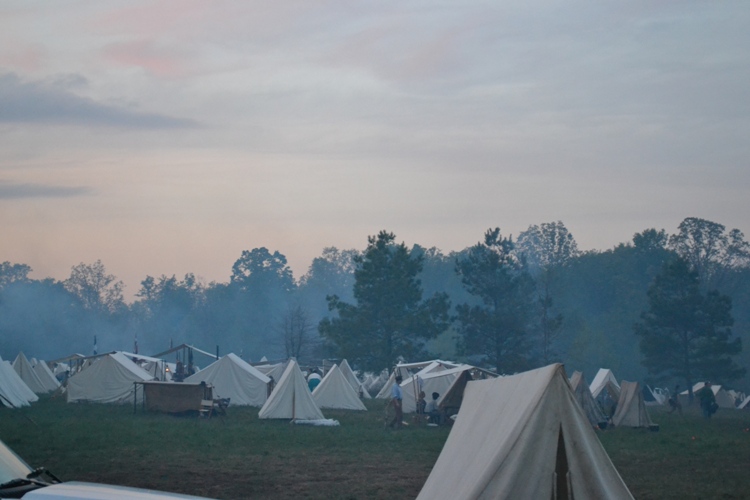 It was early on the morning of March 30 that Jordan proposed to Atlanta.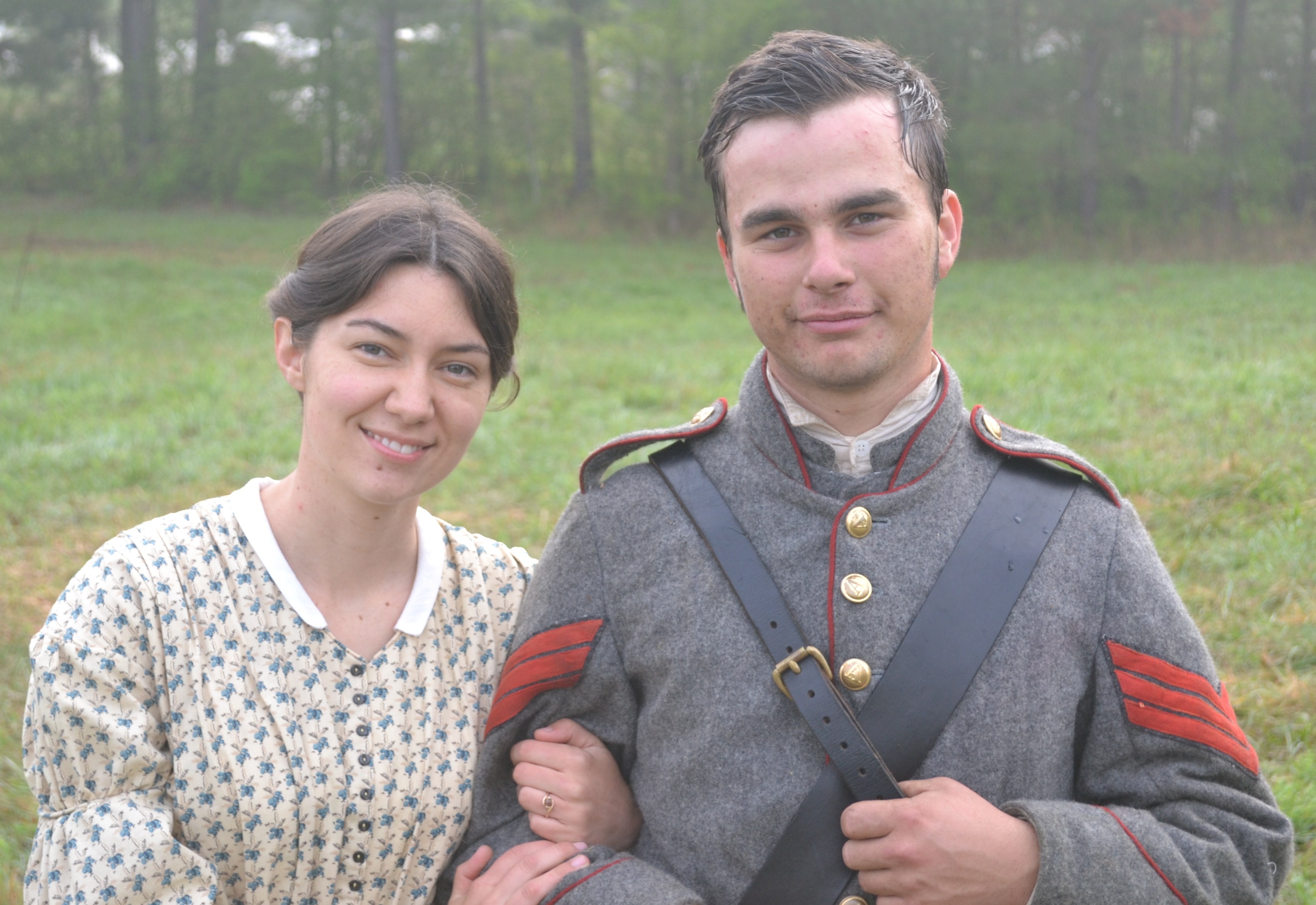 He gave her this lovely antique engagement ring.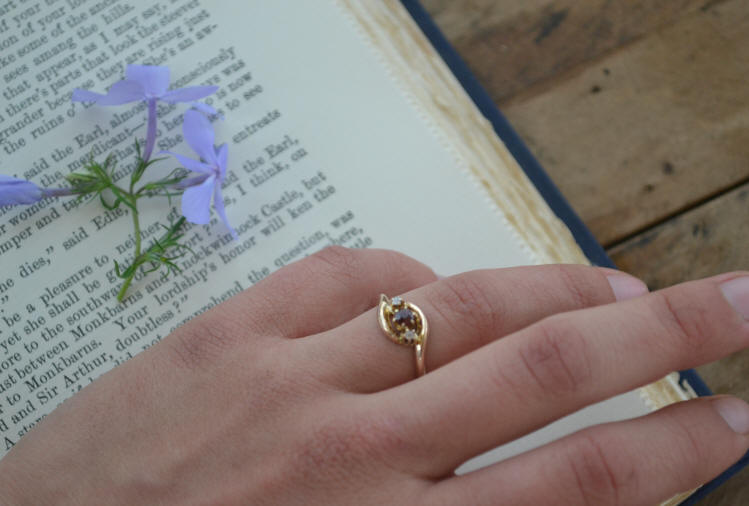 Laredo is ready for battle.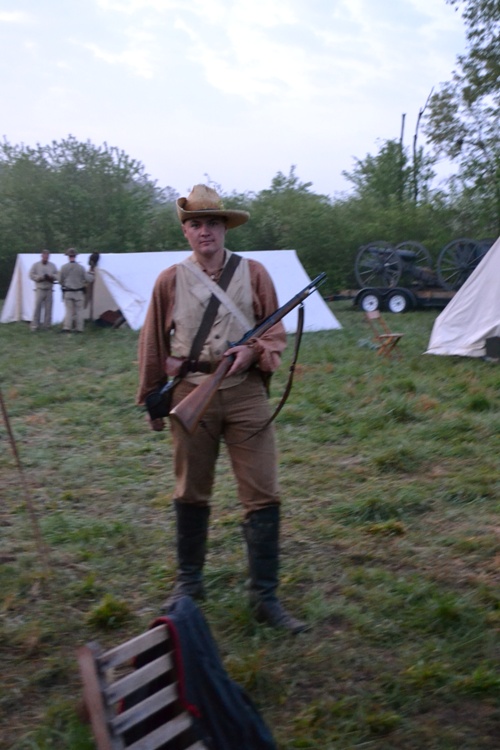 Jordan gives final instructions.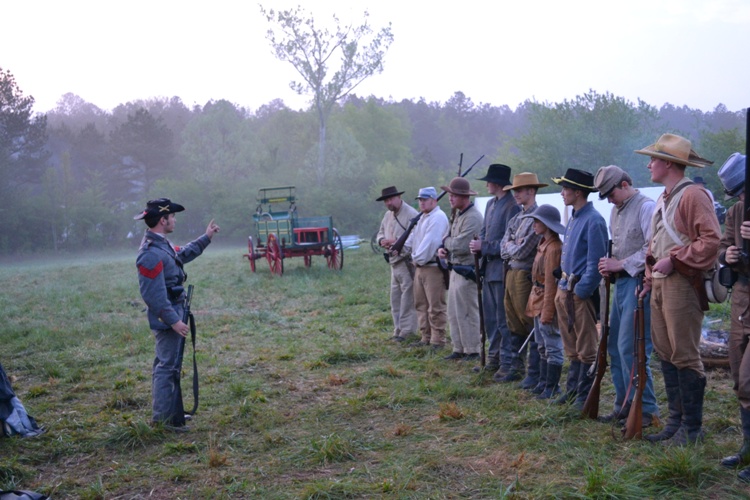 Into the fray.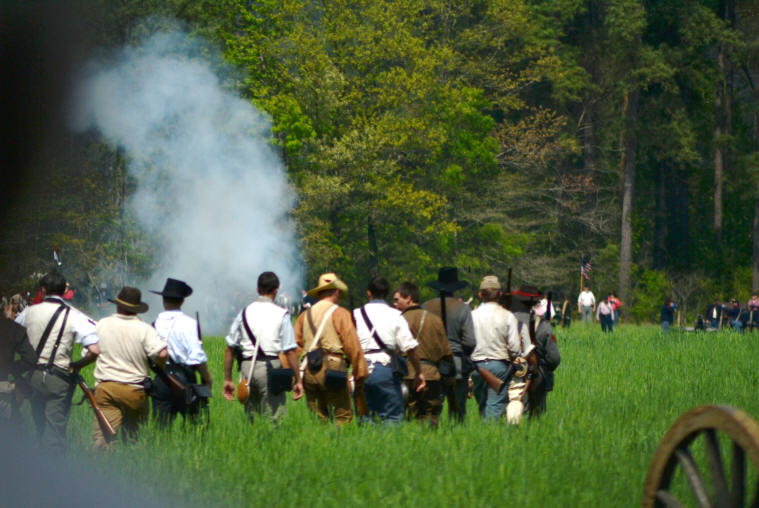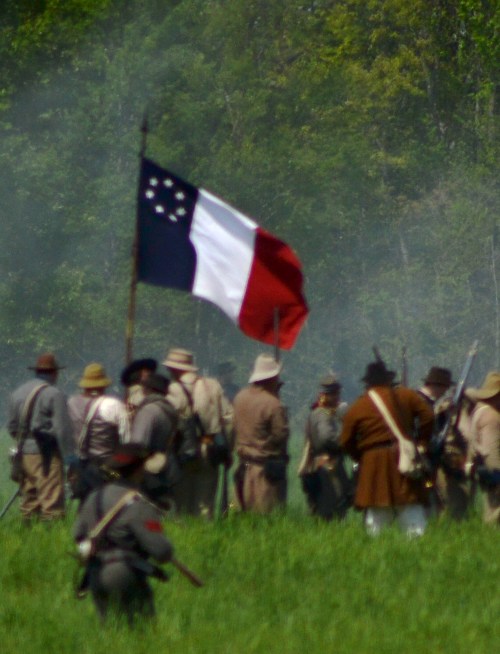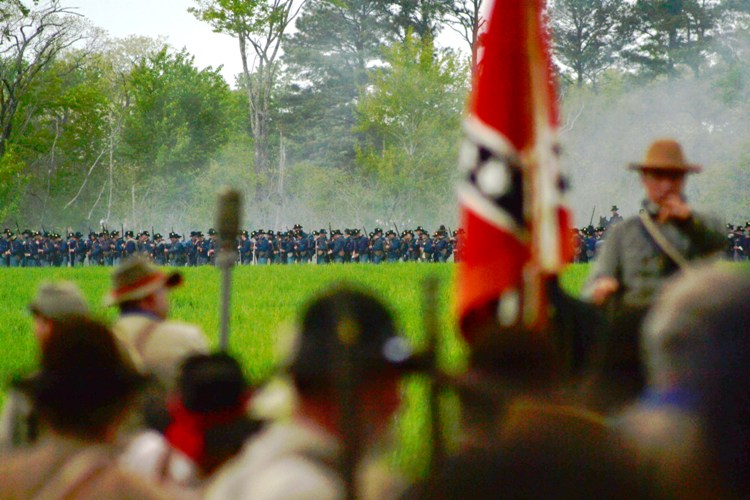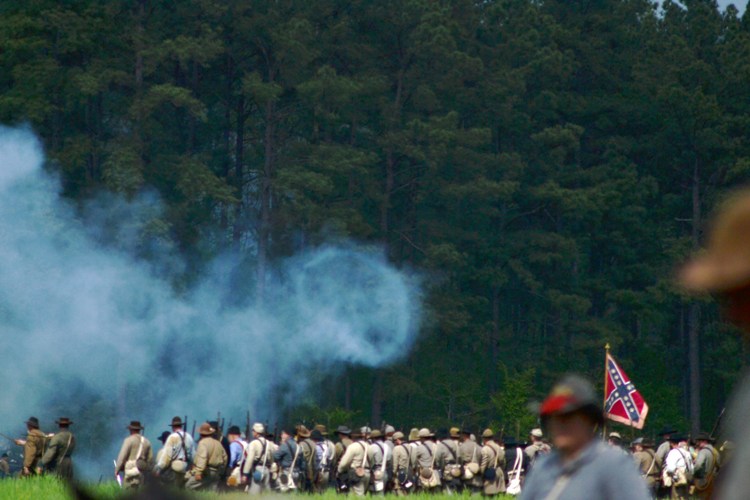 Atlanta captures pictures of smoke rings from the canon.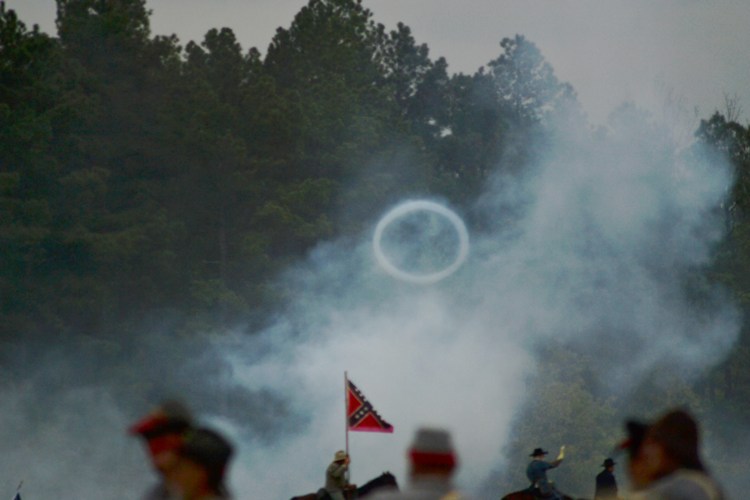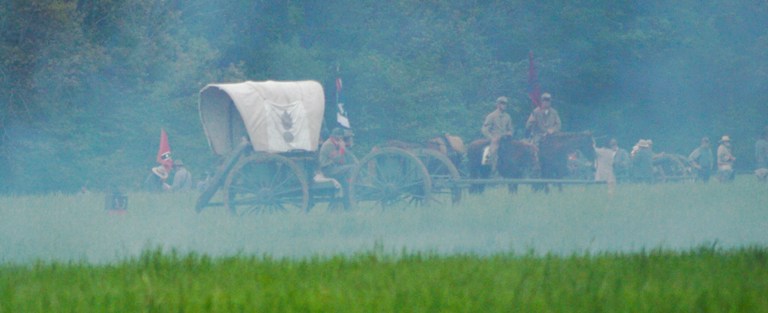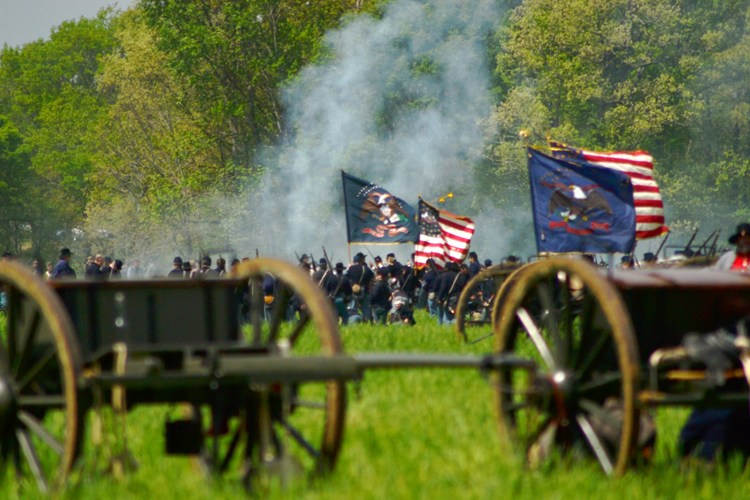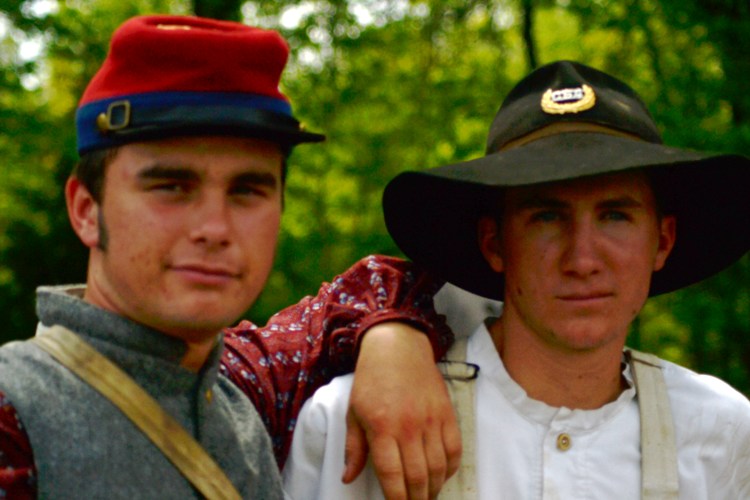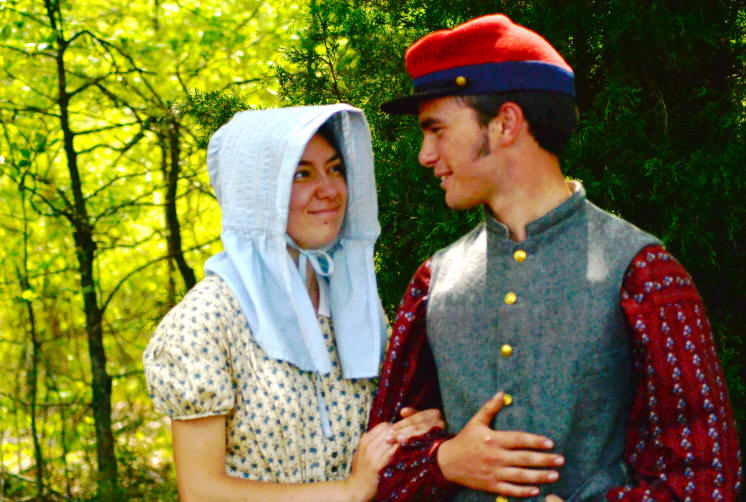 A wagon ride is always fun.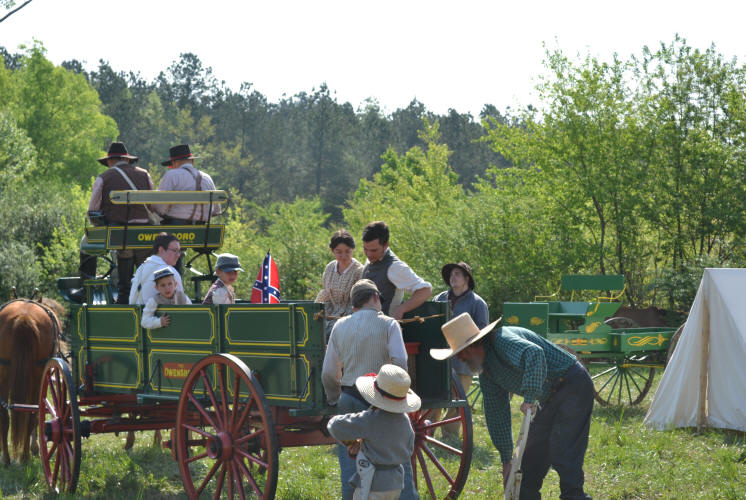 Atlanta and Jordan at the ball with Jordan's two youngest brothers, Peter and Sam.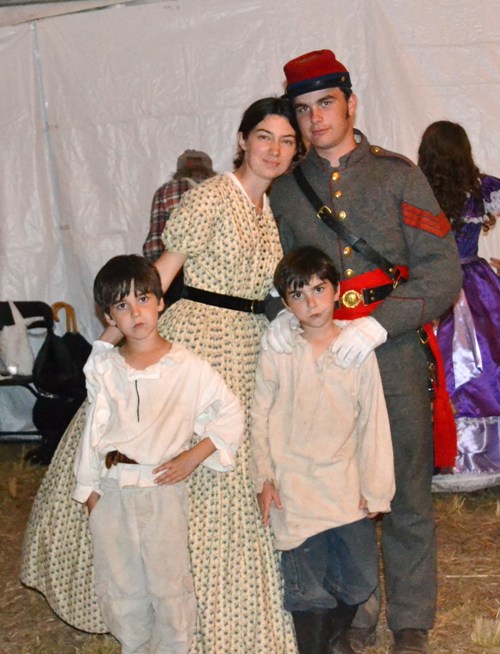 Jordan's only sister, Sarah.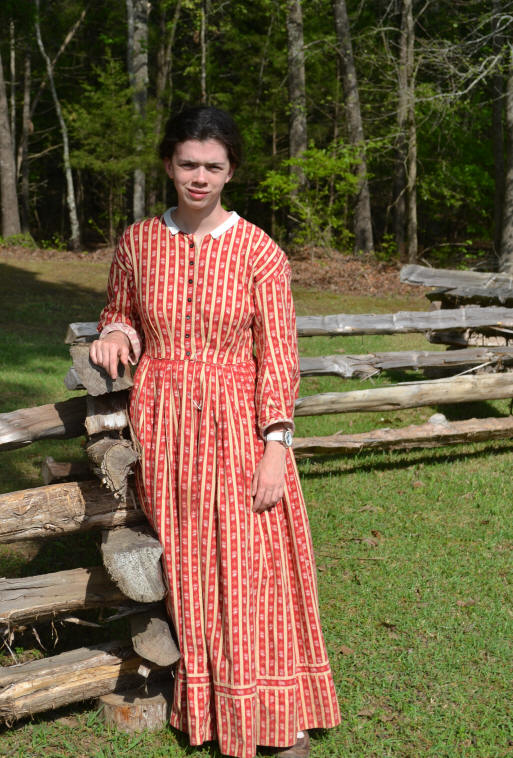 Cim escorts Sarah and Rachel from the reenactment.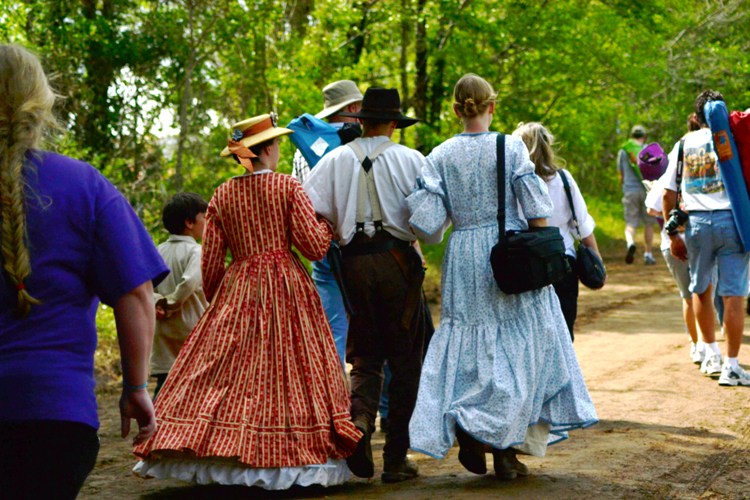 Check out our past news. Just click any link below: