Read the February News:
Sunday, February 27 - Brush Fire - We got a call from our neighbors early this afternoon that there was a fast moving fire near Matador that might threaten us depending on what direction the wind was blowing. We took the time to gather up photos, hard drives, guns, instruments, etc. and put them in a safe place. By nighttime, the red-orange glow of flames could be seen in the south. It was very eerie. We're all okay and the fire never got very close to us. Thanks for everyone who worried about us and prayed for us.
This picture was taken near Matador.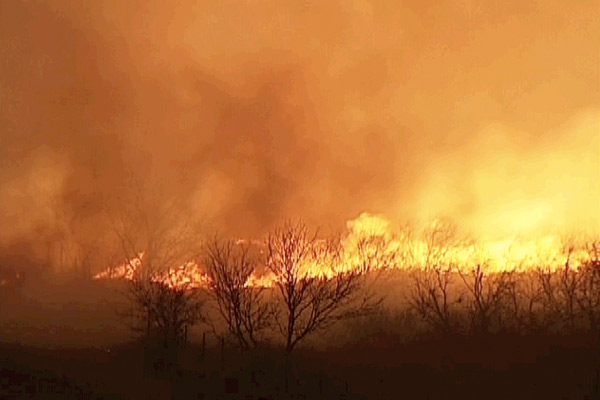 Saturday, February 26 - Memorial for Aunt Lee - The kids played a few songs at the service for Nathan's aunt in Georgetown today. It was a nice memorial and good to spend time with his family some of which we hadn't seen in a while.
Amazing Grace, What a Friend We Have in Jesus and The Old Rugged Cross, were among the songs played.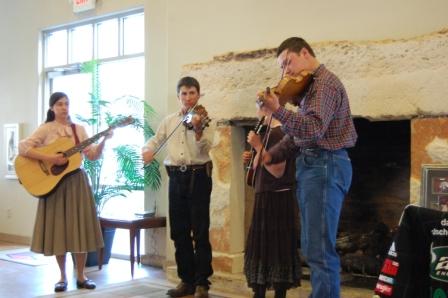 Atlanta and Carolina with Mambo.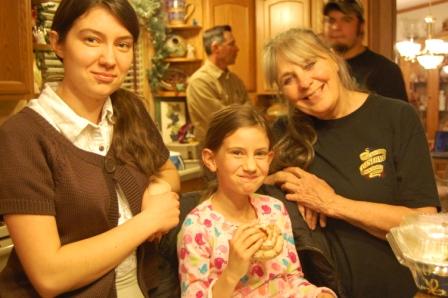 Stockton and Carolina discover cousins they didn't know they had. Ian in the back and Peyton in the front.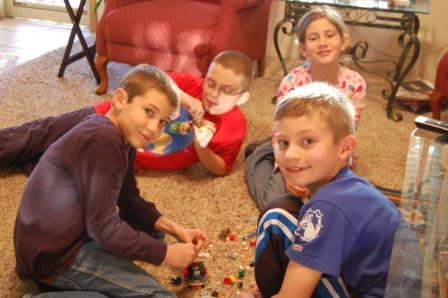 Aunt Lee's son Justin Collum and his wife, Liz, and son, Ian from Arizona.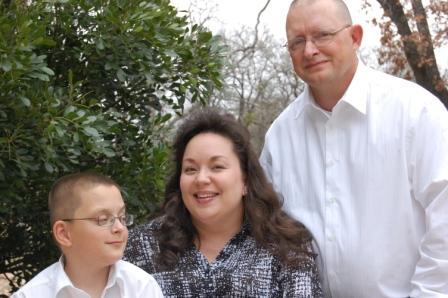 Nathan's Uncle Joe and Aunt Karen.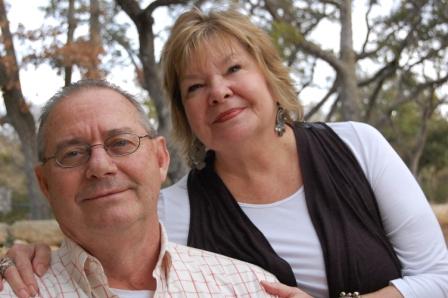 Our family.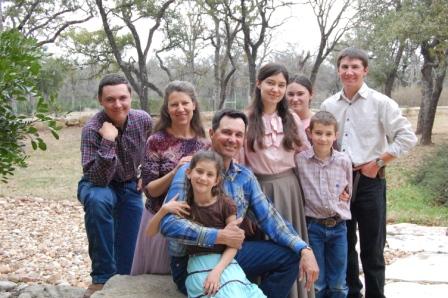 Nathan's cousin, Wes Whitzel and wife, Debbie, and sons, Jonathan and Tommy, of Georgetown.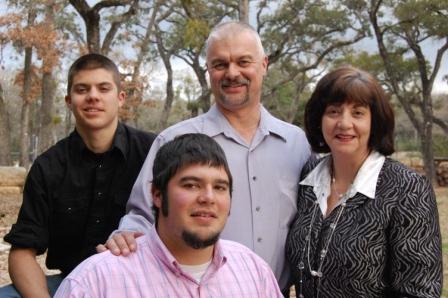 Nathan's brother, Wylie with wife, Lori, and daughter, Sophie, of Collyville.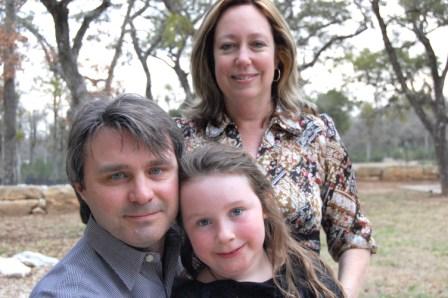 Nathan's brother Chris, and wife, Debra, of Brownwood.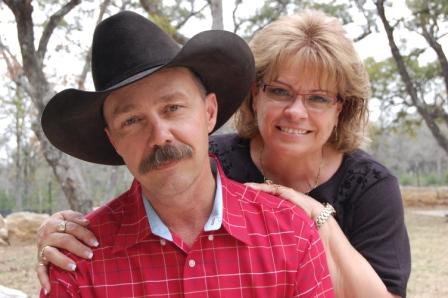 Cousins!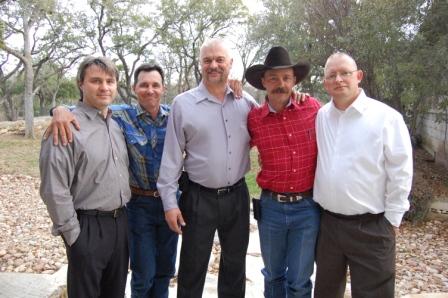 Second cousins!!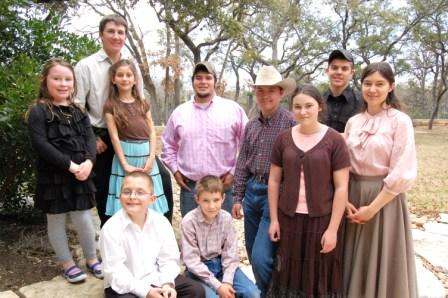 Carolina and Sophie.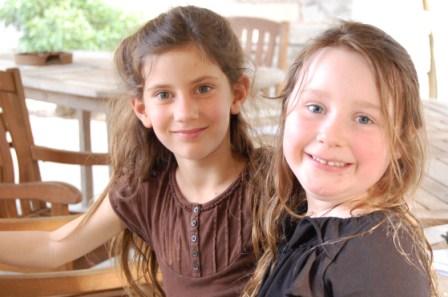 Some of my side of the family who lived nearby came as well. My cousin, George Rainey and wife, Nancy, and kids, Garrett and Samantha.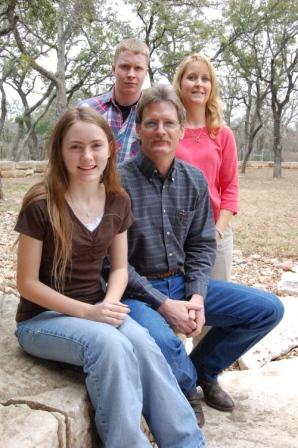 Samantha and Aspen.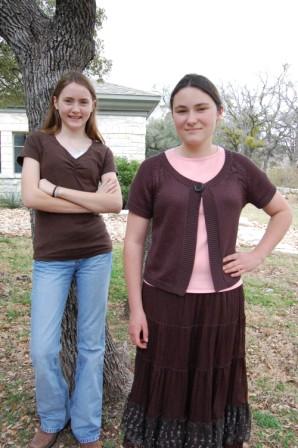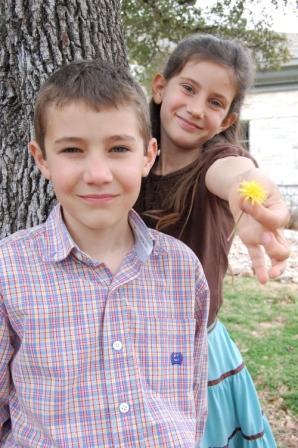 Thursday, February 24 - Flash Photo Gallery Page Added - For those that couldn't get on facebook to see the pictures from the dance, I've put up a flash photo gallery page featuring the best shots from the dance. Some I took, and some were taken by other photographers at the dance. Click here to see them. When the page loads up, click on any picture and then click the play arrow at the bottom to move from picture to picture.
This beautiful photo was taken by Jerrod Campbell.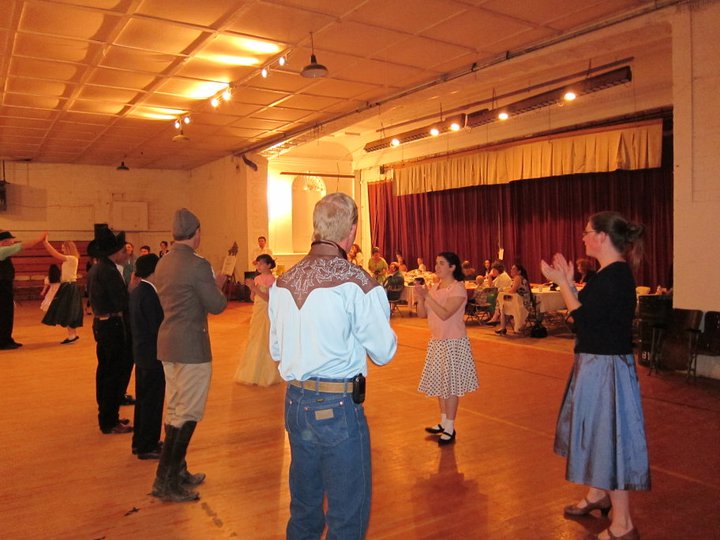 Sunday, February 20 - Quick Trip to the Creek - In the early afternoon, the kids drove down to the Creek for a fast look around. Did you know you could get 20 kids in a pickup?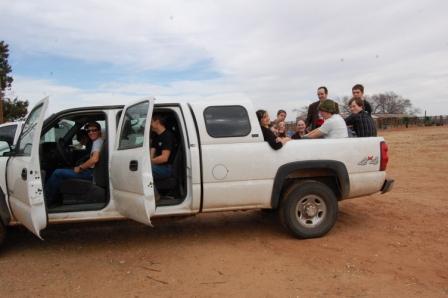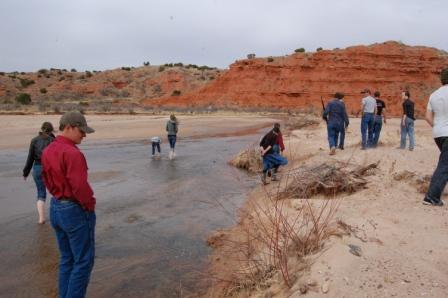 Sorrow Amid Joy - While we were having our worship time, we received news that Nathan's aunt Lee had passed away unexpectedly. She was such a sweet lady and she loved the kids very much. We will all miss her. Please keep their family in your prayers.
Here's Aunt Lee and Georgia with the kids at one of our Civil War reenactments in 2007.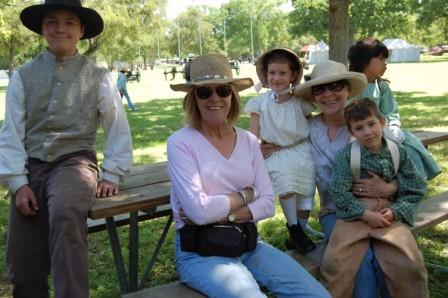 Sunday Brunch - Several people who attended last night's dance spent the night in Turkey or with us. We hosted a brunch and a time of worship for them before they headed home.
Our menu included ham, deviled eggs, chicken salad, orange slices and pumpkin bread.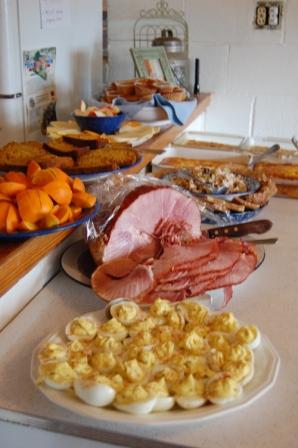 Don't forget cheese and apple slices, carrot cake muffins, egg and potato casseroles, and egg custard with nutmeg.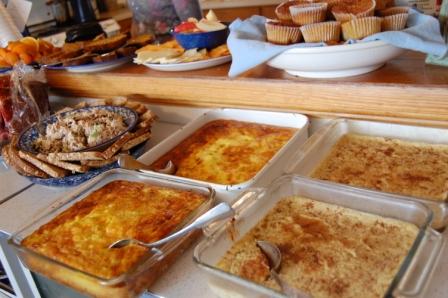 We had 28 guests in all. The young people filled up our 10 ft. table.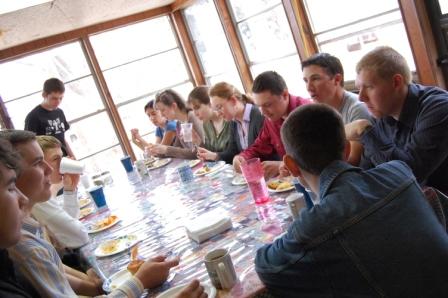 Thomas, Matthew, Rebecca, Jacob, Morgan, Mattie, and Zeke.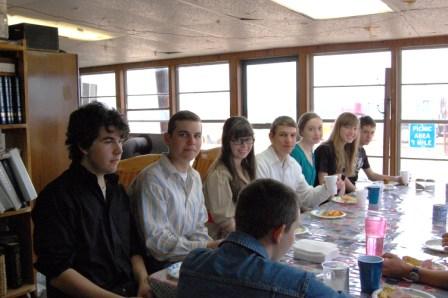 Atlanta, Ginger Lane, Allison Reilly and Desarae Phipps.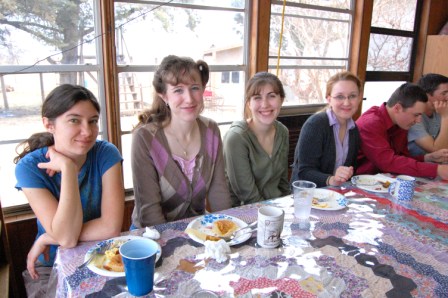 J.R. Roberts and Quint and Regina Phipps.
We enjoyed some beautiful singing and worship time together.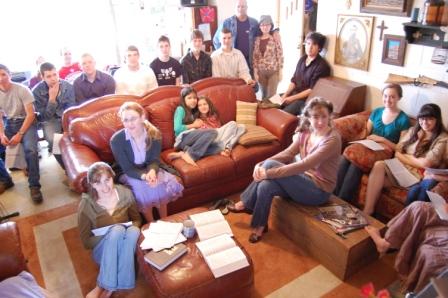 Saturday, February 19 - Dance Time - We had a terrific turnout the night of our dance. We counted 96 people at the dance (not counting a couple of interested ladies from Turkey!). The kids had such a great time and so did the parents. Enjoy the pictures below and check out our facebook album for more pictures here.
We had a few soldiers and a few girls in 40's and 50's outfits and a retro cowboy look, too!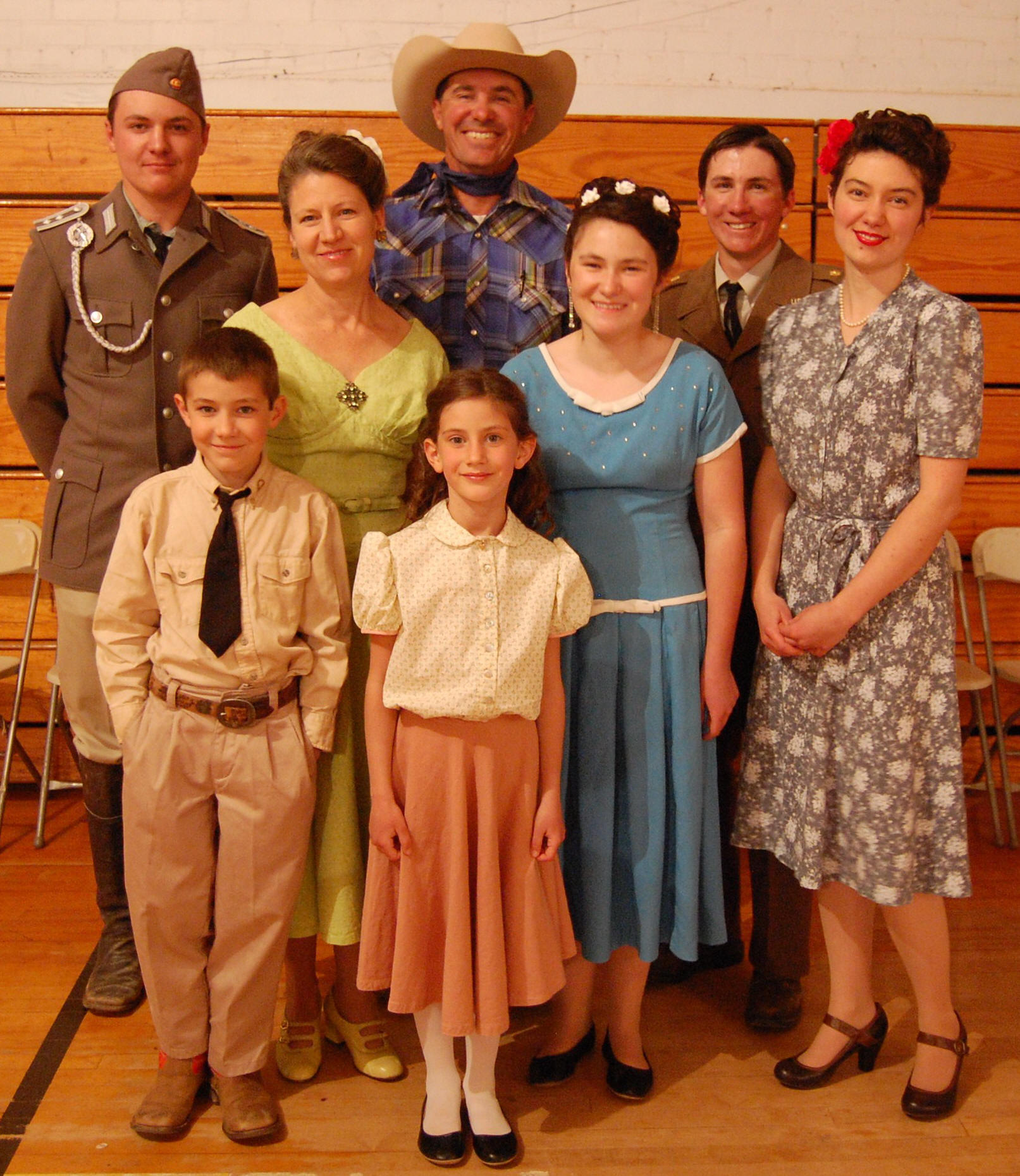 This could almost pass as an old photo. Laredo, Grant Phipps, Cimarron and Caleb Phipps.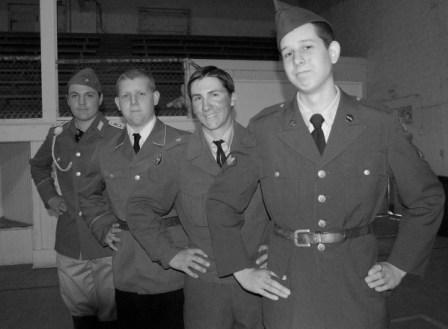 These two had big smiles all evening.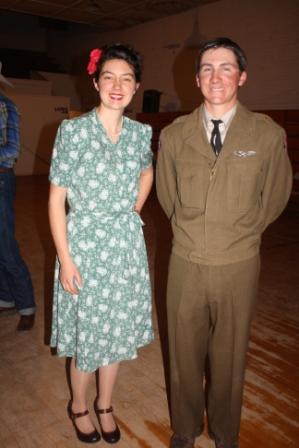 Aspen and Anthony Phipps before the dance.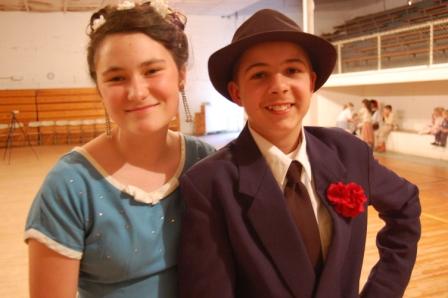 Jennifer, Jerrod and Jacob Campbell pose with Atlanta.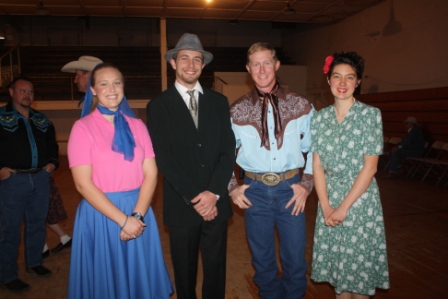 J.R. and Eve Roberts from Decatur.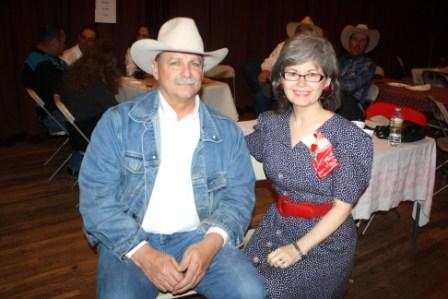 This good-looking group came with the Roberts from the Decatur/Bowie/Graham area. Zeke, Matthew, Morgan, Rebecca, Mattie, Jacob, Wesley and Thomas.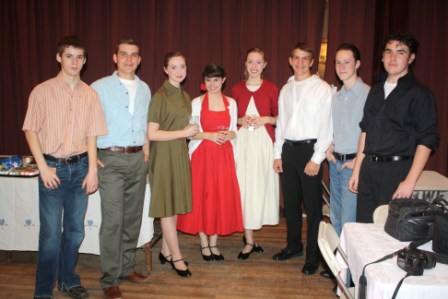 Daniel Hernandez from Canyon poses with the Haney's from Amarillo.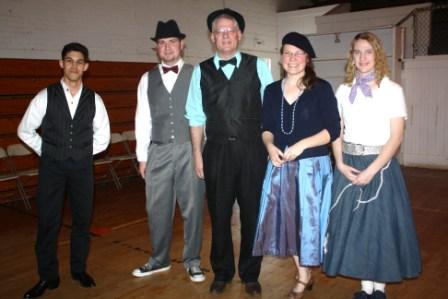 Joe Wells from Hereford poses with more Hernandez kids, Peter, John, Ivy and Joseph.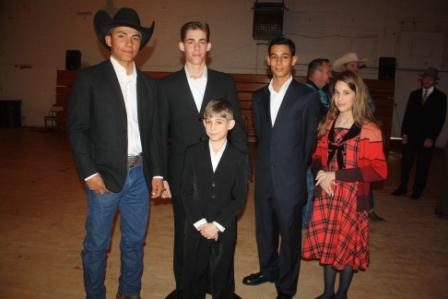 Dancers performing the Carolina promenade.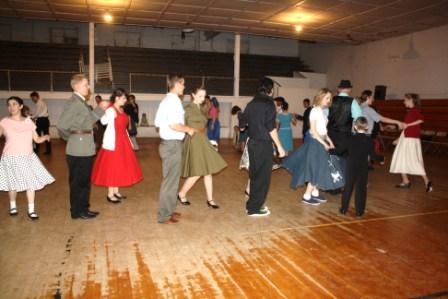 Plainview girls Lexy, Robyn, Sarah and Johanna.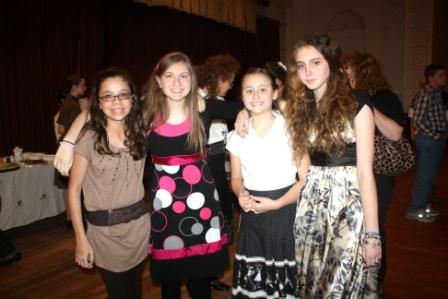 Desarae Phipps, Nathan and Ginger Lane and Allison Reilly.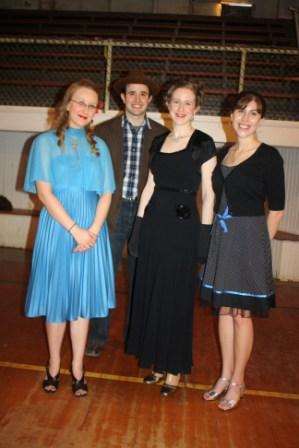 Dancers performing the Virginia Reel.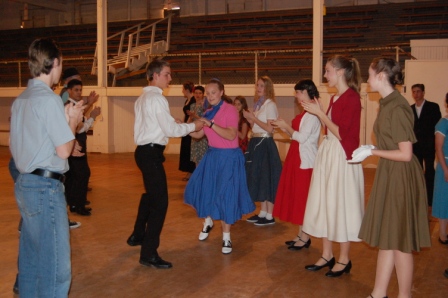 Attendees all bunch together for a group shot. Smile!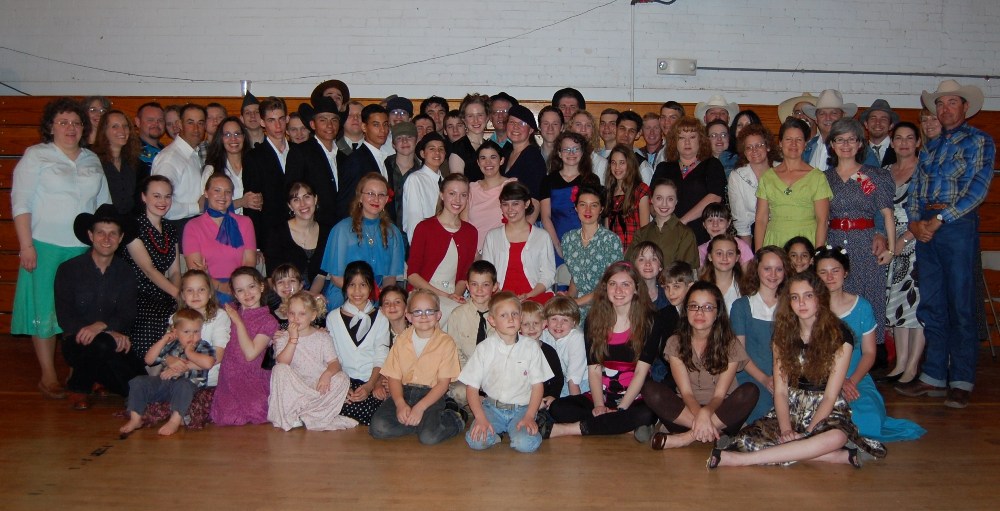 Dance preparations - It was finally time to get ready for the dance. Down came the pin curls, and up went the "do's".
Rapunzel eat your heart out!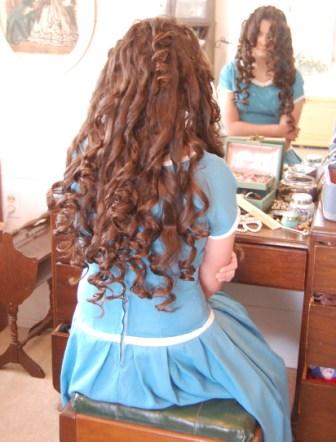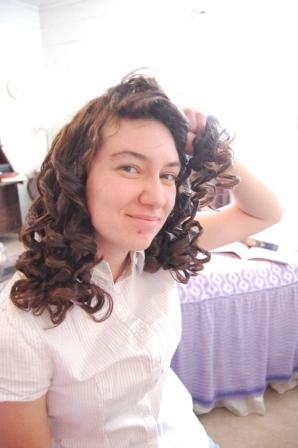 Aspen's ready to step back into the past.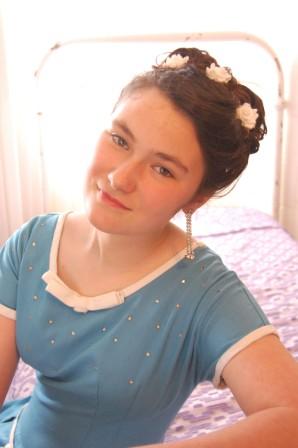 Carolina shows off her curls.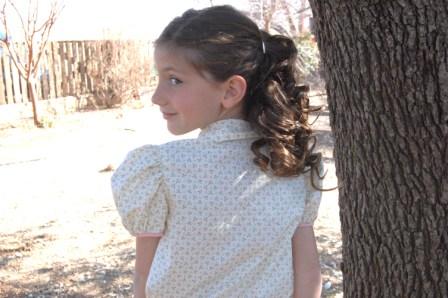 Nathan helps the boys with their ties.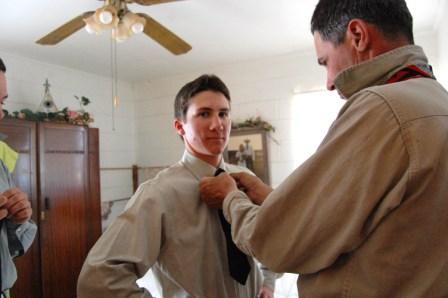 Friday, February 18 - Pin Curls - Atlanta rolled all the girl's hair in pin curls. This was a technique used in the forties to get beautiful curls all the way to the scalp. Tomorrow when these come out, she'll mold everyone's hair into a lovely retro style for the dance.
I don't know how she got all that long hair put up so tight.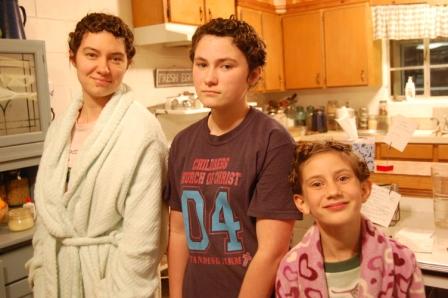 An up-close look at Carolina's pin curls. Would you like to sleep on these??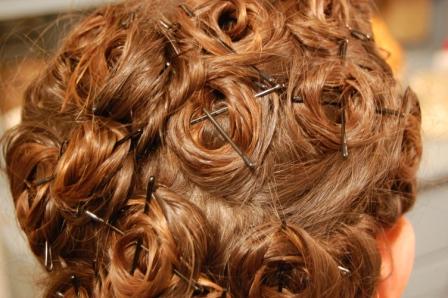 Thursday, February 17 - Warm Days - We've been so busy this week doing some Spring cleaning in advance of our weekend visitors that Carolina and Stockton have had their spring break early. It's been a great week for it because the weather has been so beautiful. I should have been taking more pictures of all the fun times they've had, but I didn't. Here is one picture Atlanta snapped of Stockton.
He was determined to catch this matching pair of chickens. He finally did it.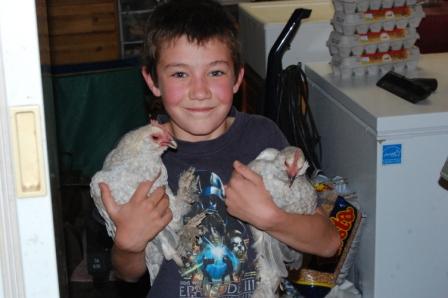 Sunday, February 13 - Early, Unwanted Visitor - After breakfast and before church, I noticed Aspen's guineas following something around the front yard. It was a skunk that was trying to find it's way out of the yard. We managed to get the gates open and let it go out. Cimarron and Laredo followed it into the pasture away from the house and got rid of it. We're so glad it didn't spray anything.
I don't know if you can see it. His tail is in the air (in the circle).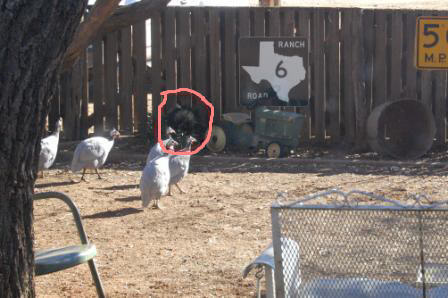 Day of Rest - I'm not sure it was a day of rest for everyone, but the animals were all resting peacefully when I went outside around noon.
A nap in the sun is always a good idea.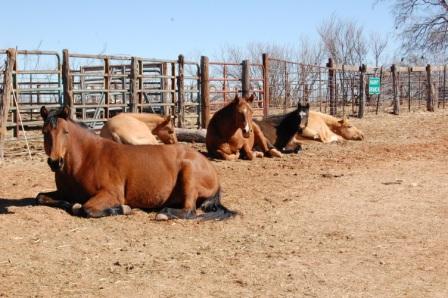 Doesn't everyone deserve a nice dust bath on the weekends?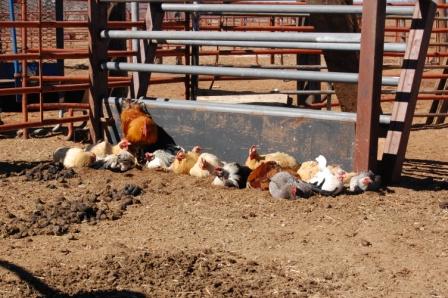 Bessie in the middle and two black calves wonder what I'm doing in their pen.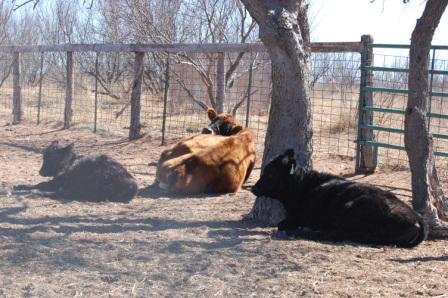 Carolina and Stockton were sitting on the front porch holding some of Aspen's latest hatchlings.
Saturday, February 12 - Valentine's Barn Dance - Nathan and I were invited to a barn dance by our good friends Joe and Josephine Macha. It was held at Muncy which is a dot in the road between Floydada and Plainview. It was really fun and the food was great.
There were about 40 couples, most of whom were relations of the Machas.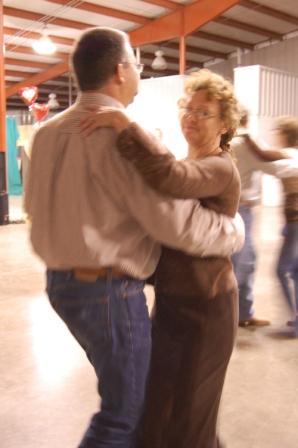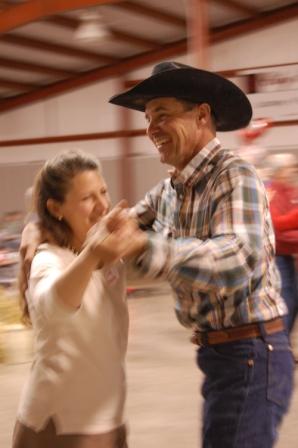 Friday, February 11 - Valentine's Party - After music lessons and a few errands, we met up with some members of the Plainview home school community and enjoyed a Valentine's party. The little kids exchanged Valentine's cards and everyone had ice cream.
"The Roaring Fifties" ice cream shop was bulging at the seams.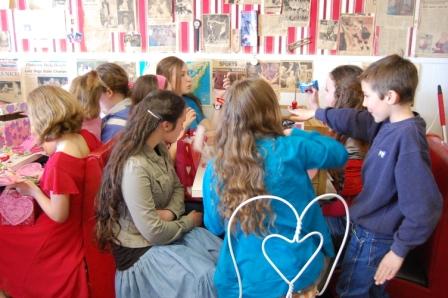 Cim, Samson Weiss, David Gary and Laredo playing cards at the party.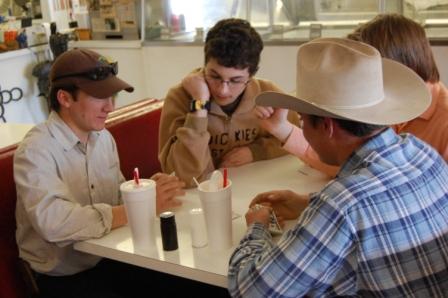 Dance Practice - After the party, the big kids conducted a dance practice for anyone interested in getting a head start learning the dances for this Saturday's dance we're hosting in Turkey.
Cim has his hands full as he teaches this dance to several at once.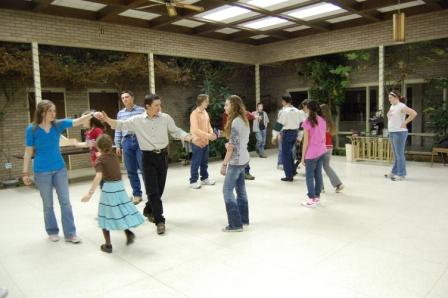 Atlanta enjoys a swing dance with Daniel Hernandez from Canyon.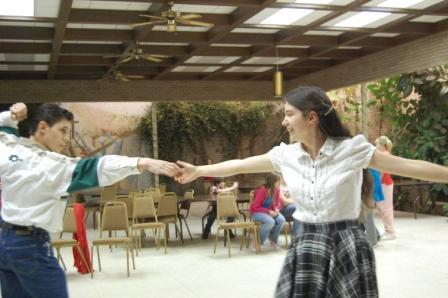 25 kids showed up to learn some new dances.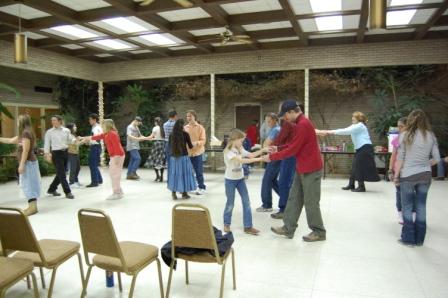 Wednesday, February 9 - More Etsy Orders - I forgot to mention last week that one of Stockton's miniature doll house firewood racks sold. He was very excited. We've also sold about 7 doll beds in the last 10 days. Nathan wanted to work on the new orders today, but it was so cold that the freightliner wouldn't start, and so he couldn't move it close to the shop so he could weld inside. (the welder is mounted on the freightliner flatbed) Maybe the weather will warm up a bit in the next few days.
Tuesday, February 8 - More Hair Sneak Peeks - Carolina and Aspen were the Guinea pigs today. Here's what their hair will more or less look like on the night of the vintage dance.
Carolina's long curls pulled back on either side of her face with clips. She'll probably have bows or flowers, too. Here, she's helping fry meat for tonight's chili.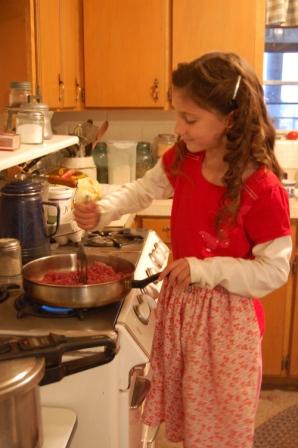 Aspen's sweeping style piles all her hair in the back with a circle of flowers.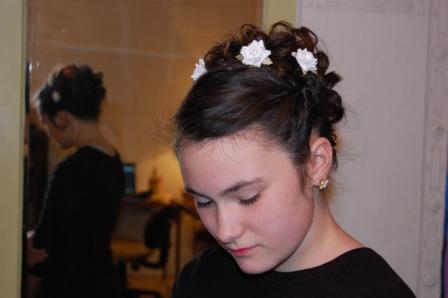 Soft curls on the ends are positioned and pinned.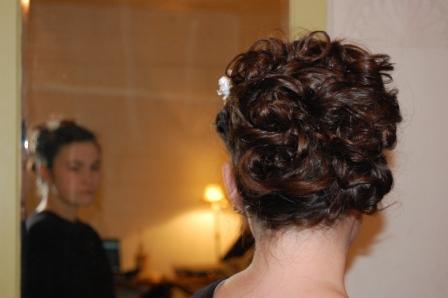 Monday, February 7 - Sneak Peek - Around here, most of the talk is about the upcoming retro-themed dance. Atlanta seems to change her mind daily about what she will wear. She's made three dresses from some forties patterns that we got at a Lubbock estate sale recently. She's also been experimenting with everyone's hair. Here's an inspirational picture she found.
She wanted to try and copy the hairstyle of Olivia deHavilland.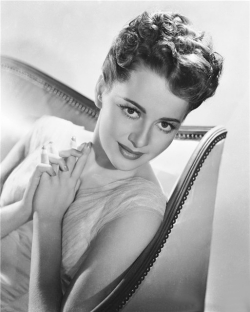 I think she captured the look perfectly. Don't you?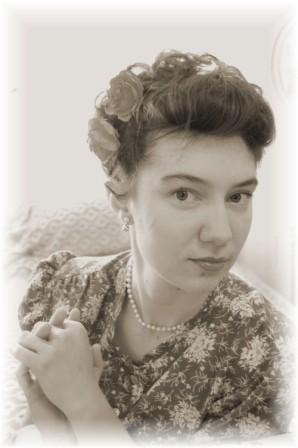 Here's the dress she MAY be going with. Check back tomorrow for updates, though.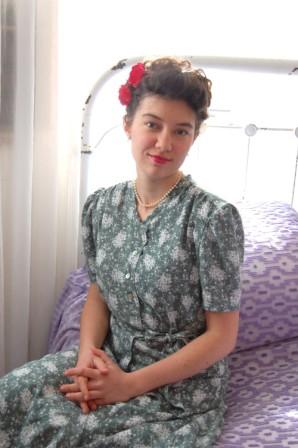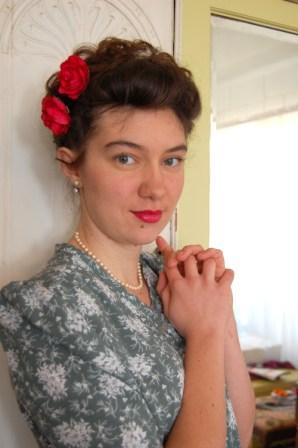 Sunday, February 6 - Big Snow - Big, wet snowflakes fell today. The ground was so warm after yesterday's higher temperatures, that little of it was sticking. The kids went walking and playing in it for a while. They came back cold and wet.
The horses eating hay on the flat in front of the house don't seem to mind the snow.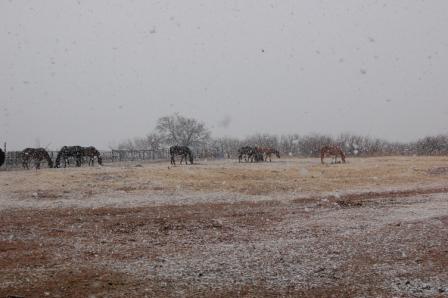 Laredo in his camo coat follows Aspen and Stockton down the road.
Carolina tries to capture a snowflake on her tongue.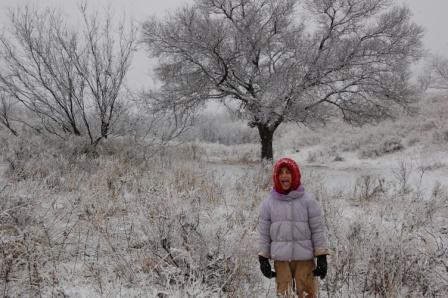 Atlanta, Carolina and Stockton having some chilly fun.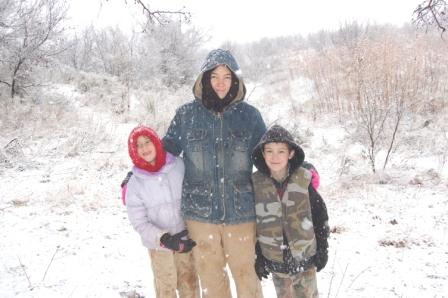 Saturday, February 5 - Visit from Granny and the Tidwells - Sunny and Jim were going to be in the area doing some real estate business, so they came on to Northfield for a visit. We cooked hamburgers in the wood stove and enjoyed visiting all afternoon.
Carolina and Hannah are up in the tree house making the most of the warm weather.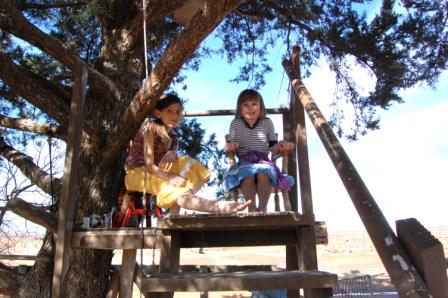 The guys worked on my frozen washer plumbing a little bit and got me going again.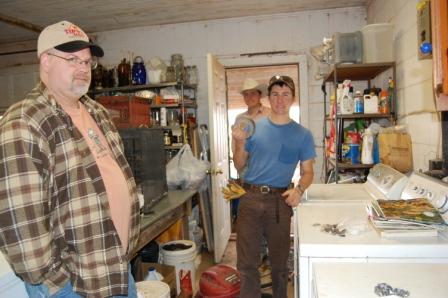 Friday, February 4 - Nathan's Birthday - We celebrated Nathan's birthday tonight with a cake and 6 candles. That's a clue as to his age.
German chocolate cake with pecan/coconut frosting was his request. Carolina and Stockton cracked pecans that they had gathered out of the yard.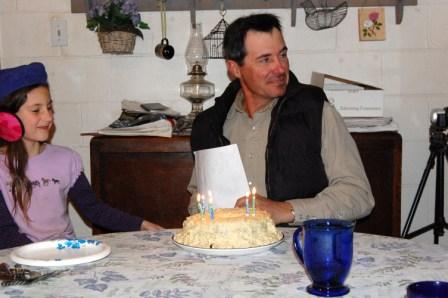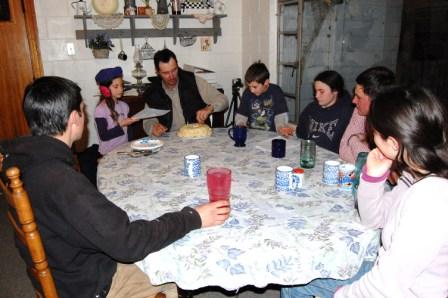 Thursday, February 3 - Meeting in San Angelo - Today, I went with Nathan to San Angelo for a pre-work meeting that he had to attend. We ran into a little ice between Sweetwater and San Angelo, but for the most part, the snow was melted off the roads. We got home about 6:30.
Wednesday, February 2 - Proper Winter Attire - Carolina models the latest in cold weather fashion. A tartan sleeping cap with green dinosaur pajamas.
Carolina, the trend setter, reading a book at the kitchen table.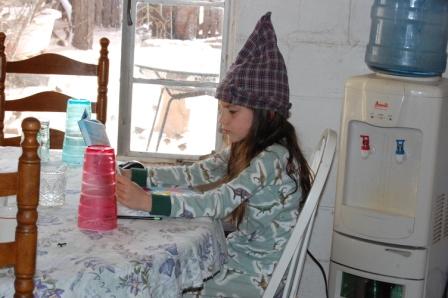 Tuesday, February 1 - Cold Blast from the North - During the night a very cold artic storm descended upon the panhandle. Temperatures got down below 10 degrees and the wind howled at 40 and 50 mph. Today, the snow ended but the cold air and wind kept up all day.
The kids took a quick run through the yard, but couldn't stay out for more than a few minutes.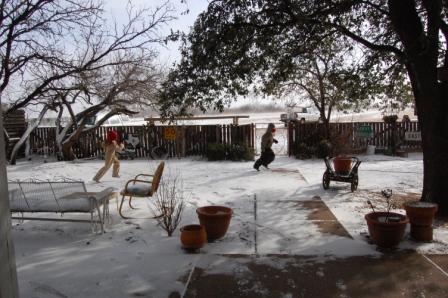 Cold Chicken - I'm not talking about supper. I'm talking about Aspen's poor cold poultry in all this bad weather. We had to move her young chickens and her button quail into the house.
Here are some of her newest chickens and the baby quail that I posted pictures of a few weeks ago. (see Quail Hatching, January 13) They have really grown.
Baby Buttons Video - I put together 3 short little videos of the button quail on the first day or two that they hatched. I recently got it published online and you can view it here.
Monday, January 31 - Where's the Beef? - Today Nathan and I ran up to Canyon to pick up some beef from a couple of cows that we'd had butchered. We've since had a chance to try it, and it's very good. We had all the cuts put into ground beef and beef patties. We had hamburgers grilled over mesquite coals and it tasted like a steak sandwich! We have extra to share if anyone is interested in purchasing any, give me a call.
Sunday, January 30 - Swing Dance Practice - Tonight the kids were practicing the new swing dance steps they're trying to learn before we host our 40's/50's retro-themed home school dance in February.
Everyone pairs up nicely.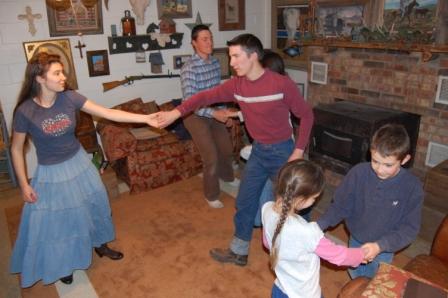 Stockton and Carolina are having the most fun!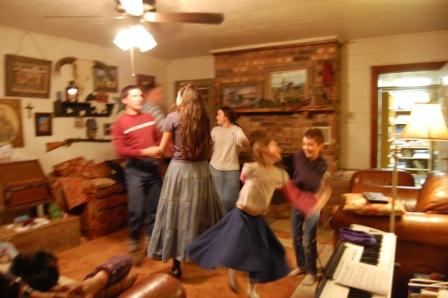 Catch up on past news! Just click on a link below.