June News:
Wednesday, June 22 - Atlanta's New Creation - Atlanta finished another custom order costume for one of her Etsy customers. It's an Ariel ball dress. You can read more about it on her blog, Story of a Seamstress.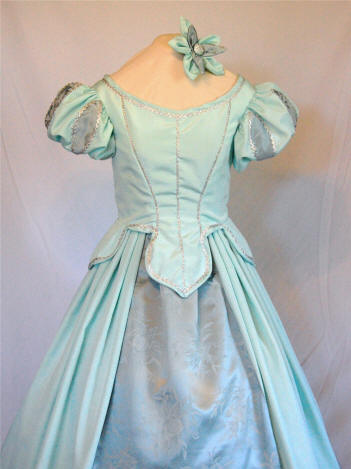 She's also in the final stages of finishing another "Design Your Own Dress" tracing kit. She already has an 1860's version and a Regency version. (see them here) This new kit is for designing and learning about dresses in the Edwardian period. Here's a sneak peak at her artwork for the cover design.
Tuesday, June 21 - Battleship - Stockton made this battleship out of legos. Of course he had to try it out in the pool. He was so glad it really did float.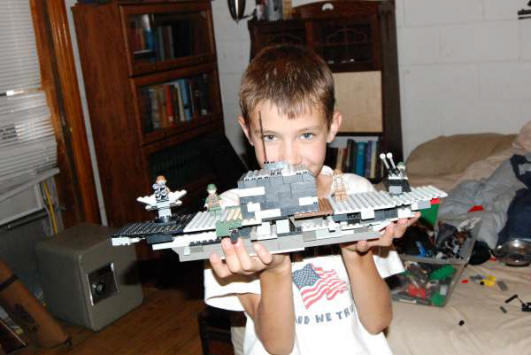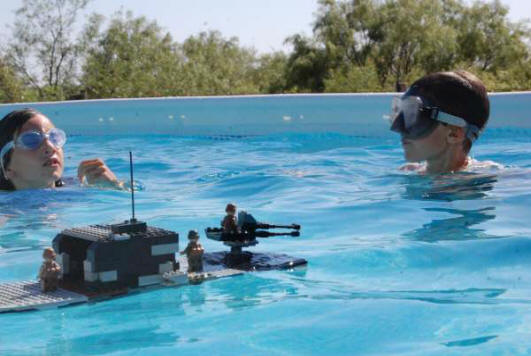 Monday, June 20 - Mowing Season - Early this morning the guys and Windy left to start mowing Callahan County. It will take several weeks to finish so keep the Shannons in your prayers.
Sunday, June 19 - Wasp Bite - Poor Carolina got bitten by a wasp behind her ear. It made her swell up and caused her ear to really jut out. She wasn't very happy about it to say the least.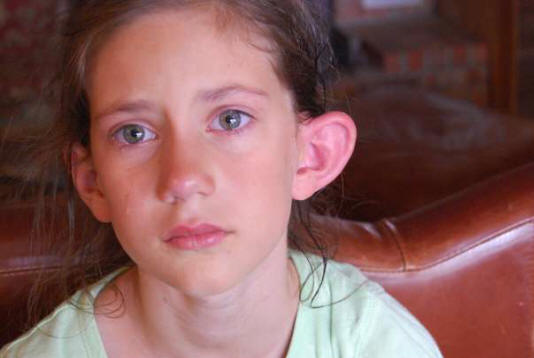 Busy Readers - This is what a home school mom likes to see. Kids voluntarily sitting around reading. What a blessing that everyone in the family loves to read.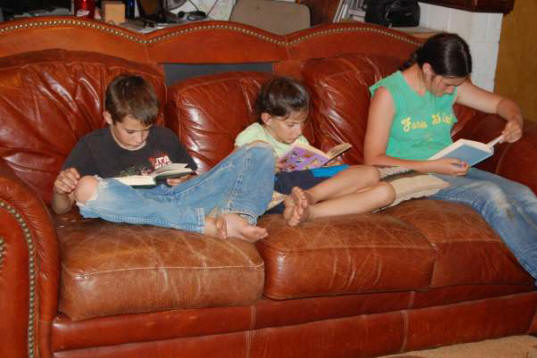 Saturday, June 18 - Cookout with the Tidwells and Phipps - Sunny, Jim, Hannah and Granny, too, came today for a visit. The Phipps family also came over in the evening. We kind of "celebrated" Laredo and Granny's birthday that had just passed by. We all had lots of fun visiting and playing in the pool.
Jim and Sunny mix up the homemade ice cream.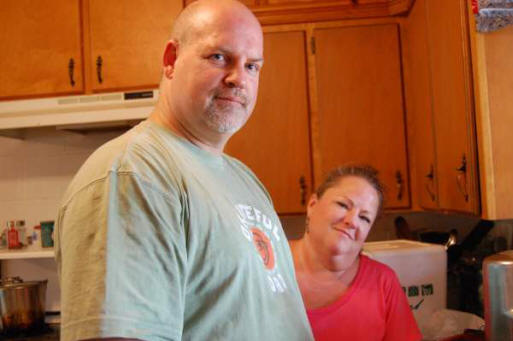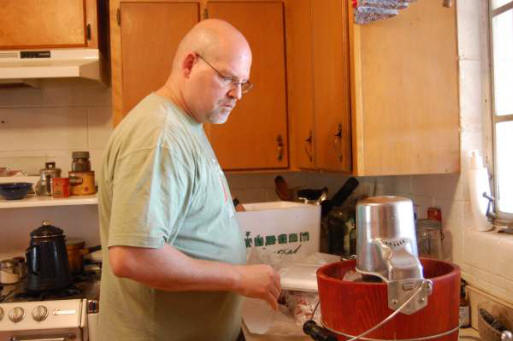 Windy shows Sunny her garden spot.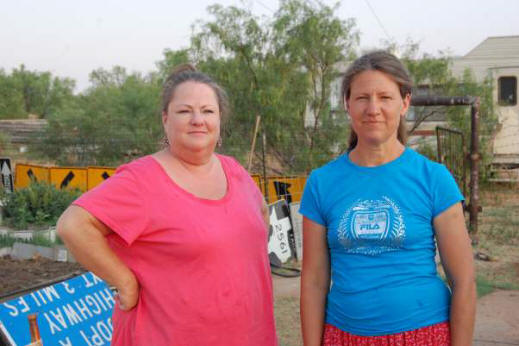 Hannah in her patriotic suit, enjoys the pool.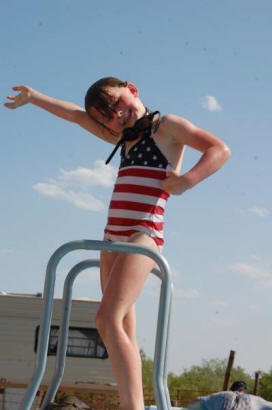 A pool full of kids.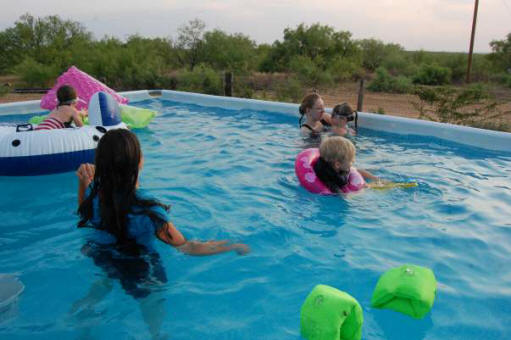 Desarae, Elaine and Josiah Phipps.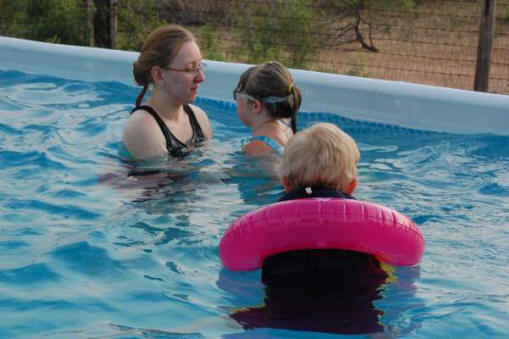 Atlanta gives her thumbs up to the new pool.
Aspen and Regina Phipps enjoy a visit.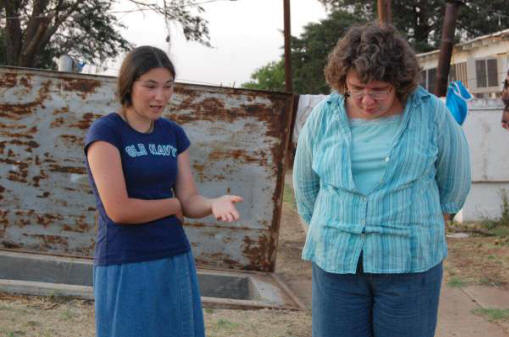 Week in Retrospect - Here's a few pictures taken during this past week.
Stockton catches this female oriole in his trap and gets an up-close look for a few minutes.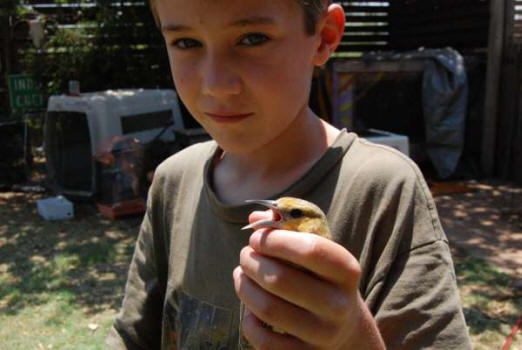 This painted bunting female was so tiny and cute.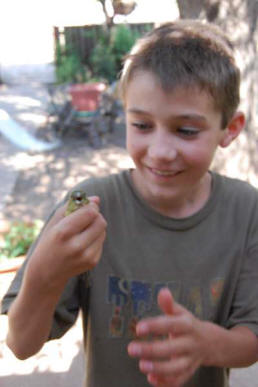 For a while the kids had two baby orioles that had flown from the nest too early because of the hot weather. They fed them for over a week and then one morning they were dead. It's so hard to keep wild animals alive.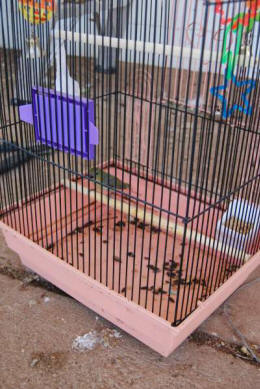 As a general rule, I only let the kids kill rattlesnakes because most snakes are beneficial, keeping the rodent population down and competing with rattlesnakes for the food supply. But after seeing this racer climb the trees effortlessly and steal baby birds one after the other, I gave Stockton permission to get rid of him. He did the job with Cimarron's air soft gun.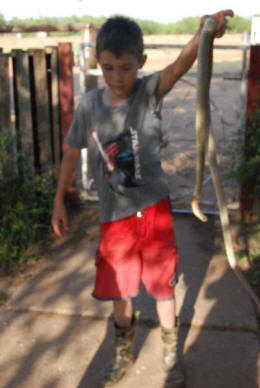 Mom and Dad finally get in the pool.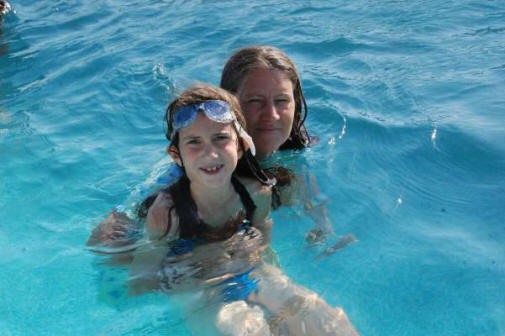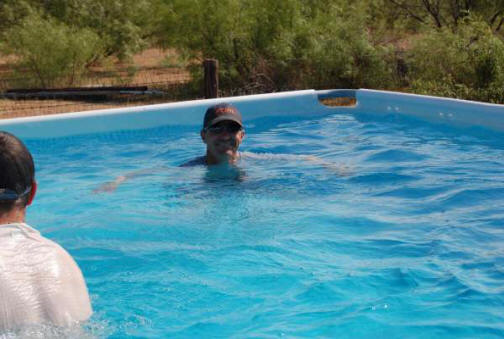 Big yellow moon rising in the east. The picture doesn't even do it justice.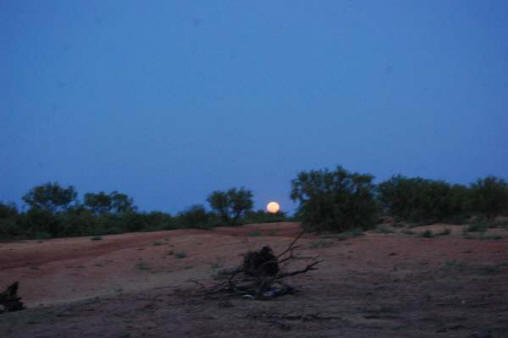 Carolina and Gypsy were especially sleepy this morning. They were so cute I had to snap the picture.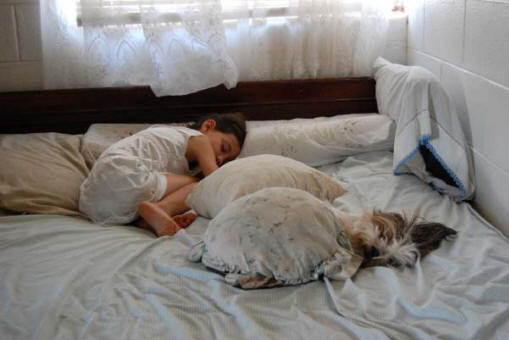 Atlanta drew this sketch as she plans some redecorating updates to her room. Read all about it on her blog, Story of a Seamstress.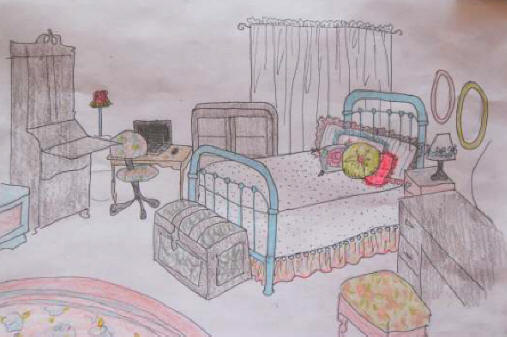 Carolina and Stockton caught this brightly colored male oriole.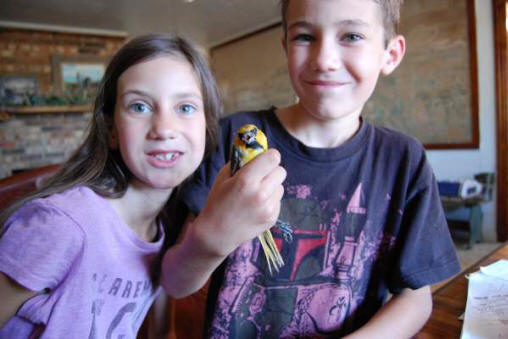 Monday, June 13 - New Pool - The kids have been working for about 3 days now leveling up the back yard and hauling about 8 loads of sand in the bobcat bucket into the back yard. Then we had to set up the pool and start filling it. We didn't think the boys would be here today, but Nathan hauled a pickup to Cross Plains to get it worked on and left them here to haul some cows to the sale. By the time they got back it was just about ready to get in. We're still figuring out the filters and pumps, but I think it's going to be a great addition to our summer!
It's a 12 X 24 ft. rectangular above ground pool. We put it on the south end of our backyard, just west of the garden spot.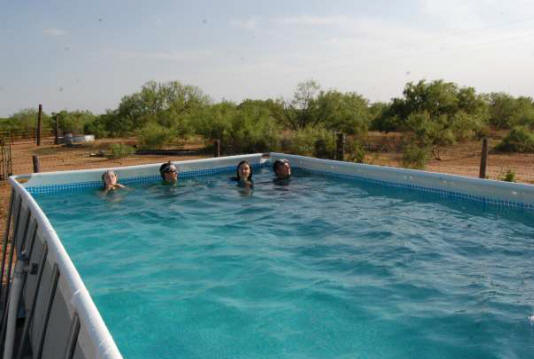 It's just over the little kids heads when filled completely up. It still lacked a few inches, but they couldn't stand it any longer. Since it was 110 degrees today, who could blame them?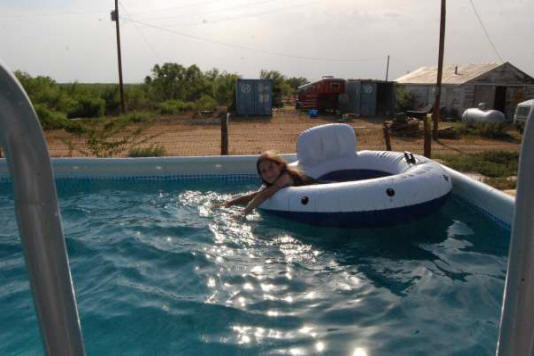 As you can see, there's room for more. We can't wait for family and friends to come try it out!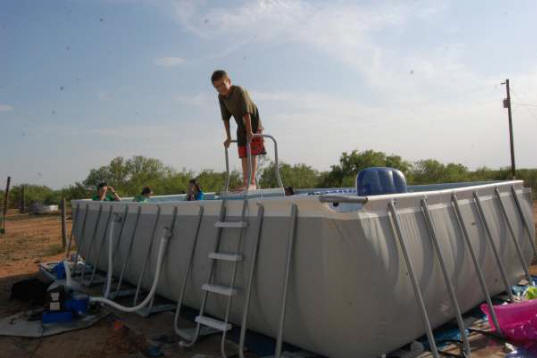 Sunday, June 12 - Wild Fire Threat - Yesterday afternoon, here's what it looked like in the southeast from the front of our house.
A wildfire several miles away was getting quite near. Notice the clouds that form above the smoke. Whether the moisture in the air is condensing on the smoke molecules or the heat from the fire actually forms the cloud, I'm not sure.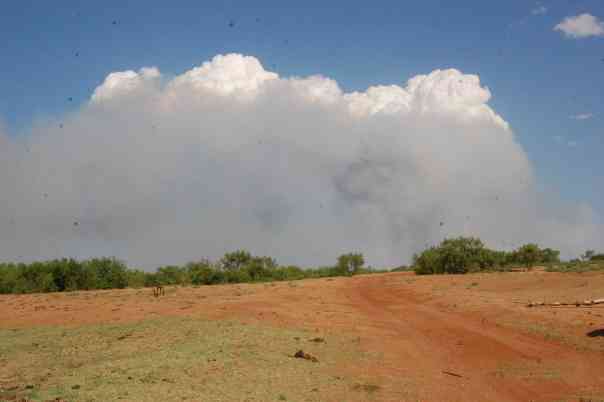 As usual in these situations, one can never seem to find out exactly where the fire is and whether or not to start panicking. I have a "current fire" overlay that I downloaded to view in Google Earth, but for some reason it wasn't updating yesterday, so I couldn't see exactly where it was. I didn't sleep well at all last night. I got up several times to the strong smell of smoke and went outside to try and see if it was getting nearer. The moon was so bright that all I could see what a light haze and a smoky smell. Finally, around 5:00 am, the moon had gone down enough that it was good and dark. There was a bright white glow in the SE as if Floydada were just over the hill. I got Nathan up and we drove to the road and toward Matador to see if we could tell any more. It seemed just as far away as last night and possibly going away from us. After that, I was able to sleep a couple more hours peacefully. This morning, Google was finally working and this is what I saw:
The green push pin marks the location of our place. The line is the county line between Motley and Cottle. The darker red dots indicate the newest outbreaks. As you can see the wind has shifted to the SW and is blowing it toward Cee Vee instead of toward us.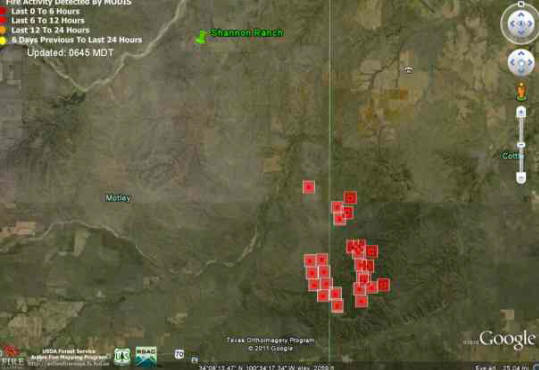 Here's a wider view to give you an idea of the lay of the land.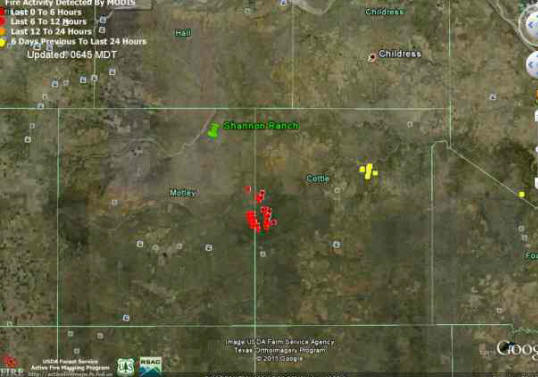 Saturday, June 11 - Roosters - The kids slaughtered a few roosters today. It's never a fun business, but we couldn't give them away and they do like to eat. I put 16 in the freezer. Some were just little banties, but will still make a soup or something.
After they chop their heads off, they tie them to the fence to skin them. Cim was helping, too, but threatened to quit if I put him in the picture.
Friday, June 10 - Rain Drops - When I say drops, I mean drops only. A large system moved in from the SW and looked like it was going to really rain on us, but it skirted around to the south and east and rained on Childress instead. Nathan and the boys were coming home and drove in the rain from Snyder to Roaring Springs only to get home and find it as dry as ever :(
The kids did have fun for a few minutes in the few drops that fell as it blew by to the south.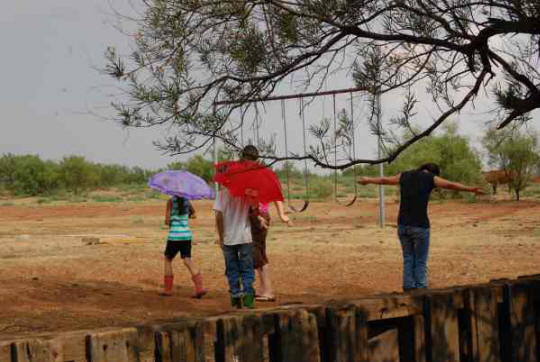 Lovely Sunset - This sunset was too beautiful to pass up. I was out at the barn feeding and had to run back for the camera.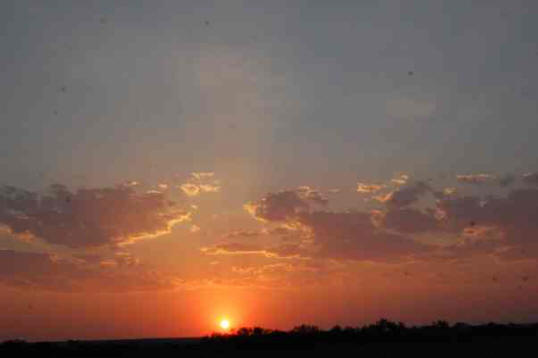 Thursday, June 9 - New Blooms - My Echinacea, or purple cone flower, is finally blooming and the insects are thronging to it. It's so pretty and pink!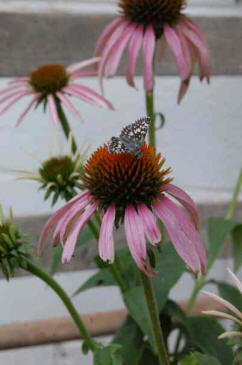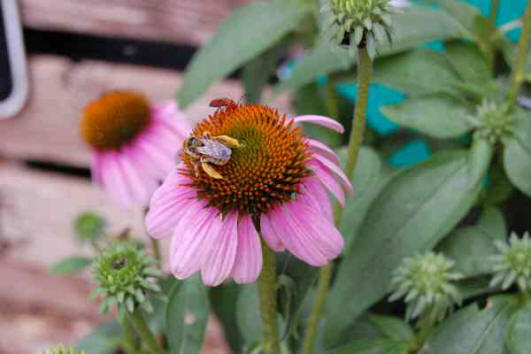 Wednesday, June 8 - No More Rabbits - At least, no more wild rabbits. I'm sad to report that all the little rabbits are gone. One by one they lost their vigor and died. I'm sure they were deficient in something or couldn't quite digest our cow's milk even though it was raw. We had thought that the last one, who was the largest and most active was going to live. But in the space of a couple of hours, the whole situation changed. The kids are really disappointed, and so is Atlanta who was helping to feed them and even planning a children's book about them. I don't think we can tell the true story now...the children would cry....we'll have to embellish it a bit.
Tuesday, June 7 - Rabbit Update - The little rabbits we found in the garden are about a week old now. They have fur and are starting to peek out at us as their eyes open. Their little ears are getting bigger and less thick. Unfortunately, we let one fall off the bed while we were feeding its sibling and it died later:( But the other three are doing well (although one is a runt).
This picture was from yesterday. This little guy didn't have his eyes open yet but it didn't stop him from trying to zip around the yard.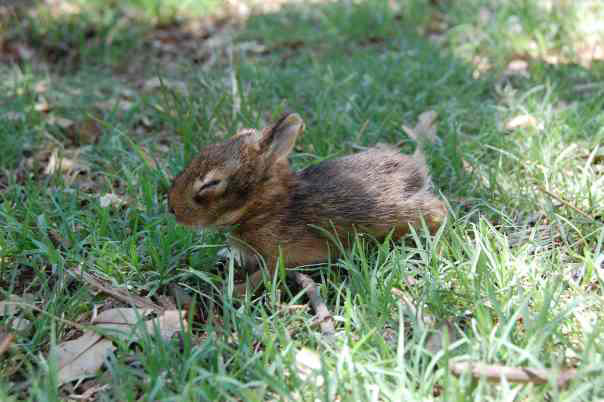 Now that they have their eyes open, they're even more adorable!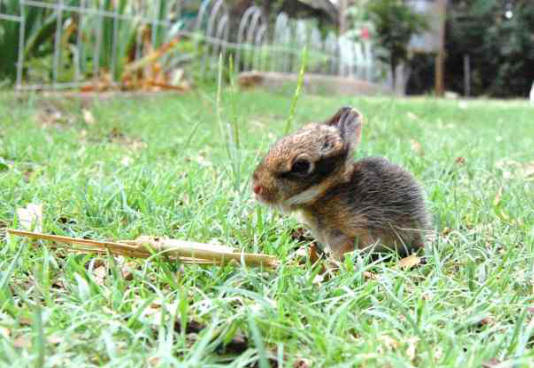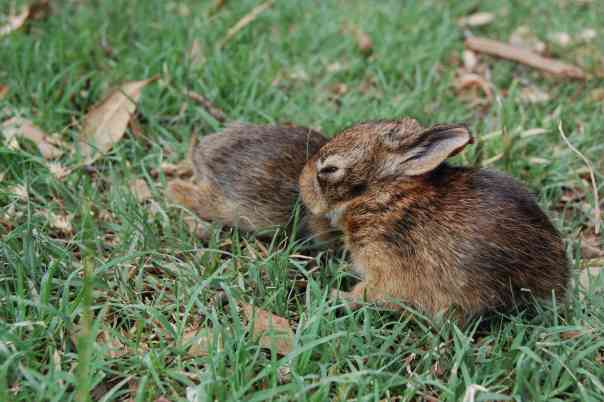 This is the runt.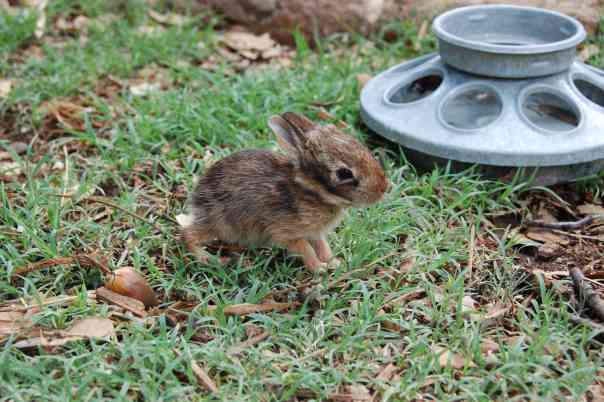 Monday, June 6 - Nathan's New Creations - We've been taking some custom orders lately from our Etsy store, Bonnyblue2. Here's a few of the things Nathan has been working on.
A newly designed hospital bed for a lady who's putting together a whole hospital ward in her doll house. She wants 4 beds, a nurses desk, nightstands and chairs for between the beds.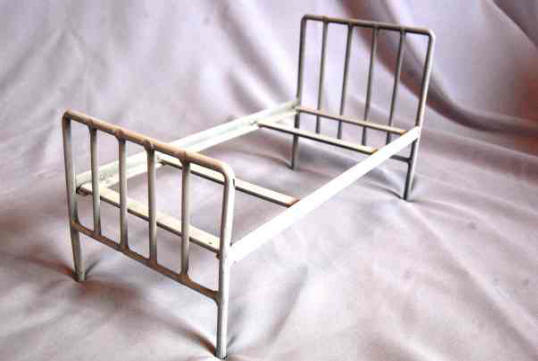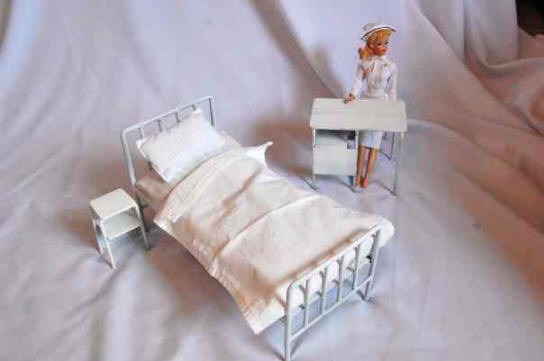 Another lady had ordered little street signs for her doll house and needed sign posts.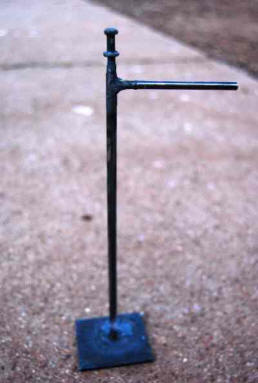 Then yet another wanted to know if we could make a bed that looked like a "brass" bed. So far no one's been able to "stump the welder". He's been able to fill every request.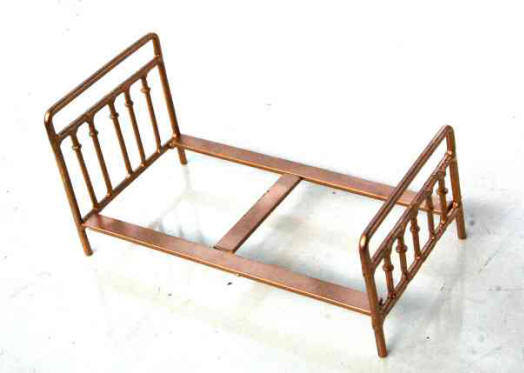 Sunday, June 5 - Party at the Renfro's - We traveled to Graham on Sunday afternoon for a get-together with some people the kids have gotten to know at several events this spring. They live in Graham, but have a beautiful ranch and cabin about 15 miles away. The kids had fun playing in the Brazos river and visiting their friends.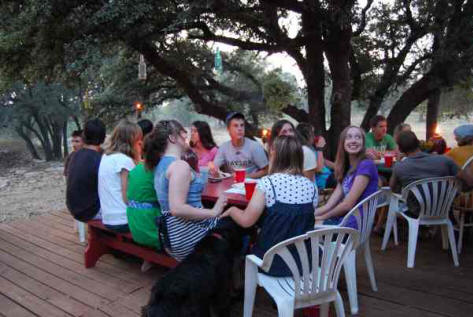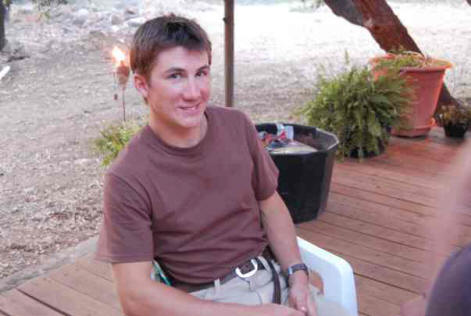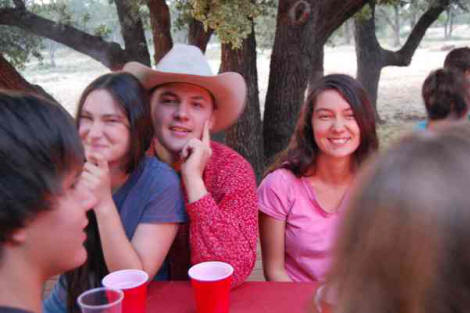 The men only stirred from these comfy seats by the pond to fill their plates.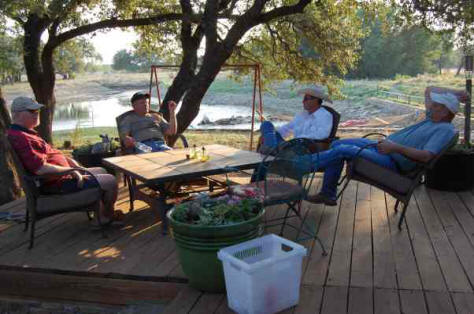 Carolina got to play with one of her favorite people, Michelle Roberts from Decatur.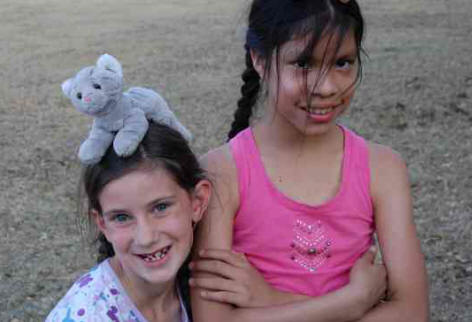 Catch up on past news! Just click on a link below.