Tuesday, July 30 - Lizard Letters - Stockton's mountain boomer found a good place to sun himself this morning. Atlanta doesn't seem to mind the visitor.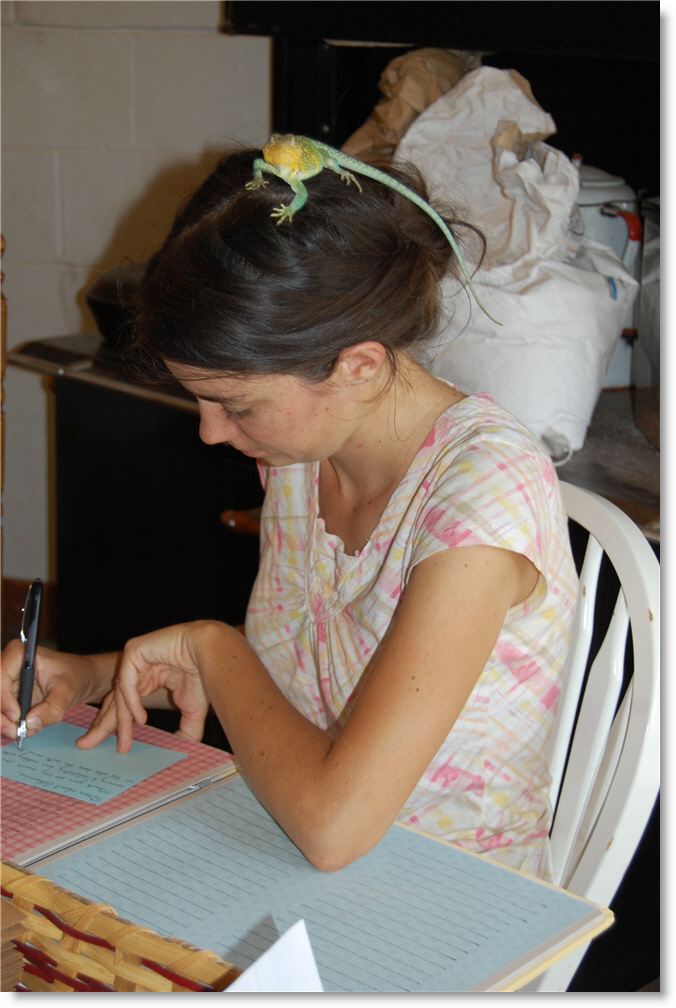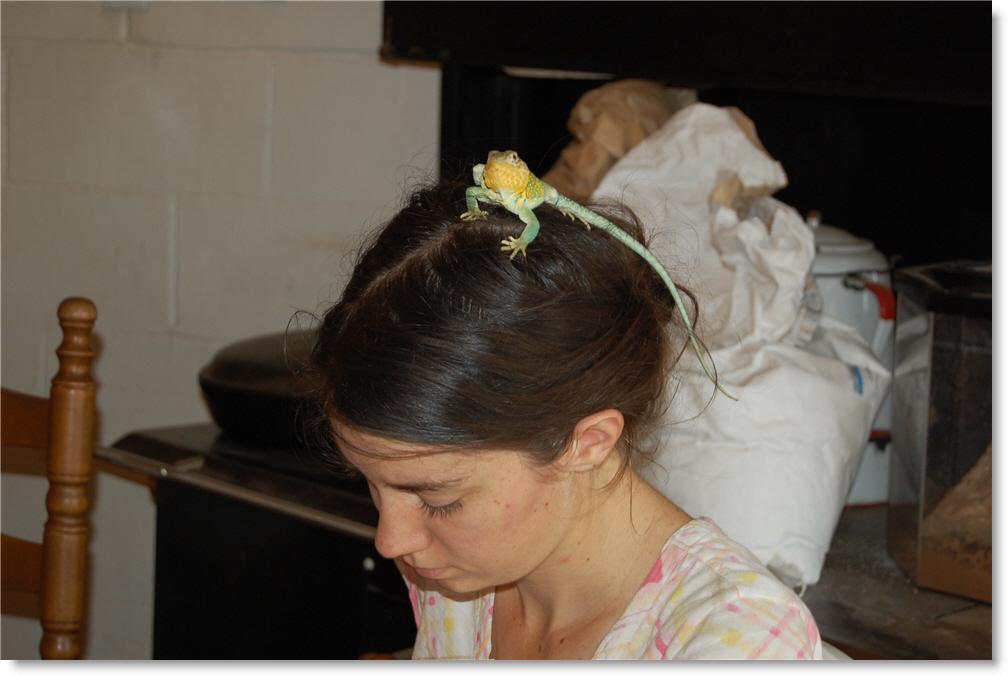 Here's a couple of close up shots of this amazingly colorful reptile.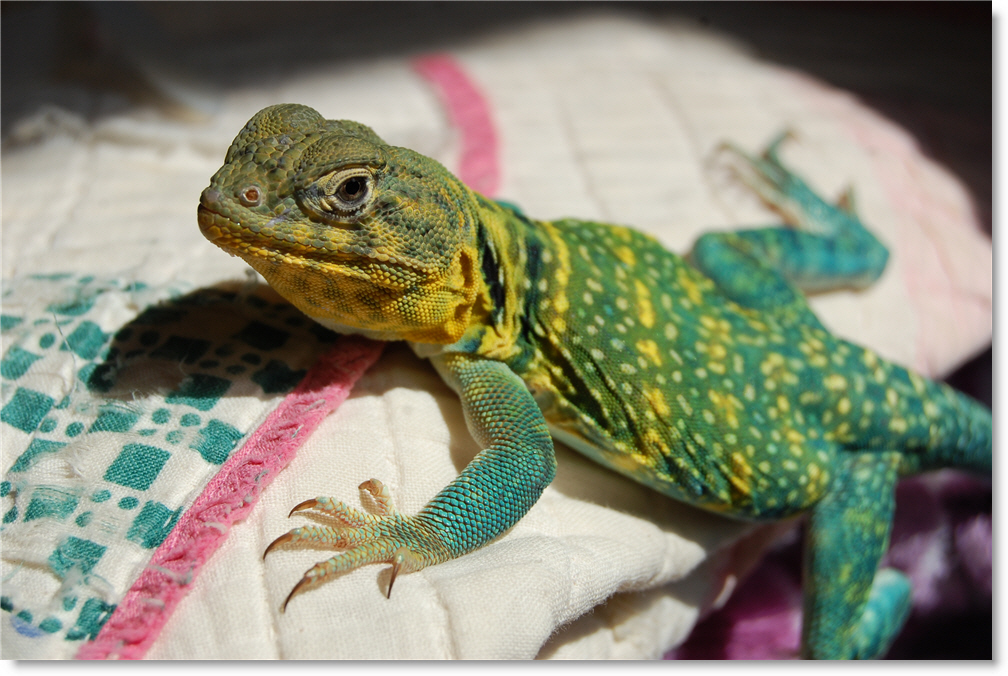 Looks like God invented digital camo long before man had the idea.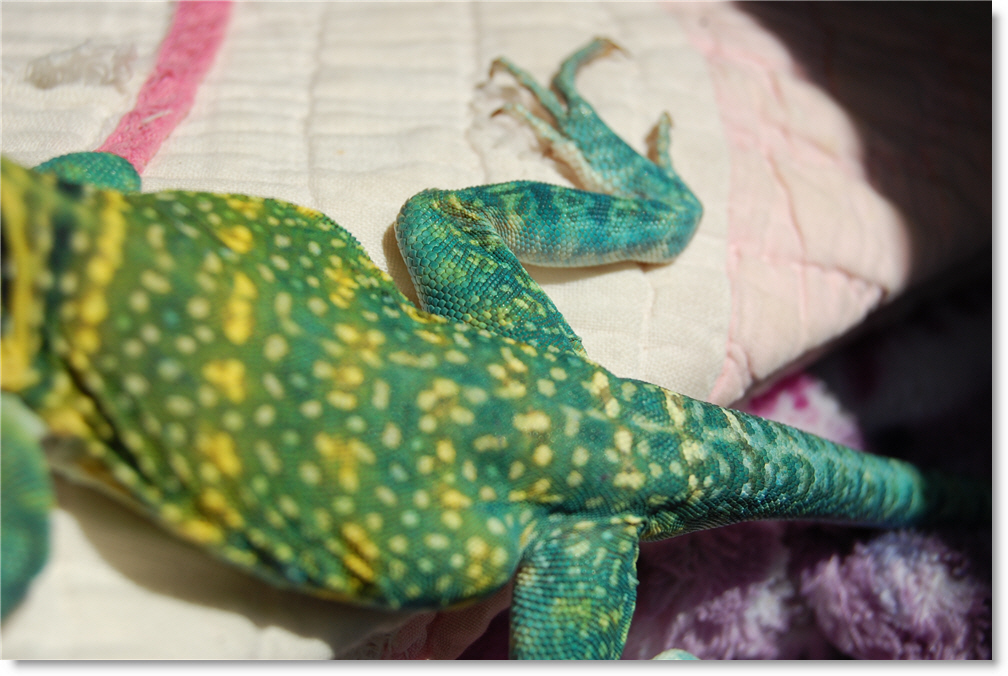 Monday, July 29 - Photo Shoot Fun - The evening was so nice and breezy that we were all outside walking around. I snapped a few shots with my phone. The quality isn't anything to write home about, but at least I captured the moment, right?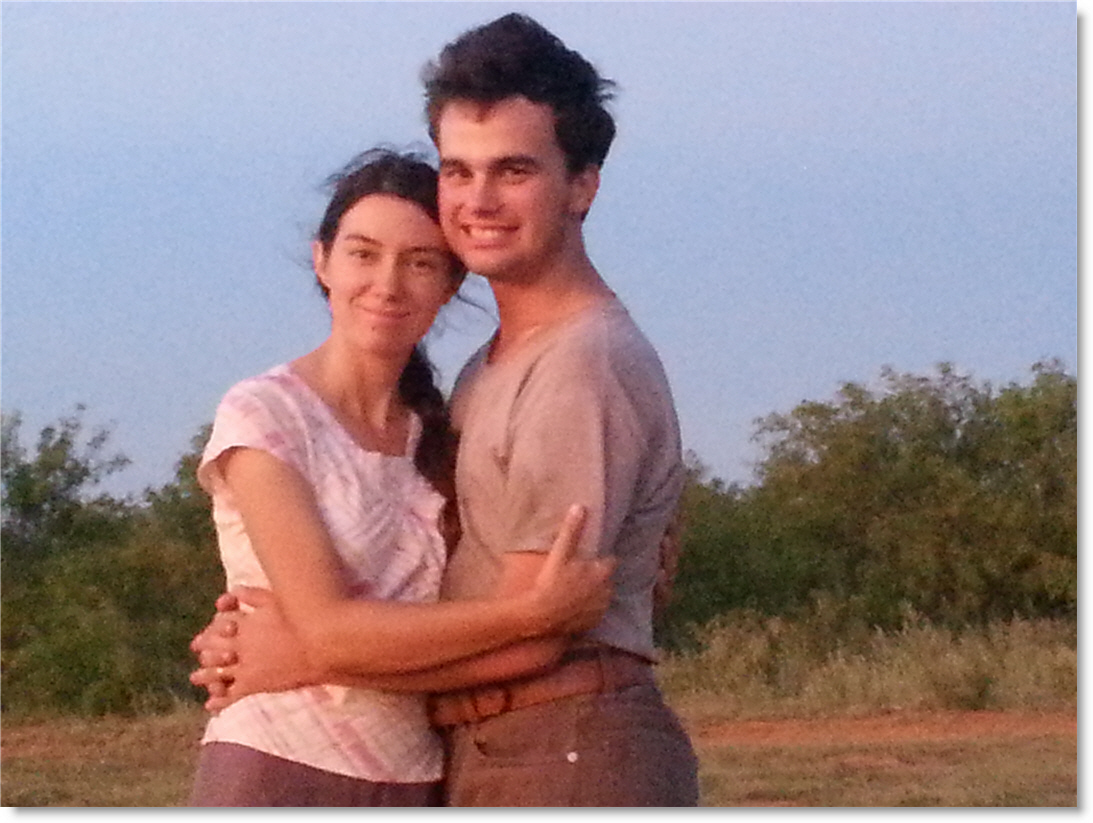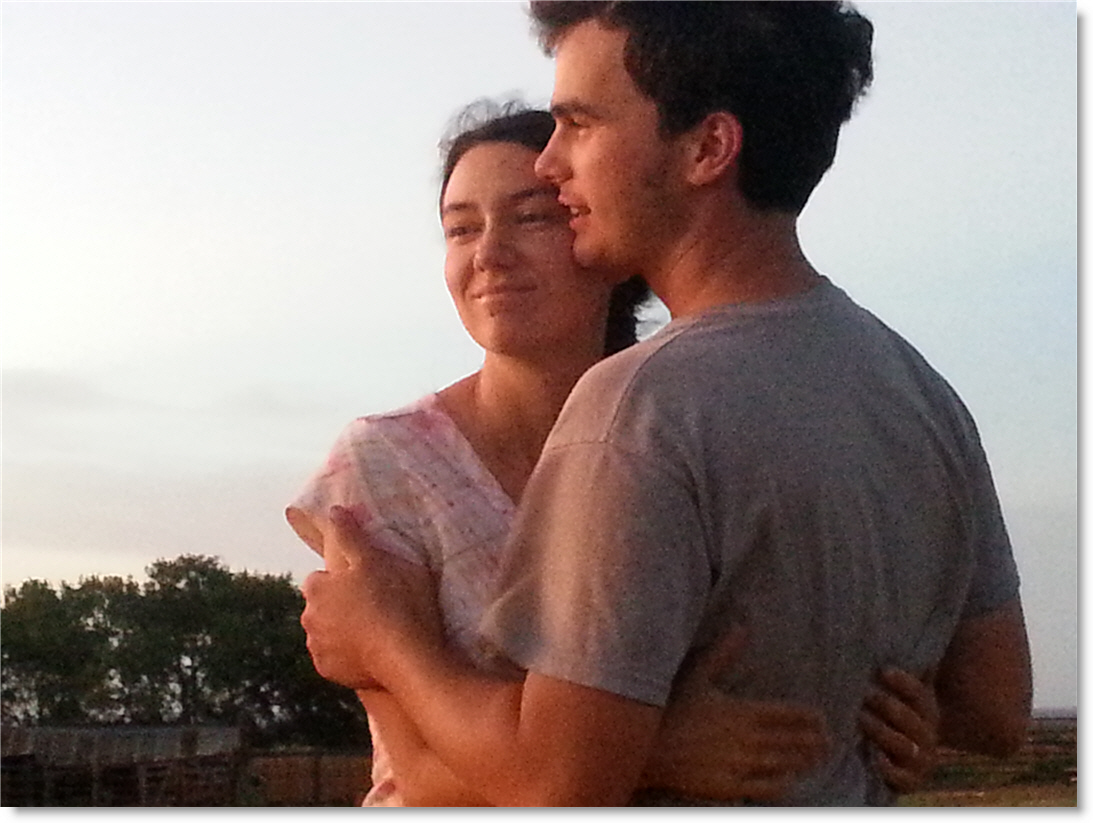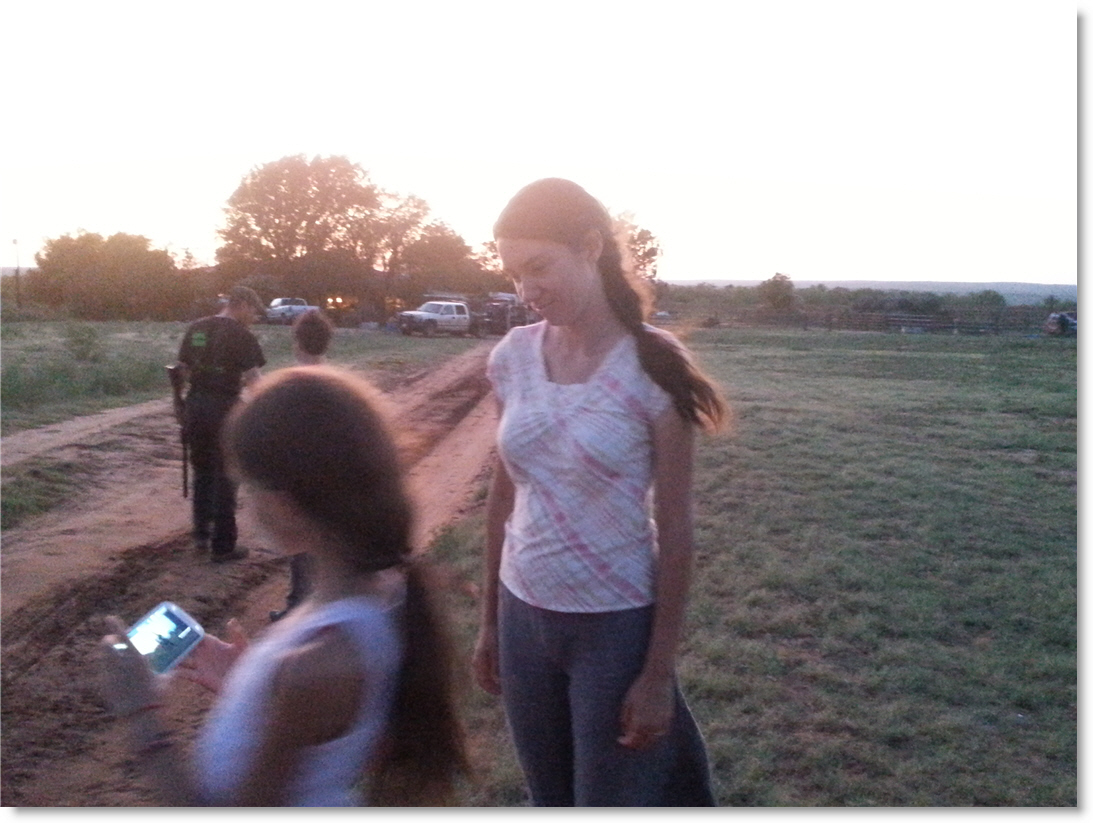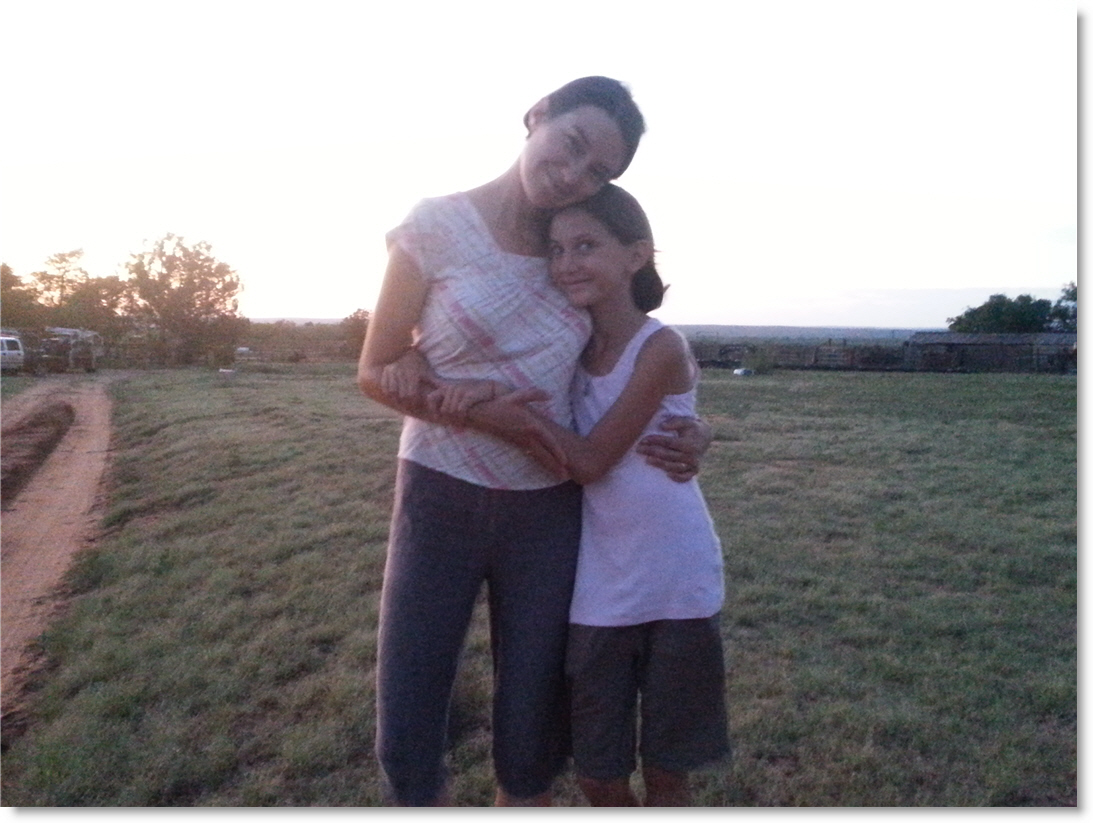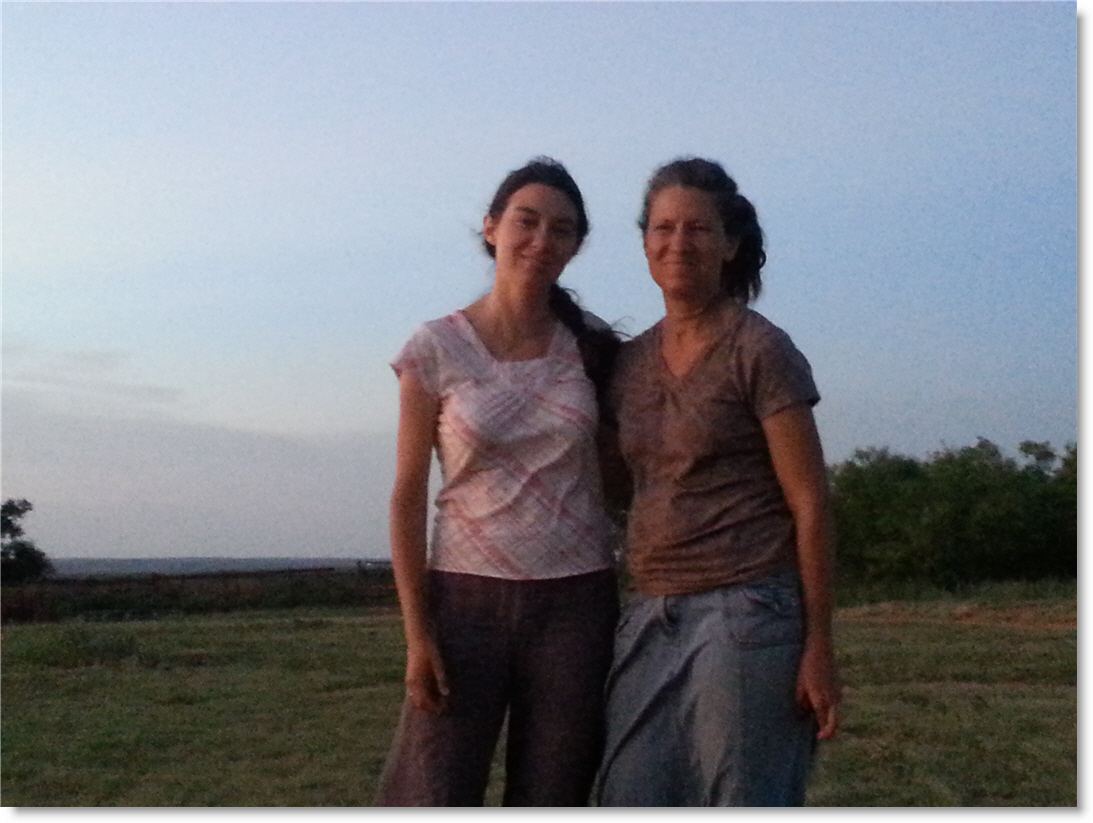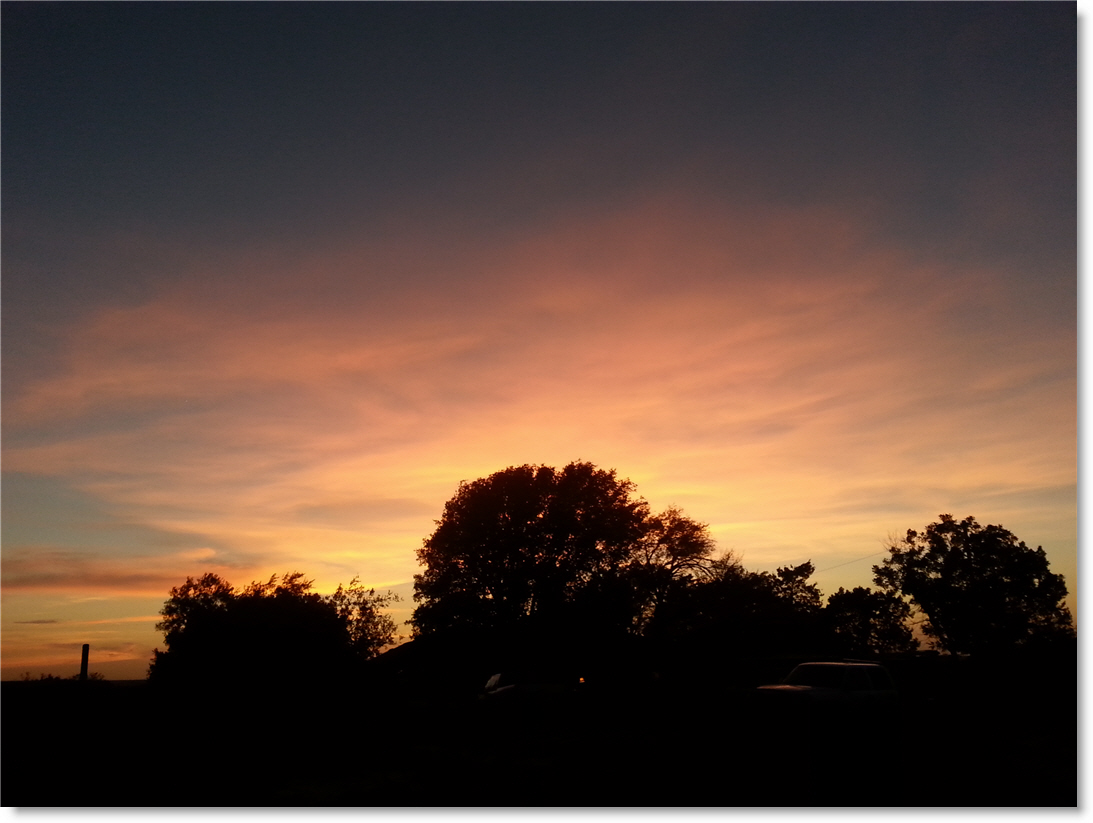 Texas Sage Explosion - This bush decided to really put on a show today.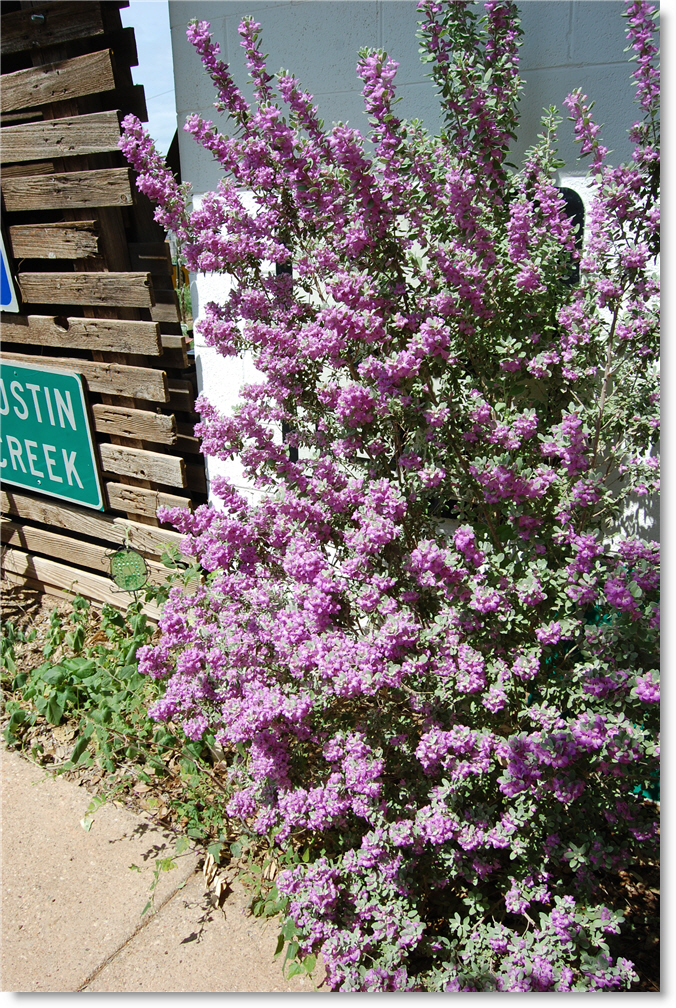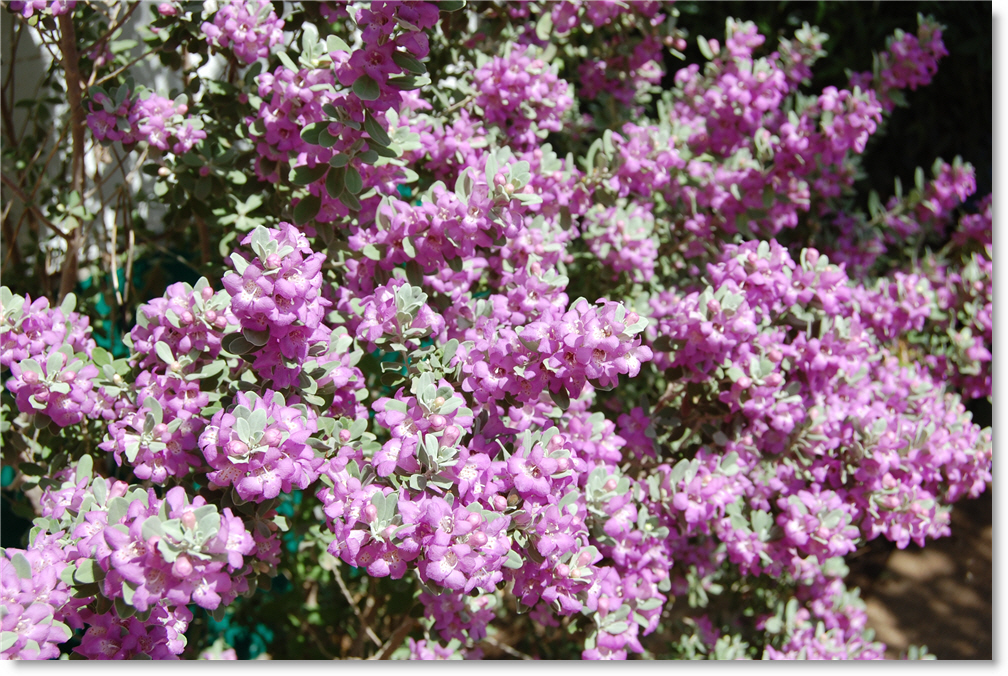 Sunday, July 28 - Decorative Pancakes - I just had to snap a picture of this. Cimarron did such a nice job putting honey on his pancakes. He's not sure what all the fuss is about.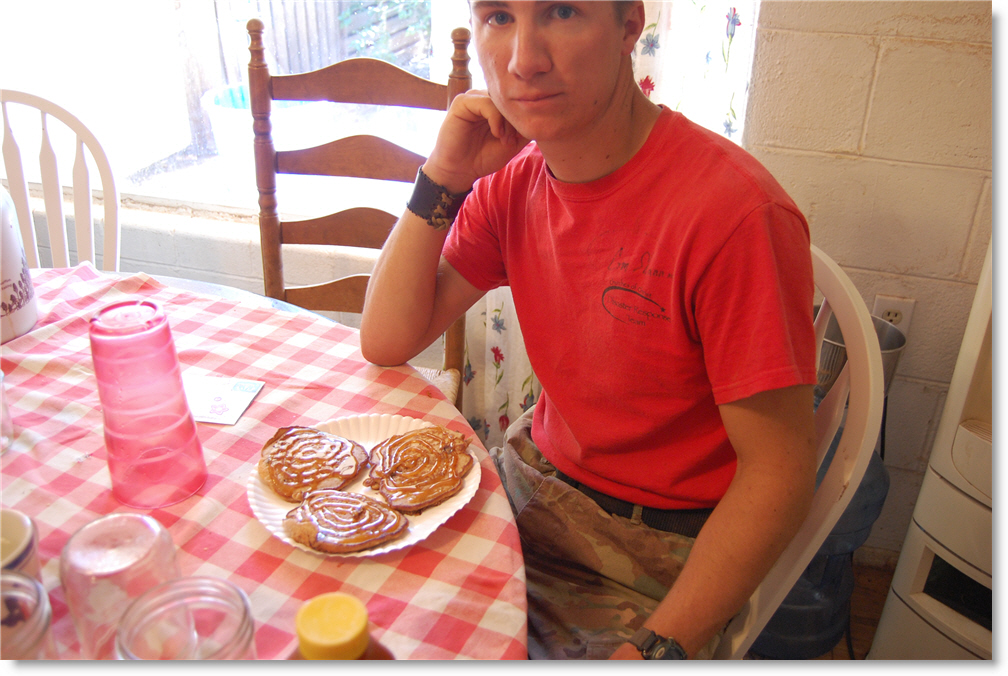 Saturday, July 27 - Horseback, Finally - One of the things Atlanta really wanted to do while in Texas was to go riding. The guys have been so busy with the well business, that it was beginning to look like there wouldn't even be time to squeeze in a short ride. But, it worked out to go for a while today.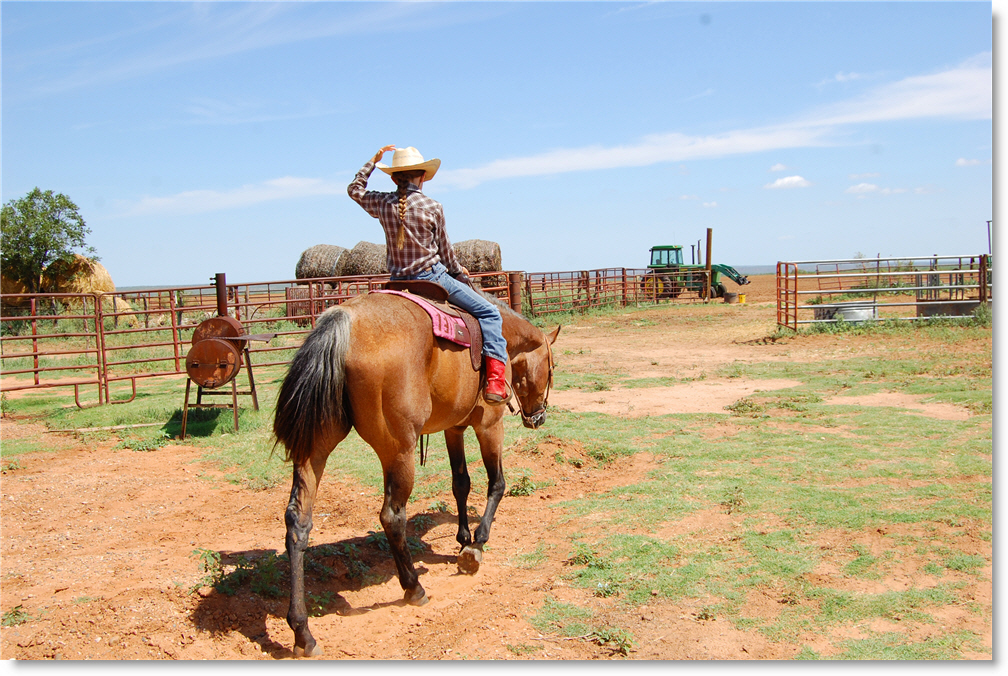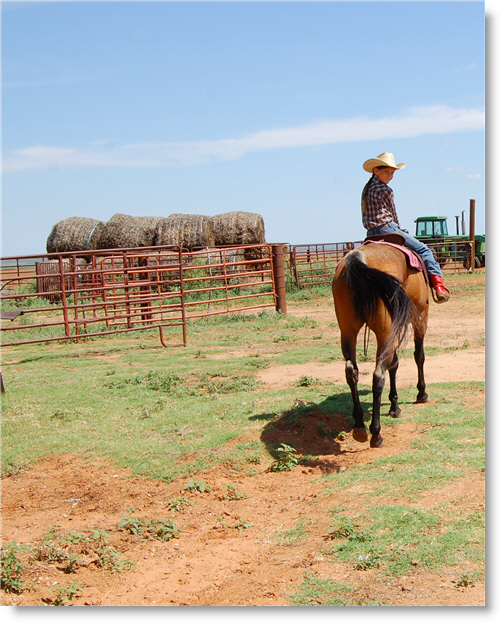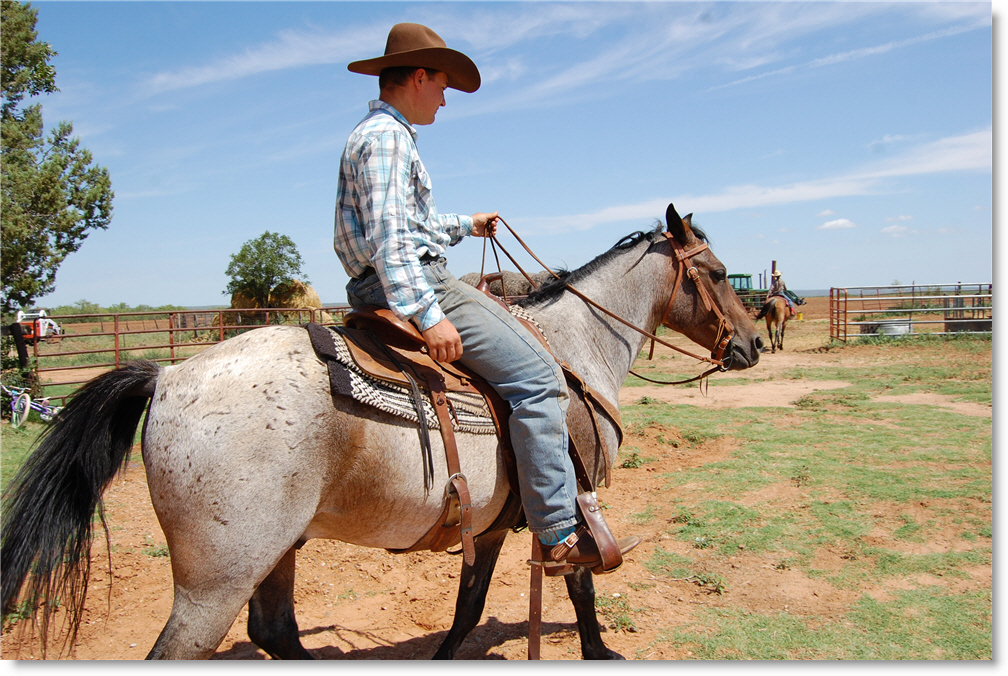 Everyone else got a head start warming their horses up. Carolina and Laredo better hurry. You can see Stockton in the distance.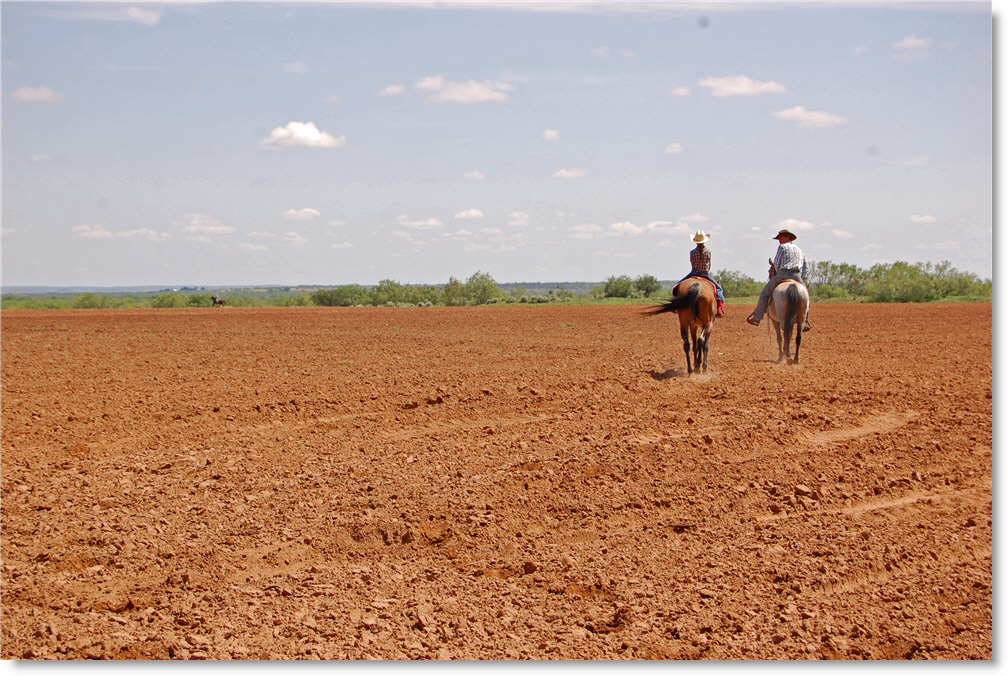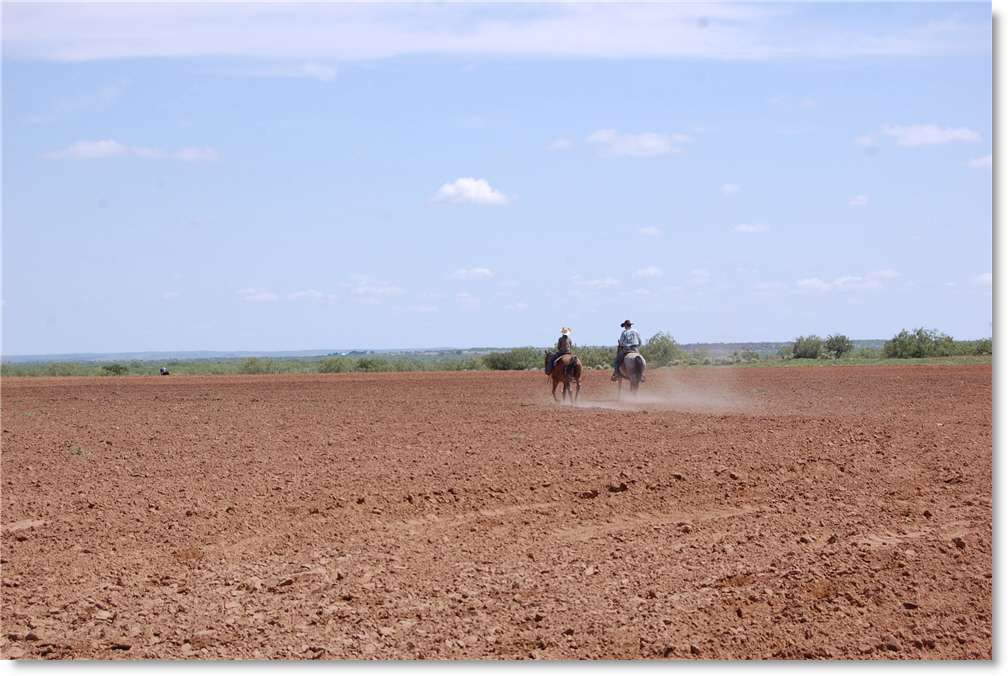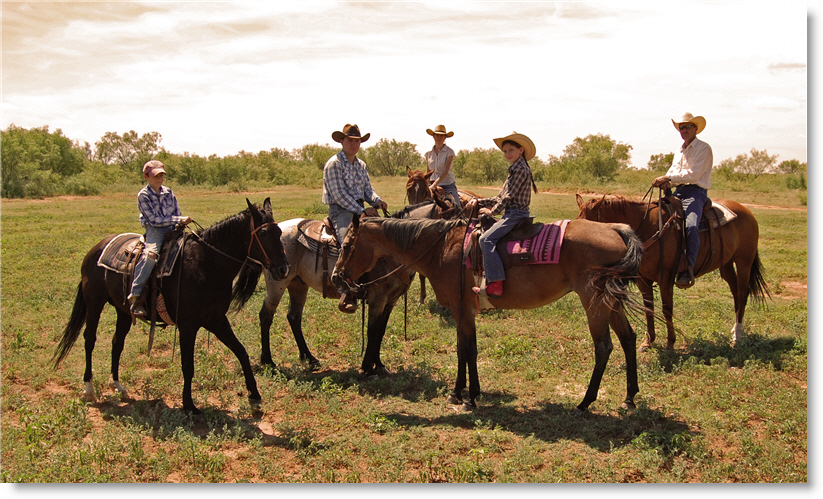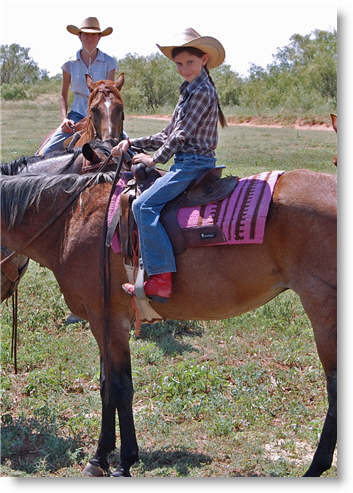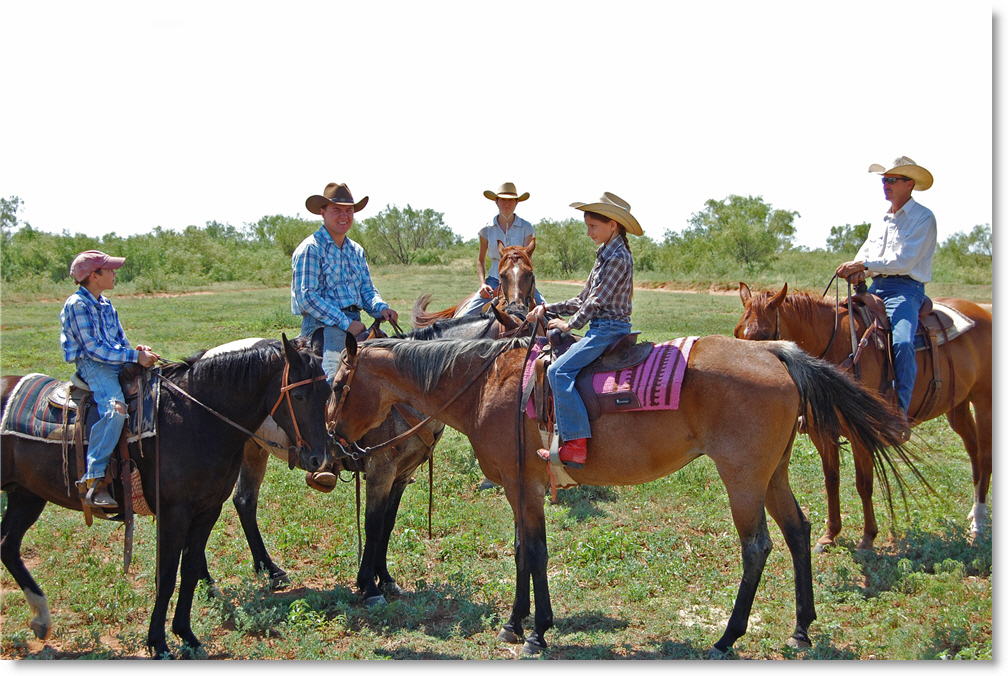 Off they go to ride in the pasture.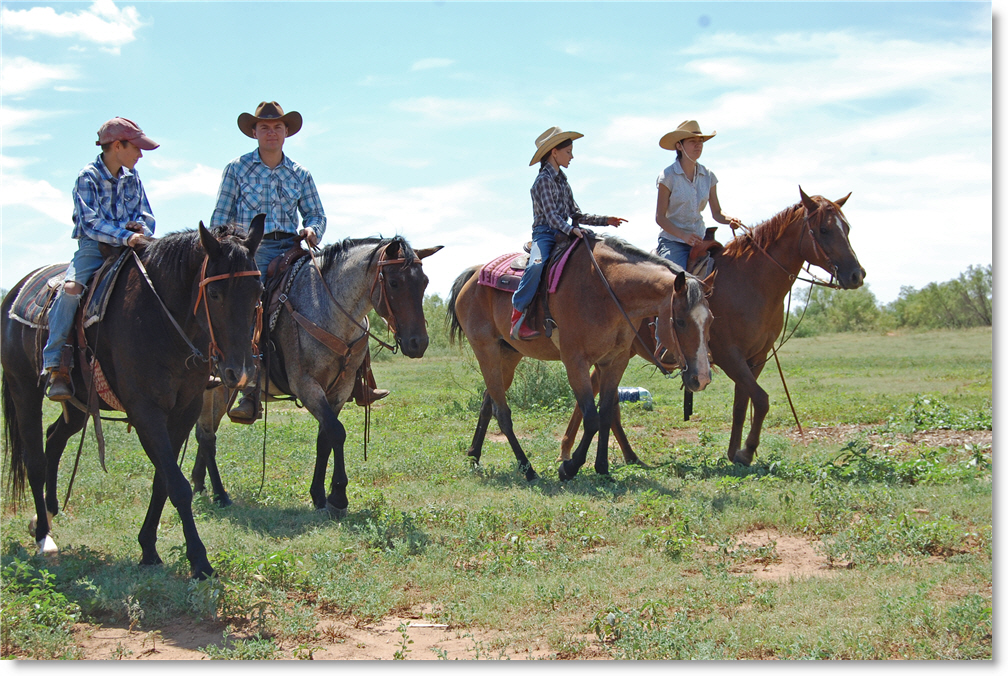 Thursday, July 25 - Lizard Pics - Stockton still has several lizards of various kinds. We took these pictures to send to Robin Boedeker so she could send them to her grandson who loves reptiles.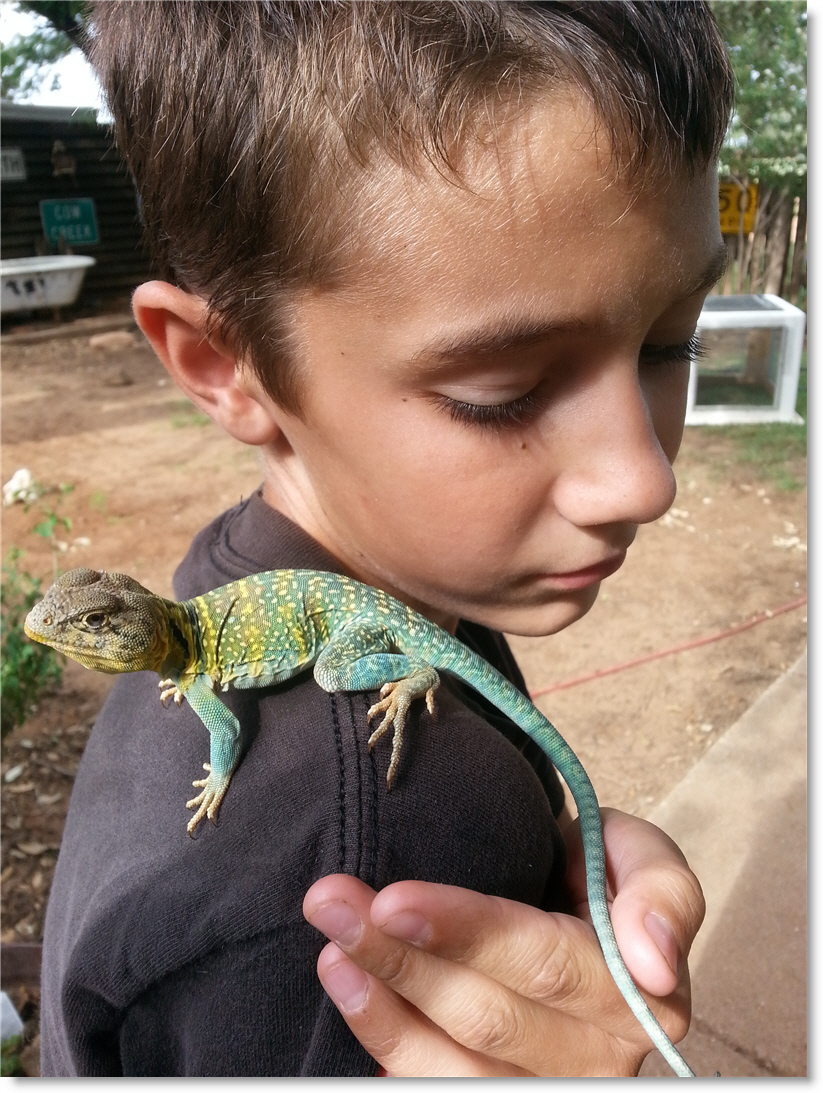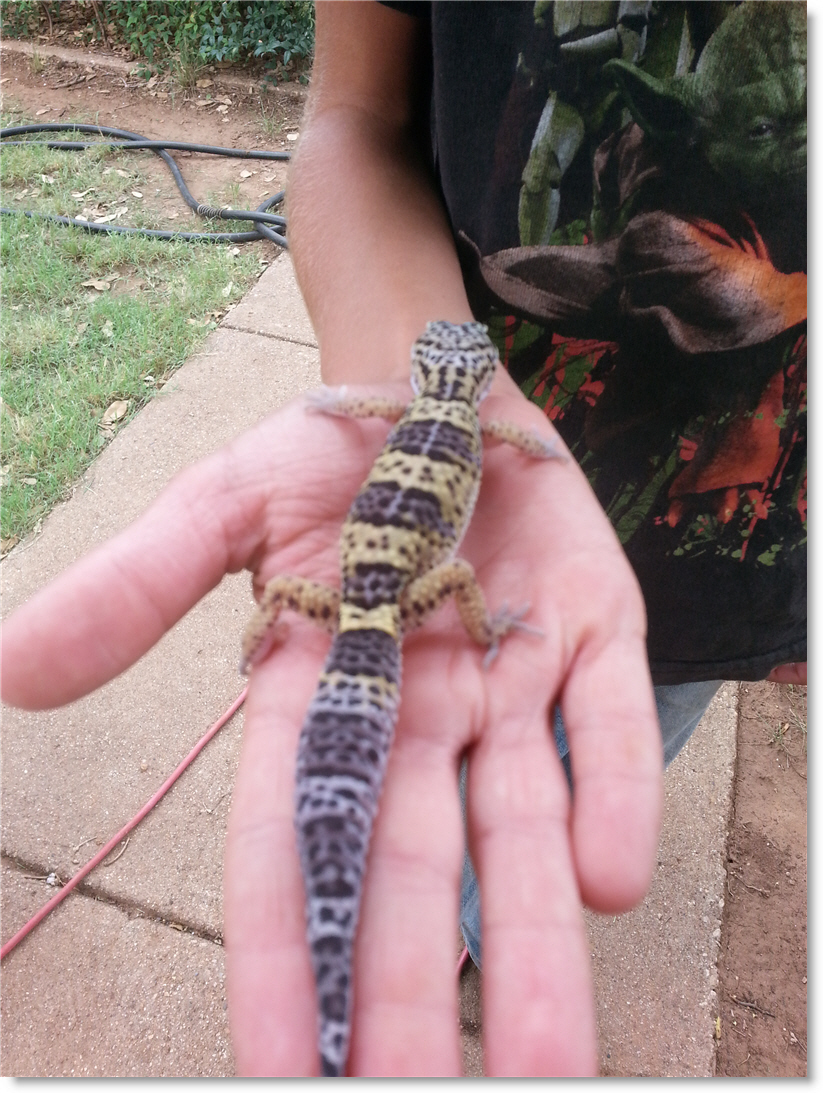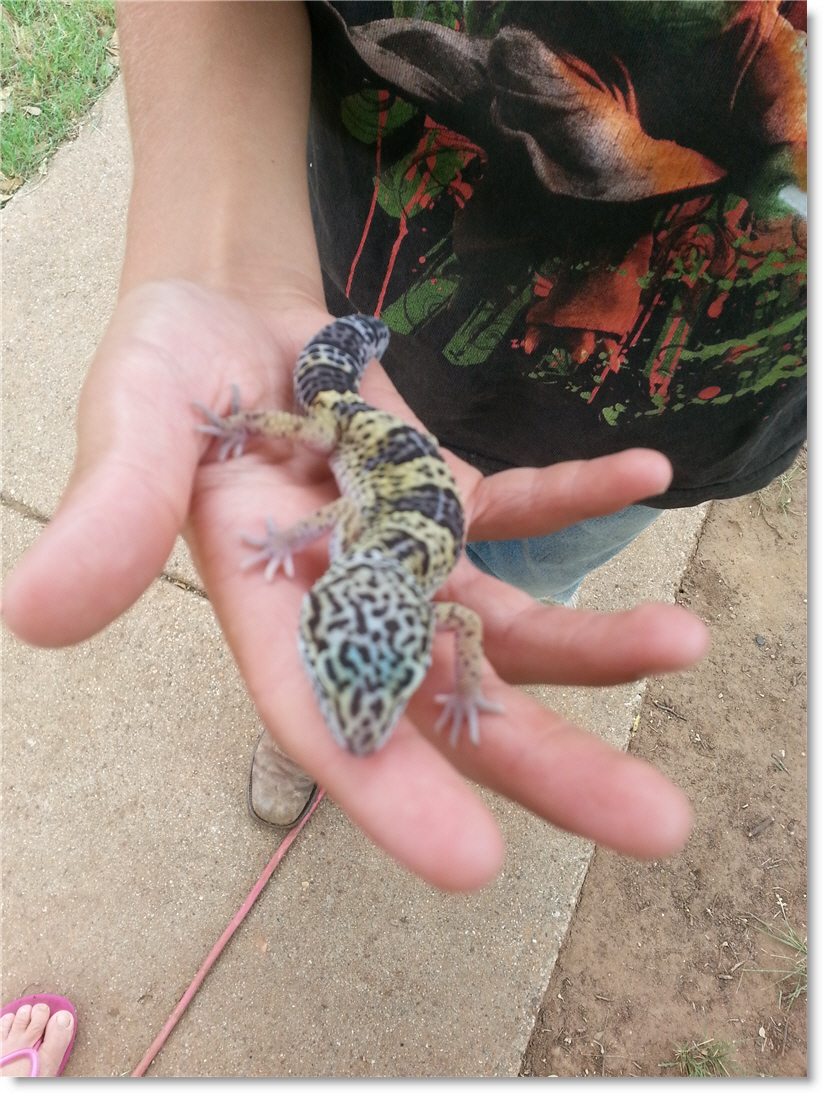 Tuesday, July 23 - Drop Dead Gorgeous Sunset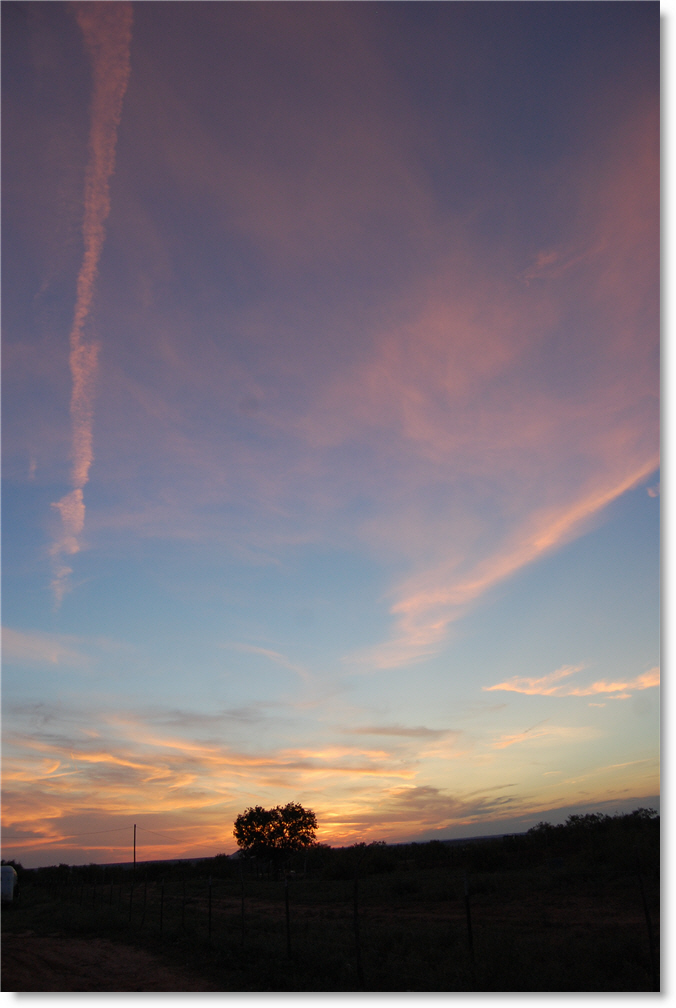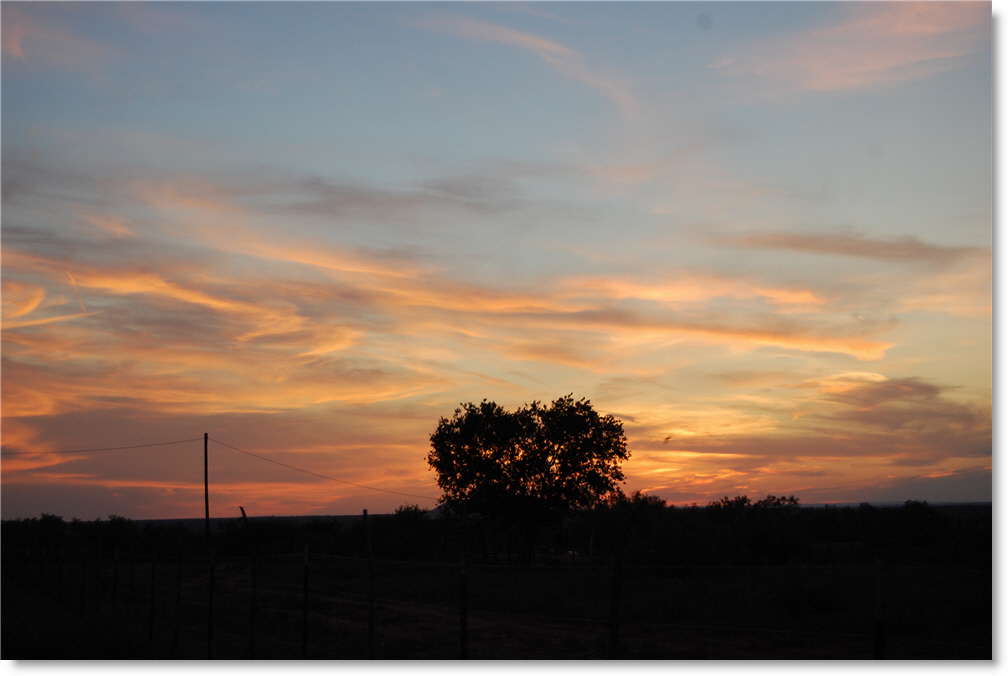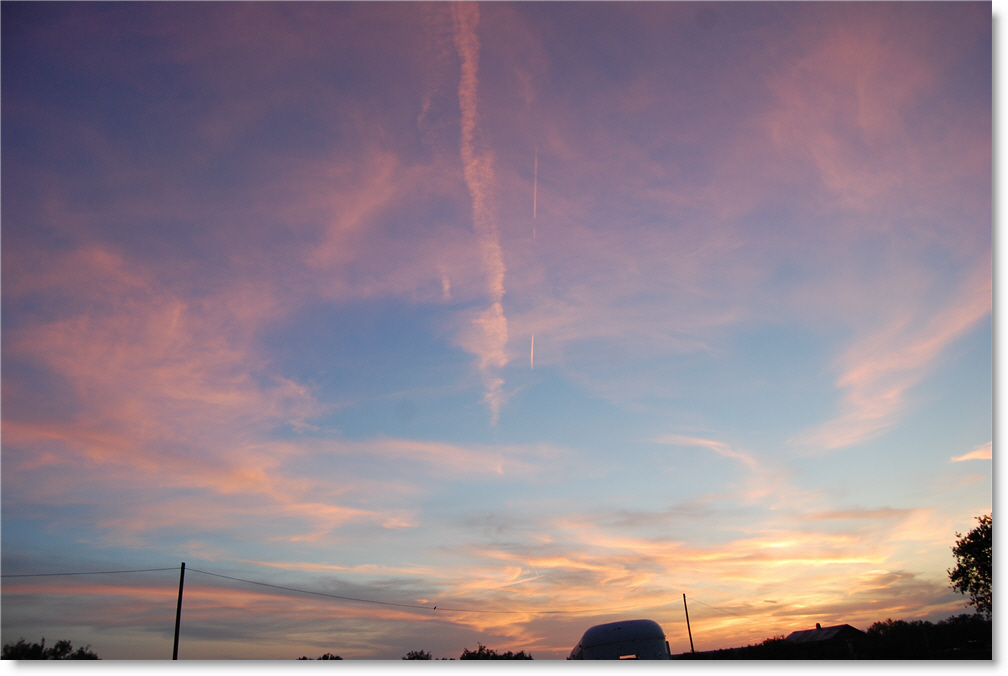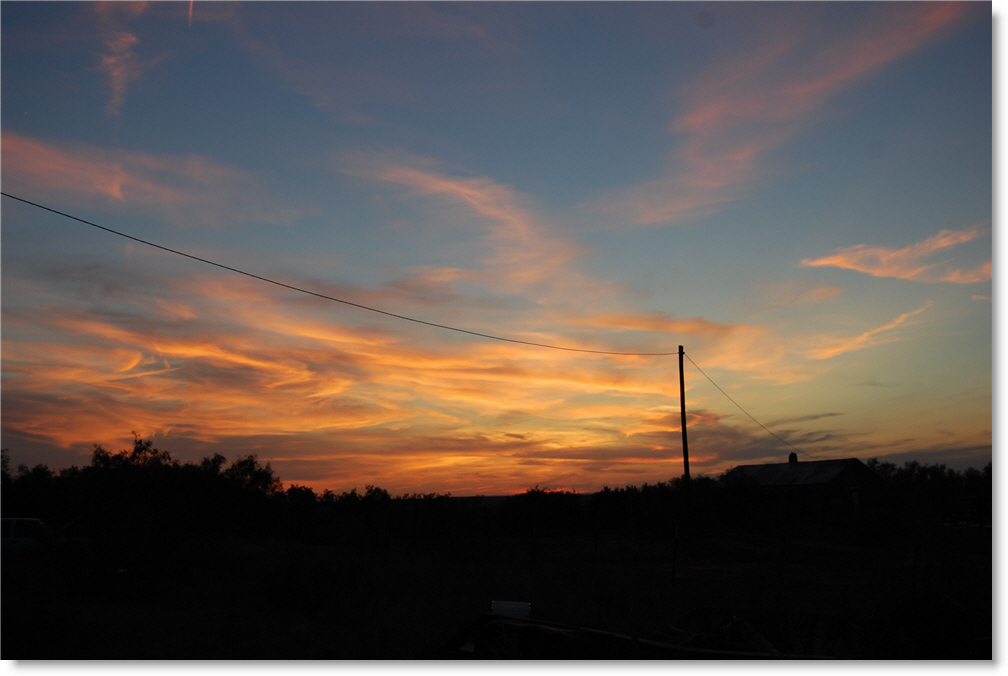 Monday, July 22 - Atlanta and Jordan in Texas - It's been four months since the wedding in Tennessee. We were all so hungry to see the newly weds. They're going to stay a week or so. They came in last night around 10:30.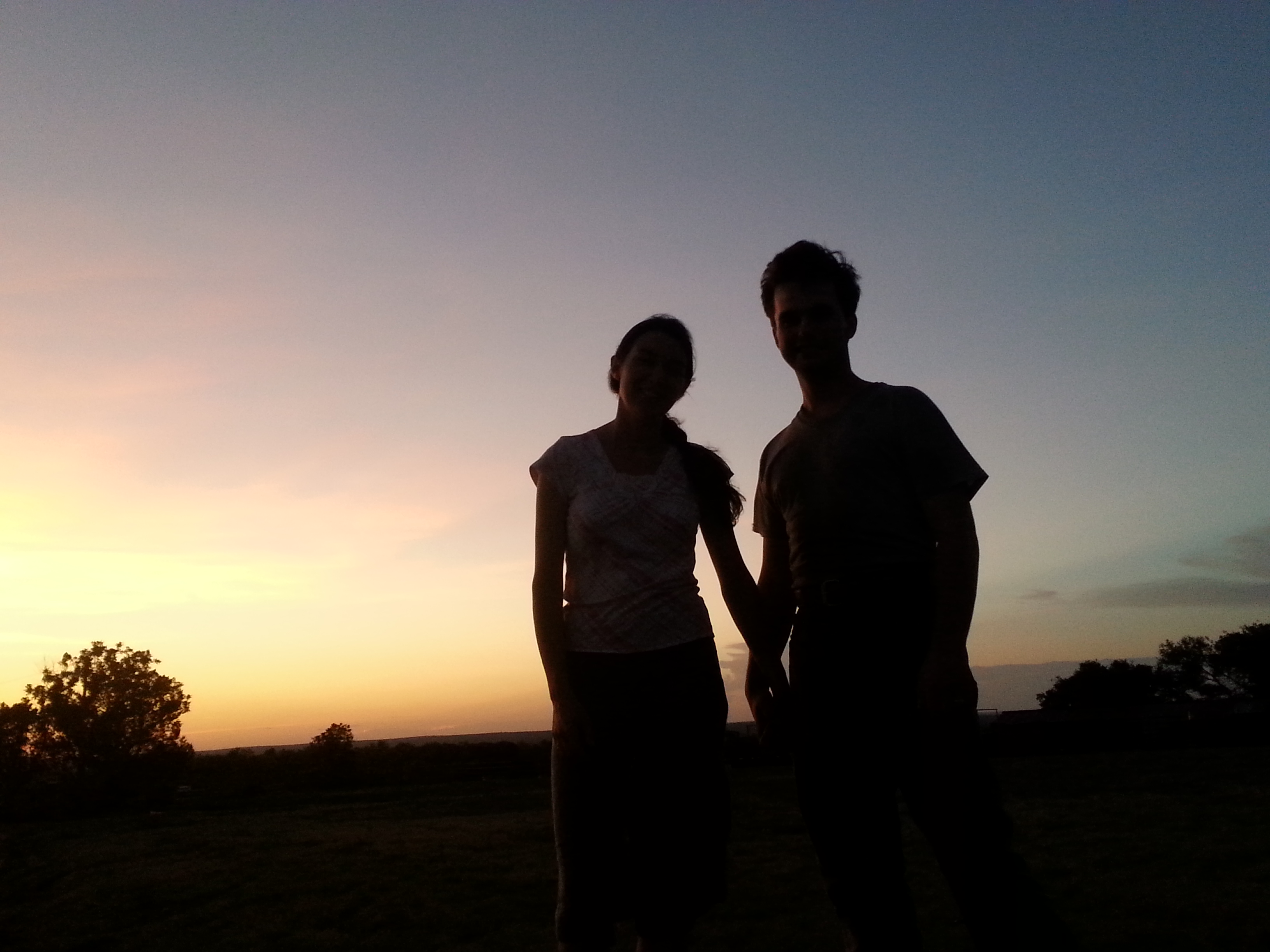 Carolina and Stockton didn't waste any time. They got Atlanta involved in something fun.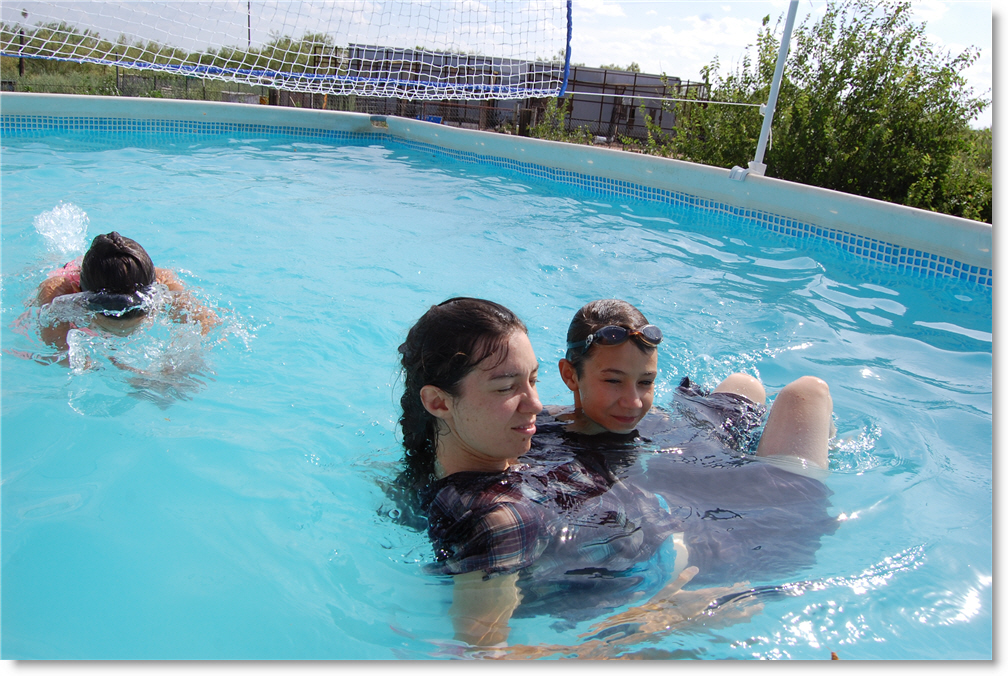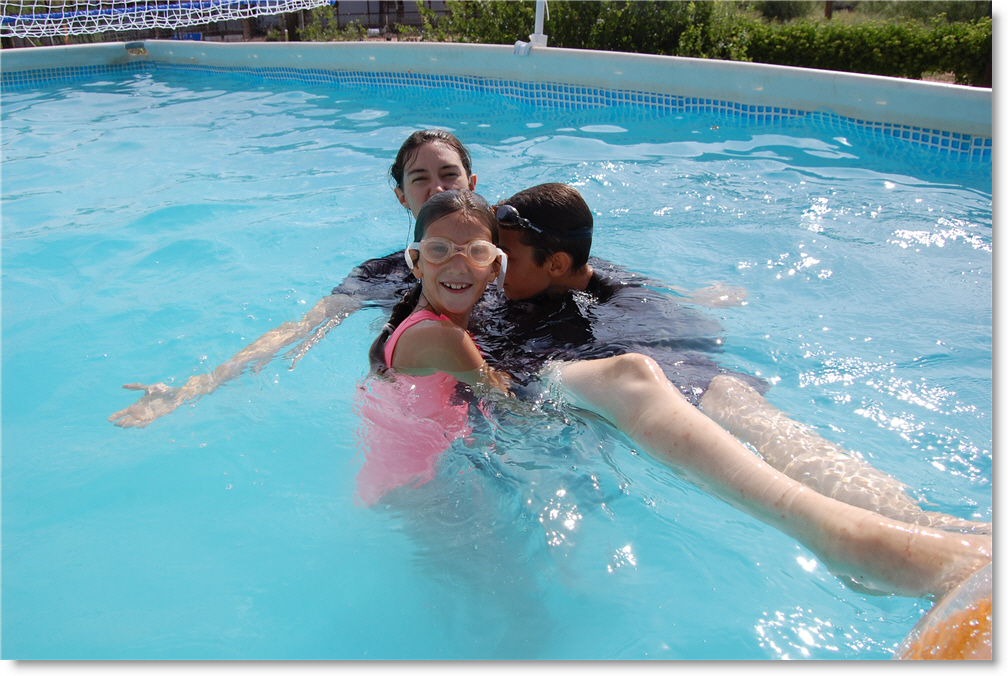 Atlanta requested enchiladas for supper.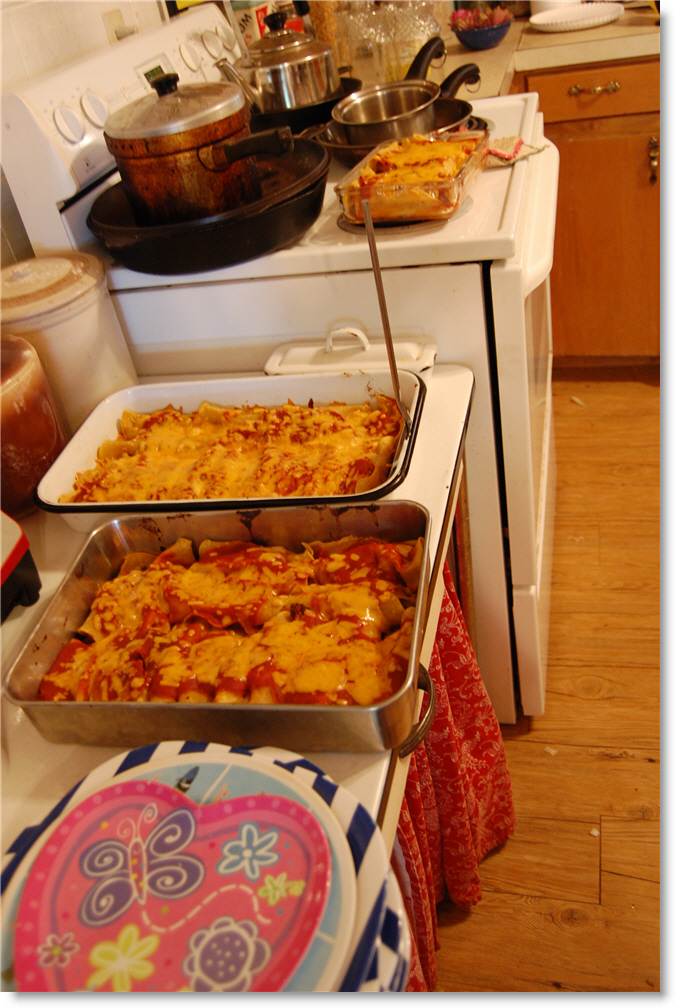 New Raised Bed - We took out some more grass and fixed up these new beds for more greens (if it's not too hot right here...).
The rest of the garden is staying alive. That's about all I can report. This hot weather isn't conducive to great production.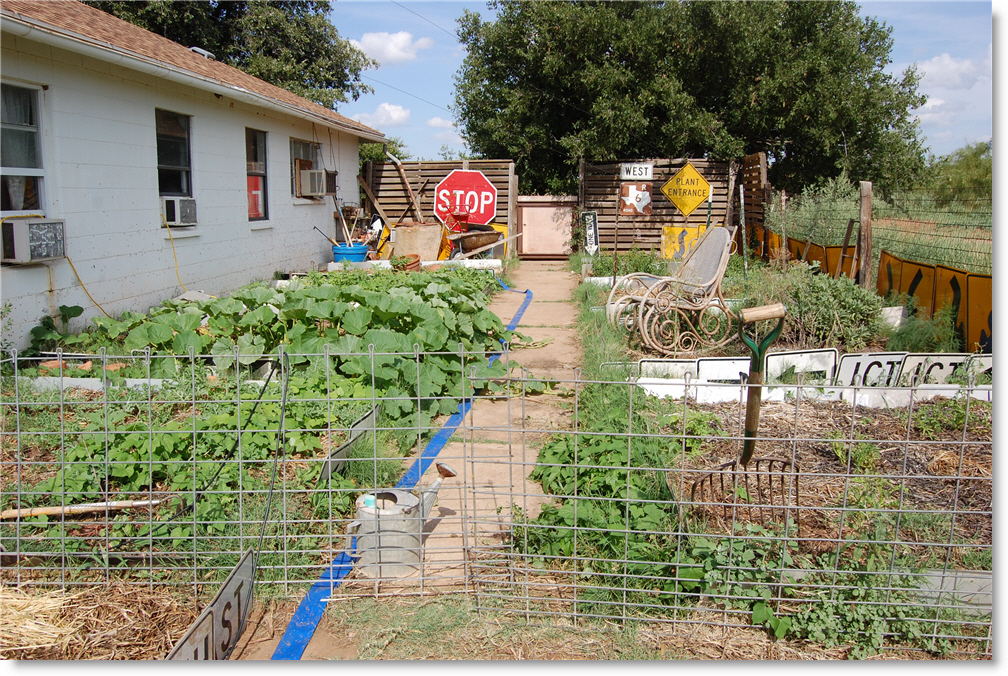 Saturday, July 20 - Home School Dance in Plainview - Everyone seemed to have a great time at St. Alice's Church fellowship hall in Plainview, tonight. We had a big crowd. Over the half the people were new families to the group. Many from Brownfield, some from Amarillo area, a few from Dickens and even a boy from the Czech Republic. It was great to see some new faces, and as you can tell from the following pictures, they were all smiling.
Kayla Alexander, Courtney Mars and Cimarron played a few tunes for us that they've been working on. They sounded great.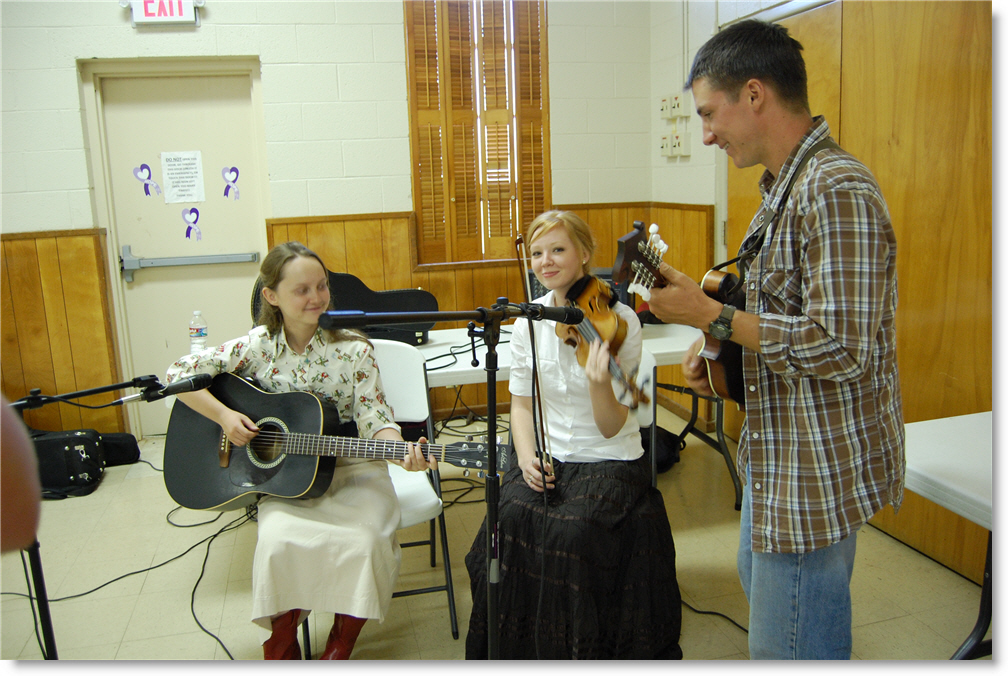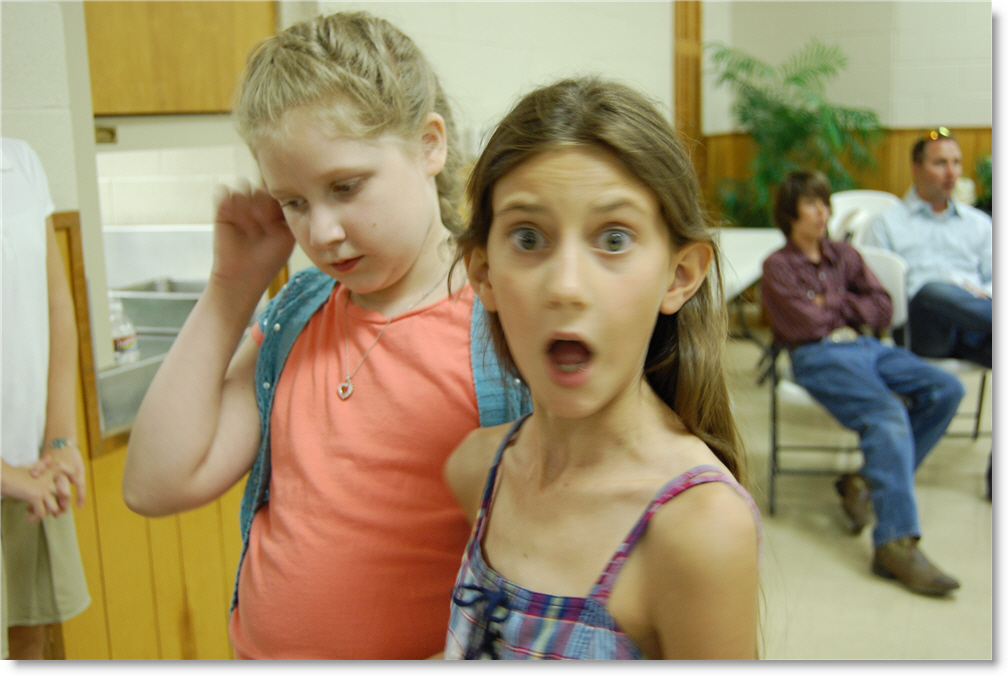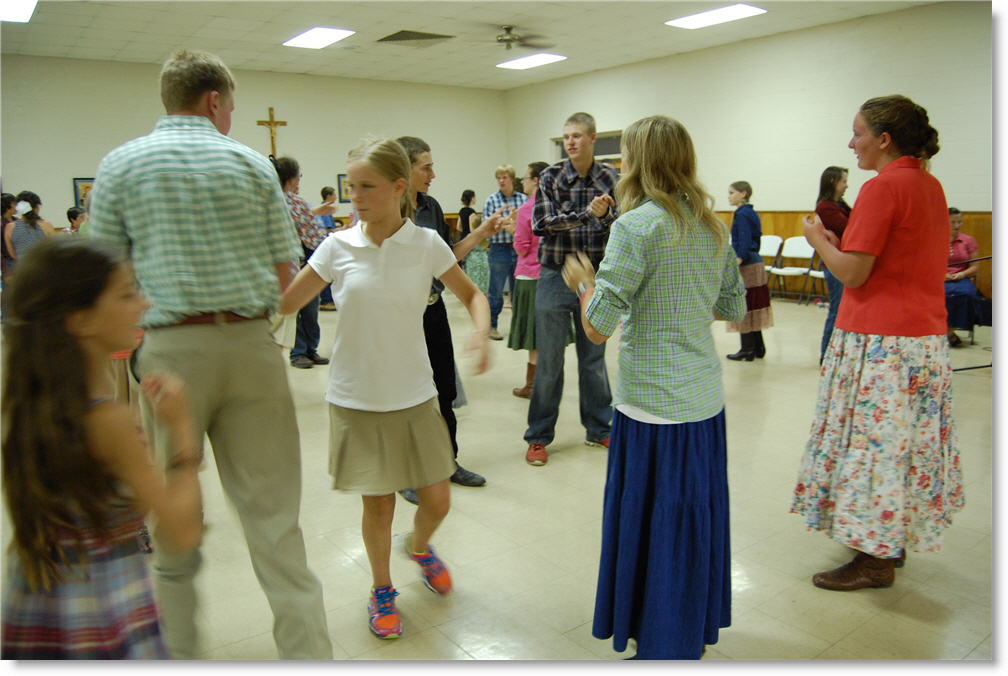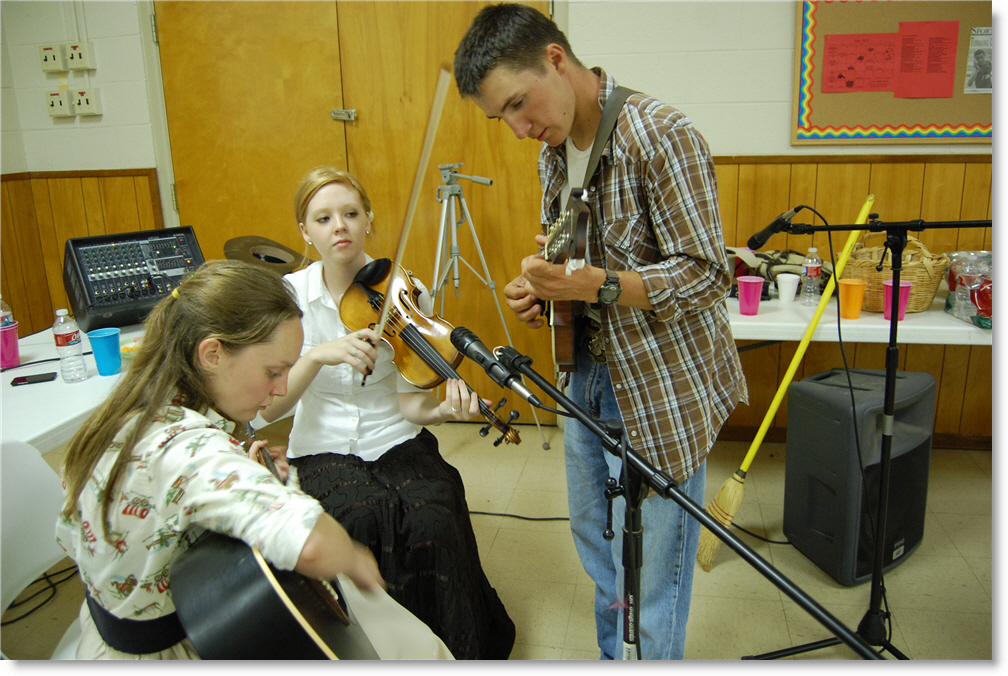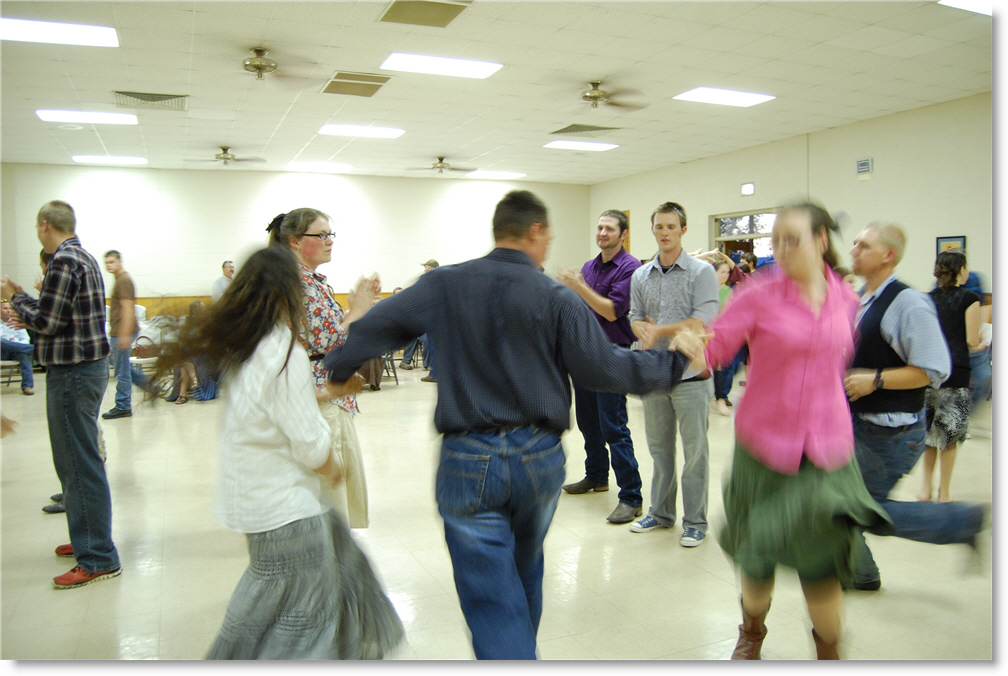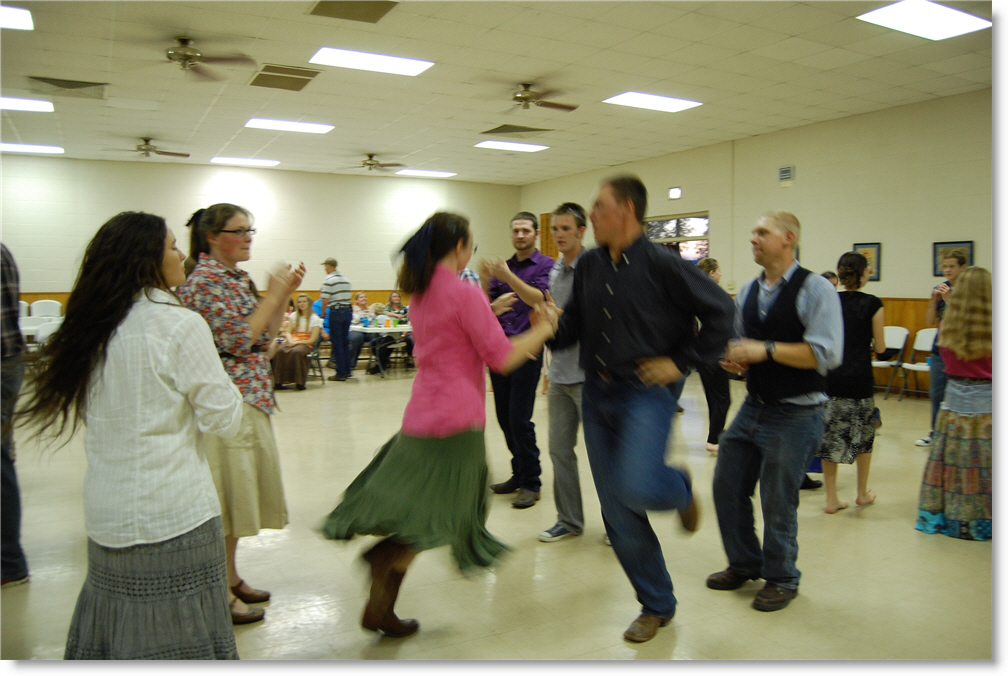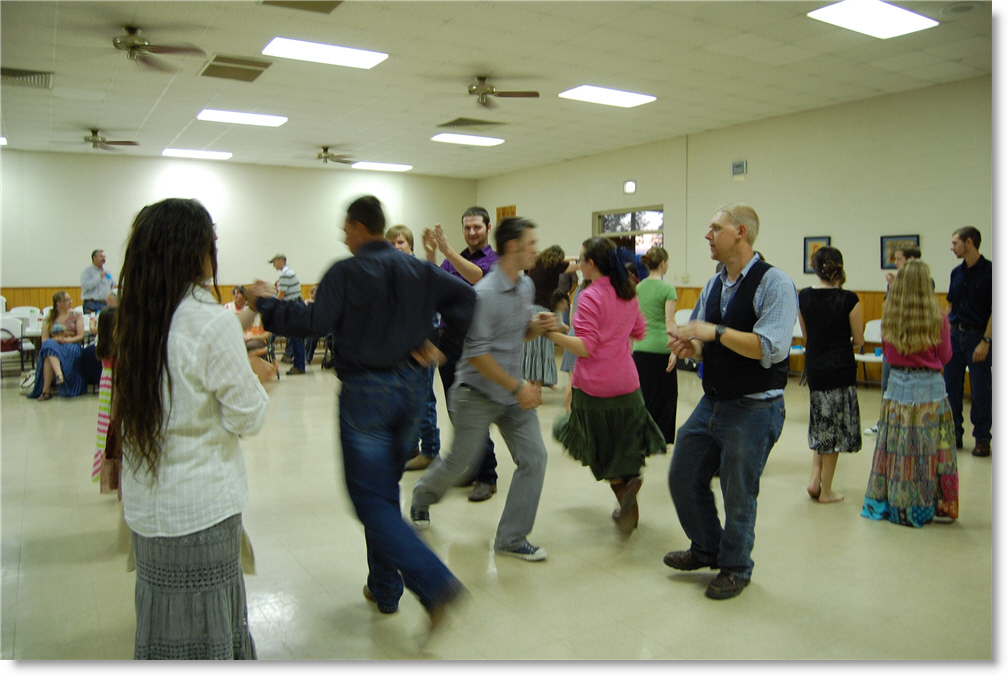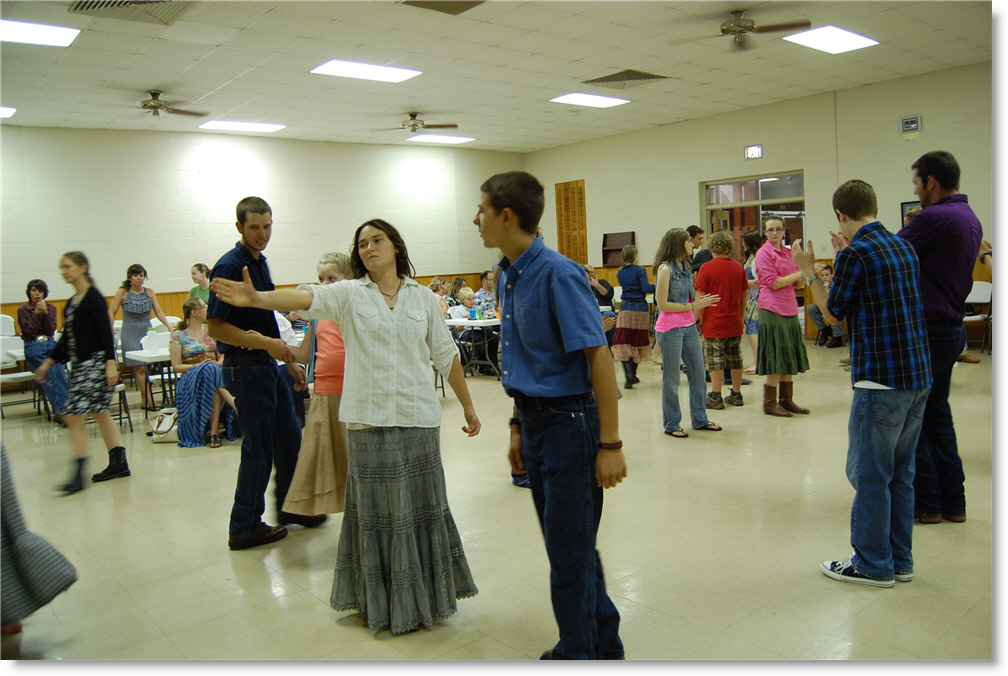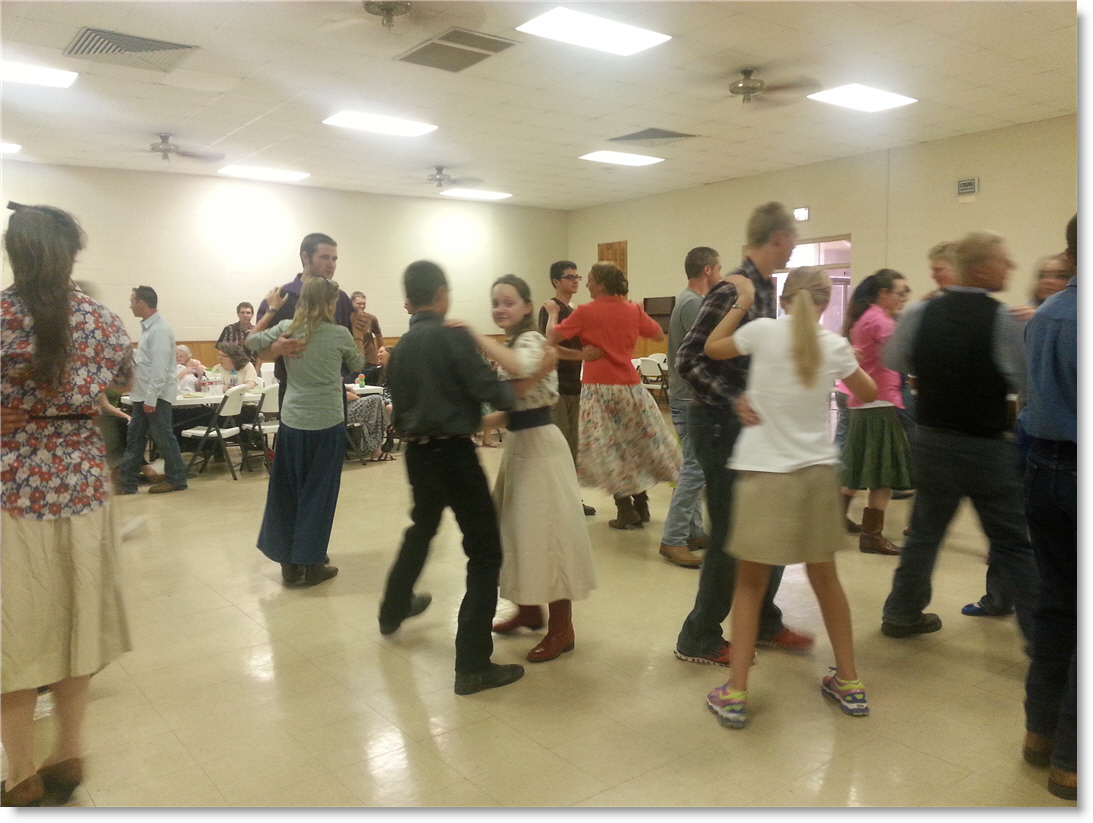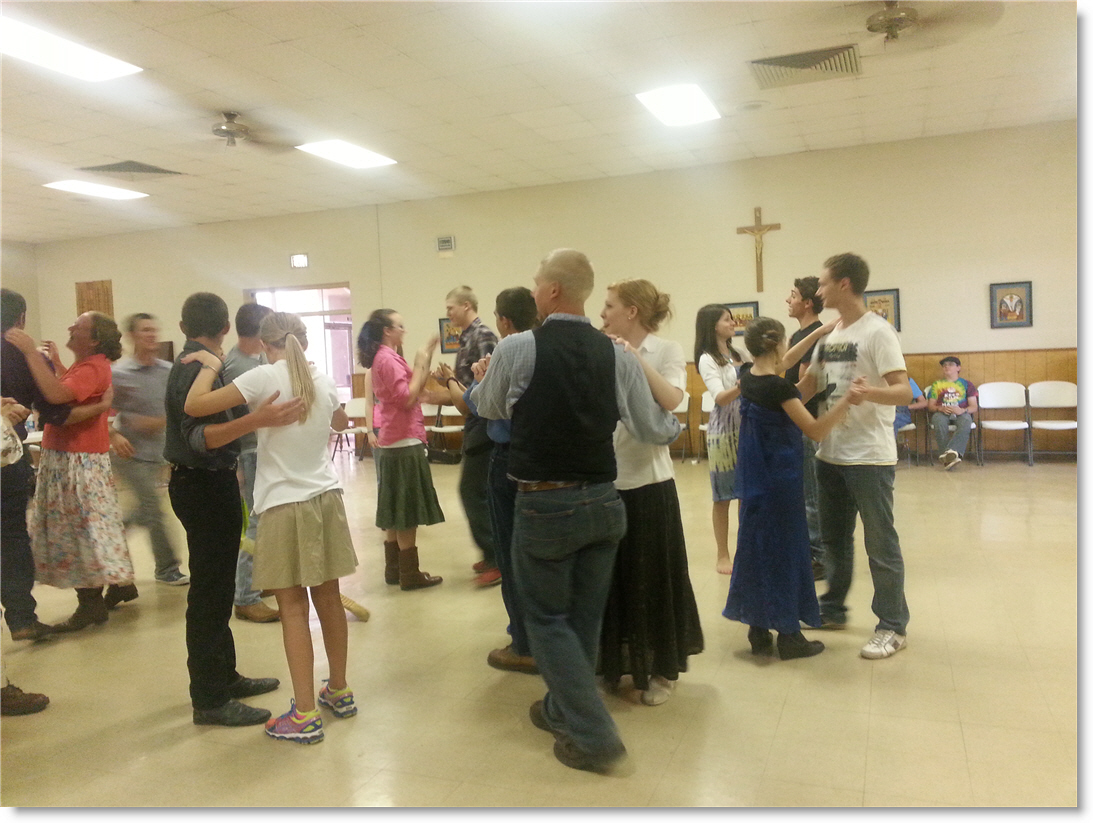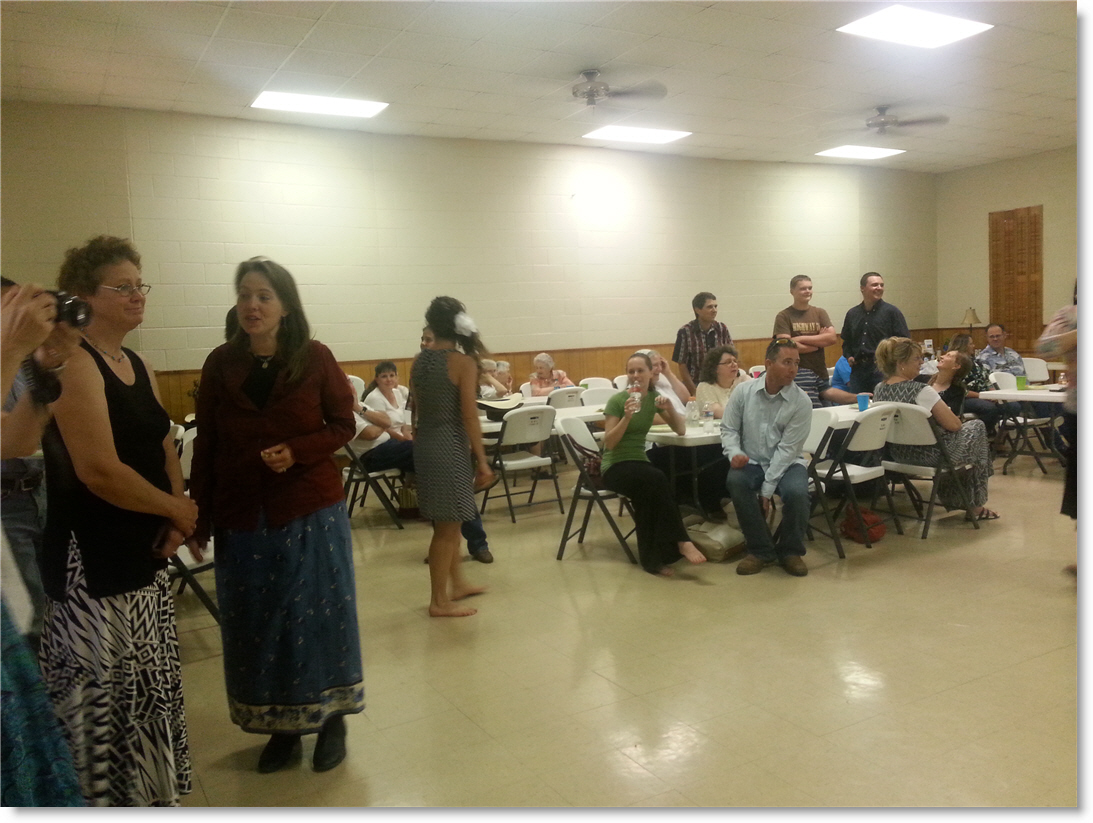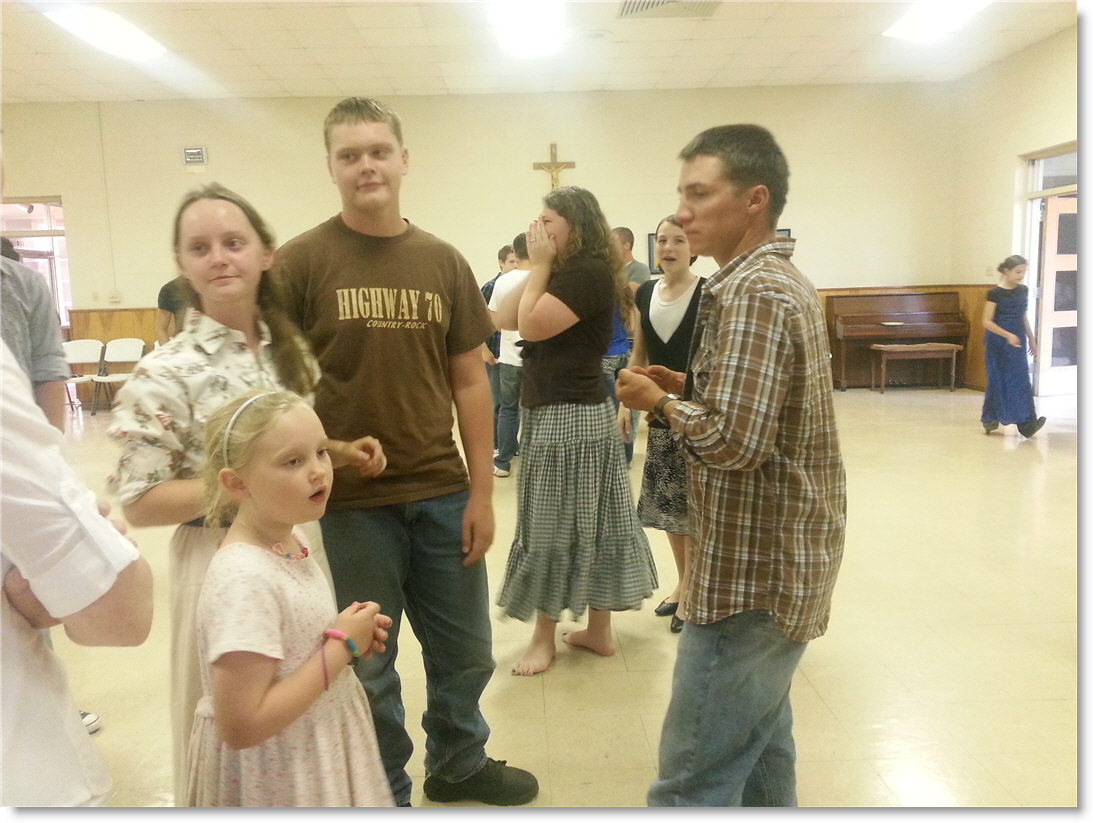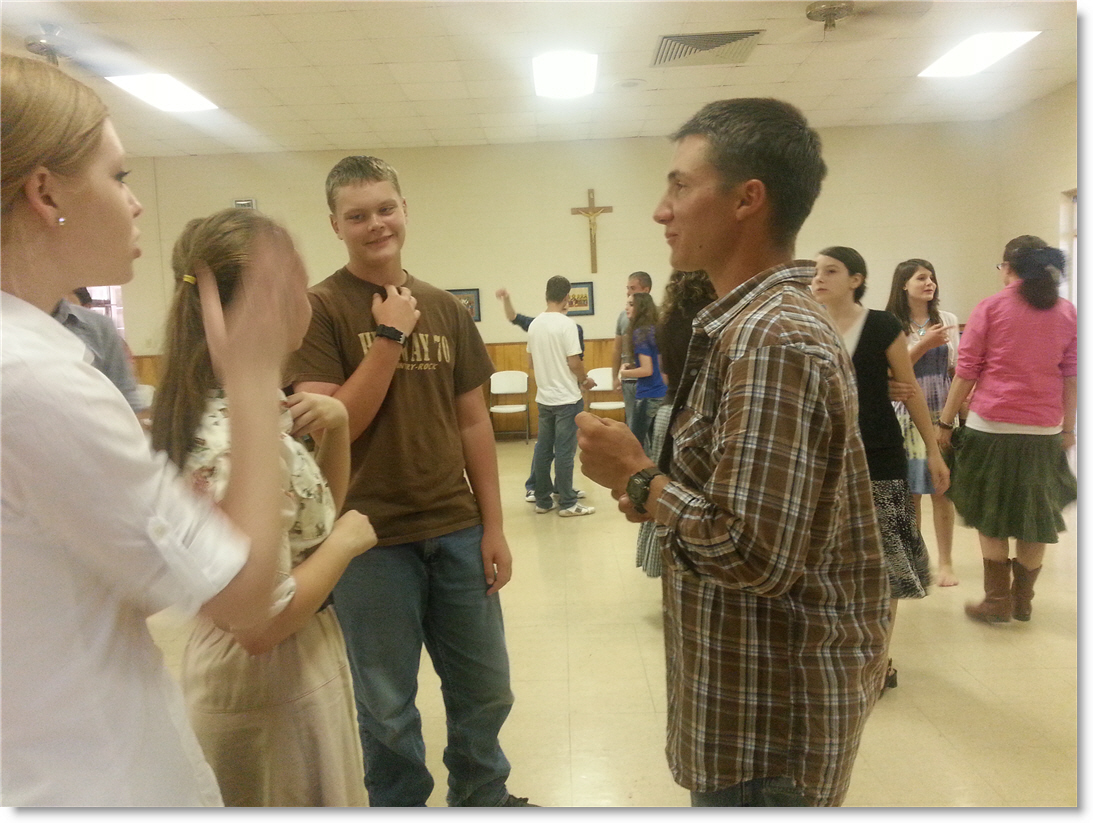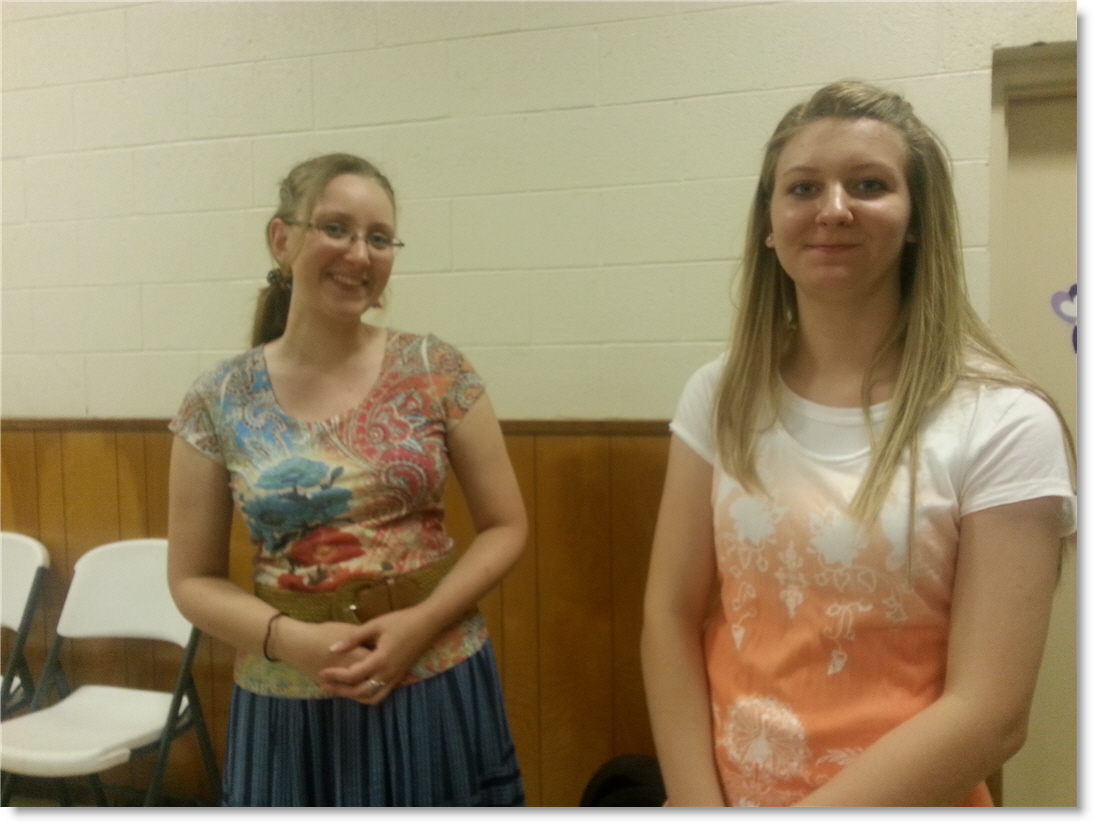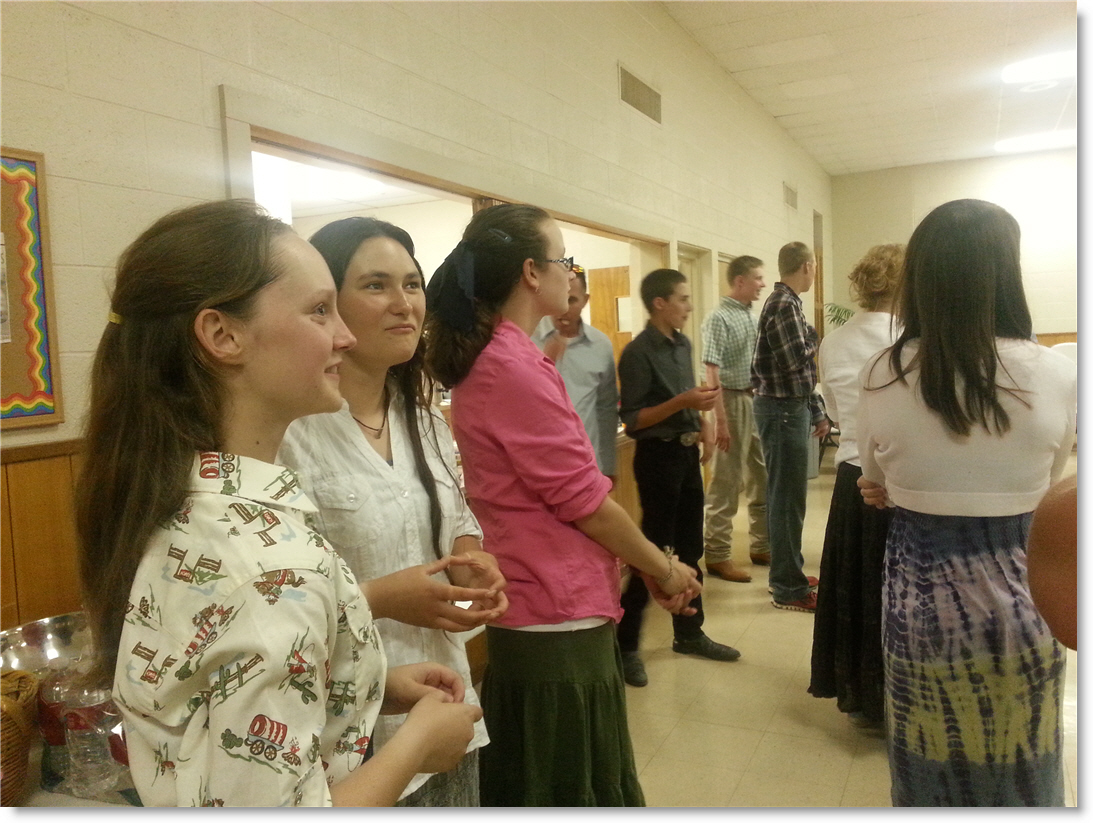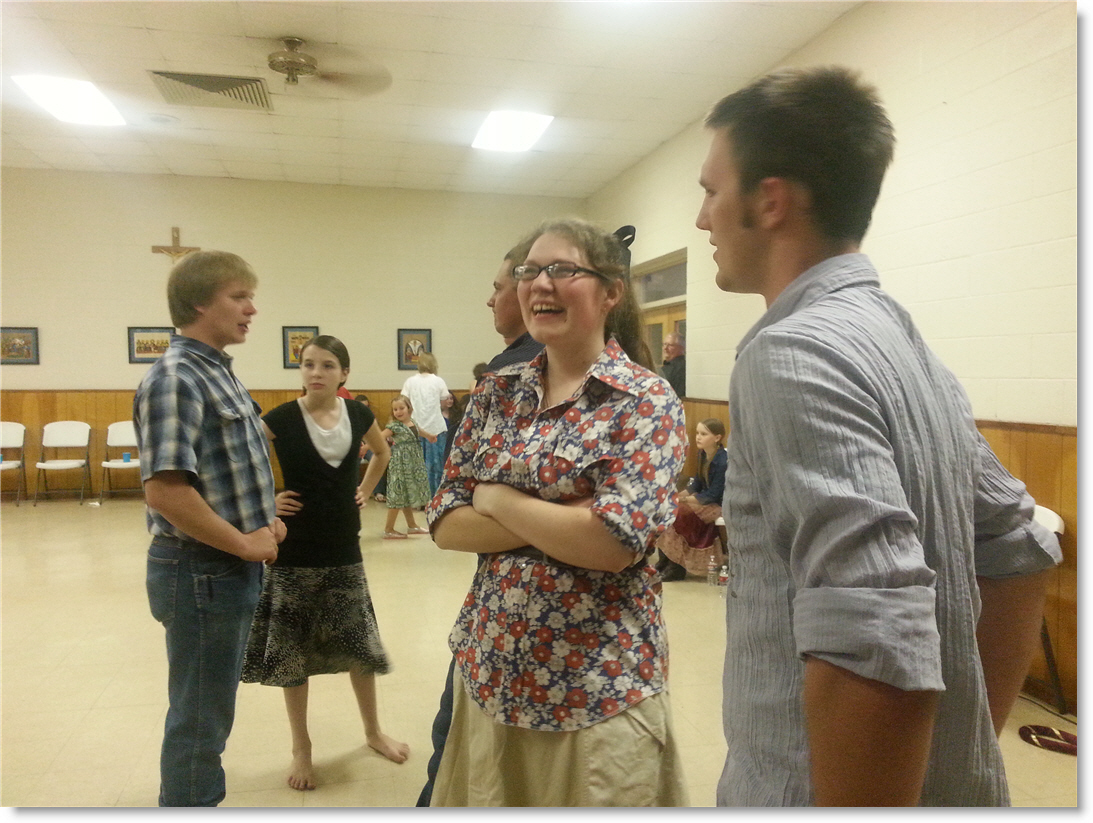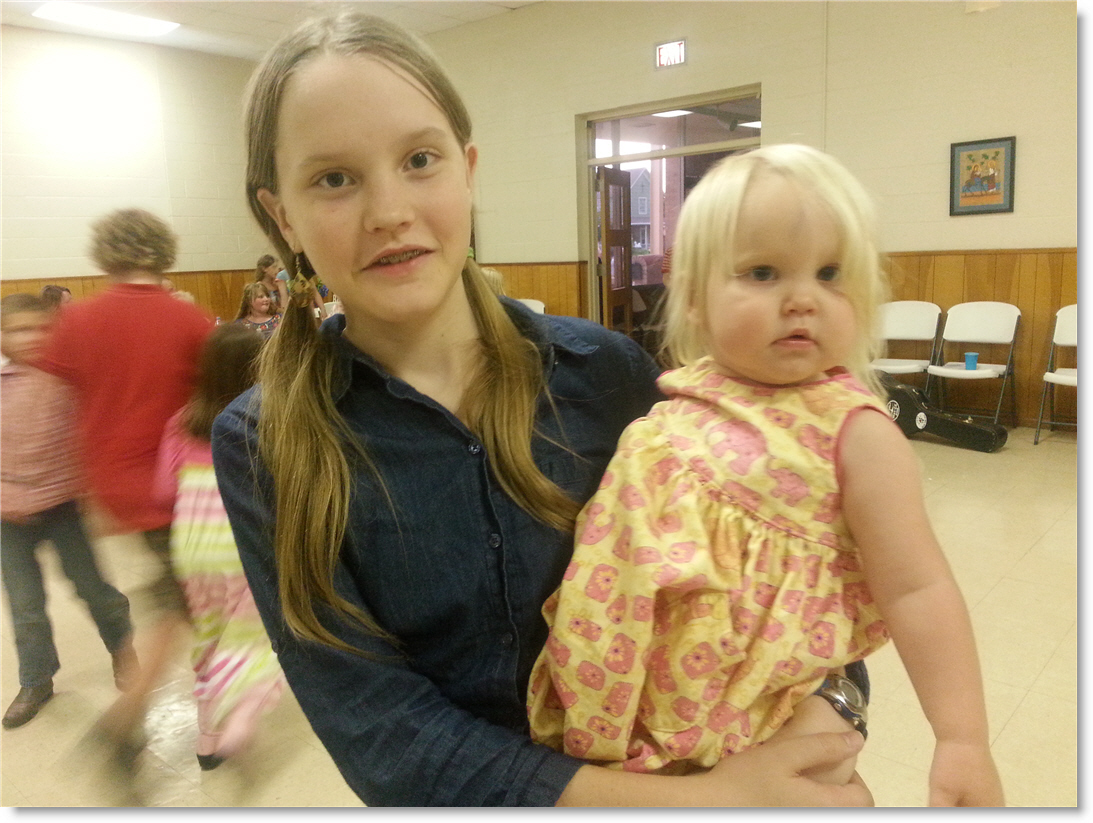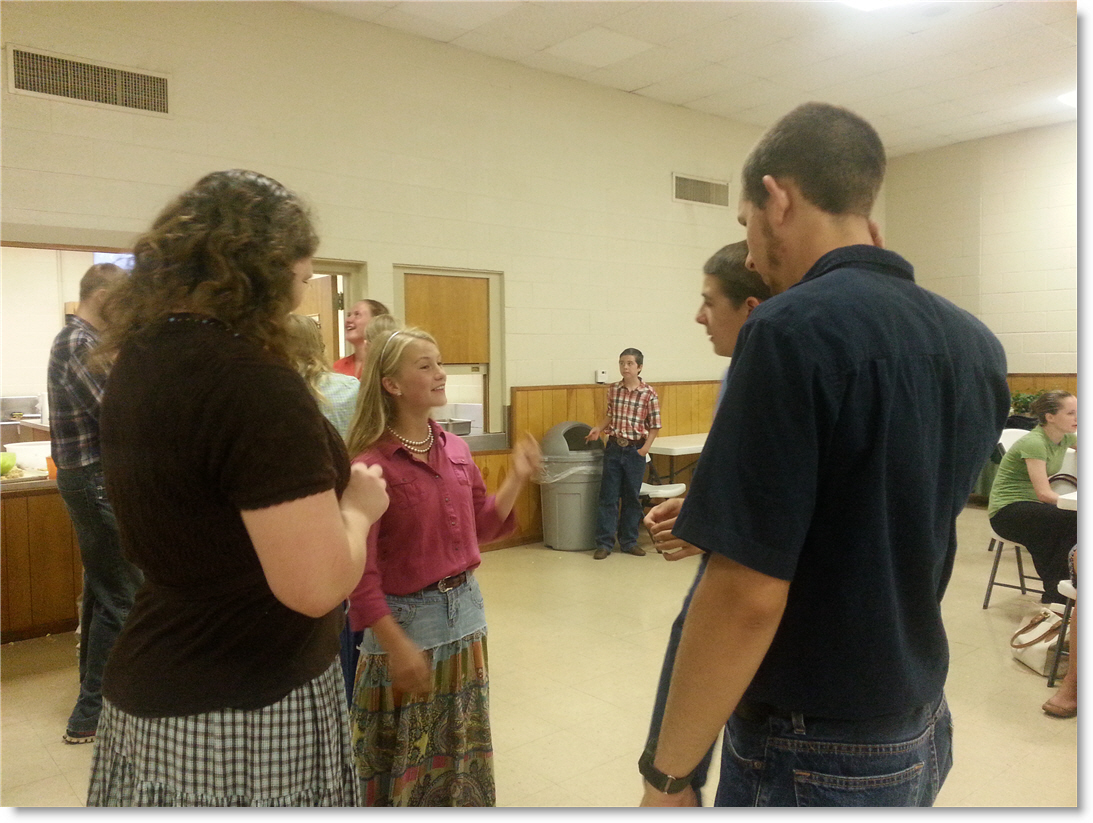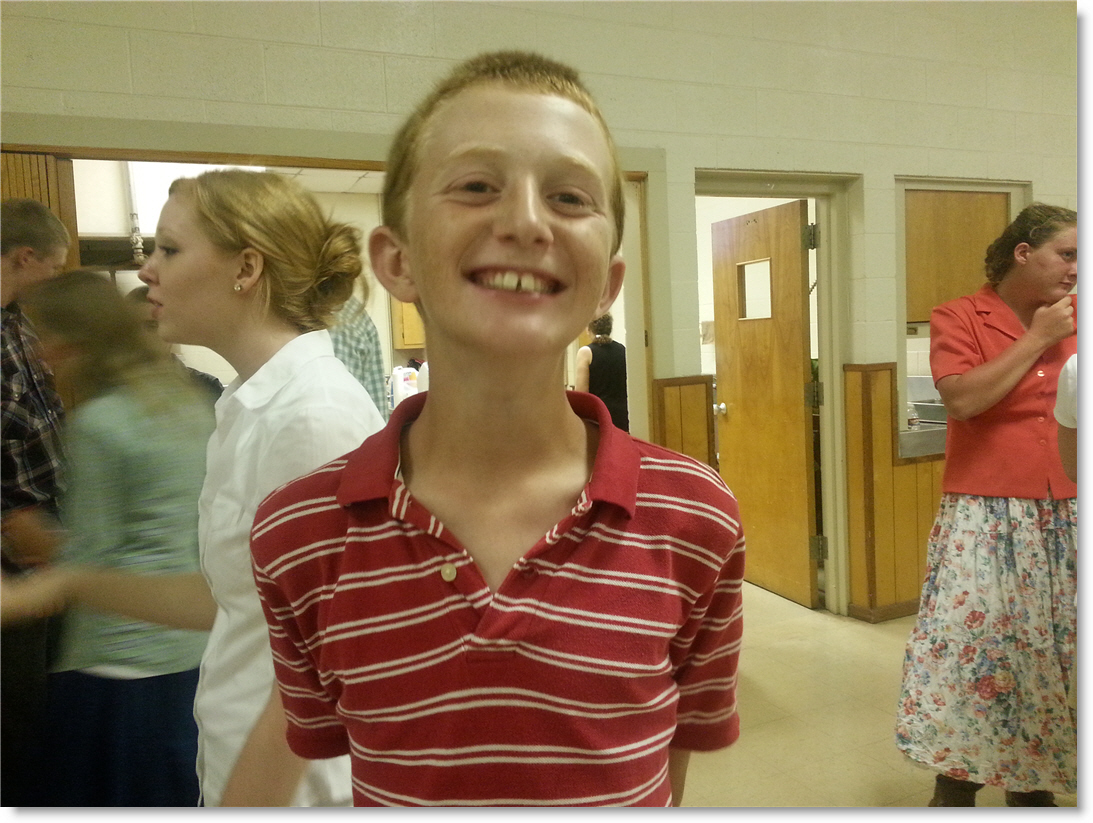 I've noticed that photos of people swing dancing very often come off looking like people involved in a fight.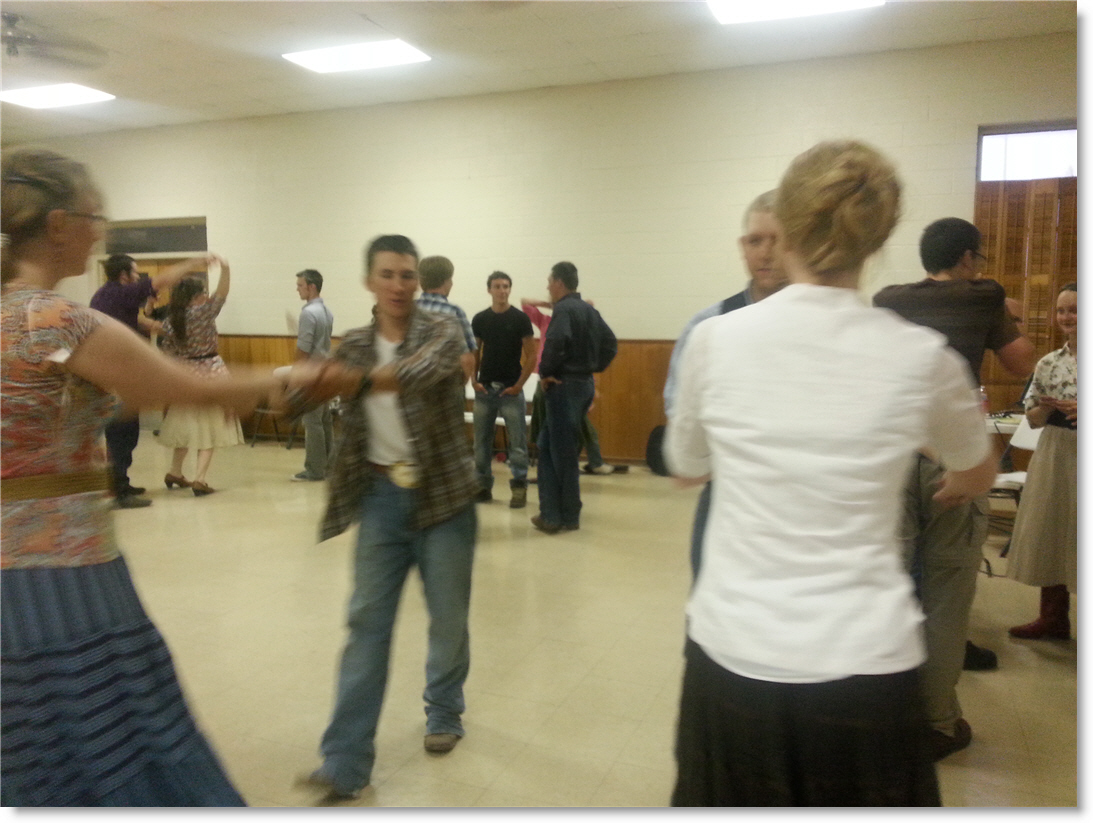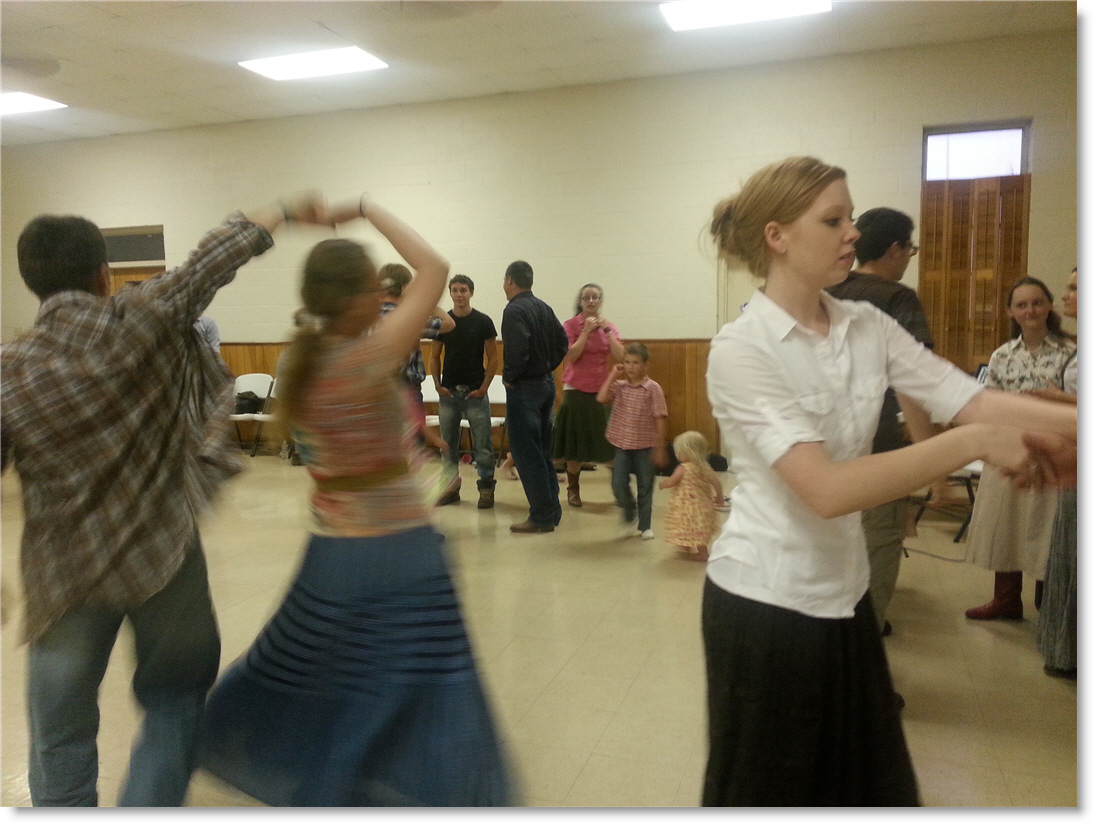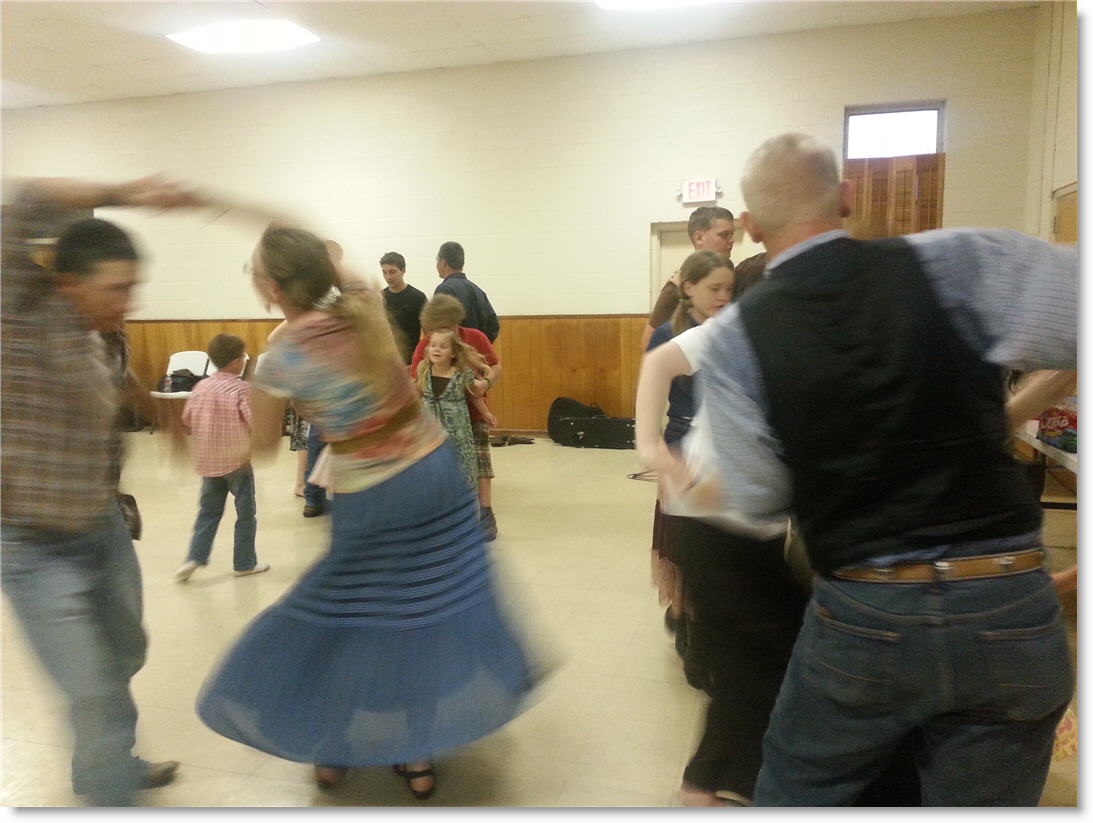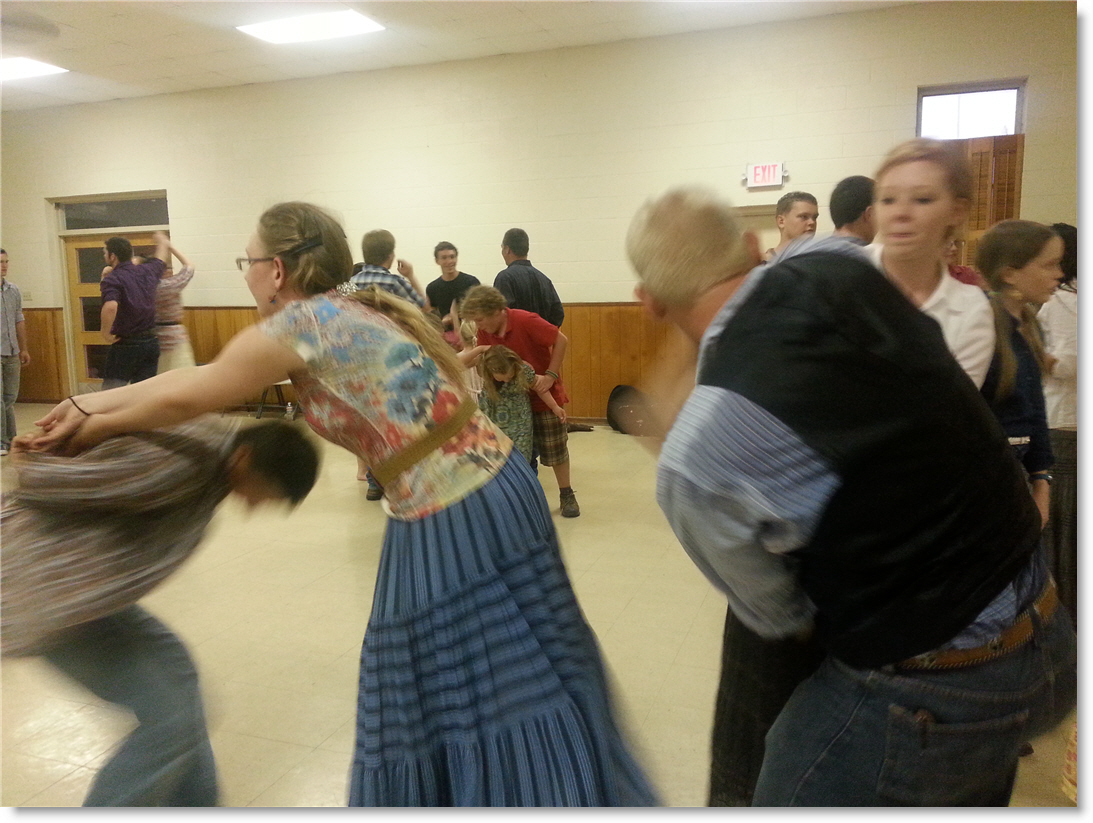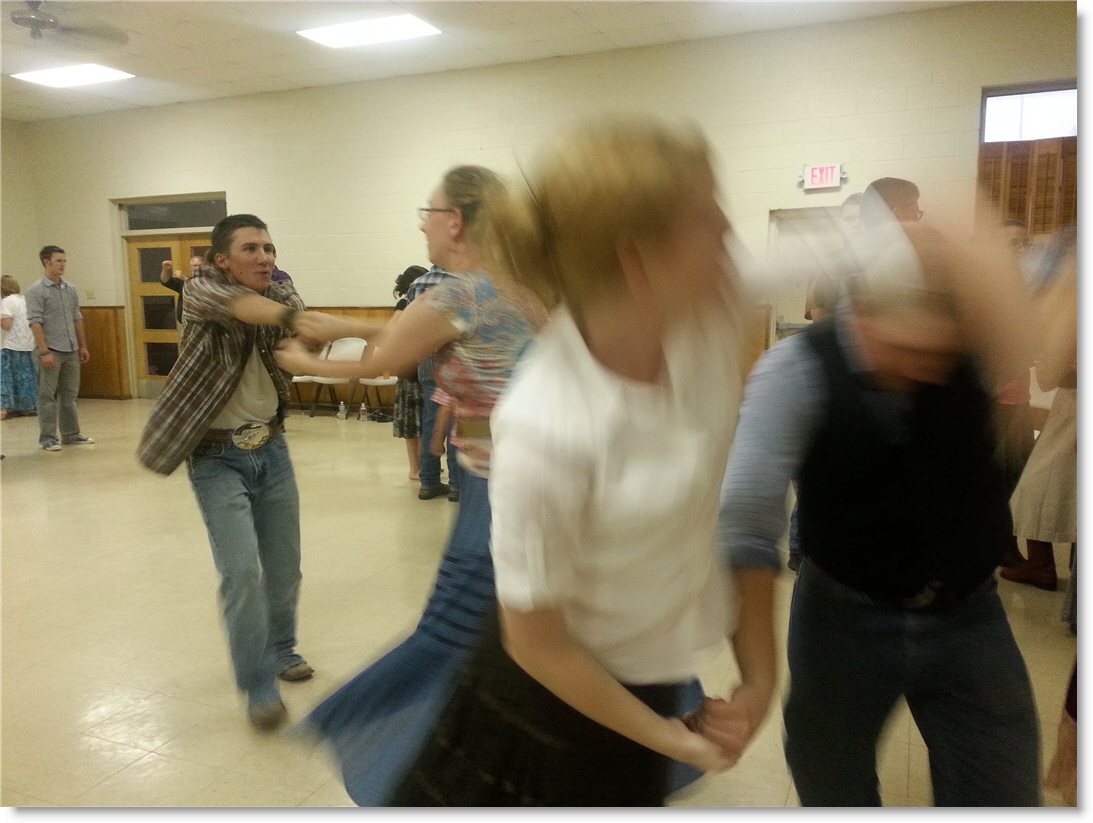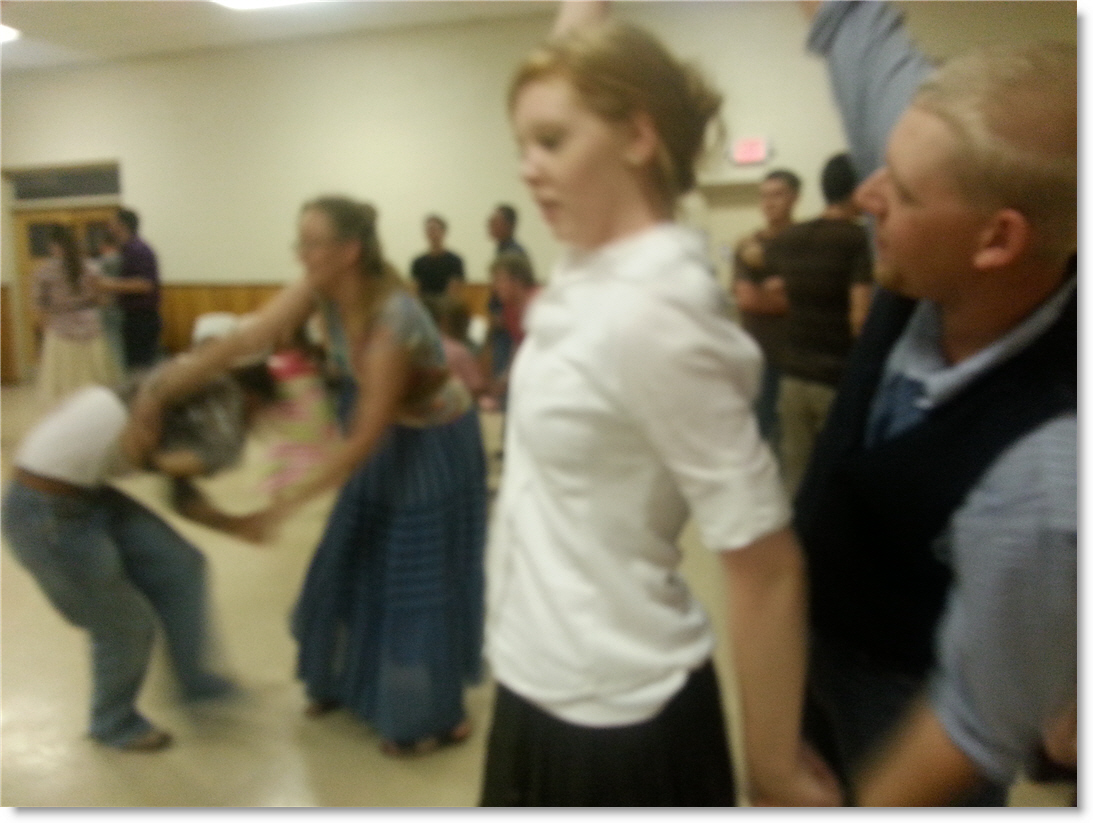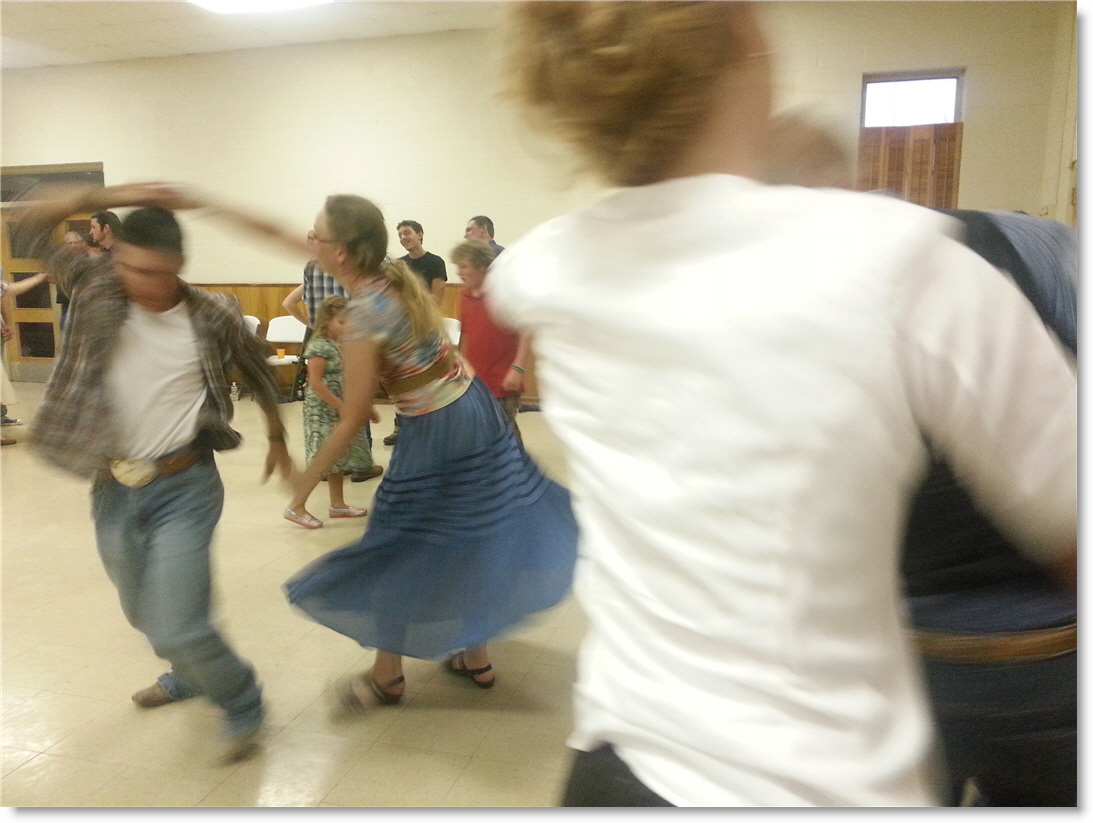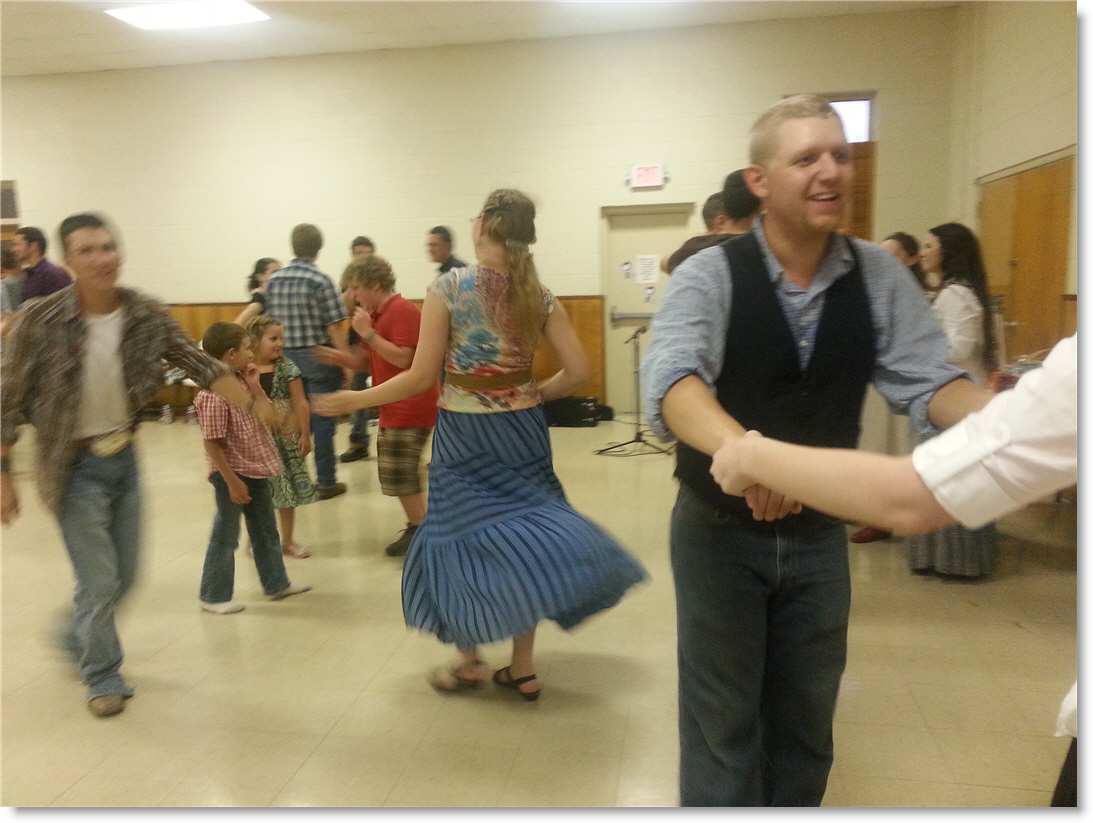 Morning Sky and Experimental Photos - I was out early and had to take some sky pictures. See the best shots here on the panoramic page. Then I started experimenting with some of the settings on my phone camera. I thought they turned out very well.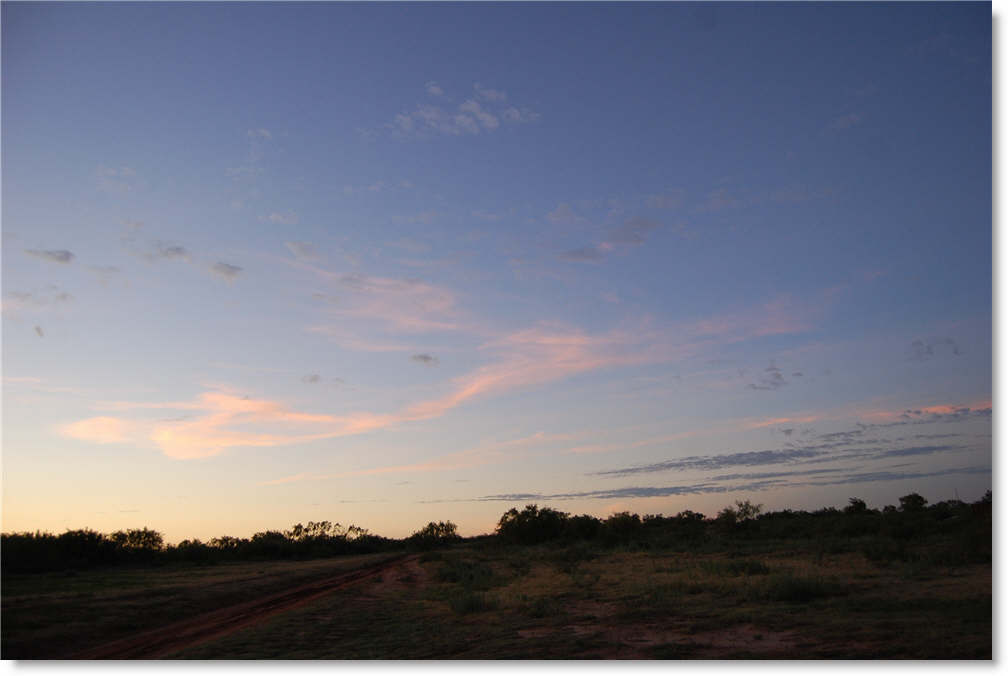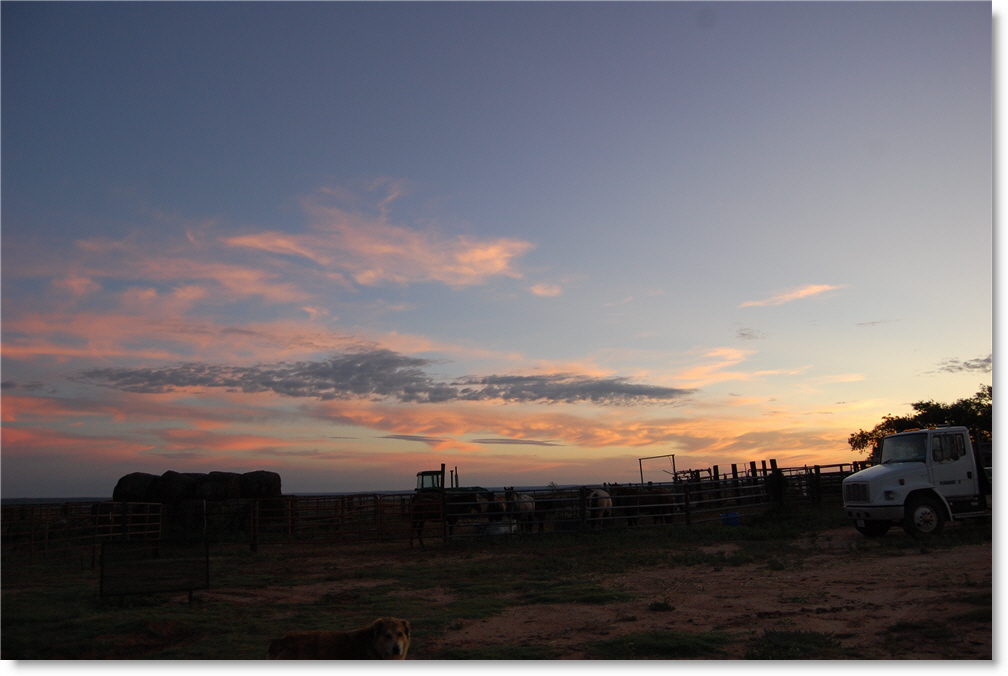 vintage-warm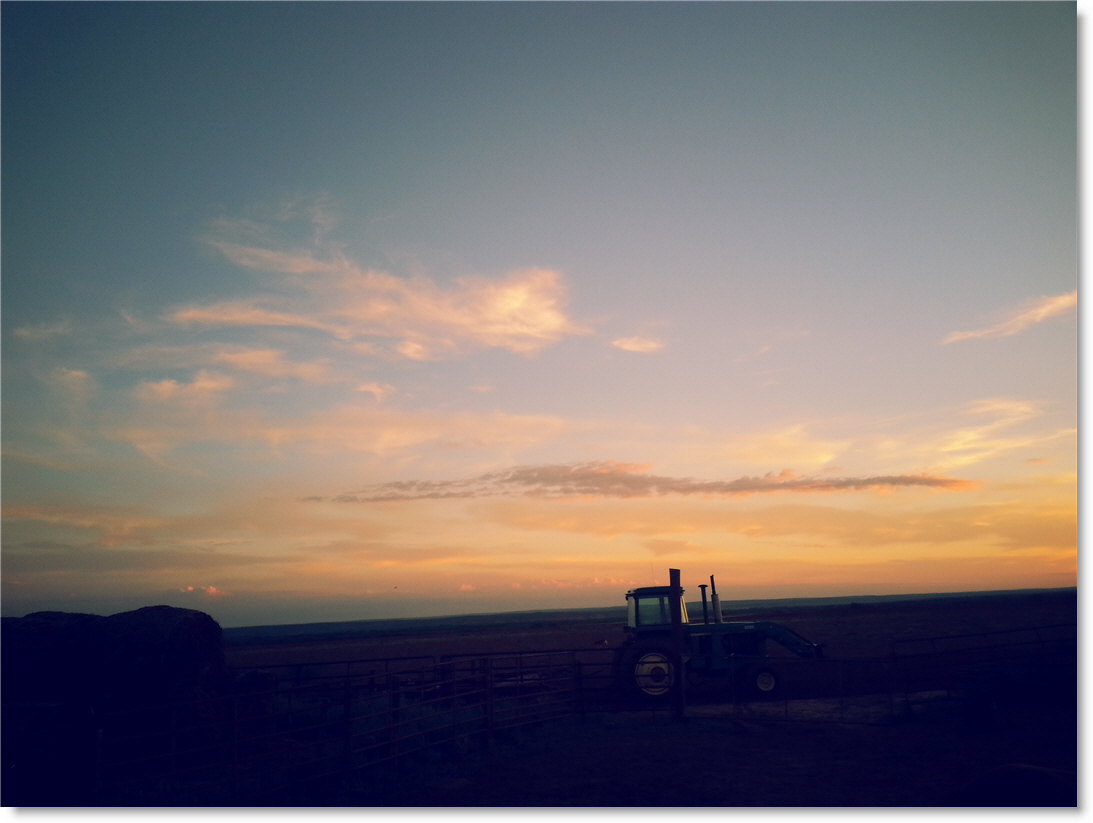 point-green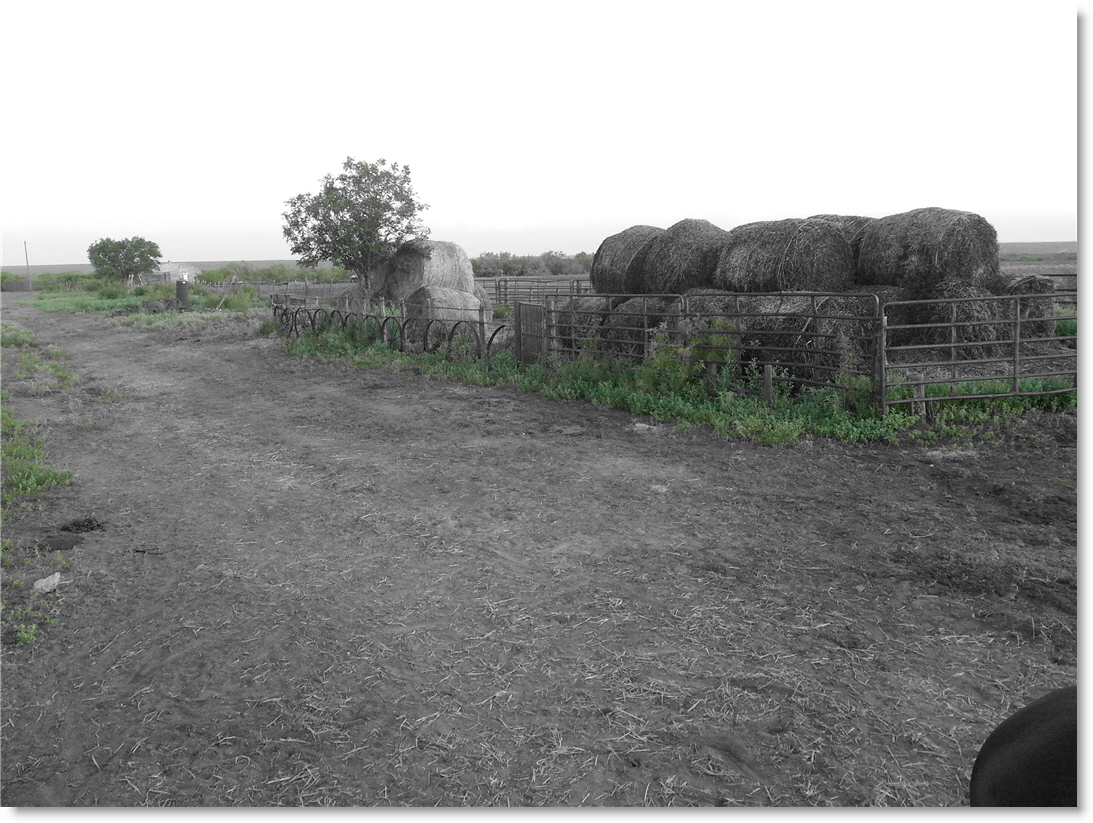 cartoonize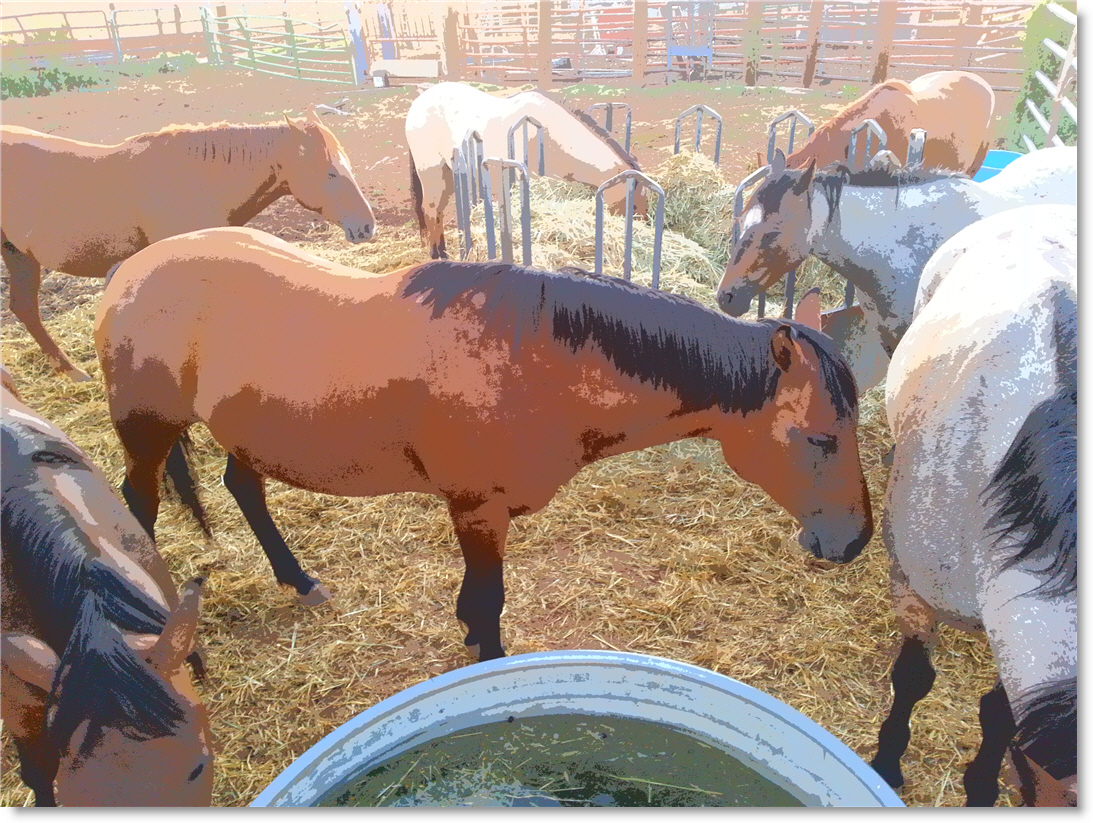 vintage-warm
Friday, July 19 - Cool Blue Evening - I couldn't decide which picture was the best, so I just included all four.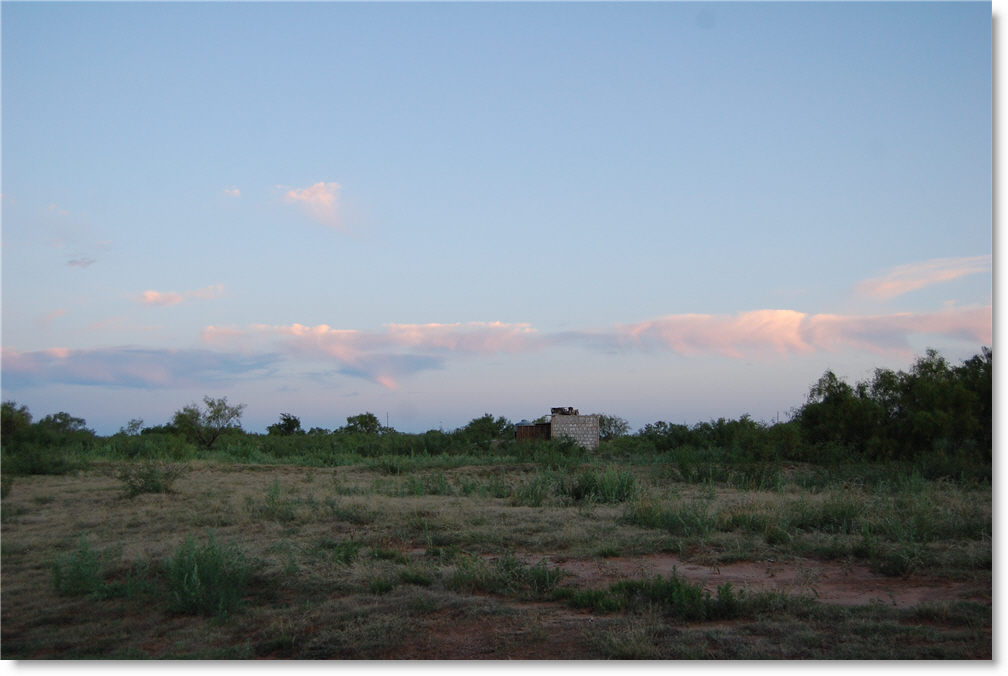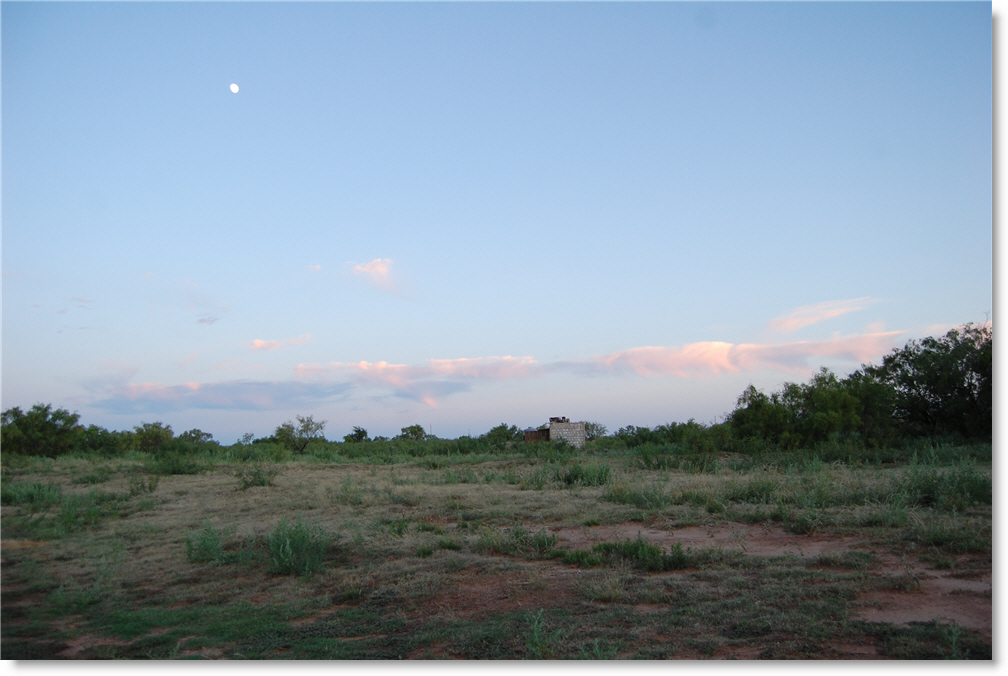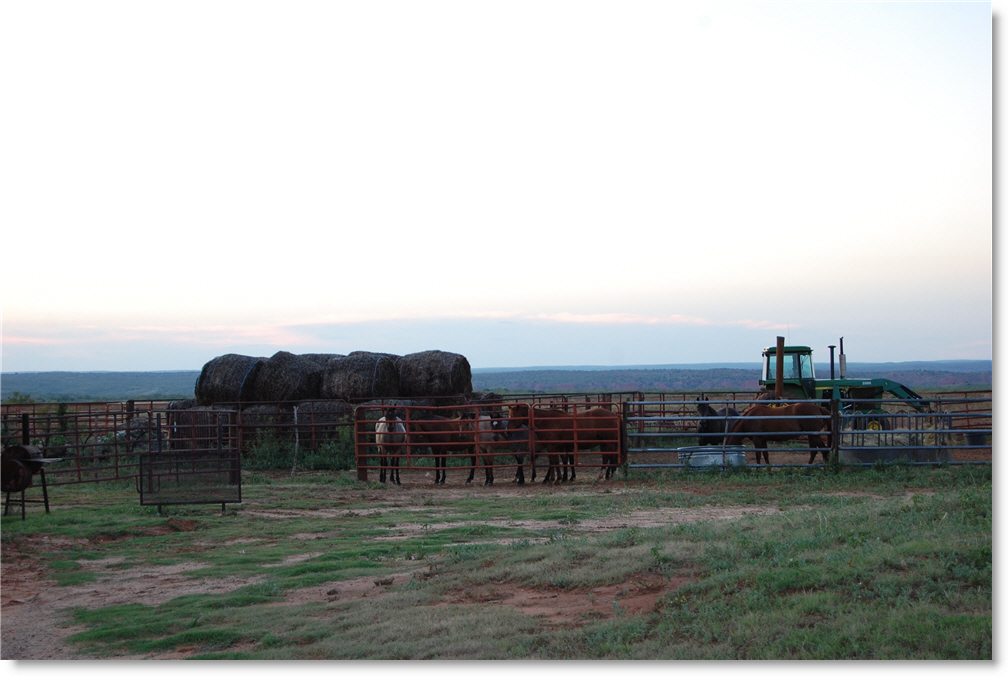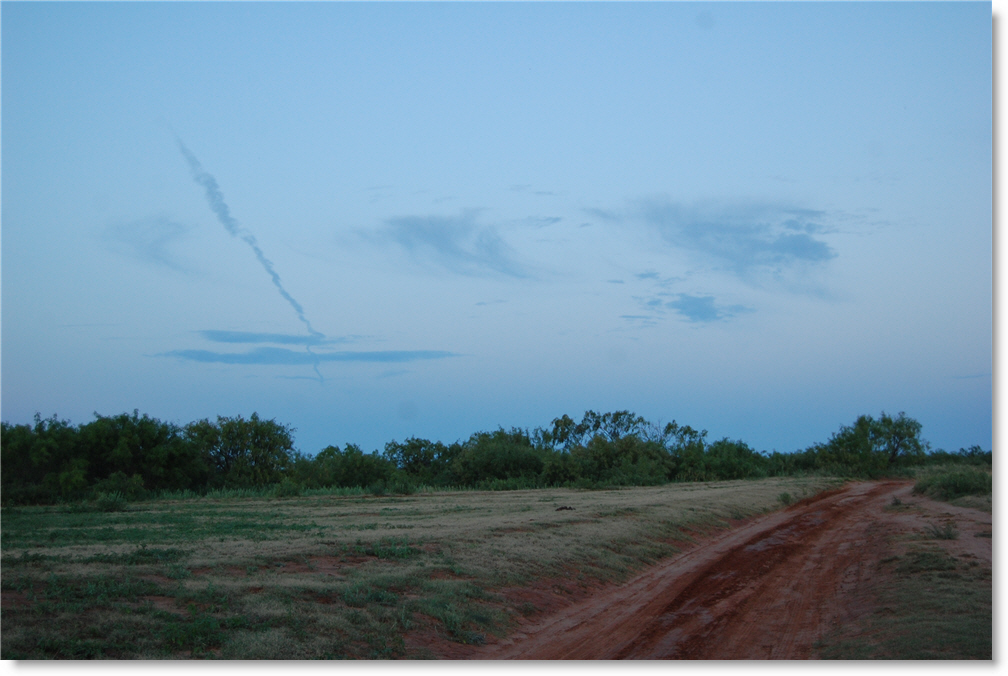 Jammin' With Kayla Alexander - Kayla was over spending some time with Aspen when an impromptu jam session started up.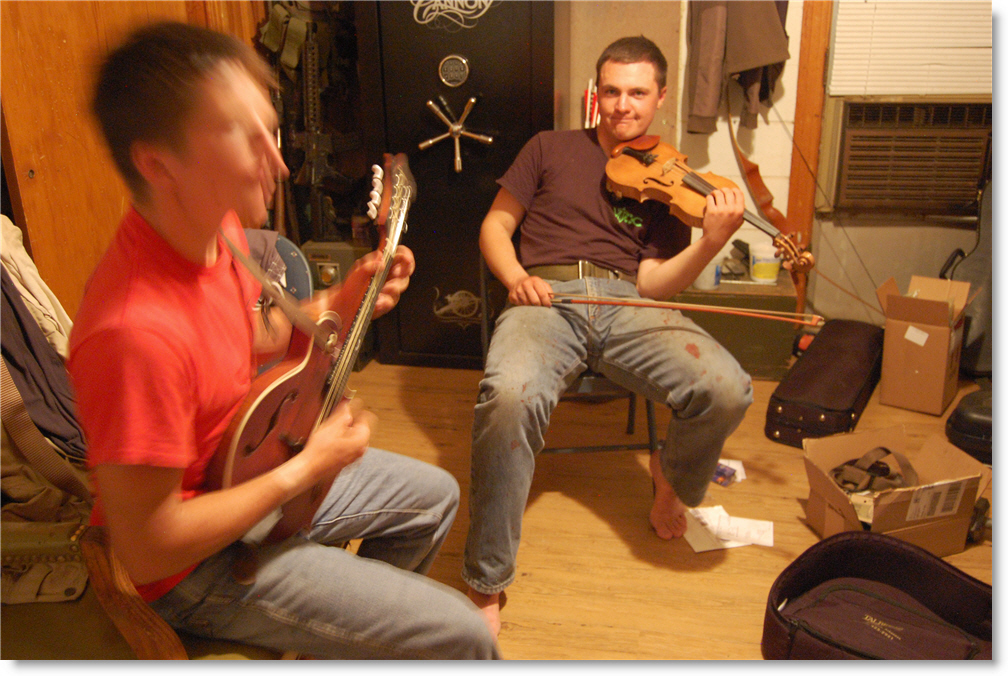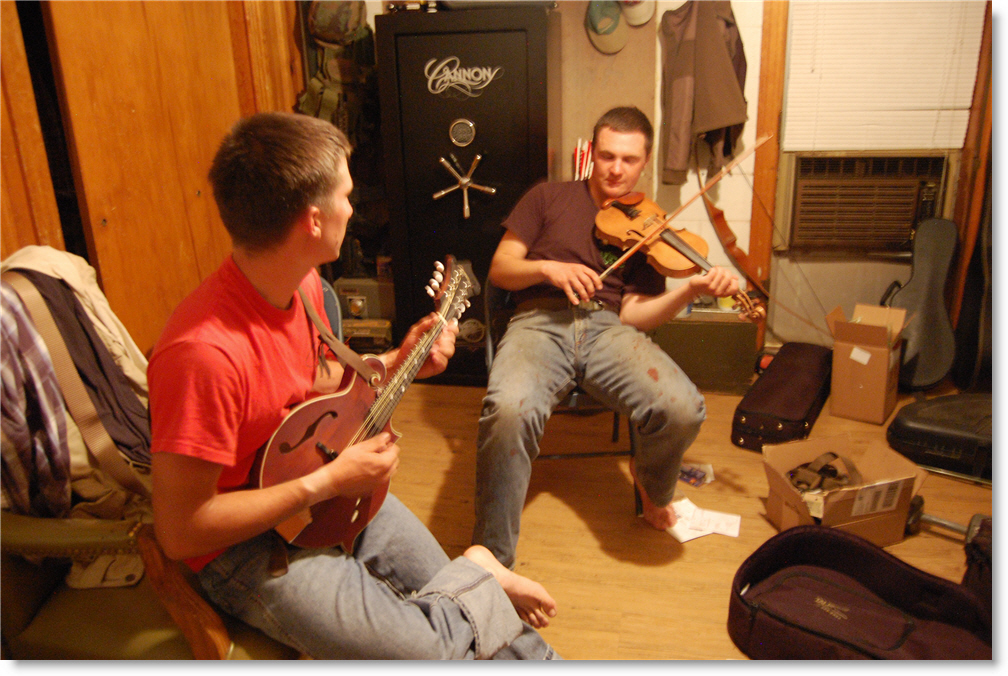 Carolina doesn't look too interested, though.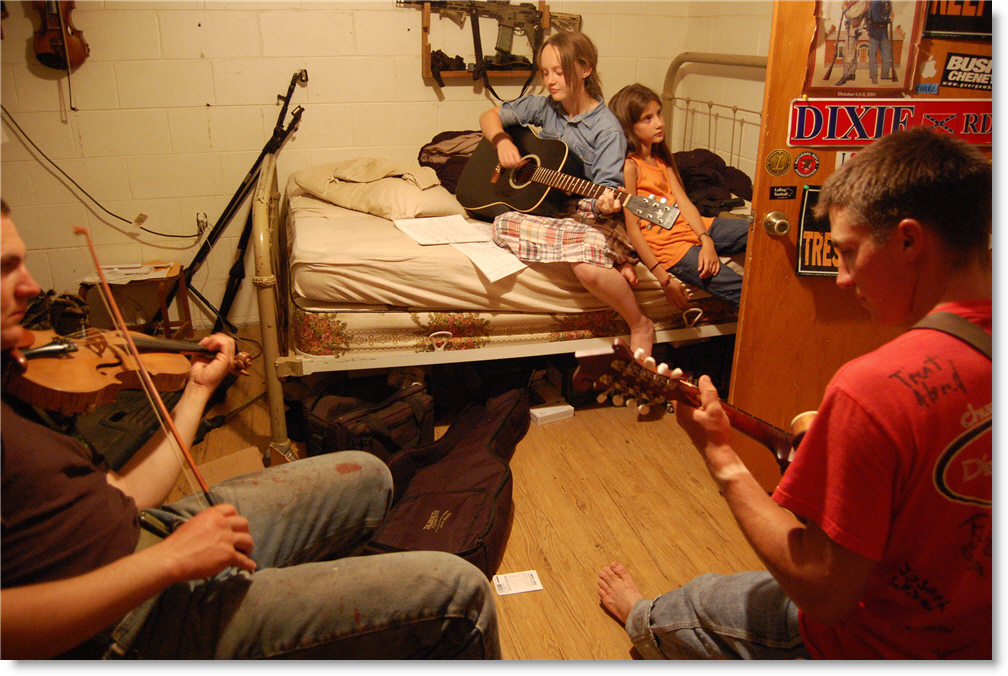 Sunday, July 14 - New Turtles - Stockton and Carolina caught these down at the fishing hole today.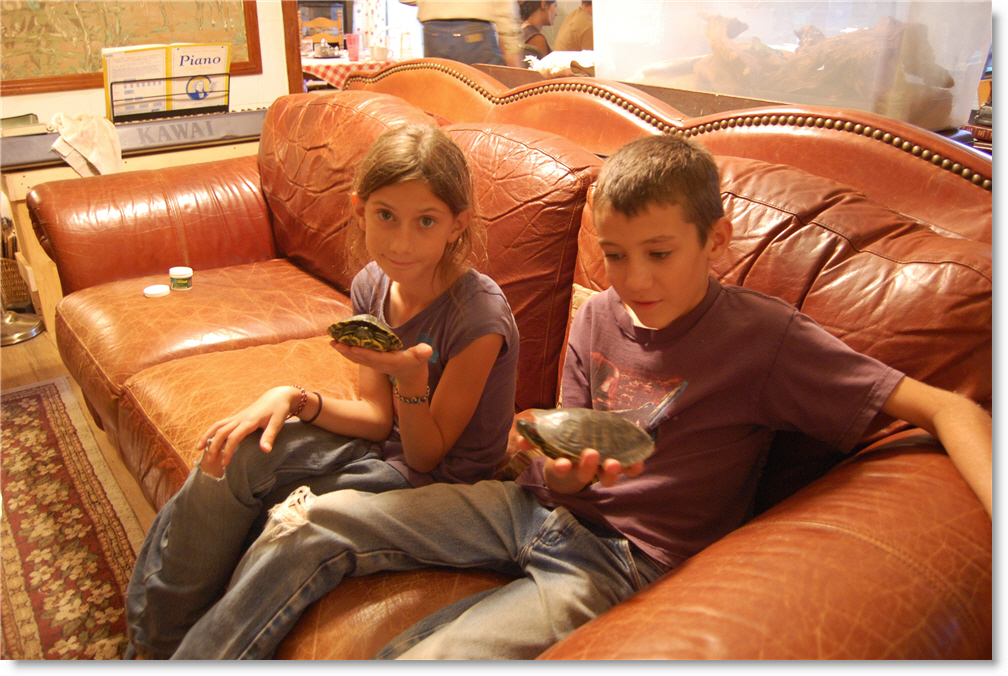 Saturday, July 13 - Audrey and Joe Back in Texas - A cookout at Misty and Kevin's was on the menu this weekend. We had so much fun visiting with everyone and especially getting to see my niece's darling family before they ship overseas.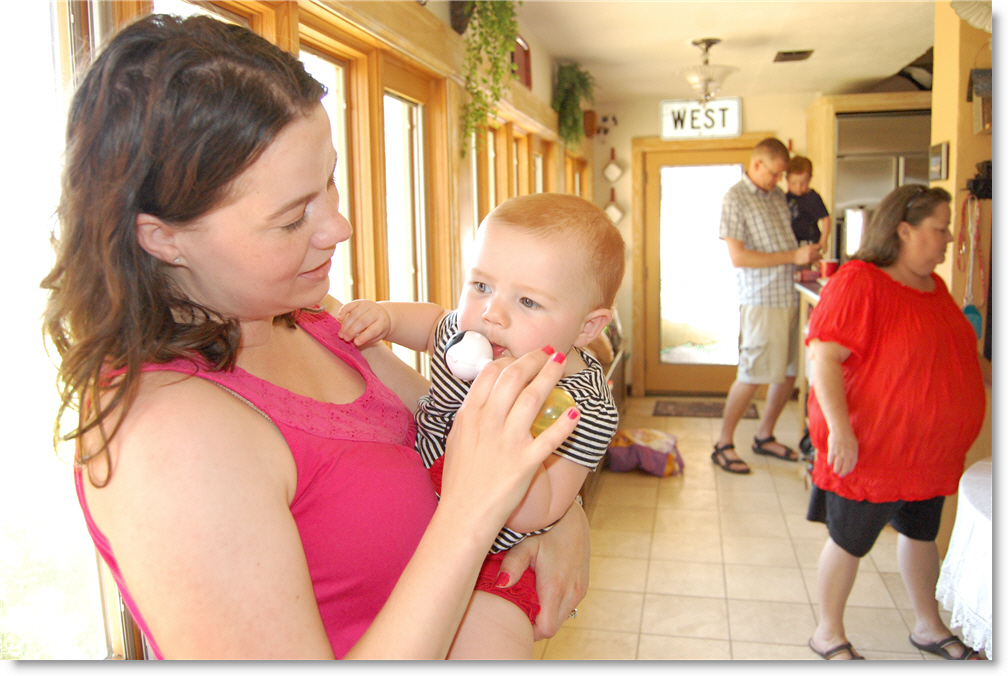 The newest edition is Kaitlyn.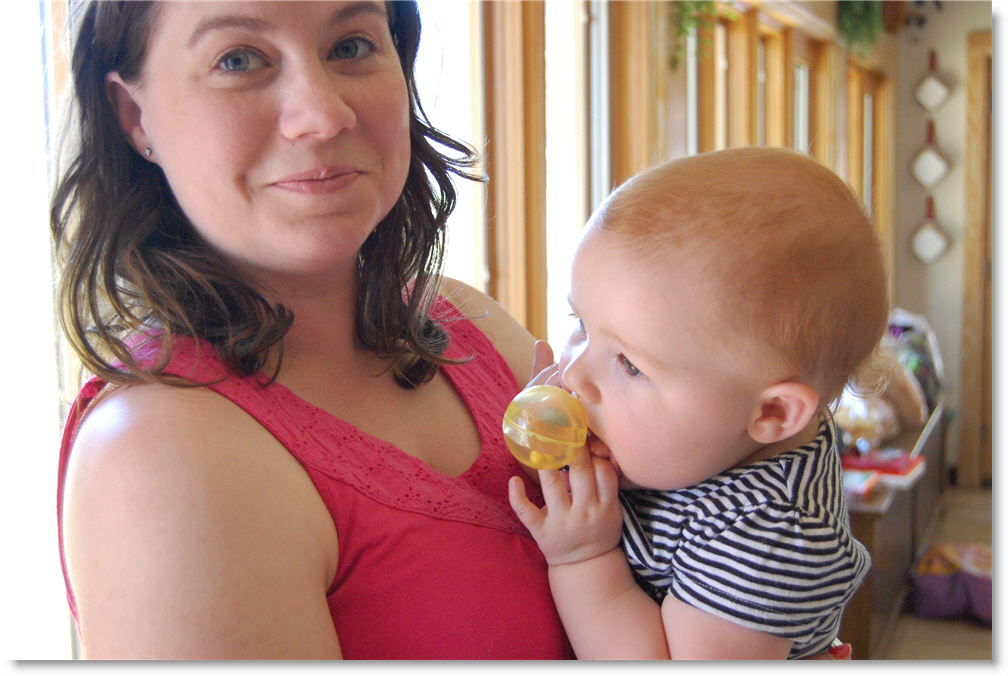 Avery and James on the swing.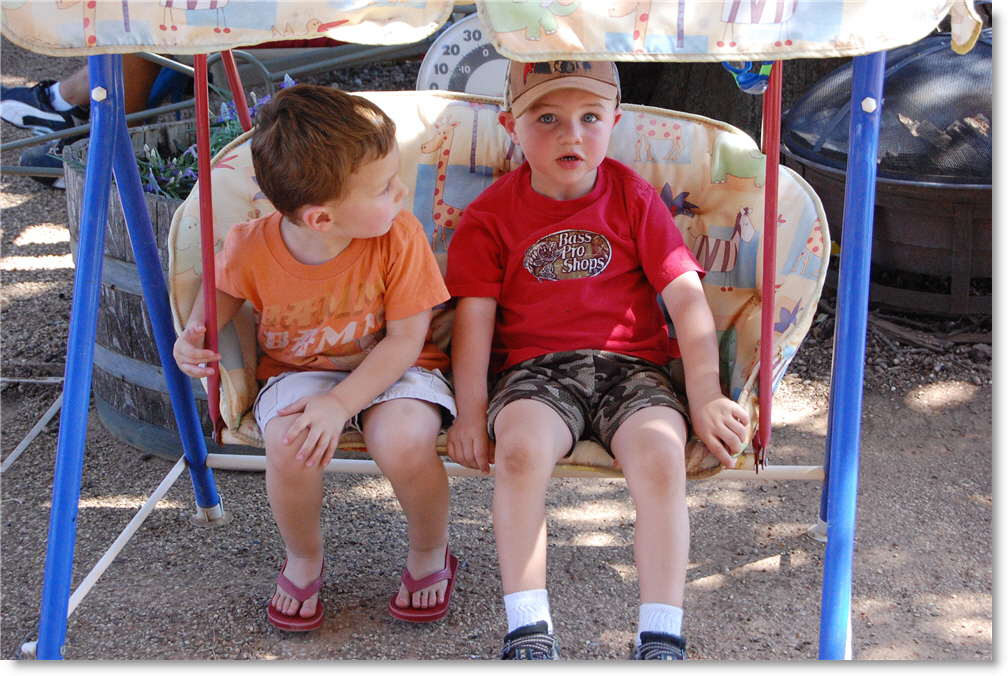 Stanley helps his granddad churn the ice cream. But what he really liked was adding the salt.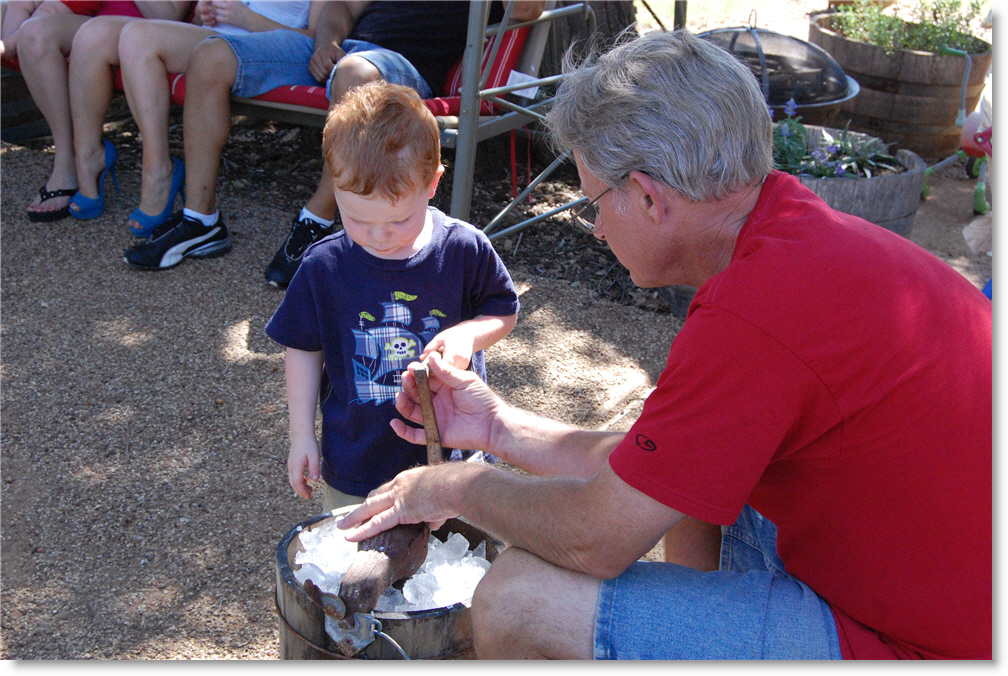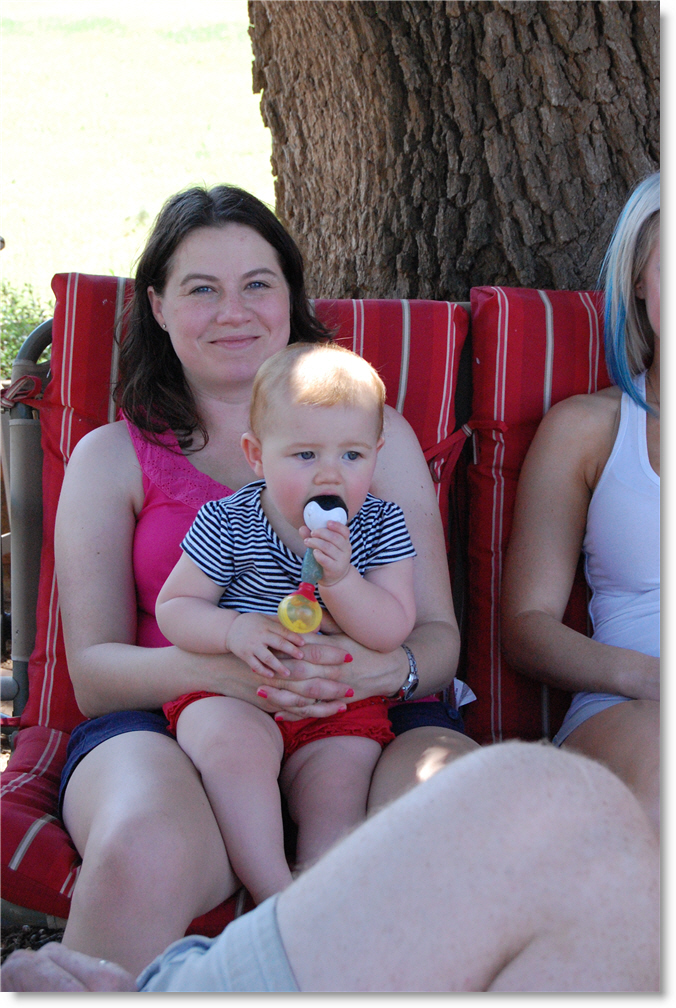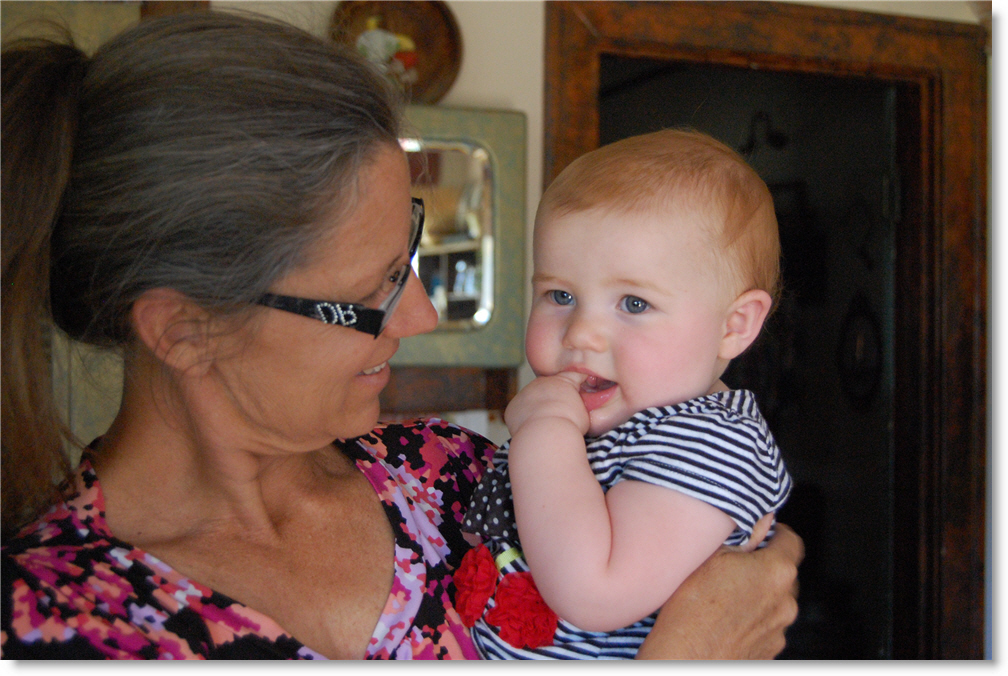 Stockton and cousin Jared.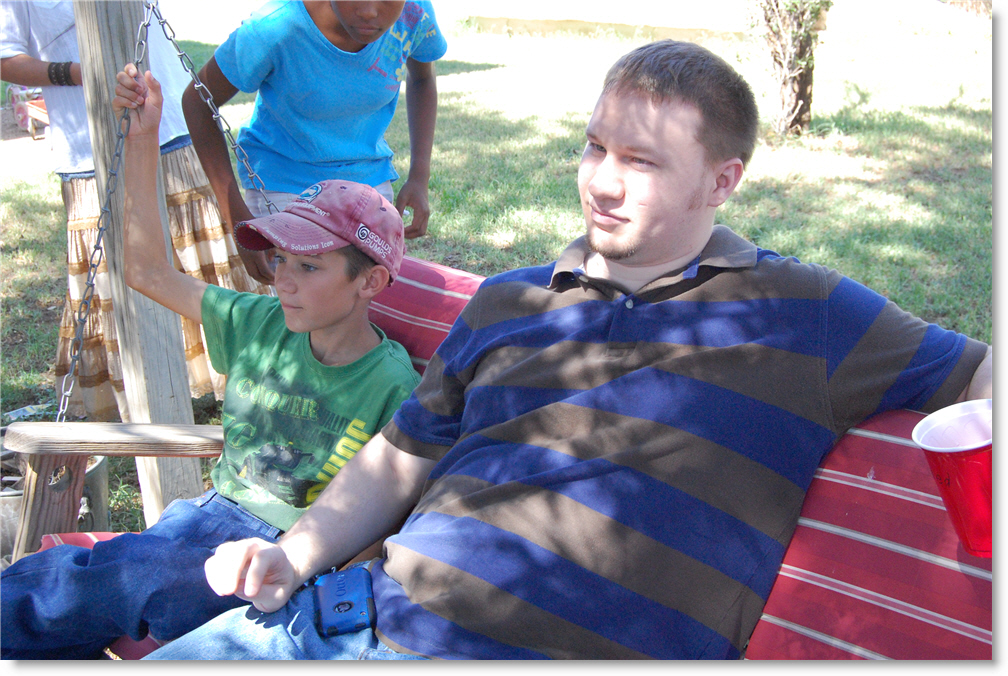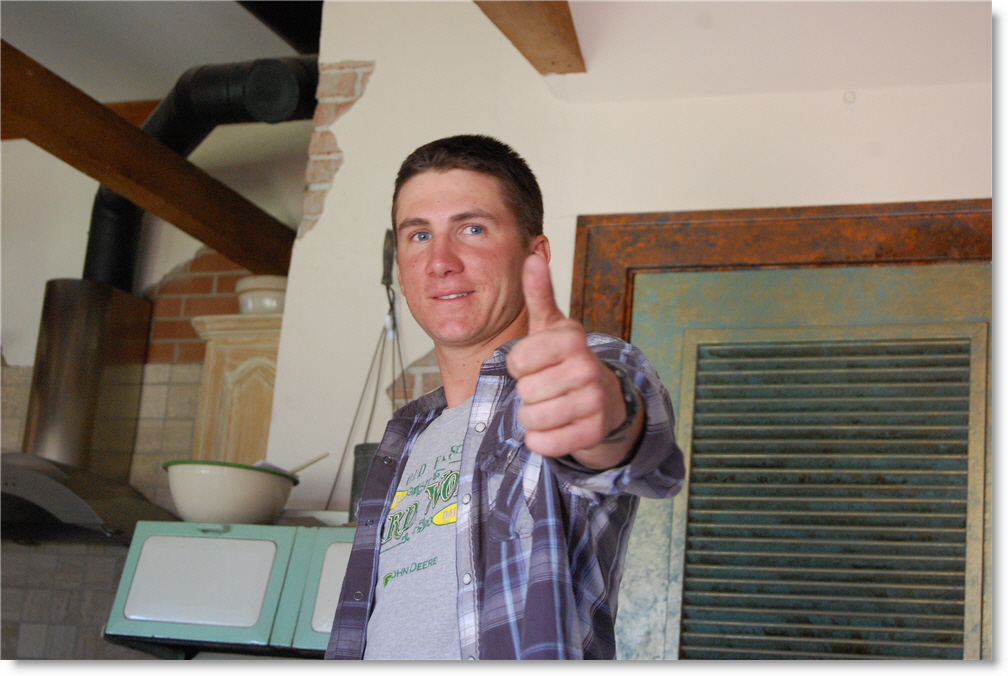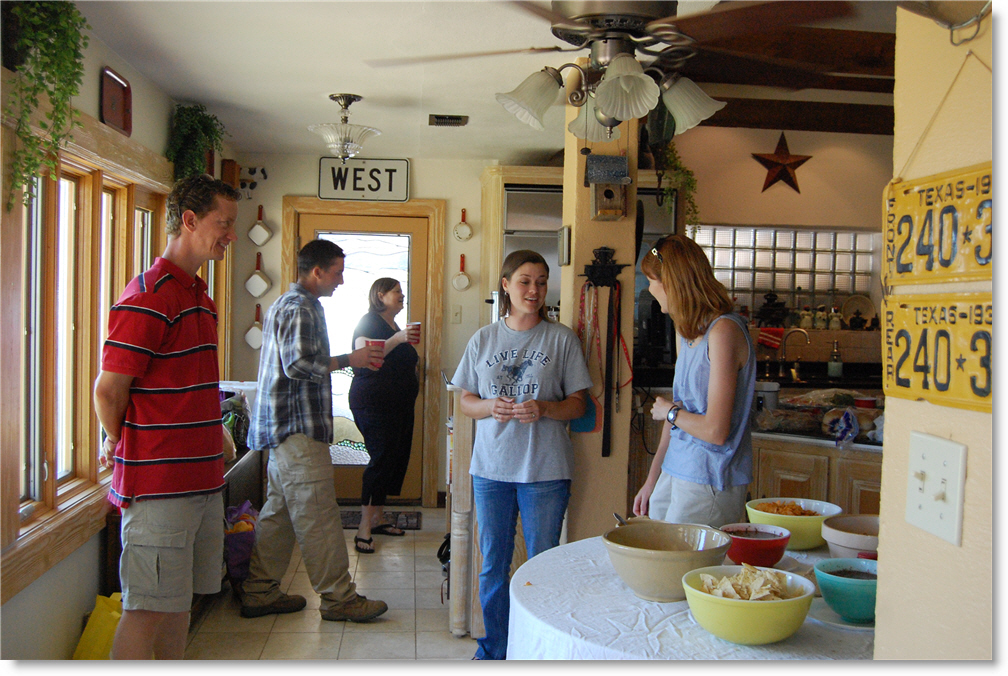 Eugene and Aaric.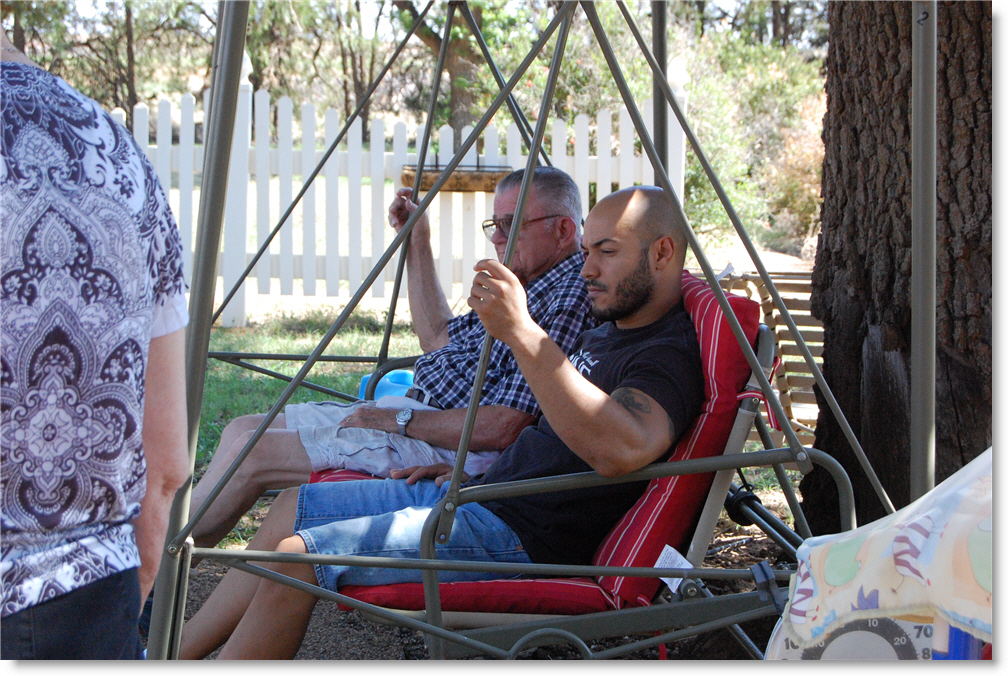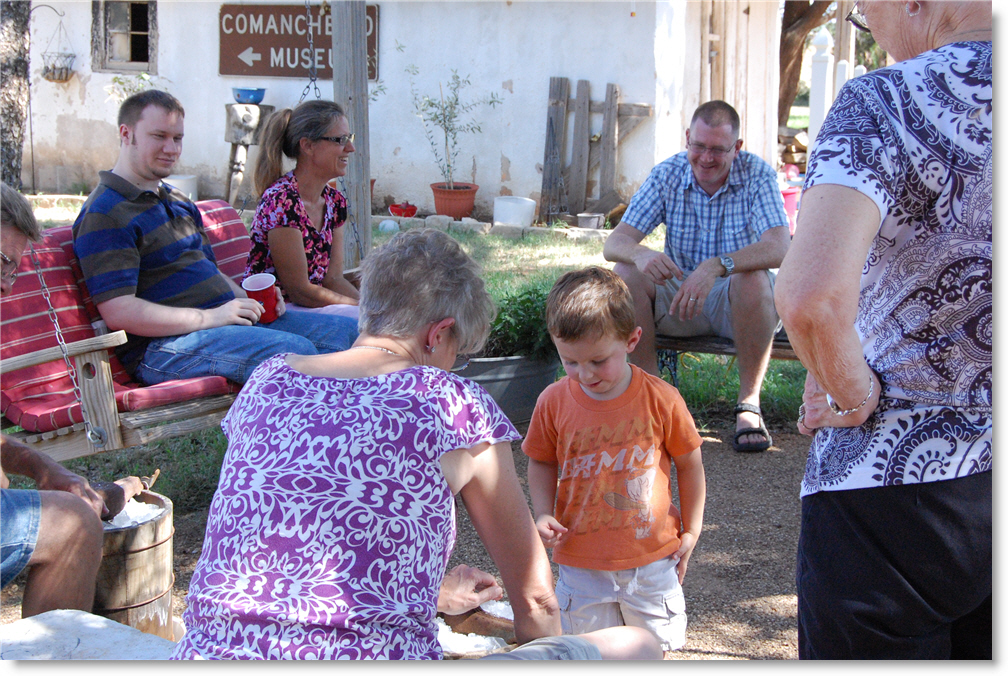 Clara Vee and Carolina.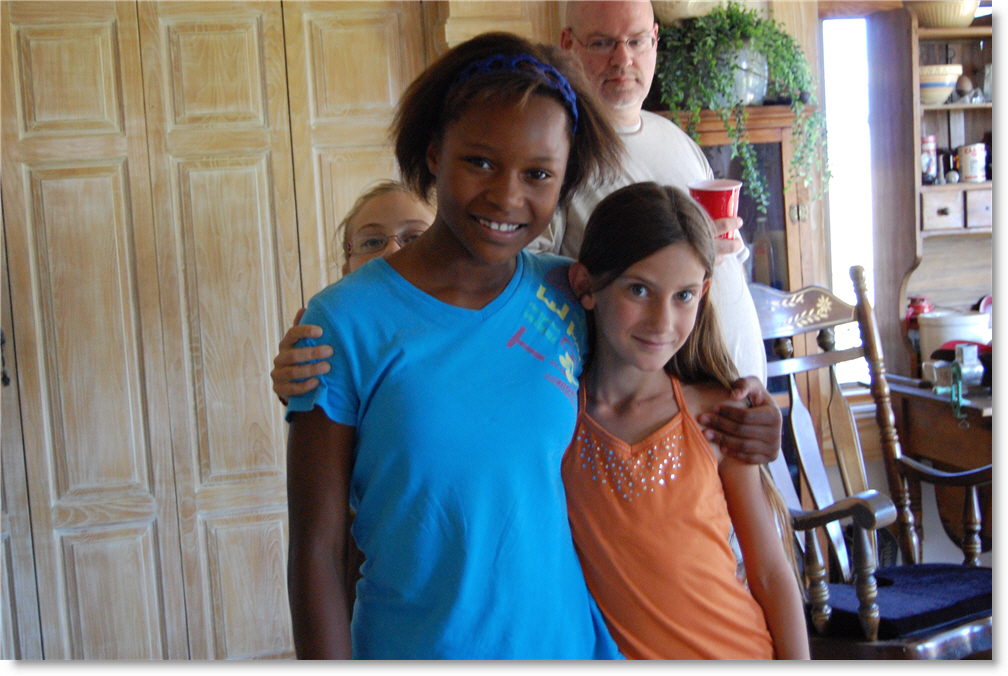 Macy's smile.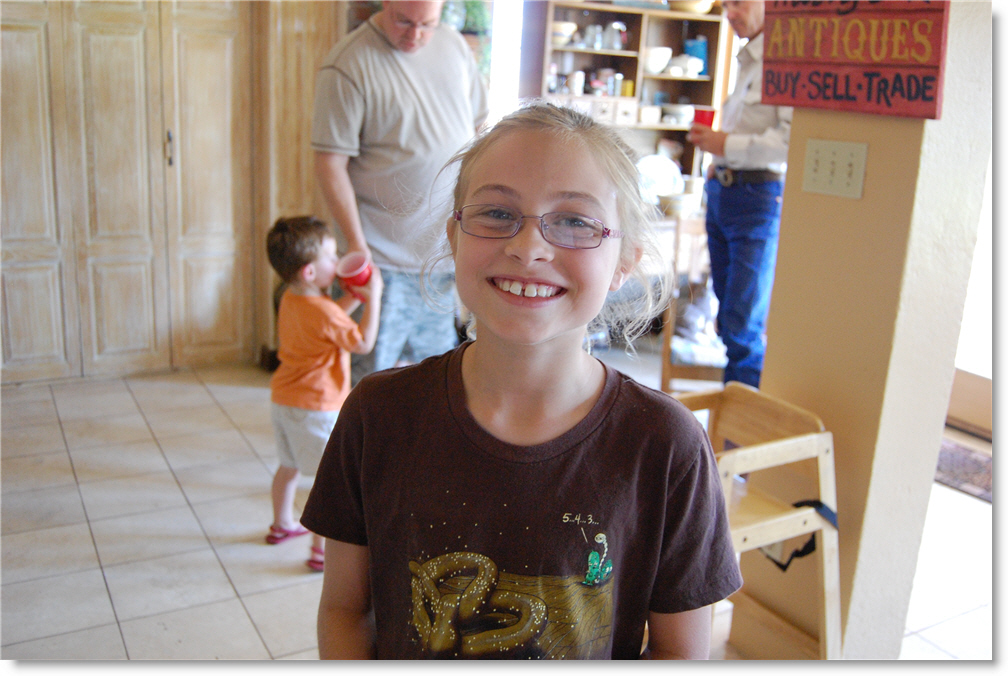 Carly smiling big.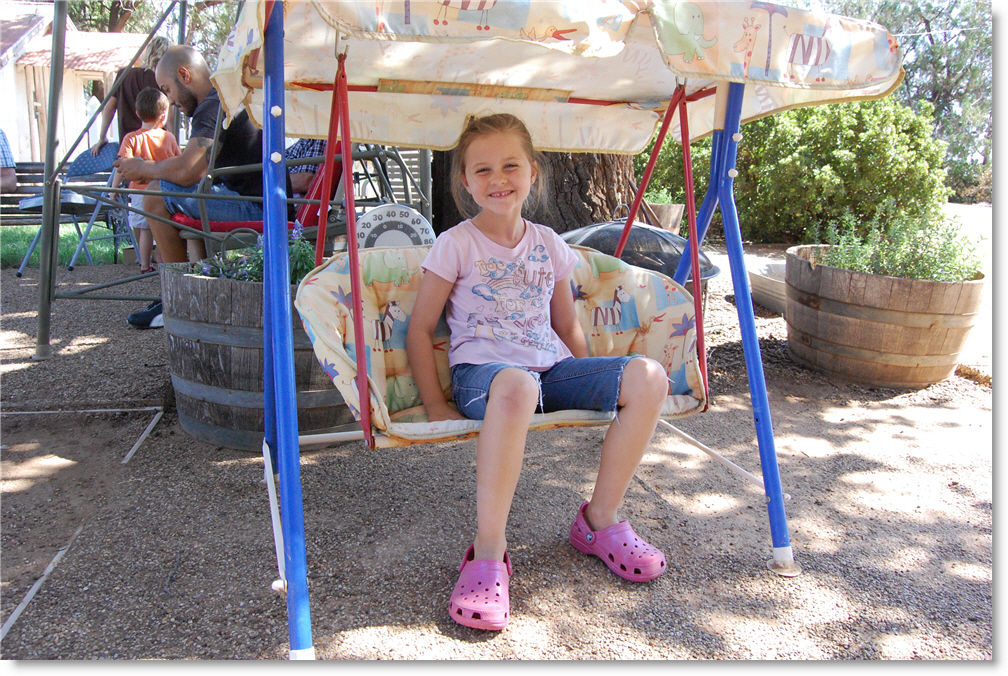 Hannah banana.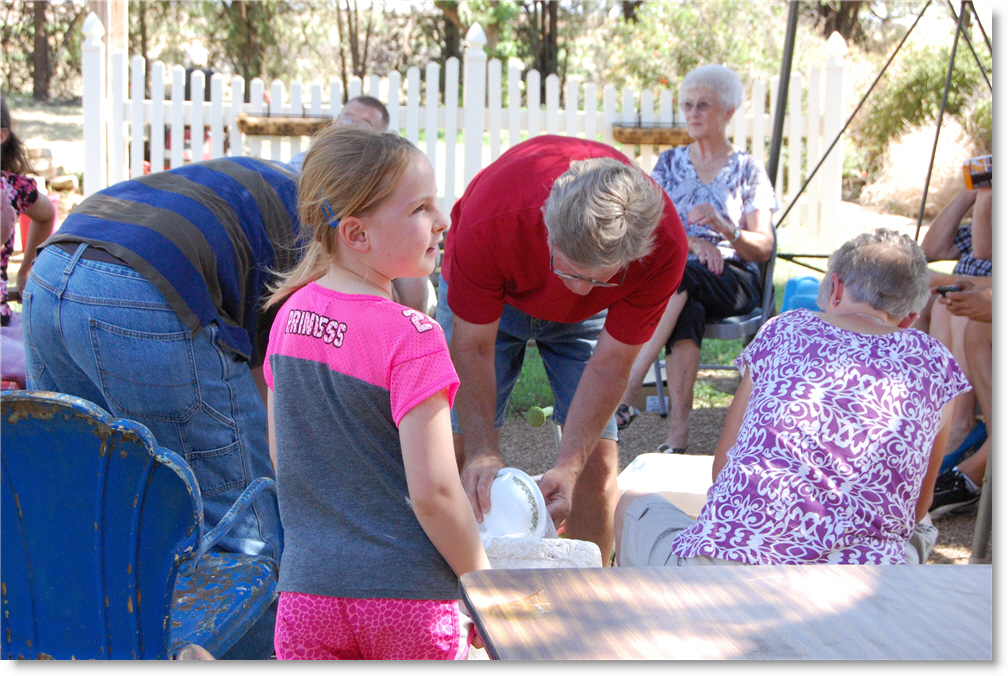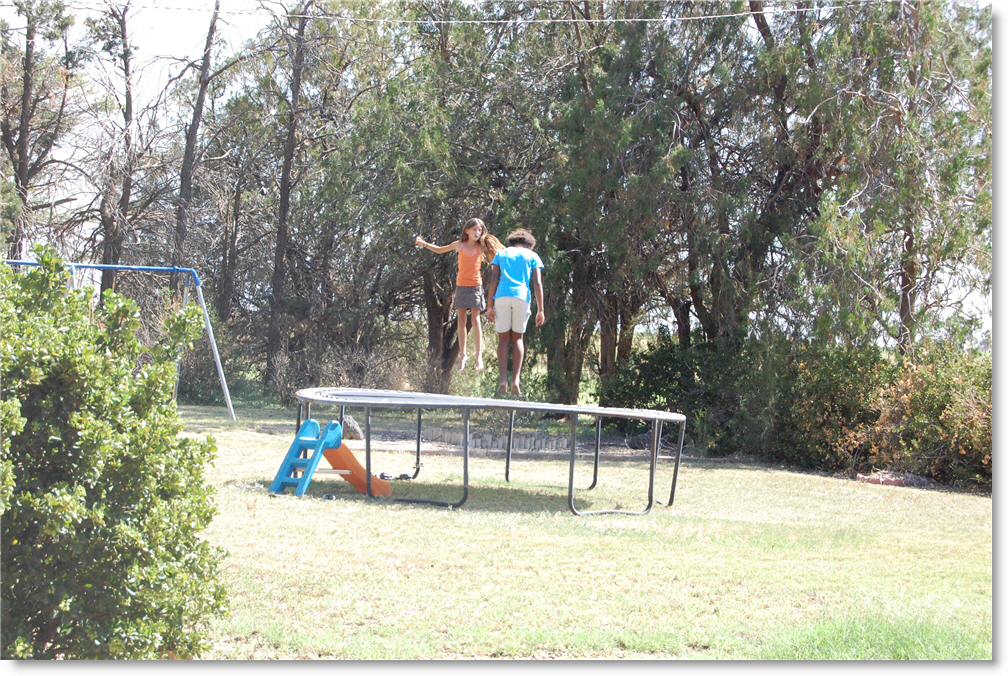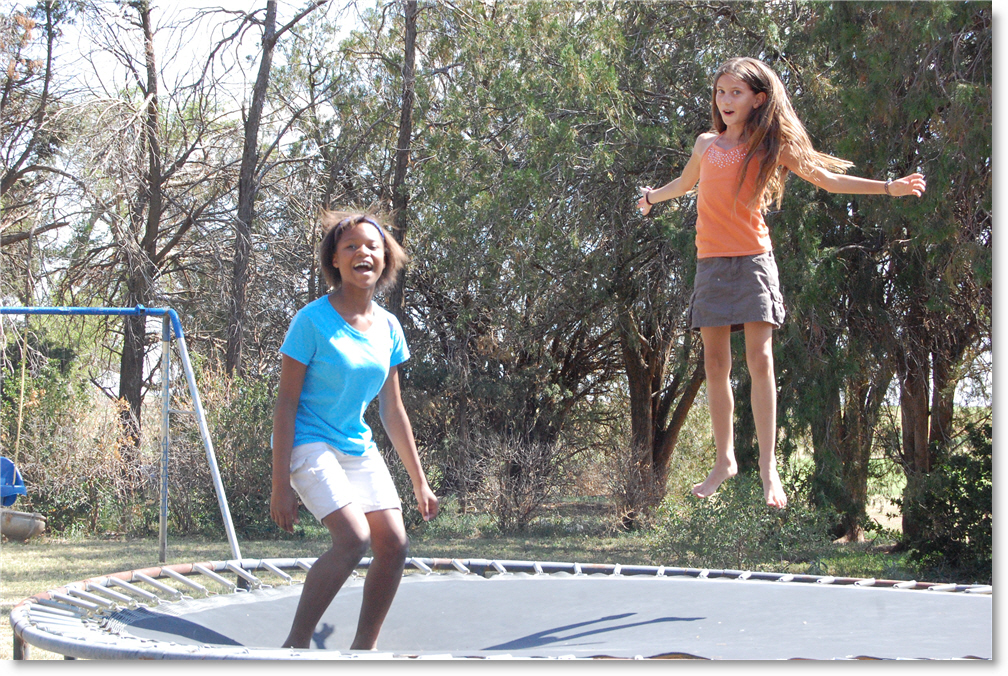 Misty's outdone herself again. Everything looks so yummy.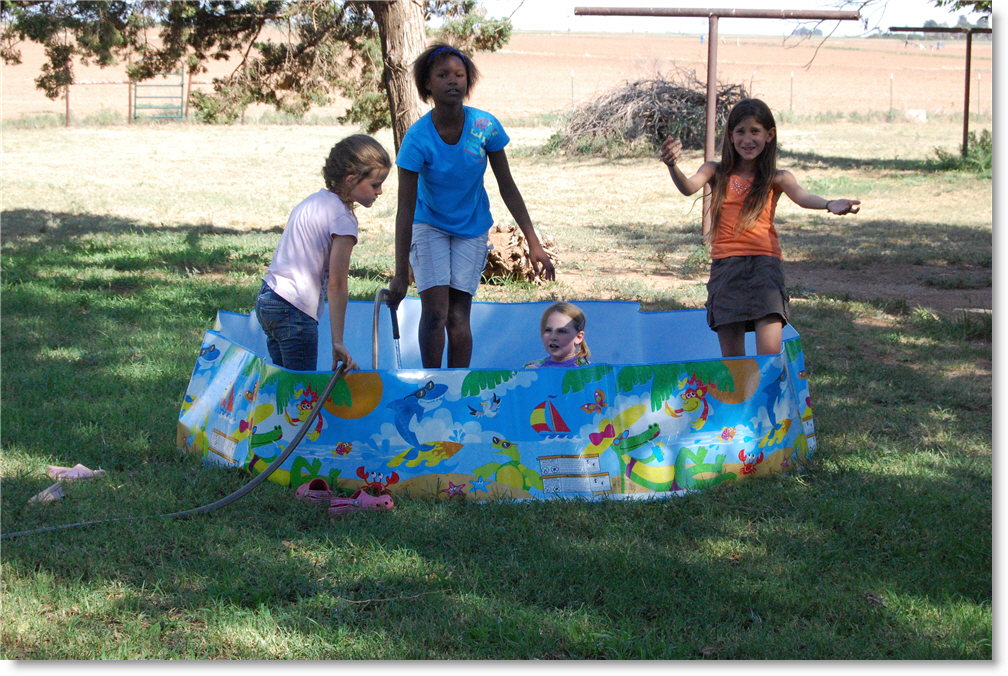 Great aunt Teresa and great grandma, Mona, are getting some special love from Kaitlyn.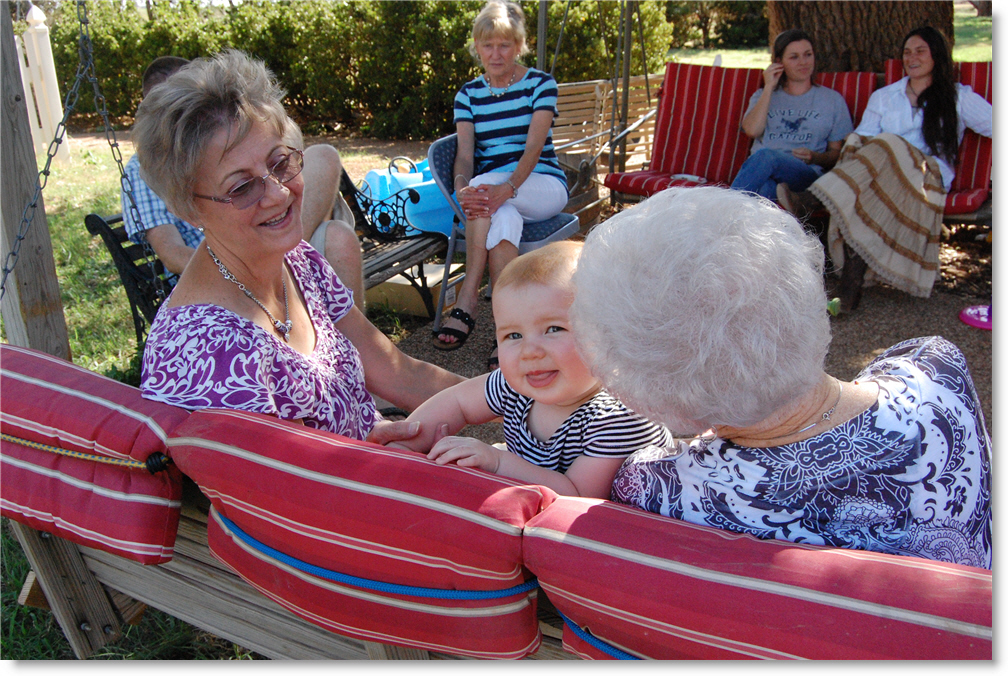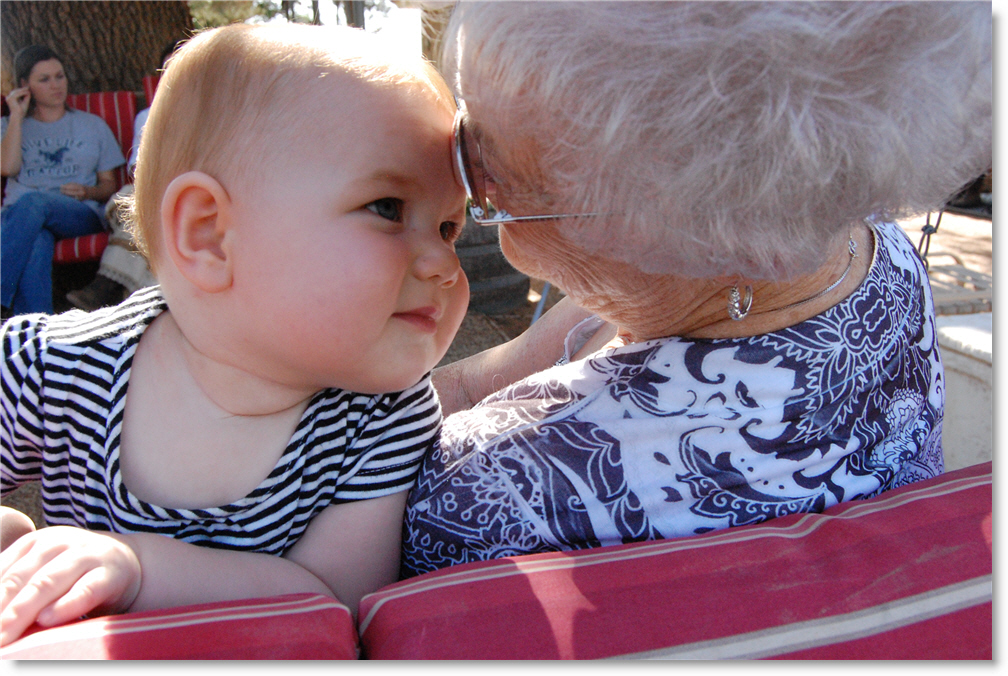 Great granddad sits nearby.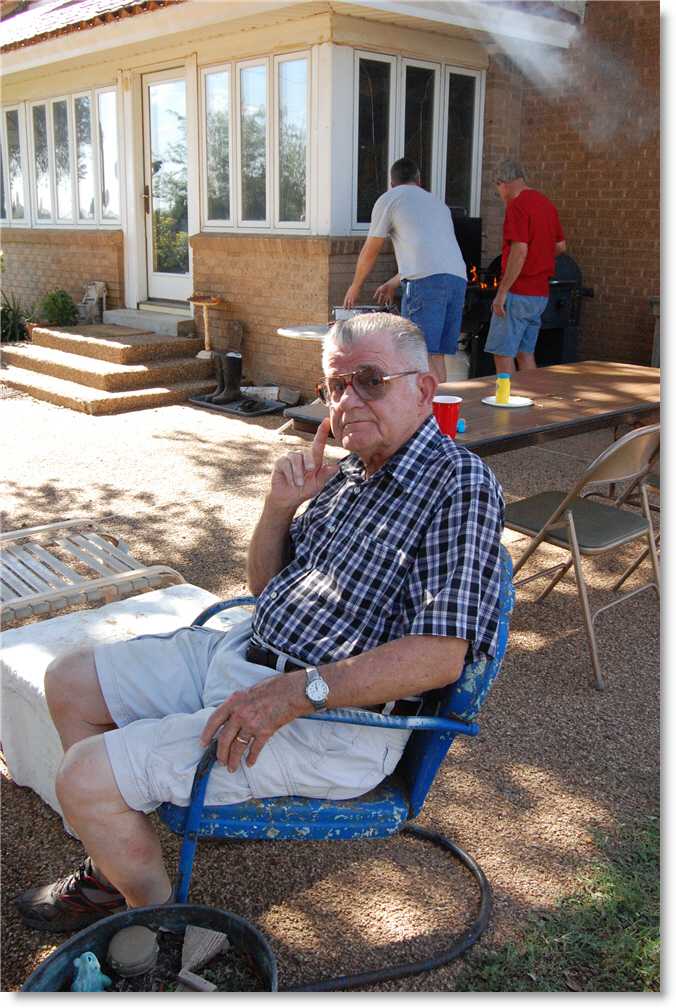 Colby and Aspen catch up.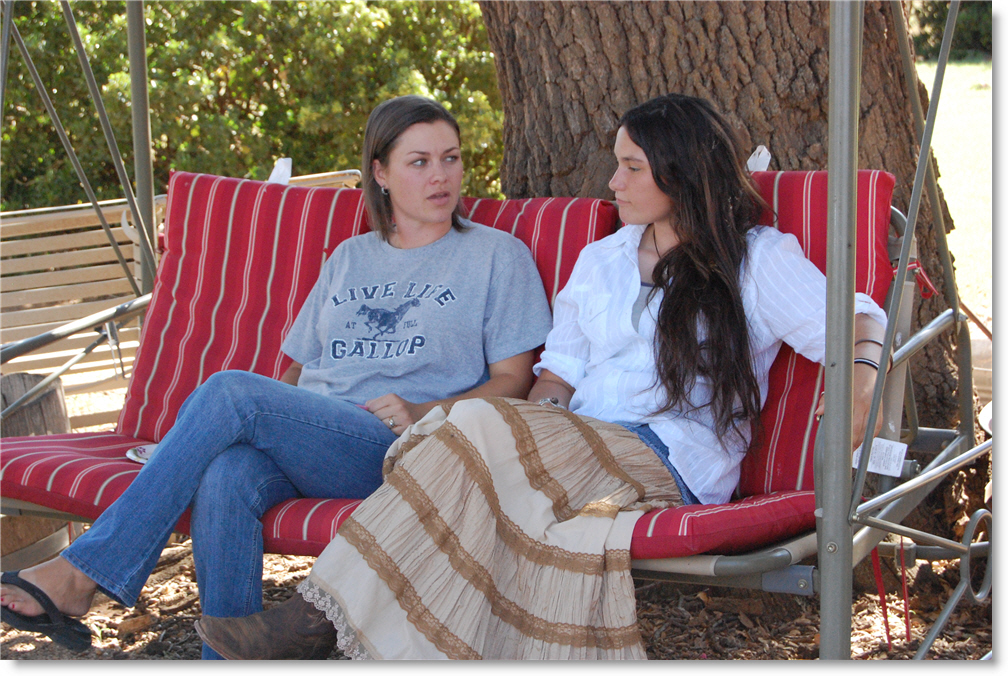 Watch out! Somebody brought water guns.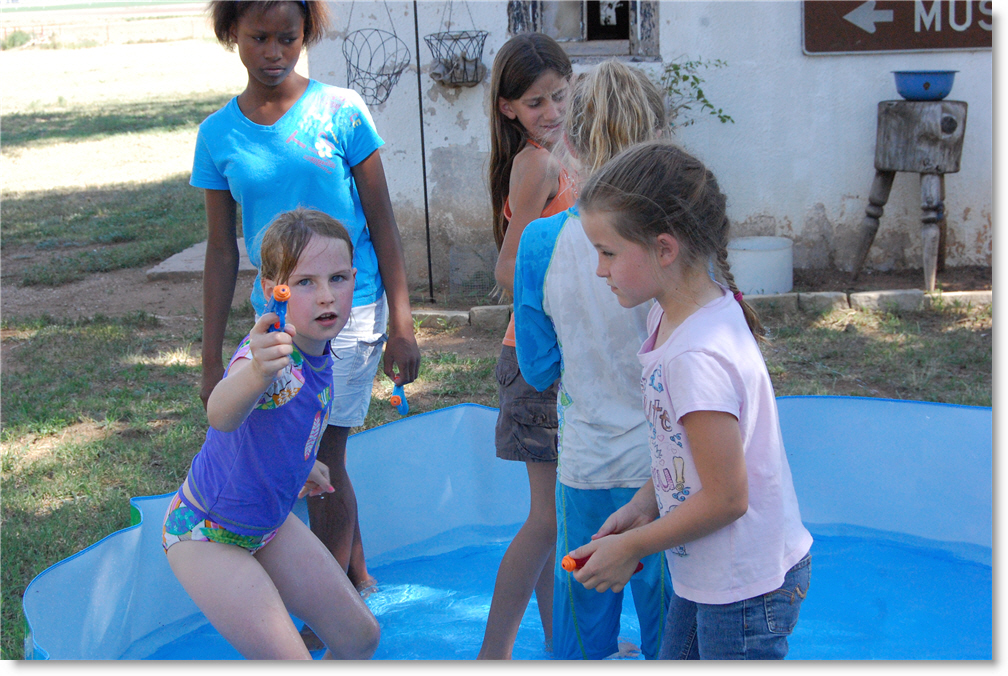 Bob and James enjoyed a great game of chase the frisbee.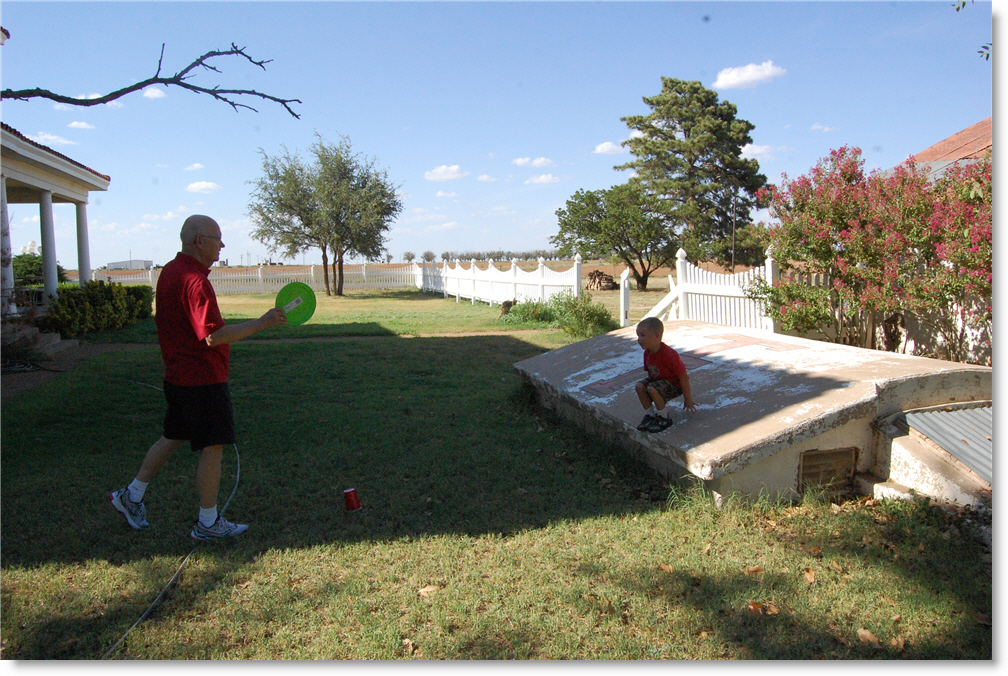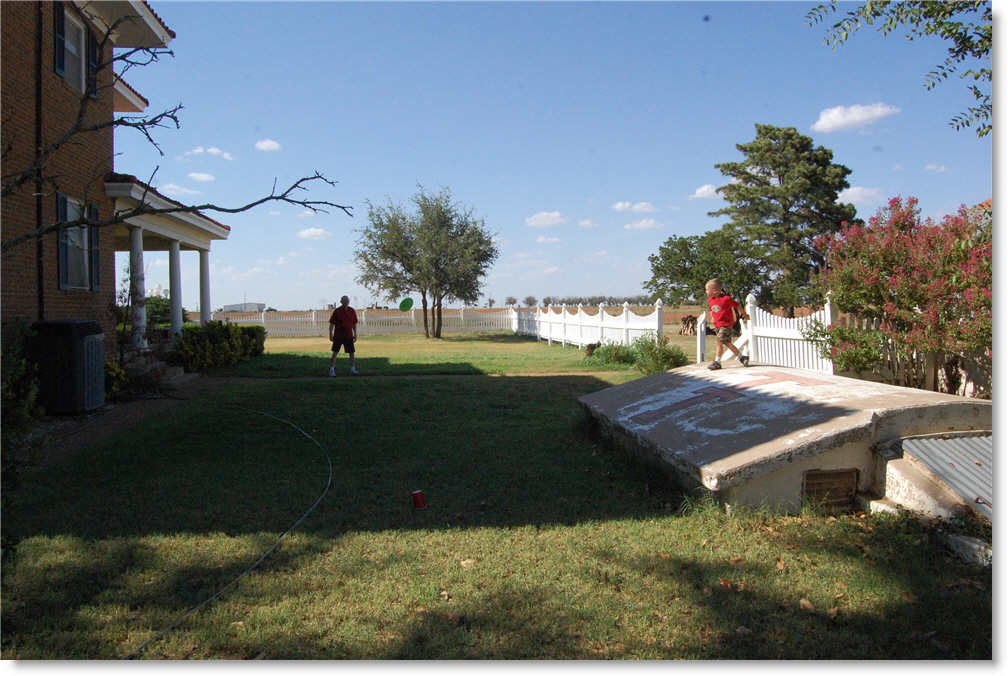 Kevin and Waylon cooked the burgers and hot dogs.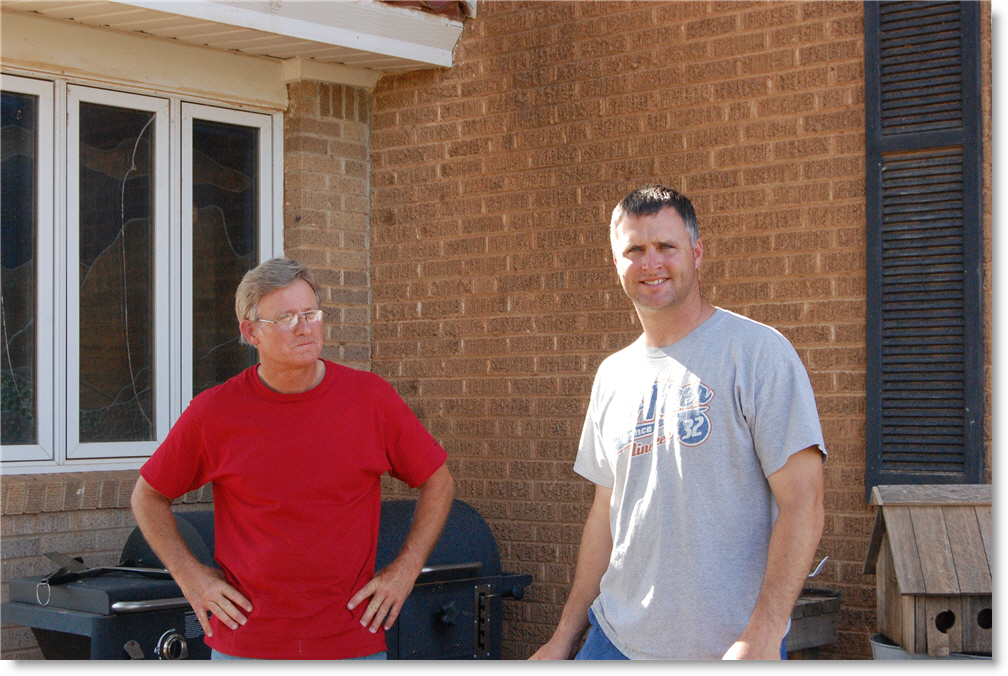 There were a few tears.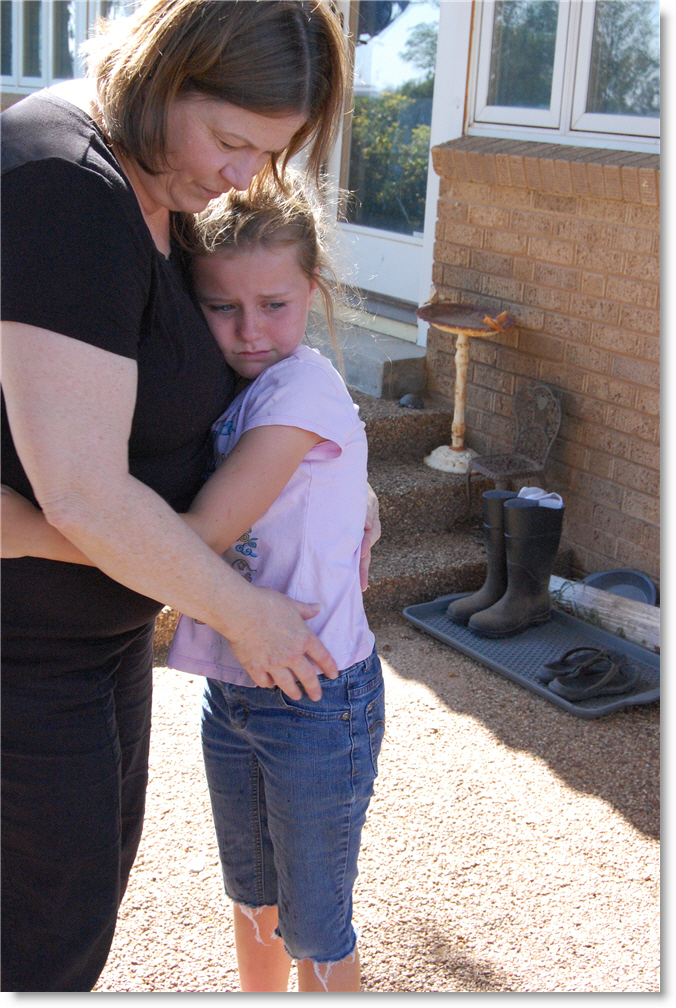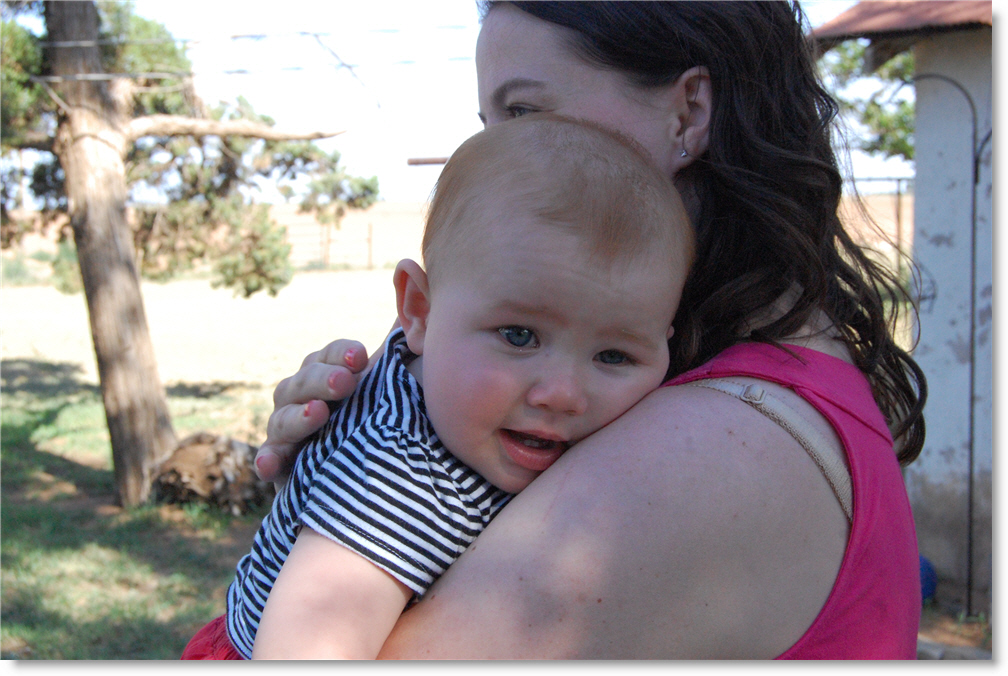 ...and a few tricks.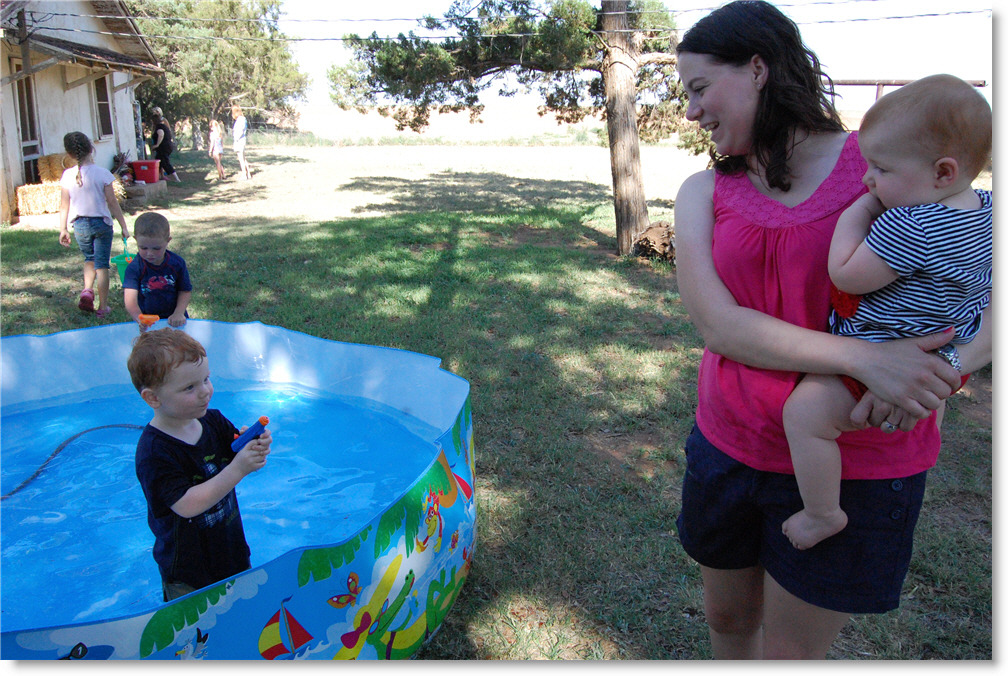 Colby and almost-two-year-old Blaine.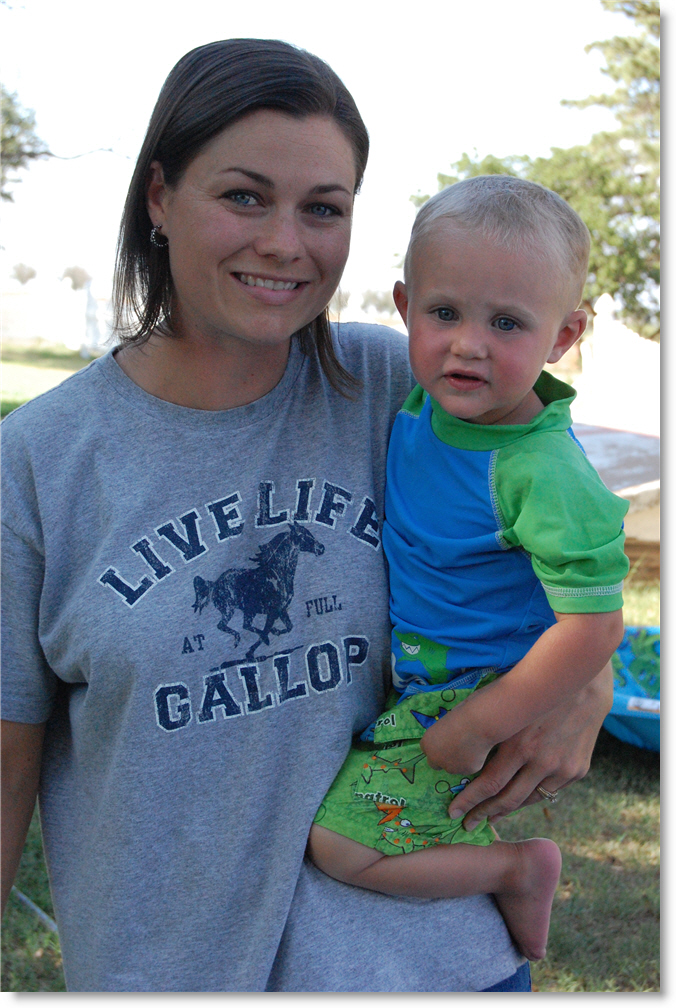 Doug and Kristin.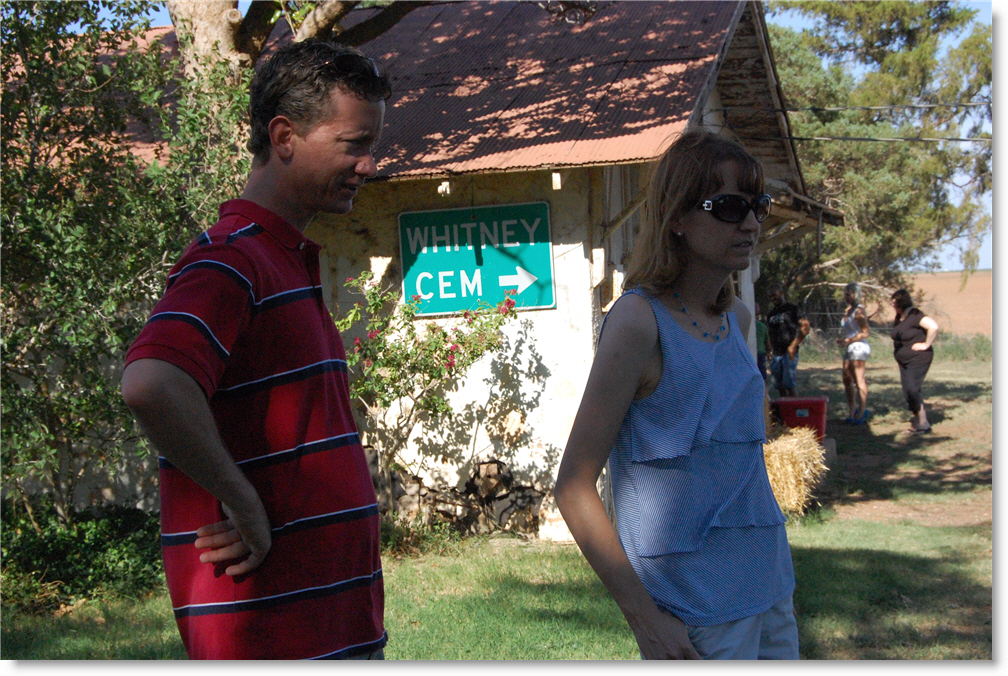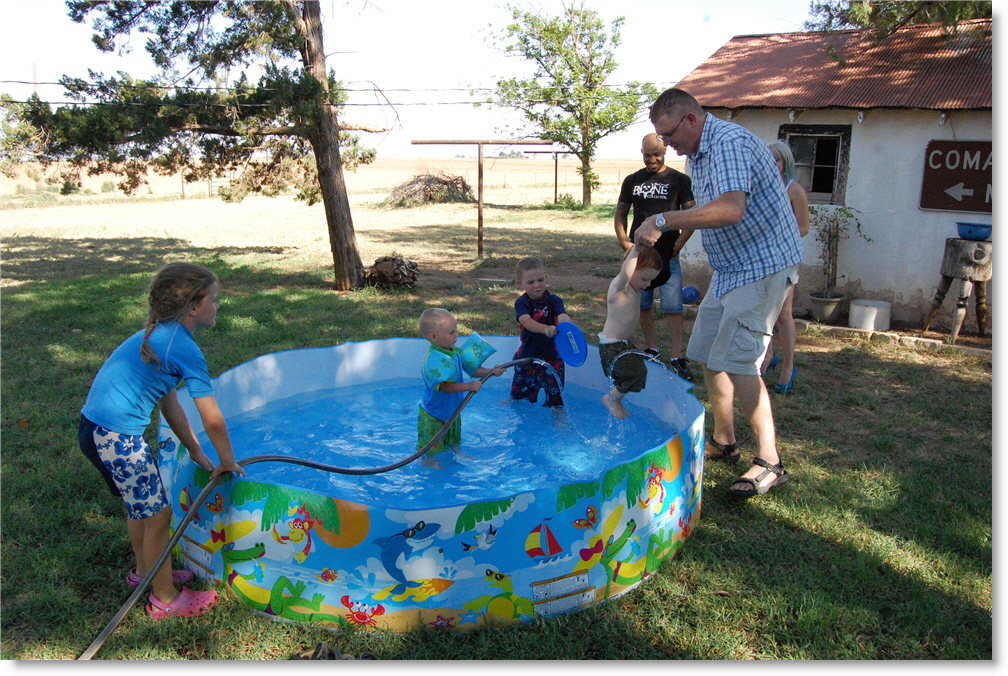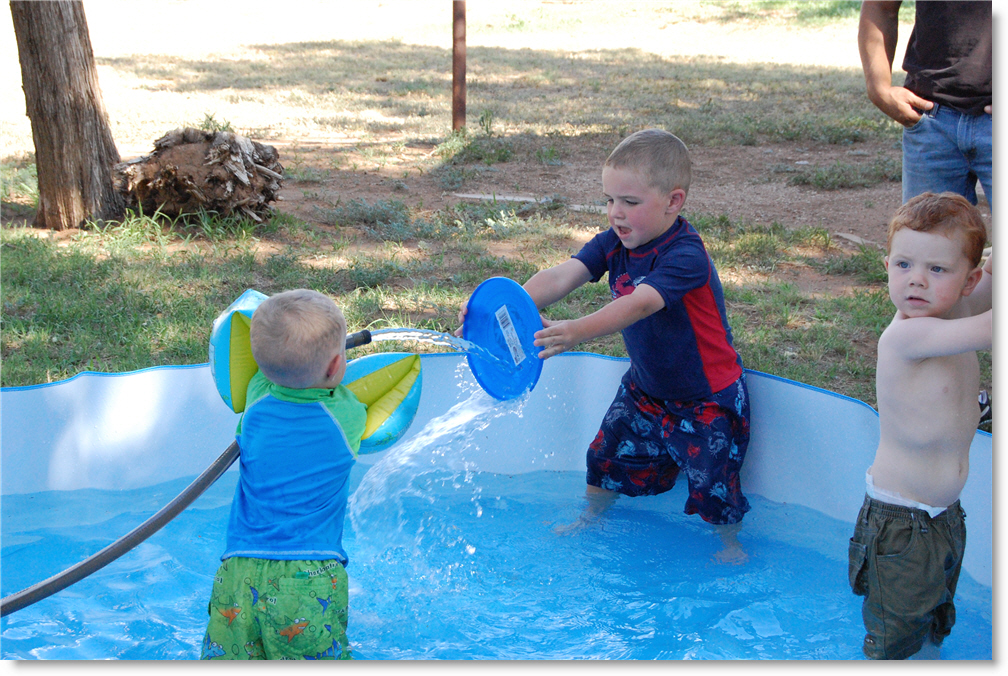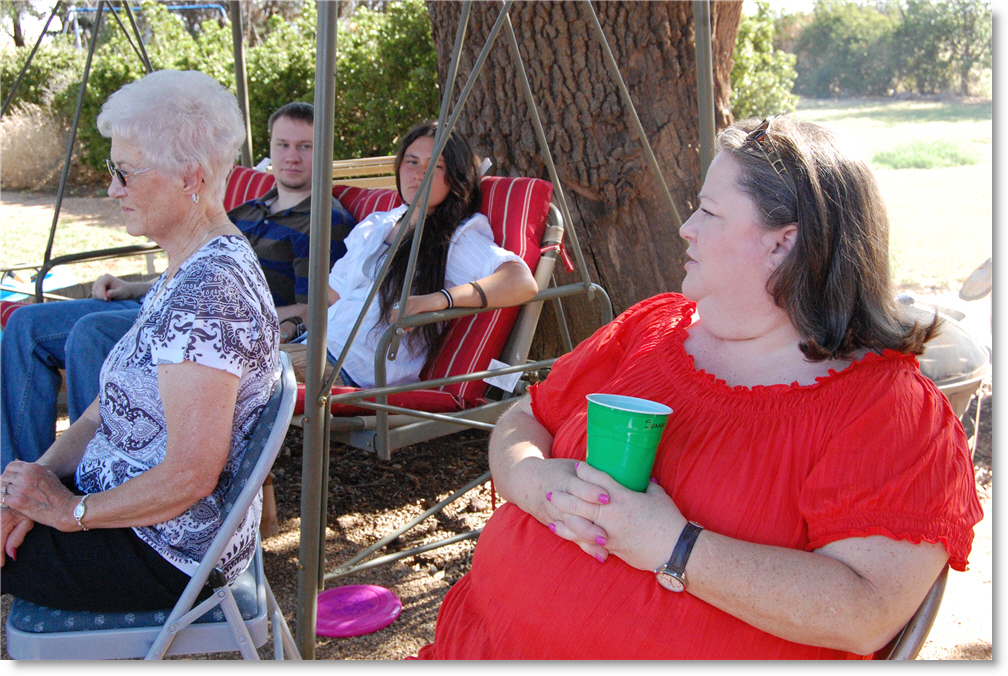 Four generations.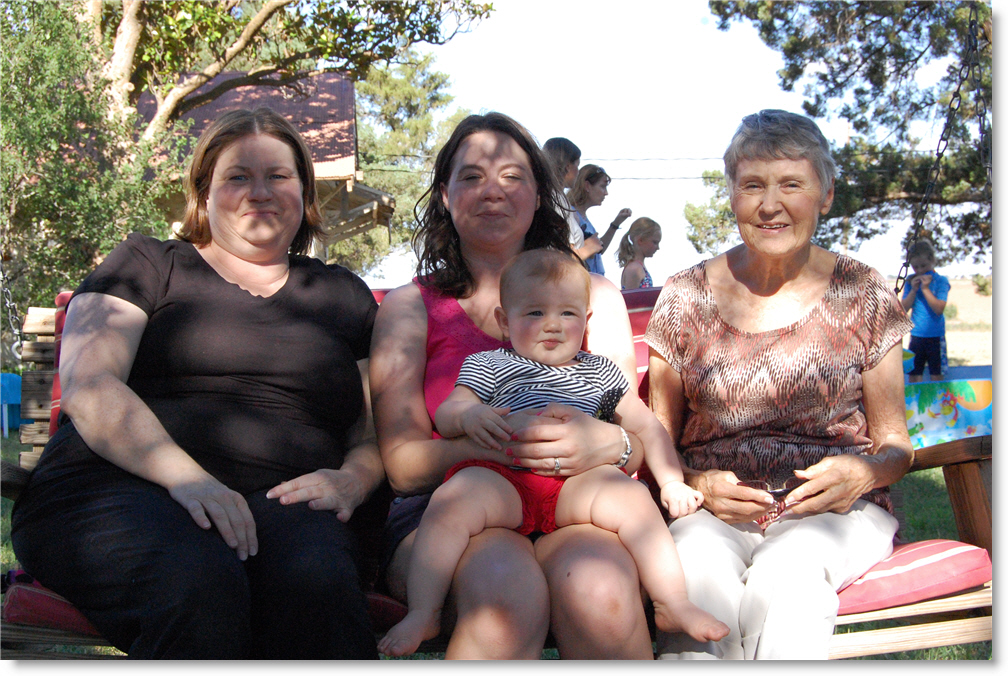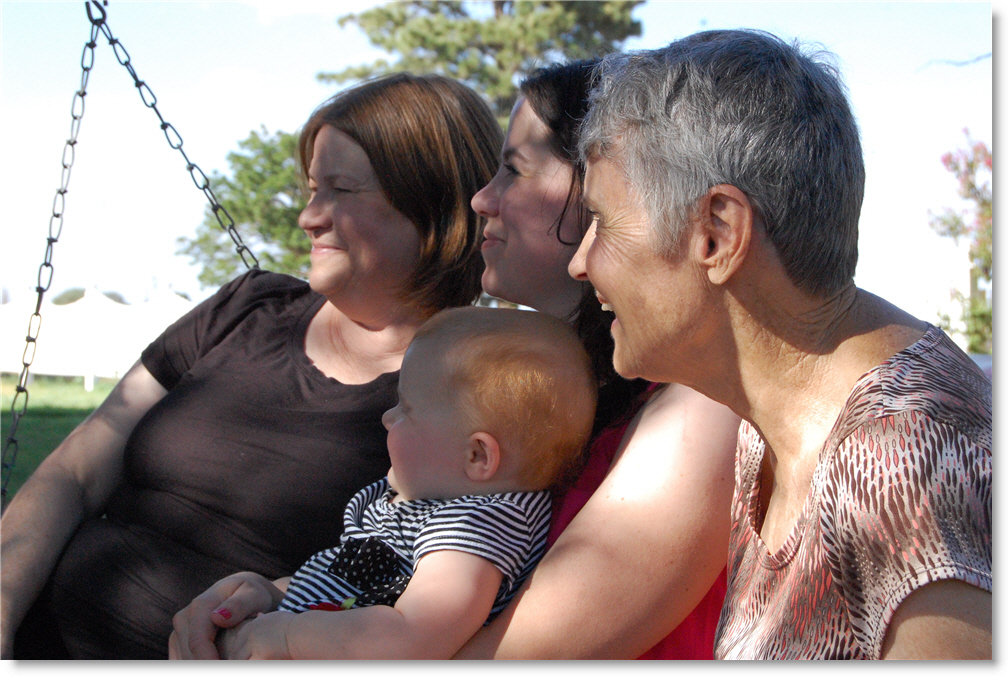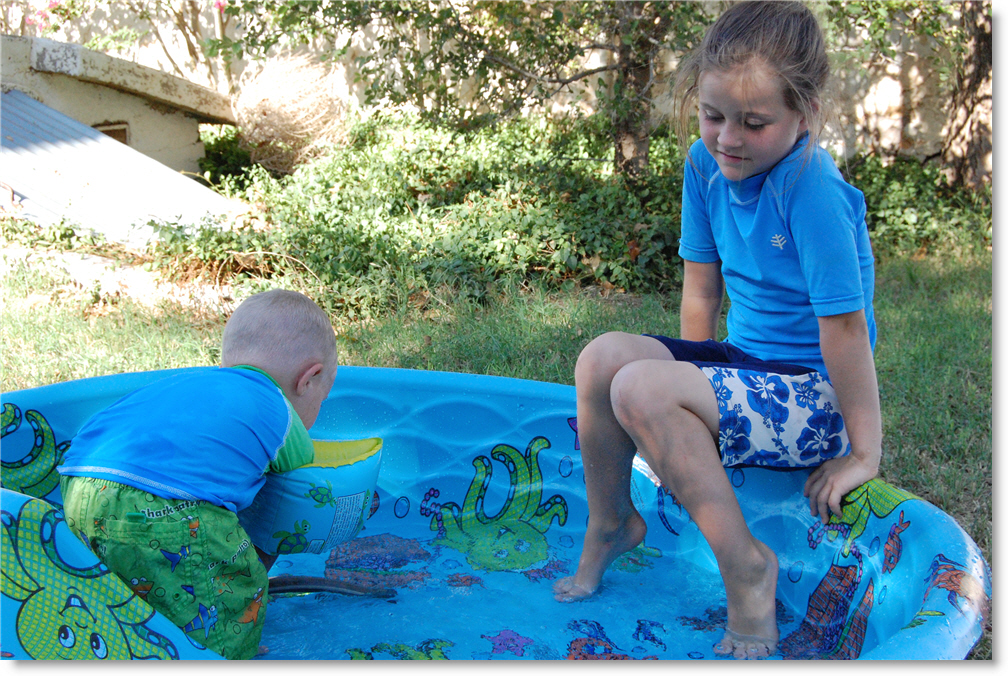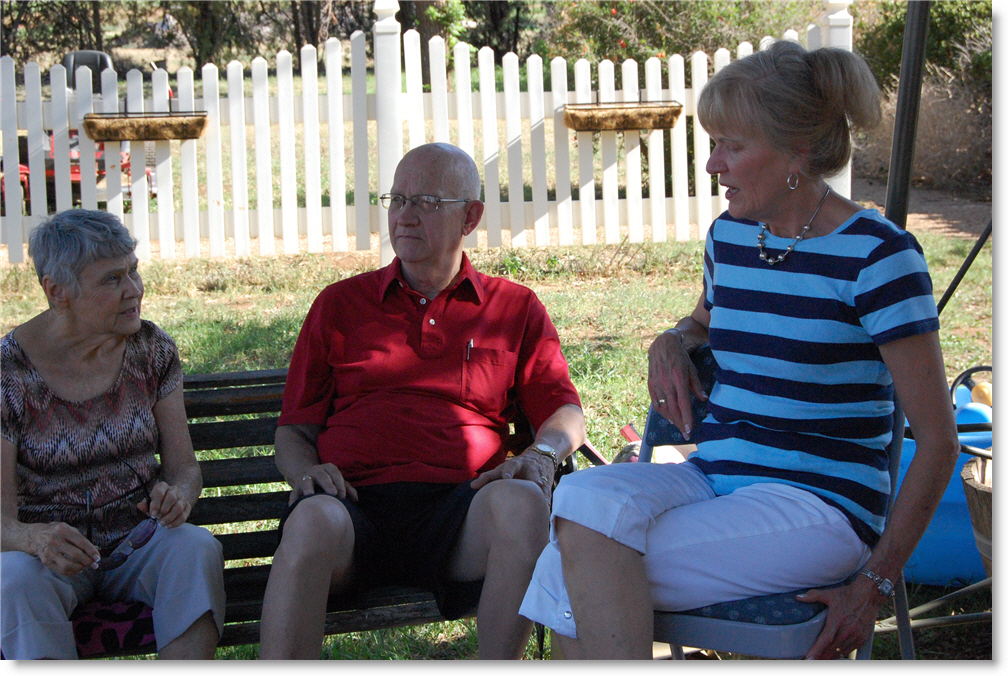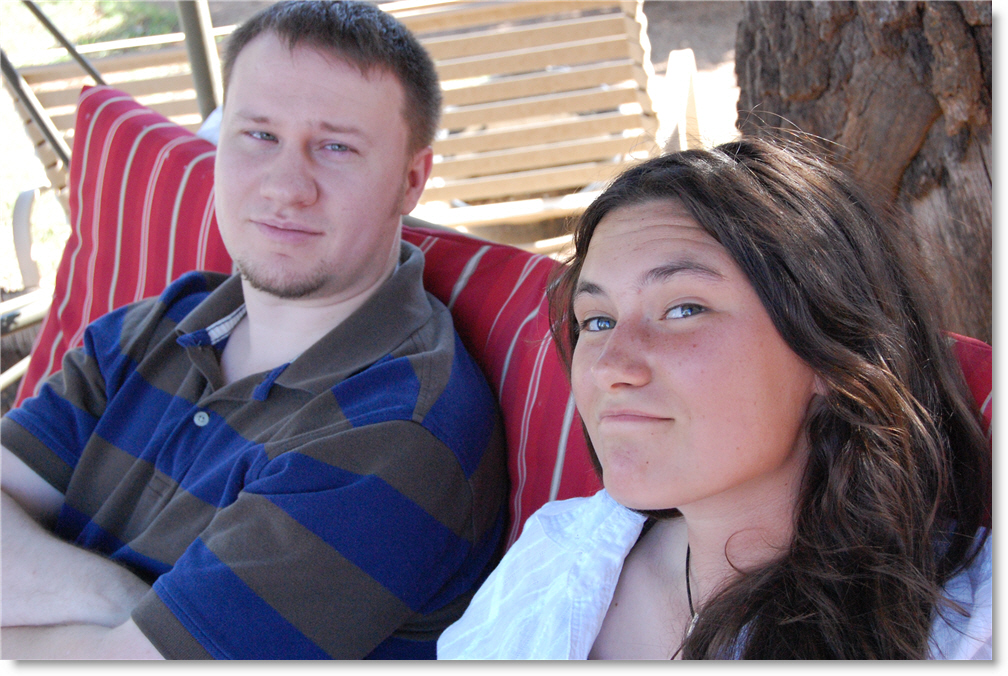 It's finally time to eat.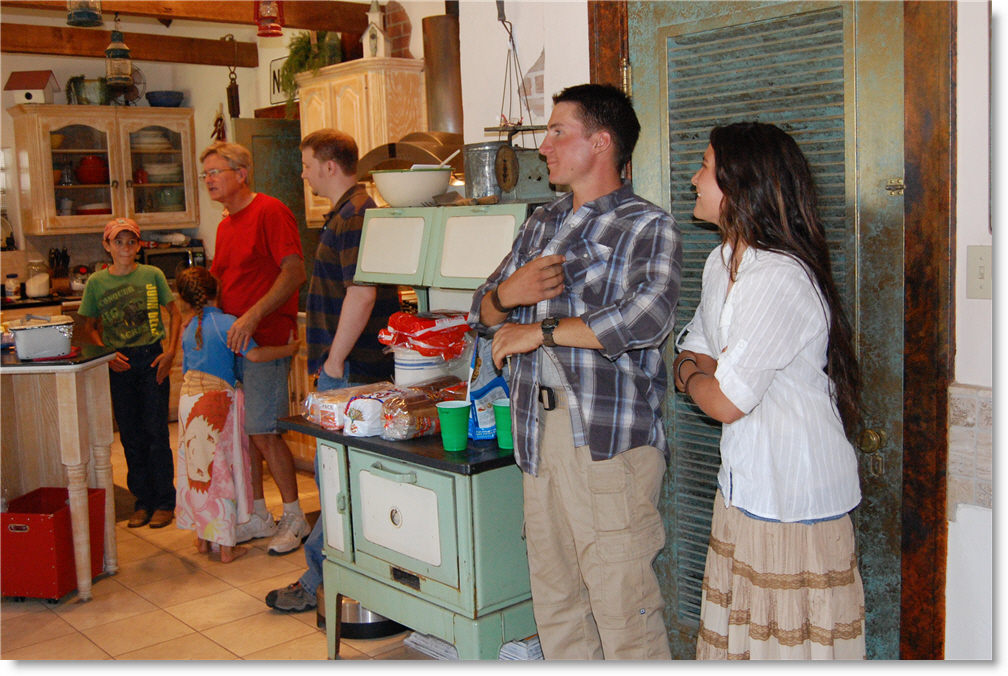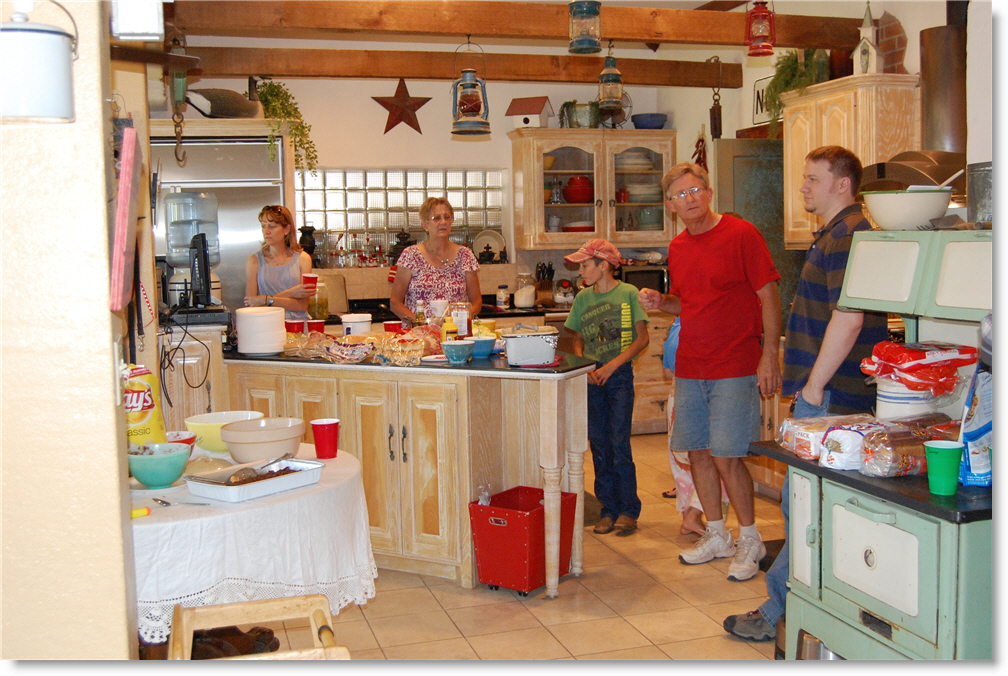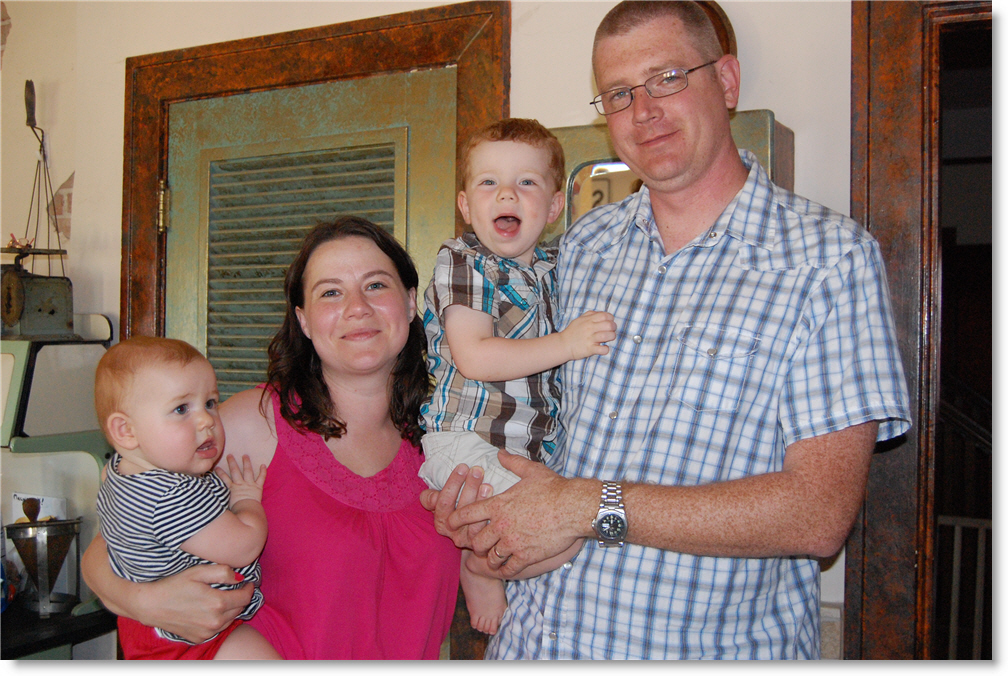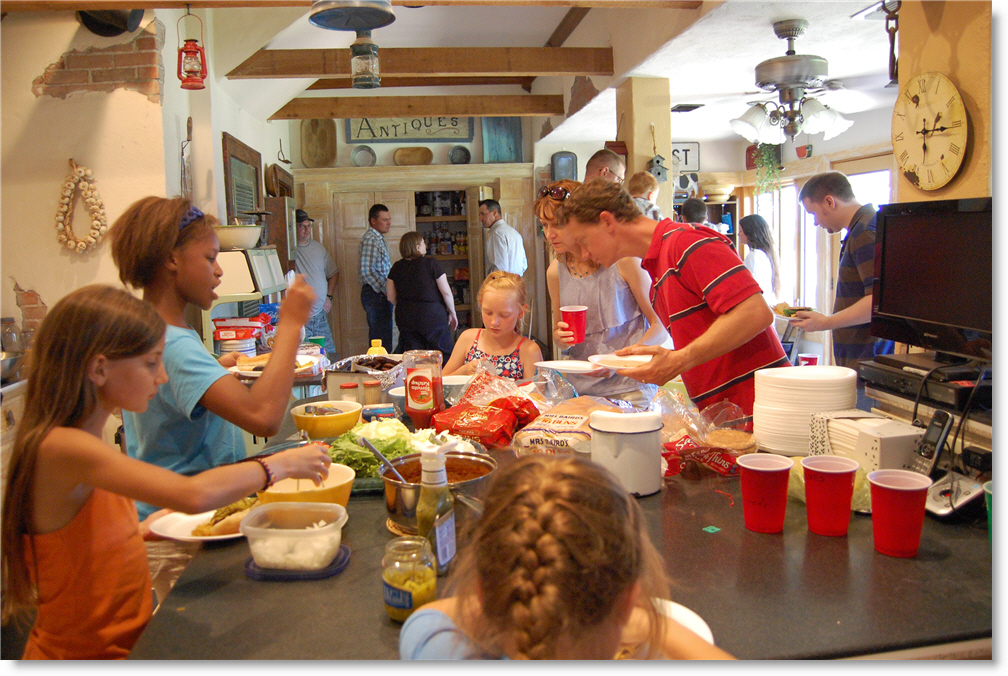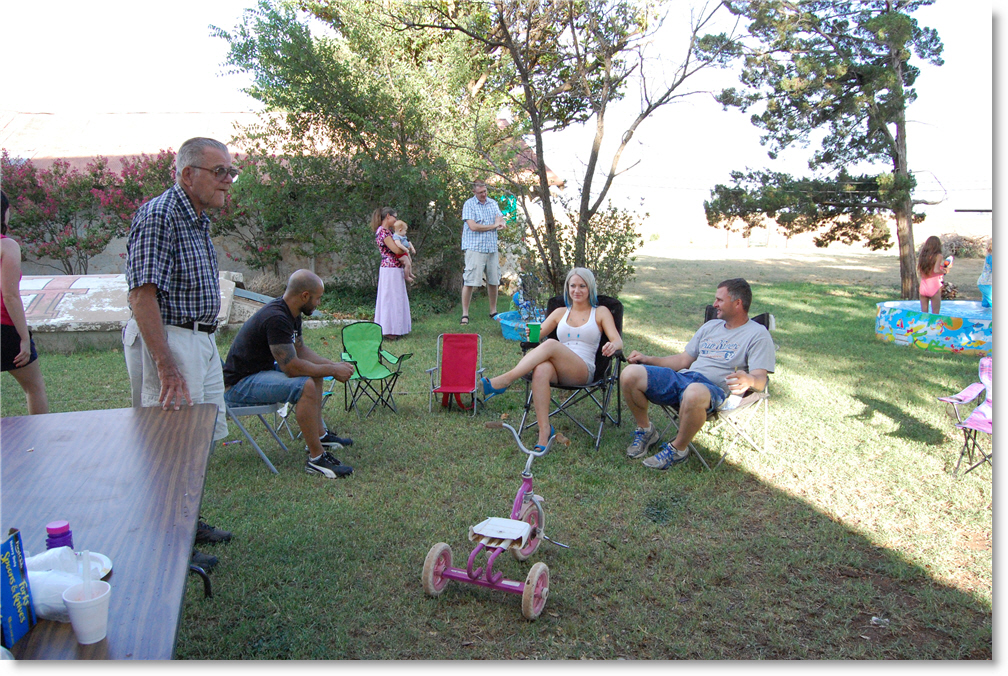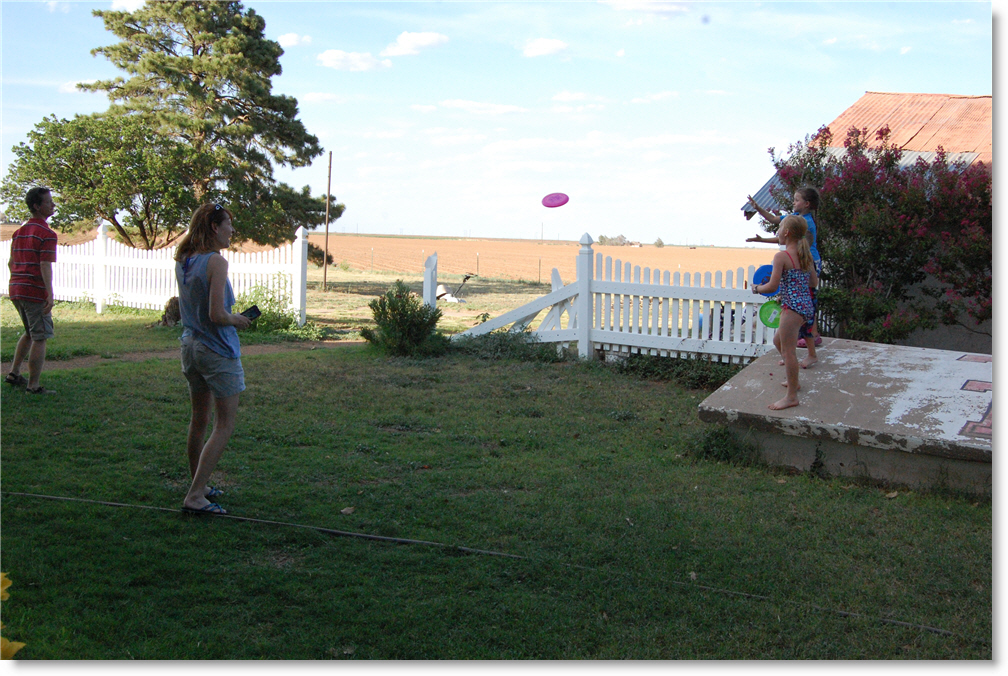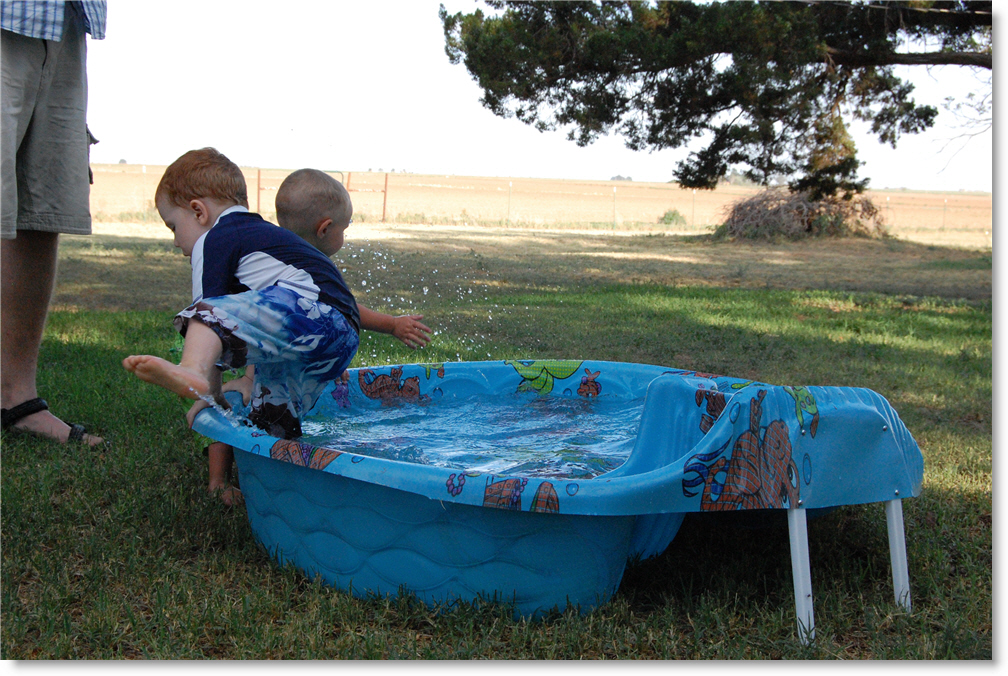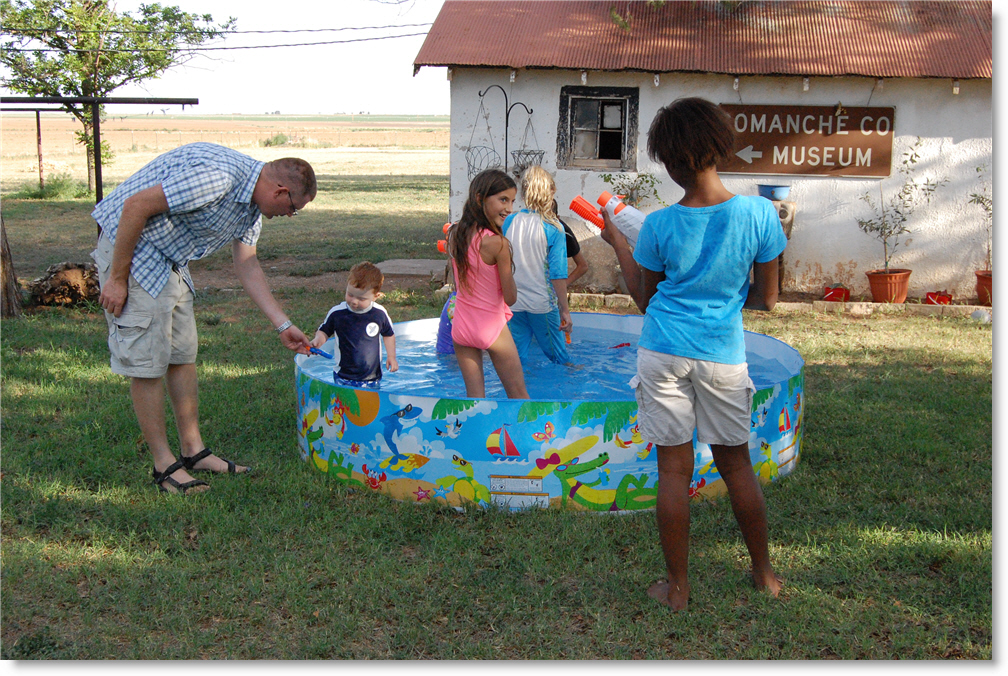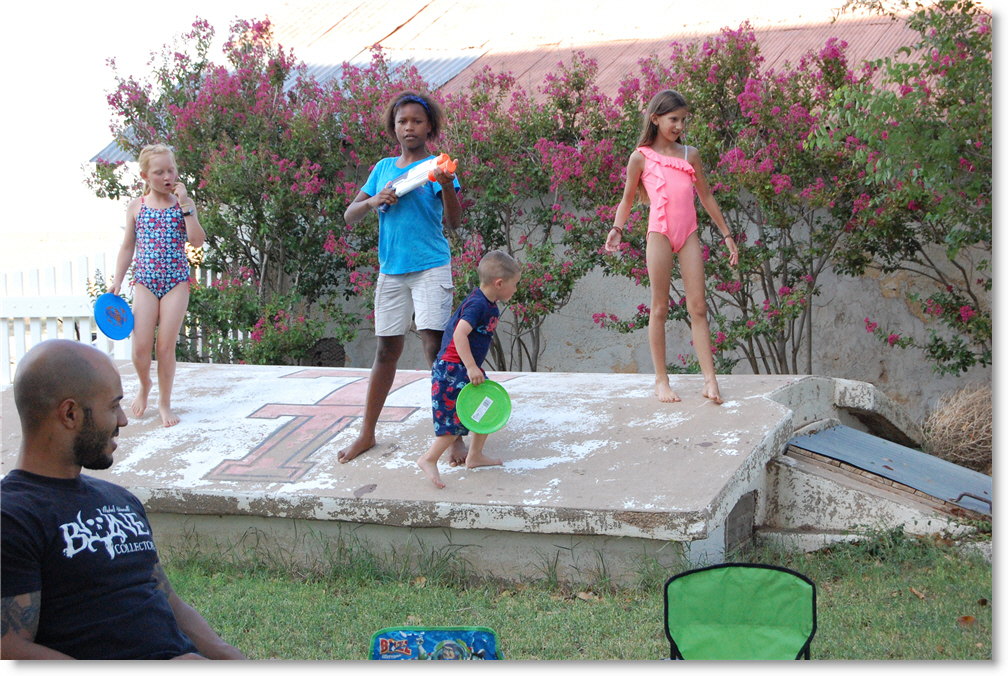 Okay, who taught Stanley to shoot the big water gun?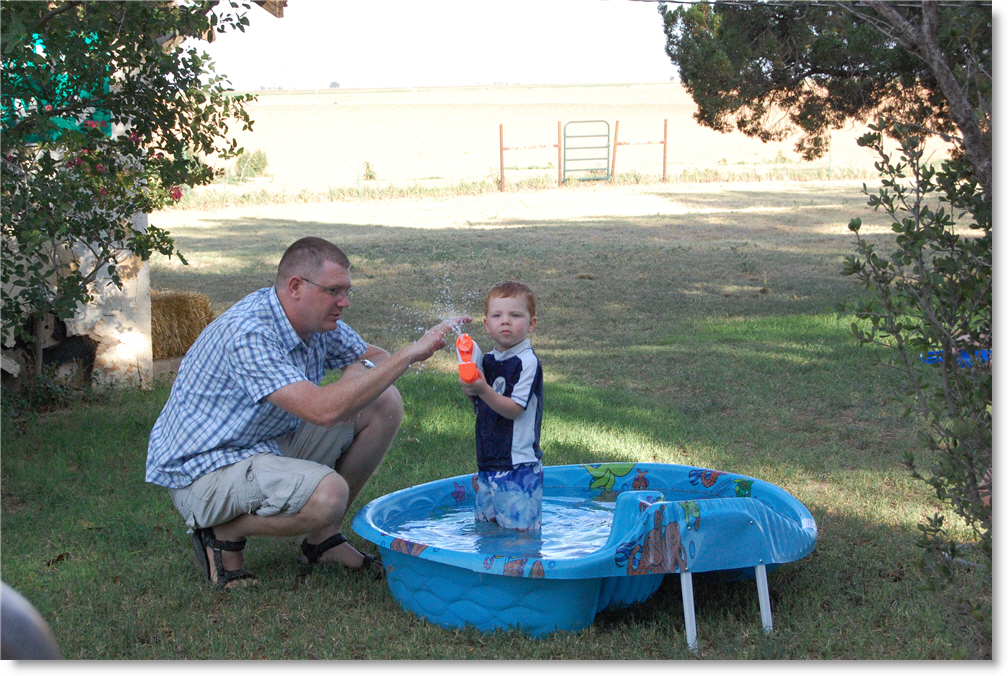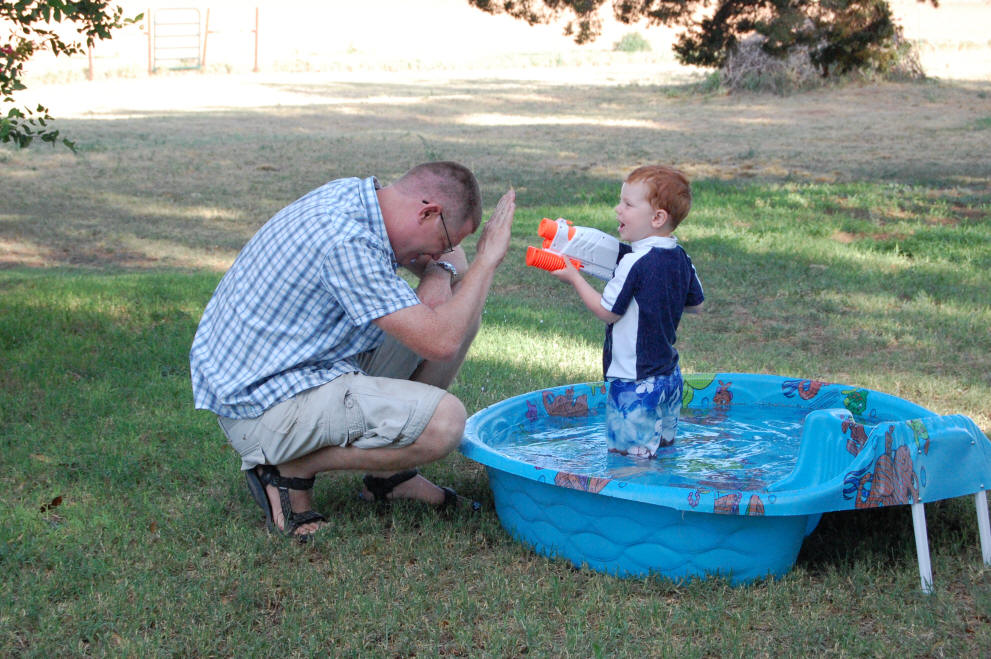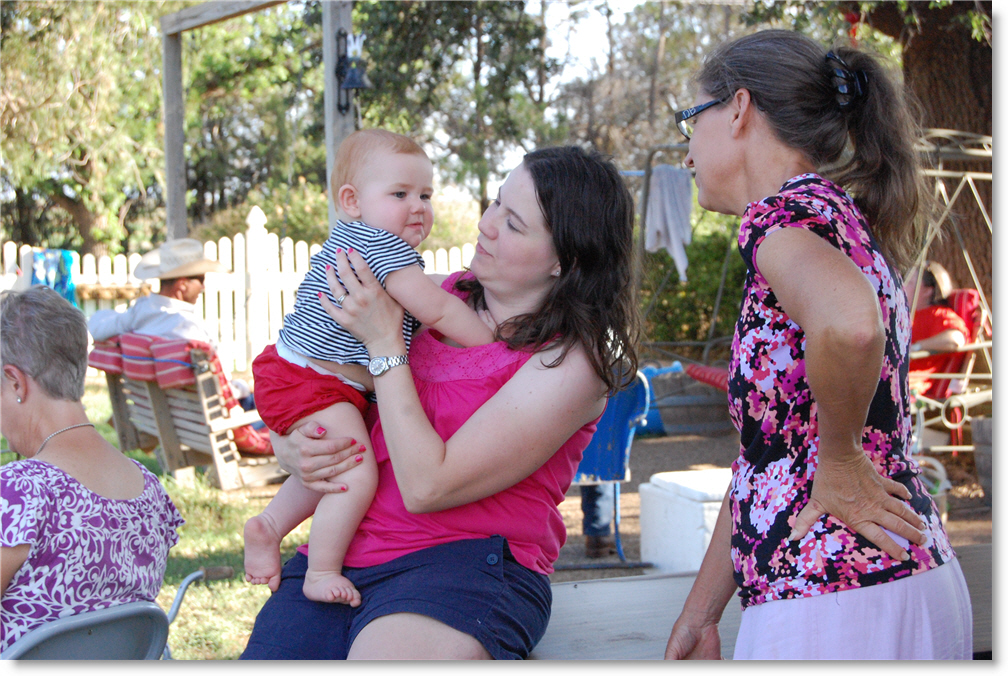 Blaine and Windy are going for more ice cream.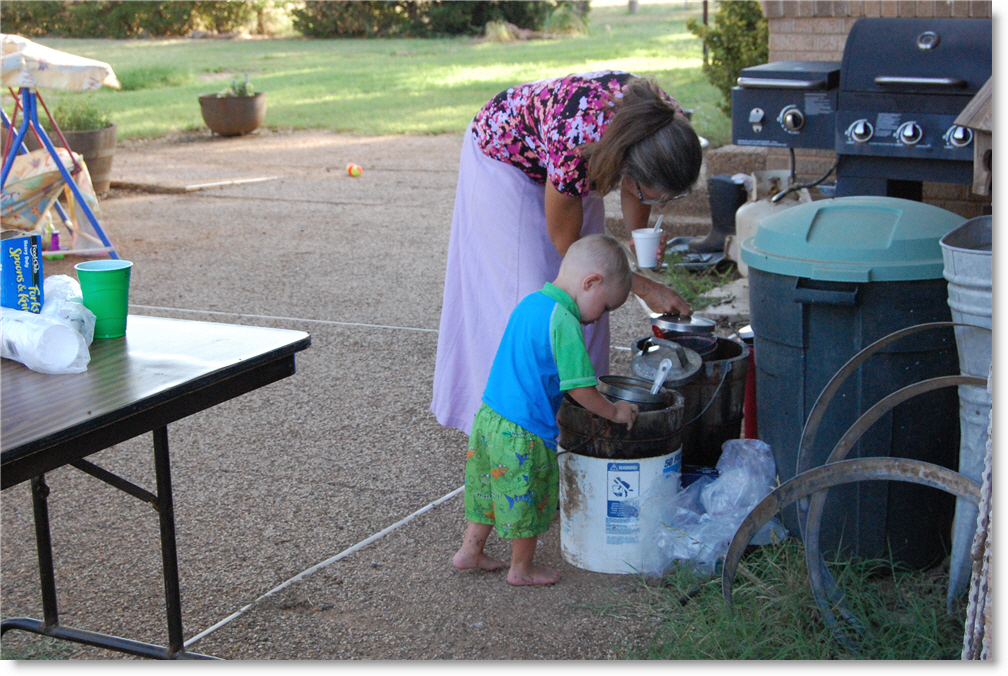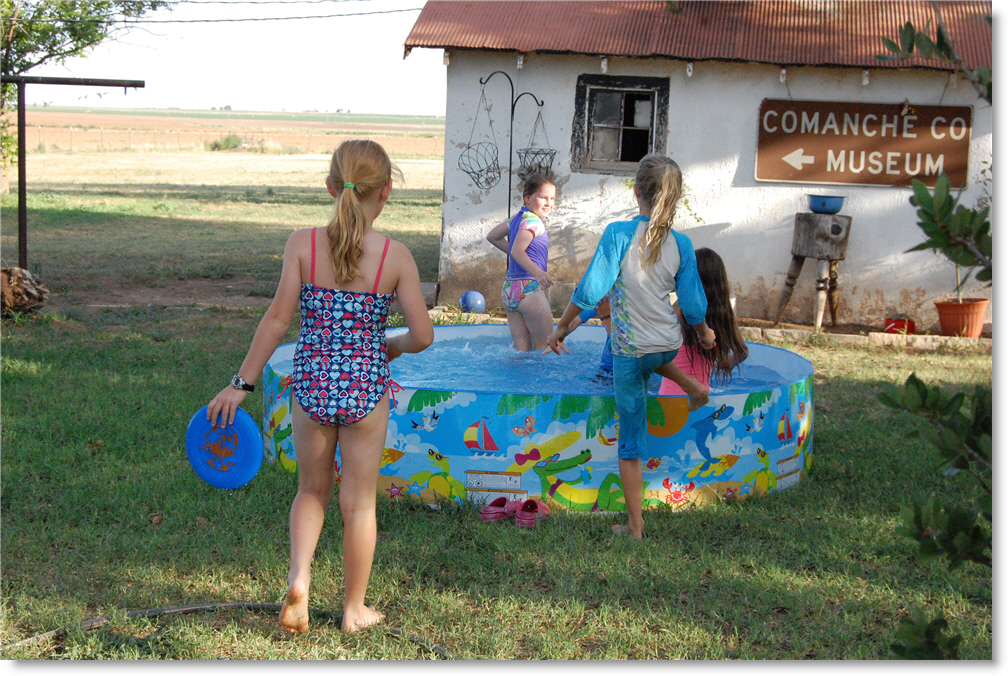 These two were inseparable.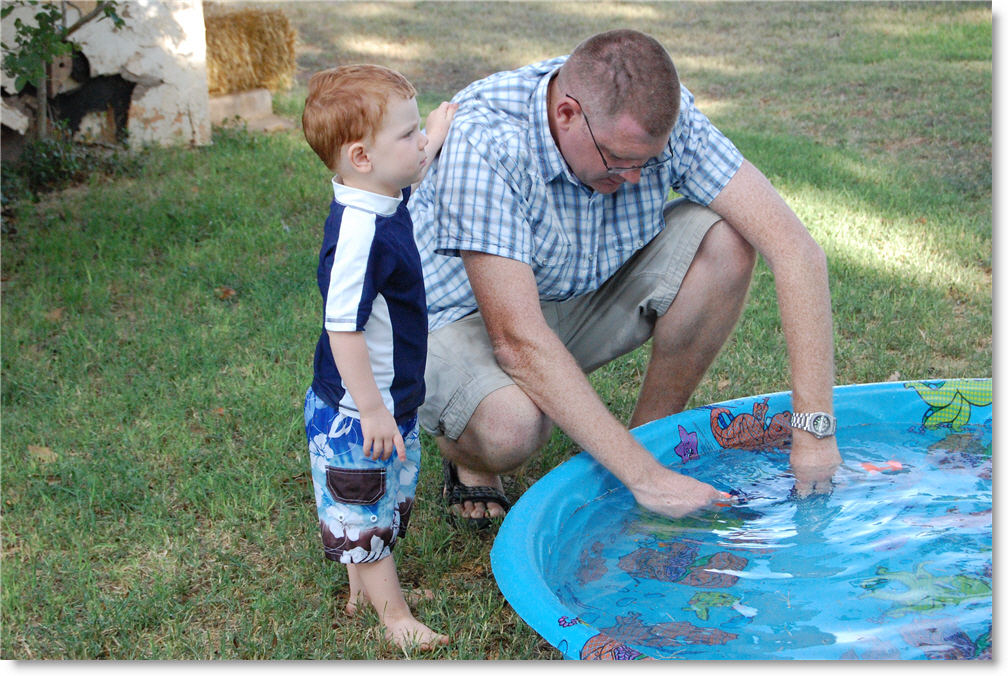 Laredo shows Blaine how to blow bubbles.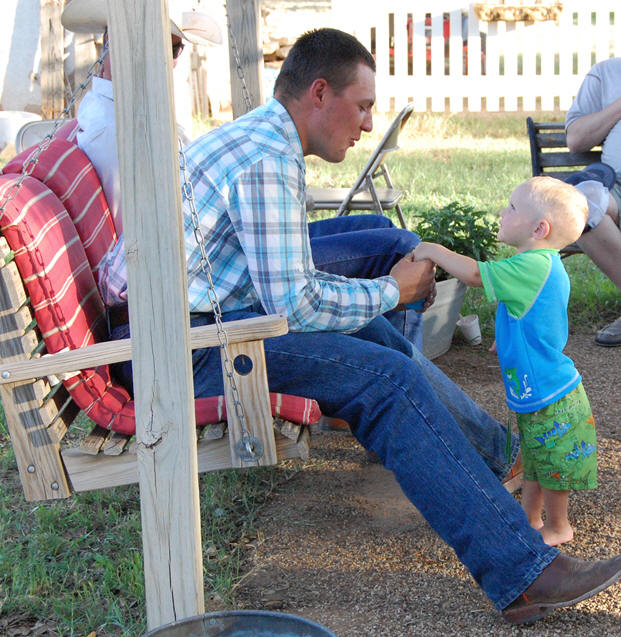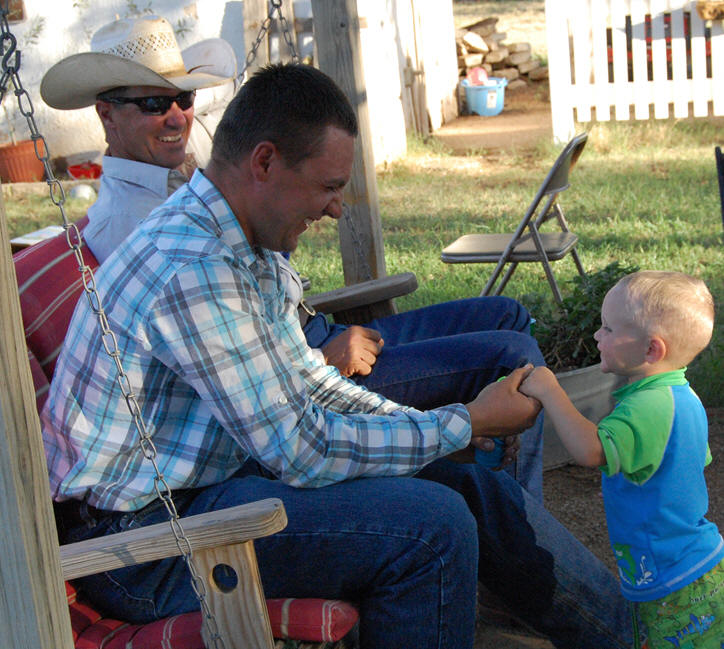 Thursday, July 11 - Strange Sights Around the Ranch
A swallow nest attached to our porch light.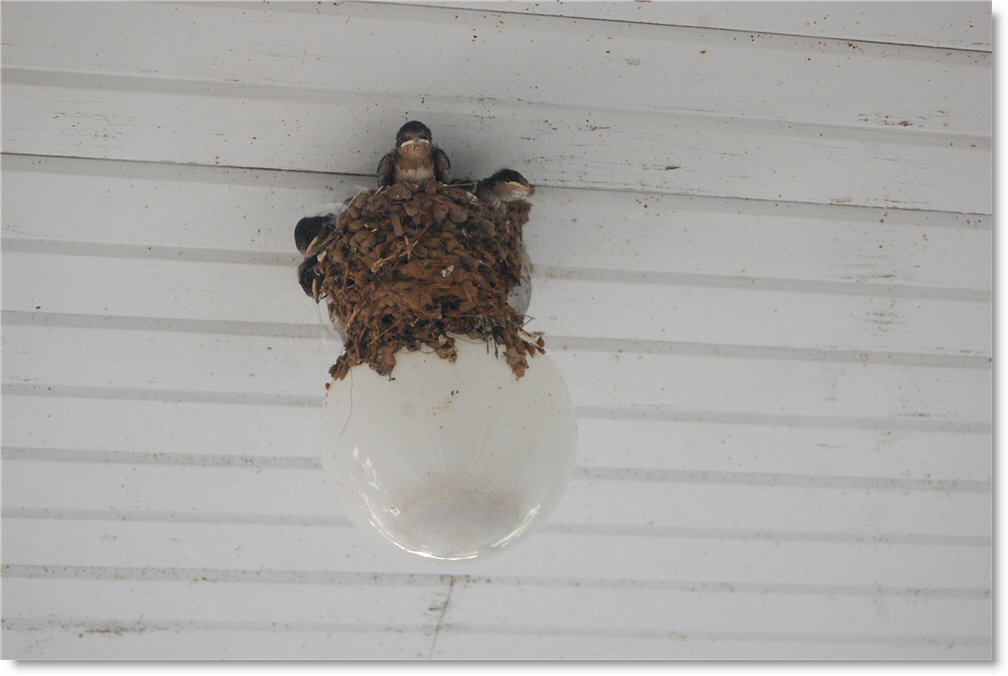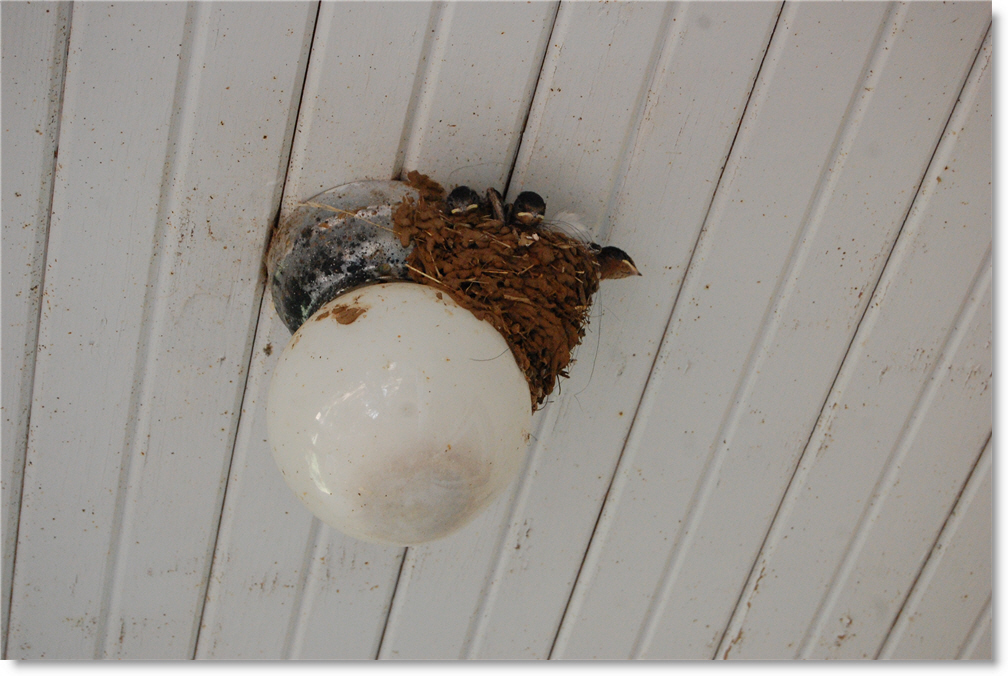 Bug of the Week - It seems every week there's another plague of bugs out here. These are new to all of us, though. They look kind of like a squash bug, but they're tiny and yellow-green. Does anyone know what they are?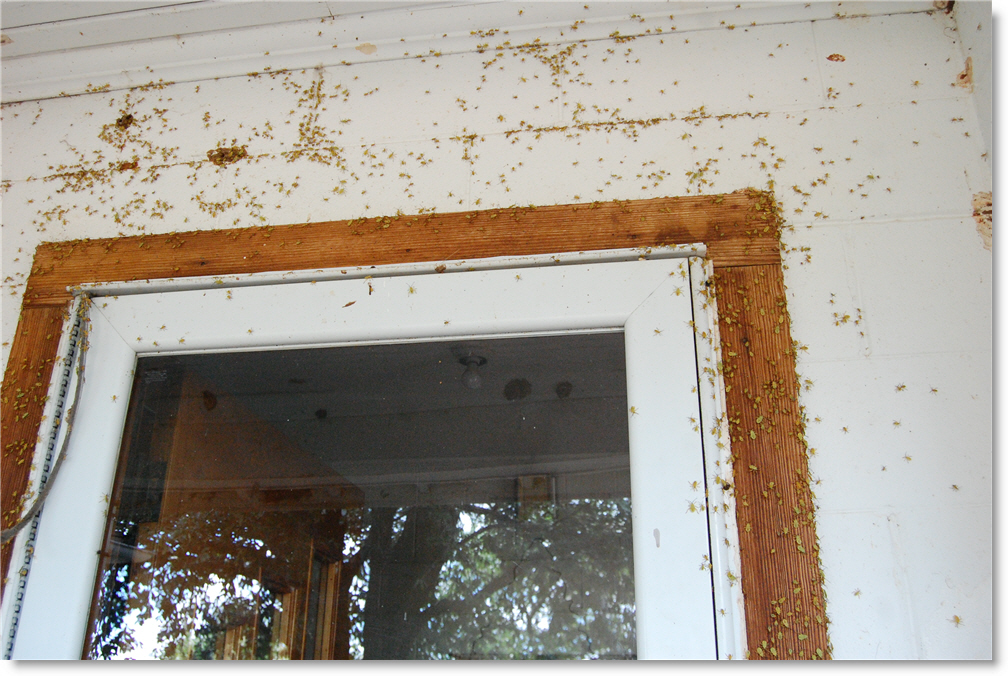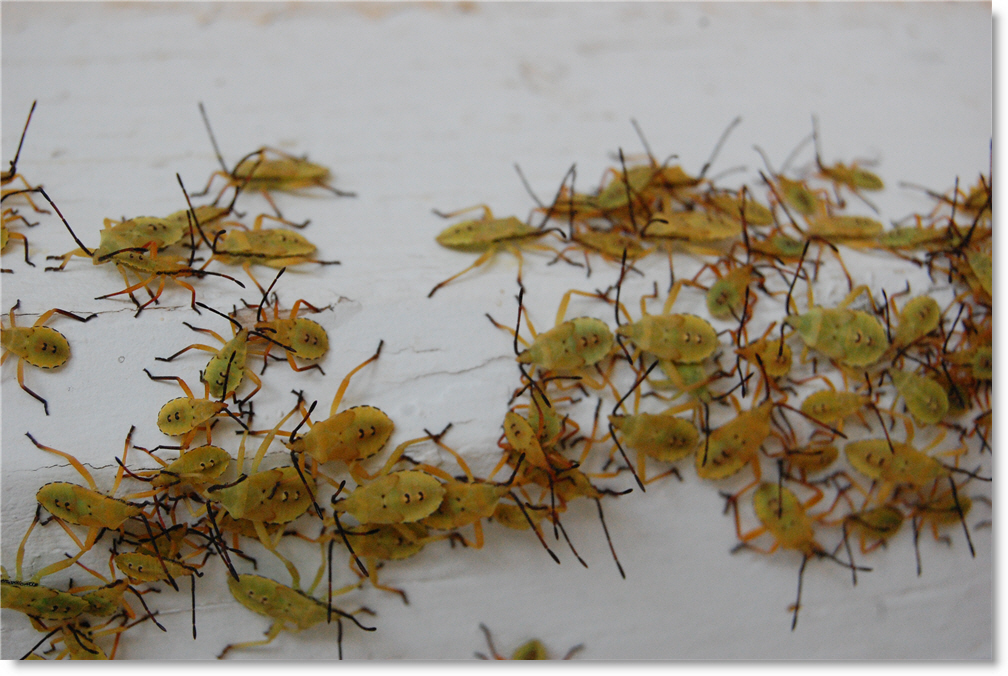 Tuesday, July 9 - Ice Cream Sky - These colors are so soft and pretty, that's what it brought to mind.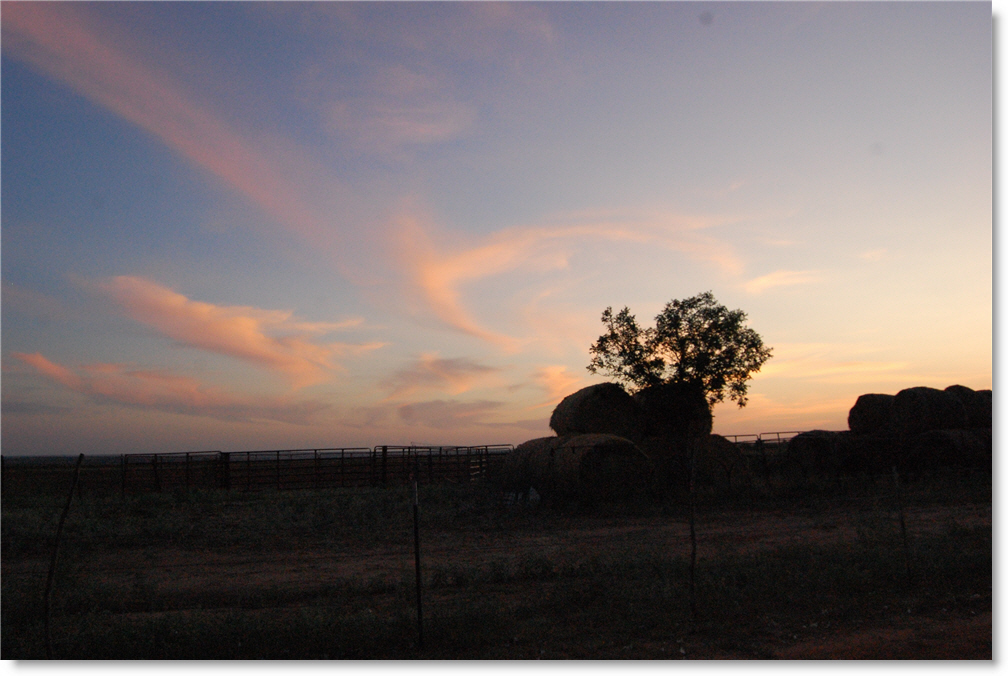 Crazy Dog Pics - Here's a couple of fun shots from the last couple of days.
Does this look comfortable to you?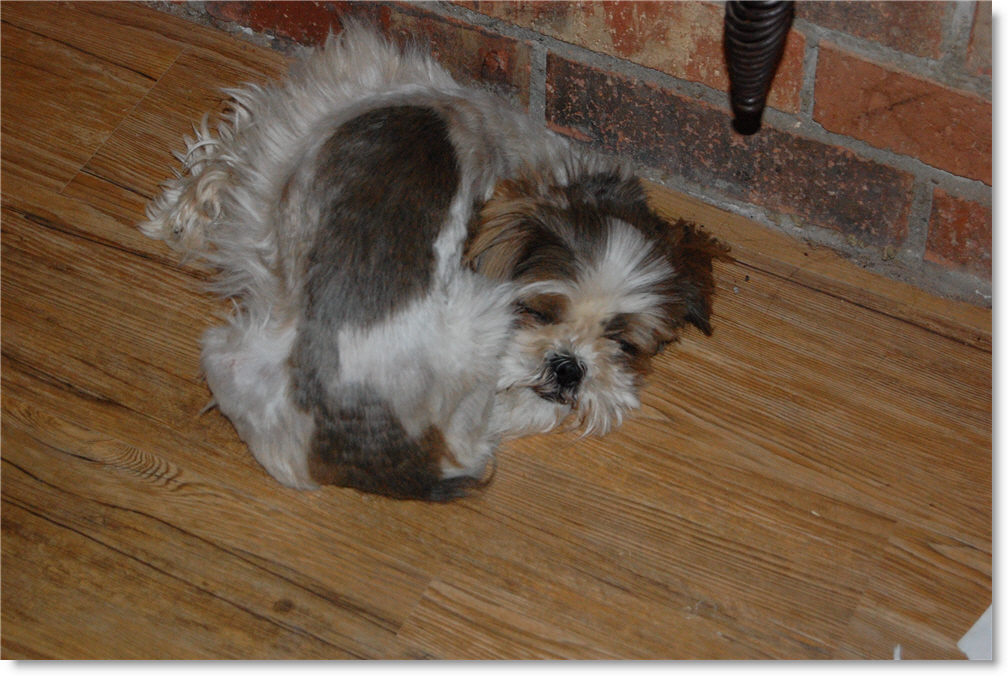 Carolina puts the Tidwell's birthday gift to good use.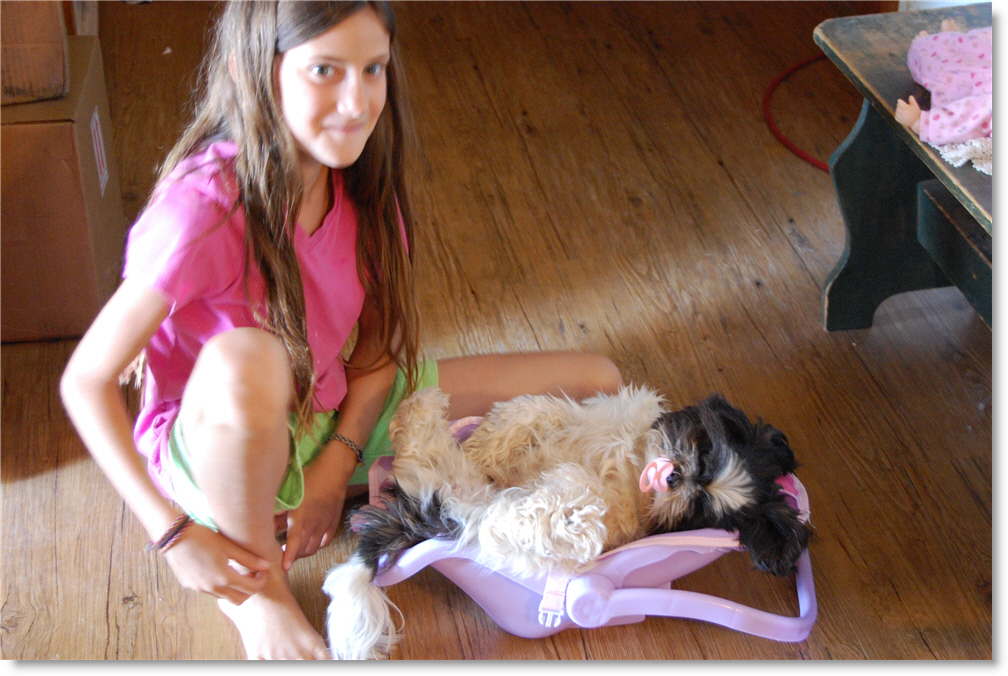 Sunday, July 7 - Yummy Supper Soup - Don't ask me what the name of this concoction is, but everyone thought it was tasty. List of ingredients: Chicken, carrots, fresh garlic, zucchini, squash, tomatoes, spinach, arugula, wild rice, dried celery, marjoram, fresh rosemary, fresh sage, tumeric, salt, pepper, creamy organic, raw jalepeno cheese and crusty garlic toast made out of Ezekiel Flax bread.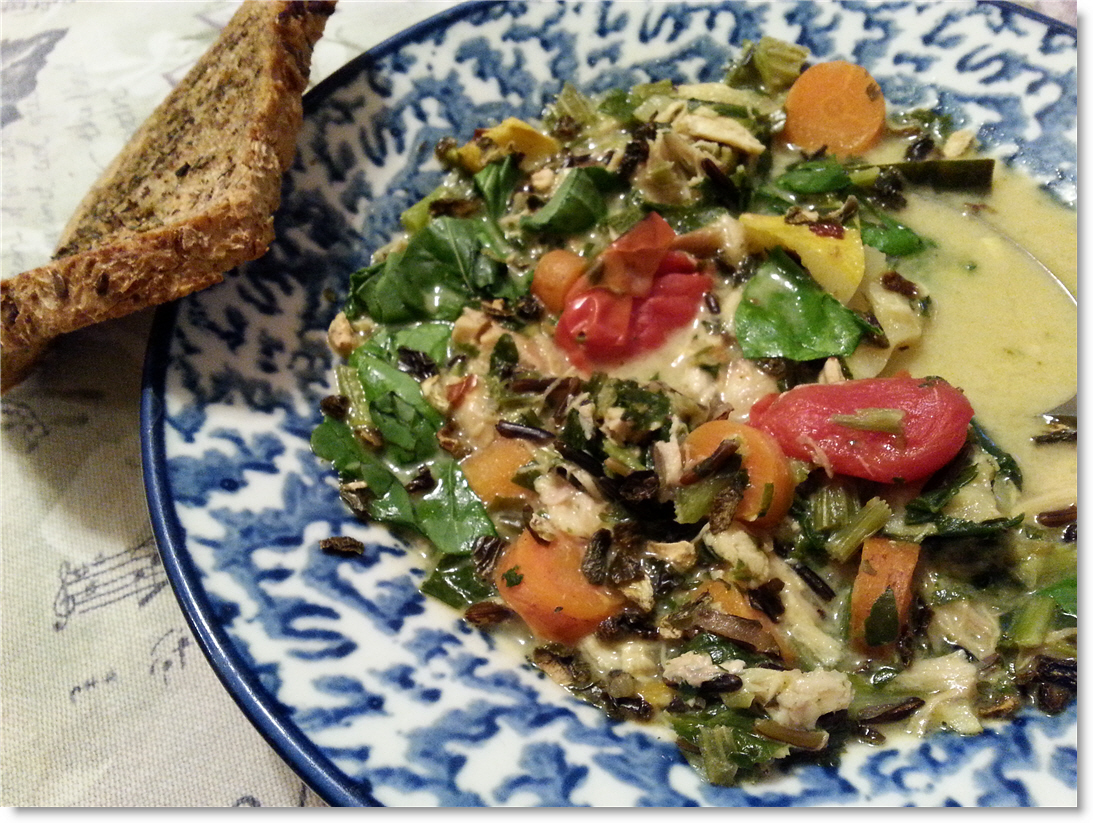 Carolina had to cool down a little.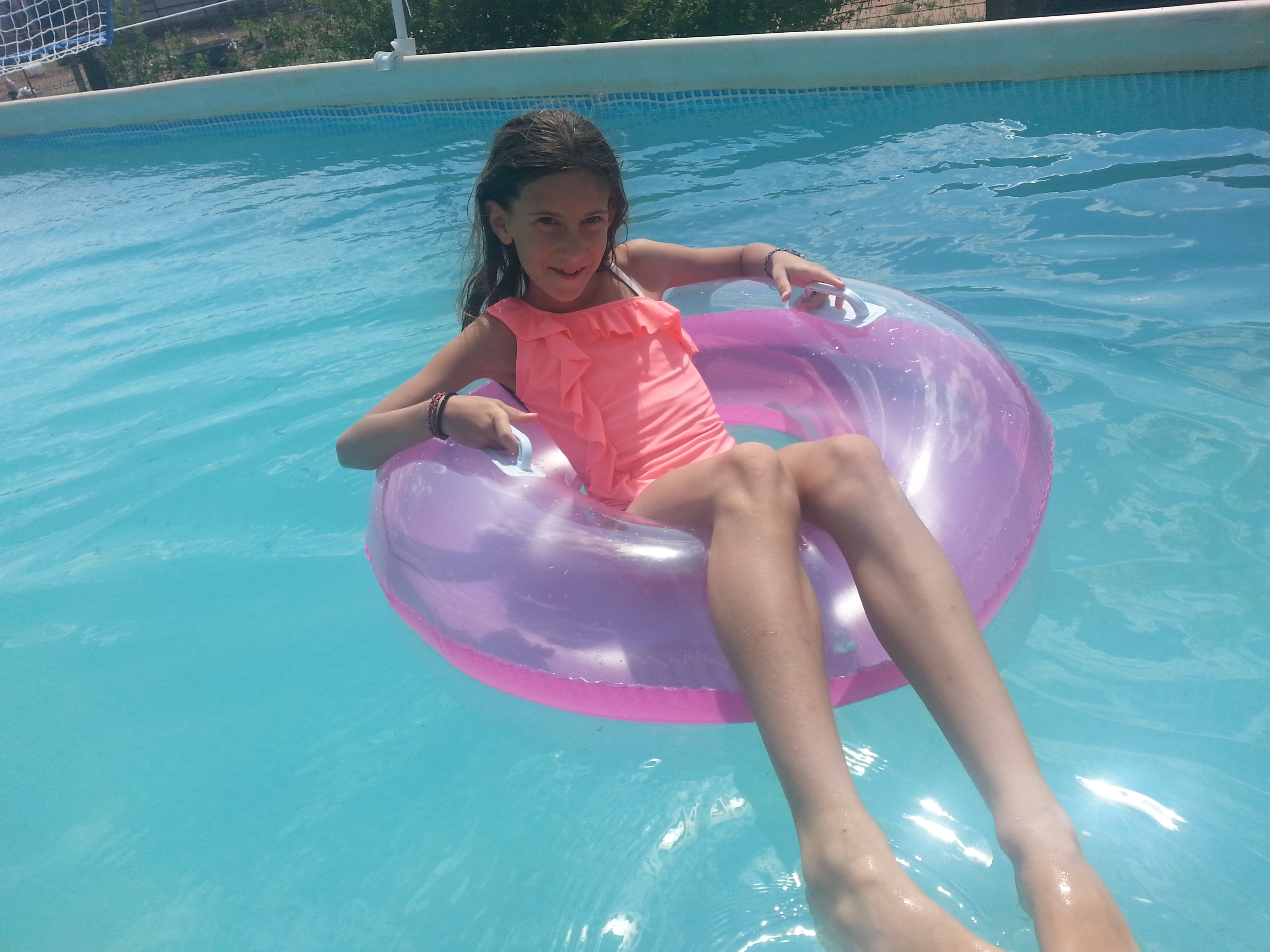 Working with the Colts - Nathan and the boys spent some time this afternoon working some of our colts in the round pen. We've been so busy so far this summer that their training has been neglected.
Cim hops on Breck. This is one of the colts of the beloved Dixie.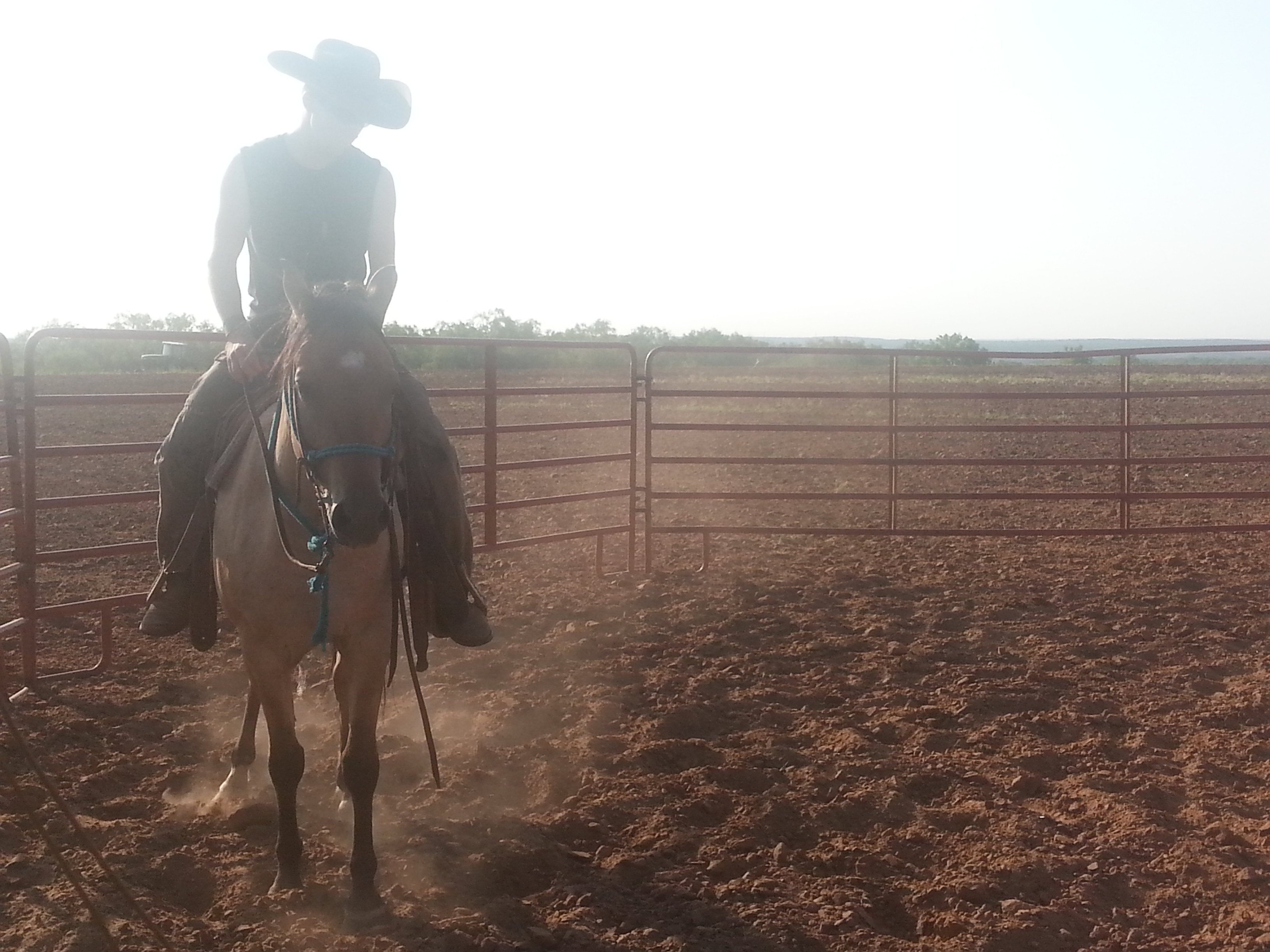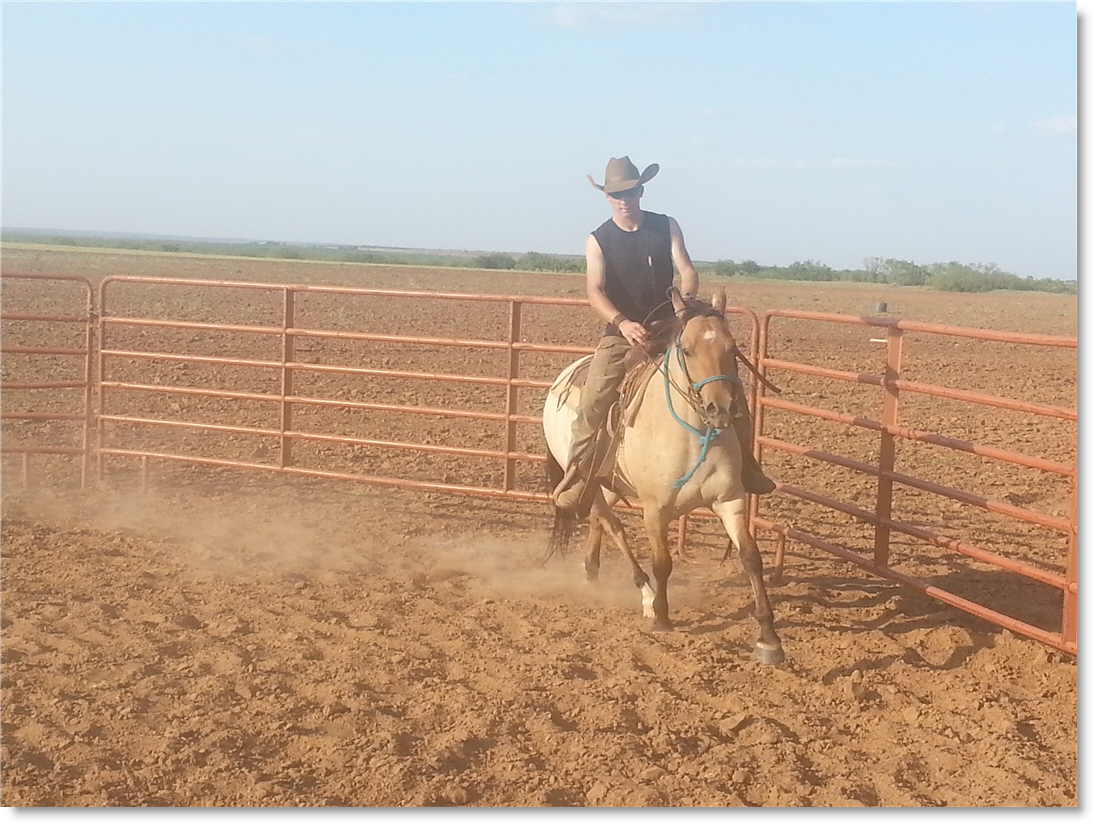 Carolina braves the July heat for a close-up view of the action.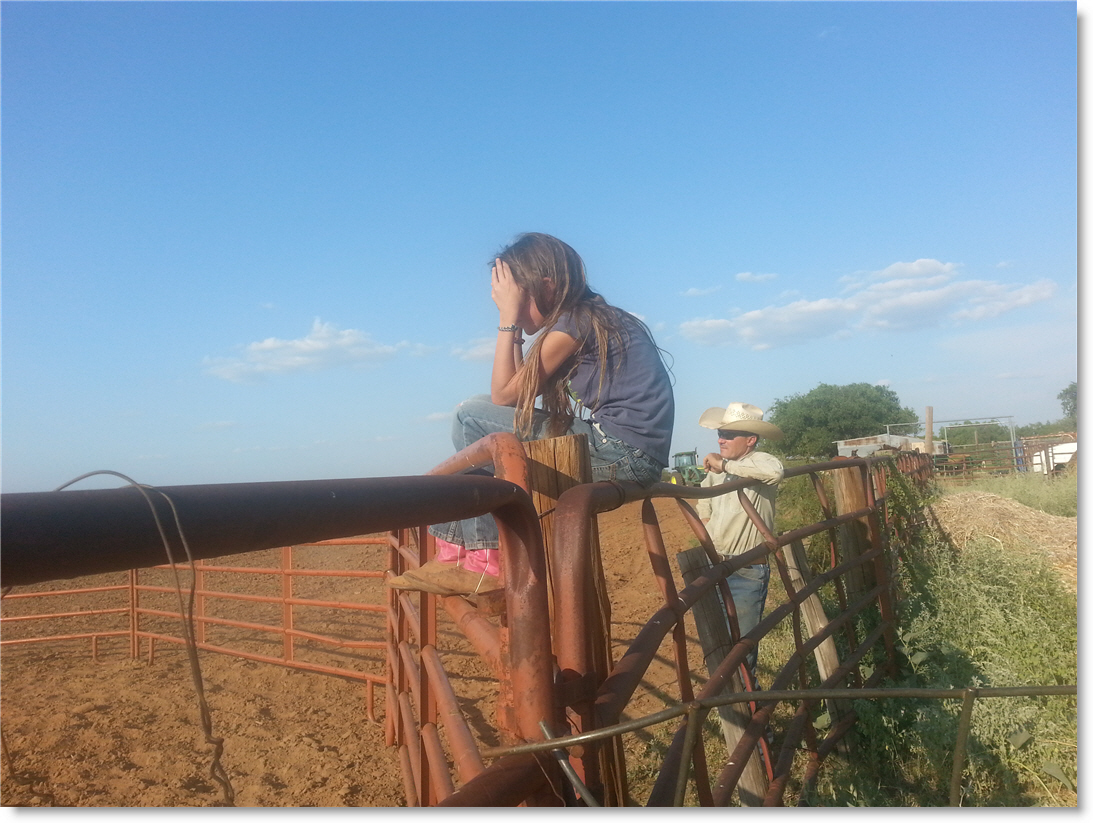 Rusty seems to also be interested.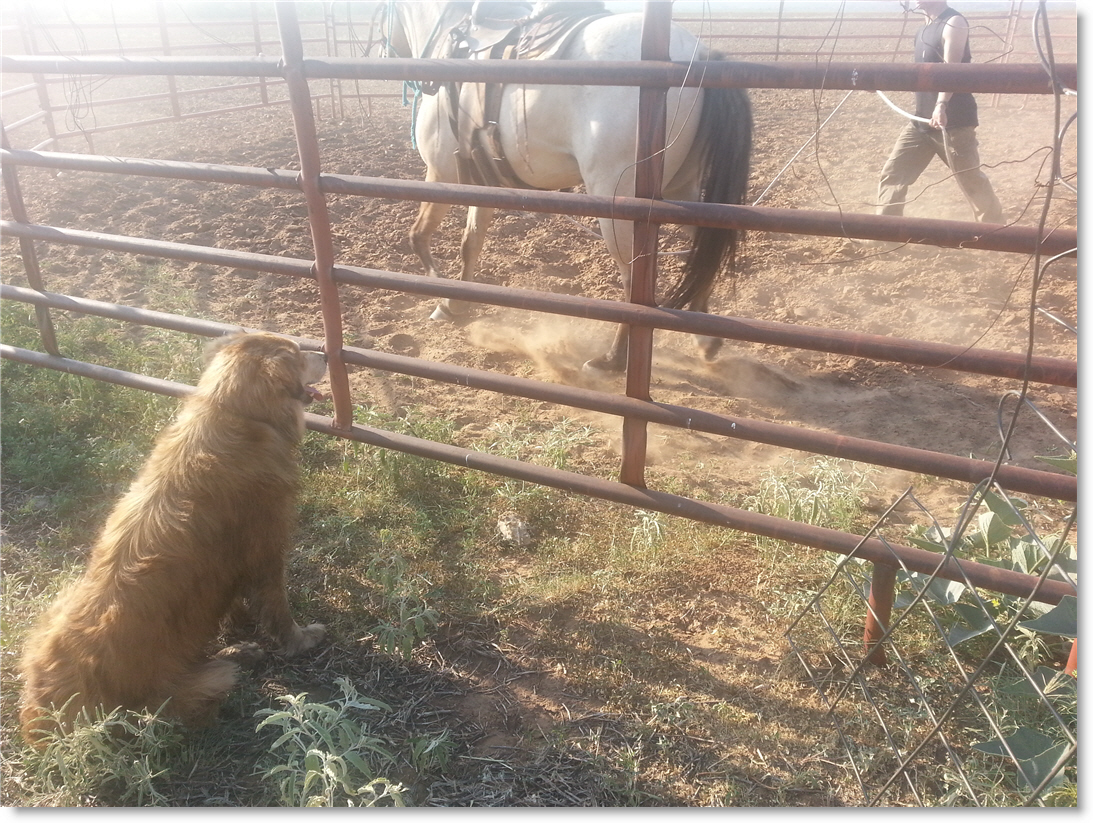 Laredo on Lorna Doone. She's out of our older black mare, Moxley.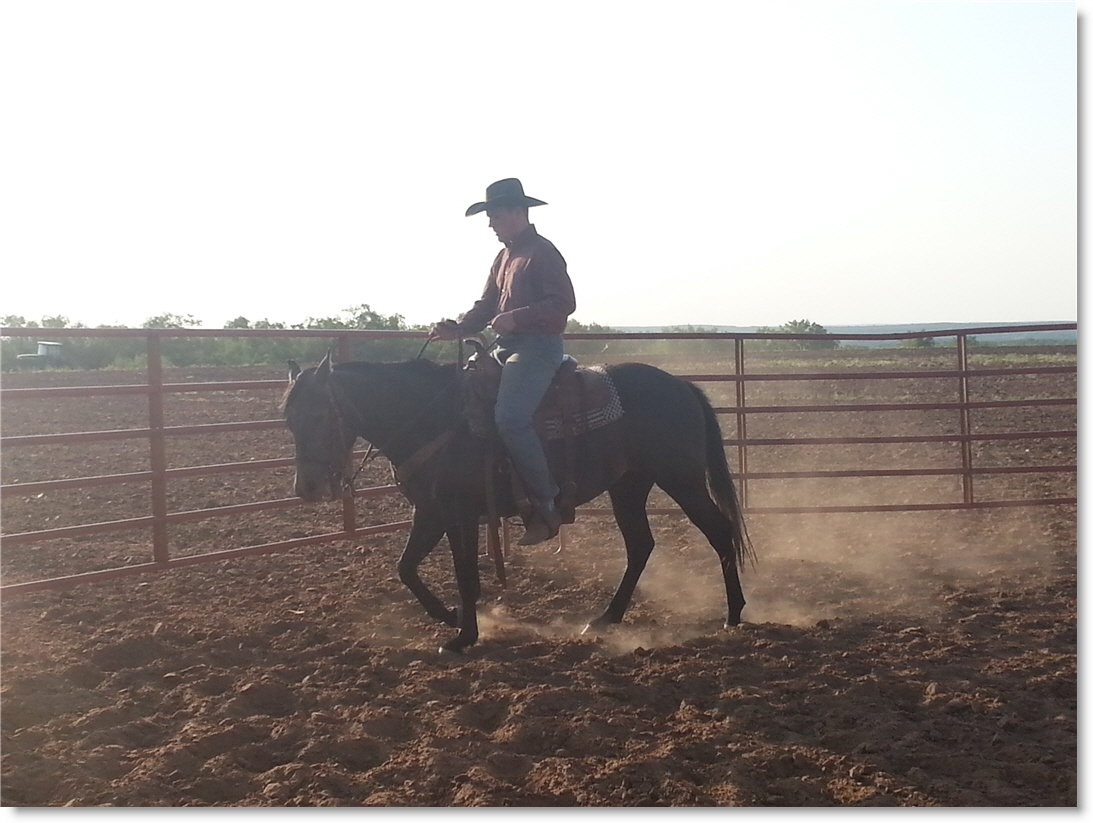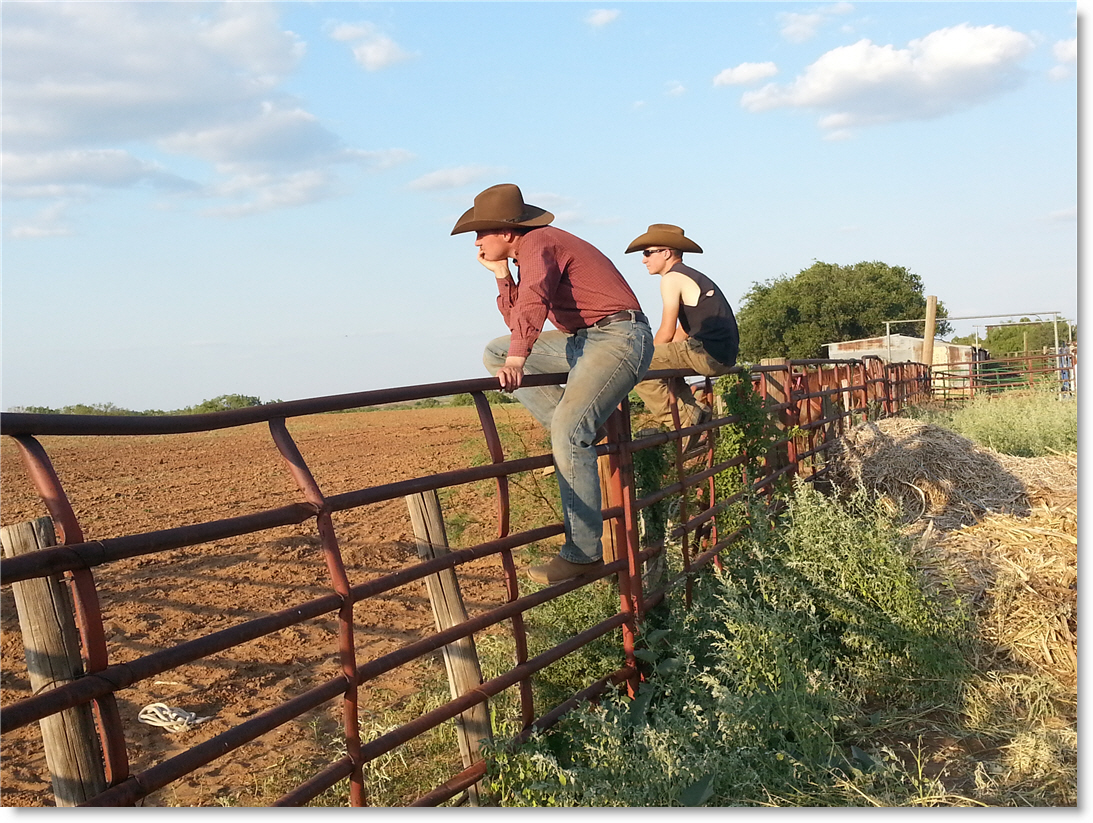 Early Morning Branding - The guys got out early to brand a few calves that had been missed when we worked cattle a few weeks ago.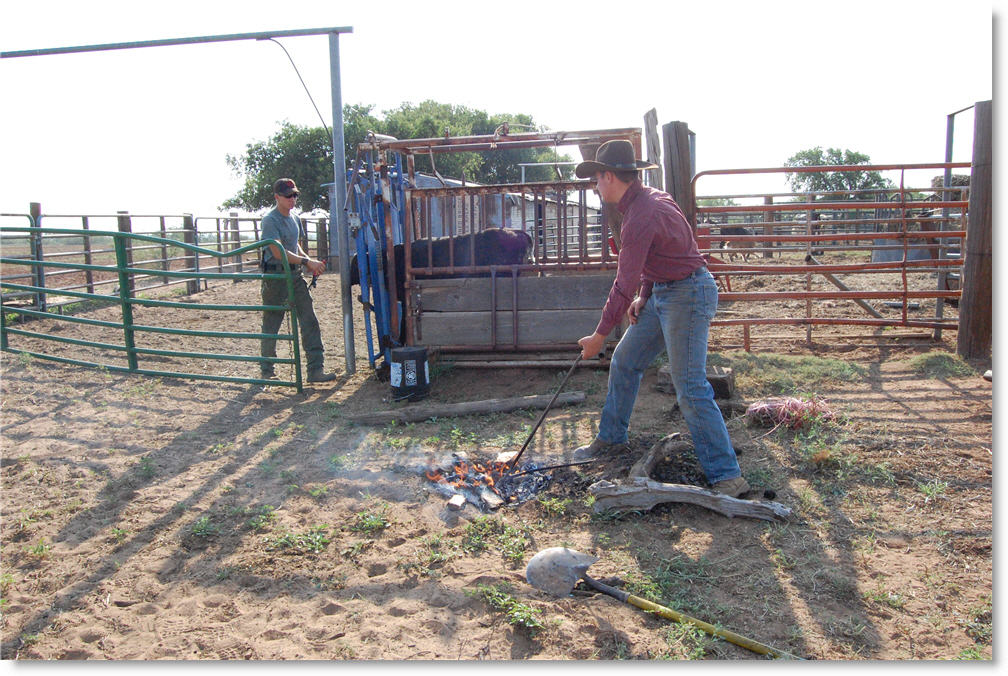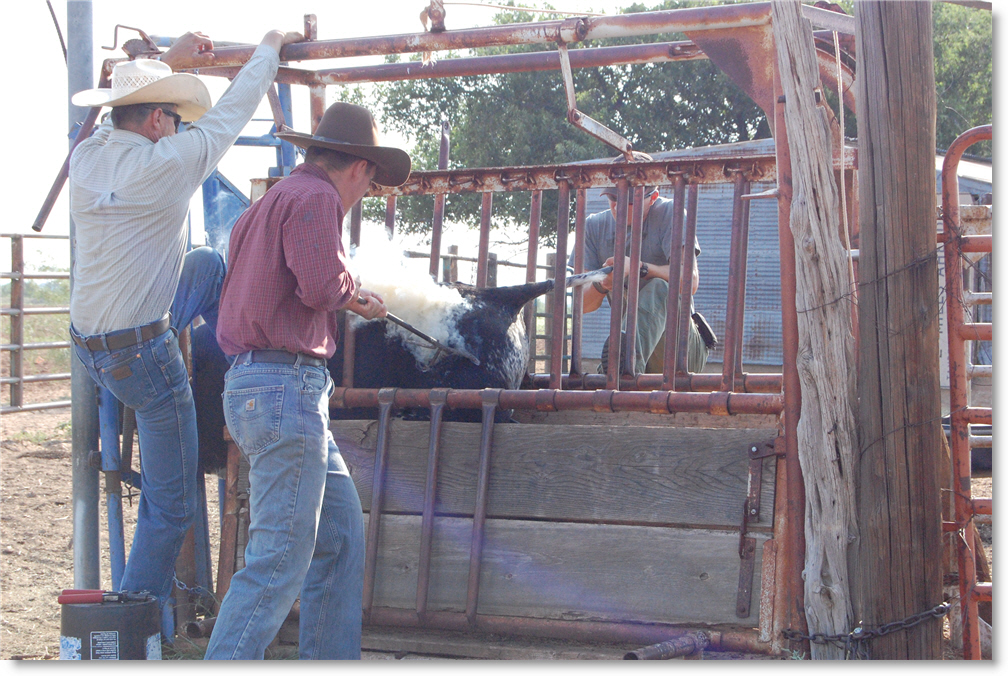 Friday, July 5 - Birthday Celebrations! - Today we celebrated Carolina's 10th birthday and Stockton's 12th birthday.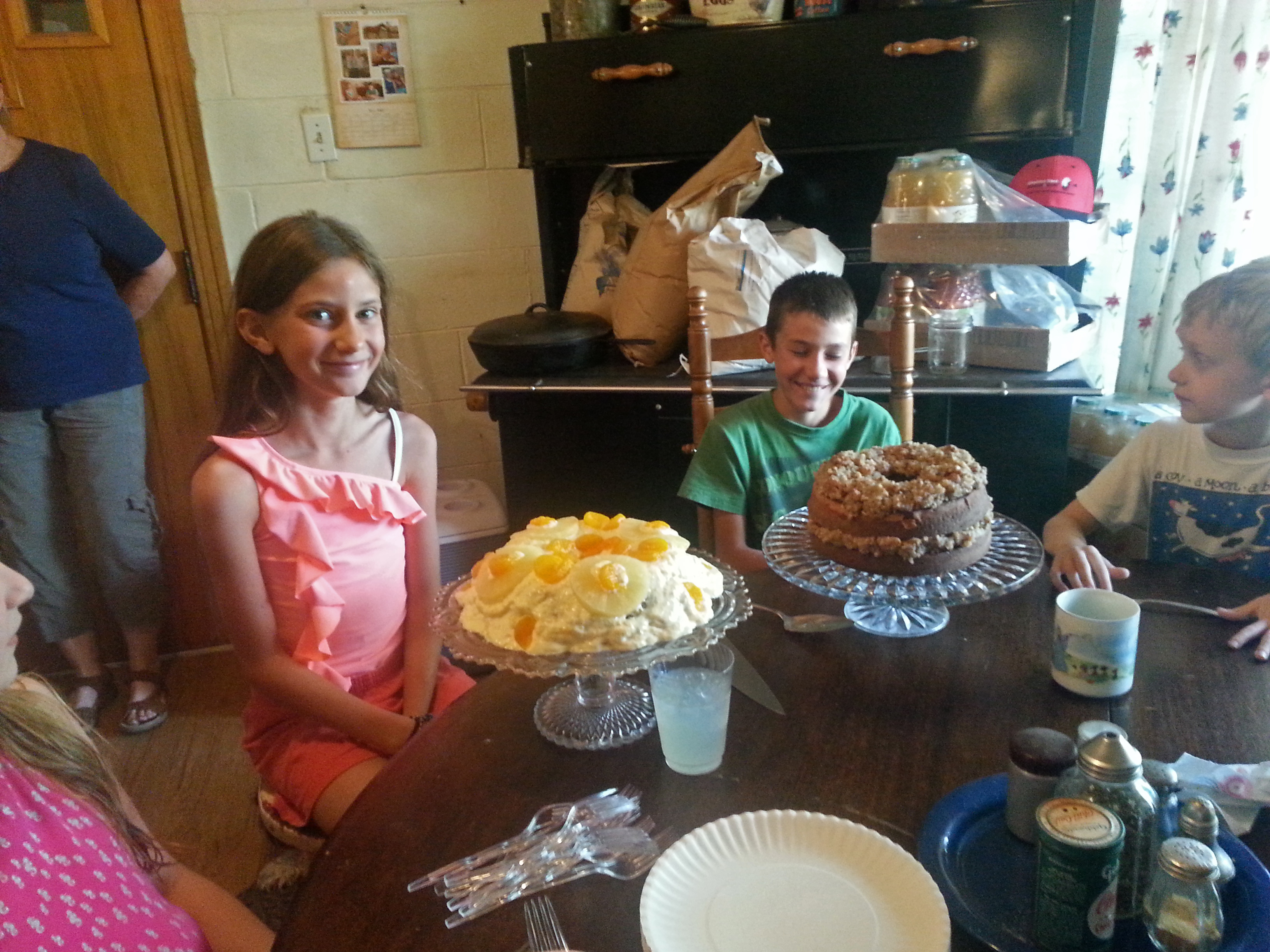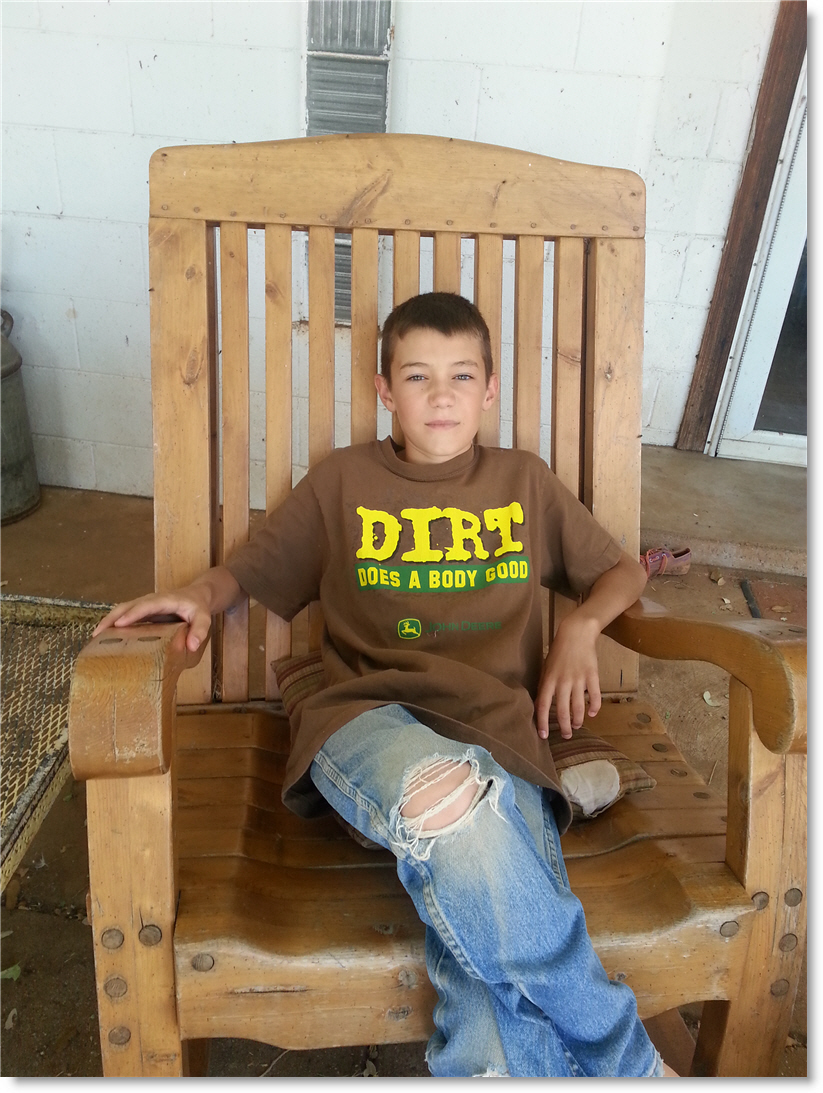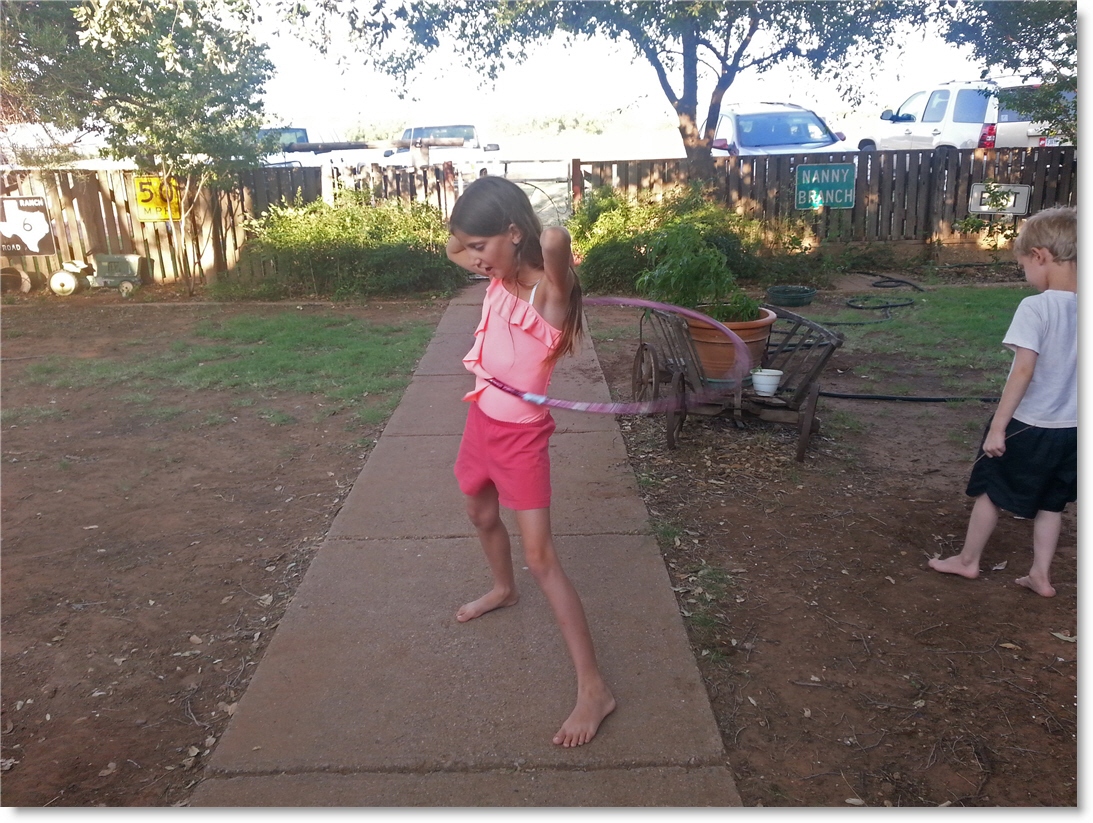 Sunny brought freezers of vanilla and peach ice cream.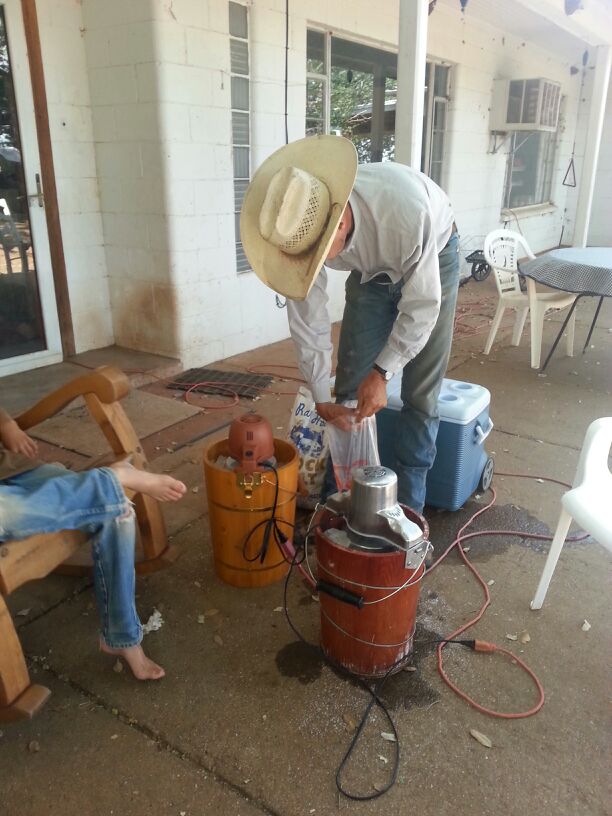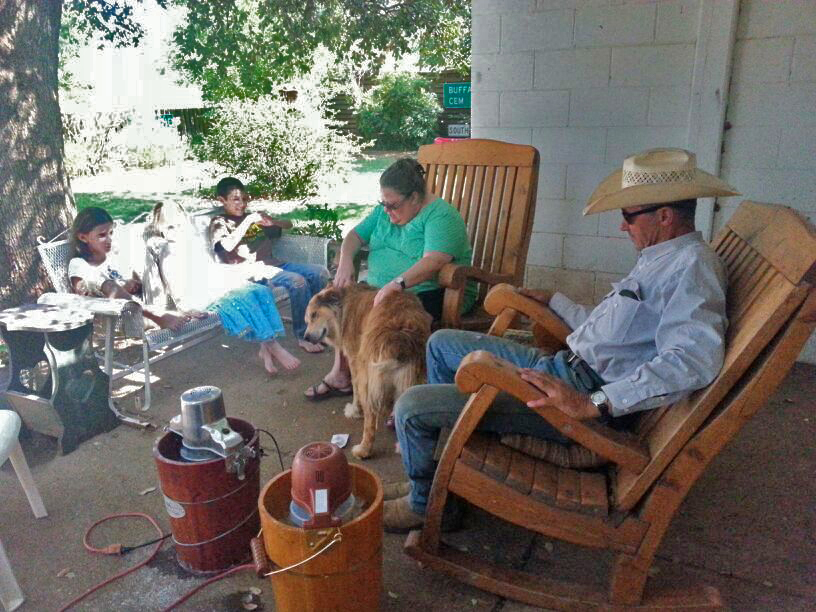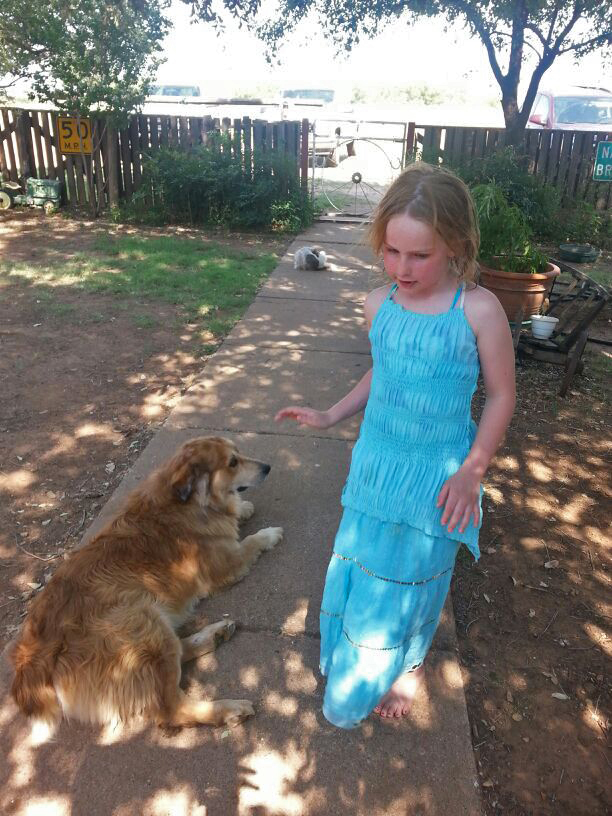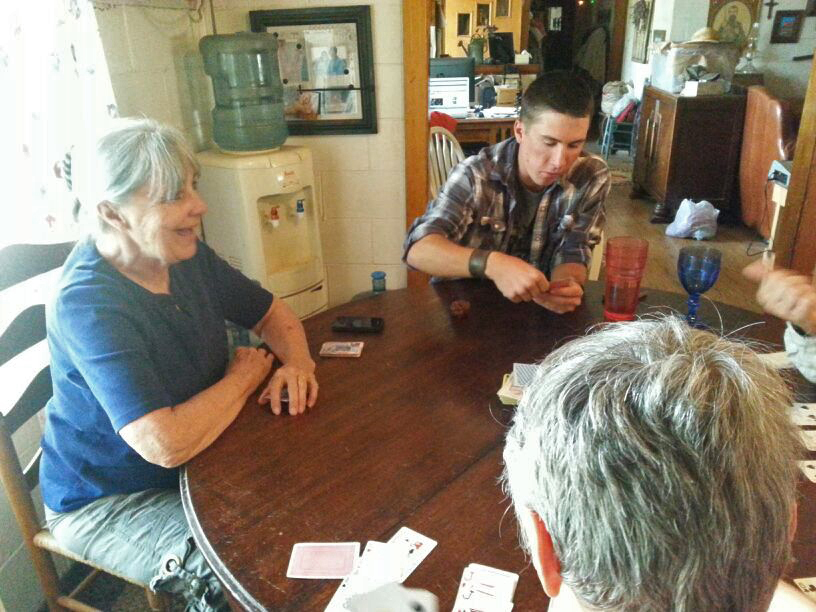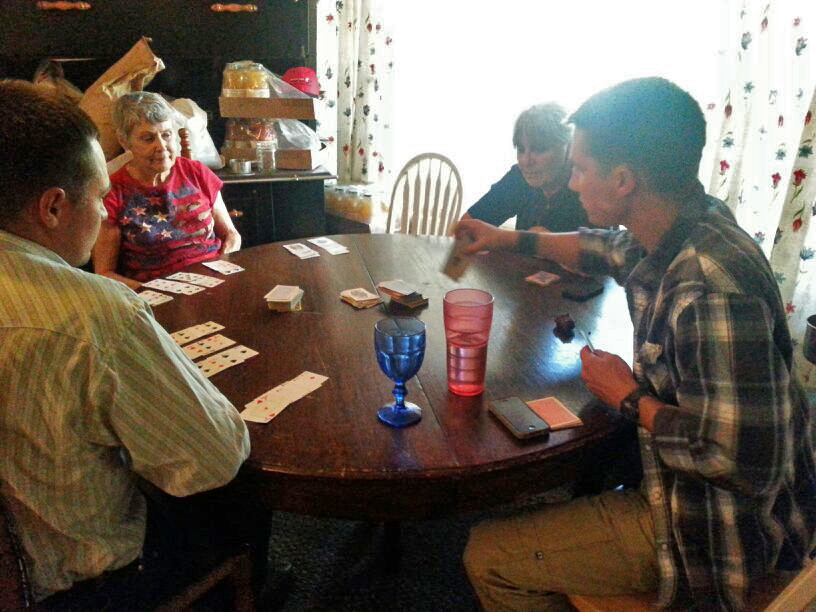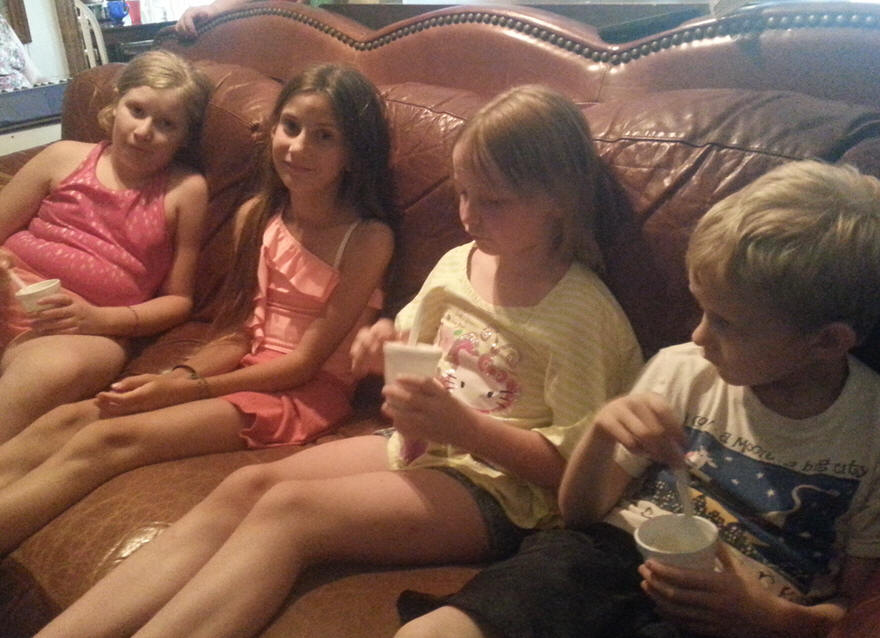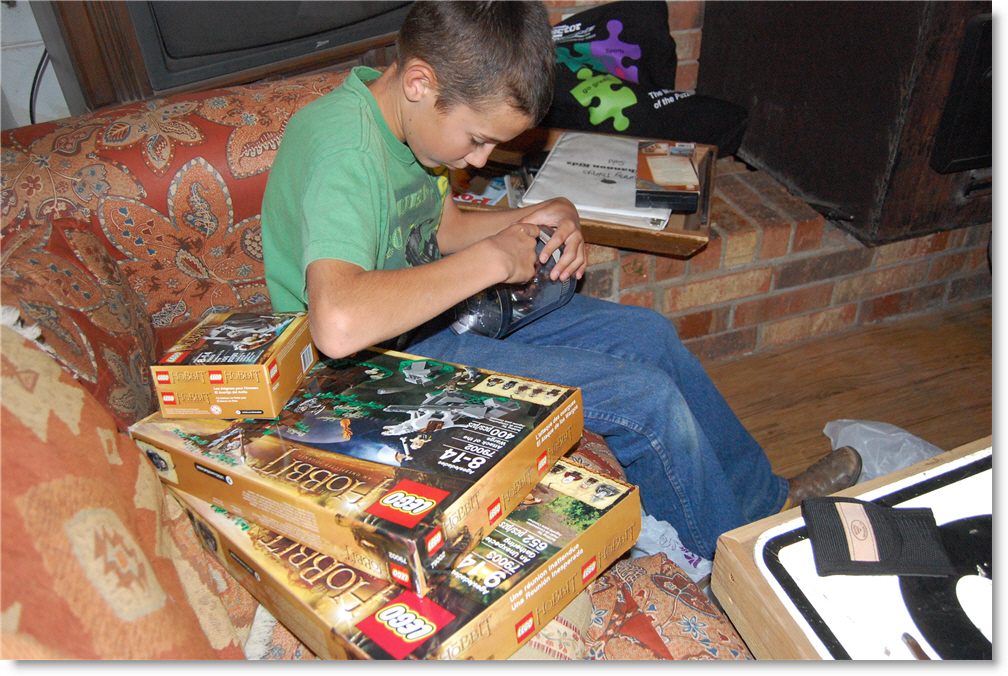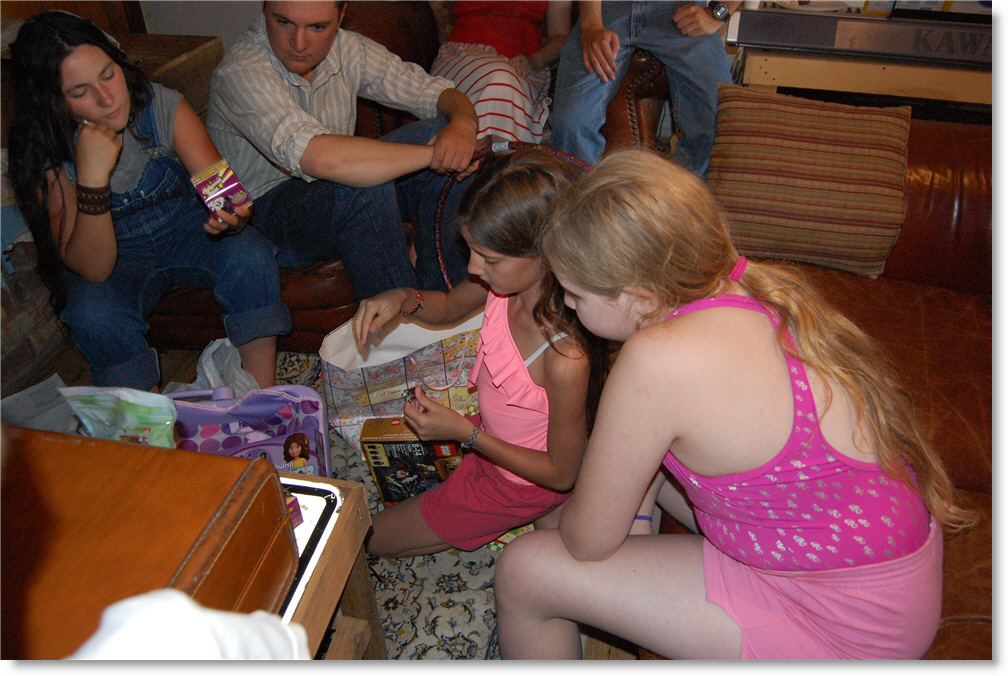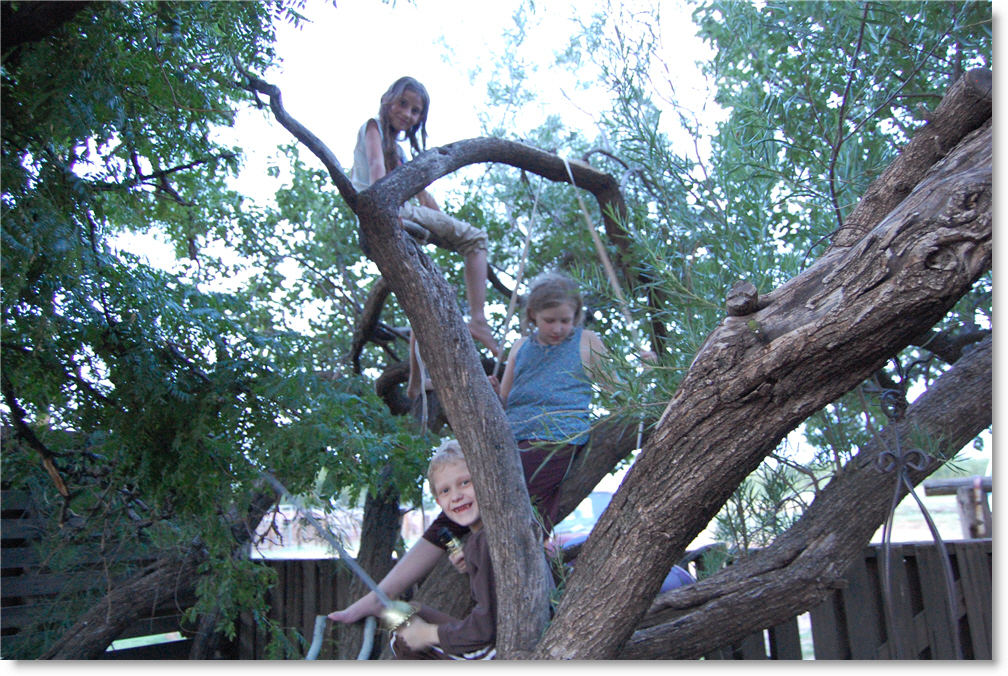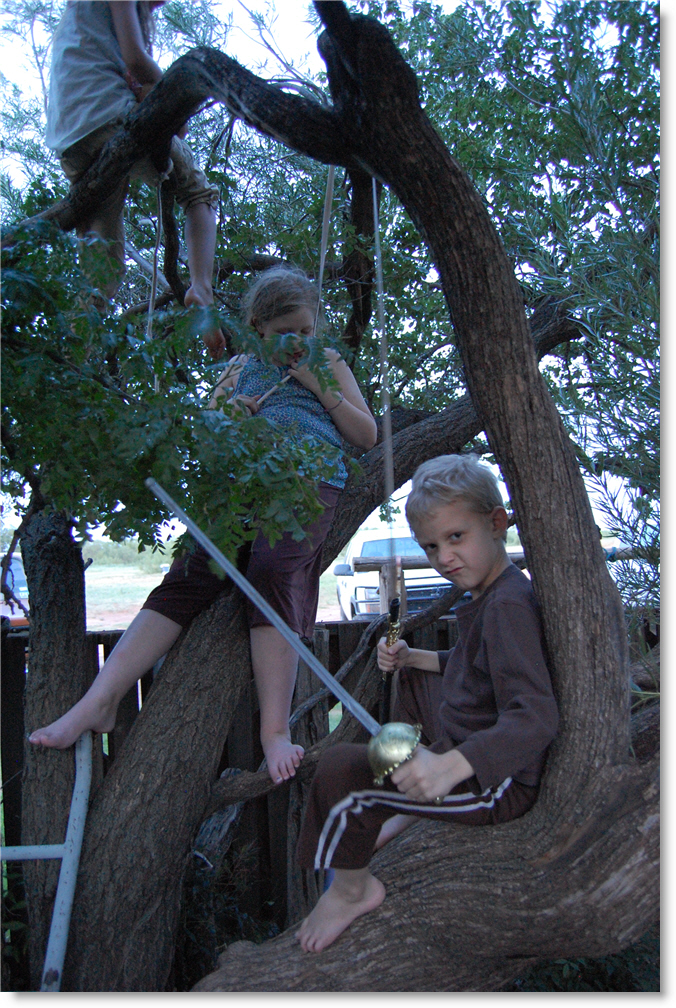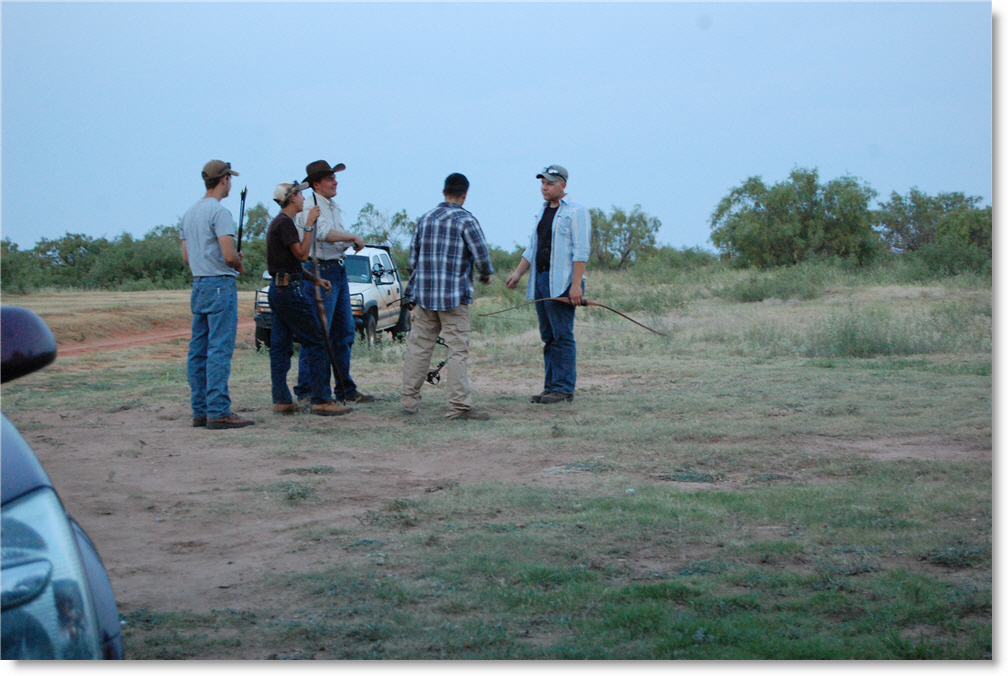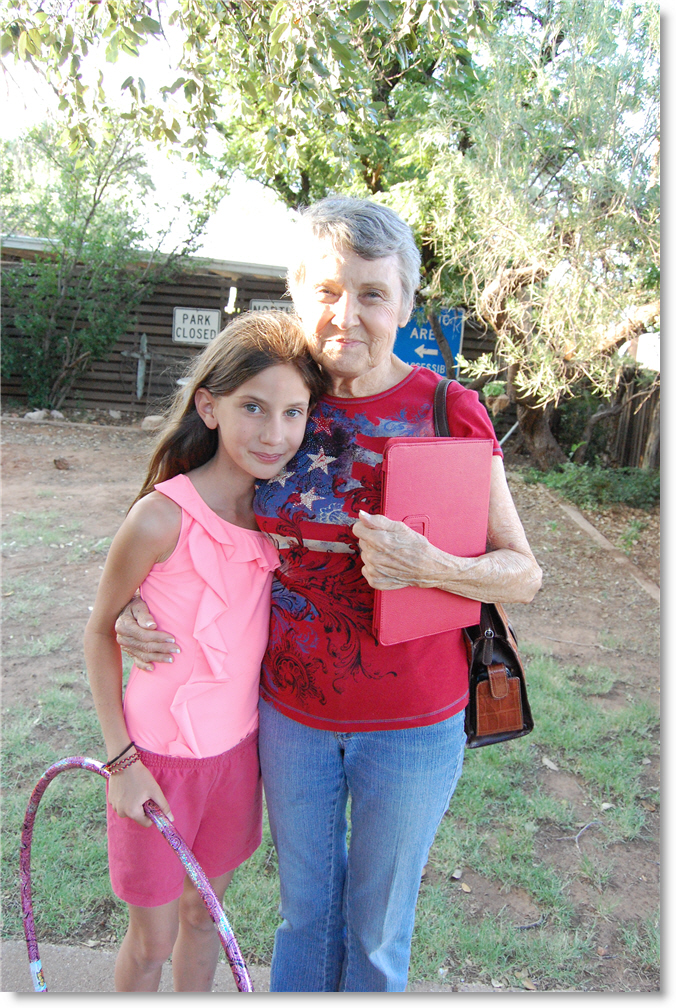 See the fun for yourself by watching this 2 minute video:
July Birthday Celebrations from Shannon Ranch on Vimeo.
A nice evening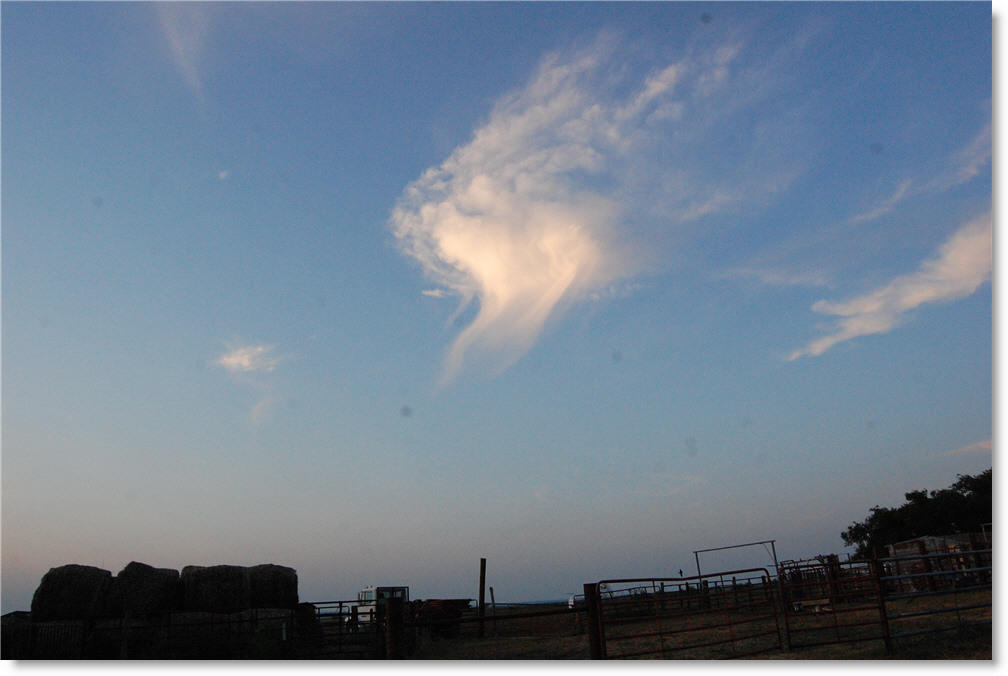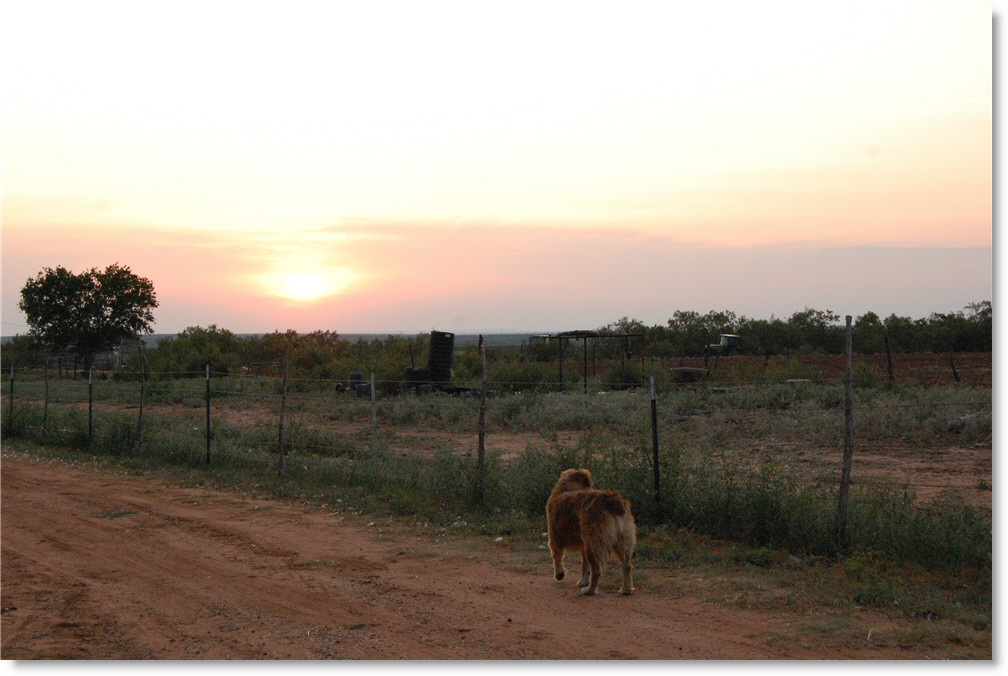 Thursday, July 4 - Fireworks! - Mambo bought the kids a few fireworks and they shot them off in the wheat field tonight.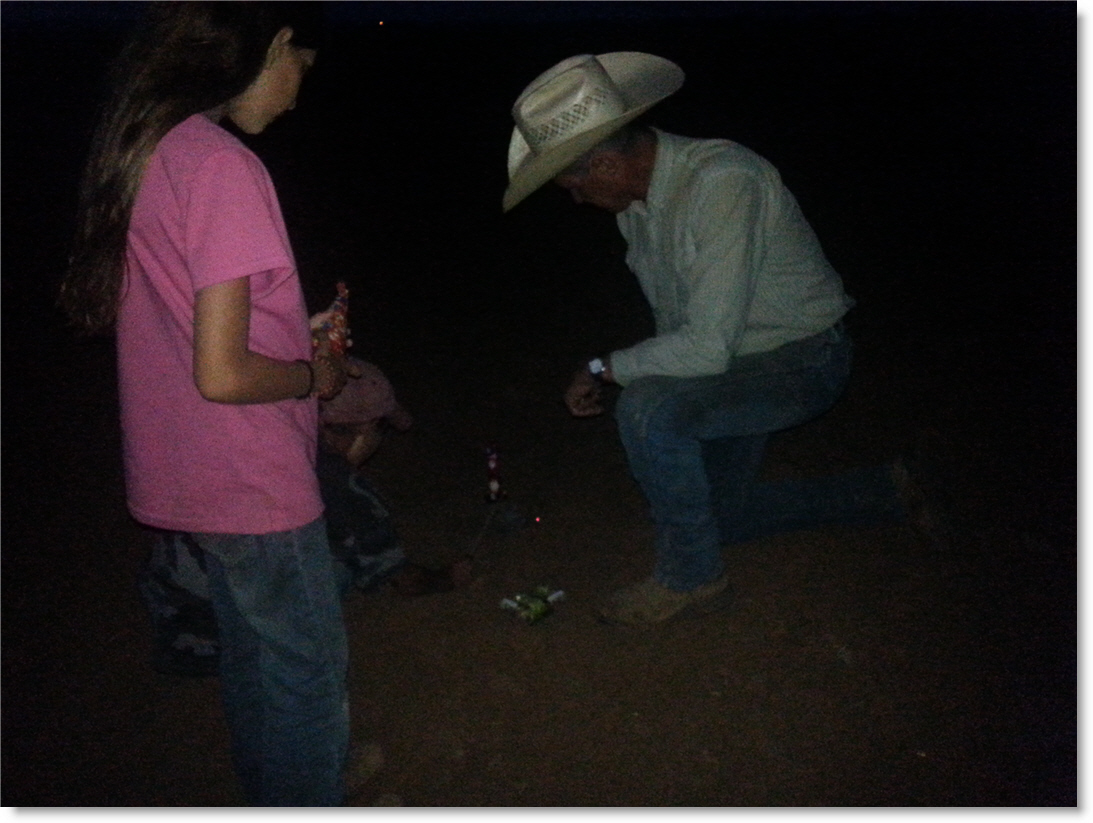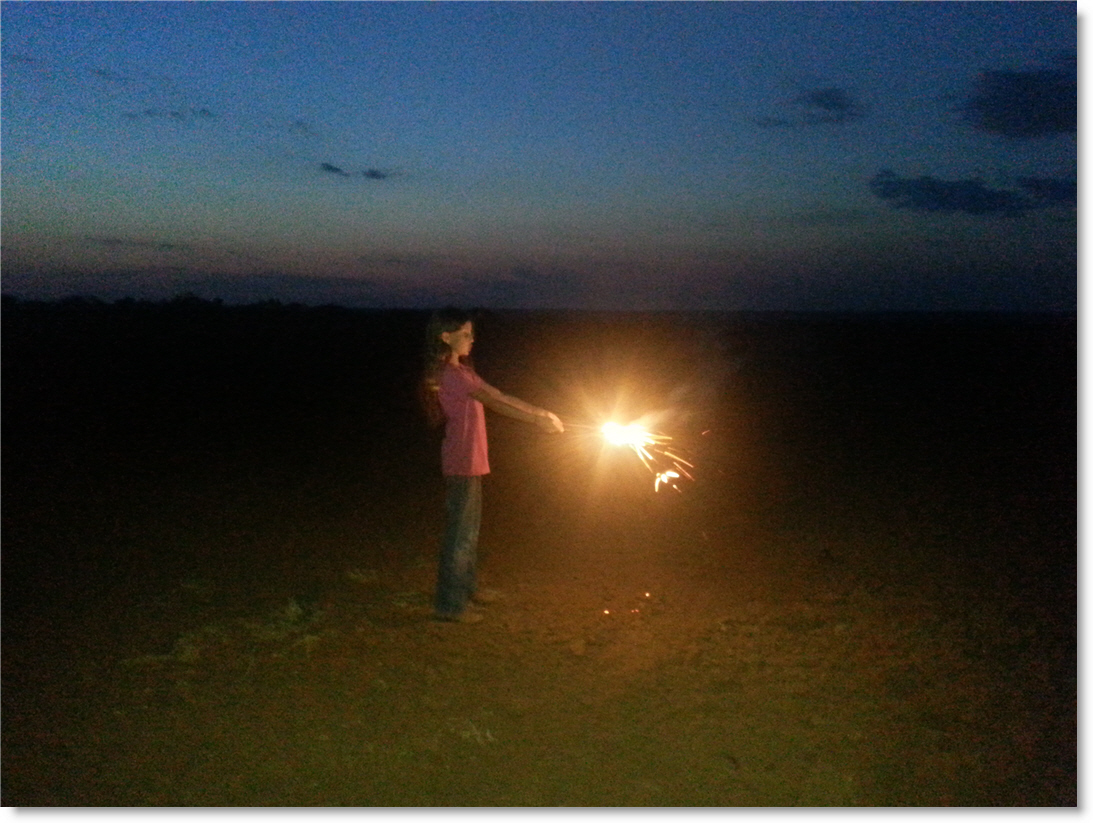 Stockton likes the exploding tanks.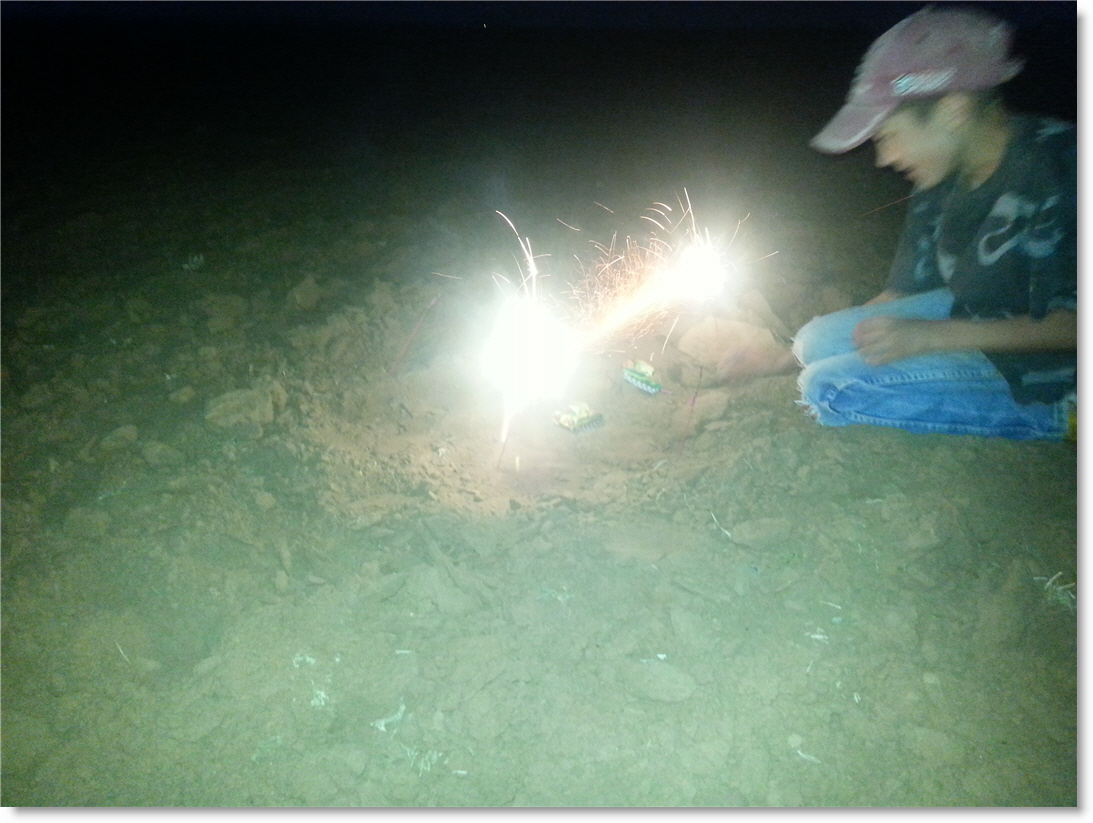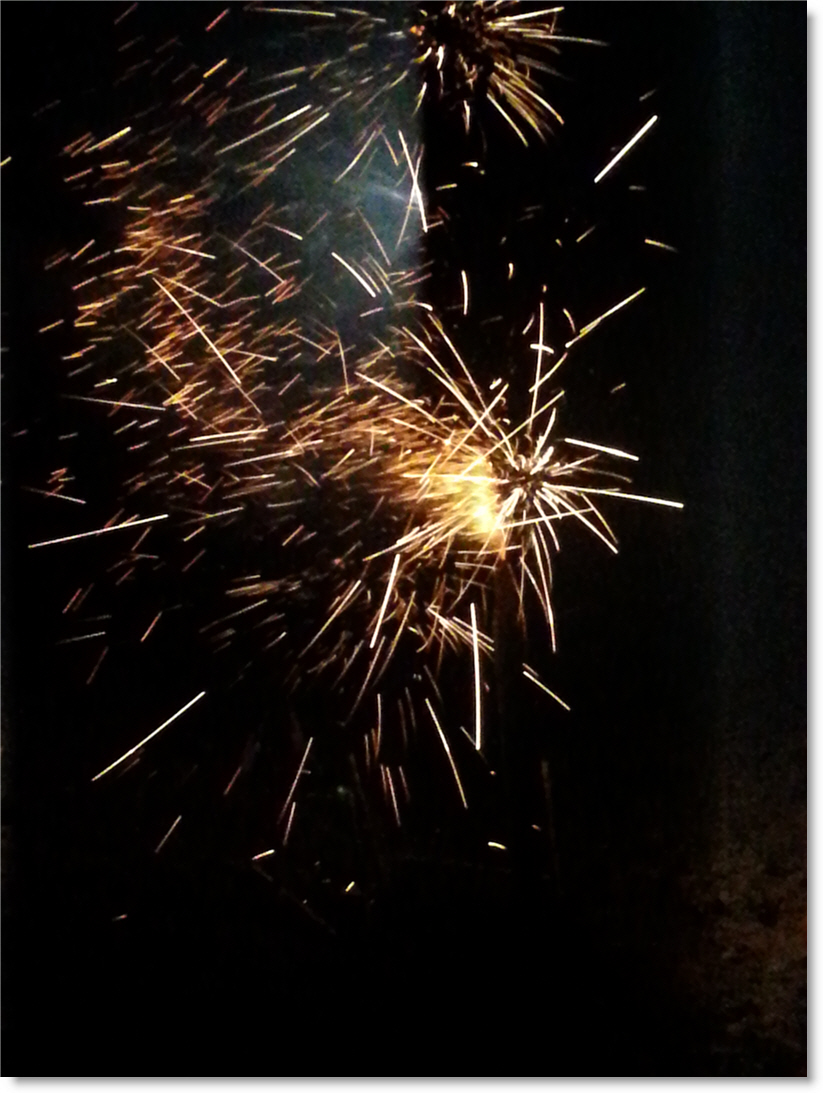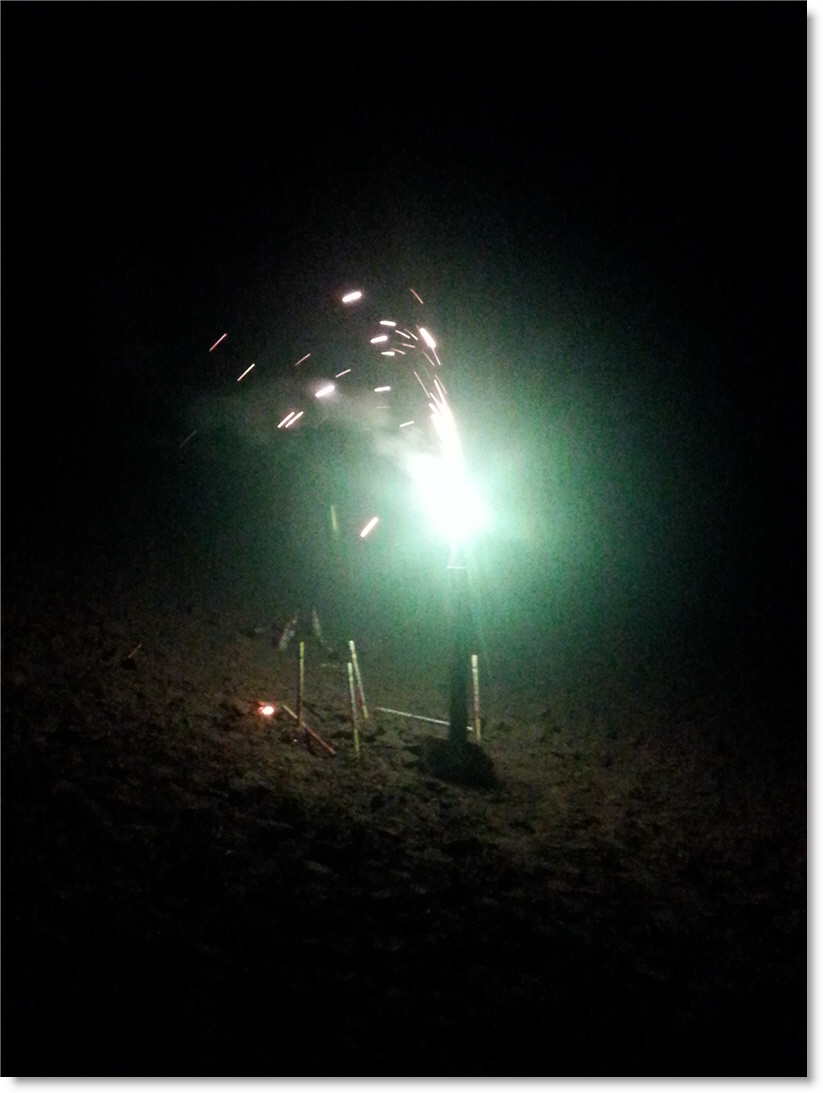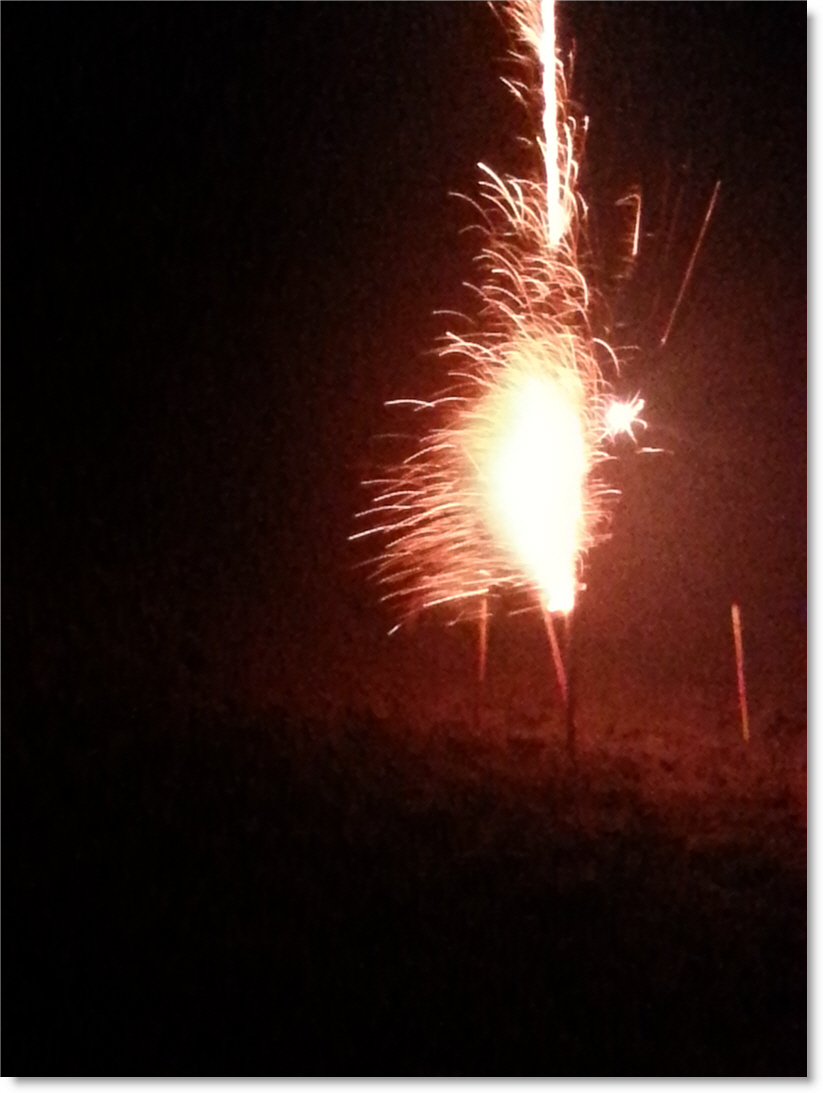 Headed Back Home - This morning the boys took the West gals back to Arkansas to catch their ride to Tennessee. They had a great time on their two week road trip, but I know they'll all be happy to get back home and stay there a while.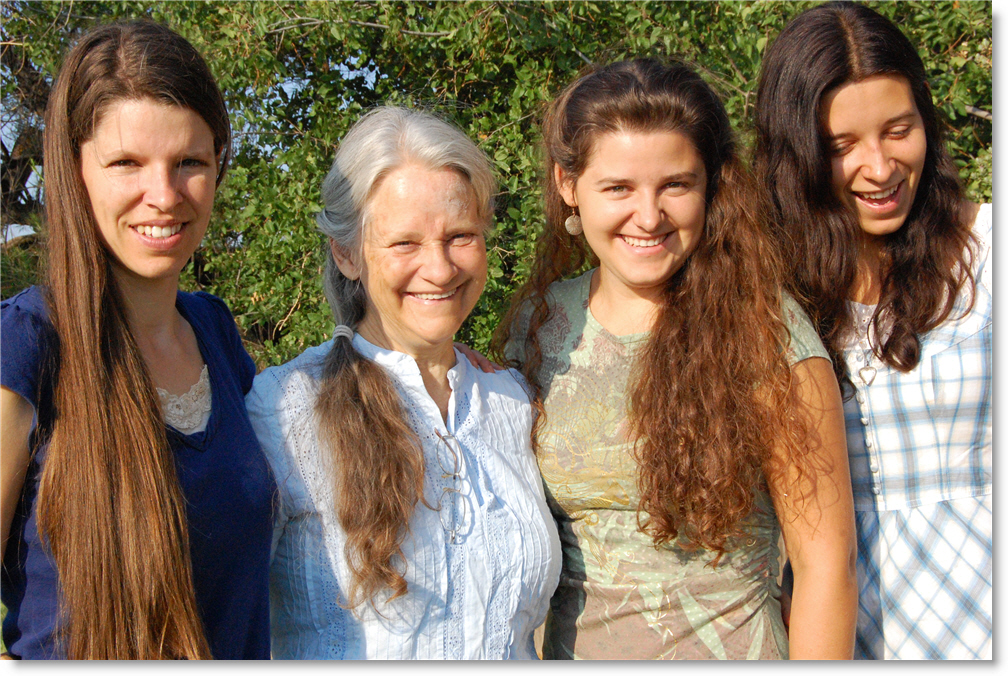 Wednesday, July 3 - Enjoying Another Day with the Wests - Good food, good fun, good memories.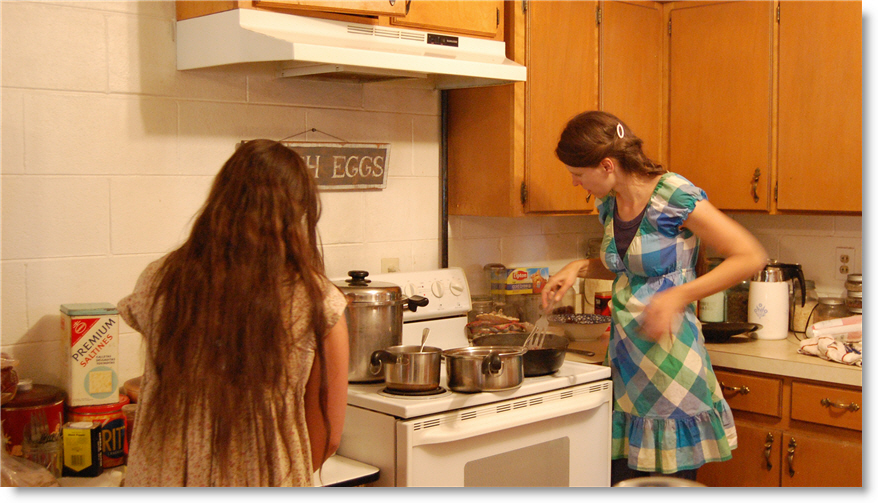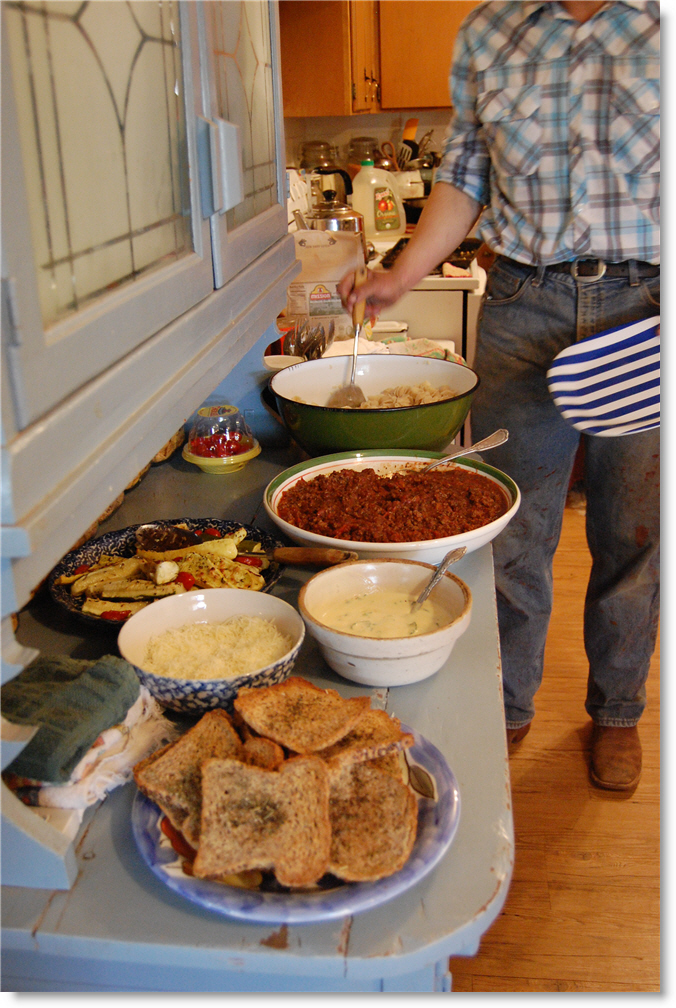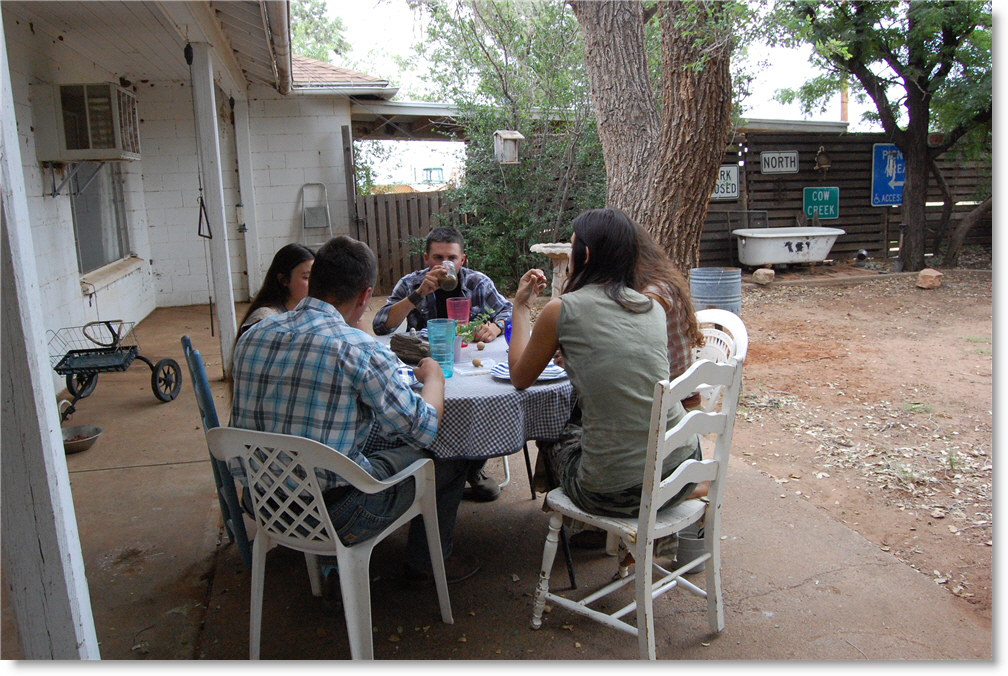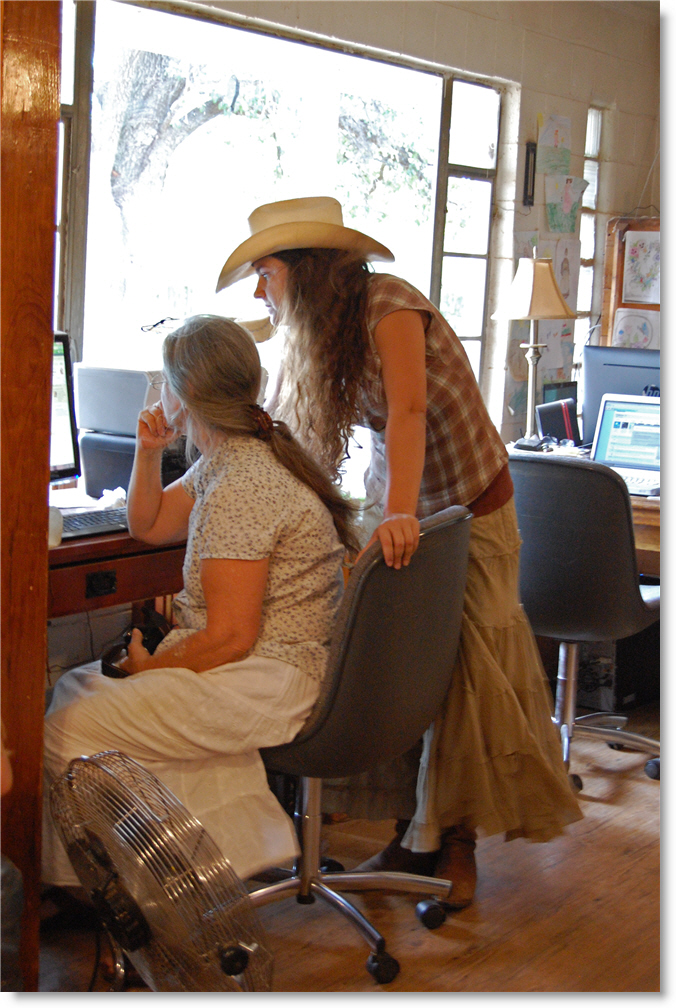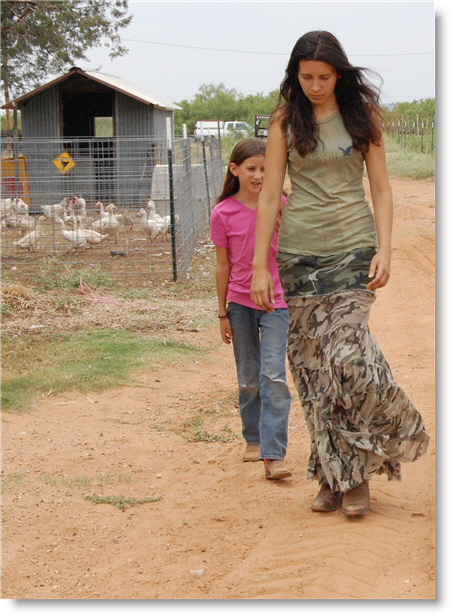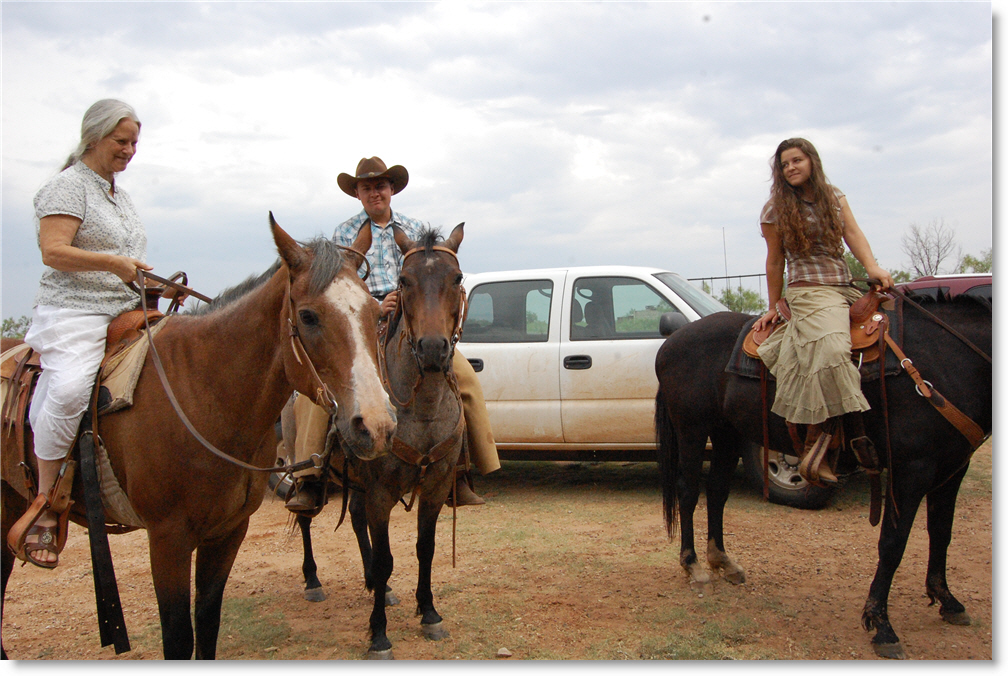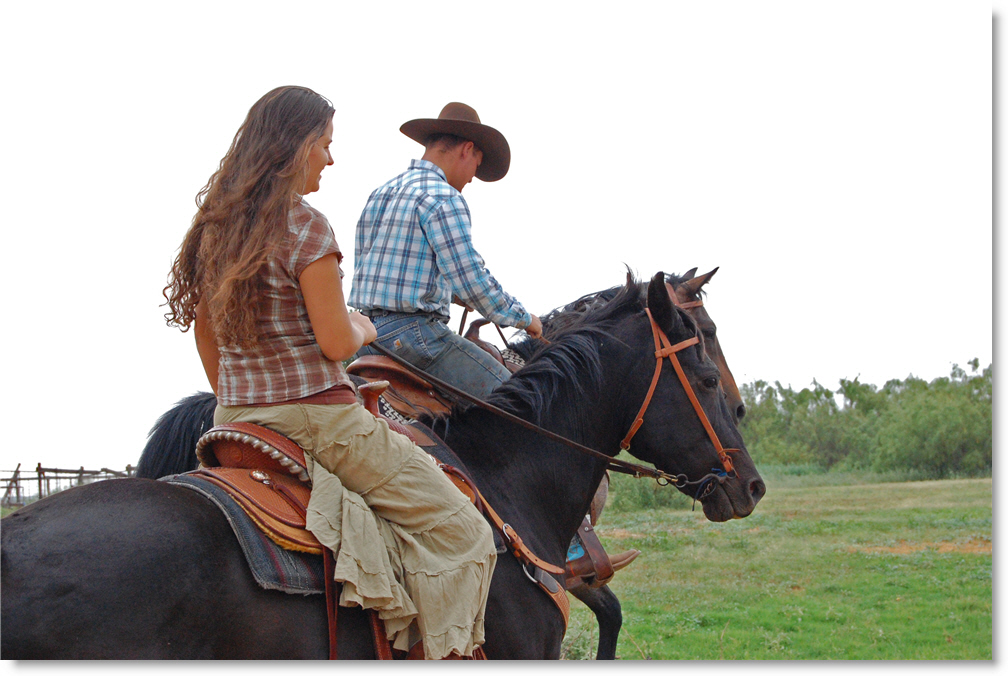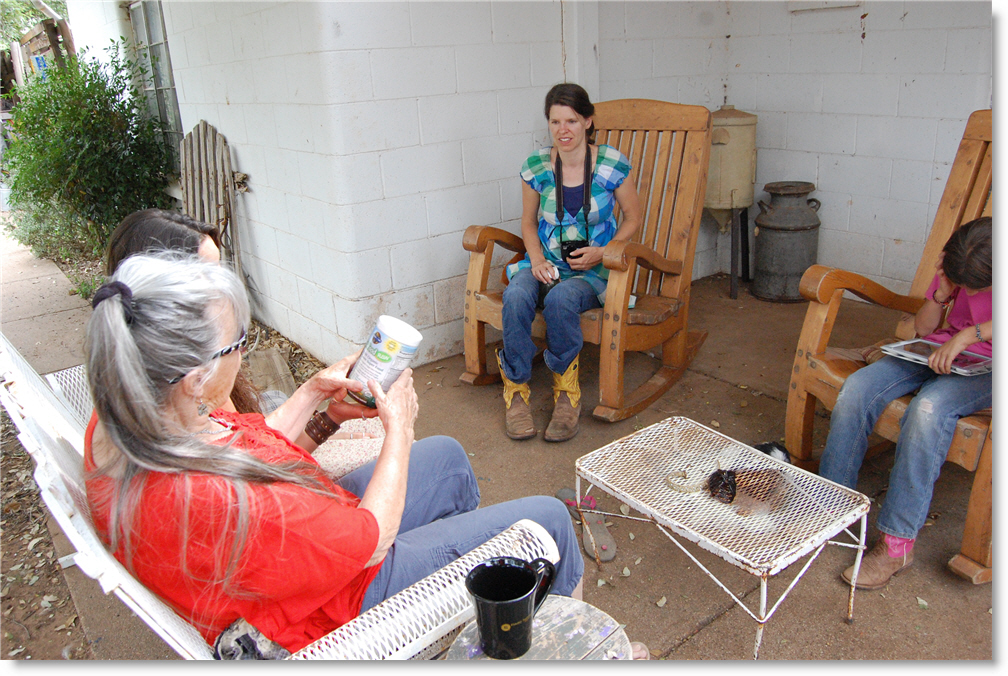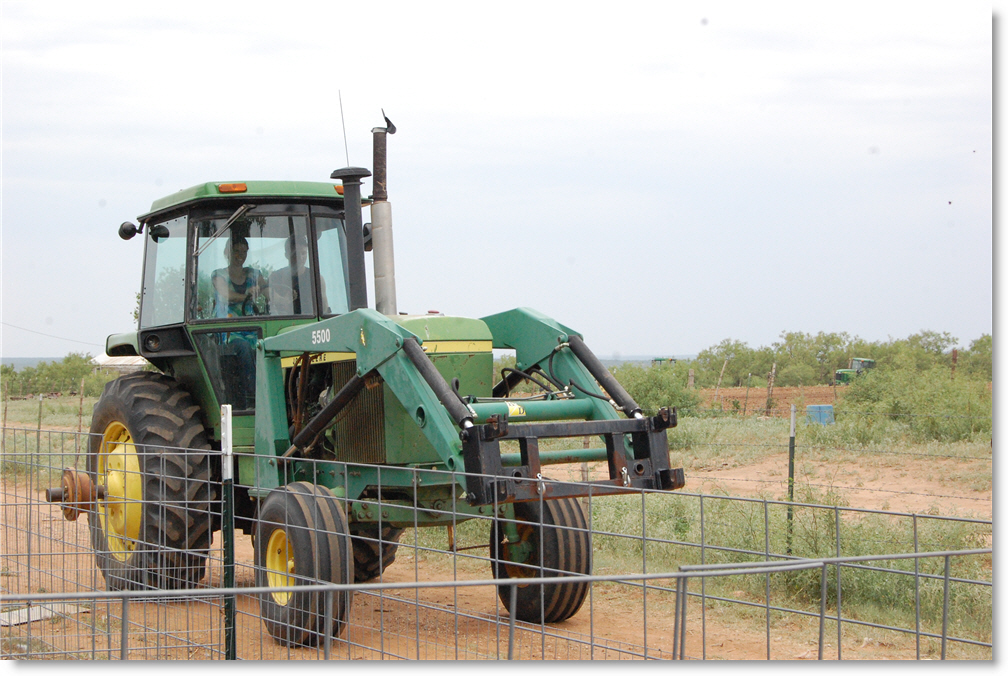 Tuesday, July 2 - Playing in the Water with the Wests - In the pool and in the river, too!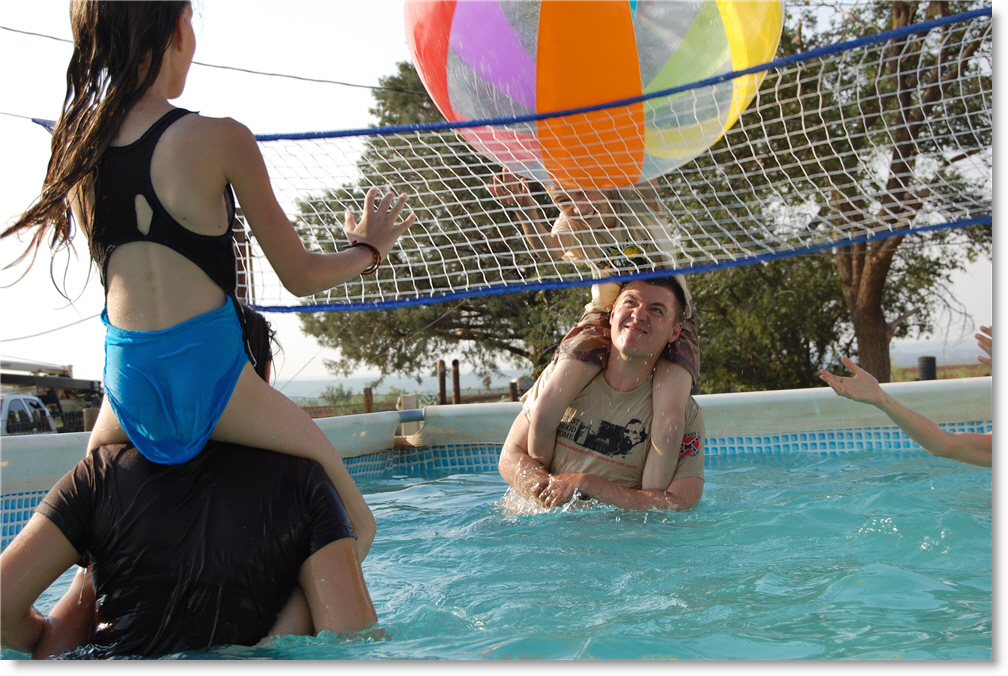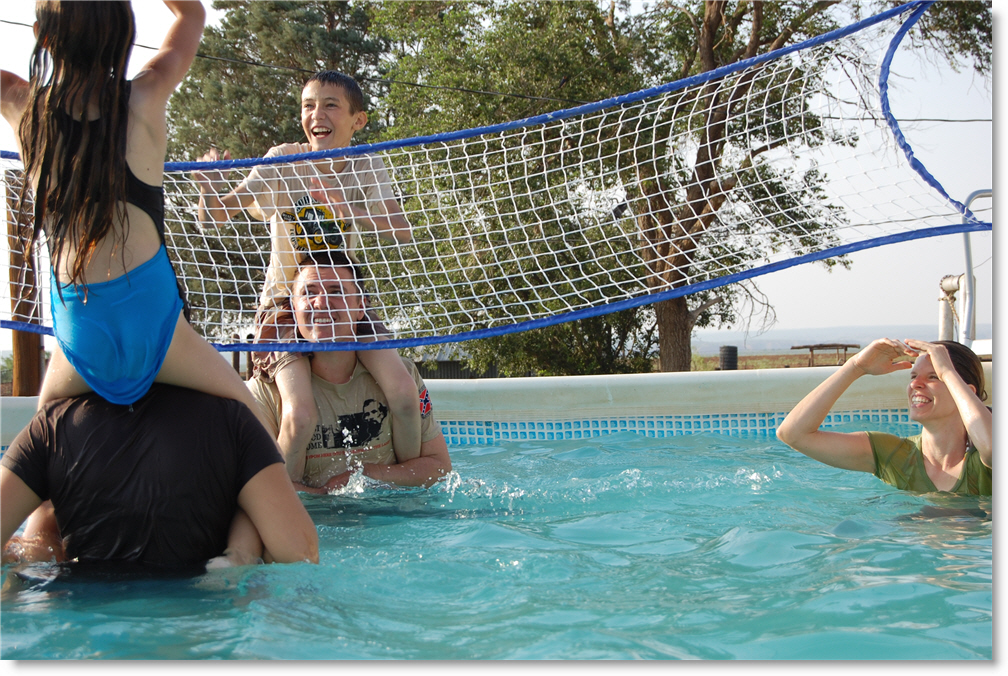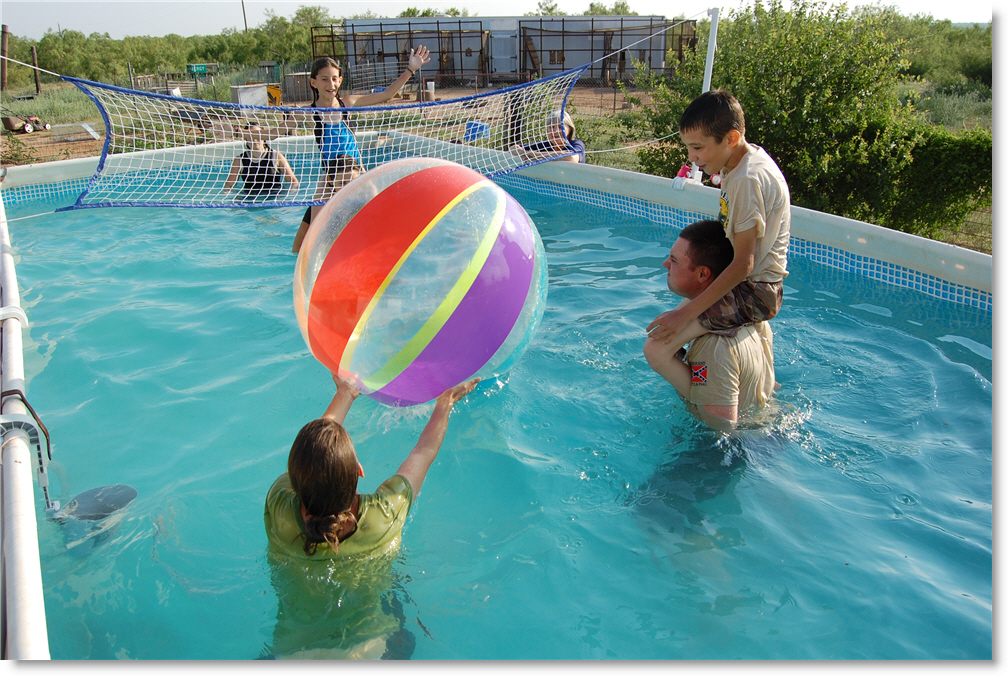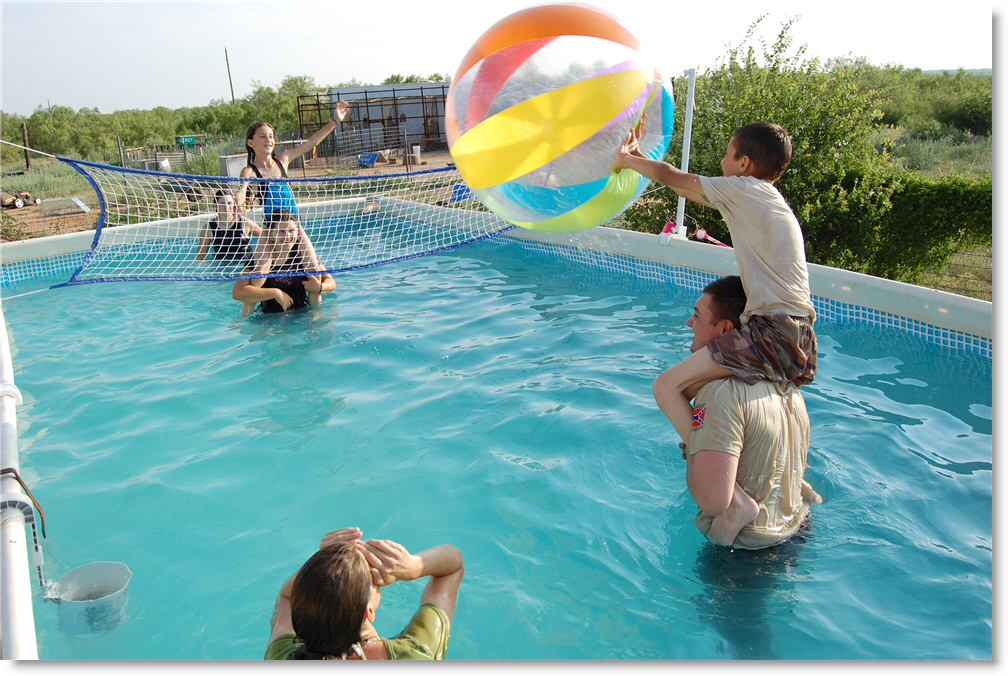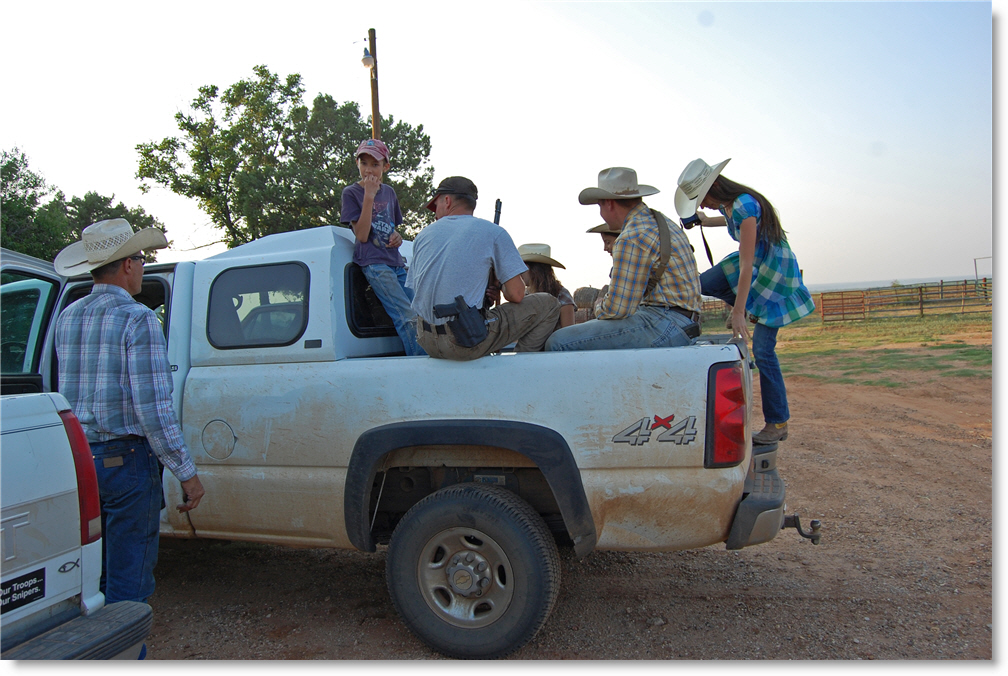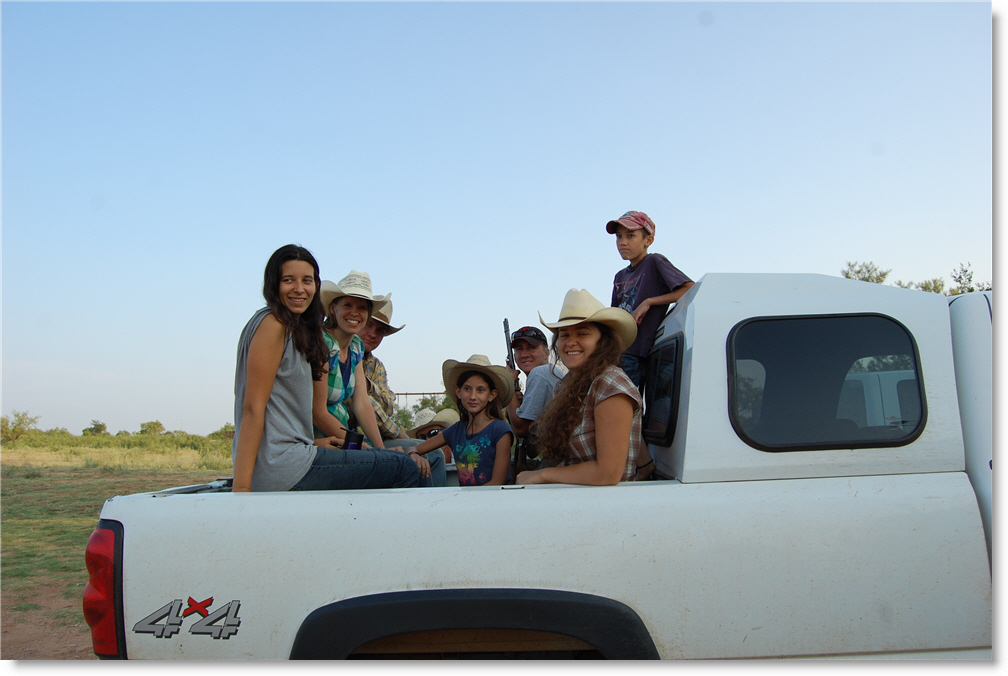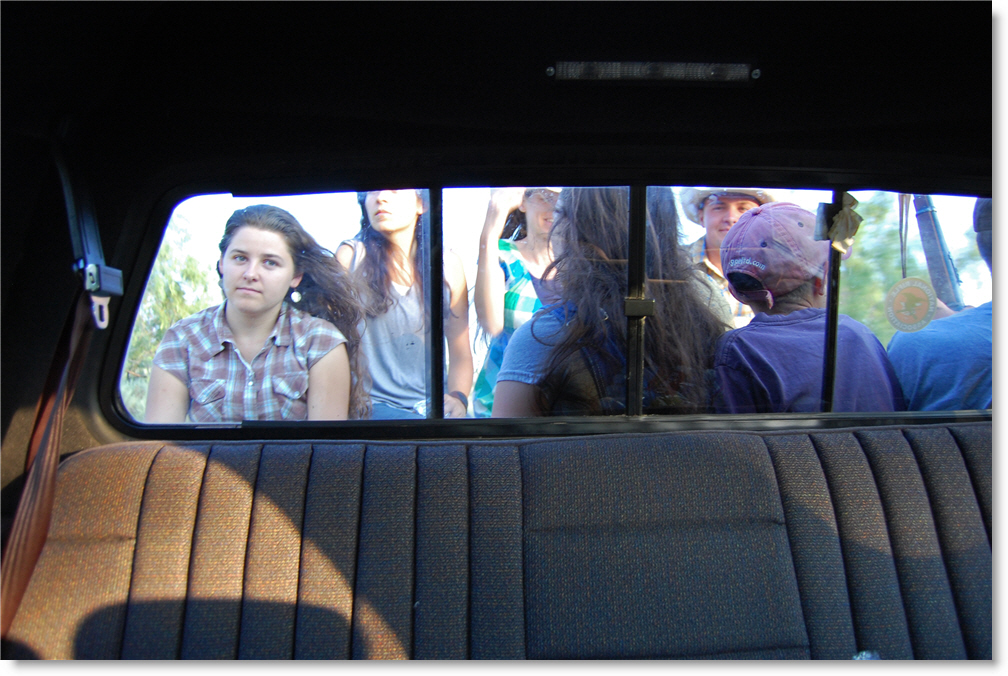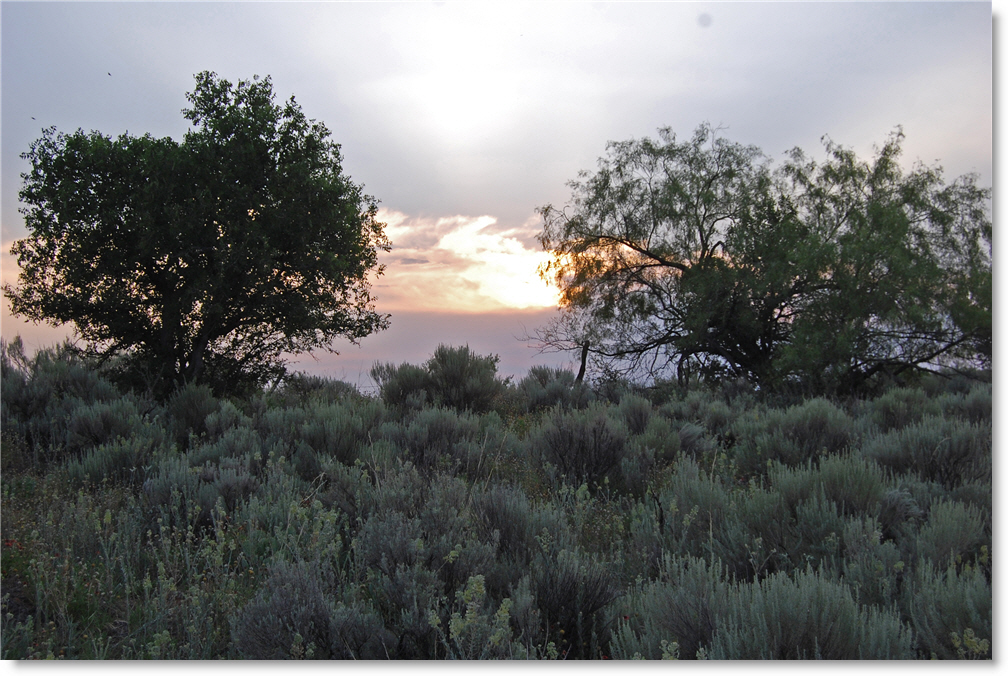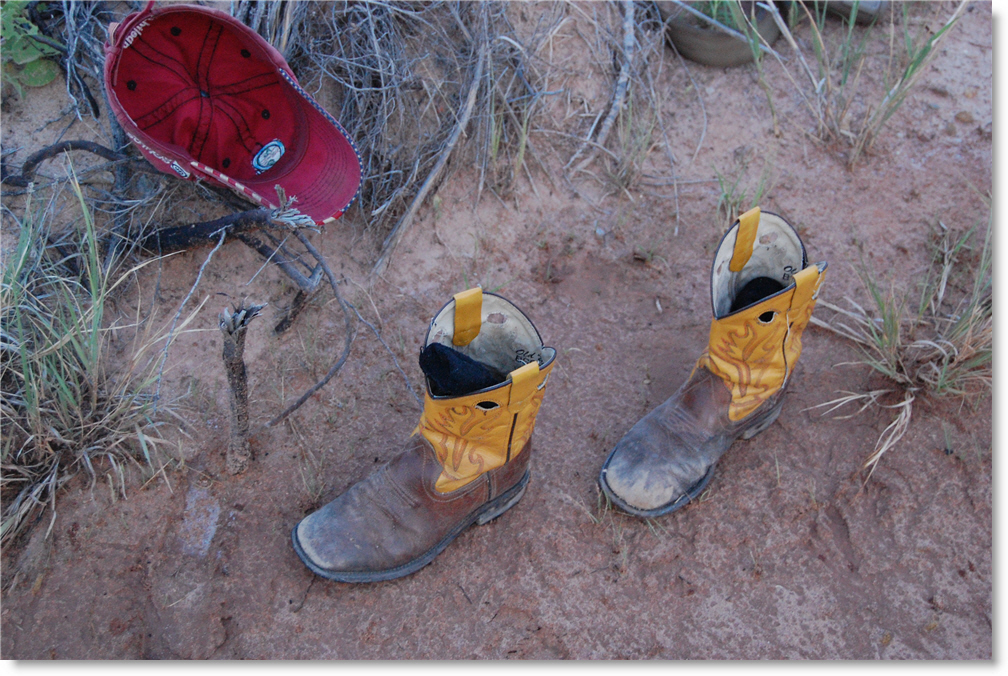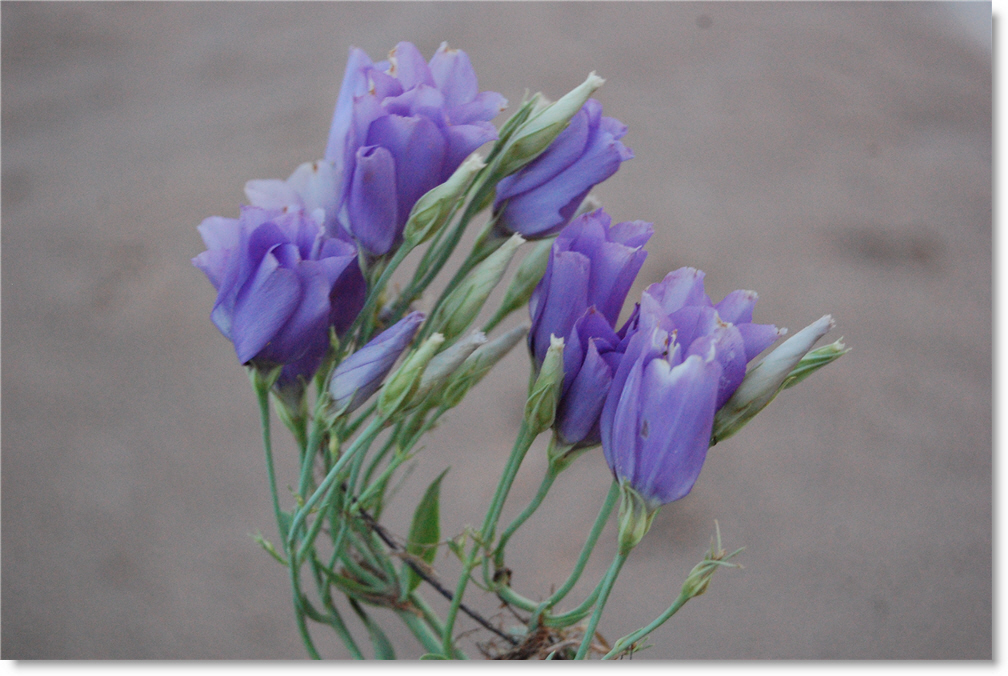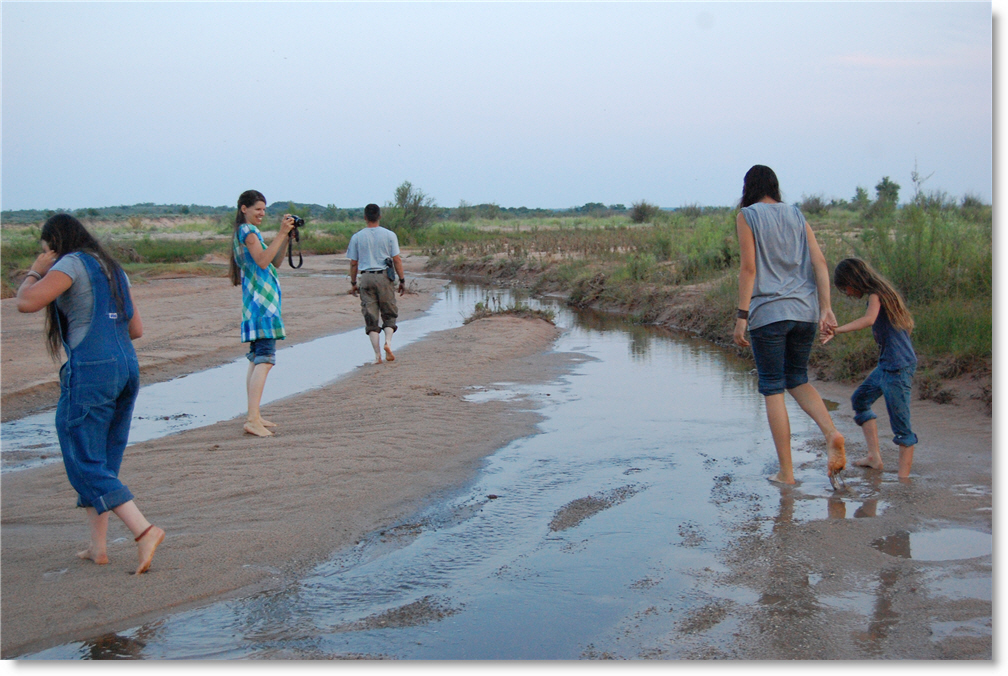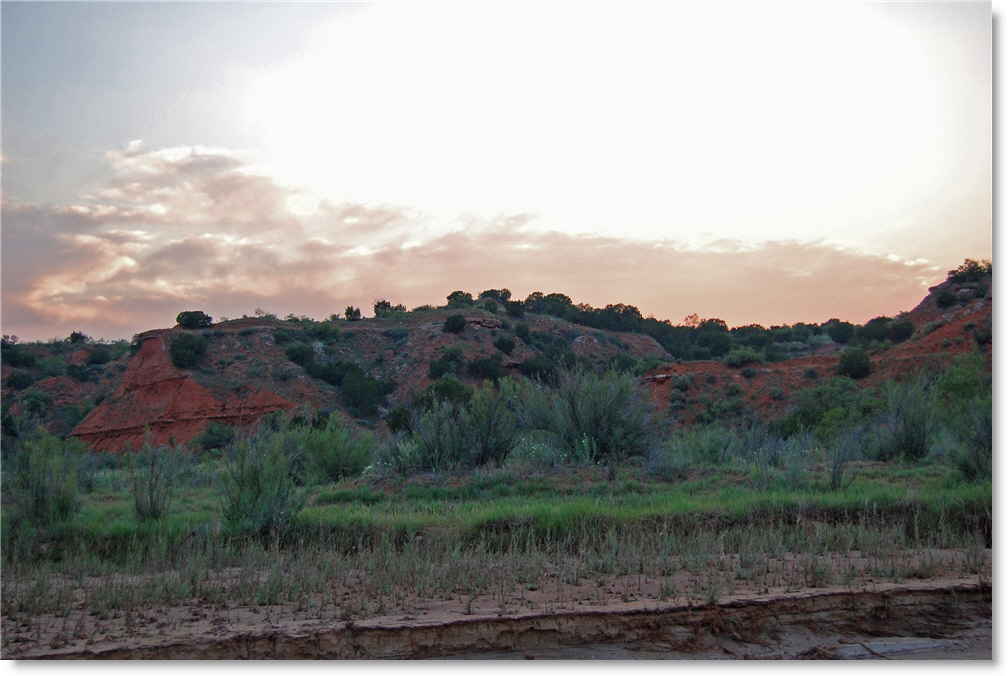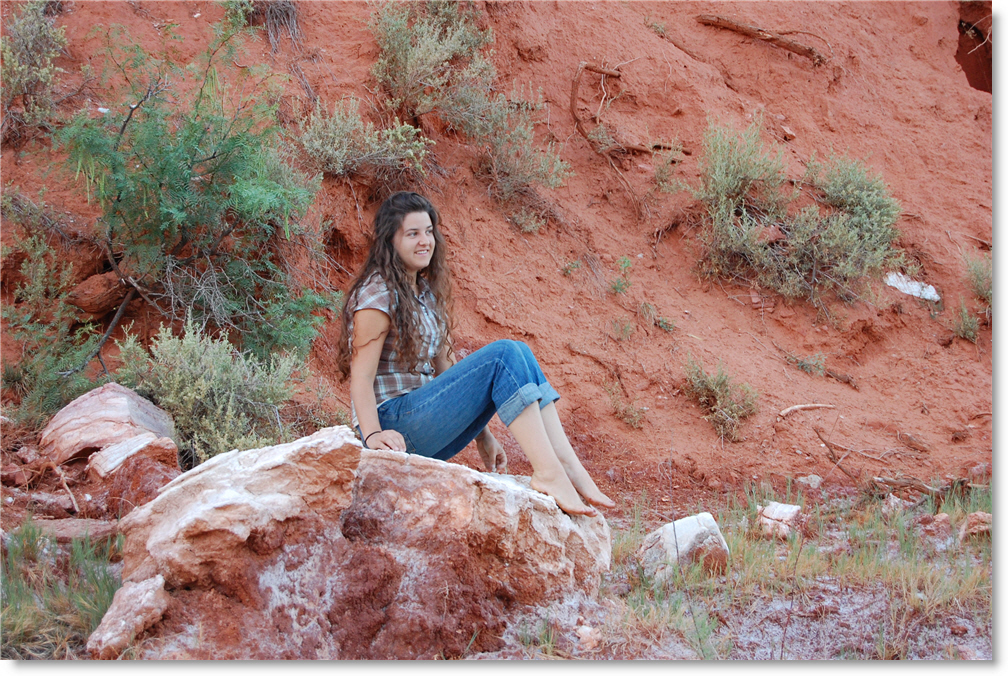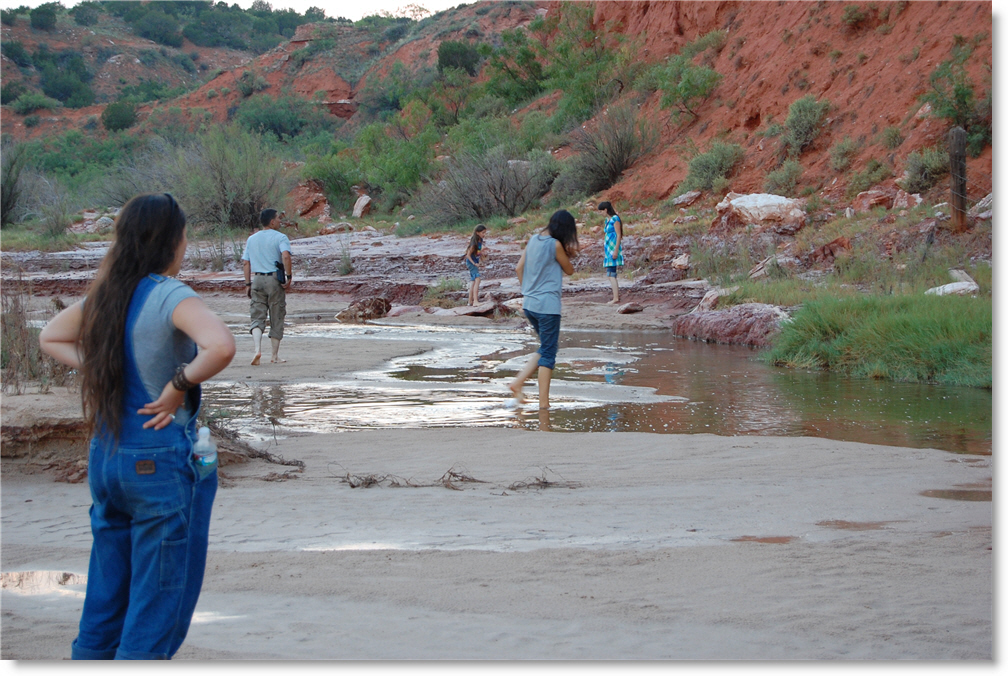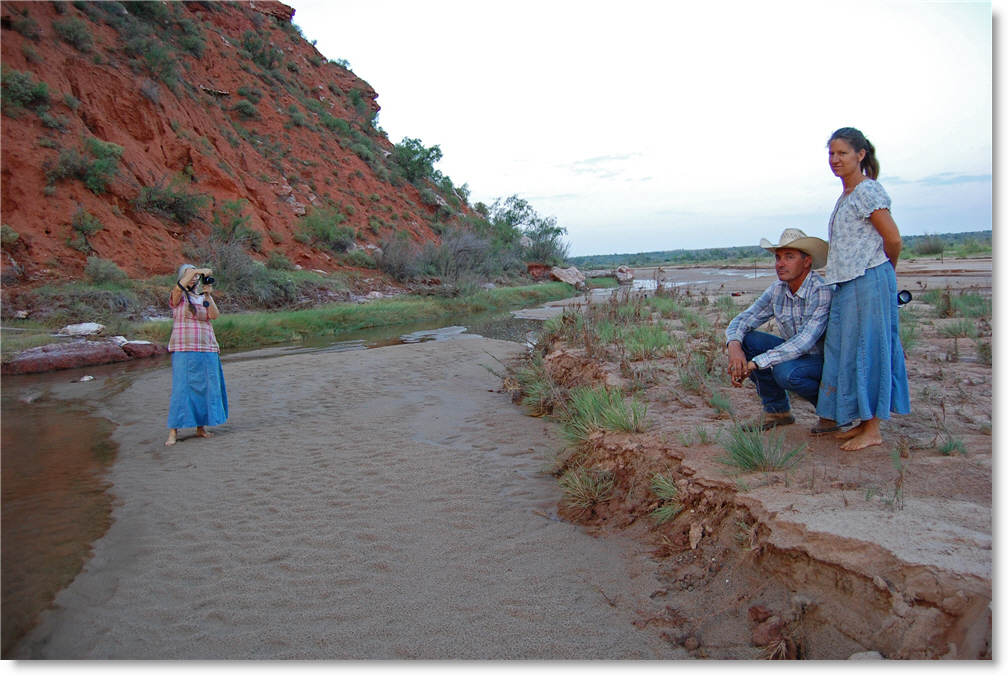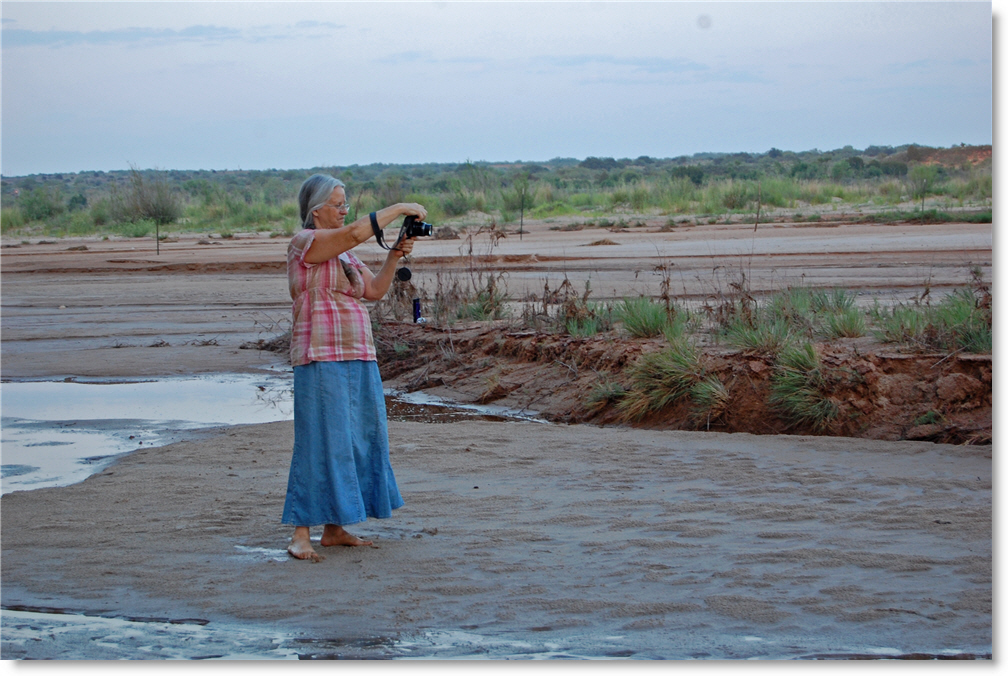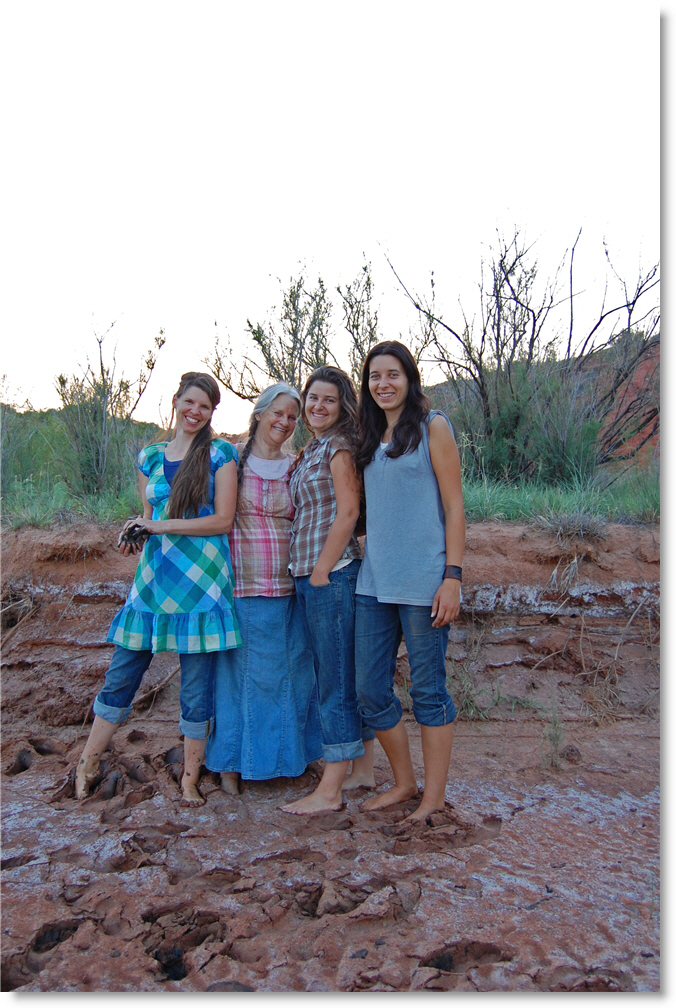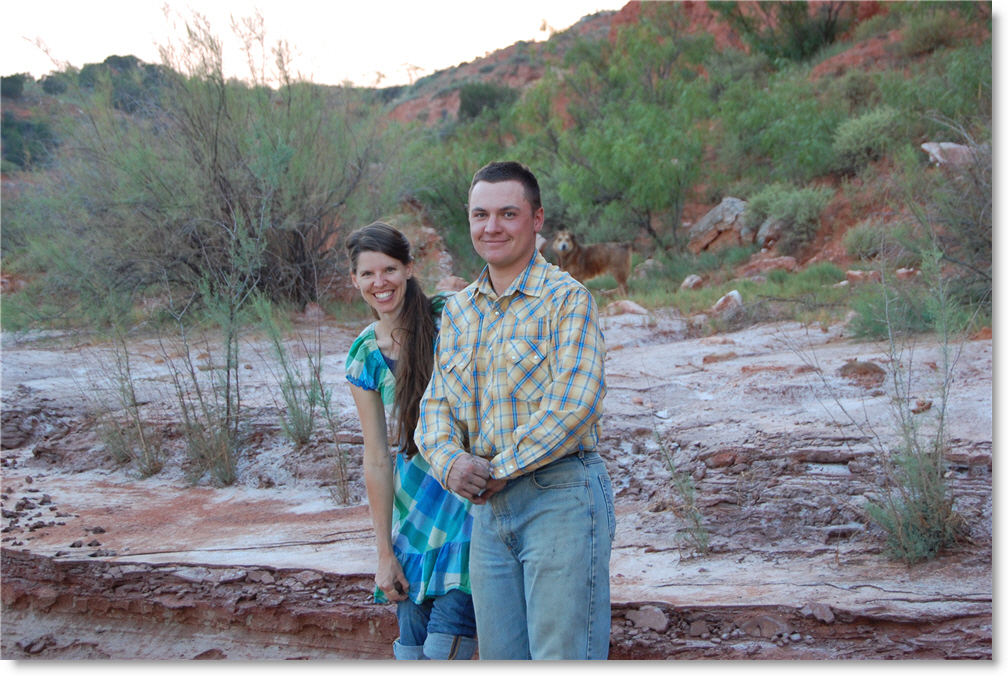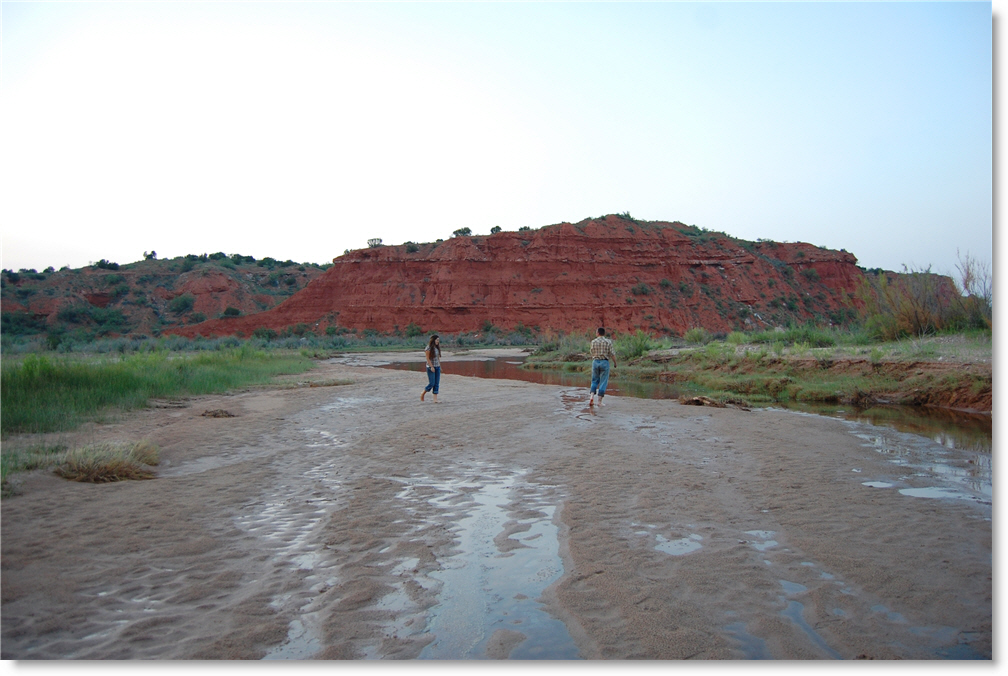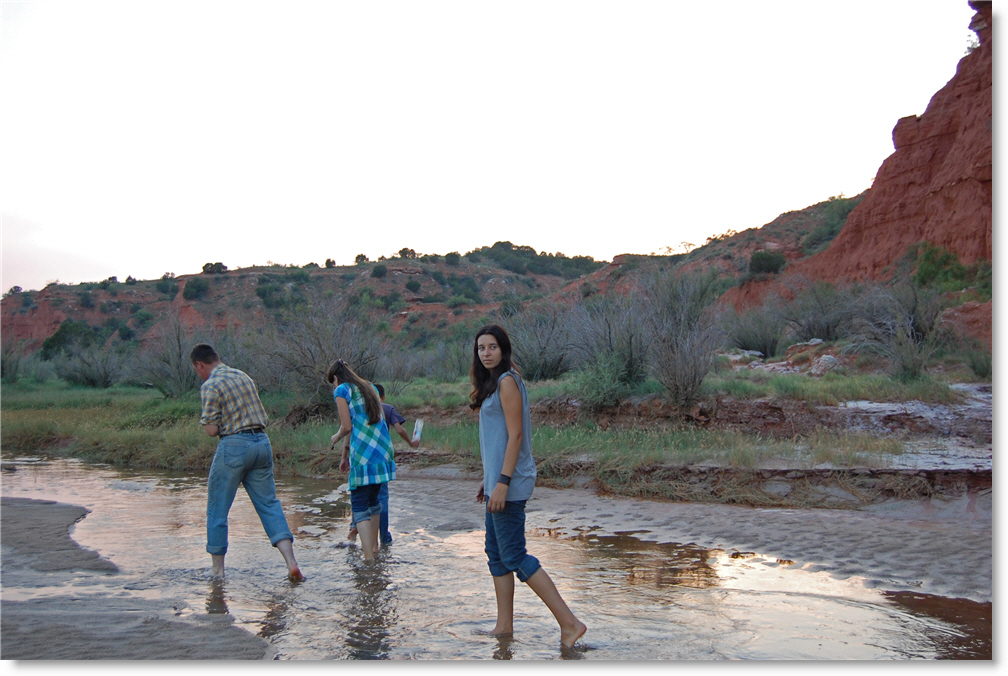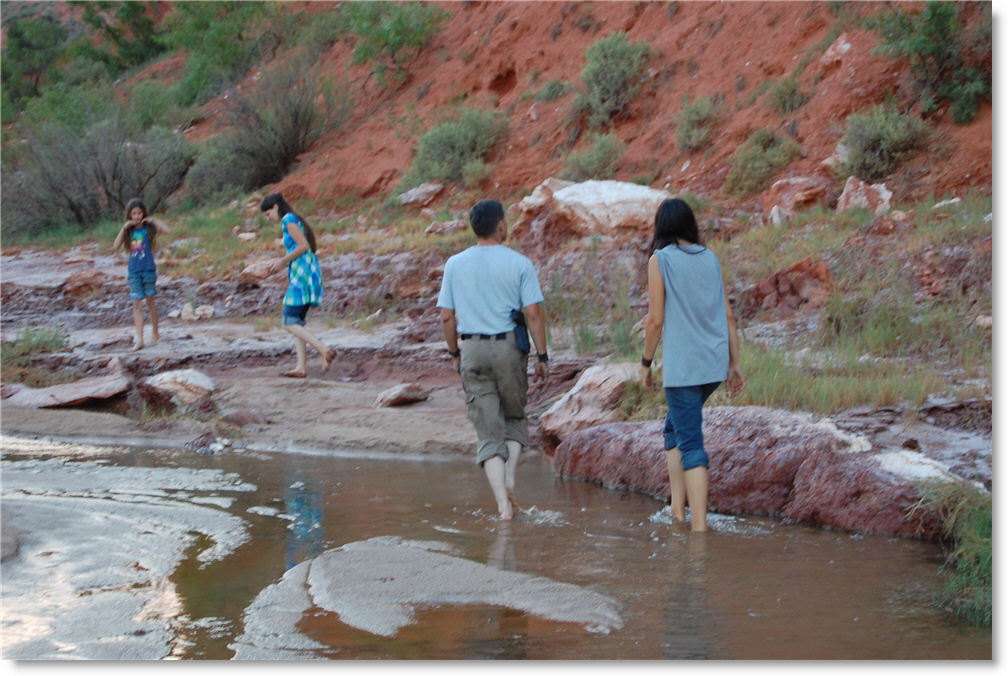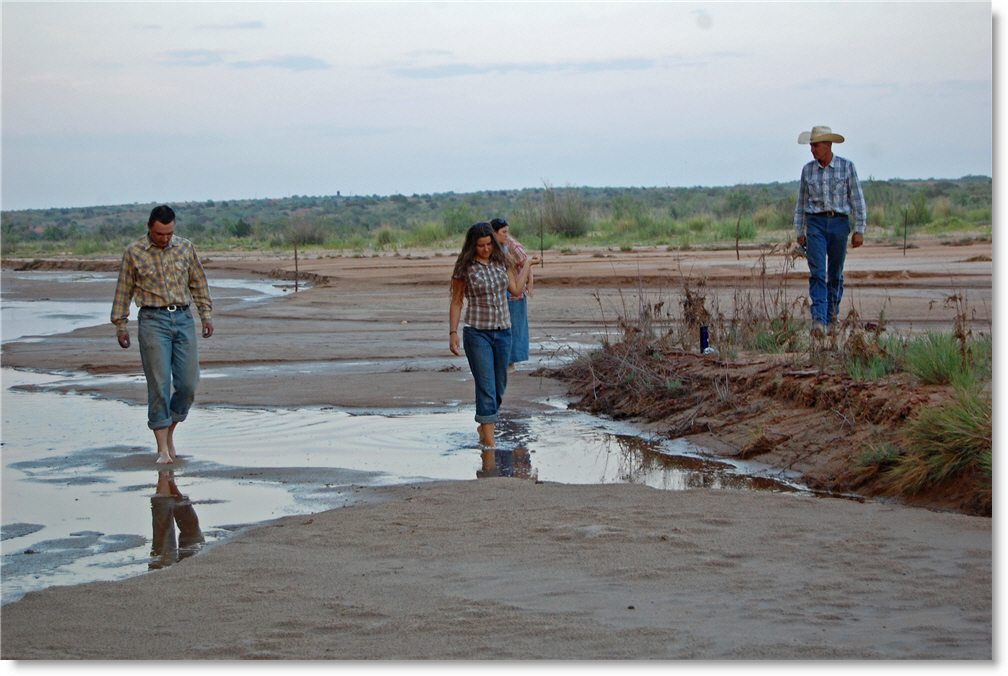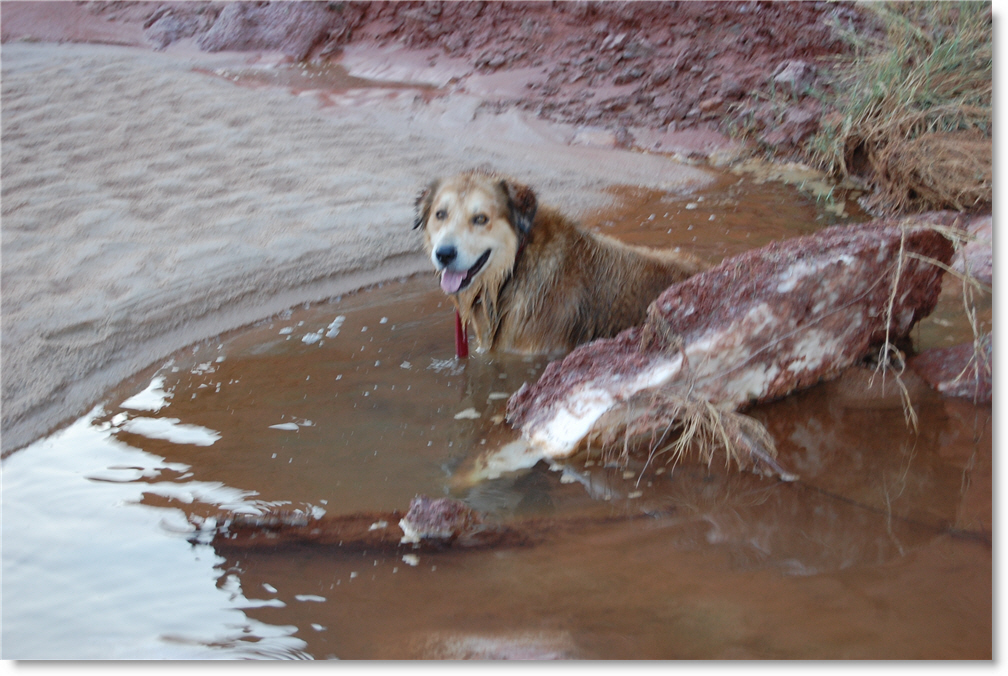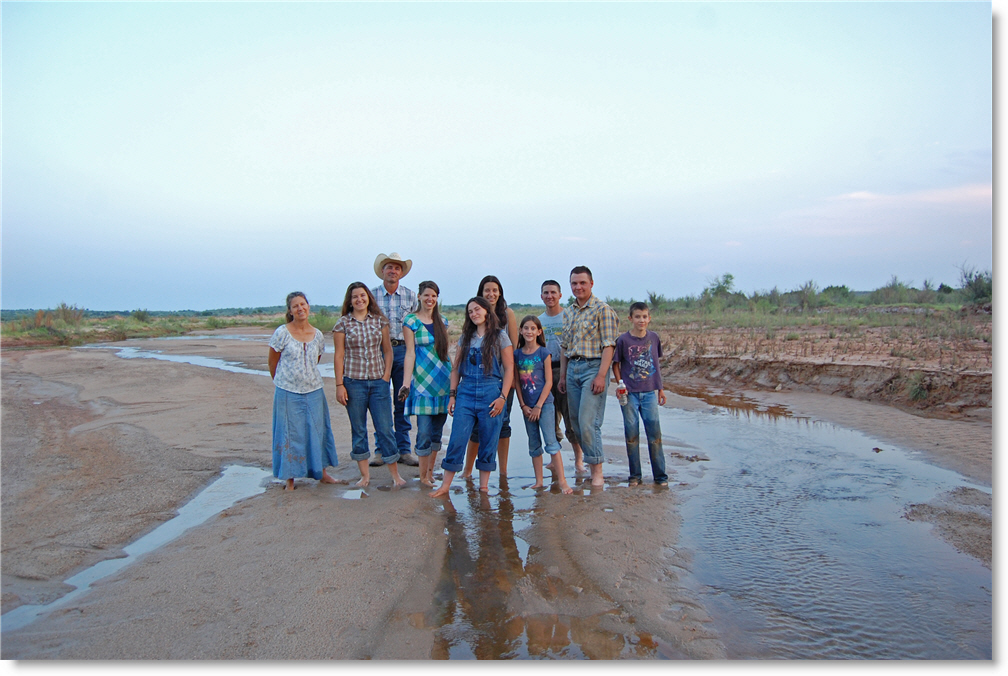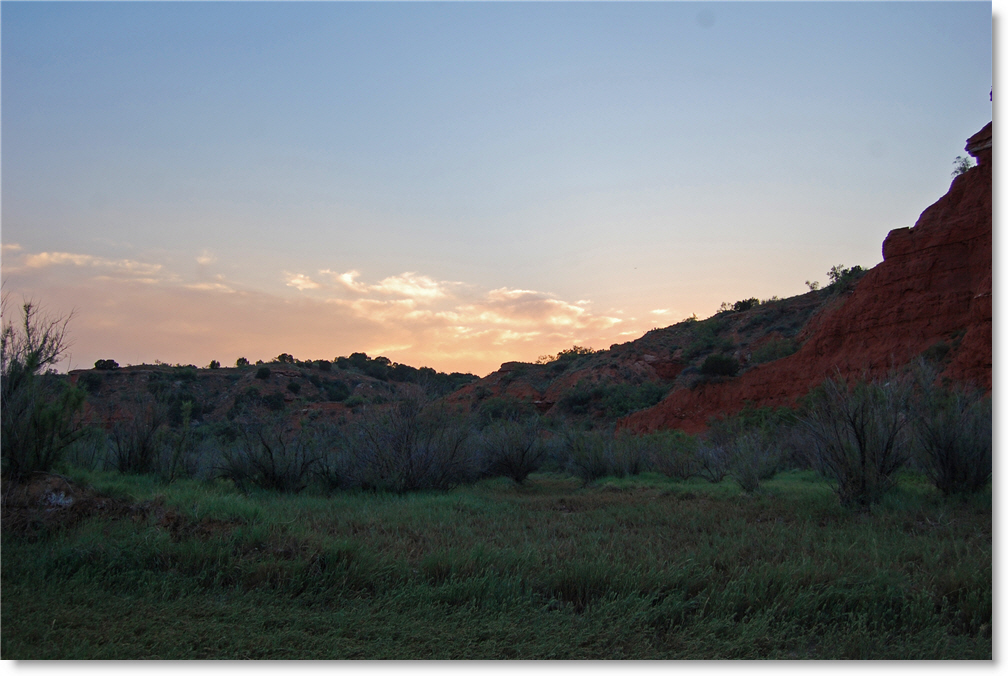 After it got dark, we loaded up to drive back to the house. Unfortunately, we got stuck in the sand. Cim and Laredo had to run a few miles back to the house and get the tractor and a chain to pull us out. When we finally got back home, the kids (and Nathan, too) were all hungry again and had to have a midnight snack. It was such a great day, we hated for it to end.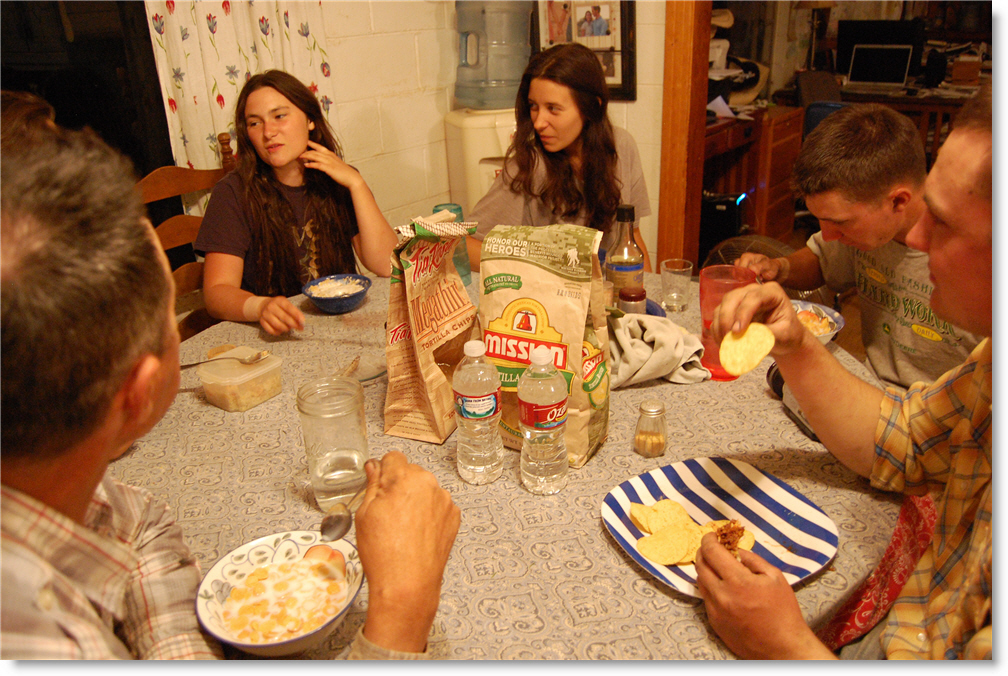 Check out our past news. Just click any link below: