Tuesday, February 26 - New Calf - We bought a jersey heifer a couple of years ago that was supposed to be bred to a jersey bull. She never calved, though. This summer she was exposed to one of our angus bulls. This morning she decided to deliver. Unfortunately, the calf was very large and had to be pulled. Thankfully, everything went well.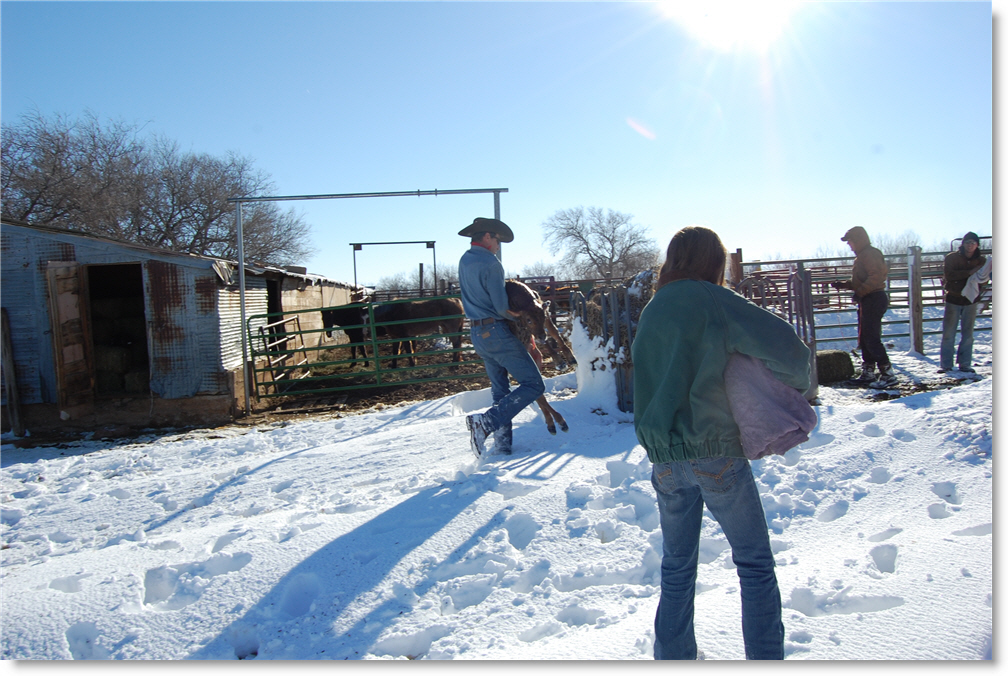 The bull calf was put onto a dry pile of hay. He seems a little overwhelmed with his ordeal.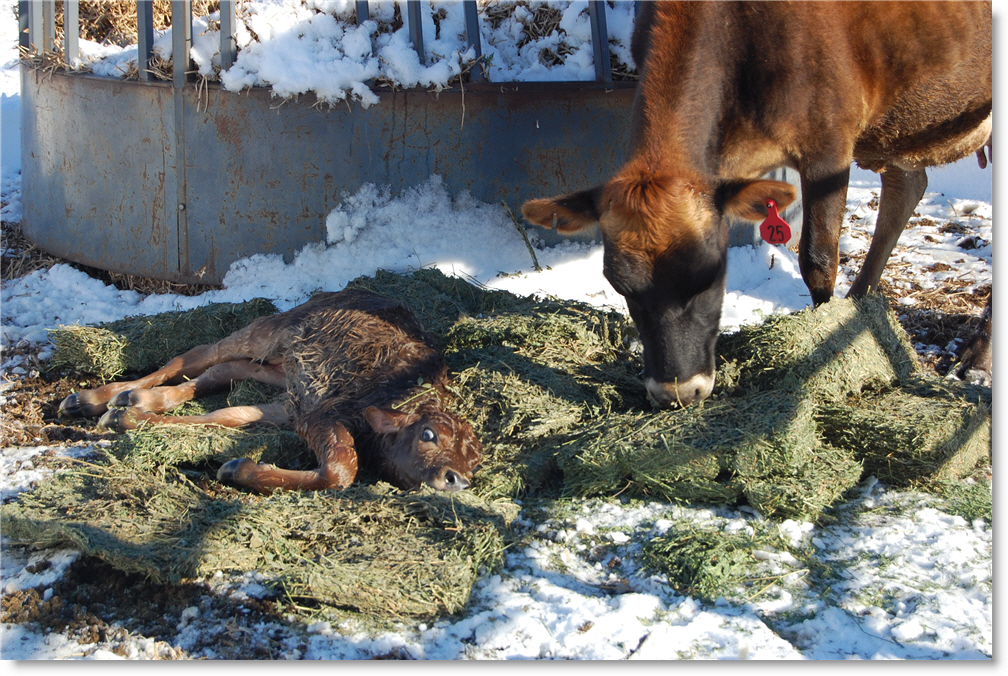 The new momma finally notices him.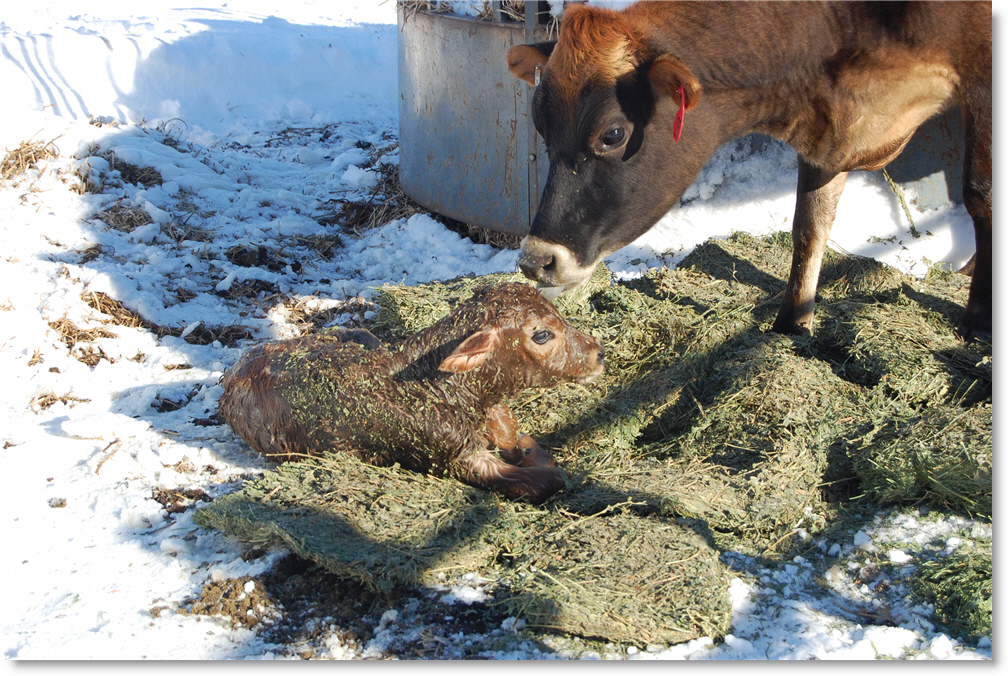 She starts to lick him off.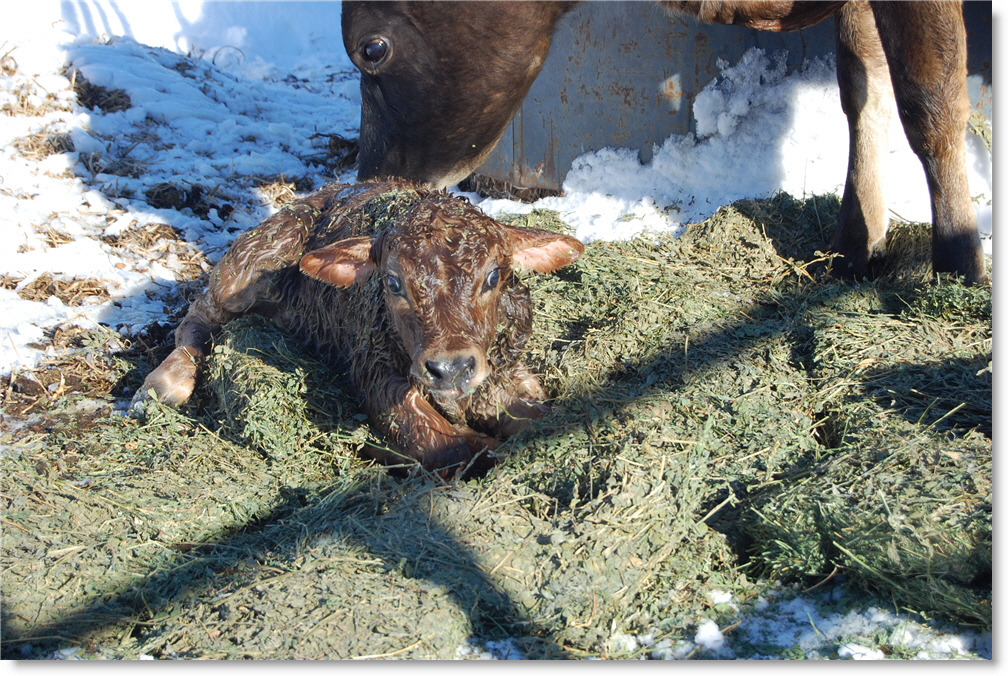 While she bonds with the calf, Nathan, the boys and Atlanta go feed the cows in the pasture. Atlanta gets some nice shots of the ranch with snow cover.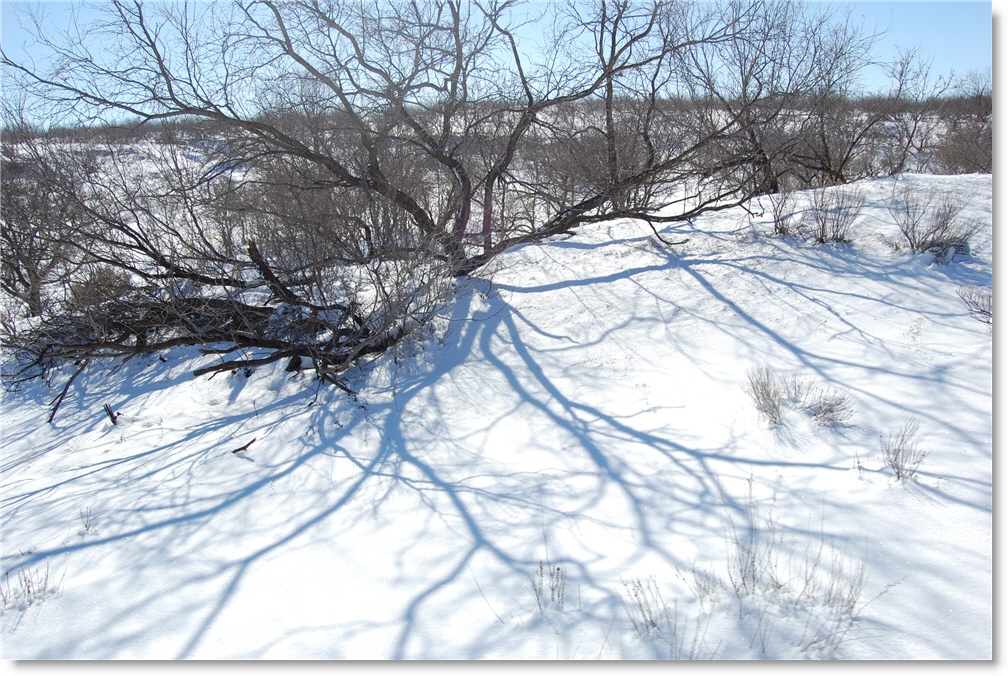 It was already pretty slushy, since feeding had been delayed until the calf was pulled. Even with 4 wheel drive, the pickup got stuck.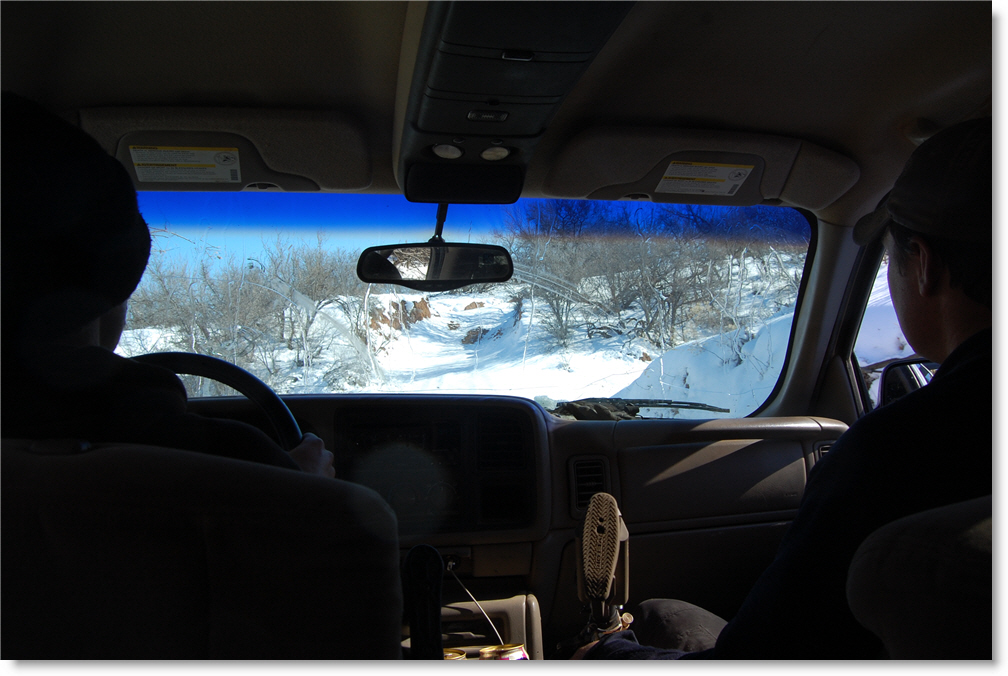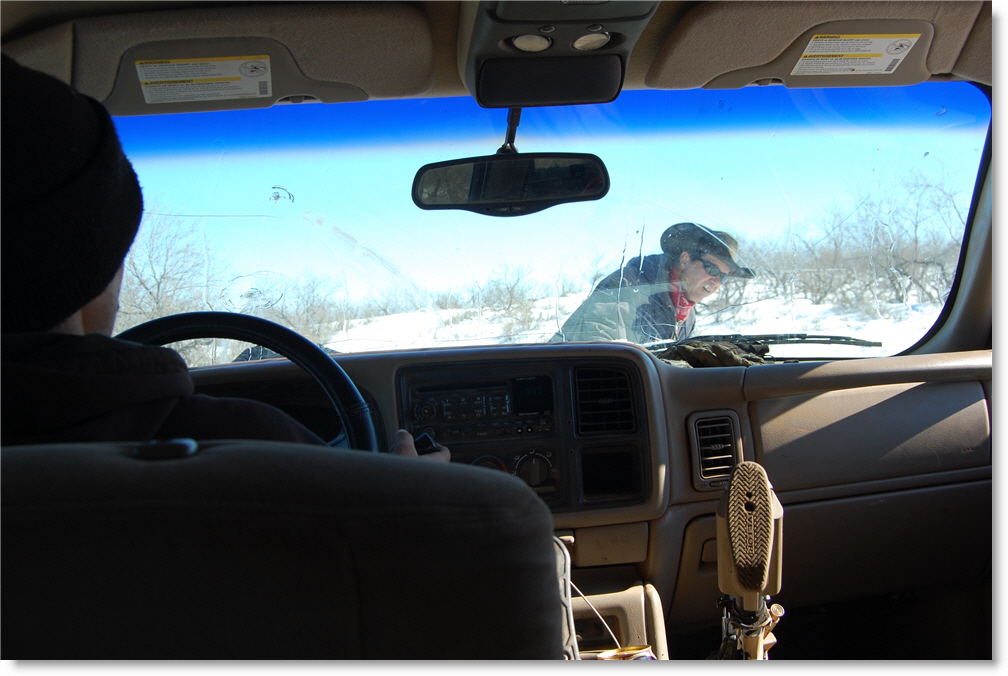 The boys started hiking back to the house to get the tractor. Nathan and Atlanta stayed to feed.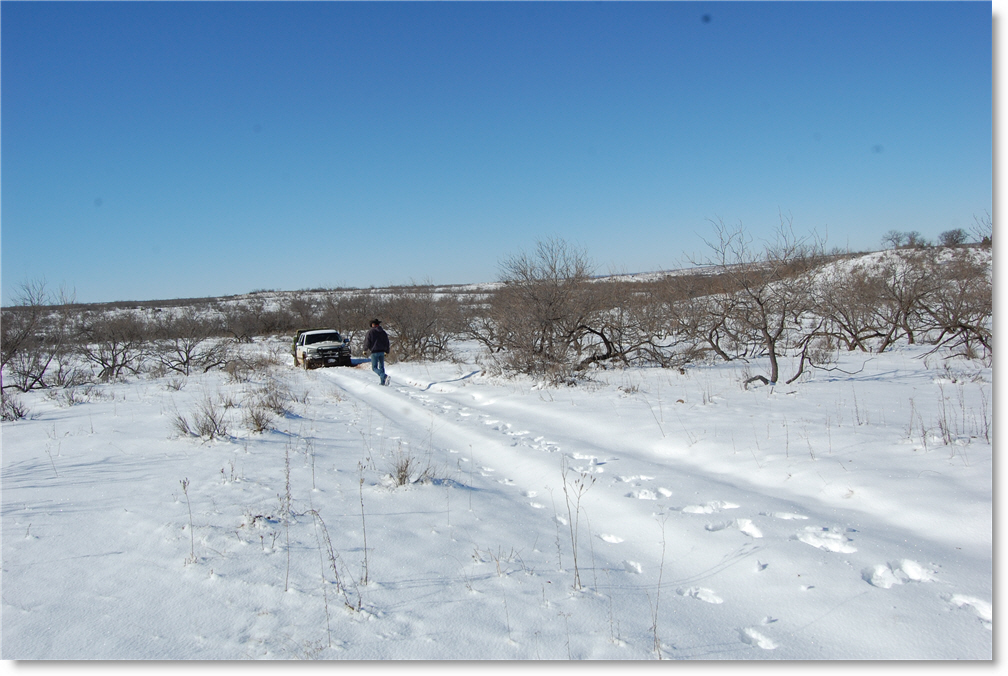 Alfalfa ready to feed.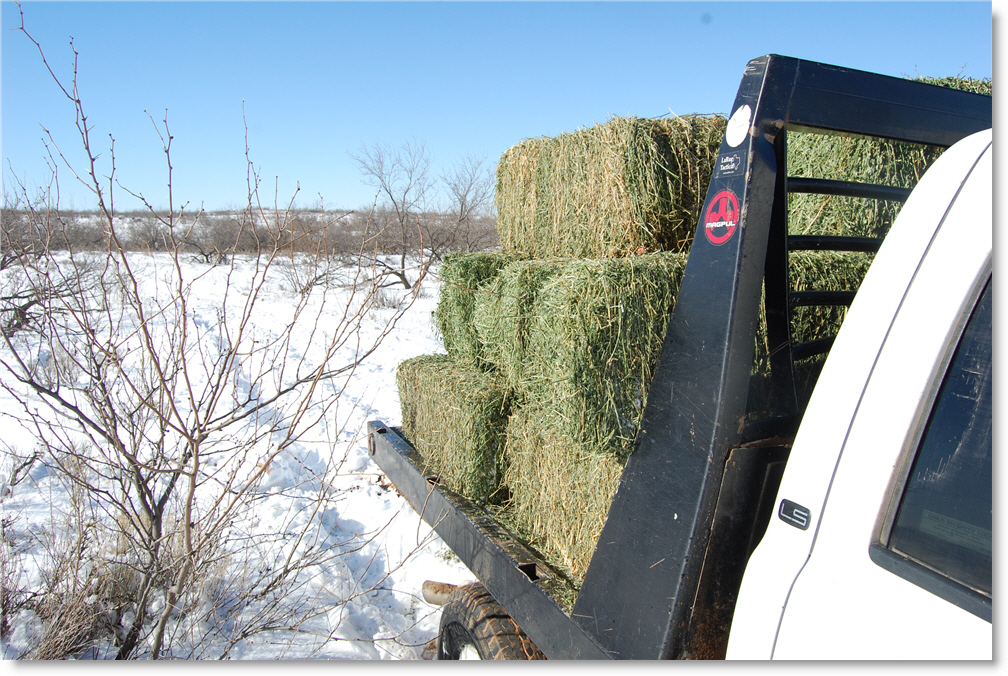 Animal trails criss cross this draw.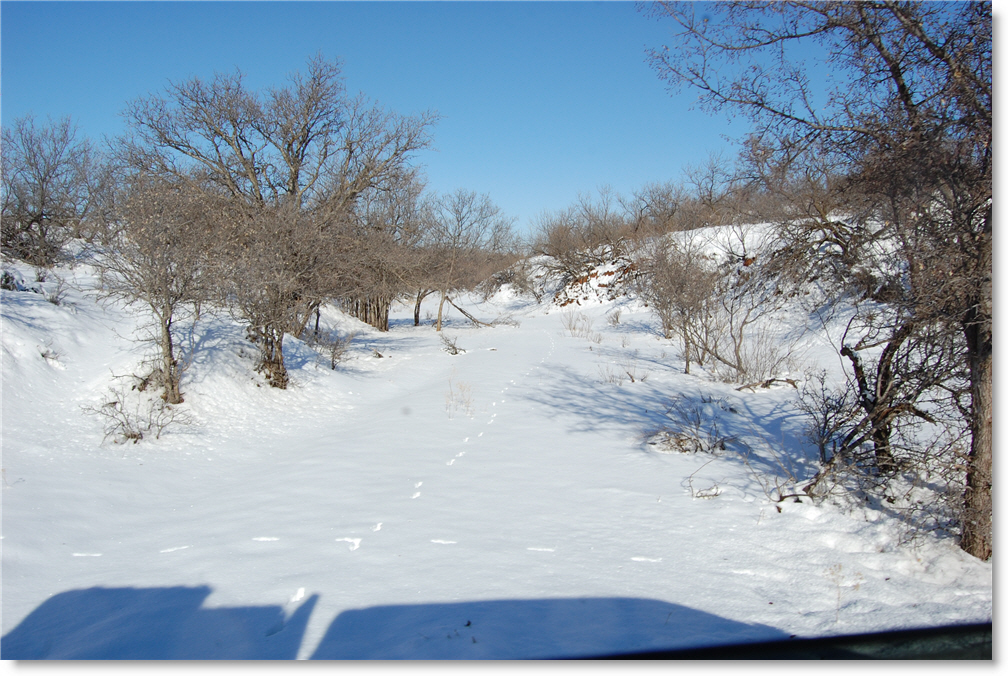 Nathan calls the cows.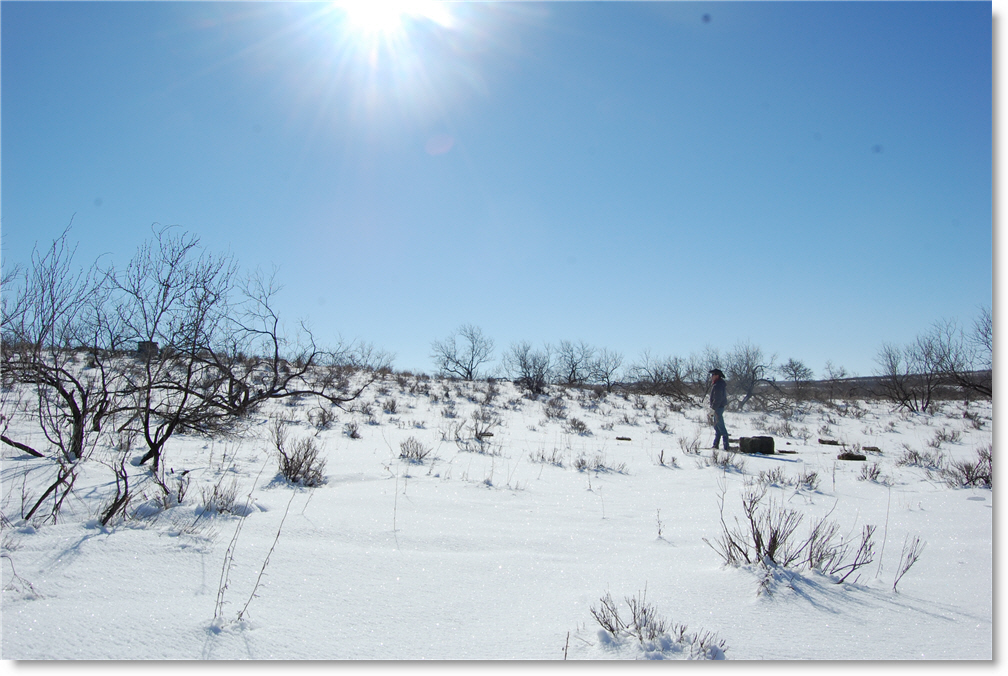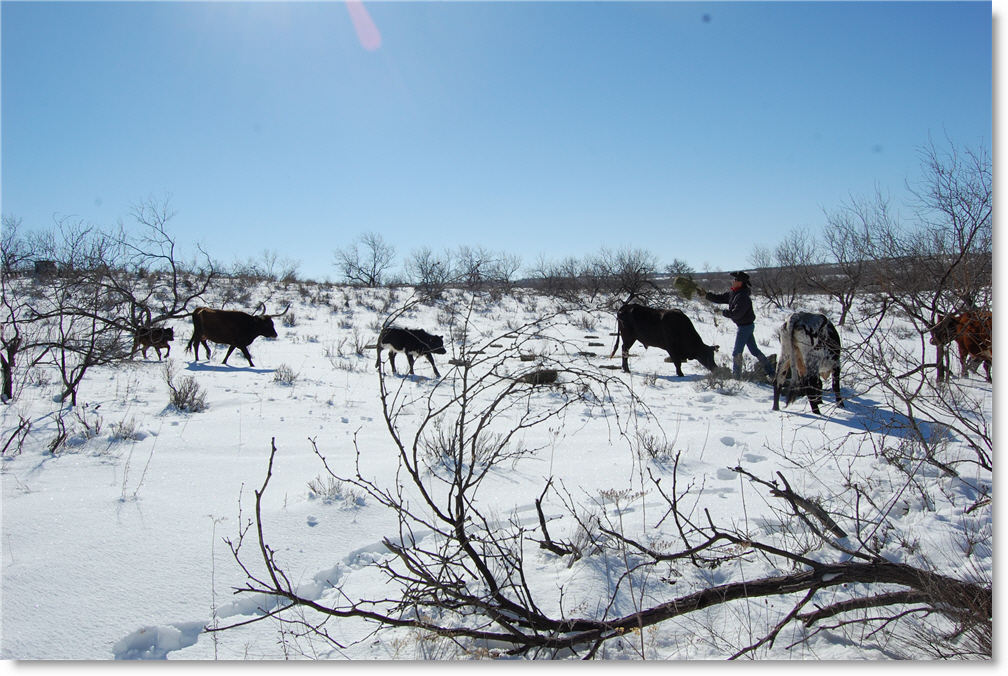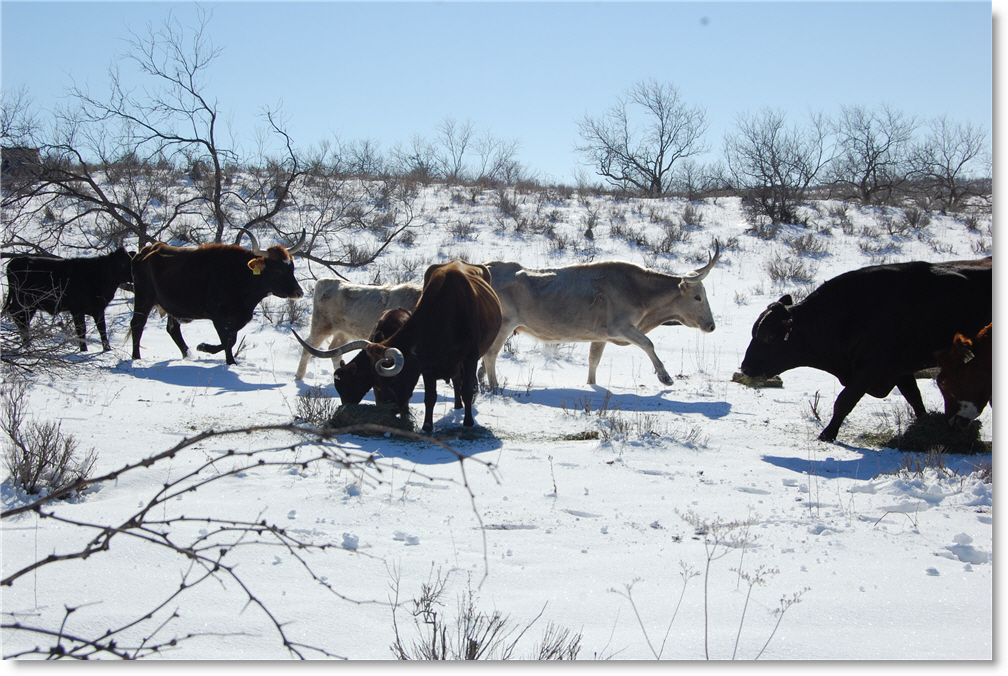 The boys get back with the tractor and pull out the pickup.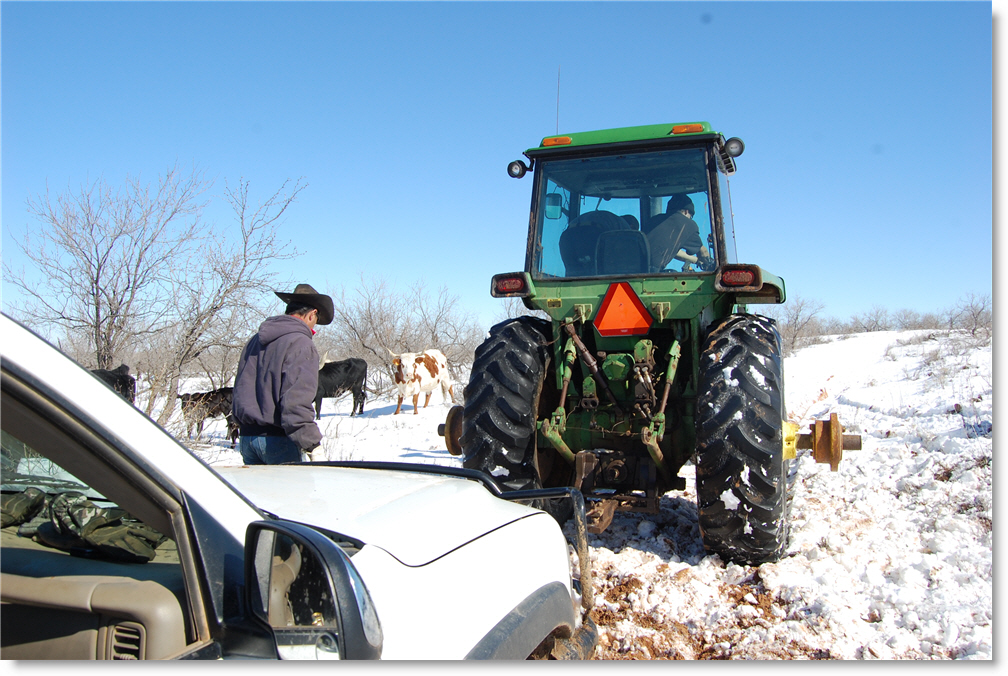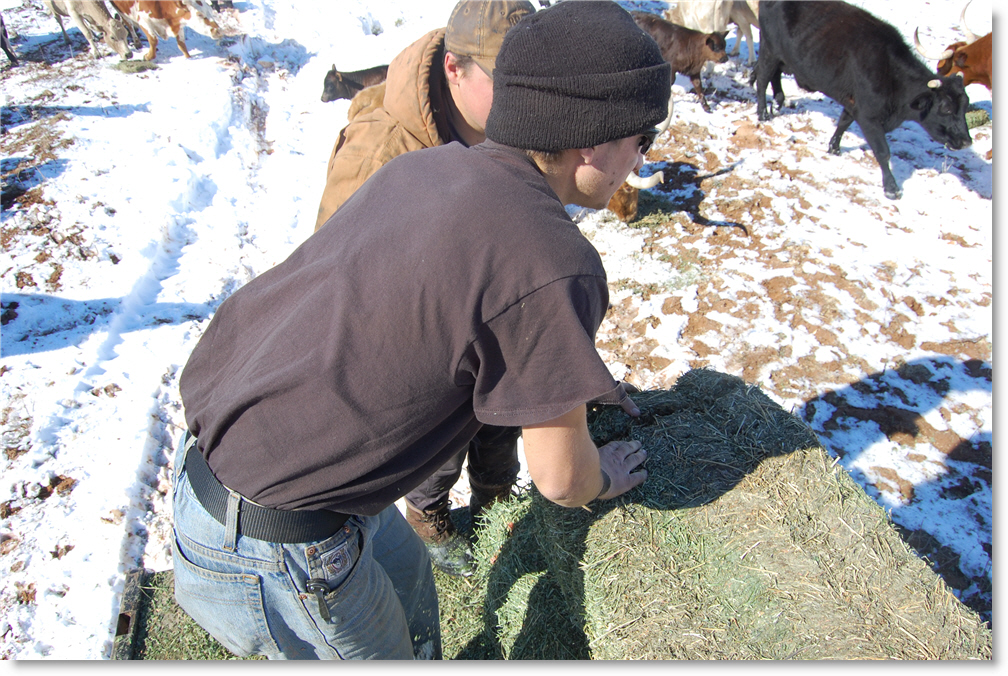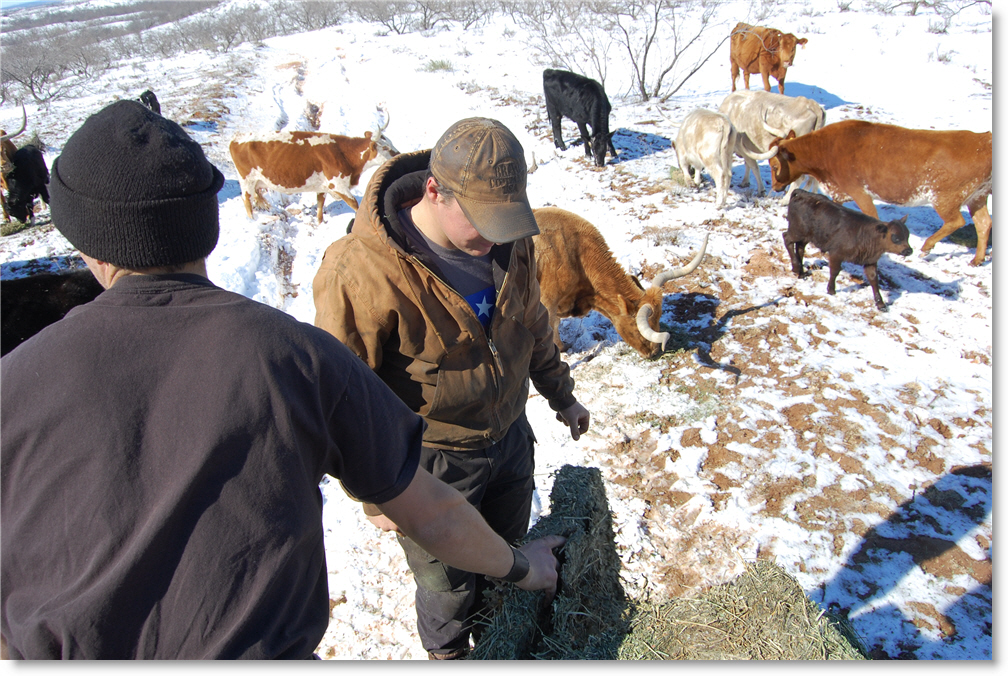 Lots of new baby calves.
Red cliffs in the distance mark the edge of the North Pease River and the ranch.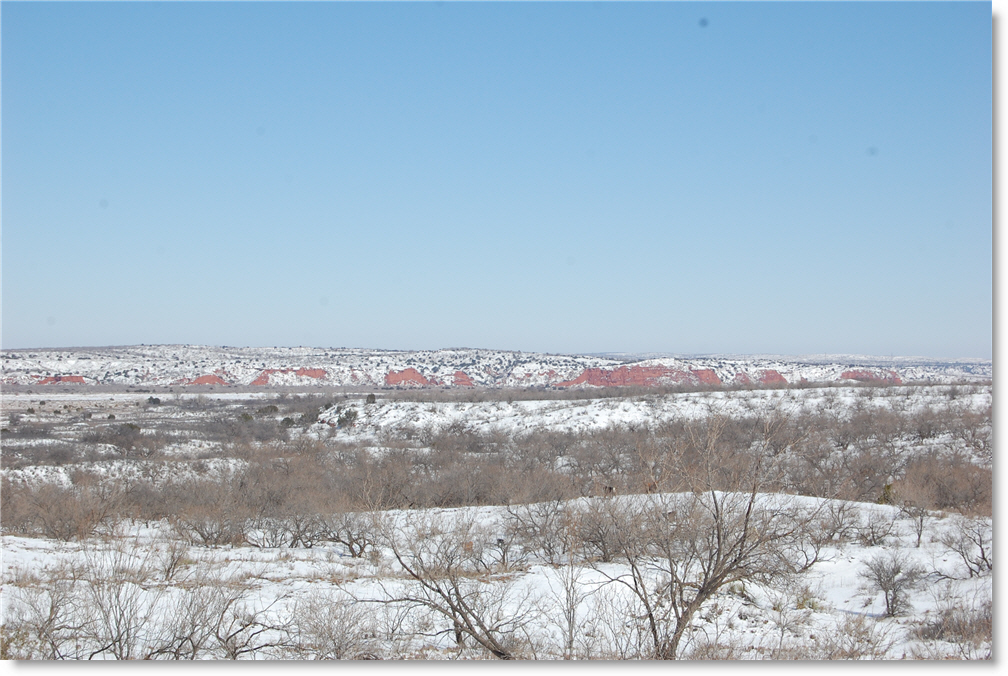 Back at the house, the new baby is up and getting dry.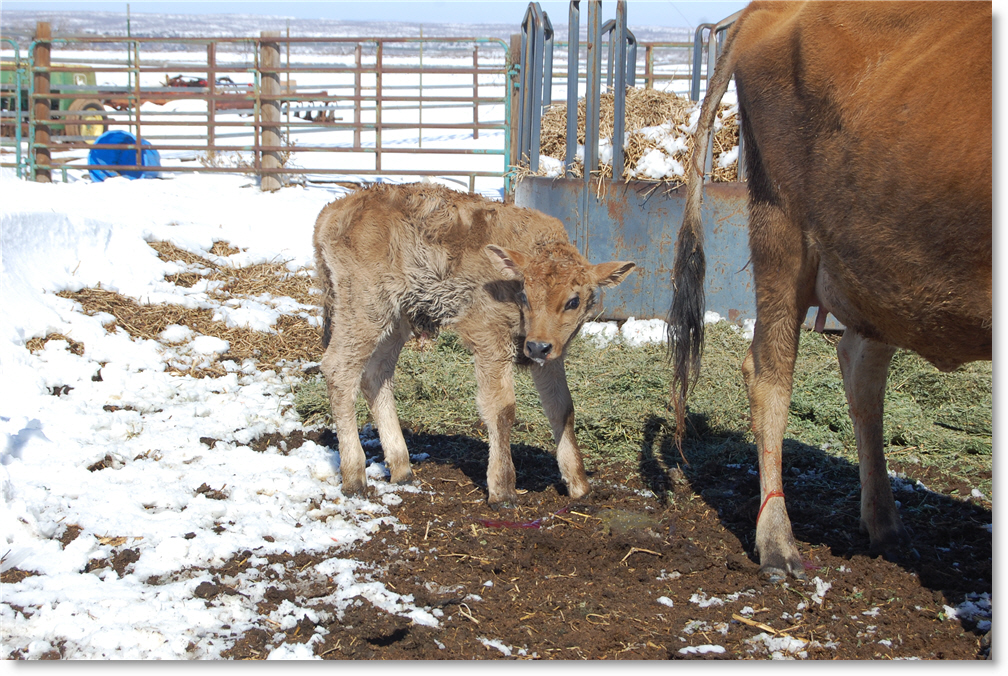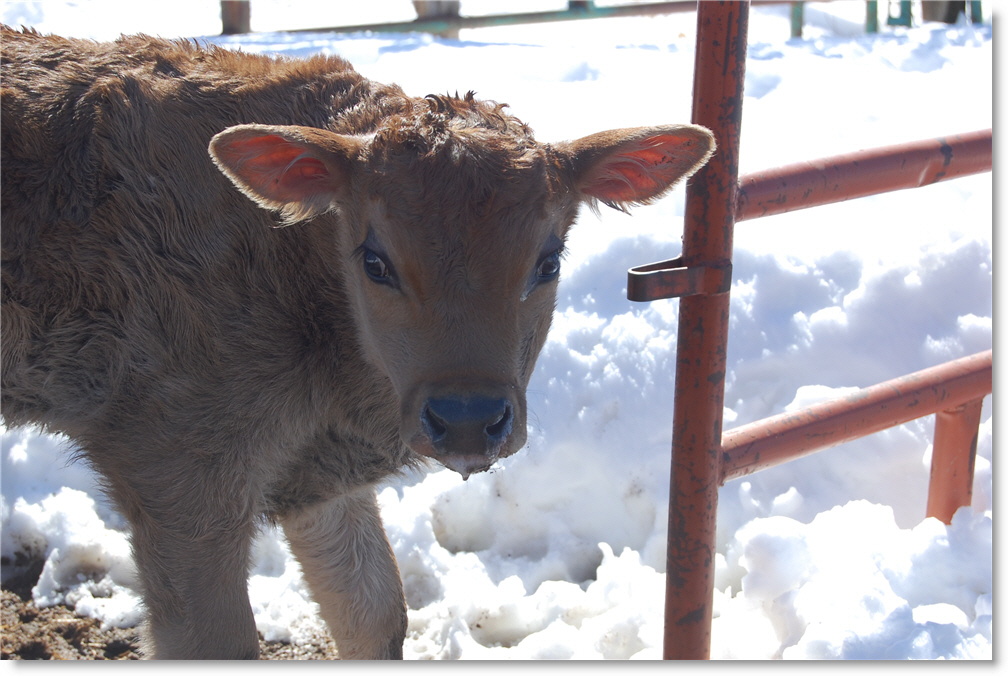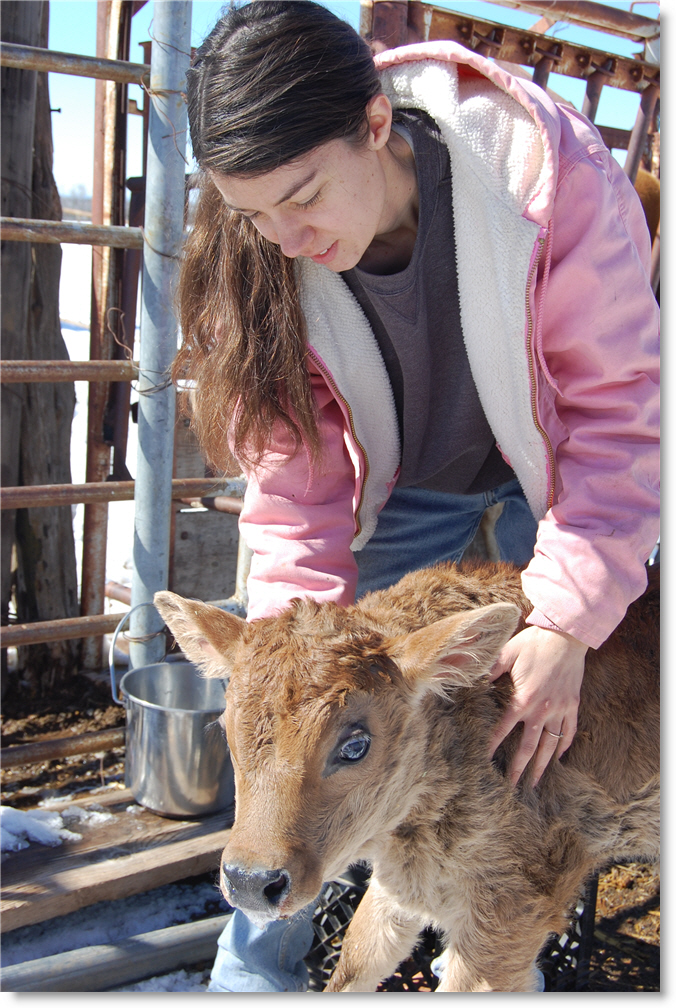 Rusty sits close by making sure he doesn't run away.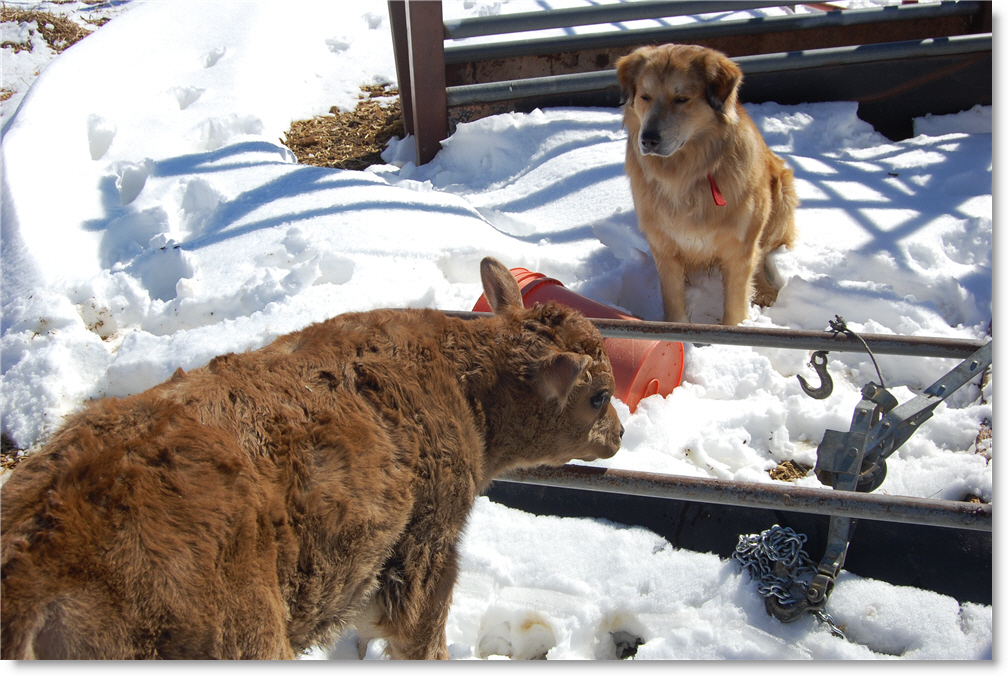 Monday, February 25 - FLASH BLIZZARD! - We knew this was coming, but it was still a surprise to get so much snow today after such a beautifully warm day yesterday.
Visibility got pretty slim during the worst of today's storm. These tractors are parked in front of our house.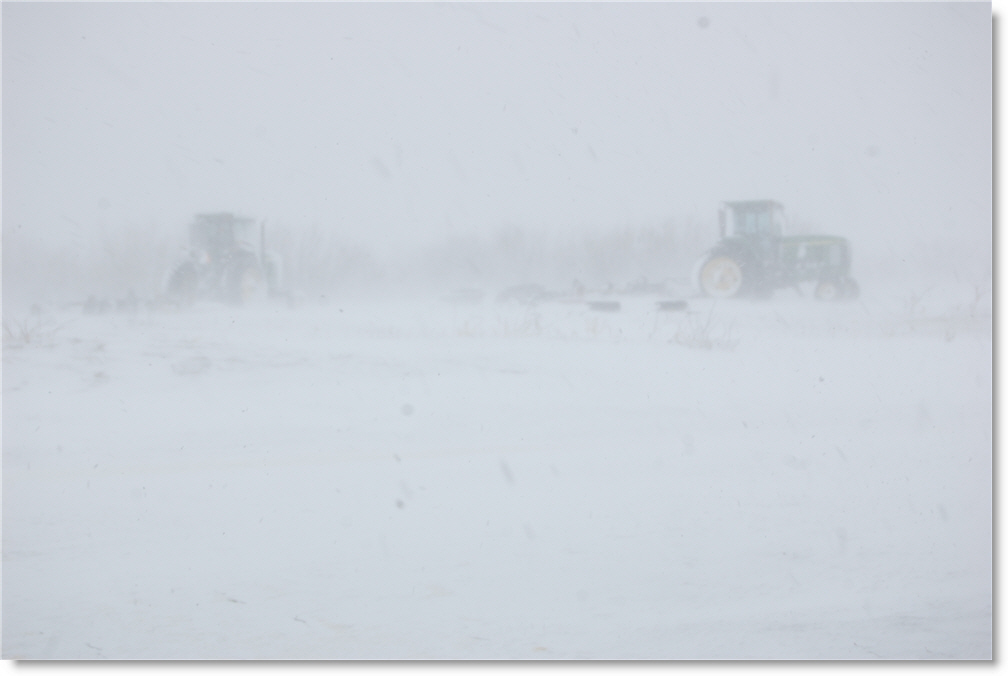 This was our maximum accumulation today. After this picture was taken, it slacked off and started to melt a little.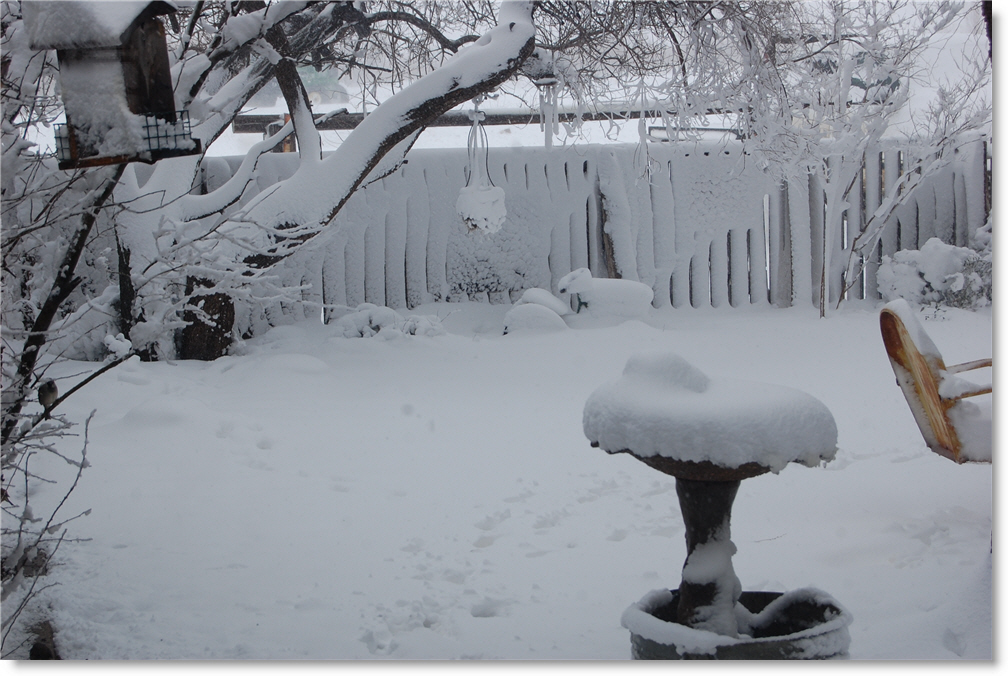 Carolina and Stockton couldn't stay out of the snow. They went out and played in it several times today. Stockton's army helmet and goggles that he got for Christmas have sure come in handy.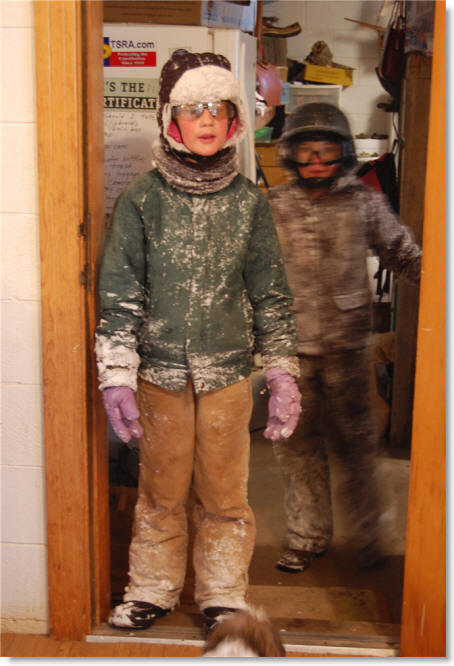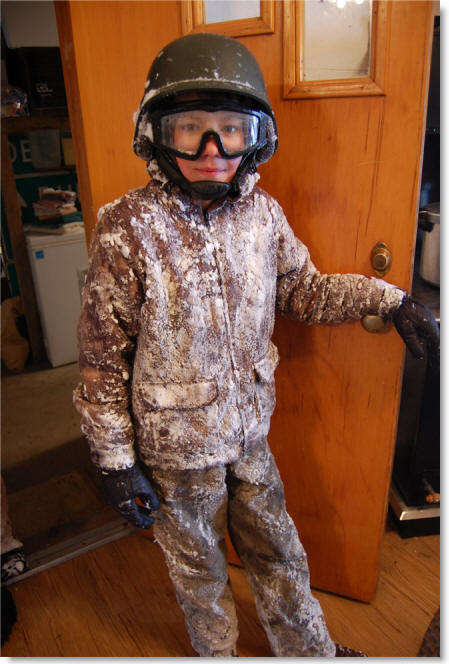 Atlanta took some nice pictures of various birds through the kitchen window. This tufted titmouse is having a bad tuft day.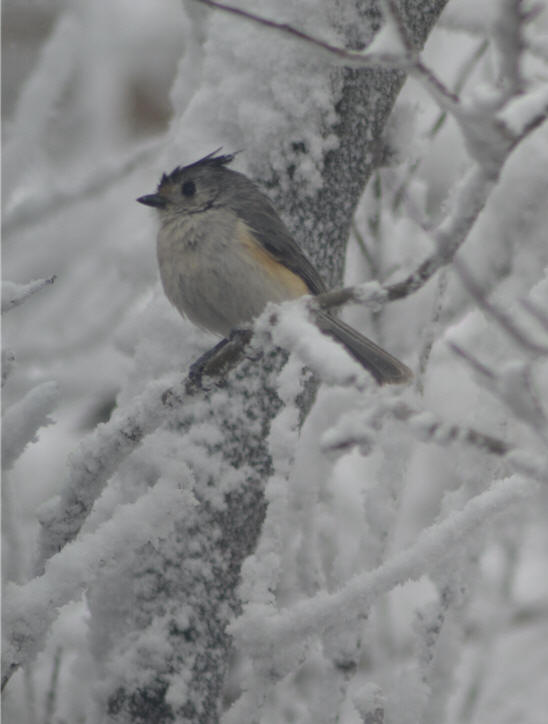 This goldfinch looks pretty chilly. He came to Texas to escape this kind of business.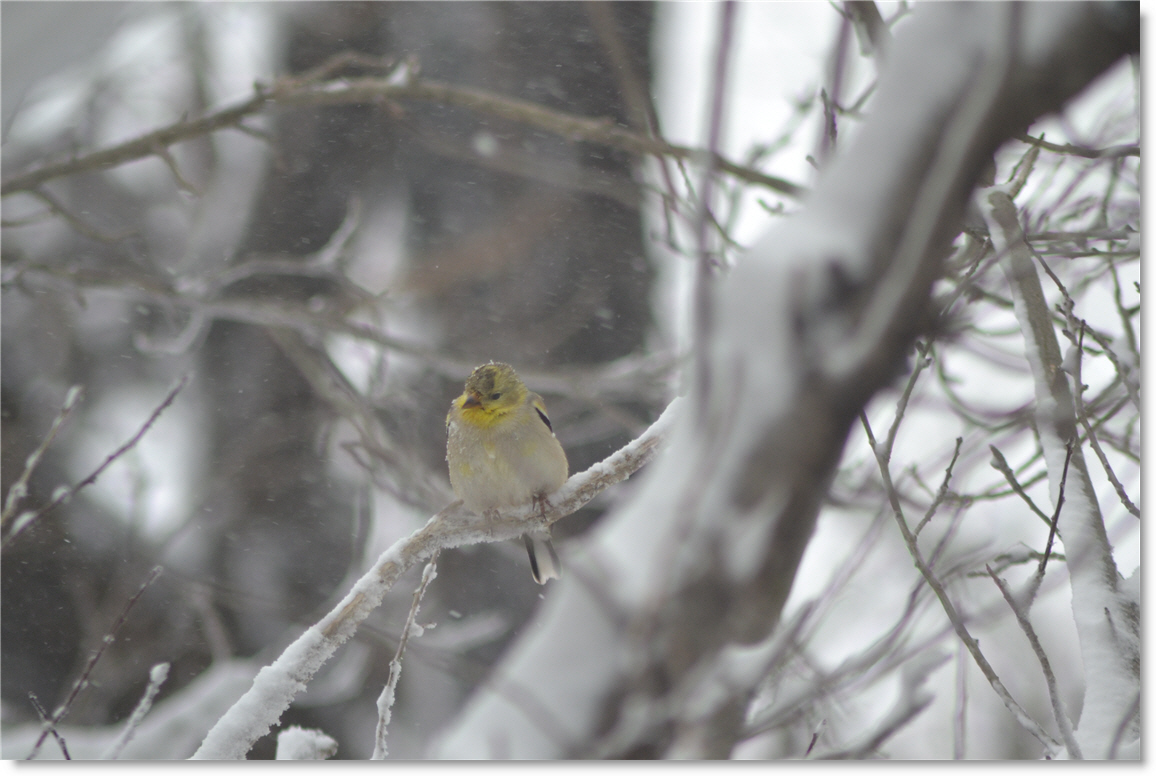 A titmouse and a gold finch are finding it harder to get to the sunflower seeds under the snow-caked feeder.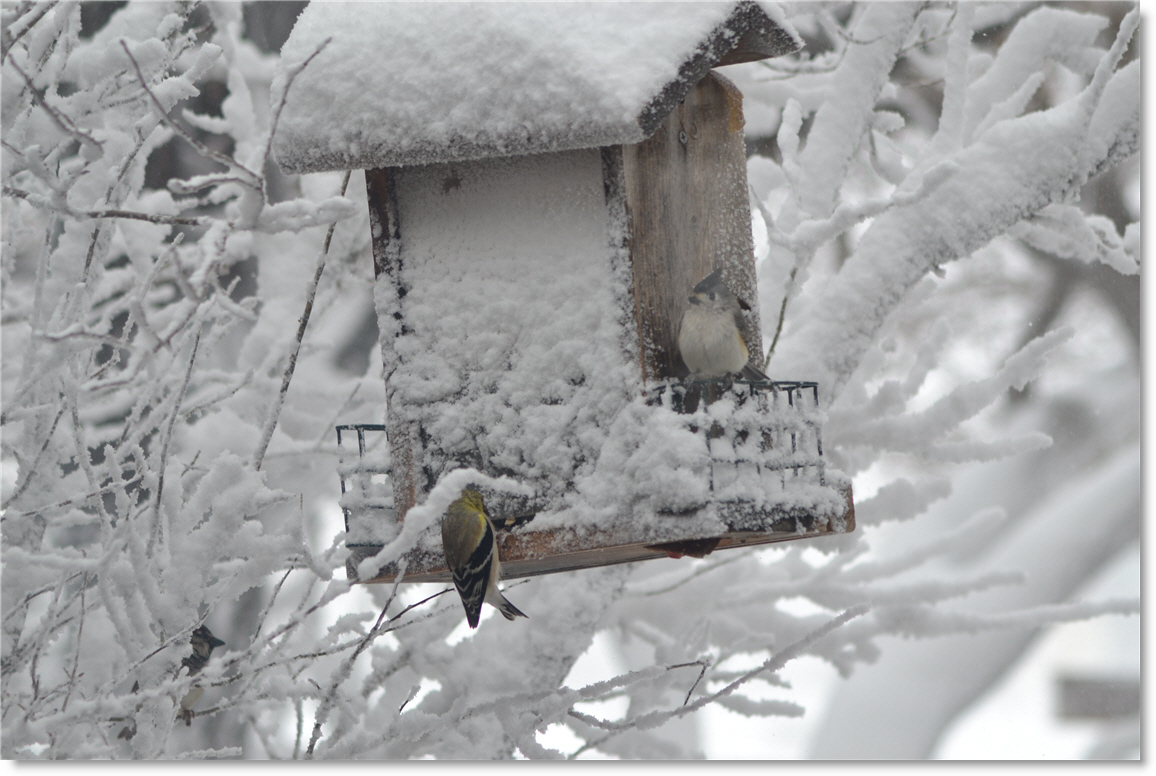 White crowned sparrows prefer to stay on the ground and eat the seeds dropped from above.
This female cardinal likes the sunflower seeds, too.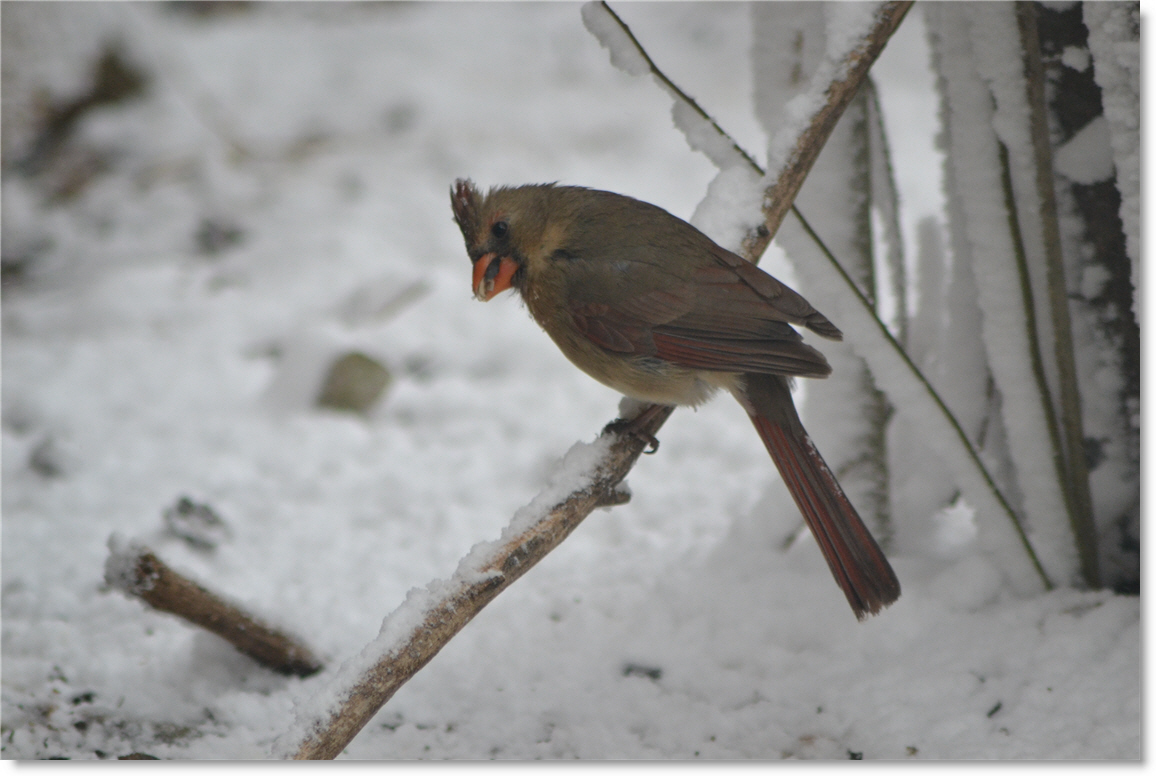 This is how it looked by noon.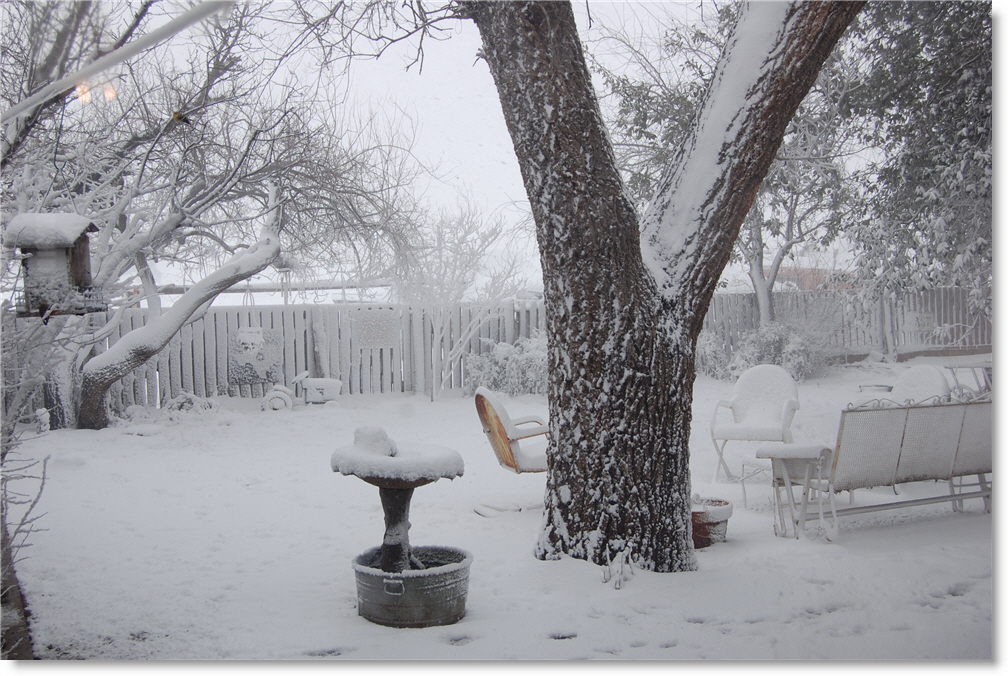 This is how it looked when we got up this morning.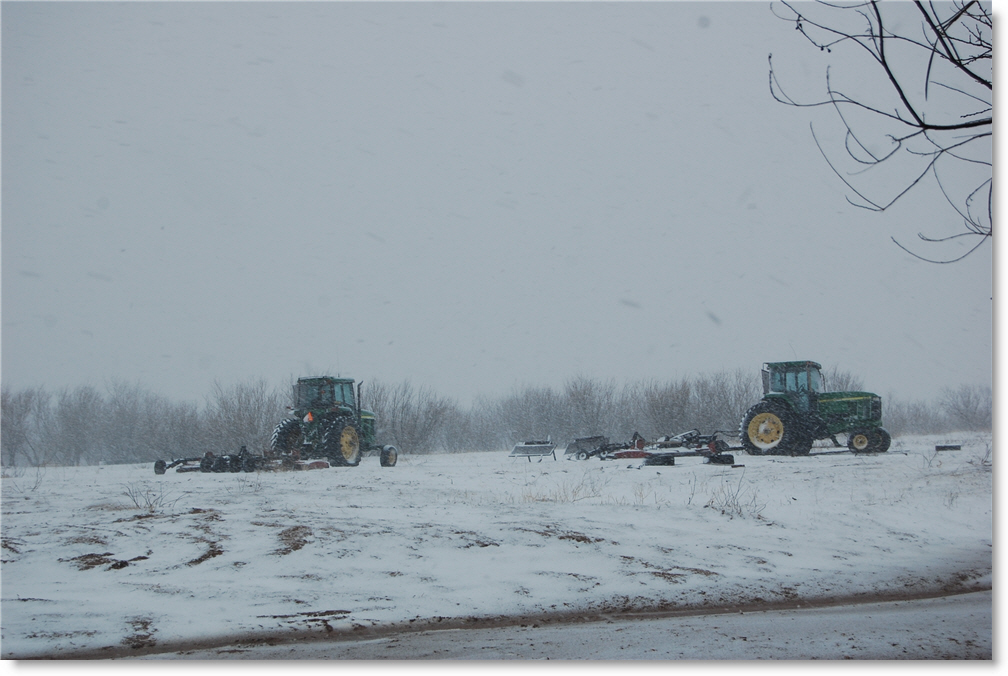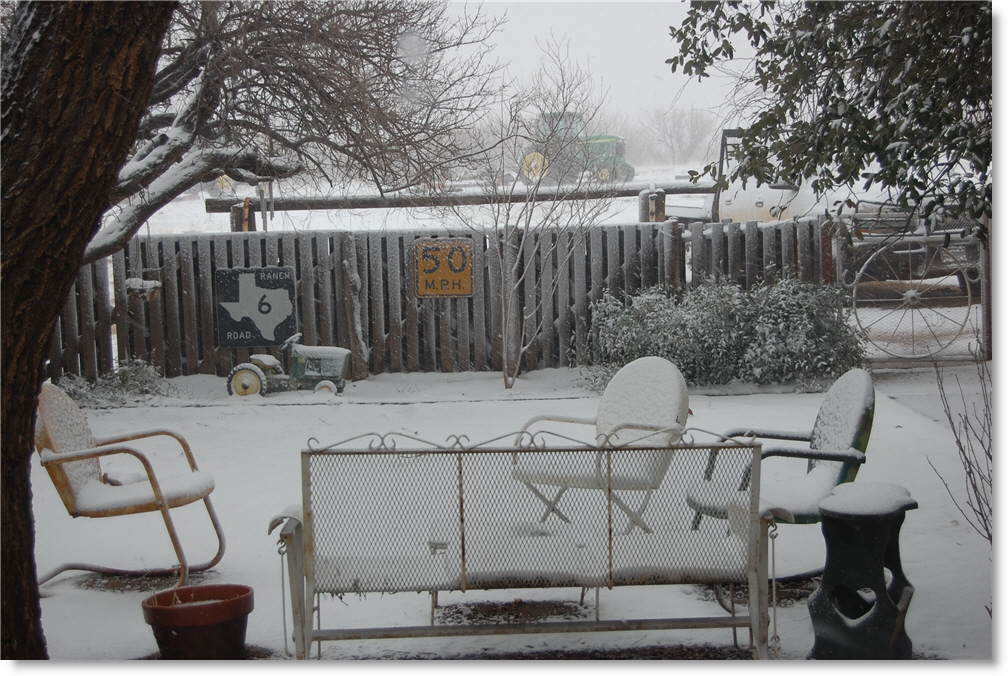 Sunday, February 24 - Homemade Doughnuts - Stockton somehow got doughnuts on his mind and couldn't seem to get them out of his head. He begged me all day to make some. Finally, after supper, he got his wish.
Rolled out and ready to be fried.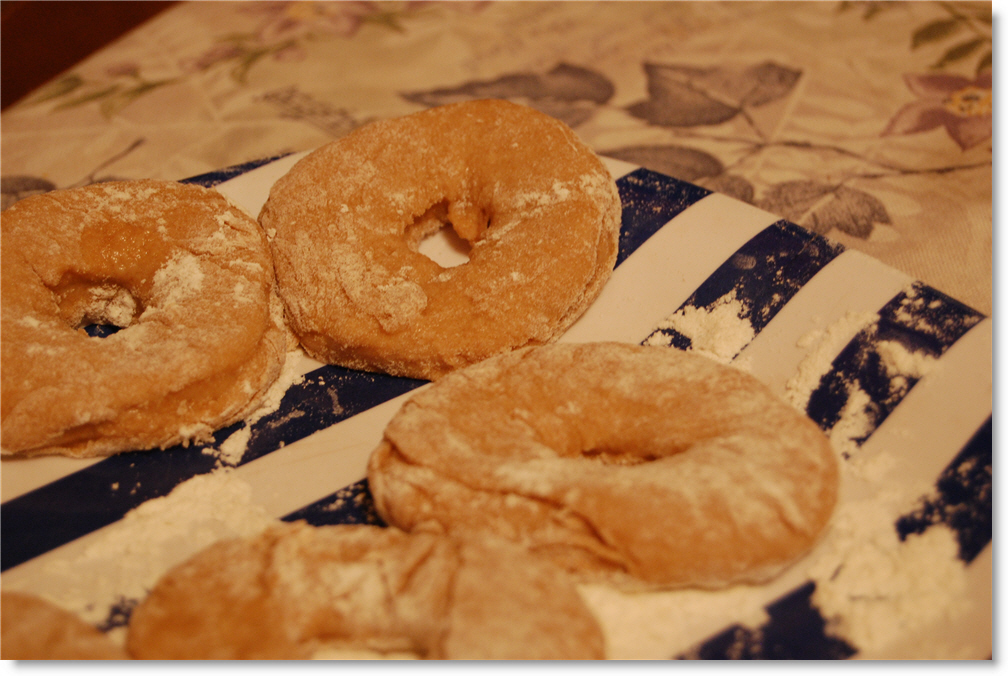 Rolled in cinnamon and sugar and ready to be eaten.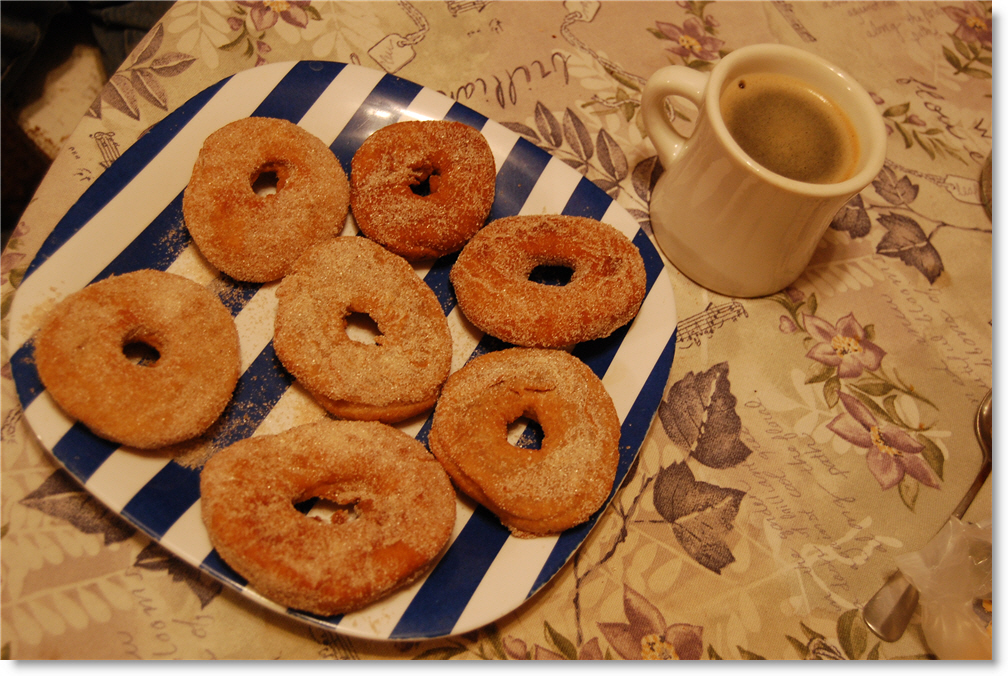 That's it! No more pictures, let's eat!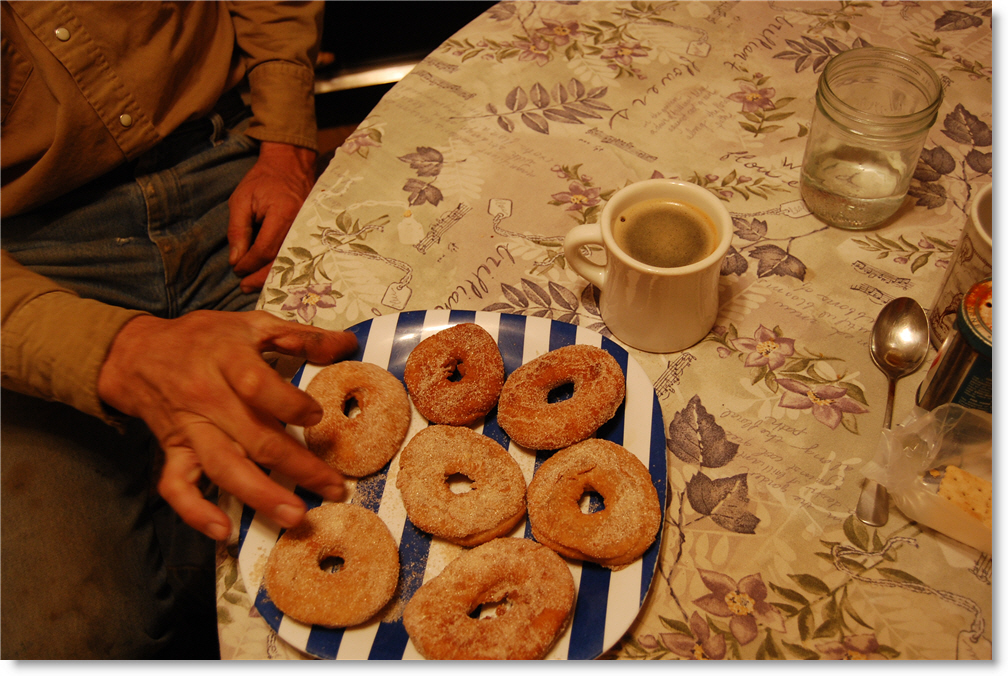 Rusty looks in the window longingly hoping for at least a doughnut hole.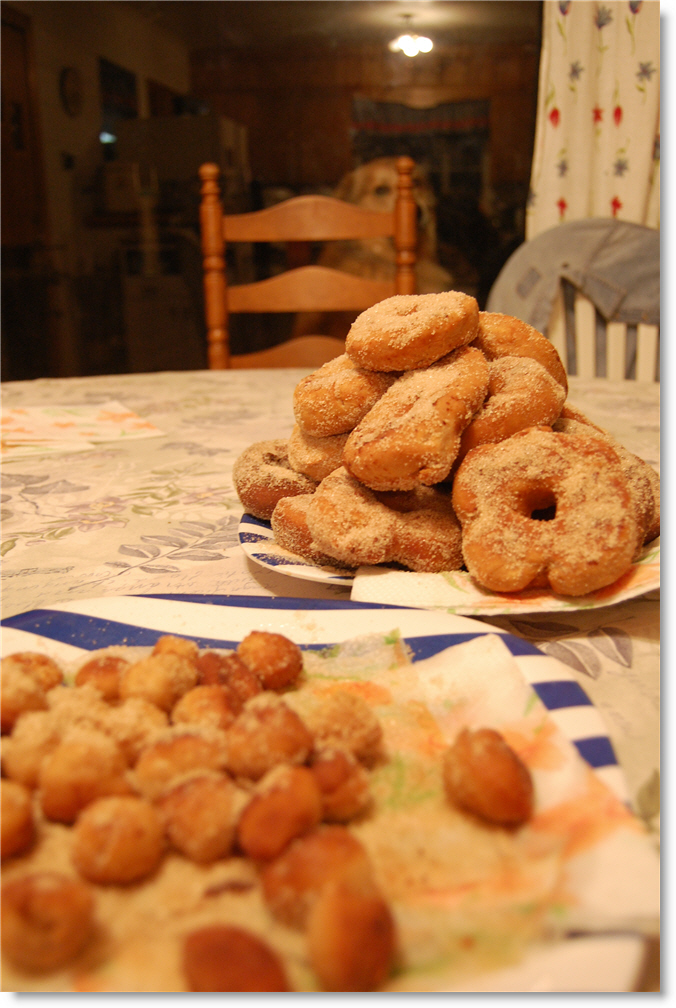 The Calm Before the Storm - These pictures show how the weather changed today as an approaching snow storm grew near.
The wind is getting up and the temperature is dropping.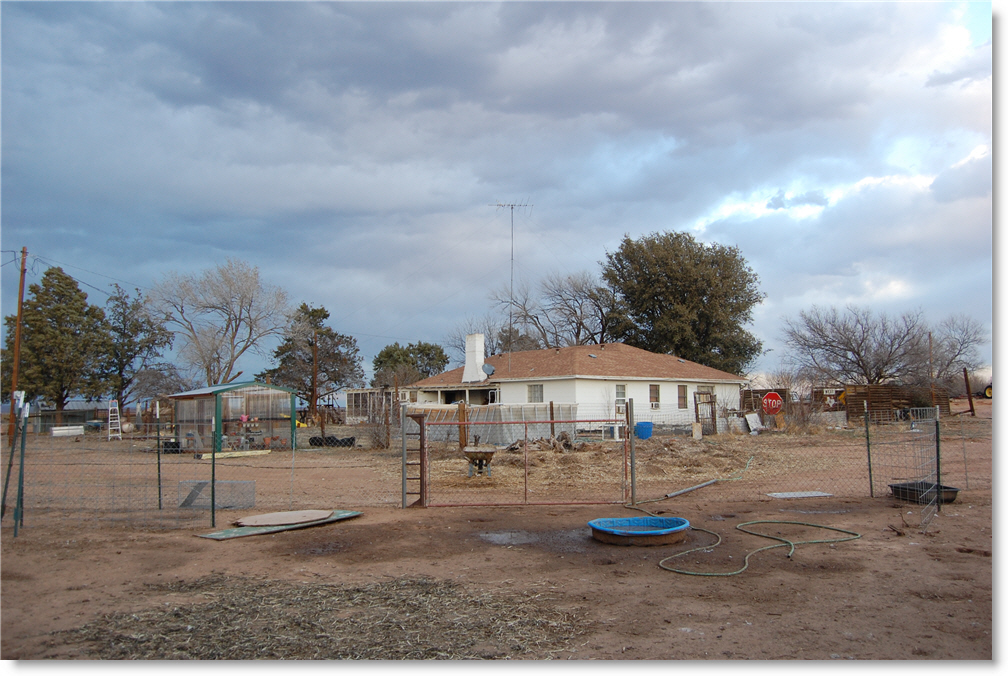 Colorful clouds heavy laden with moisture, drifting over.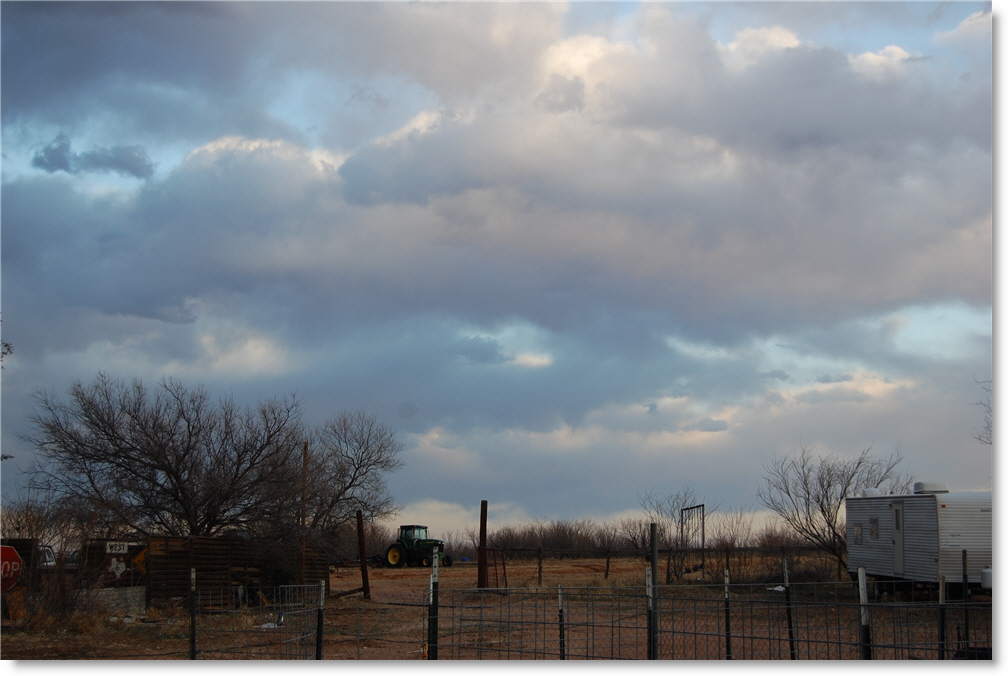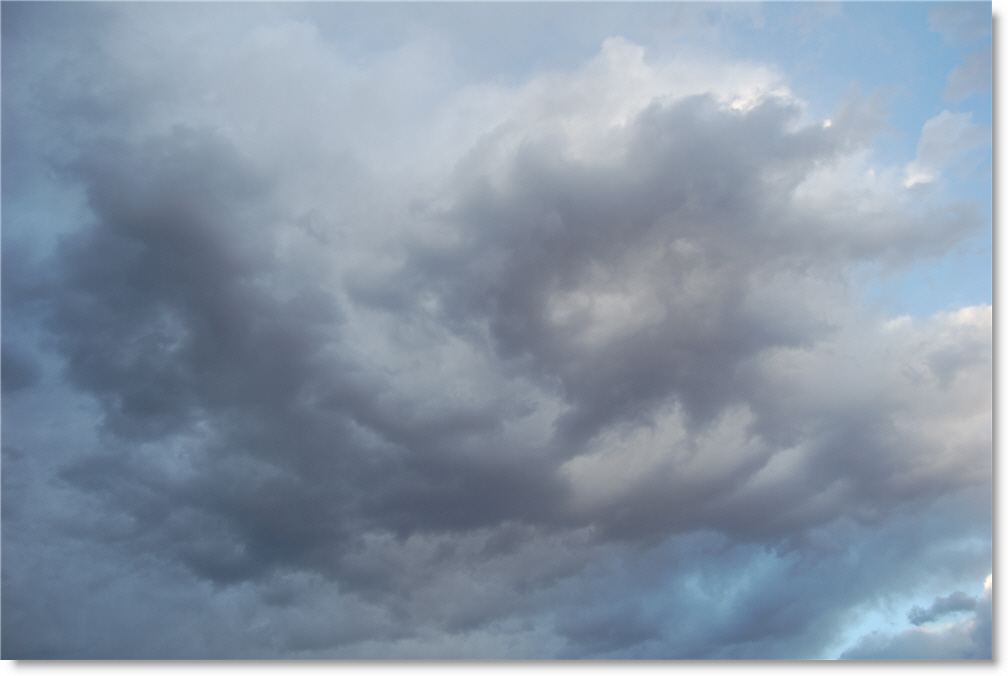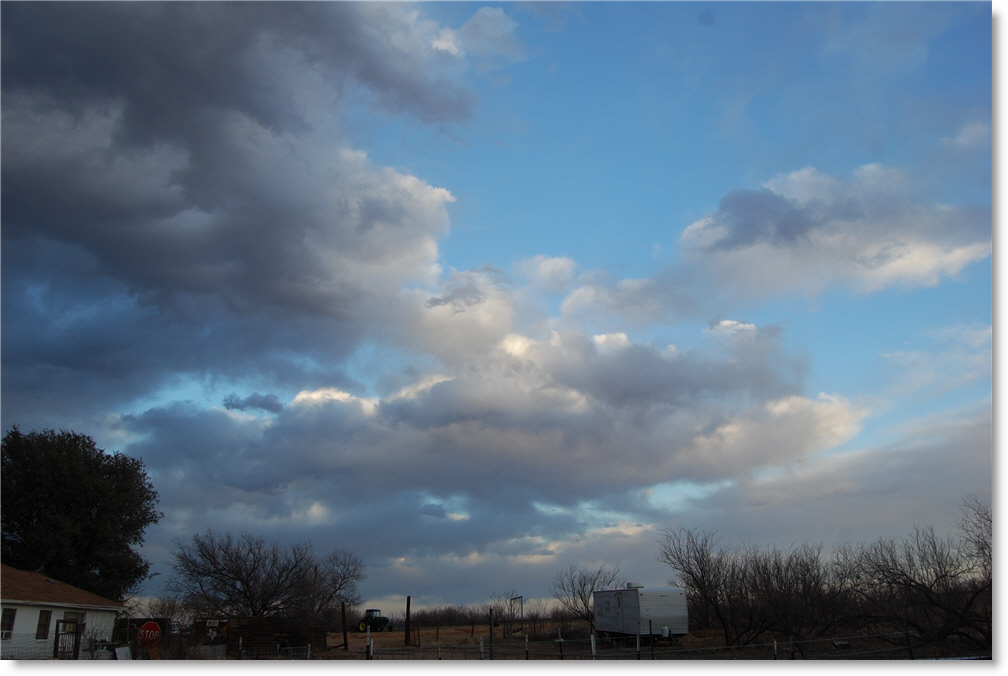 Earlier in the afternoon, as the clouds first reach our house.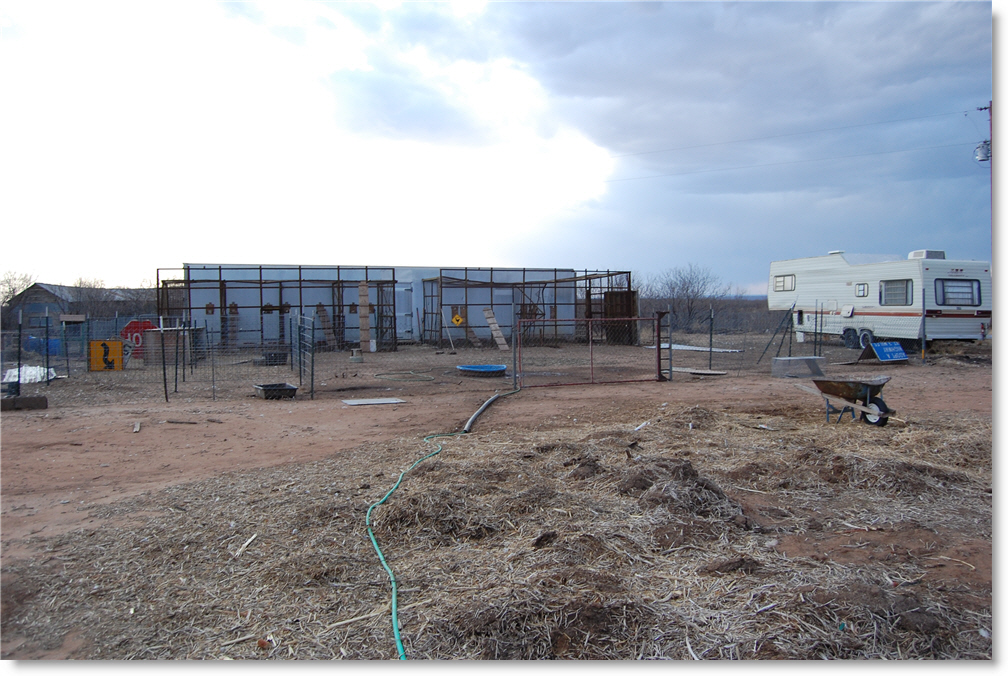 Dark blue to the north.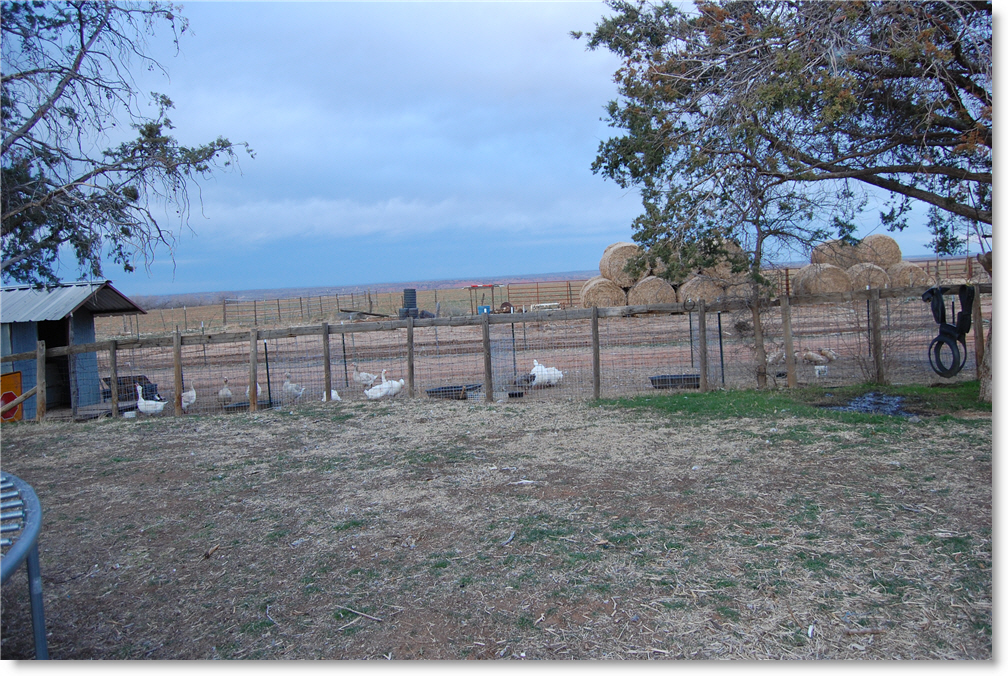 The guys chopped firewood and stack it on the back porch and under the carport.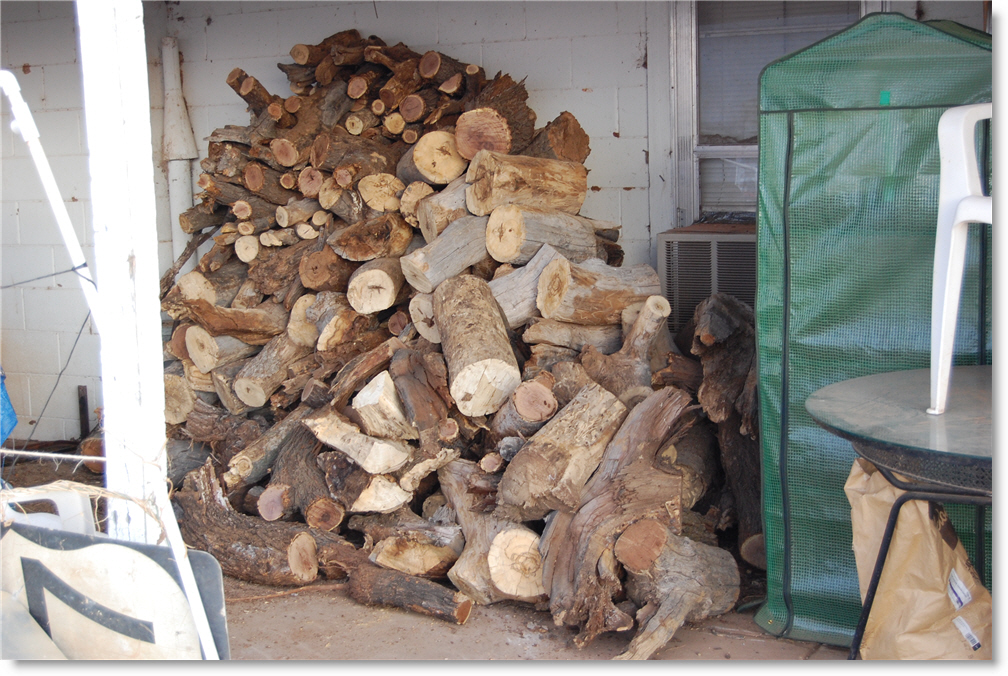 Sunshine yes, but look what's approaching.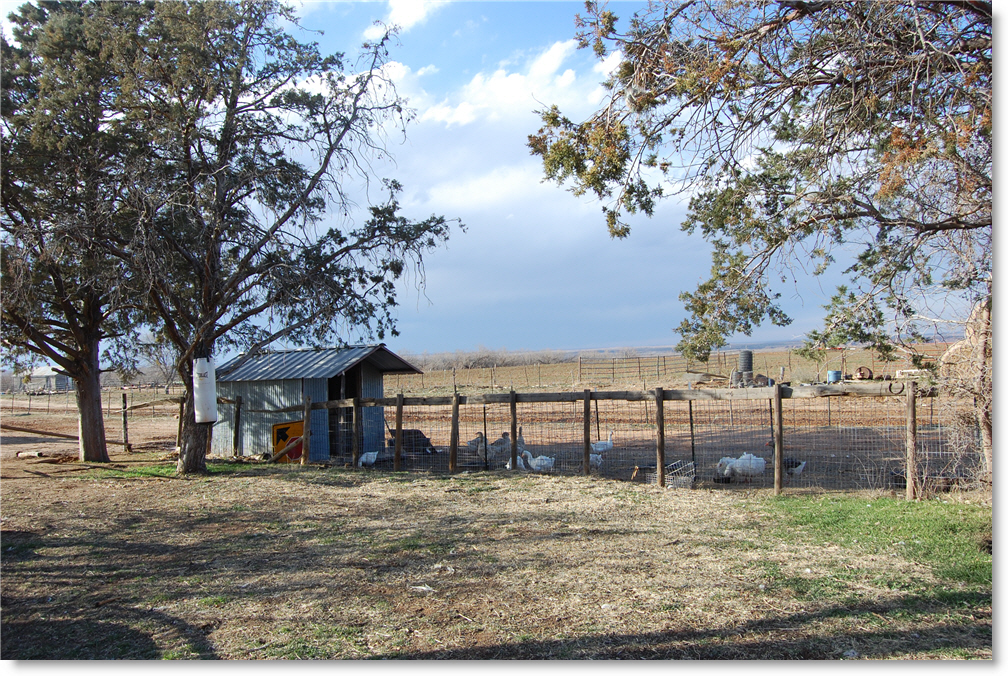 A calm, sunny day. . .
Thursday, February 21 - Soft Bands of Morning Clouds - Clouds make all the difference in a sunrise or sunset.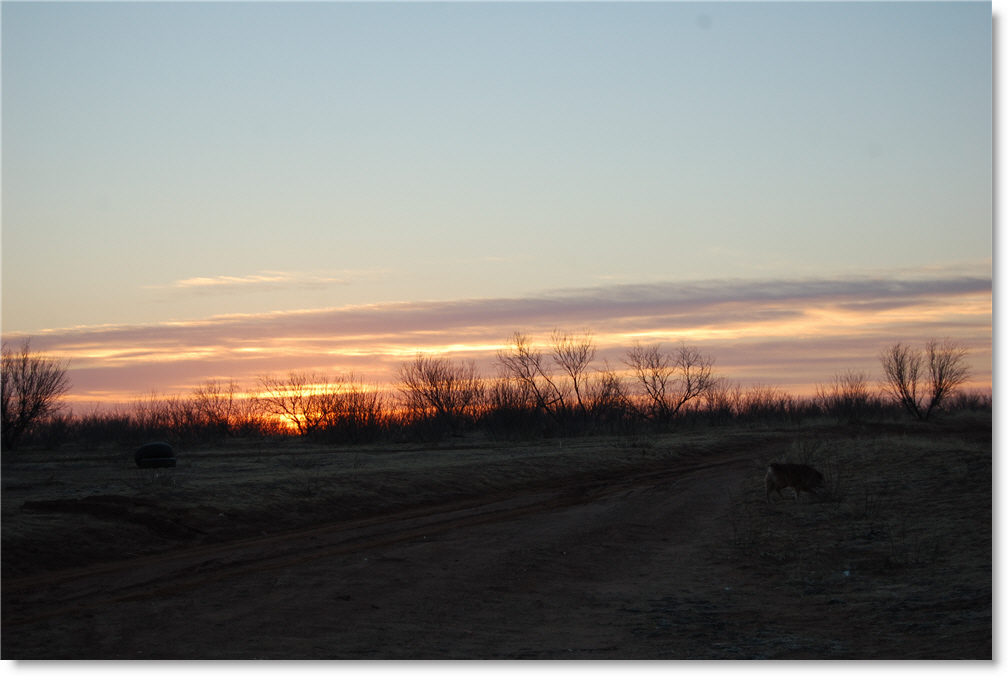 Hazy and blue to the north this morning.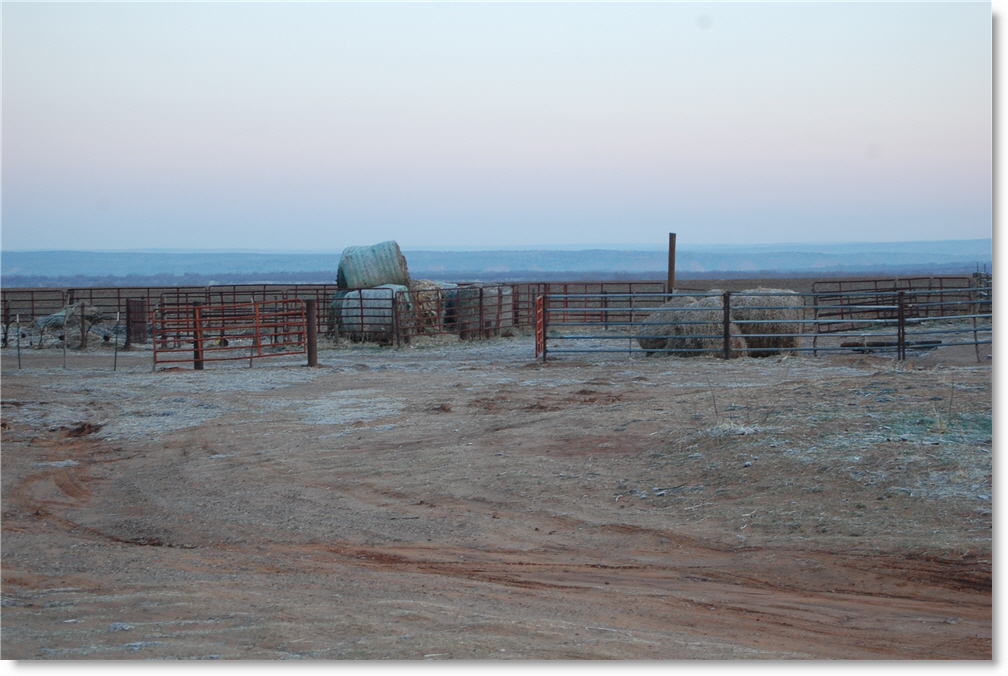 Wednesday, February 20 - TZU BOX - Apparently she got in this box of her own accord. It's barely big enough.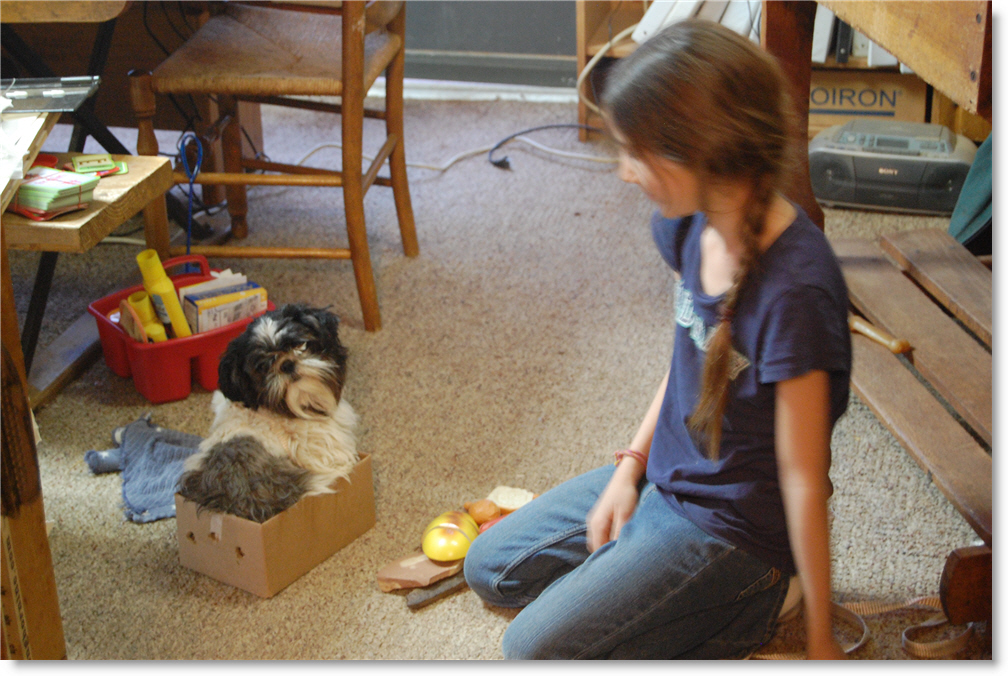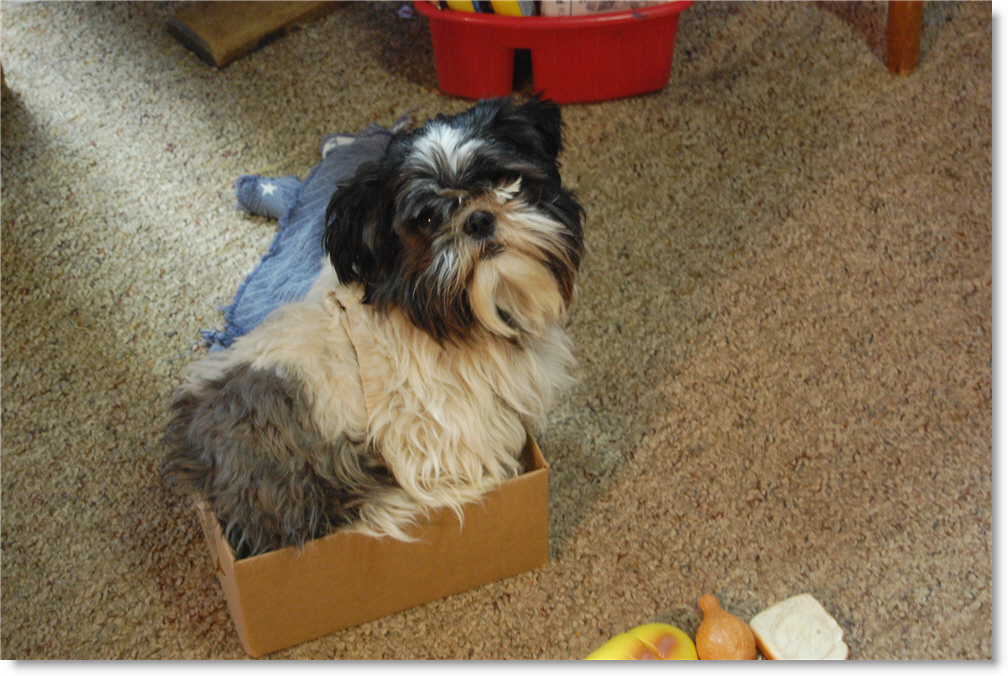 Tuesday, February 19 - Tennessee Wedding Preview - Take a look at this sweet dress that Atlanta made for Carolina to wear at the wedding. It fits her so cute and has a lot of material in the skirt (which is a requirement for any girl who likes to spin around).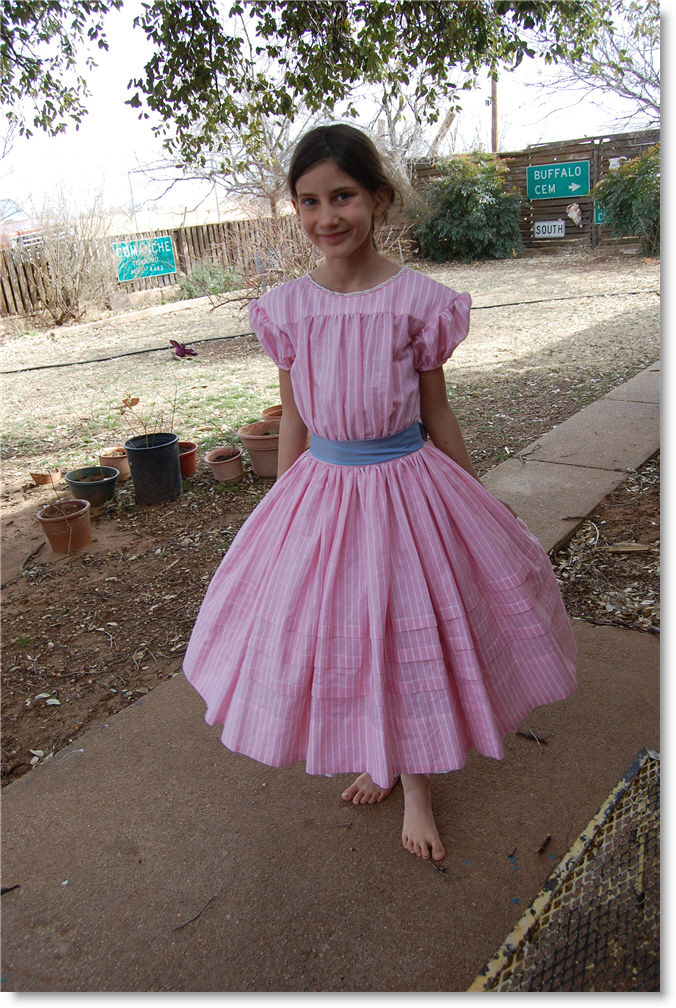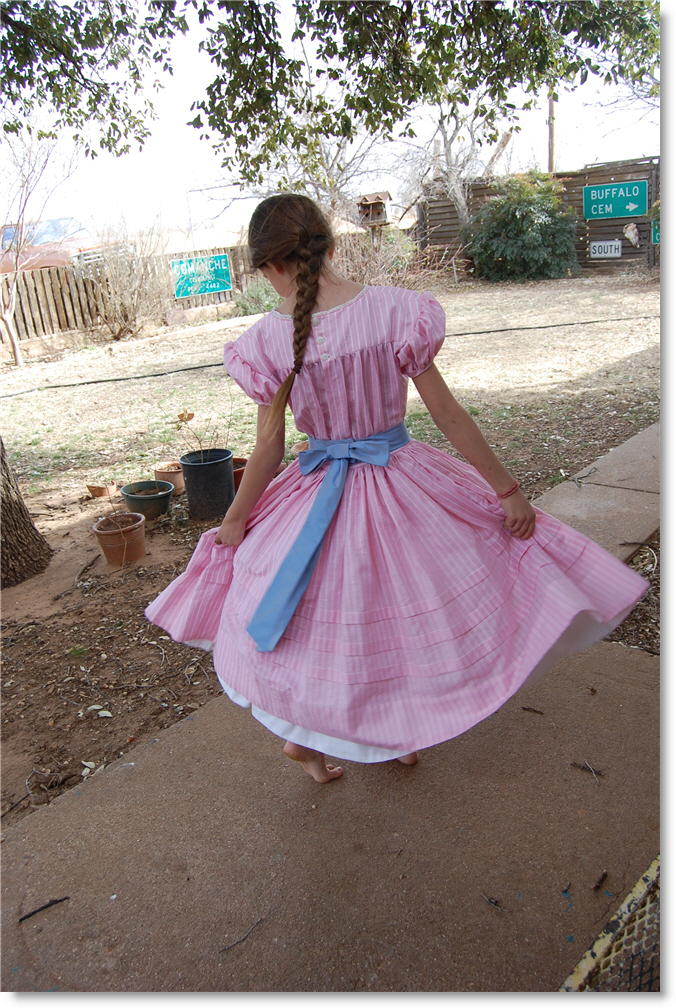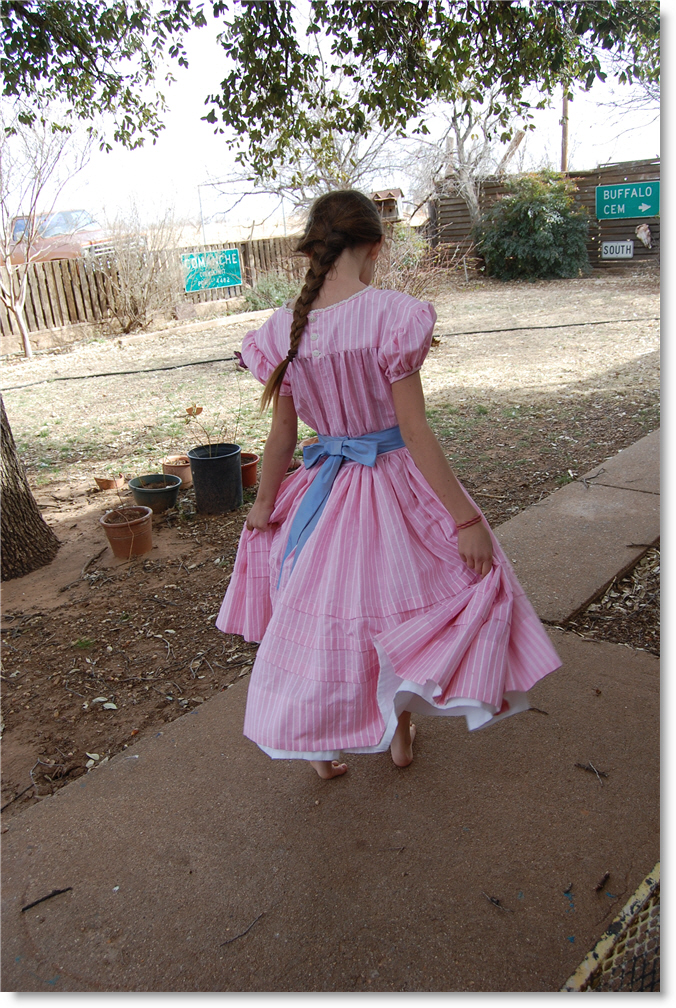 Rearranging - Over the weekend, Laredo and Stockton moved into Aspen and Carolina's room. We had to grab furniture from all over the house to go in it, so before we were done, every room was in disarray. Finally, though, we got their room all fixed back up, not so much the other rooms yet.
This is probably the cleanest it will ever be.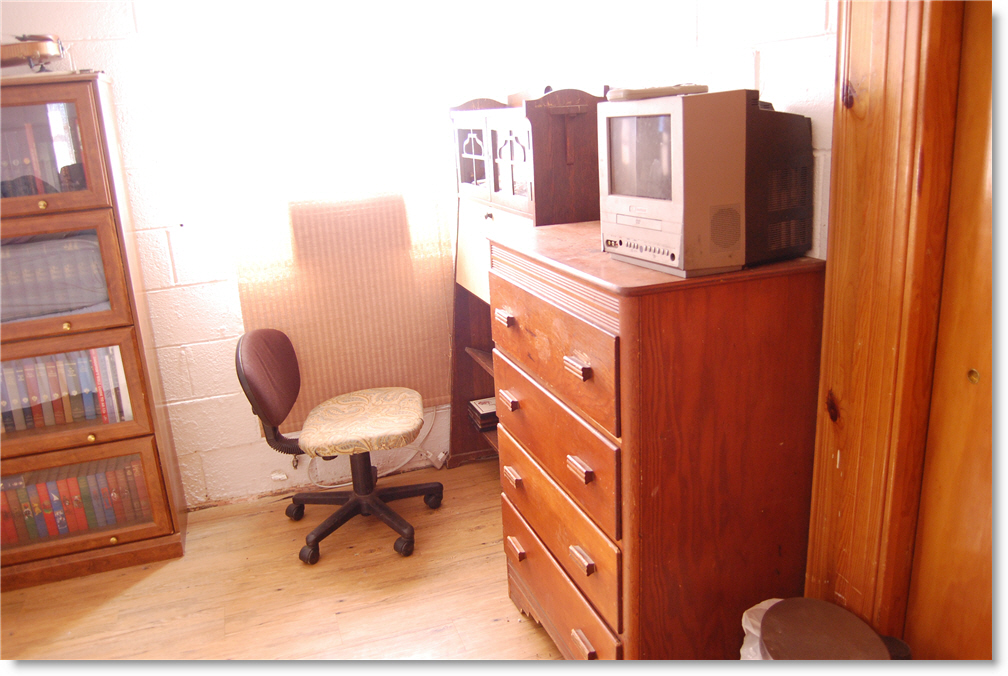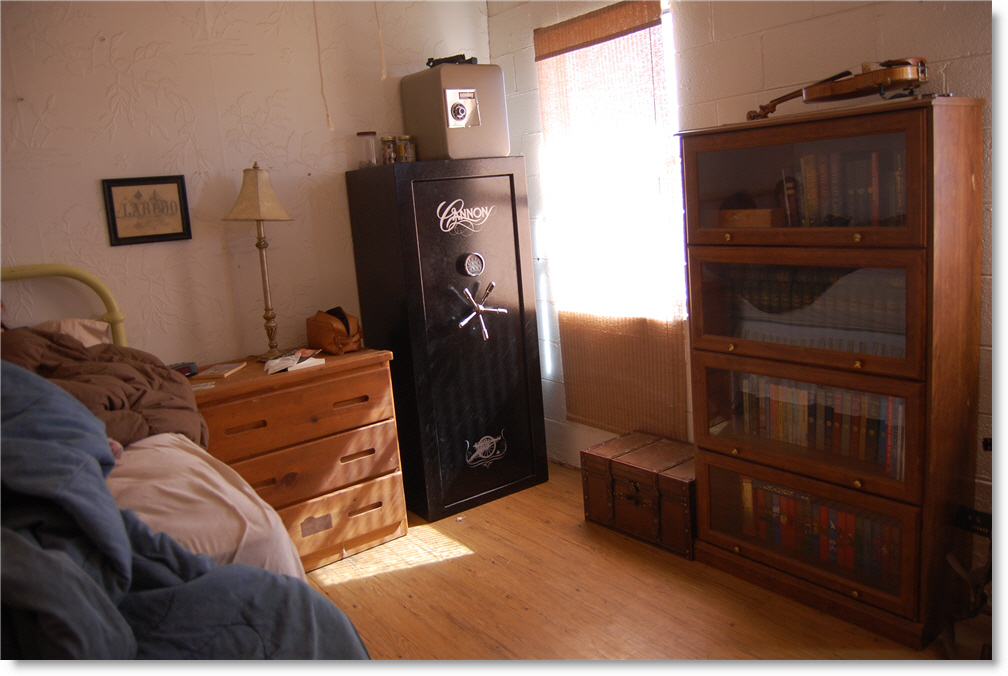 Stockton's little niche behind the door.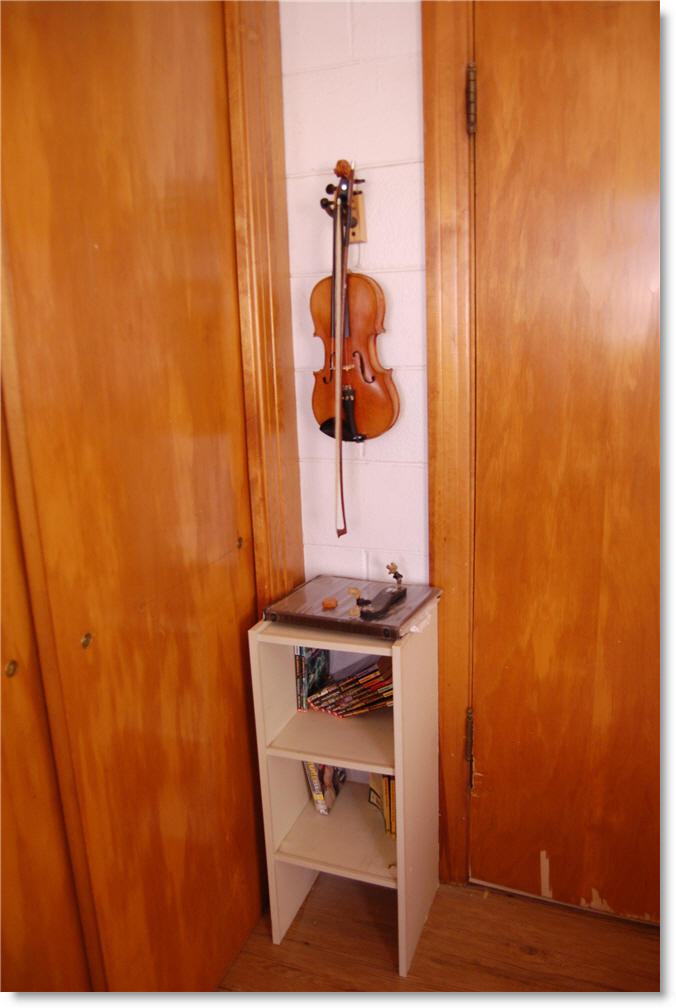 Today, when I couldn't find my little ones, I discovered them in here, reading in the bed.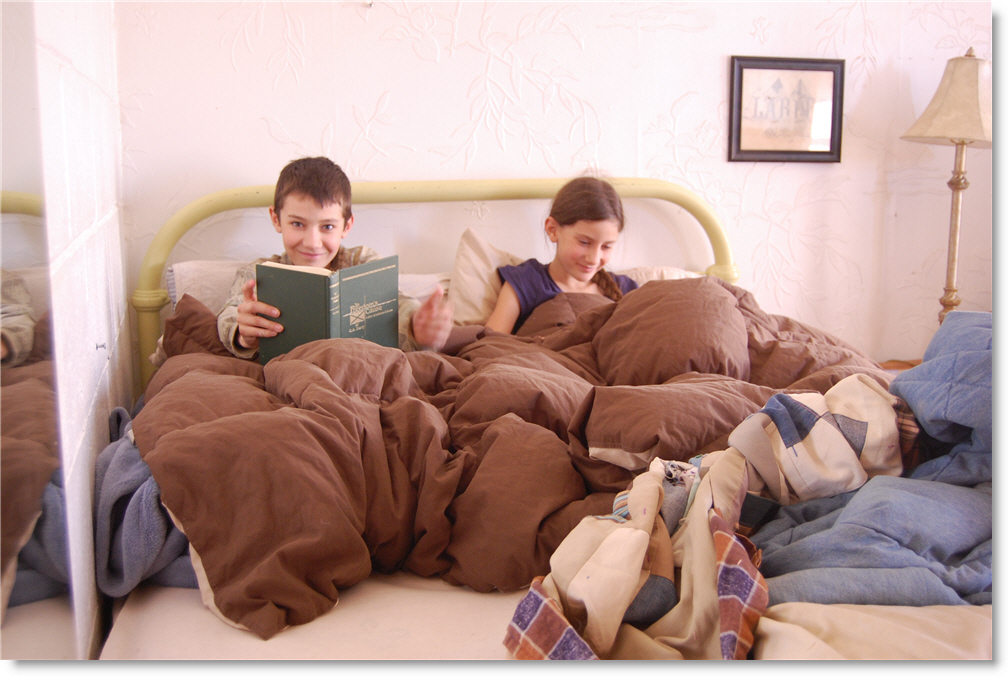 I'm so happy to announce that I found a fantastic method of canning beans. You start with seven empty jars (or however many your canner will hold). Then you put 1 1/2 cups of dry beans into each jar, 1/2 teaspoon of salt, and 1 tablespoon of chili powder on top of the beans. Then fill the jars with hot water from the faucet. Fill your canner 1/5 of the way full of water (or whatever you usu. do) and set it on the stove on high. Meanwhile, put the right amount of lids and screw bands in a saucepan and let them boil a minute of two. Put the lids and screw bands on the jars, put the jars into the canner and close the lid. When the canner starts to steam, let steam escape from the top valve for 10 minutes and then put on your pressure valve/or gauge at 10 pounds of pressure. When it comes up to steam and starts to rock, turn down the stove a little (or if you're using a wood stove like me, move the canner away from direct heat) and let it rock for 90 minutes. Wa La! From dry beans to perfect beans ready to eat or store for months in a couple of hours. I looked on the internet to see if it could be done, but all the tutorials had you soak the beans for 24 hours first or cook the beans before canning them. I never soak my beans. I always cook them in a pressure cooker for 90 minutes with just dry beans and water. So, I thought, what the heck, I'll give it a try. I've also since tried brown rice and a combination of rice and beans and it works great, too. Give it a try yourself!
Black beans and pinto beans work equally well.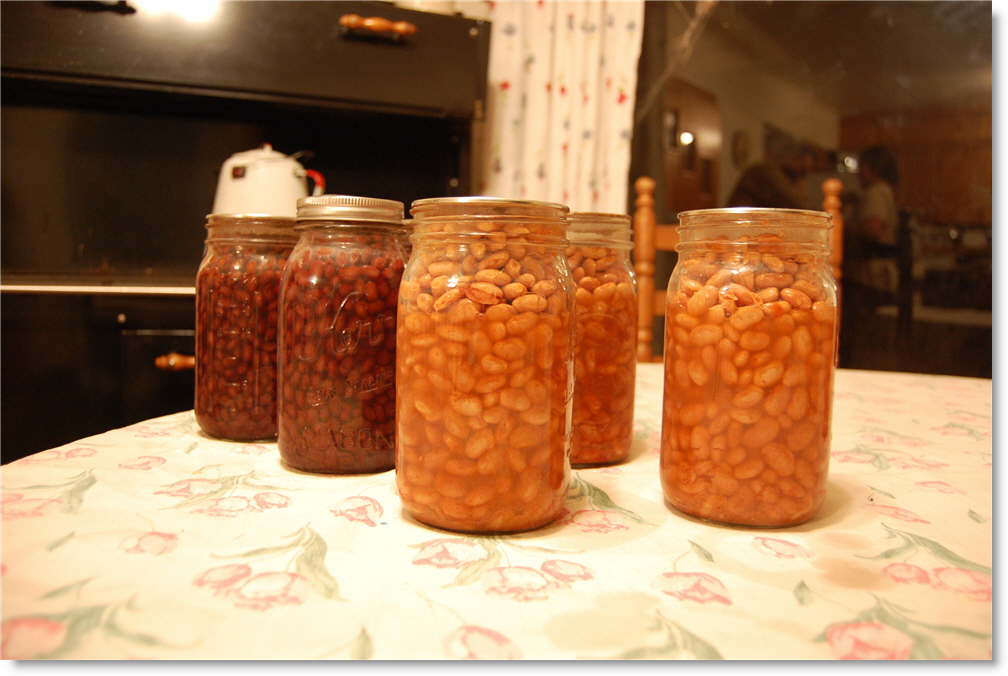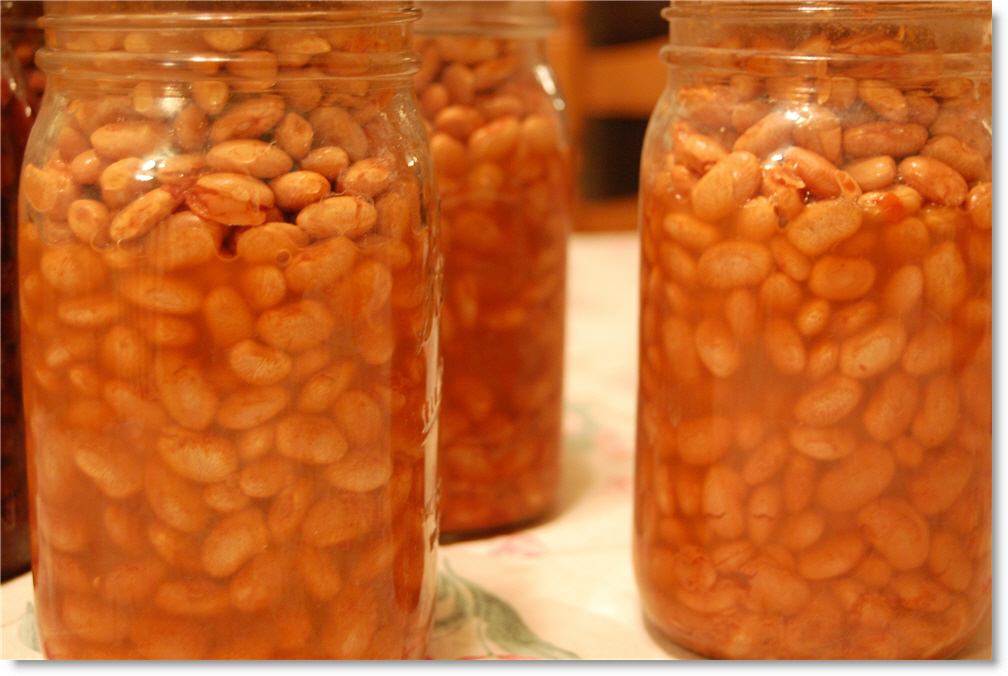 Monday afternoon pictures. I call this one, "Coconut's further humiliation".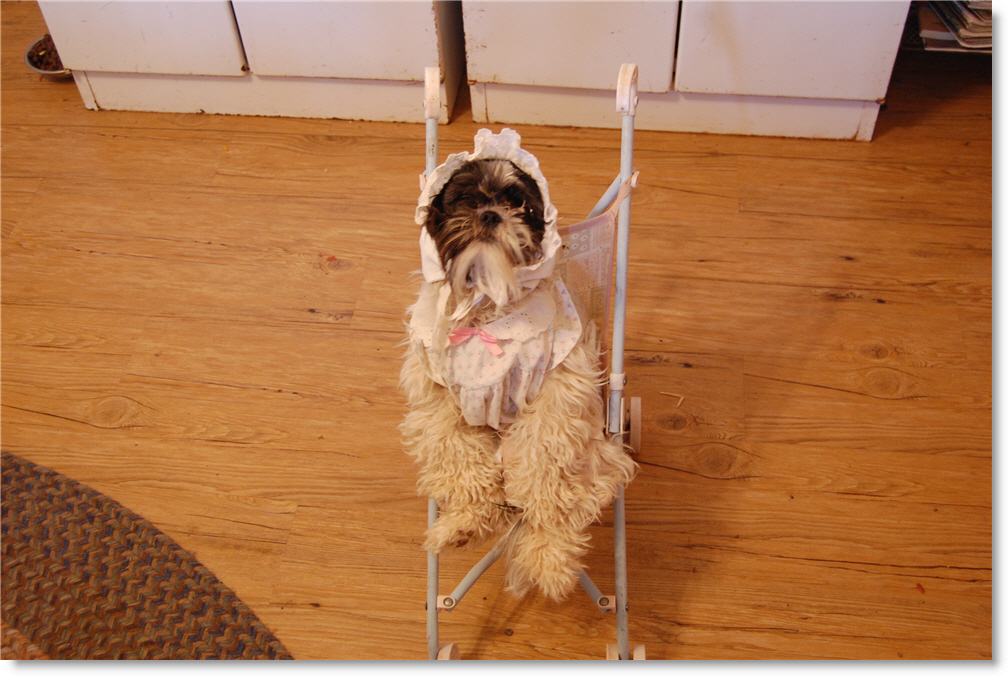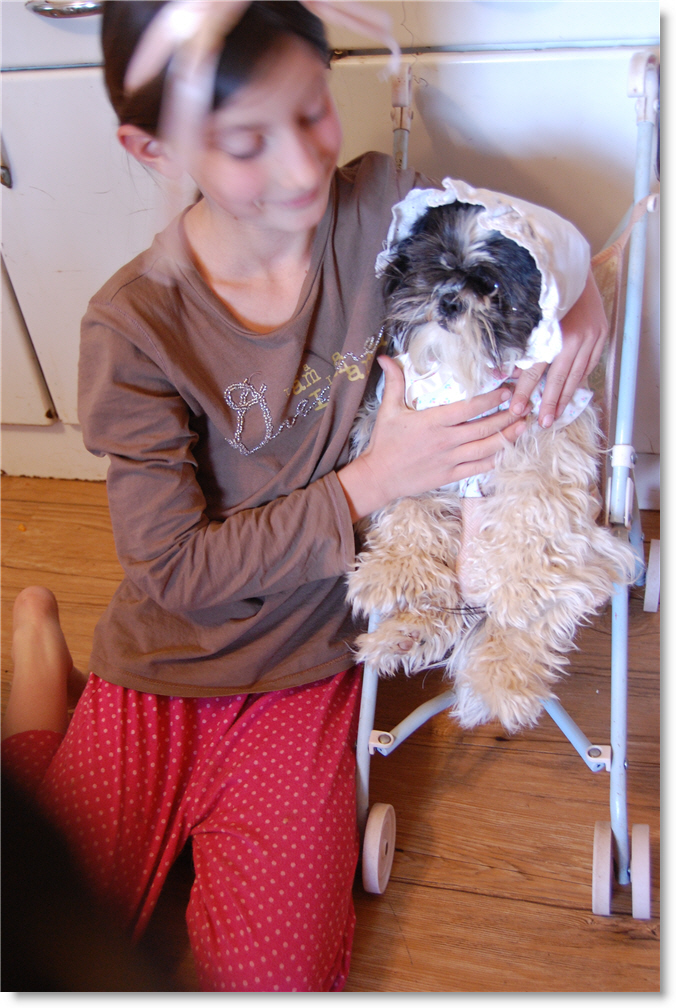 Oh well, she's loved. That counts for something.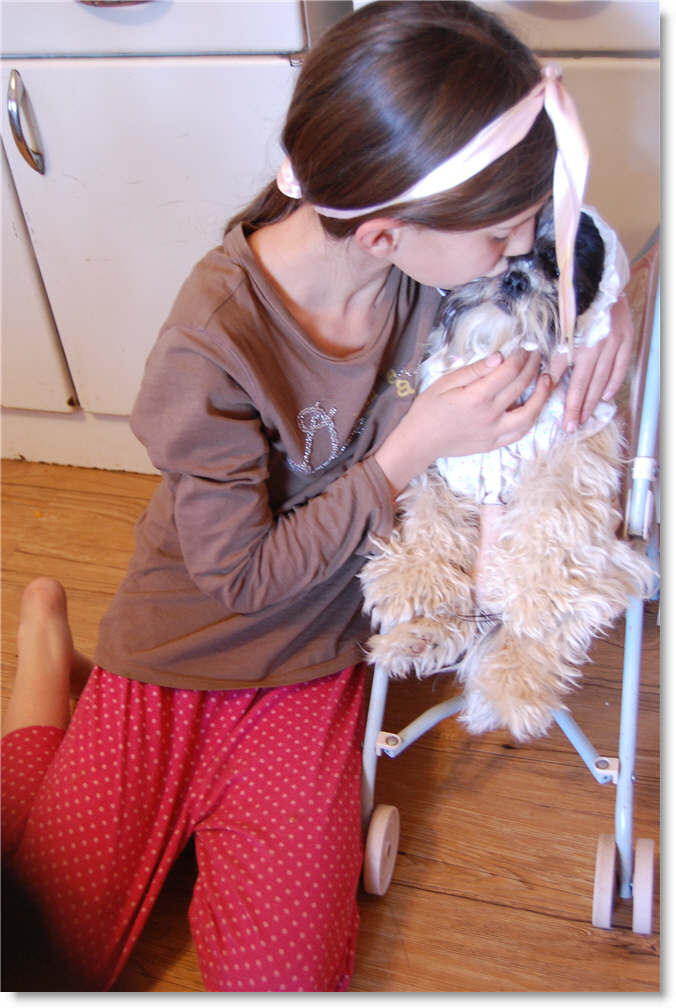 One of Aspen's Sebastopol geese enjoys a swim.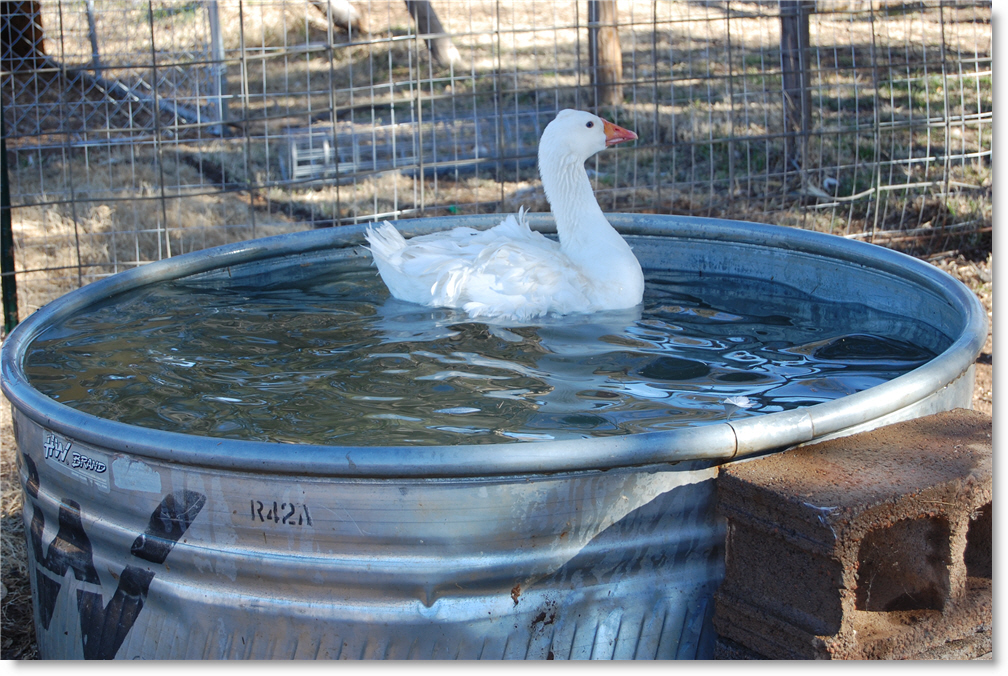 More January Pictures - When I was preparing the February News you're reading, I also posted over 30 new pictures to finish up my January News. Click here to open the January News in a new window so you won't miss anything.
Monday, February 18 - A Cabin in the Woods Video - Have you visited Atlanta & Jordan's wedding website yet? It's got all the information concerning the upcoming wedding and BBQ on it plus a lot more. There's a page named "Our Story" where you can see a picture history of their courtship and engagement going all the way back to 2004. There's also a page called "The Forrest Connection" where you can learn the history behind the 1800's home where their Tennessee wedding will be held and how it was once owned by Atlanta's family. Most lately is posted a video called, "A Cabin in the Woods" showing the progress of their log home that Jordan is building in Tennessee. (Click on the page titles above to visit the corresponding web page.)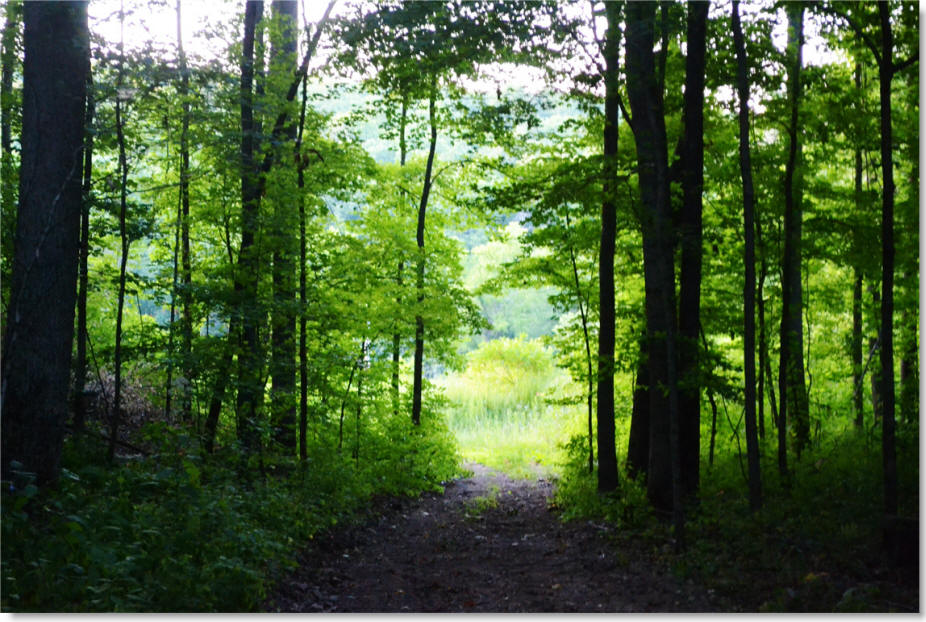 Thursday, February 14 - Blenheim Palace - What in the world would little 'ole ShannonRanch.net have to do with this gorgeous palace in England? It's a very "high up" place, given by Queen Anne to John Churchill, Duke of Marlborough, (in 1704 following the Battle of Blenheim) and birthplace of Sir Winston Churchill.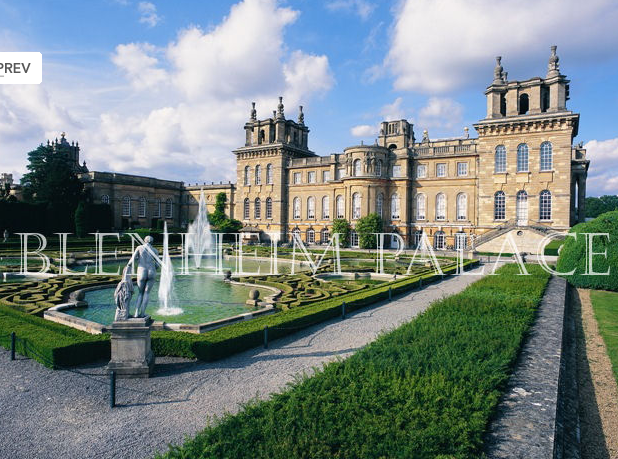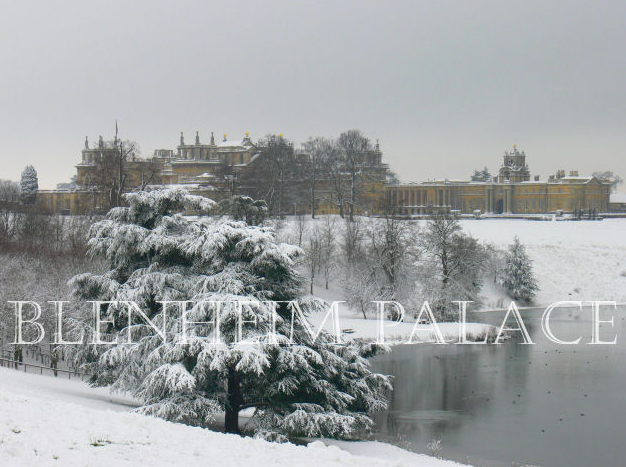 It's kind of a complicated story, so stay with me. First, there was a movie. It's called "Young Victoria" about Queen Victoria. The movie features many beautiful costumes of the Victorian era. A lady from England, who found Atlanta's Etsy shop, ordered a custom made copy of one of the dresses from the movie.
A scene from the movie on the left showing the dress that Atlanta made on the right.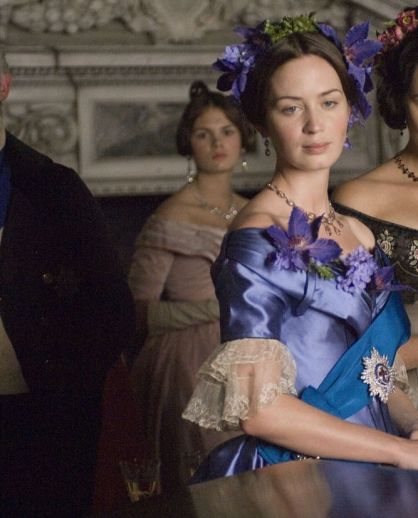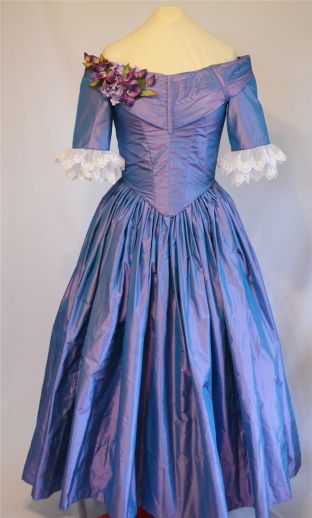 The lady asked permission from Blenheim palace to make pictures of herself wearing the dress in the palace. They not only gave her permission but asked if they could display the dress at their upcoming event entitled "Lights, Camera, Action - Blenheim Palace, The Star of TV and Film". It just so happens that our friends, the Roberts, are traveling in England and Europe right now, doing research for an upcoming play at the theater where they work. They were able to swing by and see the display.
A photo posted on Rebecca's facebook page.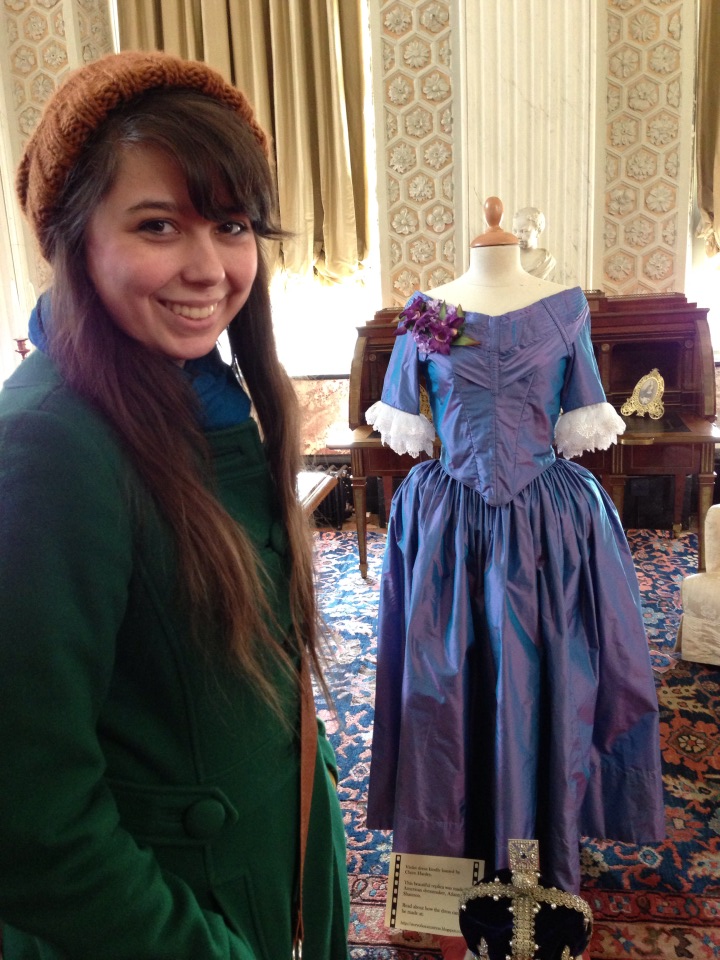 Check out the plaque in front of the dress.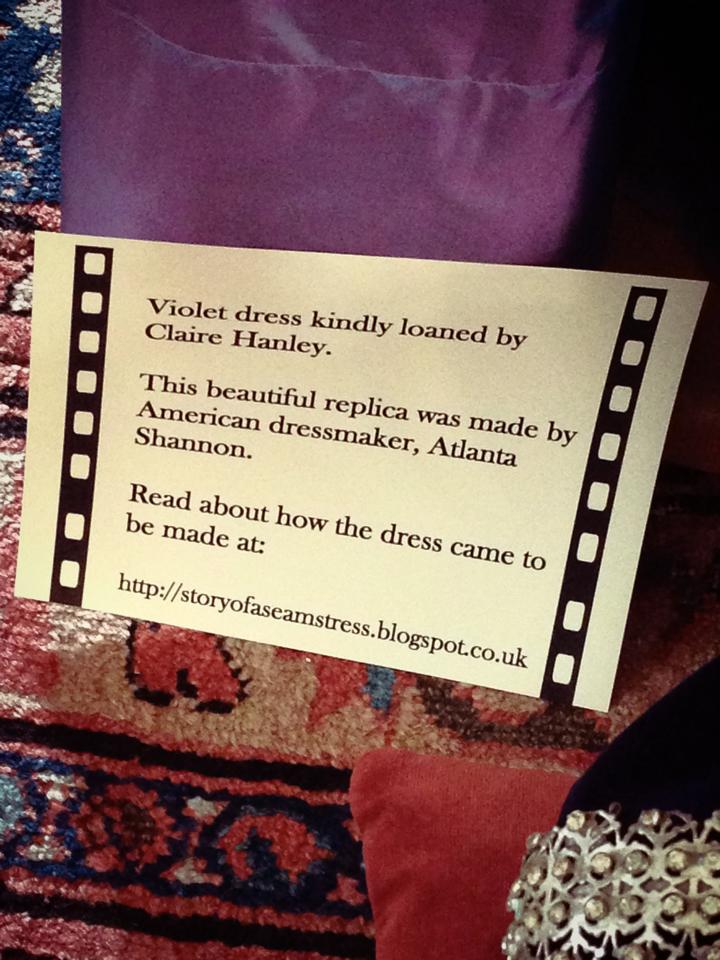 Read all about the dress on Atlanta's blog, Story of a Seamstress.
Wednesday, February 13 - Serious Dog - I thought I might show you a couple of pictures of Rusty when he wasn't wearing a silly hat or dress up clothes.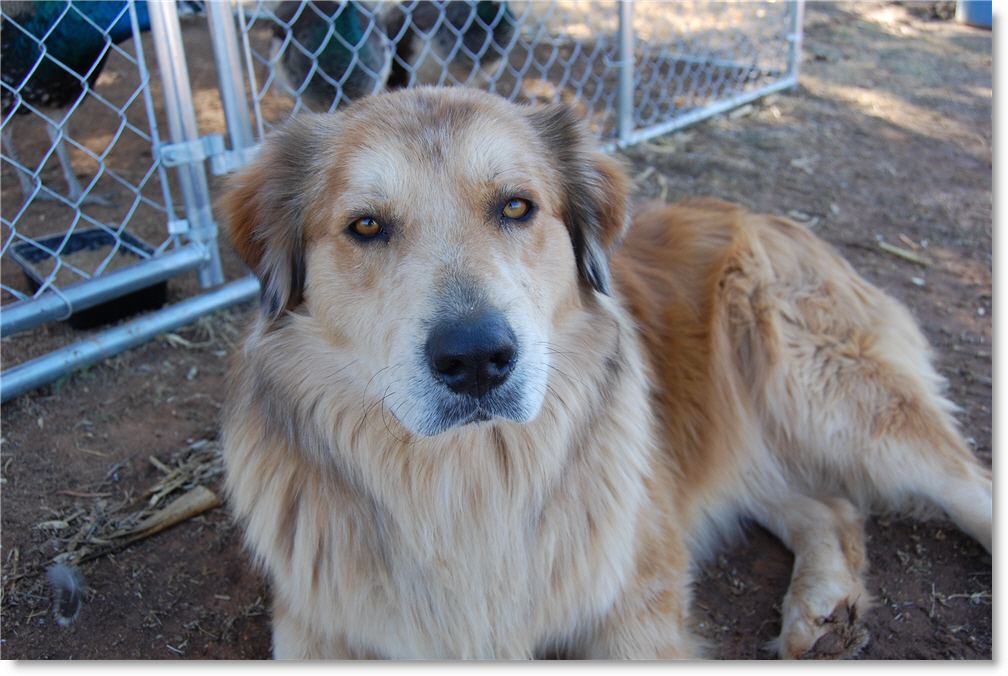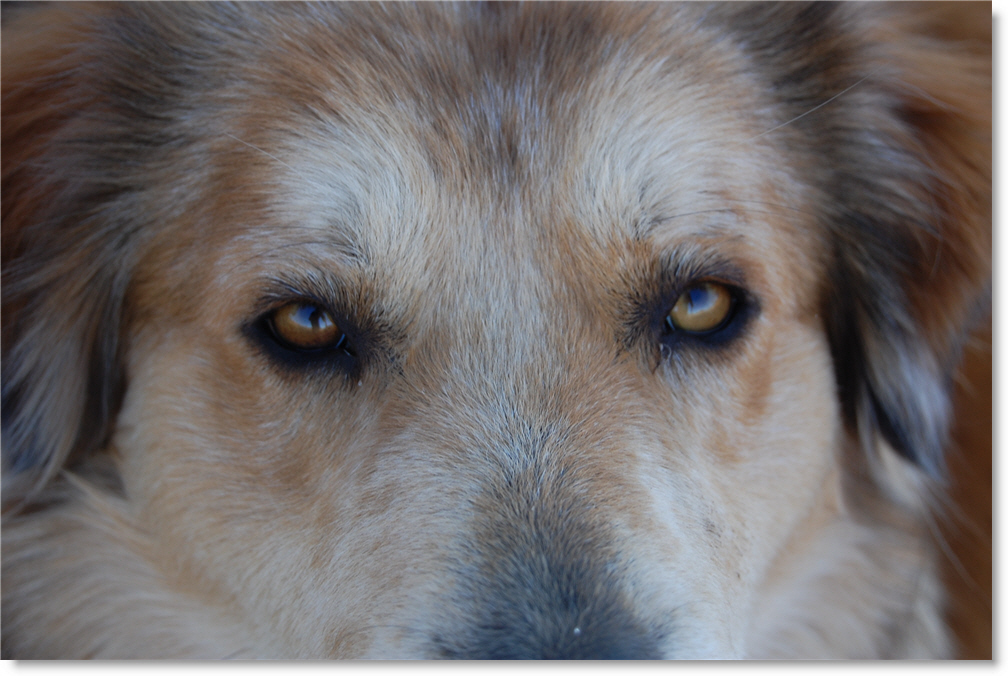 Tuesday, February 12 - Spring Snow - We were pleasantly surprised to get a nice wet snow today. We had approximately 7/10 of an inch of moisture. It was a combination of snow, sleet and rain.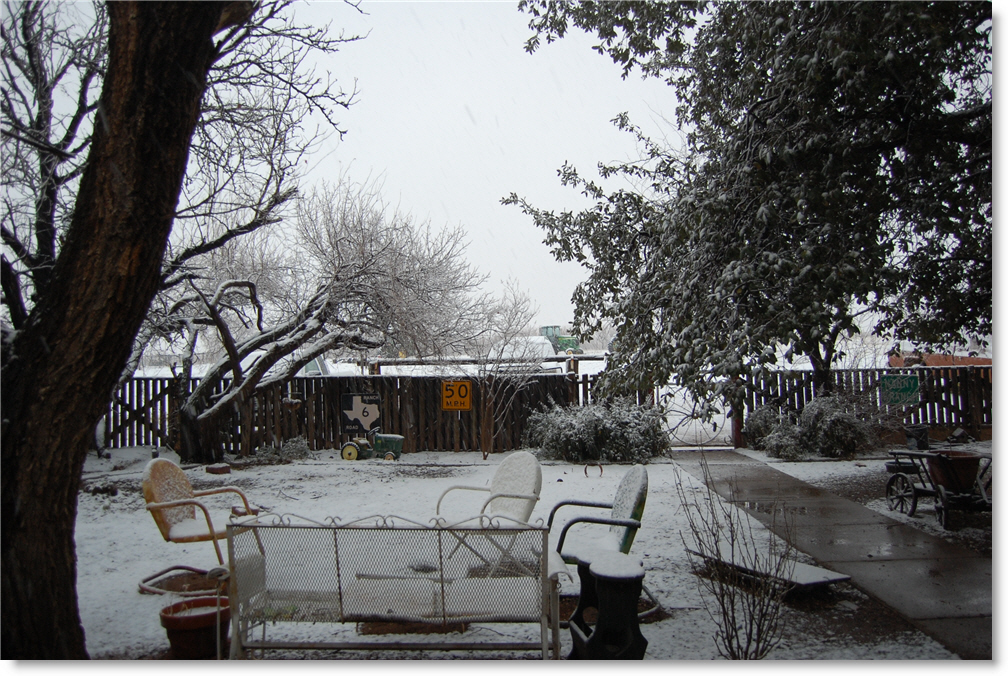 Somebody didn't get the laundry off the line...oops...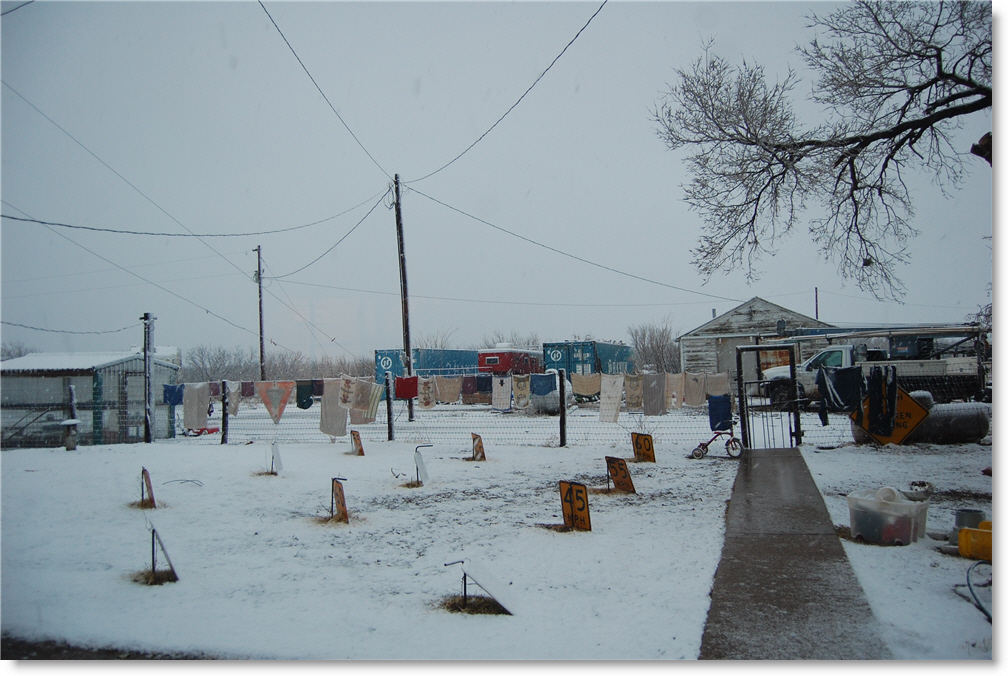 In this picture you can see the little metal building that Aspen's using to house her geese at night.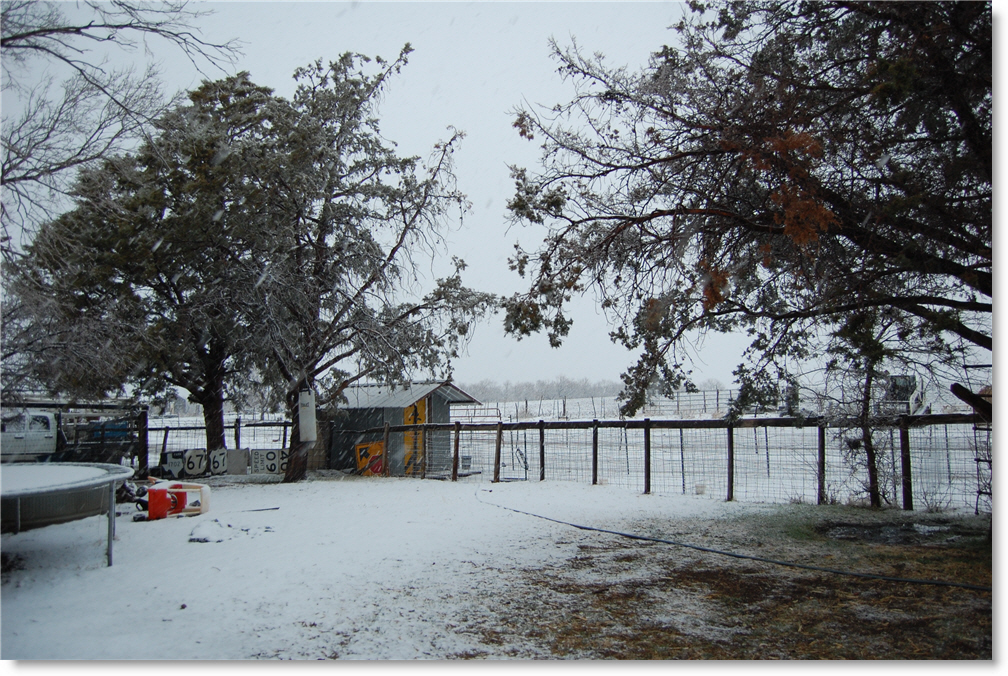 Goose House - After the tragic loss of several geese, we cleaned out a small metal building that we were using for storage. The boys moved it with the bobcat close to Aspen's geese pens. They also are in the process of building stalls inside the building so the groups of geese can be kept separate at night.
Square tubing and road signs with a couple of hinges does the trick.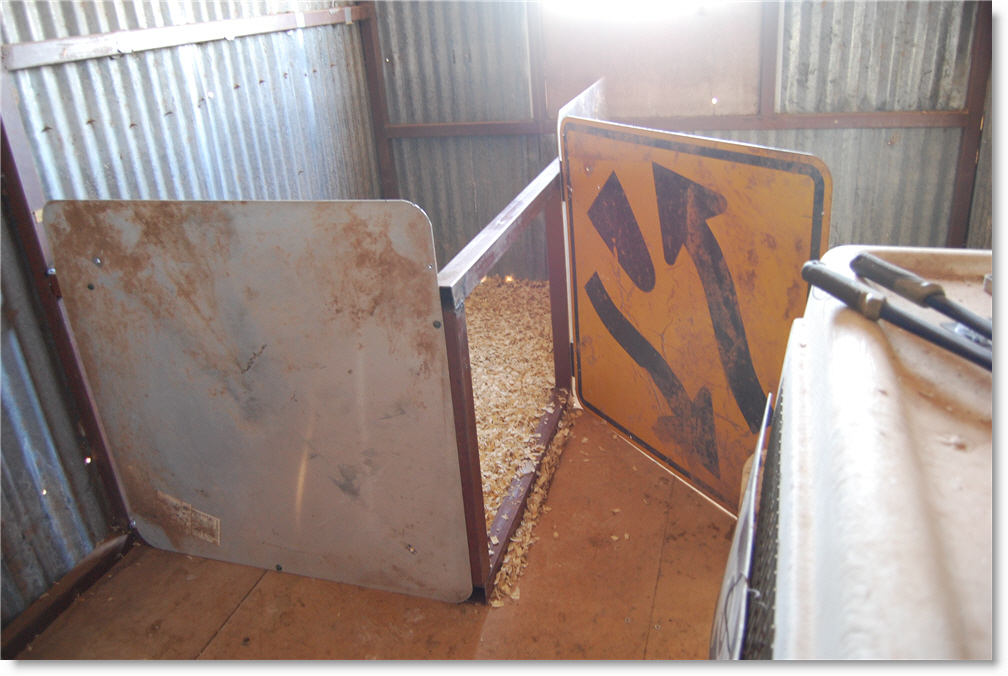 Here's the new pens in front of the metal building. On the right side you can see a lane between the pens and the backyard fence. Each goose pen opens into the lane. Since geese are so easy to herd (unlike chickens), Aspen can herd each group into the building at night.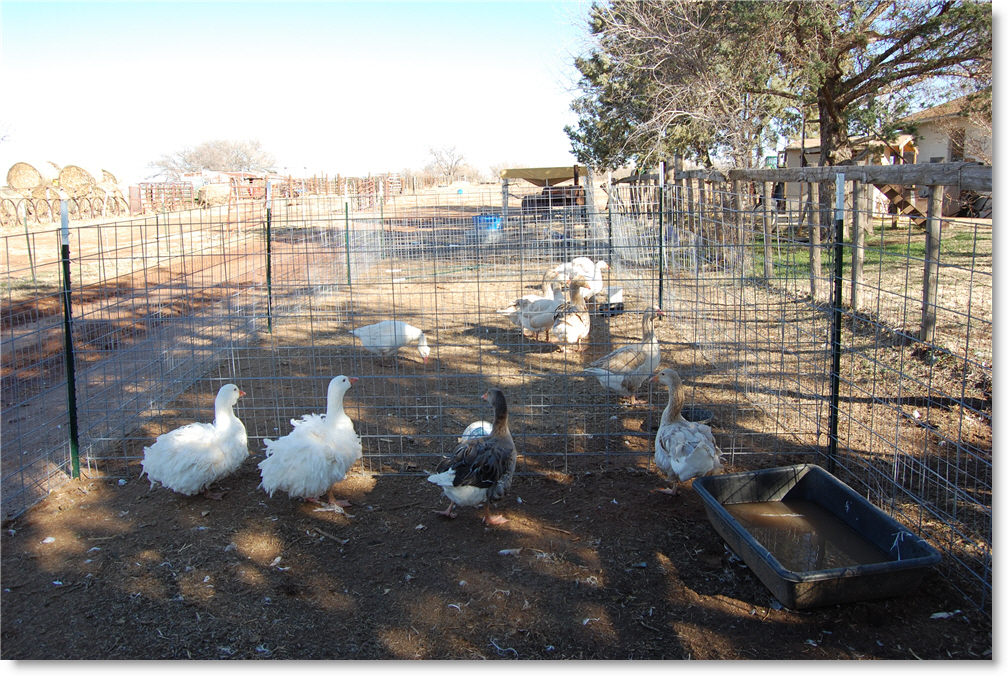 These geese just had a nice swim.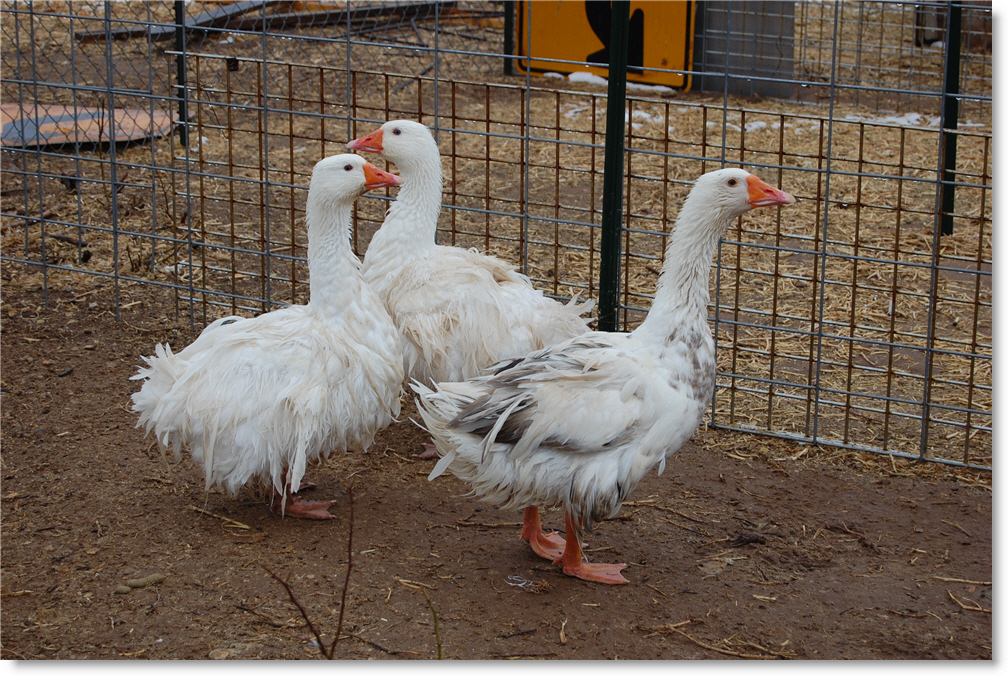 A large goose egg is as big as Aspen's hand. She has several of these in the incubator. It will be interesting to see if she hatches any goslings.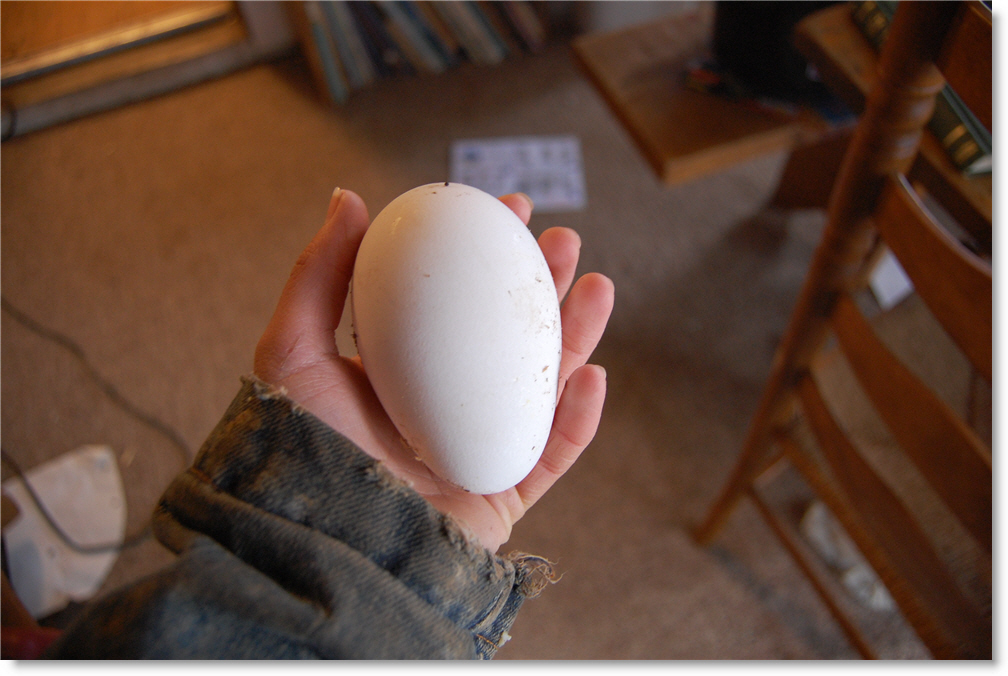 Sunday, February 10 - Mini Quiches - Atlanta baked these this evening for the guy's lunches tomorrow. By the time I took this picture, they had settled a little bit. When they first came out of the oven, they were all risen up super high. Aspen keeps telling us how the duck eggs make cakes and everything rise higher. She seems to be correct.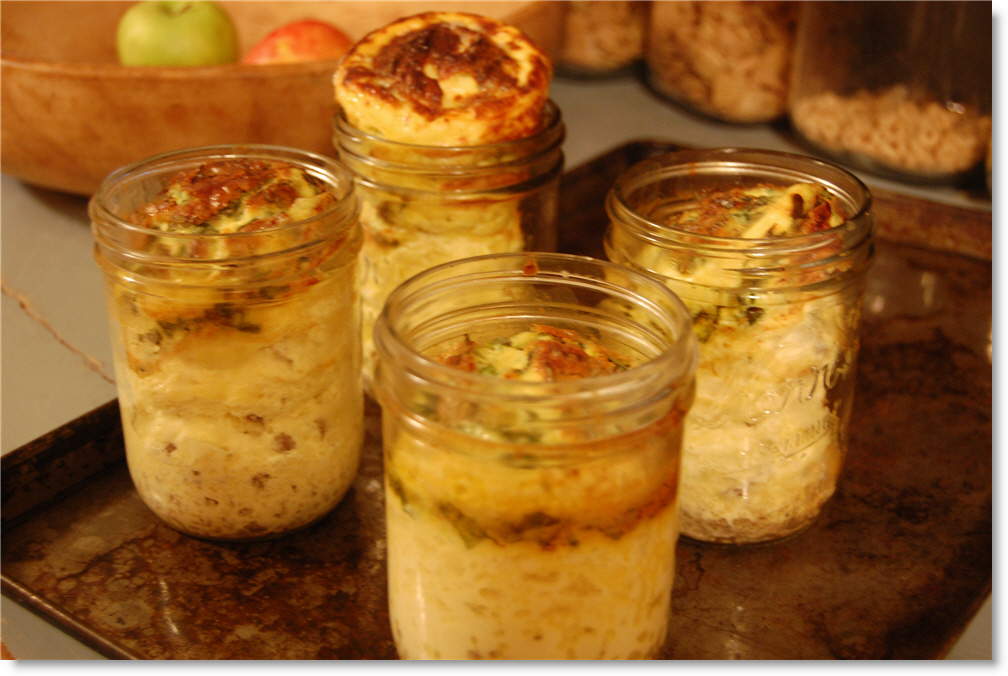 Thursday, February 7 - Bandit Caught! - With Rusty locked up, the reset trap successfully caught this raccoon. Nathan and Stockton dispatched him.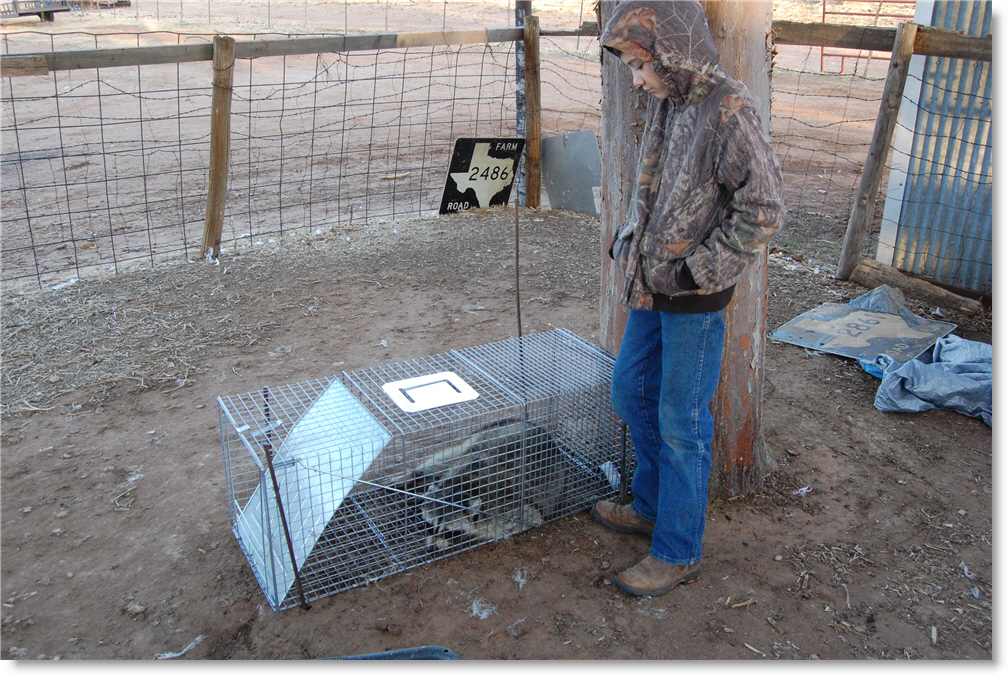 Invitation Time - We've finally gotten all the paper, ribbons and tags in that we ordered and have been printing up the wedding and BBQ invitations.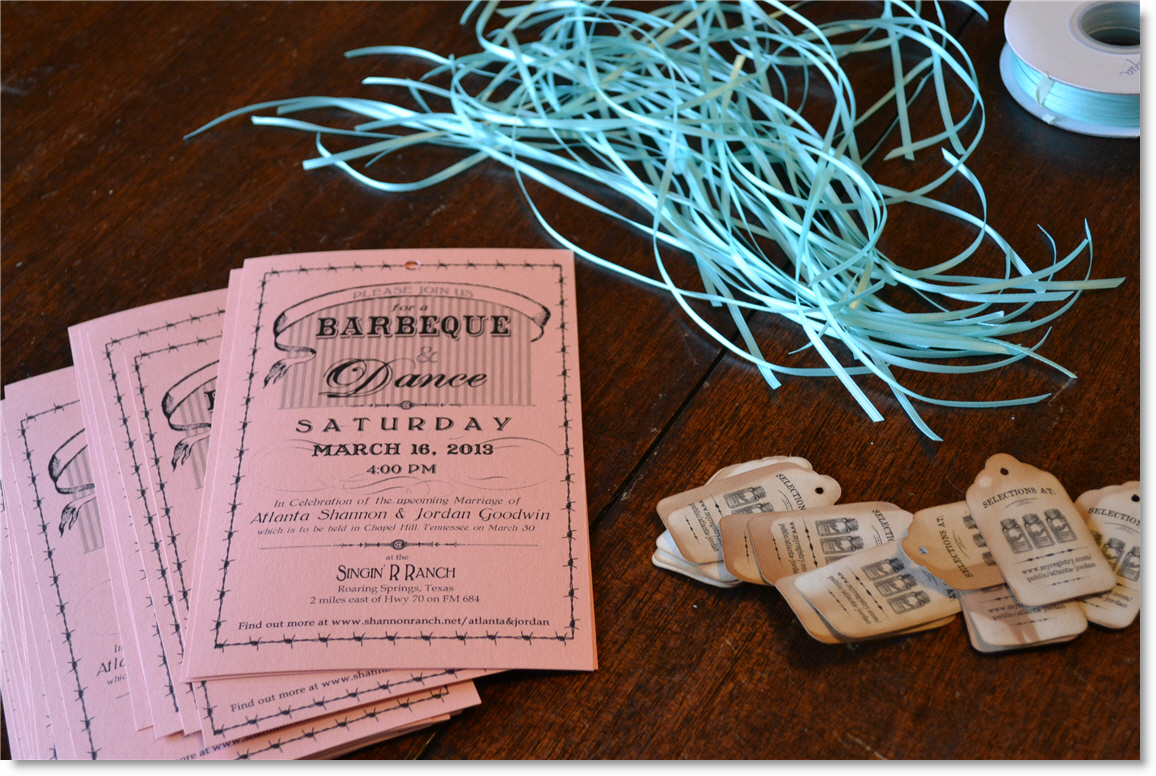 The tags give the address of Atlanta's online registry. They're attached to the BBQ invitation.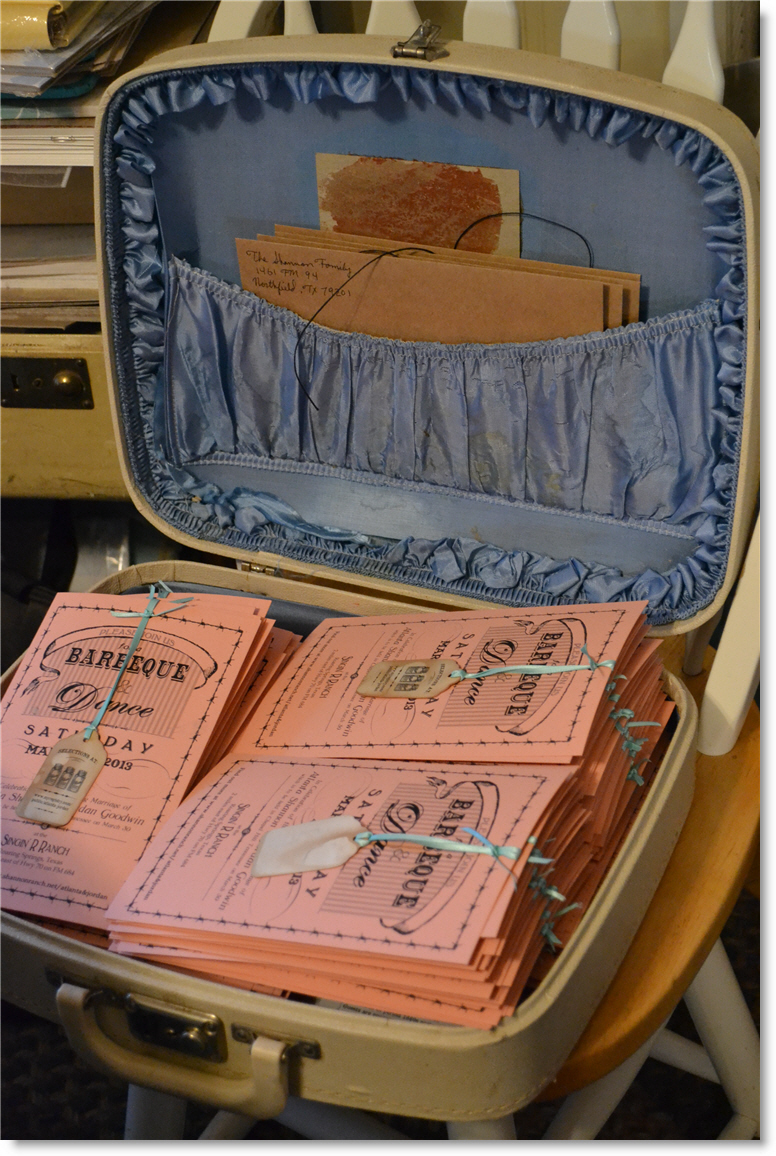 The wedding invitation is on cream colored paper. There's an RSVP postcard included in the envelope, too.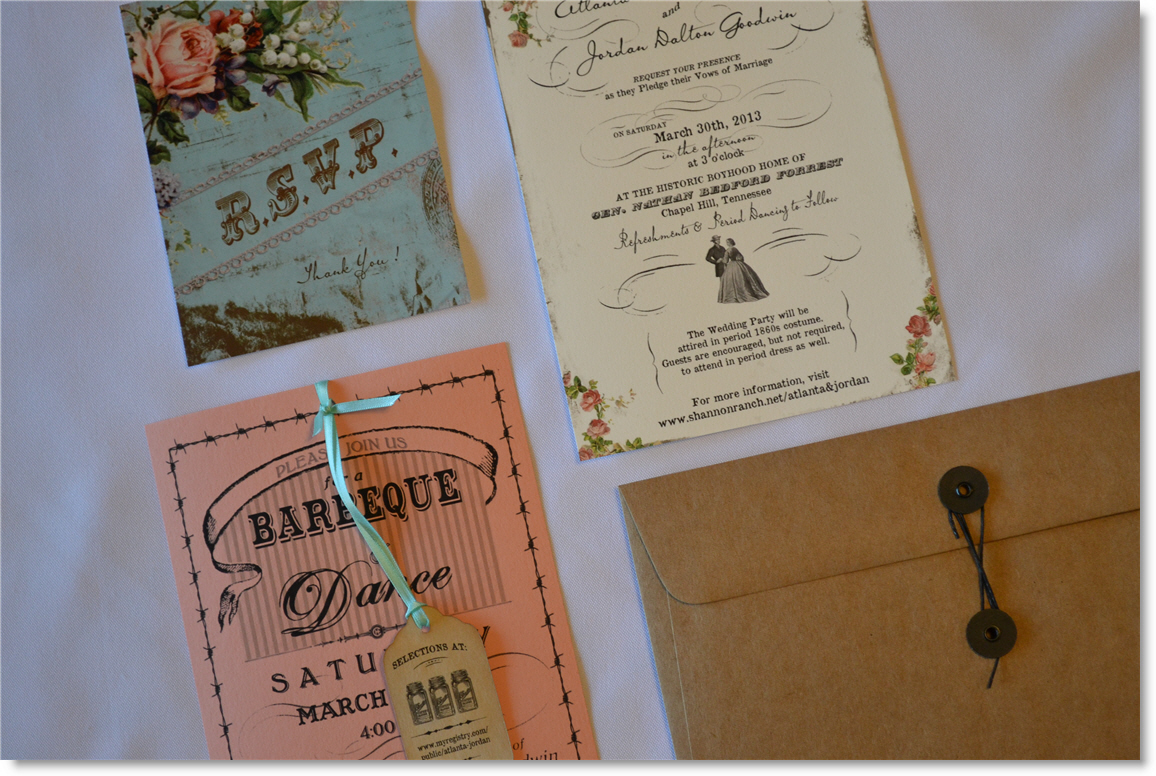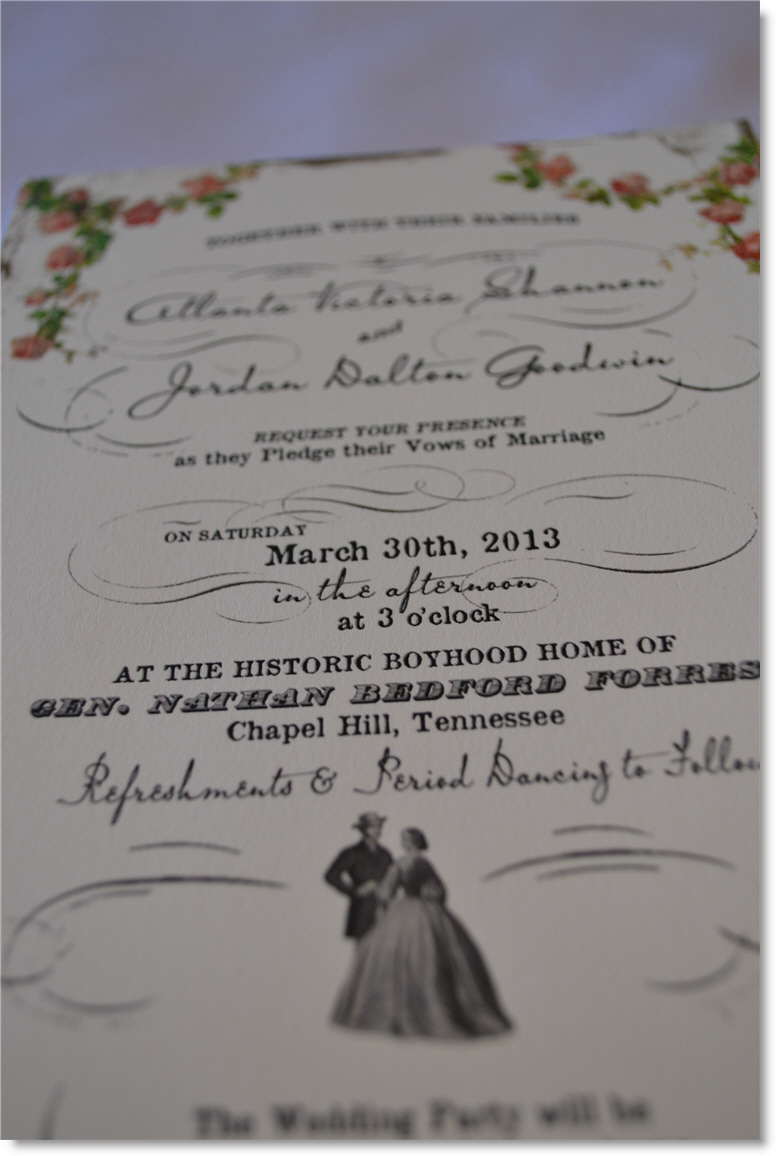 If you should have received one, but didn't, please click here to email us your address.
Wednesday, February 6 - Bait Stealer Caught - We bought a new, larger trap and set it tonight to try and catch the perpetrator of the goose slaughter. Before we went to bed, we noticed Rusty was nowhere to be found. Looks like he ate the tuna fish, but how he got turned around in this trap is a mystery.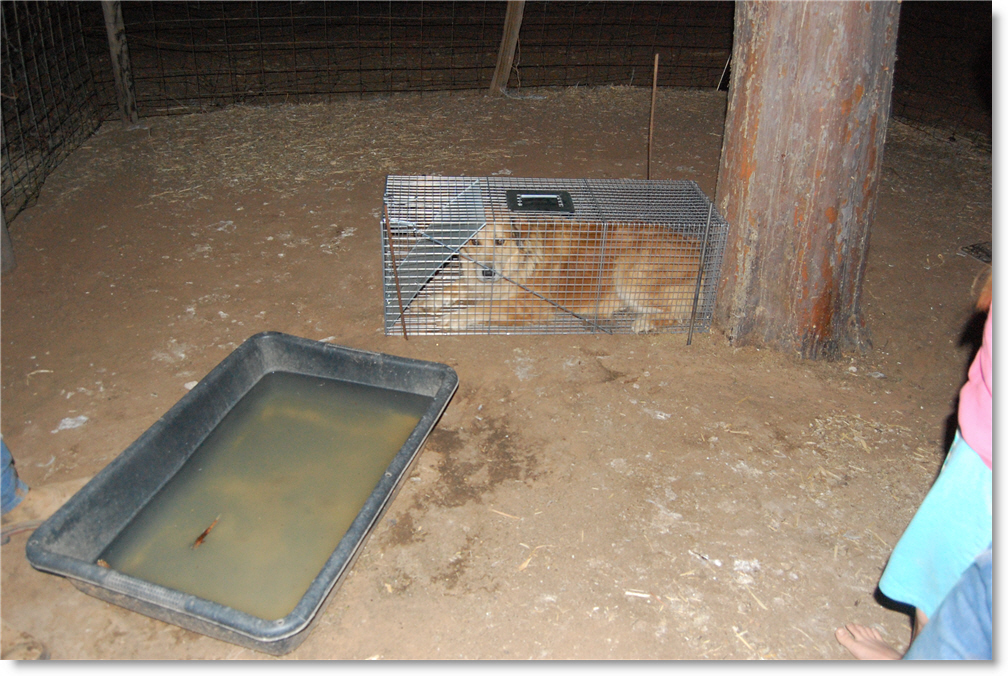 Nathan got him out, reset it and put him in the stock trailer for the night.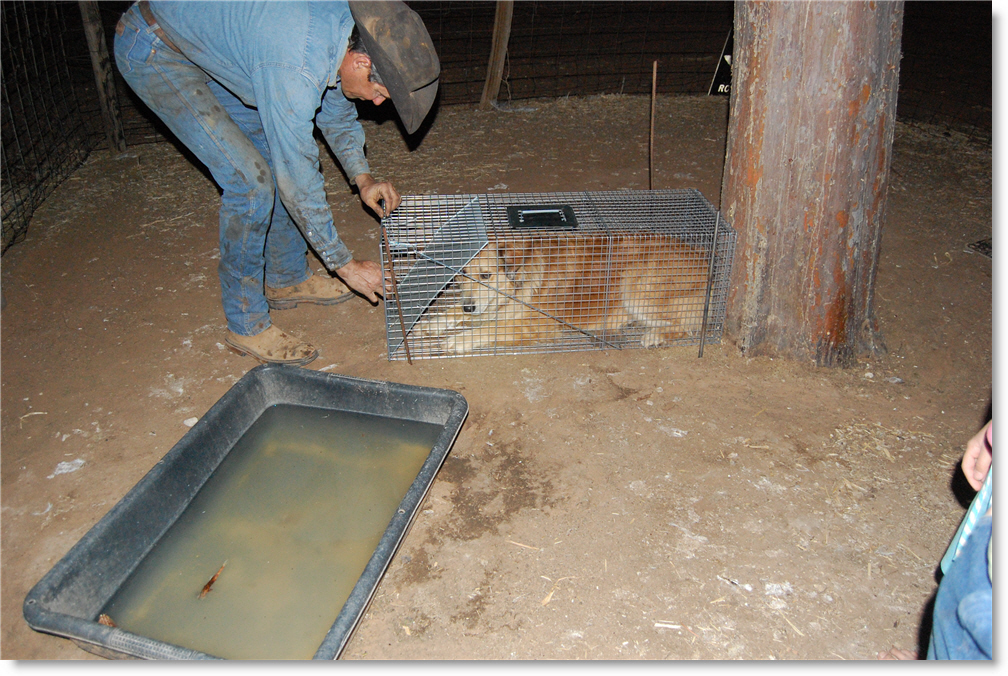 Tuesday, February 5 - Tragedy Strikes Again - Aspen came screaming to the house early this morning. The murderous predator that had killed one of her geese had come again in the night. To her dismay, it had killed two of her most prized geese that she had imported from Florida. She thought they were in a secure cage with wire sides the mesh of which was no bigger than 2" holes. This meant that something that could reach in like a raccoon or bobcat had to be the guilty party. The geese were killed, but not eaten because the predator couldn't get in the cage, only reach in. Such a waste! We had been setting the trap, but hadn't caught anything although the trap was sprung and moved around a bit. The only safe thing to do was to carry all her geese in her poultry building every night until we caught the nighttime killer.
We found these tracks just outside the pen. They're smaller than Rusty's.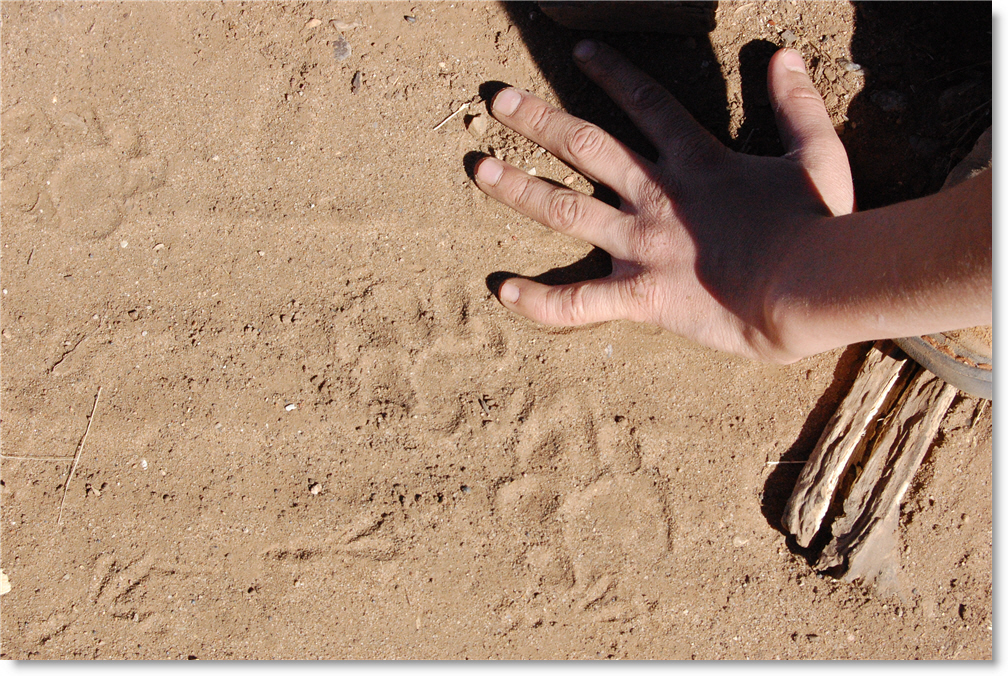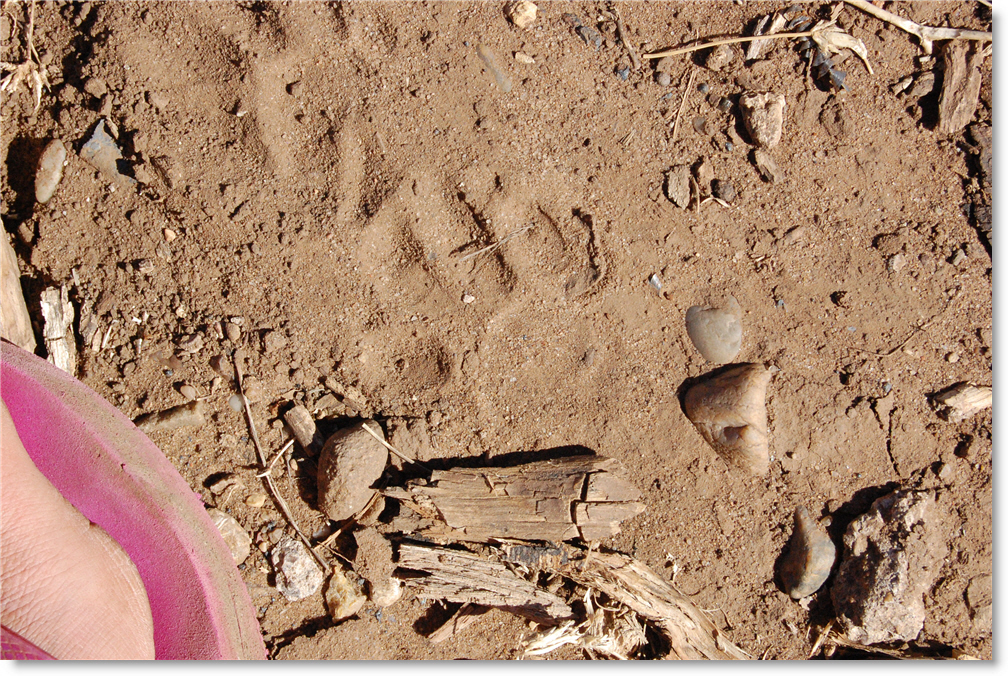 Monday, February 4 - Nathan's Birthday - We had a special supper and a cake, then Cim, Laredo and Atlanta played Cim's new song for Nathan.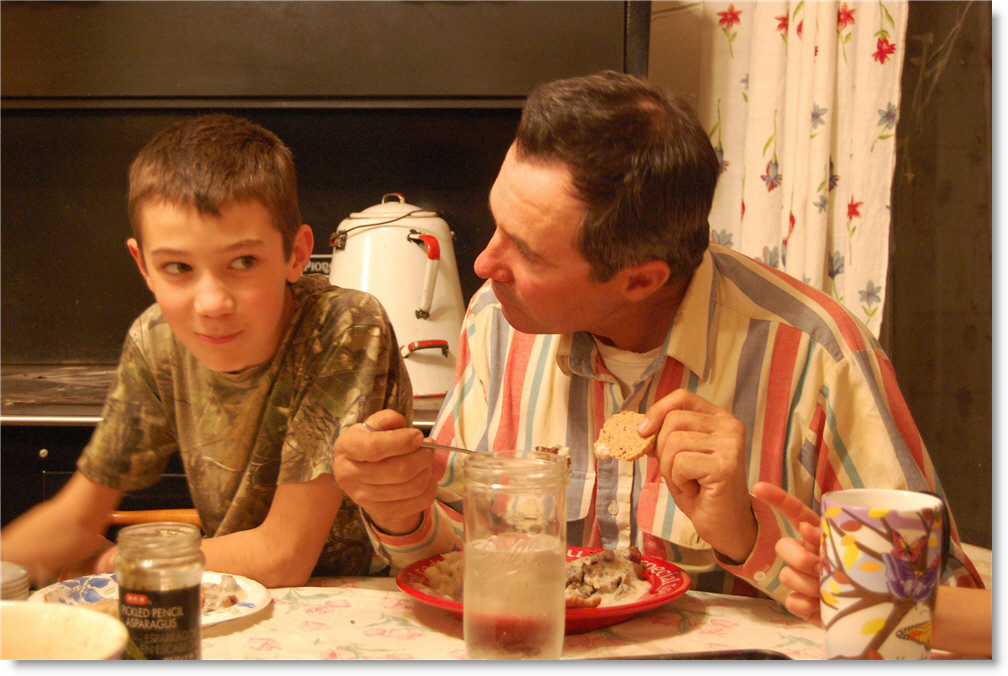 Fried backstrap, potatoes, biscuits and gravy and some carrot sticks.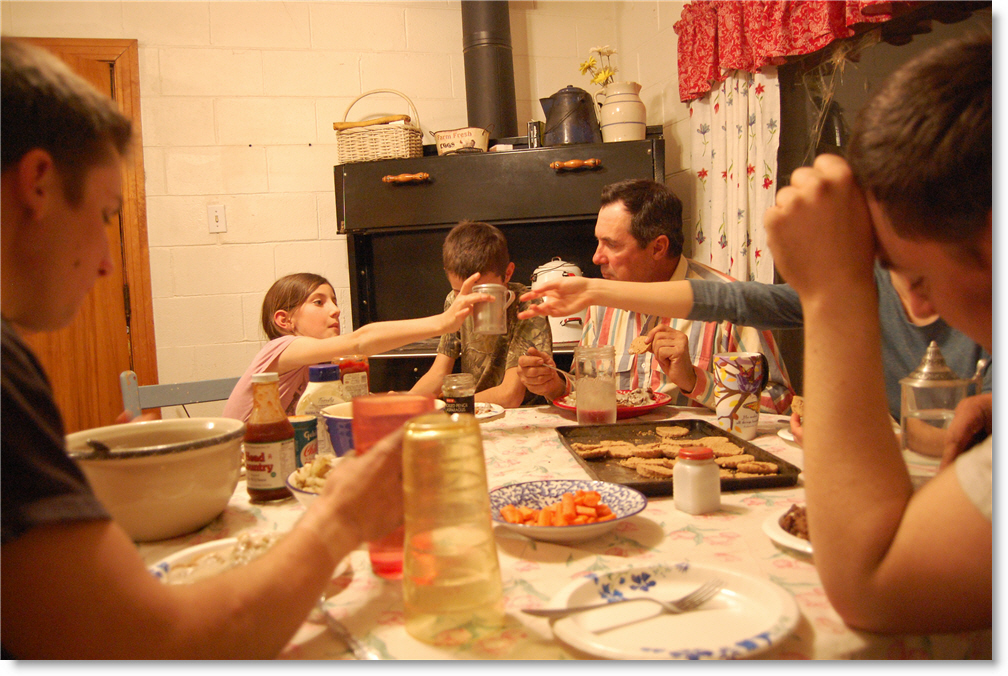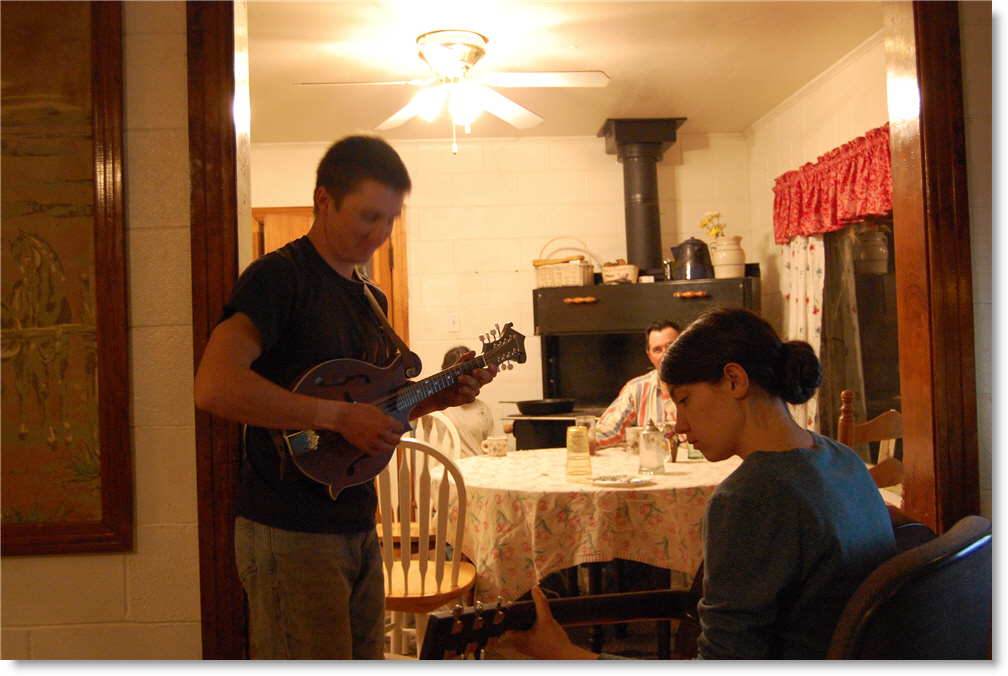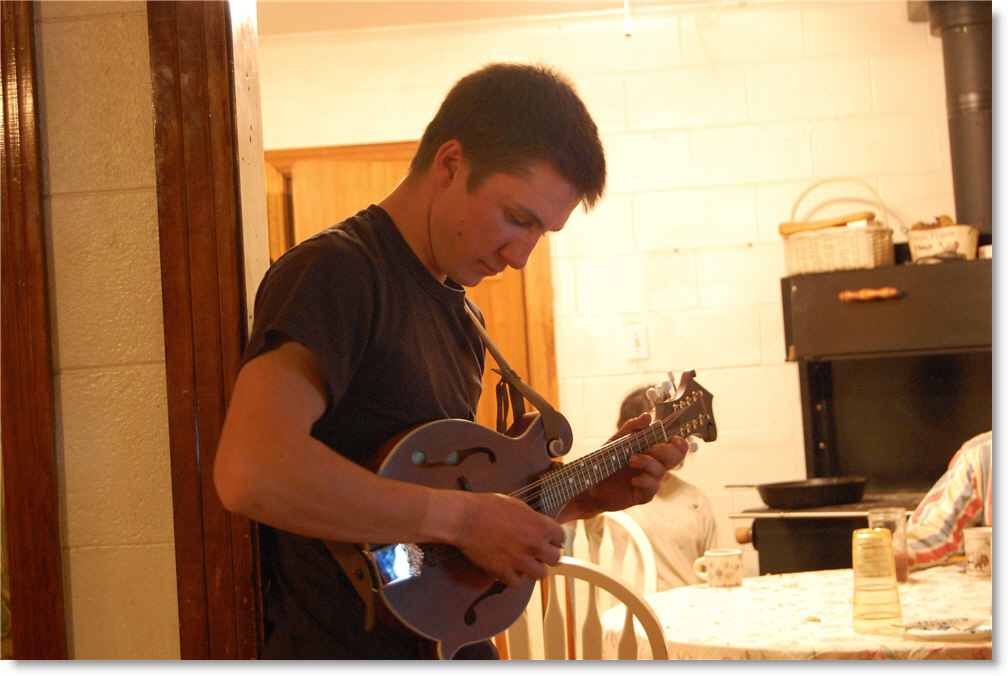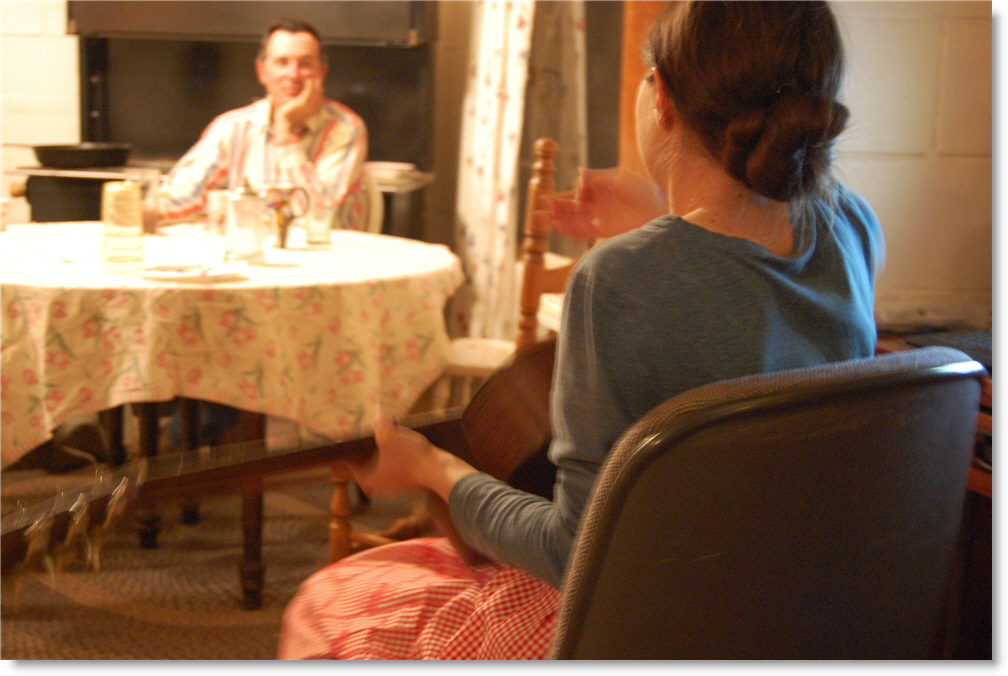 Sunday, February 3 - Greenhouse Shelf and Raised Bed - Nathan welded Stockton up a shelf today for his greenhouse.
Stockton went to work filling his trays with soil to get them ready to plant.
Here you can see the large piece of wood that is the edge of his raised bed.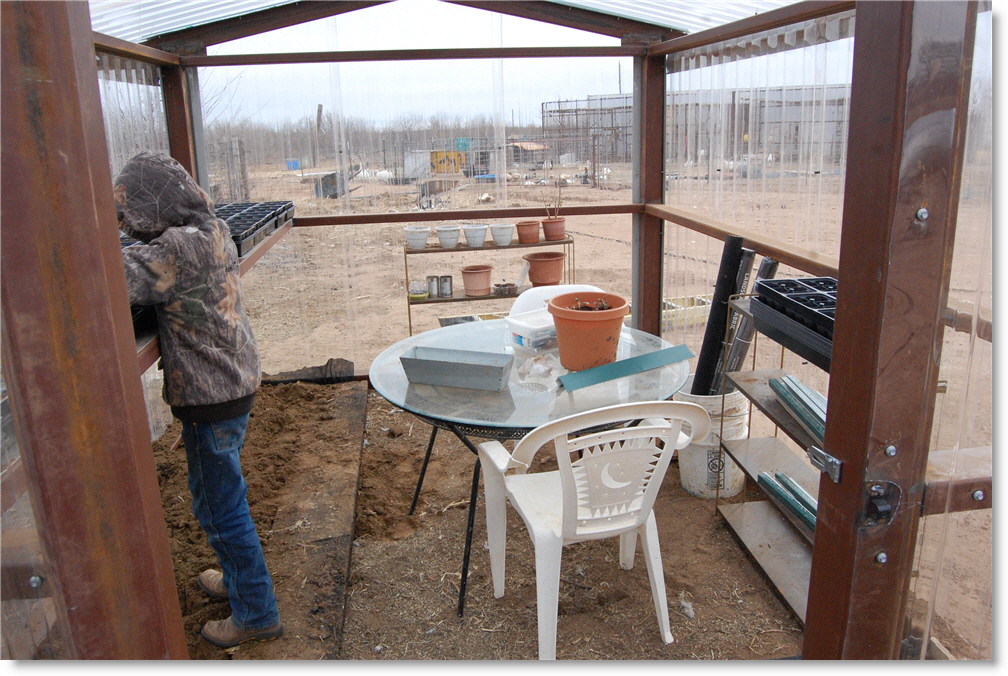 Saturday, February 2 - Predator Attack - Aspen lost a goose to an unknown attacker. So the boys got out today and made her some more secure boxes for them to go into at night.
For building materials, some of our metal highway signs from a TXDOT contract years ago are put into use.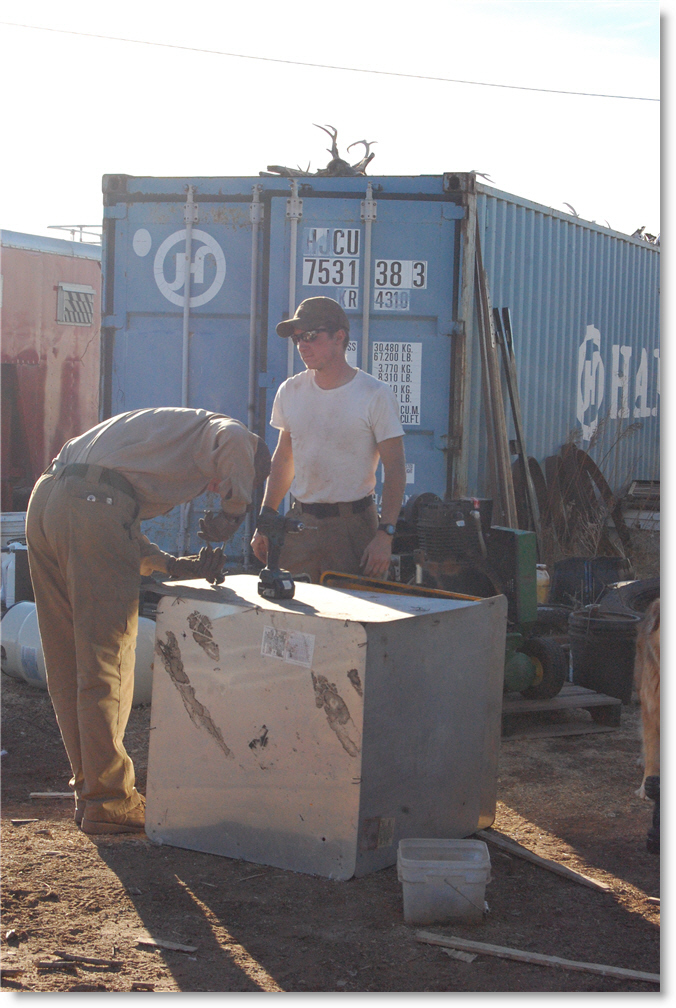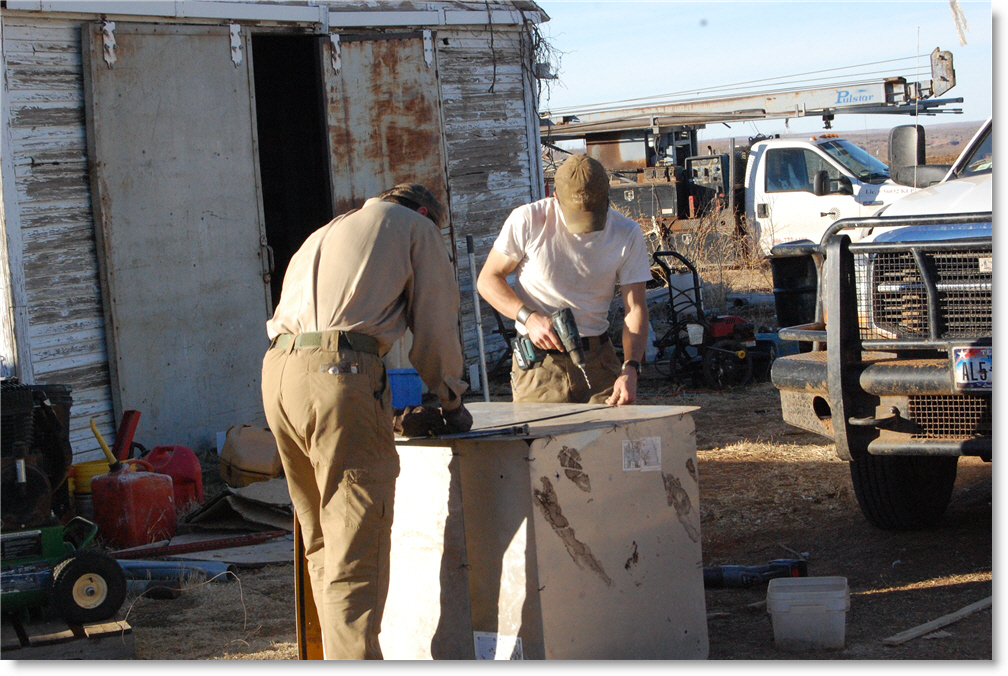 Stockton enjoys the warm weather, too.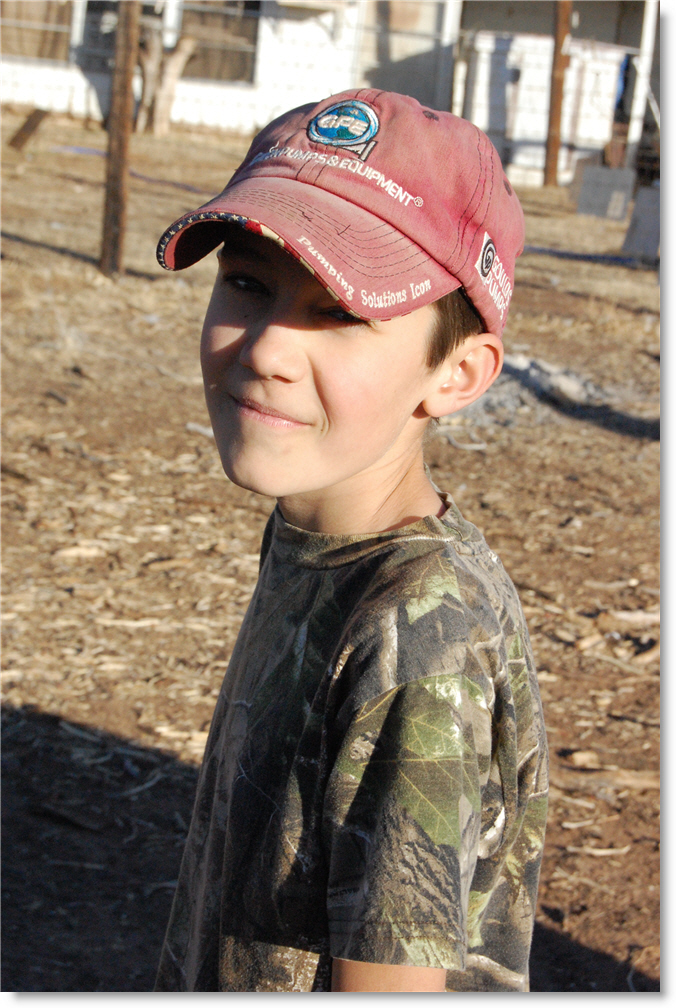 When they're done, they set a trap nearby to try and catch the intruder. Here's what was in the trap the next morning. It's our old wild barn cat that hangs around. We weren't convinced that this cat could kill a big goose, but we didn't want to risk letting him go, so we gave him away.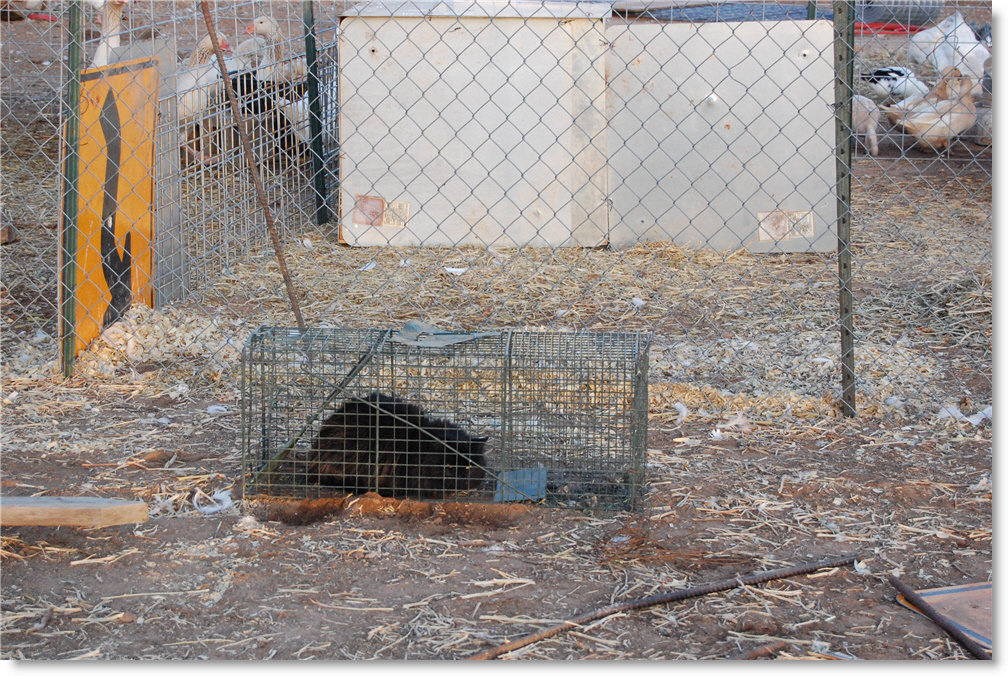 Check out our past news. Just click any link below: