Sunday, October 30 - Dinner at Tahoka - Sunny and Jim hosted a supper tonight. Our aunt Edie and uncle Charlie and also uncle Harold were in town. Aunt Vicky and Bob and cousin, Kristen and Doug were also there with their two girls. It was so good to see everyone again and Sunny outdid herself on the menu.
Appetizers and snacks as well as several drink options were provided for guests.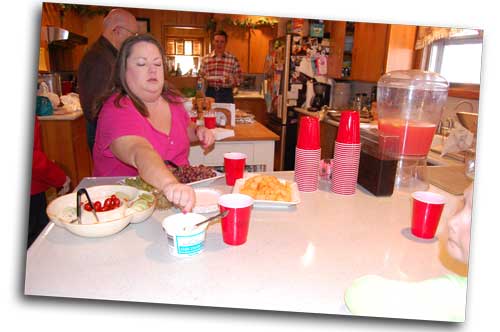 Sunny had three different soups from which to choose. Tomato basil, lemon chicken and some kind of yummy soup with sausage and kale.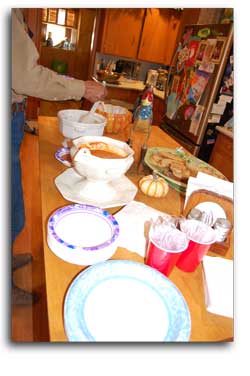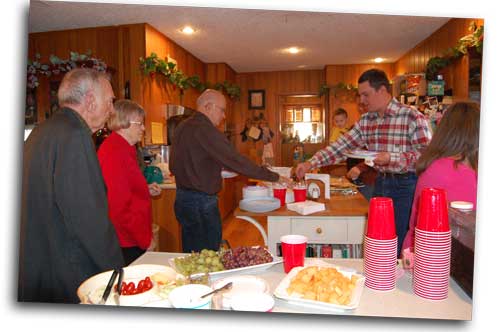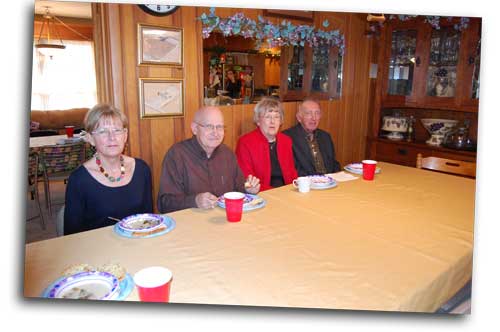 The Tahoka kids all grown up. Vicky, Harold, Joy and Edie.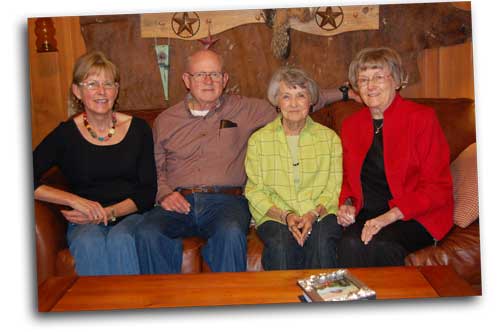 Bob and Charlie squeeze in.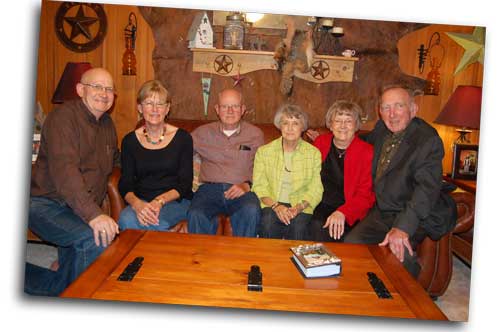 Lots of kids on the couch. Clara, Carolina, Hannah, Stockton, Maura, Kristen, Sunny, and Avery.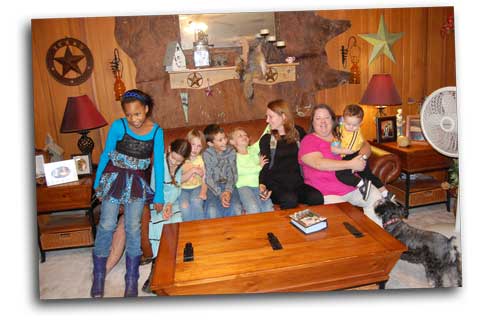 The Dendy family. Clara and Maura with proud parents, Kristen and Doug.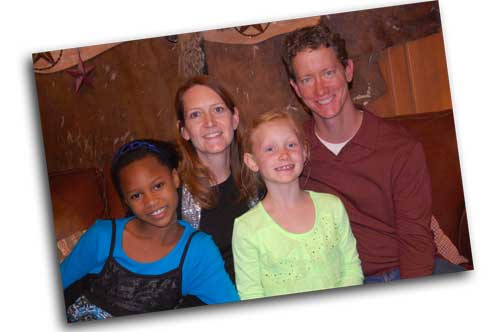 Saturday, October 29 - Work on Aspen's Chick Trailer - The guys had an hour or so to spare and started working on some of the outside pens for Aspen's poultry project.
Cotton trailer end panels will form small separate runs.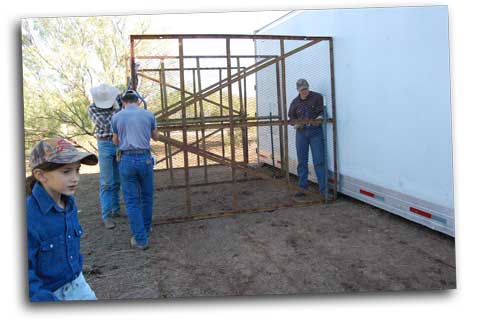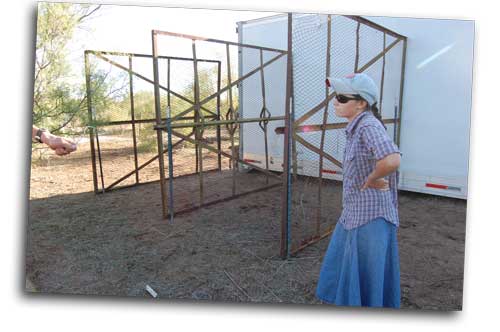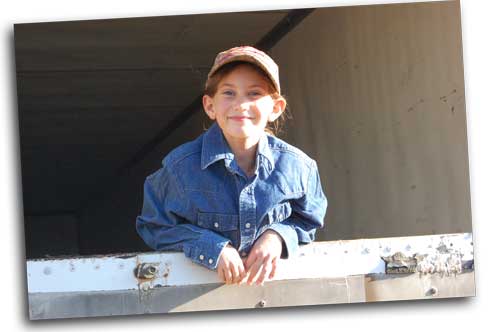 Carolina peeps out the back of the trailer and then poses inside.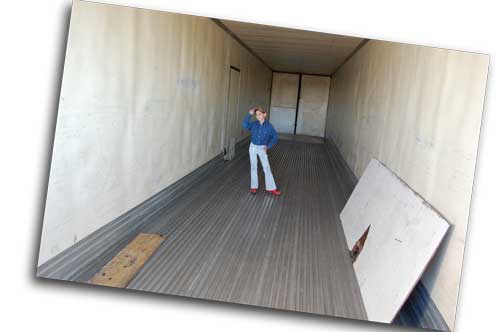 Longer side panels of cotton trailers will be used, too.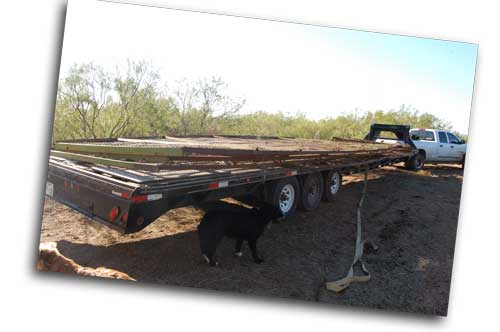 Small chicken doors will be cut in the trailer side so the chickens can go to inside pens as well.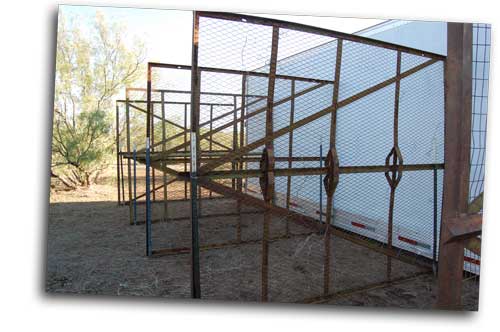 Friday, October 28 - Animal Shots - Stockton caught another bird for a quick visit and he also took this cute picture of Rusty napping.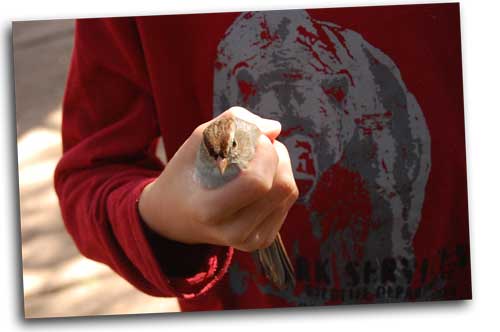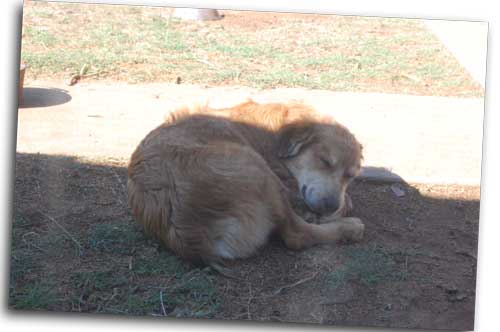 Thursday, October 27 - Sick Girl - It's been a crazy week. Here's poor Carolina still on the couch. She's not feeling too good, but has tried to work a bit on some of her sewing projects.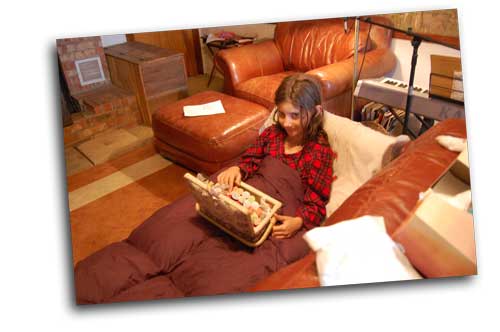 Wednesday, October 26 - Aspen's Poultry Project Underway - Aspen qualified for an FSA youth loan this summer. Now it's time to get started on her chicken house. Today her insulated truck trailer was delivered. It's really huge, 48 ft. long.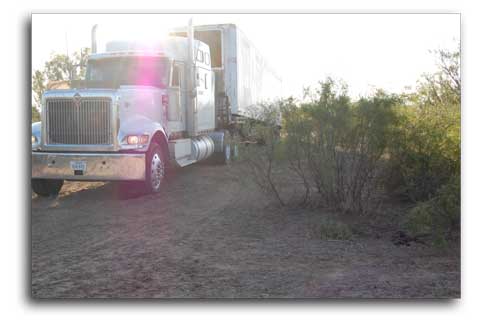 The driver used the bobcat to help get it off the trailer and onto the ground.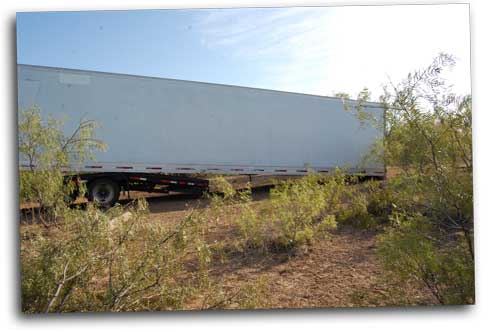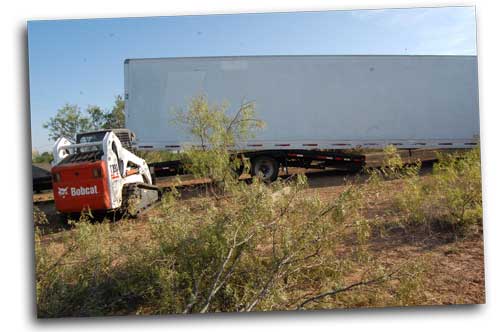 . . . .more to come as this project takes shape.
Another colorful sky this evening.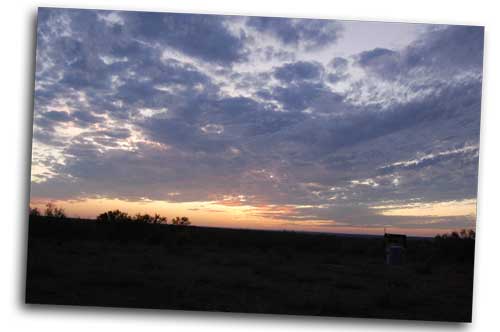 Monday, October 24 - This sunset was interesting. A bank in the west was glowing bright pink right on the horizon.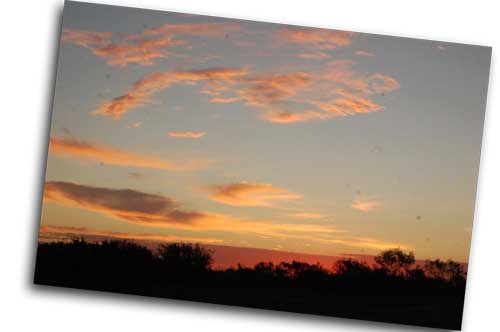 Sunday, October 23 - Clearing a Path - The kids all spent the night last night over at the Phipps house in Turkey. When they came home this afternoon, the boys and Nathan set to work clearing a path for a special delivery that will arrive on Wednesday.
Cim uses an ax to chop brush.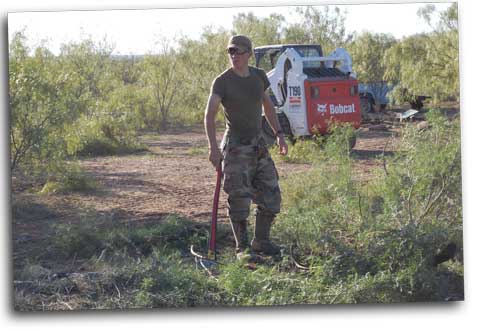 Laredo moves trees with the bobcat.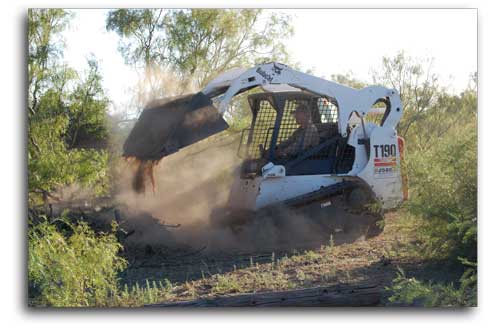 It's almost done!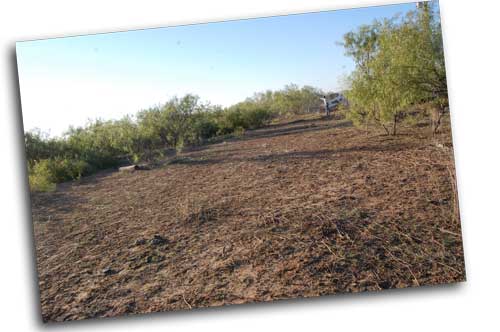 Sunday night Carolina fell asleep in the hallway looking at books on her bookshelf. The kids were all so tired from their lack of sleep Saturday night.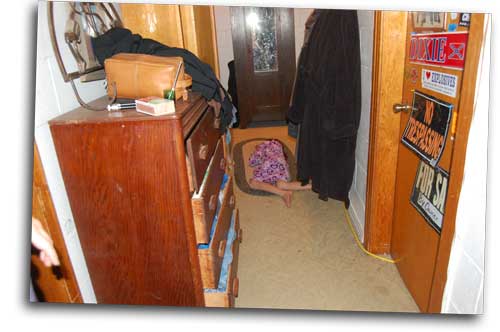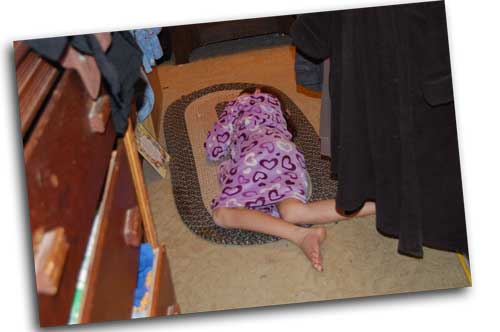 Scenic Hunting Trip Pictures - Some people have had trouble accessing the internet site where I uploaded the guy's recent hunting trip pictures. If you haven't seen them yet, I created my own album and you can see it by clicking here.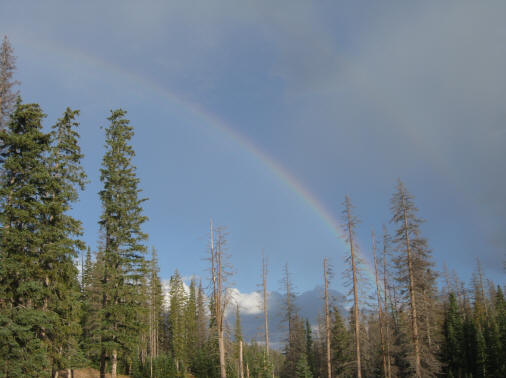 Friday, October 14 - Jane Austen Festival - I received these pictures in my email from Eve's iphone. Didn't Atlanta and Rebecca fix their booth up cute? Atlanta reports they're having a wonderful time and making many sales.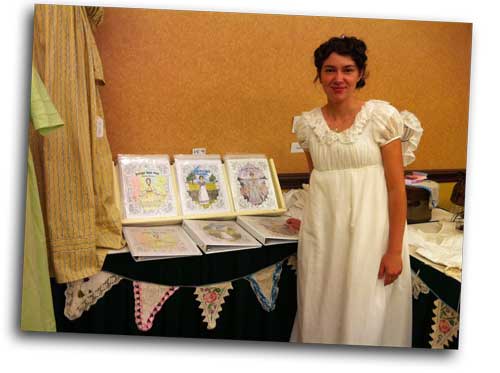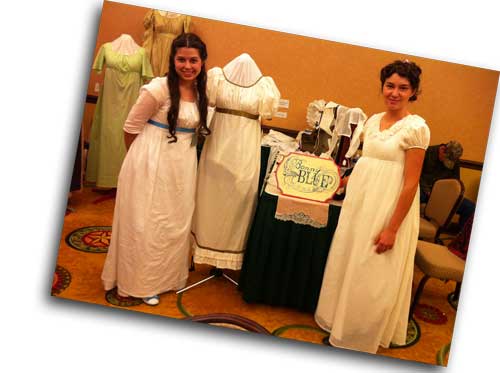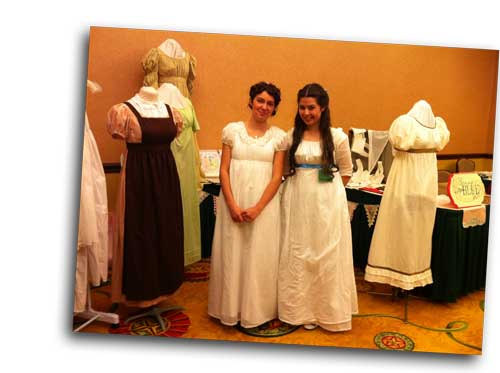 Monday, October 10 - Photo Prop Bed - Nathan's been working on a bigger doll bed. He's had requests for one large enough to hold a newborn.
The smaller bed fits an 18" American Girl style doll. The larger bed is the new photo prop bed. The dogs took to them right away.
Here's the bed painted and with a proper mattress.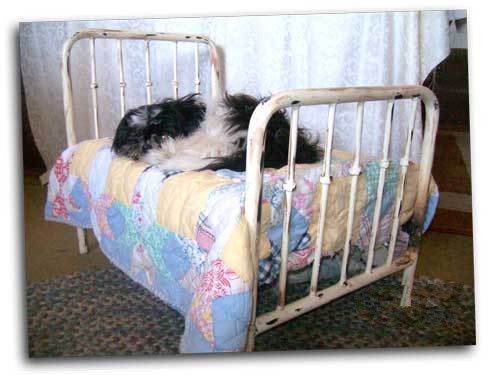 Doesn't it look like a real antique?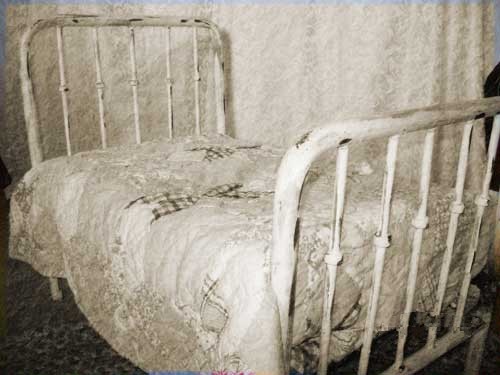 Sunday, October 9 - Hike to the Windmill - Nathan suggested we take a walk this afternoon. The weather was perfect and everyone was game.
Cim and Laredo provided the armed protection.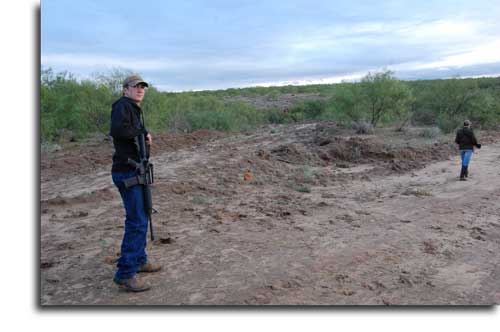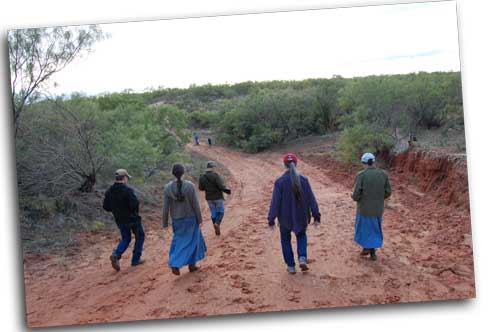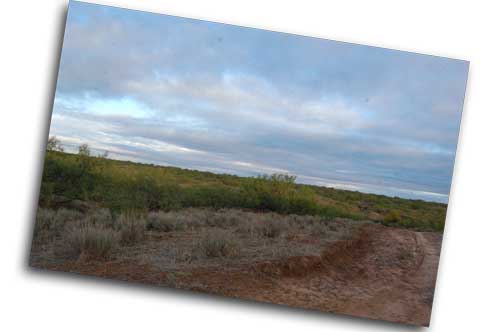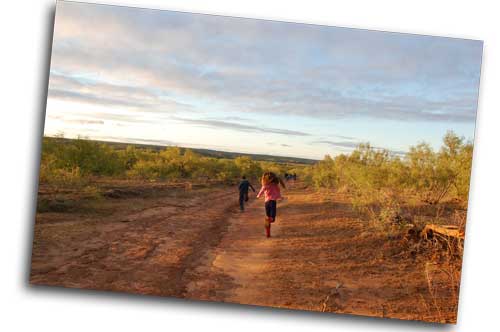 We went to the windmill before starting home. It was just getting dark before as we made it back to the house.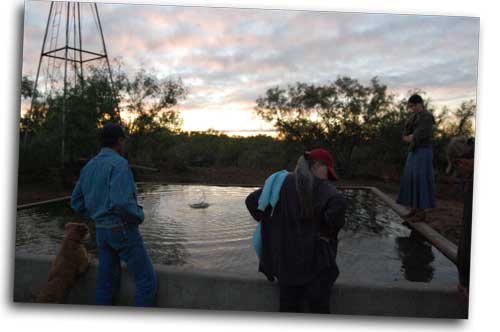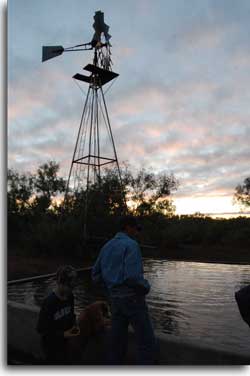 Carolina and Stockton are silhouetted against the western sky on this hill they had to climb.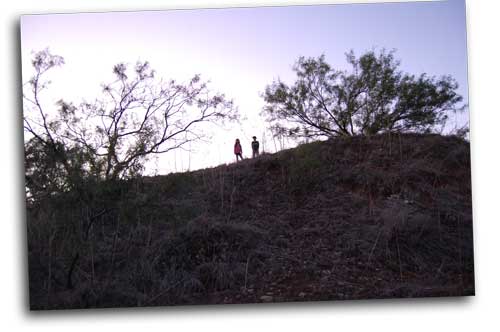 Saturday, October 8 - Pink and Purple Sunset - The sky was full of low hanging clouds which changed color slowing as the sun sank in the west.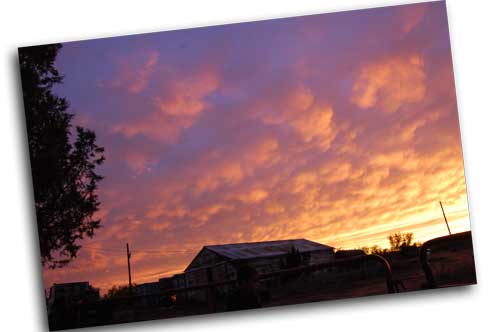 Aspen's Birthday - After supper tonight we sang happy birthday to Aspen and enjoyed eating her cake. She'd already received all her presents over the past few days, so there were no packages to unwrap. An extra special surprise was Nathan's mom who came for the weekend to help us celebrate.
Windy ices the cake while "Mambo" washes the supper dishes.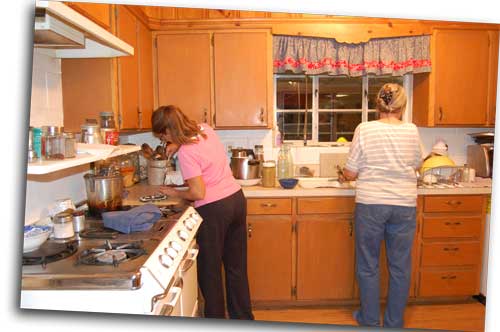 Gathering around the birthday girl.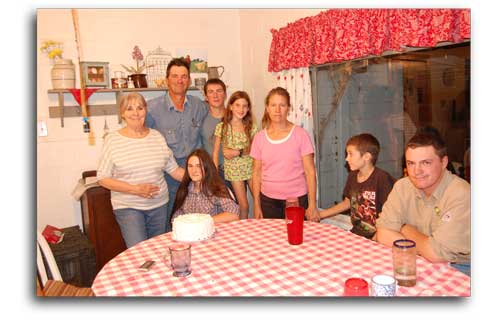 Aspen turns 14 on October 10. Happy Birthday!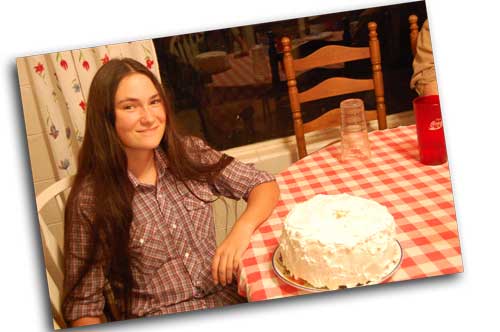 Not that long ago she looked like this.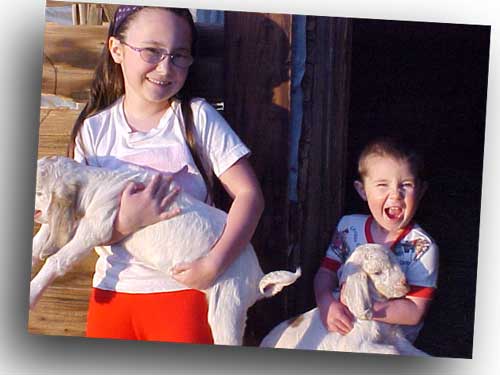 One thing hasn't changed. There's almost always an animal in the picture with her.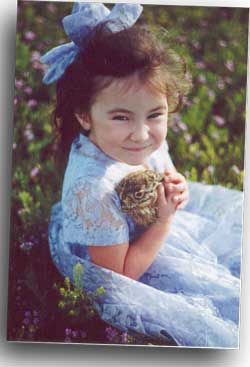 Friday, October 7 - Fun On the Trampoline - Rusty runs up the slide and gets on the trampoline. He and Carolina have too much fun playing this game.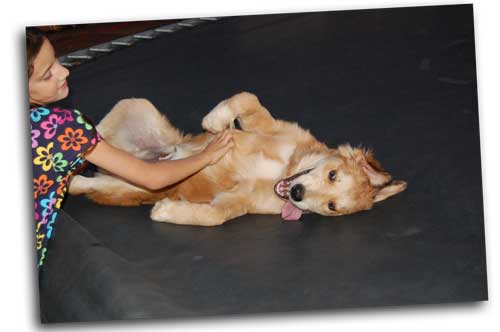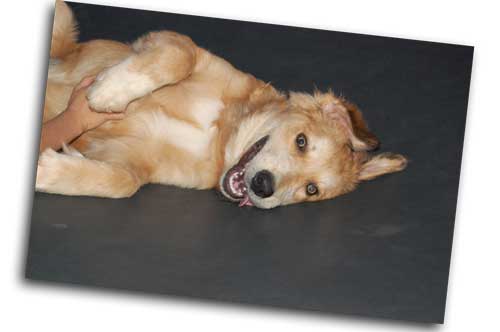 Thursday, October 6 - Booth Preparations - Atlanta is counting down the days until her Jane Austen Society Convention this coming weekend in Ft. Worth. She'll have a booth where she and Rebecca Roberts will be selling some of their historically accurate creations.
She came up with this darling pennant to hang from the tables. It's made from scraps of dollies and embroidered tea towels that Granny brings us. She finds them at estate sales.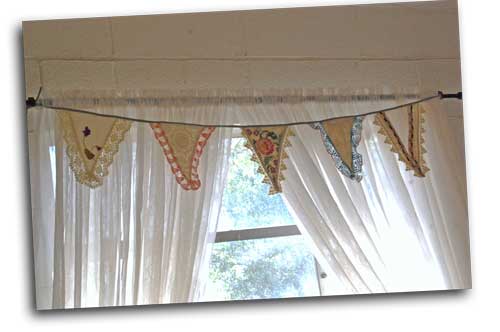 Here are some of the dresses she's sewn in the past few weeks. Ironed, priced and ready to go.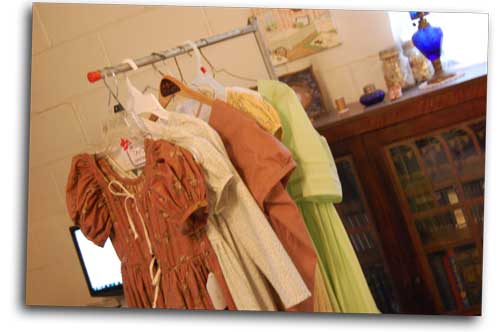 An example of one of the children's sized dresses.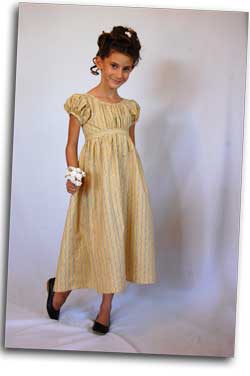 Atlanta painting a sign to be on display at her booth.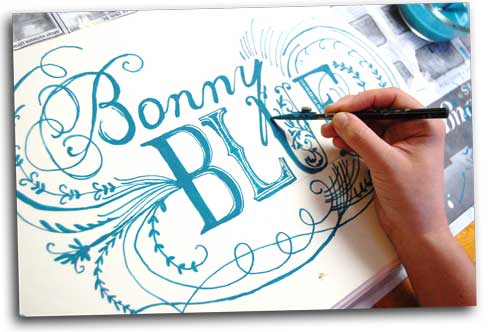 Bobcat Hunt - About 1:00 in the morning we heard Milo, our dog, barking at something in the back yard. We thought the horses might have gotten into the yard and we got up to investigate. We found no horses, so we went back in the house. Milo kept barking and running to the back door window glass to see if we were coming. I thought maybe it was the bobcat (that has killed some chickens and a pea hen recently) we've been hoping to trap or shoot. Atlanta loaded the 30/30 rifle and Aspen and I got a couple of flash lights. Sure enough, it was in a tree above a hutch where Aspen has some miniature chickens housed. Atlanta shot once and brought it down. It was such a beautiful creature, we hated to shoot it, but a bobcat on the loose spells disaster around poultry. I wish I had a picture of Atlanta in her gown and cowboy boots holding her rifle, but she wouldn't let me take one:(
I put a man's glove beside him for a size comparison. He weighed about 20 pounds.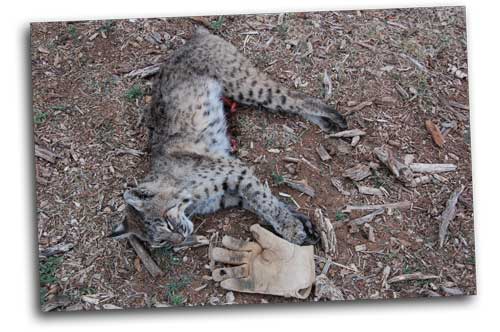 Wednesday, October 5 - Sweet Meat Squash - We grew these in the garden. After peeling, we cubed them and boiled them. We plan to mash them up for soups and pies.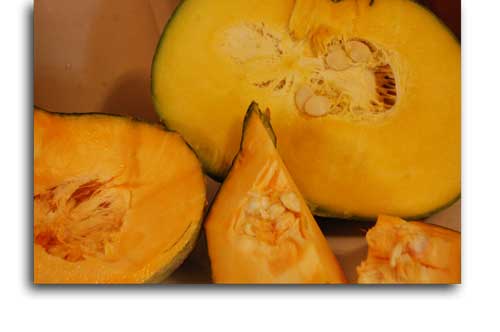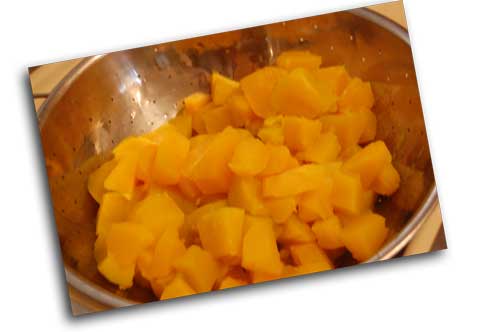 Another Late Night Visitor - The kids were watching a movie and Carolina noticed a water dog walking along in the living room. I guess it came under the back door where's there's a pretty big crack. Stockton kept it until morning and then let it loose in the garden.
I feel sorry for those poor folks who've never lived in an old farm house with lots of cracks around the windows and doors. You get to personally experience so many interesting insects, amphibians and reptiles;(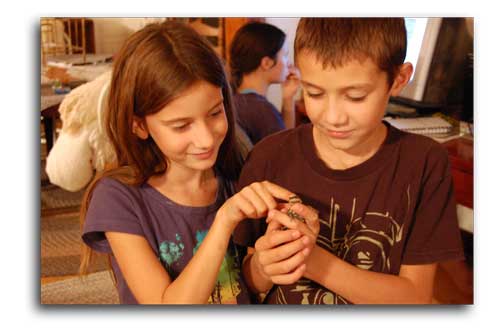 Saturday, October 1 - Forties Birthday Party - To celebrate Desarae Phipp's birthday, the Phipps planned a really fun evening. The kids all dressed up in their retro outfits and played games and practiced their swing dancing.
Desarae, Aspen, Atlanta and Cari Hall, retro beauties.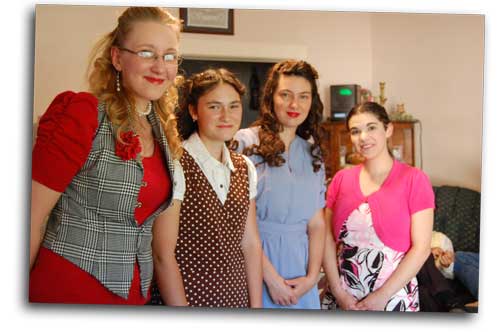 Not to be outdone, Cim, Caleb, Anthony and Grant Phipps, and Laredo, take a step back in time.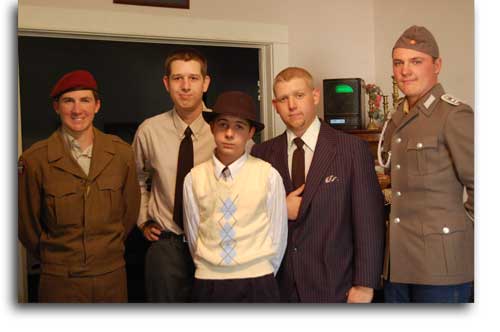 Aspen takes her turn at a guessing game.
The boys seem stumped.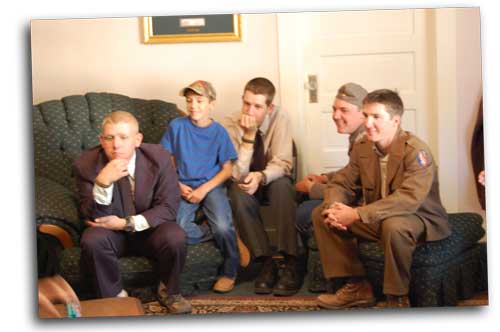 The most awesome meal. Delicious spaghetti pie casseroles and broccoli salad made by the birthday girl herself.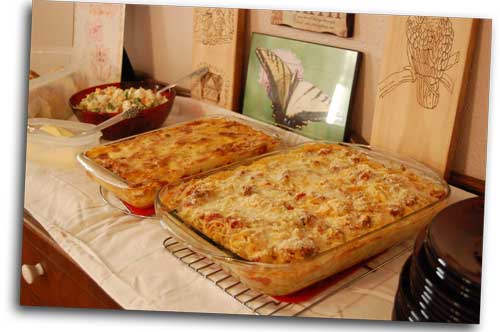 Atlanta made french bread, too.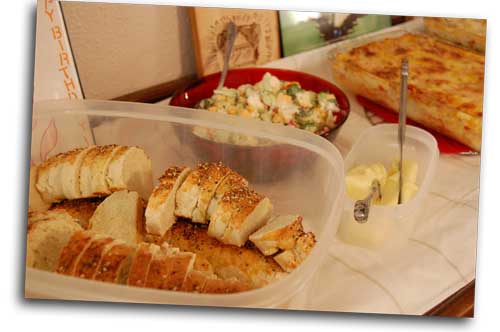 Watch this video of the kids swing dancing on the Phipp's back porch:
Check out our past news. Just click any link below: