Welcome!
Read the October News:
Thursday-Sunday, October 28-31 - San Antonio Independent Christian Film Festival Trip - We traveled to south Texas and had a wonderful time learning about the burgeoning Christian film movement and meeting new friends. This festival and film academy is in its 6th year. Their agenda is to take dominion over the entertainment industry--in effect to take this powerful medium back from Hollywood which is using its power to corrupt people instead of praising our Creator. We saw lots of good films from documentaries to animation to feature length films. Lots of young Christian home schoolers are getting involved in this movement. The kids met and interacted with several of them and hope to get involved over the next few years. Here's a few pictures taken over the weekend. Click here to see a photo slide show of our trip.
One of several trips to the Alamo. Our hotel was right across the street, so we were drawn into the Alamo gardens several times. Each visit we discovered something new.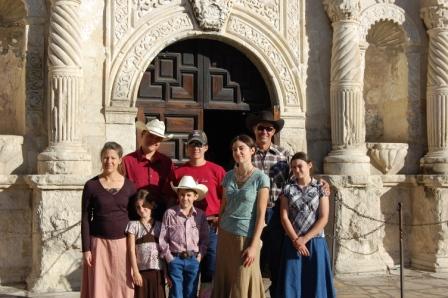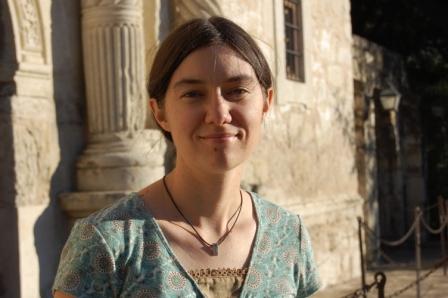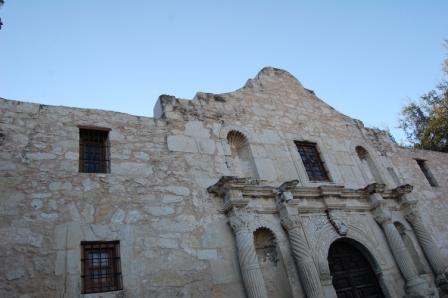 I love this t-shirt that Cim is wearing. It was a gift from Sunny and Jim and reads,
"Robert E. Lee, Most Likely to Secede 1861".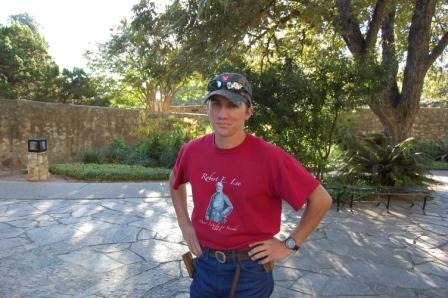 Stockton got a lot of attention from foreign-looking visitors to the Alamo. I wonder why?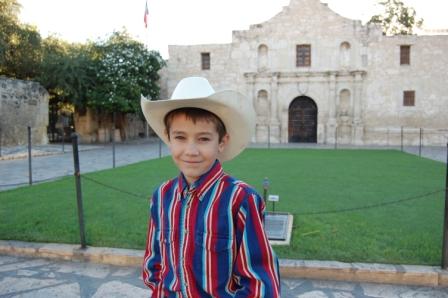 Here we are on the river walk. The festival was in two different venues about a half-mile apart. We soon found the easiest route was to get off the street and enjoy the sights and sounds of this lovely water way.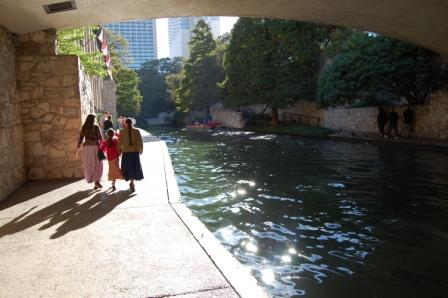 The lobby of the Menger hotel where we stayed. The oldest part of the hotel was built in 1859.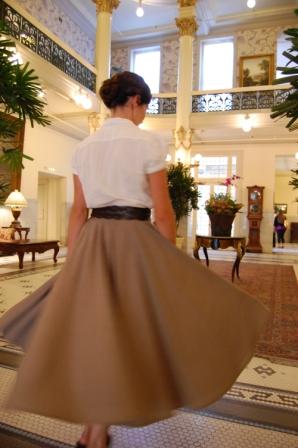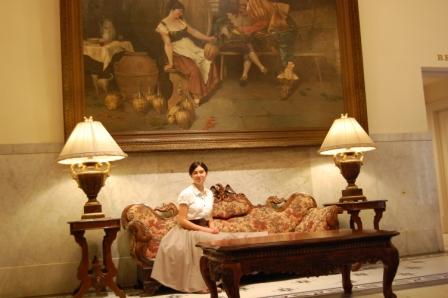 Cim doesn't go anywhere without his pliers on his belt. (you might be a redneck if...)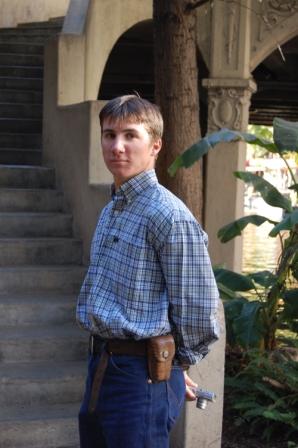 Atlanta and some friends from Indiana enjoyed shopping for vintage clothing in an antique mall.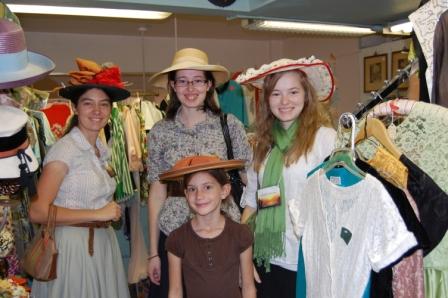 Laredo and Cim found actual WWII uniforms at the Antique shop. Laredo bought this East German Sergeant's uniform. Cim bought a U.S. Army air corps uniform. They can't wait to use them in their next WWII video. Laredo wore this to the final evening of the festival which was quite formal. Since it was also the night before Halloween and since several of their friends were coming in vintage formal, it wasn't inappropriate. While waiting for the awards presentation to begin, a cute mongoloid young man came over to Laredo and shook his hand and thanked him for his service. It was so sweet. I guess he thought Laredo was in some branch of today's military. Aren't those children the friendliest, most genuine people?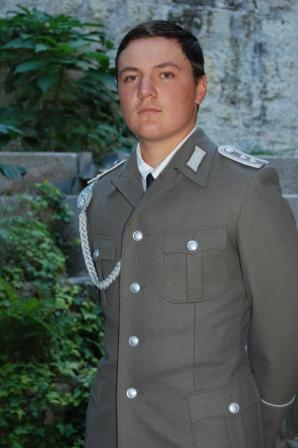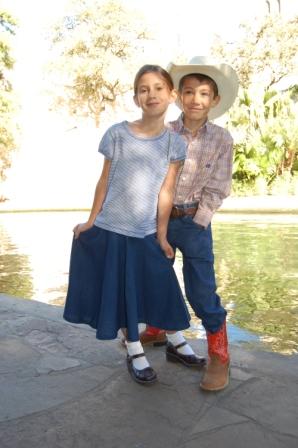 Taking a lunch break during the festival enjoying sandwiches by the river.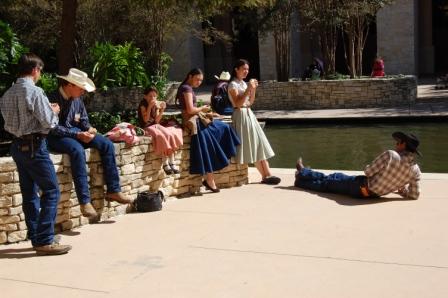 We got to know the downtown area pretty well. We walked all over it. We love the street names; Travis, Crockett, Bowie, etc.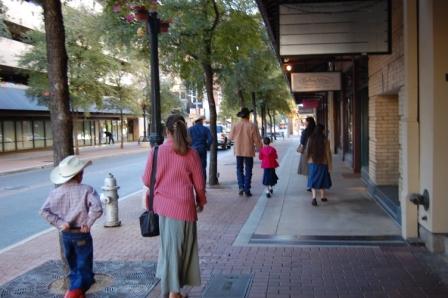 The kids managed to get in a little swimming at the Menger pool as well.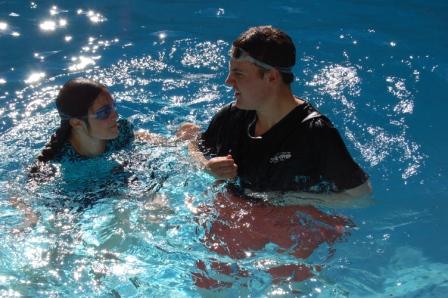 Nathan had to wear sunglasses because of the glare coming off his white legs.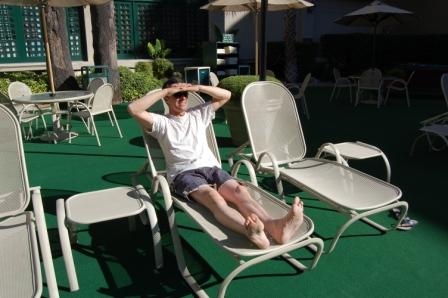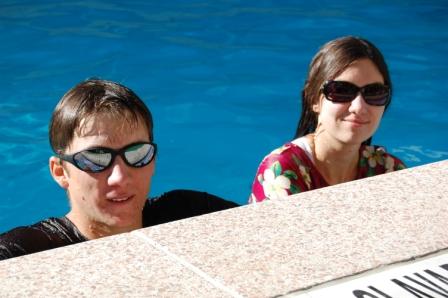 On our way to the last night of the festival, the awards ceremony, we had a passerby snap this picture of us in our fancy clothes.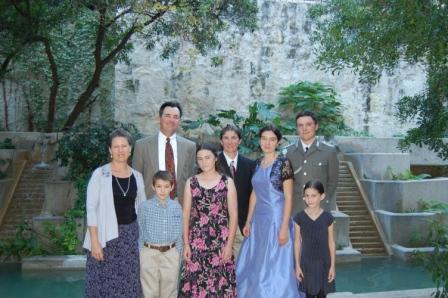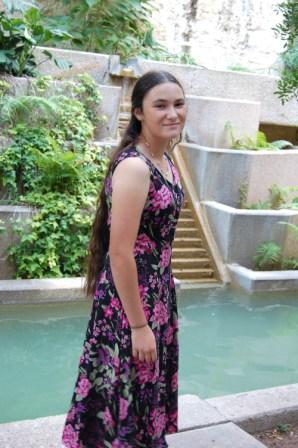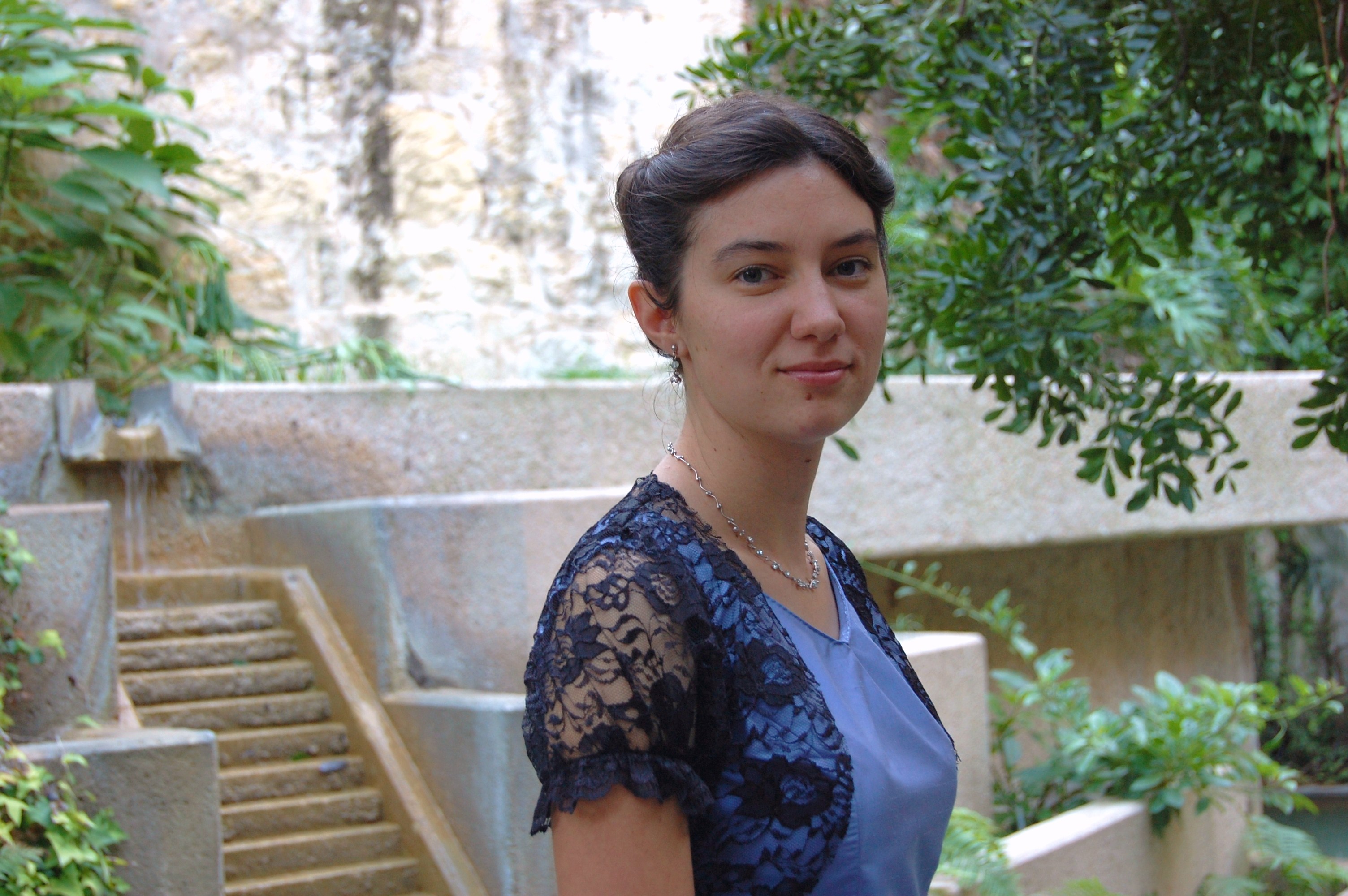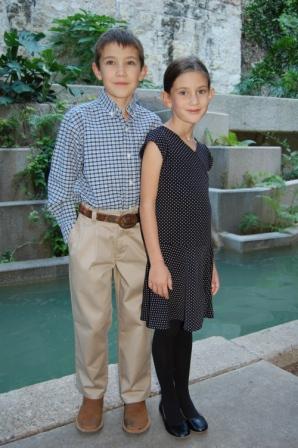 Sunday, after the church service, we ate Mexican food on the river with some of our new friends, the Heustis family. A mariachi band serenaded us.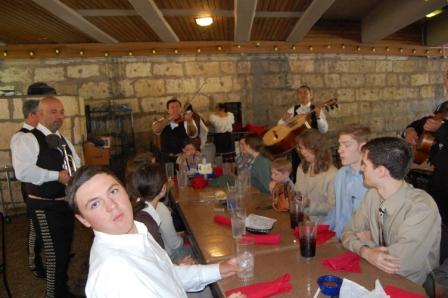 The kids had more fun feeding their food to the ducks and fish.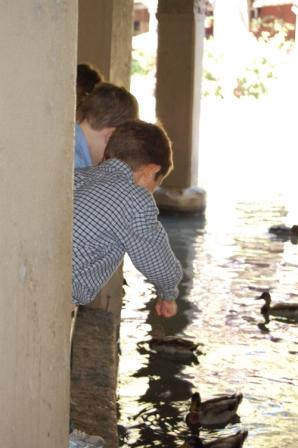 On our way home we stopped by Florence to see Mambo's new home. The kids were able to stuff quite a bit of Halloween candy in during the short visit.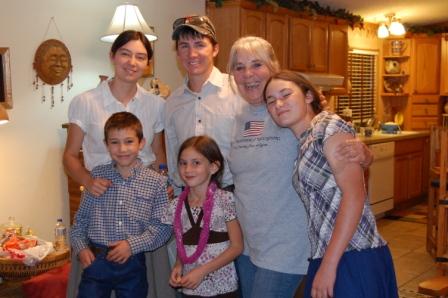 Sunday, October 24 - The Ultimate Tonka Toy - The boys are enjoying having a big digging machine. They are working on their WWII fort and digging trenches, preparing for the next air soft battle with the Phipps boys.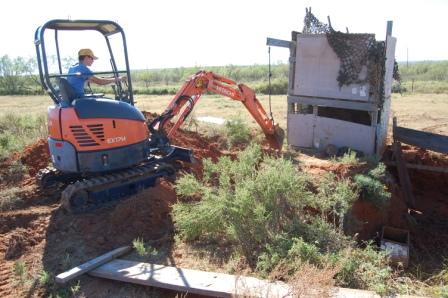 Creepy Creatures - In honor of Halloween this week, here's a couple of pictures that might not be for the squeamish.
Carolina and Stockton had fun playing with another water dog they found. Don't panic, the spotted animal on her neck is only her stuffed leopard, "Tucky".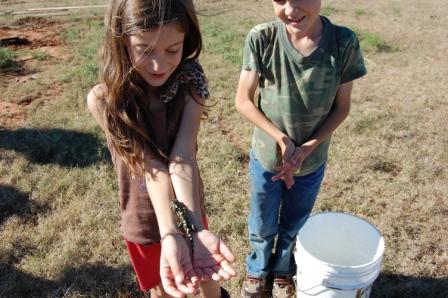 Okay, this gal even gave me the creeps. One of the largest wolf spiders we've ever seen was hanging around under a board near the boys' fort. Can you spot her?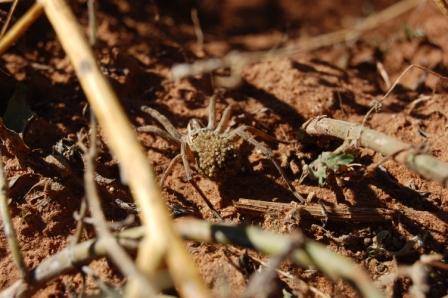 She carries her babies on her back.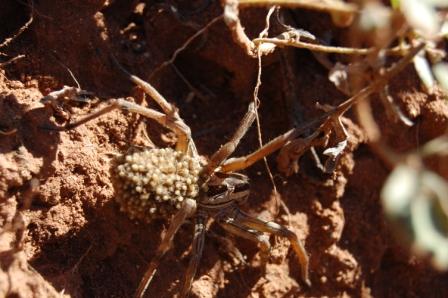 Friday, October 22 - Sunset - Just had to post these, they were too spectacular to miss.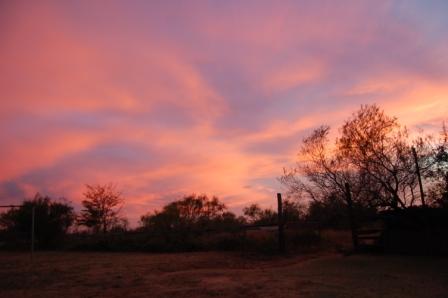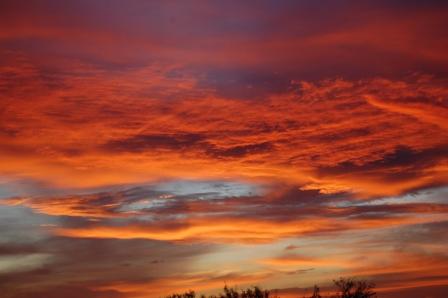 Afternoon Pictures - Here's a few pictures from our Friday activities. Hope your weekend is going well!
Carolina (looking too grown up) and Gypsy playing in the front yard.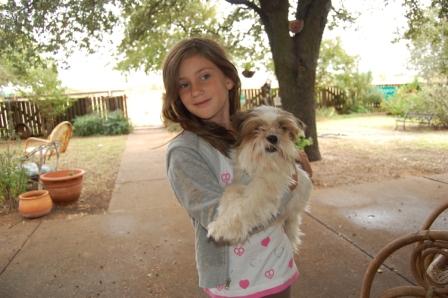 Laredo hauls feed to the shed and has the horses all interested.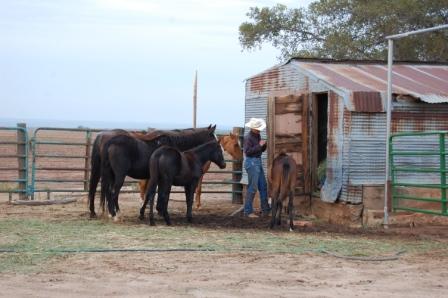 Atlanta found out that the closing awards ceremony at the Christian film festival that we are going to attend in San Antonio next weekend is formal attire. It's not required, but apparently some people go all out. I encouraged her to wear one of the vintage gowns that mother bought us at an estate sale. Here's a marvelous gown from the fifties that I think fits her great. What do you think?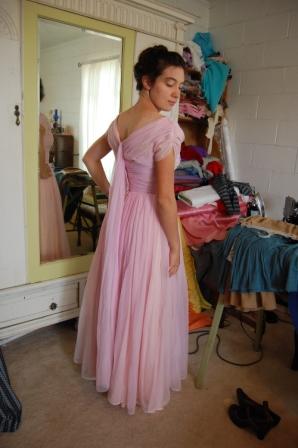 The cooler weather has encouraged this long-since-faded plant to bloom out again. It fell over out of the flower bed into the lawn and now is growing upright from there. Whatever.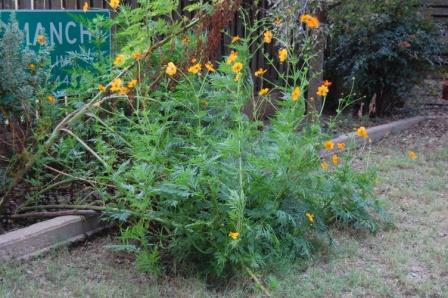 Our basil plant in the garden is flowering out. Hopefully we can get some plants established from the seeds and look forward to some new plants popping up next year.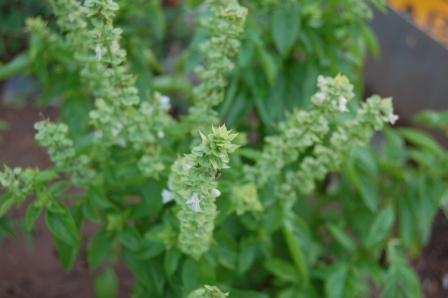 Boys and Machines - This is always a popular combination around here, the bigger and louder the better. Nathan and the boys rented some kind of small back hoe for some TXDOT work they are doing down south. He brought it home for the weekend to dig a water line from our well to the pens. The boys also used it to do some digging around their fort.
Laredo and Cim getting ready to dig.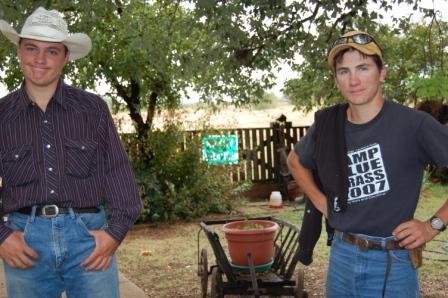 Cim's running the back hoe.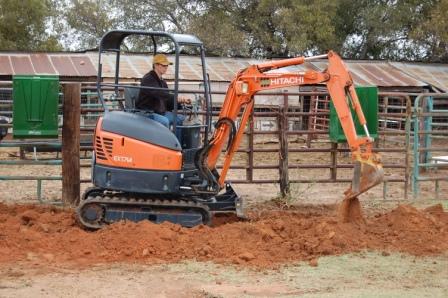 It digs quickly in the moistened dirt. Bessie looks on the inspect the work.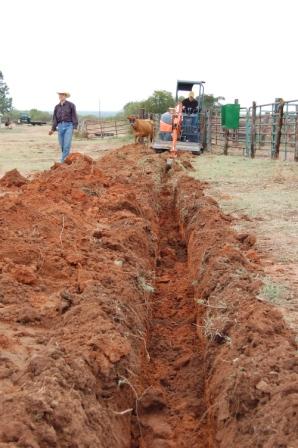 Here's the waterline ready to be covered up.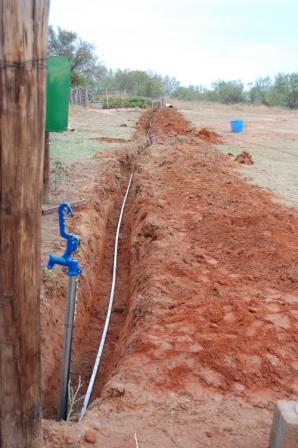 Rain!! - We awoke early Friday morning to discover that it had rained in the night and was pouring again at about 5:00 am. All told, we got 3.5 inches! Atlanta needed to get some packages to the mailbox early, so Nathan, Windy and Atlanta stayed up and enjoyed some coffee time together. Atlanta decided to make some homemade crumpets for breakfast.
Dripping trees and puddles in the front yard.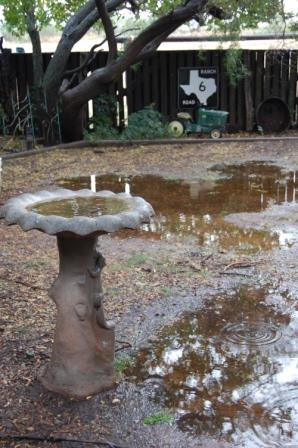 Milo looks hopefully in at the front gate. "Could I come in the house?", he seems to be saying.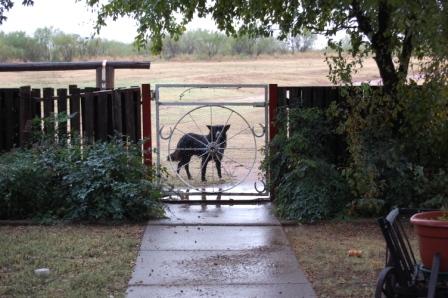 Here's Carolina's plate of crumpets. Buttered, halved and spread with wild plum jelly. You might think she could never eat all this, but she did.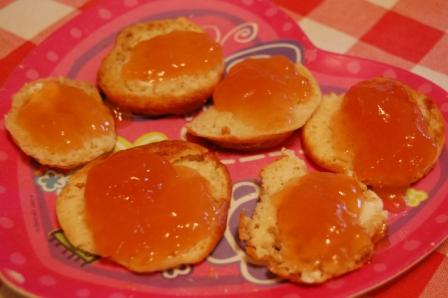 Wednesday, October 20 - Fiddle Practice - Stockton likes to get up and get started on his school work right away each morning. If you don't believe me, here's a picture of him this morning practicing his fiddle in his sleeping shirt.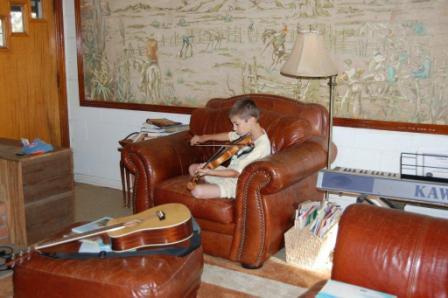 Tuesday, October 19 - Colonial Dress - Atlanta had a custom order for a colonial dress similar to the one she made Hannah (see Beautiful Creations, Sept. 21). This customer wanted it to mimic an "American Girl" costume worn by the colonial doll, Felicity. It turned out really cute.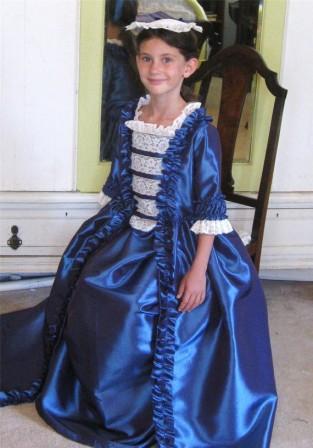 Monday, October 18 - Clean Up - Nathan and the boys spent some time today cleaning up around the pens. They knocked down some mesquites that were growing in the pens and burned them. It looks better!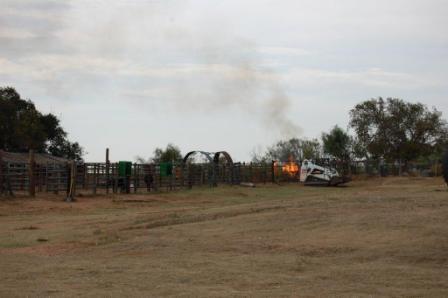 Sunday, October 17 - The Toothless Wonder - Bless her heart, Carolina has lost another front tooth. Nathan pulled it for her, now she's got three in a row out!
I'm not sure if she's showing off her tooth fairy money or hoping to buy some teeth from somebody.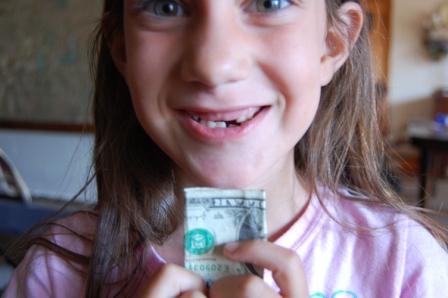 It didn't stop her from modeling a dress for Atlanta. It's a "Jane Eyre" dress for an Etsy customer.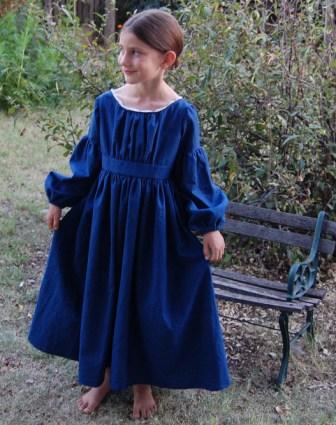 Saturday, October 16 - Creek Picnic and Hike - After breakfast we chopped a little wood and then headed to the creek to go hiking. The weather was perfect. The older kids decided to climb up on top of the red cliffs.
Scrambled eggs and Atlanta's famous sweet potato biscuits were on the menu.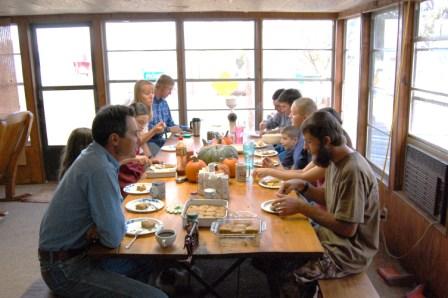 Can you spot the hikers on top of the cliff?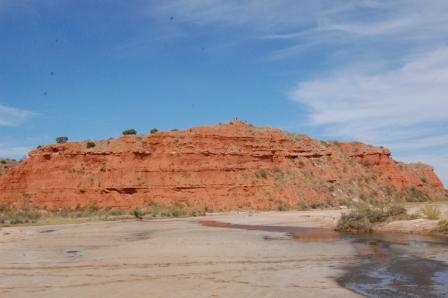 Here's a closer view. Do you see them now?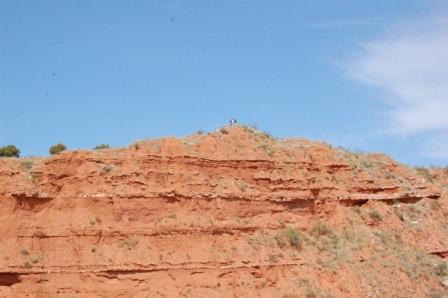 Here's their view halfway up to the top.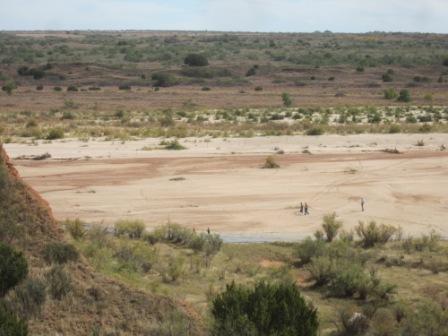 A picnic on a Texas "beach".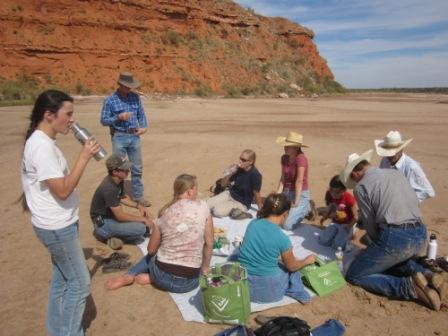 Back row: Laredo, Jerrod, Jacob. Middle: Aspen, Jennifer, Cim, Atlanta. Front: Stockton, Carolina.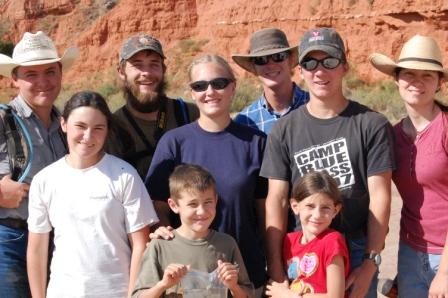 See more pictures in my "River Hike" photo gallery here.
Friday, October 15 - Fun Evening with Friends - Our friends from Hale Center, the Campbells, and the Phipps from Turkey came over for chili around the campfire. The company was good and so was the food. Several had their instruments and entertained the group. The party didn't break up until after midnight. The Campbells brought tents and stayed overnight.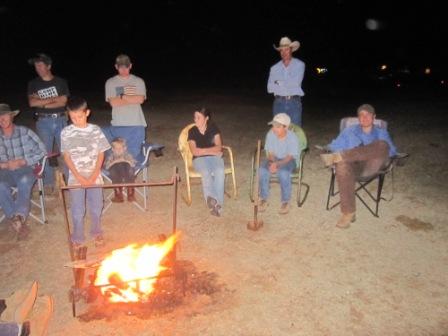 Wednesday, October 13 - A Few Pics - I don't have much exciting news to tell, but what news there is can best be told with a few pictures, enjoy!
Atlanta and Nathan have been helping the younger ones with their bikes. The weather has been so gorgeous that they've been playing outside at every opportunity.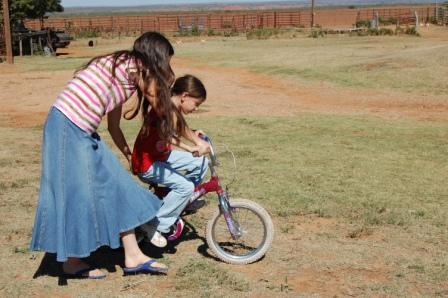 Wee! Stockton's really got it down. Aspen's been riding a long time. Carolina has almost got it down.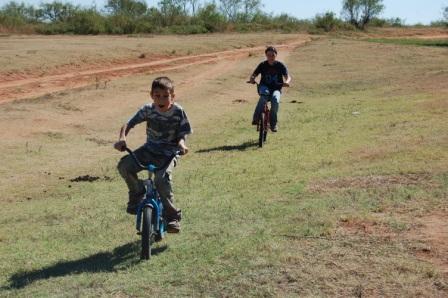 We discovered that we can peel potatoes with our apple peeler, too, and deep fry them for a yummy treat!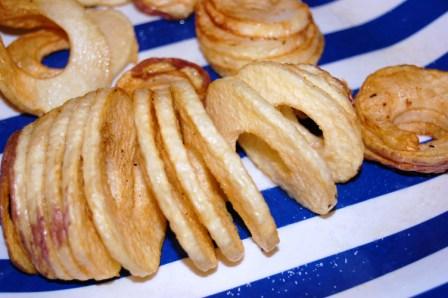 Aspen's birthday gift, some nesting boxes, is now hung on the coop wall and ready for chicken inspection.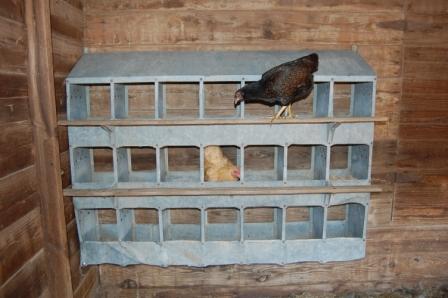 A while back I showed a guinea chick with the caption "a face only a mother could love". (see New Guineas, September 7) The caption for this picture has to be " a mother's face only a baby could love"!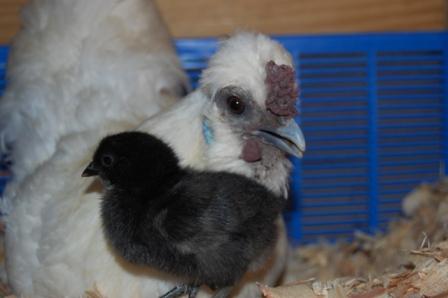 Sunday, October 10 - Aspen's Birthday - We celebrated Aspen's 13th birthday by inviting the Phipps family over this evening. It was a fun evening.
Quint watches while Nathan cooks out hamburgers.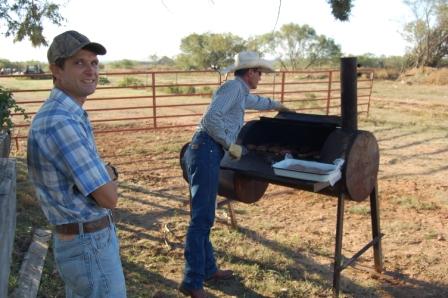 Can you spot the two monkeys in this tree?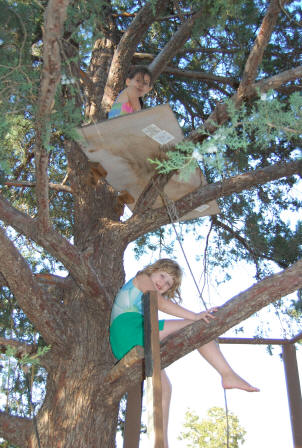 Here the kids are trying to come up with a homemade mortar. That sounds safe.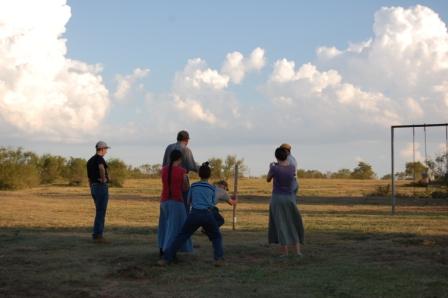 Aspen and Anthony find lots to talk about.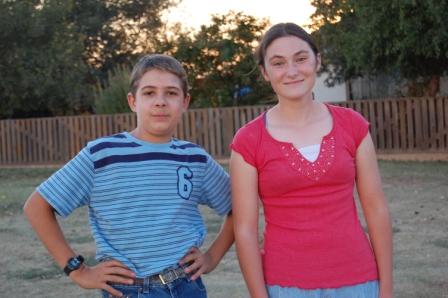 After supper we sang to Aspen and had cake.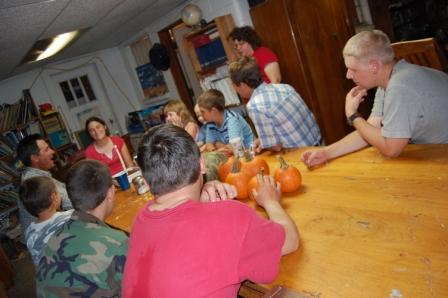 Carolina gives Aspen a homemade card. Check out the lovely candle. I didn't remember until too late that I threw out the birthday candles after the last birthday when they were finally used up, so this is what we had.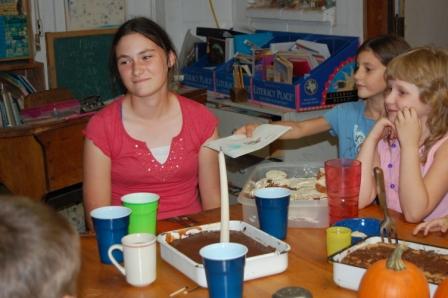 Storm Cloud in the East - A small cloud started to build almost over our house this afternoon. As the evening progressed, it really ballooned into a huge thunderhead. It was so impressive that even the adults went out to enjoy it's beauty and take a stroll. Here's a series of shots so you can see how it changed over a few hours.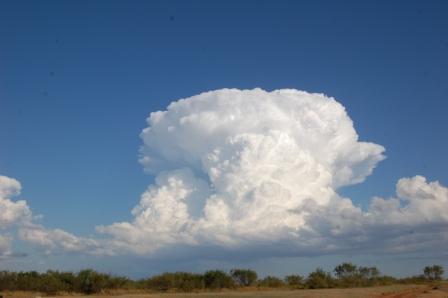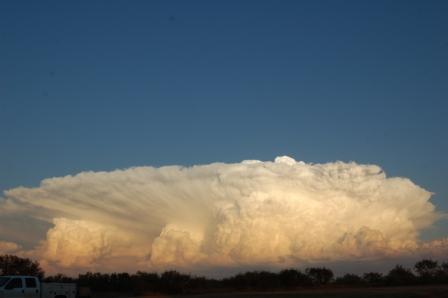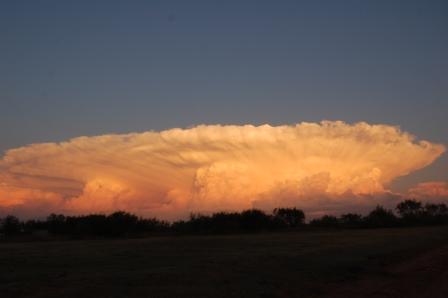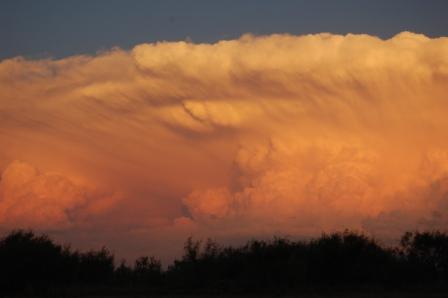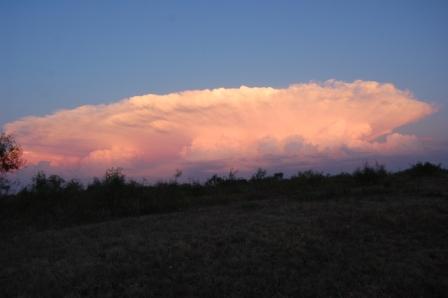 Saturday, October 9 - Busy Days - Sorry about the lack of posts for the past few days. I haven't had much computer time :( It still seems to take the better part of the day to get the kids assignments all done even though I'm down to three students. Aspen's tackling a couple of high school courses which require more time and we've been reading together about the Texas revolution for independence and we just can't put it down! Besides all that, we've been trying to work on our pears everyday.
These are just canned in light syrup.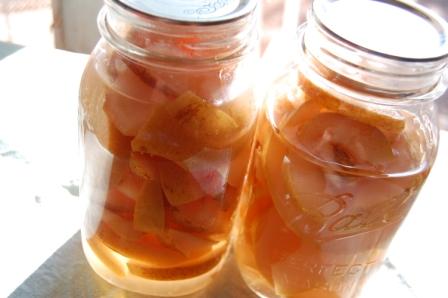 Two batches were filled with Atlanta's famous "Mock Mince Meat" filled with raisins, orange juice and orange peel and lots of spices. The whole house is filled with the aroma. (Stockton used to call this "men's meat")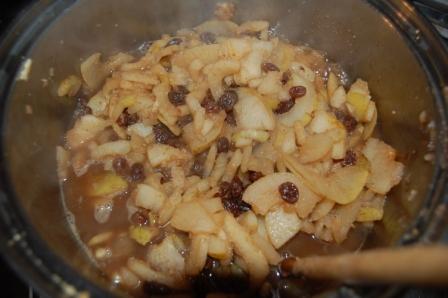 This makes excellent cobblers.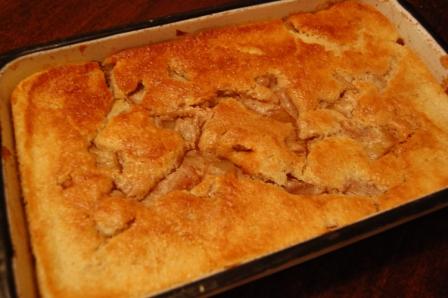 We're also peeling the pears and putting the slices in the dehydrator. Thank goodness we have an apple peeler. This has to be one of the best inventions ever. Look how nicely it peels and slices these pears.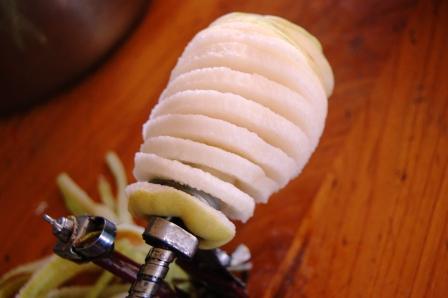 Friday, October 8 - Package from Mambo - Today's highlight was a package from Nathan's mom for Aspen whose birthday is Sunday. Of course, there was a few things in there for the little ones, too!
These robes will keep Stockton and Carolina toasty all winter.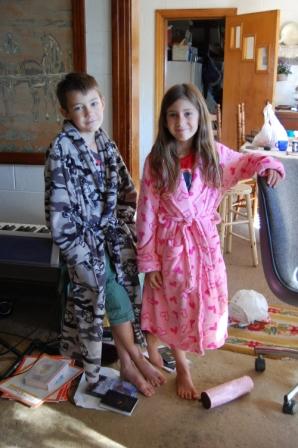 Aspen got several pair of jeans and there were books in there, too. Meanwhile, the boys took turns helping Nathan plow and plant wheat.
Thursday, October 7 - Princess Daisy dress - Atlanta got an order for a Princess Daisy costume. This is another of the characters from a popular video game that has produced orders for Princess Peach dresses for Atlanta. (12 and counting) It didn't take her long after her material arrived to turn out this cute dress. I wonder if this dress will become as popular as its pink counterpart?
Carolina models the Princess Daisy dress while Atlanta shows off her latest Princess Peach dress (size 18 months) to be shipped off Monday.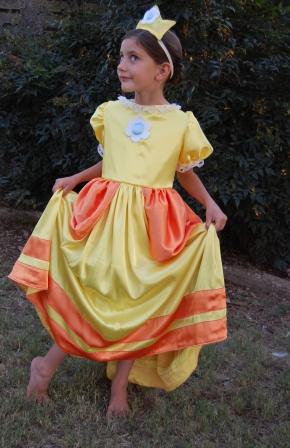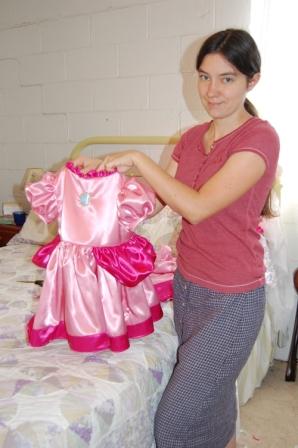 Boys Come Home - Tonight the guys came home from San Angelo where they had been working all week. They plan to plant wheat tomorrow and try to finish up. Cimarron and Laredo received their irrigator's license certificates in the mail today. I guess that makes it official.
Wednesday, October 6 - Baby Buttons Update - Aspen ended up hatching out only 11 chicks out of the 45 eggs she ordered. There were two or three eggs that contained chicks who looked as if they made it up to the last day or so and a couple a week or so earlier, but the majority of the eggs must not have been fertile at all. Anyway, they are cute and she got some color variety which is what she wanted.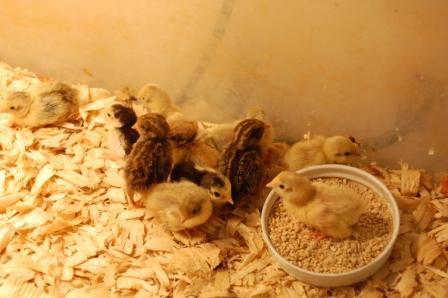 Tuesday, October 5 - Putting up Pears - This afternoon Atlanta and I got started on putting up some of the pears we picked last week. I started washing jars and she started cutting up pears.
She's still got a long way to go.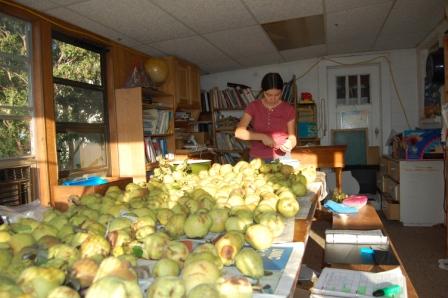 Here are some of the packed jars waiting to be processed.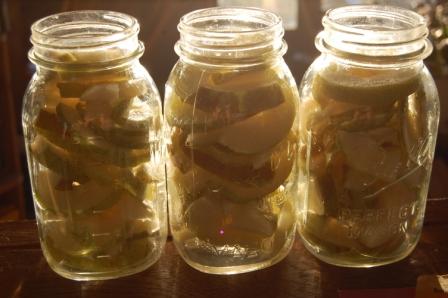 Mr. Ed Does the Laundry - Aspen was trying to get some laundry hung out this afternoon, but had a few visitors sticking their noses into everything.
Butternut and Bedford, two horses we raised from colts are sometimes very curious and are always hoping for a hand-out of some kind.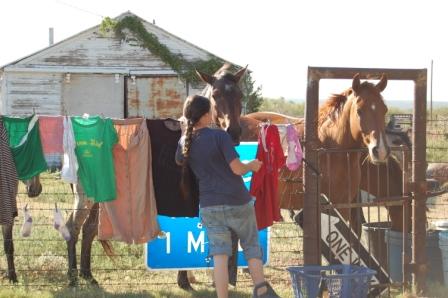 I don't know what he's telling her, I hope it's something nice.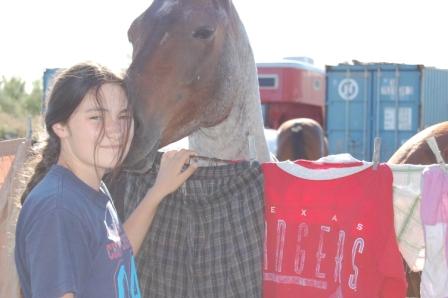 He ended up taking the red T-shirt off the line and trying to run off with it!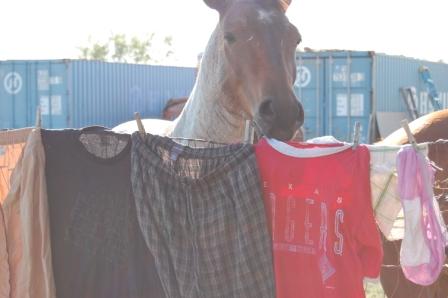 Atlanta's Big Blog Event - This week is the week of Atlanta's Historical Costume Inspiration Festival on her blog, Story of a Seamstress. She has interesting articles about costumes she has made and interviews with other seamstresses. There are also some give-a-ways for which you can register. Check it out each day this week!
This beautiful costume was inspired by a painting.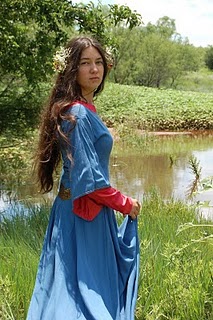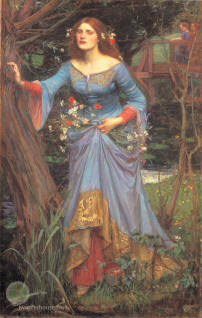 Read all about it here.
Monday, October 4 - New Couch - Mother bought a love seat at an estate sale thinking Jim (my brother-in-law) could use it in his new office. Jim said it wasn't big enough for him to get a nap on, so he gave it to me. I wasn't sure where to put it, but when I saw how well it matched the rug mom had bought me (again, at an estate sale) in the living room, I knew it had to go there.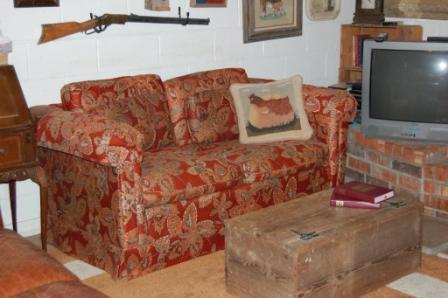 I think it looks nice with my rust-colored leather couches, also.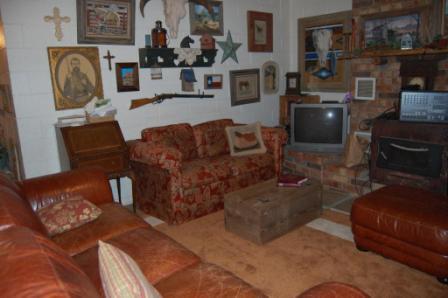 Visit Jim and Sunny's real estate website (which I designed) here.
Sunday, October 3 - Red Sunrise - I wish I could have captured the true beauty of this sunrise. There was a bit of low fog in the sky and the whole sky was glowing red and pink. It took me a while to locate the camera before I took this shot, and it had lost some of its vibrancy by then. However, it's still beautiful, isn't it?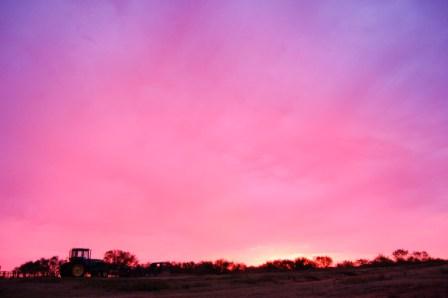 Saturday, October 2 - Another Rapunzel Dress - Atlanta bought this fabric when we were in Lubbock for the fair. She's betting that when the new Disney Rapunzel movie (Tangled) comes out this month, lots of little girls will want to dress up like Rapunzel for Halloween. She modeled this dress after the one in the movie. To see the trailer for the upcoming movie click here.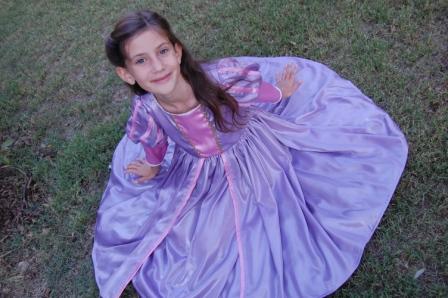 Friday, October 1 - Road Trip with Nathan - The boys went with the other kids to music lessons today. Atlanta stayed at home to sew--she's incredibly busy right now. Nathan had to fix a water leak in Mertzon (SW of San Angelo), so I rode with him for the day. We had a fun time and even stopped in at a few antique shops! Here are a couple of interesting photos that I took.
This is the courthouse in Garden City, Glasscock County.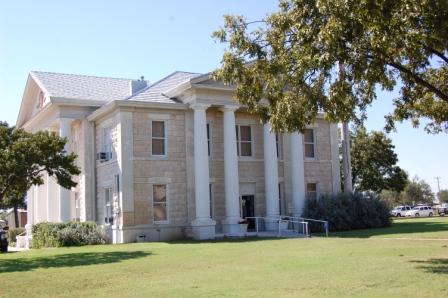 This amazing home was the palest pinkish-peach color. I think it was in Sterling City.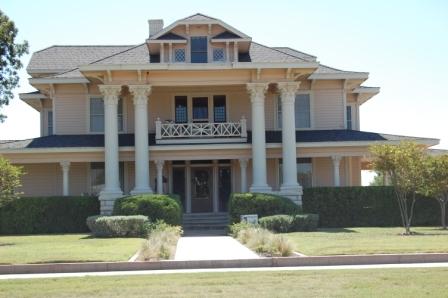 We saw this nice buck when we were almost to our mailbox this evening.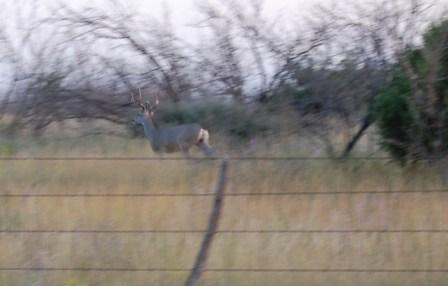 Boys Pass Irrigator's Test - We found out today that both of the boys passed their test and are now licensed irrigators. Nathan passed three of the four sections, but will have to retake that one section again. He's disappointed and definitely not looking forward to going through it again, but he's excited that the boys did so well. Apparently, Laredo, at 16, is the youngest person ever to pass the test!
Aspen's Mail-Order Button Babies - Try saying that one three times fast. To get some new bloodlines into her flock, Aspen ordered some button quail eggs a few weeks ago. Today was the day for them to start hatching. As of tonight, only one little chick has hatched out of 42 eggs. Here's the little guy sitting on a coaster.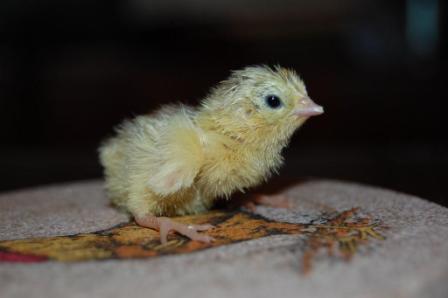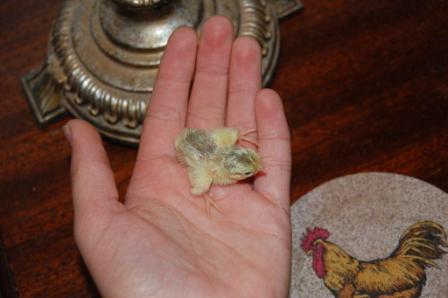 He was so little and alone in his cage (brooder) that Aspen put a stuffed animal in with him. He's now under the furry toy, happy and warm. Hopefully, tomorrow, he'll have some buddies.