Friday, November 30 - Trip to Roaring Springs - Today, Atlanta, Jordan, Stockton, Carolina and Windy drove about 30 miles south to the picturesque little town of Roaring Springs. We met with a couple of men to discuss renting the community center building and another venue for a big BBQ pre-wedding party that we're planning for next March. They also wanted to go by Thacker Jewelry which has a factory in Roaring Springs.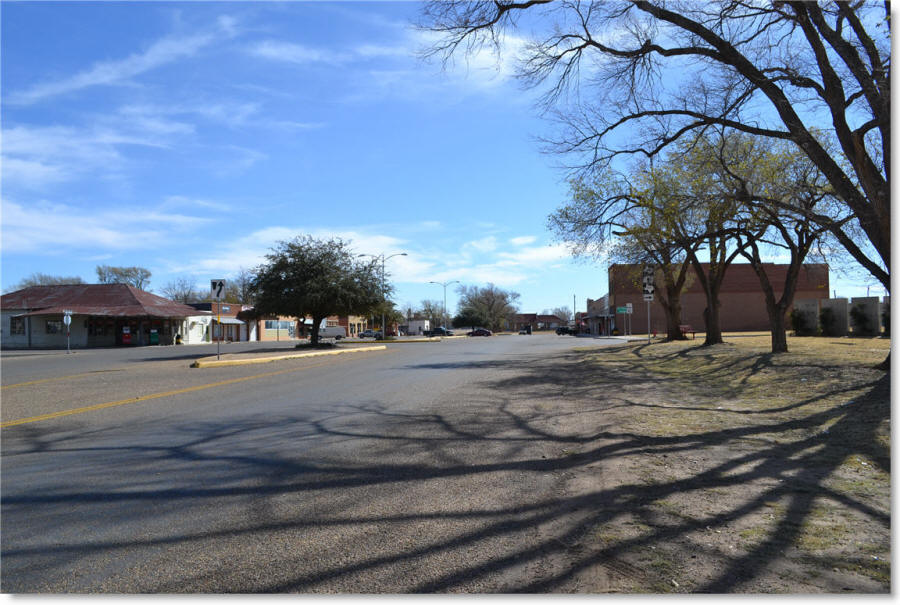 While Atlanta and Jordan went to the jewelry store, the kids and I detoured to this nice park right in the middle of town.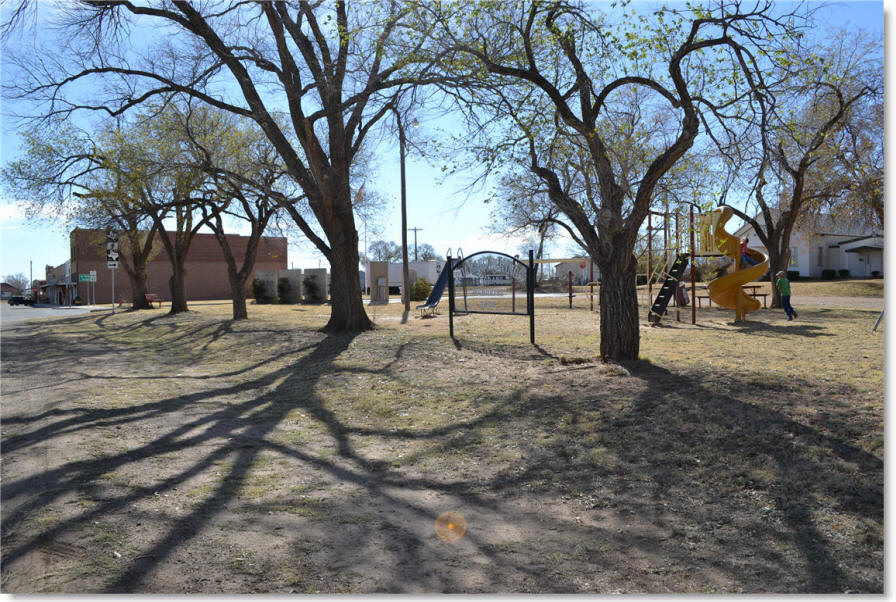 This neighborhood dog came over for a visit.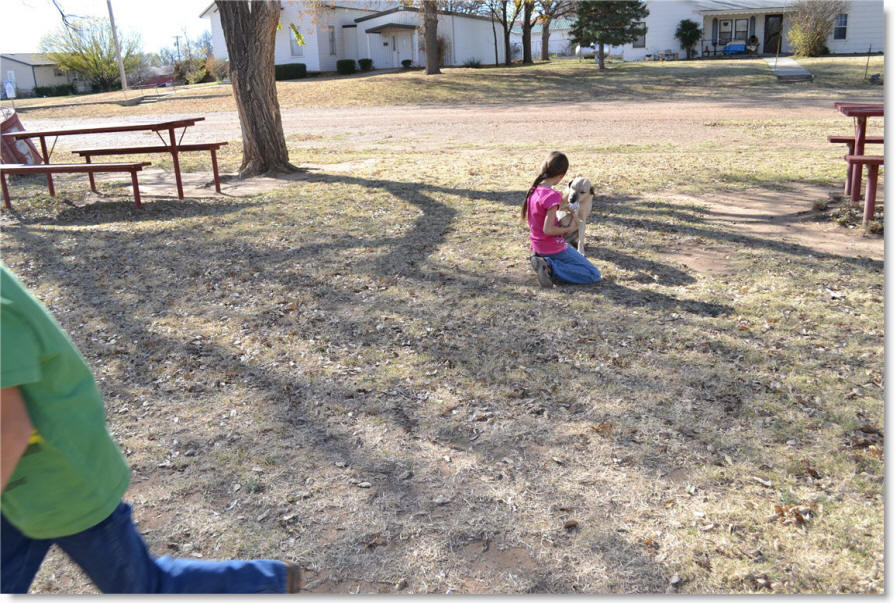 Time to play!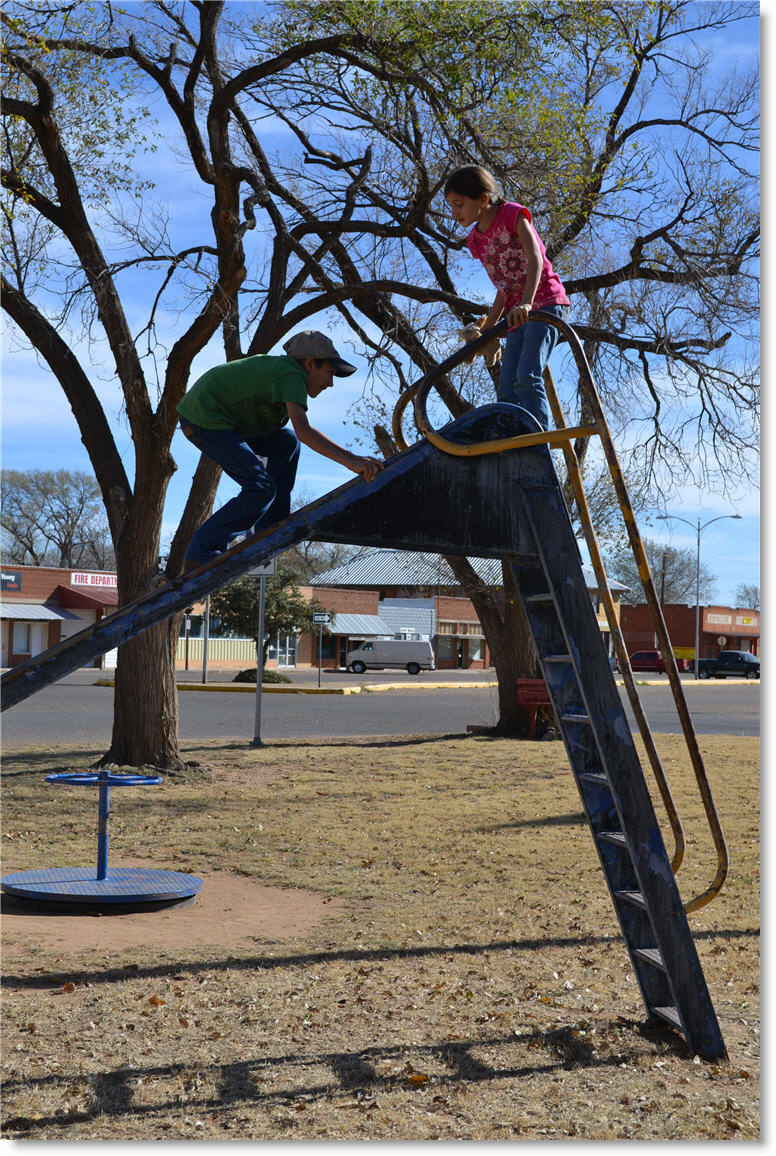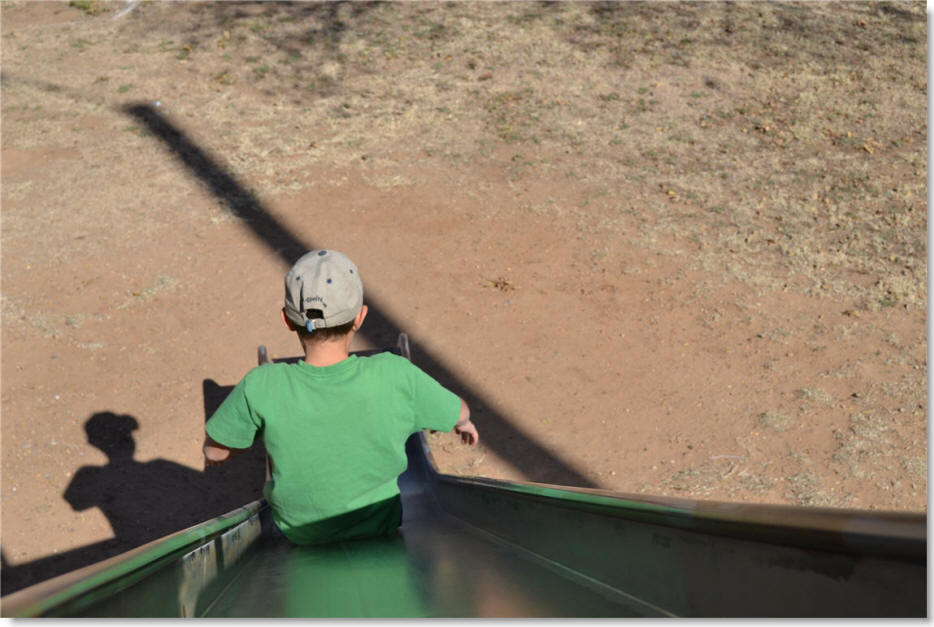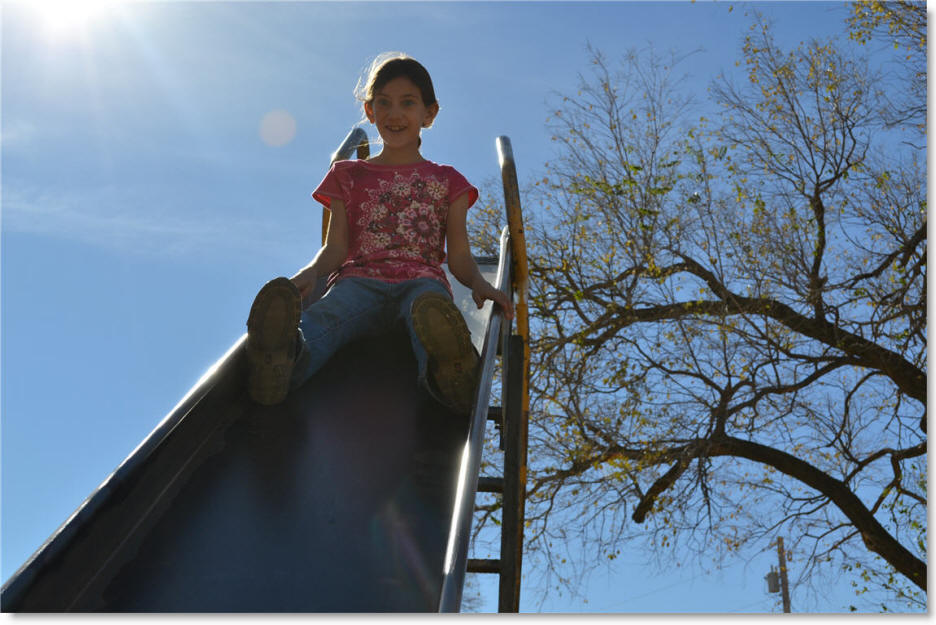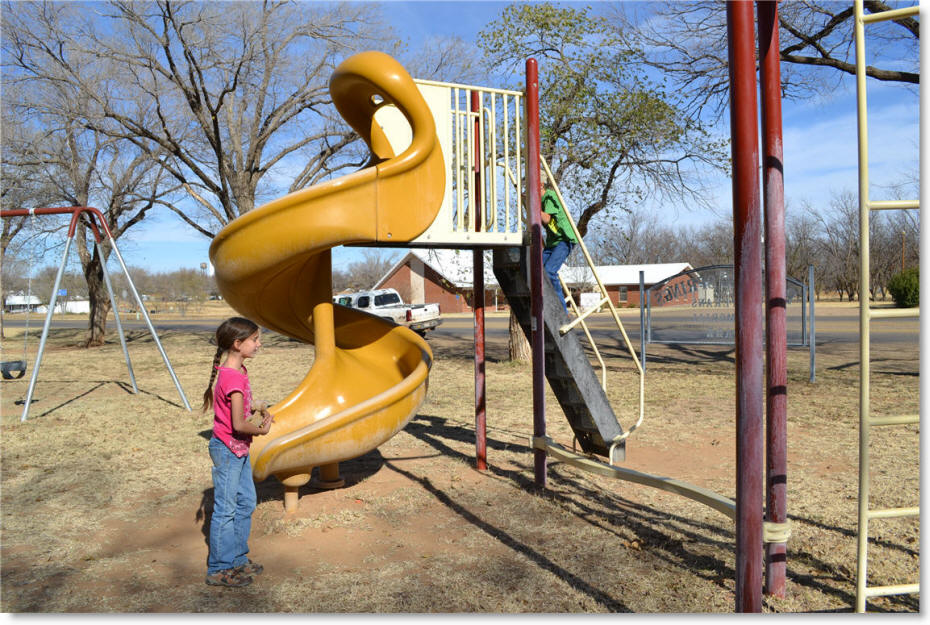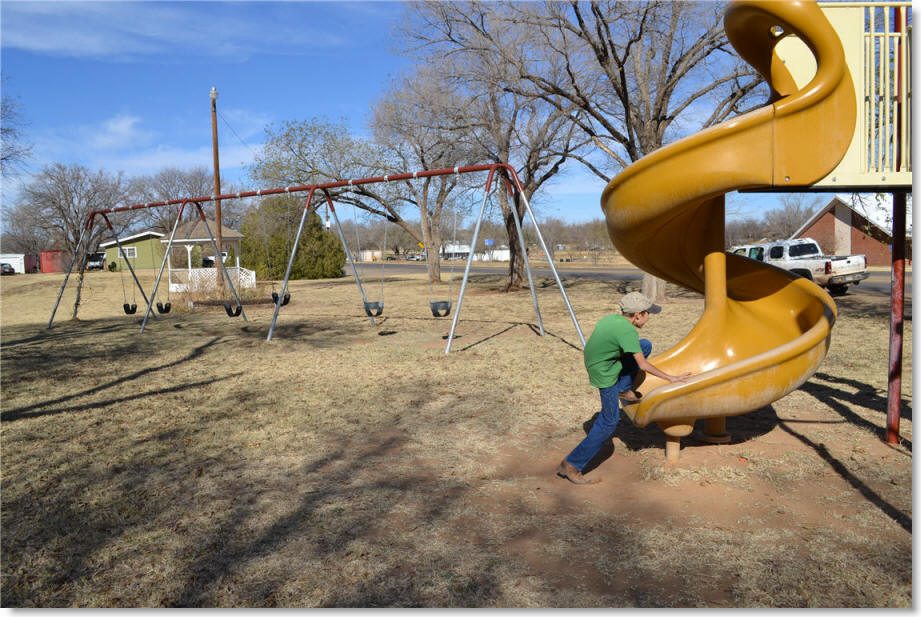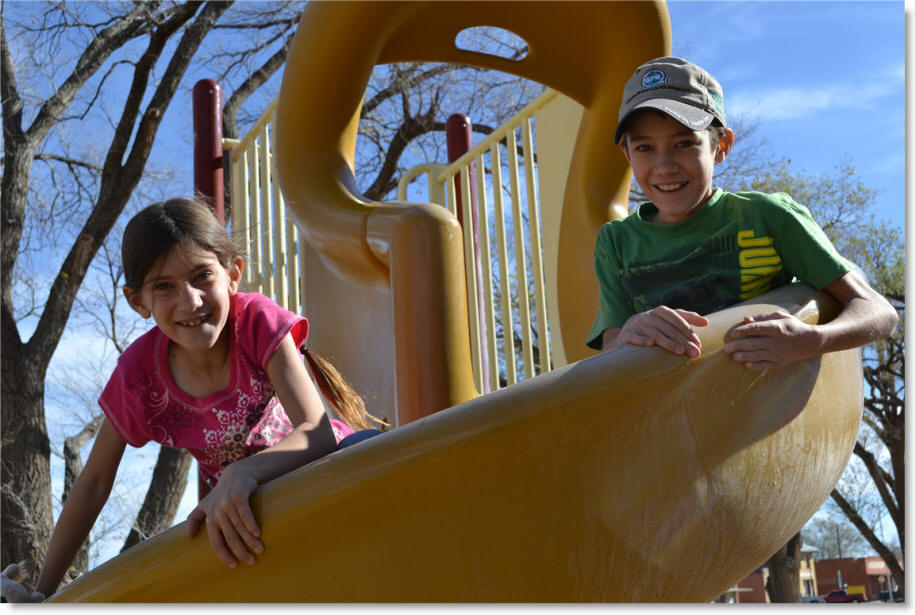 Before leaving the park, we noticed that the house across the street had a bush that was loaded up with a bright reddish-orange fruit. We thought it might be pomegranates. We knocked on the door to ask if we could pick some. We were informed that the mystery fruit was persimmons and that we could gather all we wanted. I wonder what we can make out of them?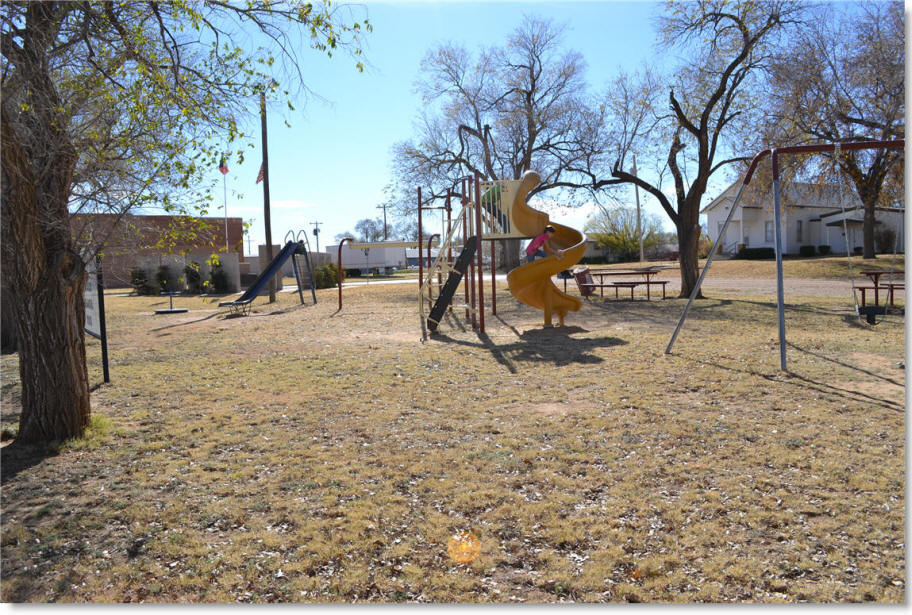 Meanwhile, at Thacker Jewelry...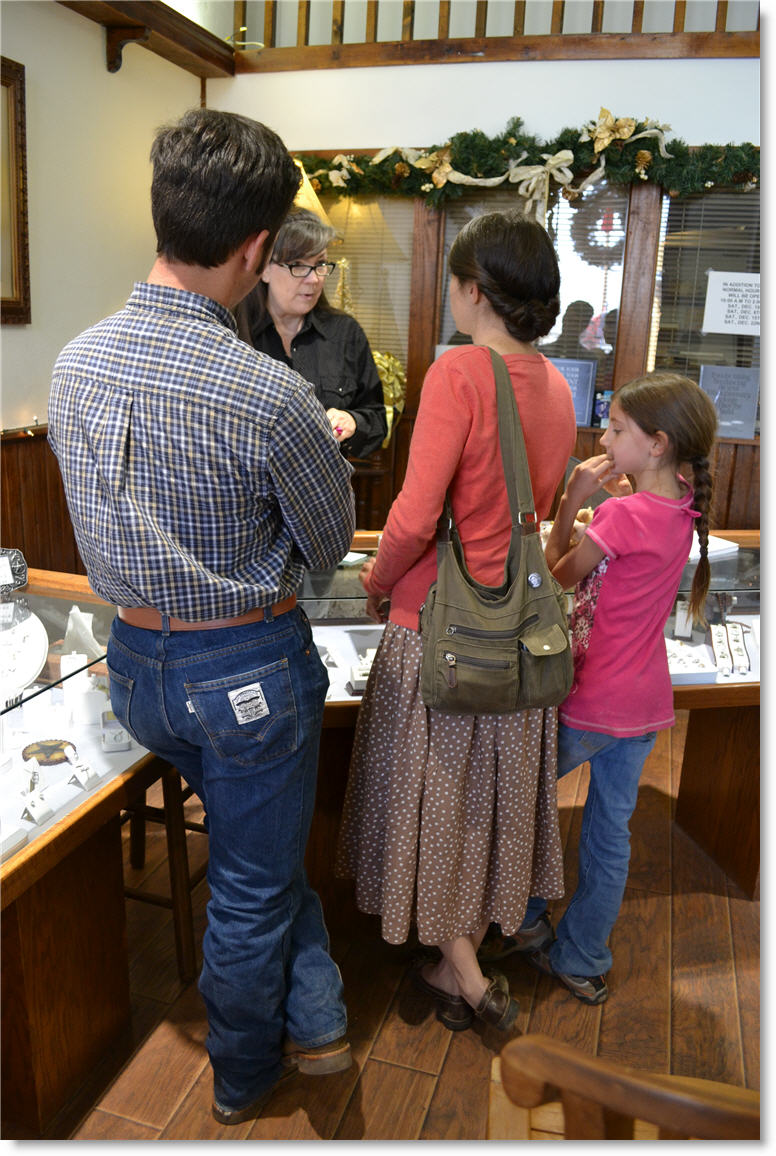 Atlanta and Jordan were ordering wedding rings...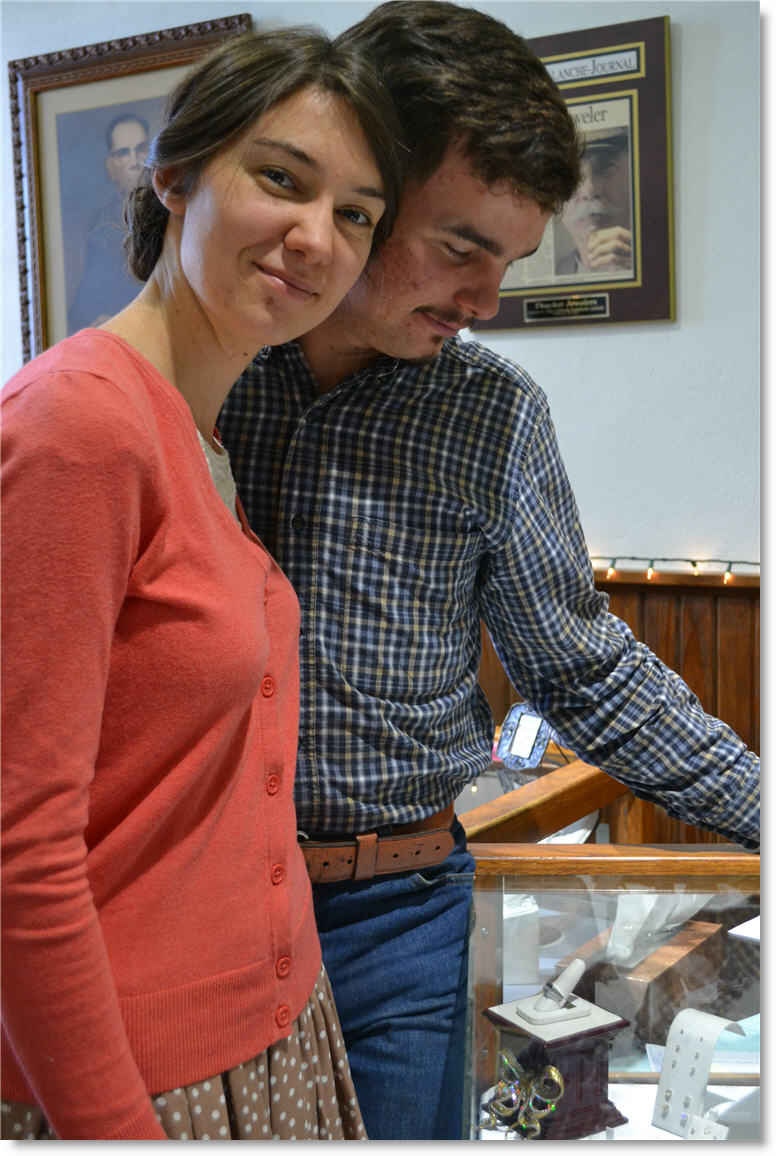 ...something simple, like this...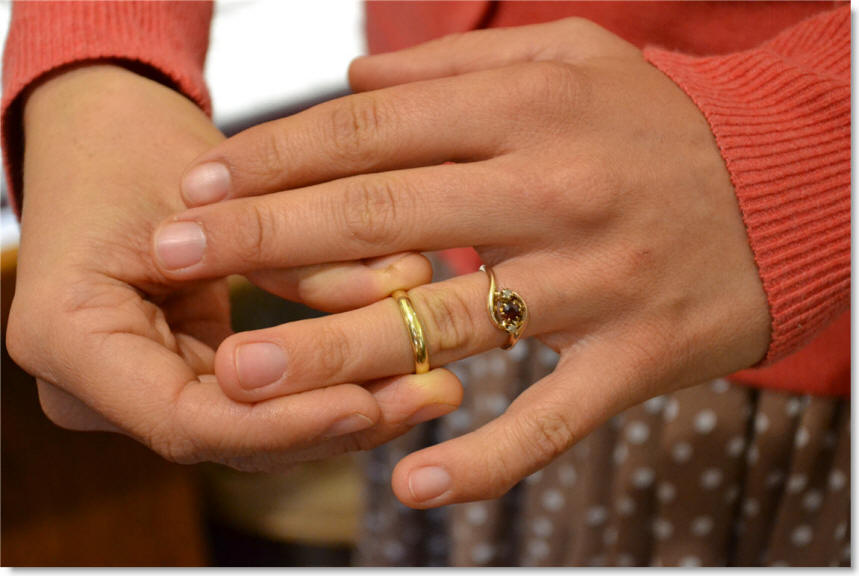 After eating a picnic lunch at the park, we drove over to the Community Center to check out the facilities. The kids brought their bikes and enjoyed riding on "town streets" for a change.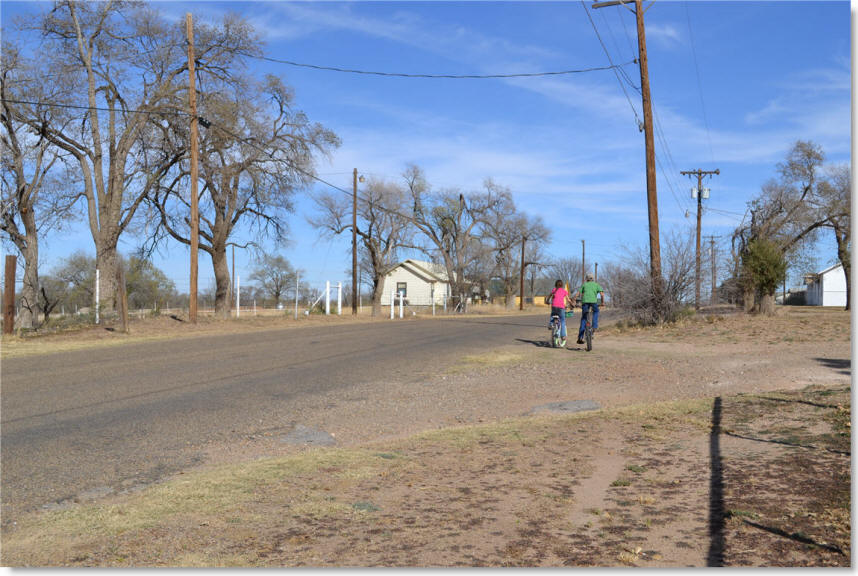 Across the street are the rodeo grounds.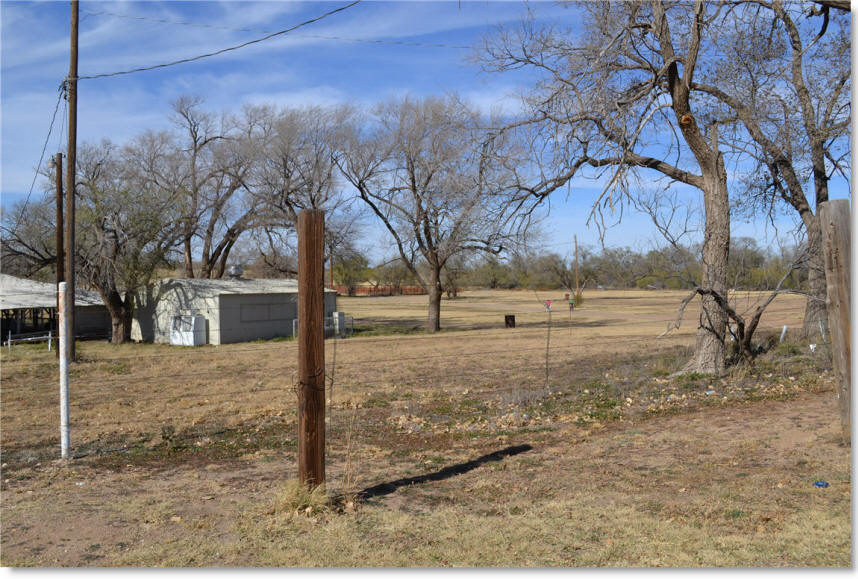 This vintage covered pavilion known around here as "The Cathedral" will be the perfect place for an old fashioned barn dance.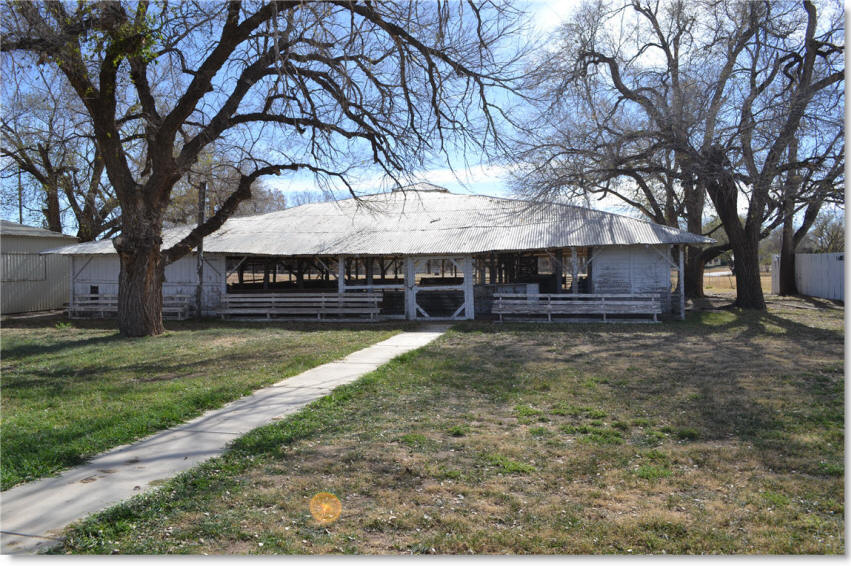 Invitations will be going out during the first month of 2013.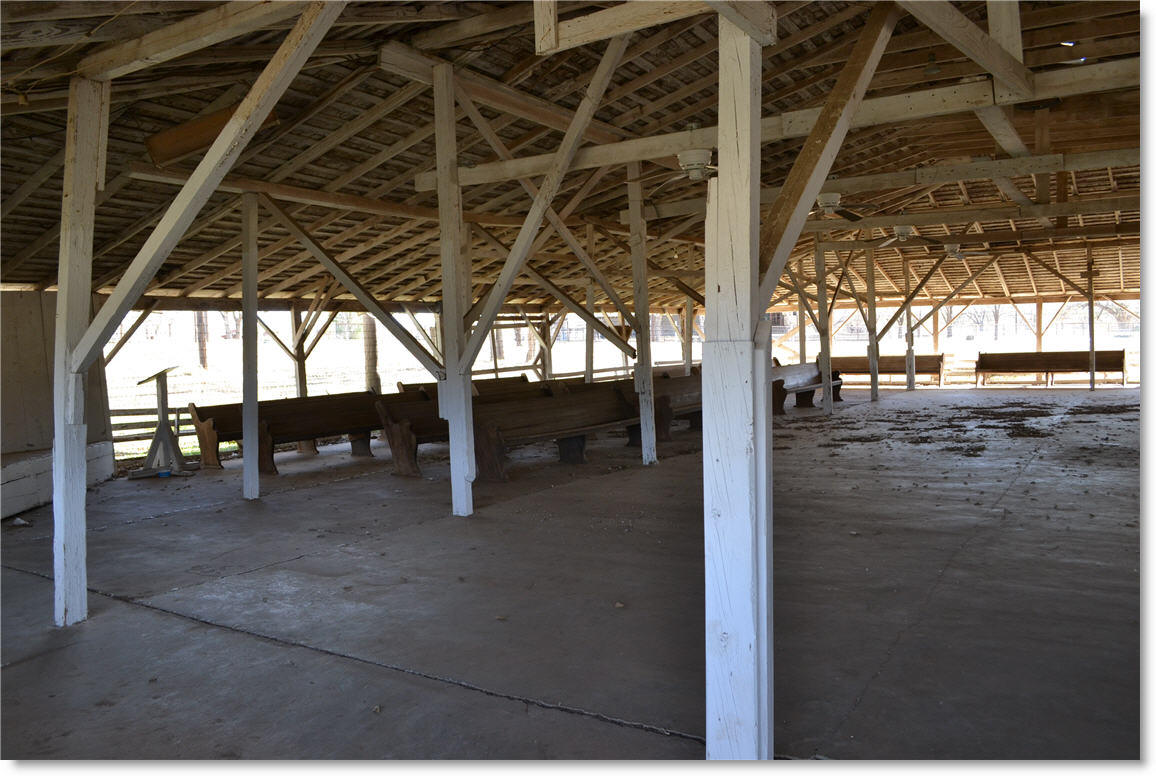 Later in the afternoon. . .
Stunned Goldfinch - This little guy caught Stockton's eye when he accidentally flew into the front window. The goldfinch have recently arrived at the ranch for the winter.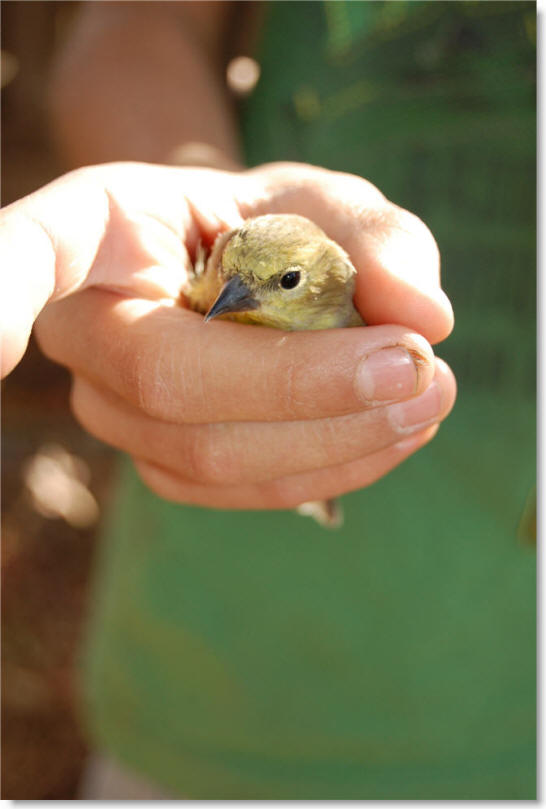 After a few minutes, he revived and flew away.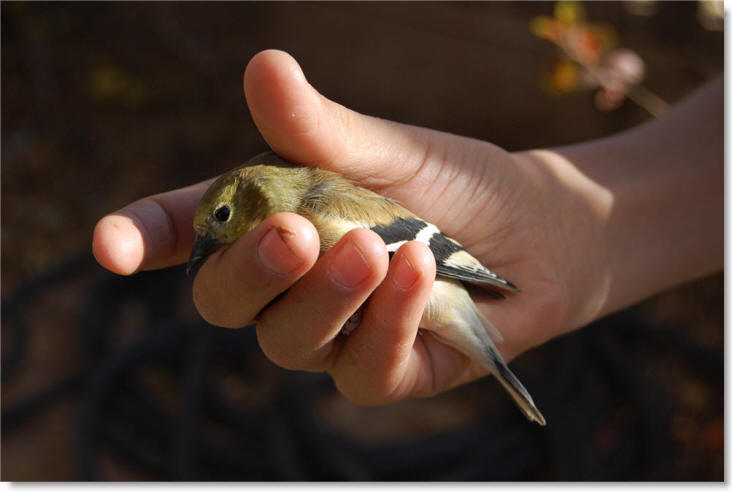 Spinach Bed - Aspen and Windy were busy Friday afternoon adding to this raised bed in the back yard. They planted Spinach and other greens and covered them with hay.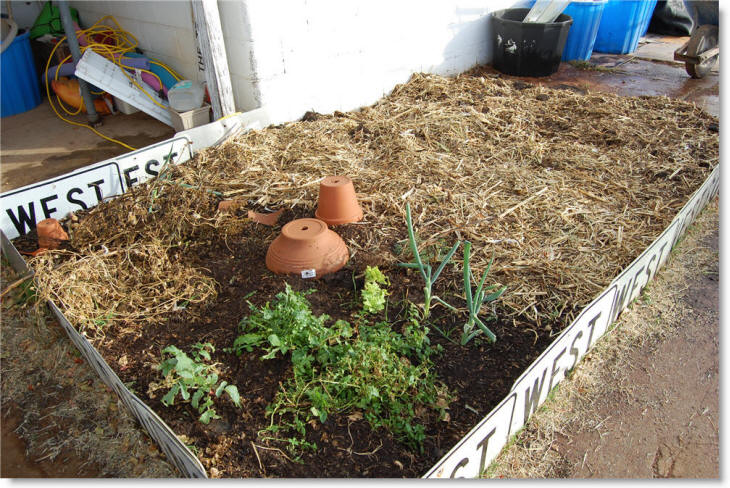 We hope to keep adding to this bed and extend it even further, eventually.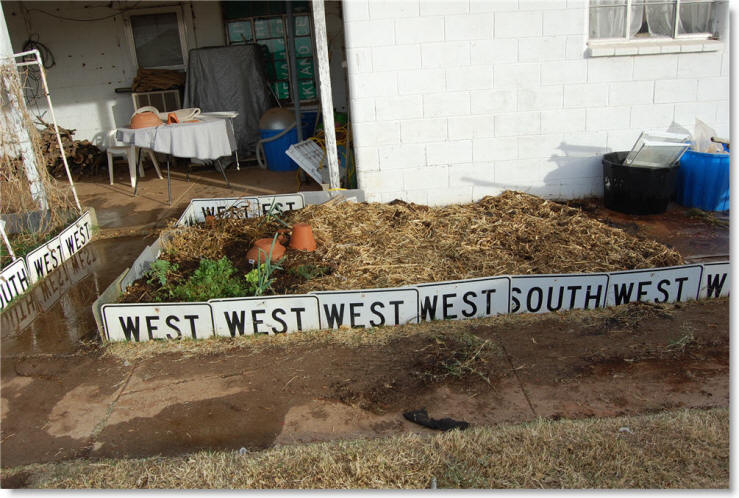 Please, call or email your Senators and Representatives in Washington. Don't wait for someone else to do it. We all know that our country's problems are not the result of our taxes being too low, or the "rich" not paying their fair share. The democrats are using the same old game plan that works every time on our hapless representatives. Trying to get them to agree to a rushed up, behind the scenes deal that the American public can't know about until the tax bill comes due. Please tell your senator that you only want spending cuts and not tax increases. In my opinion, the country is about to collapse because of the following:
1. Entitlements - we can't and never could afford. Entitlements proposed for the sole reason of getting various politicians reelected.
2. TARP - a rushed through agreement that had to be signed immediately and without thought.
3. Stimulus 1 & Stimulus 2 - Just like Thing 1 and Thing 2 from the Dr. Seuss book, The Cat in the Hat Returns, wreaking havoc and waste wherever they go.
4. A lazy, stupid electorate.
5. Job stifling taxes.
6. Job stifling regulations/licenses/fees.
7. Inflation of our money.
8. Infiltration of our nation by illegal aliens.
9. Godless laws and welfare programs - that favor those who fornicate, lie, sodomize, and abort.
10. Hollywood, Television and Pornography.
11. The total lack of understanding by our elected officials (from those in Washington to those on the local school boards) of the dire consequences of completely ignoring the fact that an ineligible foreign Marxist has twice usurped the presidency of this nation and is going about his business wasting massive amounts of American taxpayer wealth on cronyism and handouts and using subversive tactics to undermine our legislative branch and expand the executive powers in such a manner as to make them unrecognizable from those of the worst tyrants in history.
Am I being too subtle? Am I making myself clear?
Please view the following video and then call your senators and representatives. Come on VINTAGE AMERICANS, let's take our country back!
Thursday, November 29 - Warm Winter Days - With the weather unseasonably warm, everyone was busy doing something outside today. Stockton had noticed that water was dripping out behind our washer when it was supposed to be draining. We have old fashioned plumbing in this house, so our laundry water just dumps outside beside the carport. Every so often, after grass and dirt have filled in around the pipe, someone has to dig out a channel again so the water will drain away instead of backing up. Stockton took his trusty army shovel and had the problem solved in no time.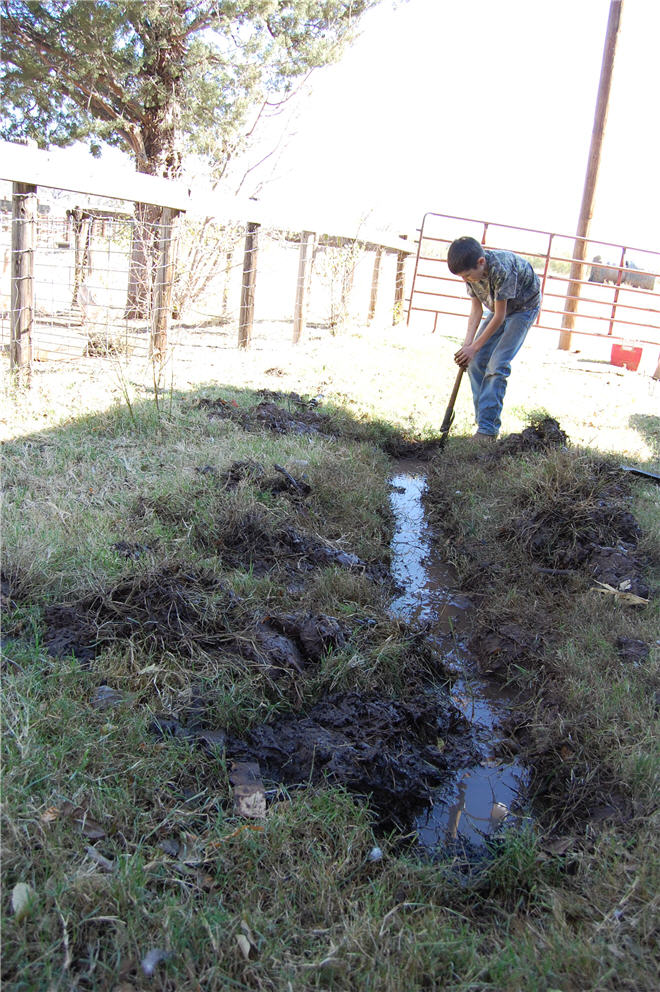 Carolina, on the other hand was playing dress-up. How do you like her forties ensemble?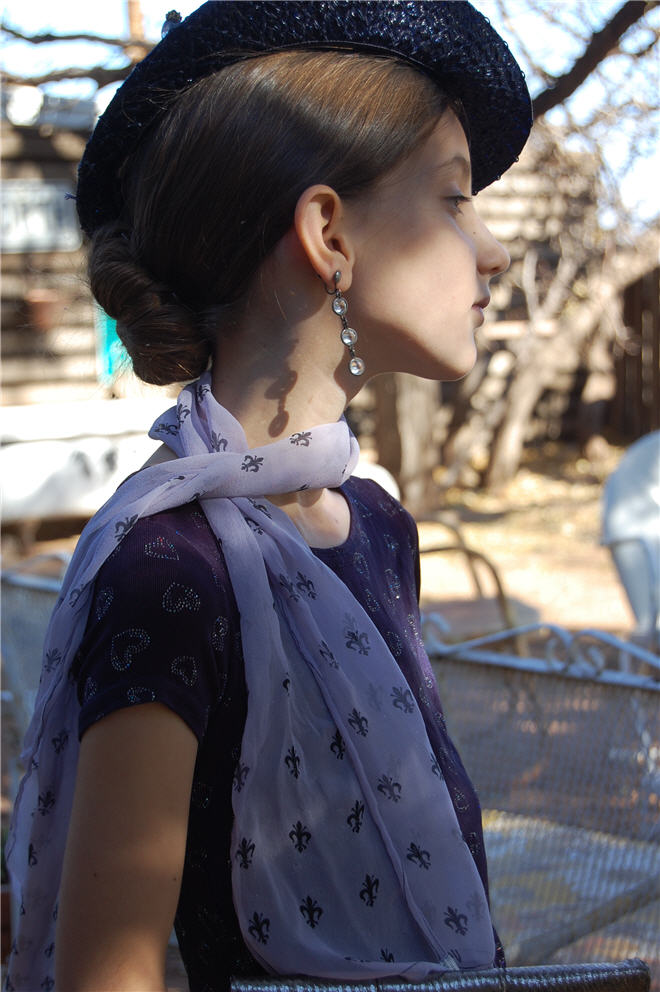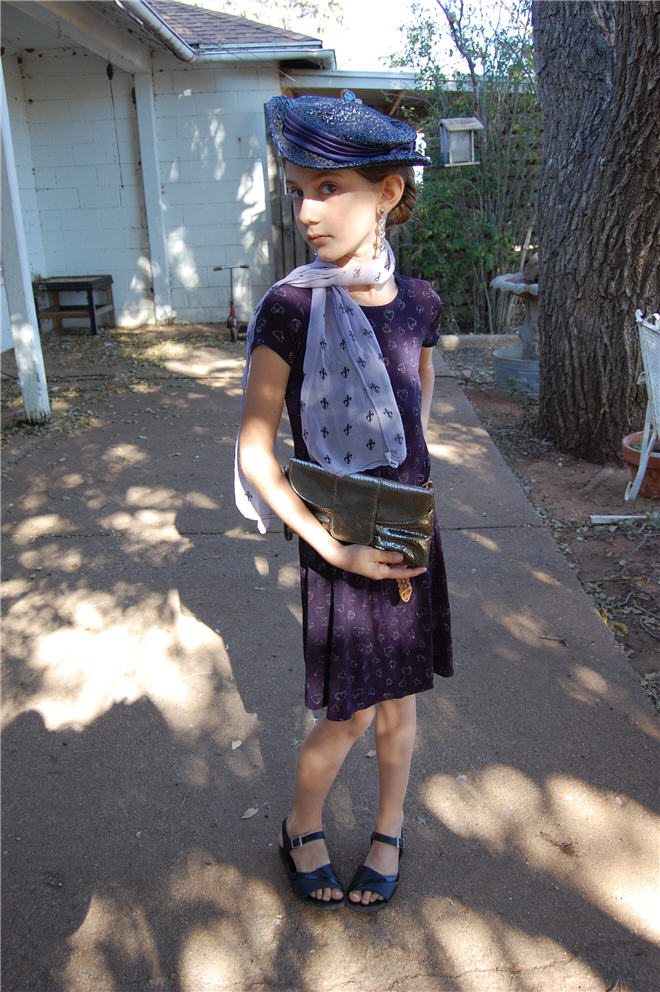 She even took Coconut for a ride while wearing her fancy outfit.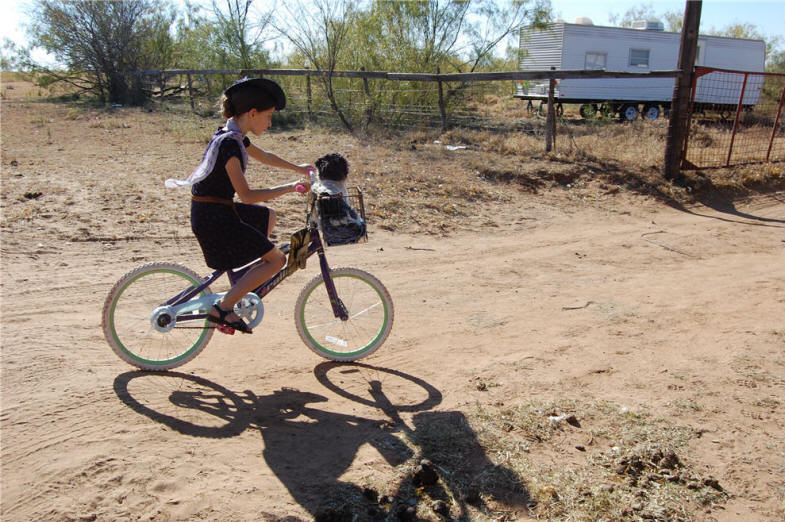 I'm sorry, but when I saw the photograph of Carolina on the bike, It reminded me of this famous movie character. What do you think?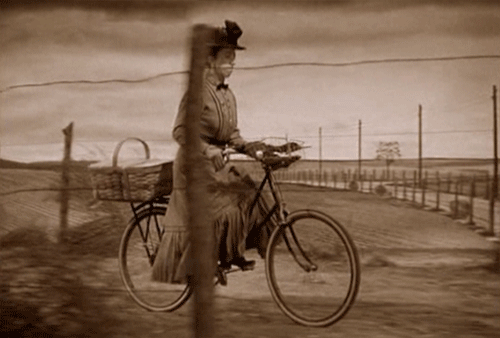 Stockton also made his first batch of biscuits this morning.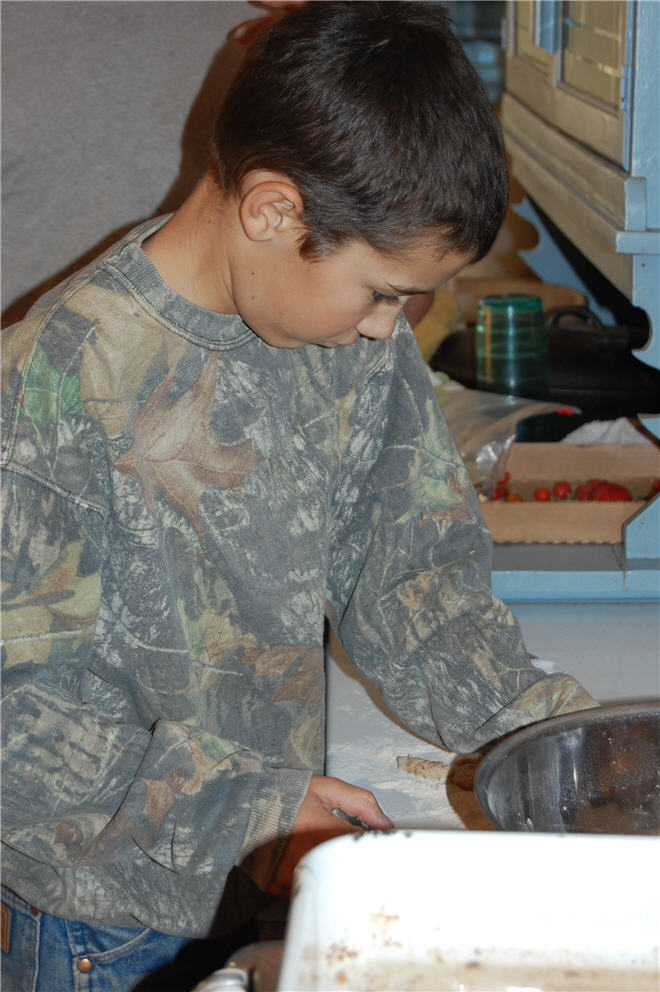 Tuesday, November 27 - Stockton gets a Buck - Nathan and Stockton have been hunting quite a lot lately, and this evening it all paid off. Stockton brought this nice 8-point down with one perfect shot.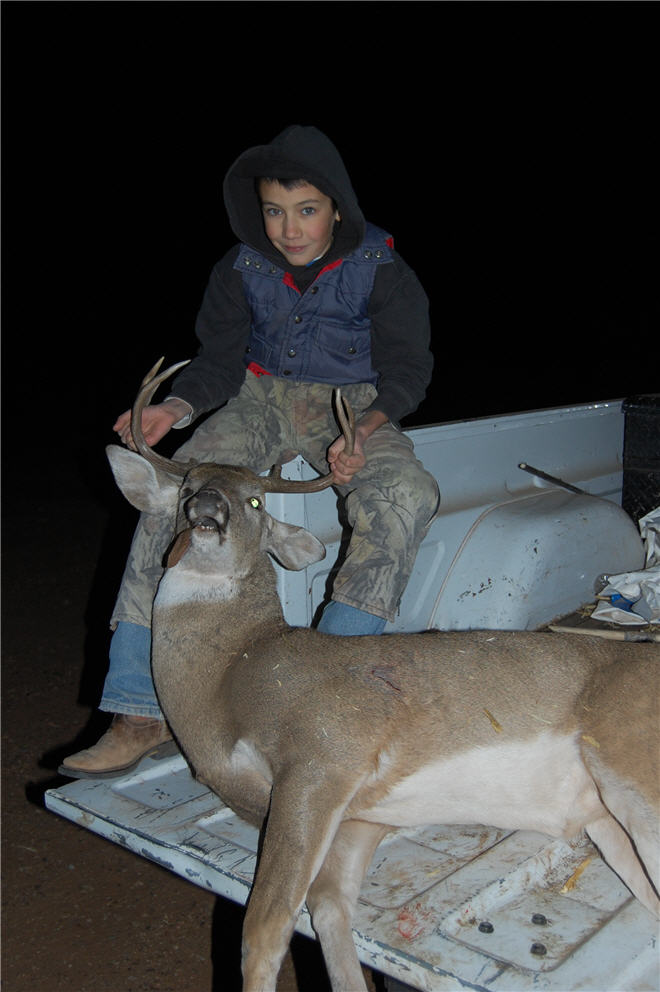 Thursday, November 22 - Thanksgiving - Here we are, about to consume a fantastic Thanksgiving meal. Another year of incredible blessings.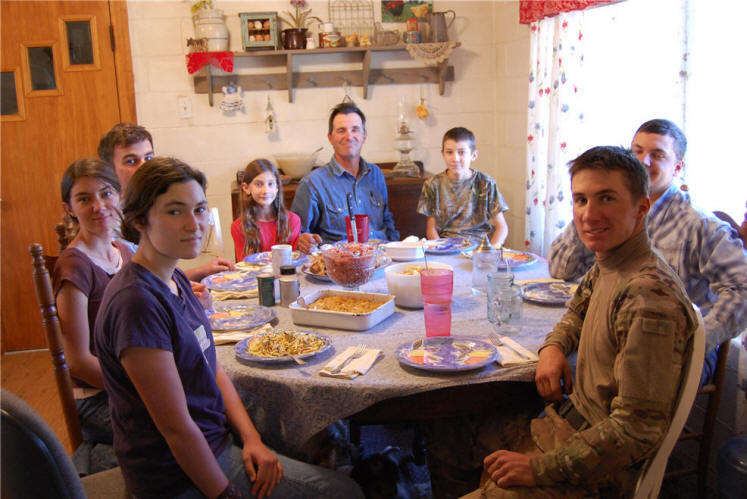 Another shot with Windy at the table.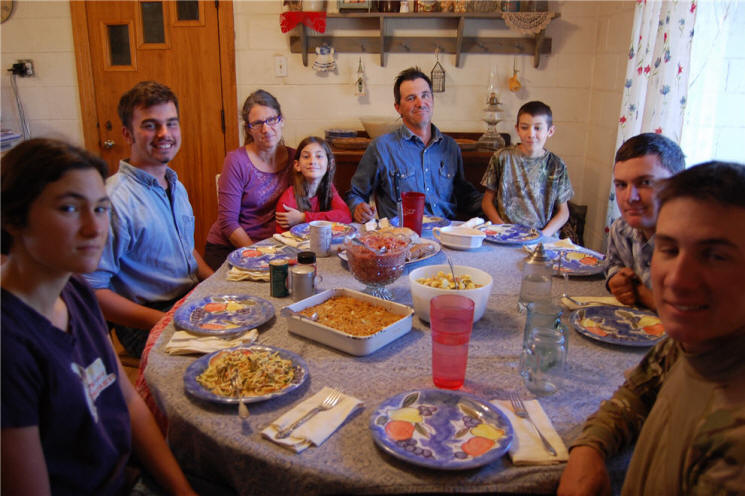 Dessert anyone? Tapioca pudding and pies; pumpkin, mock mince meat and custard.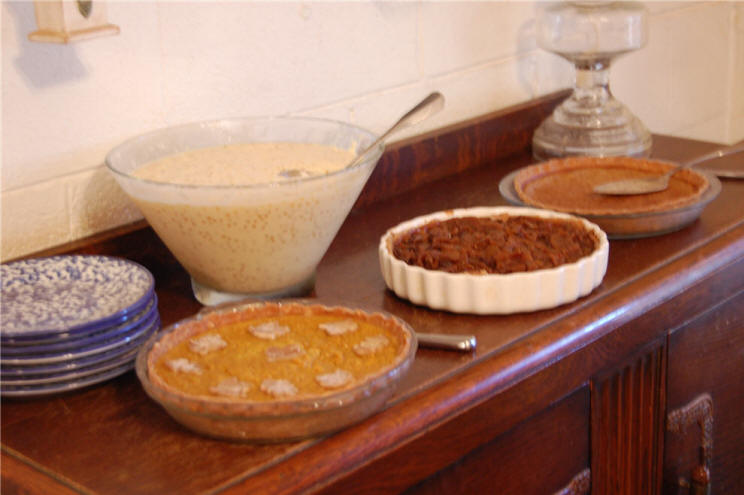 Jordan made this delicious cranberry relish that was tangy and full of fresh fruit. Get the recipe here.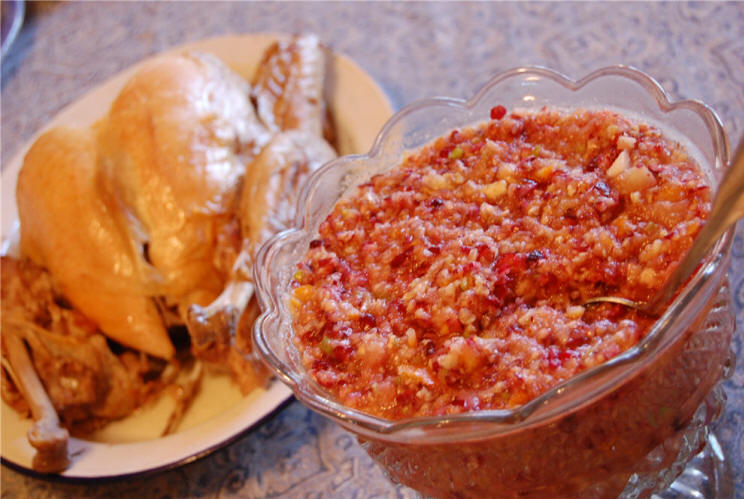 Before lunch, Jordan conceded to play legos with Stockton for a while.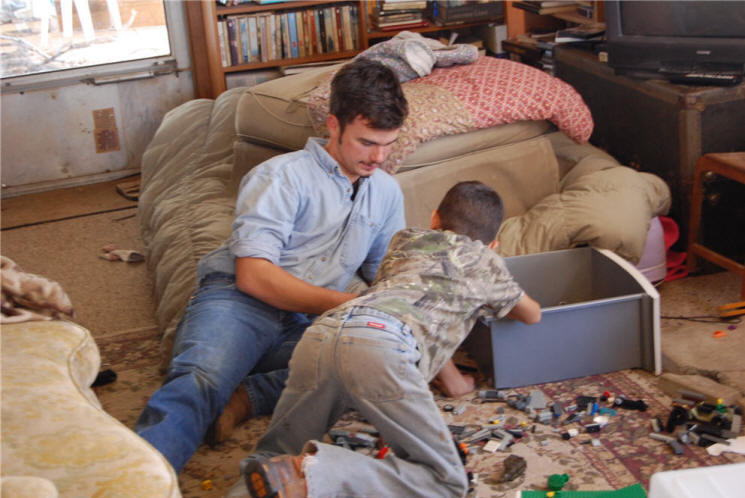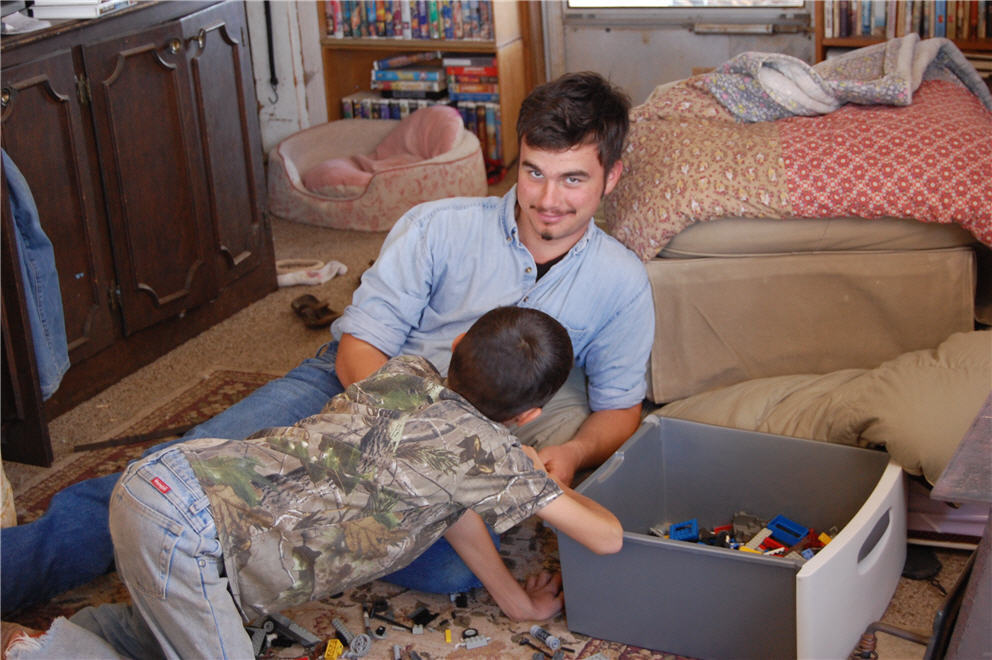 Wednesday, November 21 - Thanksgiving Preparations - Atlanta is in the kitchen making pie crusts. She made seven pies in all.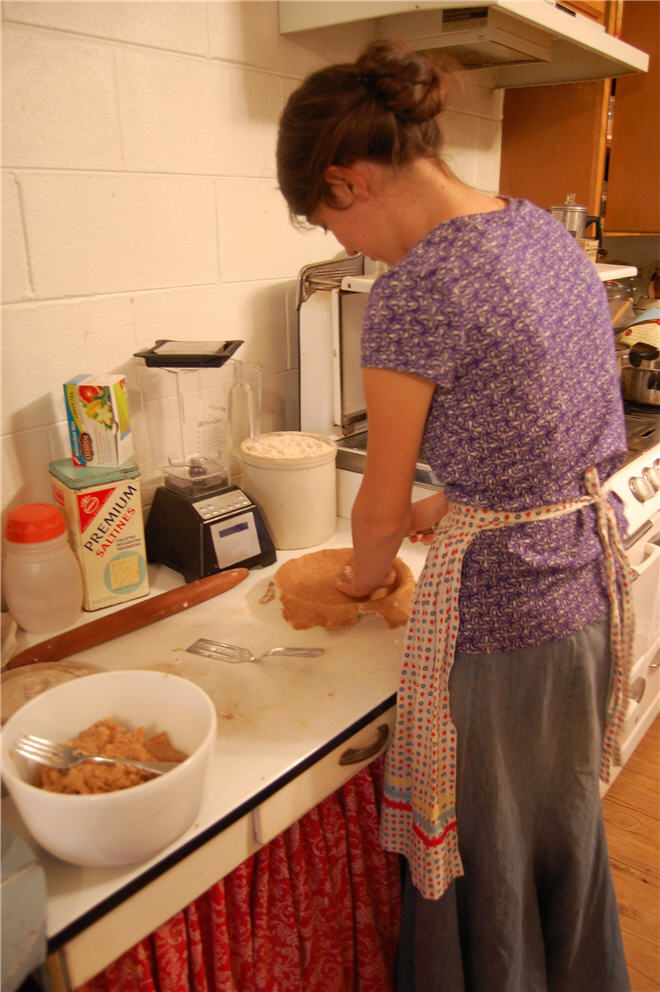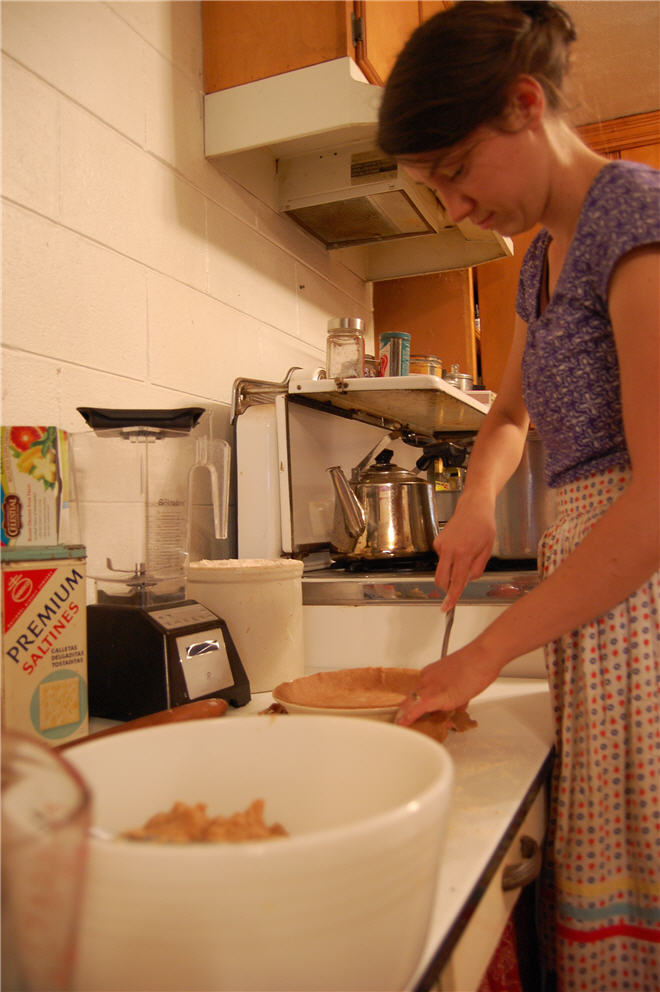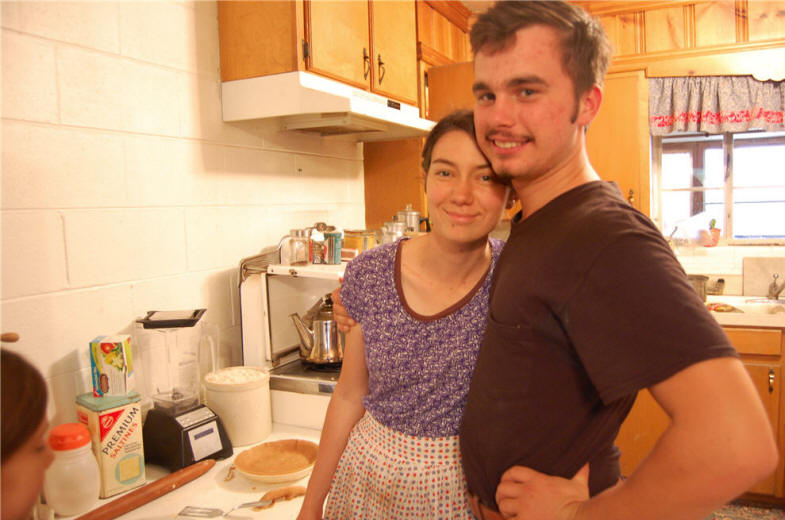 All work and no play makes Jane a dull girl. Time for a little R & R. This hunting party headed out to look for wild hogs and coyotes.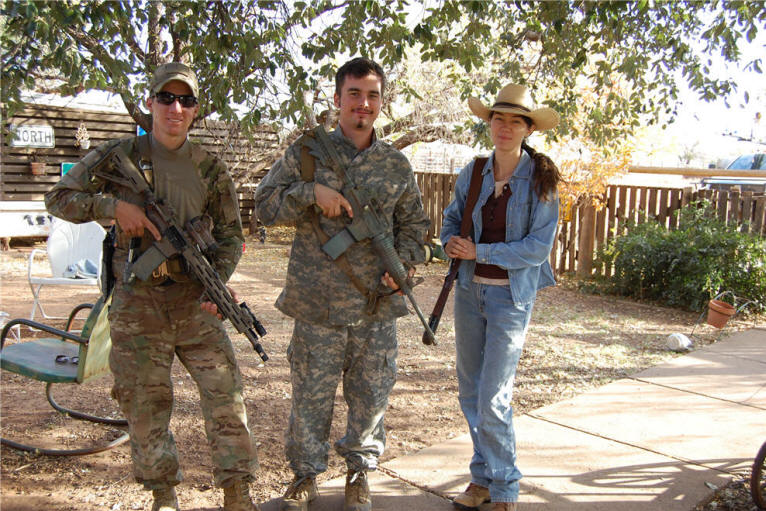 Tuesday, November 20 - A Couple of Interesting Pics - First here's a subtle but amazing sunrise.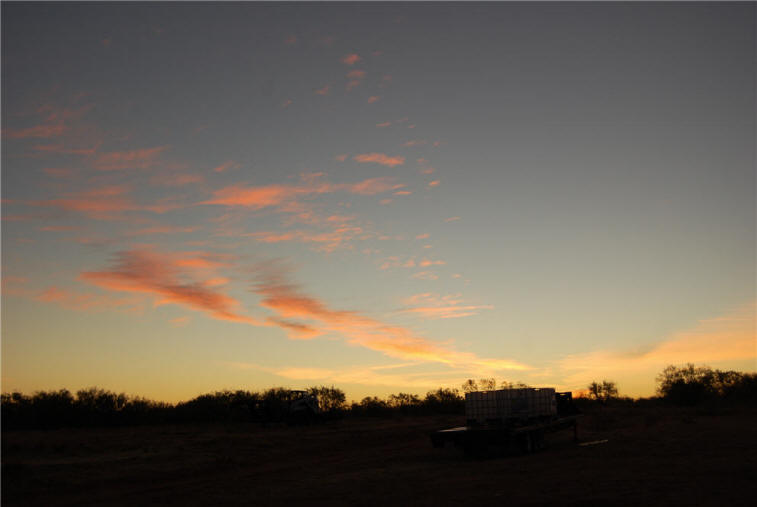 After work, while visiting with Cim in his room, Atlanta noticed something on the wall behind him. There, on a little plaque which was made to hold one of Cim's reproduction swords, Carolina had placed one of her plastic unicorns instead. I wonder how long this had been like this?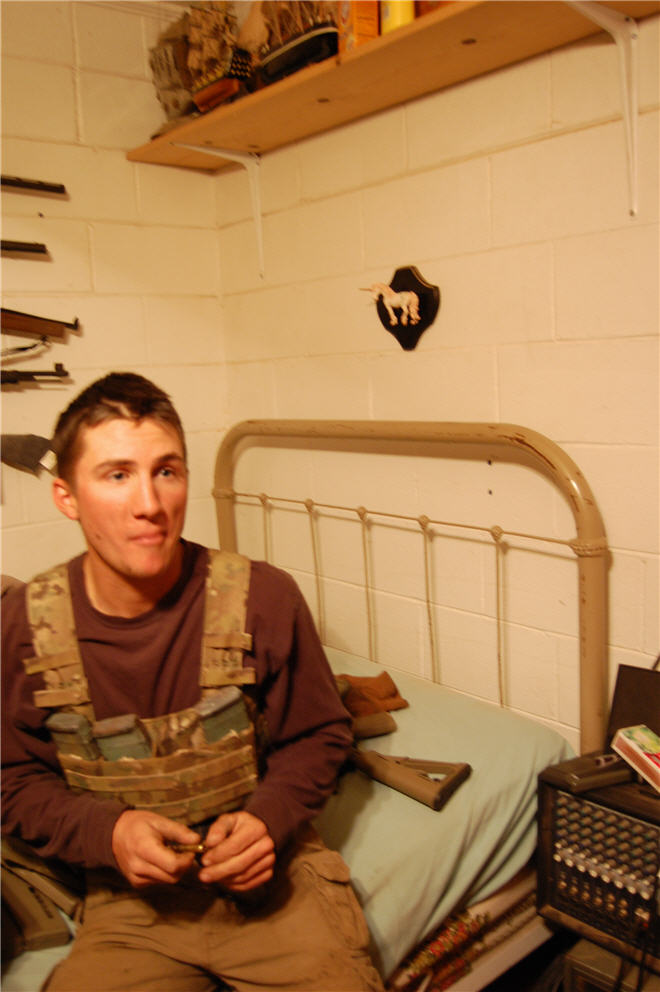 Bee Hive Bounty - After the beeswax was completely boiled down and the "trash" strained out of it, it was allowed to cool. It made this "cake" of beeswax.
The three-pound cake of beeswax and two gallons of wild, raw honey.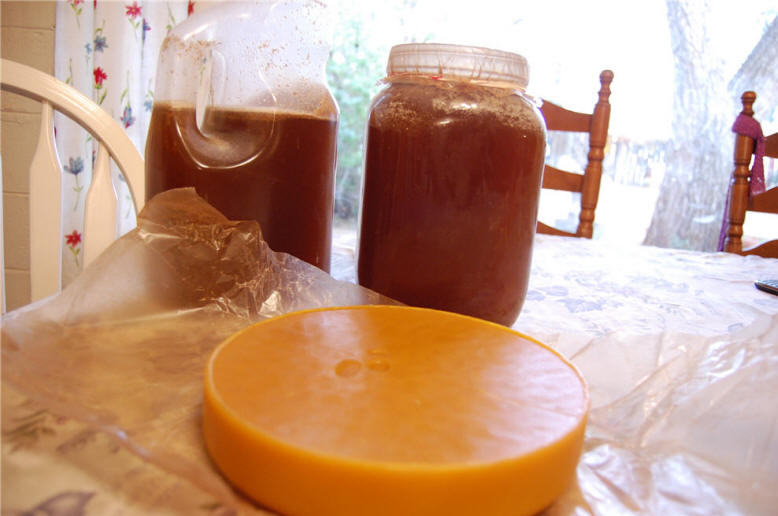 Monday, November 19 - A Honey of a Day - Jordan, Atlanta and Stockton got all decked out with as many layers of clothes as they could. Atlanta had made a couple of bee veils for herself and Stockton to wear.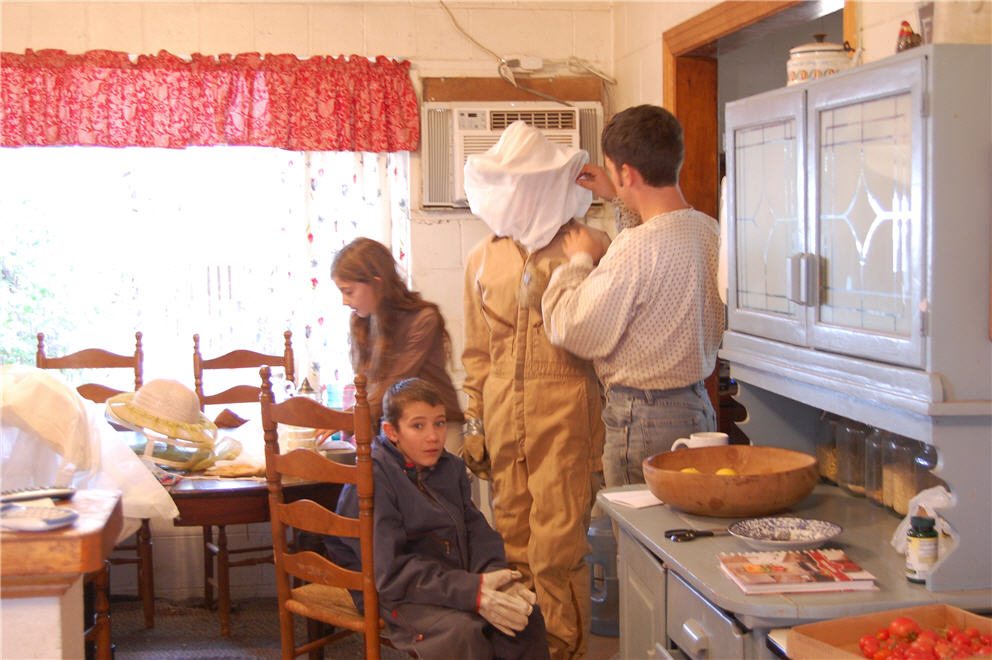 Here's how they all looked when they got completely suited up.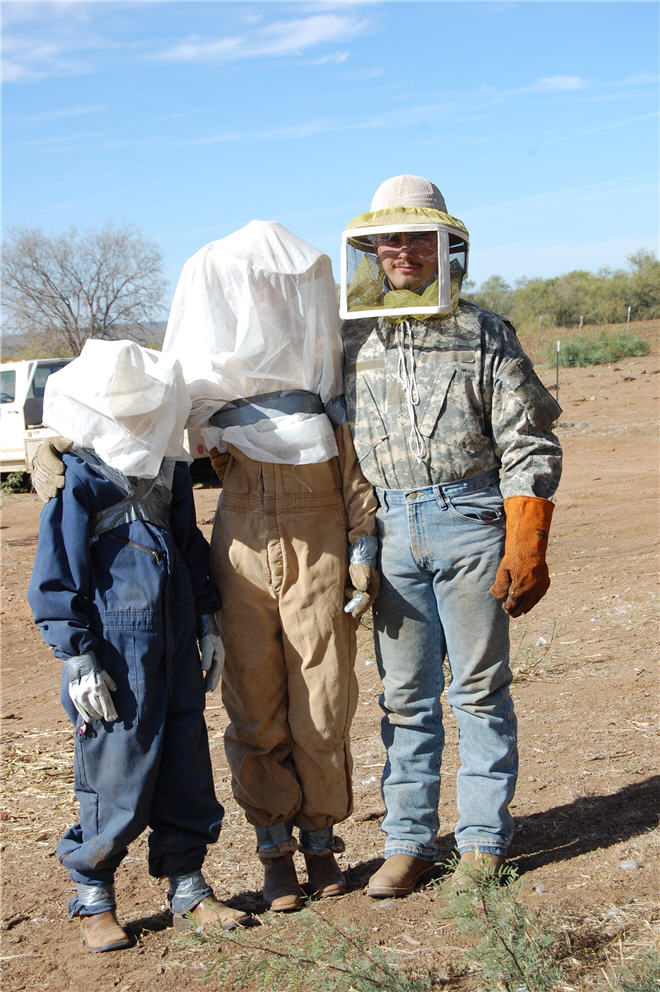 First they assembled the new hive boxes.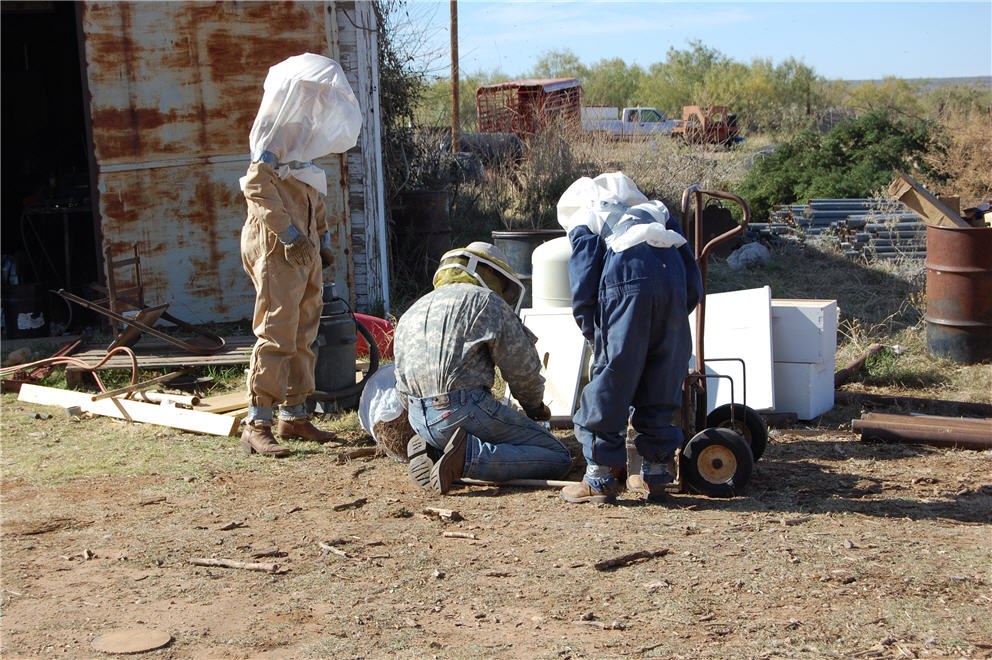 Then Jordan started tearing the wood siding off the side of the shop. A huge hive was revealed underneath.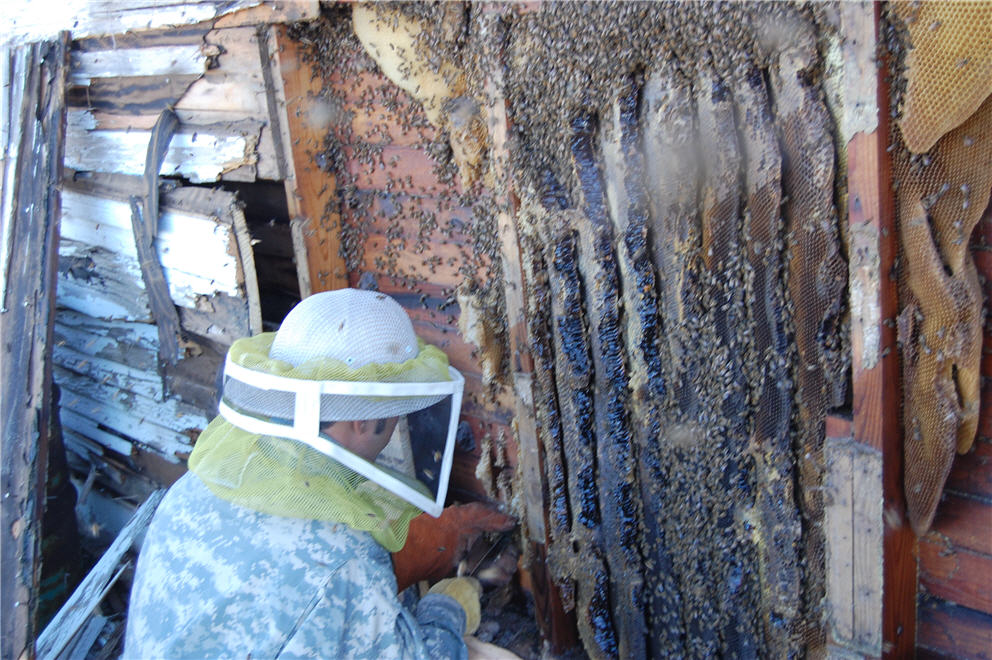 They began to cut out the honeycomb. Half of it Jordan put into the new hive boxes so the bees would follow. The other half was brought into the house.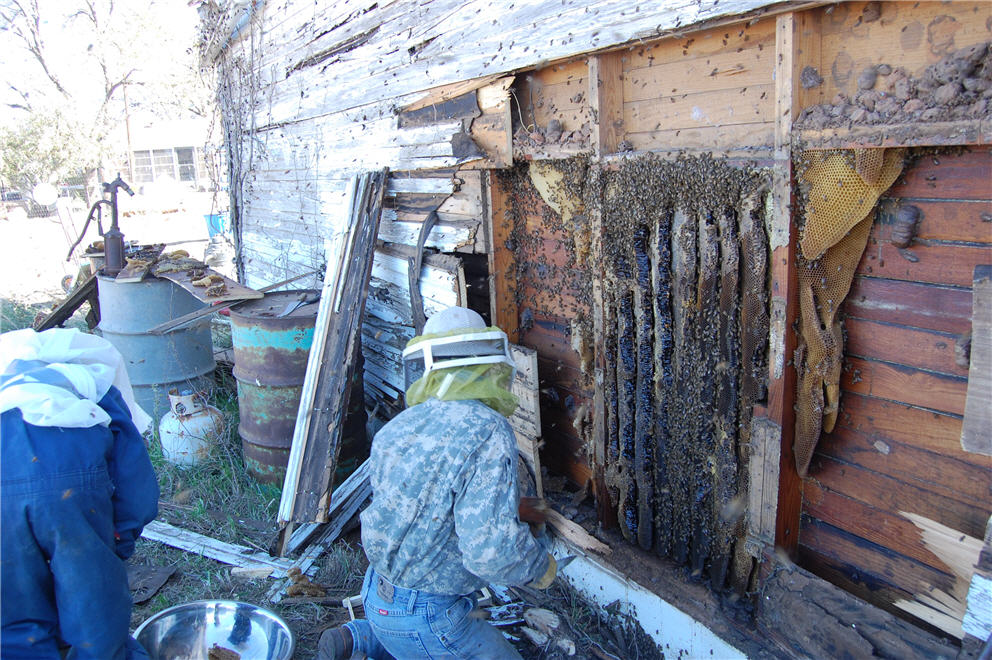 Check out these combs full of honey. According to Jordan, these combs are "sealed" off or capped by the bees after they have "fanned" the honey to get the moisture content just perfect. The light colored comb is the newest. A lot of it was just empty and didn't have any honey put in it yet.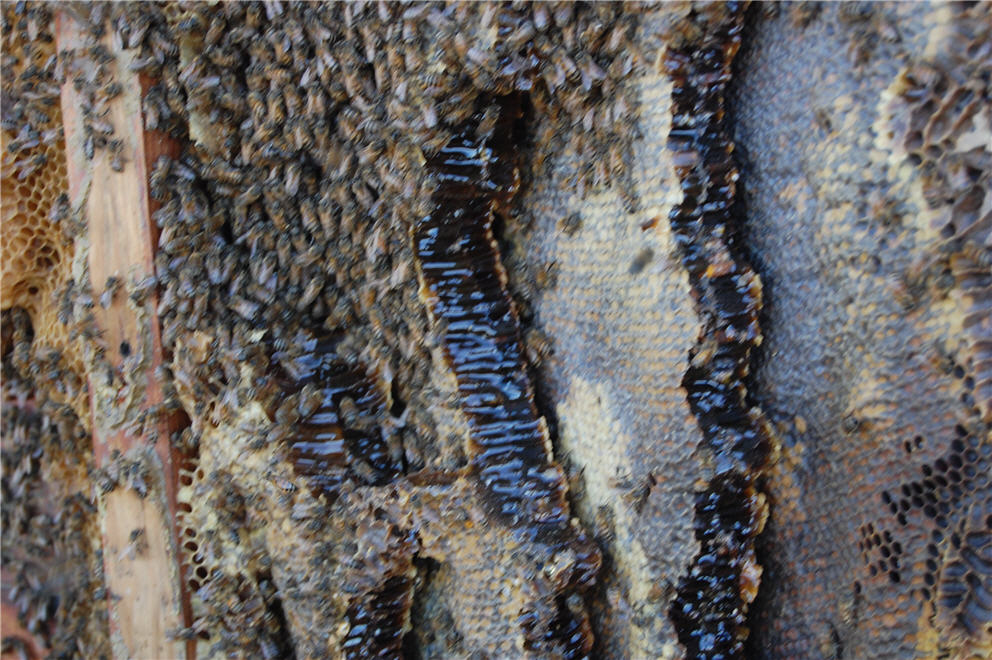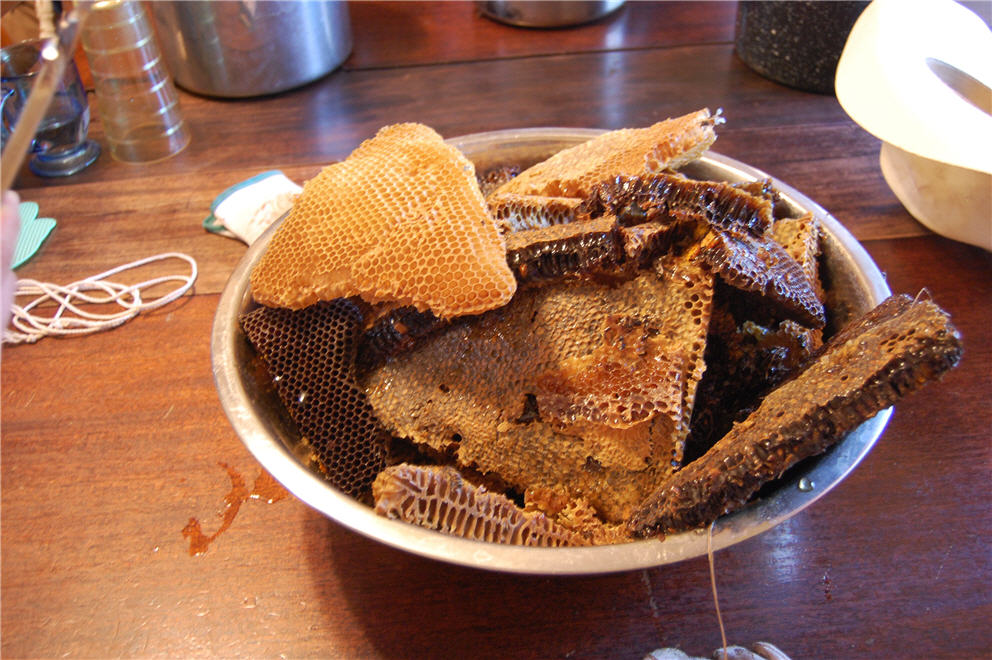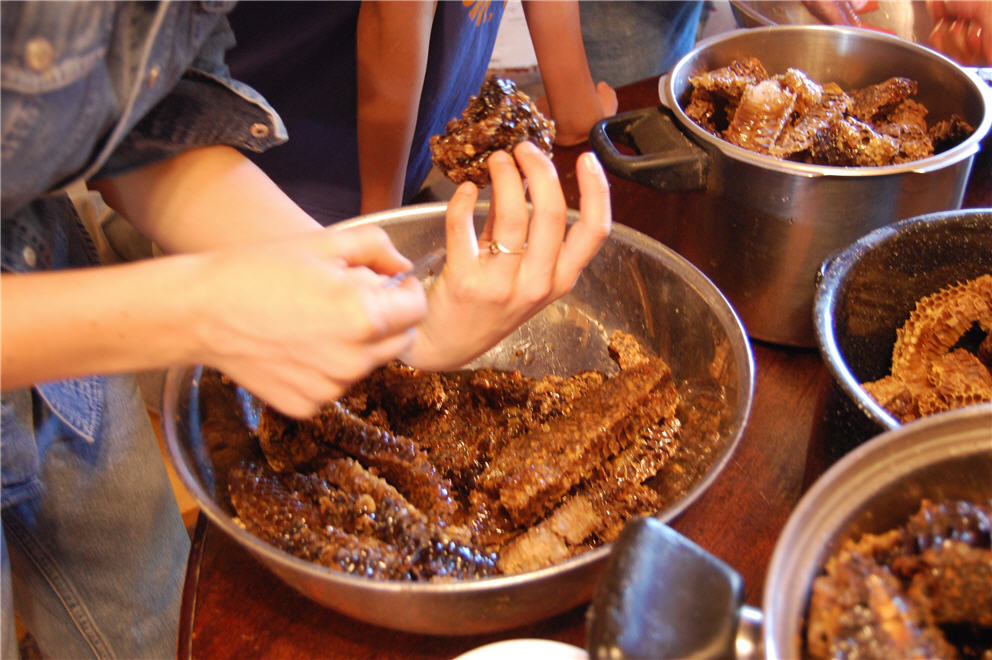 Once inside, he showed us how to squeeze the comb to get the honey out. This was hard work and made your hands very tired. Professional beekeepers have extractors to do this part of the job.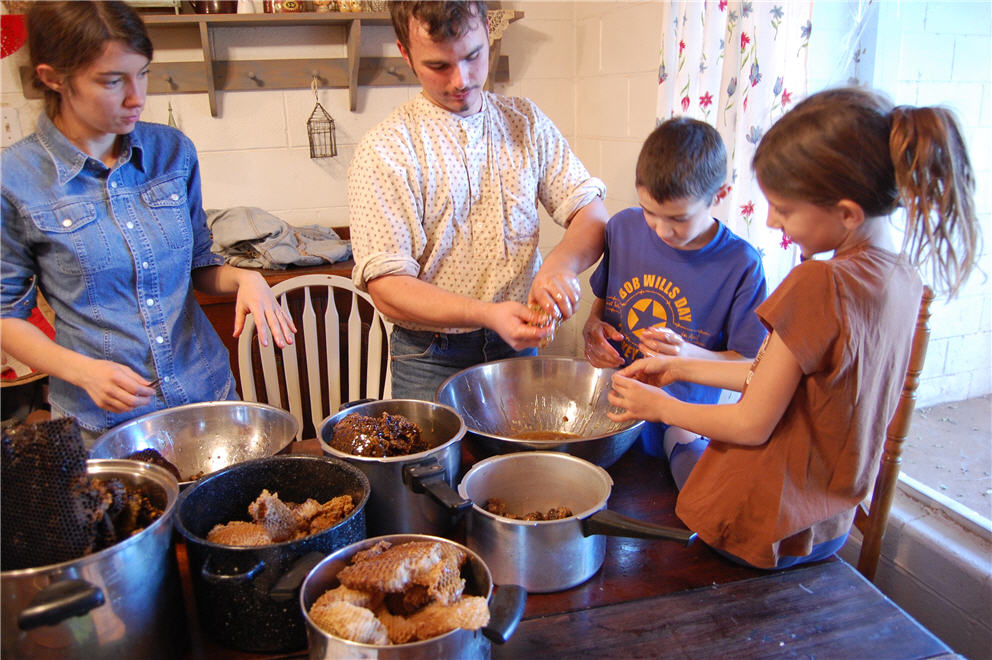 The boys showed up and chipped in their strong grips.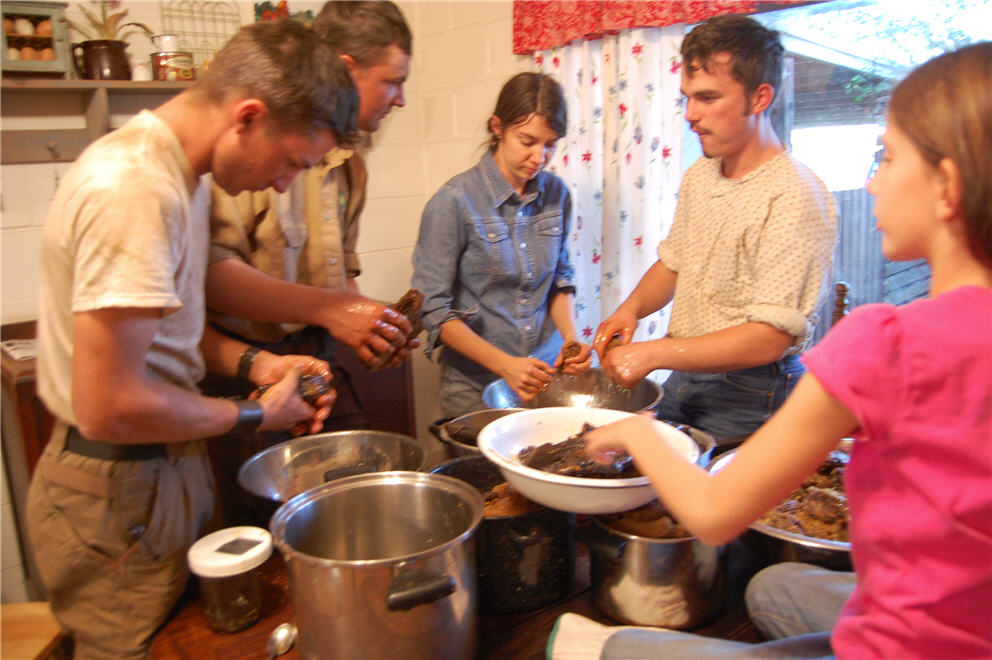 Once all the comb was squeezed. They rigged up a strainer to pour the honey through. They ended up with about 2 gallons of honey.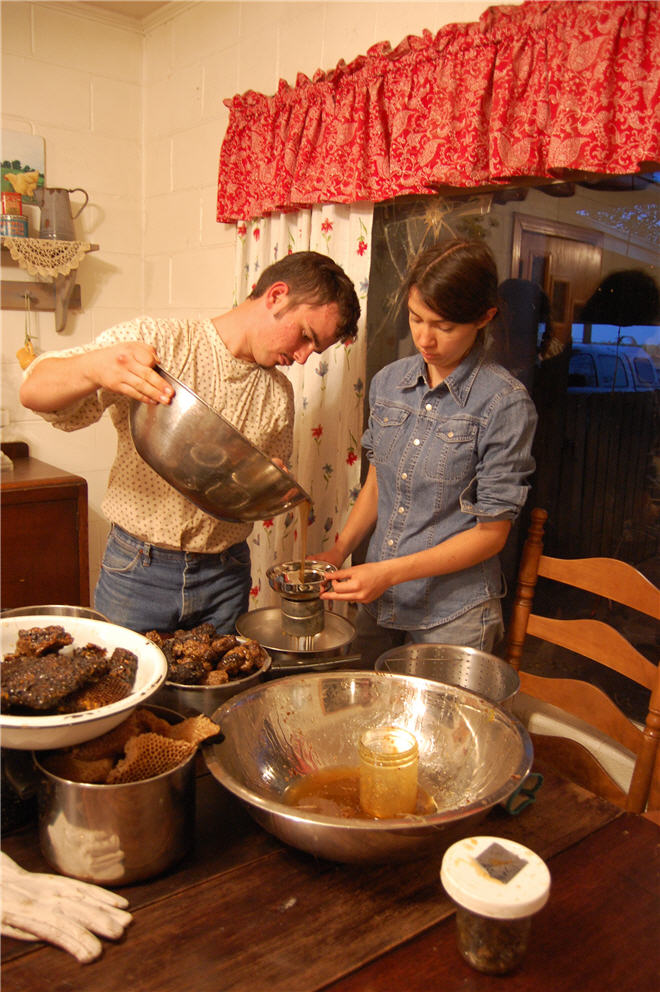 Sunday, November 18 - Late Season Harvest - I picked these cherry tomatoes and peppers off of some vines that I thought were long since dead. They were up against the south side of the house and protected from the cold. Most of these will go into the dehydrator.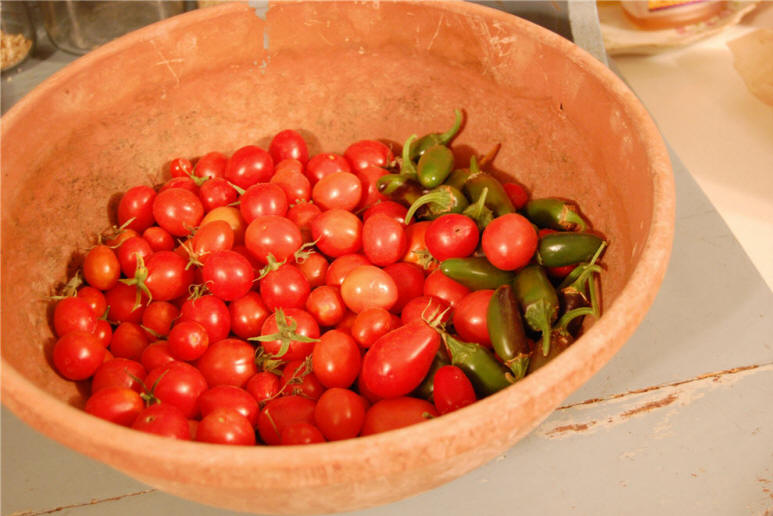 Saturday, November 17 - Carolina's Buddy - These two paused to pose for this cute shot as they zipped through the house having fun.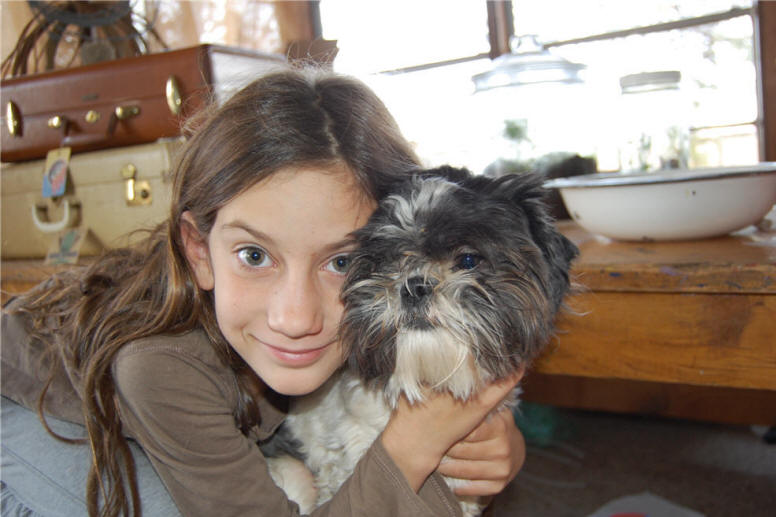 Surprise Chicks - Imagine our surprise when this tiny hen showed up with some chicks. Aspen sold off almost all of the old laying flock several weeks ago. This hen was so wild we couldn't catch her. Since we hadn't seen her in a while, we figured something had gotten her at night. Apparently, however, she was busy setting on a clutch of eggs. Besides these four, we found four more besides. They were pretty worn out and ready for a drink. We brought them in and put them in the brooder with the guinea chicks. We still haven't been able to catch the hen.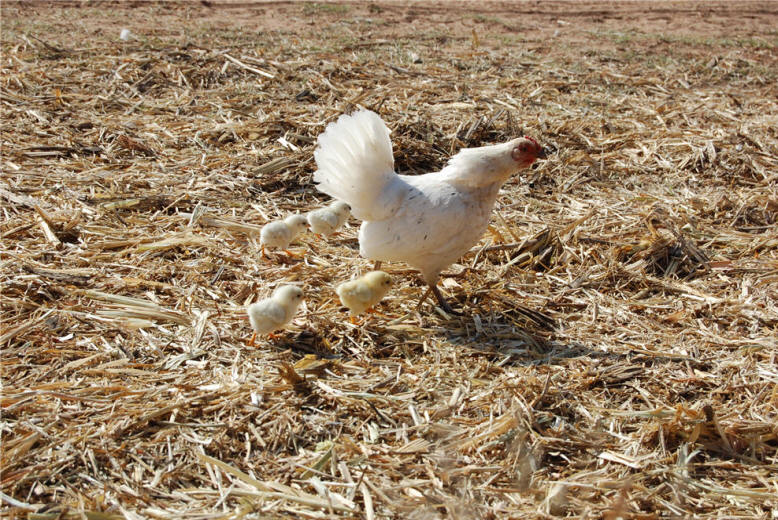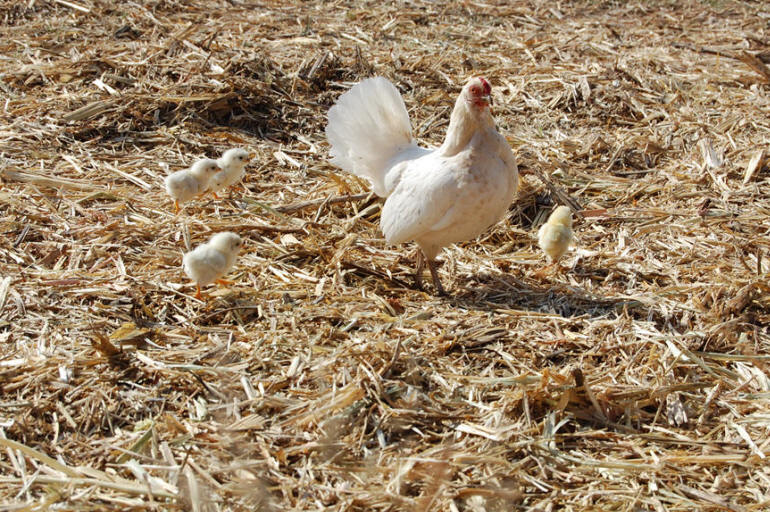 Friday, November 16 - Guinea Chicks Update - The chicks are growing and getting on well. Aspen's done some research and found out that they will be "violet" in color when they mature. This is a color she doesn't have yet, so she's very excited.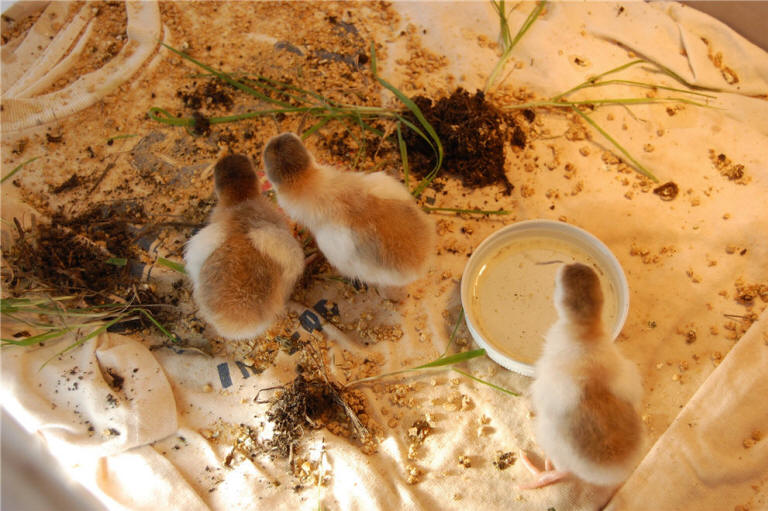 Thursday, November 15 - New Bee Hives - We've decided that while Jordan is staying with us (and he knows about beekeeping) it would be a good time to get into bee hives. We have a hive of bees in Nathan's shop wall that's been there for years. We ordered some bee keeping supplies and Jordan is going to try to re-home our bees. Stockton helped pay for the hive and supplies and is hoping to learn the trade for himself.
TEXAS SECEDE!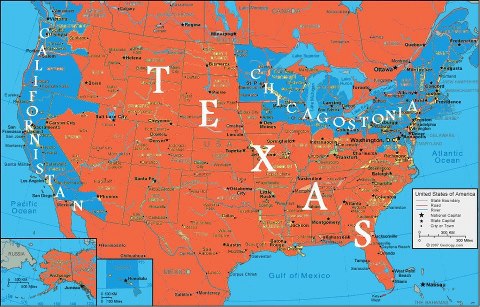 Please sign the following petition requesting peaceful secession from the federal bureaucracy. We all know it won't do anything official, but it's getting the subject discussed. The more signatures we can get, the more buzz will be created.
The site is www.petitions.whitehouse.gov. You have to find the Texas petition, and then click "more info" and then click the button to register. This will get an email sent to your inbox with a temporary password so you can log in when you go back to the site. Once you're logged in, then you have to navigate back to the Texas petition (or use the link provided below) and click "sign this petition". I know it's a lot of trouble, but almost 100,000 people have done it just in Texas.
This link should get you right to the Texas petition.
Sunday, November 11 - Doll Bed Assembly Line - Atlanta and Carolina are busy painting some of the doll beds that Jordan made this week. He's reading out loud to them from a novel.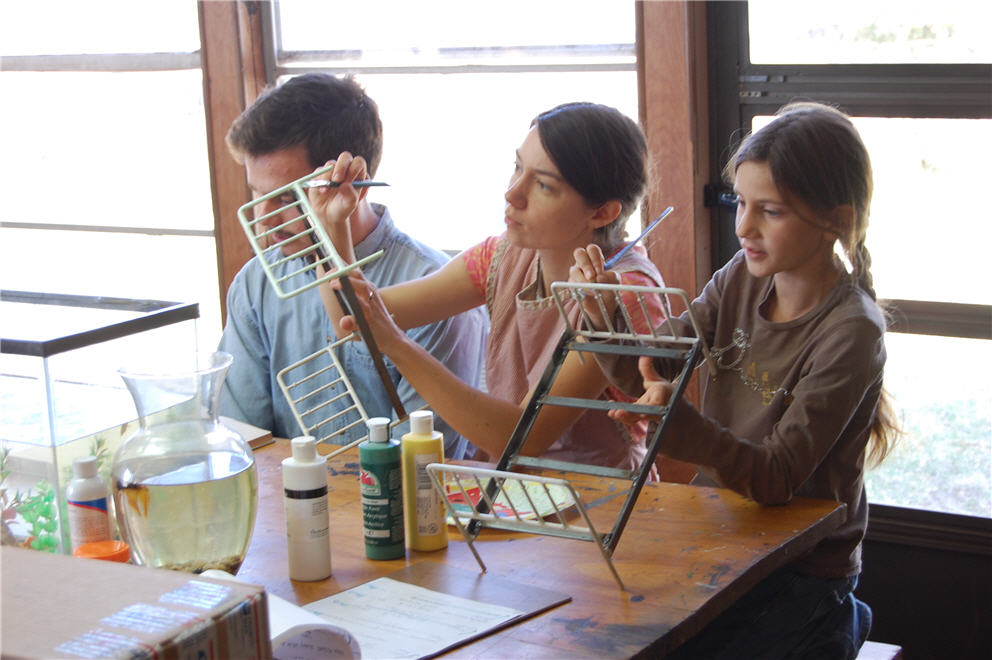 Lovely sunset at the end of day. But then, you knew that.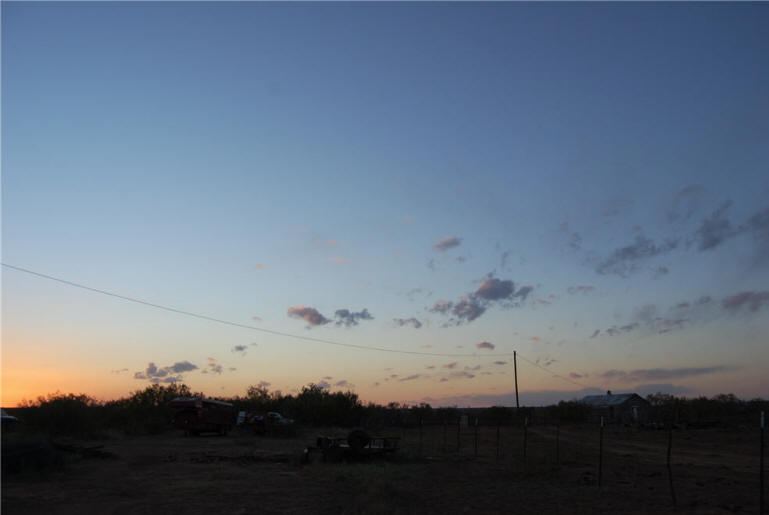 Saturday, November 10 - Poochie Princess - Carolina is having fun with her puppy.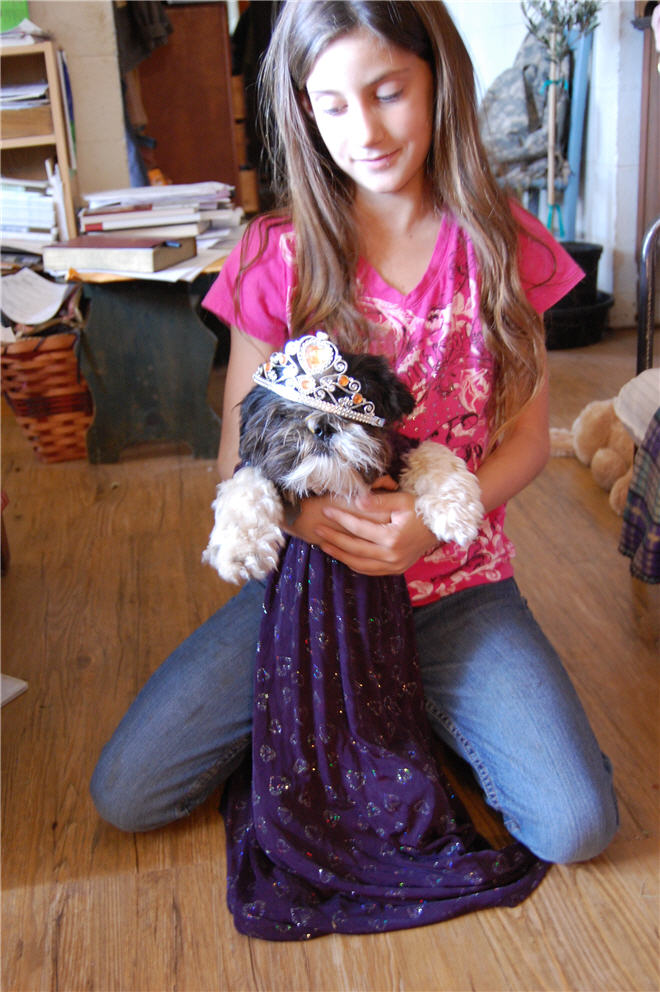 Rusty strikes a curious pose outside.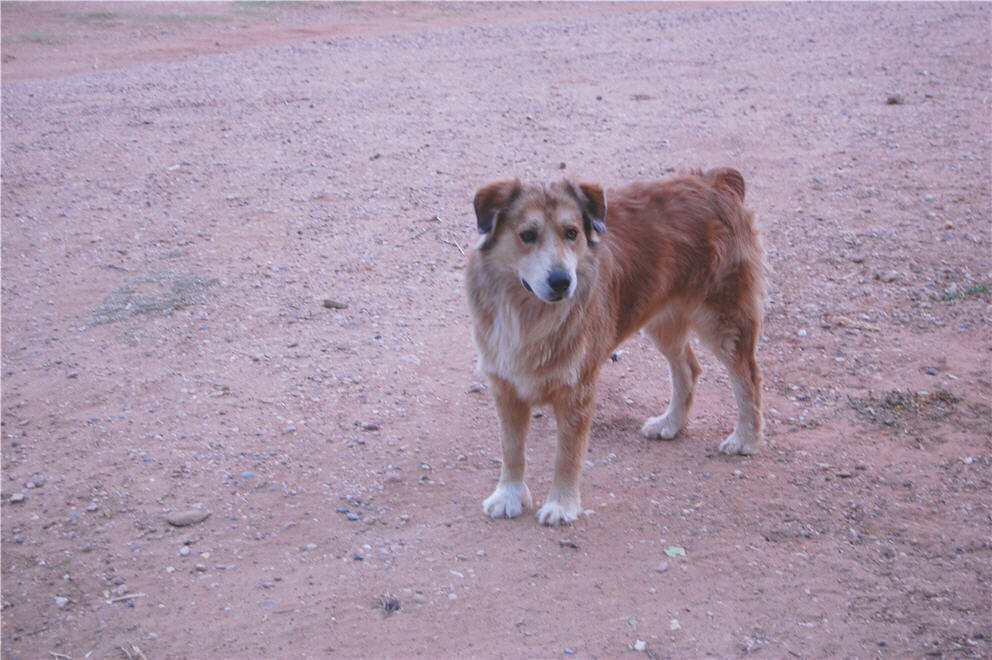 Thursday, November 8 - Chilly Snake - Carolina and Stockton found this garter snake hiding under something in the front yard. Hopefully, after this, he'll find himself a place to sleep out the winter.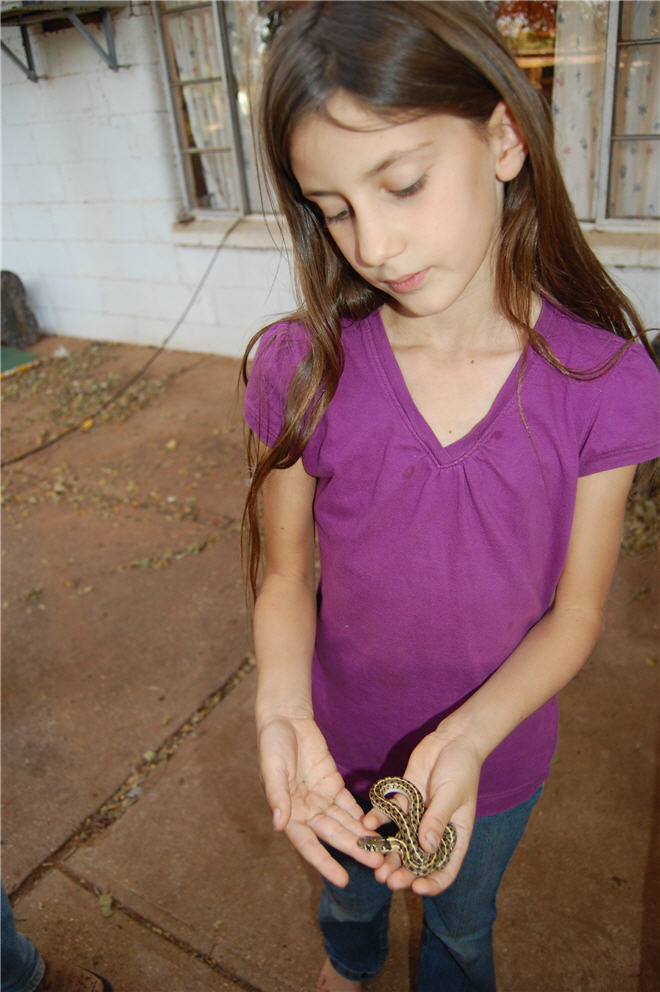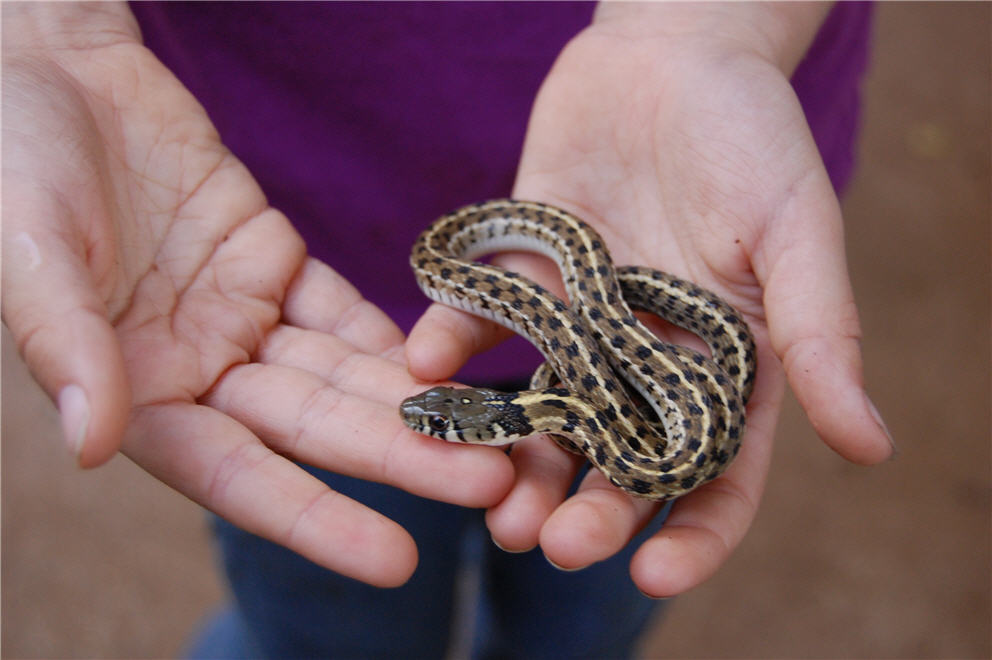 The guys came home a little early today to pull the well that serves our cattle pens. We got another chance to watch the boys at work. By the way, we had to have a new pump.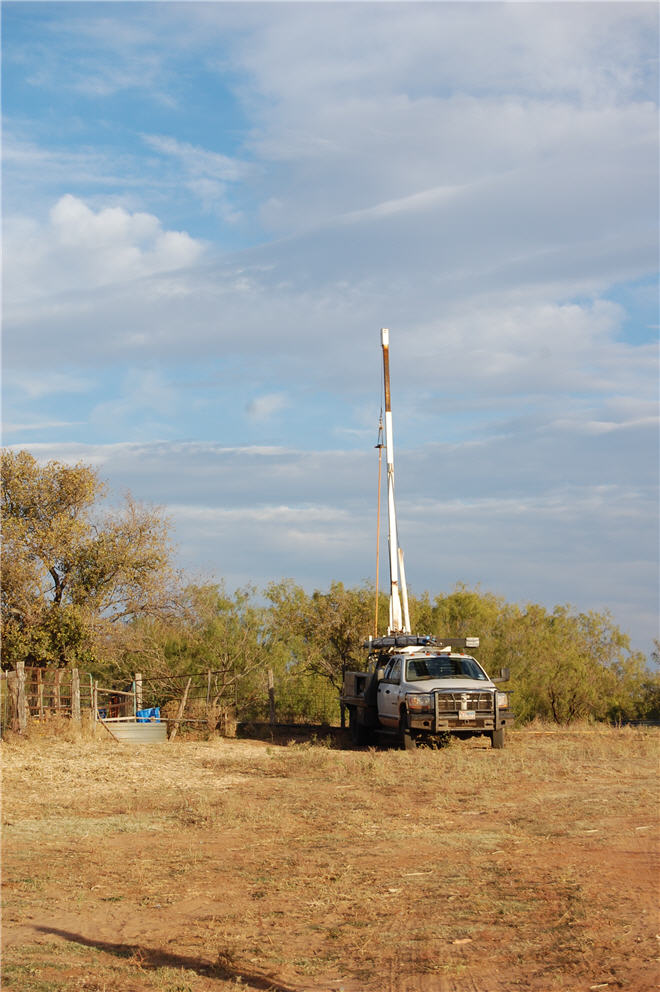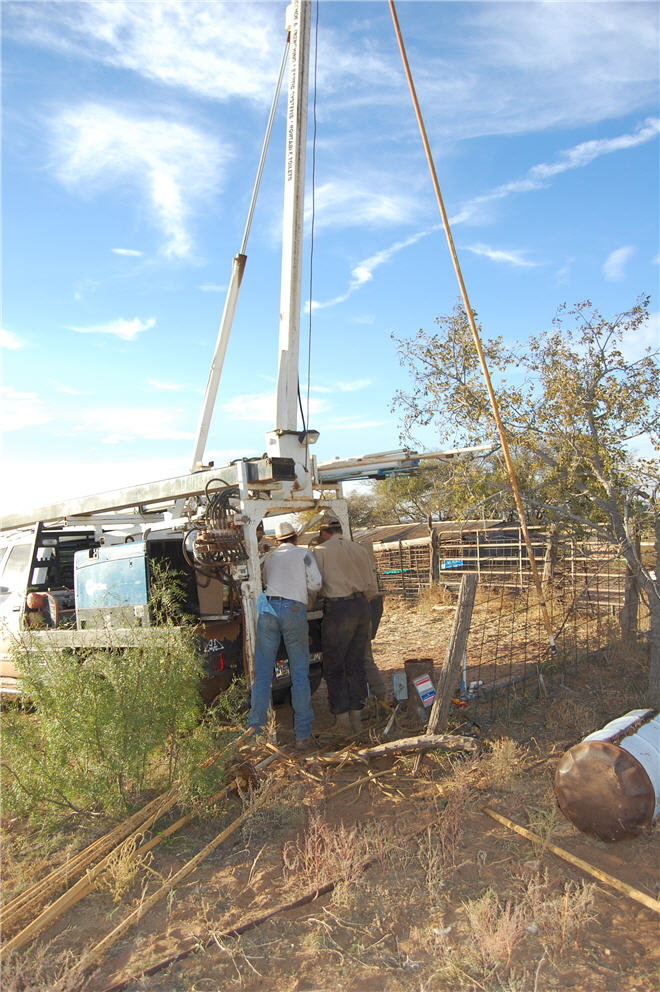 Nathan uses a well tester to find the water level and measure the depth.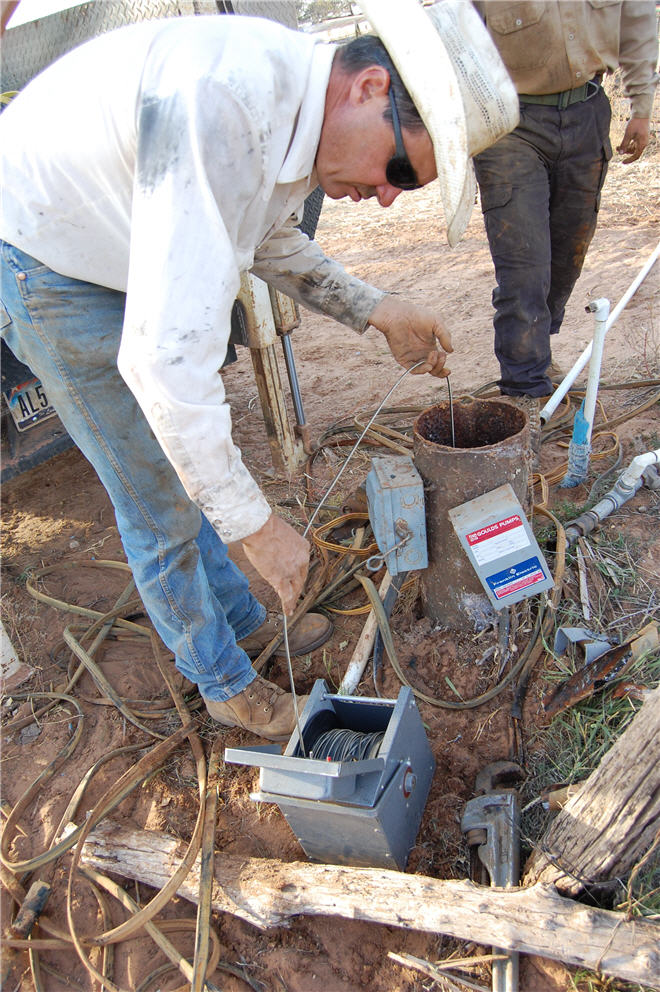 Tuesday, November 6 - Sad, Sad Election Day - We traveled to Tahoka tonight to have an election "party" at Sunny and Jim's house. Misty and Kevin were there, too. Before the results began to come in, Nathan and the boys pulled Jim's windmill to see why it wasn't pumping.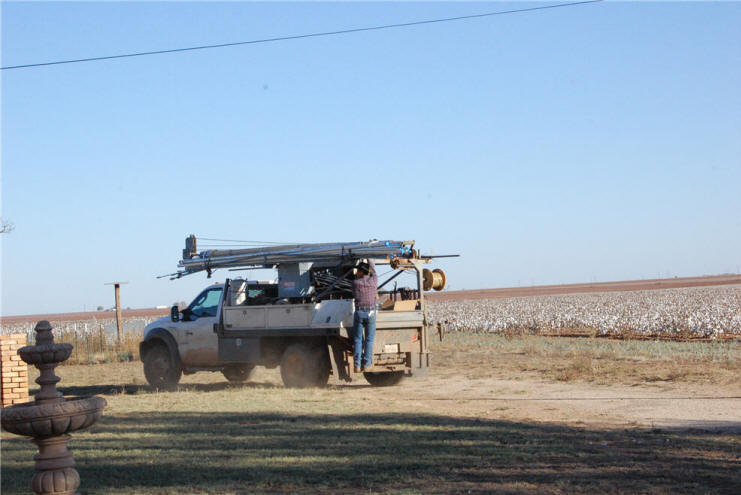 Happy onlookers: Hannah, Carolina and Stockton jump into this nearby tree.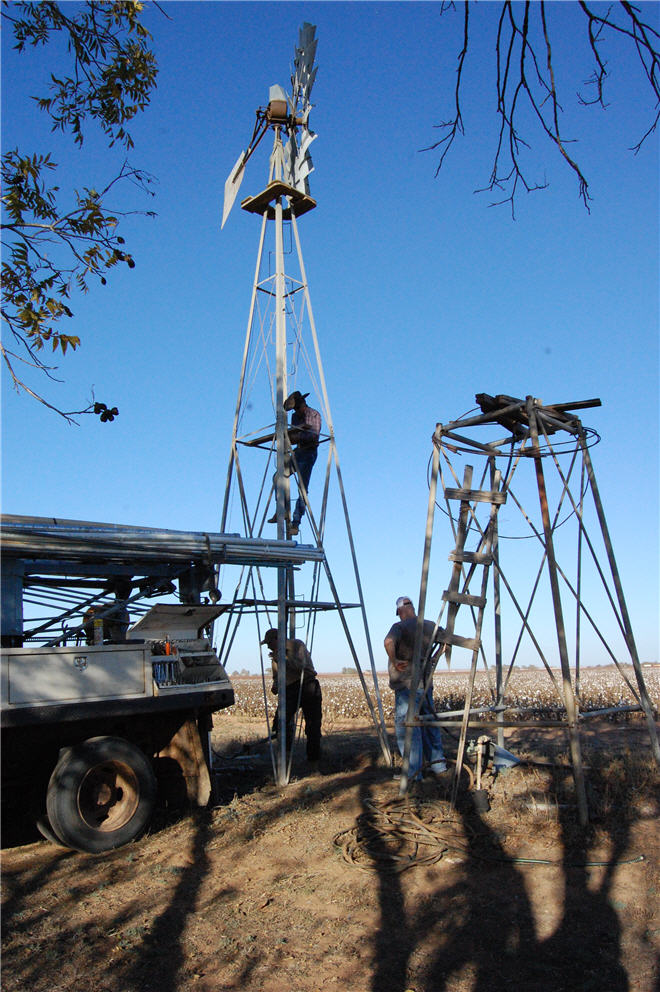 Cimarron welding, repairing a piece of the pulling unit.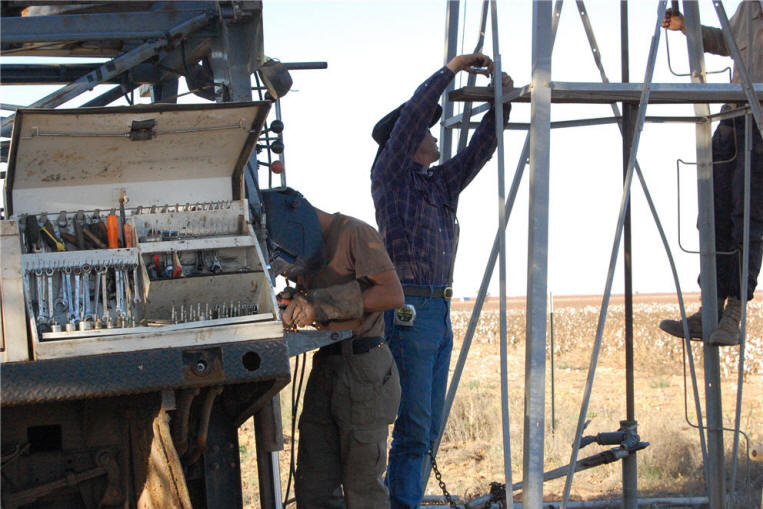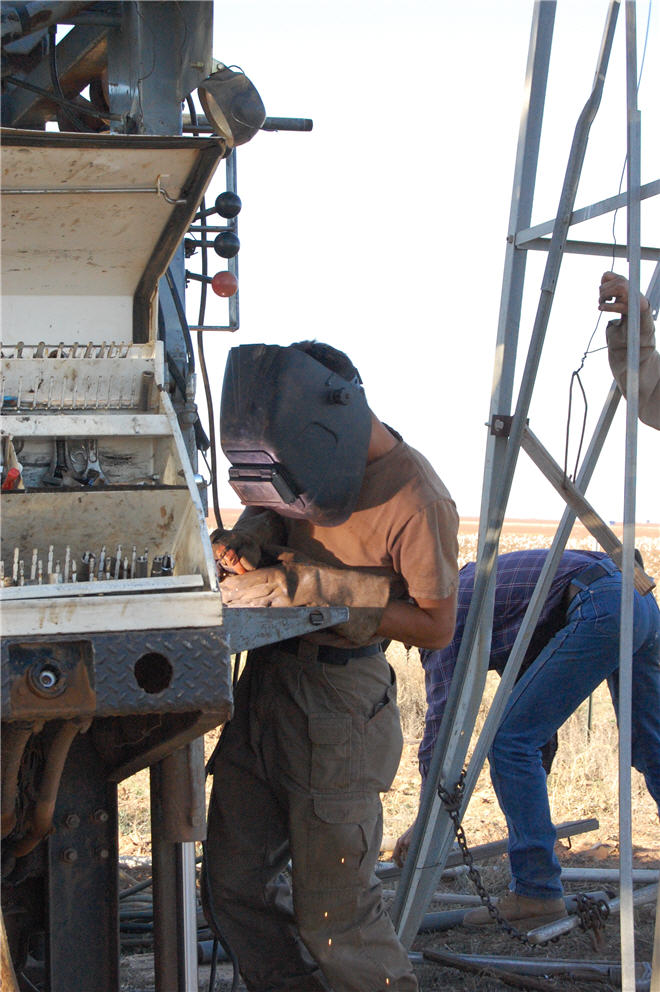 Unfortunately, they were unable to get him going. His well had collapsed.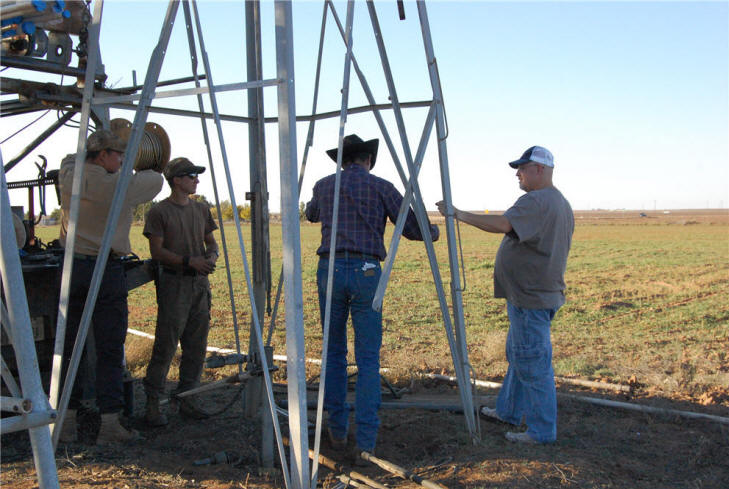 Sand hill crane over head.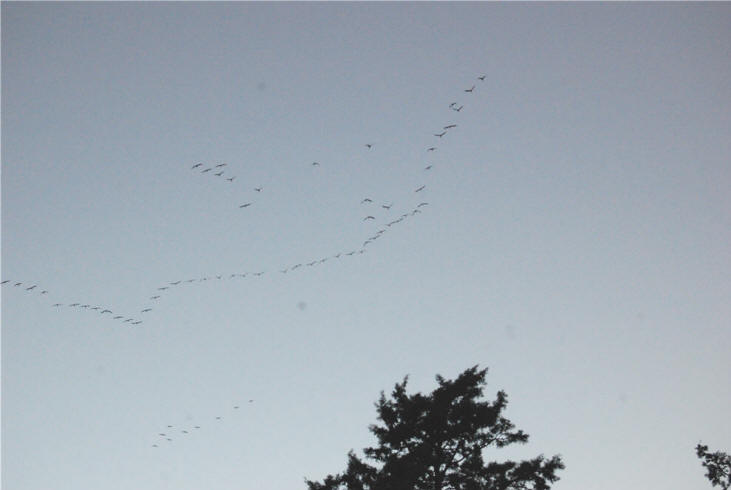 Carolina having fun with Hannah's stuff.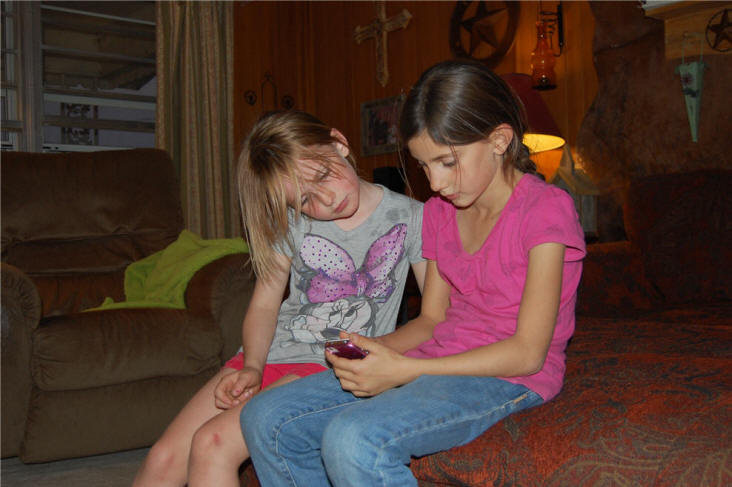 Sunday, November 4 - Bike Crash - Stockton and Carolina were having a friendly little bike race. I happened to be taking pictures and captured the whole thing.
The race is on down this slight hill in front of our house. Notice the basket on Carolina's bike. She's carrying Coconut along with her.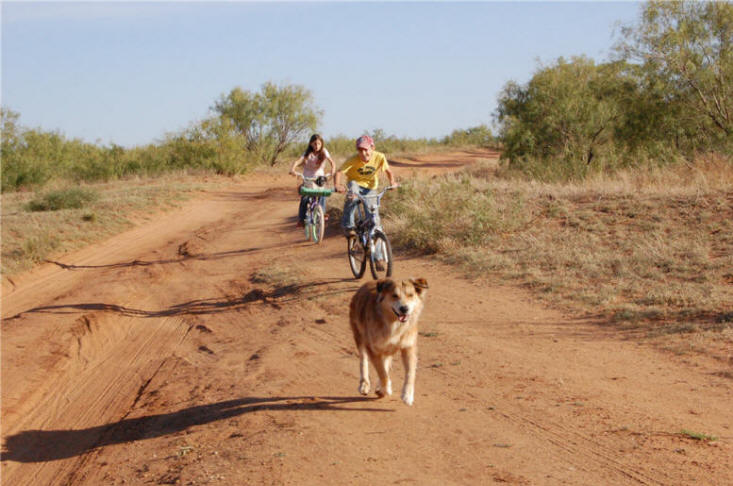 Coconut doesn't seem too worried. Stupid dog.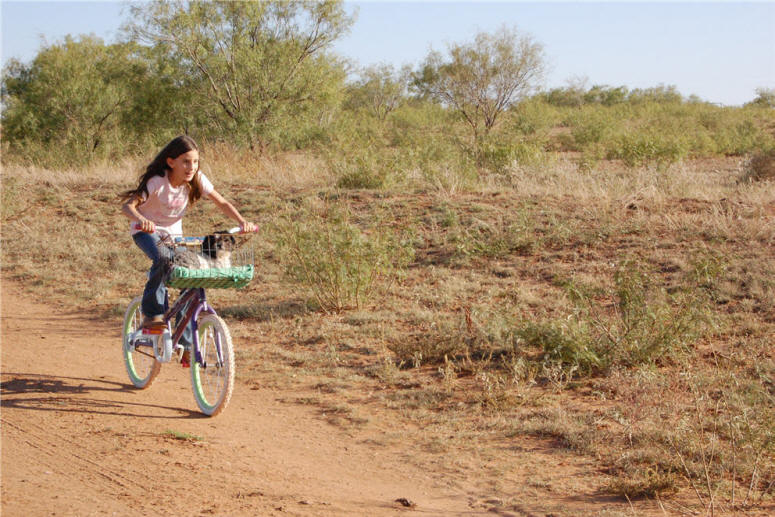 Carolina's really picking up speed now.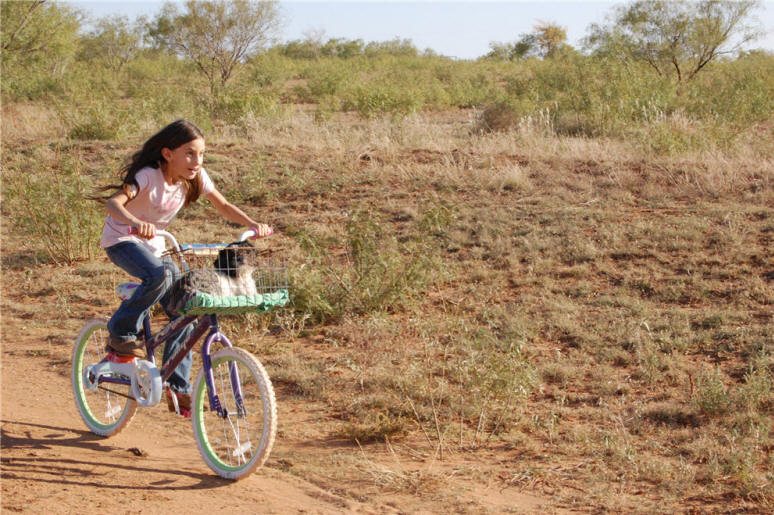 Oops! A patch of sand and a bump and coconut and the basket came flying off!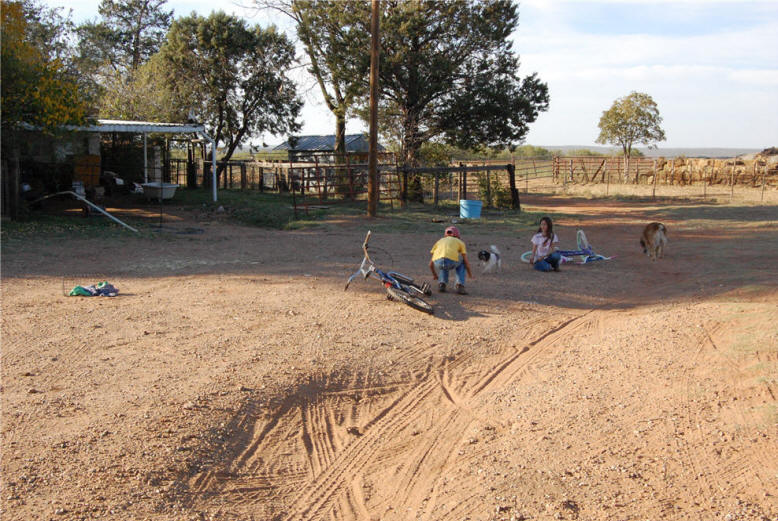 I helped Carolina get the basket wired on a little better and Coconut jumped right back in. Stupid dog.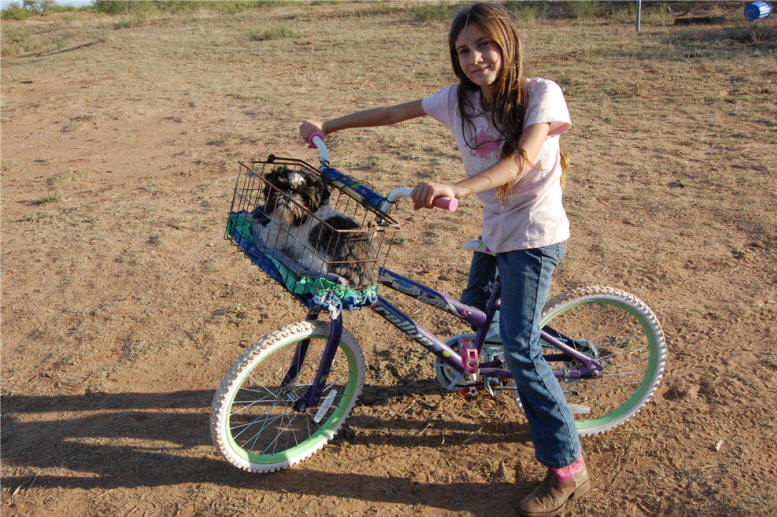 Saturday, November 3 - A Little Southern Ingenuity - We had the meat from the "Halloween heifer" in the coolers under salt and ice for a couple of days. Now it was time to freeze some and can some. We wished we had a way to grind some of it up. Granny had bought me a little hand grinder, but it was hard to keep it from getting stopped up. I remembered that I had a meat grinding attachment for my kitchen aid mixer that I hadn't ever used. (because I burned up my mixer using my wheat grinding attachment). Nathan and the boys put their cordless drill on it and it worked like gangbusters.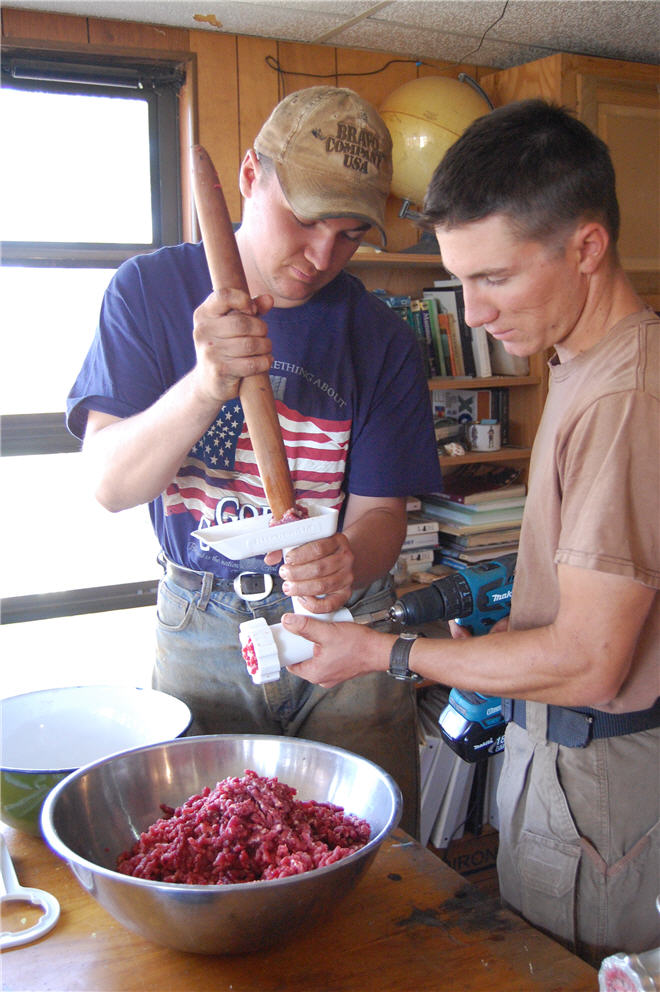 Shih Tzu Will Get You - Look at this innocent little face. She's just a little older than a year now. For a while, everything seemed fine between her and our older Shih Tzu, Gypsy. But for the last couple of months, they've been fighting like cats and...well...dogs.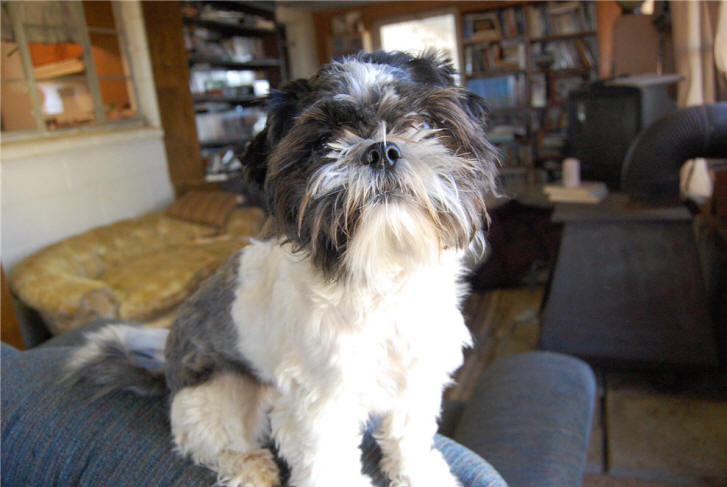 It always starts with what we call "the Evil Eye" from Gypsy. You can almost hear her thinking..."You want a piece of me?"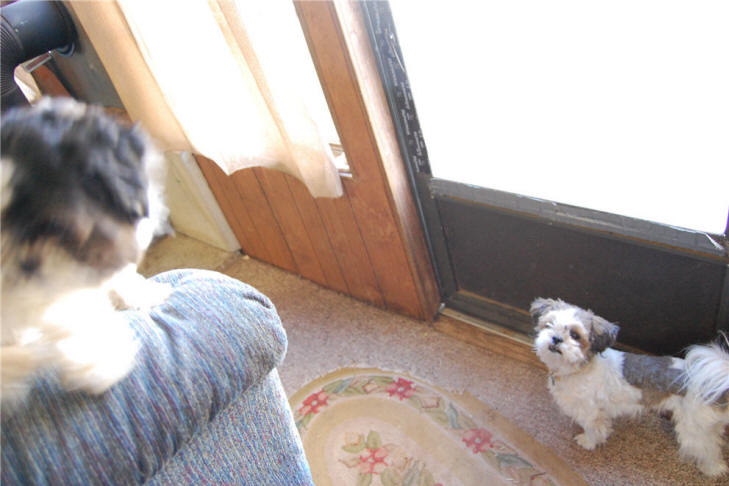 Then they circle around each other a while until one of them decides to make her move. Once they go at it, it's kind of hard to get them separated. I guess it's a territorial thing.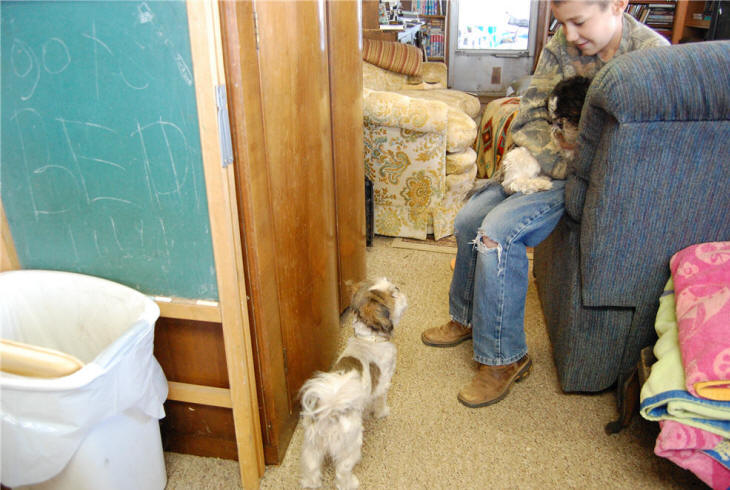 Stockton's moss rose decided to bloom again after the little frost we had.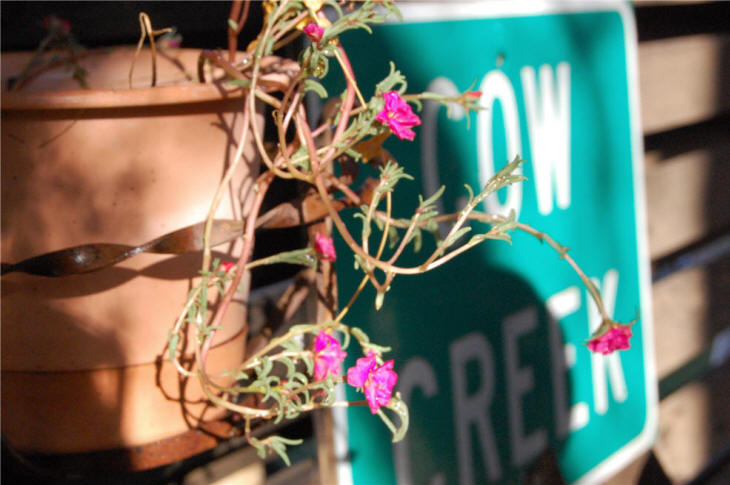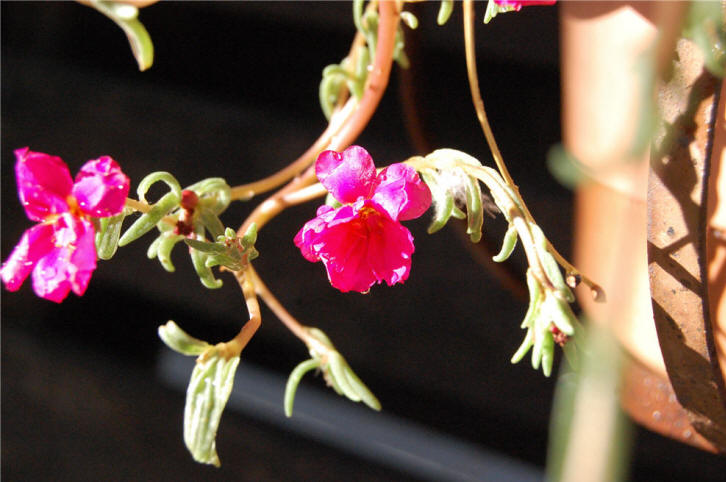 Check out our past news. Just click any link below: