Saturday, December 31 - New Year's Eve Party - We didn't have a chance to get together with the Phipps family during the Christmas holiday. But, happily, they invited us to come over to celebrate the new year. We had lots of yummy foods and exchanged a few gifts, too. The kids played games and even did a little dancing. It was really fun.
Cari and Venita Hall also came over. It was great to see them again. Below, Cari dances with Grant while Cim and Desarae go for a spin.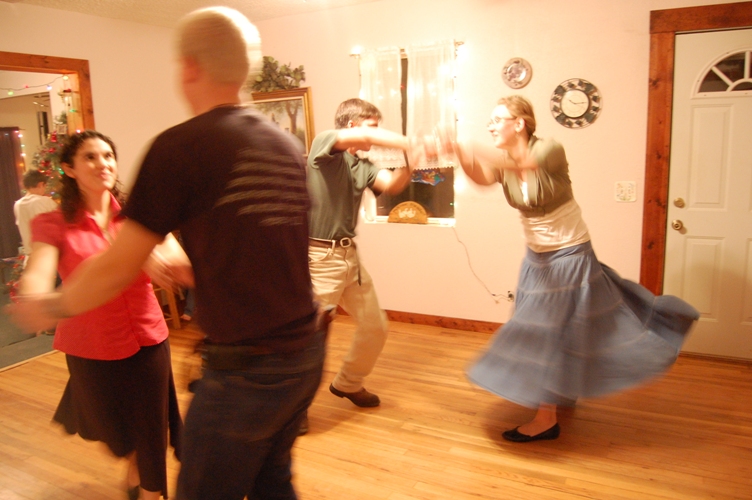 Aspen and Anthony are swing dancing so fast, the camera can't freeze the action.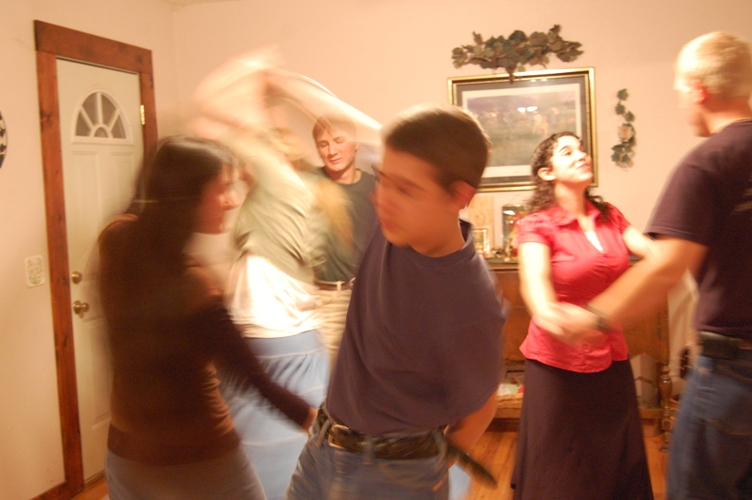 Carolina and Elaine were so glad to finally see each other again.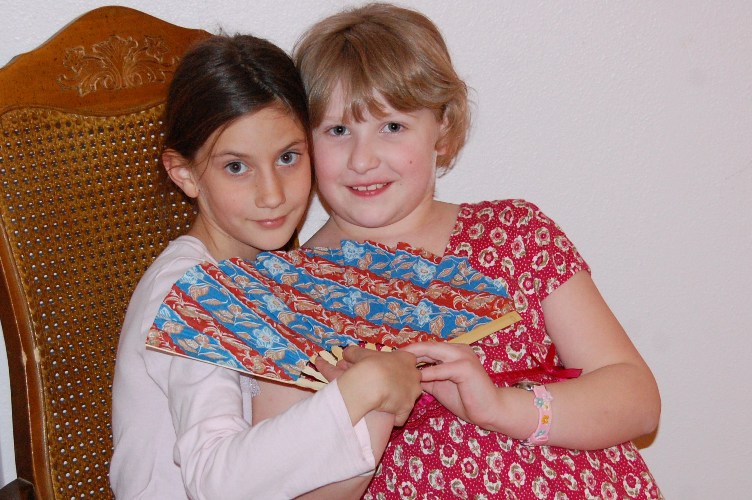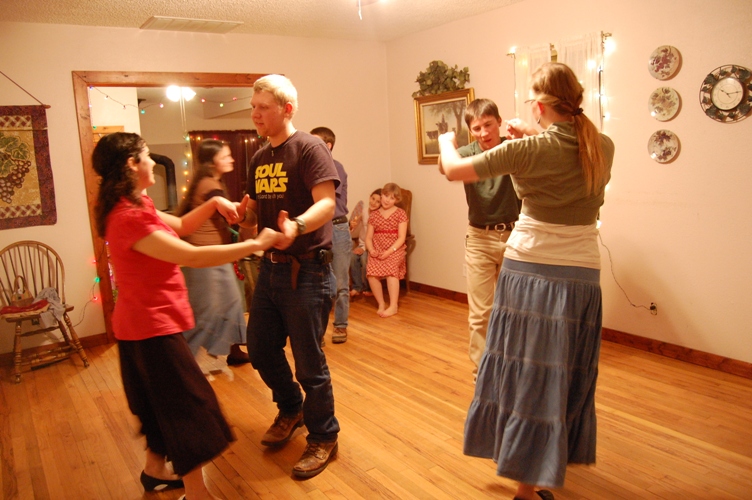 Thursday, December 29 - COUSINS! - Today we had a visit from Granny, Sunny and Hannah and my niece, Colby and her four kids. We don't get to see them very often, so this was a very special day.
Two-year-old, James, discovers he can get on the hay bales like the big kids.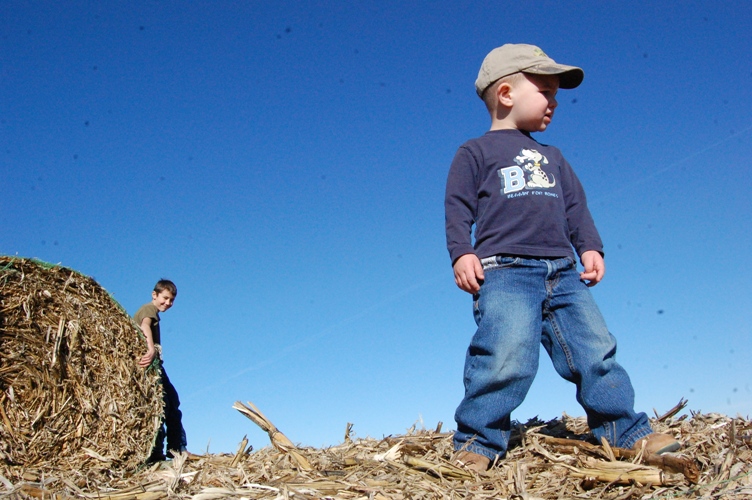 The whole gang: Hannah, Carly, Stockton, Carolina, Macy and James.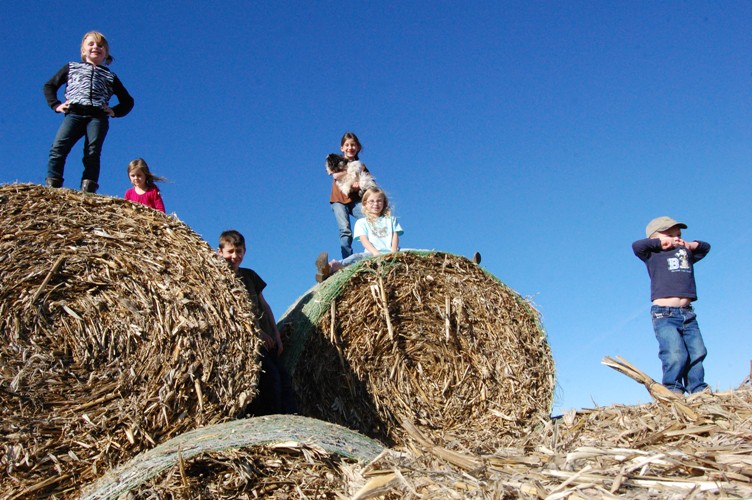 Ah Oh! James got stuck between two bales and needed some help.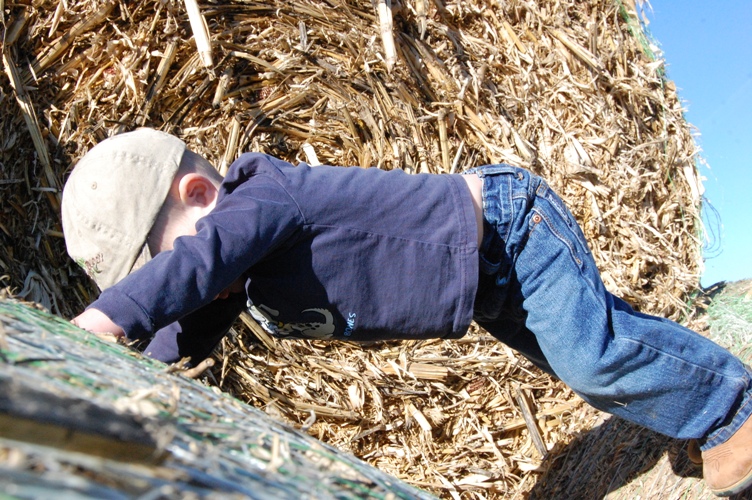 These are the hay bales that the kids are having so much fun playing on. The weather was warm and still which made it a perfect day to play outside.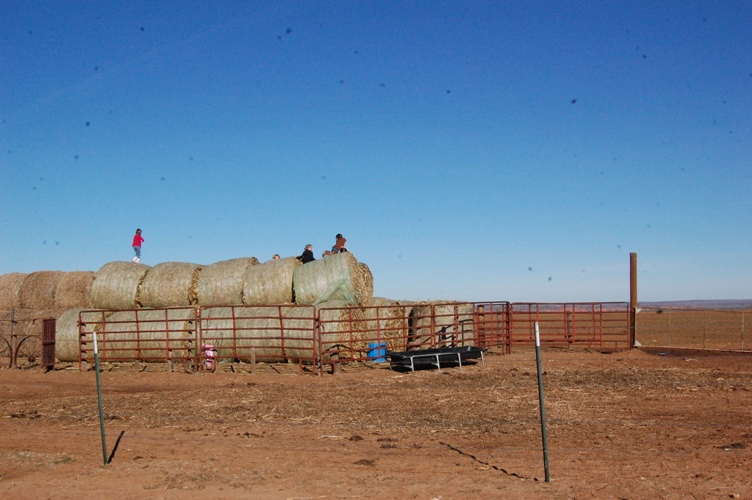 The only little cousin not pictured on the hay bales was Blaine. He's the newest cousin and is shown here taking a ride on his mom. Everyone decided to take a walk since it was so pretty outside.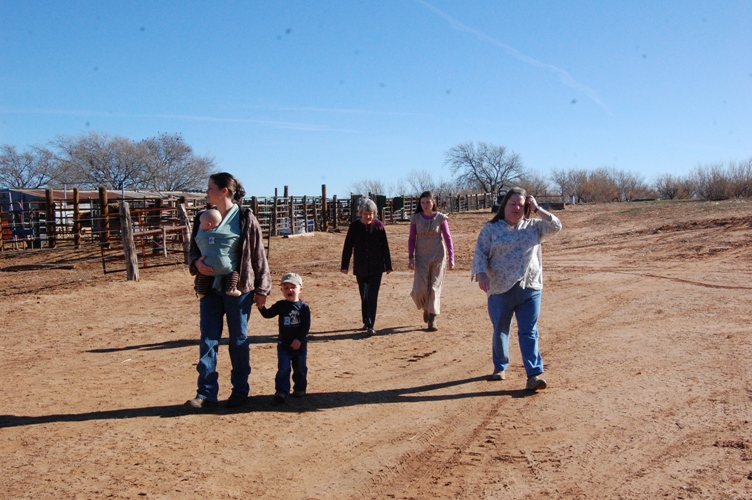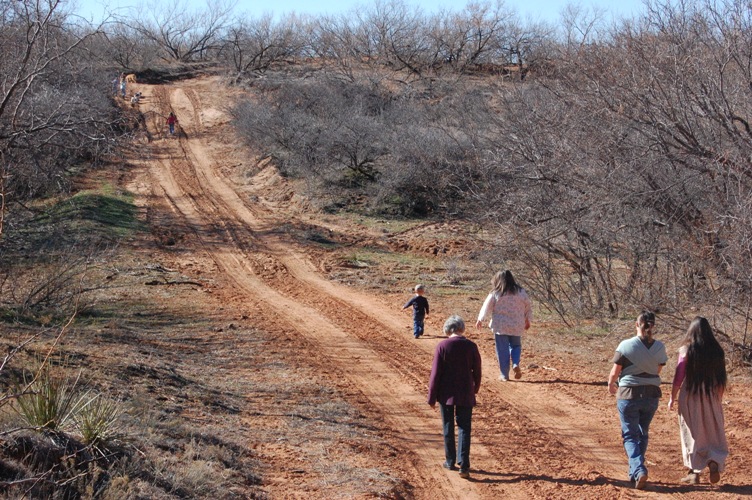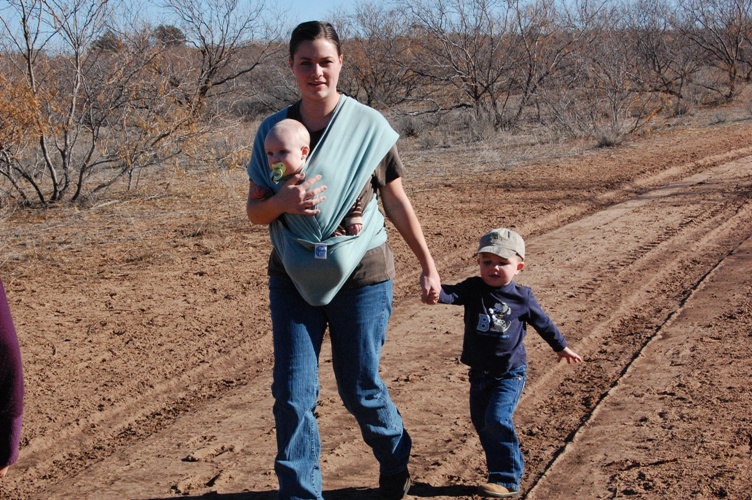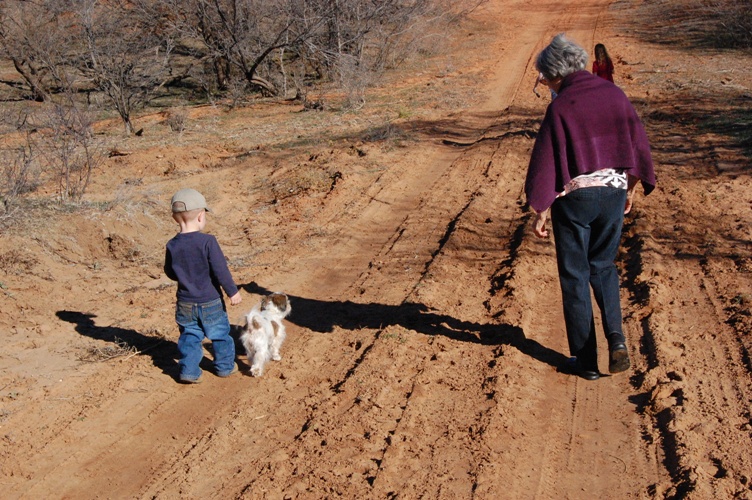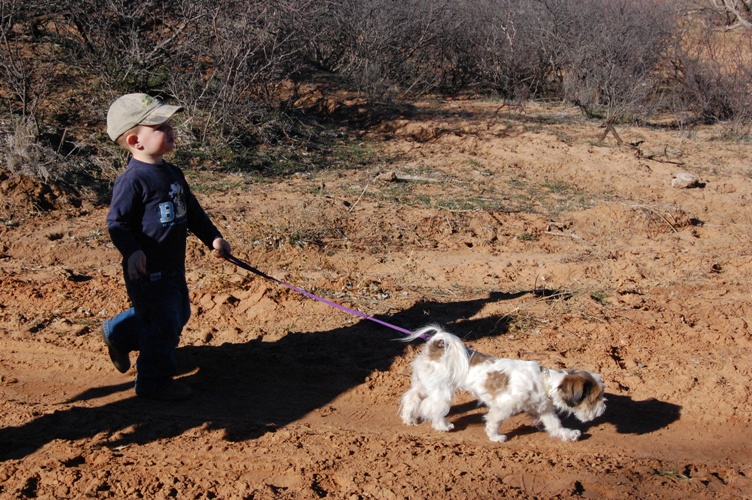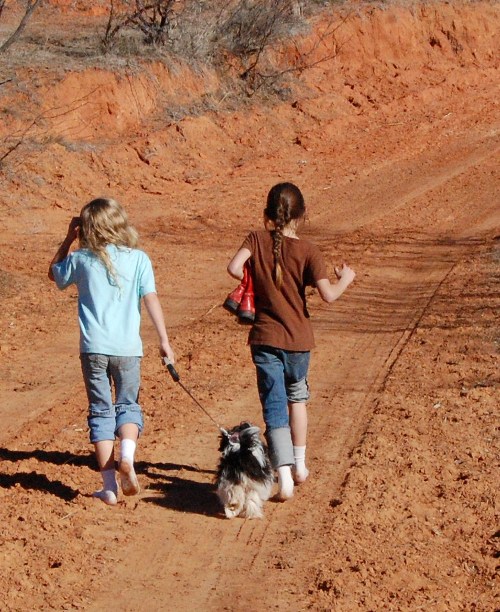 Aspen adopted a rabbit that Colby was giving away. Meet Bella.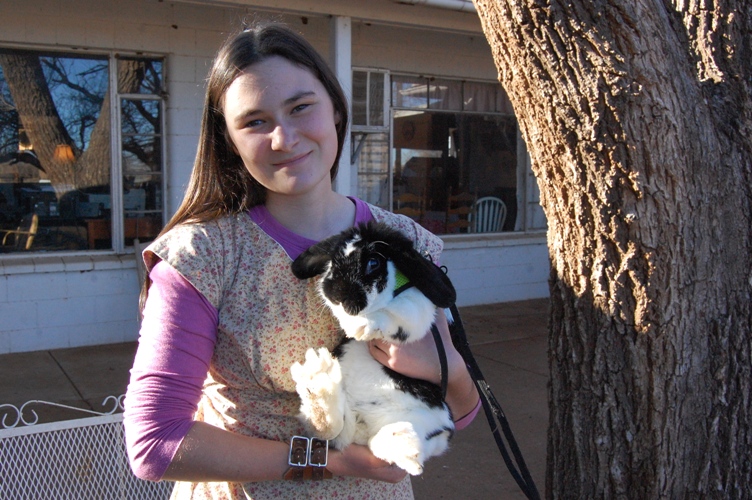 Wednesday, December 28 - Pink and Purple Sky - Thought you would enjoy this picture of the northwestern sky that I took this evening.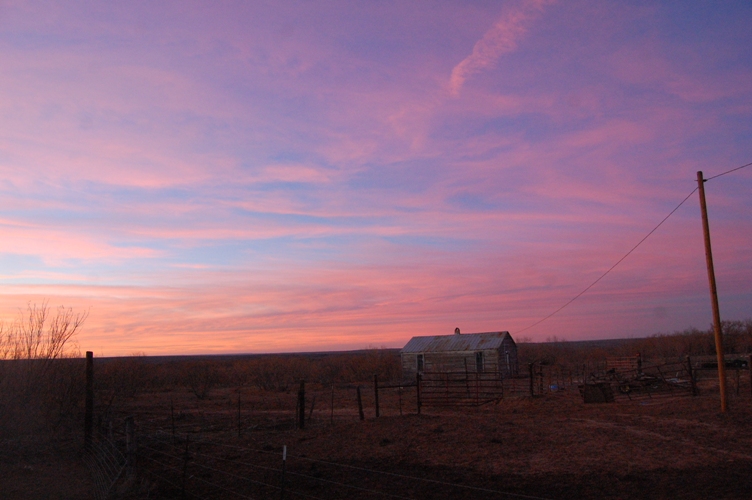 Monday, December 26 - Christmas Isn't Over Yet - Today was the day that everyone on the Rainey side of the family could get together. Again this year, Misty and Kevin hosted the event.
We take the back roads to get to Misty's house in Wilson. This view somewhere south of Ralls between the little town of Caprock and the intersection of FM 211 is vast and colorful.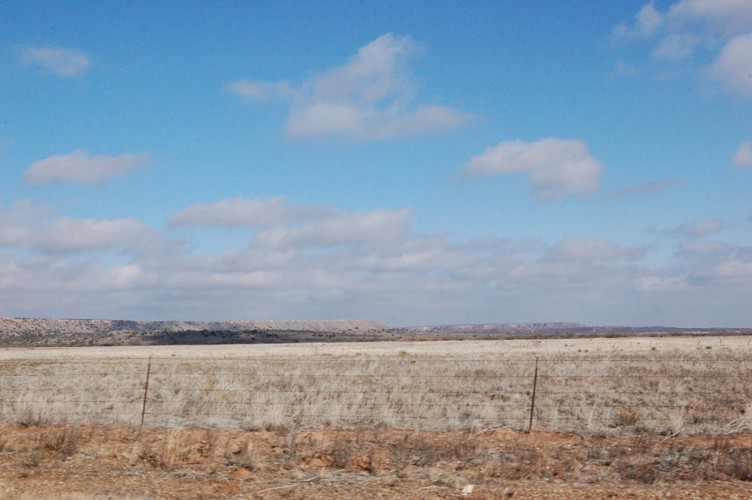 We couldn't wait to get our hands on little Blaine. This latest baby of Colby and Waylon's hadn't been seen by any of the Shannons. He's 5 months old already. Atlanta, Cim and Laredo still haven't seen him. They left this morning to go back down to Callahan county and work on finishing up the mowing that has been so long delayed by wet weather.
Aspen gets first dibs on baby Blaine.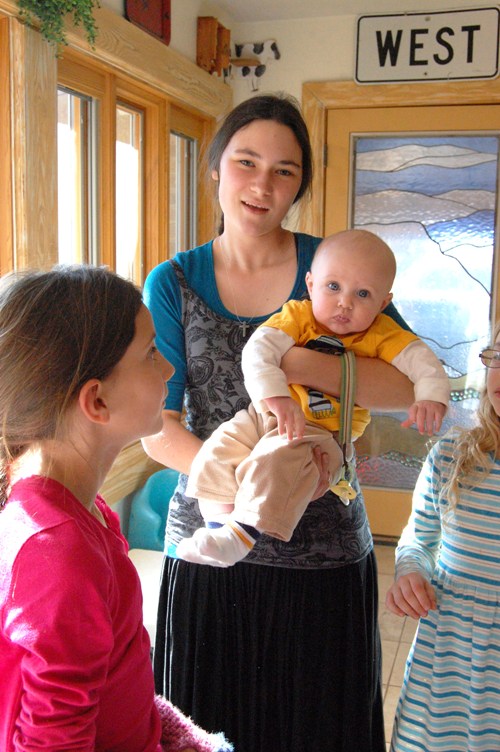 Proud big sis, Macy.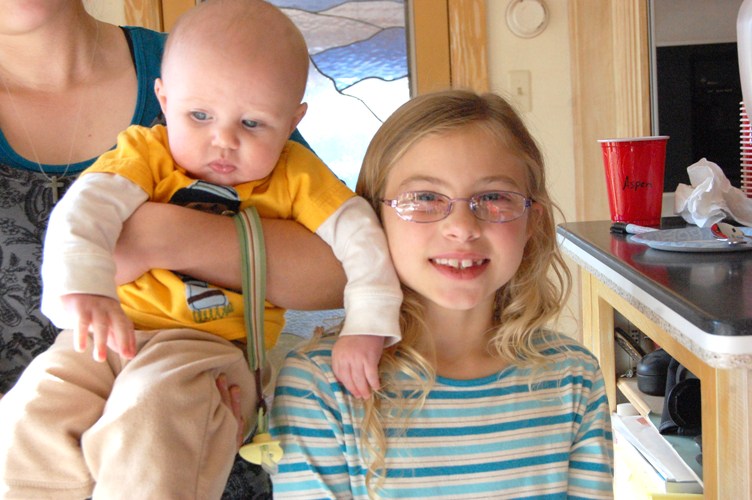 Sunny puts the finishing touches on one of her dishes. All type of finger foods were on the menu for the day.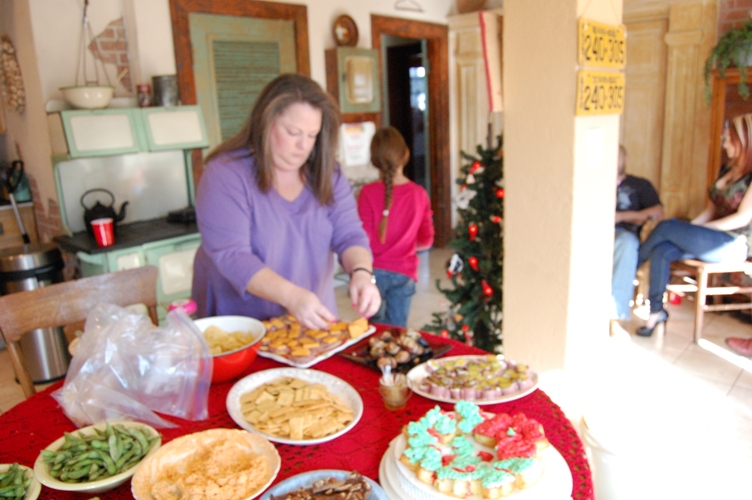 Pretty Colby and her pretty babies.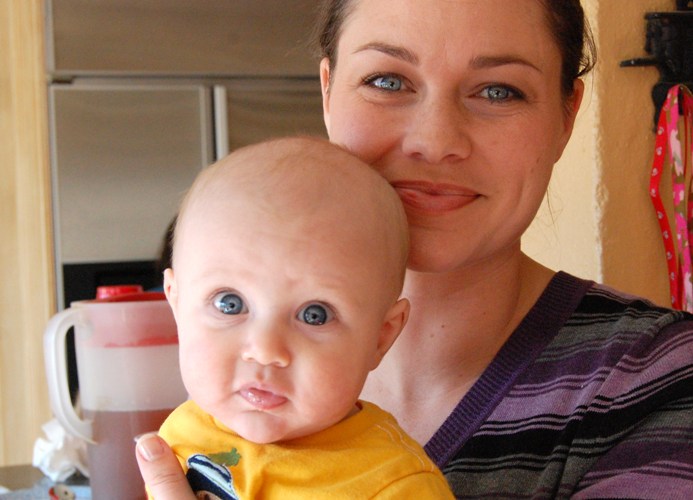 The stairs are always the big attraction at Misty's house. Here some of the cousins gather for a pose. James, Blaine, Macy, Carly, Carolina and Stockton.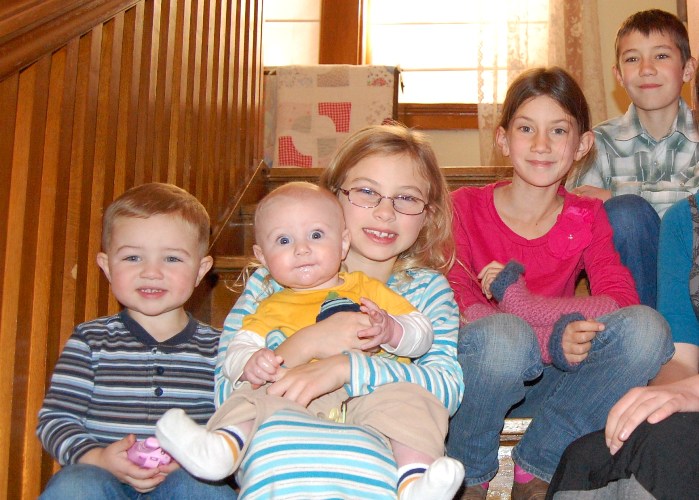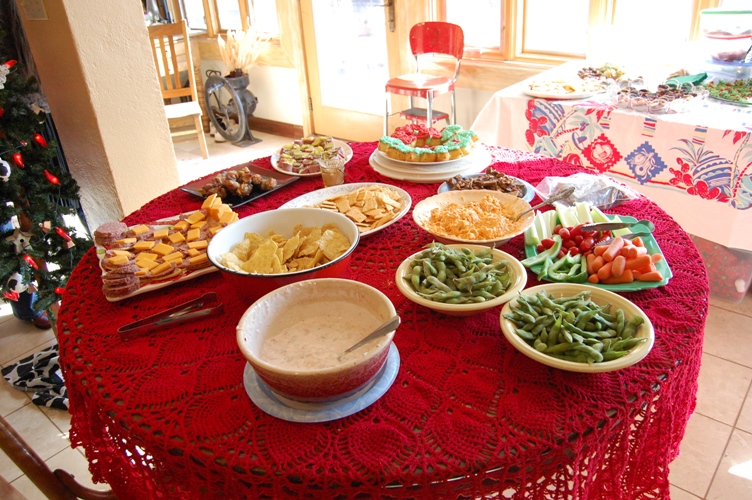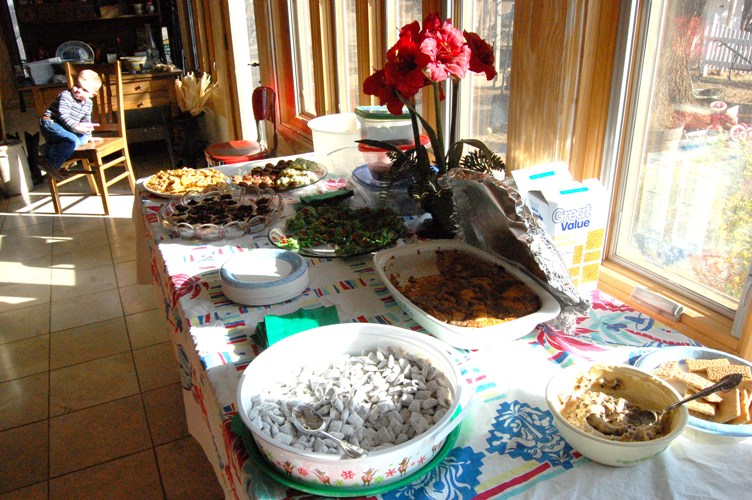 Granny and Carolina look very Christmasy.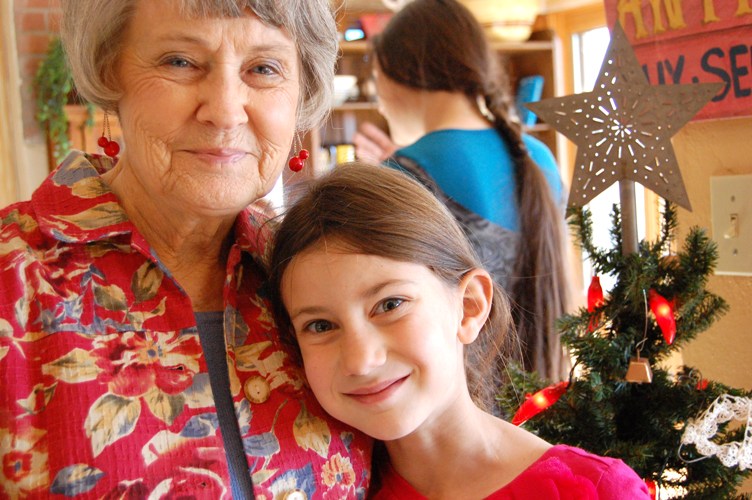 James is at such a cute stage right now.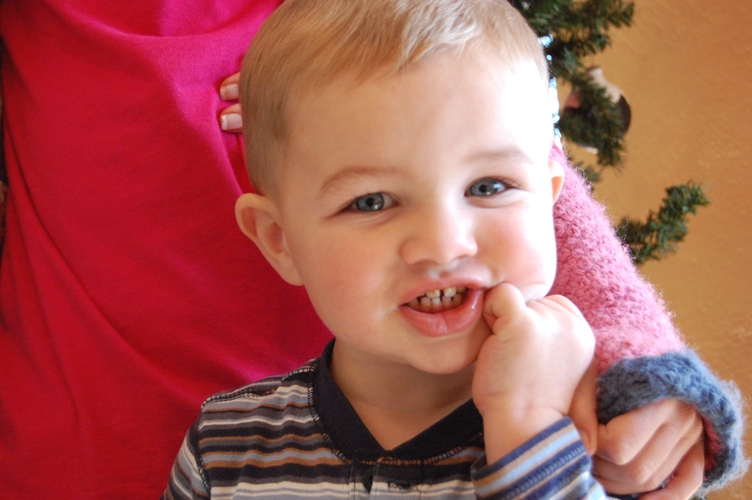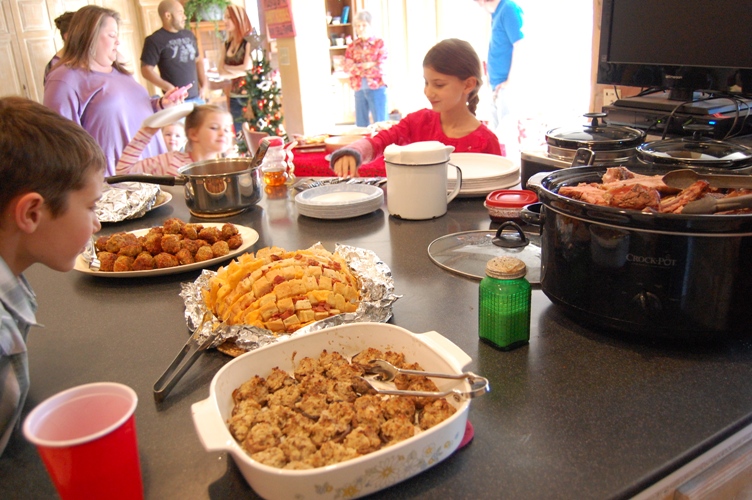 Macy sang Rudolph, then (not to be outdone) James launched into his version of Jingle Bells.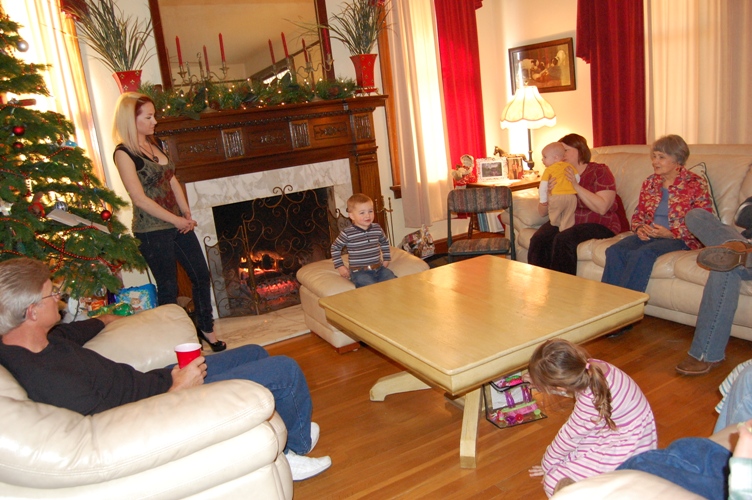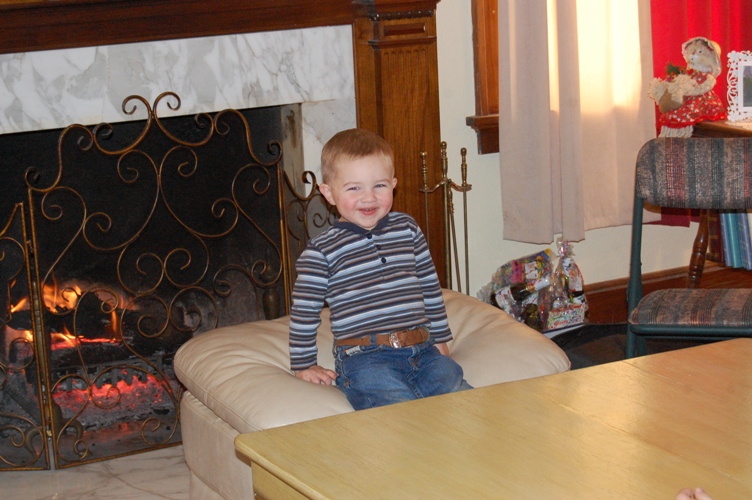 When everyone clapped, he got shy.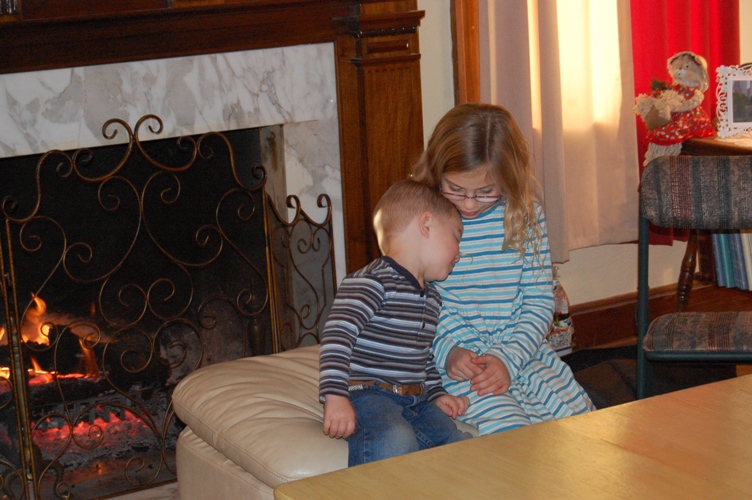 Hannah and Carolina sang, too.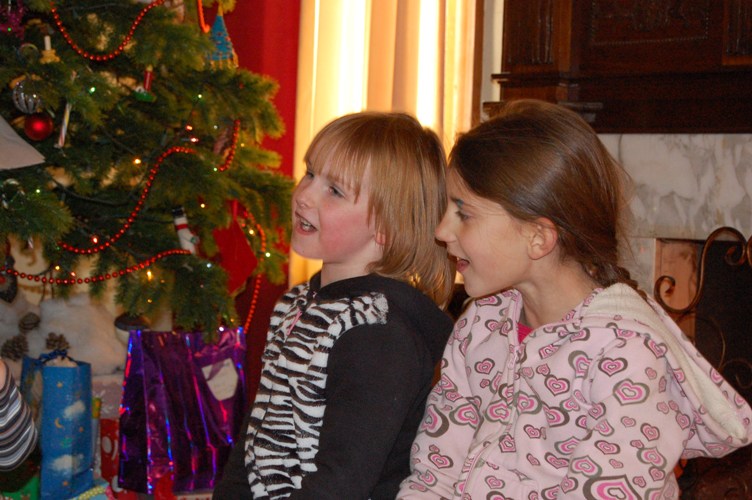 James opens his gift with a little help from Granny.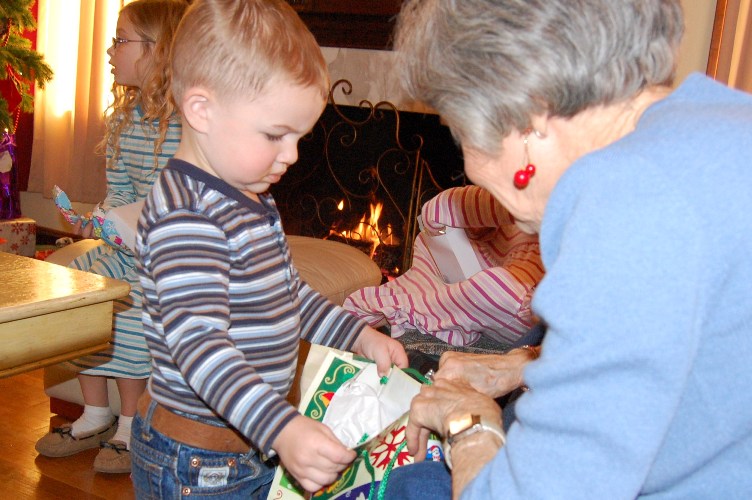 Lora shows off her crocheted fingerless gloves from Atlanta. (made by Desarae Phipps!)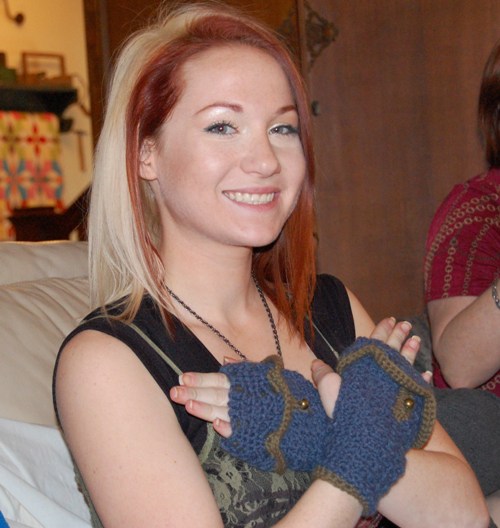 It was all just too much for some people.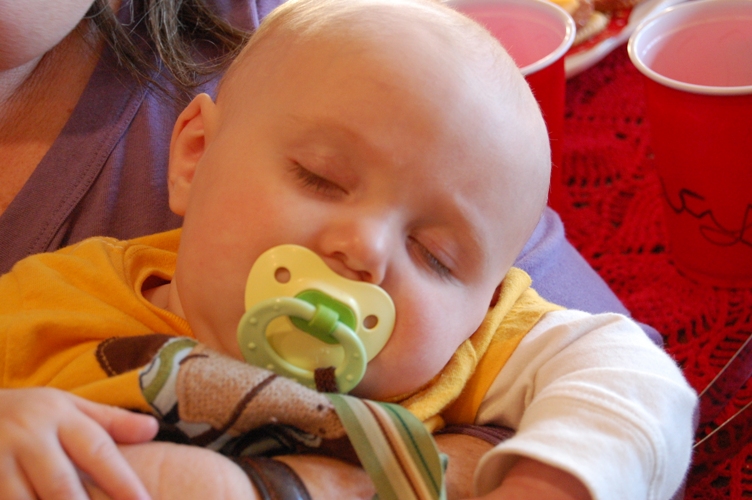 Sunday, December 25 - Christmas Morning! - A lovely blanket of snow awaited us outside this morning. It was the perfect backdrop for Christmas day.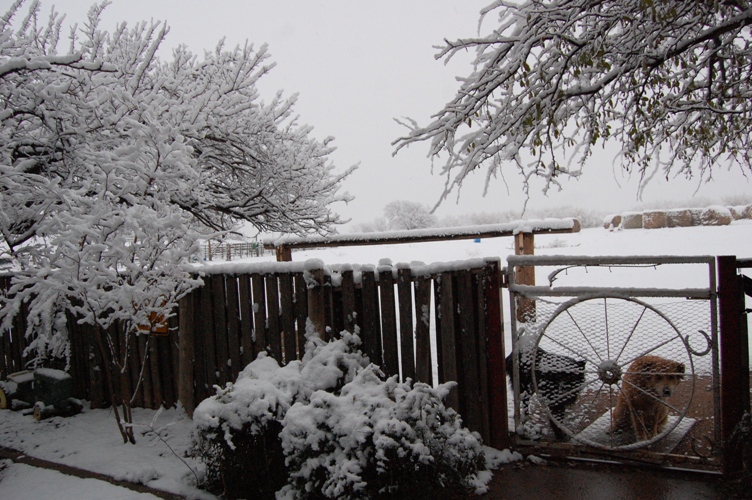 Merry Christmas from the Shannons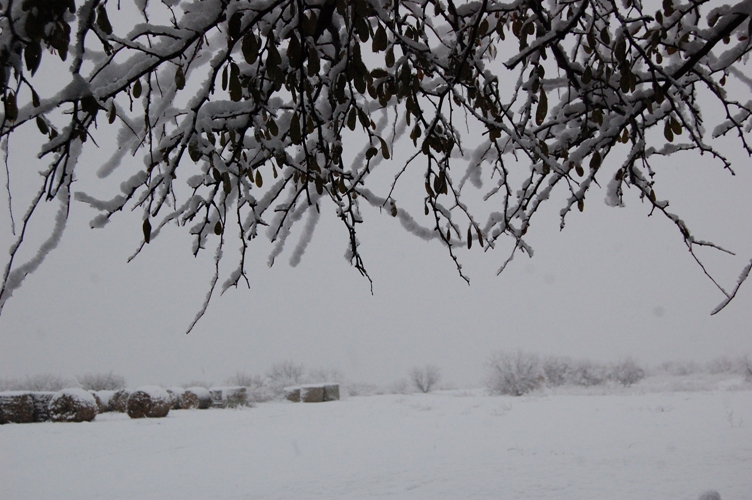 Saturday, December 24 - Christmas Eve - Things are getting pretty exciting around here as Stockton and Carolina get ready for the big day. The kids exchange a few gifts among themselves.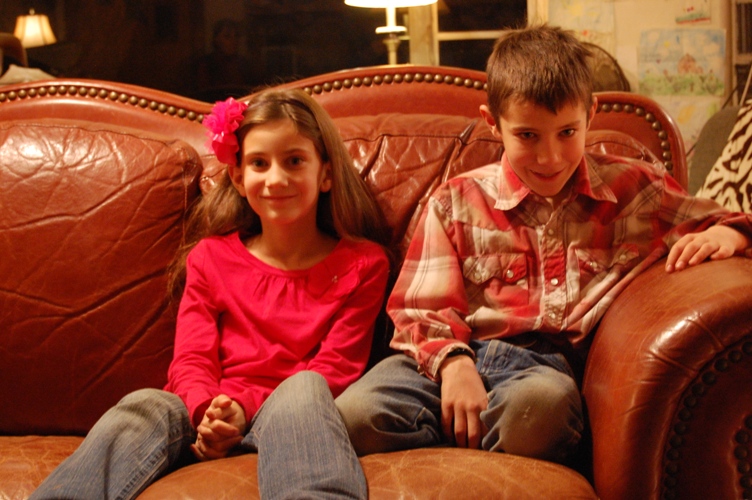 New Hank the Cow Dog books and t-shirts!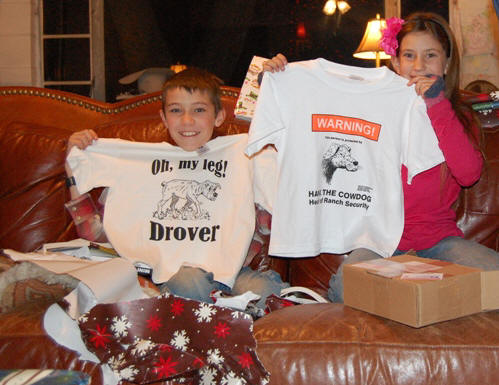 I don't have many snapshots because I was taking video during Christmas eve and Christmas morning instead.
Earlier in the day. . .
Carolina shakes Milo's hand. He's going to go home with Mambo after the holidays.
Group shot: Aspen, Atlanta, Cim, Carolina, Jake, Laredo and Stockton.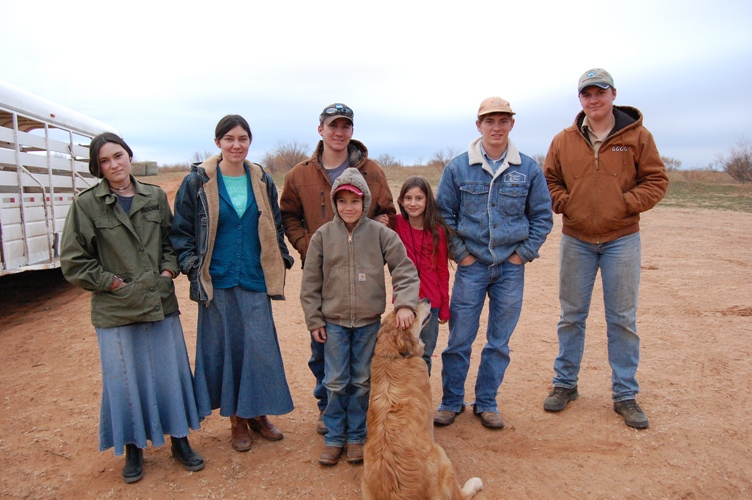 Nathan's little brother, Jake, drove down from New Deal and spent the day with us.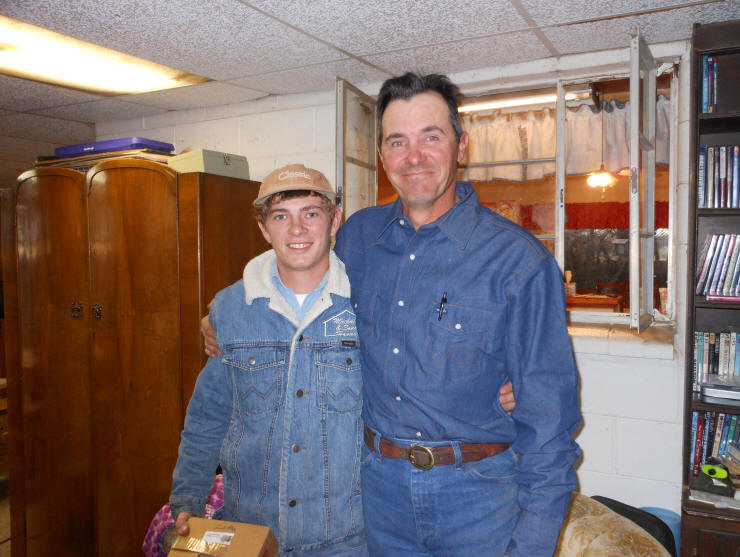 Friday, December 23 - Opening Mambo's Gifts - It was time. Neither Mambo or the kids could wait any longer. Deep inside two large trunks awaited many and various gifts for Stockton and Carolina. Everyone else had the usual wrapping.
Star Wars legos, Stockton's first item, was a great hit.
Next Aspen opened a beautiful wall cross.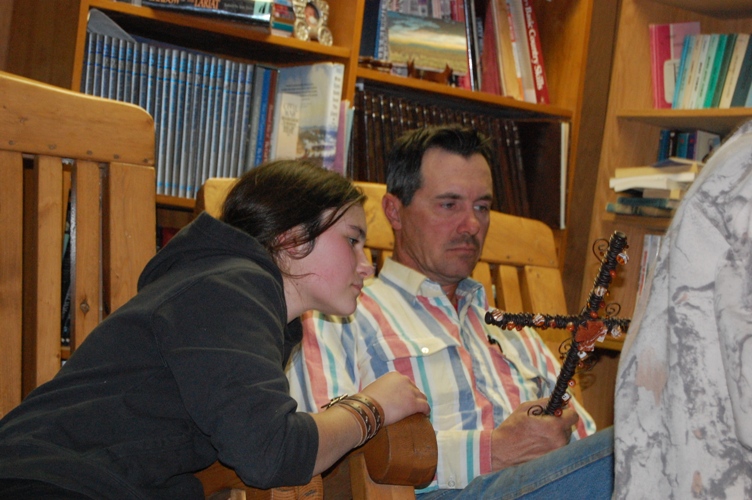 Stockton gets his own coffee table book.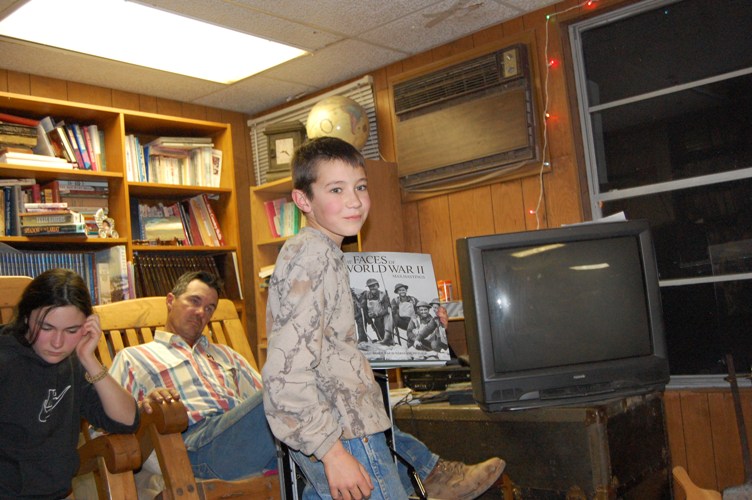 Carolina's many treasures awaiting inside her purple trunk.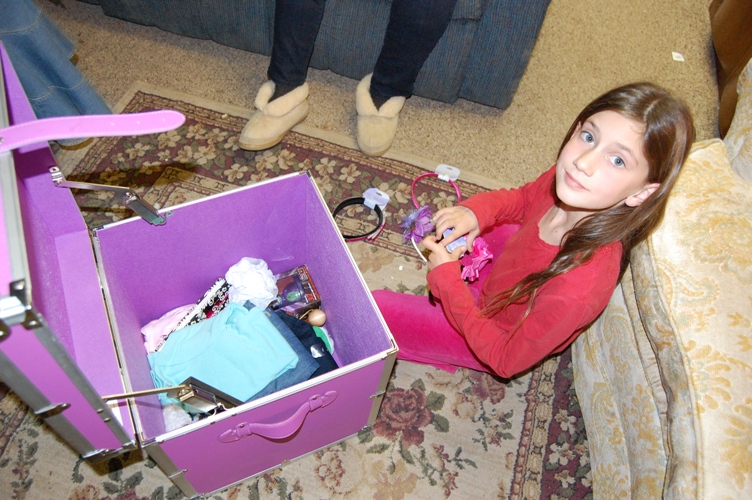 Wow, lots of new hair bows!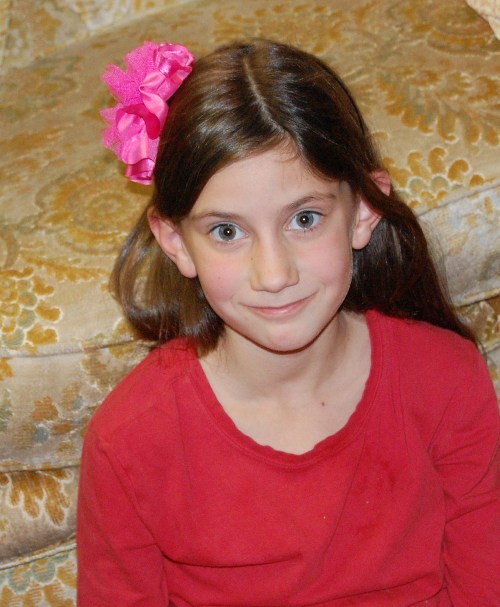 Coconut likes the trunk, too.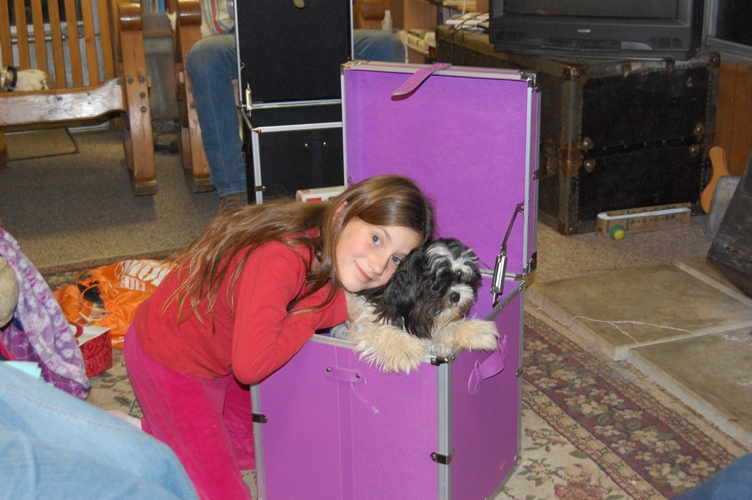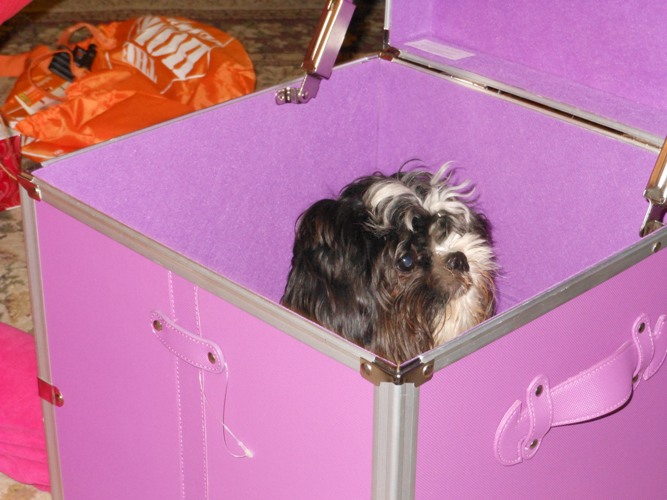 Aspen loves her new t-shirt.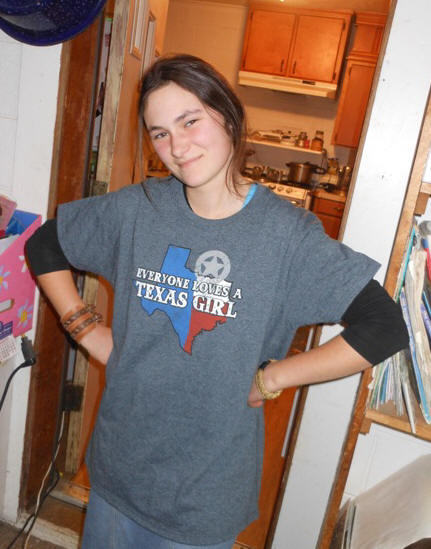 Gypsy goes wild with excitement.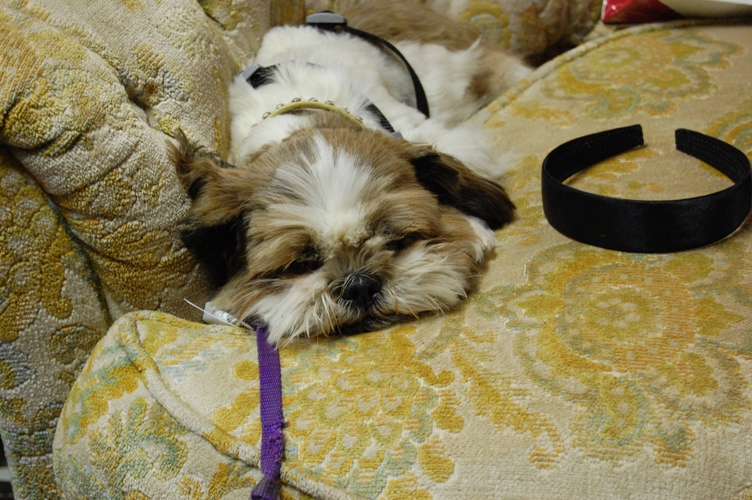 Atlanta keeps sewing on new reenactment shirts for Cim and Laredo to be given tomorrow night.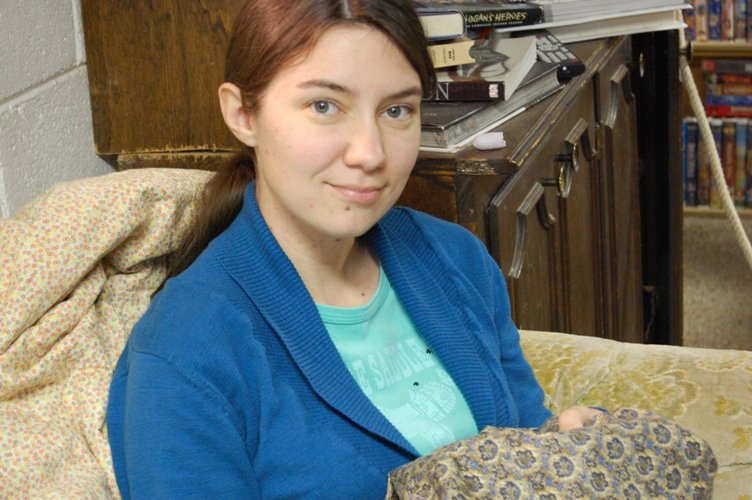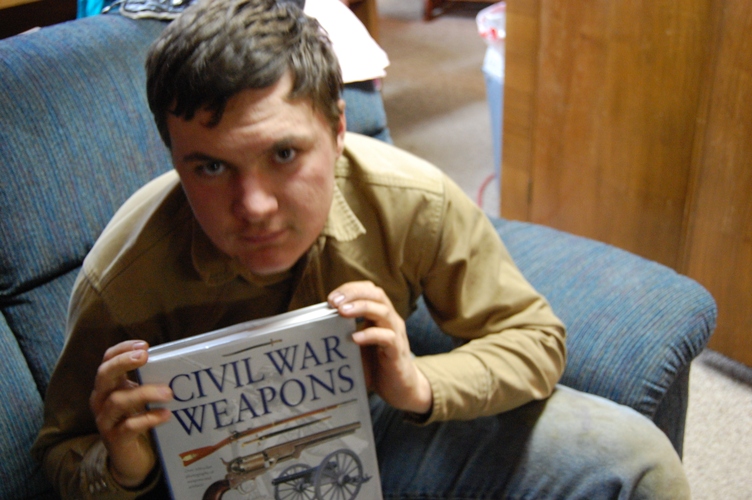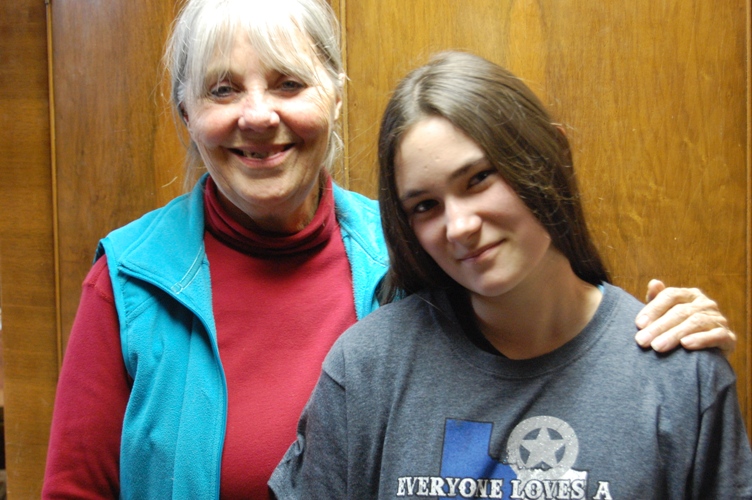 Okay, Rusty, you can come in for just a minute.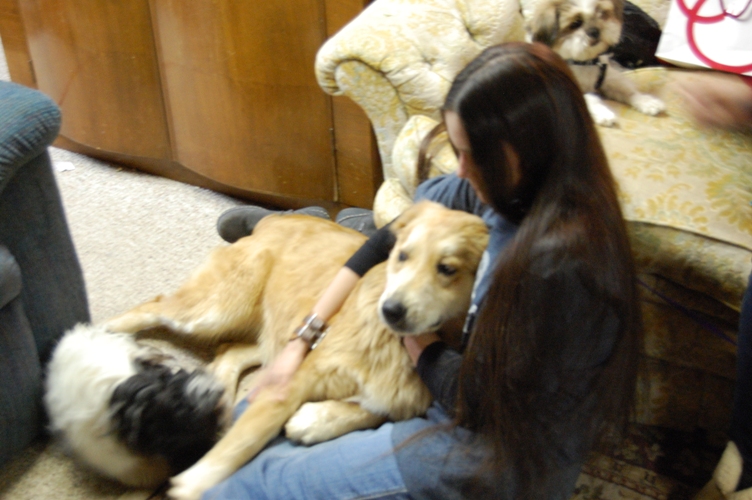 You knew this was going to happen, didn't you?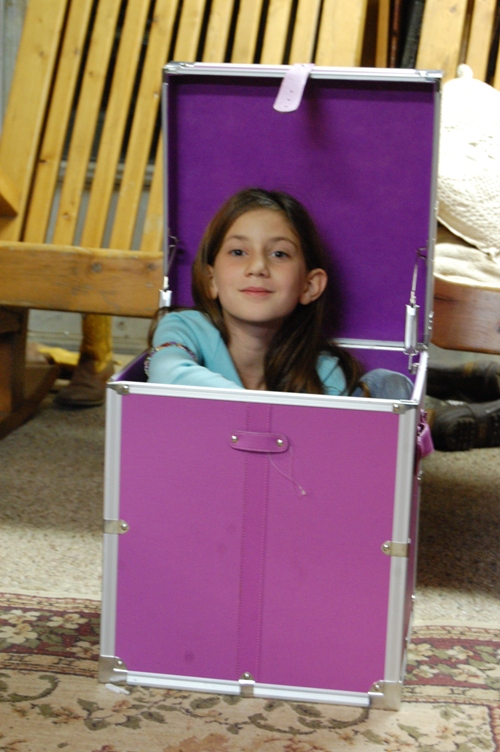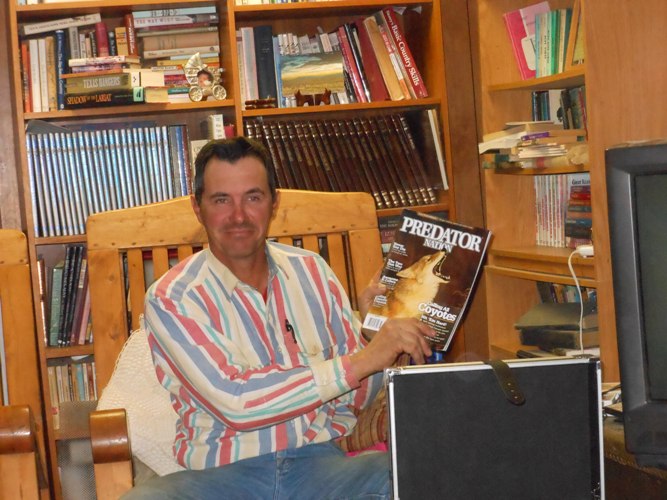 Mambo spared no expense on Windy's gift wrapping.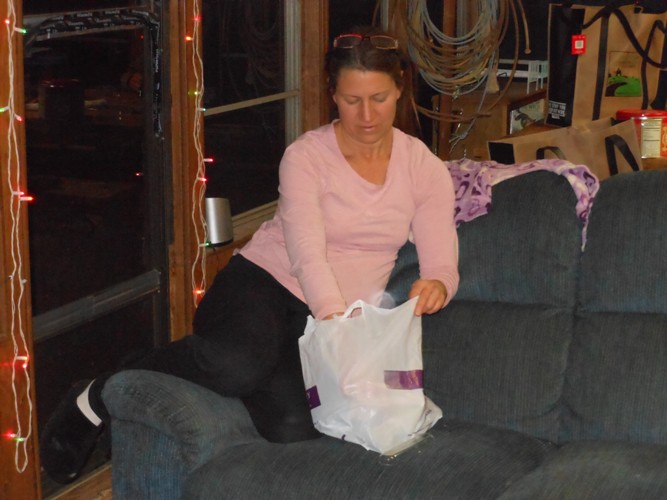 Afternoon Hunting Trip - Earlier in the day, Mambo and a few of the guys went hunting.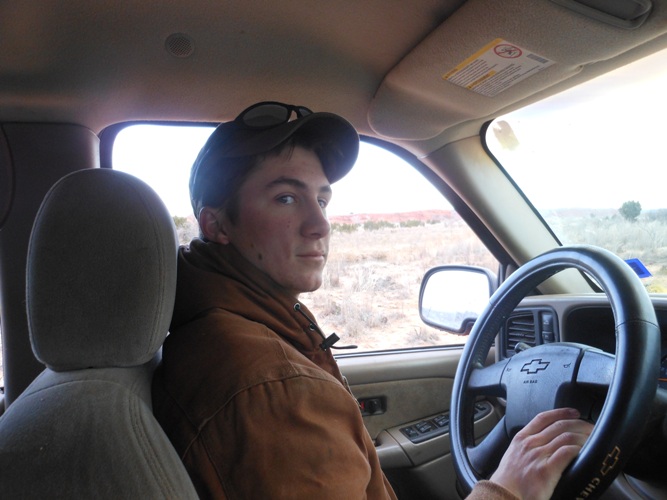 They didn't get anything, but enjoyed getting out in the crisp air. Stockton keeps up despite his heavy load.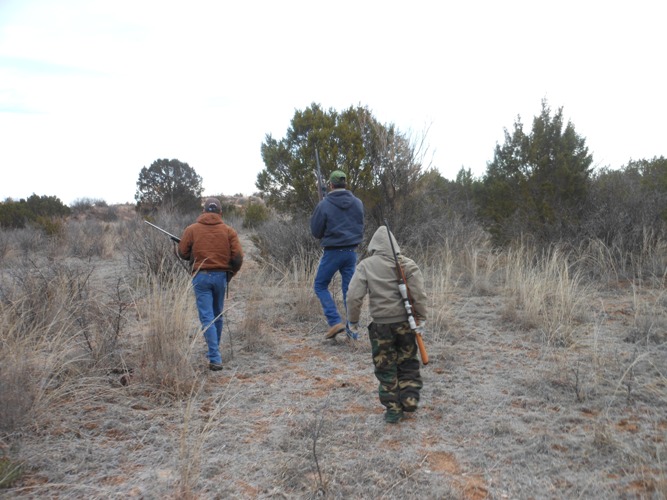 Thursday, December 22 - New Game - Mambo brought the kids a new game which proved to be very captivating. It's called The Settlers of Catan. They spent many hours playing this week.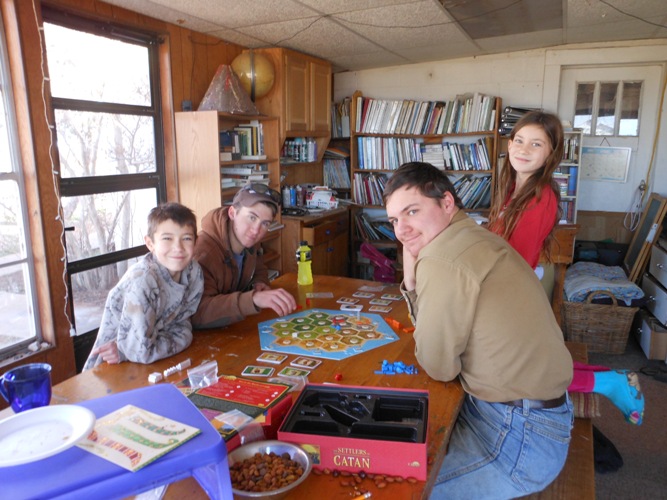 Carolina just hanging out.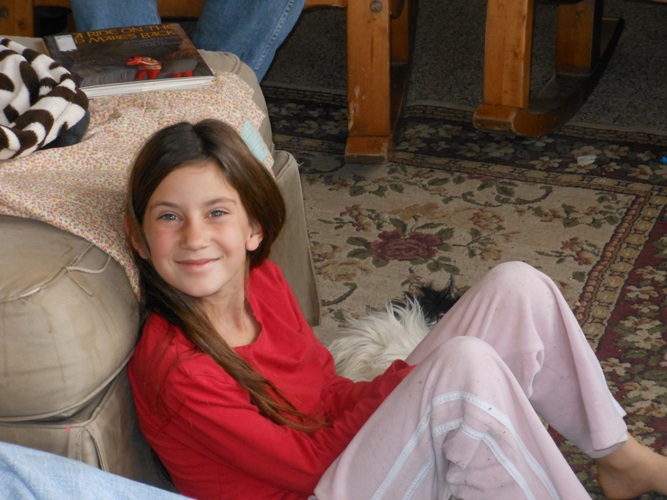 Tuesday, December 20 - Farewell Dinner - Tomorrow is the day that Jordan and Daniel will go back to Tennessee. So tonight is a special send off meal. Fried venison backstrap, potatoes, gravy, broccoli and cauliflower with cheese sauce, biscuits and grapes. Dessert was blackberry cobbler.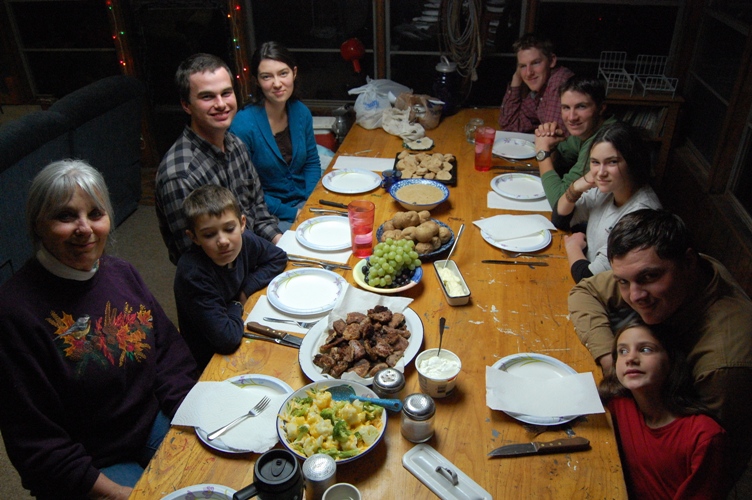 Monday, December 19 - Checking Out the Christmas Tree - Carolina and Stockton keep rearranging the ornaments. I can remember doing the same thing when I was little. Sunny and I would come in from school, check to see if there were any new gifts, and then proceed to sort and arrange them biggest to littlest, then heaviest to lightest, etc.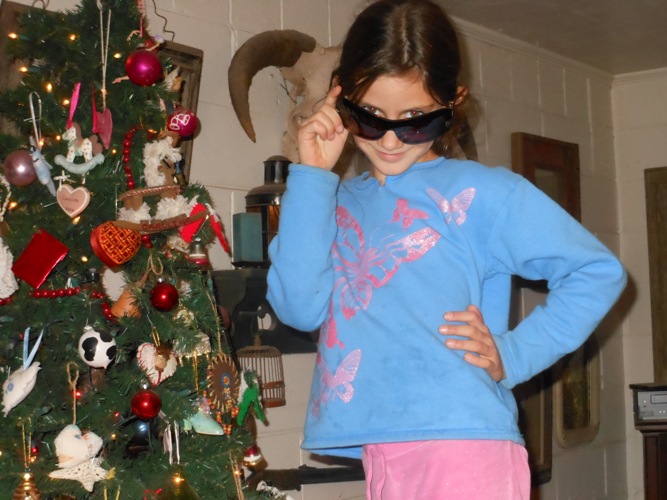 A walk out onto the wheat field reveals layers of color with low hanging clouds.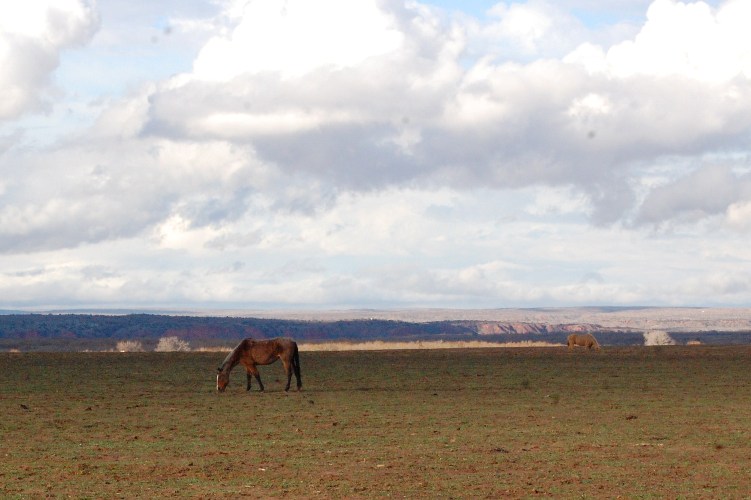 -
Sunday, December 18 - Lunch at the Campbell's - Jerrod Campbell, who is now a member of the U.S. Air Force, being home on leave for a couple of weeks, was the guest of honor. The Campbells invited several families over to see him during this visit home.
What a coincidence: All the girls had the same idea and wore blue. Beth Horn, Atlanta, Aspen and Jennifer Campbell.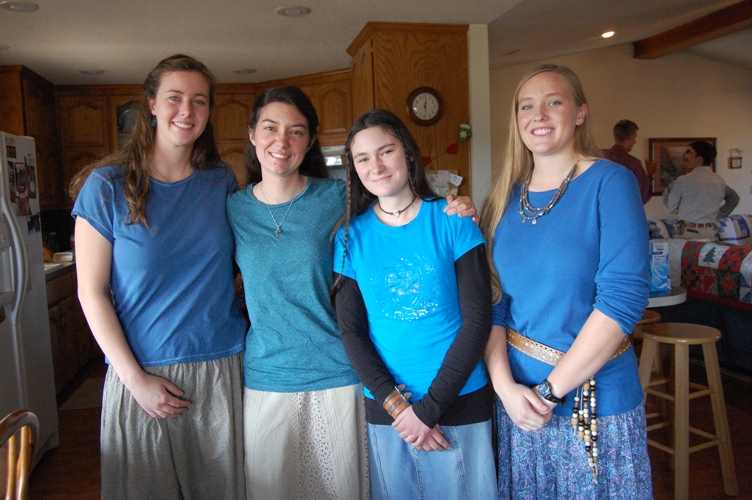 David Horn and Nathan catch up on the latest news.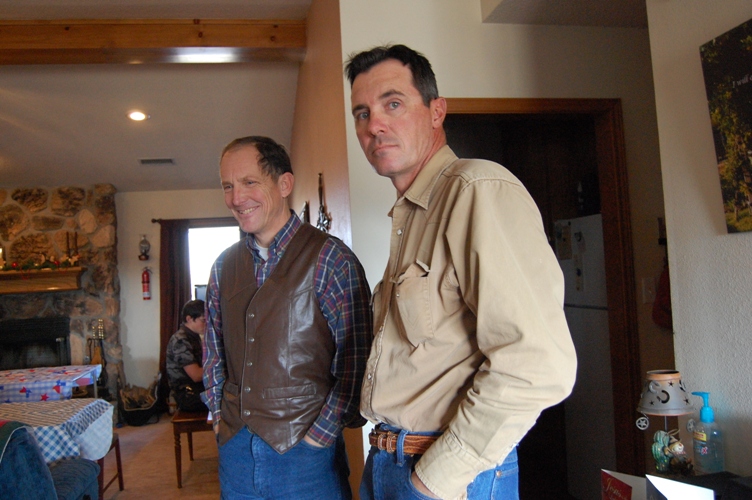 The Campbell's cousin played the piano during part of the song service during worship time.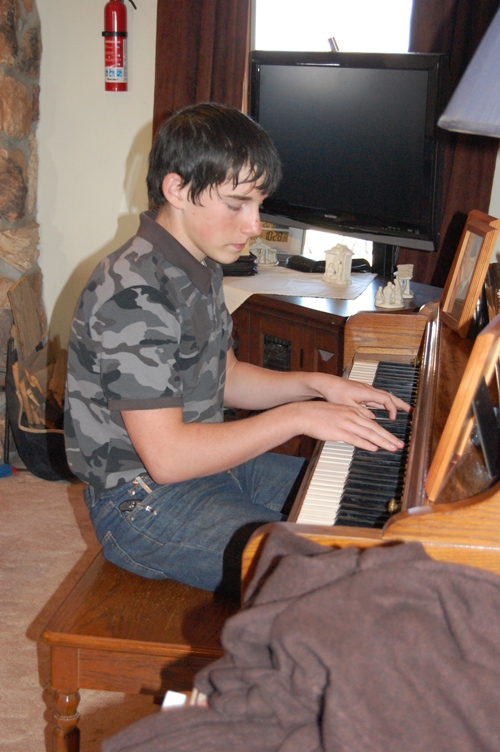 Young men in attendance. Cim, Daniel, Laredo, Jordan and Jacob.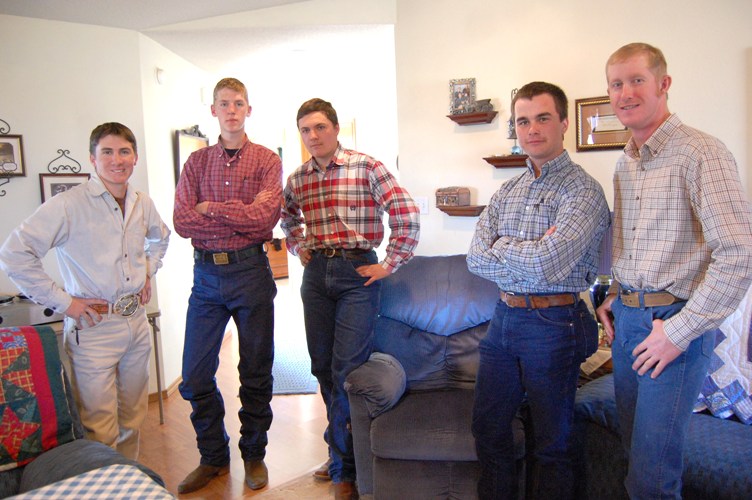 Jerrod talks to his uncle while lunch is being prepared.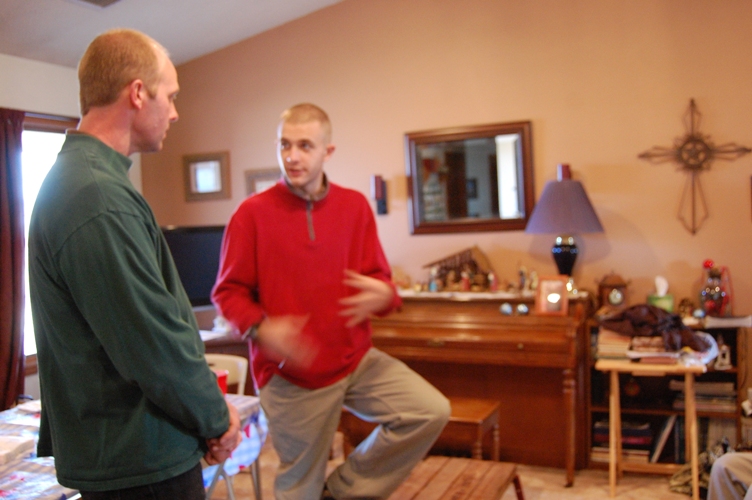 Jordan and Atlanta enjoy visiting.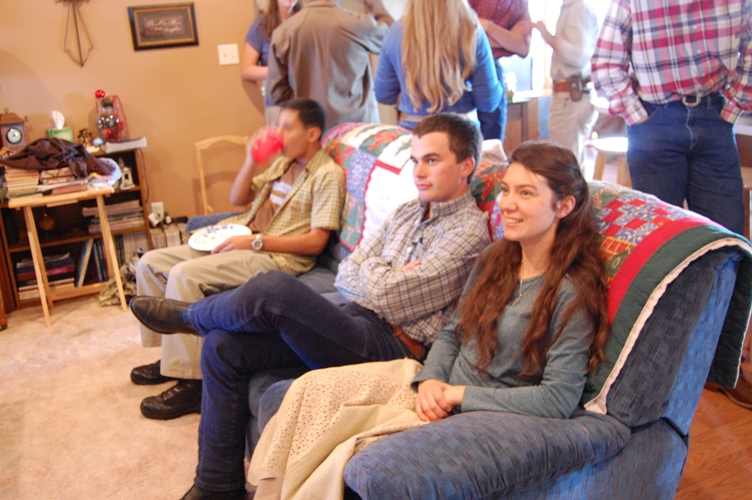 Brianna and Ivanna Hernandez with Aspen.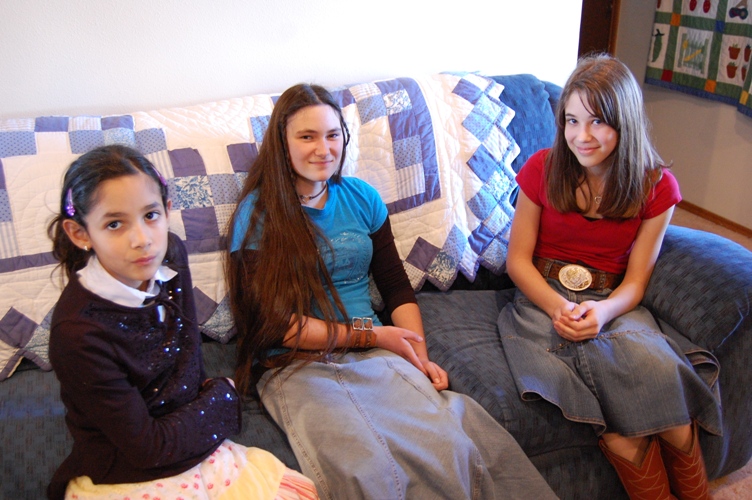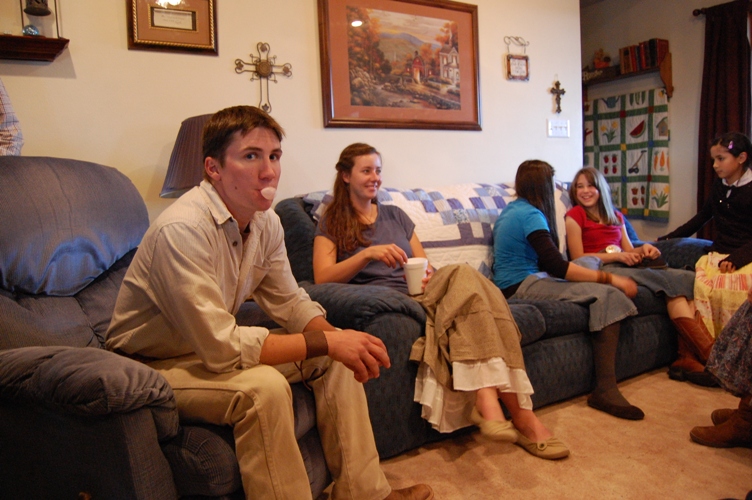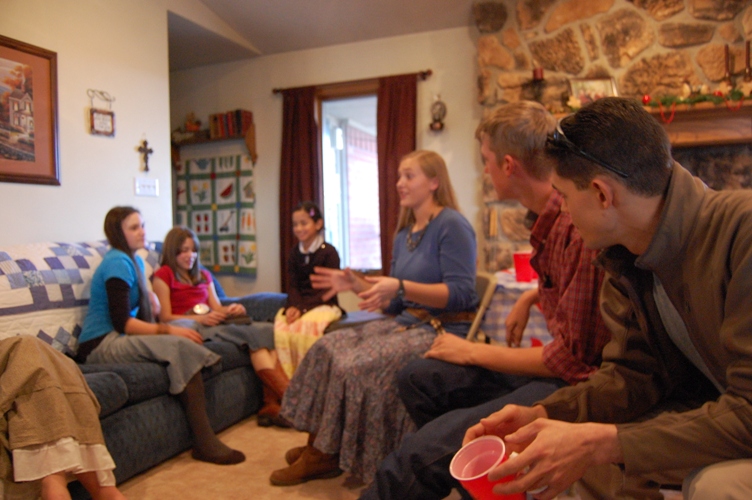 A little dance practice in the garage.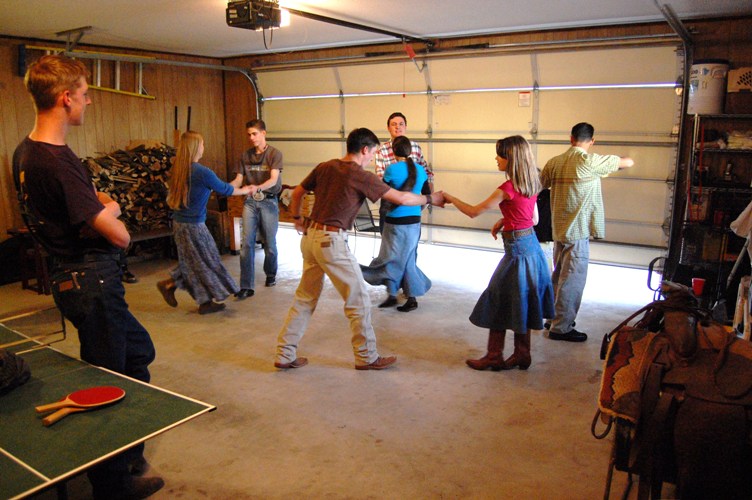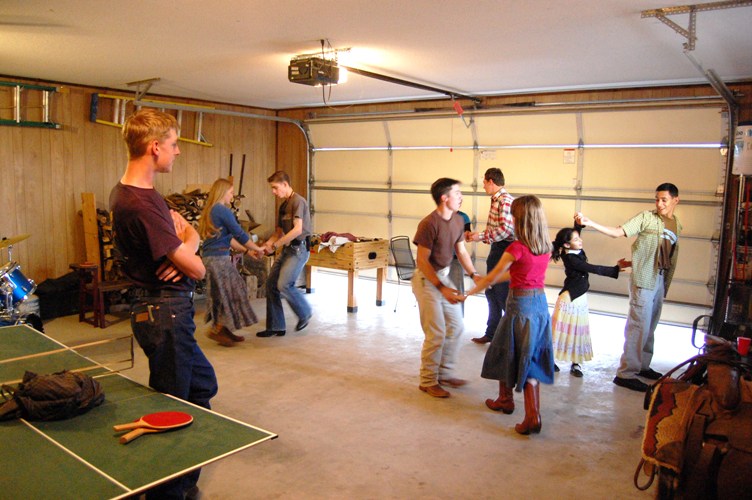 Saturday, December 17 - Artillery Coat Finished - Atlanta has been working to finish a new reenactment coat that Jordan ordered. The last details were completed today. Jordan serves with an artillery unit in Tennessee.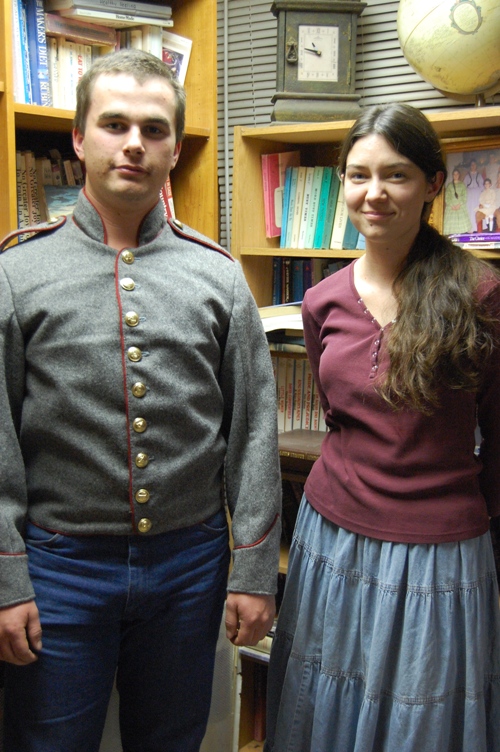 New Dress Designer Kit - Atlanta has completed her third dress designer kit. This kit features Edwardian fashions. This time period is around the turn of the century (the last one). It's available for purchase here.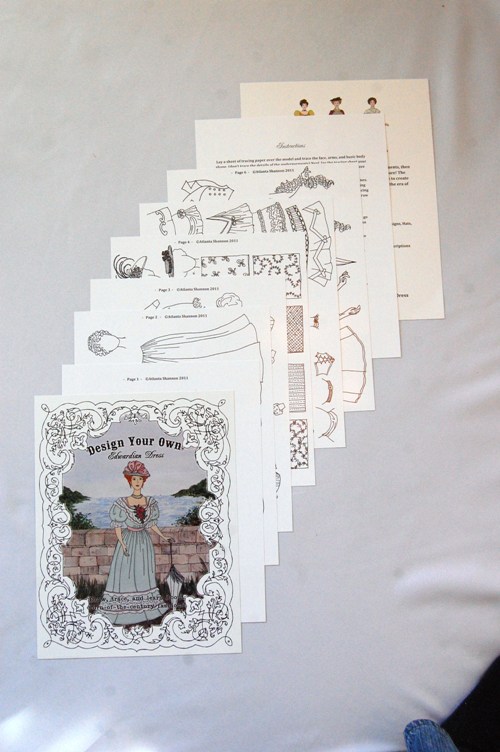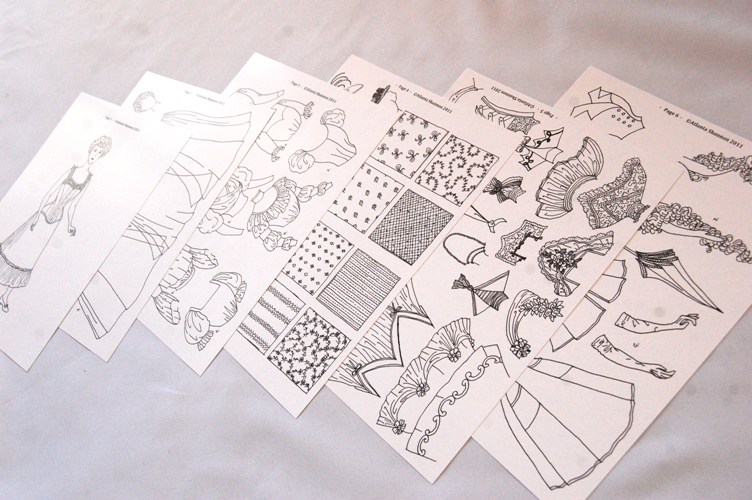 Wednesday, December 14 - Around the House - Take a look at what everyone was up to today.
Windy was cutting up some beef and Laredo was helping by trying out the new grinder Granny bought us.
Daniel had out the leather and tools and was working on a new billfold for himself.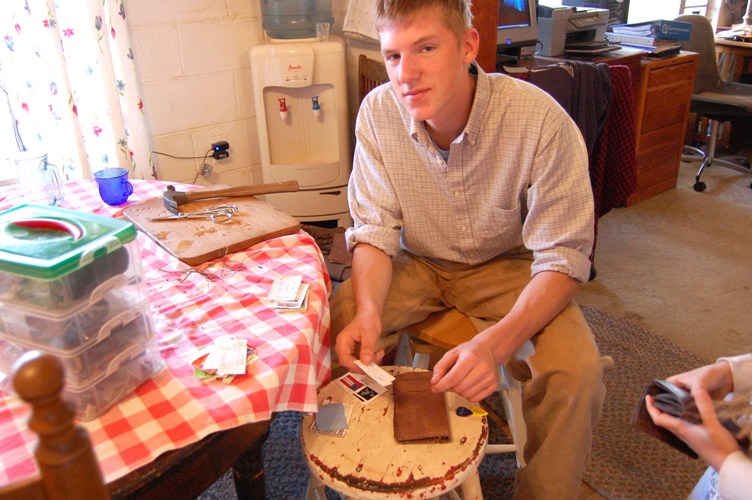 Aspen was cooking up a boiling pot of fudge.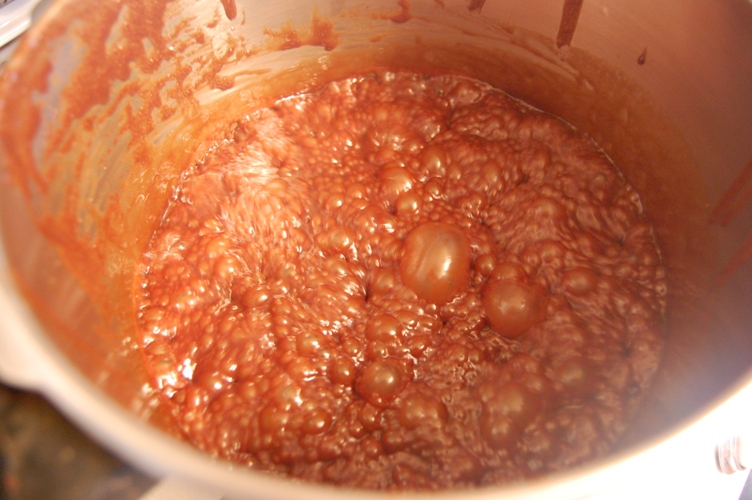 Good times and visiting in the evening.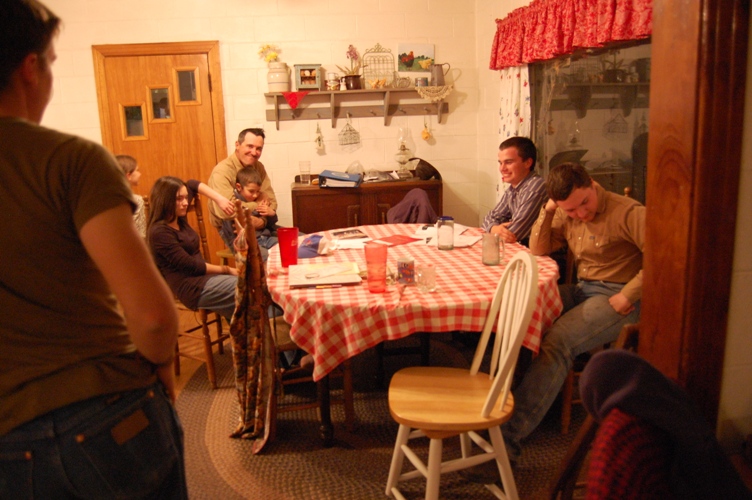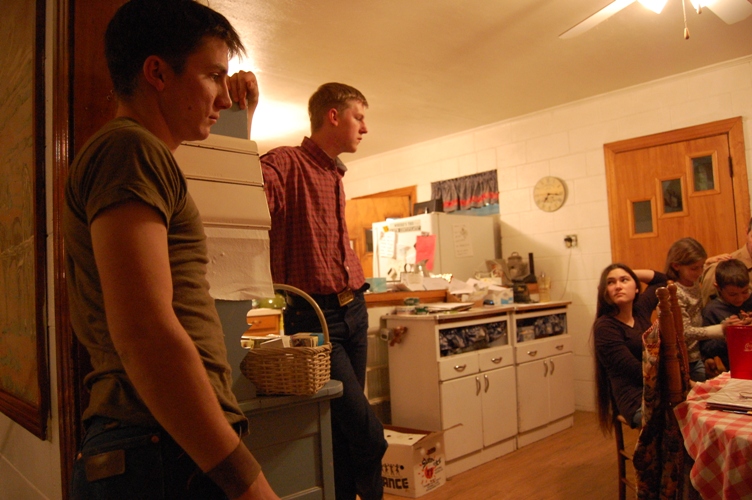 Later Daniel and Cim played a few tunes.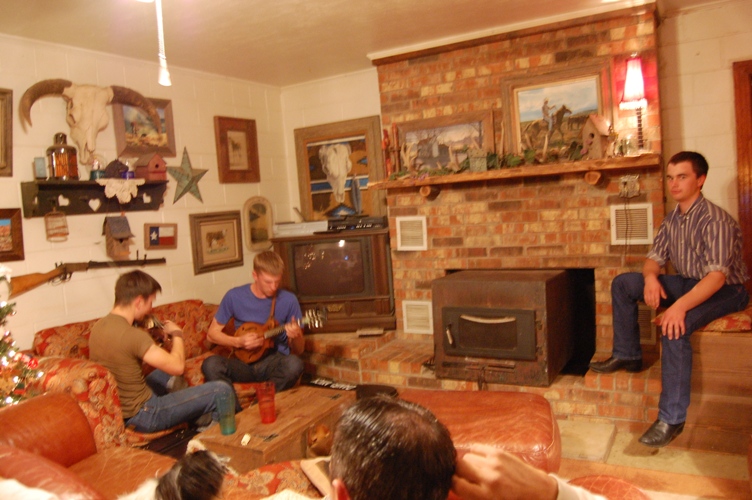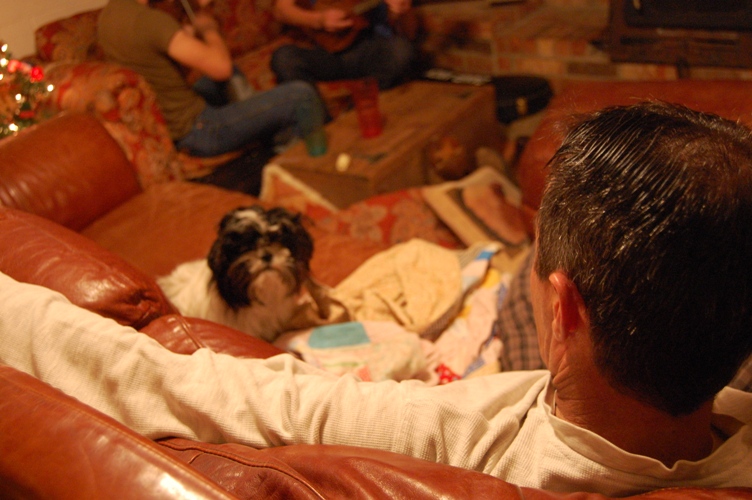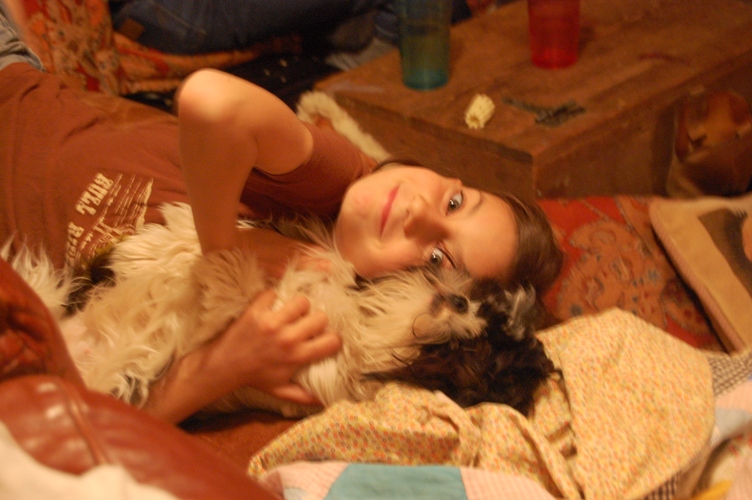 Monday, December 12 - Another Silk Ball Gown - Atlanta finished this gorgeous red silk dress and mailed it off today. It's headed to a Christmas ball in California.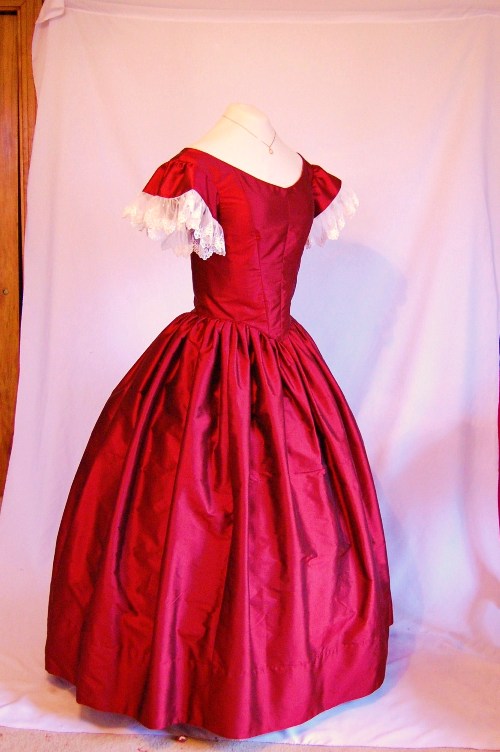 Hand-stitched eyelets in the back for lacing up the bodice.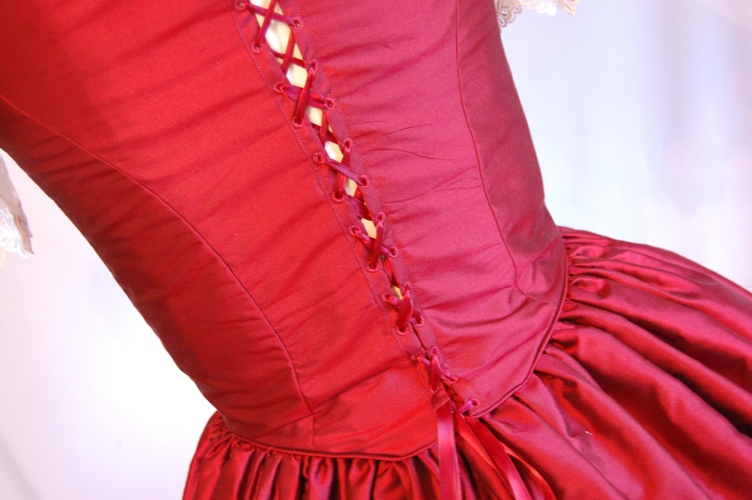 Thursday, December 8 - Nice Tom - Laredo shot this turkey today. I'll be able to get a couple of meals from the meat. Aspen can trade the feathers for hatching eggs on the internet.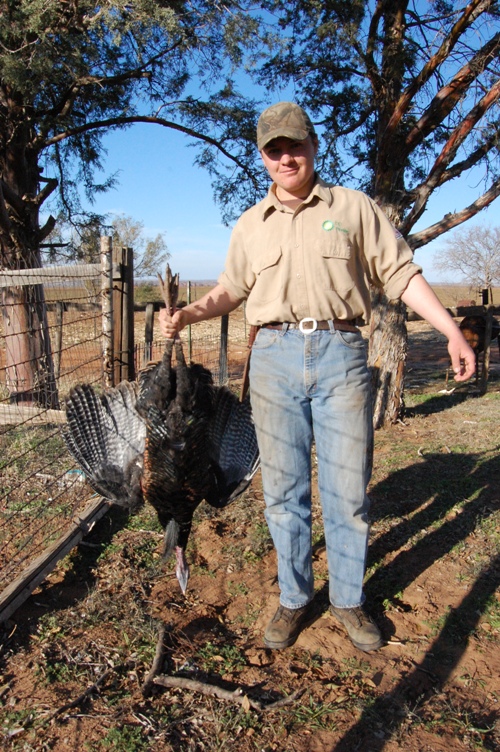 Tuesday, December 6 - Working Calves - While it's too wet for the boys to mow down in Callahan county, Nathan's keeping them busy up here in Motley county. Today was no exception. They worked a lot of calves this afternoon.
The boys help sort the calves and run them into the chute. There they are dehorned and castrated if necessary. These calves are already big enough to go to the sale, so there's no need to brand them. They'll stay in the lots until they heal up and go to the cow sale after the holidays.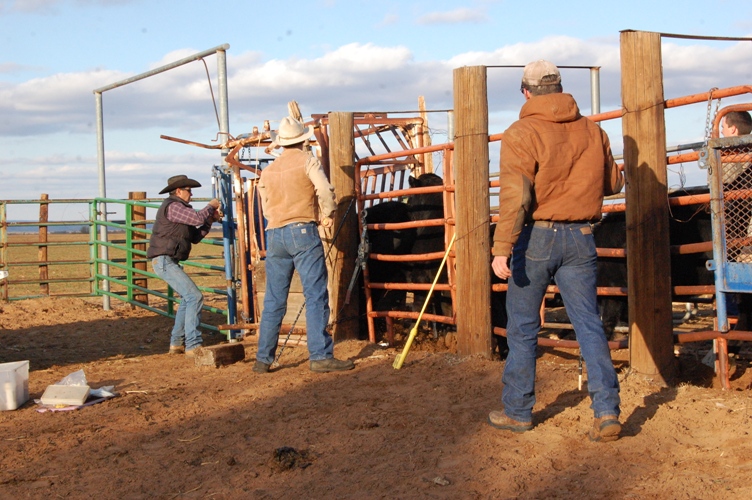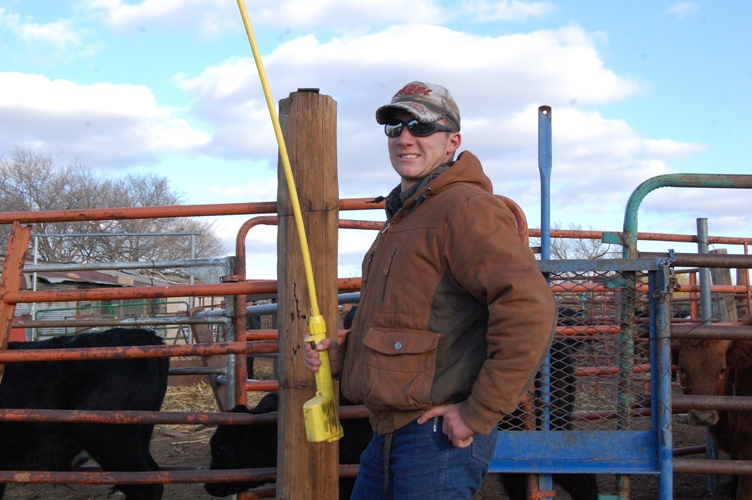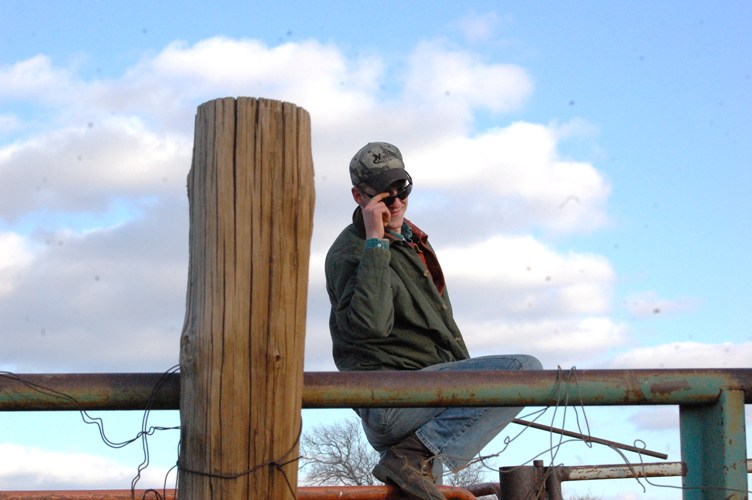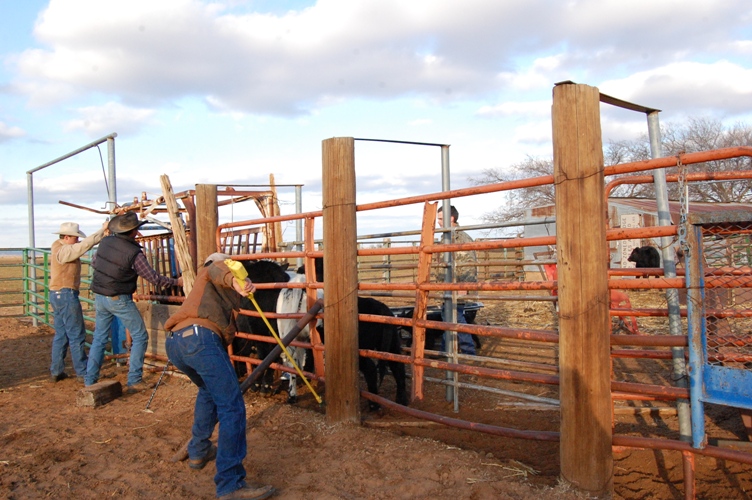 Scientific, photographic proof that Cimarron is taller than Daniel.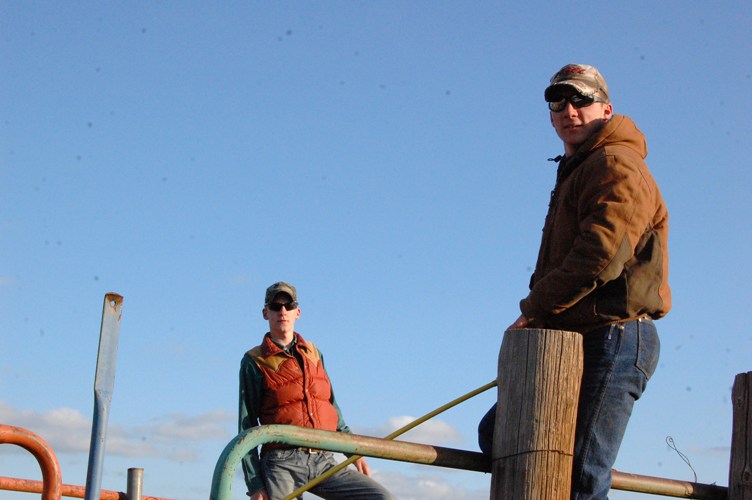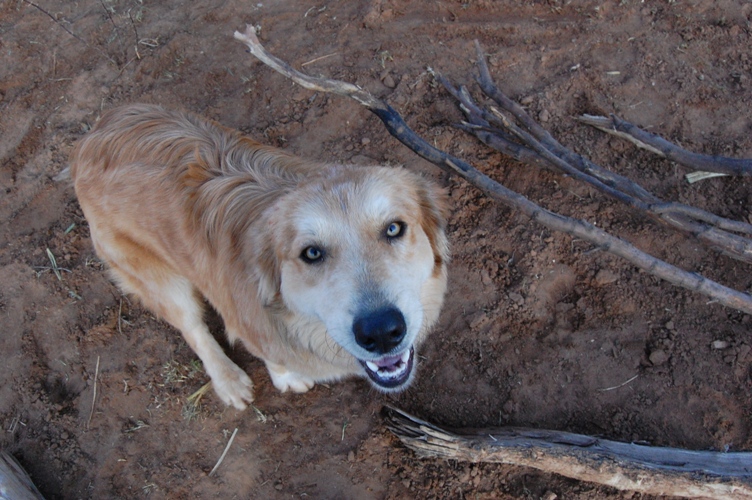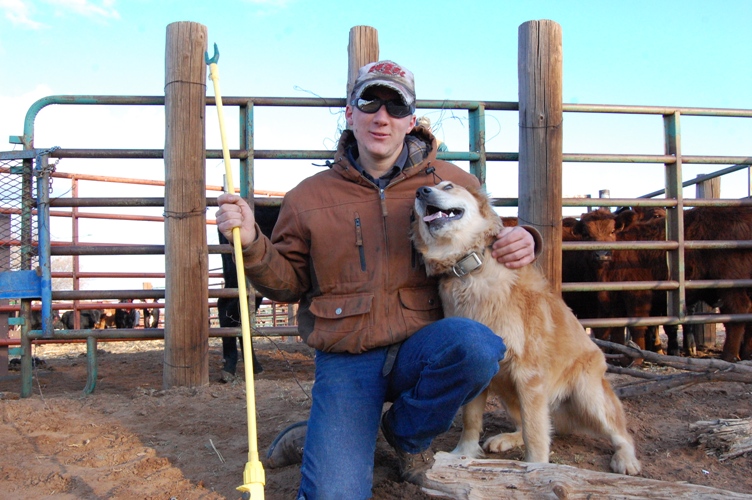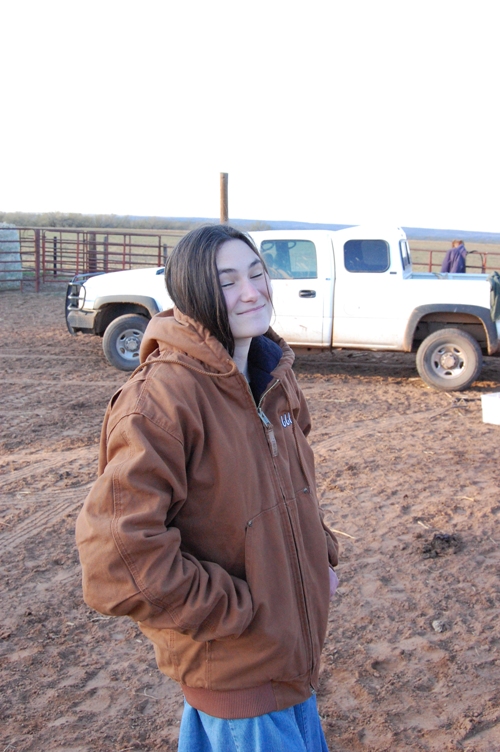 What's going on here? Looks like a big calf wasn't caught very well in the head gate and Laredo's having a hard time keeping him from getting his other shoulder through. He may even be laying down in there, making it hard for Nathan to get him cut.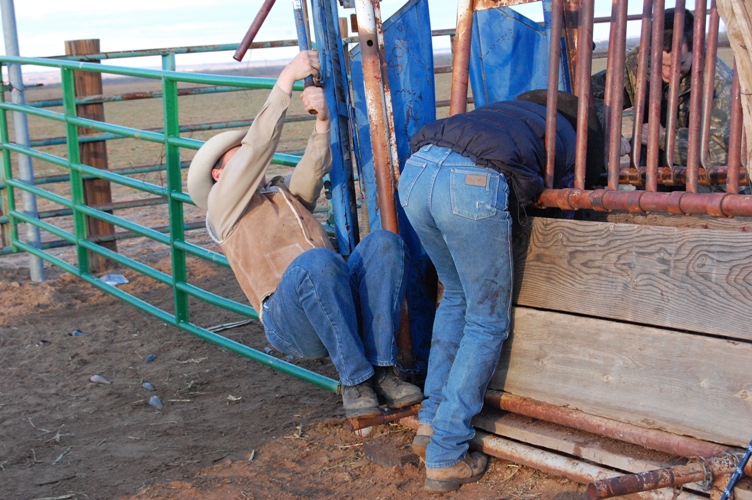 Fun Photo Shoot - Atlanta was recently approached by eShakti, a clothes manufacturer, about promoting their clothes on her blog. They let her pick an outfit to try out. Once the dress came, we picked a nice afternoon and took some outdoor shots. Here's a little sampling of the results. See the whole article and more pics on Atlanta's blog, www.storyofaseamstress.blogstpot.com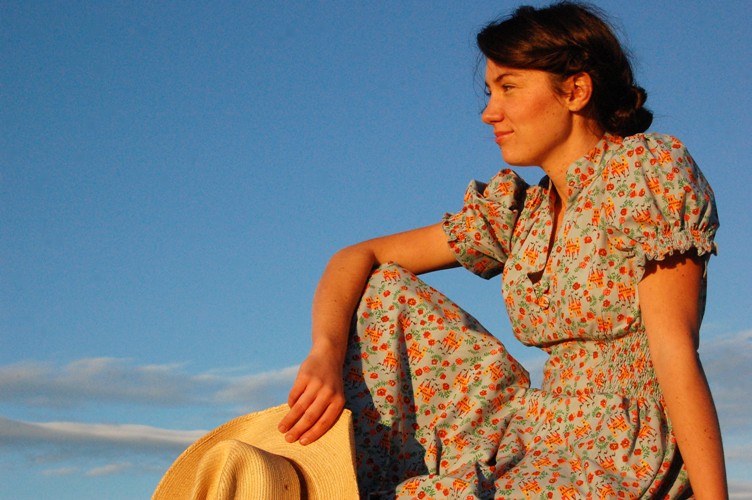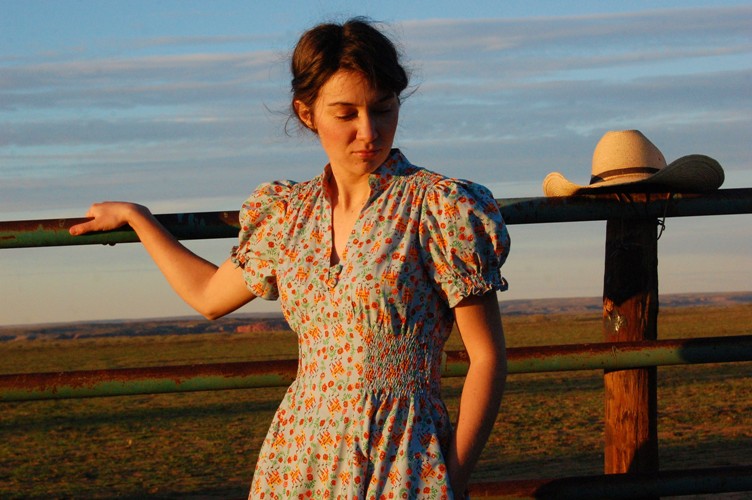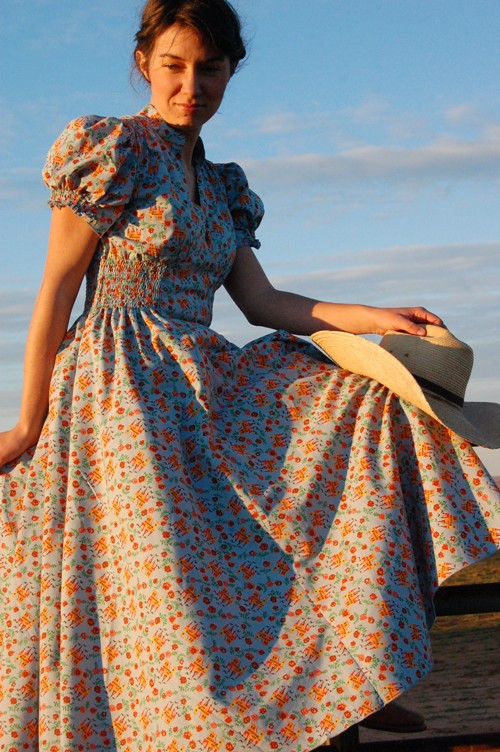 All this fun inspired Aspen to do a little posing of her own this afternoon. Didn't these come out nicely, too?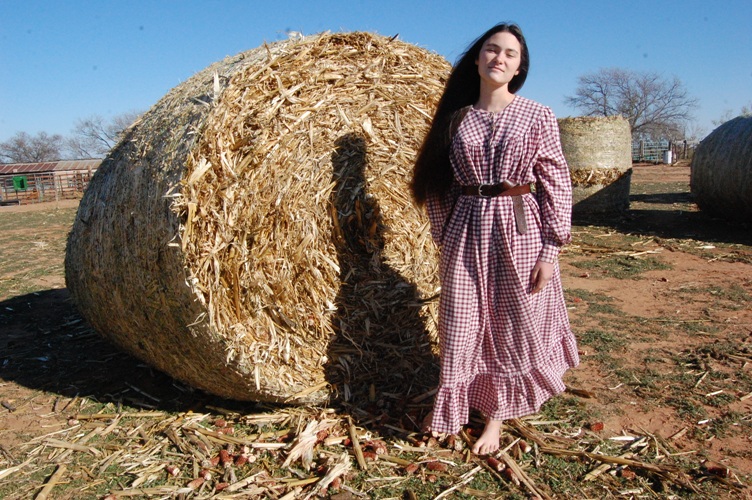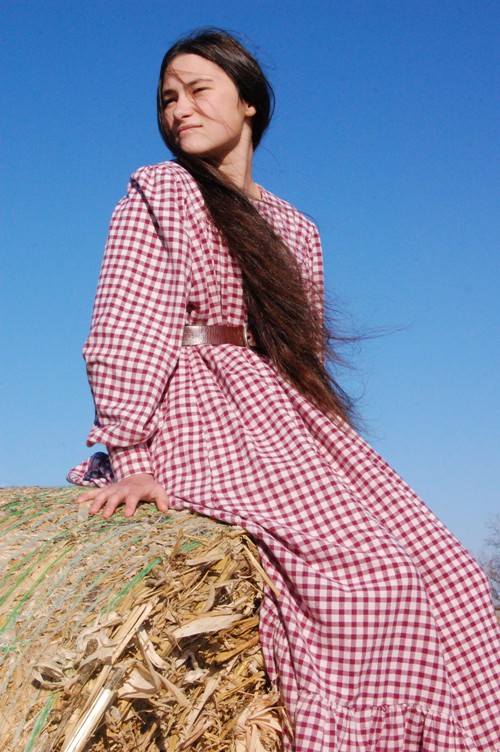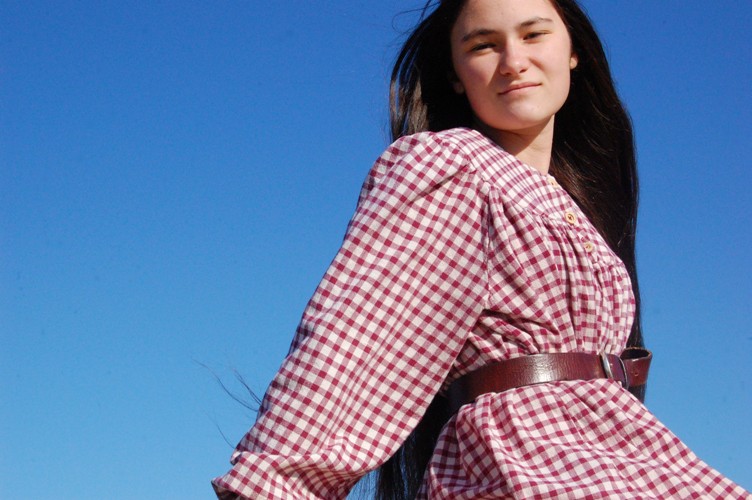 Check out our past news. Just click any link below: