July News:
Saturday, July 31 - A Busy Day - Aspen spent most of the day doing the guys laundry that they brought in greasy and dirty. Atlanta did a lot of cooking and I don't remember what I did, but with nine people in the house all day, I know I was busy doing something! The little kids had fun with two baby reptiles that they found. The first was a baby horny toad that was one of the smallest we've ever seen.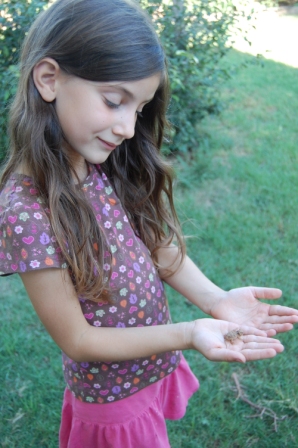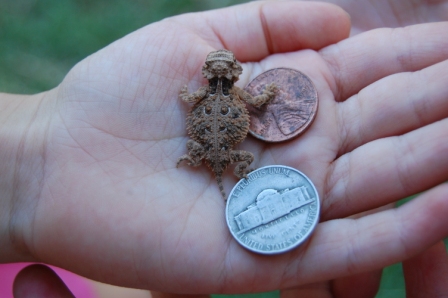 The second reptile was a baby lizard that Nathan found.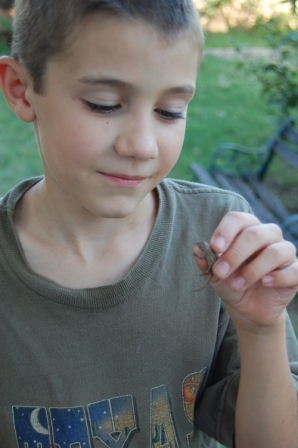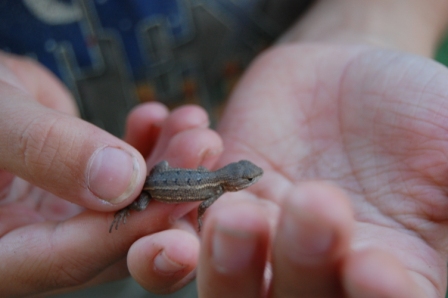 Friday, July 30 - Trip to Town - Today was our music lesson day. We were at Kress from 10:00-11:30 and then went into Plainview. We delivered some curtains and shades that Atlanta had custom made for our dentist's wife first and then headed to Wal-Mart. We finally got home around 4:00 in the afternoon. It wasn't long after putting up the groceries that Nathan and the boys came in. They looked so tired. Joe and Cimarron, who had been weed-eating I-40 all week, especially looked worn out.
Thursday, July 29 - Mystery Photo Shoot Revealed - Did you guess what animal was in the fairytale photo shoot? The "hint" was that we got more rain yesterday which brings out frogs. Okay, so a frog isn't an "animal" it's more like an amphibian...well, let's not get too technical...the point is, Carolina was dressed as a princess who kissed a frog. I narrowed the pictures down to seven. Here they are: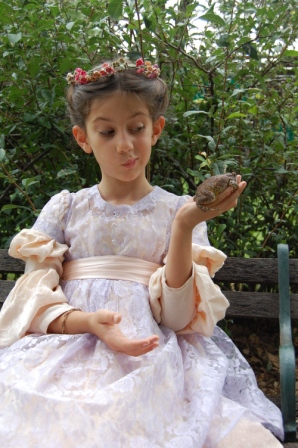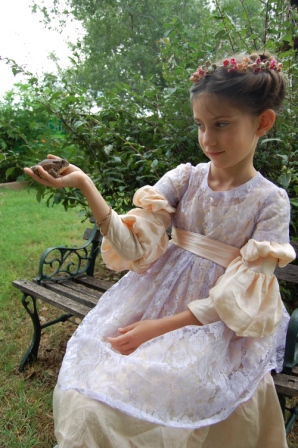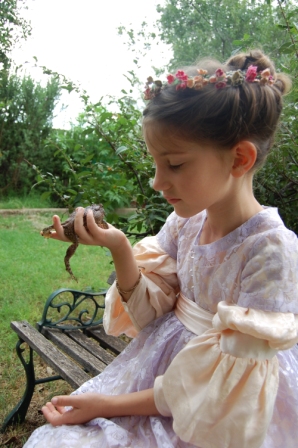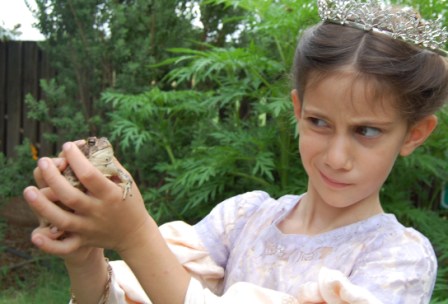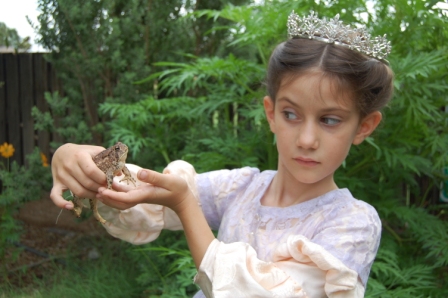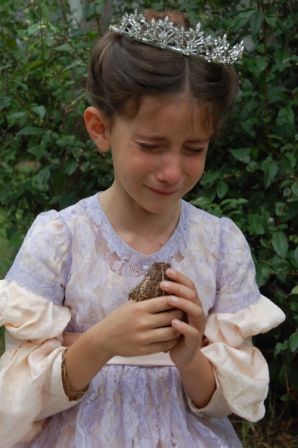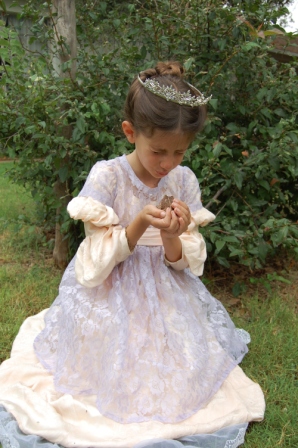 We almost lost our model there at the end. She was having so much fun and then all of a sudden decided she didn't like pretending to kiss a frog. It cost Atlanta $3.00 to finish the shoot.
2010 Bob Wills Day Videos - I was having some trouble getting my videos of the Bob Wills Day fiddle contest to play, but after a few changes, they all seem to be playing now. If you haven't seen them yet and would like to, the first one starts here.
Wednesday, July 28 - Finished Peeling Apples - We ran the last of the apples through the peeler, although they all haven't had their turn in the dehydrator yet. The ones we've done so far are absolutely scrumptious!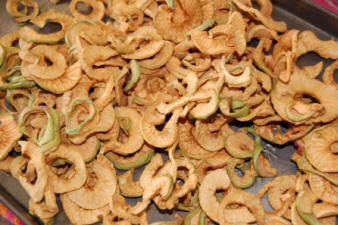 No prizes for looks but they're wonderfully tart and chewy.
More Rain! - It became cloudy and overcast again today with rumbling thunder all around. Soon, sheets of rain came in from the southeast, which is unusual, but then what is normal about this summer's weather?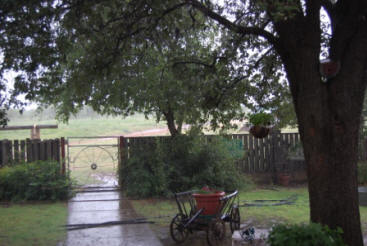 Gardens - I picked a few more cucumbers from our garden and we all went down the road about 5 miles to our neighbor's house to pick her garden while she's out of town. The resulting produce makes a colorful picture.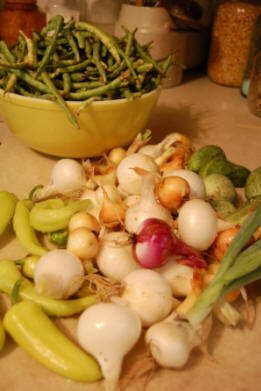 Speaking of color, this orange flower is simply bursting with it. It was part of a seed mix that Sunny gave me (firecracker mix), so I'm not sure what it is, but my guess would be coreopsis. Can anyone help me out?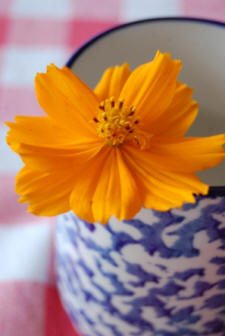 Coming Tomorrow - Mystery Photo Shoot - Get ready for some cute, cute pictures on tomorrow's news. Atlanta dressed Carolina up and posed her with a live animal. The photo shoot is based on a well-known fairytale. Can you guess what it might be? I gave you a clue of sorts in today's news. You'll have to wait until tomorrow to see the results. There were so many darling pictures that I haven't narrowed them down yet.
Tuesday, July 27 - A Visit from Robin - We were lucky enough to have a visit from Robin Boedeker this morning. What's not to like about good friends and good coffee? We had lots to talk about and the kids had a lot to show and tell. She stayed for lunch that Atlanta prepared; turkey salad and spinach and strawberry salad with lime dressing. Yum.
More Food in the Freezer - This afternoon we peeled and dried more apples and I pressure cooked another turkey in my canner. I bought up as many turkeys as I could last November when they went on sale. Then I had mom buy up a bunch, also. I started in right away cooking them in a bag in the oven and de-boning them. An average turkey yields 5 to 6 quart bags full of turkey pieces. These are so wonderful to grab for casseroles, soups and enchiladas. Then my oven went out leaving us with only a toaster oven to cook with lately (and it doesn't hold a turkey). I still had 3 large turkeys in my freezer. Now that we've been getting so much produce, I needed the freezer space. Then I remembered that you can use a canner just as you would a pressure cooker, so I've been cooking a turkey ever day for the last 3 days. It works great. I cook it for about 2 hours once it comes up to steam. The meat literally falls off the bones (which are so tender themselves that they crumble). The main thing is that I've freed up a lot of space that I need for peaches and corn.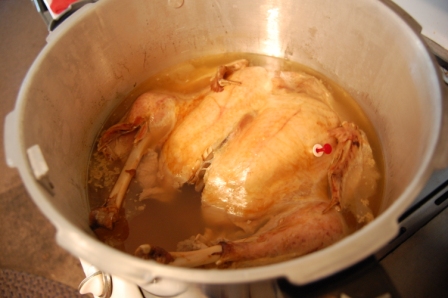 Pressure-cooked turkey ready to be de-boned.
Rain Shower - We had a nice little shower this evening. Afterwards everything smelled so fresh and clean. The air was cool.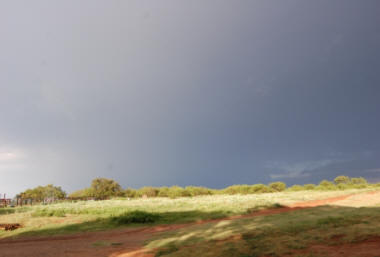 View to the east after the storm had passed.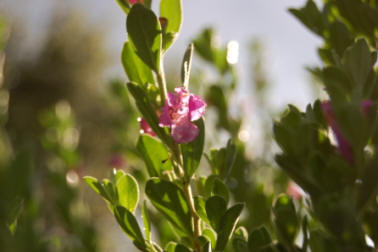 My Texas sage bush sparkles after the rain.
Monday, July 26 - Dried Apples Anyone? - This afternoon we started peeling the apples we picked from Inez and Ray's tree. Carolina and Stockton ran the peeler and Atlanta and I pulled apart the rings and placed them on the dehydrator trays. Ray gave me a dehydrator that he'd bought at an auction several years ago and hadn't ever used. It's a really nice one with about 10 pull out trays. After we see how these do, we'll decide whether to dry them all or can some. We'd like to make pies and put in the freezer, but, alas, our freezers are so full!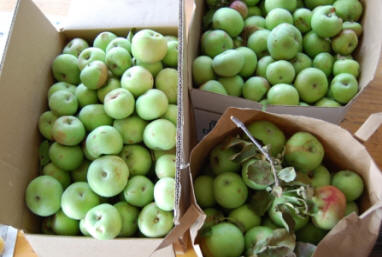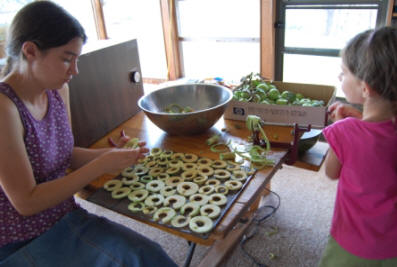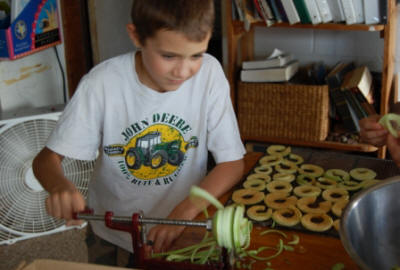 Mowing Crew Out of Town - Nathan, Cim, Laredo, Joe and Amato left early this morning to mow a 60 mile strip of I-40. They'll be staying out of town all week. We sent breakfast burritos and lunch fixings with them. It's going to be kind of quiet around here this week. Please pray for their safety as they mow the interstate.
Sunday, July 25 - Putting Up Corn - After church the boys started in shucking the corn they had picked at Ray and Inez's yesterday. Aspen washed it as they brought it in. Windy kept two large pots of boiling water going to blanche it. Nathan and Laredo cut the corn off the cob and Aspen and Windy packed it in freezer bags. This is always a lot of work, but so wonderful to have throughout the year.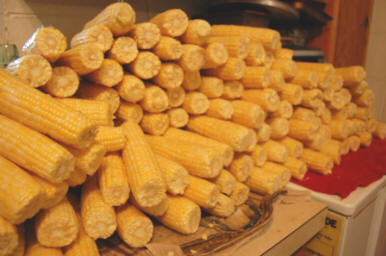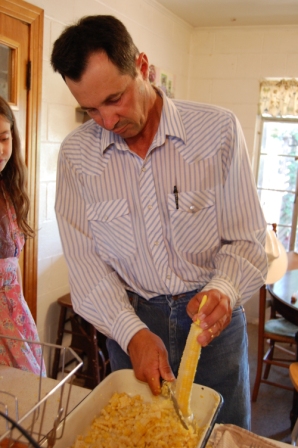 Don't ask me how Carolina can eat corn on the cob with so many teeth missing, but she ate three huge ears!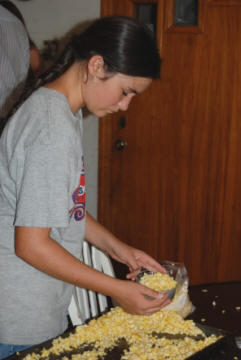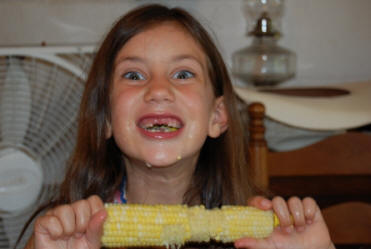 Pringles Make a Plum Run - While we were still putting up corn, Misty called and wanted to come pick some wild plums. Eugene and Mona, her in-laws, and Teresa Hare, her sister-in-law came with her. We were just cleaning up our corn mess when they came. It was around 4:30 in the afternoon. A big group trooped down the road to the plum patch and picked for about an hour. It was really hot, and breezes down in the draw were rare, but we picked a good bunch and they all seemed excited about the prospect of having jars of wild plum jelly on the shelf for winter.
My camera battery was out of a charge so I don't have any pictures. Misty took some and promises to share. However, here are a couple of shots I took last week when we picked some more plums for ourselves.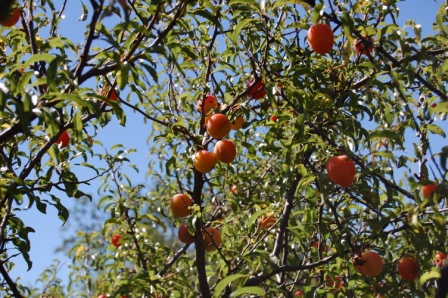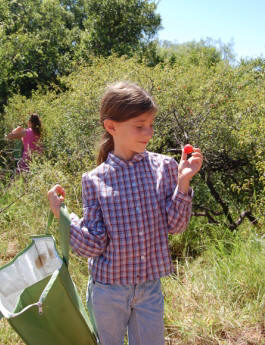 The plums look as big as peaches in the top picture, but you can get a better idea of their size in the photo above. They are actually quite large for wild plums this year due to the rains.
Saturday, July 24 - Wedding Shower for Will Boedeker's FiancÚ - Atlanta, Aspen, Carolina and I went to Silverton Saturday morning for a bridal shower. It was fun seeing a lot of gals from the community that I hadn't seen in a while. Everyone commented on how pretty my girls were, and I can't say that I disagreed! Hannah Boedeker Lipps, Robin's daughter from Lubbock, was there with her new baby, Isaiah. Robin was really proud of her first grandchild. He is so precious and we all think he looks like Will.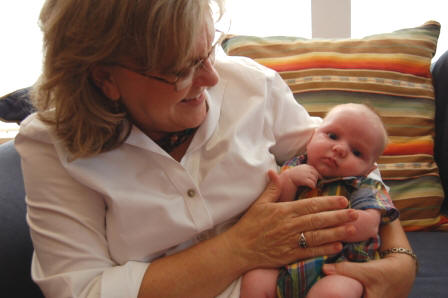 Shower Gift - One of the things we gave Mandi, the bride, was a kitchen apron handmade by Atlanta. Her inspiration was a vintage apron that Granny had found at an estate sale. Atlanta copied it and made a pattern so she could sell some on her website.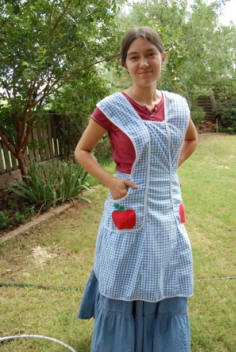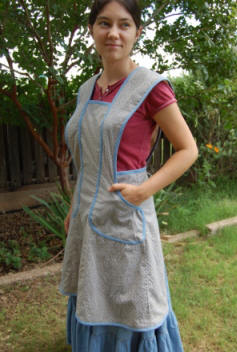 Vintage apron on the left and one similar to the shower gift on the right.
Red Riding Hood - Speaking of sewing, Atlanta made Carolina her very own red riding hood cape last week. Carolina has had the "pleasure" of wearing lots of red riding hood capes for a few minutes while modeling for photographs to be posted for Atlanta's online sewing business. (These capes are one of Atlanta's best sellers.) However, she always had to take them off and give them back. So, Atlanta surprised her with one of her own.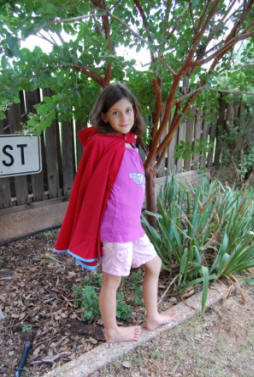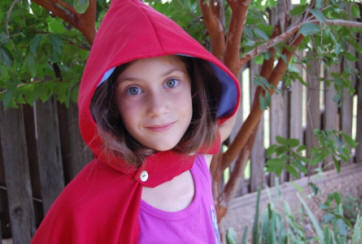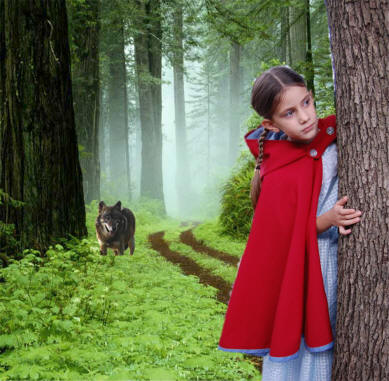 Isn't this picture the cutest? The tree Carolina peeks around is actually in our yard, but the background and wolf were cleverly added by Atlanta to help sell her red riding hood cape and dress set.
Sweet Corn - After the shower and before we got out of Silverton, my uncle Ray from Halfway, Texas (between Plainview and Olton) called and said he had access to sweet corn at the experiment station there in Halfway. I didn't want to turn down corn so I called Nathan to see when they would be through moving their tractors to I-40. We made a plan to meet up in Plainview later in the day. Us girls just turned around and went ahead on to Plainview to run errands and buy groceries. With only a "few" miscommunications, we managed to get everything done, meet up with the guys, and get out to Ray and Inez's. After picking the corn, Atlanta, Cim, Laredo, Joe, and Aspen went to Hale Center to the Campbell's house for a homeschool get together for high schoolers and recent graduates. They took about 350 ears of corn with them for Misty who was waiting at Hale Center to pick them up. I heard Colby came up to her mom's that night and they stayed up until 2:00 a.m. putting it up. Nathan and I and the two little ones ate supper and visited with Inez and Ray for a while. We were also excited to find a tree full of granny smith apples in the Sooter's front yard fairly bowed over with fruit. Ray insisted we take all we wanted. I guess I'll be busy for a couple of days! On our way home we stopped quickly by Wal-Mart to buy those promised fish for the front yard bathtub pond. (See Bathtub Fountain Revived, July 21)
Two Interesting Creatures - I thought I'd add these two photos to the Saturday news. The first is a little snake Atlanta found in the house Friday night. We got out our reptile book and discovered that it is a ring-necked snake. Apparently, this is one of the most prevalent snakes in the country, but rarely seen because it stays underground a lot and is so small. One this darkly colored is fairly rare.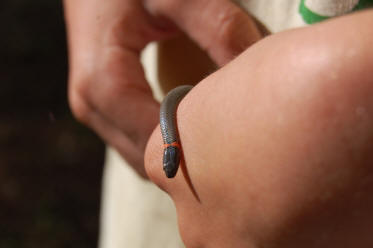 The other picture is of a brightly colored giant katydid that makes an appearance on the outside of our big picture window at night. It hunts the little insects that are attracted to the lamp light on my computer desk. He is very scary looking and an impressive hunter. His body is about 5 or 6 inches long with antennae and a tail "horn" that are even longer. We found a smaller version that was almost dead by the cow pens the other day and looked at it under our microscope. His antennae were covered with tiny hairs and his feet had suction cups all over them.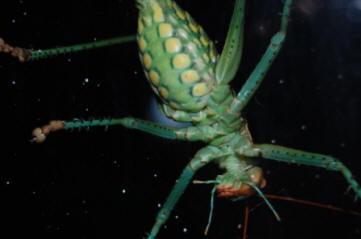 View of Friday morning's sky from the pasture in front of the house.
Friday, July 23 - Peaches, Peaches, everywhere - Nathan had to go to San Angelo Wednesday to bid on some state work there. He stopped by his Dad's place to take a nap before coming home and discovered that all of his Dad's peach trees (5) were full of peaches. His Dad told him to get them all because they'd already put up all they wanted. Since it was almost dark at that point, Nathan spent the night and picked the peaches the next morning before driving in Thursday. Atlanta and I (and even Nathan) started in peeling peaches yesterday in the early afternoon. We got about half of them peeled. Today we will be taking it up again.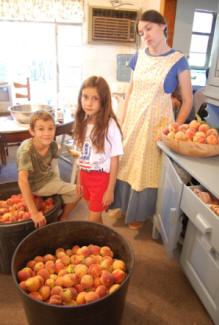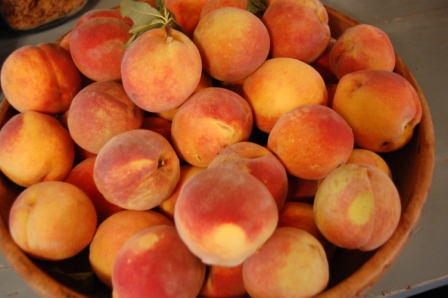 How wonderful to get such a windfall of fresh fruit when we weren't expecting it.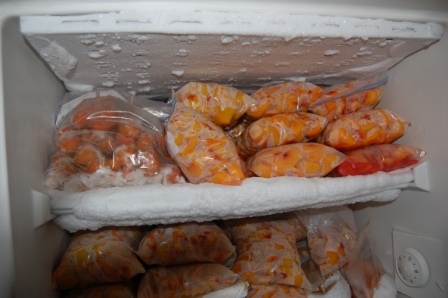 Peaches in a bowl are attractive, but I like the looks of those bags in the freezer even better!
Wednesday, July 21 - Finishing Briscoe County - The guys expect to finish Briscoe county today, or at least get close. They are mowing the "lake road" which is the highway that passes by Lake Mackenzie. Here's a couple of pictures of the area from last summer when we mowed there.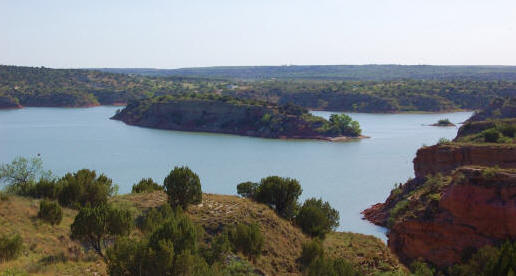 Beautiful Lake Mackenzie suddenly appears at the top of a steep hill.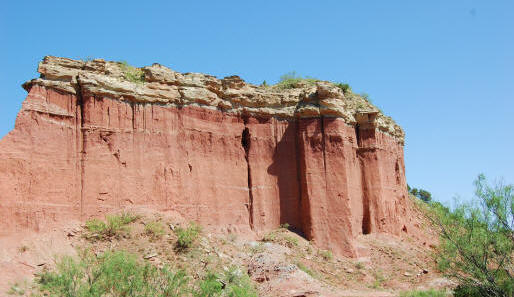 Breathtaking views on Hwy 207 northwest of Silverton, Texas
Bathtub Fountain Revived - Carolina and I decided to clean out the decorative bathtub in our front yard. We had turned the fountain off for the winter and for some reason hadn't ever cleaned it up this spring. After cleaning the water and plugging in the fountain, we redecorated the wall behind it. Carolina had some great ideas and was very helpful. Stockton came out later and added the rocks under the water to get ready for the fish I've promised to buy the next time we're at Wal-Mart. Speaking of fish, Carolina was telling Atlanta about the animated movie Finding Nemo. She was telling her about a fish friend of Nemo's that can't remember what she does from one moment to the next. In the movie, one of the other characters says that she has "short-term memory loss". Carolina called it "short circuit mind loss"!!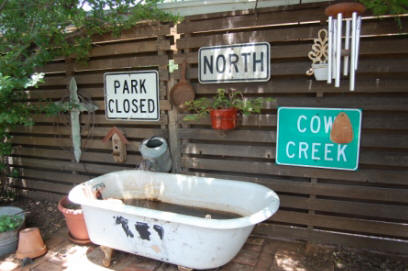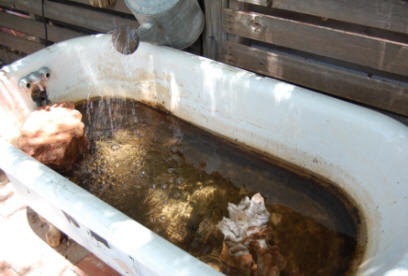 The pump sends water into the watering can and then back again. Carolina later asked me, "How is it that the water pours into the bathtub all day, but it never runs over"?
Thursday, July 15 - Mowing Resumed - Nathan, Cim, Laredo and our two additional workers, Amato Santos and Joe Wells, resumed mowing in Briscoe county near Silverton, Texas, today. They had been shut down because of heavy rains in the area for almost two weeks. They had to move to a new location in Briscoe county to find a highway that was dry enough to mow. Even so, they had to stop early on Friday when they finished what they were working on because the ditches were so wet they were continually getting their tractors stuck in the mud. This is certainly unusual weather for the Texas panhandle in July. They will pick up again Monday morning if the weather stays nice. Have you seen the video of our mowing crew last summer? If not, check it out here.
Regency Photo Shoot - Atlanta and Rebecca fixed their hair and brought out the "Pride and Prejudice" dresses for a photo shoot. Eve and I took turns running the camera (Rebecca forgot hers). We got some amazing shots. Please visit the Regency Photo Shoot gallery or Atlanta's blog to see more.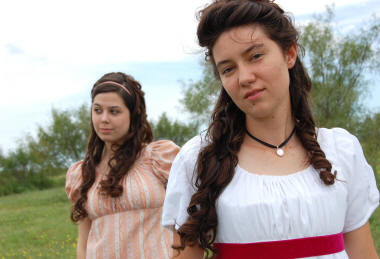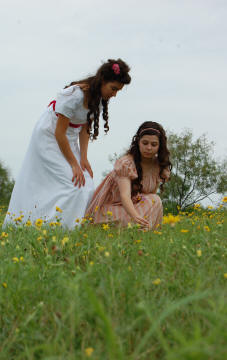 Perfect light, perfect scenery, and perfect figures definitely enhance one's photography skills.
Tuesday, July 13 - Visitors from Decatur - Eve, Rebecca and Michelle Roberts came for a visit and stayed through Friday. Rebecca is near Atlanta's age and Michelle just the right age to have fun with Carolina. We won't discuss Eve's and Windy's age. We hit the ground running and took them wild plum picking Tuesday evening. For those who have not had this pleasure, let's just say it's one of those activities that sounds so quaint, but in reality isn't all that pleasant. Even at 8 o'clock in the evening, it was still in the 90's with very little breeze. The plum bushes are covered with thorns and all the best plums are just out of reach at the top of the bushes or in the middle of the bush. The mosquitoes were out in full force as were the cedar flies. Luckily, though, we didn't encounter a rattlesnake as Nathan had a few days before. However, with all of us picking we were able to gather quite a few plums in a short time.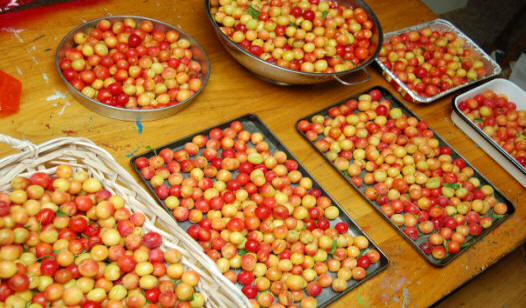 Wild plums did well this year because of the unusually abundant rainfall.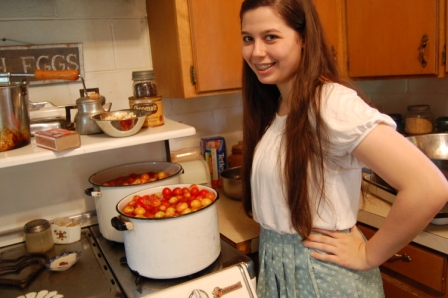 Rebecca watches her plums "boil down".
Atlanta and I had already put several gallons of juice in the freezer, during the past week, to be made into jelly, so we invited the Roberts to bring some sugar, pectin and jars and make some famous wild plum jelly of their own. Atlanta and Rebecca also put together a few jars of fresh cucumbers for some garlic/dill pickles.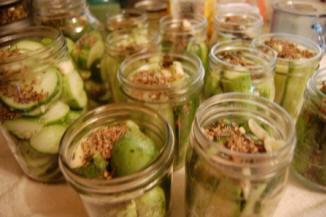 Atlanta's 20th Birthday - Actually it was yesterday, the 12th of July, but we waited for the Robert's visit to celebrate. We couldn't have done it without them because they brought some much needed groceries. Atlanta always requests a "fruit pizza" which is a sugar cookie crust, topped with cream cheese then finished with fruit on top. I was out of cream cheese so I substituted sour cream mixed with powdered sugar.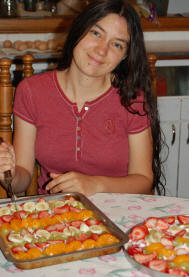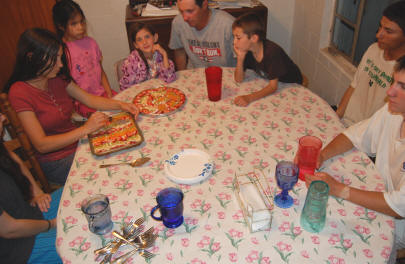 Tired from a long day but ready to help Atlanta eat her fruit pizza, everyone looks on expectantly.
Saturday, July 10 - Chaps for Carolina and Stockton - Nathan finishes some handmade leather chaps that he's worked on for a couple of days. We had purchased the leather to make Carolina and Stockton some chaps for Christmas last year and hadn't gotten it done. Then we missed their birthdays, having completely forgotten about the leather which was "hidden" behind the door in our bedroom. When Carolina asked Nathan about the pink leather behind his door, he decided that he'd get it out and see what he could make of it. The result is two of the cutest pairs of chaps ever.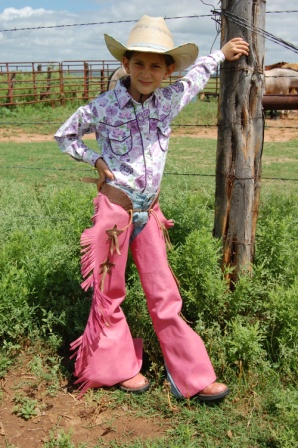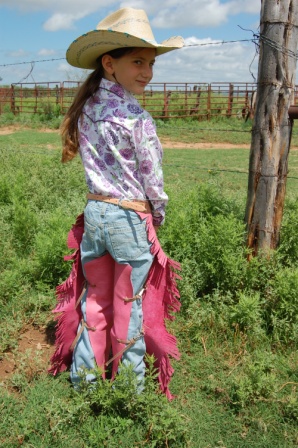 Of course they had to be pink! Brown stars and fringe add a bit of Texas pizazz.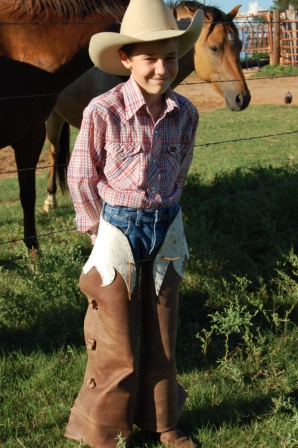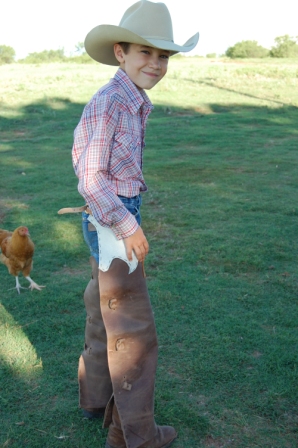 Stockton's have no modern clips other than the belt buckle. Nathan copied a vintage pair of chaps using cowboy knots through a slit to fasten up the sides. He made them extra long and just "hemmed" them a bit for now by turning them under and hand sewing the sides.