Friday, September 30 - Package from England - Today a much awaited box arrived in the mail. You may remember that I agreed to exchange the international shipping on two of Nathan's doll beds (for a customer in England) in return for one of her handmade dolls for Carolina. (see Papillon Blue UK, March 2010) We also exchanged links for our products on each other's blogs and Etsy stores. She used the beds in a book that she wrote about some orphans during WWII. In the box was some of her books that I ordered for Christmas gifts and a special box for Carolina with the little doll, "Solange" ( a lovely French girl).
Solange enjoys a cup of tea.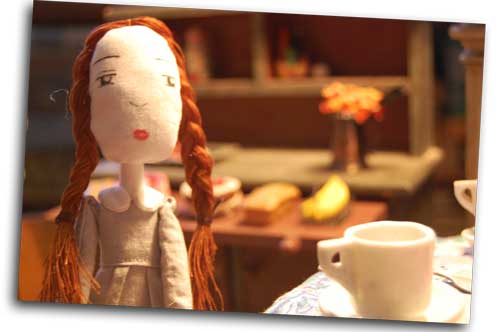 Carolina fixed up a nice little home for Solange. She even has her own bonnyblue2 canopy bed.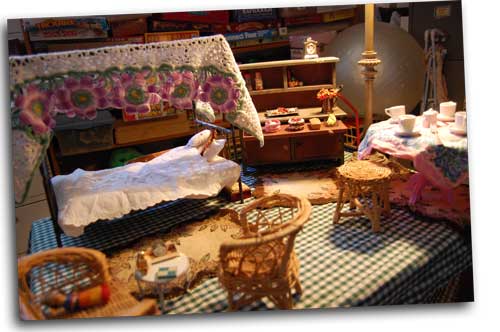 You can check out Patricia, the doll maker's, very whimsical and wonderful blog here. She has lots of links to little video stories that she has made with her dolls.
Thursday, September 29 - Tiny Cafe - Carolina and Stockton worked hard cleaning their playroom up today. They got it so clean that they wanted to eat their supper at their playroom table. Atlanta loaned them a lamp to set the mood. They enjoyed cheese omelets and toast with honey.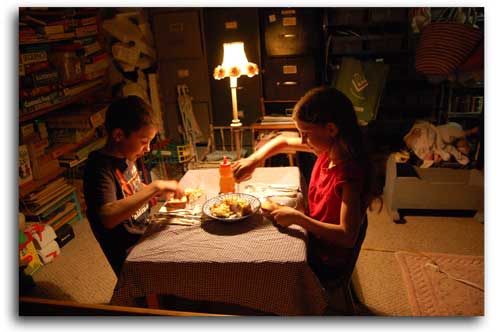 Wednesday, September 28 - Another gorgeous sunset I just couldn't pass up.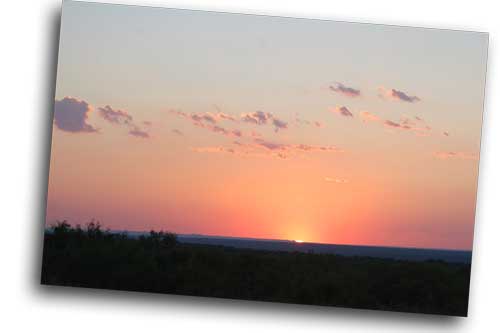 Monday, September 26 - Beautiful Shots
This was the sunrise this morning.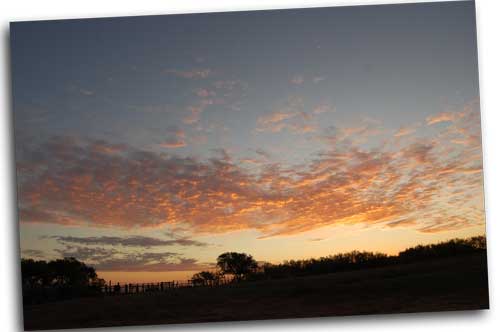 A vermillion flycatcher, apparently a bit north of his usual range, stopped by to catch a few flying insects. He's been here for a couple of weeks.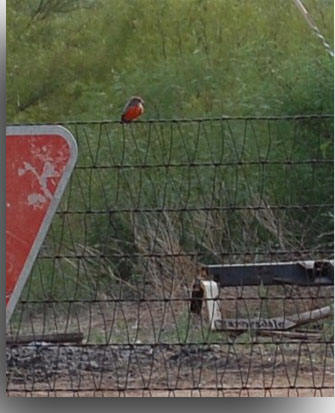 The evening brought another dramatic and colorful sky.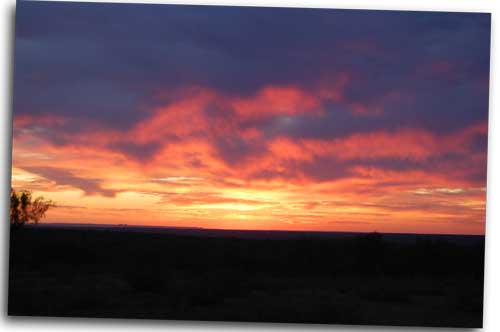 Straight to Disney World - This precious little size 6 Rapunzel dress was a special rush order. Atlanta was contacted at the end of last week by a woman who wanted the dress made quickly and shipped overnight express to their hotel in Florida. It seems they have reservations to eat supper at the magic castle at Disney World on Wednesday night and their little girl decided she wanted to go all dressed up. They also needed the dress to be made of cotton instead of the usual satin. Luckily, we were in Lubbock on Friday afternoon and Atlanta was able to pick up some fabric for the project. So, this quick creation went out in today's mail.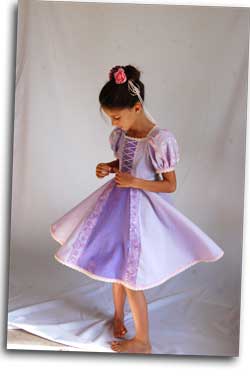 Saturday, September 24 - Another Fire - Thankfully there was absolutely no wind on Saturday afternoon to stoke this fire. The fact that we got another 1/2 inch of rain a day or two ago also kept this from going anywhere. Still, it's disconcerting to look out one's back window and see smoke this close. No one knows how it got started.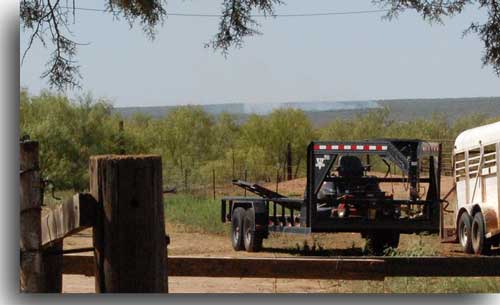 Elk Hunters Return - The boys got home around 6:00 p.m. They were very tired but ready to tell us all their stories. It seems Cim shot a large bull elk, but aimed his bow too high and only shot him in the backstrap meat. It takes a good shot to the lungs to bring down an elk, he said. Nathan was the one who called him up. Cim was within 25 yards of him. It was all very exciting even though they didn't bring him home this time. Cim also took a lot of very beautiful pictures. See them all here.
Laredo on top of the world.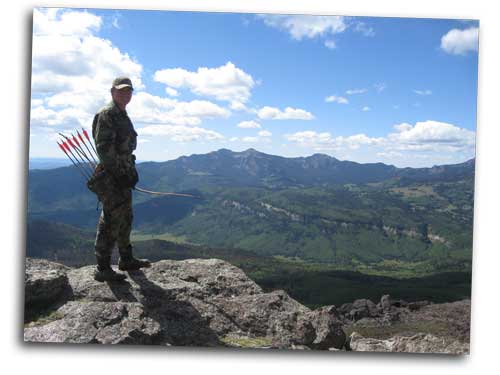 In this picture Cim is standing with the Continental Divide and Chama Basin behind him.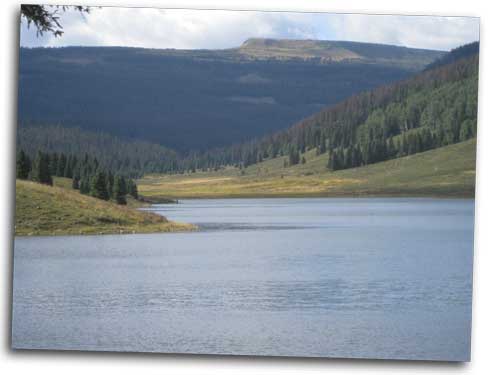 Chris, Cimarron and Laredo mounted and ready.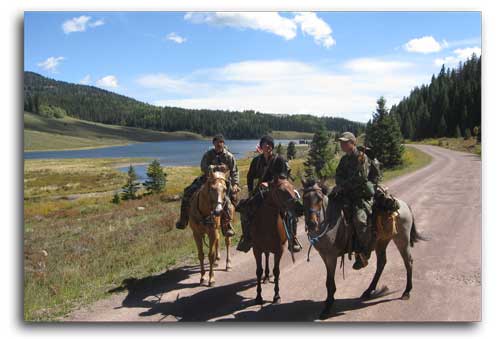 Nathan on Bedford.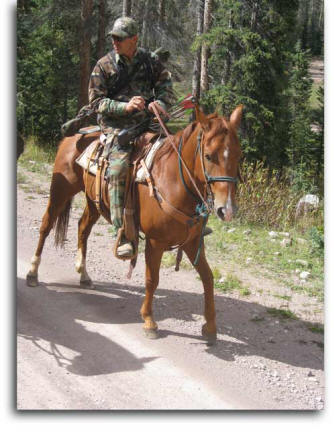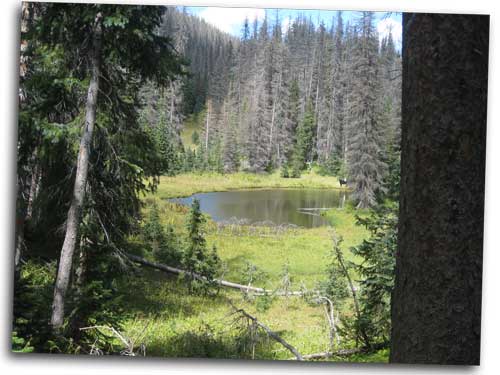 If you want to see more scenic pictures from the Elk Hunt, click here.
Friday, September 23 - A Day in Town - Carolina enjoys playing with this kitten which lives at the Williams house in Kress. We take music lessons here every two weeks. After lessons today we drove on to Lubbock for a visit and to run a few errands.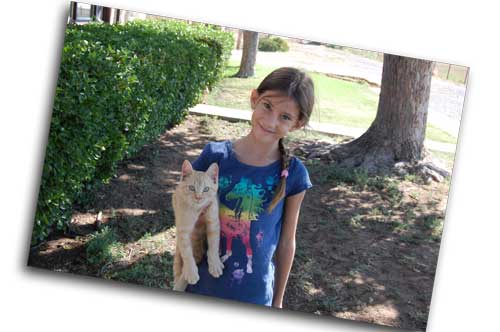 Strange UFO Over Lubbock - We spent the afternoon in Lubbock. Mom fixed us a wonderful supper and Sunny, Jim and Hannah were there, too. While we were packing up the car, we saw this bright light in the western sky.
It doesn't look very bright in the pictures, but it was quite stunning.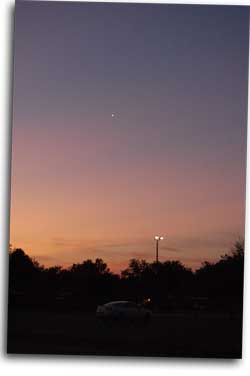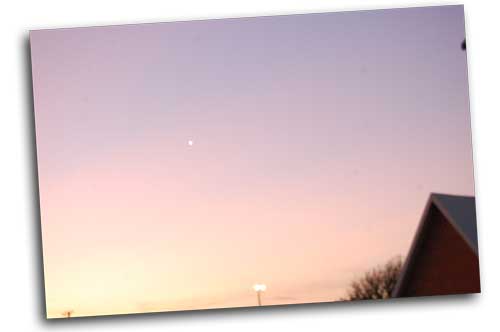 Everyone decided it must have been a weather balloon. Although it could have been pieces of the satellite that was reportedly falling to earth today.???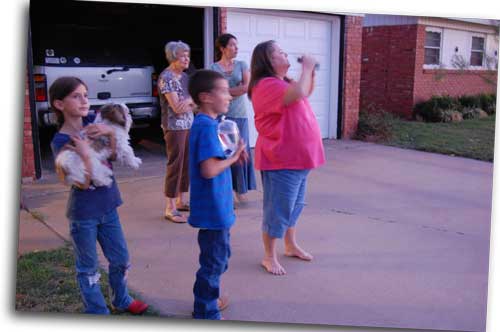 Thursday, September 22 - Fun With the Phipps - This afternoon around 3:00, the Phipps came over for a visit. Their two older boys and Mr. Phipps were all working, but everyone else came over to play and eat supper.
Josiah and Stockton played in the sand box.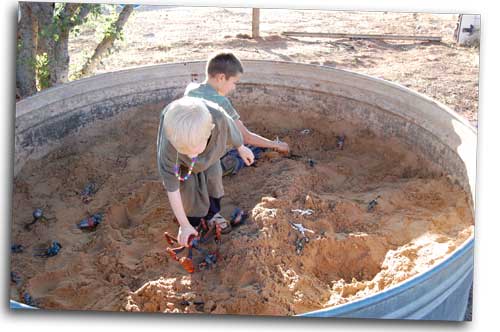 Elaine and Carolina had all kinds of interesting things in their back packs.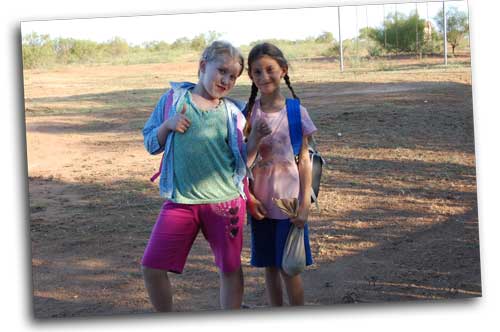 Wednesday, September 21 - Big Puppy Gut
In case you ever wondered, this is what a puppy looks like after drinking a half gallon of raw milk.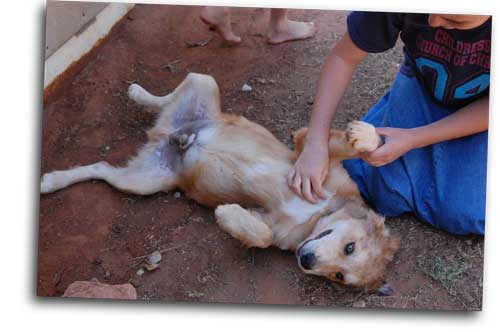 Atlanta took this picture of the wardrobe in her room. These are completed dresses that she's made to sell at the upcoming Jane Austen Festival in Ft. Worth.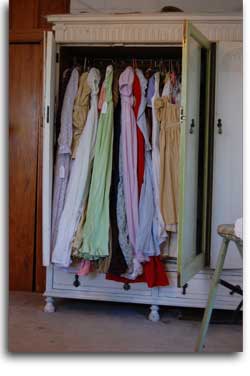 Tuesday, September 20 - Fire at Northfield - Tonight we were fortunate enough to have Robin Boedeker out for supper. Her husband was also out of town on a trip and we were due for a visit. About 9:00, a few clouds came up with some serious lightning and she decided to get home in case it rained. As she was leaving we noticed a fire to the north not very far away. I called one of my neighbors and found out it was 3 miles northeast of Northfield (which is 5 miles northeast of me). We've been watching it closely. Volunteer fire departments from all over have been called in. Thank goodness the wind isn't very high. It seems to be moving away from us.
This is the view from the tree house stairs looking north. This is the best picture I could get with the limited lighting.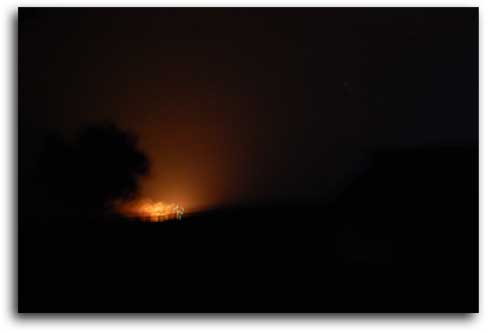 Sunday, September 18 - Archaeological Dig - This afternoon we packed up a picnic lunch and a few digging tools and headed down the road into the pasture. We've been talking about archaeology in school and wanted to see how it was done.
Aspen took our picture as we started out with shovel and blanket in hand.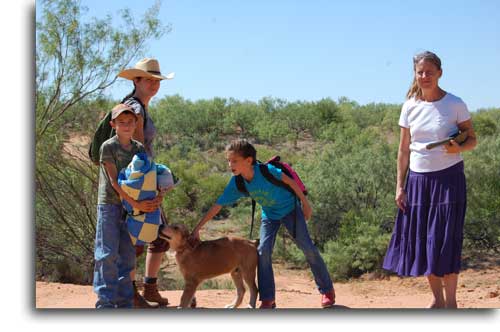 Carolina races down the hill. Rusty has one foot on the ground, but Carolina was caught in the air.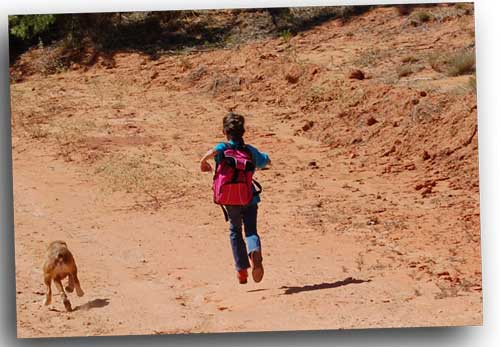 We munched on fried burritos for lunch.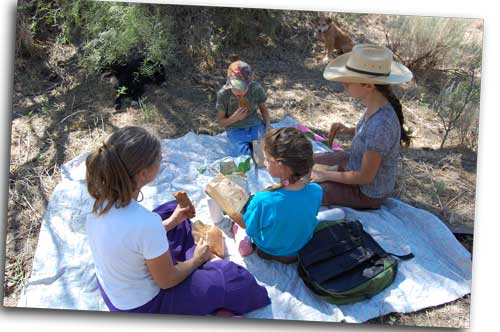 Milo wonders where his burrito might be.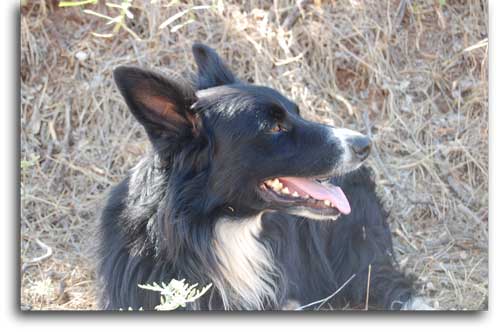 Here's the first find. A poor longhorn who didn't make it last winter.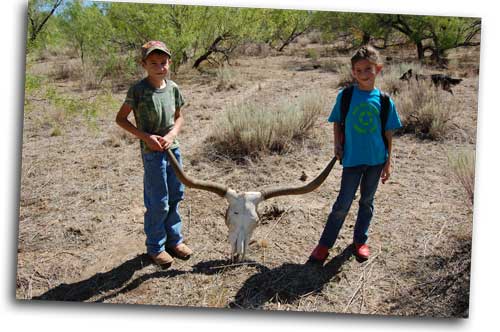 Carolina finds a fossil on top of the dirt. It is some kind of centipede or grasshopper exoskeleton.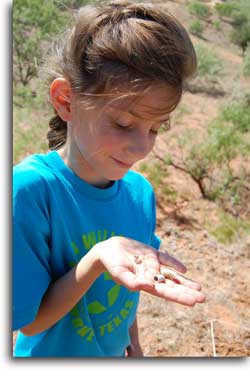 We pick a spot on the banks above what would have been a creek years ago.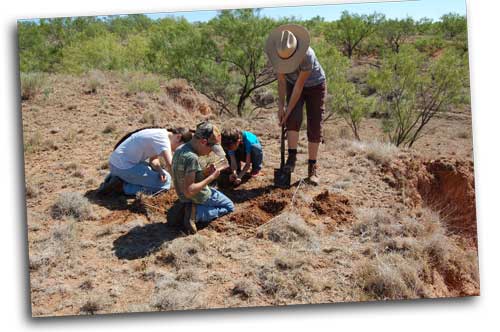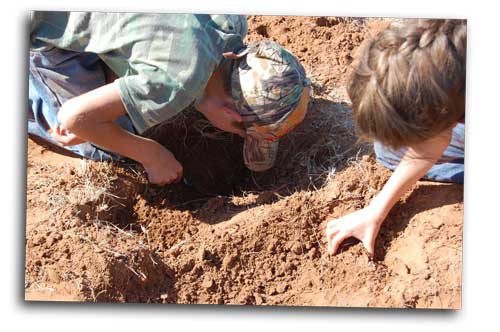 The kids find a few bits of grey clay, a few rocks, and a wild onion.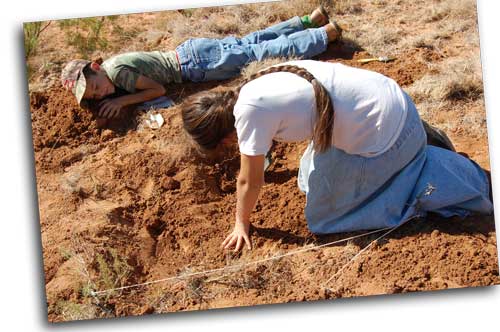 Later, as we head back home down the road, Stockton makes a fantastic discovery. It's a large piece of white flint sticking up out of the dirt.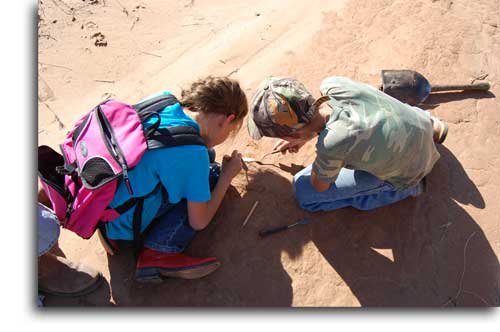 He and Carolina whip out the digging tools again and uncover an Indian spear point. The top and bottom have been broken off, but it's definitely the real deal.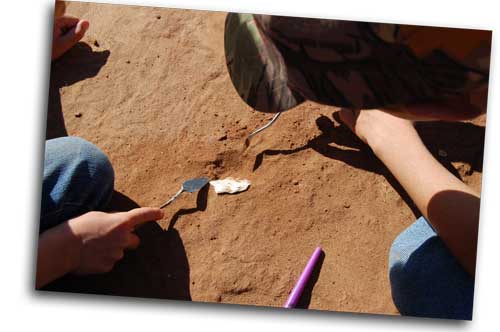 I was going to take a better picture of it, but Stockton misplaced it once we got home. As soon as it turns back up, I'll post a better picture. An inspiring side note: Before our little picnic, Stockton said grace for us and asked God to help him find an arrowhead. So, this was answered prayer.
Saturday, September 17- Annual Elk Hunt - Nathan, Cim and Laredo as well as Nathan's brother Chris, left early this morning for the mountains of Colorado. This has become a tradition and a trip that they have looked forward to for months. It's bow season right now, so it's a little harder to bag an elk, but hopefully this year someone will get a shot.
Laredo gets ready to load his horse into the trailer.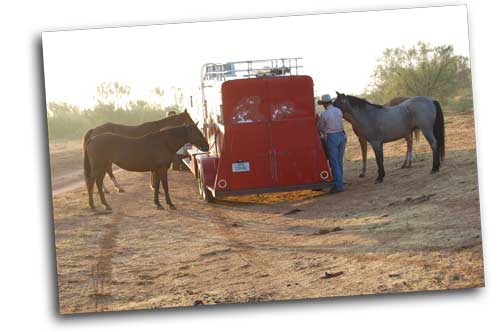 Downpour!
This afternoon we were amazed when it actually rained. I mean really rained. The wind blew, it hailed and the rain came in sheets. Just like it was supposed to do last spring, but didn't. It came so fast that most of it ran off, but hopefully some will soak in and grow us some grass for the winter in the pastures.
An actual puddle left by the retreating storm.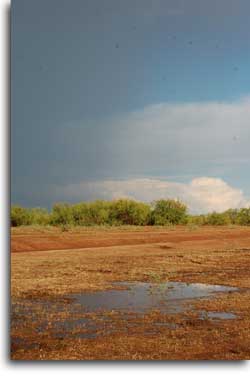 Stockton and Carolina playing in the water.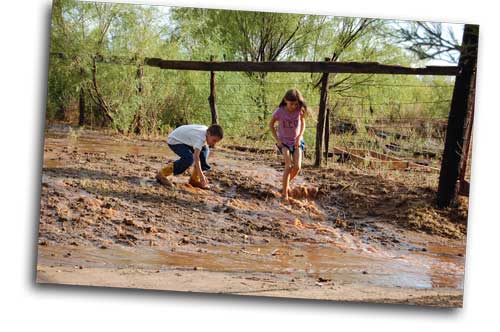 The kids followed the water running out of the wheat field (no wheat to hold it). It ran into the pasture to this cutout. The sound was really loud as the water fell into the pool below.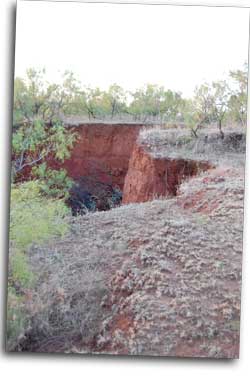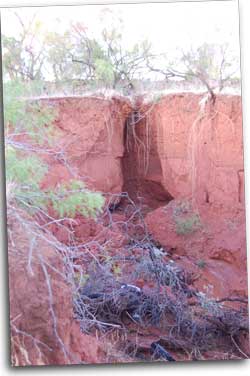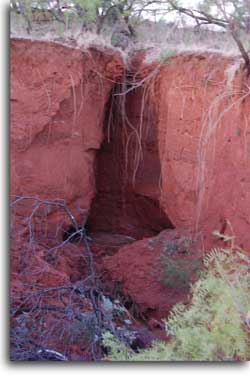 A little stream runs out from the cut to go to the next low spot.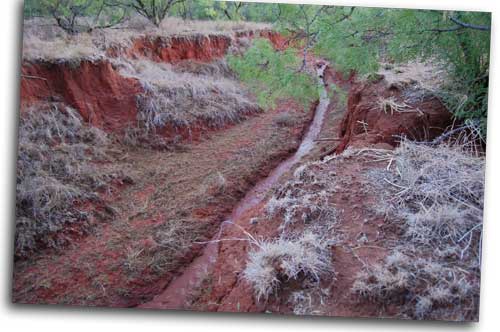 Atlanta snapped this picture from above.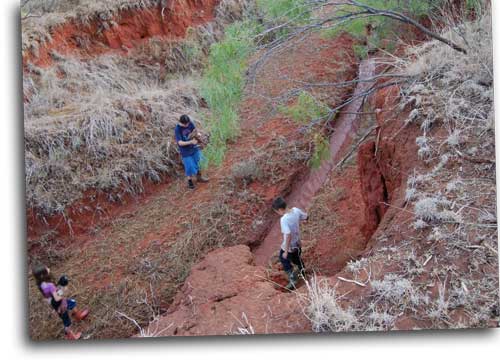 The grass in the pastures is dry and crunchy. Hopefully it will revive.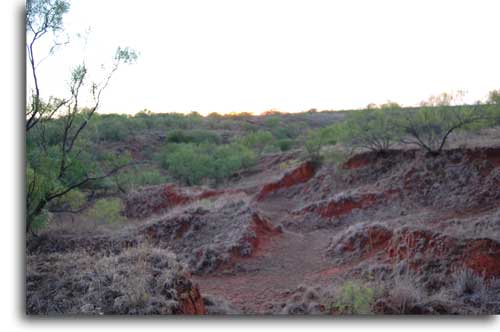 Coconut and Carolina were both wet and muddy by the end of the hike.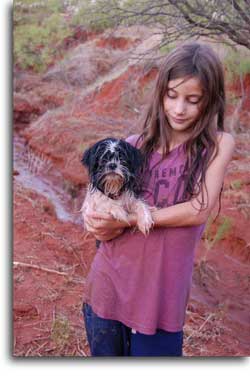 This big tree is growing next to a dirt tank. The stream was emptying into it.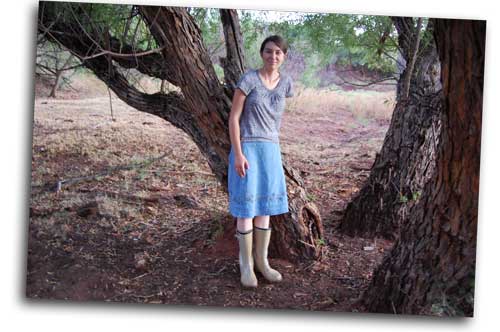 Thursday, September 15 - Dang Cute
We had a bit of rain today and look what Stockton found. The cutest frog ever!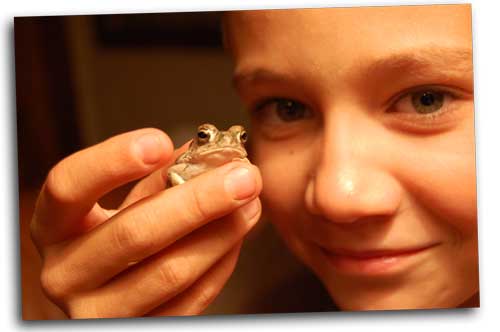 Wednesday, September 14 - Amazing Entree
Atlanta made some scrumptious Pesto Lasagna today. We used fresh basil from the garden and some vinegar cheese that we made from some of Bossy's milk. What's vinegar cheese you ask? Well, you take a gallon of milk and heat it till it just starts to steam on top. Then you pour in a 1/2 cup of vinegar and stir. The most amazing thing happens. The curds separate from the whey. Some type of chemical reaction occurs. You no longer have vinegar and milk but two new substances. The whey can be used to make bread or in any other recipe calling for liquid. It's supposed to be very high in nutrients. The "cheese" or curds wad up into a chewy ball that can be drained in a cloth or sieve. We use this in place of ricotta or cottage cheese. I'm not sure if this will work with milk that has been homogenized or not or if it has to be raw.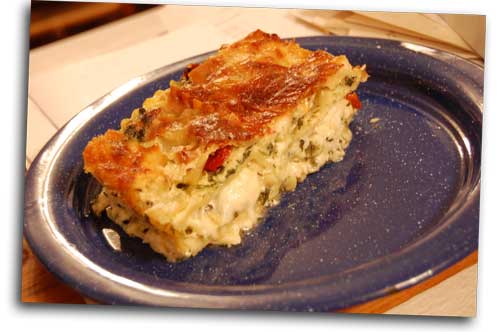 Satin Creations - These two beautiful play dresses are going to a couple of lucky sisters whose mother is planning a special birthday party with a "Marie Antoinette" theme. We weren't sure what all this would entail. Maybe a "pin the head on the queen" game???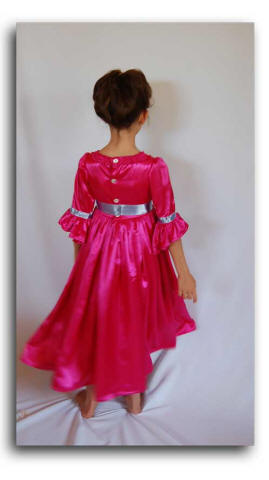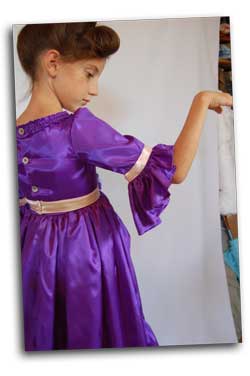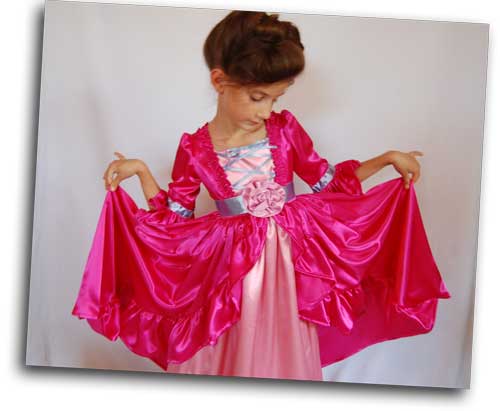 Photo gallery Link - Remember back in April when the big kids went to a reenactment by themselves? (see Return of the Confederates, April 17) They had such a good time and on their return, Atlanta put together a nice slide show of all their photos. I've finally gotten it published on the web. I know you'll enjoy it. See it here.
Sunday, Sept. 11 - More Target Practice
Cimarron and Laredo were out this evening with their new long bows practicing again. They can hit the target spot on at 50 yds.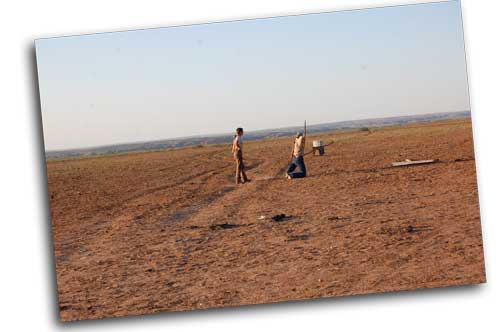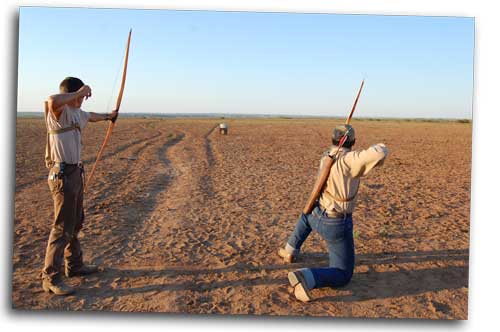 Saturday, Sept. 10 - Trail Ride
Nathan and most of the kids enjoyed the cooler weather by taking a ride today. It was a good workout for the horses that will be going on the elk hunt next week.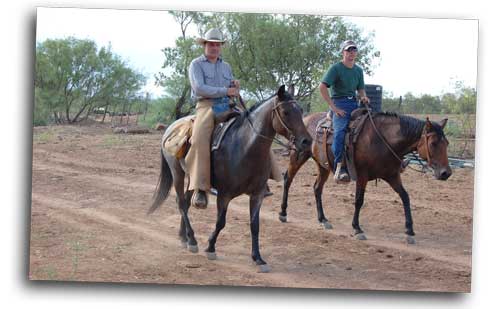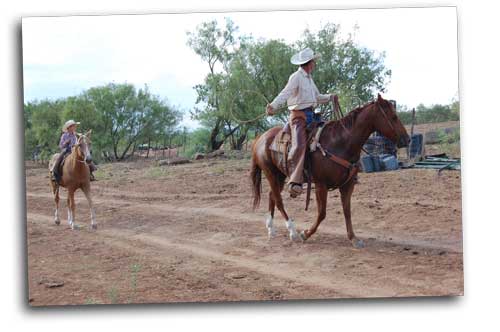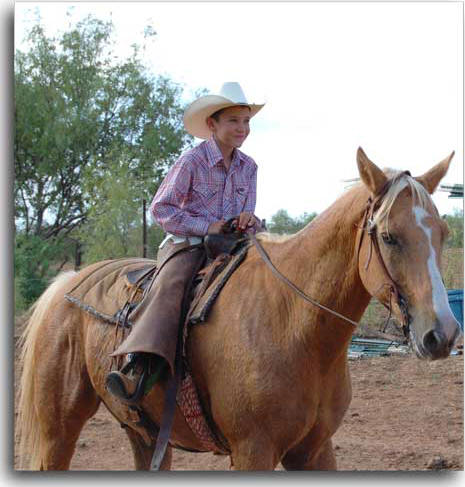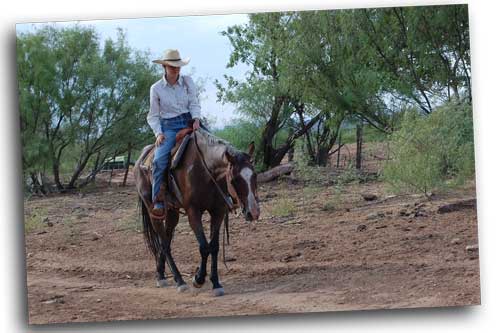 Crusty Loaves
Aspen tried her hand at another recipe this weekend. Her bread was a great success.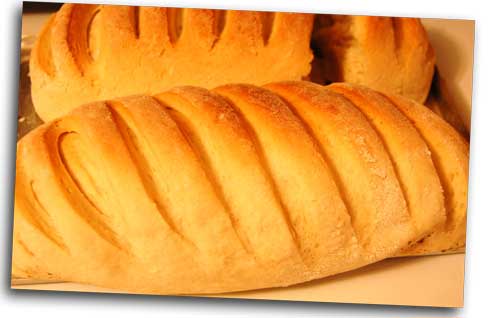 September 4 through 9 - Sewing Week - Rebecca Roberts came this week to spend time with Atlanta and work on sewing projects to sell at their upcoming Jane Austen Festival in Ft. Worth next month. They had a lot of fun and got many things accomplished. Read Atlanta's blog post about it here.
Rebecca in a silly moment wearing a Regency cap she just finished.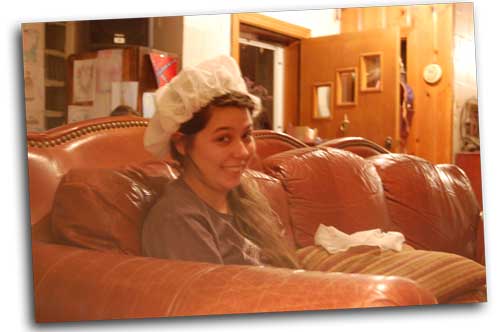 Saturday, Sept. 3 - Archery Practice
Cim and Laredo got new long bows in preparation for their upcoming elk hunt. They practiced several times today. Here's Cim this evening shooting a few more arrows after it cooled off.
Rusty likes to grab Gypsy's leash and lead her around. As you can imagine, Gypsy doesn't see the humor in it.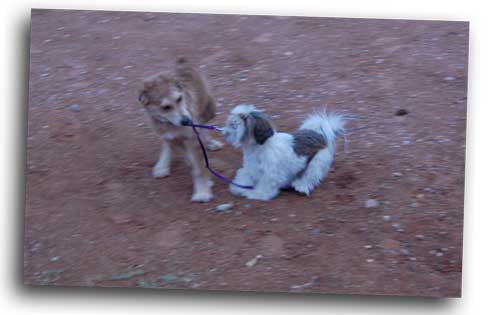 Aspen baked a few goodies this weekend for the boys.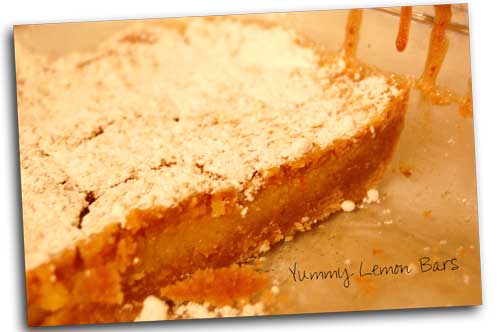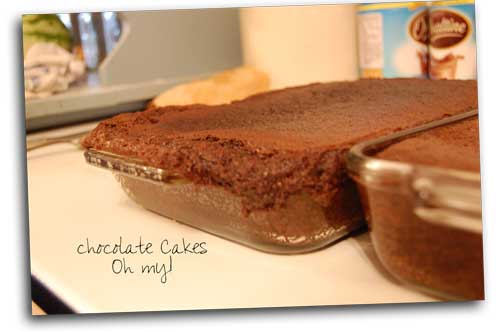 Check out our past news. Just click any link below: