Friday, May 31 - Tennessee Cabin Becomes a Home - If you visit Atlanta's latest blog post, you'll see what all she and Jordan have done to their cabin. It's fixed up so cute. Click here to open a new window.
Wednesday, May 29 - Tornado or Dust Devil? - A storm chaser in Quitaque took this picture this afternoon of a possible tornado near Turkey. We received high winds and had very dark and menacing clouds just north of us as the tail of this storm passed by.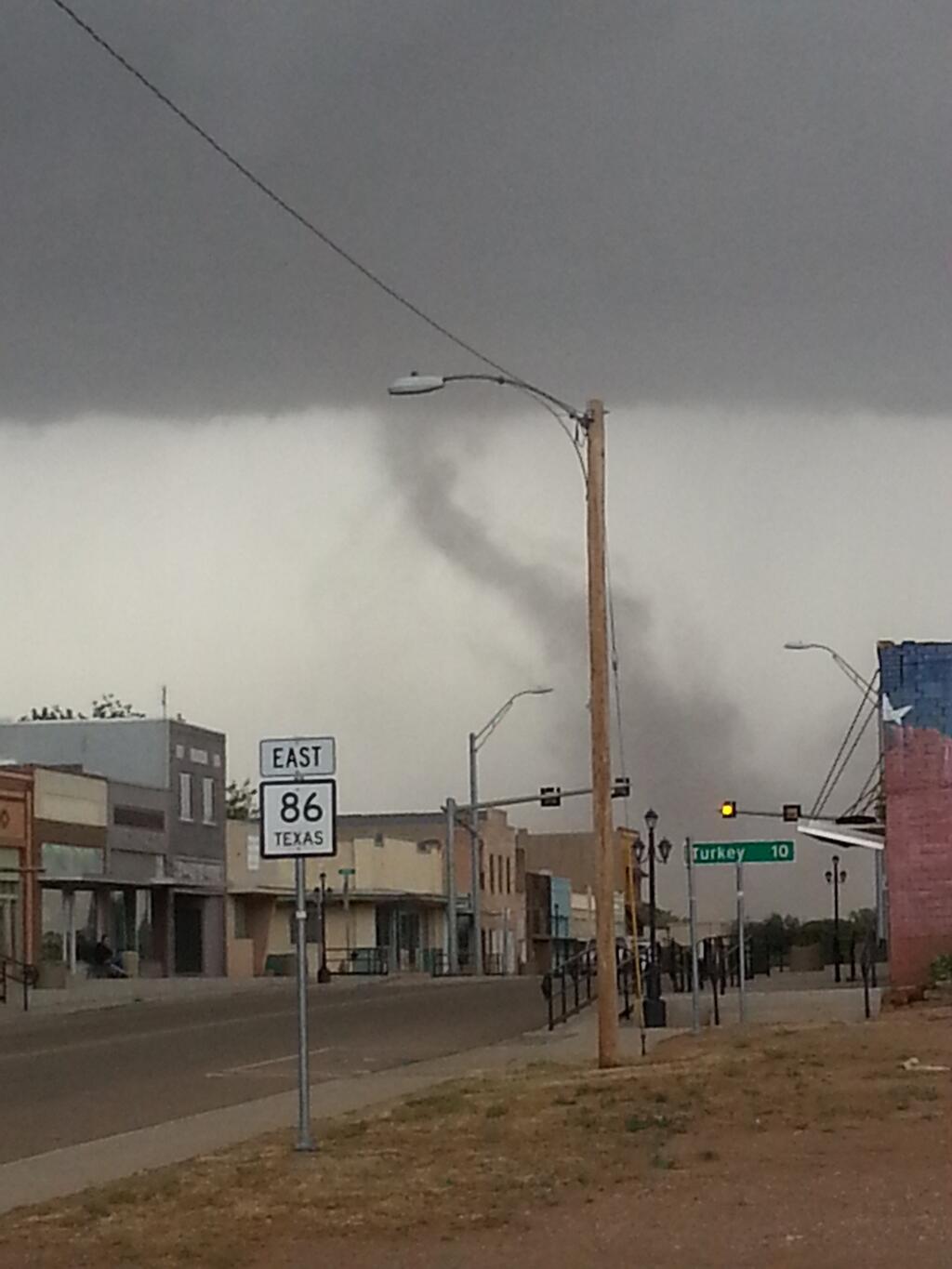 Pool Open for Business - The girls take a late evening swim tonight. We got our pool set up about a week ago and the kids have been enjoying it on these hot, humid days we've been having.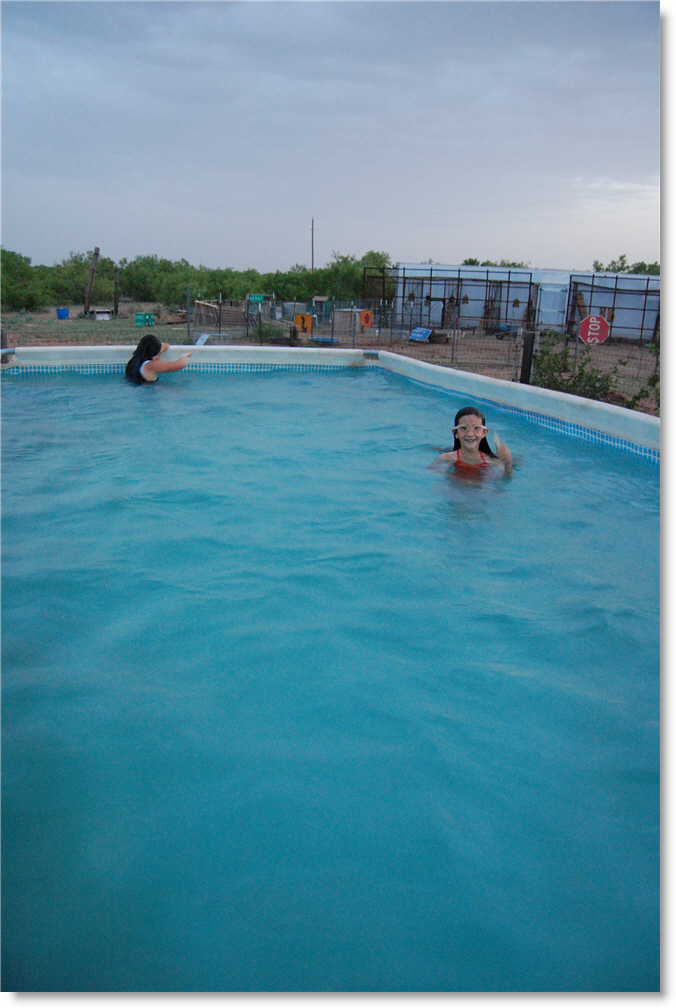 Dr. Shannon, the Veterinarian - Looks like Coconut is due for another trip to the doctor. Carolina had this set up in her room this afternoon. Take a look at the pages from her doctor's notebook below. Very funny stuff.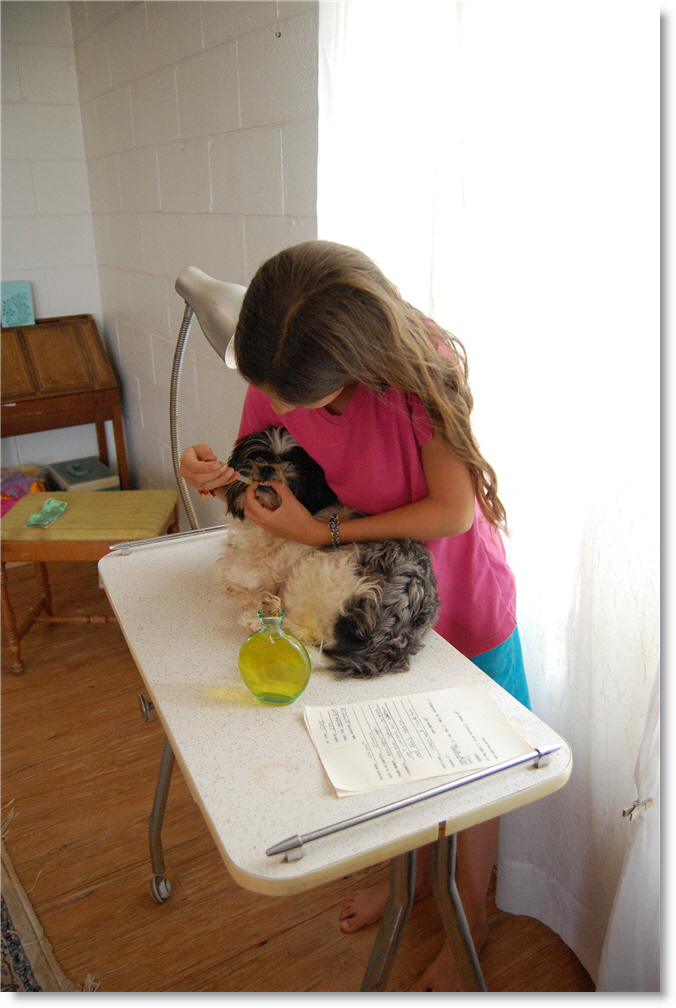 I bought these retro office tablets that came from an actual doctor's office at an estate sale. The kids have had fun filling them out when they're playing Doctor.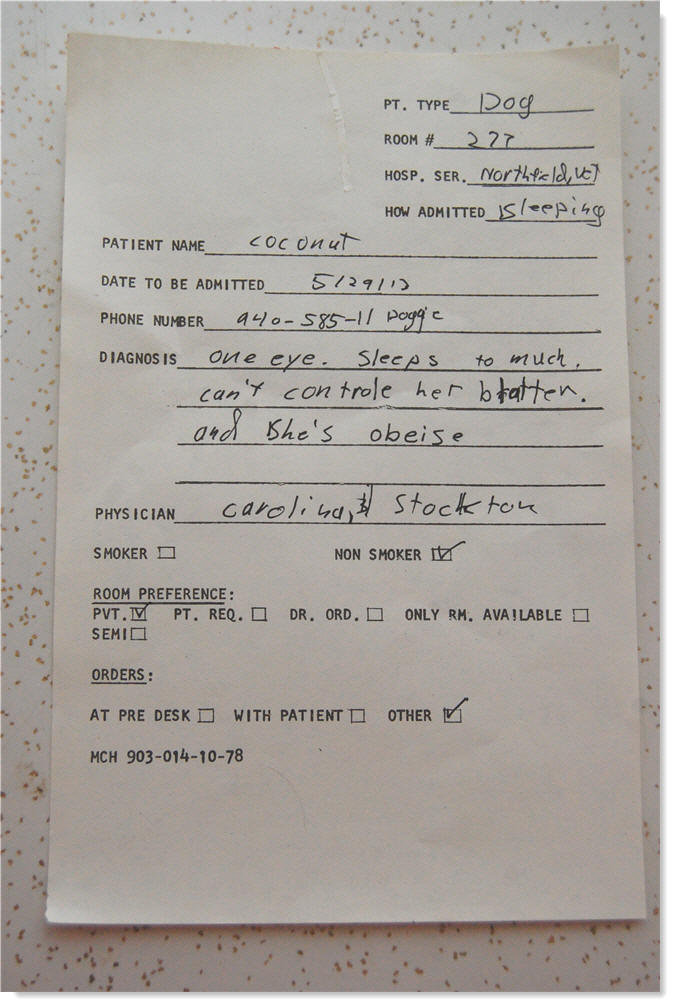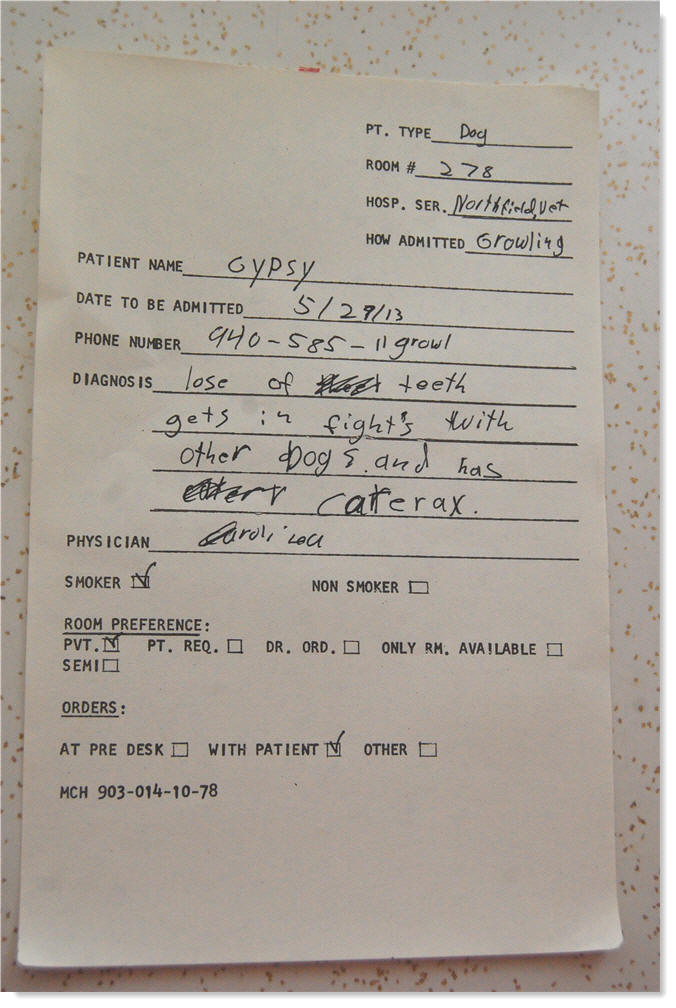 Monday, May 27 - Visit from Tommy and Patsy - We had a great time catching up with our old friends. They came up for Cole Brown's wedding on Sunday and stayed over in Childress. They came out today to bring some vintage stuff for Atlanta and Jordan.
Won't Atlanta and Jordan love this hand plow?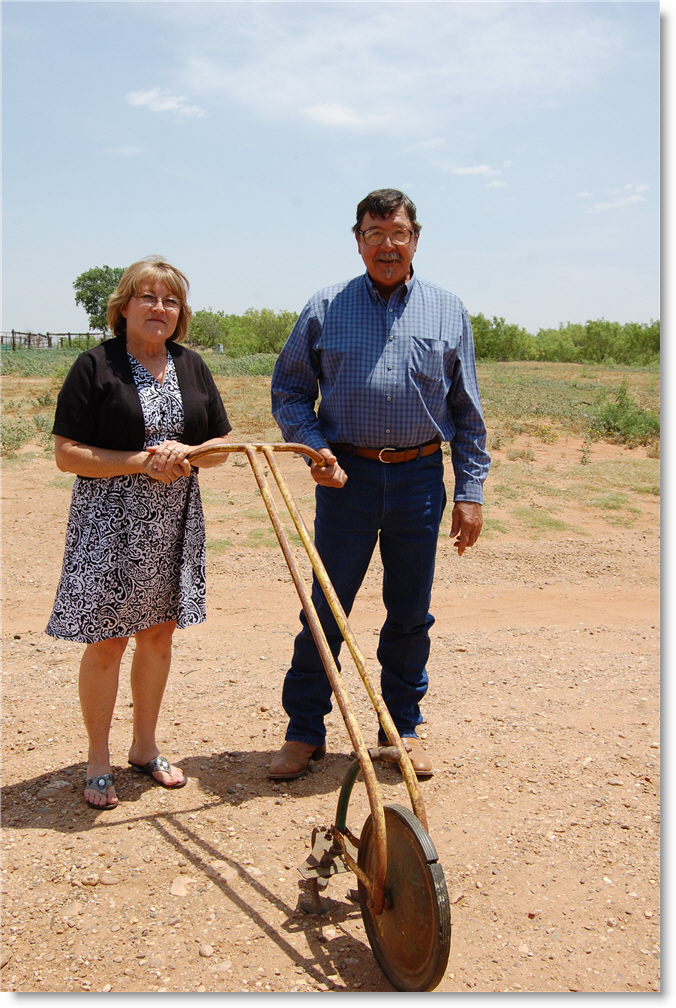 They brought us a pile of other great stuff, too. They used to live near Turkey, but now live near Jacksboro.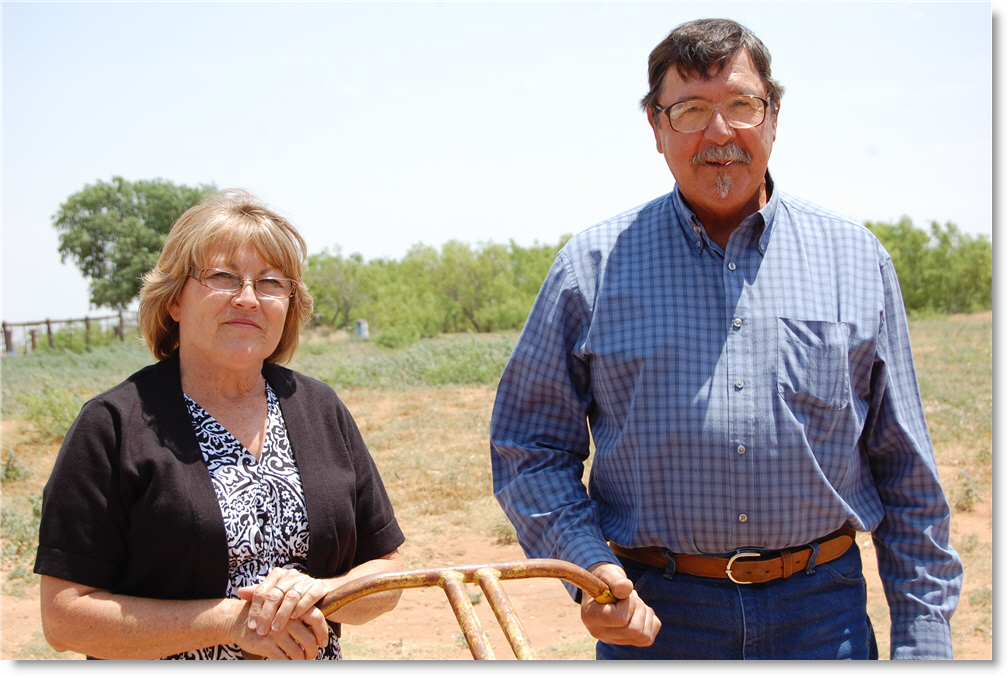 Cloud show on the western horizon.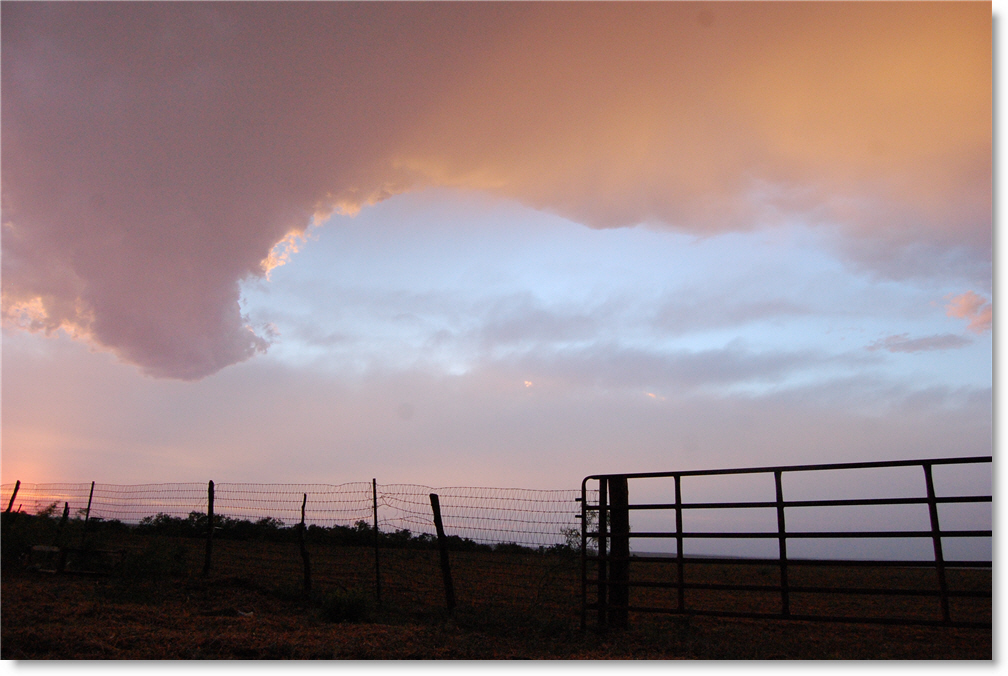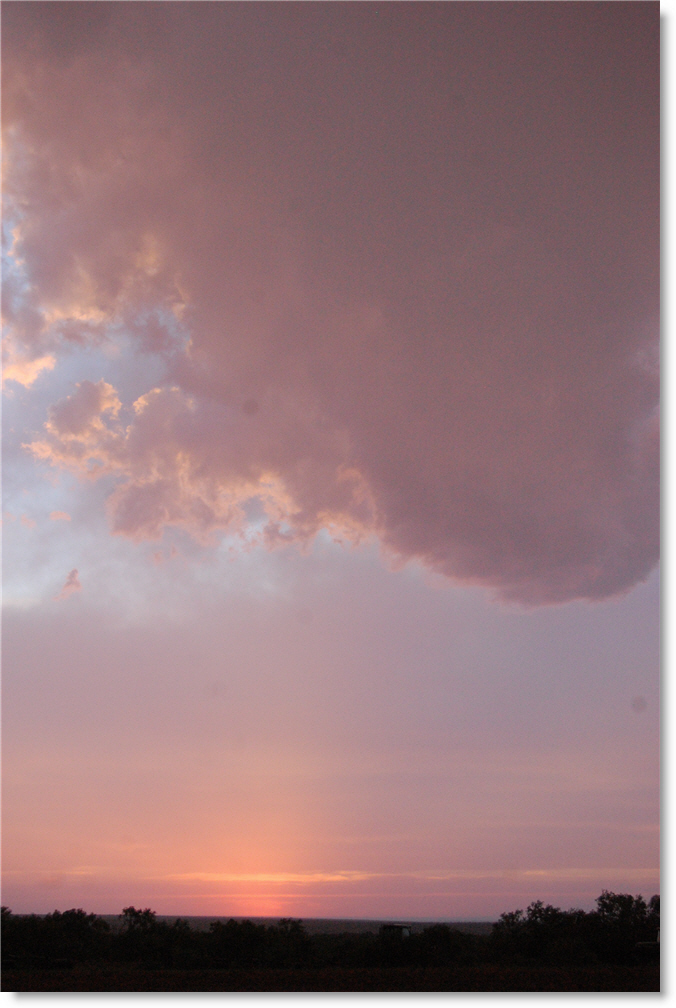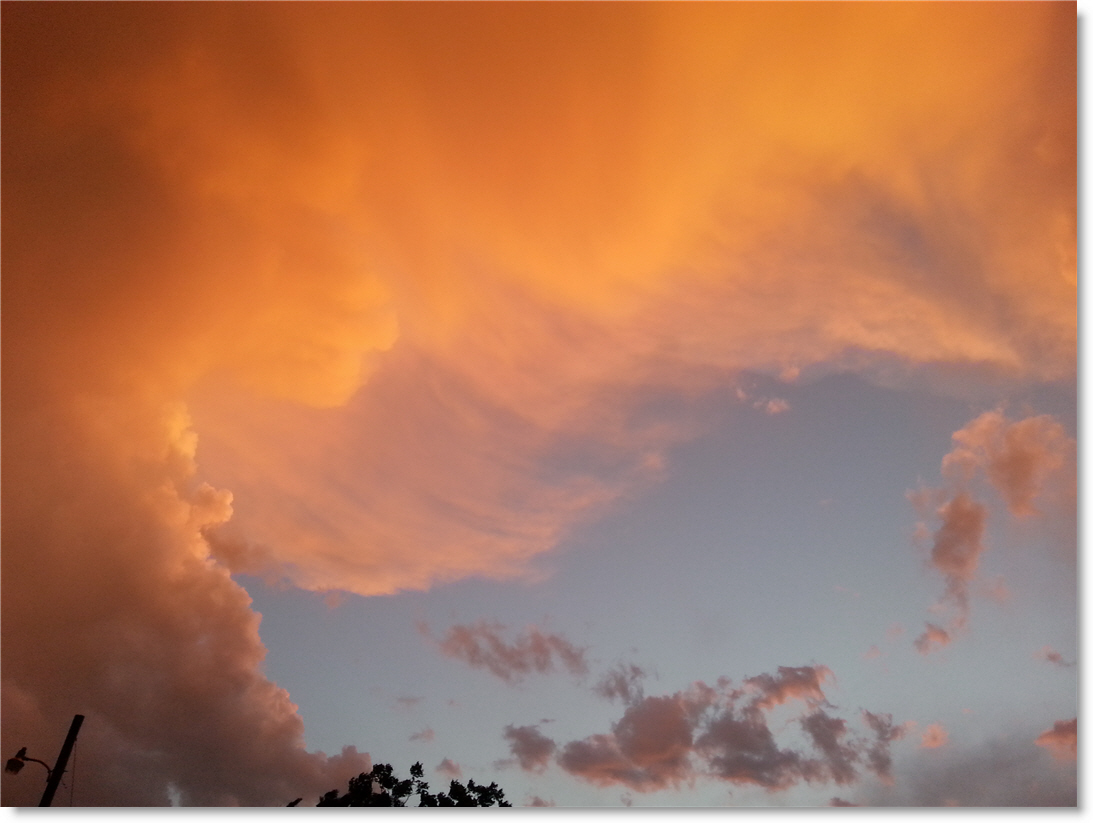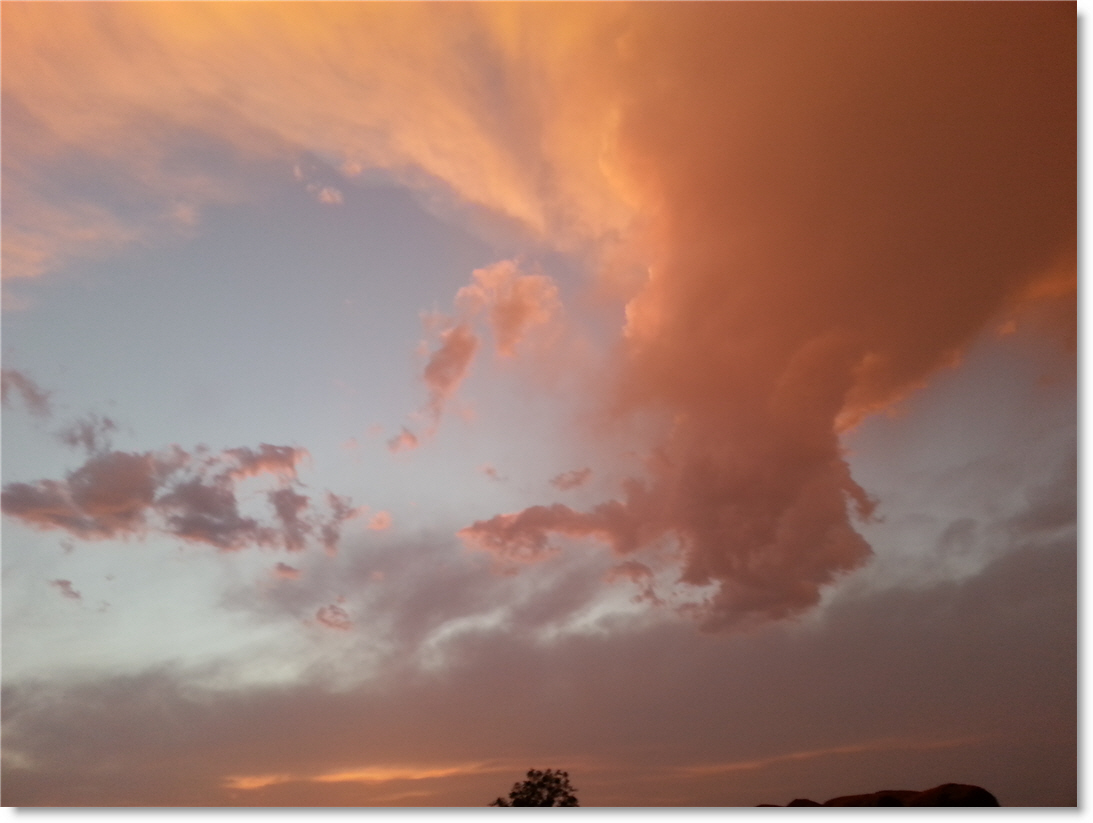 See the panoramic versions of these beautiful clouds by clicking here.
Unusually quick and turbulent hail storm - Earlier in the afternoon the edge of a storm passing just to the east of us dropped hail on our house for about a minute.
Wind, dirt and hail descended suddenly on our house.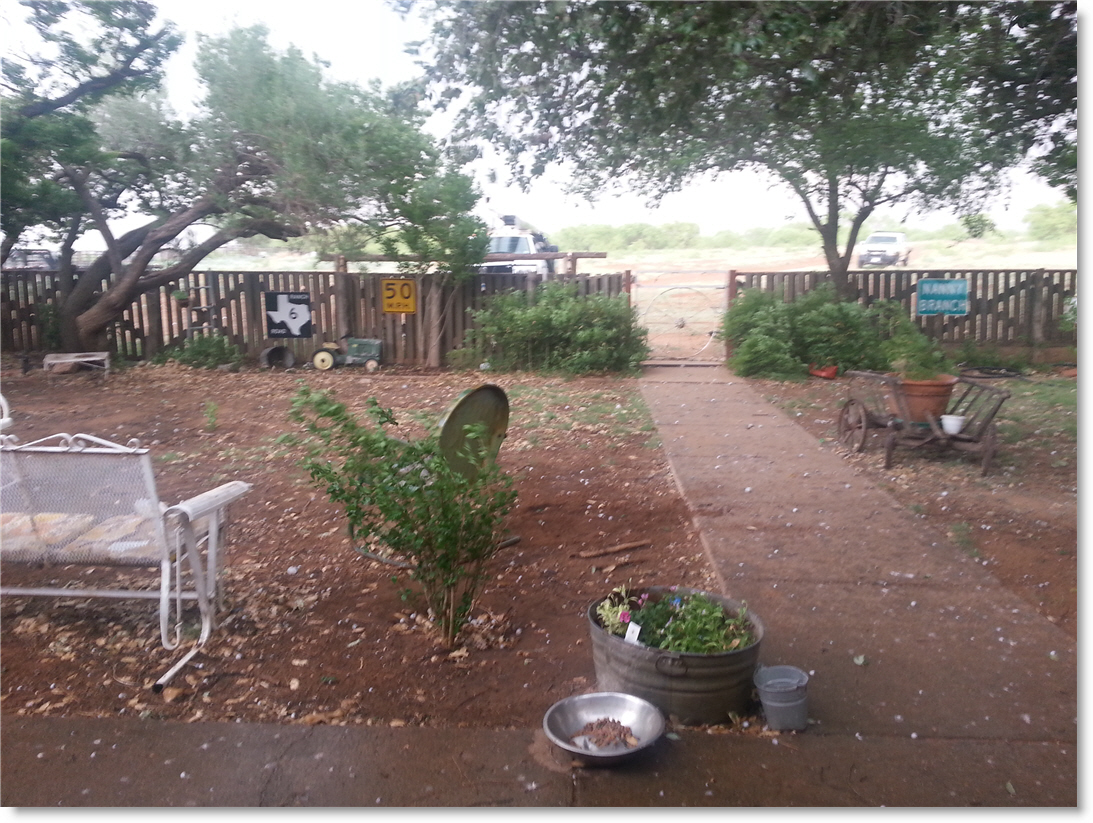 Some of the hail was quite large. I'm glad it didn't last long.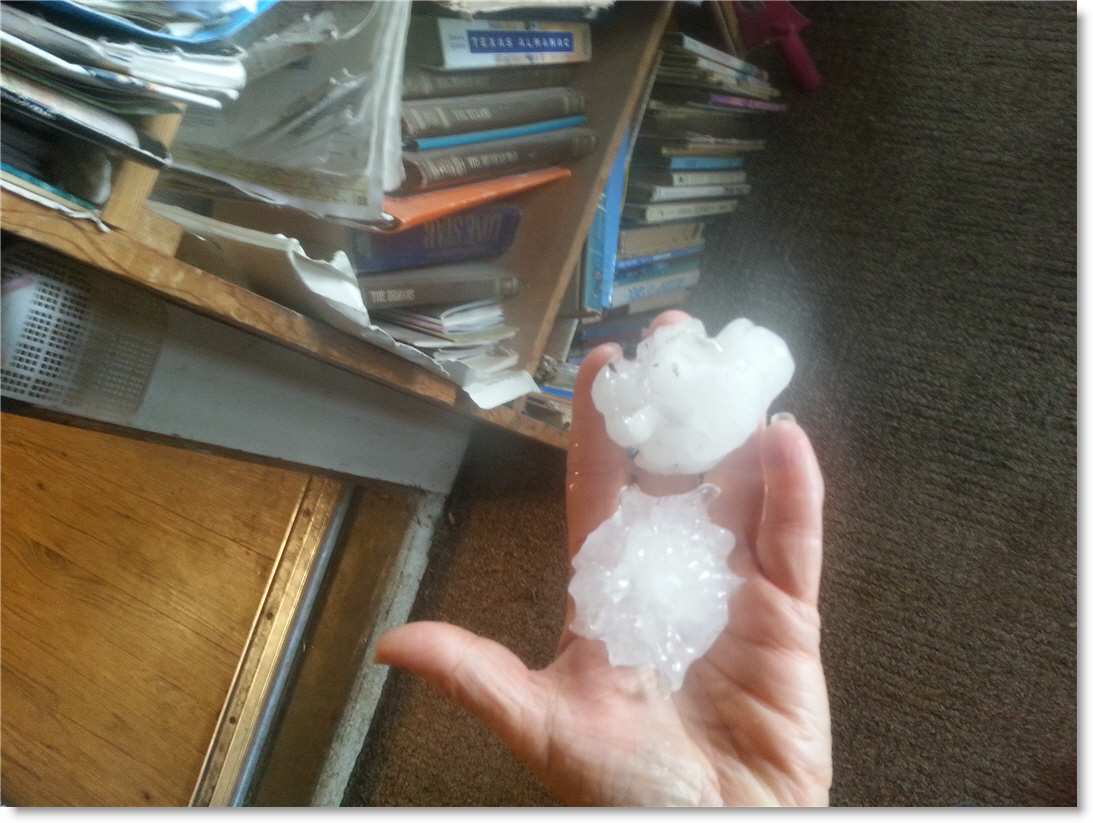 Sunday, May 26 - Ranch Wedding - It's been fun attending the various weddings in the area last summer and now this summer to see how each family's personalities come through in the decorations, clothes, etc. We went to an interesting wedding today over near Wellington, on the Oklahoma border, for our friends the Brown's son, Cole.
A wagon took guests from the parking area to the ceremony location.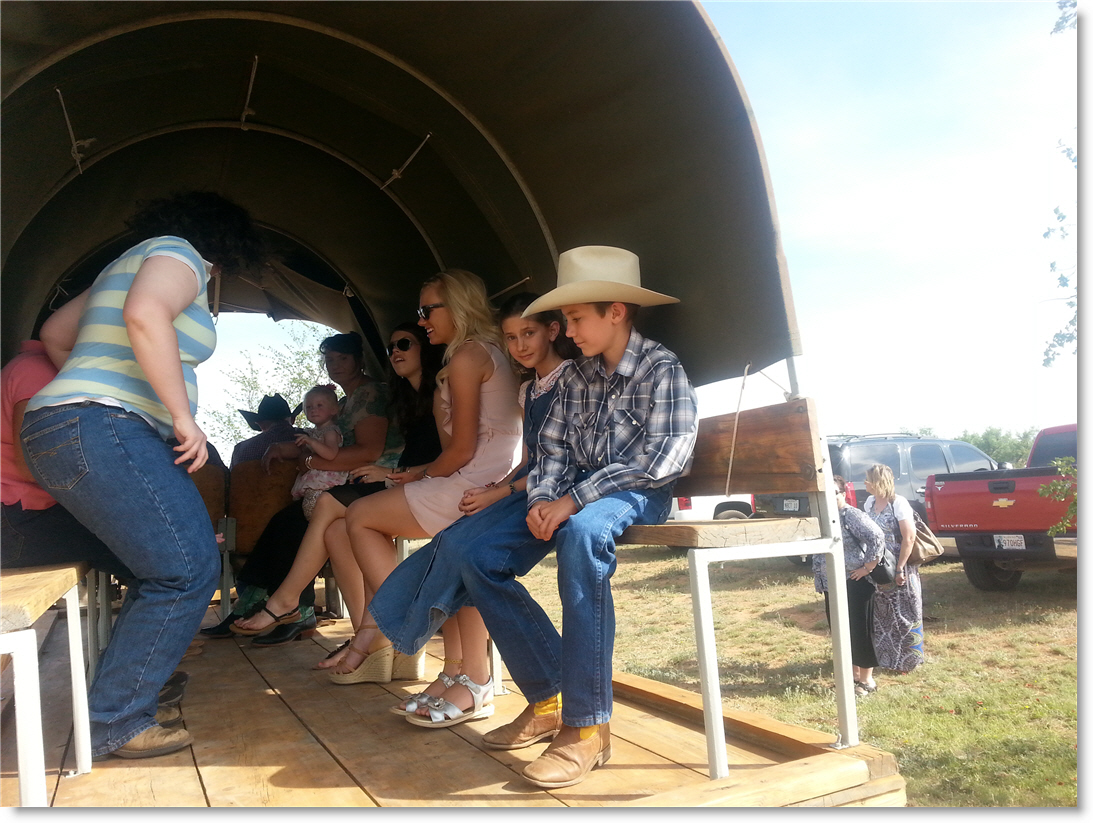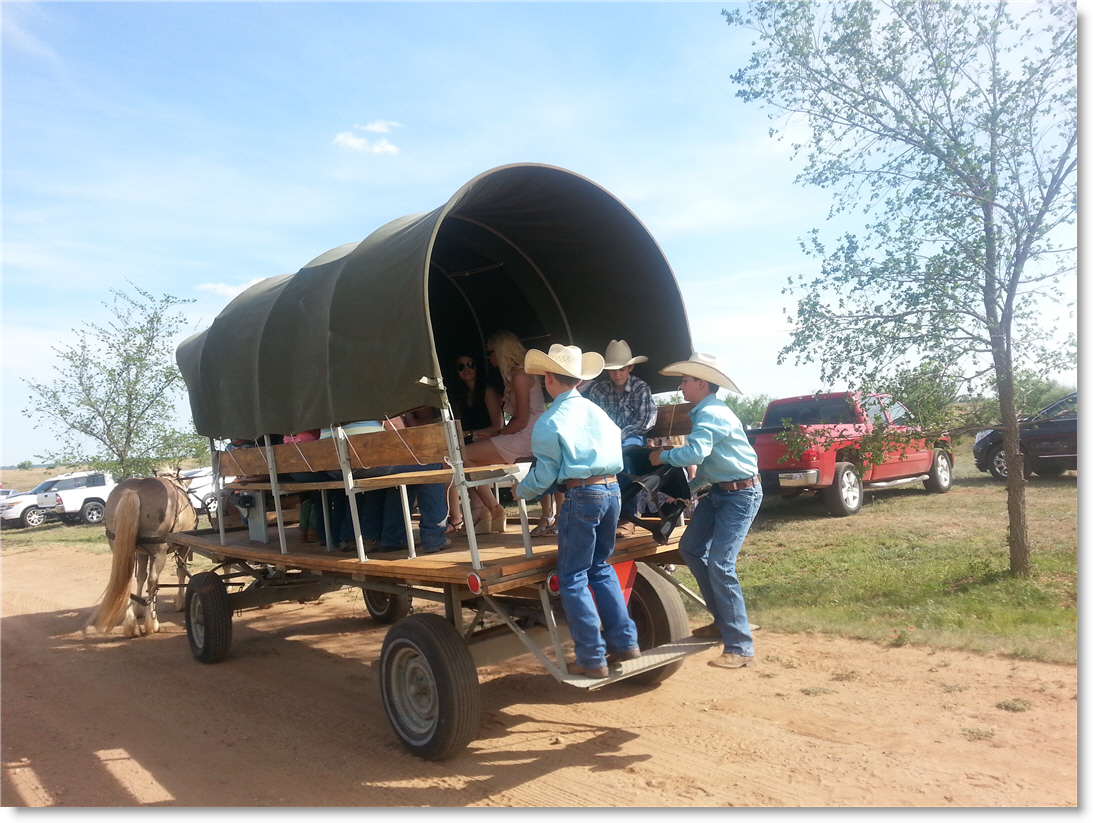 Nathan and Tommy waiting for the start of the wedding.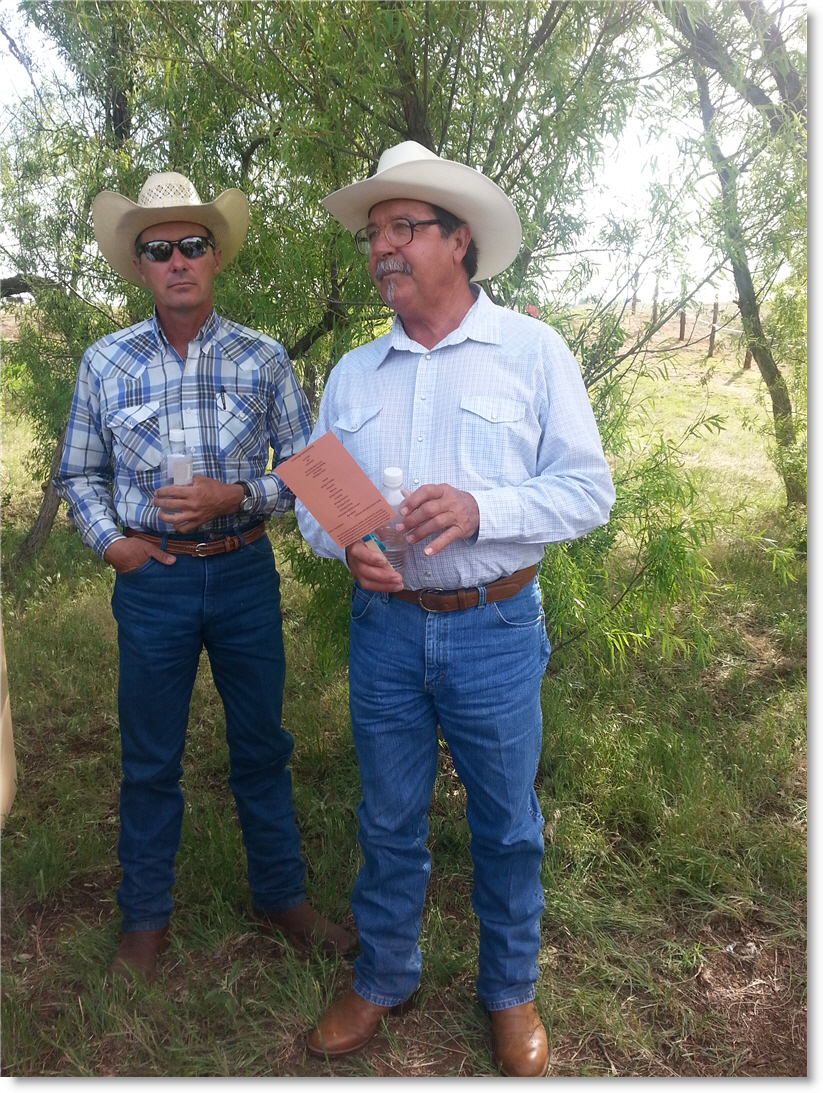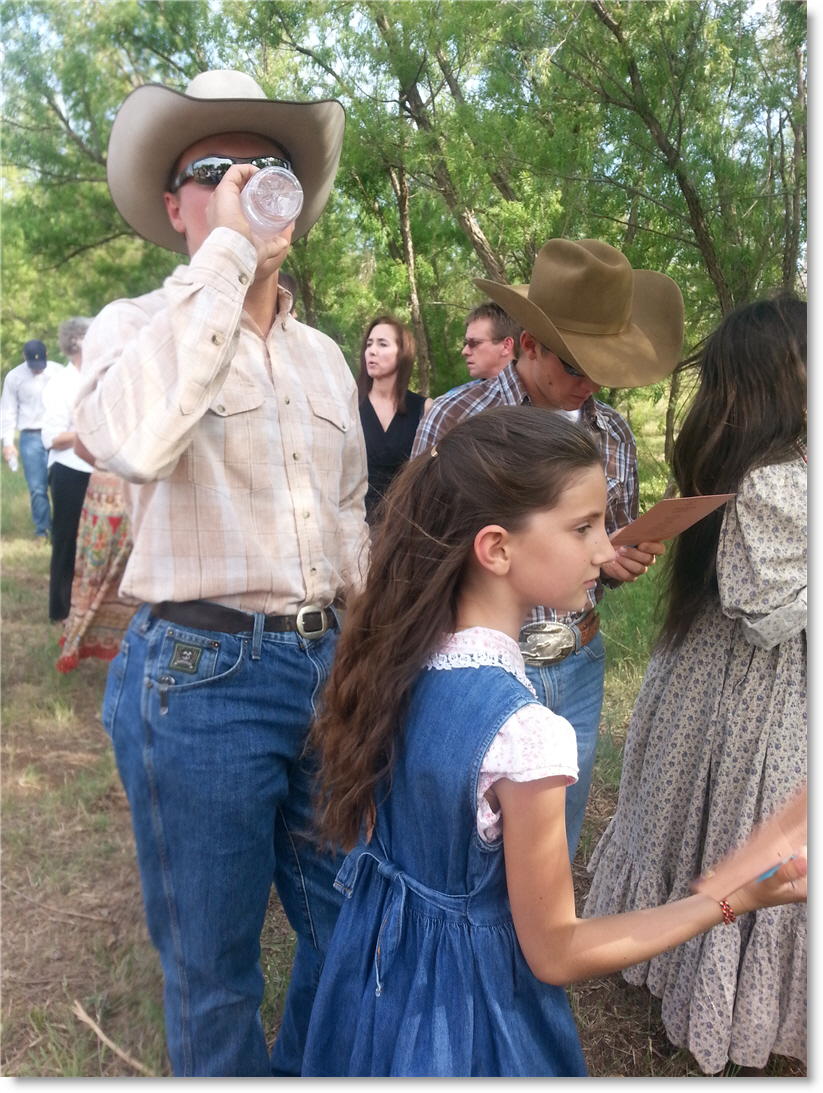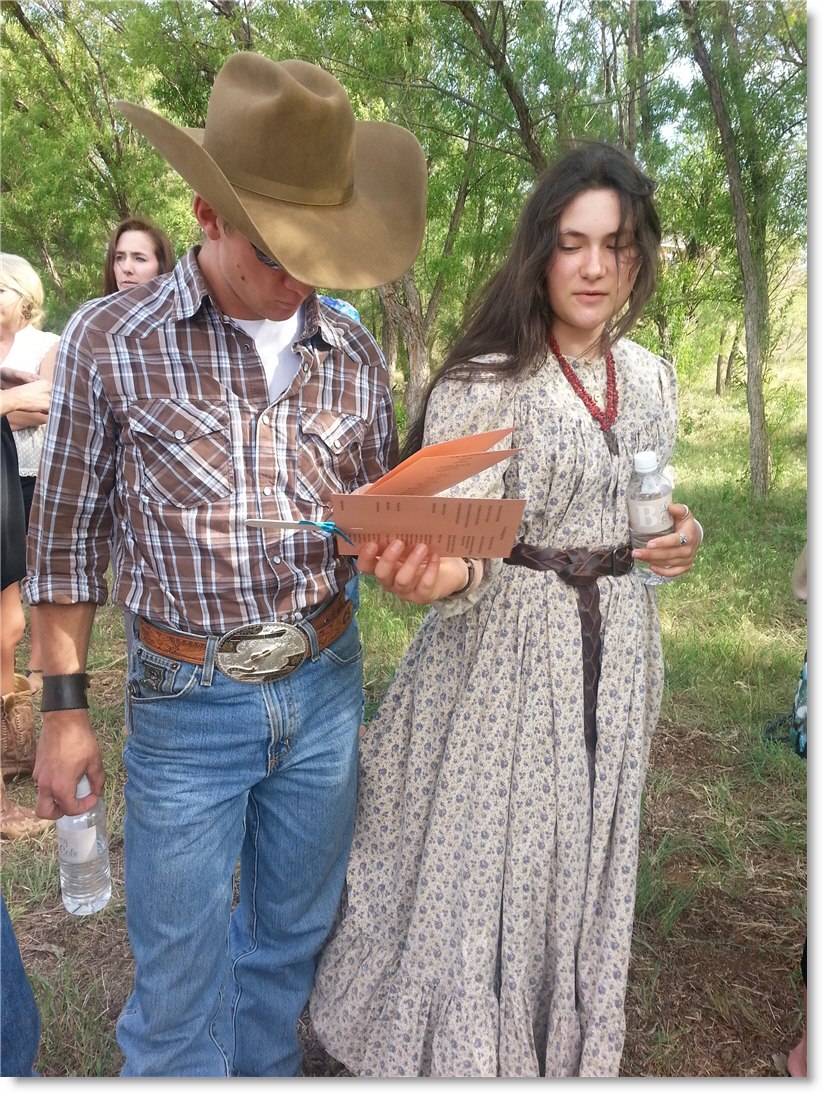 Delane being escorted in by Cole with Brent behind.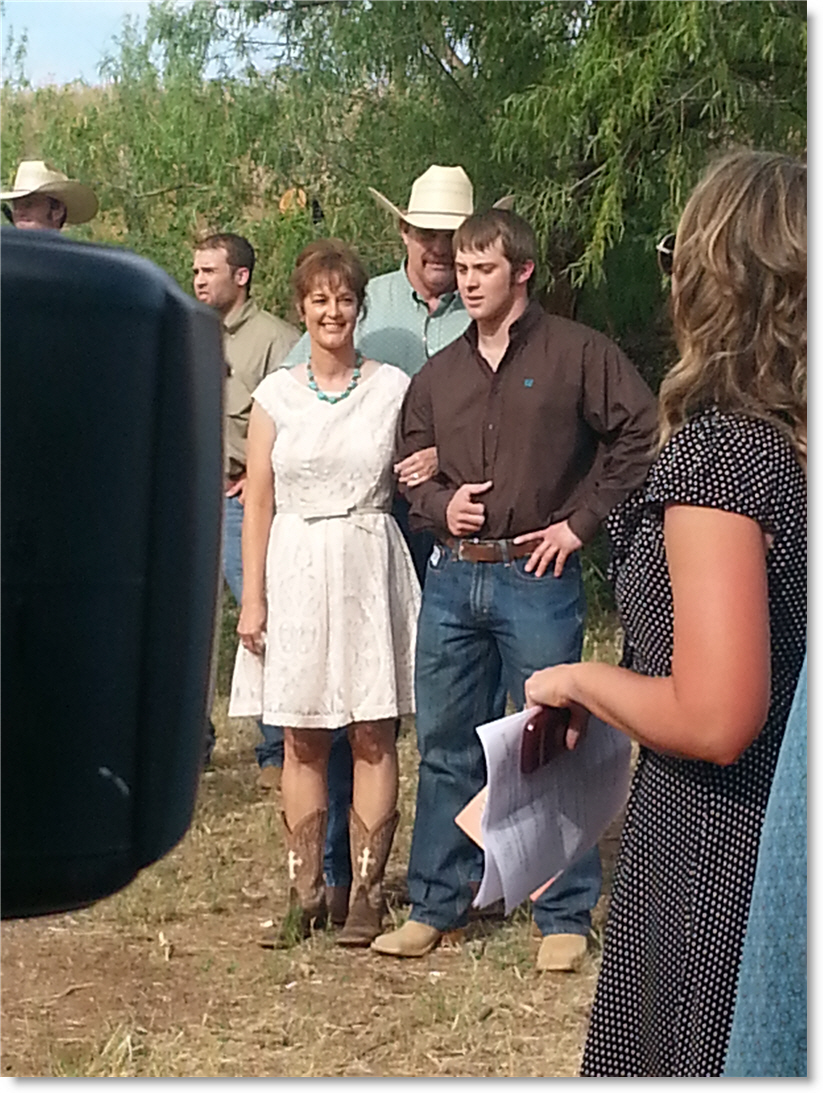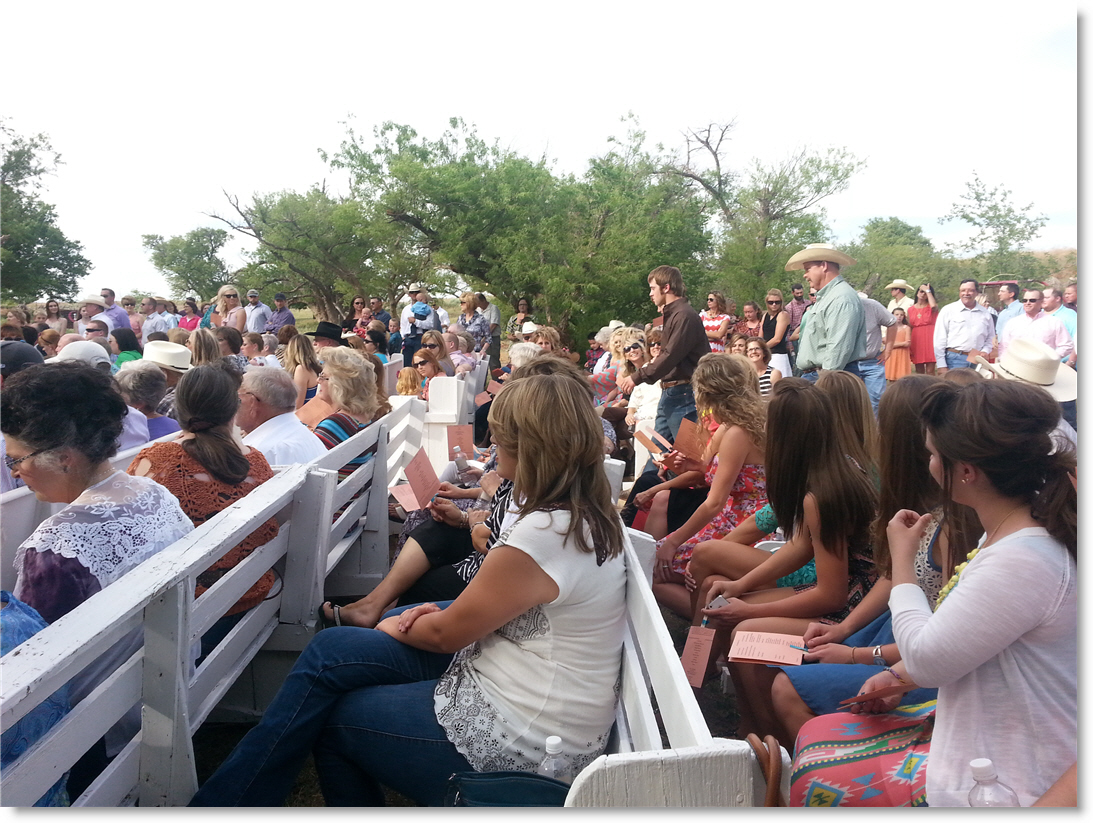 Eight attendants each. Her colors were similar to Atlanta's, but more vibrant.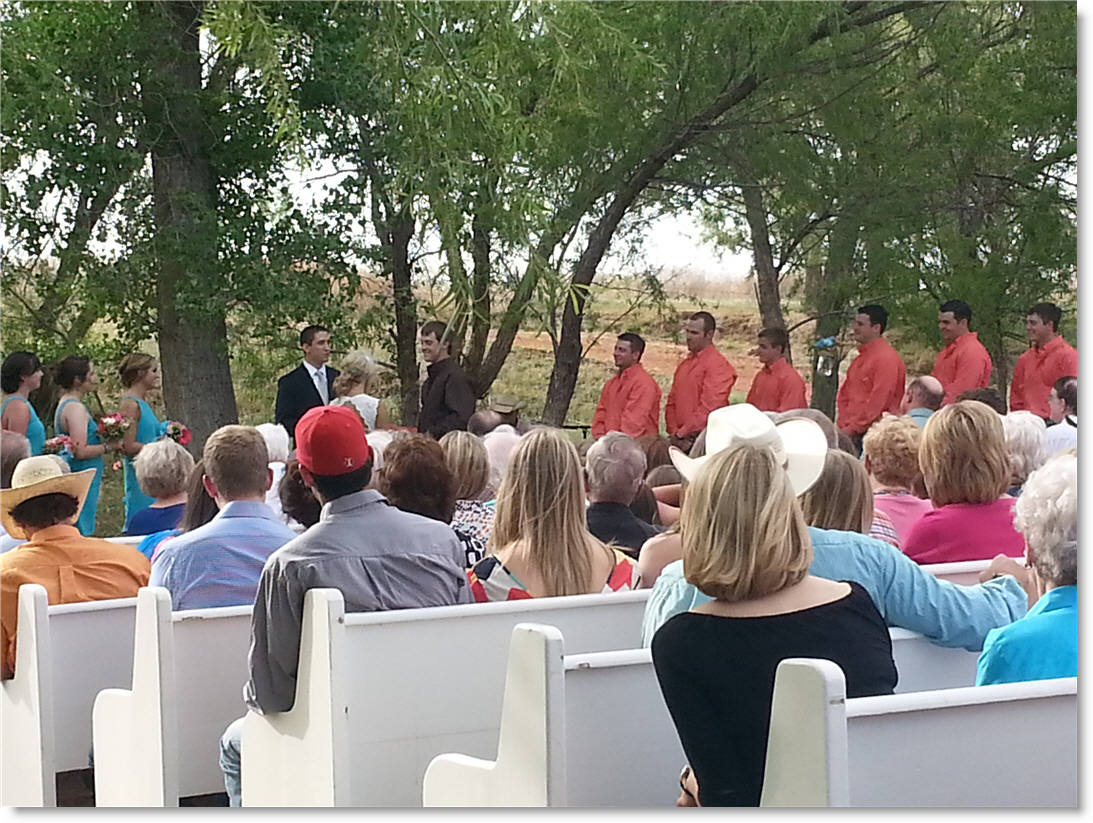 Mr. and Mrs. now.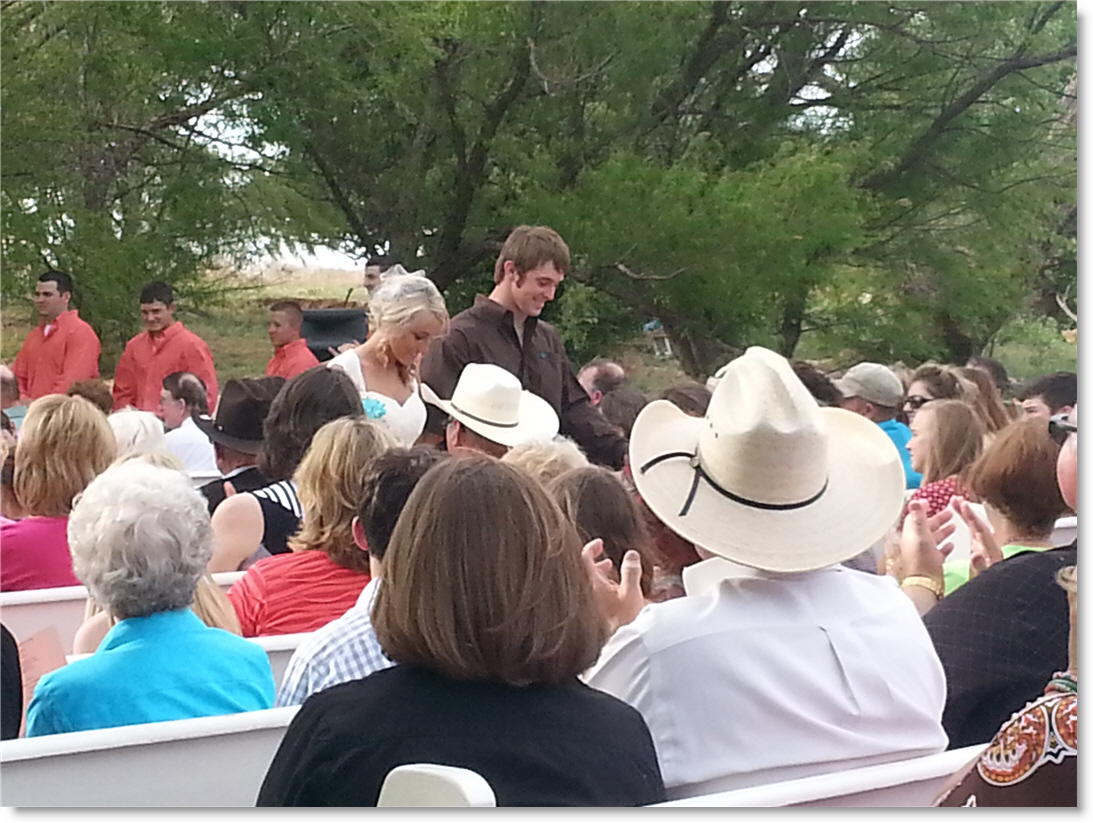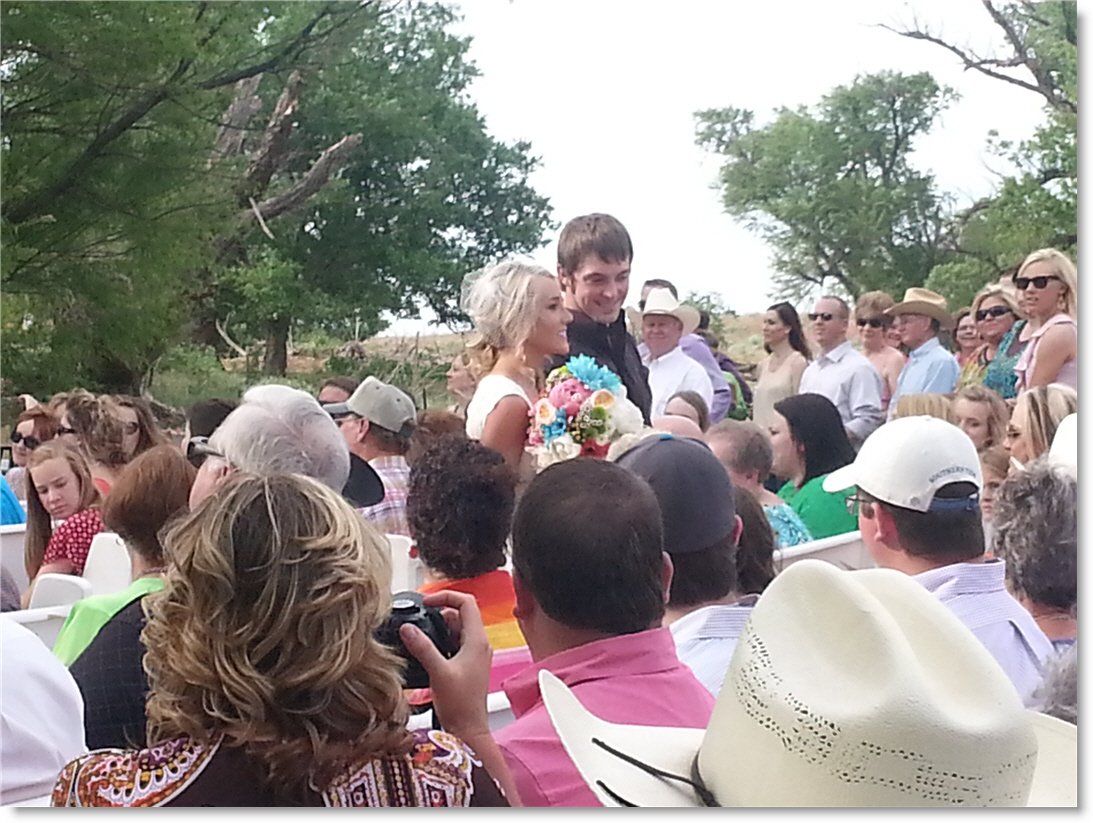 Stockton and Carolina plan their next move on the chocolate fountain.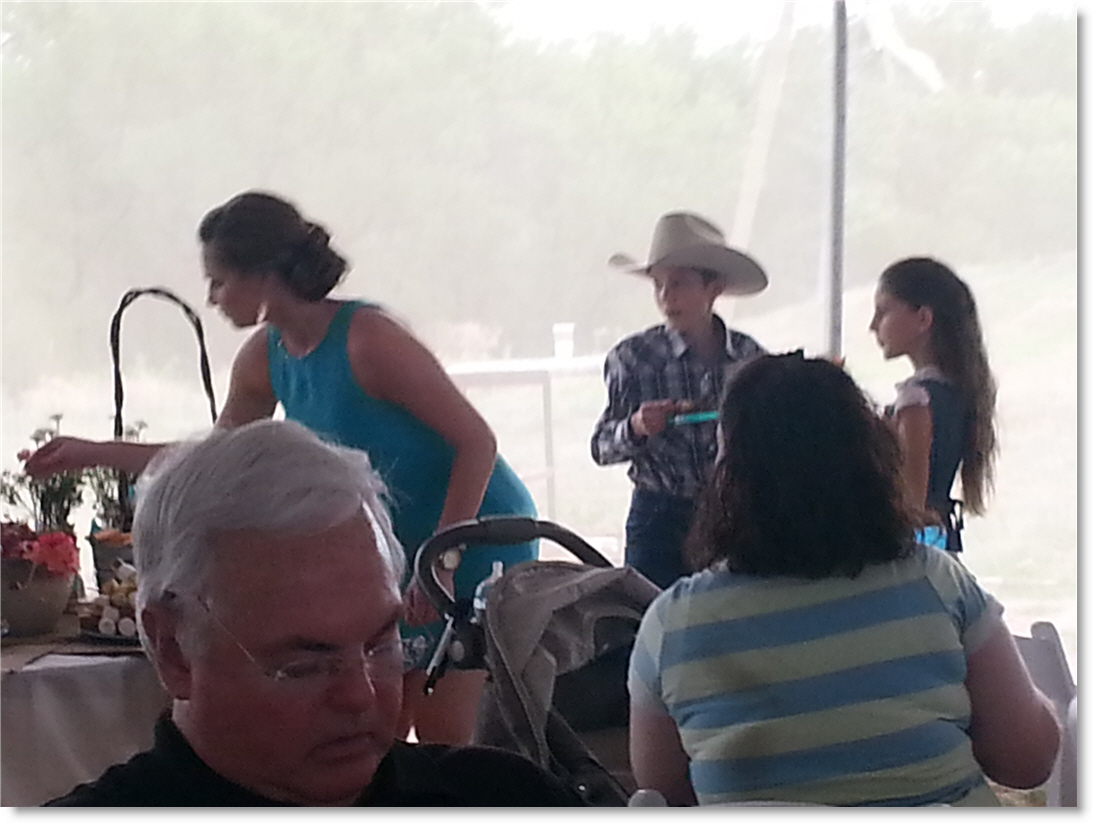 Lovely home on the Estes Ranch.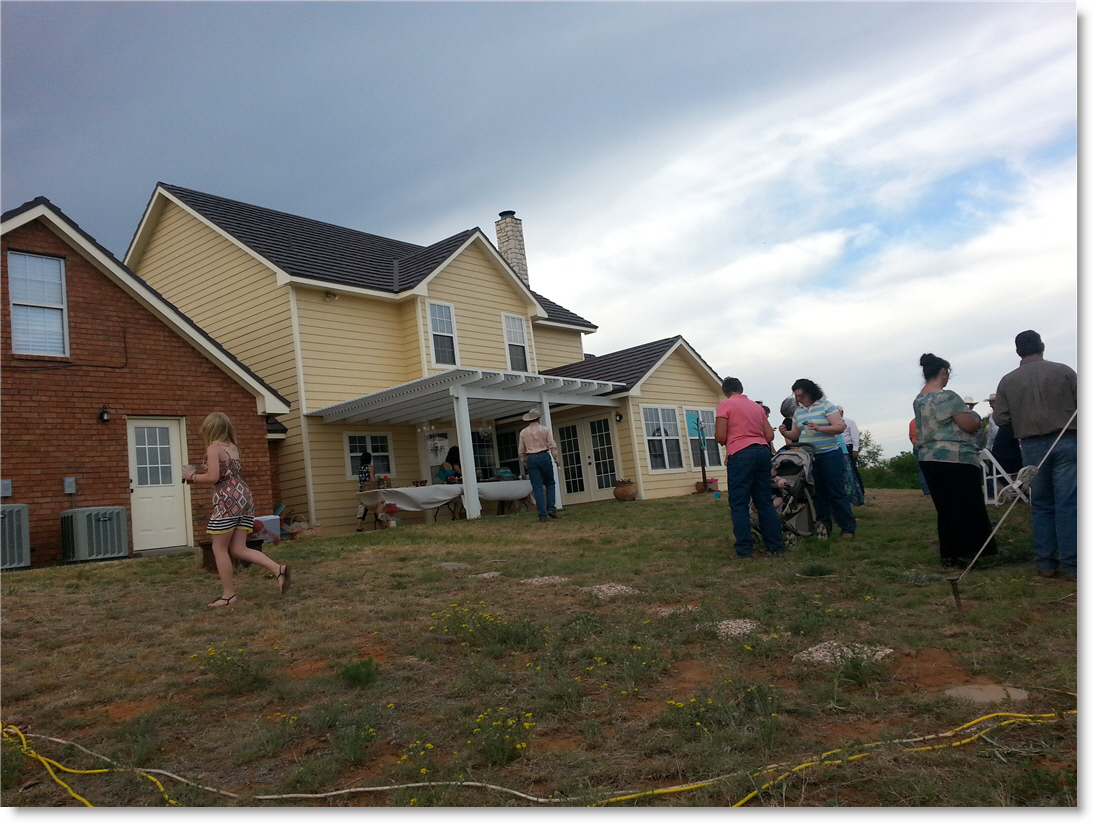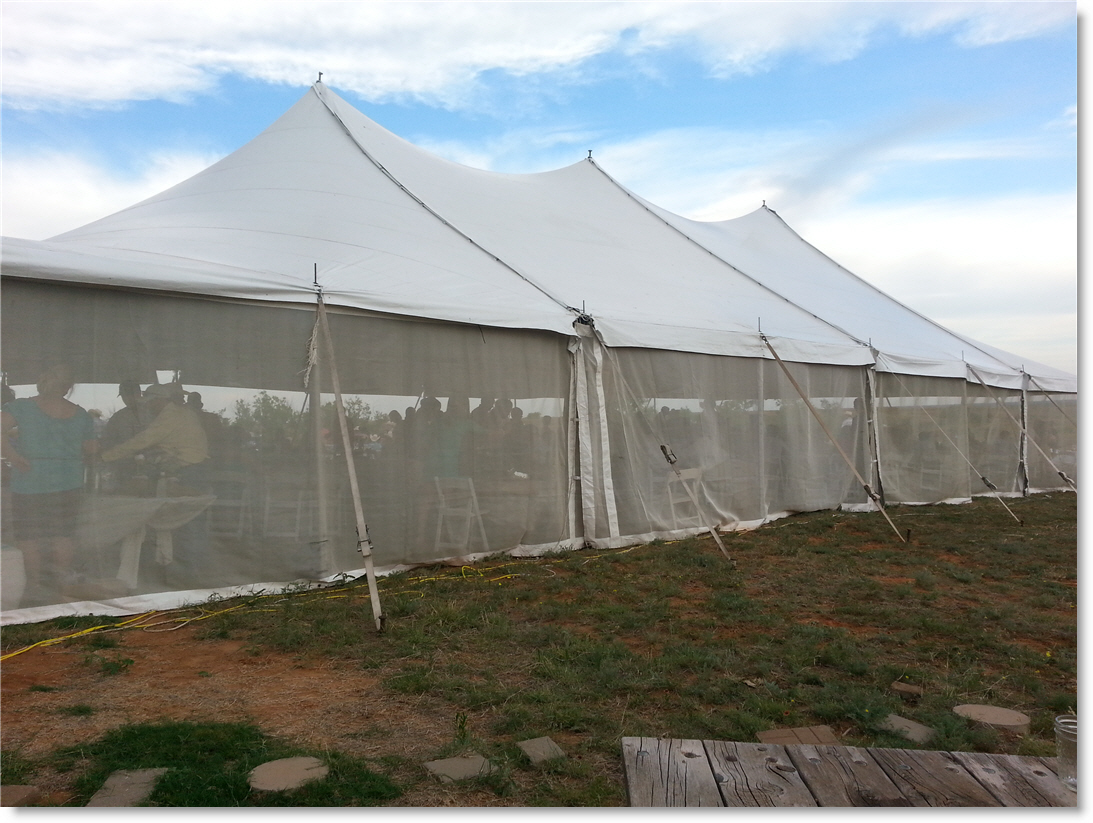 Cole and Lucy.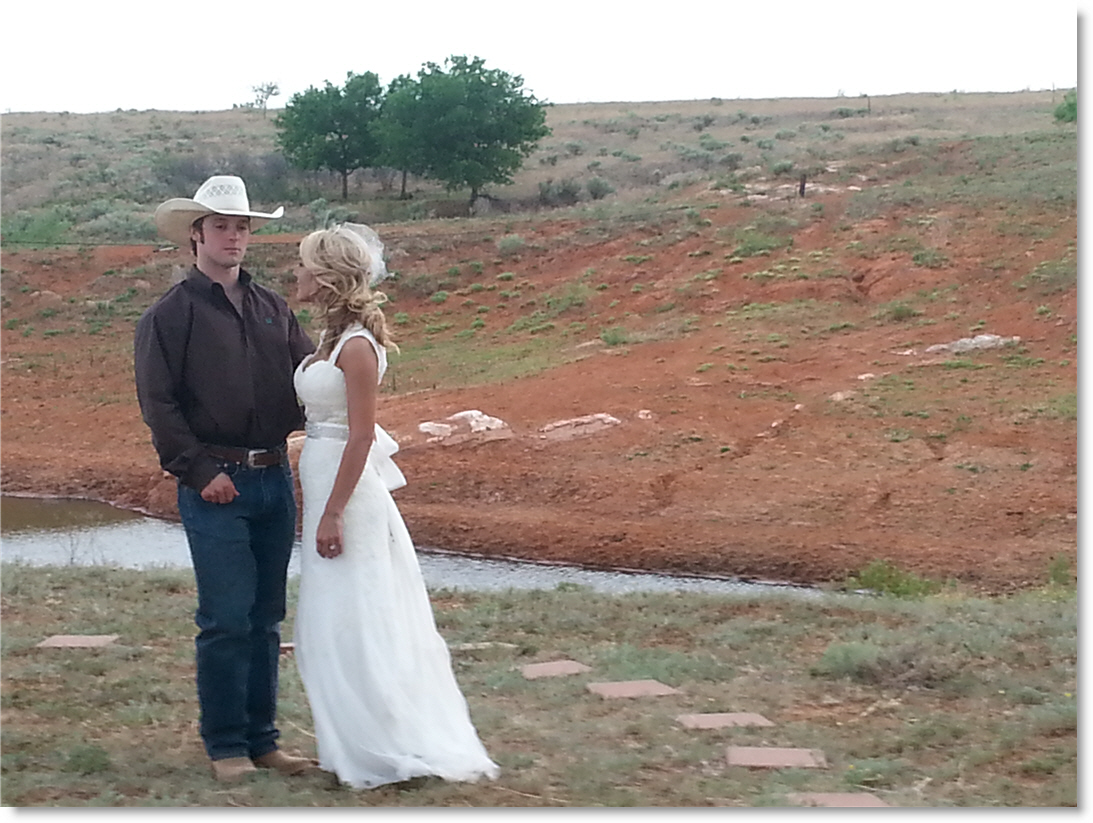 The kids had fun chasing lizards and finding new friends to play with around the dirt tank.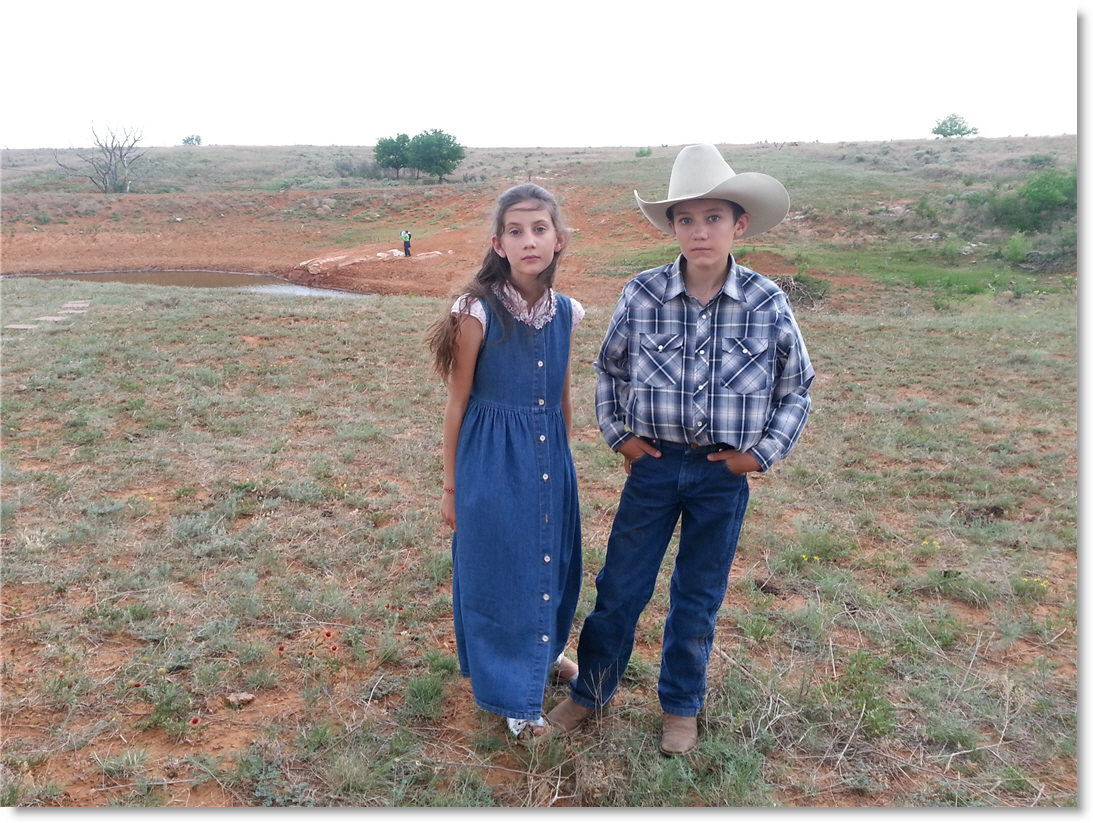 Time for yummy barbeque and pie.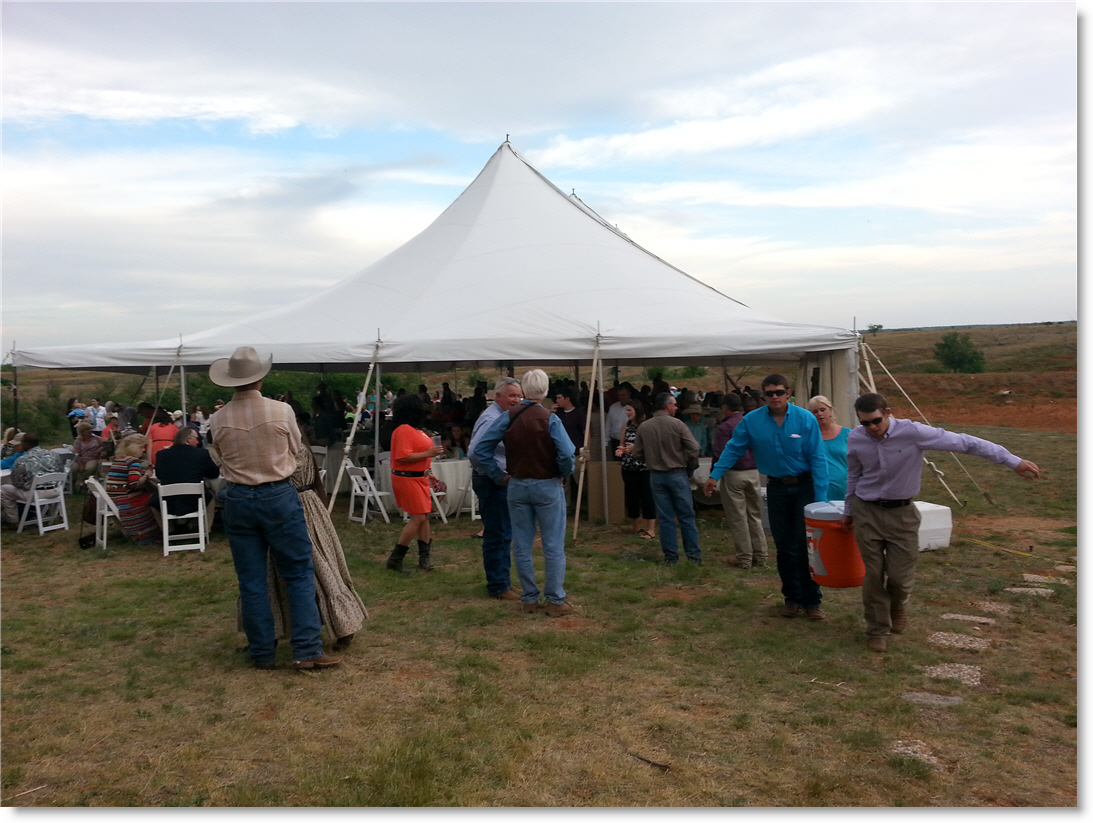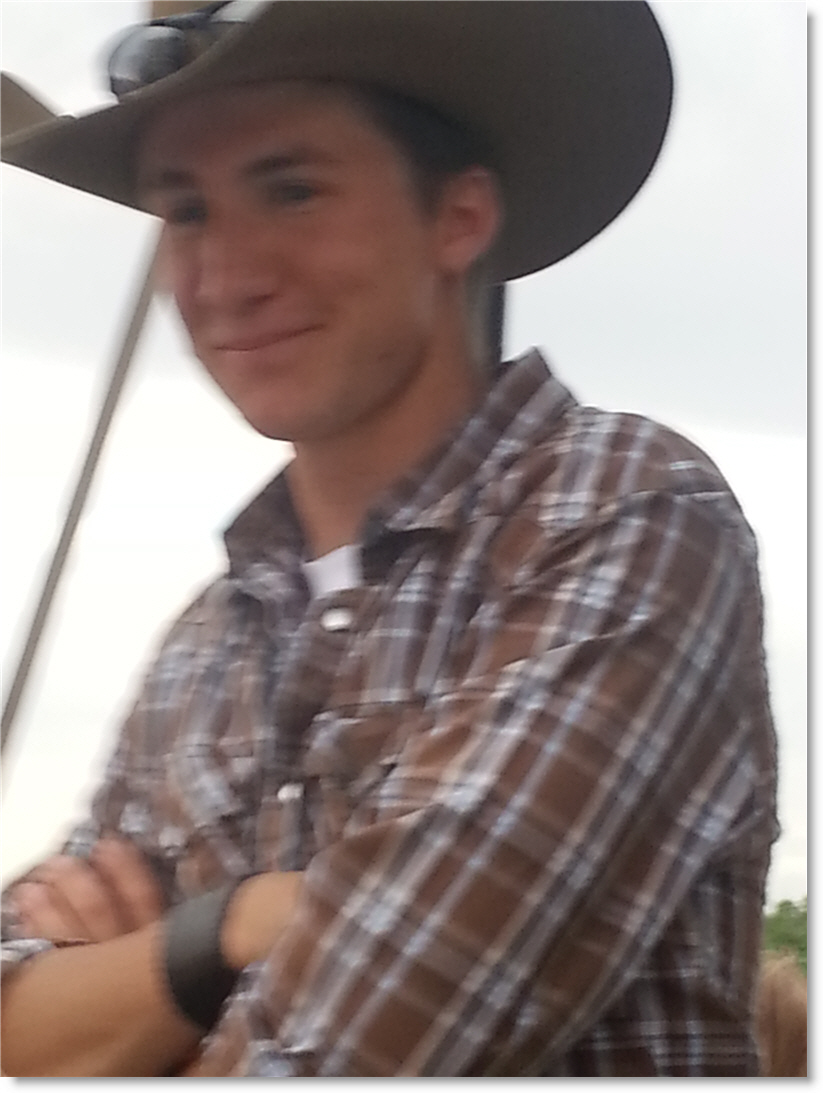 The evening skies are beginning to show some nice colors.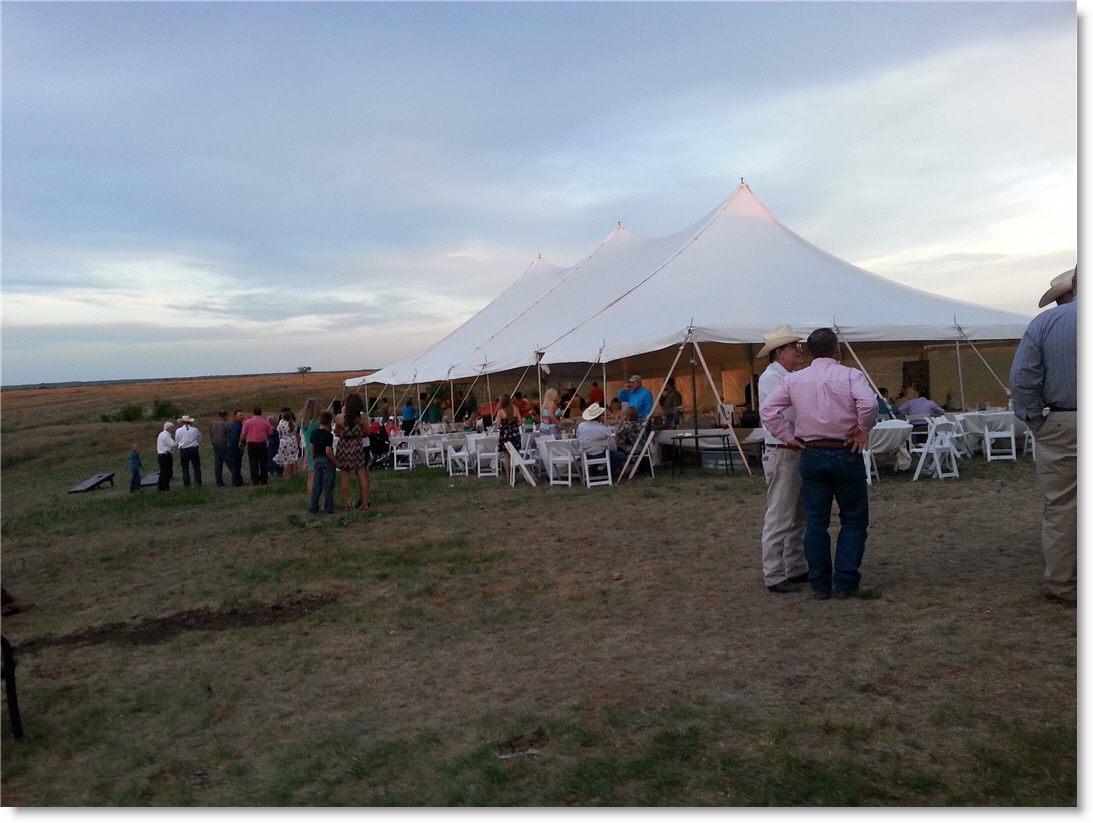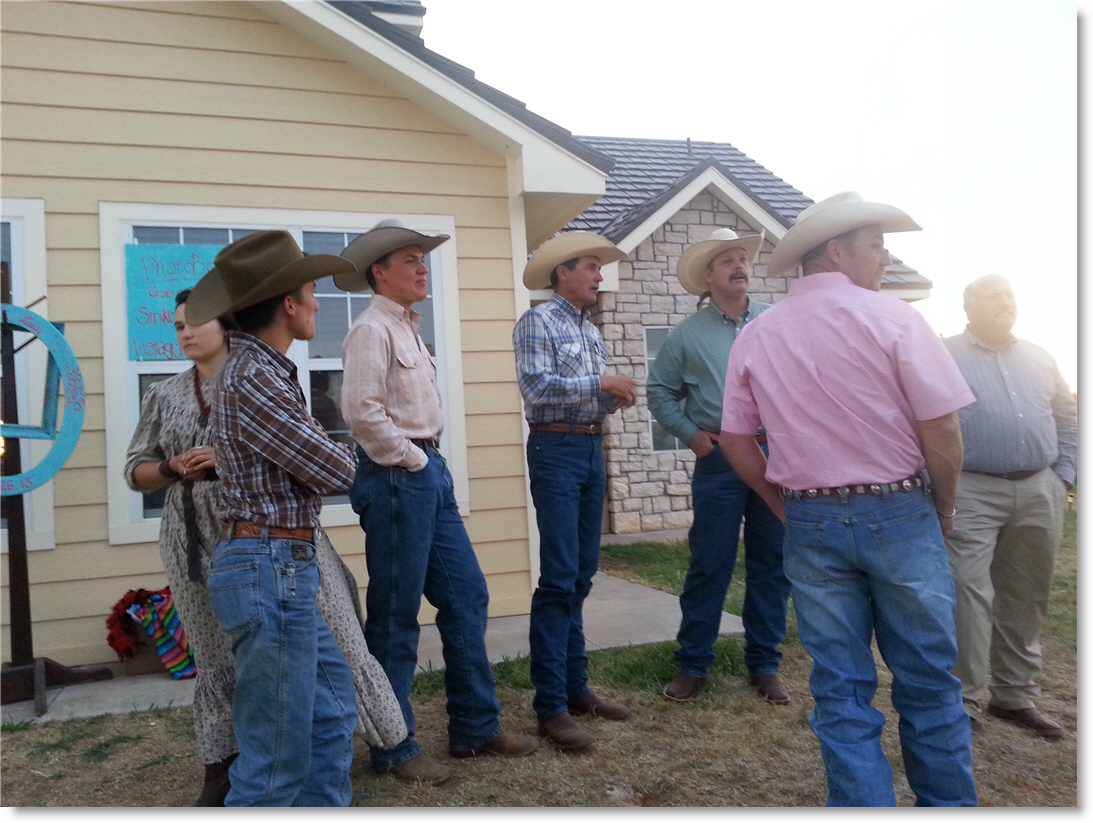 Some very interesting dancing going on...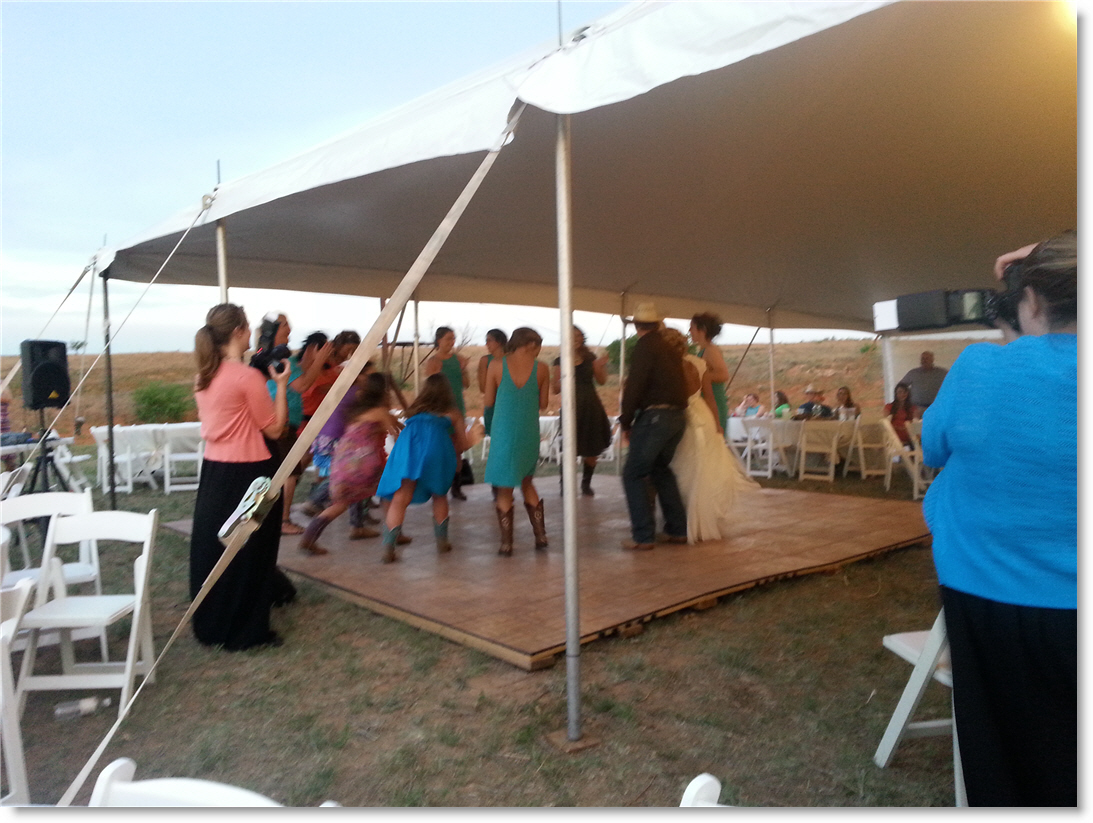 The wagon gave the kids rides after supper.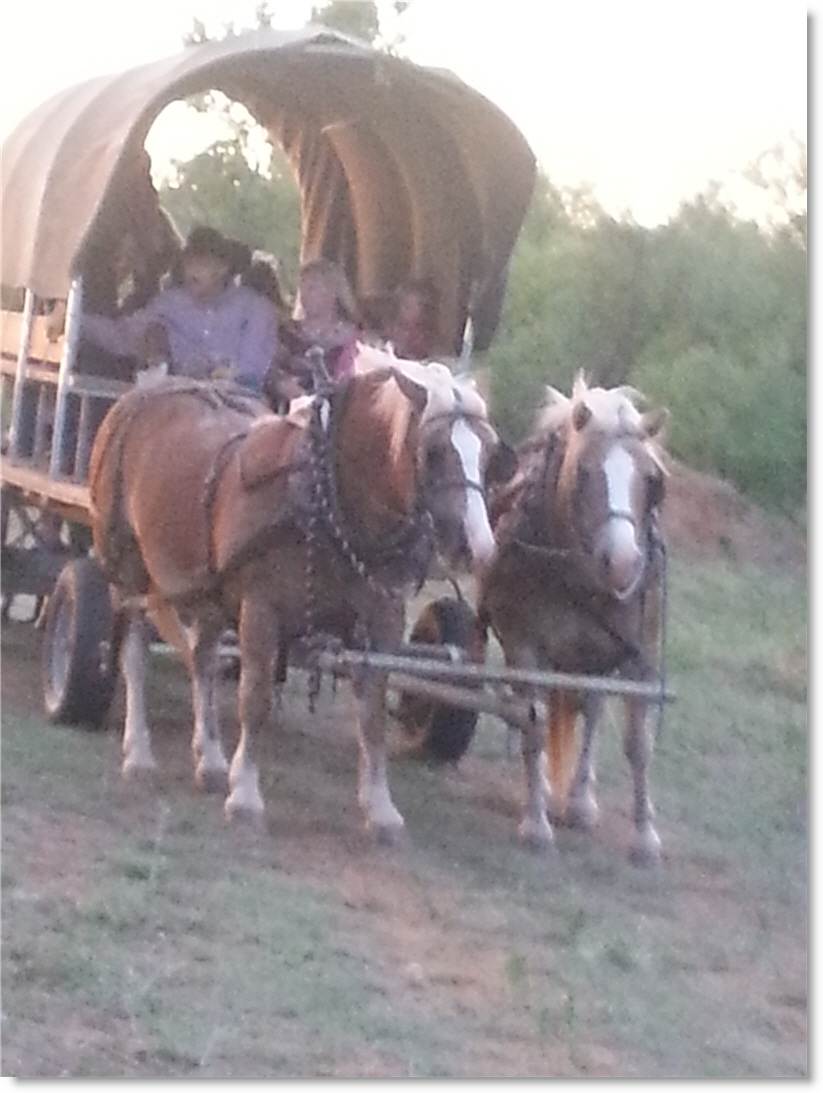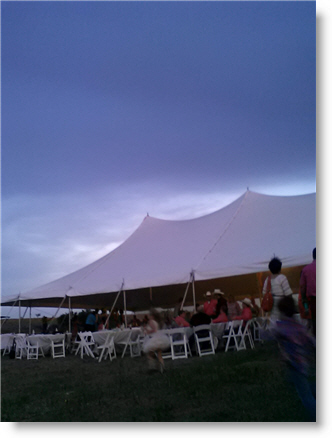 Dramatic sunset for the couple's send off. They left in the wagon.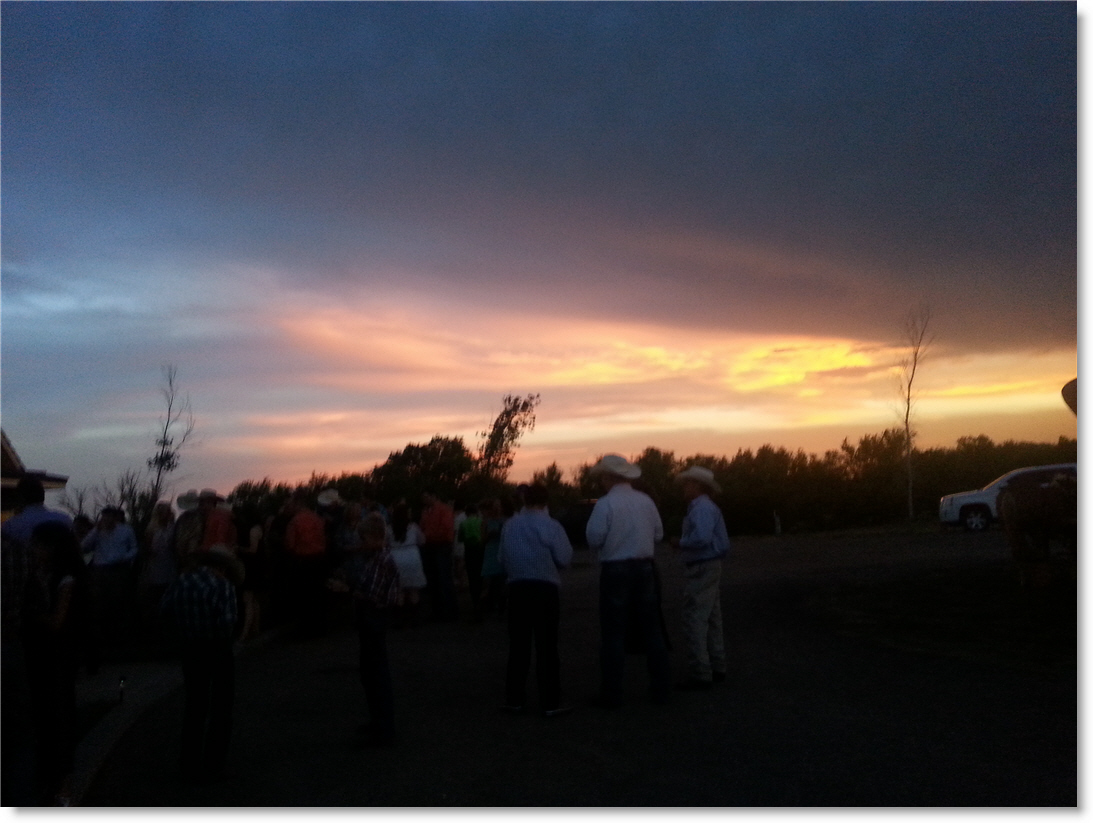 Friday, May 24 - Doggie Pics and More
Now your day is complete.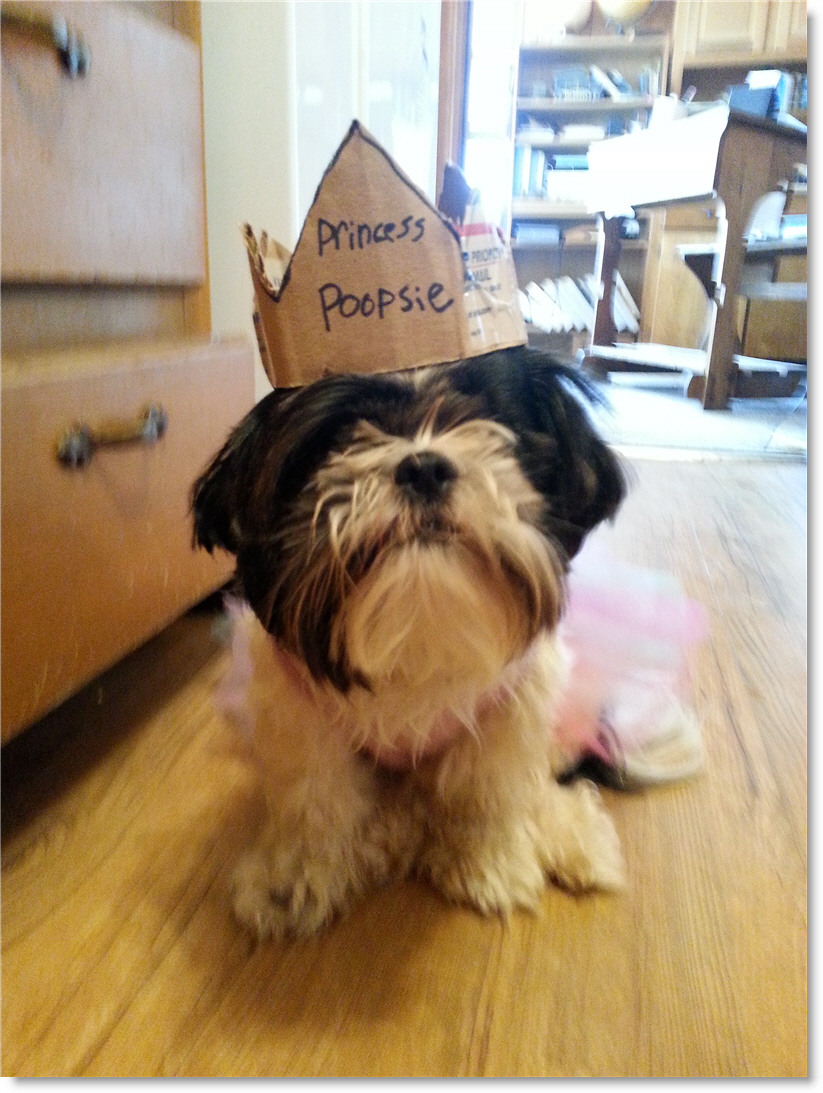 Aspen and Gypsy in the kitchen.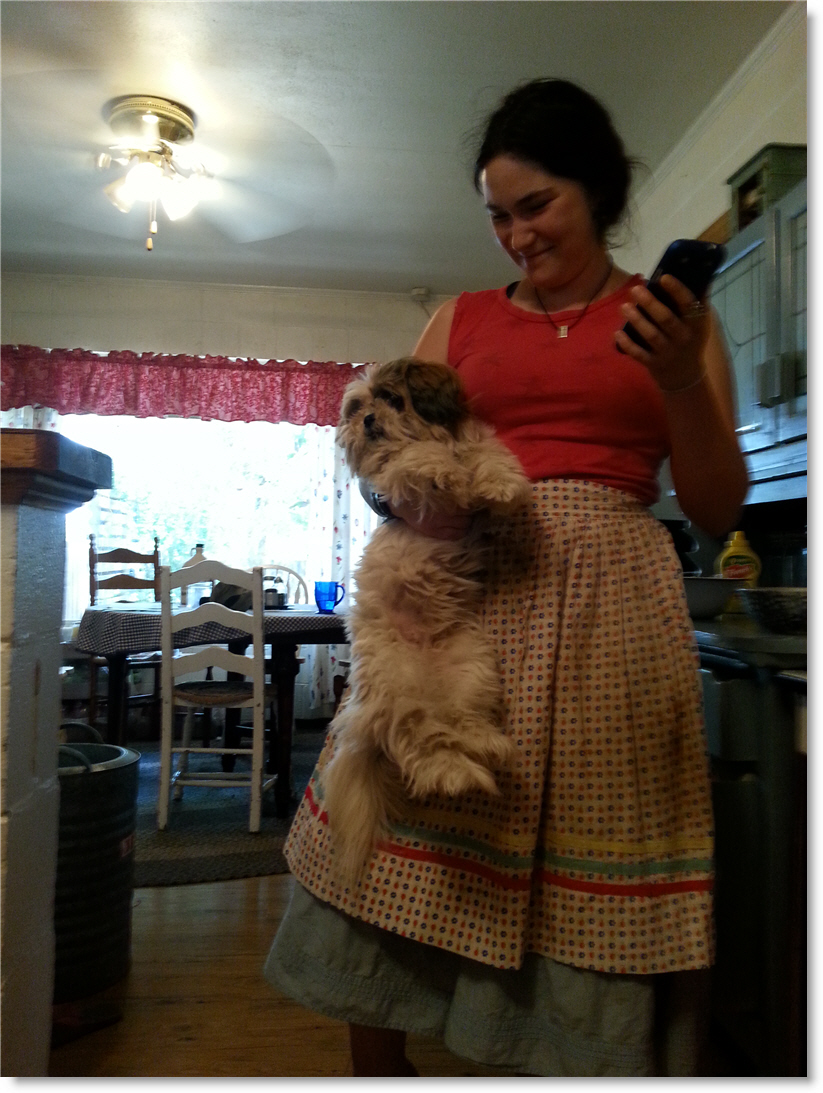 Blue salvia in the front yard.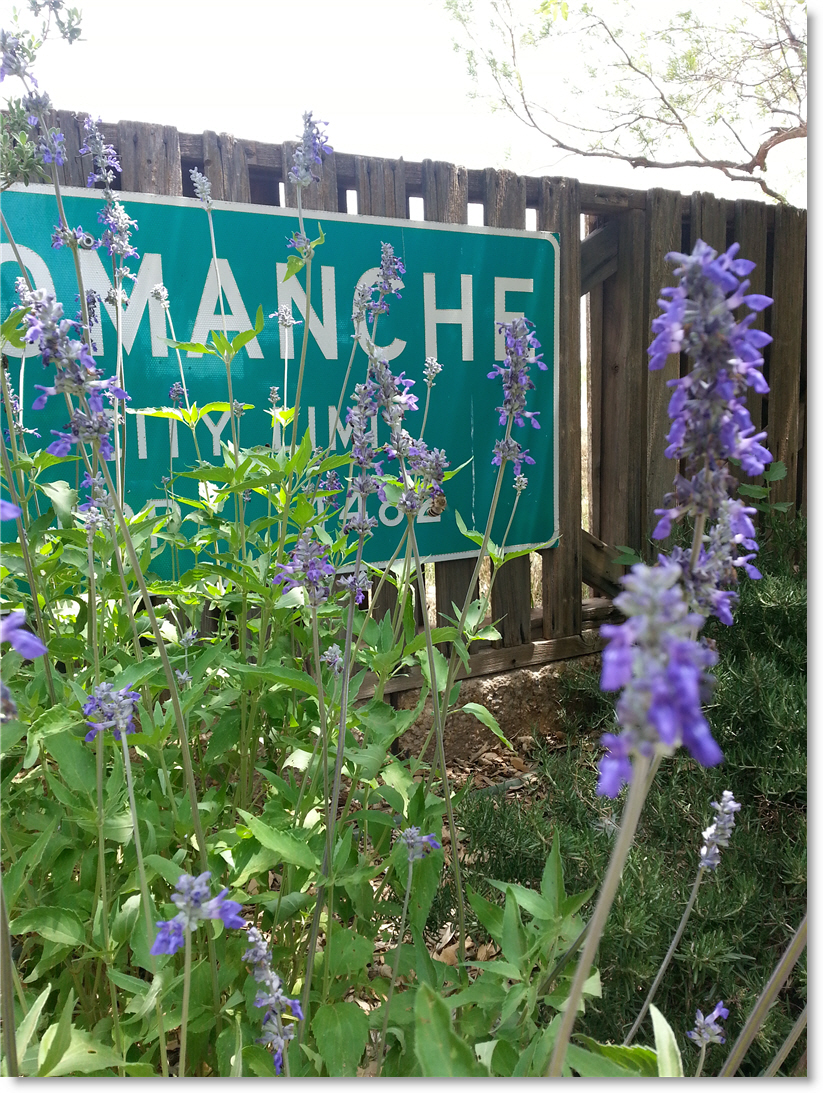 Butterfly on Atlanta's windowsill (sent from her phone).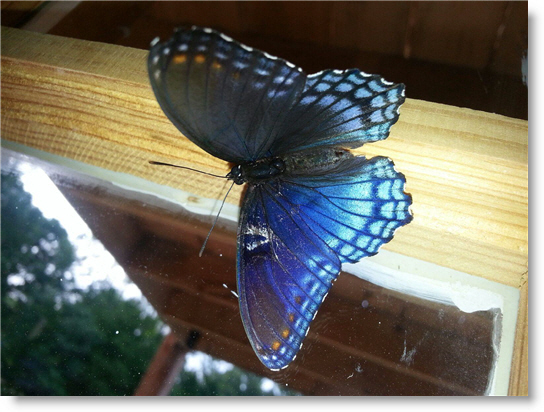 Thursday, May 23 - Waffles for Supper - Stockton and Carolina fixed supper tonight. They really outdid themselves.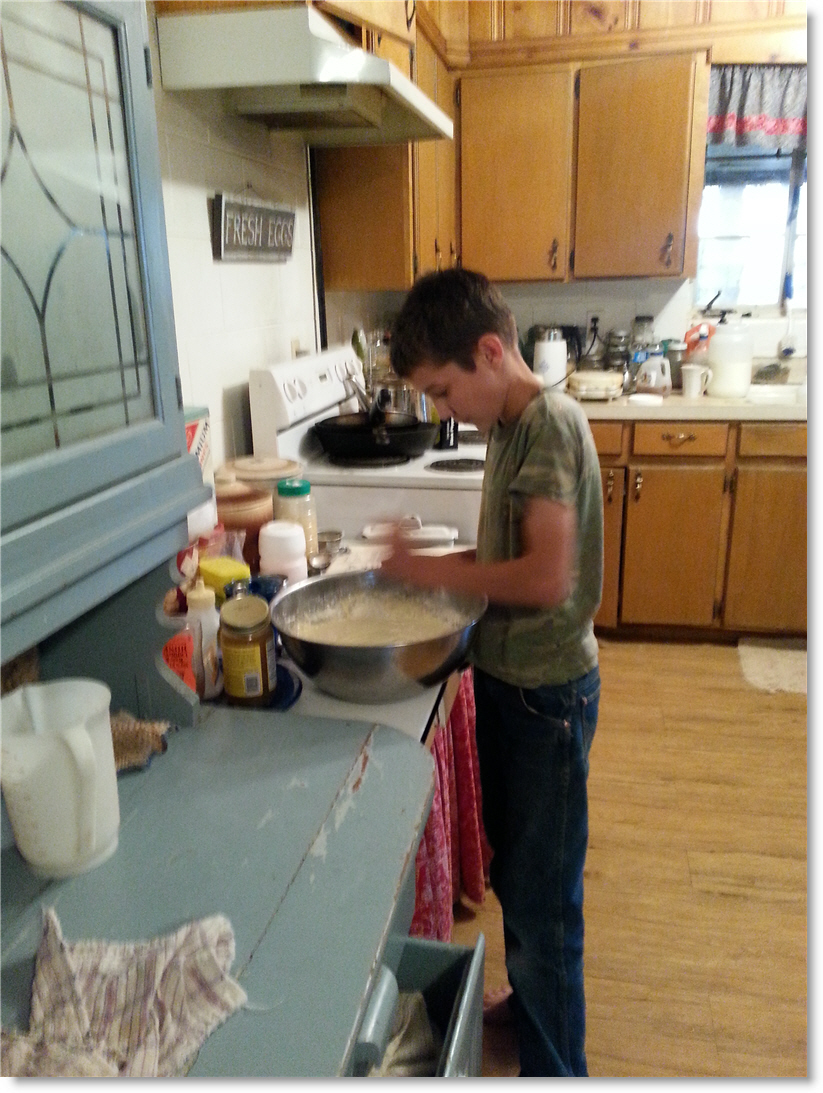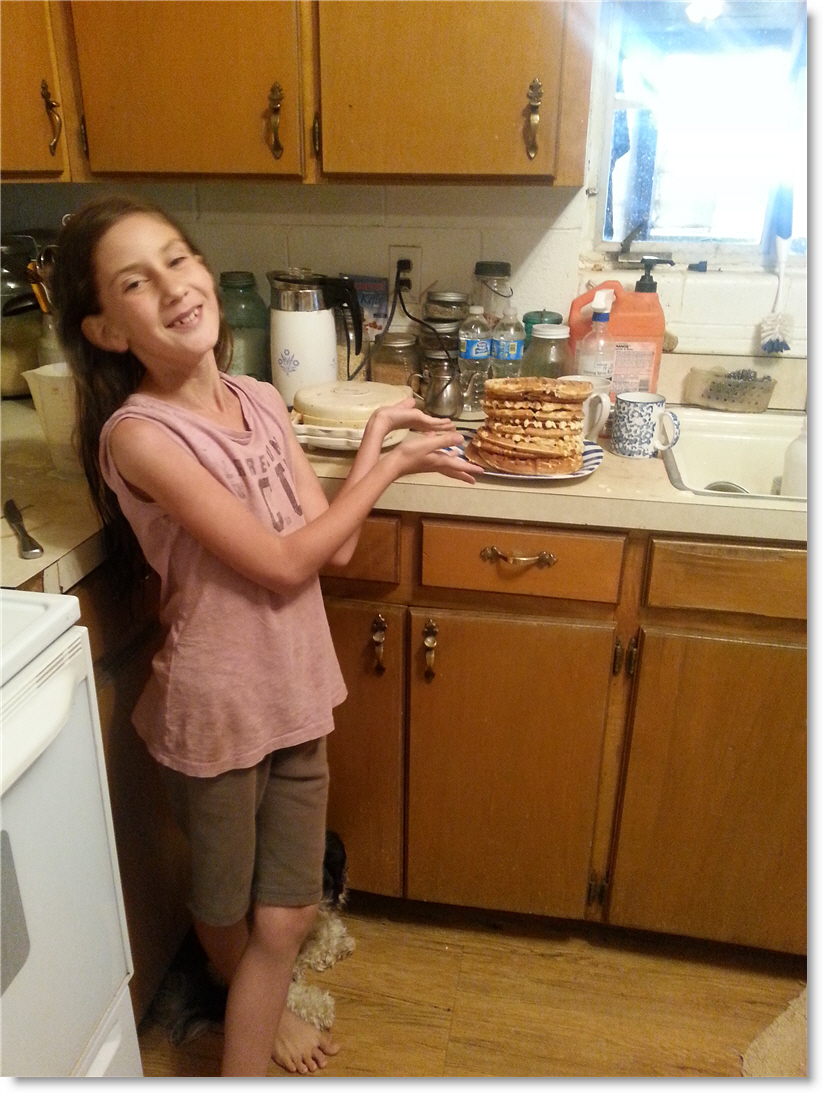 Little one-eyed Coconut offers moral support.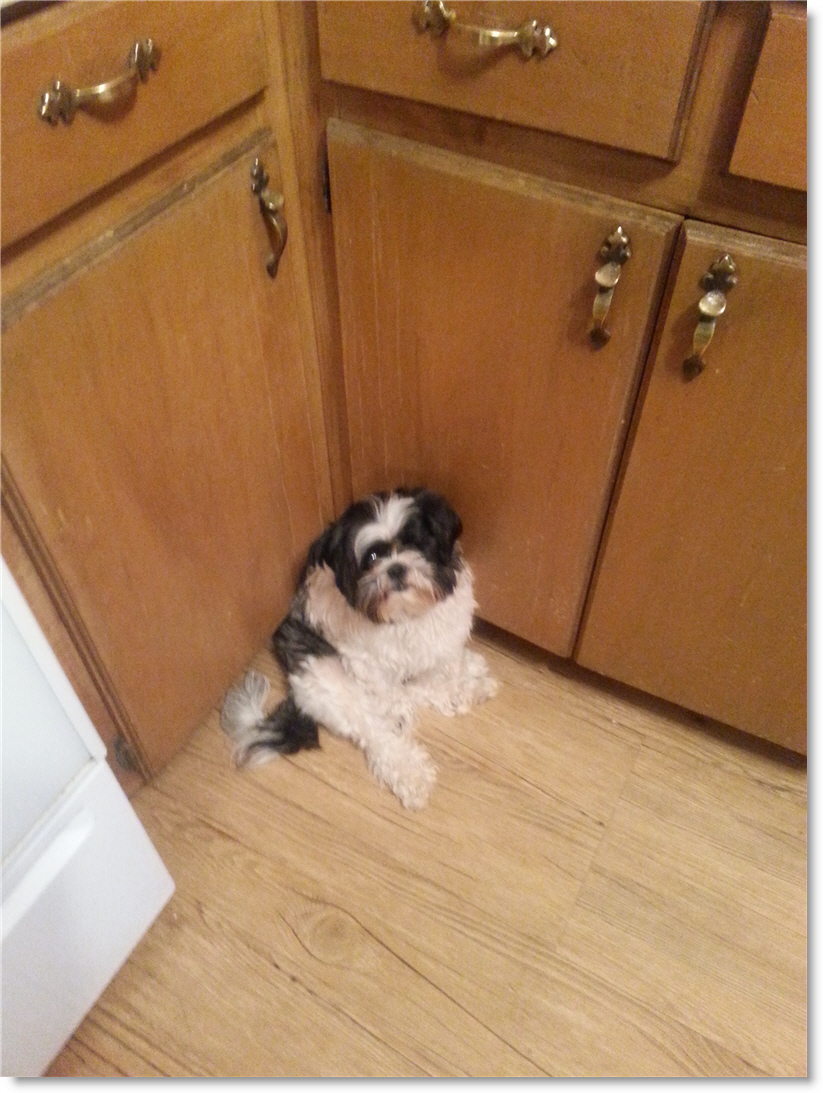 Let's eat!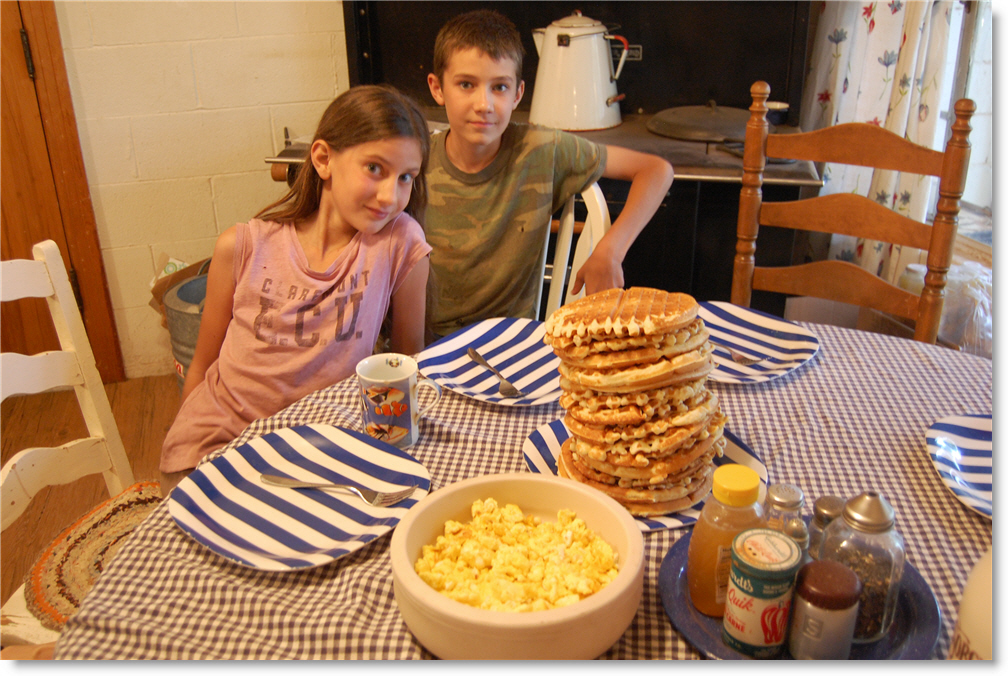 More Photos from the Western Sky - Carolina, Stockton and I climbed onto a trailer after supper to get a better view of these clouds.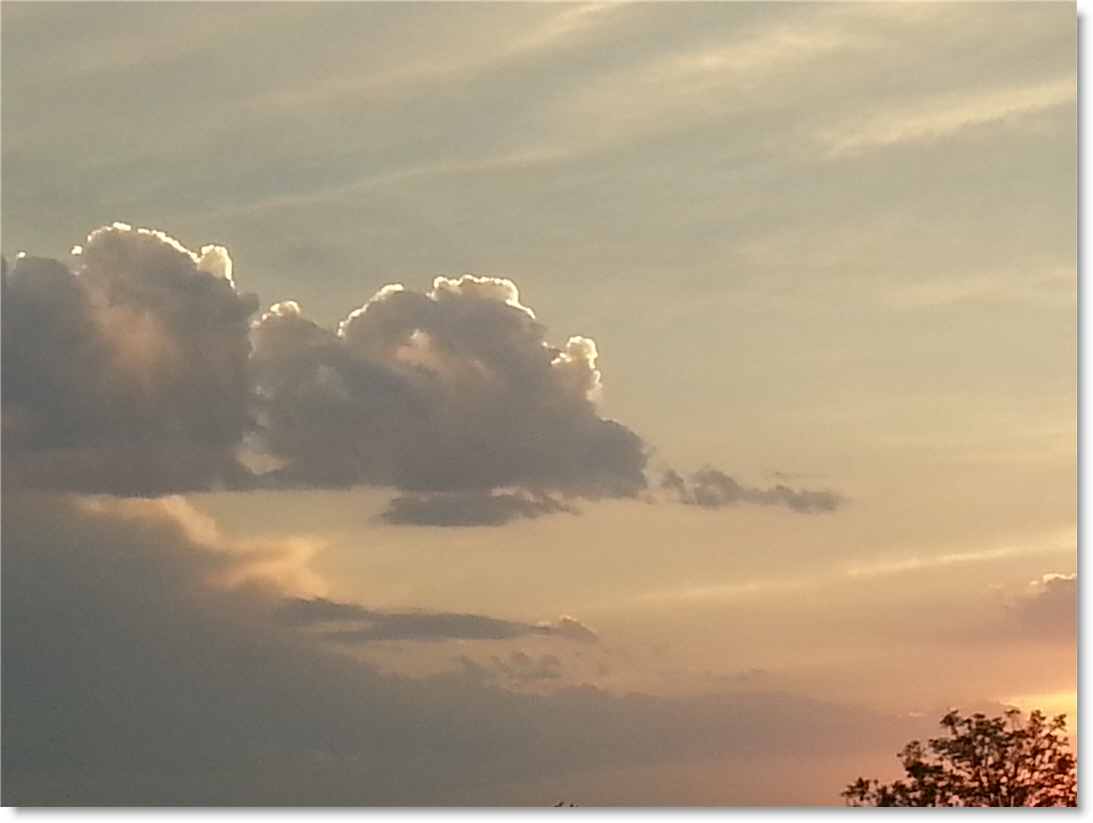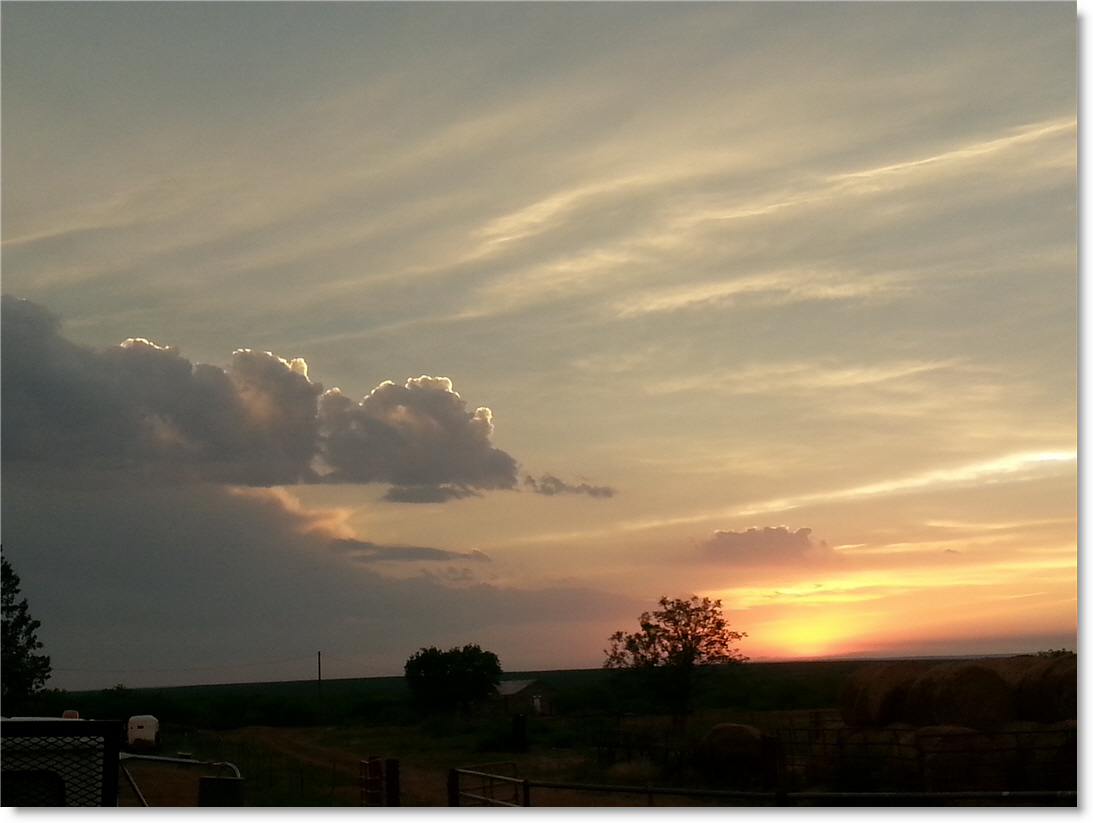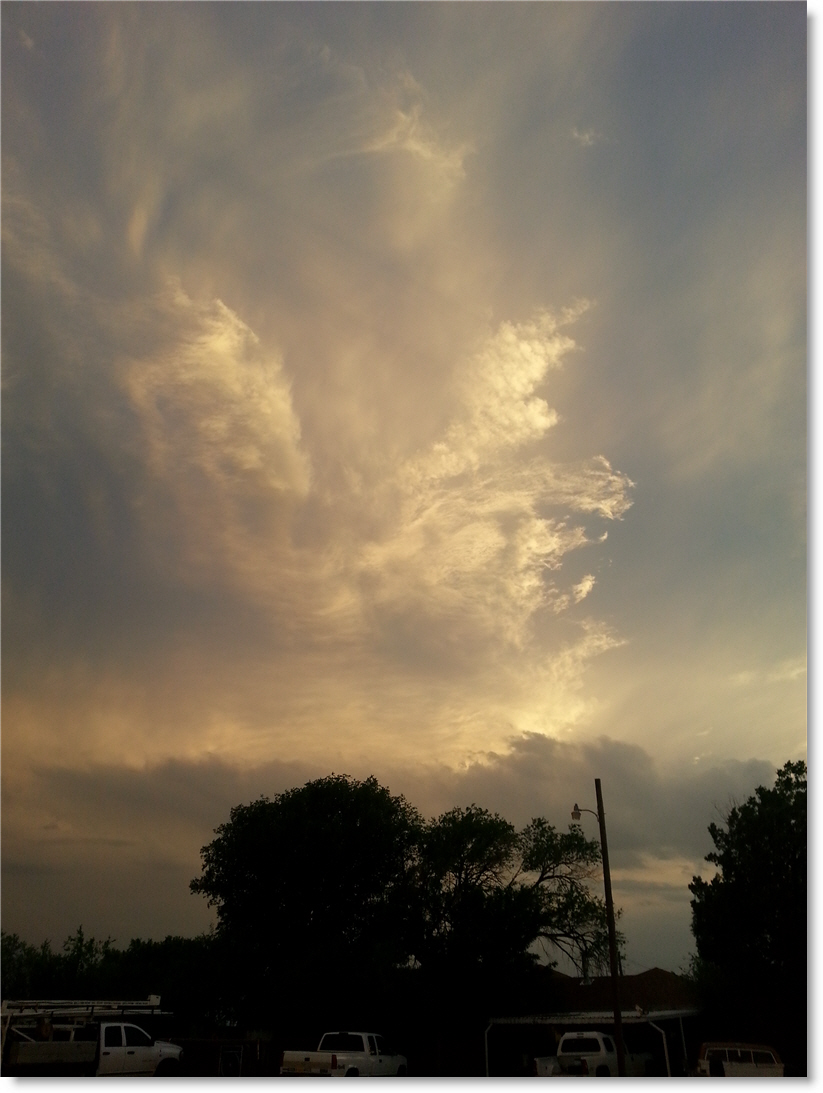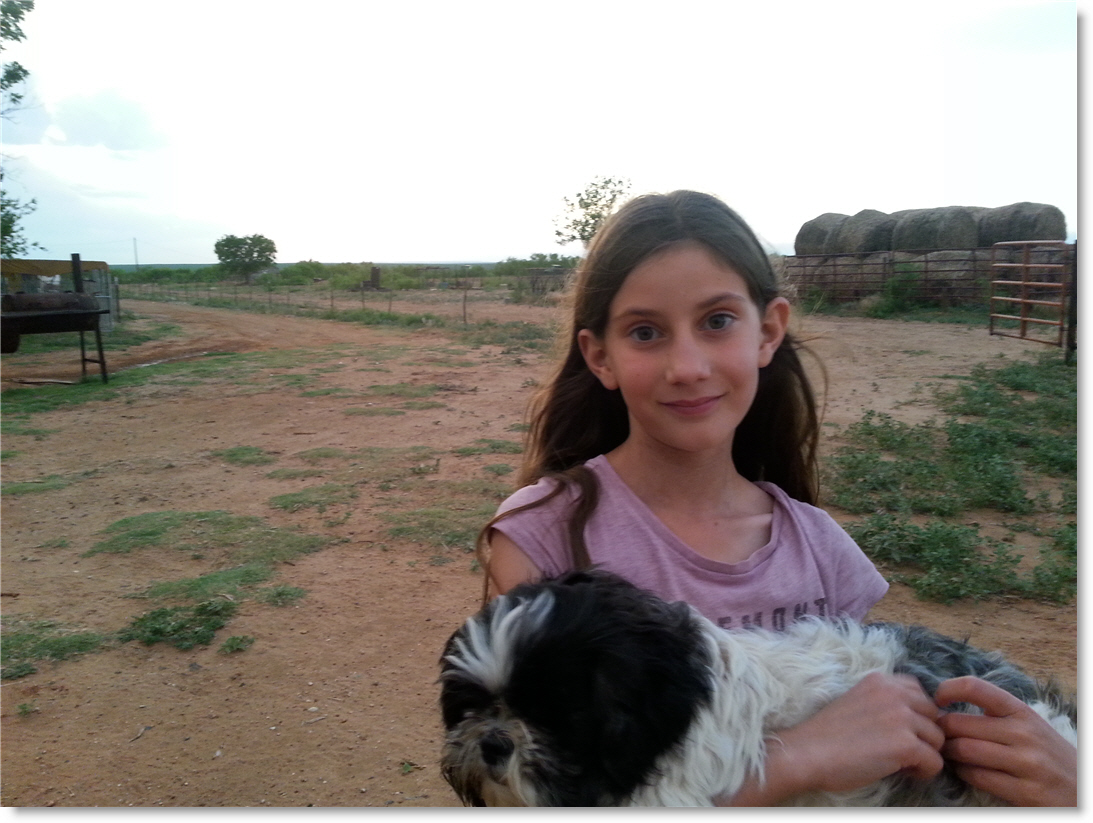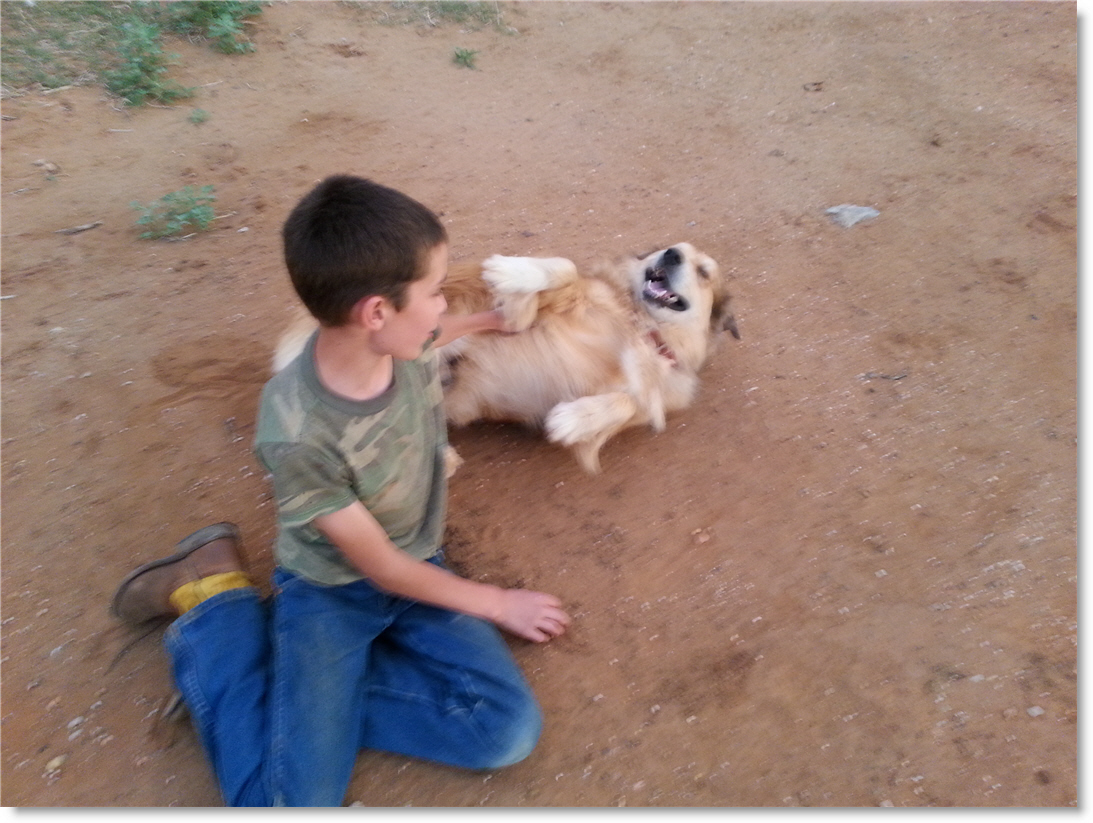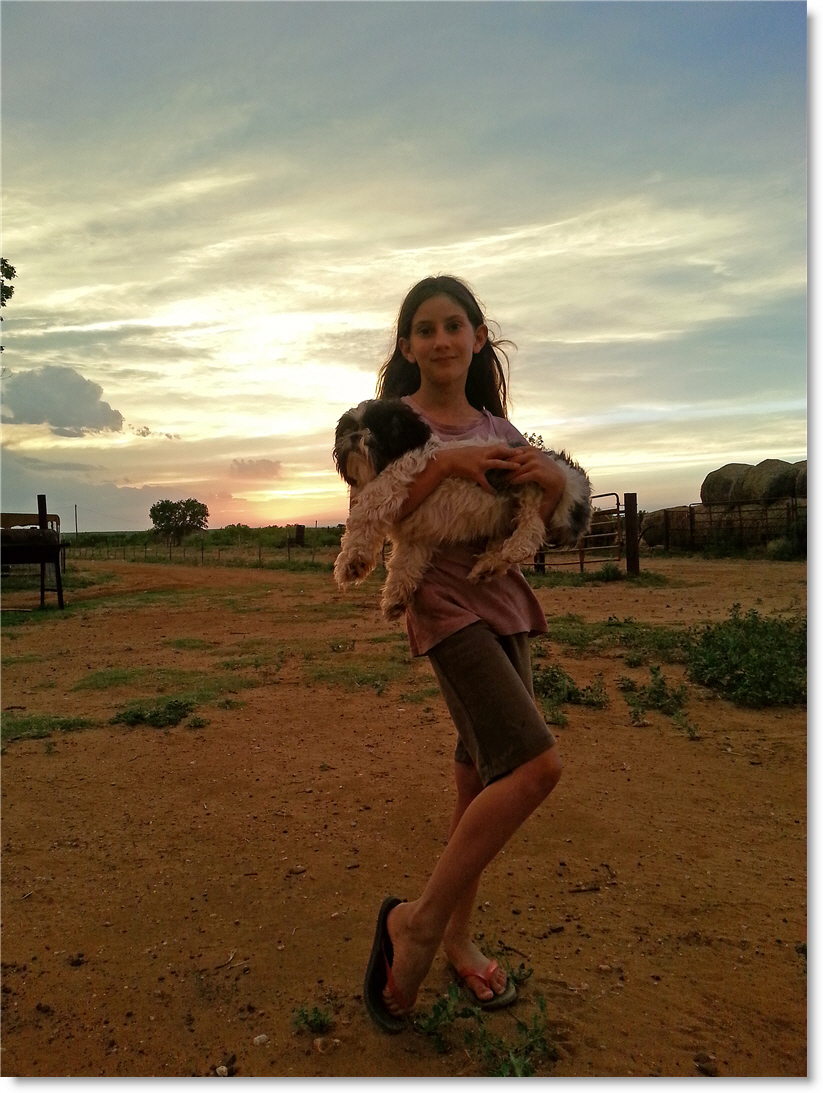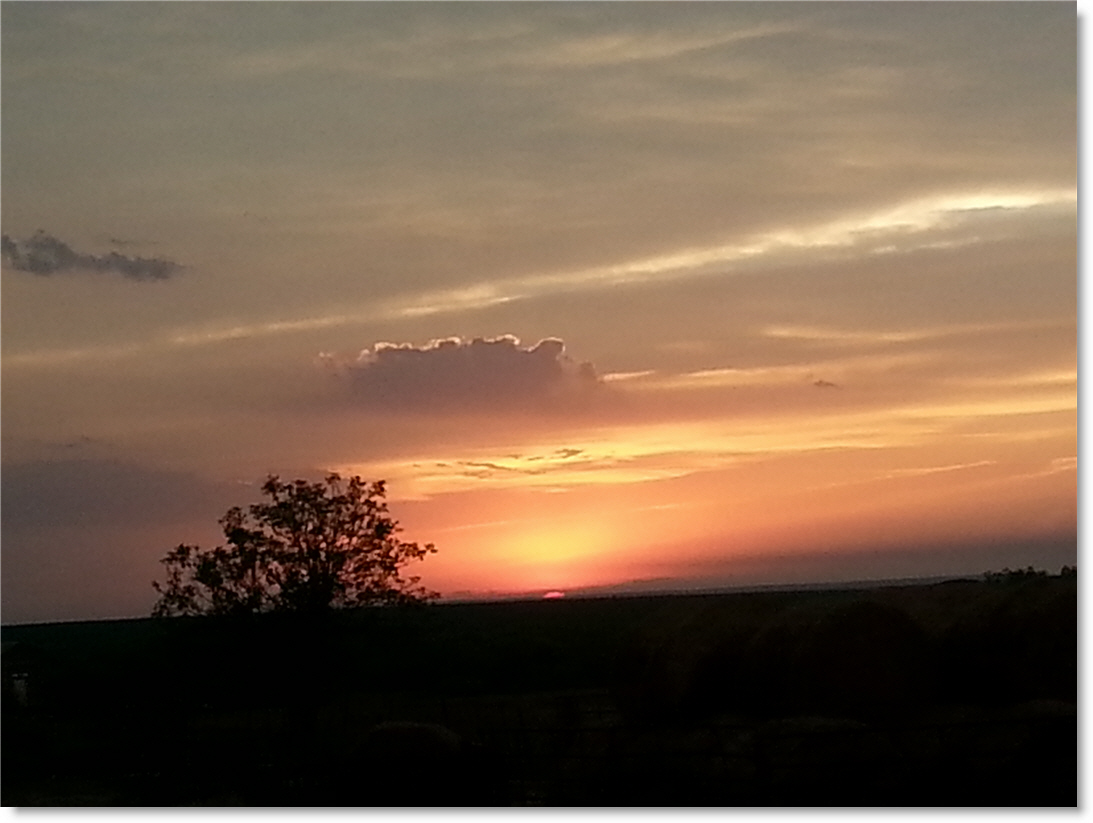 Tuesday, May 21 - I had to run to Lubbock today to go with mom to a new doctor. I snapped this picture of these strange clouds hanging low as I passed between Idalou and Lubbock. This was the day after the Oklahoma tornados. It felt very ominous.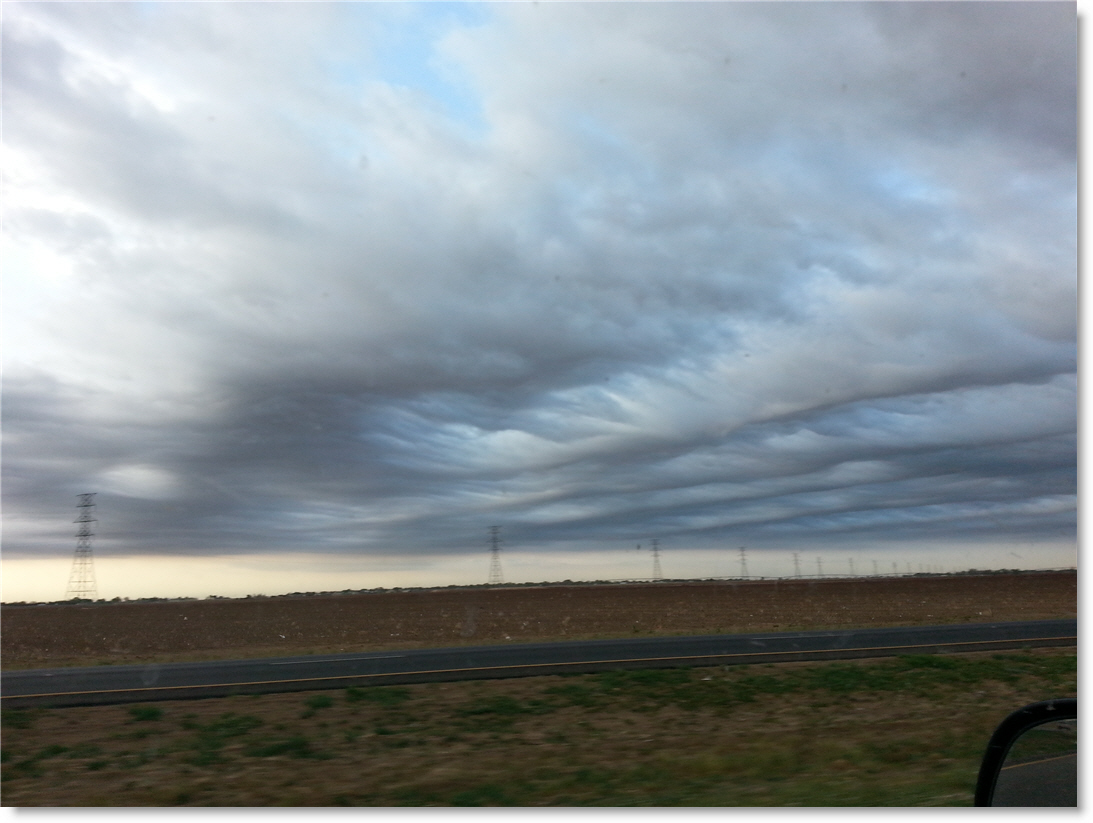 Monday, May 20 - Sprinkles
A few sprinkles, but mostly going southeast of us.
Sunday, May 19 - Setting Up the Pool - The guys helped us set up the pool and scrub it clean. It's a big job, but it went a lot faster with their help.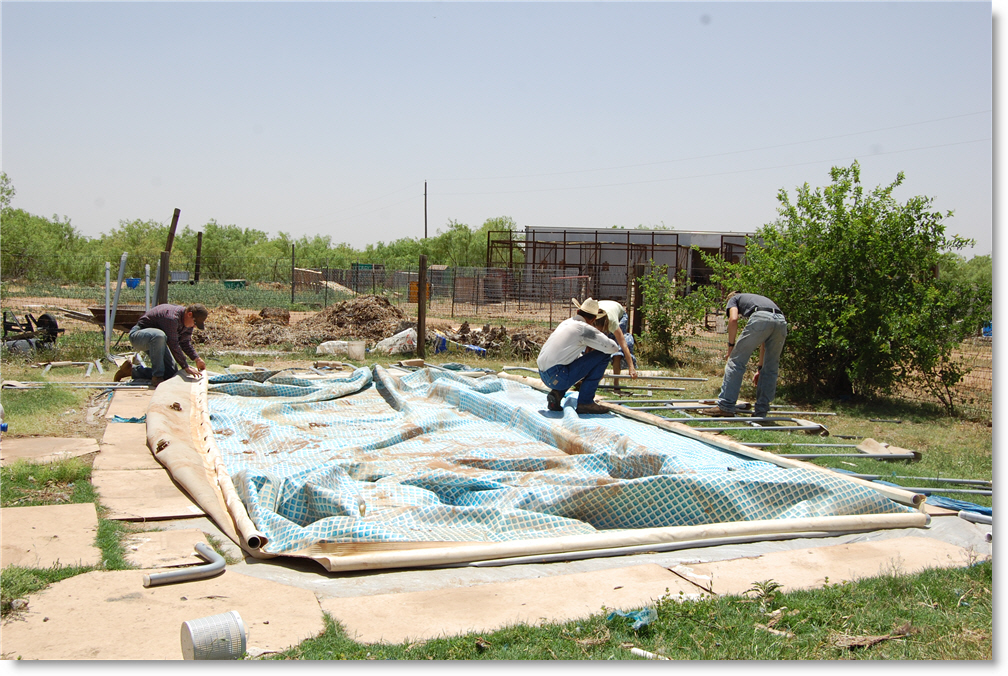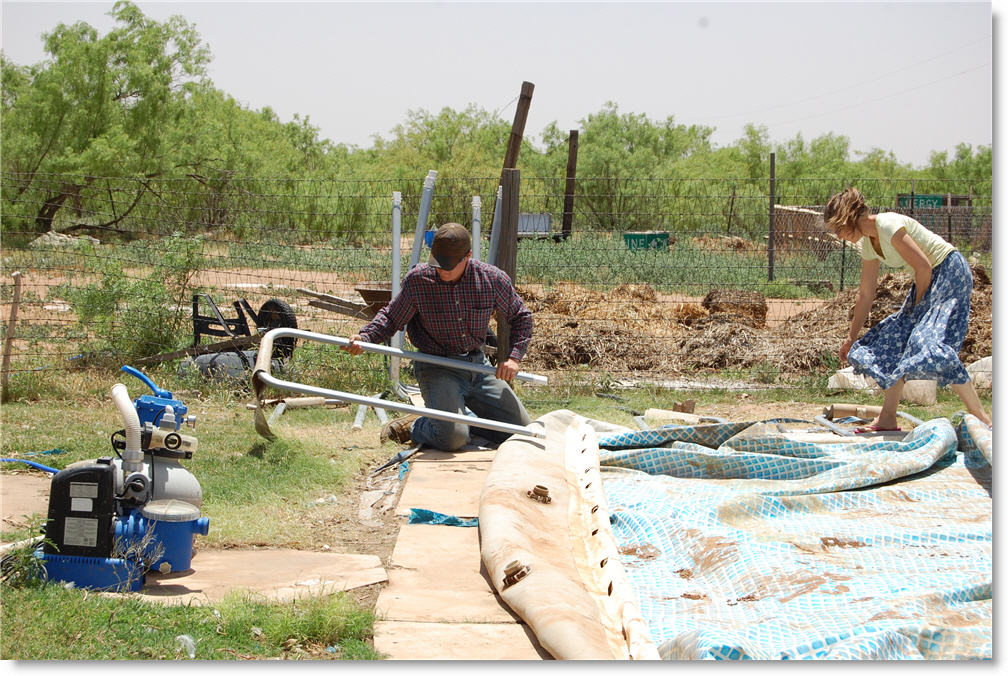 Rusty supervises from the shady bush nearby.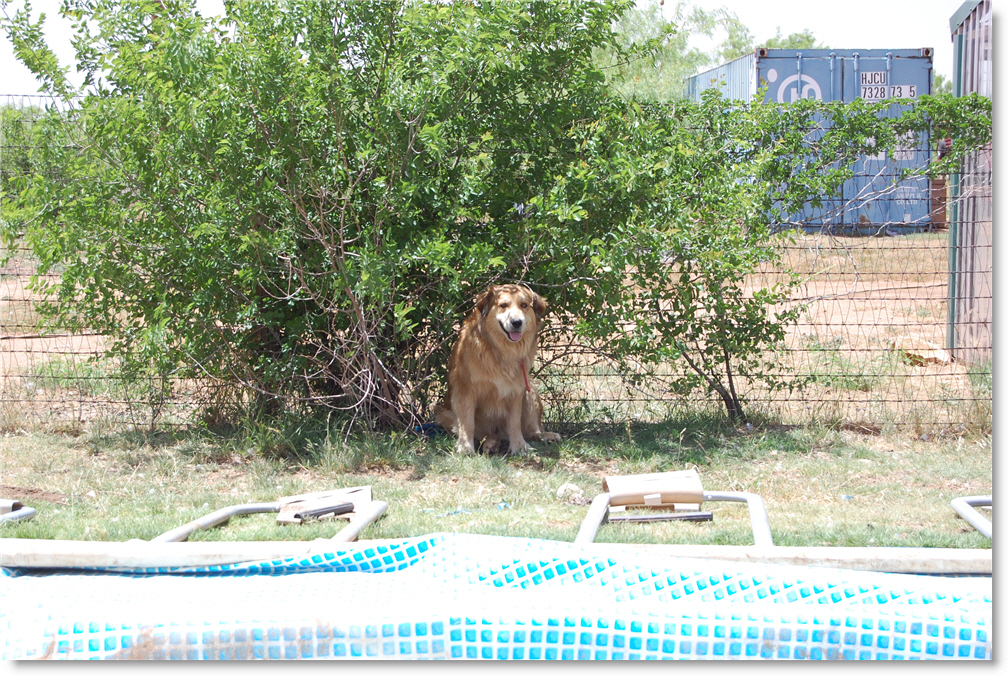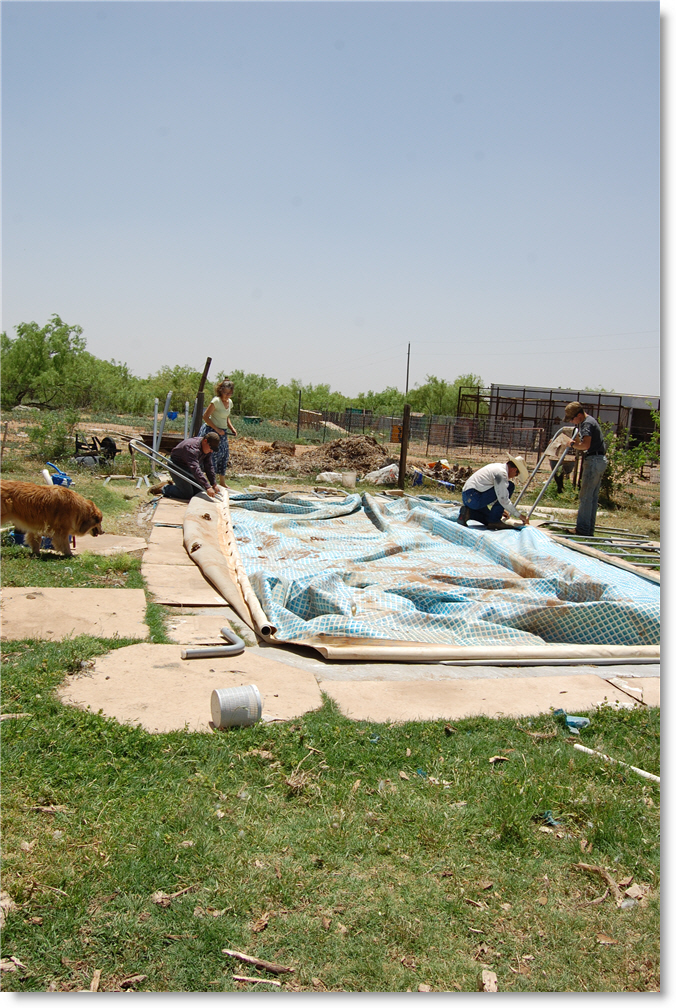 Saturday, May 18 - Colorful Birds and Clouds
This yellow warbler is only rarely seen around here.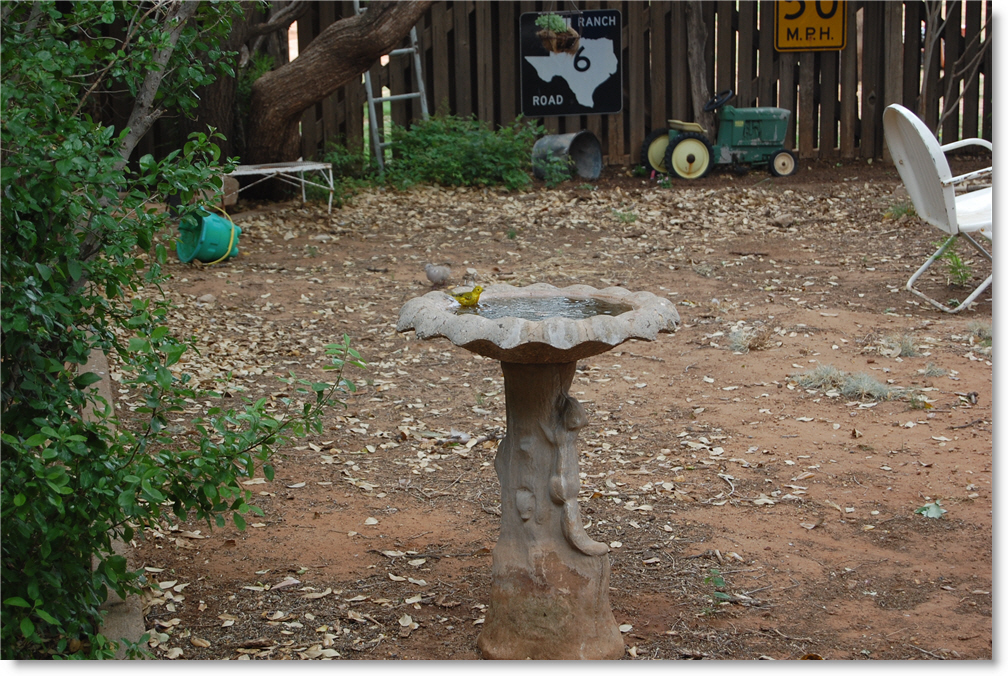 Our old favorite, the painted bunting has made his first summer appearance.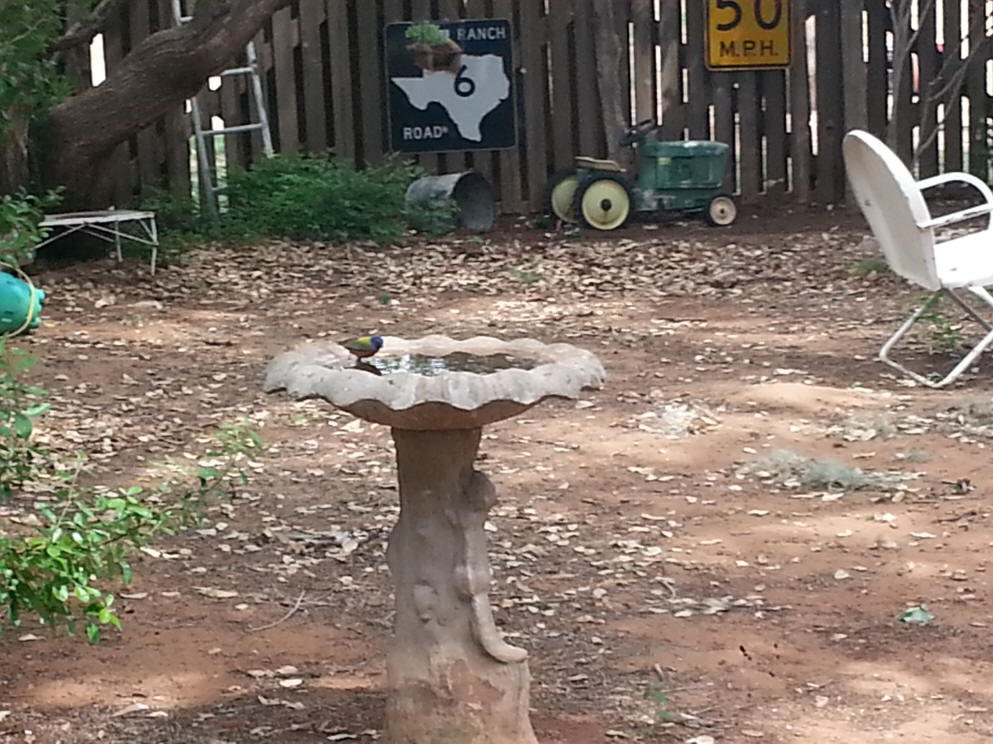 We missed this rain that formed east of us and then went eastward, too.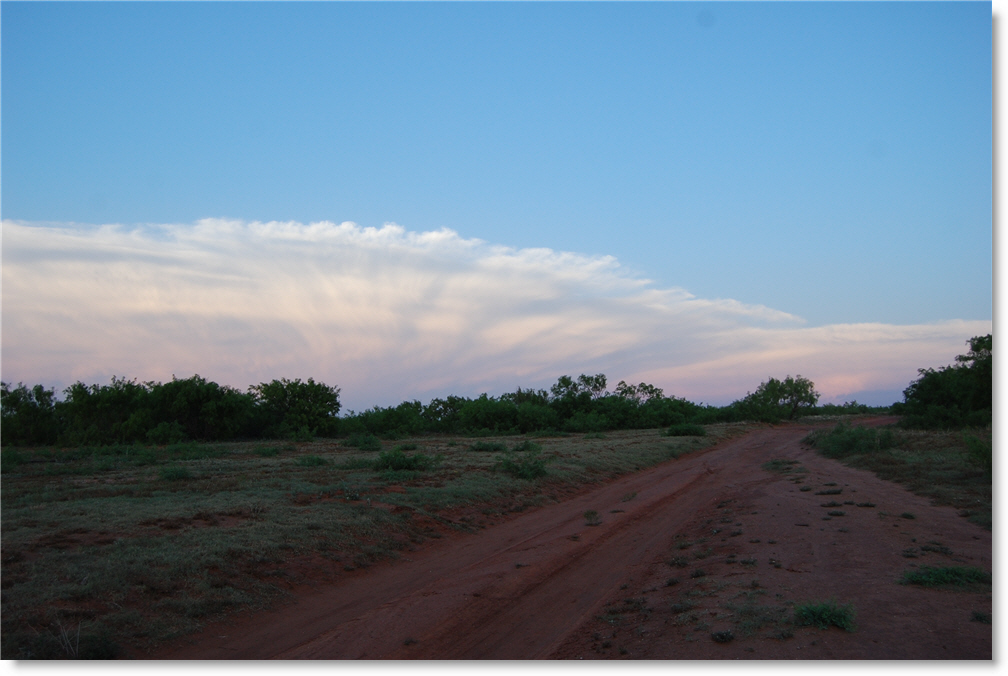 Tonight's sunset.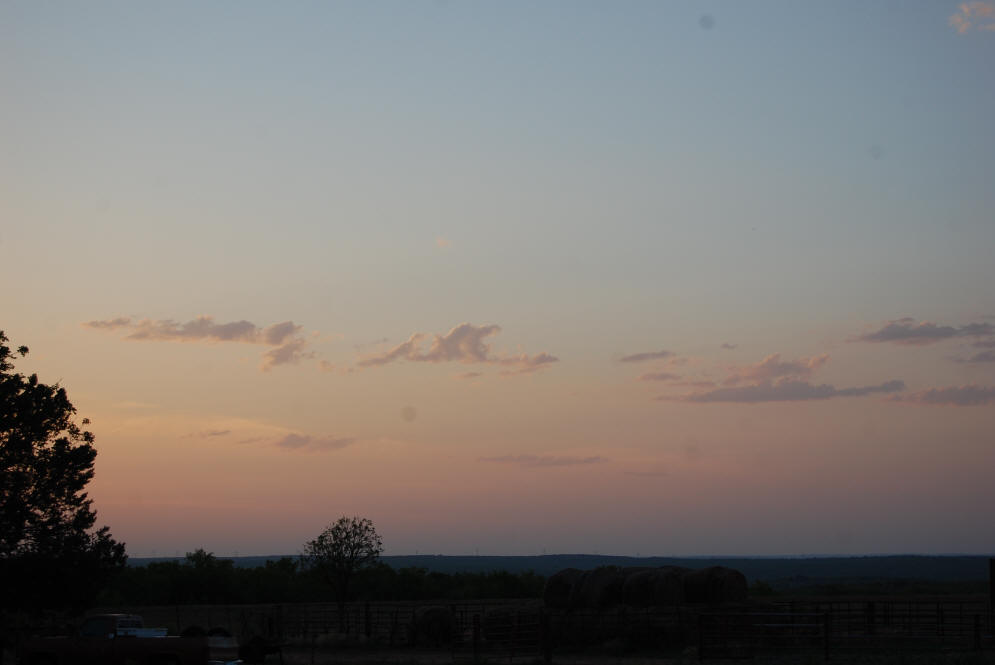 Thursday, May 16 - Cim's 21st Birthday! - Carolina fixed up this nice presentation for Cim's birthday celebration.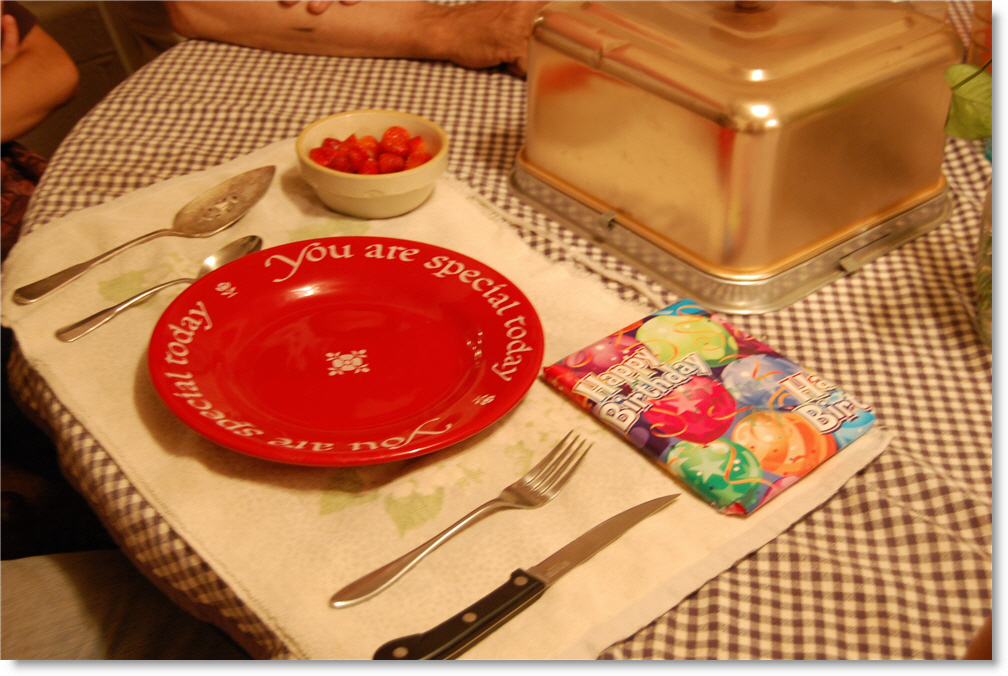 After the guys had a long day working at the Triangle Ranch, everyone was ready to sit down and relax awhile.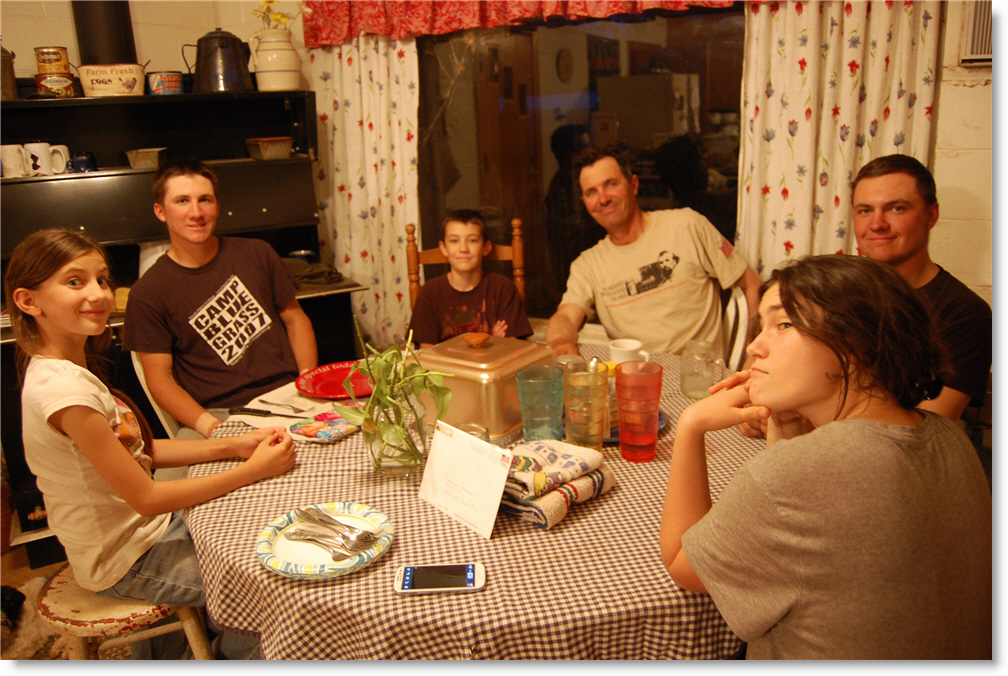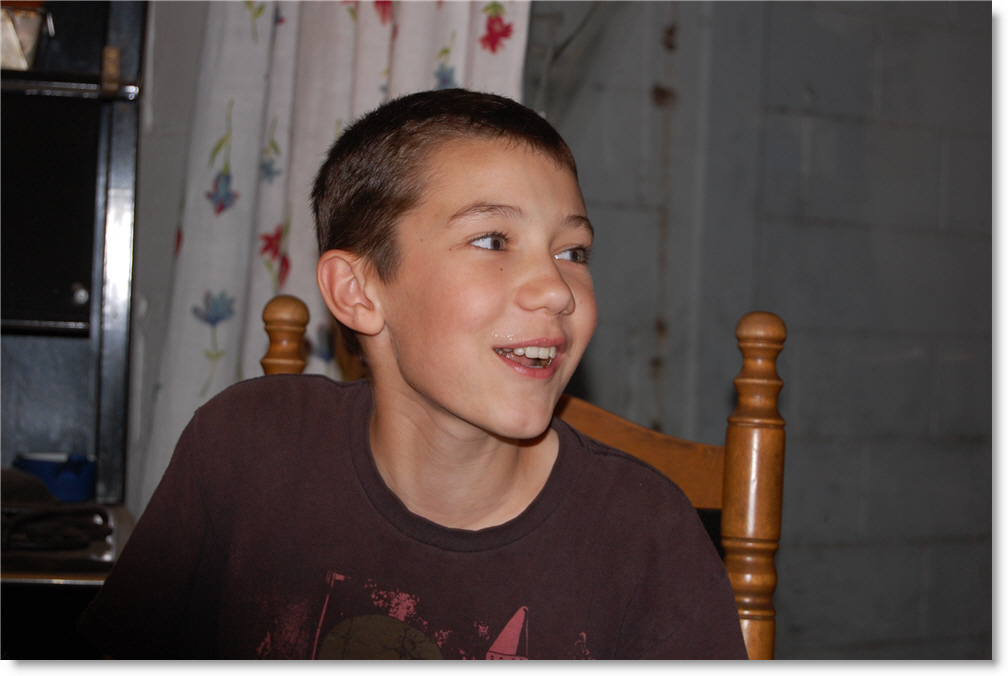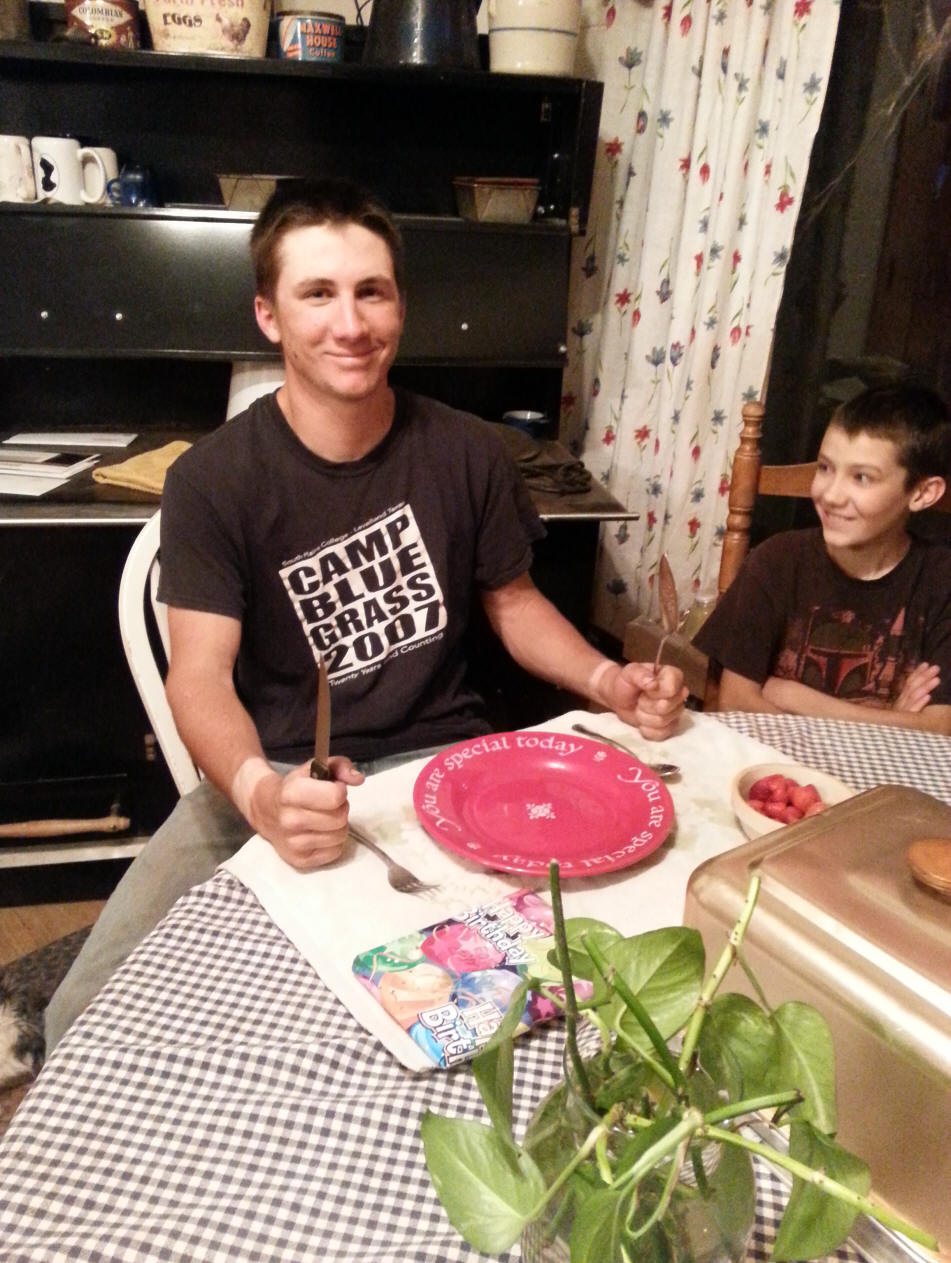 Cim gets the first piece.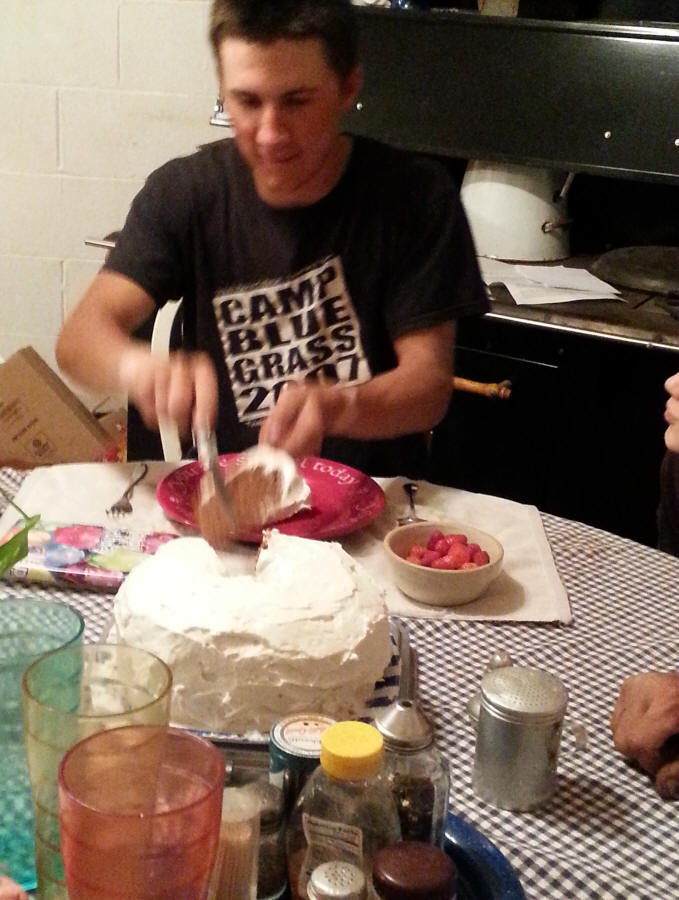 A new movie to watch.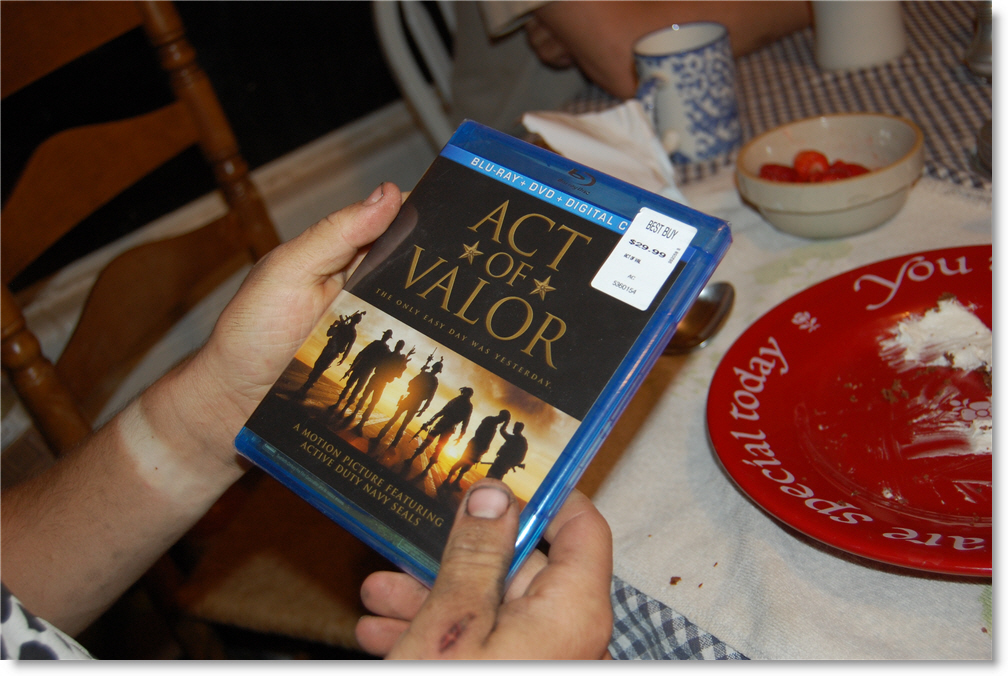 Tuesday, May 14 - Clouds in the East catch the last pink rays of the setting sun.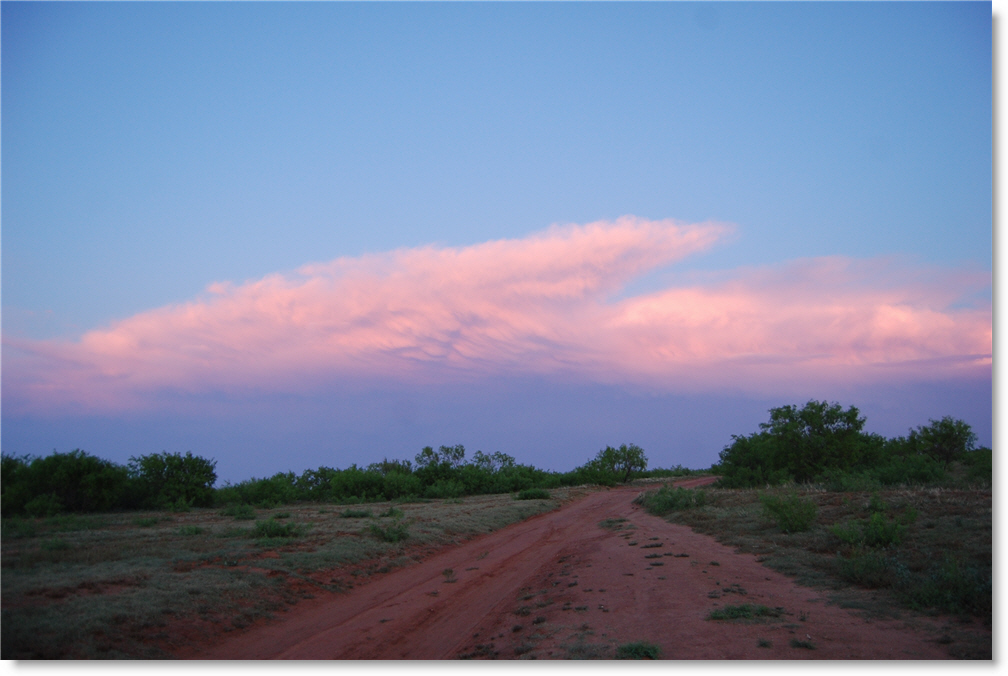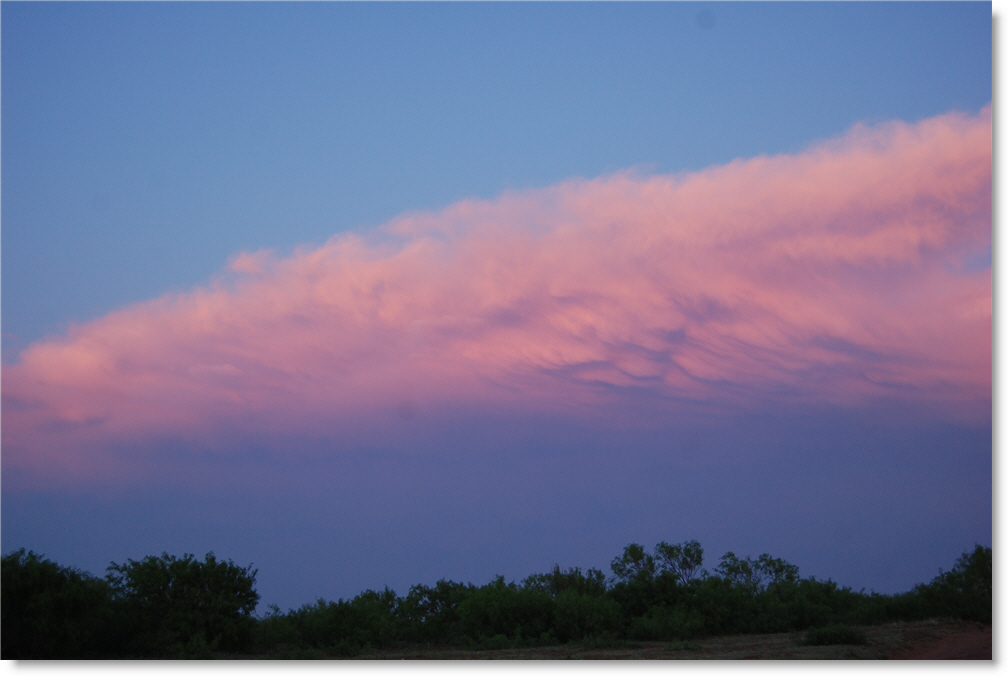 Birthday Celebration for...Dogs?? Aspen and Carolina made this cake to celebrate Coconut and Rusty's 2nd birthday.
Peanut butter, milk, flour, eggs, peanuts, coconut flakes and butter went into this concoction.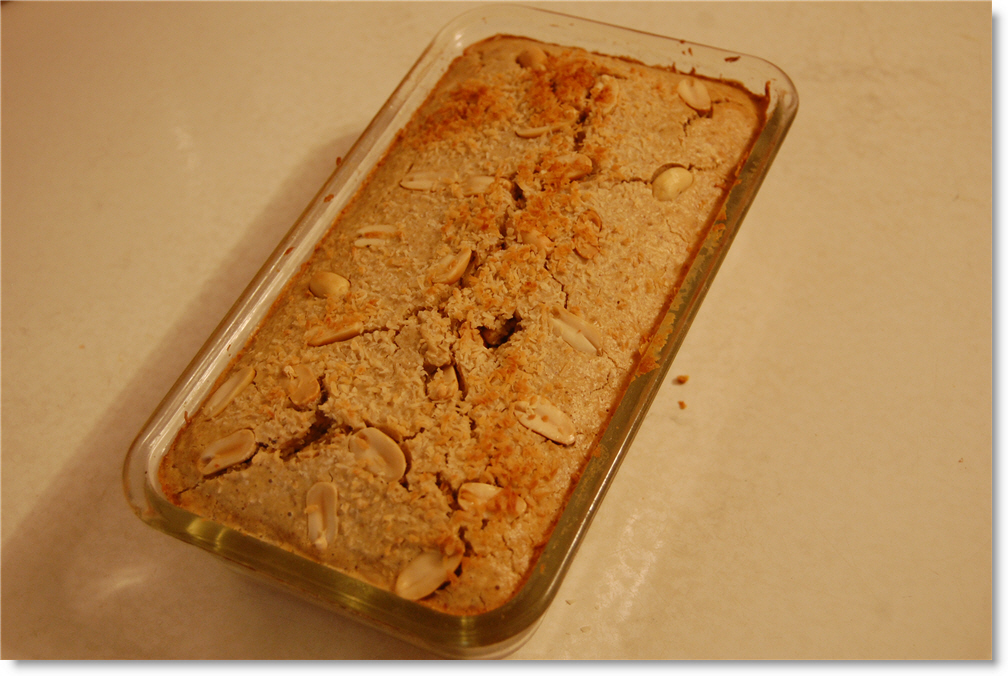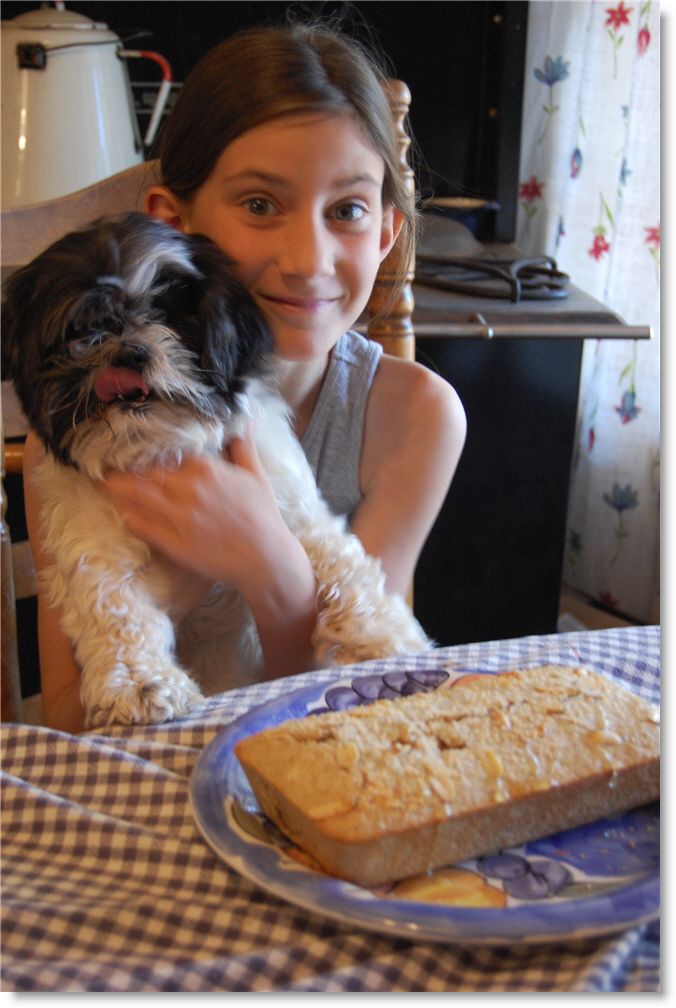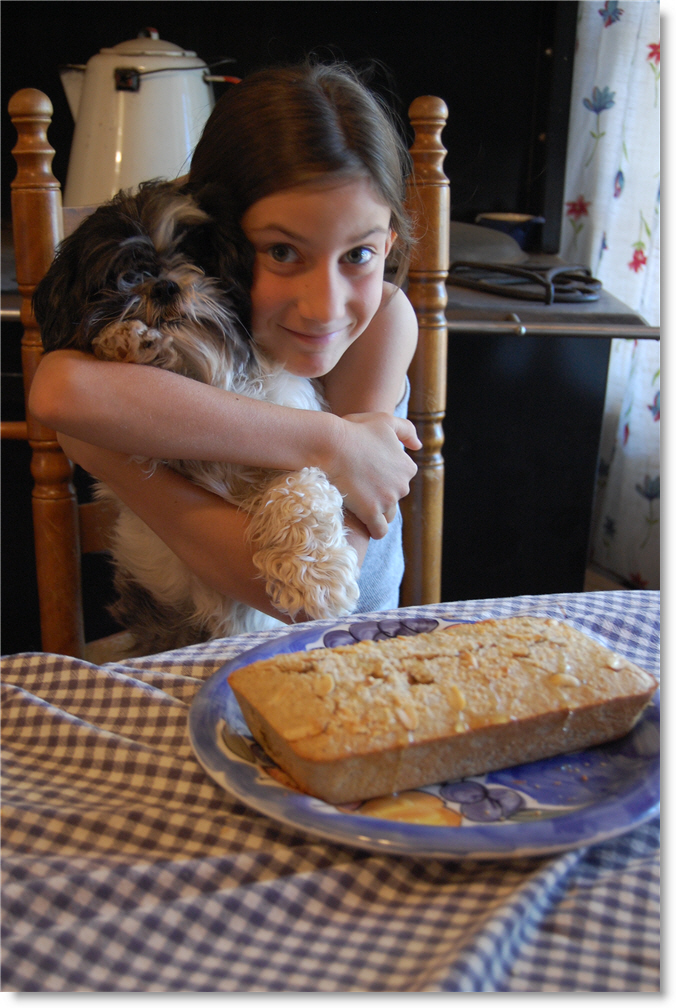 They brought Rusty in for a picture at the party table.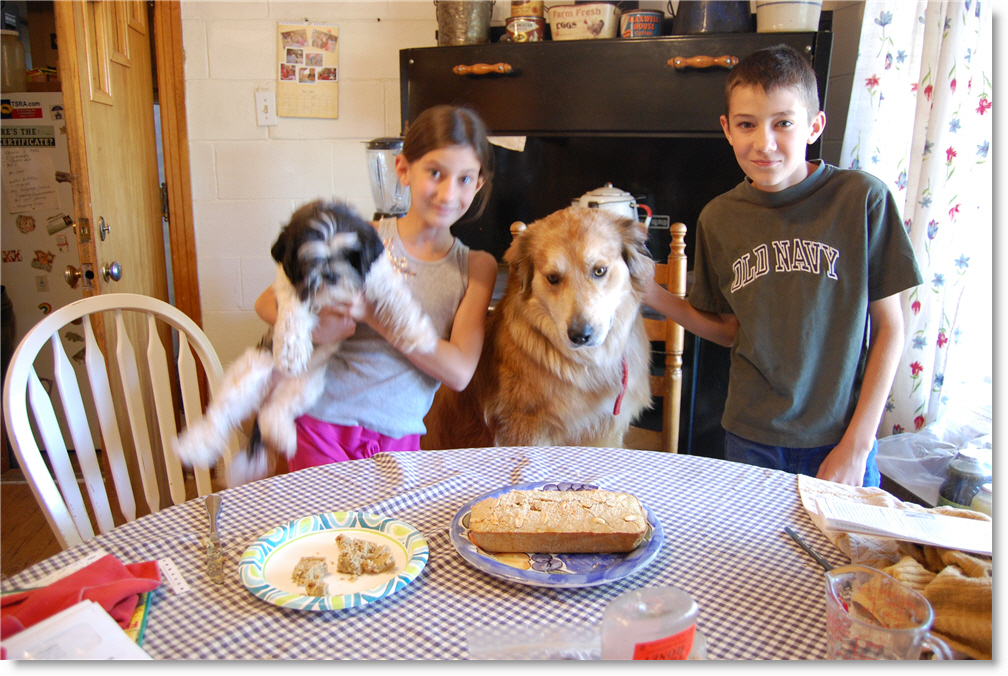 Watch out! Rusty almost grabbed it.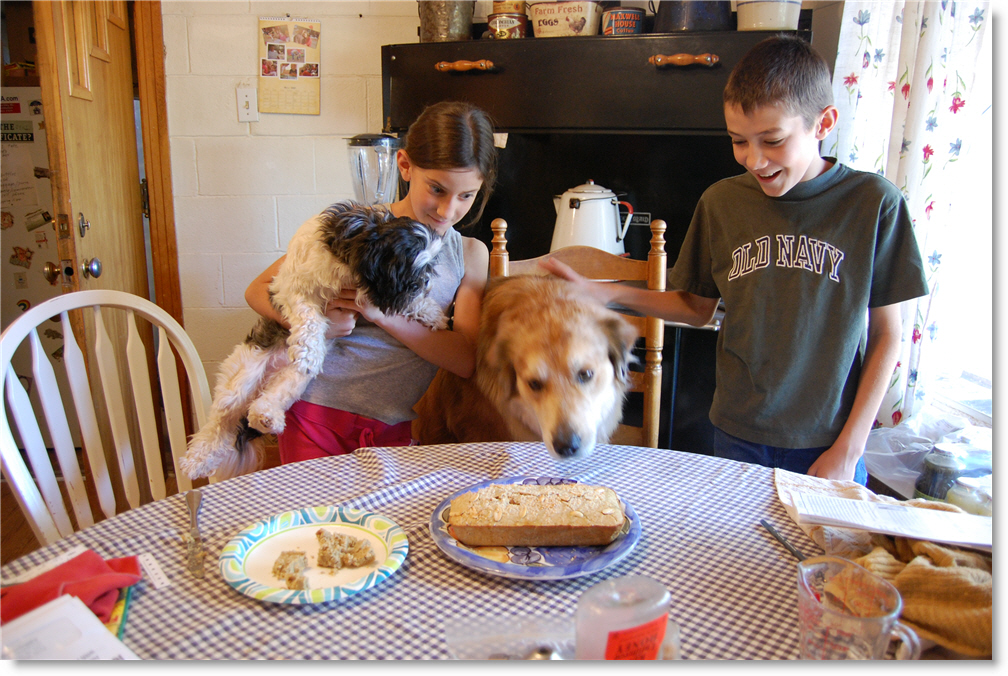 We wanted a picture of each dog sitting in front of his plate of cake, but I didn't snap the picture fast enough.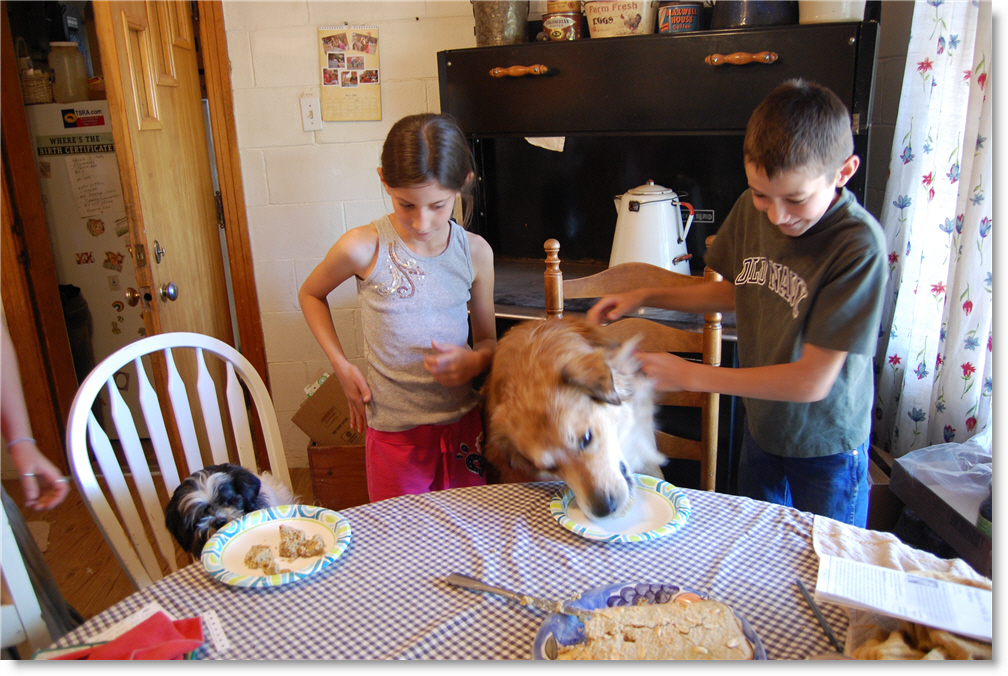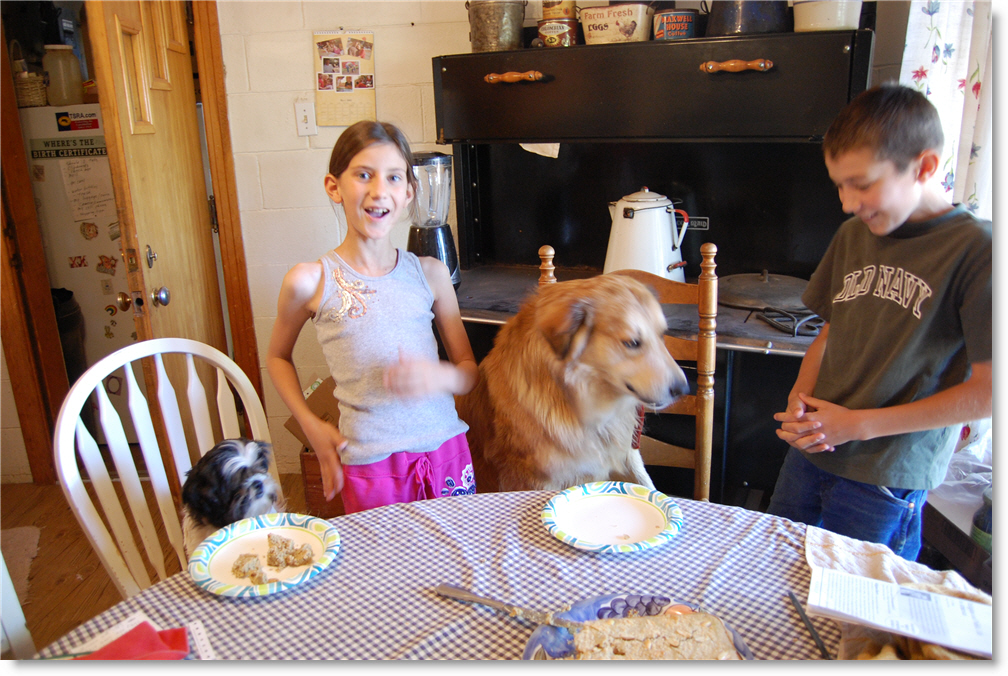 We tried it again. Oops! he's too fast. We missed it again.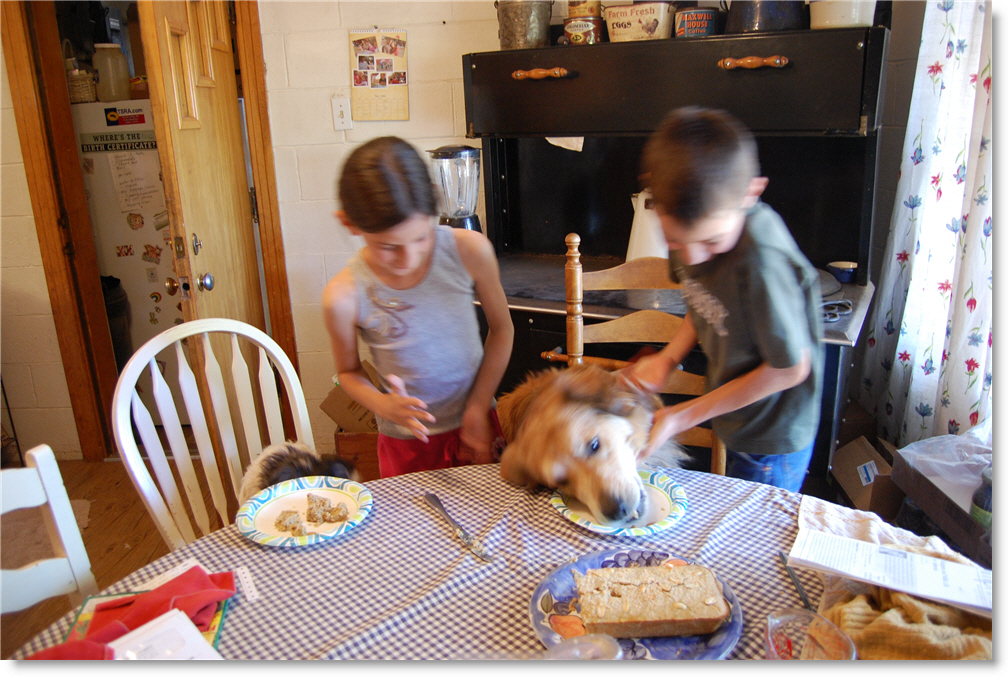 Sunday, May 12 - Mother's Day Dinner at Wilson - We gathered at Misty and Kevin's house for a get together in honor of the mothers that were there.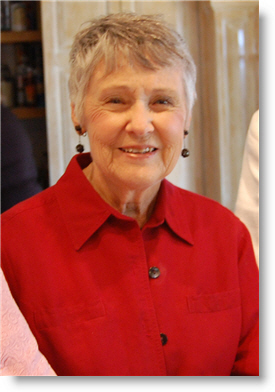 Mona (Kevin's mom), Granny and Willard (Teresa's mom-in-law).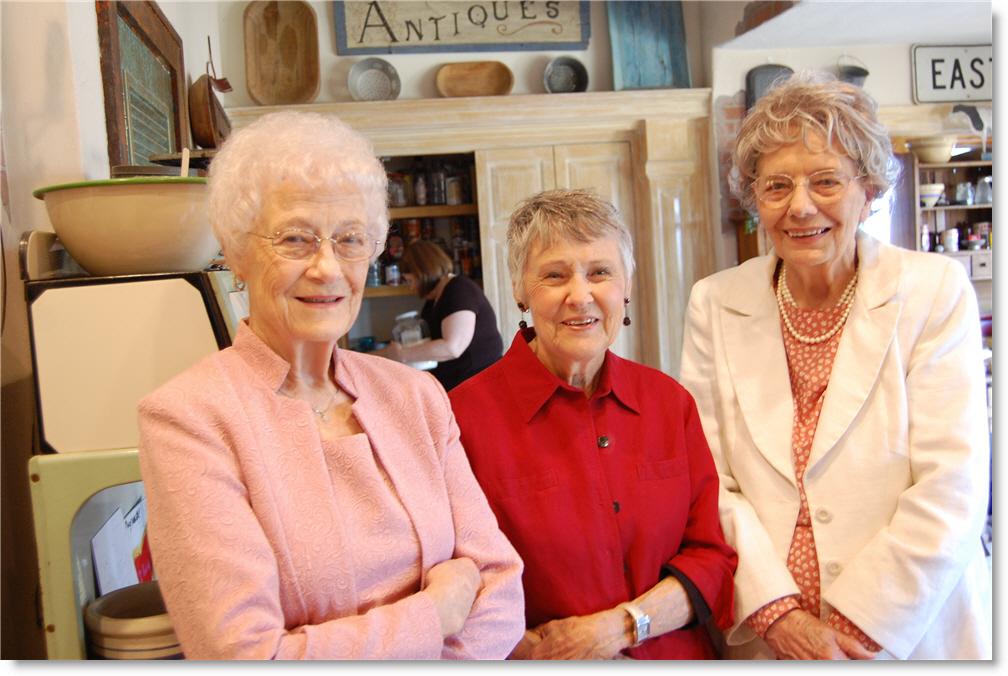 James is here!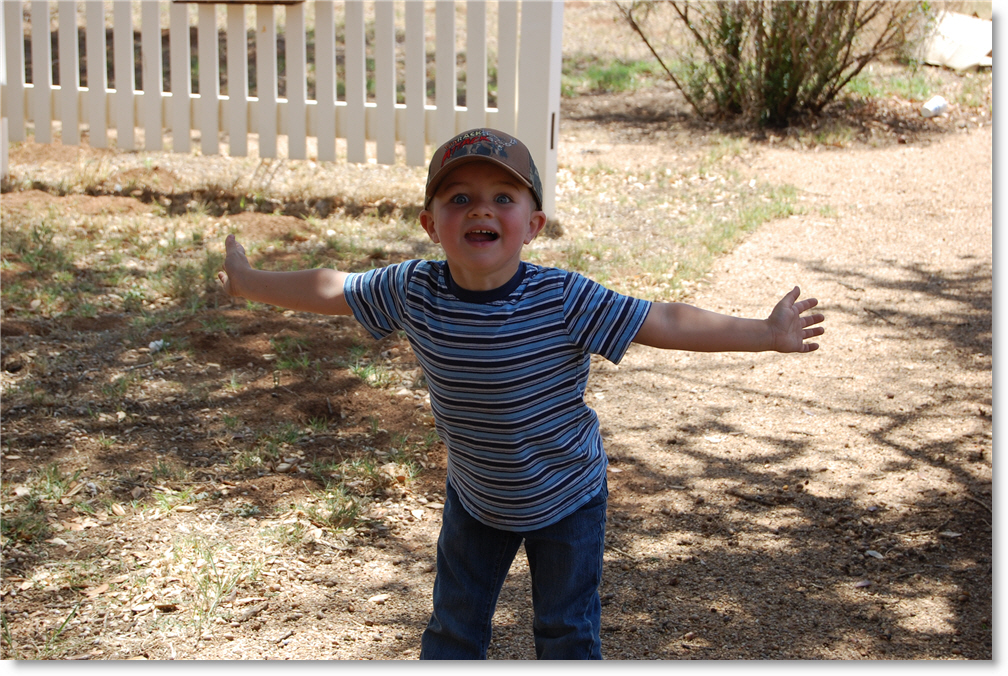 Carly and James.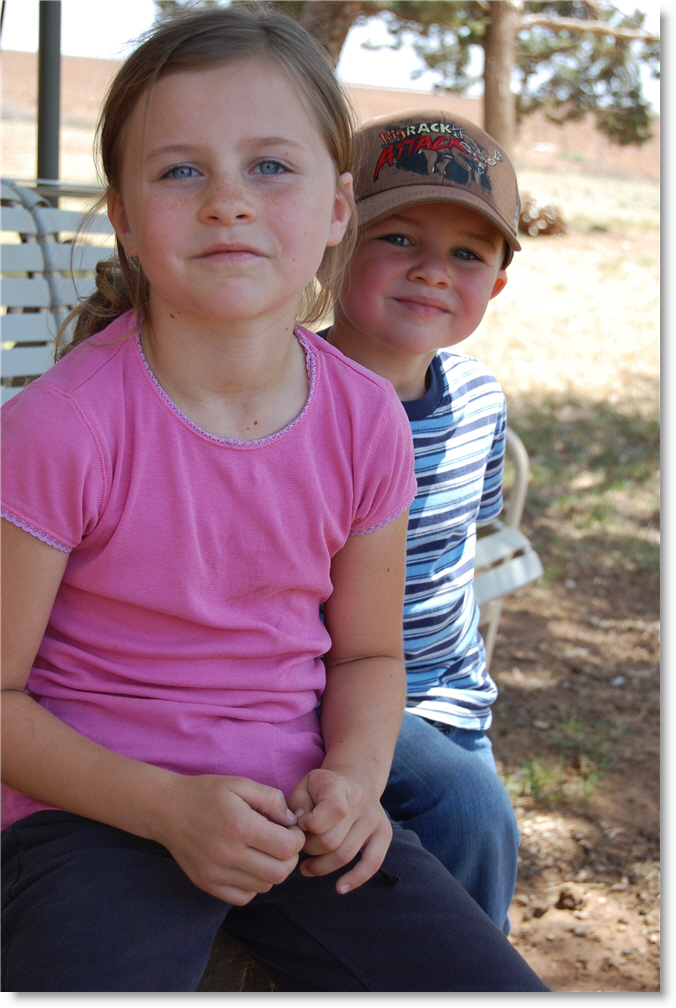 James tells Granny about some lizards outside that Stockton is trying to catch.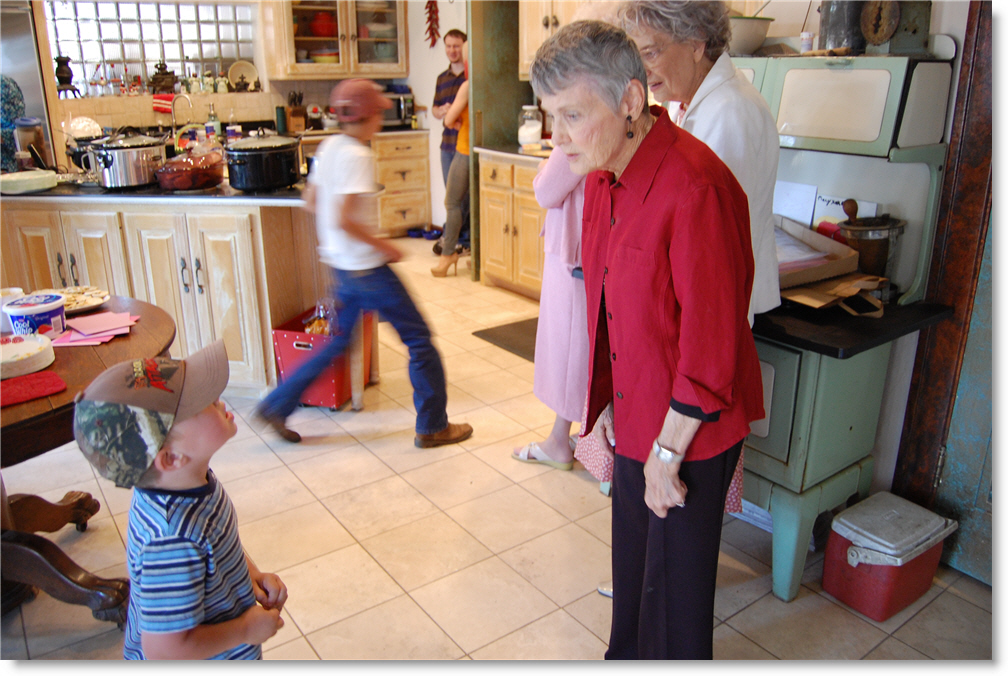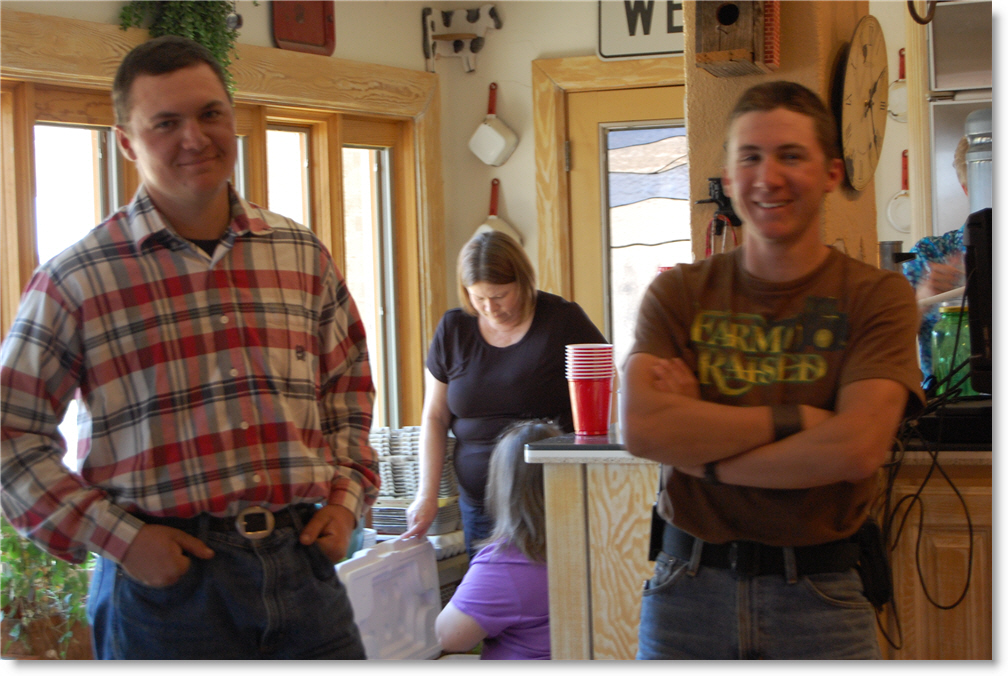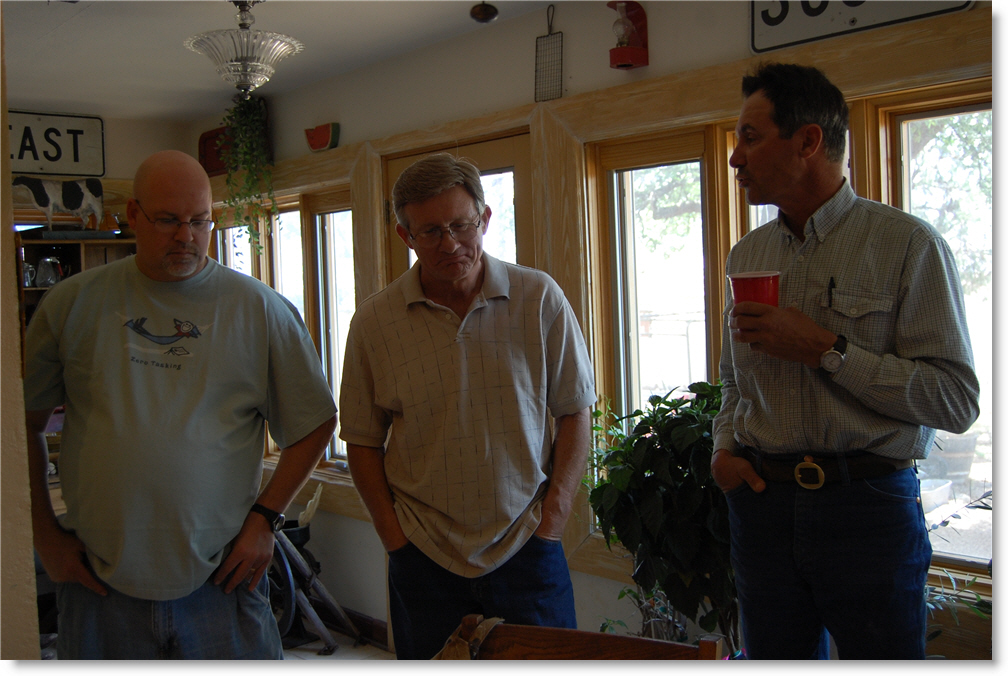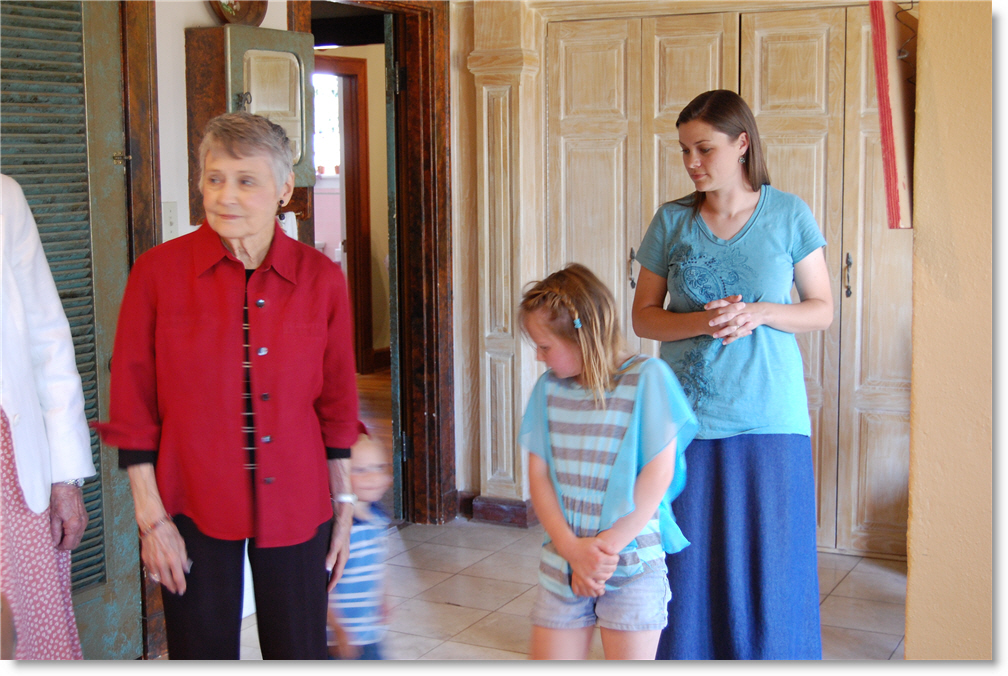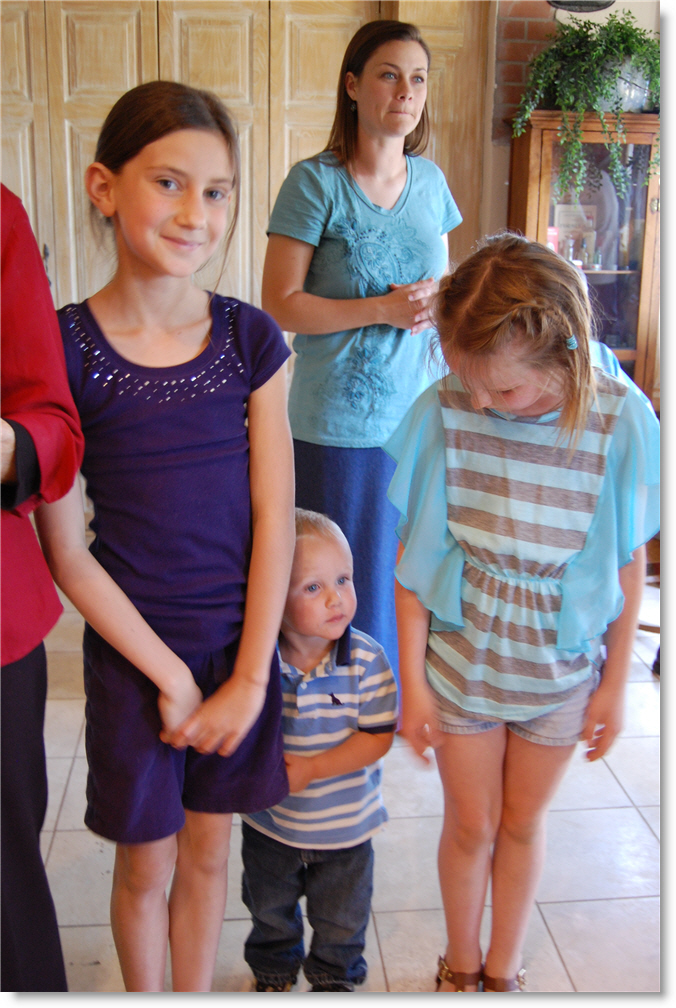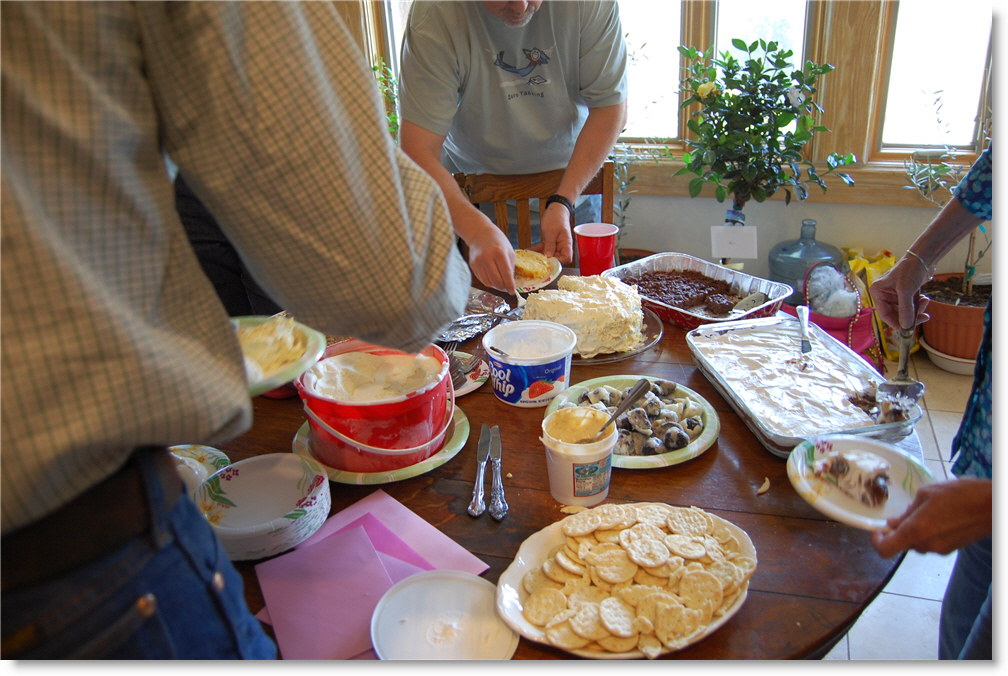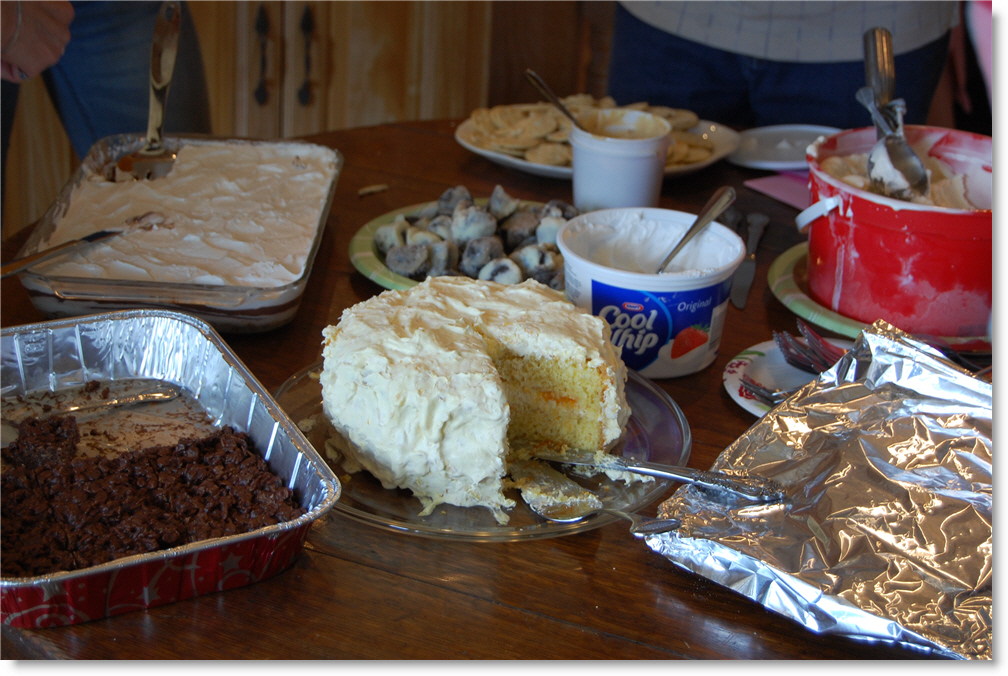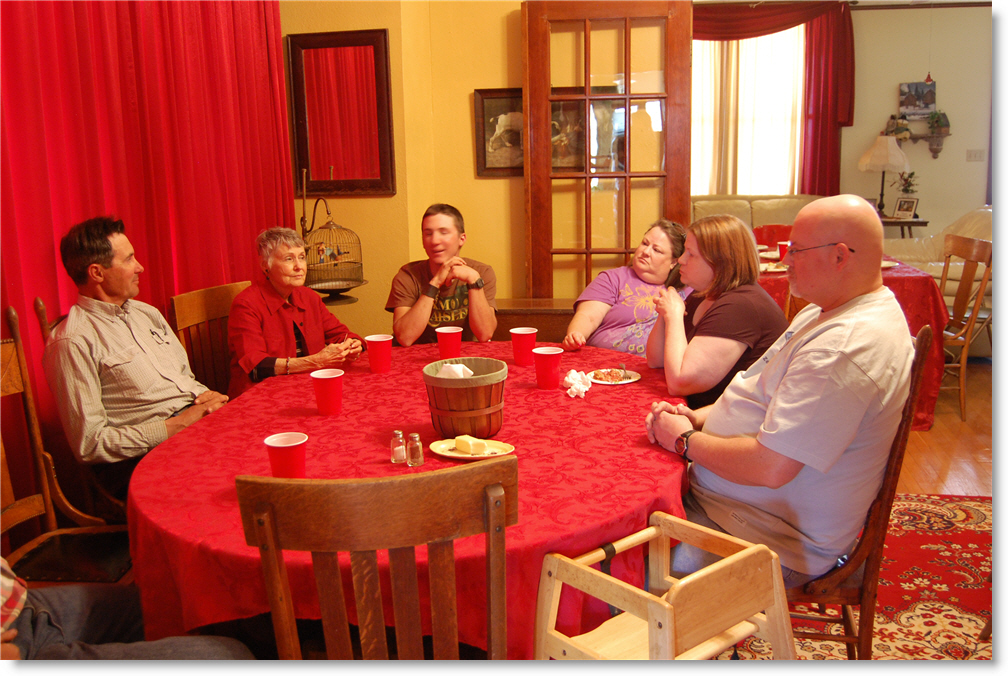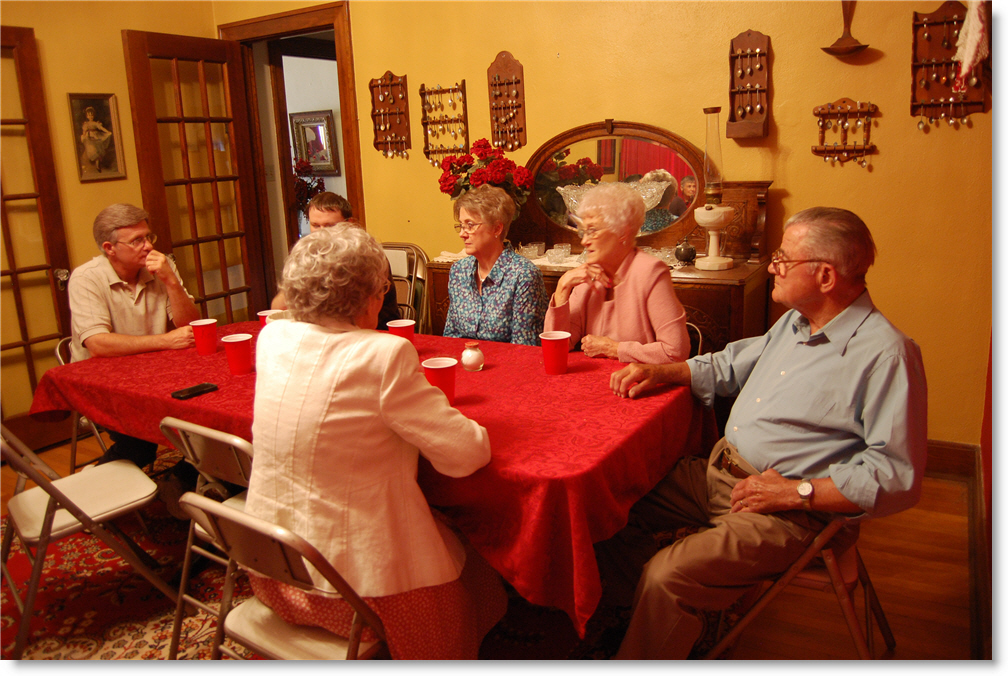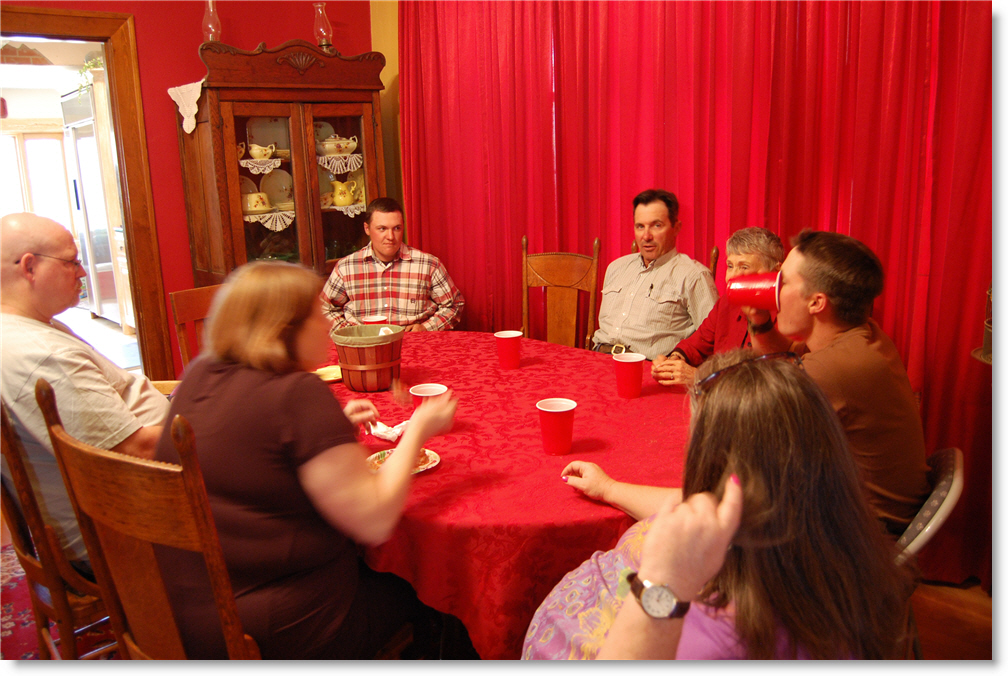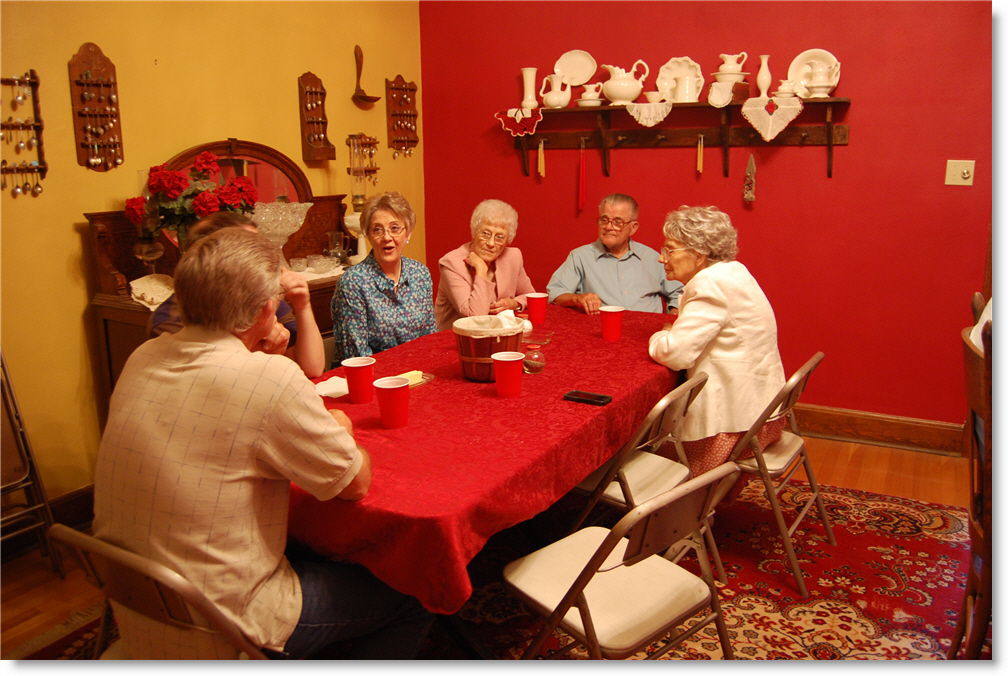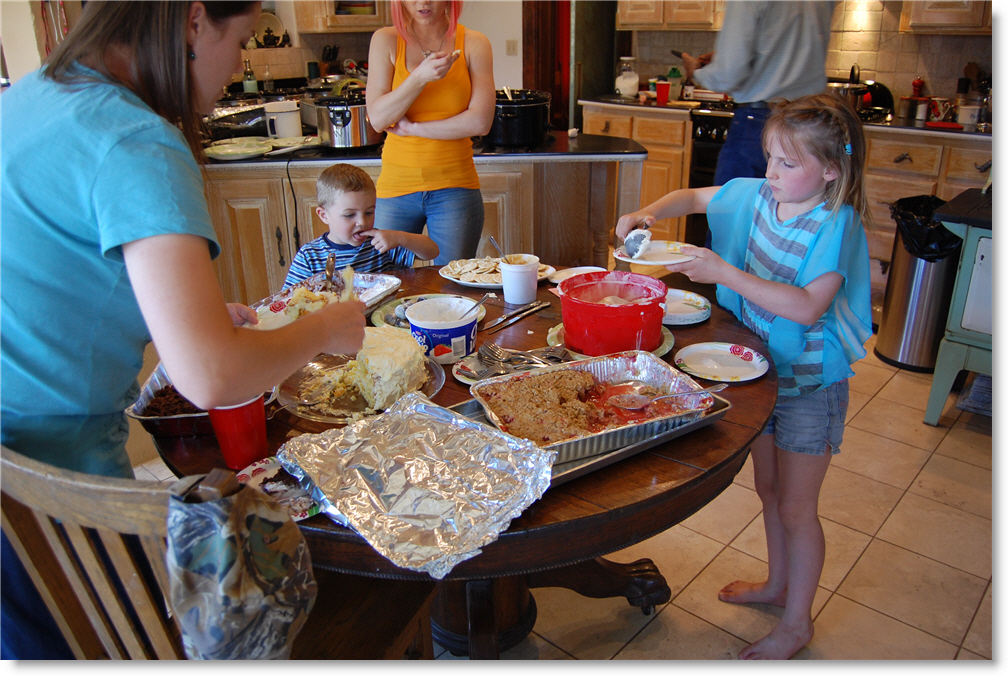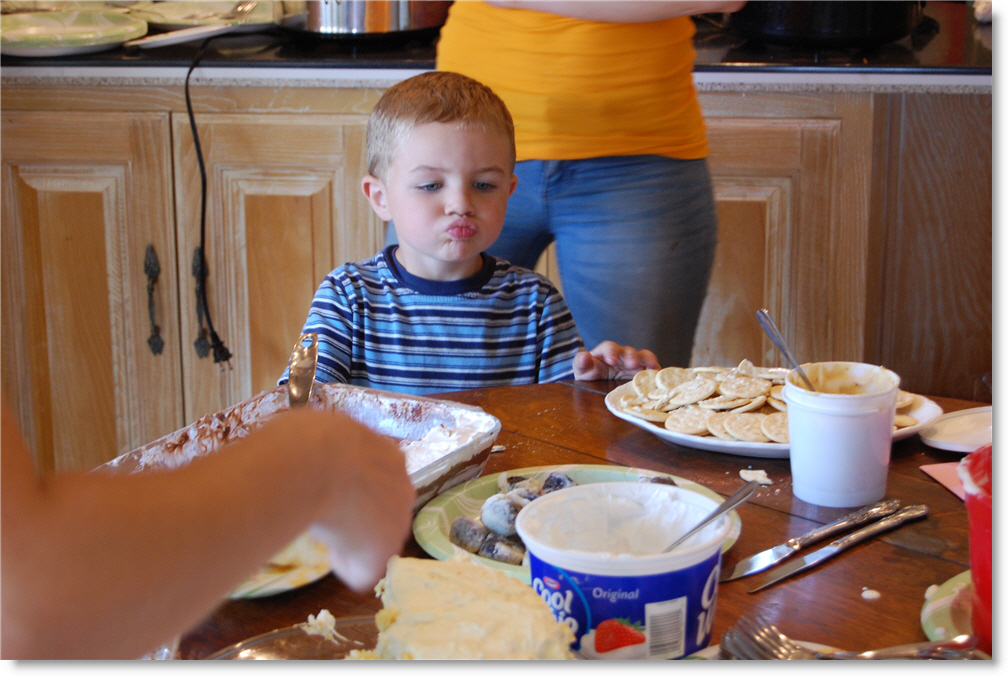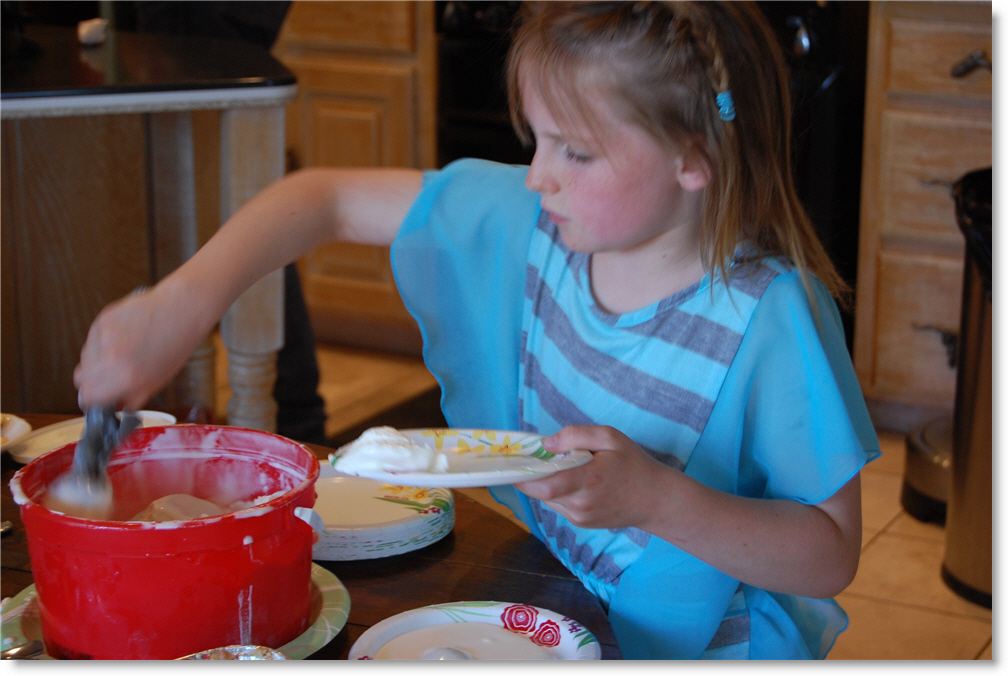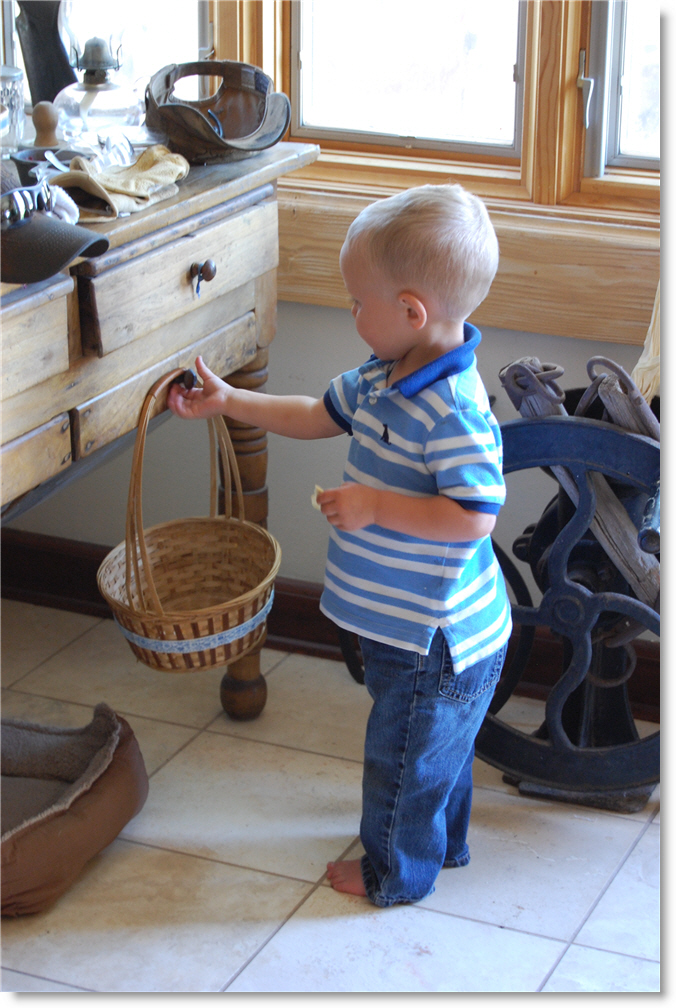 Saturday, May 11 - Working Calves - Today the guys worked and branded most of our calves.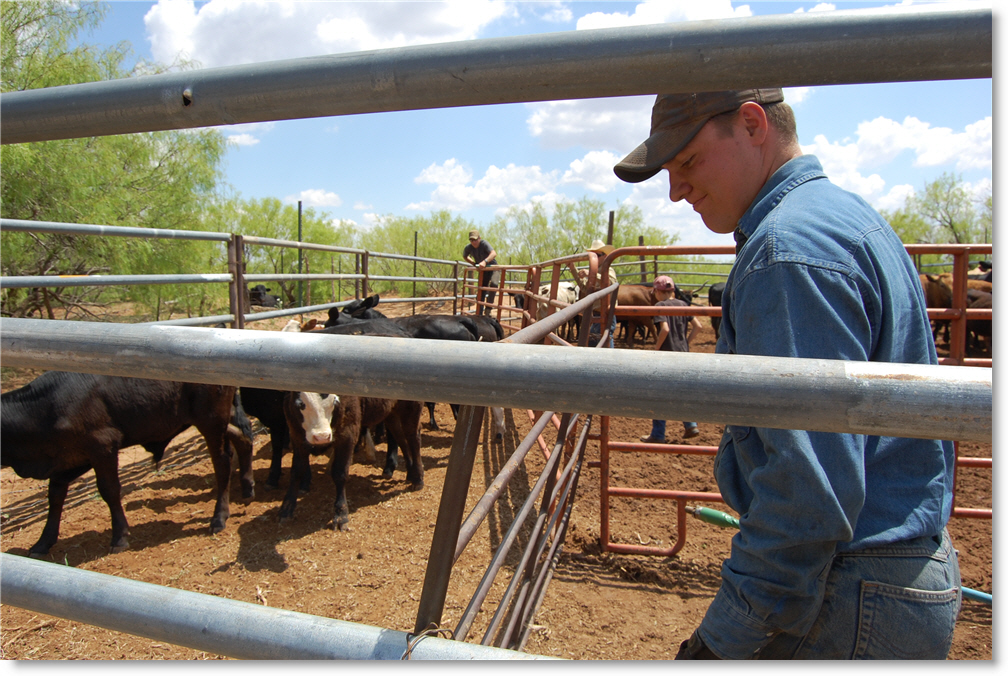 They were gathered and put in the pens and then separated from their mothers and hauled up to the house pens.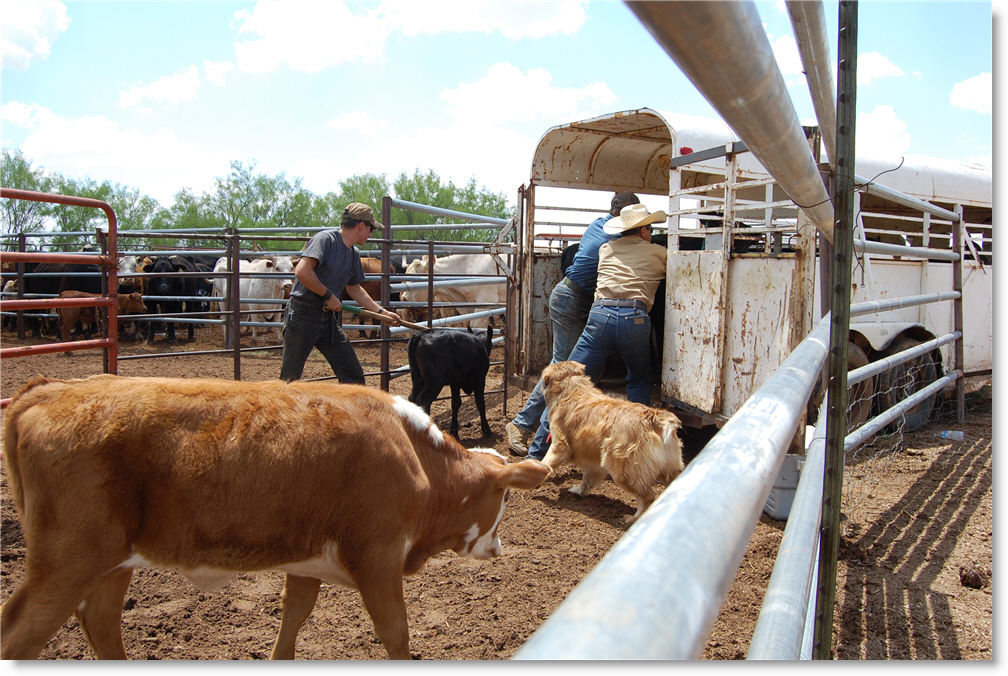 Rusty wants to help, but more often than not, runs them out of the trailer instead of in it.
So he got put in jail.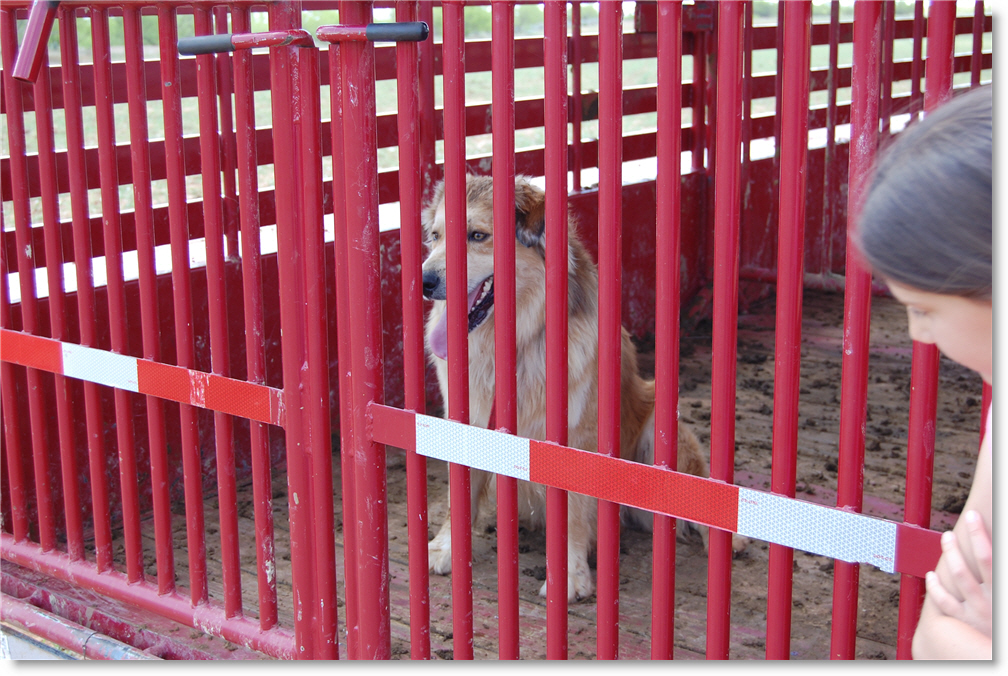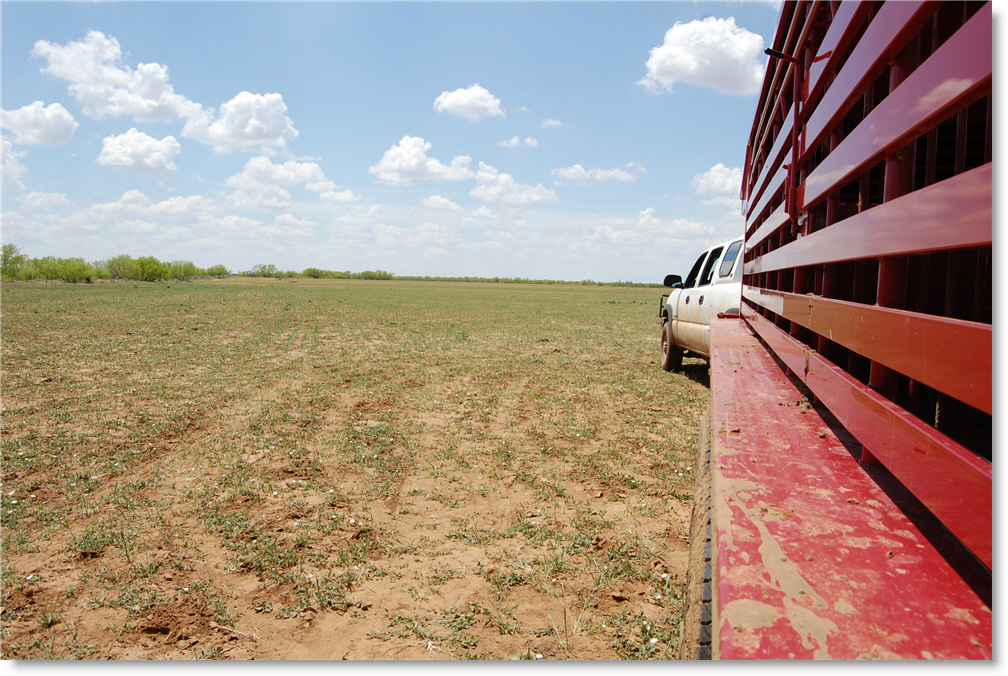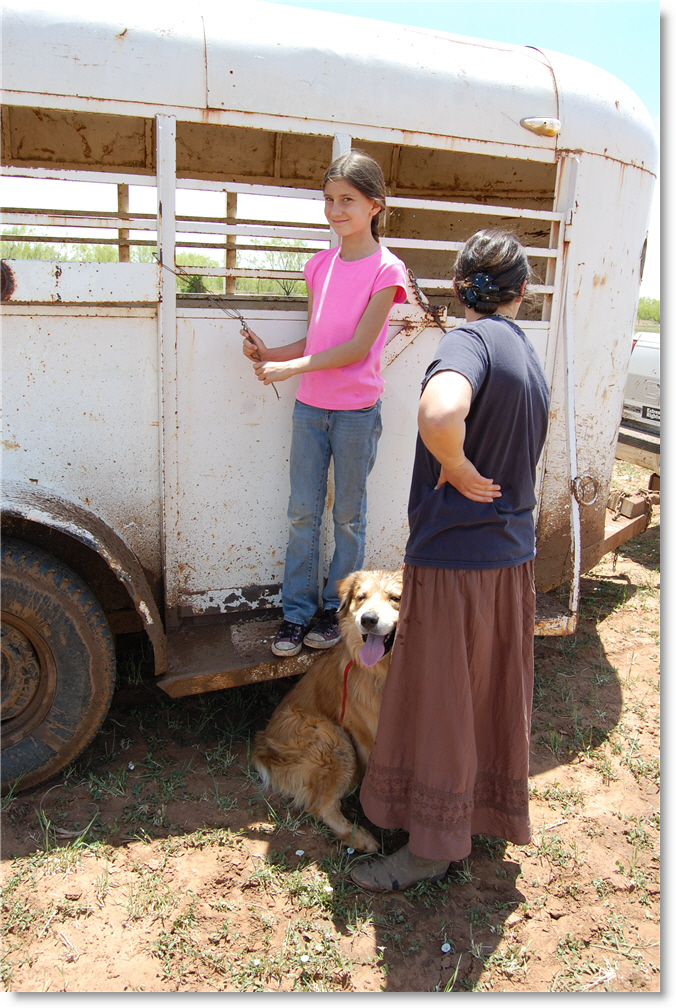 Thursday, May 9 - Pictures around the Ranch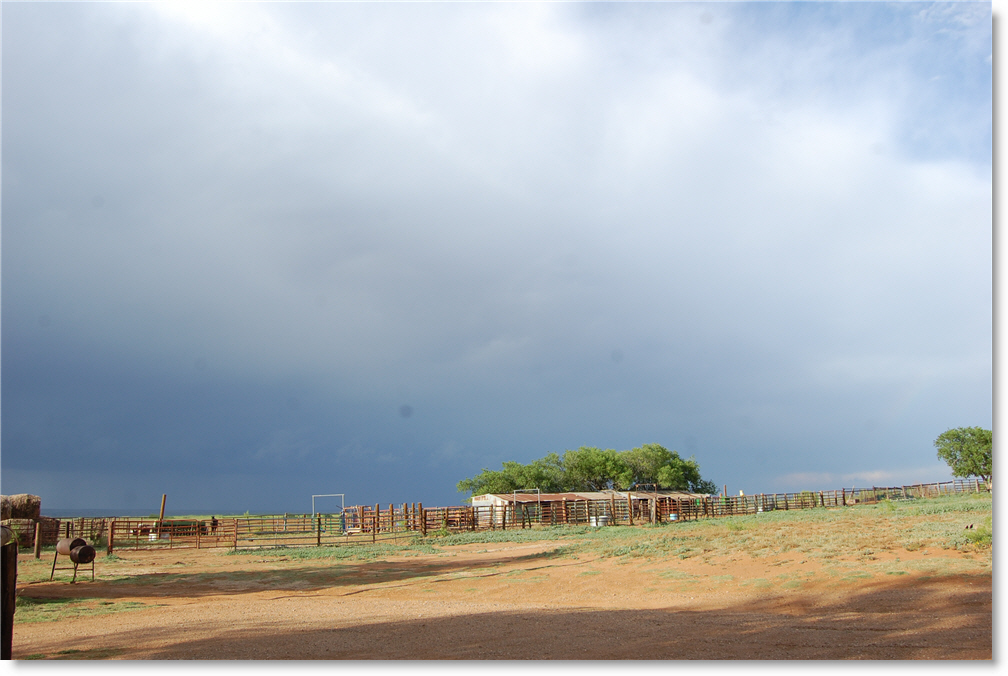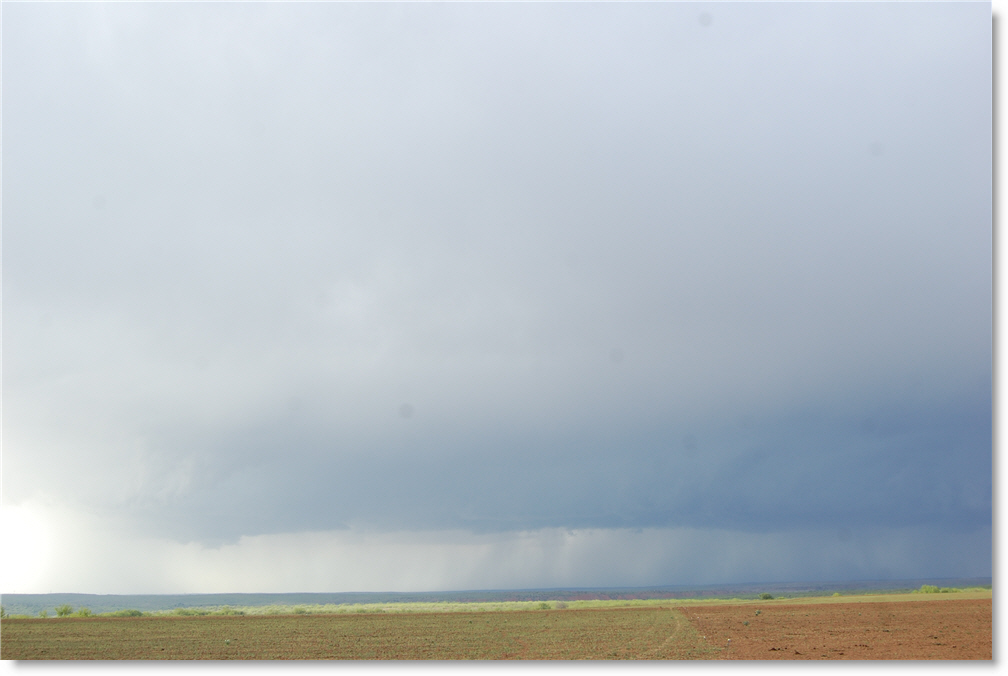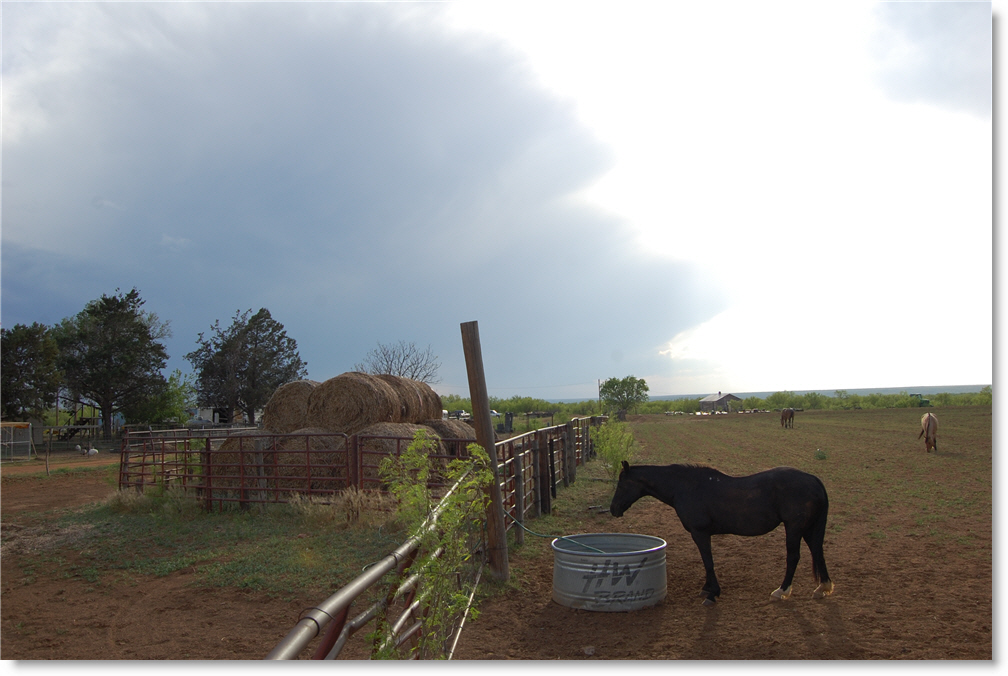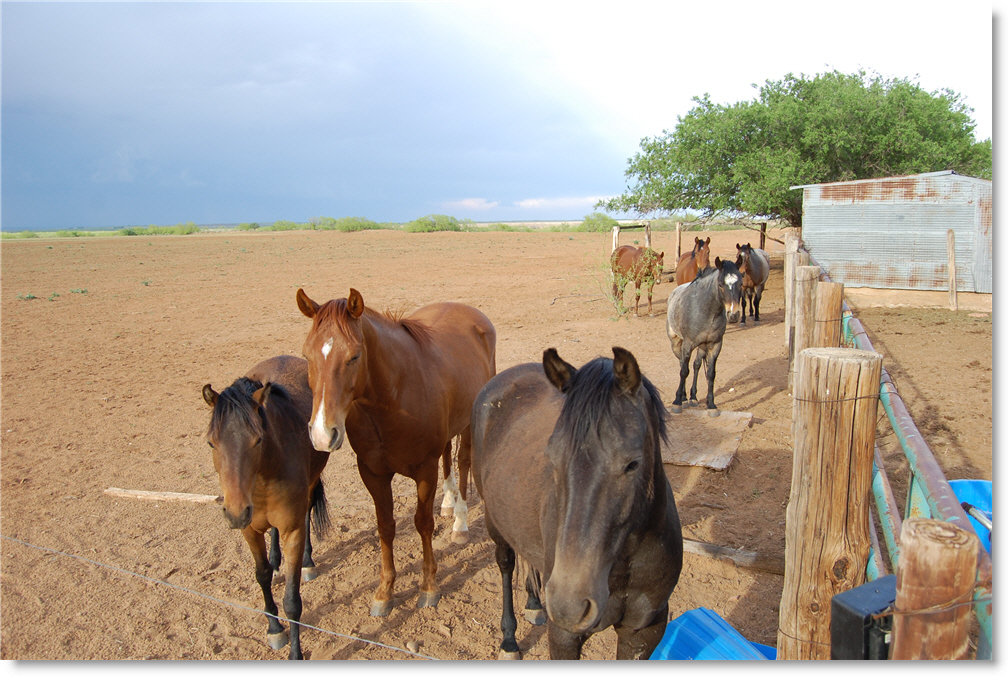 Laddie is starting to look like a little bull.
This looks like a mirror image picture, but it's not.
It's just Barley and Blizzard playing in the cattle chute.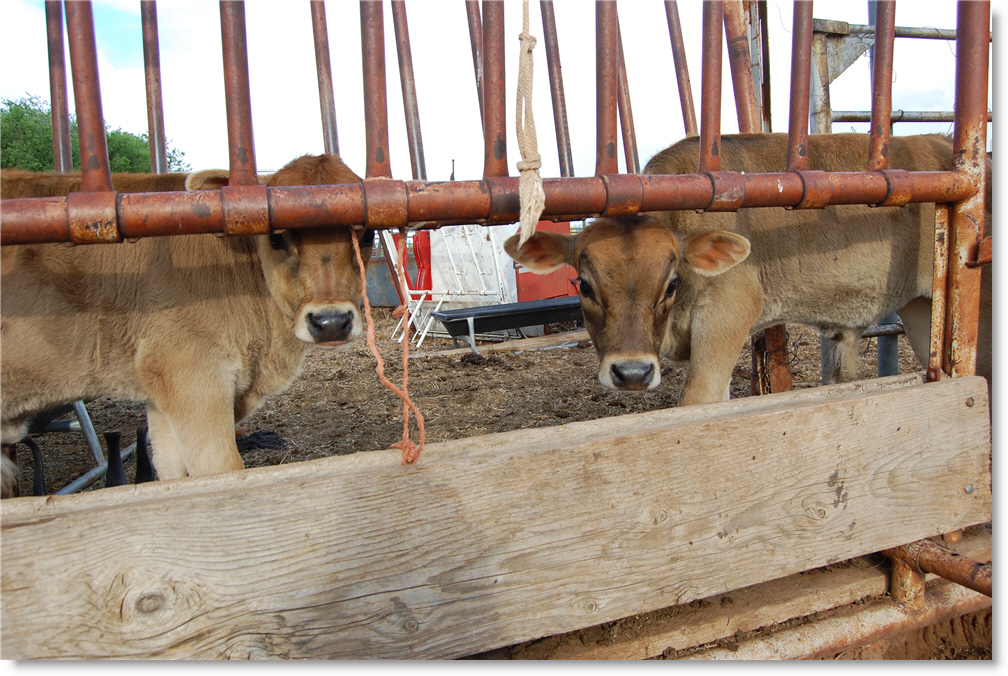 Panoramic Pics - Lots of thunderclouds in the area are like magnets to camera buffs like me. I took the opportunity to experiment with the panoramic feature on my smart phone. Pretty dramatic results for a phone, I thought. Click here to see the pictures in a new window.
Wedding Details Galore - Don't even think about missing the new post on Atlanta's blog. She shares the history behind the historical wedding site in Tennessee and tells all about how all the wedding decorations fell into place. Tons of pictures! Check it out here.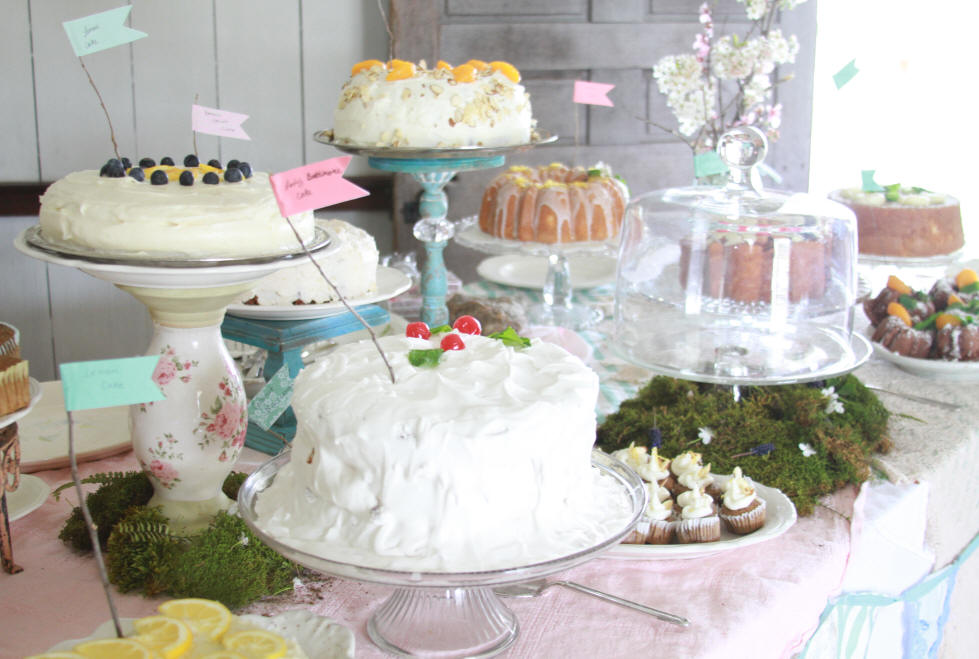 Shimmering Clouds in the Morning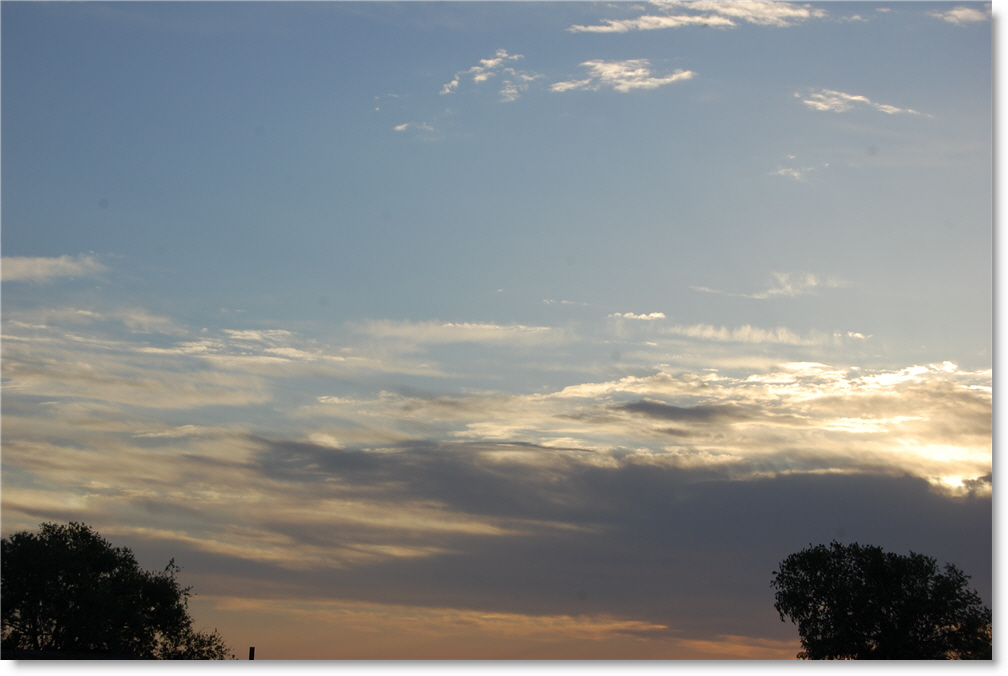 Greasy Boys in the Afternoon - Cim and Laredo are modeling the latest in windmill repair attire.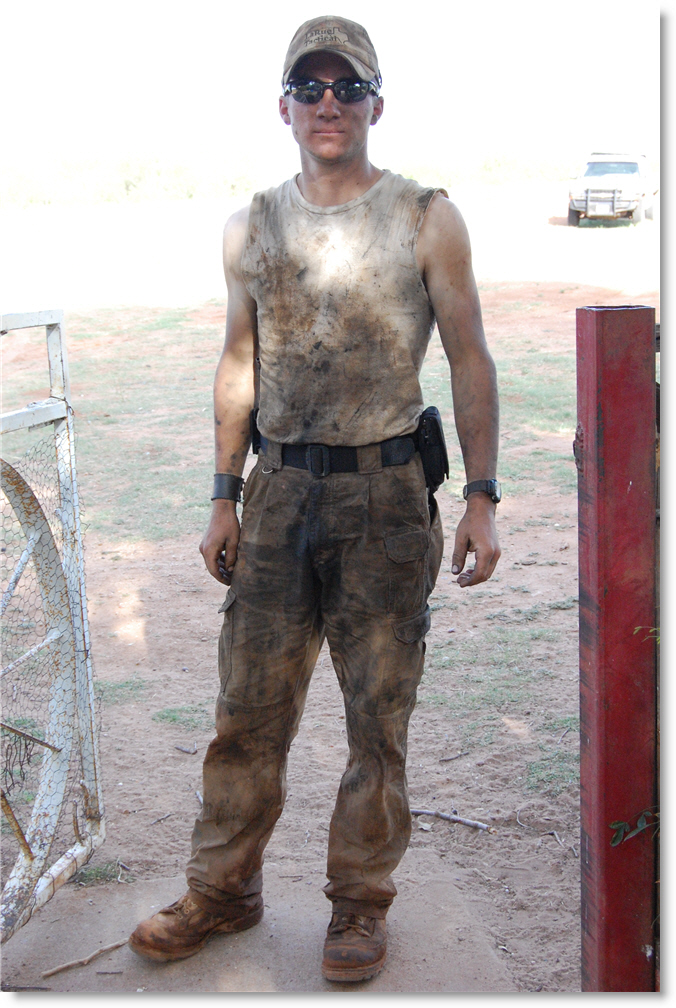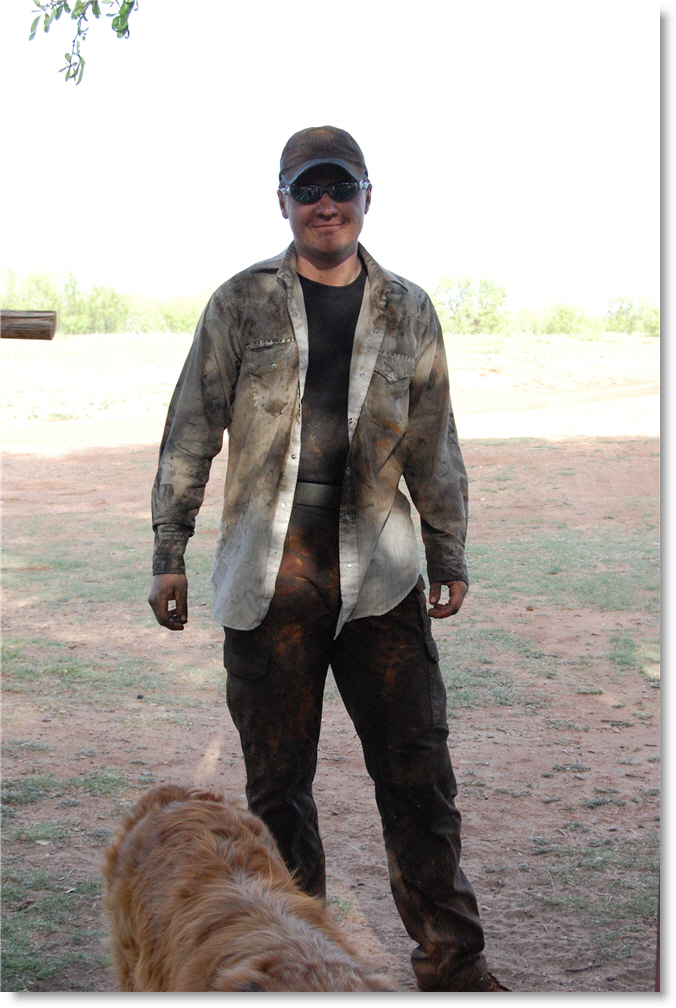 Since I get up to make lunches and breakfast for the guys, I'm getting to enjoy more sunrises, such as this one from Wednesday.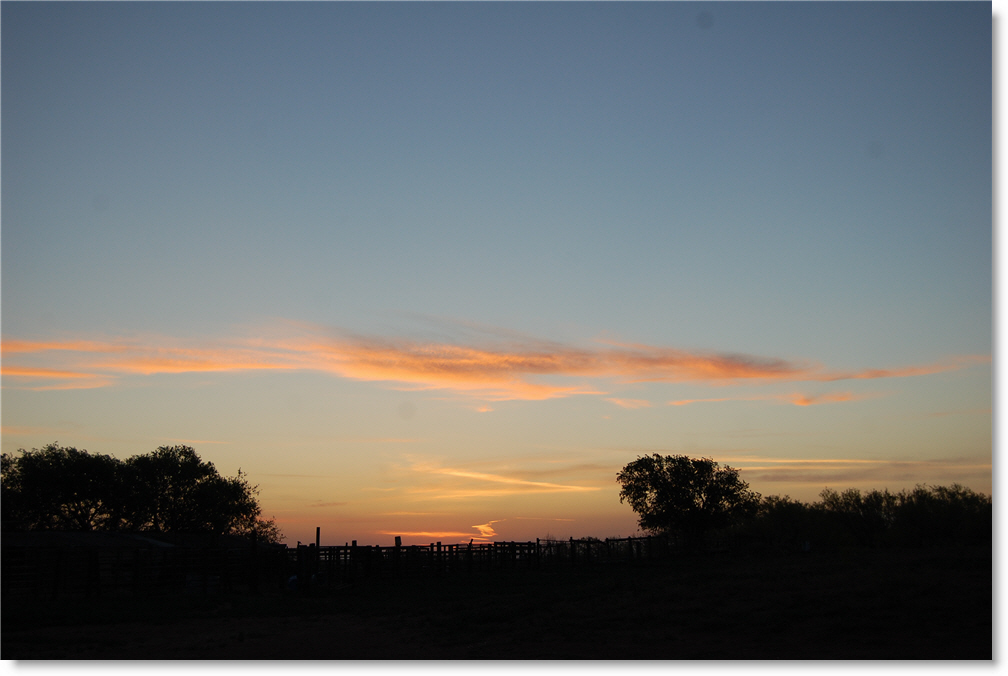 Rusty's 2nd Birthday - He's really filled out in two years and made a fine watch dog. His routine if you come and see us is to jump the fence and land at your feet ferociously barking, scaring you to death. Then when he realizes you're not a threat he backs off, only to return, wet from jumping in the horse tank to try and get in your lap while you're trying to get in your car to leave.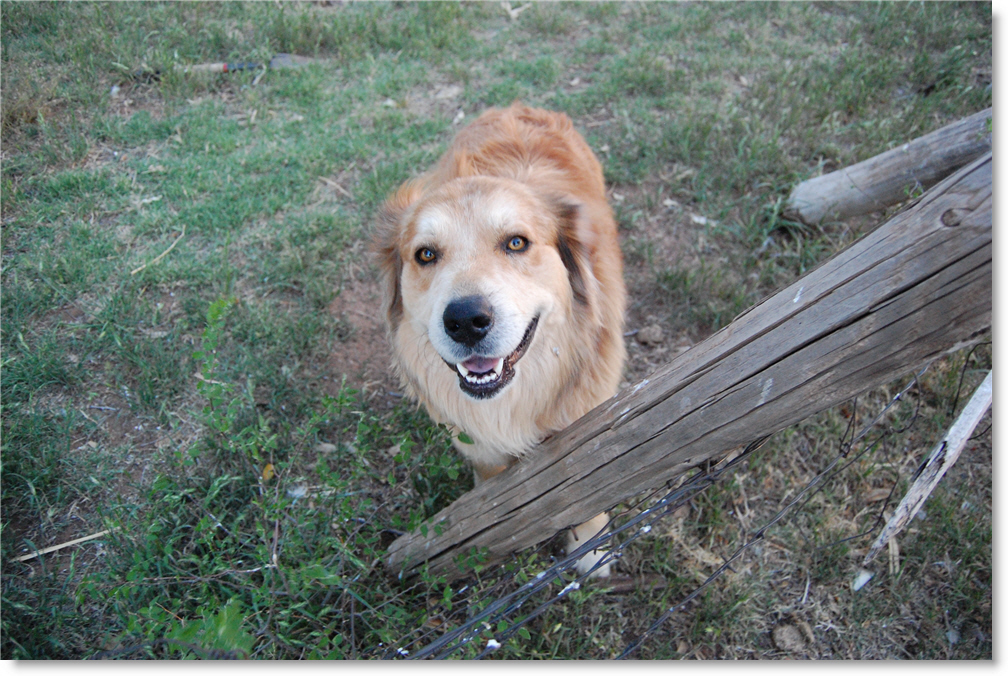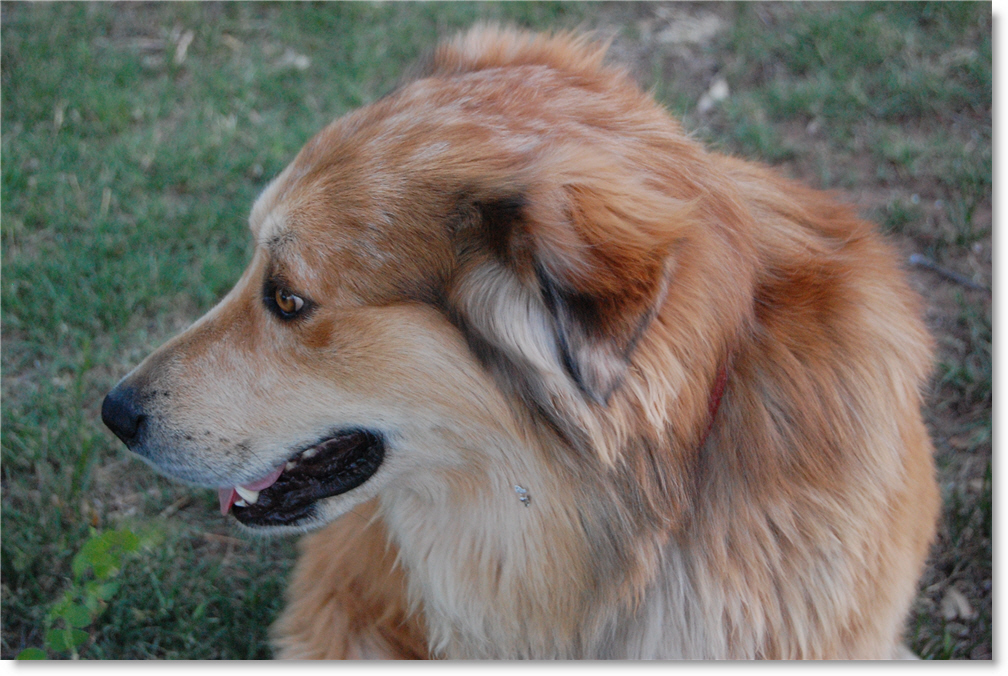 Happy Birthday, Rusty!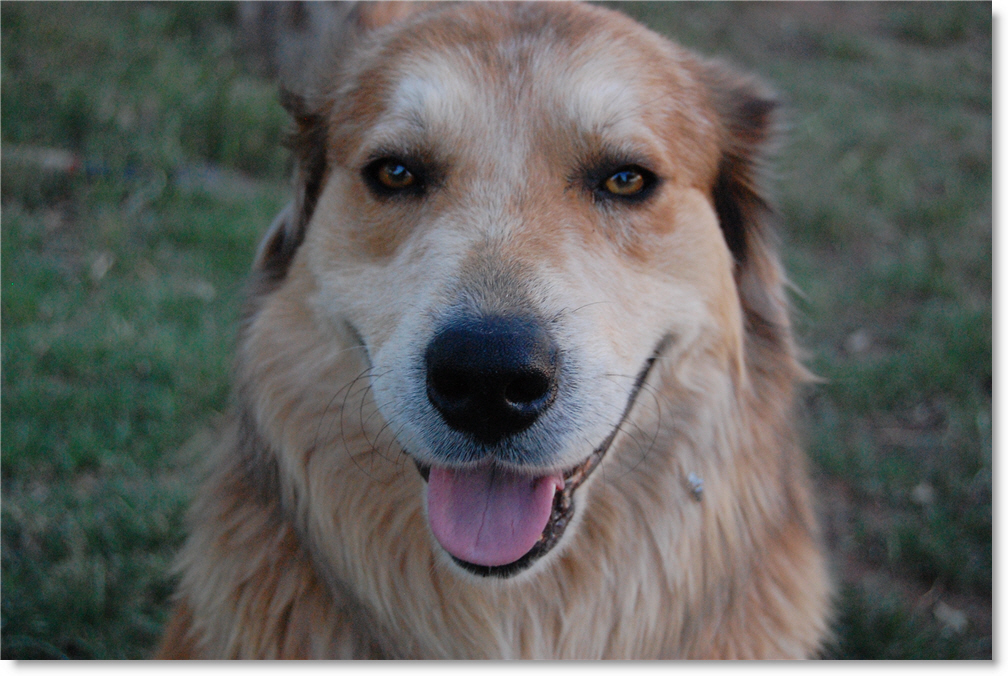 Check out the July 2011 news and read the story about how we came to buy Rusty.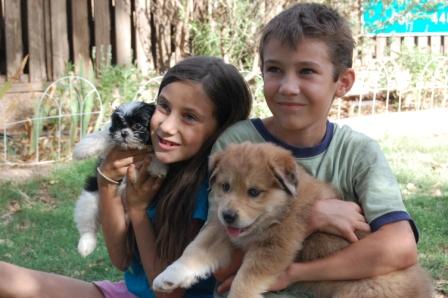 Sunday, May 5 - Fun Day with Family - Granny and the Tidwells came early for worship together and stayed for lunch and visiting. Actually, they didn't stay for lunch...they brought lunch and let us stay and eat, too!
Avery, Hannah, Carolina and Stockton spent a lot of time out-of-doors.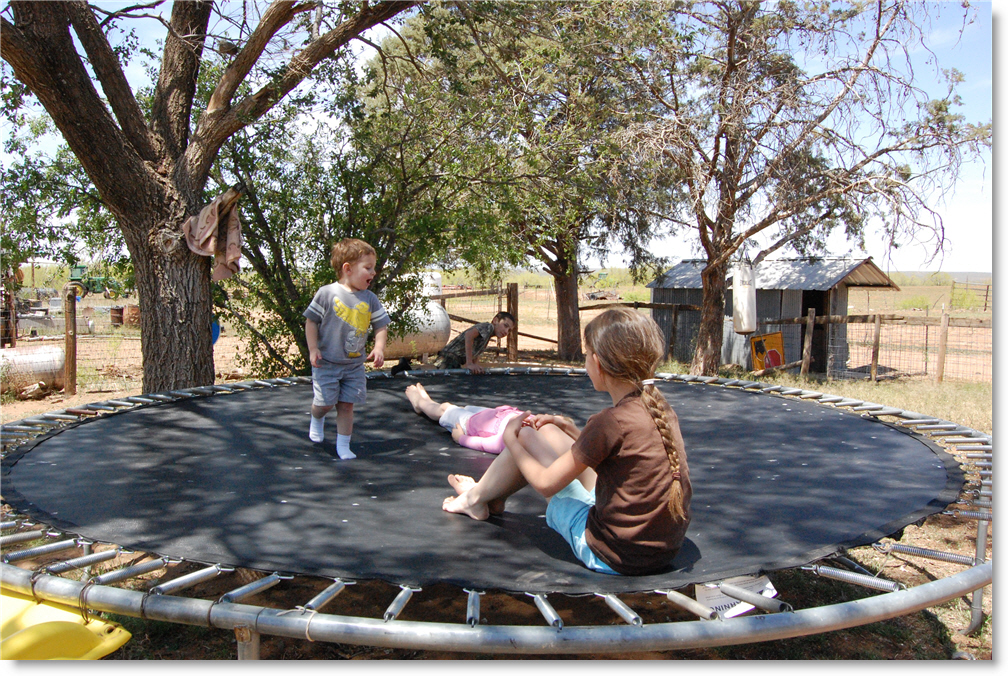 They taught Avery how to play this cute little trampoline game called "dead man".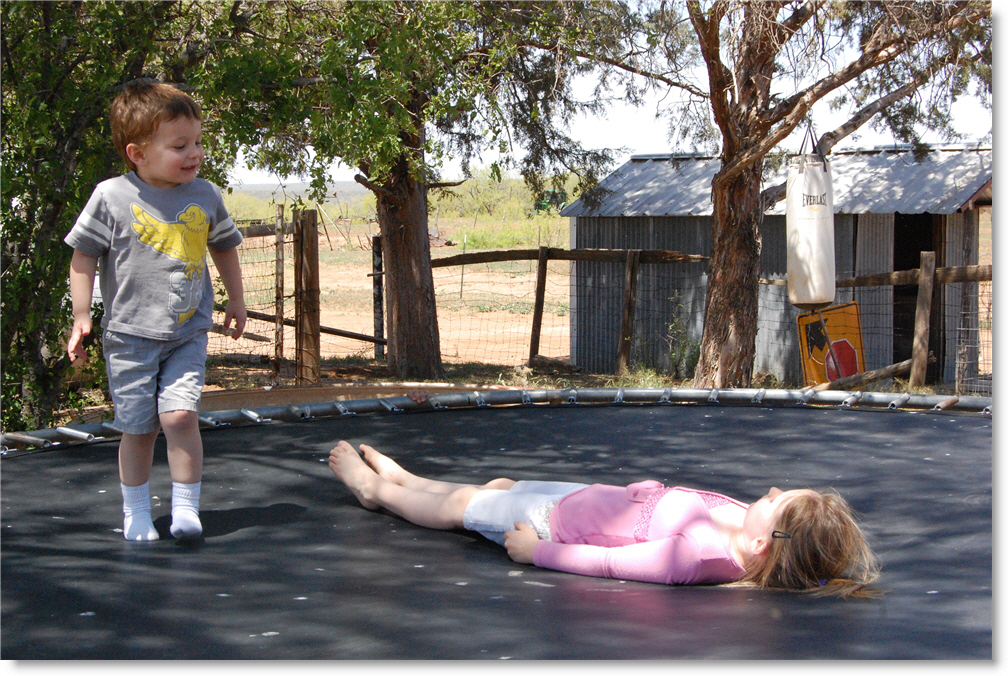 Carolina and Hannah (and Gypsy) having a tea party in the front yard.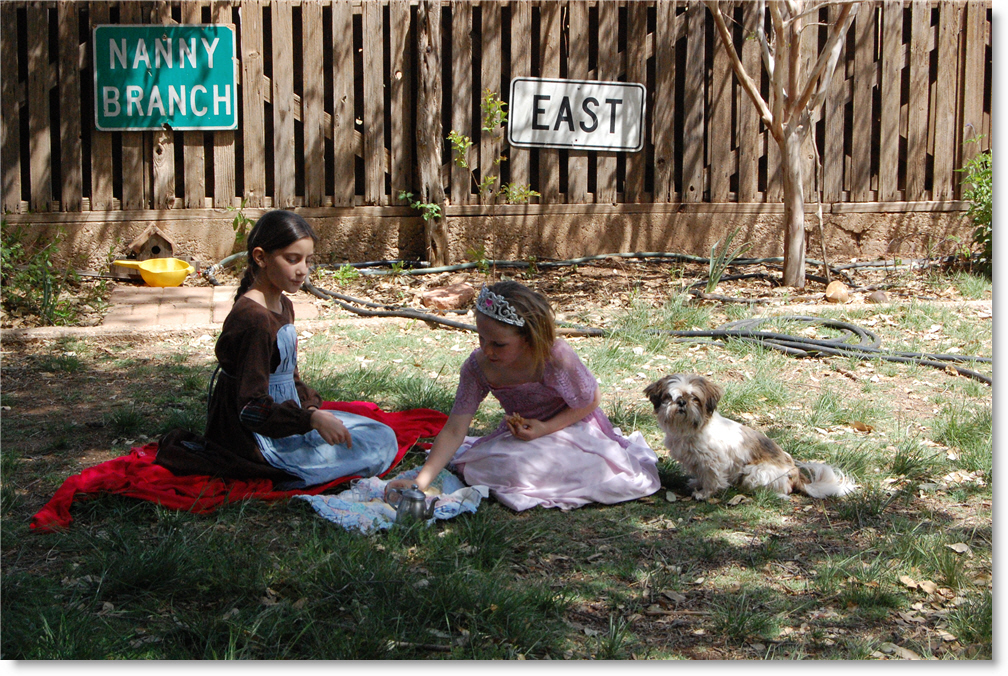 Actually, it's a special kind of tea party. We had watched the original Indiana Jones and the Raiders of the Lost Ark the night before. They were sort of recreating a bar room scene from the movie. Seeing which one of them could drink the most glasses of green tea.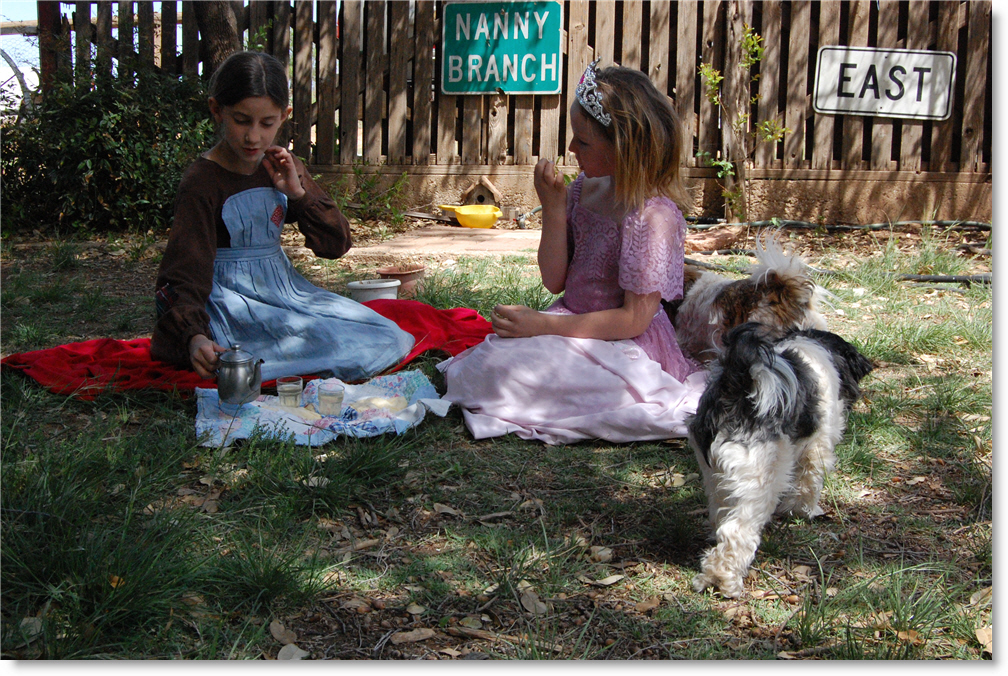 Wednesday, May 1 - Awesome and Wacky Chocolate Cake - Stockton shows how great he thinks it is that he made this cake by himself.
I was hoping that I would be able to capture the subtle rays of color shooting up from this sunrise. Can you see them?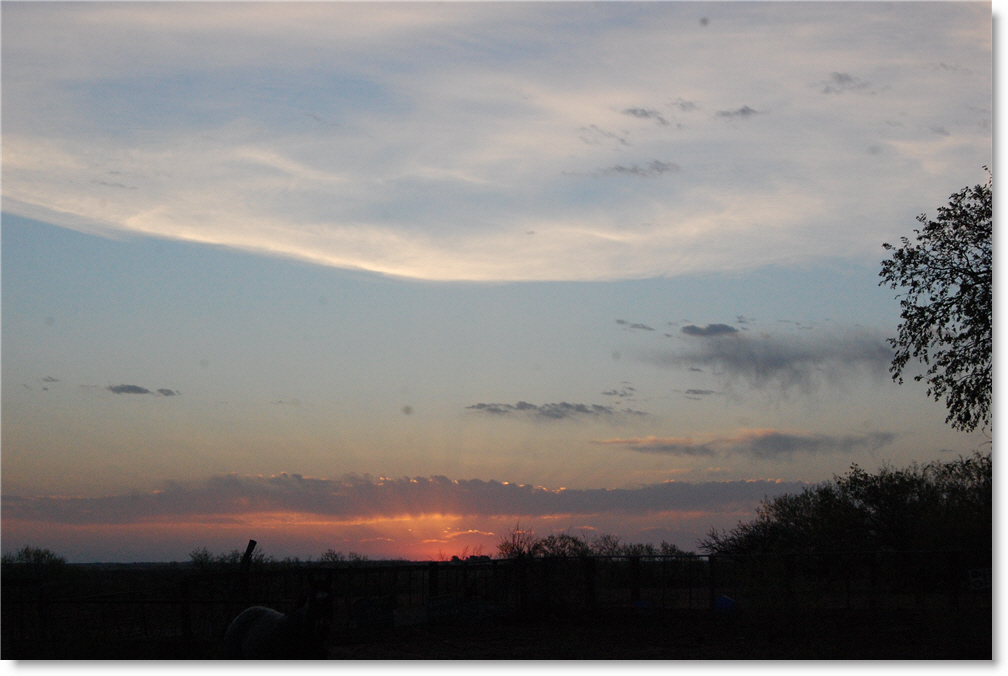 Check out our past news. Just click any link below: