Monday, January 31 - Puny Carolina - Because she wasn't feeling too good and was running a fever, Carolina stayed on the couch most of the day. Coconut was nice enough to keep her company.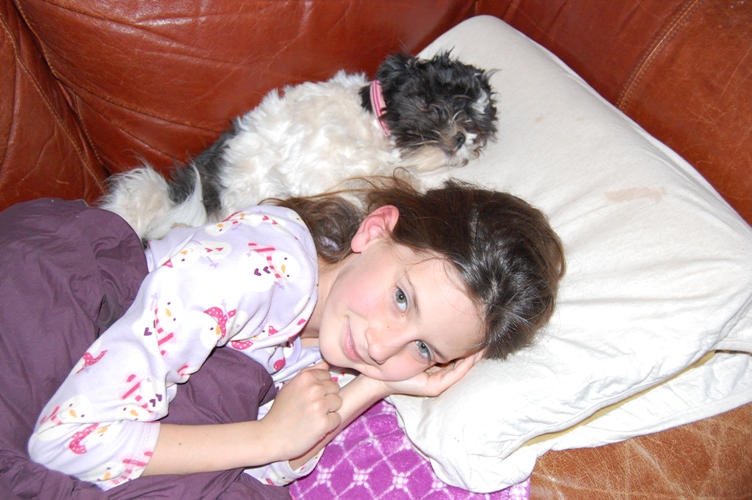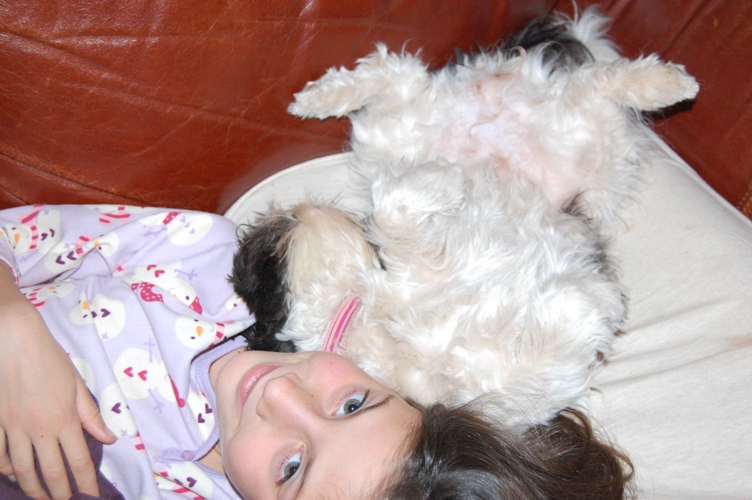 Sunday, January 29 - Pixie wears a Saddle - This is the last baby our horse Dixie had before she died. We named this little filly, Pixie, and she's living up to her name. She's very tiny for a coming two year old. We've had her halter broke for a while, but today Nathan saddled her to see what she'd do. She didn't seem to mind too much.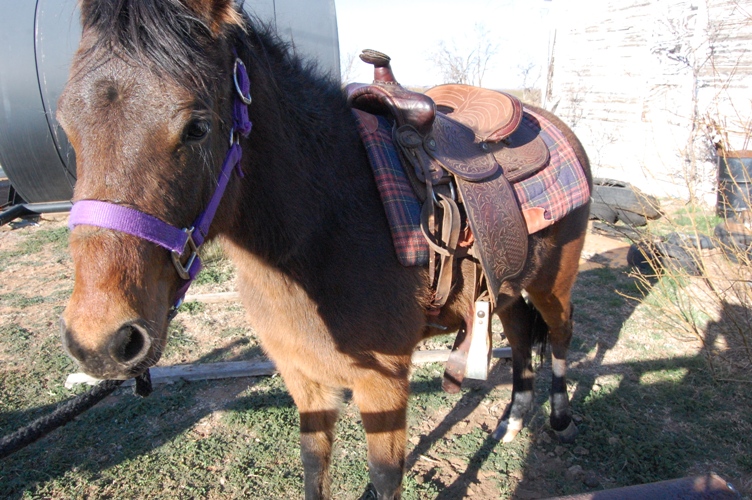 However, when he set Carolina on her back, she did try to pitch a little!
January 20 through 27 - Tennessee! - We left this morning at 4:30 am and arrived at the Amick's house about 7:00 pm. We had enjoyed a safe trip and everyone was so glad to finally get to Tennessee. Janet had some yummy chili ready and their house was warm and inviting. Don't miss a shot! See all our Tennessee photos here.
The next morning we had pancakes, bacon and eggs.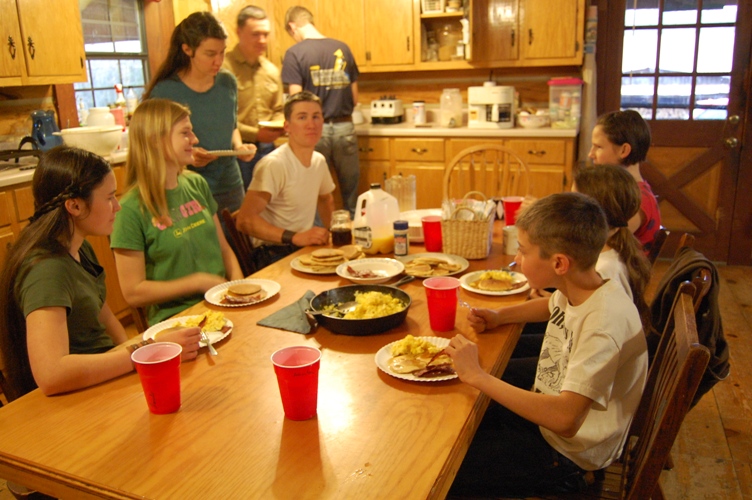 Watch this video and see the Amick's beautiful home in the valley.
When we visited the Goodwin's, Jordan's mom, Melissa, showed us how she spins yarn from angora rabbit fur. She actually takes it directly from the rabbit into the spinning wheel. Peter, the youngest helps out.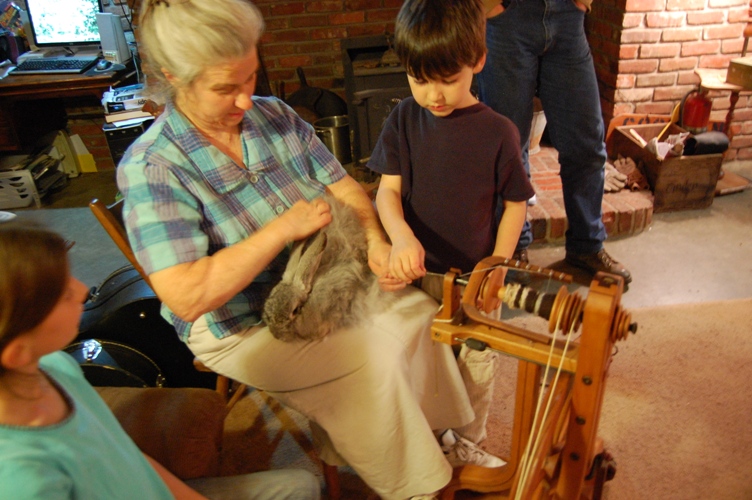 Atlanta's quite popular with Jordan's little brothers. Sam has claimed her lap in this picture.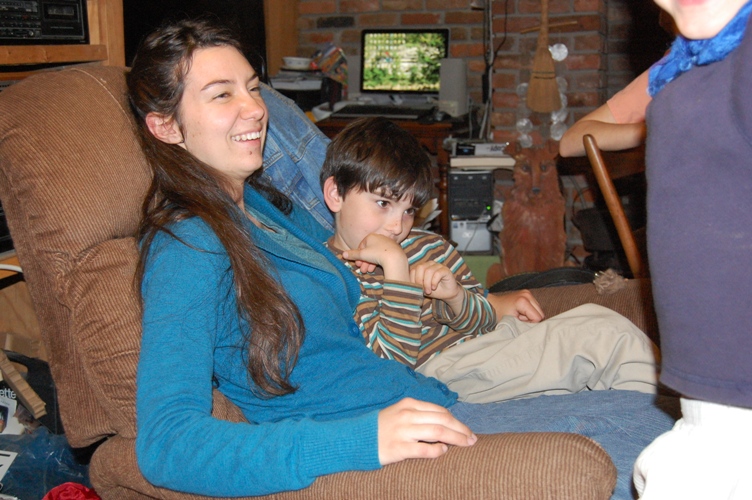 Laredo, Stockton and Peter listen closely to what Jeremiah Goodwin is saying.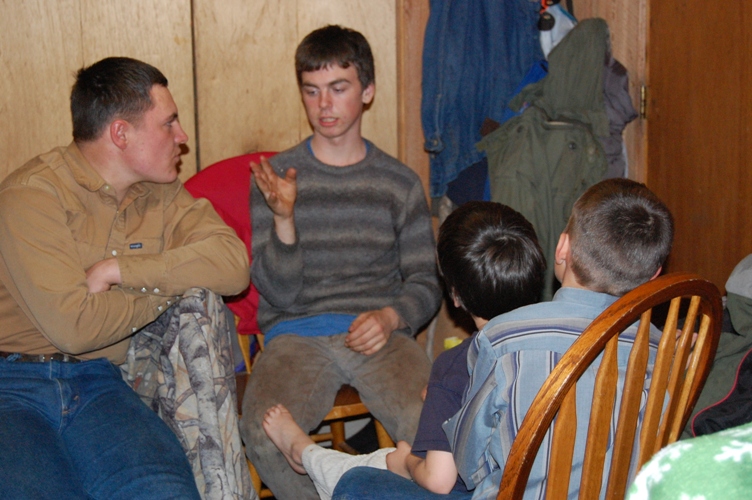 Atlanta and Jordan before Church Sunday morning.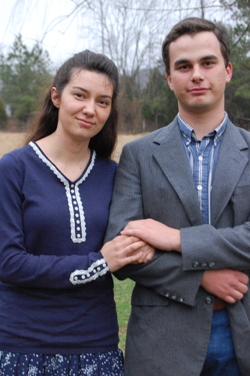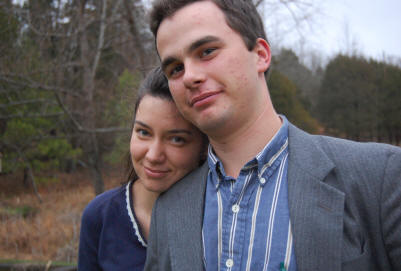 Rachel Amick, Aspen and Victoria Amick enjoy an afternoon ride.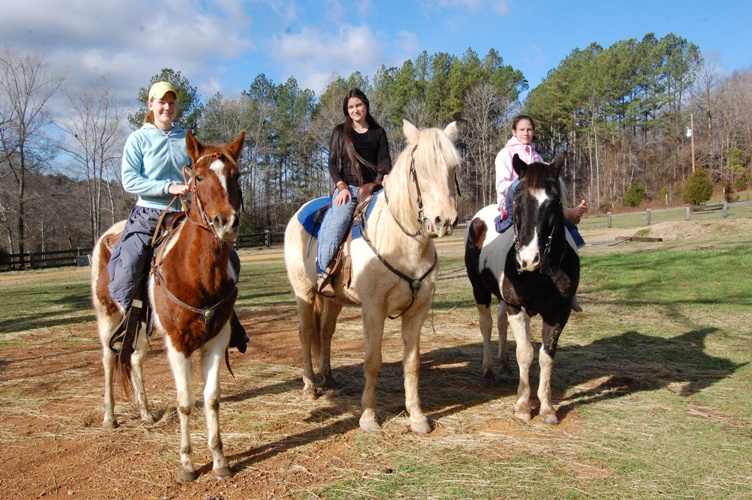 Back at the Goodwins, Stockton takes up with Jordan's grandfather who kept his attention with tales of WWII submarine battles in which he participated.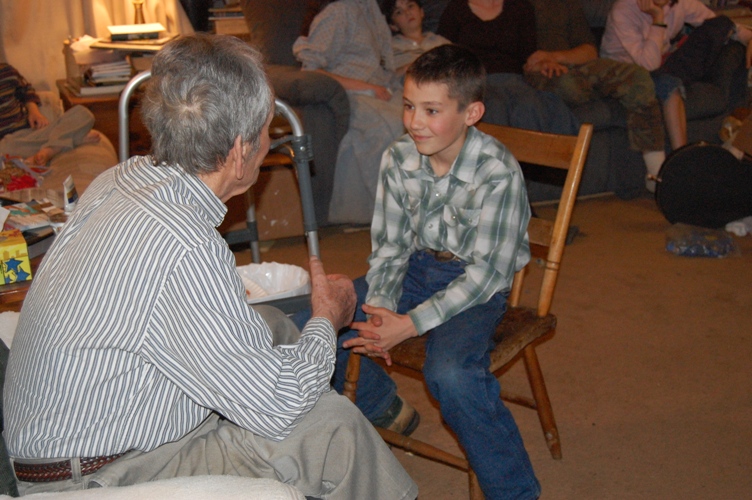 Jordan's dad, Dalton, Laredo, Nathan and Daniel around the dining table.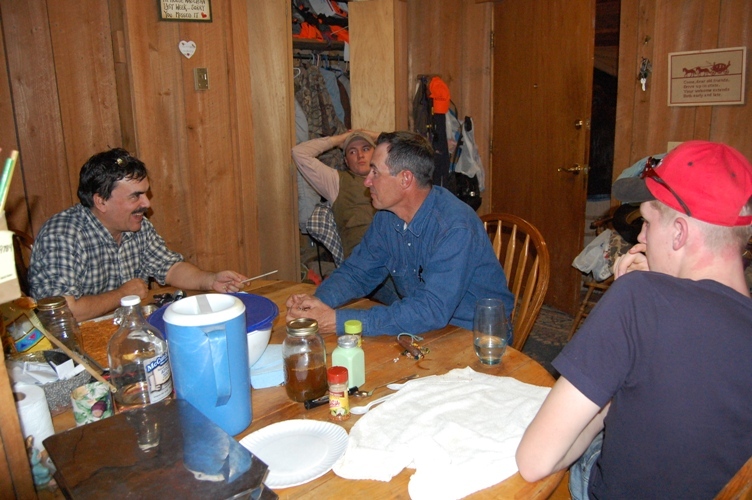 These shots are from inside the darling house that belongs to the West ladies.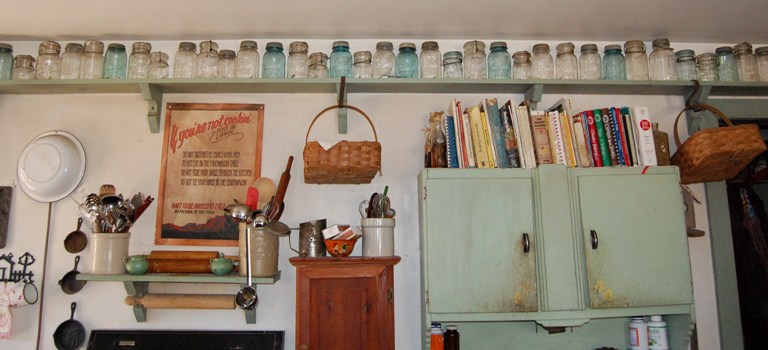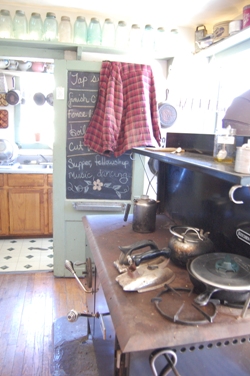 The guys helped out with some fencing while we were here and then we enjoyed an amazing meal that the West girls had prepared.
Aspen and Rachel, excited to be able to talk face to face.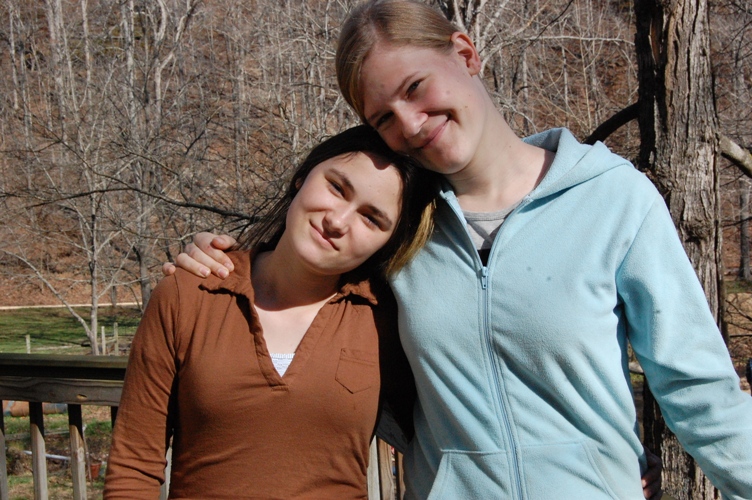 The West's summer kitchen out on their porch.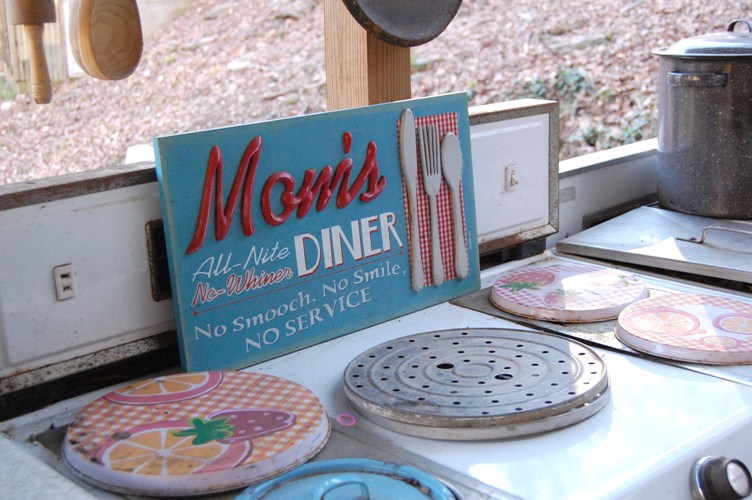 Cooling their cream in the stream out in front of the house.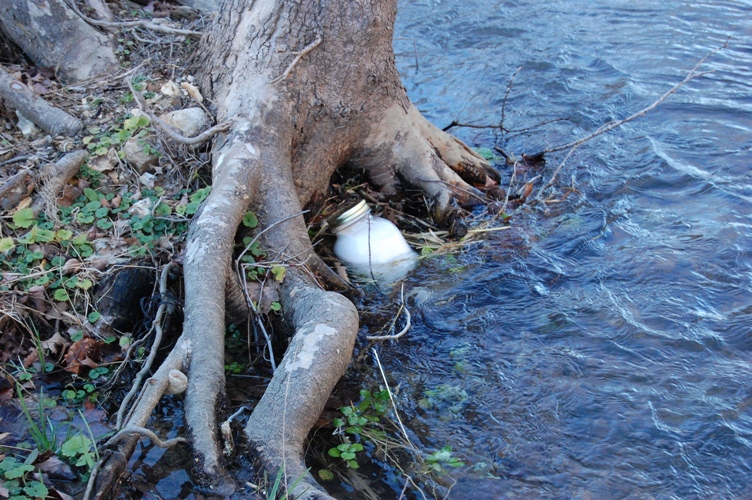 Making blackberry cobbler is always a good idea.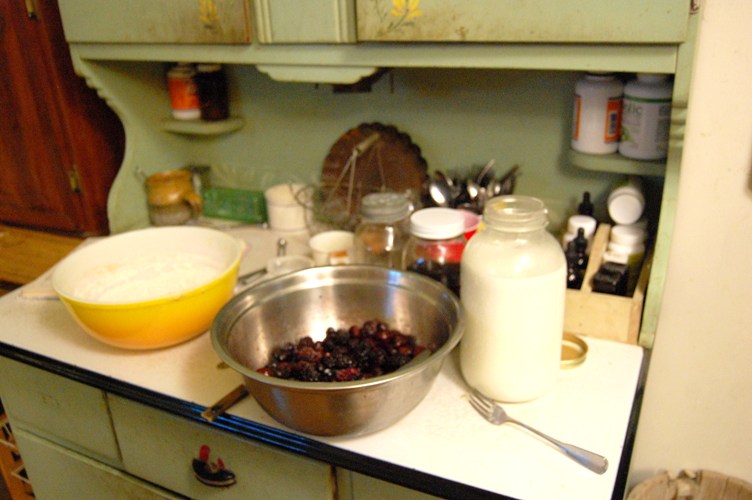 Hannah, Daniel, Jasmine and Cim before supper.
Cimarron helps Hannah make the cobbler. Funny, he never takes such an interest in cooking at home.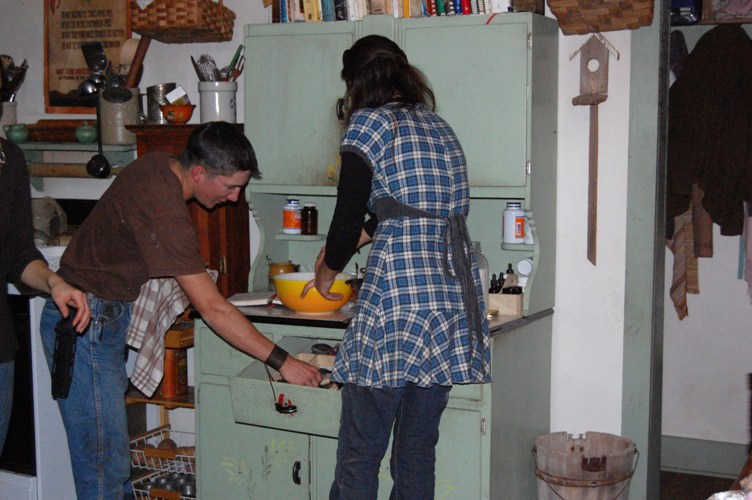 Here's a video of our visit to the West's home.
Jordan takes us to visit his friend, Mr. Edwards, who's building a log cabin similar to the one he'd like to build.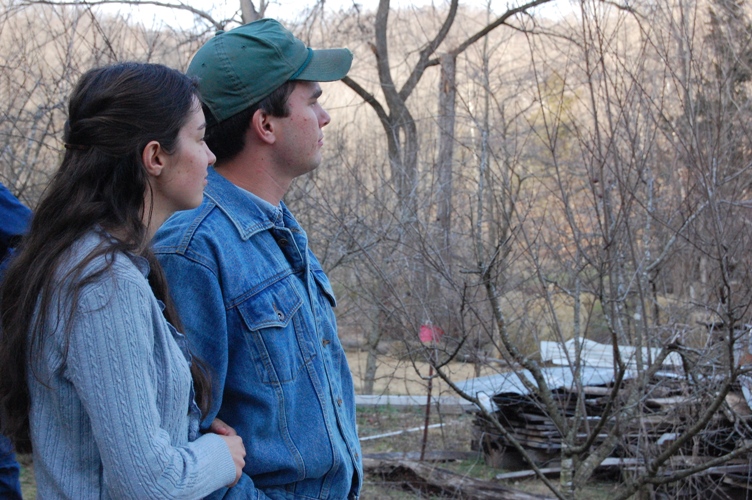 It's going together nicely.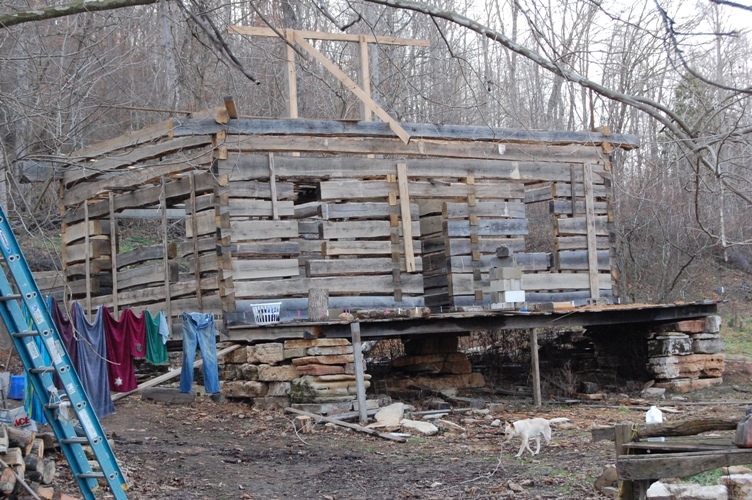 When we got back to the Amicks, we found all the kids had gone "caving". They had spent a couple of hours crawling around in muddy caves and had a blast. The oldest Amick girl, Ashley, and her husband (on the right) had hosted the event.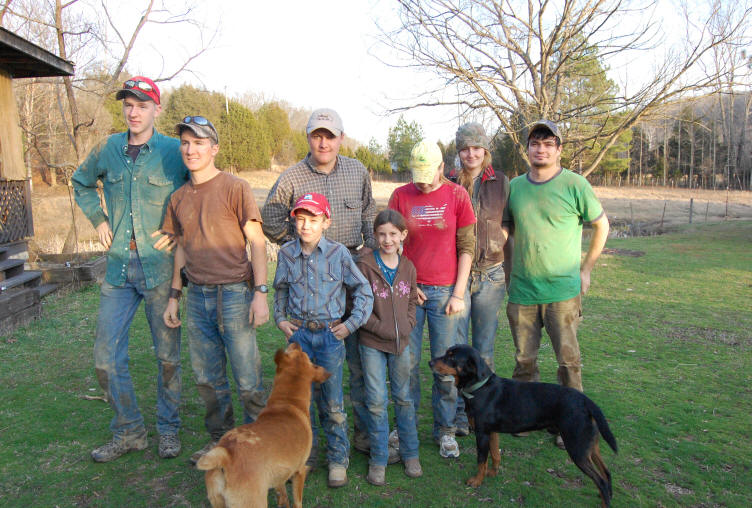 Wednesday night we went to church with the Amicks. Afterwards, Cim, Rachel and Daniel jammed with some of the Vick boys.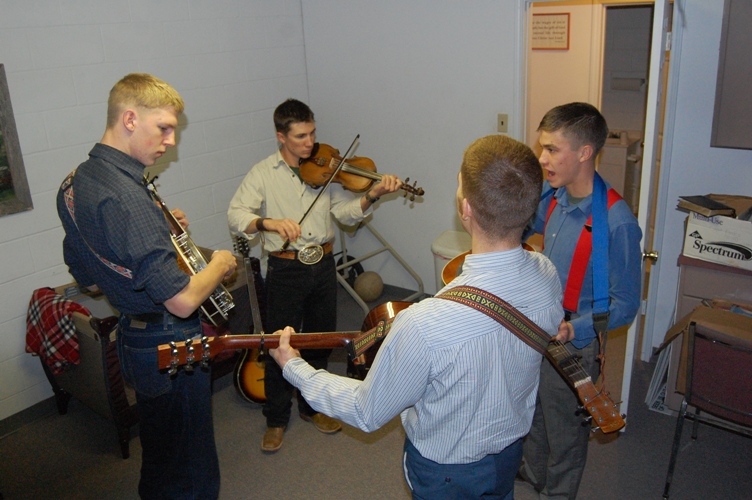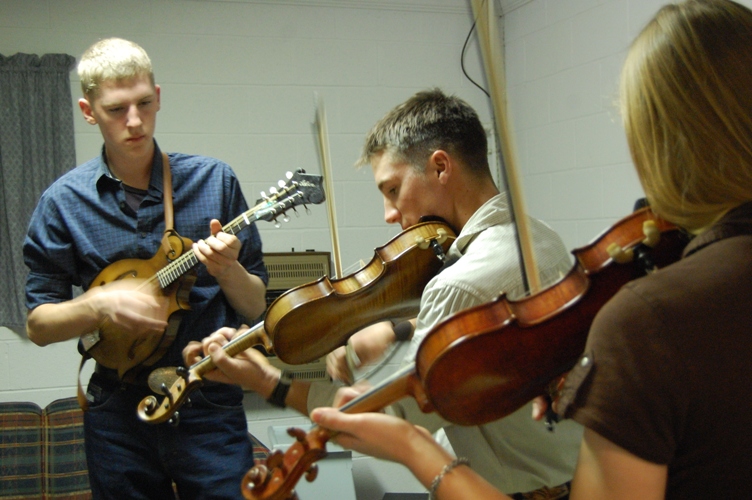 One day we were invited over to the Lee's house. They are a beautiful family of 13 kids who have recently moved to Tennessee. Carolina has fun with some of the Lee girls.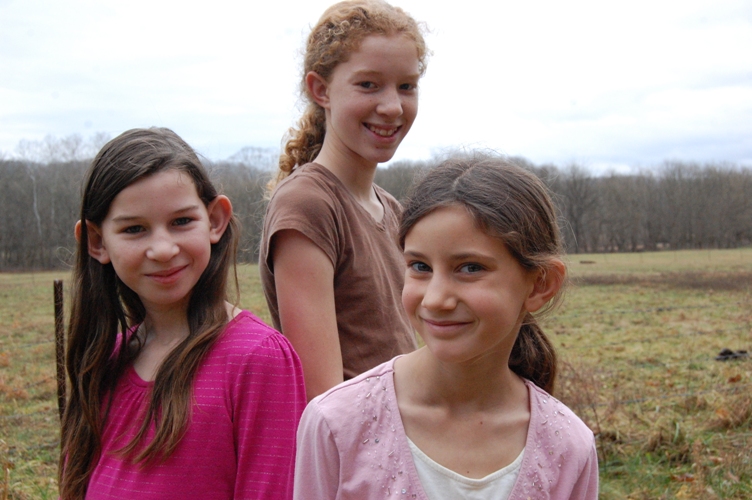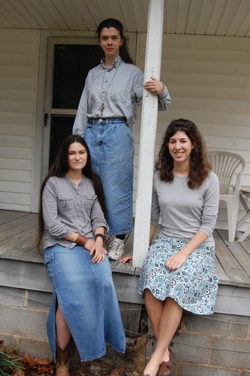 Sarah Goodwin, Aspen and Emmy Lee in front of the 1840's house located on their land.
Here's a couple of shots of their home.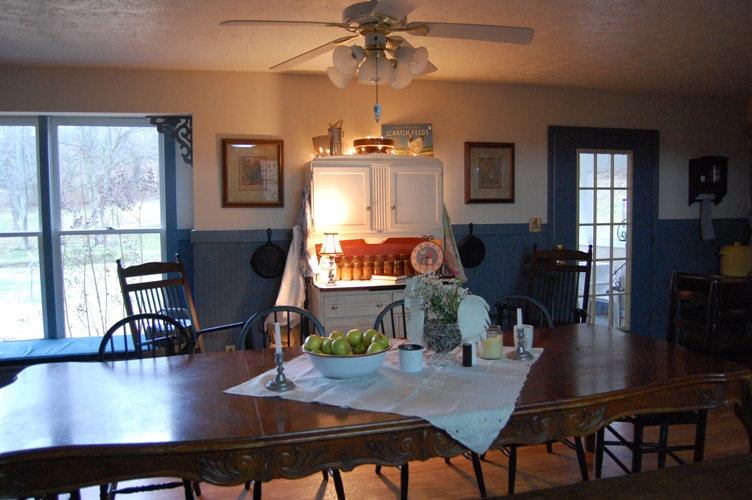 Mrs. Lee cooking up some delicious soups for lunch.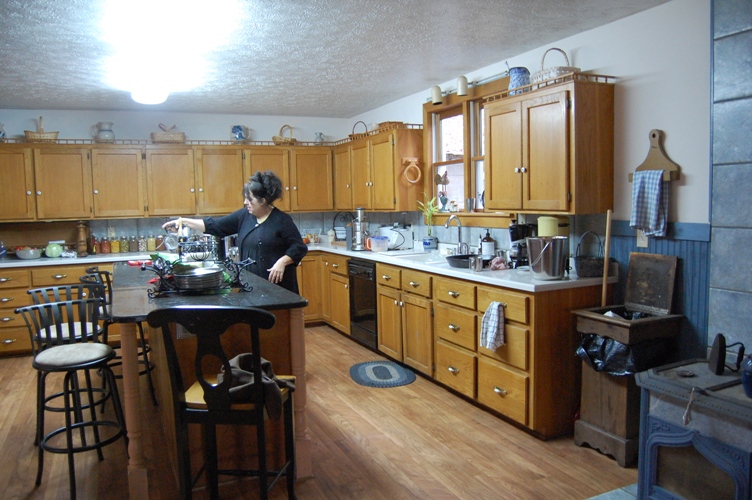 Bethany and Tiffany Lee.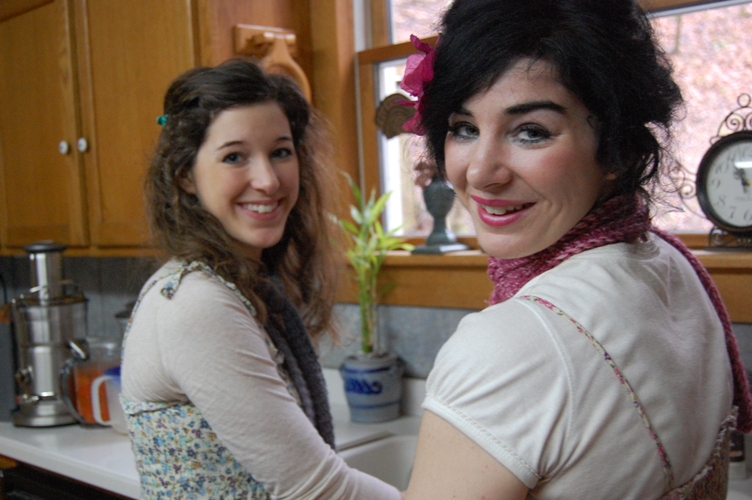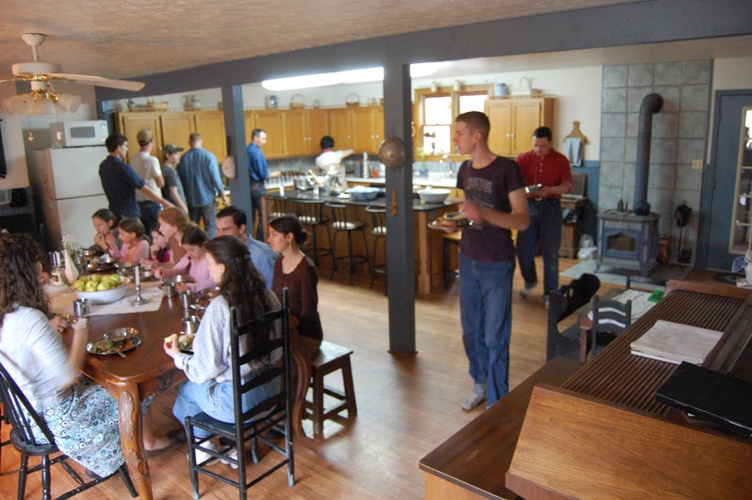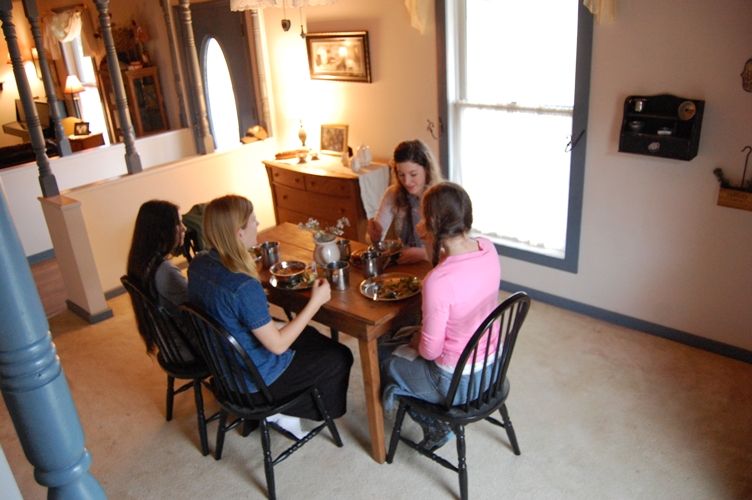 All the Lees lined up on their porch. Sadly, they lost Mr. Lee in last April's tornado in Alabama.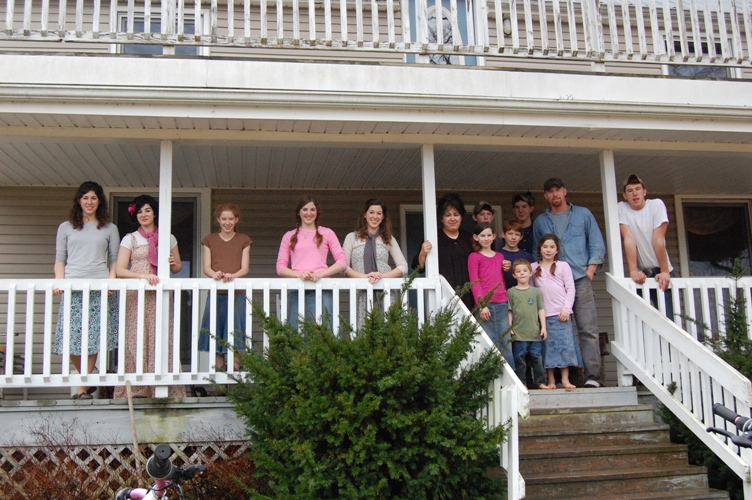 Later that afternoon we went to visit another sweet family. The Ward's invited us to supper. The Dad is a preacher at a church in Columbia, so we got to make use of the fellowship hall at the church.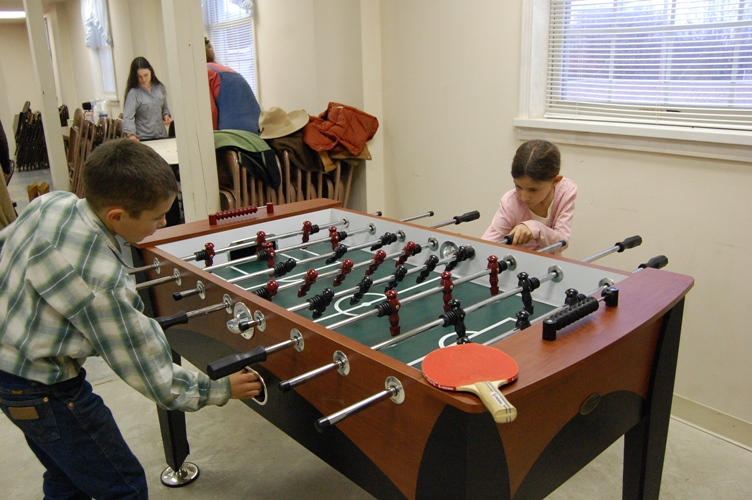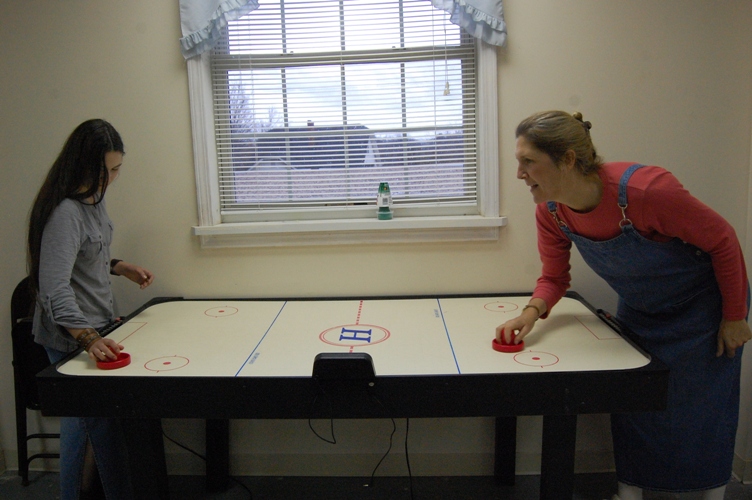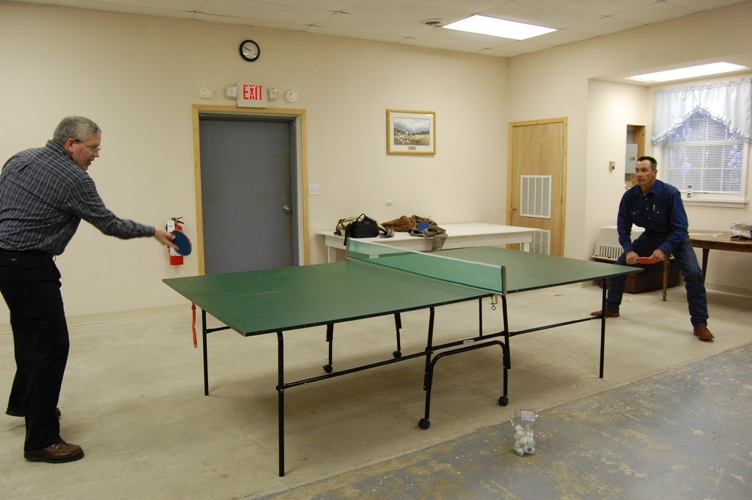 The Ward family has 7 girls and a boy. All the girls play bluegrass music like crazy.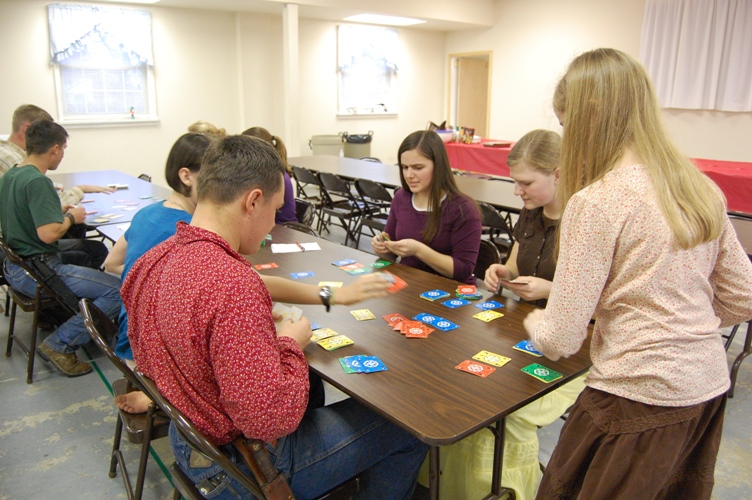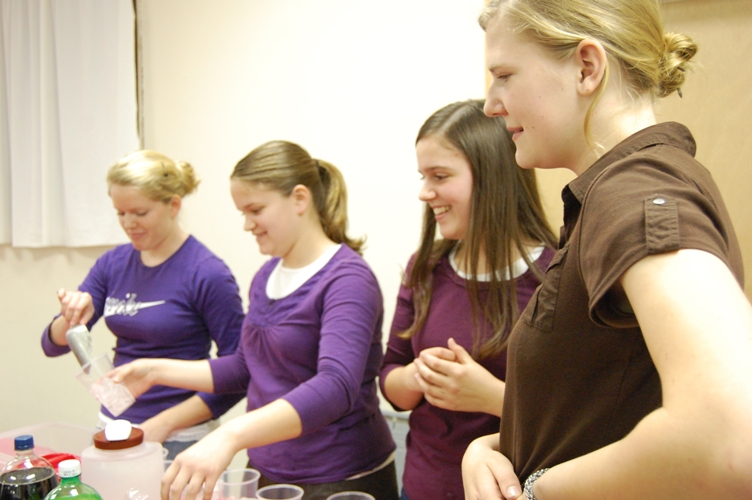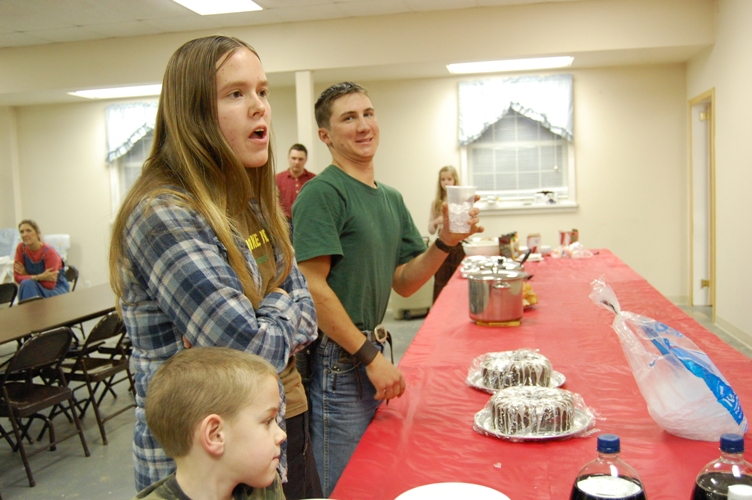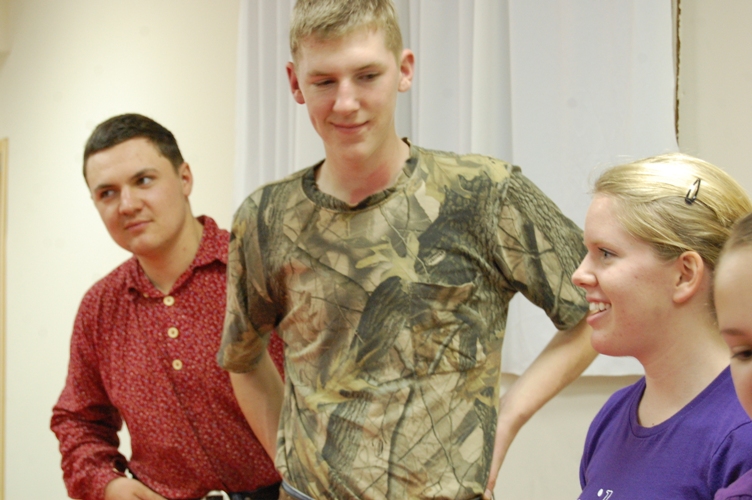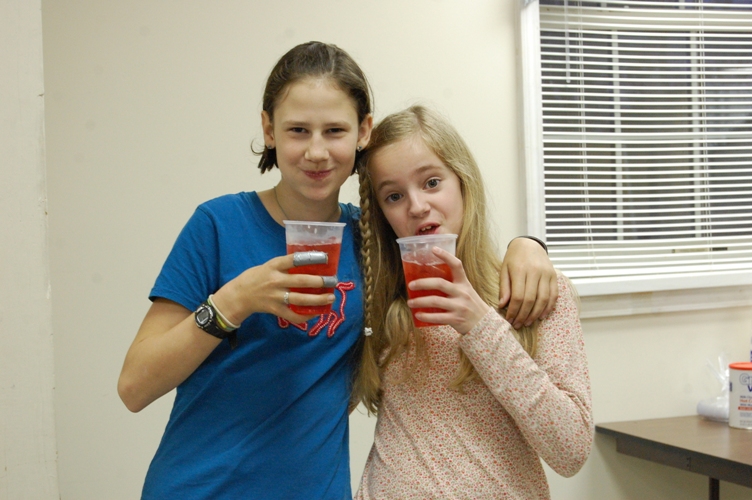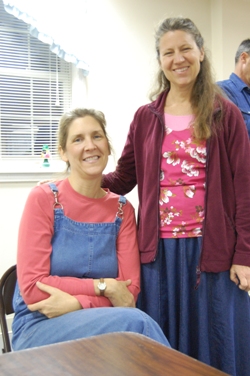 They provided quite a spread.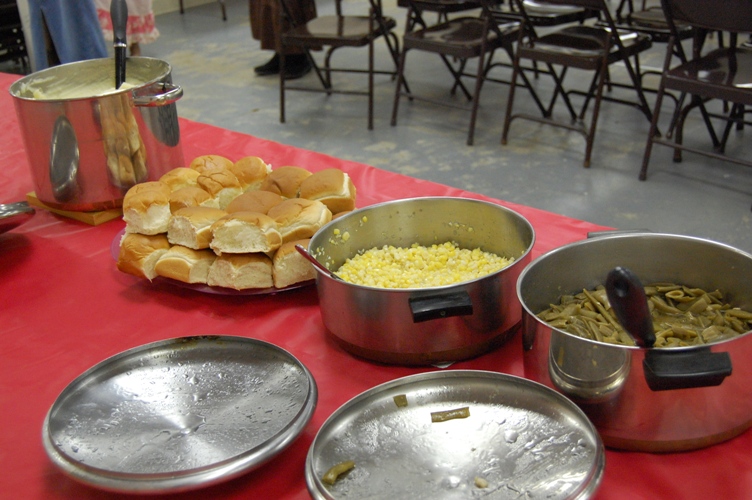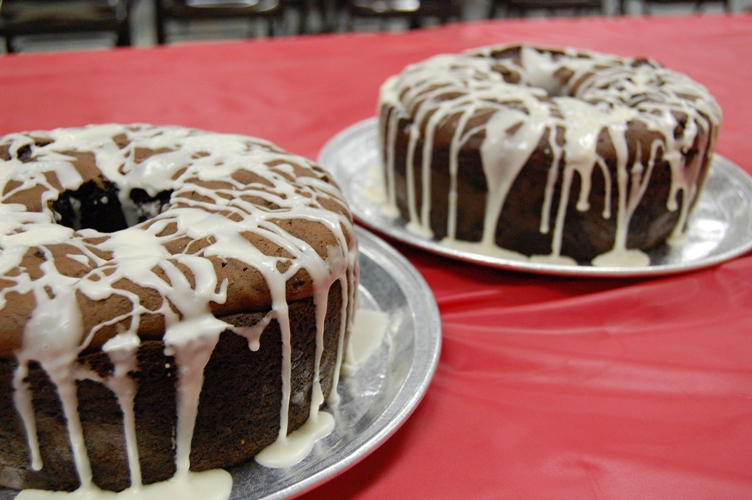 Here's a sample of some of the awesome playing that went on during the jam session following this great meal.
Thought you'd enjoy these pictures I took of some Amish houses.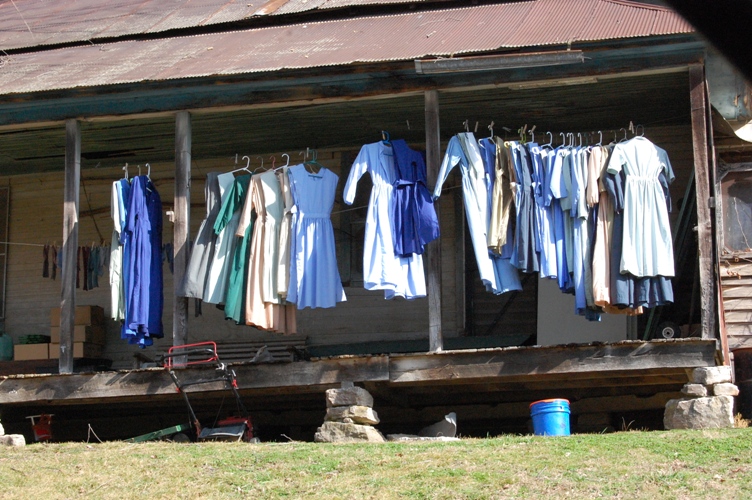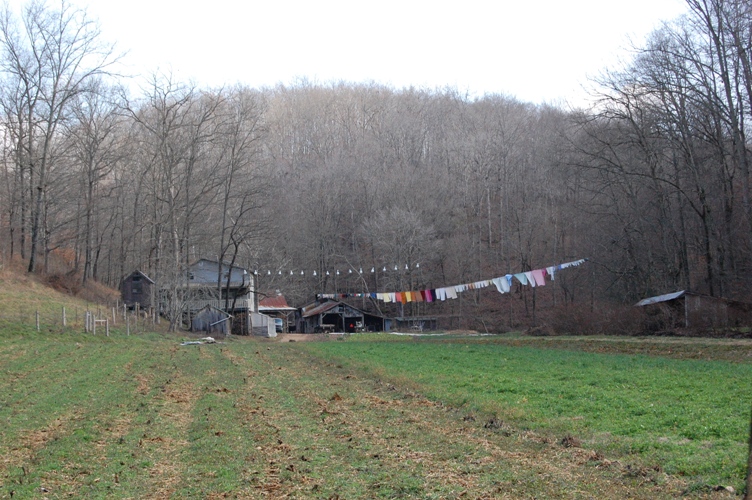 All this laundry reminds me of all the laundry we had to do when we got home.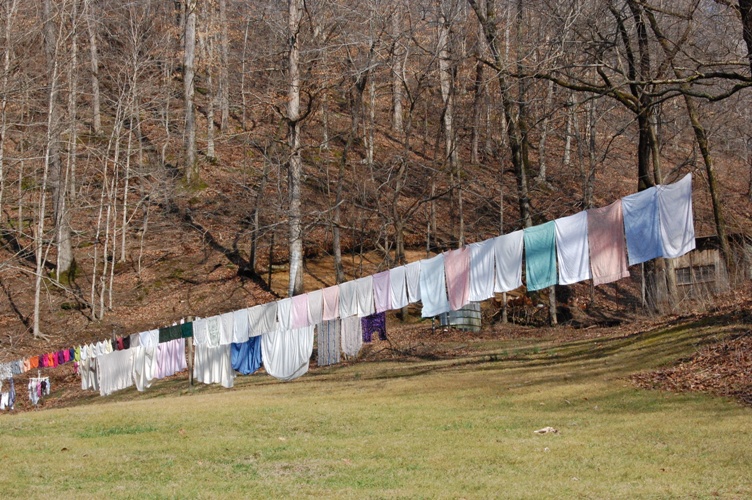 This sunset was taken on our trip home. We were somewhere in Oklahoma.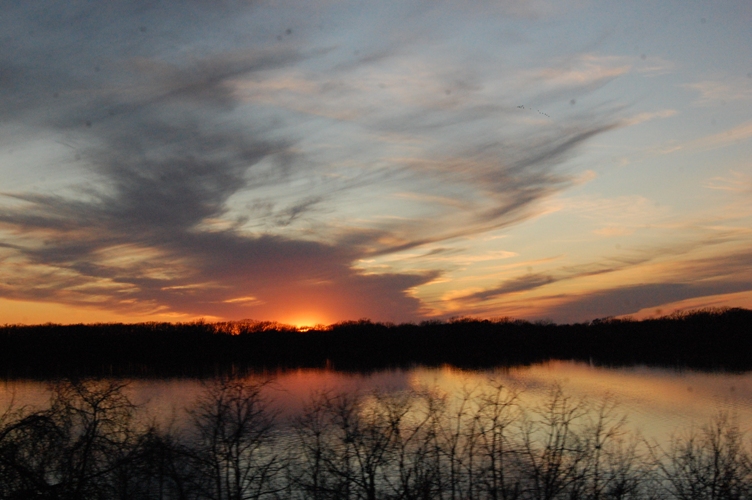 See all our photos from Tennessee here.
Sunday, January 15 - Beautiful Blue Sunrise - Check out the colors in the sky today.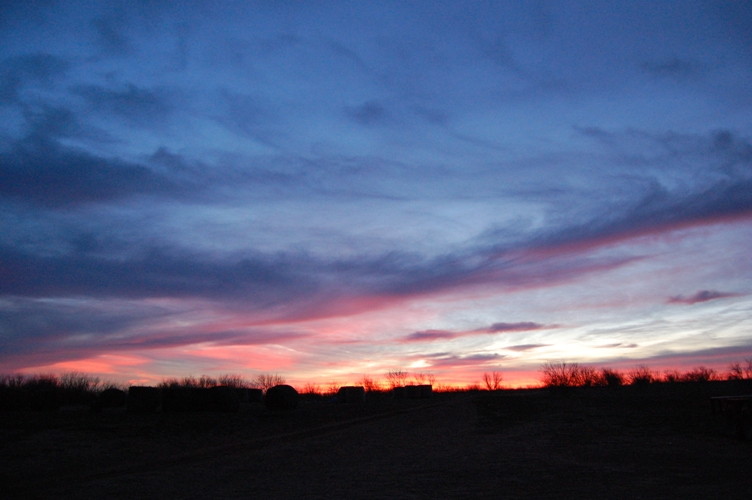 Later, we found Rusty had gotten on Nathan's pickup and then was afraid to get down. Cimarron had to help him.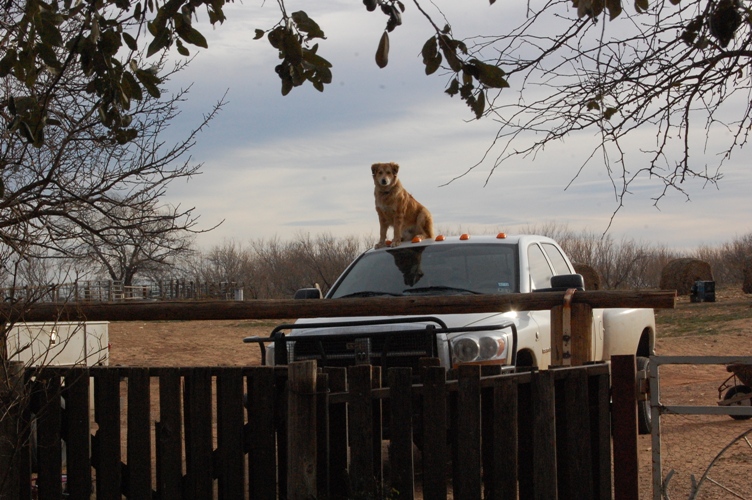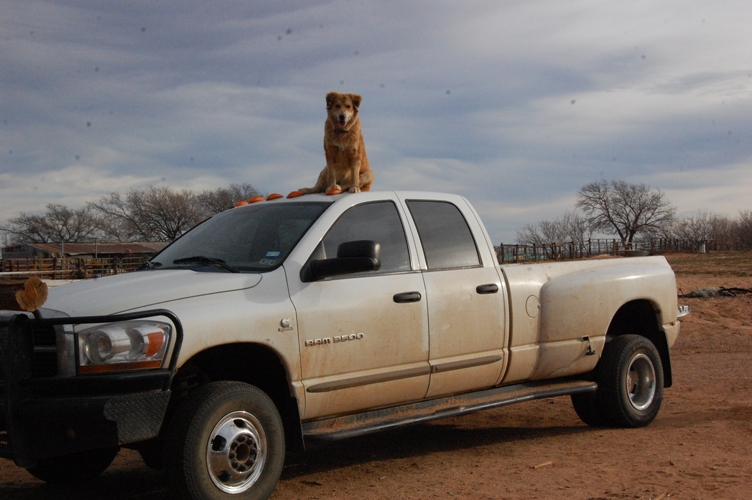 More Work on the Poultry Pens - The guys had a little time this afternoon and put a top on the outside pens for Aspen's chicken project.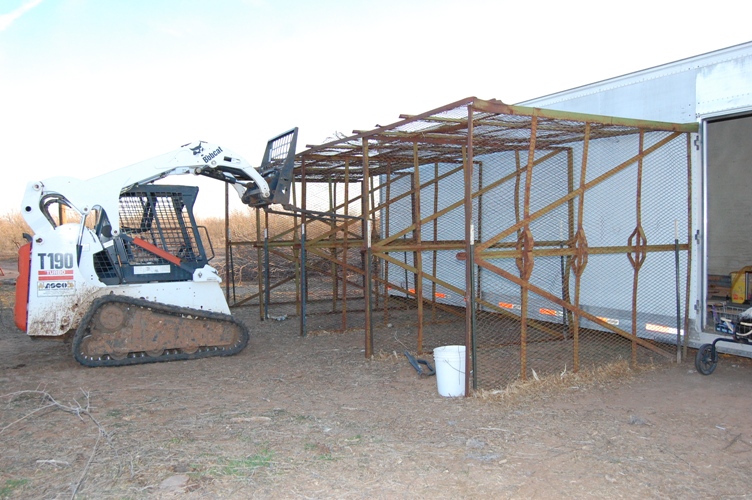 These are panels from old cotton trailers.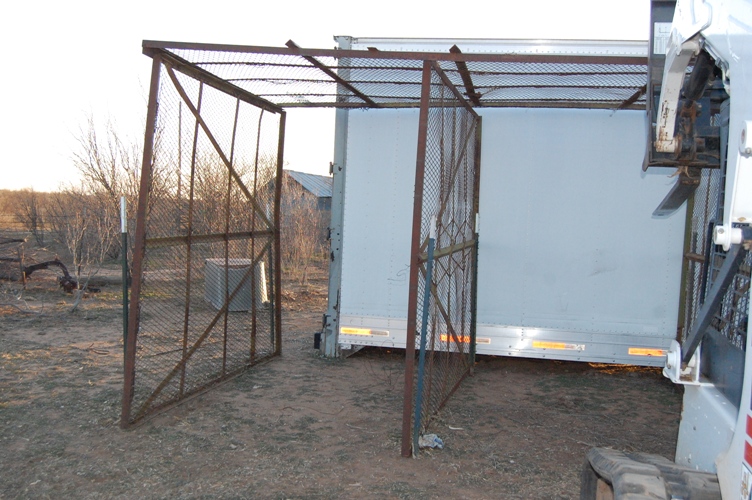 Carolina gives Coconut a ride in a little contraption that Granny bought at an estate sale for a dollar. Carolina pulls it around and the puppy seems to enjoy it.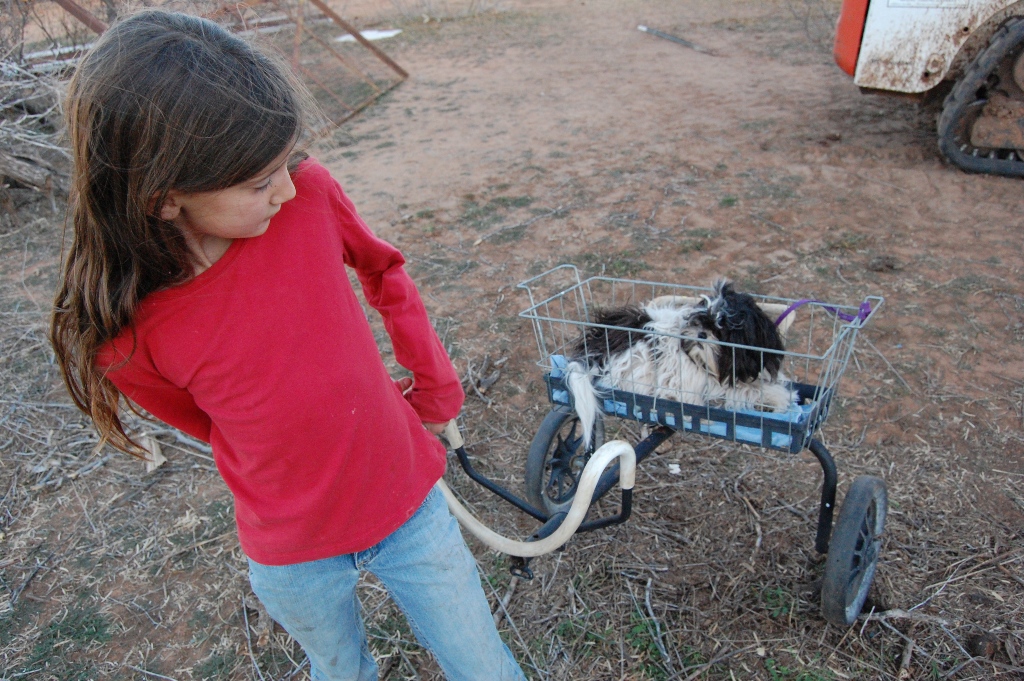 Aspen's happy to see her pens going up.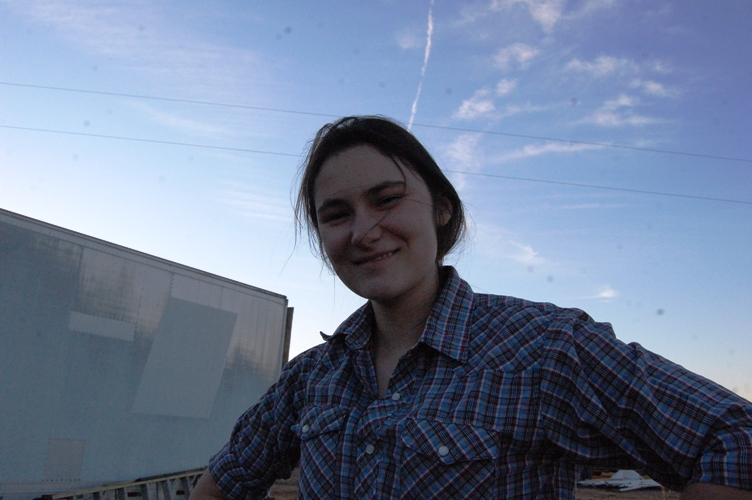 Thursday, January 12 - Naptime with Carolina - Rusty decided he's pretty fond of the little blue couch. He's helping Carolina stay warm.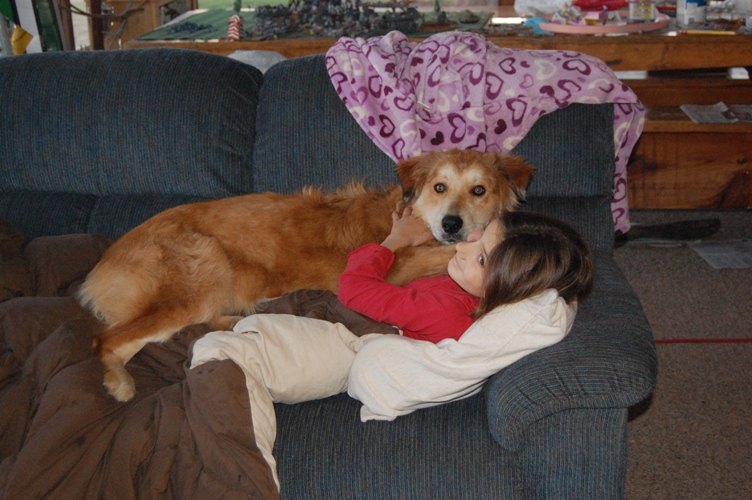 He looks so comfortable, I don't think he's leaving any time soon.
Another dog photo. Gypsy is sitting with Aspen at the computer and I don't think she wants Coconut barging in.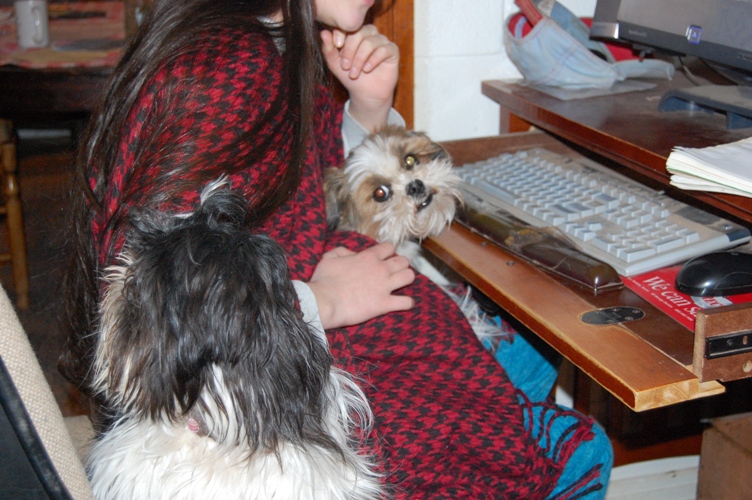 Poor Coconut. It's hard to be the low man on the totem pole.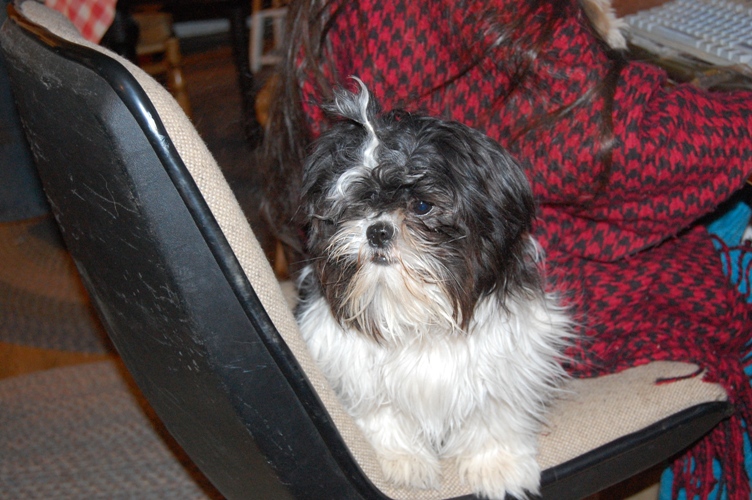 Tuesday, January 10 - Rusty - Here was the scene around the fire tonight. I let Rusty in and he jumped right in the middle of everyone.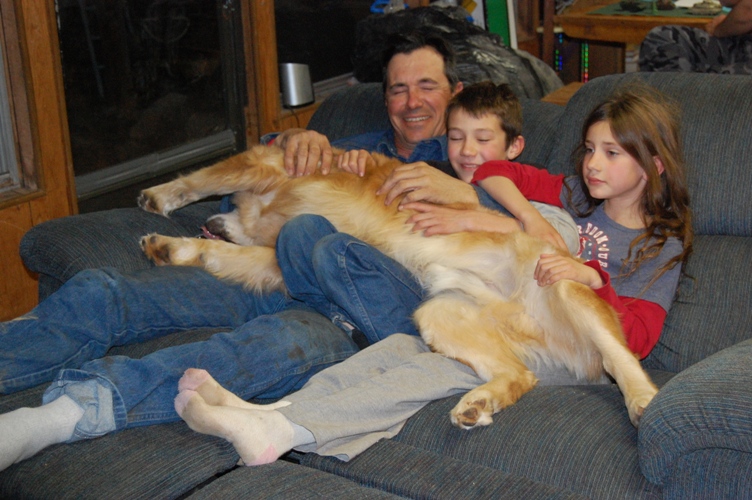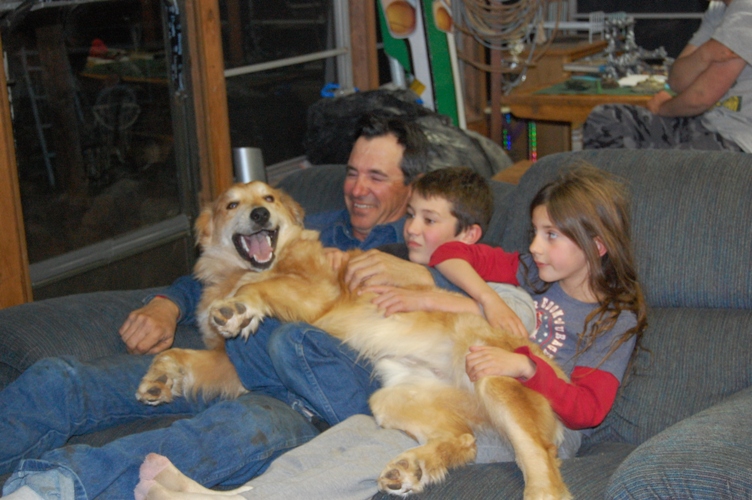 Monday, January 9 - Pies - I had to go to Lubbock today to return some mowing signs we had rented and run some errands. When I got home, I found Atlanta had made supper and all these yummy pies, too. Lucky us.
Mock mincemeat, pumpkin and coconut custard.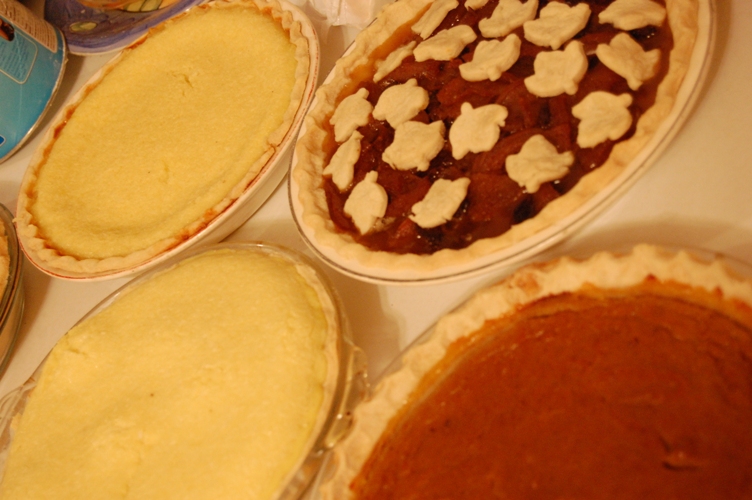 Don't tell CPS, but I found Carolina locked in a cage. Bedtime came and I thought she'd already gone to bed in Aspen's room. Then I wondered if Coconut needed to go out one more time. There was a blanket over Coconut's cage to keep her warm. I raised the blanket and was surprised to find the puppy all smashed up against the edge. Upon closer inspection, Aspen and I saw Carolina asleep in there, too.
See little Coconut all in the corner?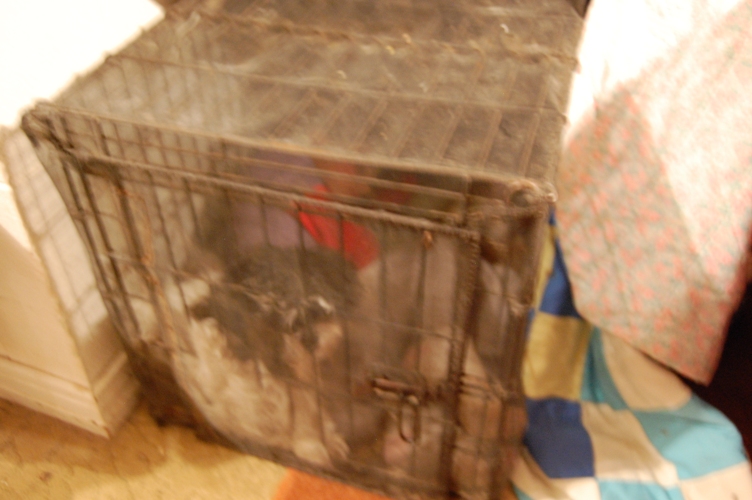 I'm not sure how she shut it from the inside. I did take her out and put her to bed, by the way.
Sunday, January 8 - I snapped this shot of the moon going down. It was so big and pink.
Monday, January 2 - Random Photos from around the ranch.
Carolina and Aspen with their duck, Ink spot or Inky, named after Granny's duck she had when she was a girl.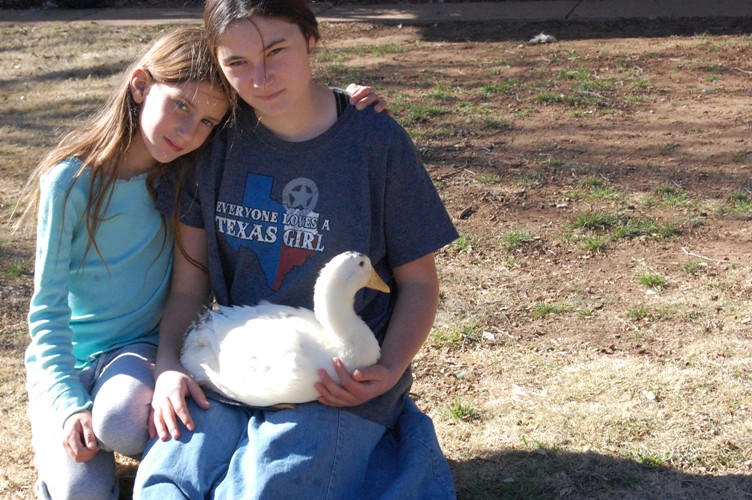 I found this note on Stockton's scooter one day. Carolina made it.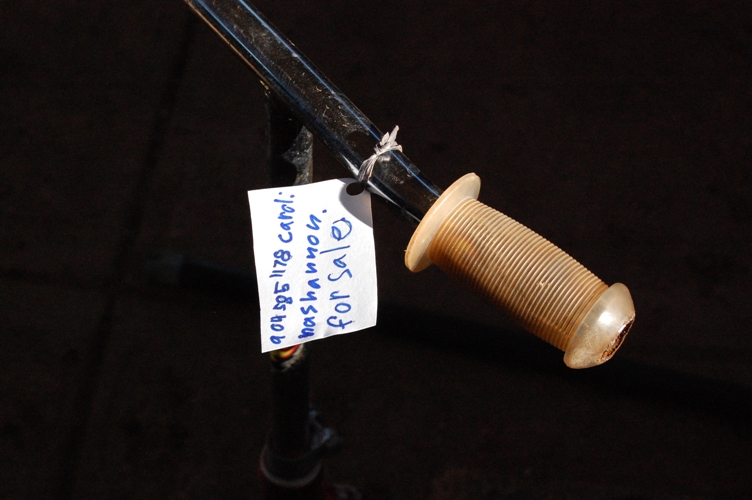 Here's another interesting bit of writing. She uses this cardboard tube to call her puppy.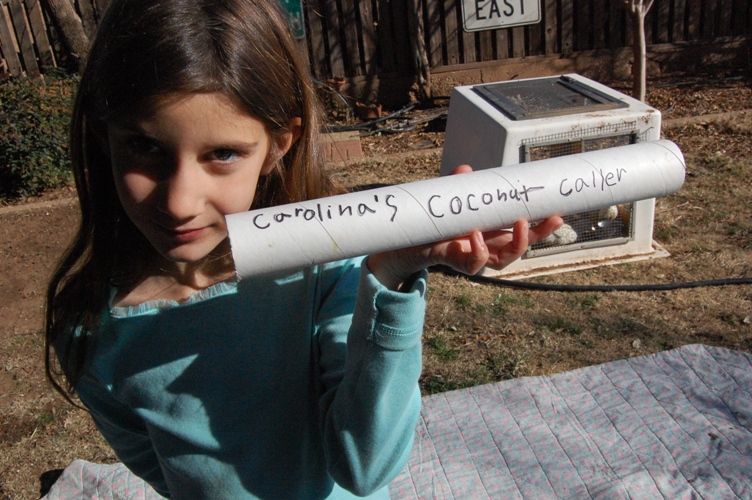 Carolina got this little stone house for Christmas. She has it set up under a bush in the front yard.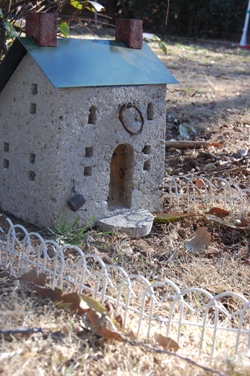 Inky gets a chance for a swim in the cow tank.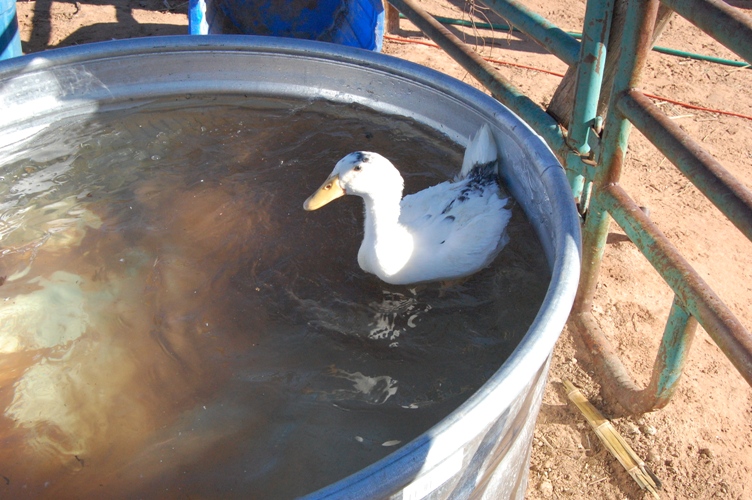 Sunday, January 1, 2012 - Stockton's First Deer - On the last day of hunting season and after many, many days of hunting, Stockton finally got one. This nice 9-point showed up just in time to make a perfect target. There was some excitement involved with the hunt. In fact, Atlanta, Aspen, Carolina, Windy and even Rusty got to help Nathan and Stockton find the deer. After Stockton shot it, it turned and ran away. Nathan quickly shot at it, too, and heard it hit, however, the deer didn't stop. He disappeared into the brushy pasture. They pursued him and found a spot of blood but were afraid they wouldn't be able to find him before it got dark. This wasn't the first deer that's been lost this way this year and they were determined it wouldn't happen this time. Nathan hadn't brought his phone to call us, so they hurried home and we all jumped into the pickup. The main reason they came back was to get Rusty, Stockton's dog. Nathan was hoping he'd be able to pick up the scent. When we got back to the last place they had found blood, we all fanned out and started looking around. It was right at dusk and very hard to see anything, but somehow, after about 10 minutes of walking, Stockton found a tiny spot of fresh blood on a piece of tall grass. I don't know how he saw it. Anyway, that brought everyone back to start looking in that area. Soon, Rusty started sniffing around and running toward the west. Nathan and Atlanta were running after him. Stockton had found some more blood and I was going over to investigate when we heard a shot. We ran toward the sound and soon heard Nathan whooping and hollering. Rusty had found the deer which was sporting a broken leg from Stockton's shot and another wound from Nathan's shot. He was still alive and was about to take off again when Nathan shot him. Stockton was very excited and had to call Cimarron and let him know that he had killed a bigger deer than him this year.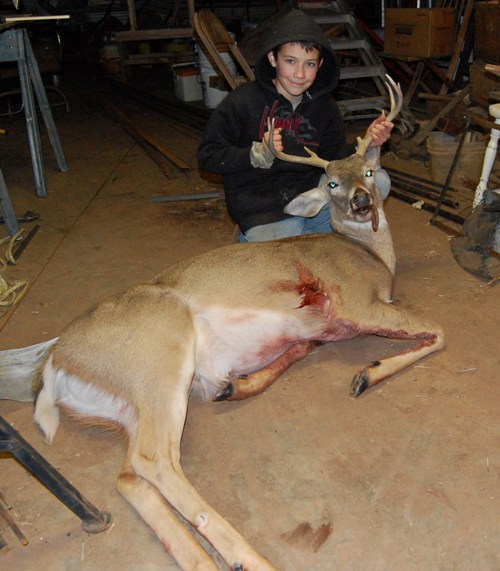 Rusty looks very proud of himself. We were all so happy that he was able to track the smell of the deer and wasn't afraid of the sound of gunshots. Rusty was a birthday gift to Stockton back in July. He's about 7 months old and is a red Australian Shepherd. (See New Puppies, July 1, 2011)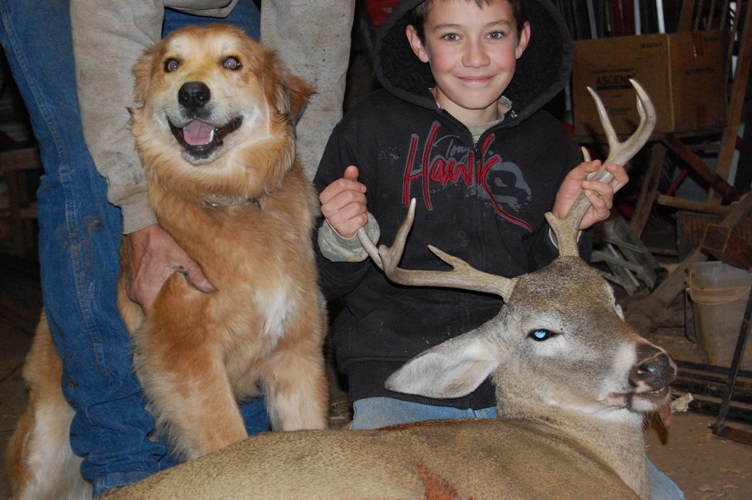 This was a good sized deer. Atlanta and I took turns helping Nathan drag him back to the pickup. It was a long way. I was surprised how hard he was to drag. Atlanta said later it reminded her of dragging the deer she and Cimarron shot back in November of 2008, except for the fact that that deer was a mule deer almost twice the size. She said they almost weren't able to get it into the back of the pickup. Here's the picture from 2008: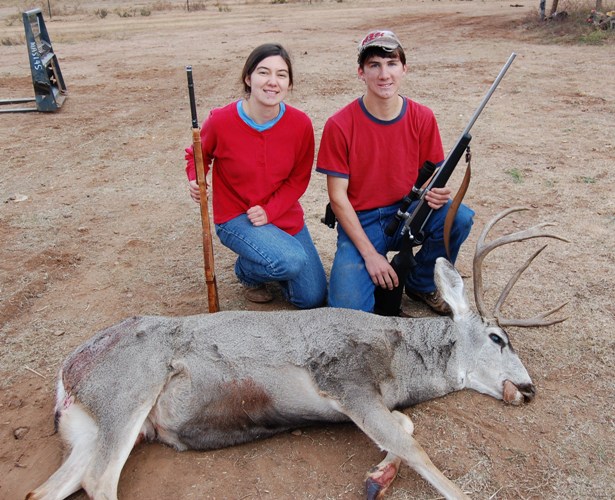 Check out our past news. Just click any link below: