Welcome!
Read the January News:
Monday, January 31 - Where's the Beef? - Today Nathan and I ran up to Canyon to pick up some beef from a couple of cows that we'd had butchered. We've since had a chance to try it, and it's very good. We had all the cuts put into ground beef and beef patties. We had hamburgers grilled over mesquite coals and it tasted like a steak sandwich! We have extra to share if anyone is interested in purchasing any, give me a call.
Sunday, January 30 - Swing Dance Practice - Tonight the kids were practicing the new swing dance steps they're trying to learn before we host our 40's/50's retro-themed home school dance in February.
Everyone pairs up nicely.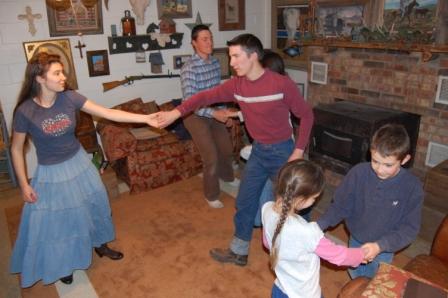 Stockton and Carolina are having the most fun!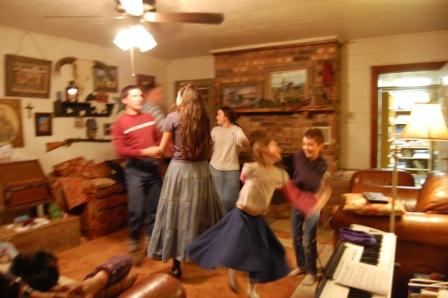 Saturday, January 29 - The Gypsy Wagon - No, it wasn't a roving band of fortune tellers that I saw in the front yard this afternoon, but it was worthy of a couple of pictures.
She must have been enjoying the ride because Gypsy wasn't trying to jump out and run away. You can't see it, but the wagon is tied to the tricycle with white string.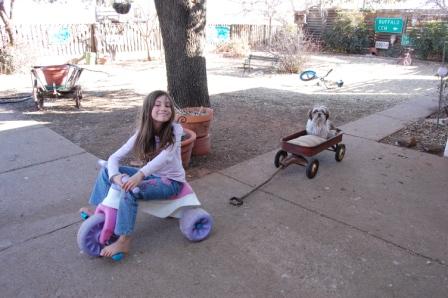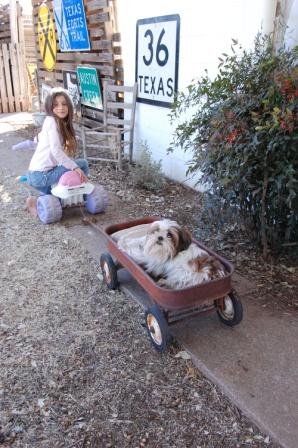 I was working in the garden while all this was going on. Atlanta and I are hoping to get a few early crops in the ground in the next few days.
Friday, January 28 - Errands and Friends - Today was music lessons in Kress. After that we had a delicious lunch with the Machas. Then I took the three oldest kids to Hale Center to the Campbell's house to work on the music and dances for our upcoming dance (Feb. 19) in Turkey. The younger kids and I ran a lot of errands in Plainview and then went to the Campbells to pick everyone up. We ended up eating supper there and enjoying a visit.
Thursday, January 27 - Stockton and Carolina on Horseback, Too - After his school work was done today, Stockton went riding with his brother. Later on in the afternoon, Carolina got in on the fun.
Stockton on his horse, Gus. Laredo rides Butternut.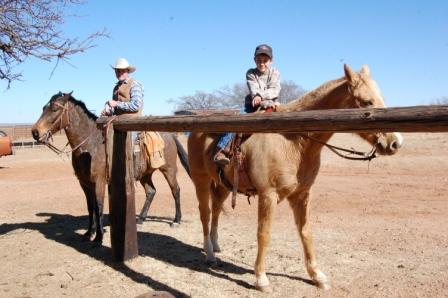 Carolina waits her turn to ride by an old stock trailer.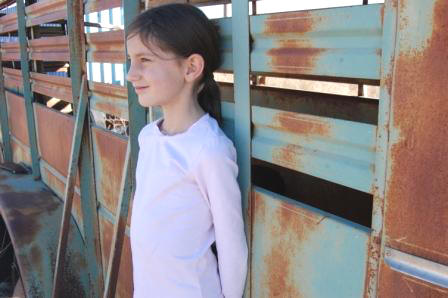 Gus is a good sport.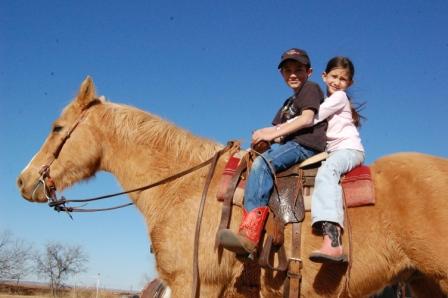 This gives you an idea how dry the pastures are right now. Very different from last year:(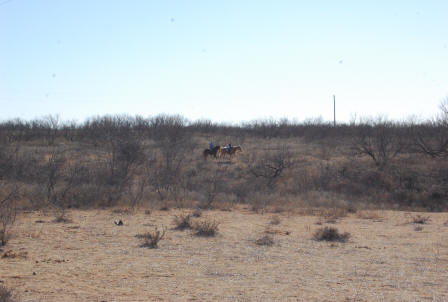 Tuesday, January 25 - Laredo Riding Horses - Laredo stayed behind this week when Nathan and Cimarron went south to take care of a water leak for the TXDOT contract. Nathan asked him to ride some of the horses this week and get the "freshness" out of them so they could use them this weekend when they try to catch some wild cattle we have down on the river.
Cim's mare, Mississippi, gets a workout this afternoon.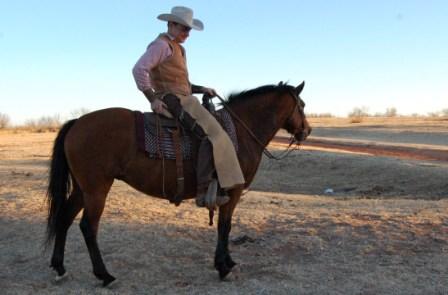 Sunday, January 23 - Dollhouse Beds - I had been urging Nathan to try to make a smaller bed than the Barbie sized ones we've been selling. It's very popular to decorate 1/12 scale size doll houses and I knew Nathan's bed design would be perfect for this size as well. We had a request from a customer, so this afternoon Nathan welded up this little bed. It's 7 in. X 4 1/2 in. and so, so cute.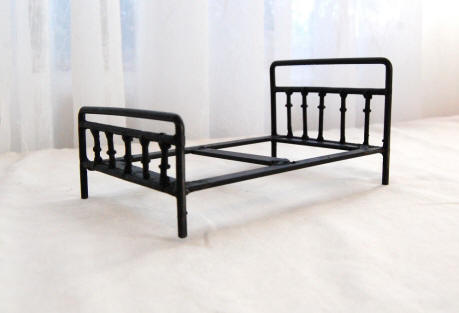 He had a lot of trouble with it. I think he's got too much welder for such a tiny bit of metal. I don't know if I'll be able to get him to make these to sell. His exact words were, "I don't care if I ever make another one!"
Atlanta and I worked on the small bedding to go with it. I think it turned out great. What do you think?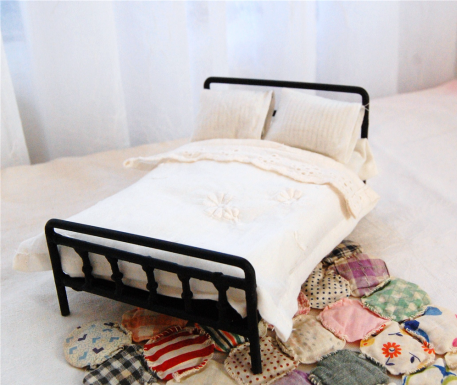 Stockton's Etsy Item - Not to be outdone, Stockton wanted to make something to sell. I thought about it a while and came up with the idea for a doll house firewood rack. The kind that you see on someone's back porch. Nathan welded up a little 4 in. tall rack and Stockton cut the "firewood" and glued it together. It really turned out cute. His item is posted at our Etsy store and he's already been featured in three treasuries and been placed on several favorite item lists by customers. He can't wait to make his first sale so he can get some "internet money"!
The firewood is glued together, but removable from the rack.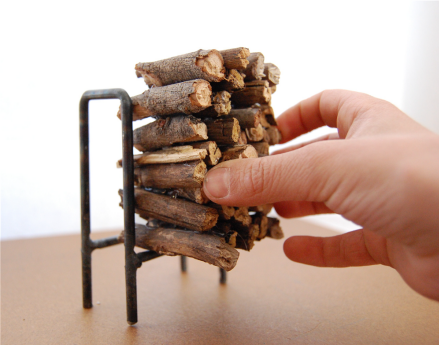 Saturday, January 22 - Retro Hairstyle - Atlanta's been experimenting with vintage hairstyles on herself and all the girls in the family. Carolina was today's guinea pig. These enormous curlers are supposed to make Carolina look like a girl from the forties.
Carolina was wearing this darling vintage apron, so I posed her in front of my forties cook stove to complete the look.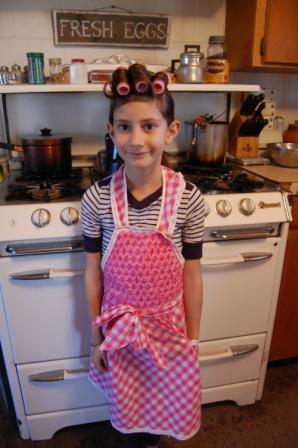 When the curlers were removed, these "victory rolls" were the result.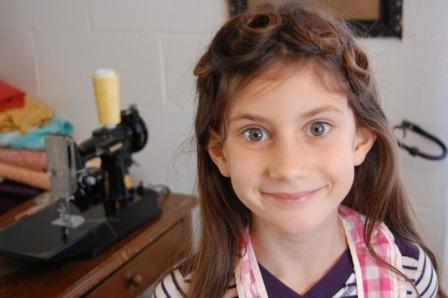 Friday, January 21 - Legos from Poland - The military style legos that Stockton got for Christmas were made by a company (Cobi) in Poland, although they were purchased through a Texas company. When one vitally important part broke the first time he put it together, I researched on the internet to find the company and emailed them to find out if they sold replacement parts. They said to tell them which part I needed and they would send it. Well, today a little package from overseas came for Stockton. Not only did they send the part, but extra parts and 4 more little lego army guys with several guns. Some of the guys were even ones that didn't come with the set in the first place. Stockton was so thrilled. We're working on a thank you note to send back to Poland.
An axle, gearbox and wheels were among the replacement parts for the six-wheeled lego tank in the background.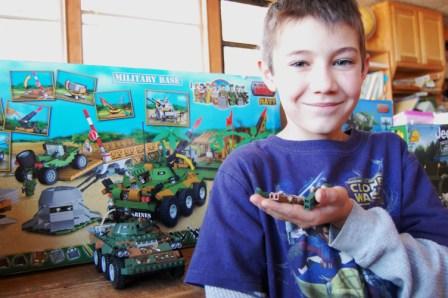 The Doll Bed Business - I've written about the cute beds with which Nathan and the boys have been experimenting. This one may be the cutest yet! We call it the Victorian style bed. We've been selling them on Etsy along with a bedding set that includes a mattress, sheet set, pillow with case and a real vintage bed cover. This size fits a Barbie, but we hope to soon have some to fit American Girl dolls and a tiny 1/12 scale for doll house furniture collectors. Check out our new online shop here!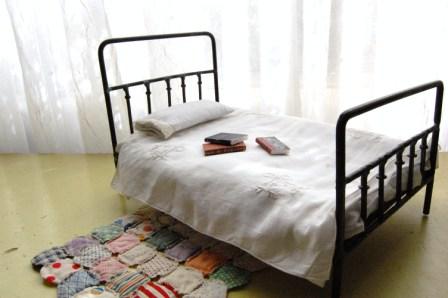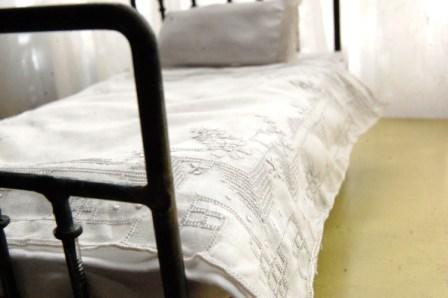 Wednesday, January 19 - Windy's Birthday - Today was the big day. Another birthday for me. It was great having mom here this week to help me celebrate.
Here's how I looked when I was Carolina's age!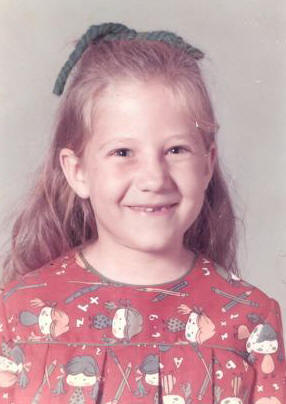 We didn't have anything particular planned, although Atlanta had made some mention to Carolina about making a cake. Nathan and the boys went to Turkey to get started on some concrete work for a carport there. Then in the afternoon, Regina Phipps called and invited us over for supper in honor of my birthday. So, it turned out to be quite special and we all had a great visit. Atlanta made two brown velvet cakes for the occasion and the Phipps' fixed brownies and had pizza from the new restaurant in Turkey.
Our brown velvet cakes are a re-make of an old favorite, red velvet cake. We lose the red food coloring and add twice as much cocoa and a bit more buttermilk.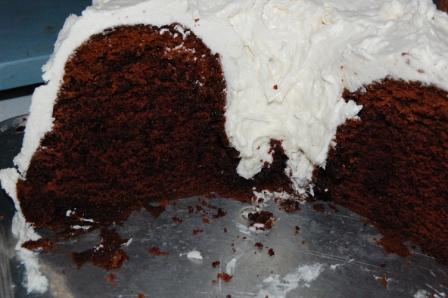 The creamy icing is also slightly modified, replacing half the crisco with real butter instead.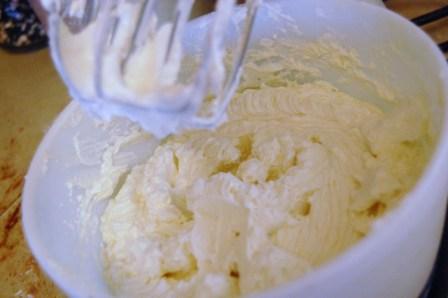 Tuesday, January 18 - The End of an Era - Sadly, today we lost one of our horses. A mare named Dixie. We first got her when Atlanta was young. In fact, Atlanta paid for her herself. When she got too old and sway-backed for Atlanta to ride anymore, she was passed down to Carolina. She had three colts while we had her, Rebel, Breck and Pixie. She was 17 when we got her and she had already had many colts. She was 23 years old and will be missed by us all. She was a sweet little horse.
Dixie last April after her last colt was born.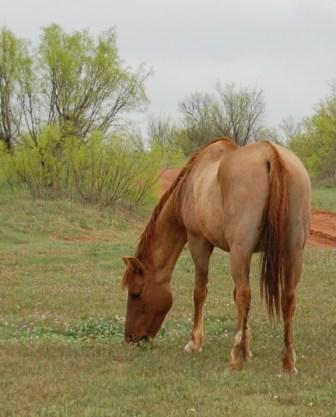 Forging - This afternoon the boys stoked up the forge and worked on making a spatula. They always have such fun banging away out in the shop. They always get so dirty but manage to come up with useful products. I used the spatula to make supper tonight.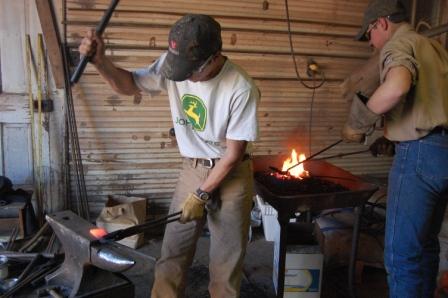 Monday, January 17 - Visit from Granny and Hannah - Granny and I cooked up an impromptu visit for today and tomorrow. The kids are all so excited about getting to play together for two days.
Here's my living room under this giant tent that Stockton, Carolina and Hannah built.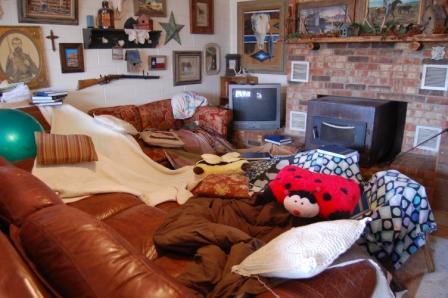 The big kids enjoy card games as much as Granny does.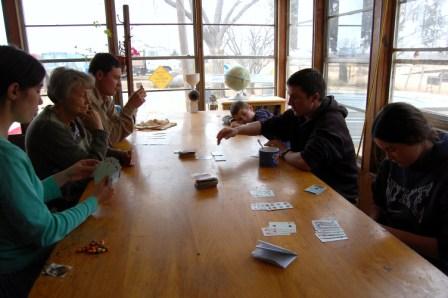 Sunday, January 16 - Trip to Paradise - Nathan, Atlanta and Cimarron left early this morning to join up with Nathan's brother, Chris and his wife Debra to accompany their Dad on a sight-seeing trip. He wanted to show them around the area of Paradise, Texas where he grew up. They had a great time wandering through cemeteries and listening to tales of the past. Some they had heard and some they hadn't. They brought back lots of pictures and interesting information.
This huge pecan tree was around when Nathan's dad, Ronnie, was growing up. His family owned this land at that time. It's hard to get an idea of the size of the tree, but Nathan said it would be 10 or 12 feet up to the first fork.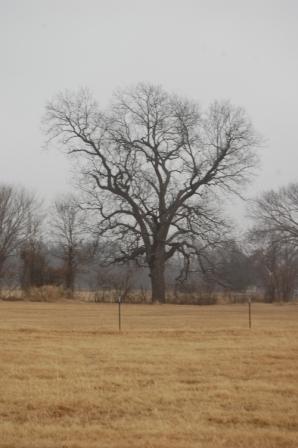 Saturday, January 15 - Custom Bed Order - Have you seen the darling little metal beds that Nathan and the boys have been making? We've started putting them on our new Etsy shop, Bonnyblue2. We sold one hospital bed and bedding set like Carolina got for Christmas, and then we got a custom order for a more Victorian style. Here's how it turned out.
We had to pose a few pictures before we sent it off to Oregon. It's hard to tell it's "Barbie" size.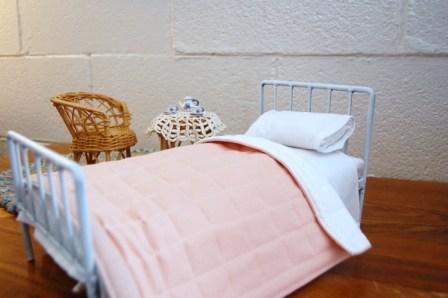 Thursday, January 13 - Quail Hatching - During the night, 8 little button quail hatched in Aspen's new incubator that she got for Christmas. They're so tiny and cute they hardly look real. She's got more due to hatch in another day or so and some chicken chicks as well.
During the last few days, she takes them off the egg-turners and puts them into "lock down". This means they don't need to be turned for the last few days. They were sitting in this celestial seasonings tea box inside the incubator. Here's how they looked this morning.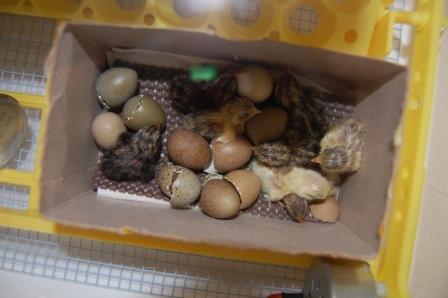 See some short videos of their first day of life here!
Wednesday, January 12 - Ike - Carolina gave Stockton a little fish tank for Christmas. While in Lubbock last Saturday, we picked him up a fish at Wal-Mart. The kids have had fun this week watching their new pet. They named him Ike Charlie Phantom.
Stockton on Christmas Eve with his new tank.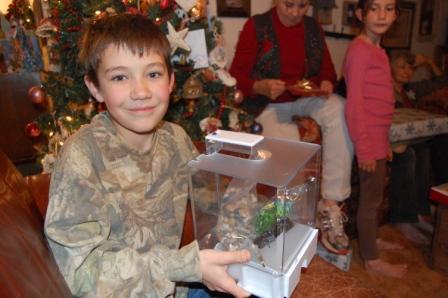 Ike in his new home.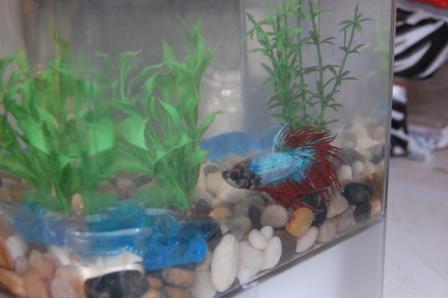 Stockton drew this picture of his new fish tank.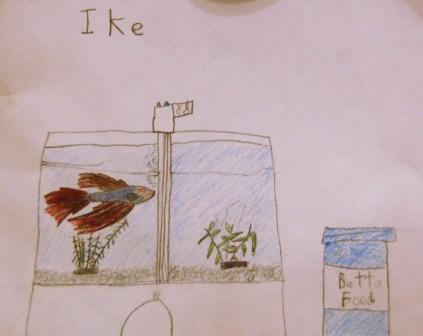 Speaking of sketching, I snapped this picture from the sketchbook on Atlanta's desk the other day. Isn't it nice?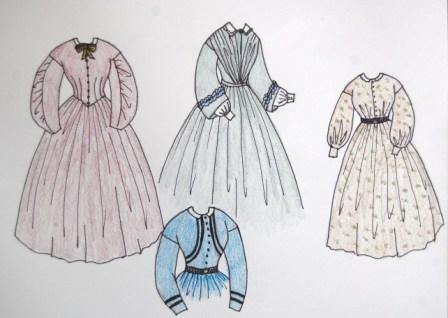 Monday, January 10 - Lego Videos - Did you ever wonder what your legos are doing at night while you're asleep? Well, you'd be surprised!
Scene from Stockton's movie, "Prison Break"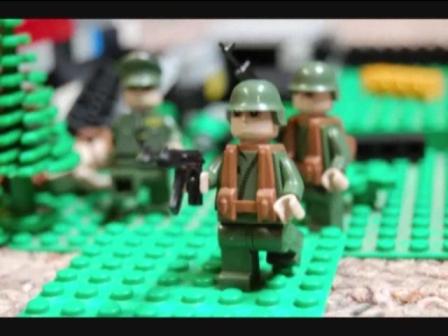 Stockton's been wanting to try some lego animation. We've watched some of these kinds of videos over the years and enjoyed them, so it was time to experiment for ourselves. There are two video shorts, "Prison Break" and "Attack on the Base". Stockton is the writer/director and lego manipulator (with Cim's assistance in the second one) and Windy helped with the filming in the first one, while Cim took over in the second one. The videos were edited by Cim and he also did the special effects. Now, I know you must be dying to see them by now, so click here.
New Roosters - On the way home from Lubbock last night, we stopped in Petersburg so Aspen could pick up a couple of roosters from a breeder there. They are making some kind of trade. Today she had me take pictures of them so she could post pictures on her favorite website, Backyard Chickens.
She tells me this is an "Easter-Egger".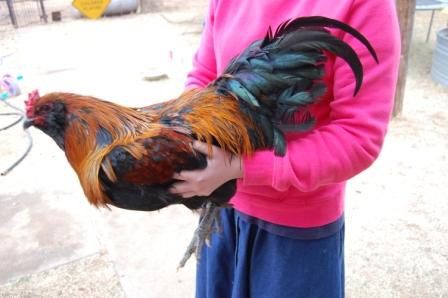 This is a Silver-laced Bantam Cochin.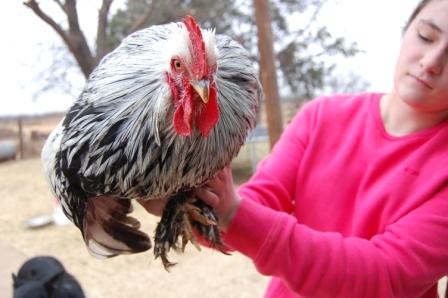 Saturday, January 8 - South Plains Genealogy Association Presentation- This morning Atlanta spoke to a group of history enthusiasts about ladies fashions of the 1860's. The crowd was reportedly one of the largest ever, filling the Mahon Library community room to every seat. Atlanta talked to them about how to date an old photograph by the clothing and specifically what to look for in Civil War era styles. She also debunked some popular but incorrect myths about the fashions of the 1860's. Everyone there seemed very interested and grateful that she spoke. I had lots of people come up to me (as the proud mother) and tell me how amazed they were at her knowledge and sewing abilities.
Atlanta and Carolina, her model, before the speech. Cousin Hannah's in the background.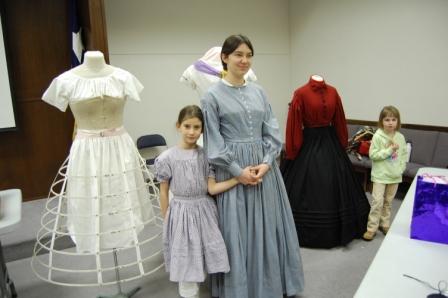 Audience members listen intently to Atlanta's informative speech.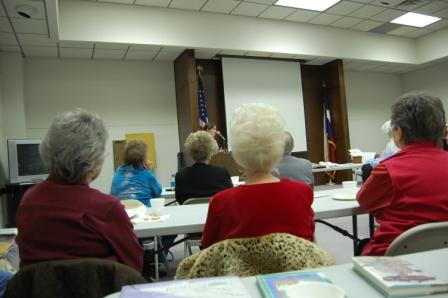 Model, Carolina, entertained the crowds with her very speedy runway walk to show off her 1860's dress and bonnet.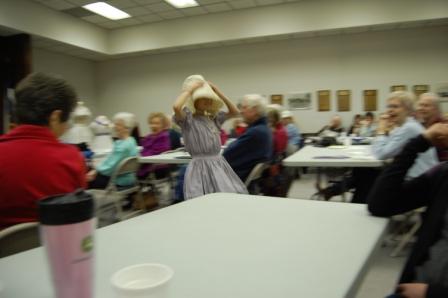 After the presentation, Atlanta stayed around to answer questions.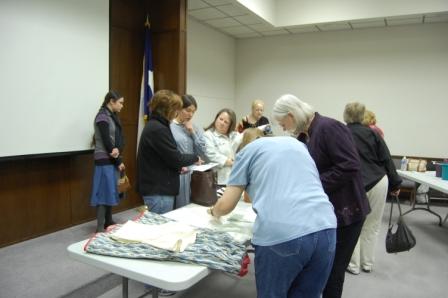 Lunch at Granny's - After leaving the library, we were treated to a delicious lunch at moms. She wanted us to try a new chicken dish. It was fantastic!
Atlanta, Aspen, Granny, Sunny, Misty and Windy were the lucky lunchers.
She marinated chicken breasts in red wine vinegar, dry ranch dressing mix and dry Italian soup mix, covering them with various veges and then cooking slowly for 2 or 3 hours.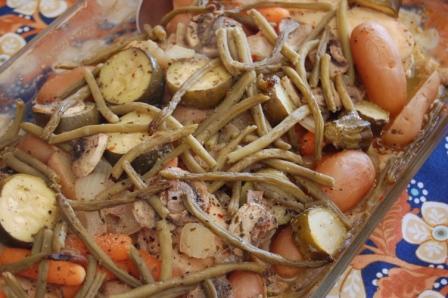 Friday, January 7 - Wilson Fire - Sunny called and reported this morning that there was a fire in Wilson. It gave her quite a scare at first because she thought it might be Misty's house, but it turned out to be cotton bales on fire in a storage barn at the Wilson Gin. Jim took these pictures as he passed through Wilson on his way to Slaton.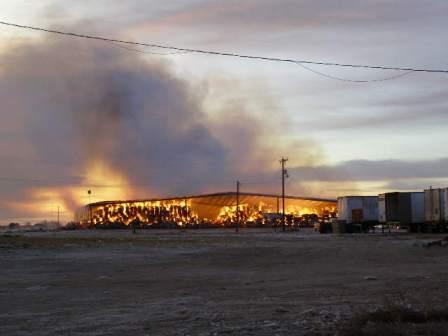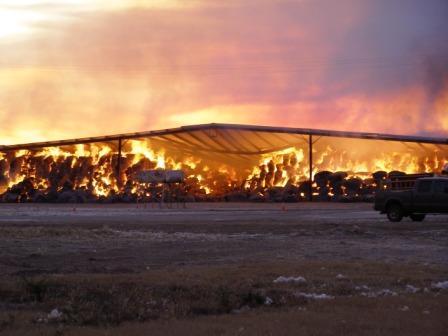 Late Christmas Gifts - Yesterday the UPS man delivered Cim and Laredo's Christmas gifts from Nathan and I. I had ordered them in plenty of time, but when they didn't come, discovered they were still sitting in the "shopping cart" of the online store. I guess I didn't do something right. Anyway, I re-ordered them on Christmas Eve and they finally came.
These fancy airsoft pistols will soon be well used when the Phipps boys join our boys for a Saturday battle.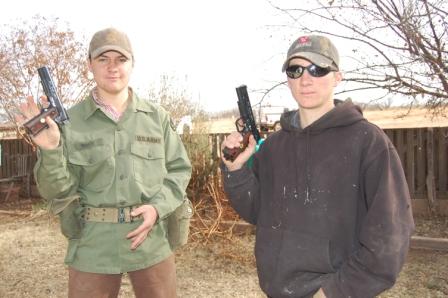 Speech Props - Atlanta's getting her props ready for the speech she is to give tomorrow for the Genealogy Society in Lubbock. Everyone's welcome to come by at 10:00 am at the Mahon Library.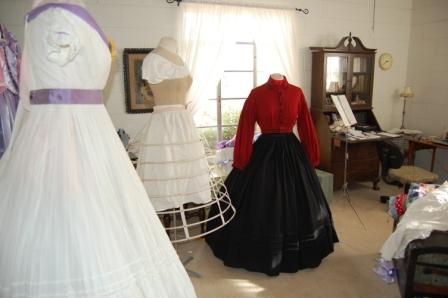 Tuesday, January 4 - The Hula Hoop - I snapped a few pictures of Carolina outside getting a little exercise. She was jumping rope and spinning her hula hoop in the afternoon sunshine.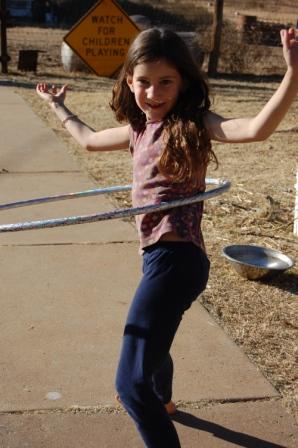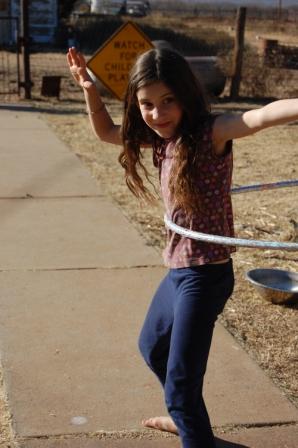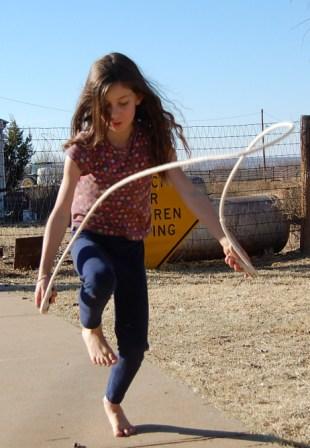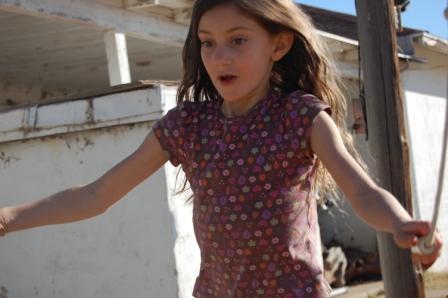 Monday, January 3 - More Deer Meat - Nathan helped me cut up the three deer harvested last weekend. They've been soaking in icy salt water all week to get the wild taste out. I canned another 14 quarts and put up 7 or 8 bags in the freezer.
Jars packed and ready to go into the canner. They must be processed 90 minutes.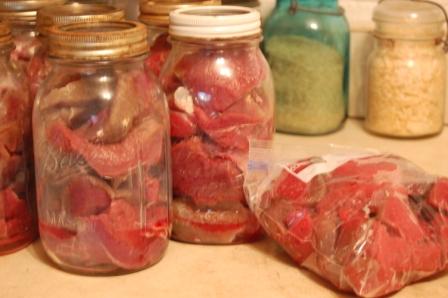 Vintage Christmas Gift - Cimarron and Atlanta gave me this antique roll dispenser for Christmas. Cim mounted it for me on the blue hutch in the dining room/kitchen. It says "foil wrap" on the top hinge lid, "wax paper" on the middle dispenser, and "paper towels" on the largest of the three at the bottom. It's really cute.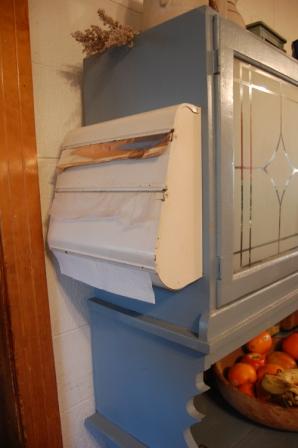 Saturday, January 1 - What's Happening at the Shannon Ranch today? - The older kids went to a New Year's Eve party last night at the Campbell's house in Hale Center. Nathan and I and the younger kids stayed up late watching Abbott and Costello movies until they came home. Everyone was around the house today. Nathan gathered a few more calves and the boys and Atlanta helped work them. Carolina was wearing her green coveralls again today.
I call it her Diesel Mechanic outfit.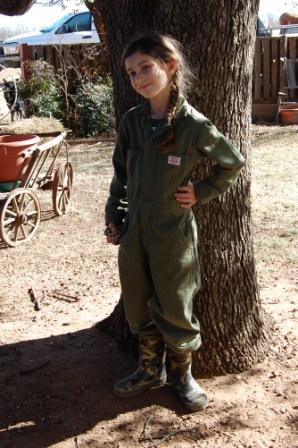 The boys reloaded some 410 shells with a reloader and supplies our friend Craig Hunt gave us.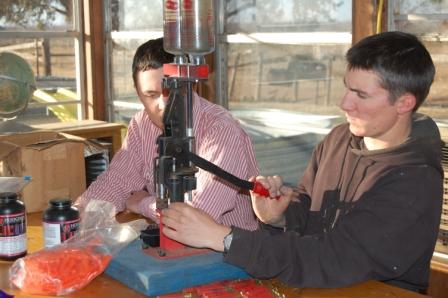 Atlanta's Rapunzel Dress - Atlanta decided she needed her own Rapunzel dress so she could post some good pictures of the dress on Etsy. She's sold several for little girls and several for older girls such as herself. She looks like she's right out of a fairy tale!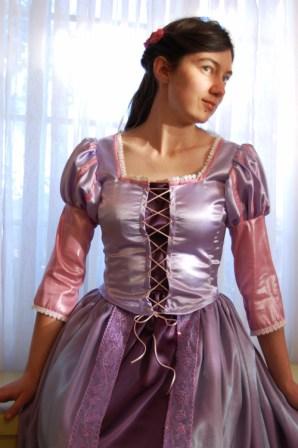 The Creamy Milk - Our milk cow, Bessie, managed to get into the feed shed a couple of days ago during the night. When we went out to milk her the next morning, we could hardly get her to get up. She was so full. We got her milked and she never had any after effects. After the milk from that milking had time to set up in the refrigerator, I noticed something interesting. It was almost all cream!
Here's a bottle of normal Bessie milk after the cream has risen. Can you see the cream line just above the raised cow on the bottle?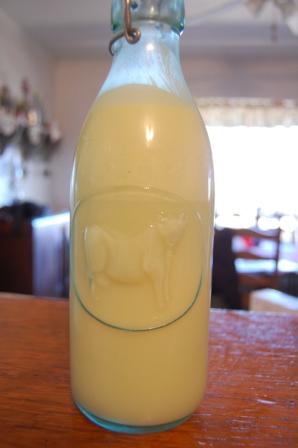 This is the milk that came after Bessie's night of feasting. The bottle on the left has a cream line just about an inch from the bottom. The one on the right was almost 100% cream with the cream line just visible at the bottom of the jar.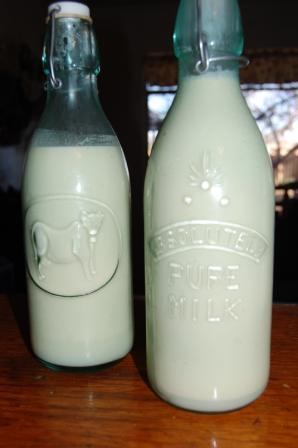 Tonight for supper Atlanta fixed homemade pizzas. Notice the diesel mechanic wearing the pink apron who's helping.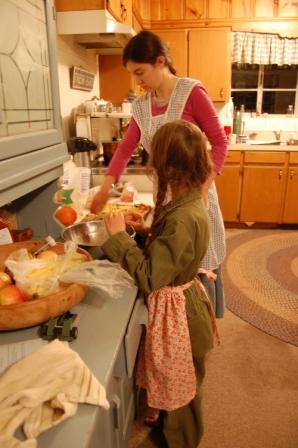 We cooked the pizzas in the living room wood stove.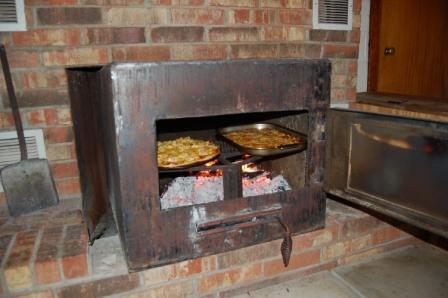 They turned out wonderfully!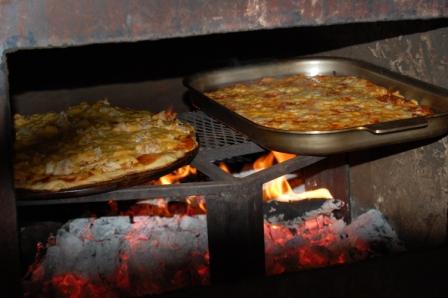 Catch up on past news! Just click on a link below.