Tuesday, April 30 - Final Pictures - Finishing up April with a few interesting shots.
Stockton's strawberry bed is starting to produce again. These are hands down the best tasting strawberries ever!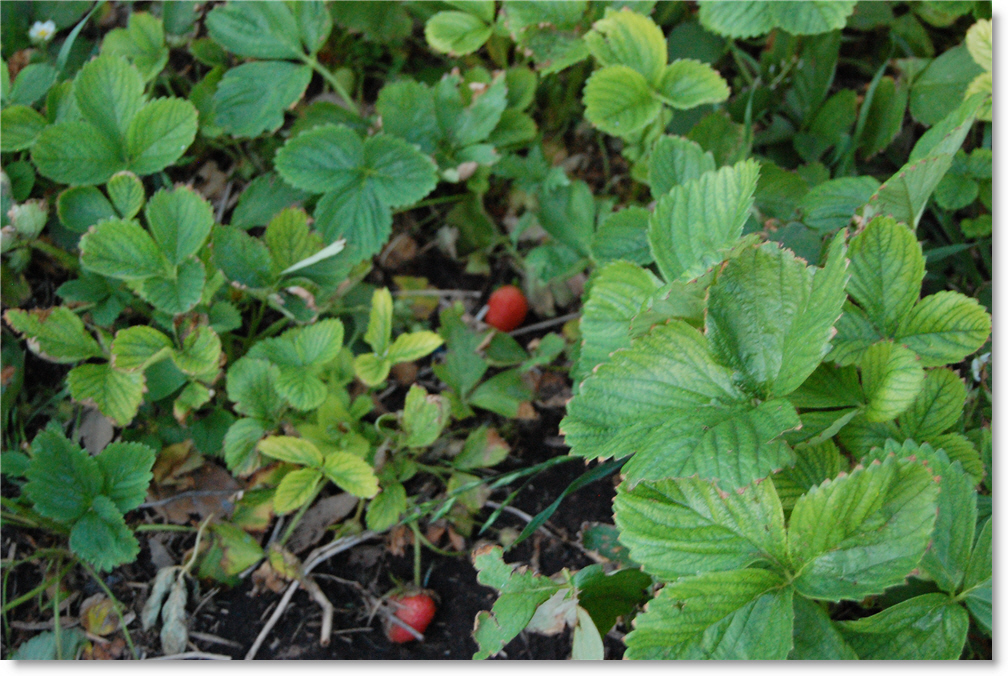 Sunset in orange and pink.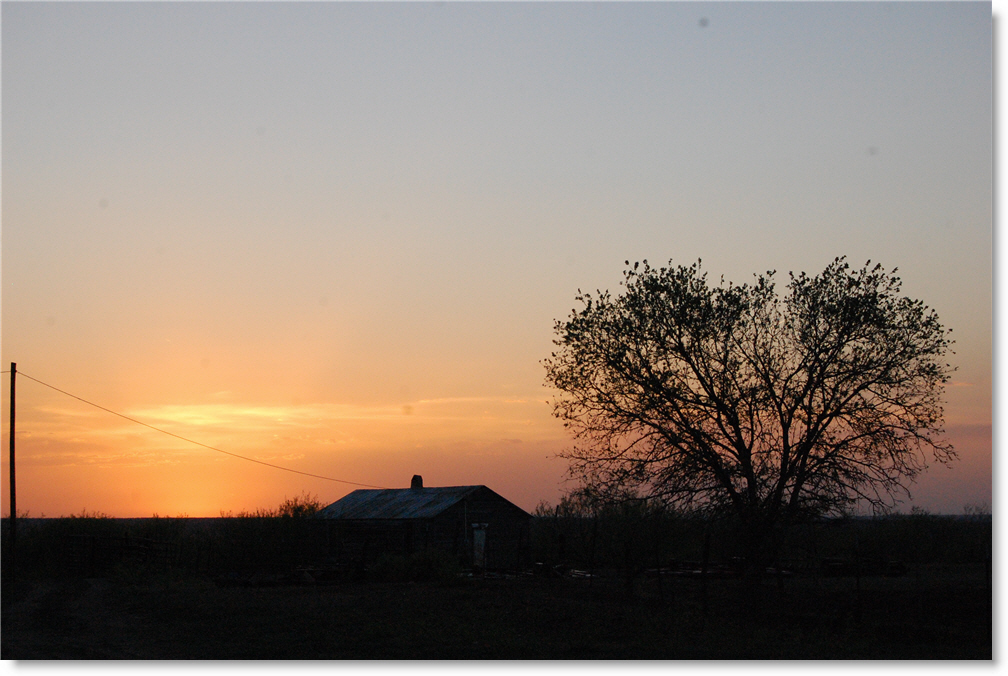 In the background behind the boy's airsoft battle buildings, an unusual set of thunderheads approaches.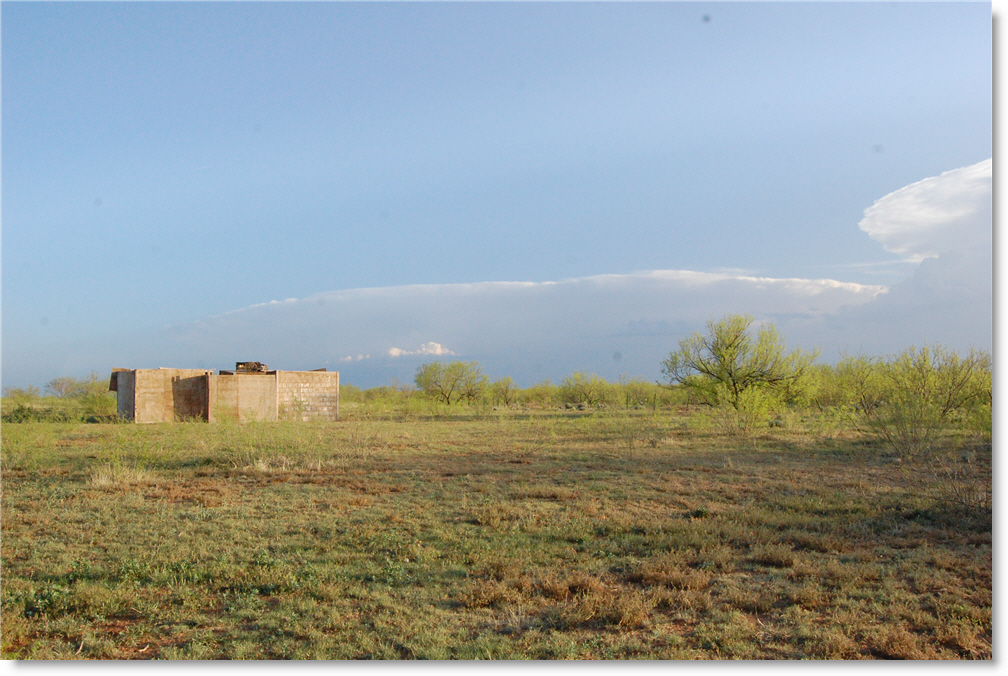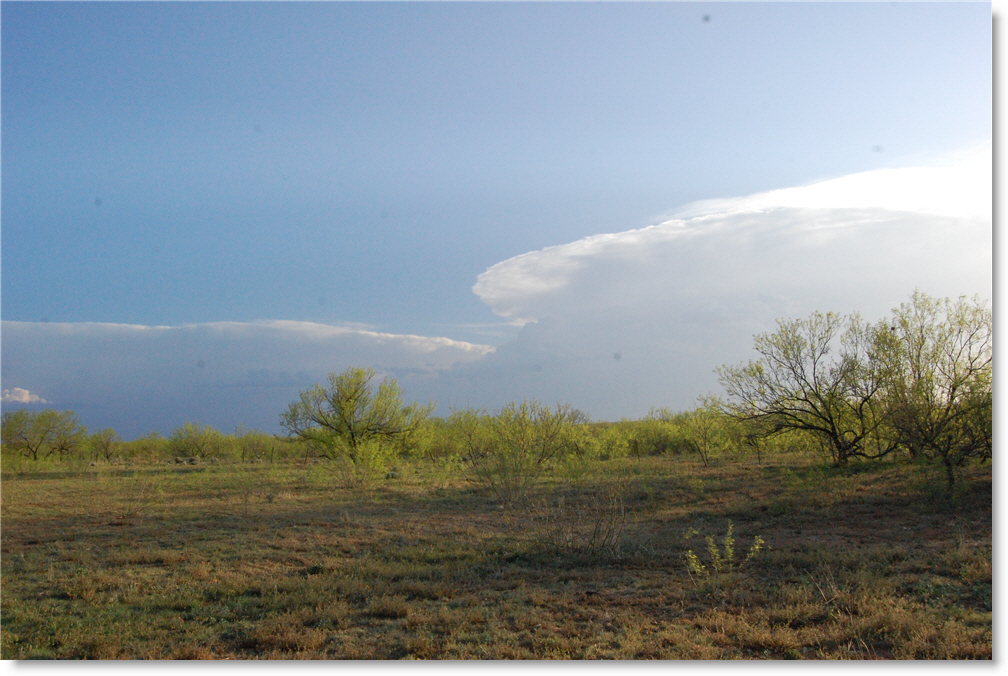 They may not be approaching, they may have built SE of us and are moving SE. They don't normally move that direction, but they do look more like thunderheads from the back, moving away.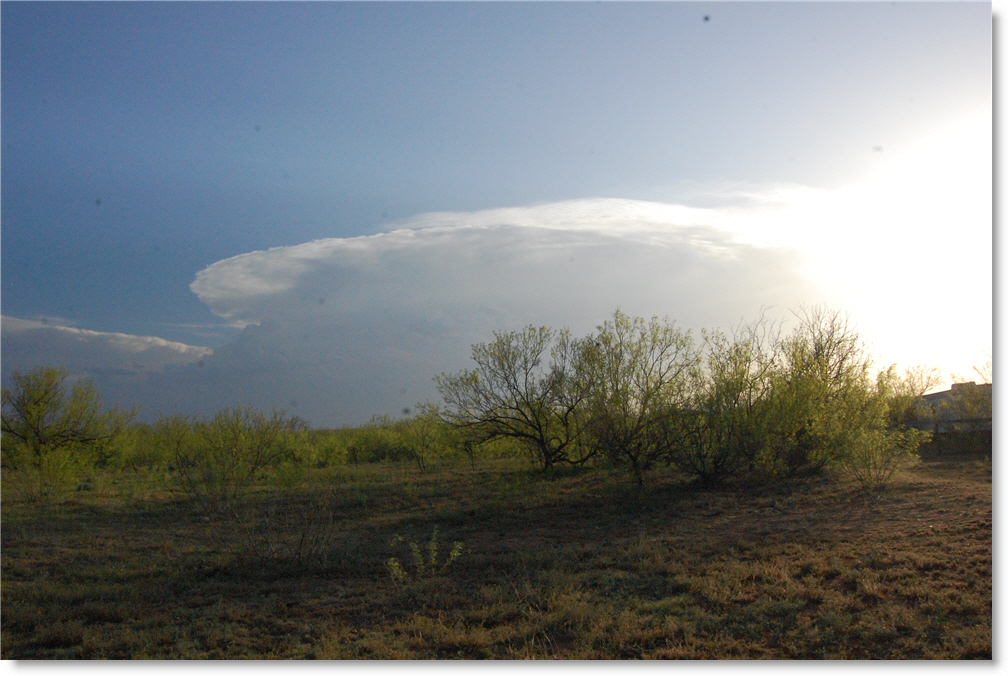 Atlanta's Wedding Dress - If you'd like to read all about the details of Atlanta's wedding dress, check out some of her recent blog posts. She's back from her honeymoon and hooked up to the internet again and will be posting lots of pictures and articles about her wedding, honeymoon and new house. You can read all about it at www.storyofaseamstress.blogspot.com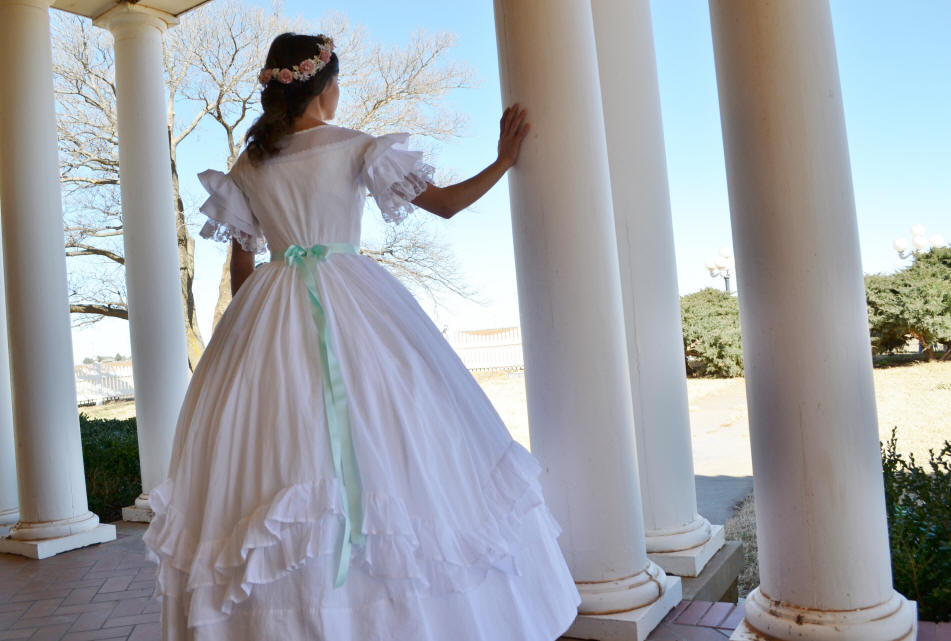 Sunday, April 28 - Airsoft Battle - Several guys from the surrounding area and some of their sisters came over this afternoon for some intense but fun battles with their airsoft guns.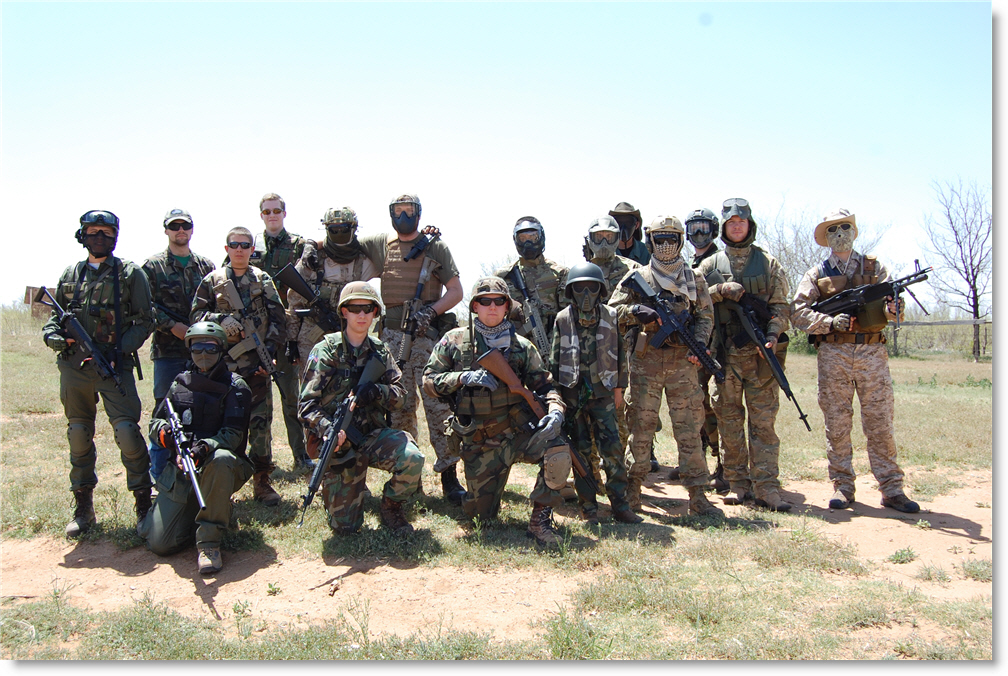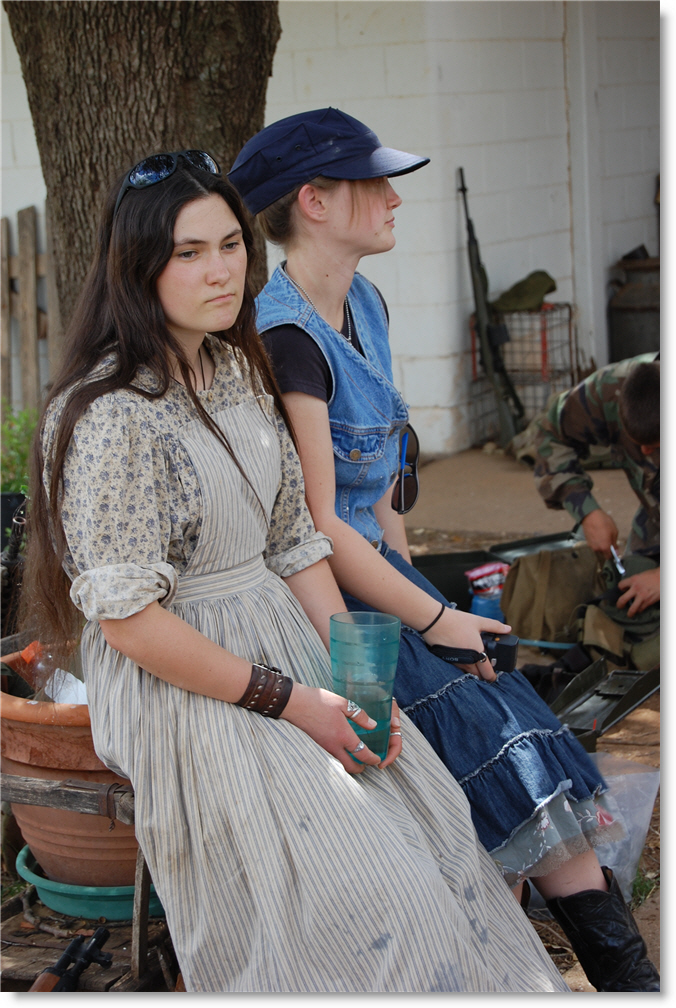 See more photos below:
Saturday, April 27 - Susan Brashear Wedding - We traveled to Lubbock tonight for the wedding of Windy's cousin's youngest daughter. We had fun being a part of their special day and seeing some relatives that we hadn't seen for years.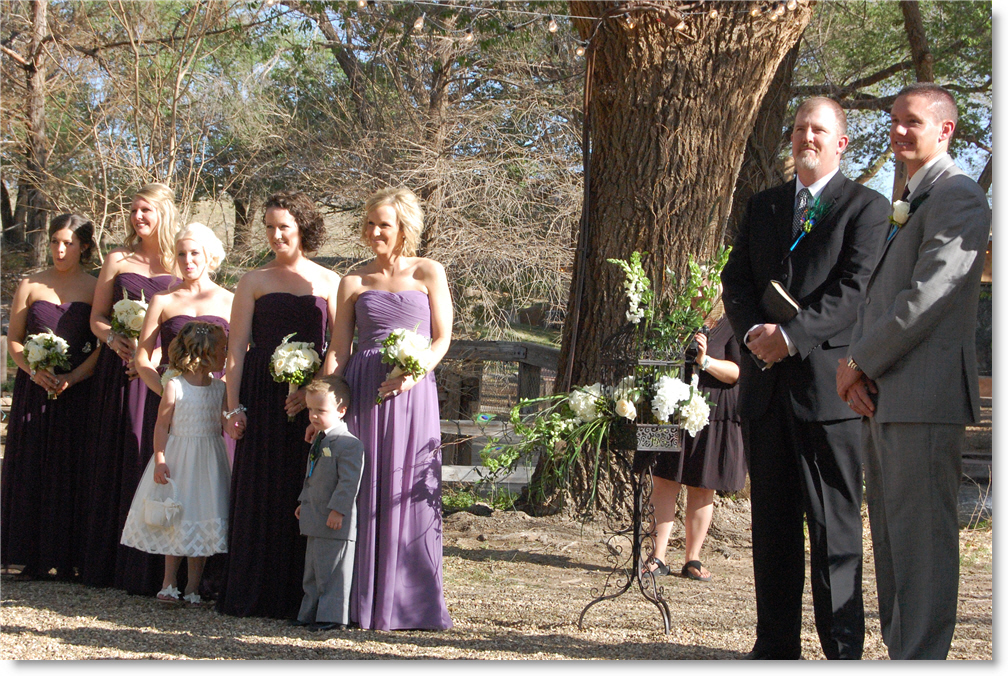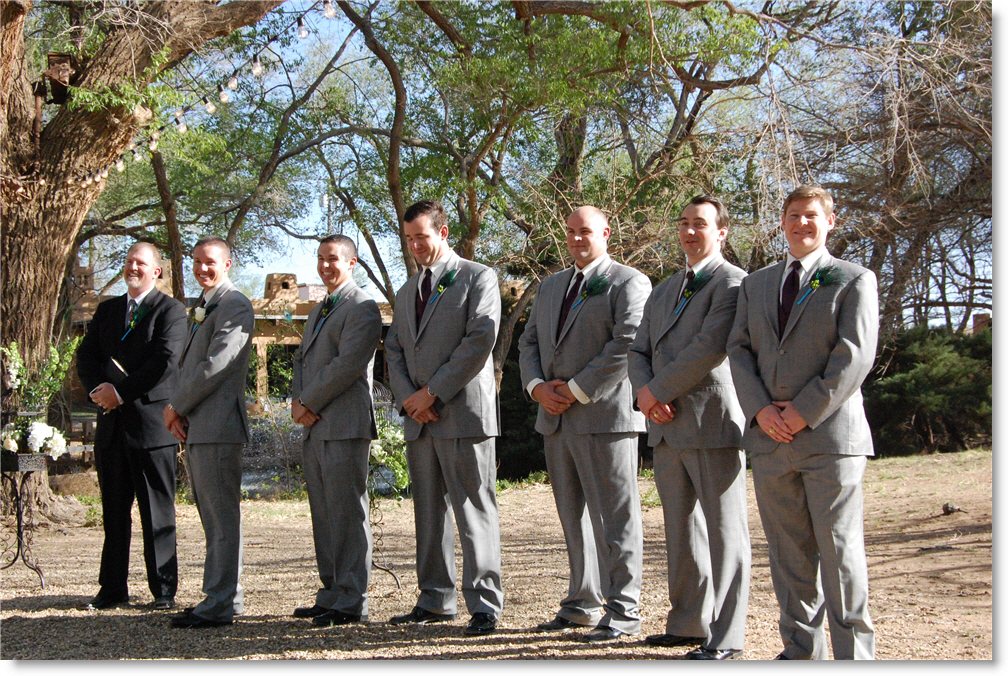 Cousin Brady walks his daughter down the aisle while Nancy looks on proudly.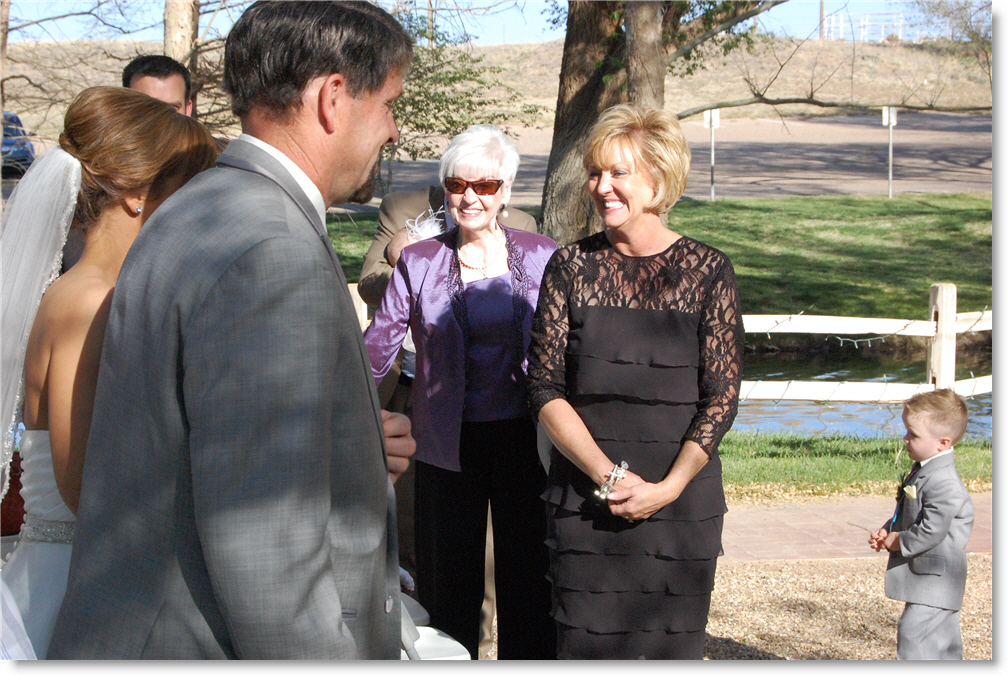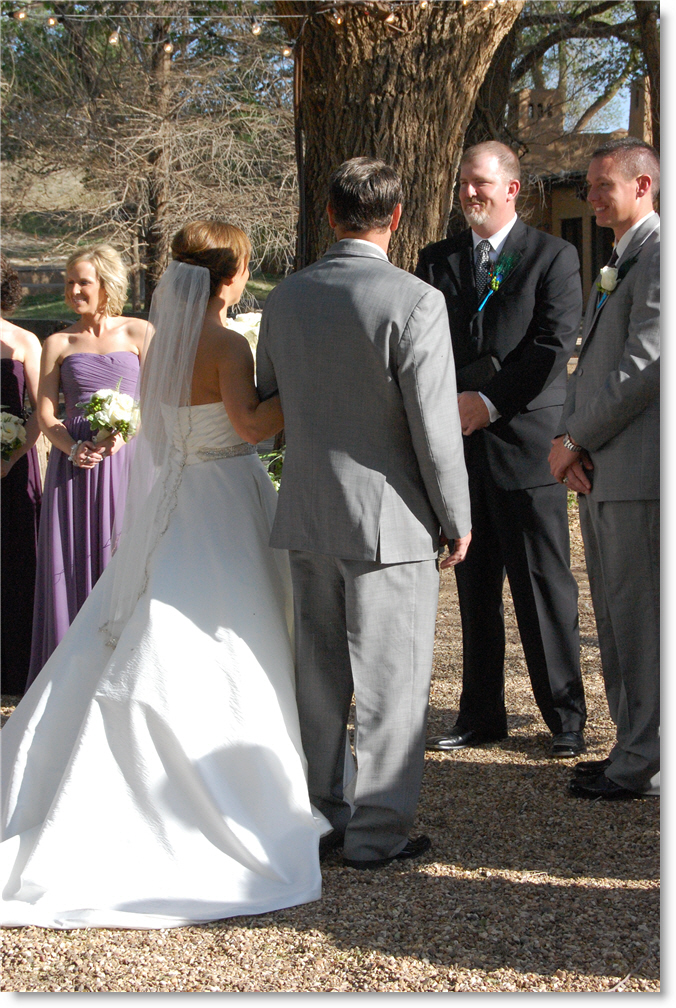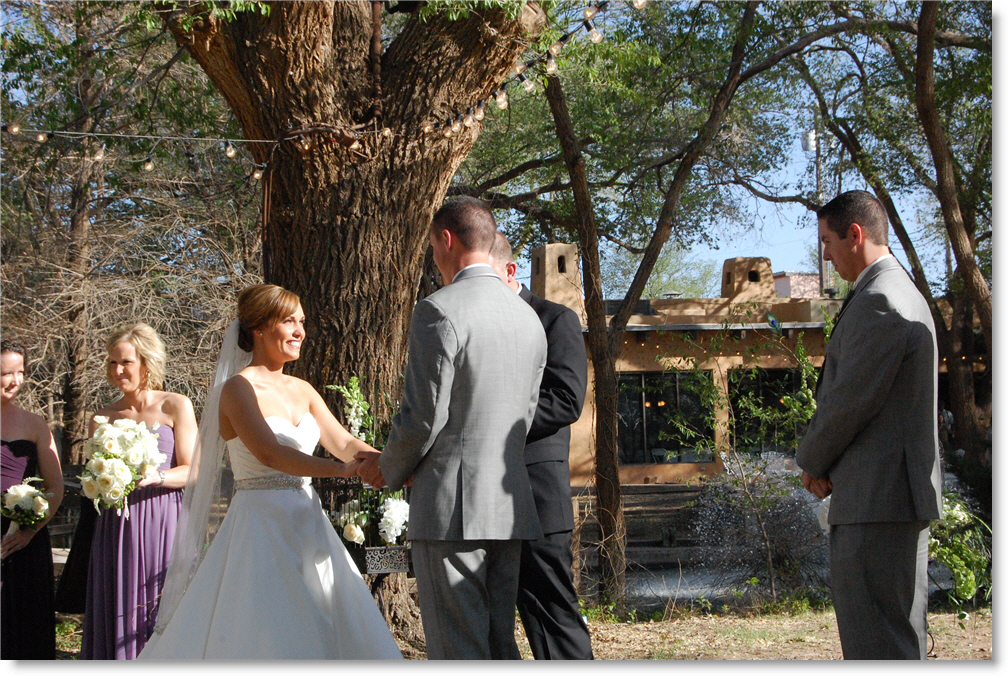 The ring bearer prefers playing in the gravel.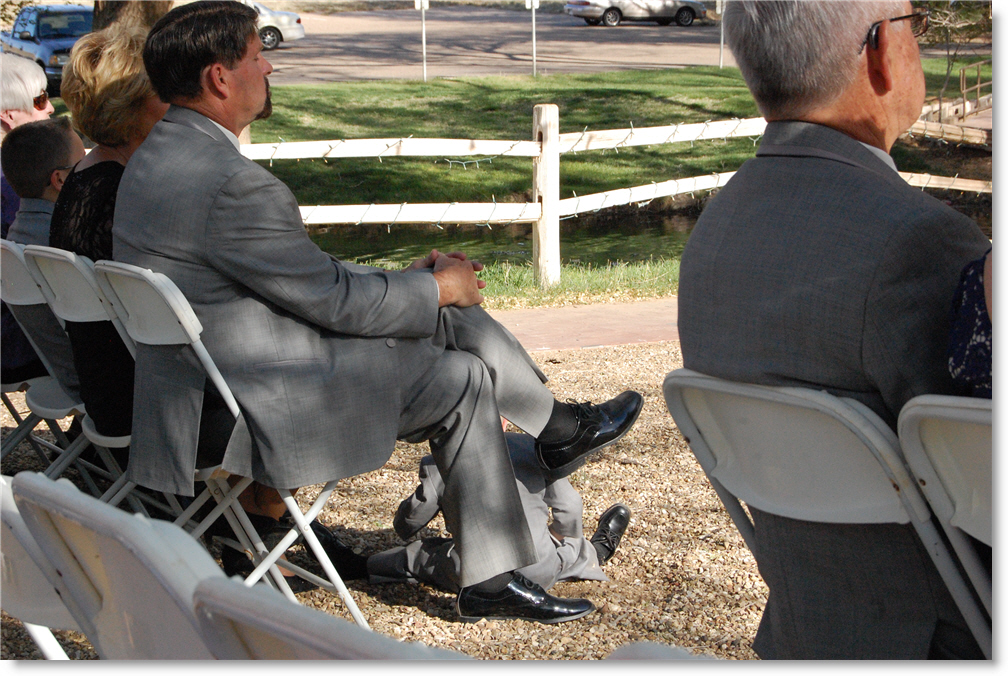 Ray Sooter, Windy's uncle and Linda, cousin.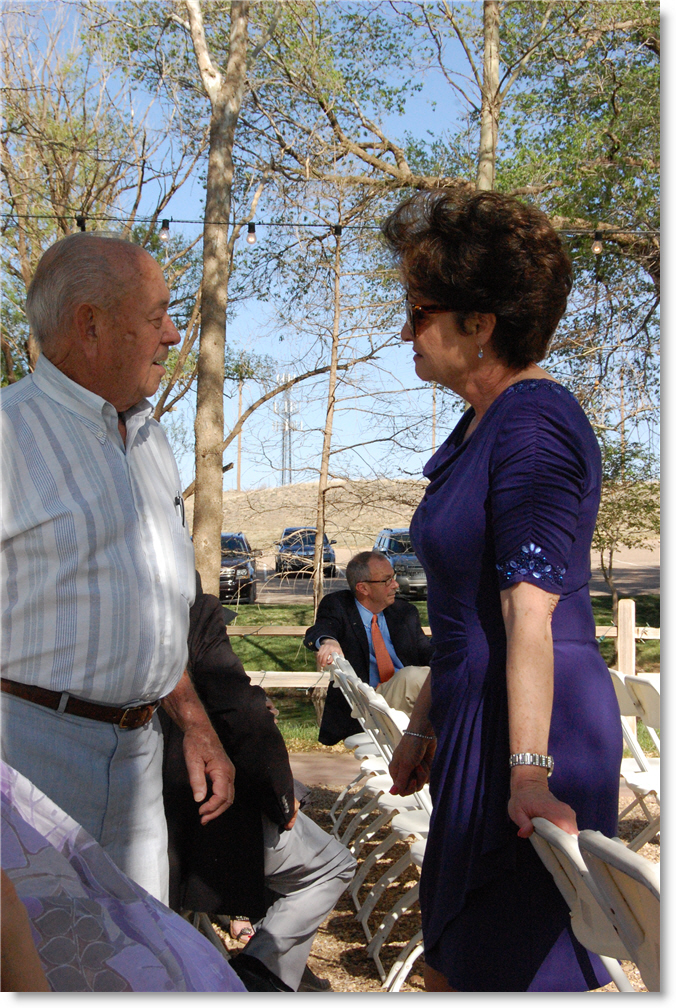 Inez and Ray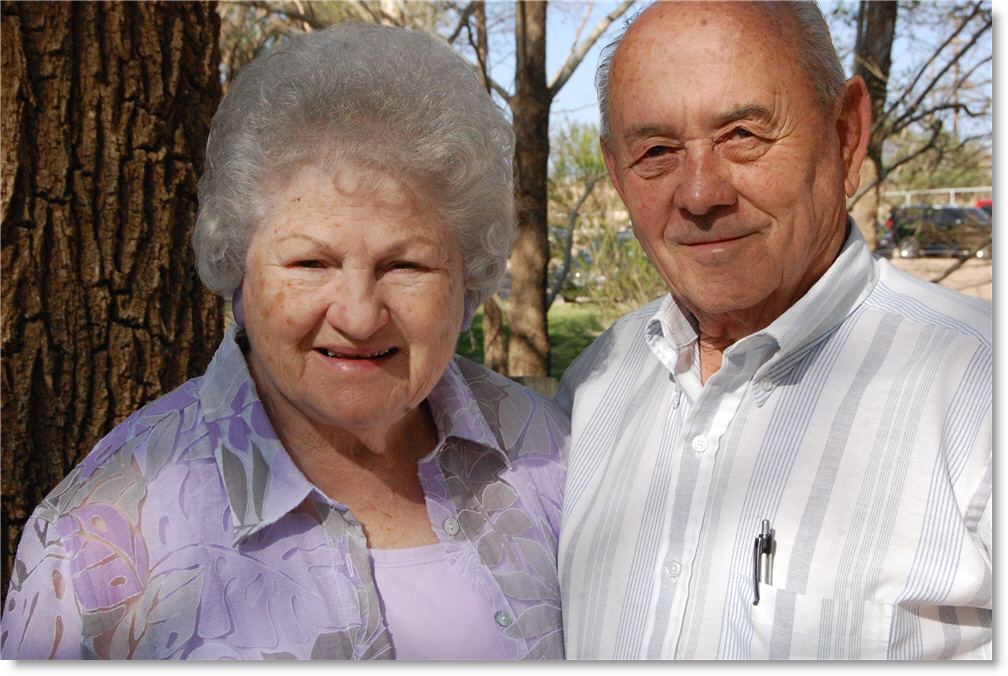 Granny rode with us and looked so pretty in hot pink.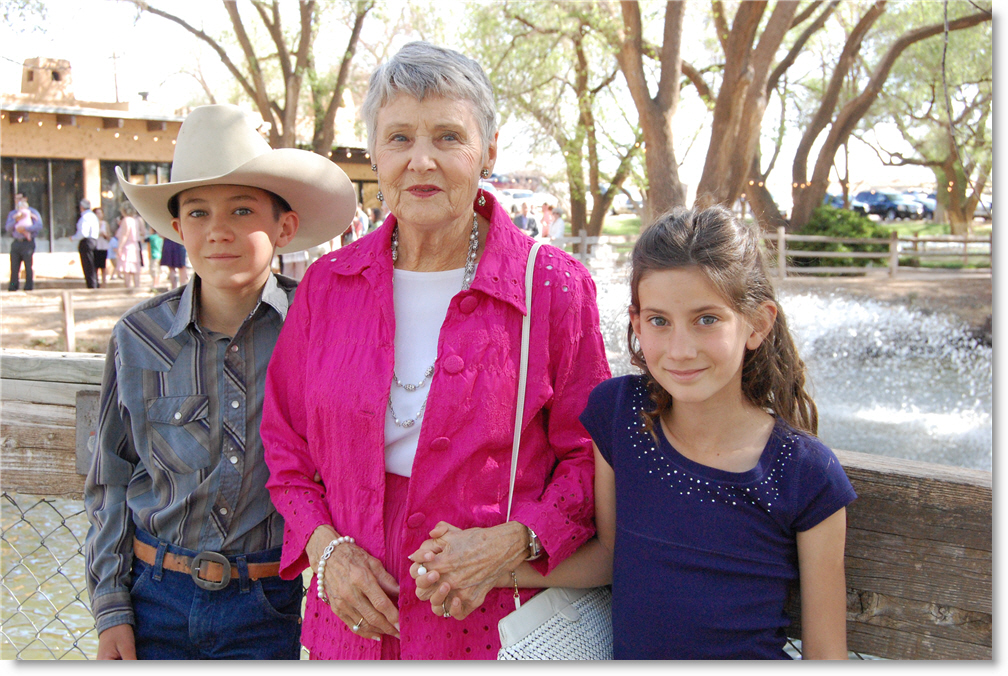 Windy's cousin, Cody and his family.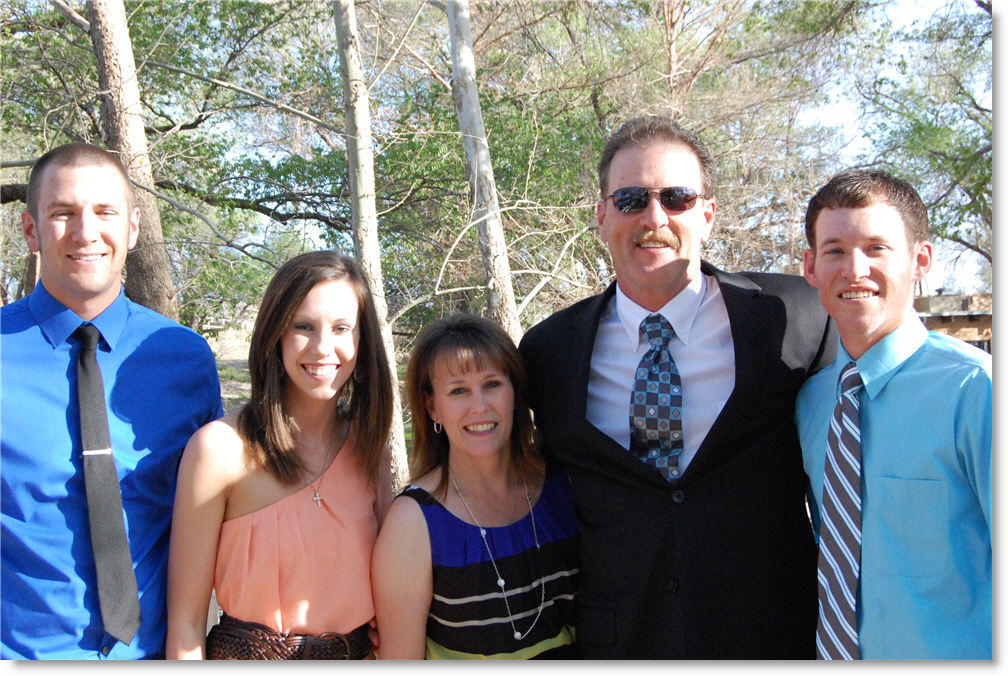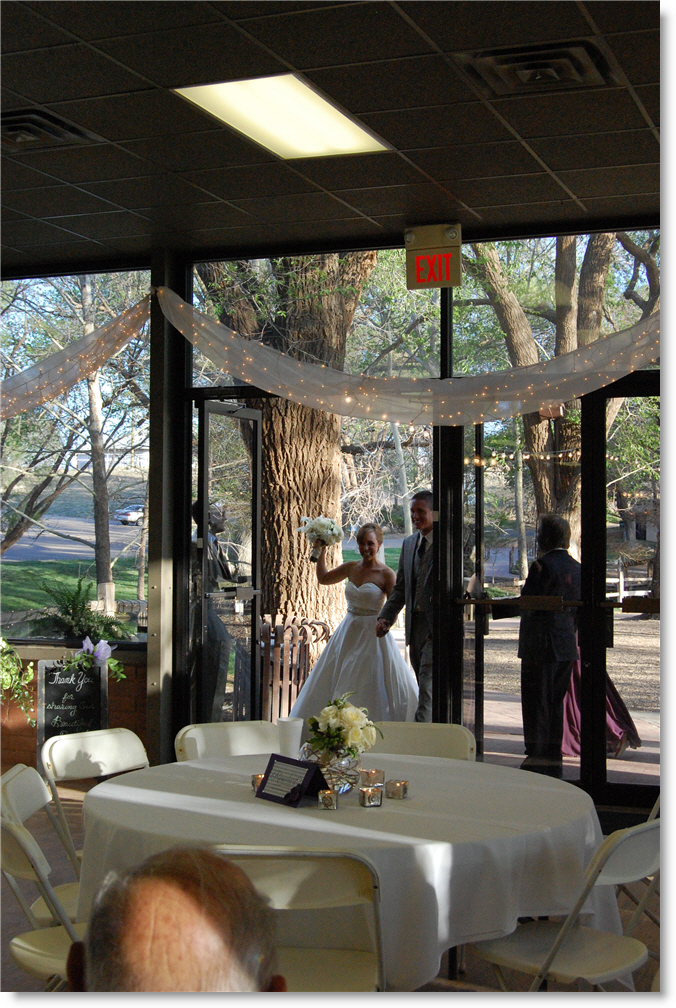 One of the flower girls and niece of the bride.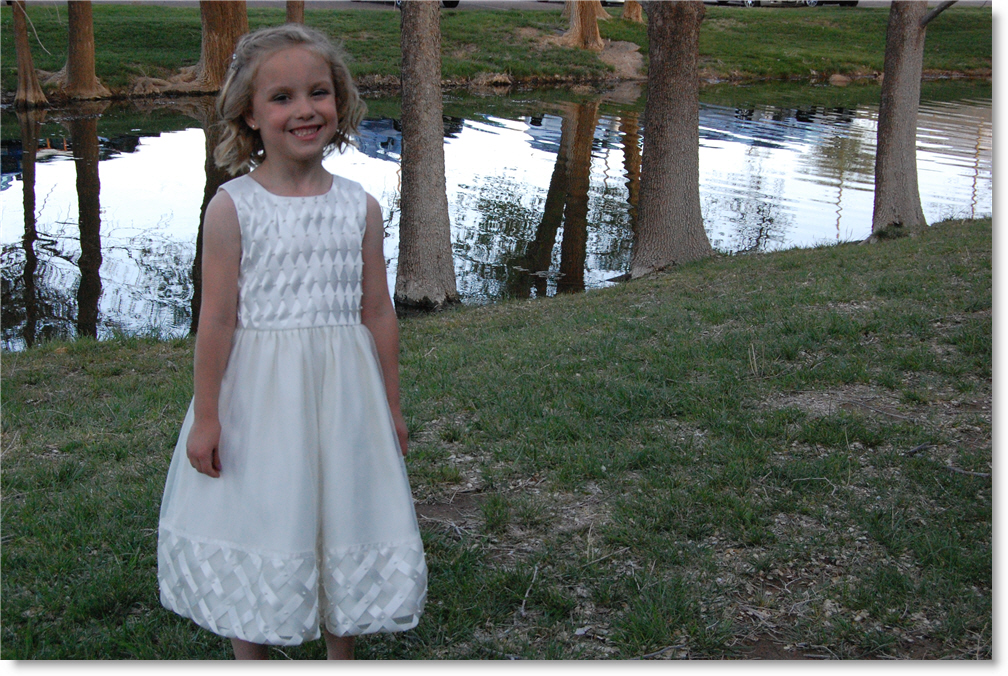 Linda's son Christopher and his darling girls.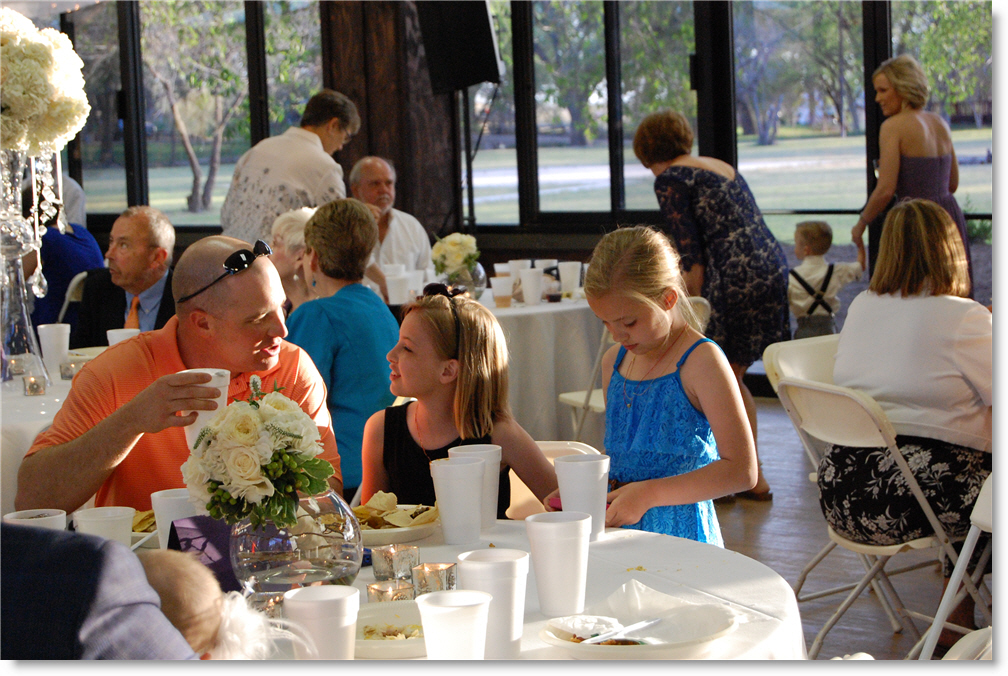 Linda's other son, Derek.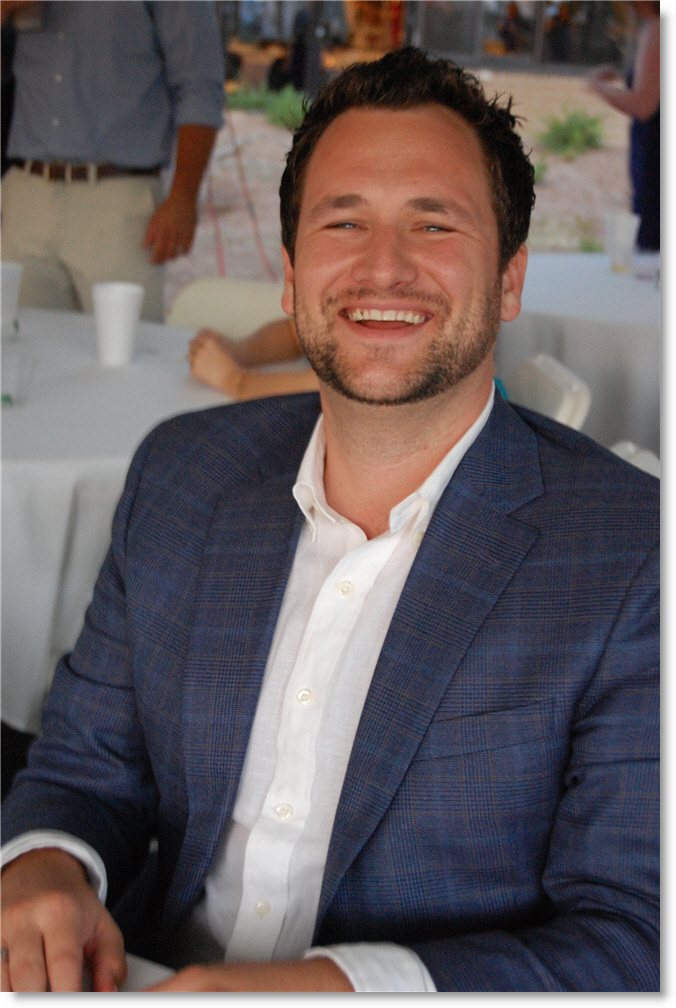 Cousin, Steve and his wife Sharon from way down south.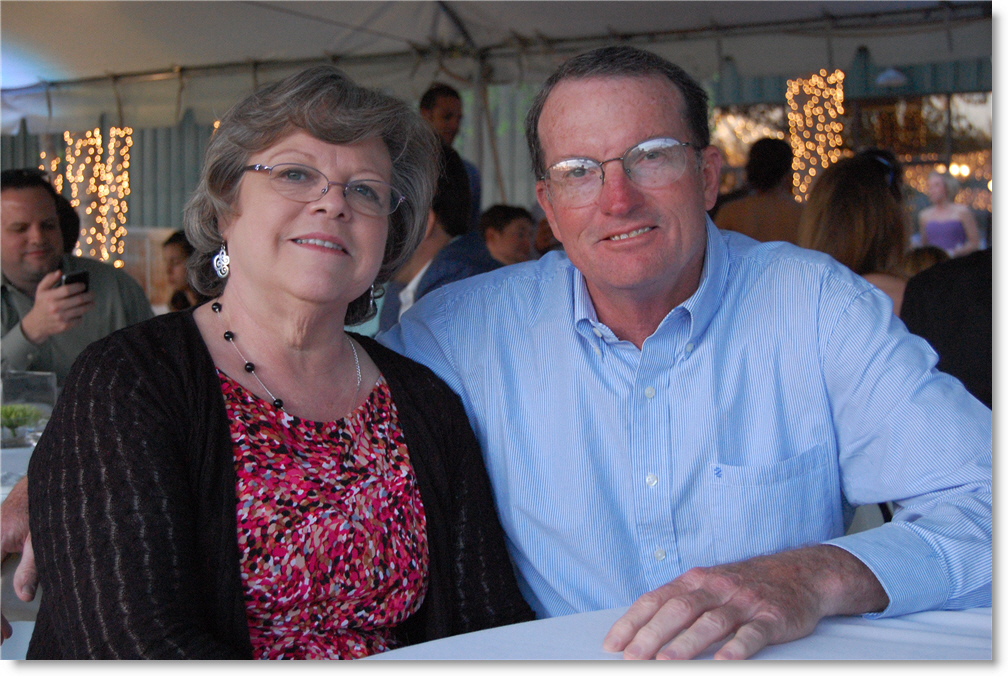 Their boys, Scott and Benjamin.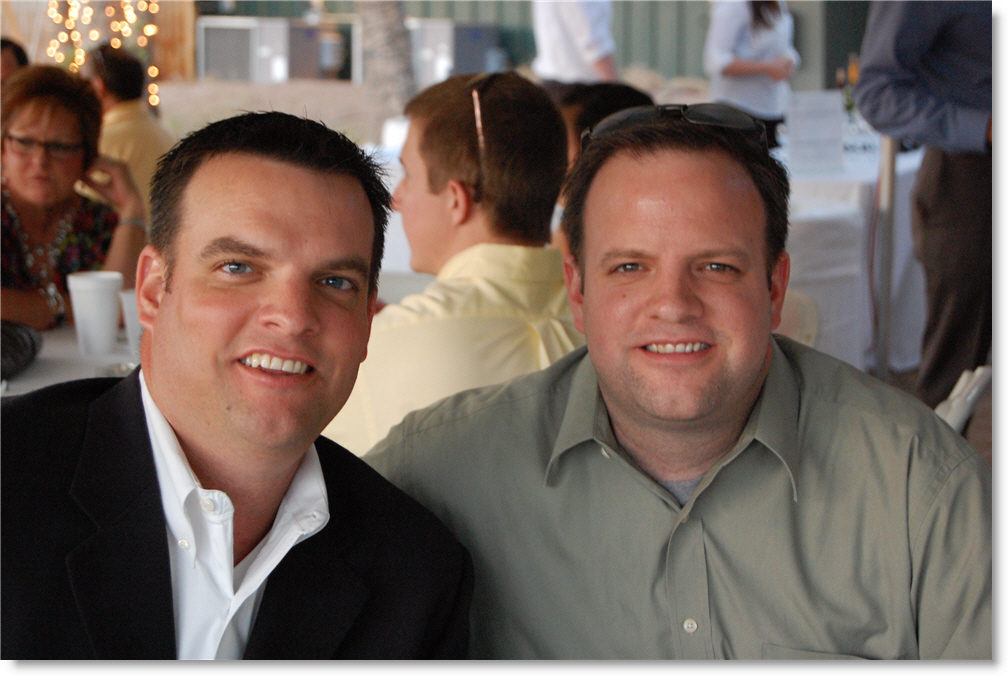 Aunt June and Mike.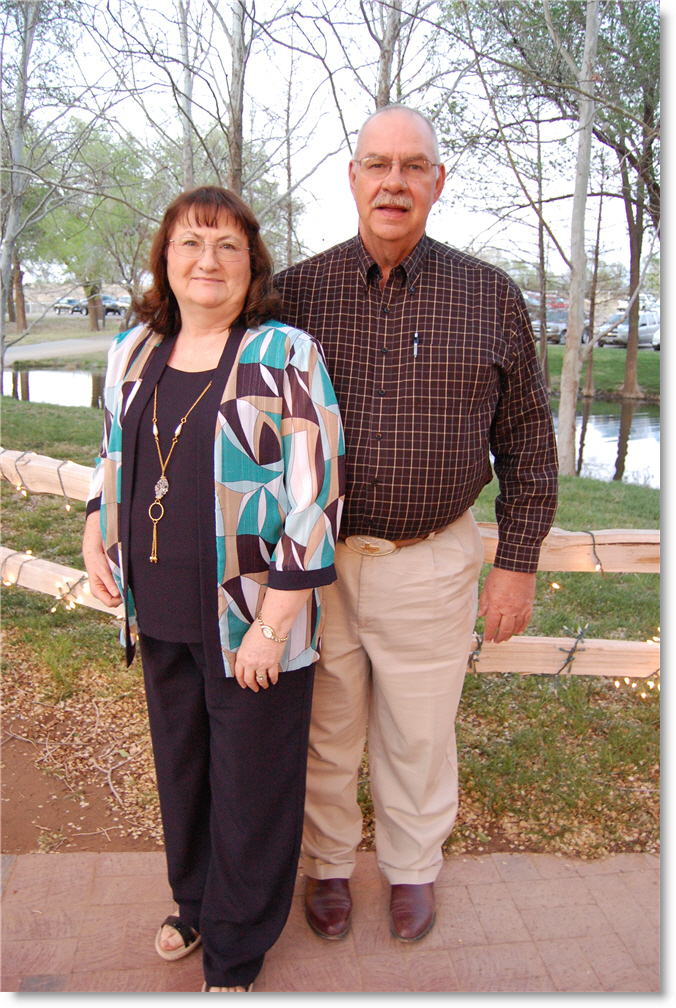 Beautiful peacocks had free run of the grounds at the Spirit Ranch north of Lubbock where the wedding was held.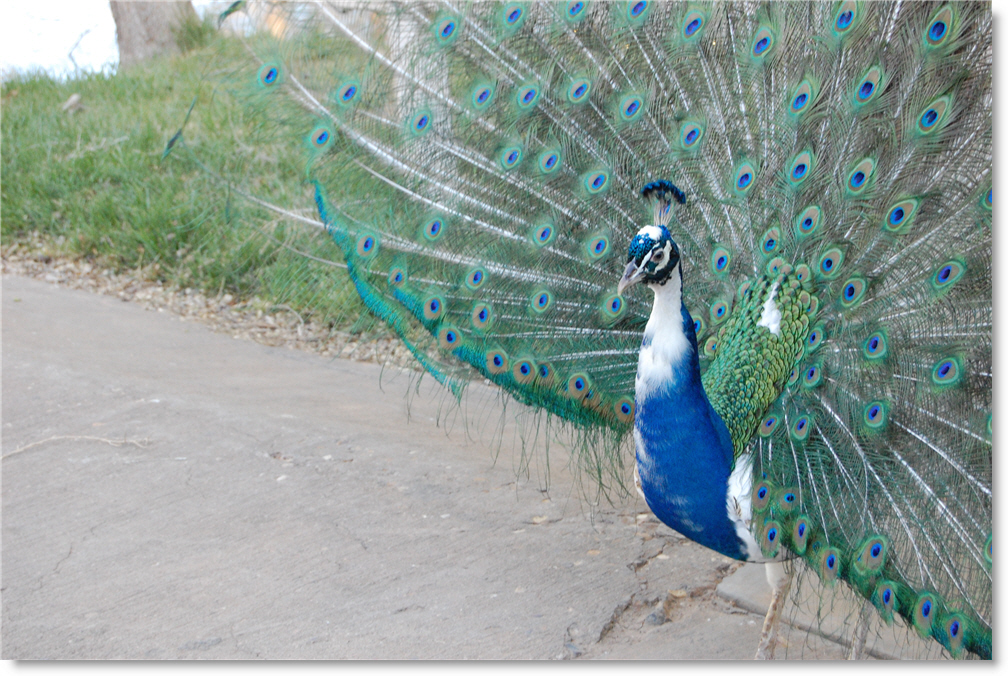 Carolina soon made friends.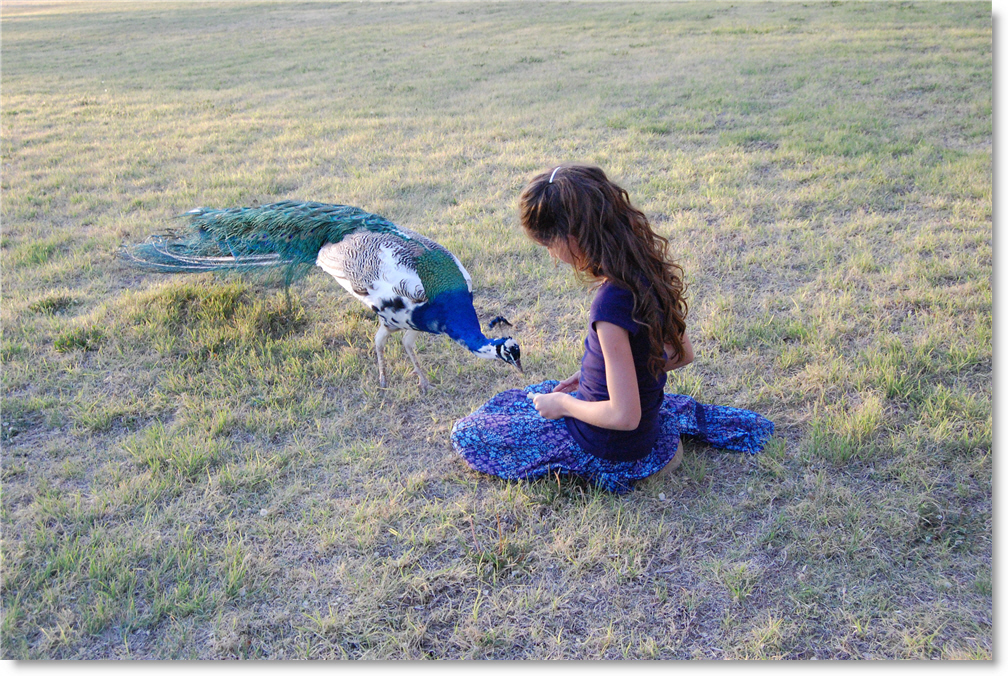 All the kids enjoyed feeding the majestic birds.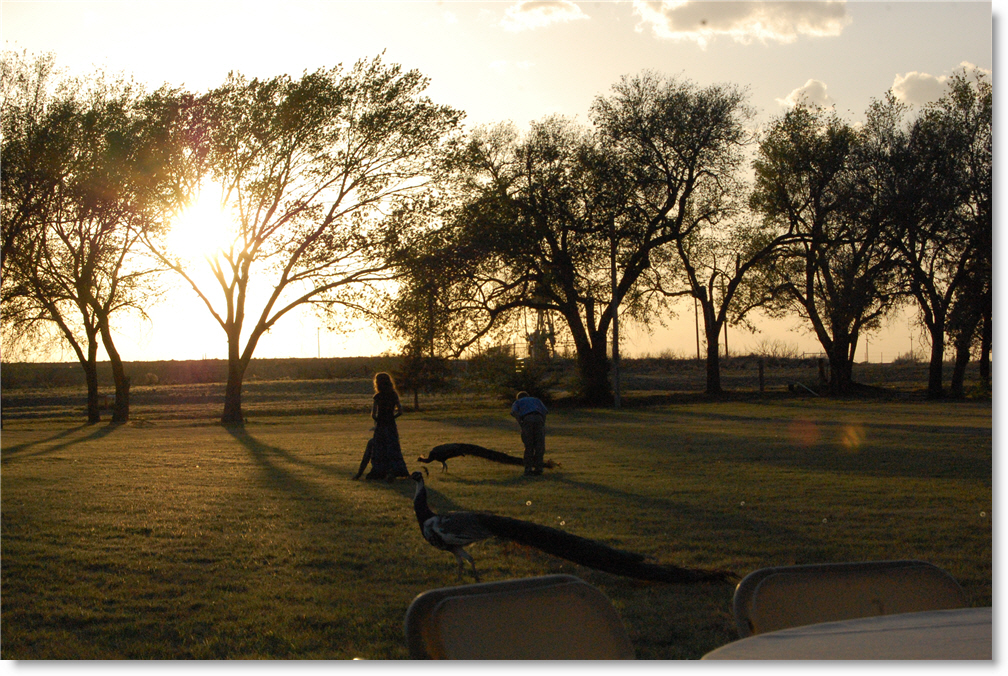 Only the younger kids came with us to the wedding. The boys and Aspen already had plans.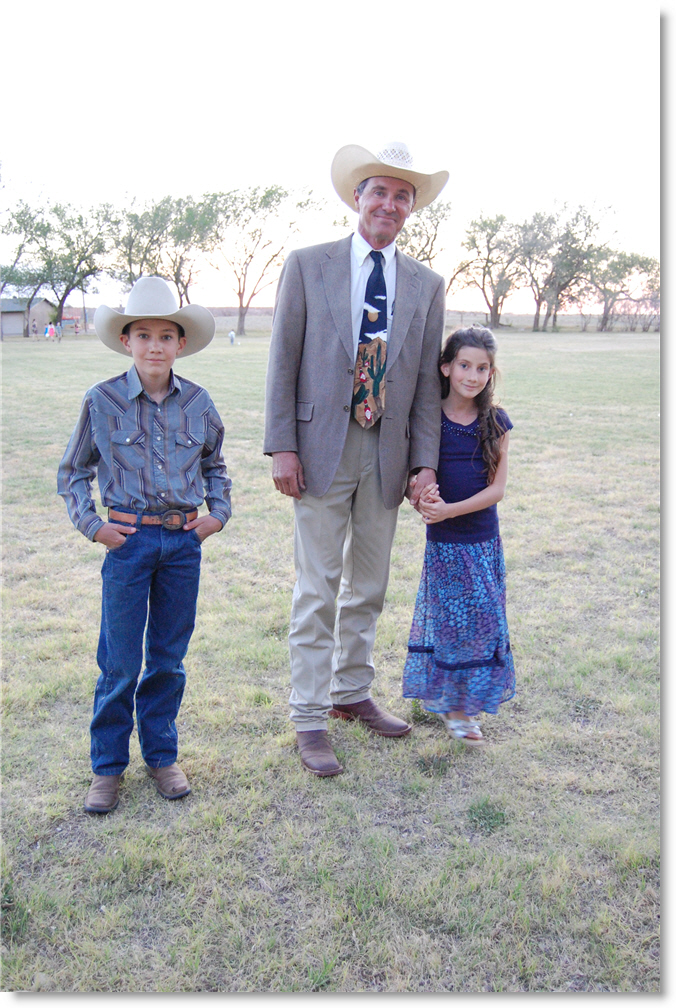 Windy and Cody.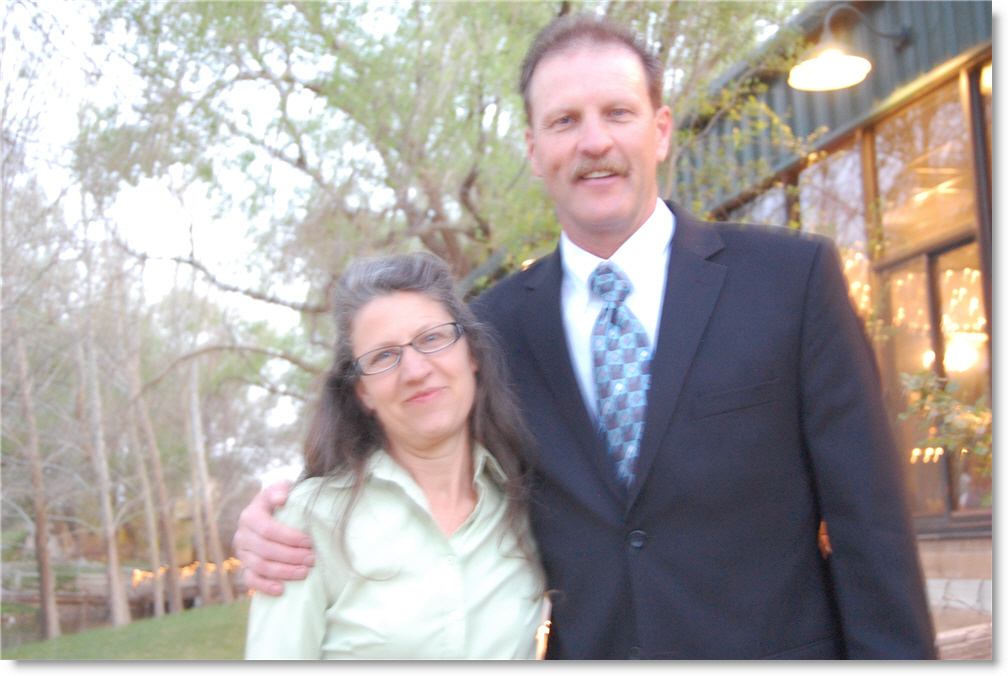 Friday Morning Curls - Carolina and I rolled our hair so we could have curls at the wedding. Carolina's curls really turned out... well, curly. She got to show them off at Elaine Phipps' birthday party tonight.
Carolina dressed in her Hawaiian outfit for Elaine's themed birthday party.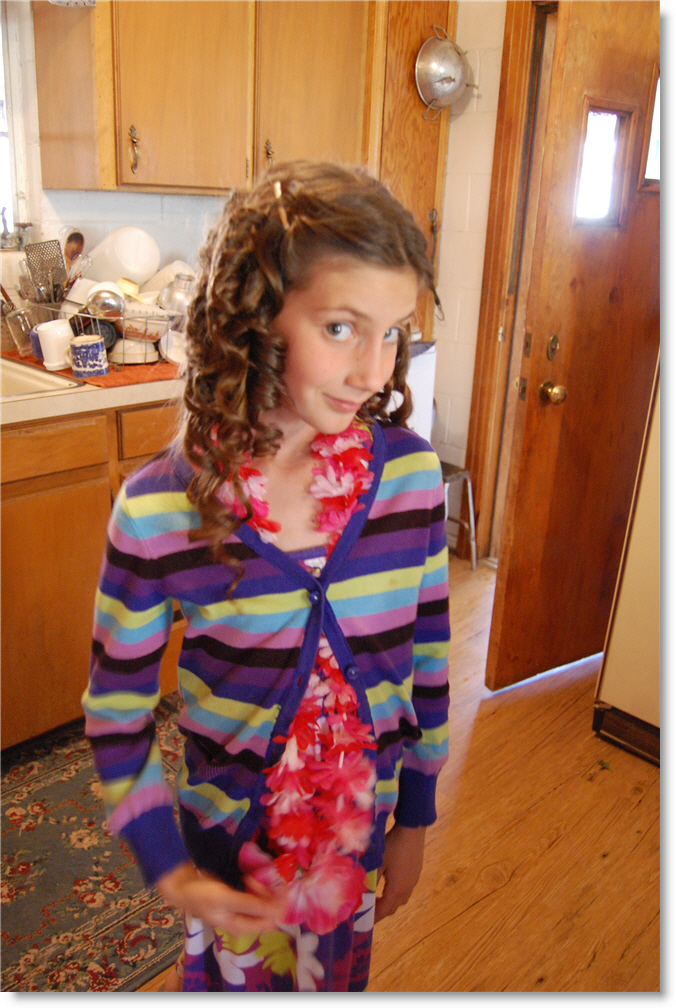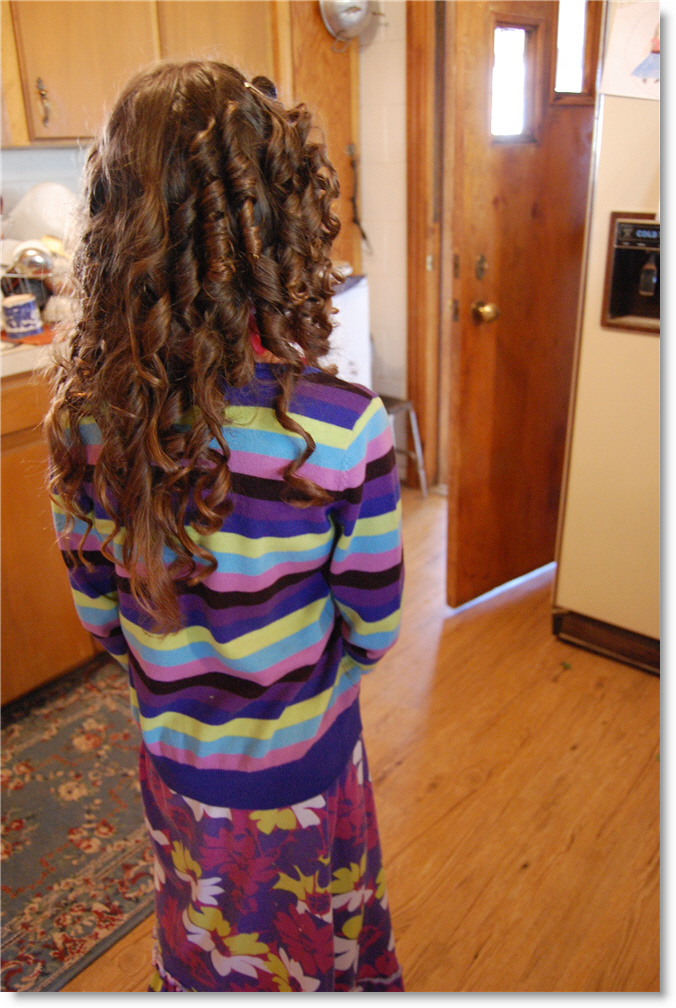 Friday, April 19 - Sunday, April 21 - Mexia Reenactment - We did something this weekend that we haven't done in several years. We attended a reenactment as a family! The big kids have been to several reenactments in the last couple of years, but it had been a while since all of us had been able to attend. This reenactment in Mexia has always been one of our favorites. It was great to see so many old friends. I didn't know if we'd be able to actually make it to one of these events without Atlanta. She's always done the lion's share of preparation and packing for us. But, we managed to pull it off without leaving behind too many important items (I did have to consult with her a couple of times by phone!).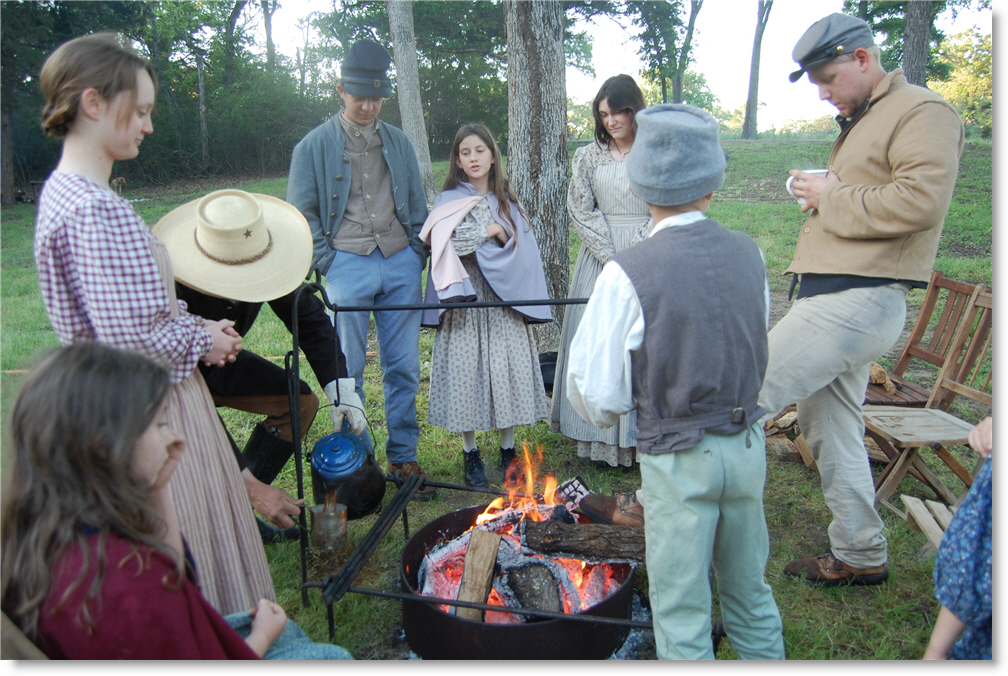 Our friend, Kayla Alexander, was able to come along.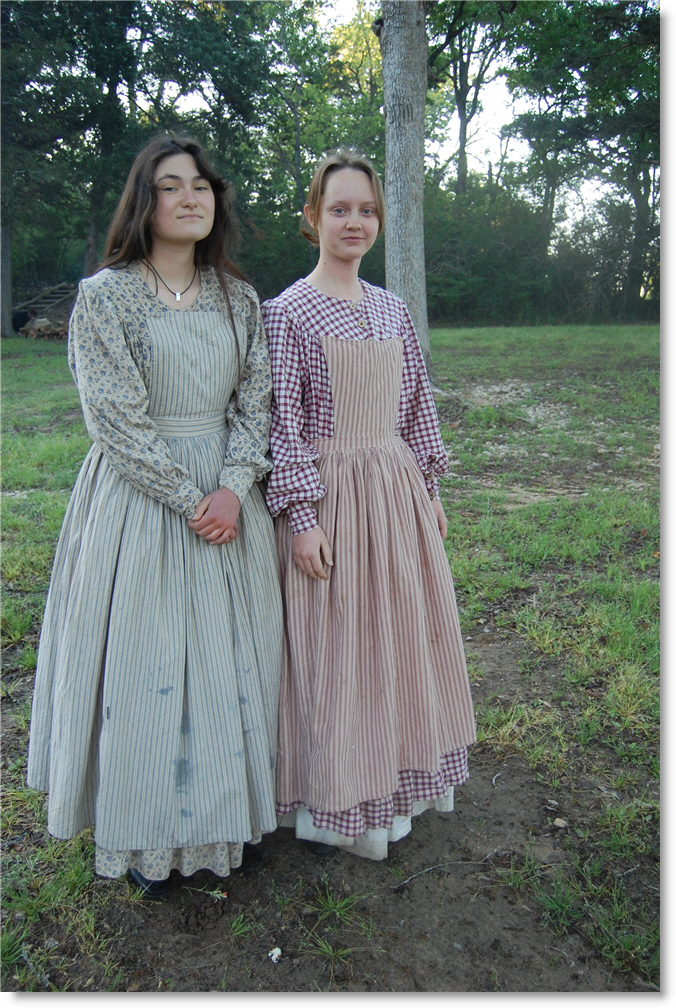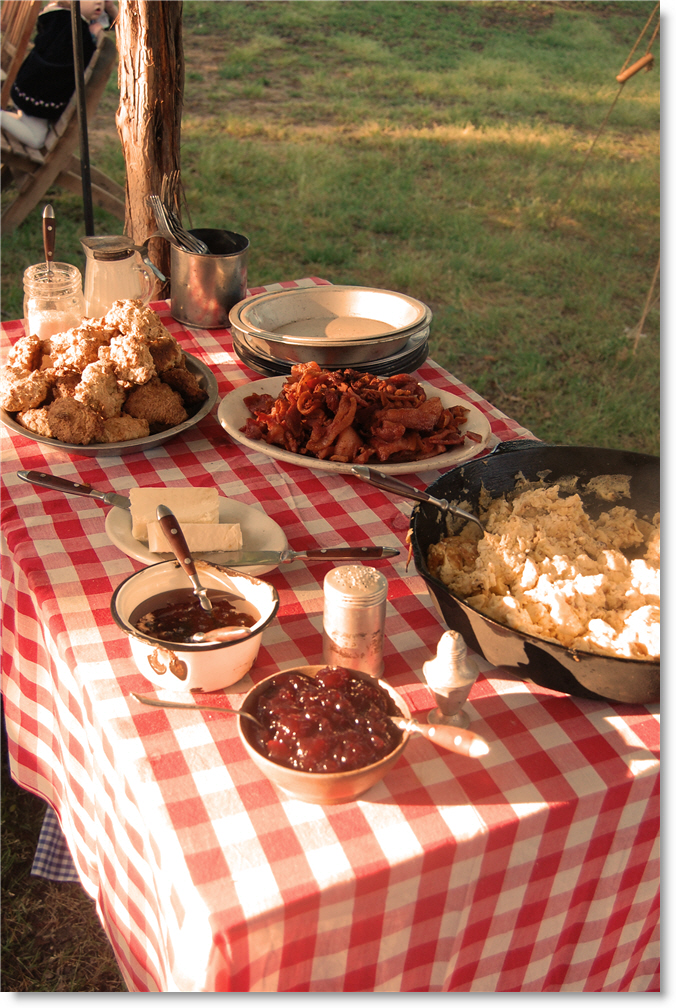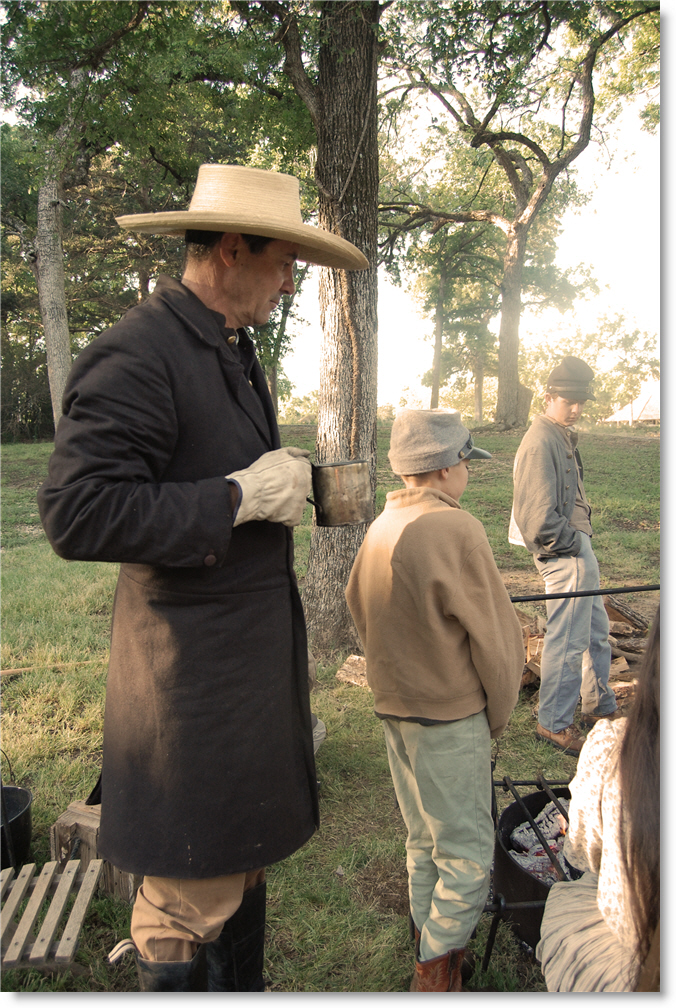 Anthony Phipps was also along for the weekend.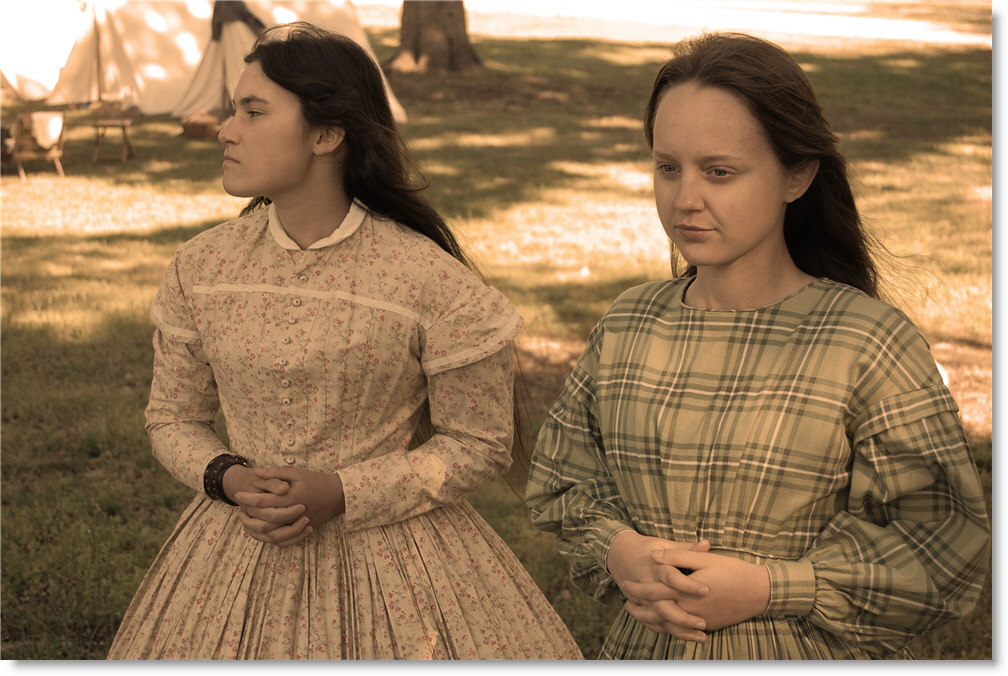 ...another Phipps brother, Grant.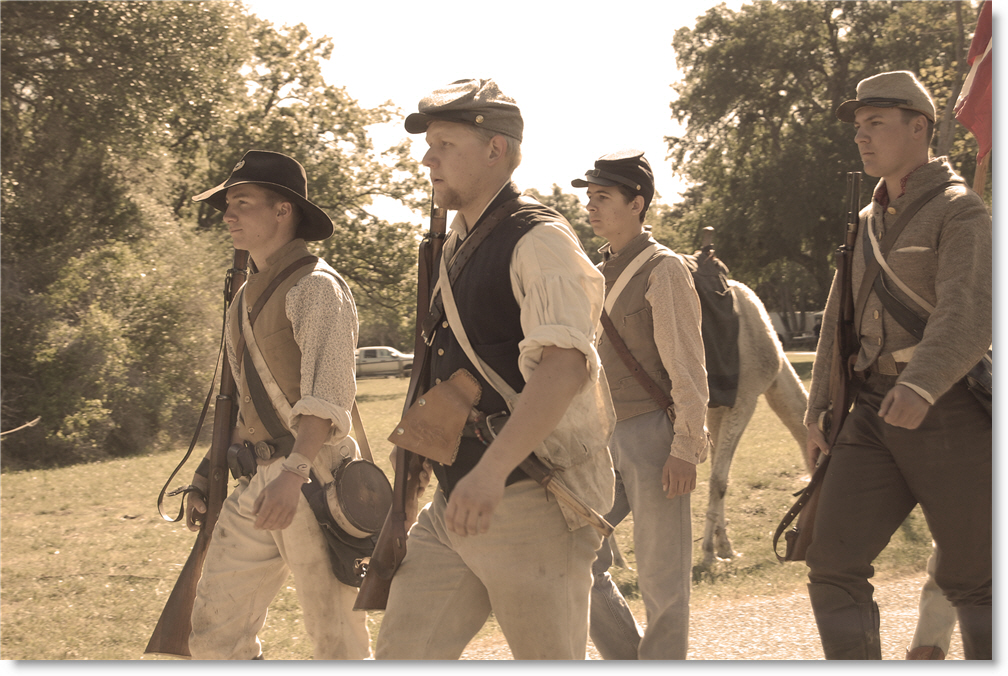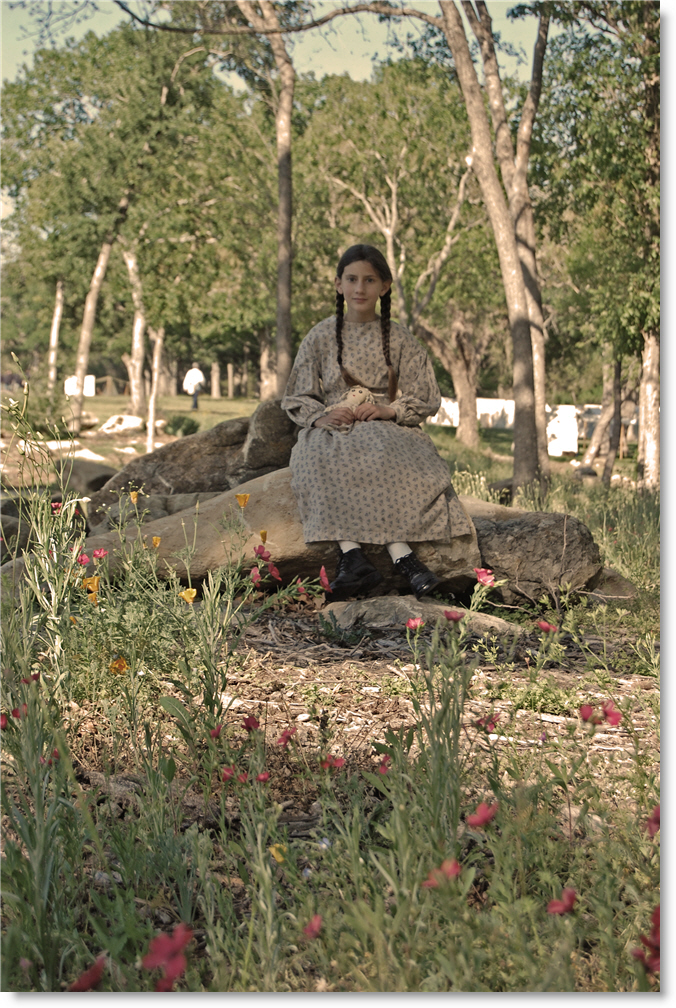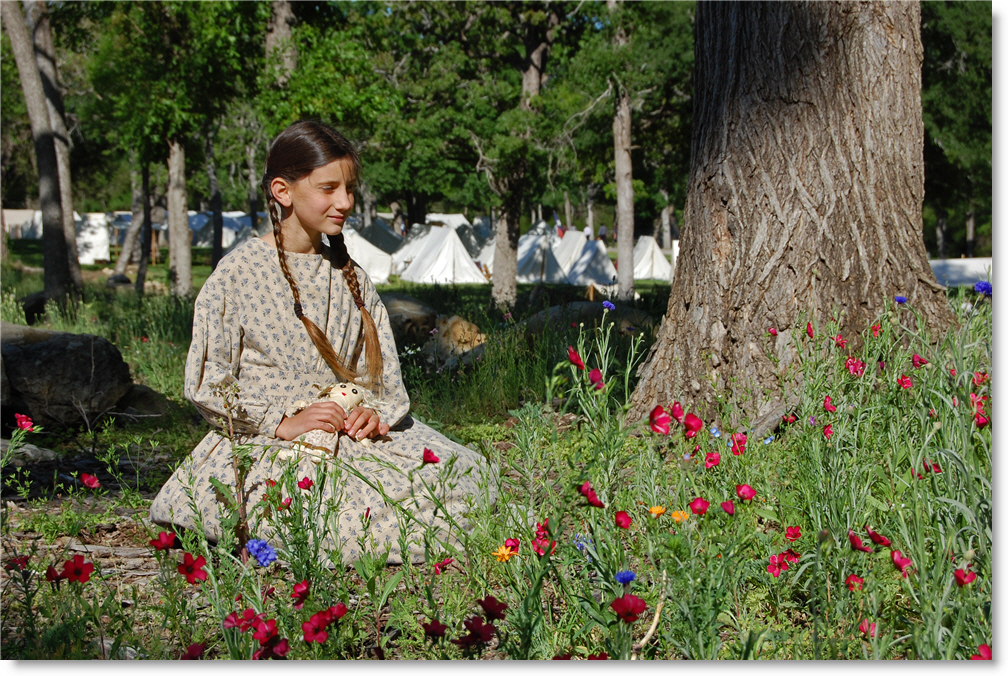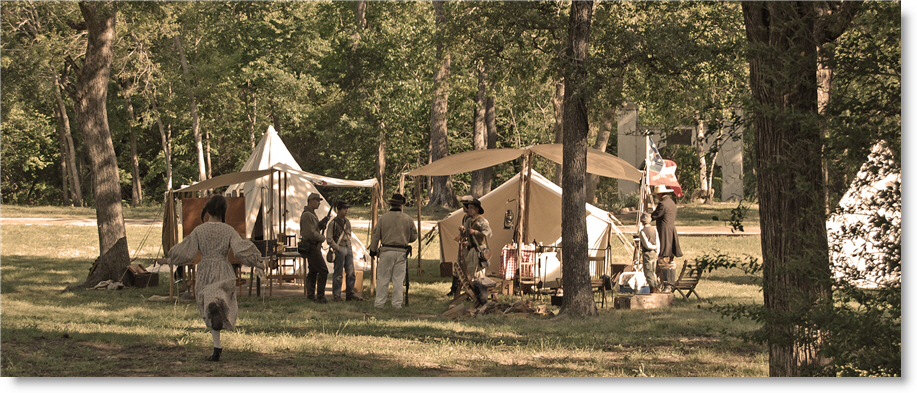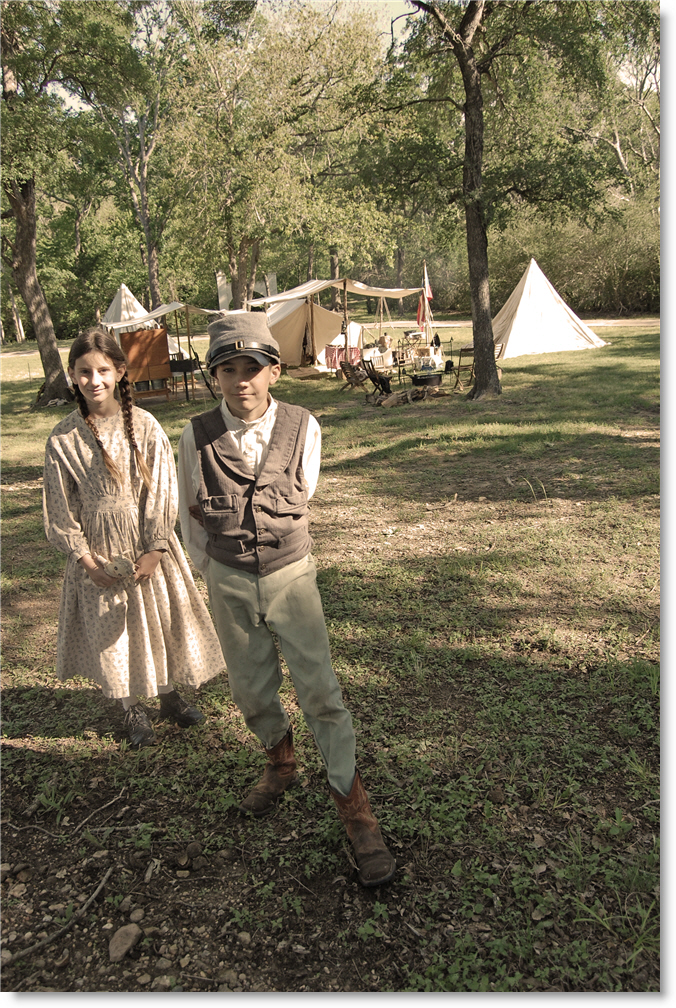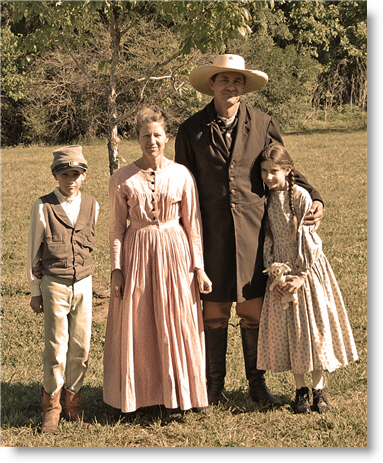 Shopping at the sutler's tents is always a highlight for the young ones.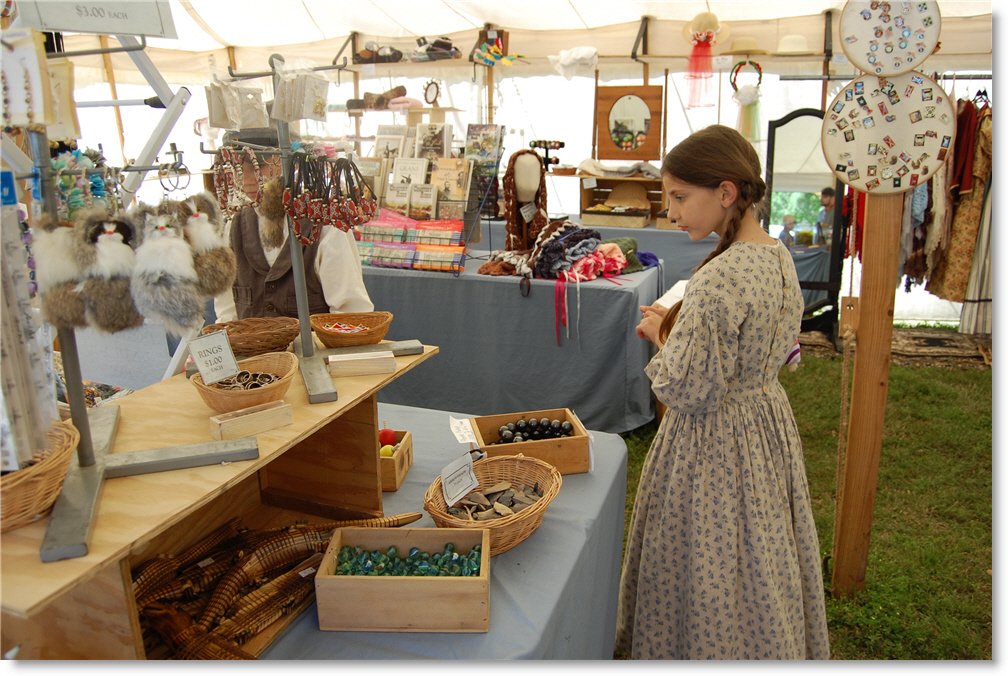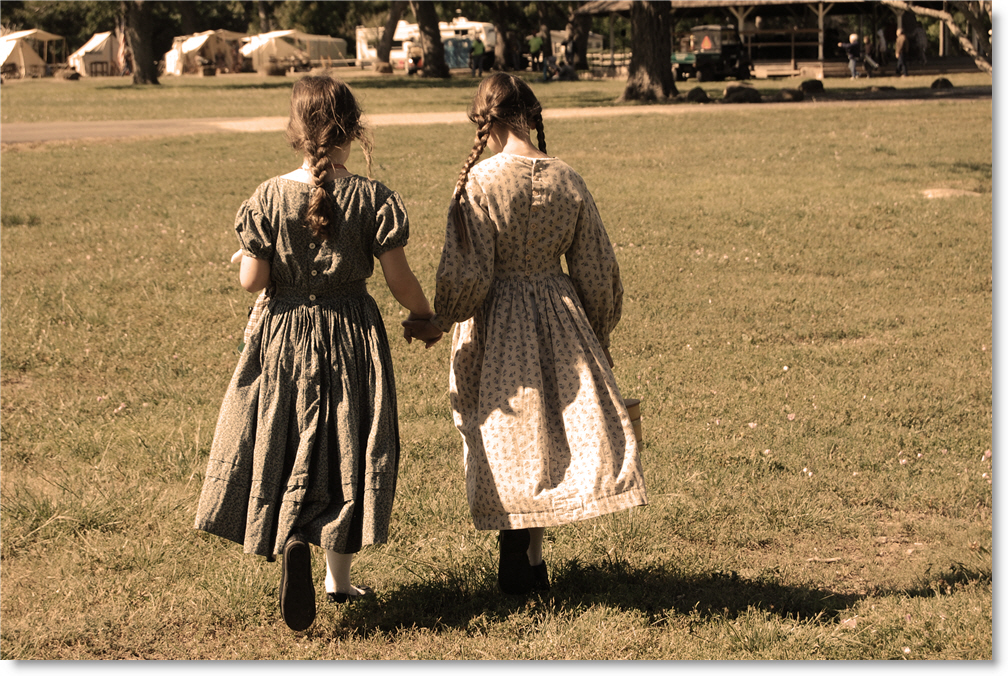 Lunch!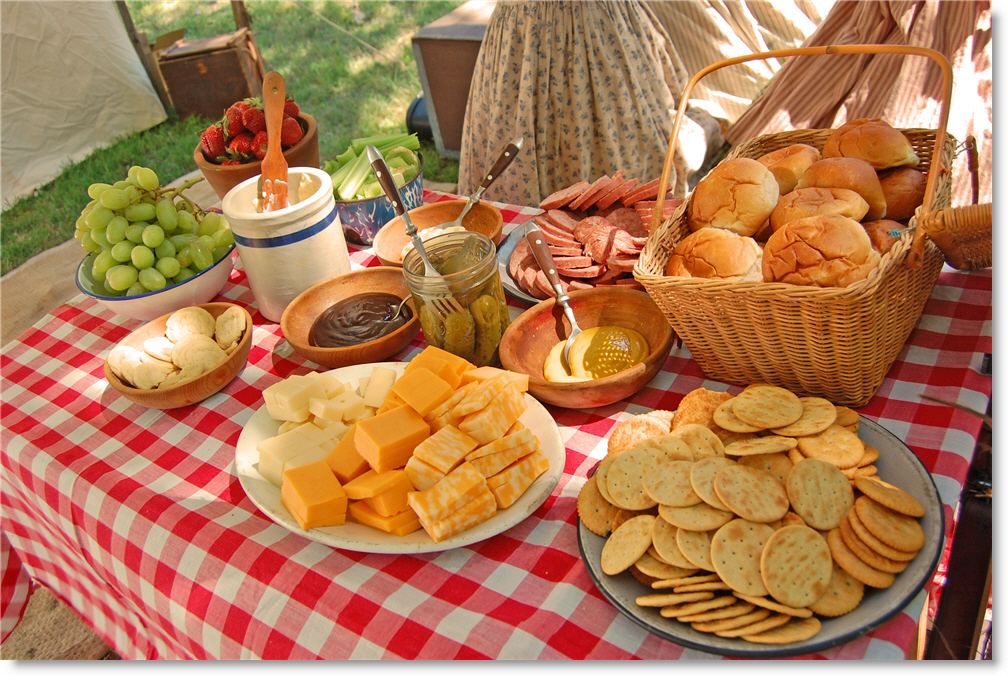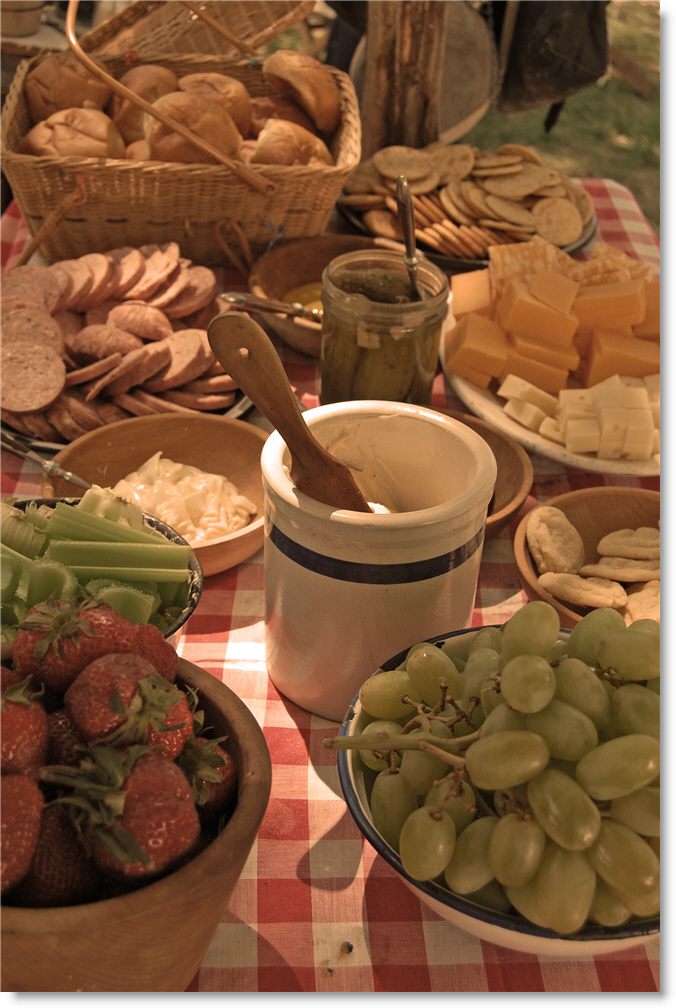 The kids picked these wildflowers nearby.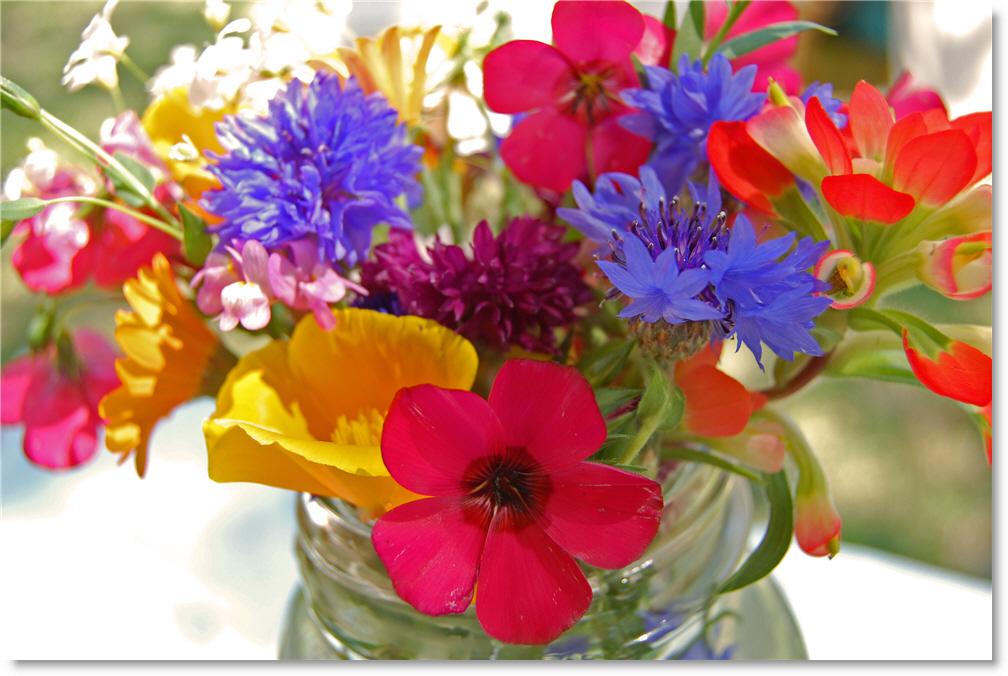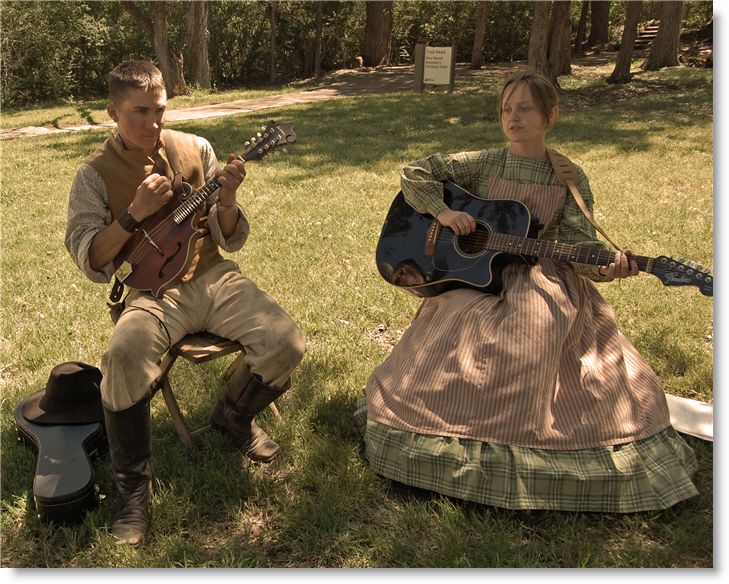 Local homeschoolers that we've gotten to know over the years-Hannah and Isaac Hall.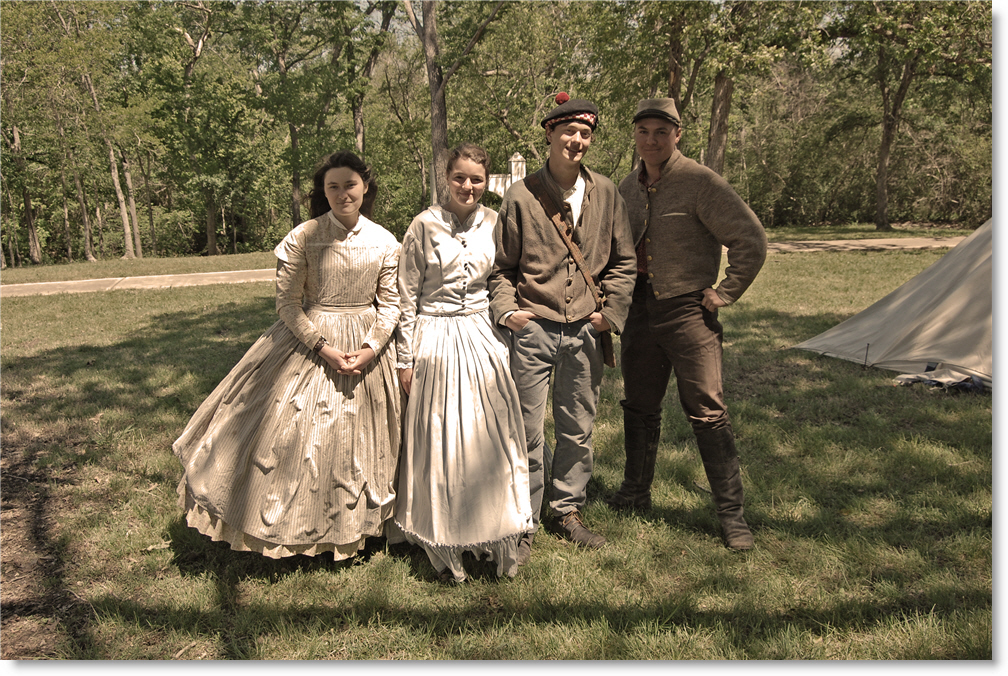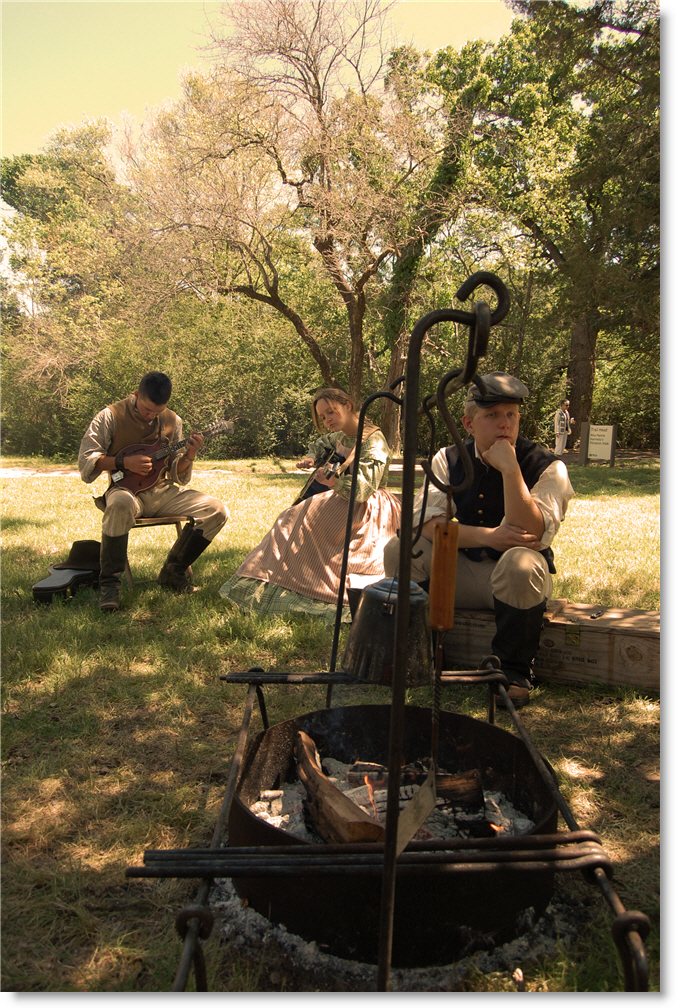 Good friend, Kurt Barnett, musters the troops.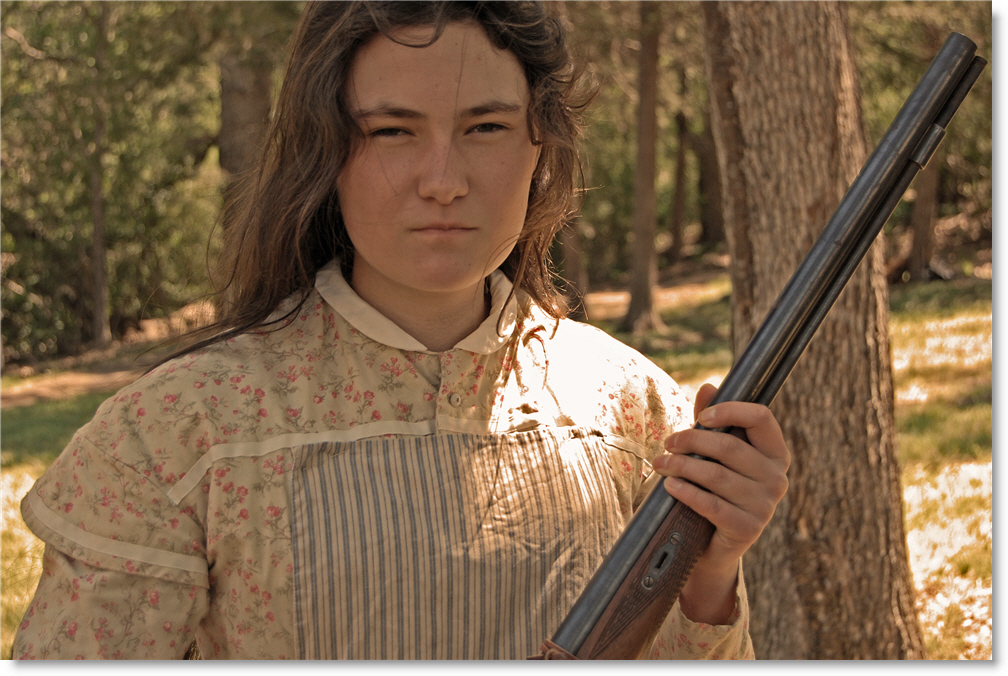 Heidi Barnett and Carolina get ready to watch the afternoon battle.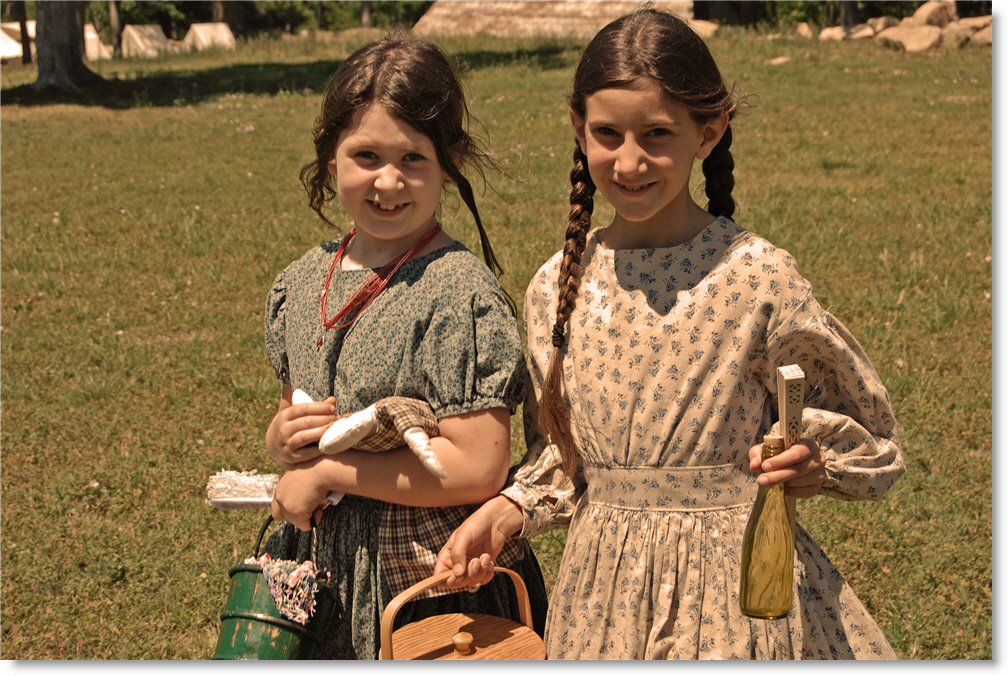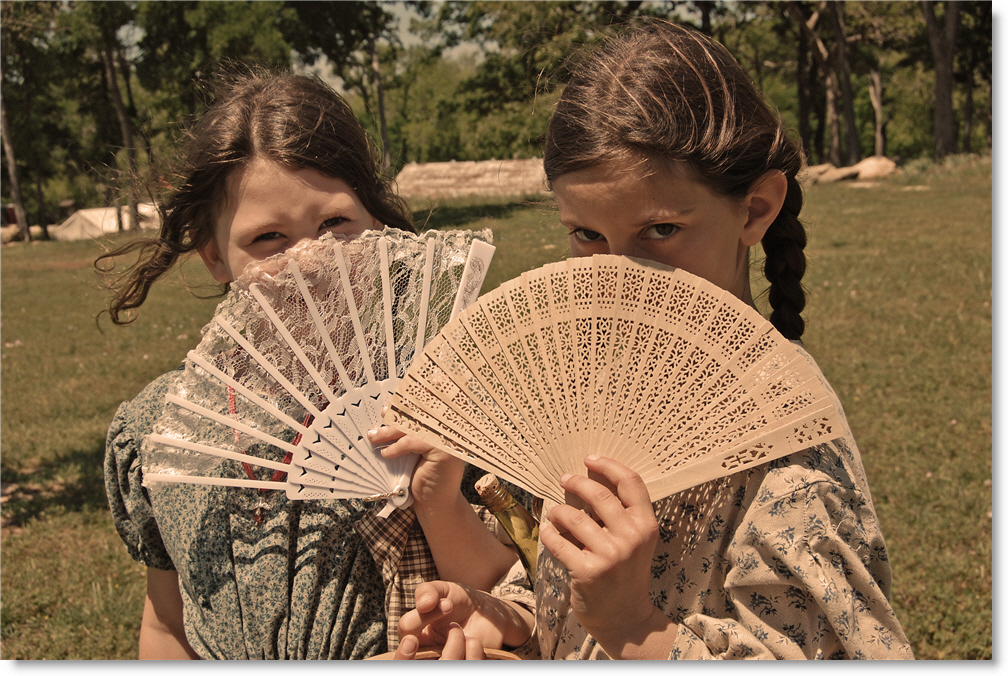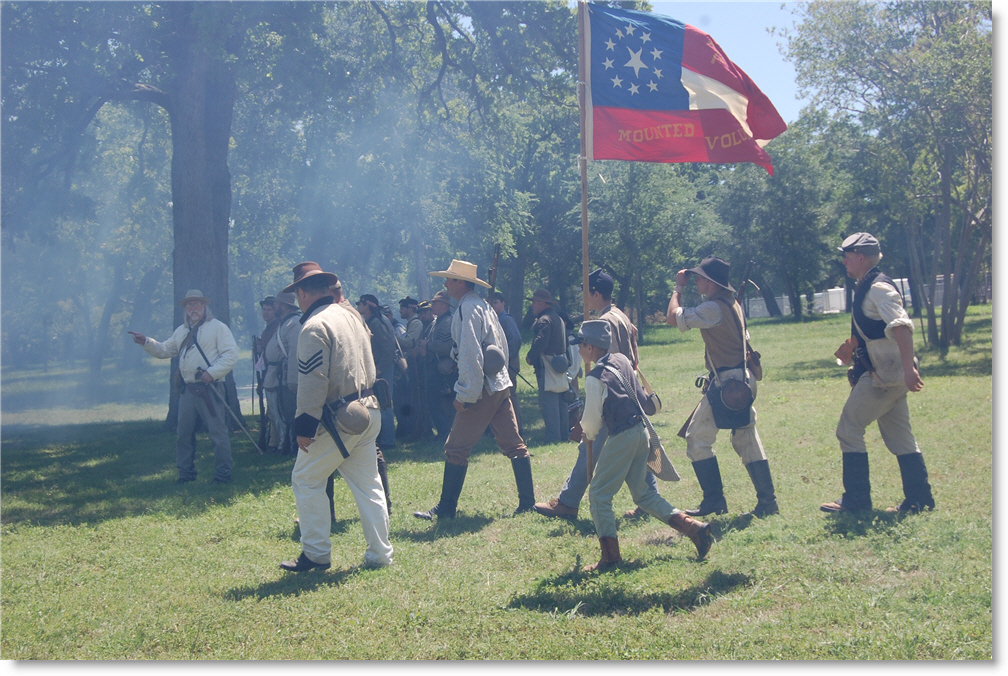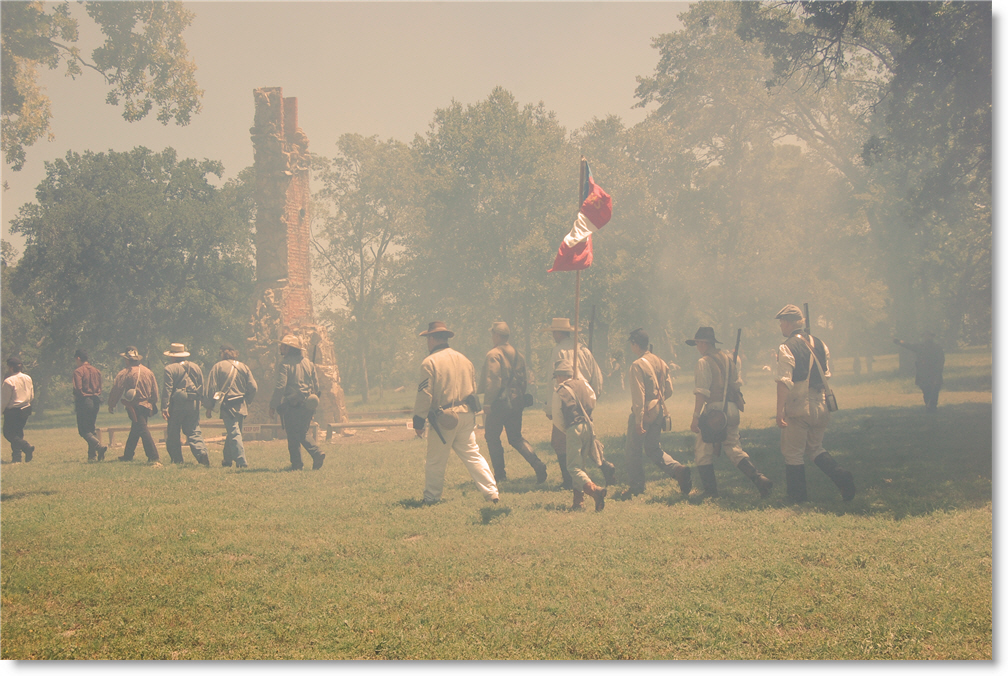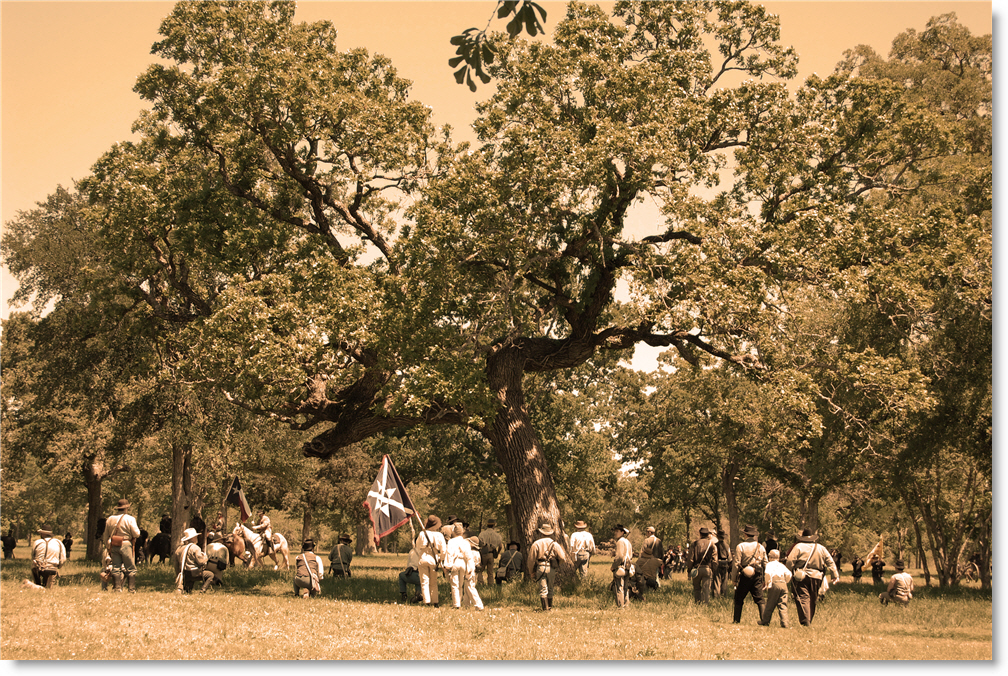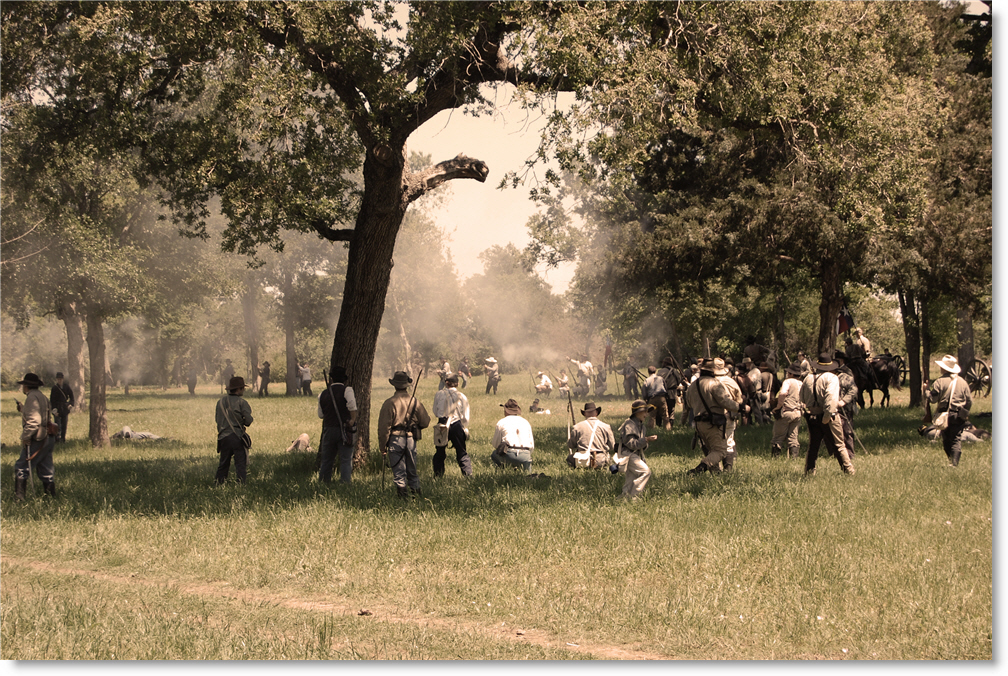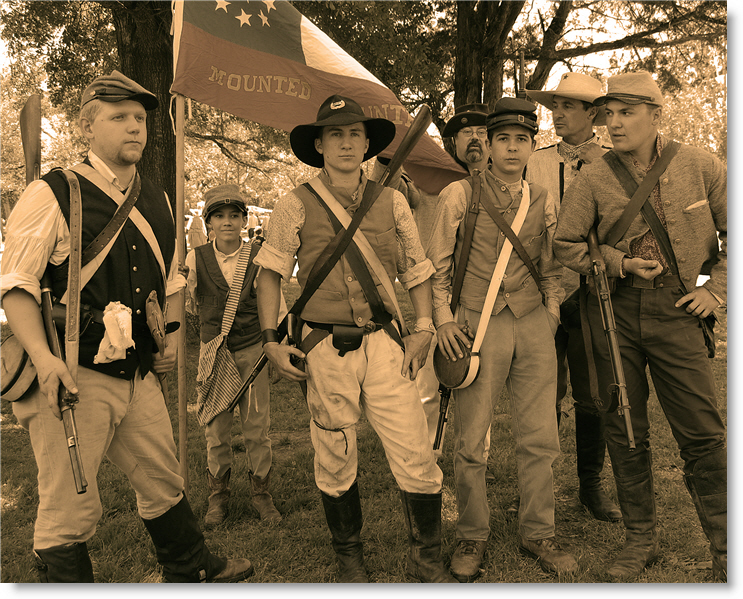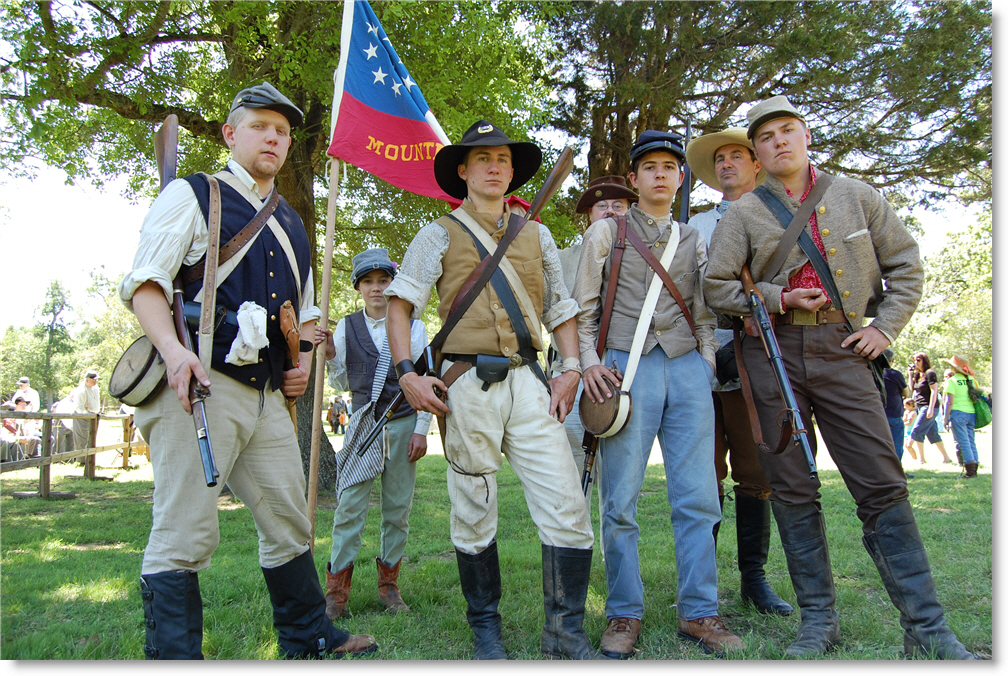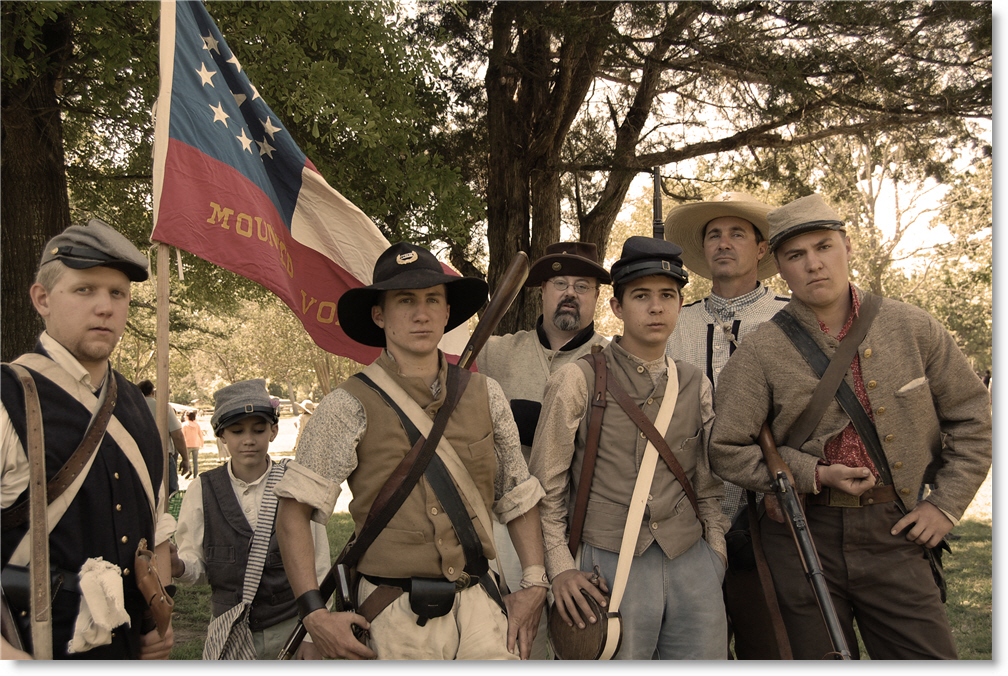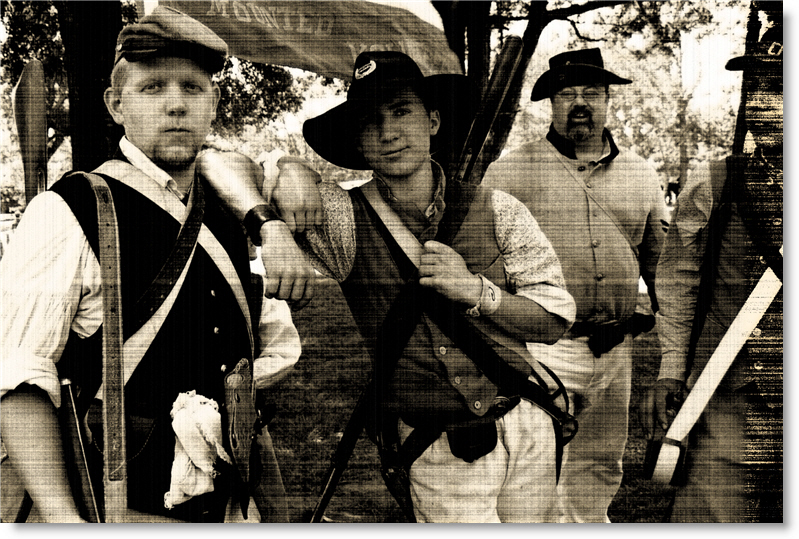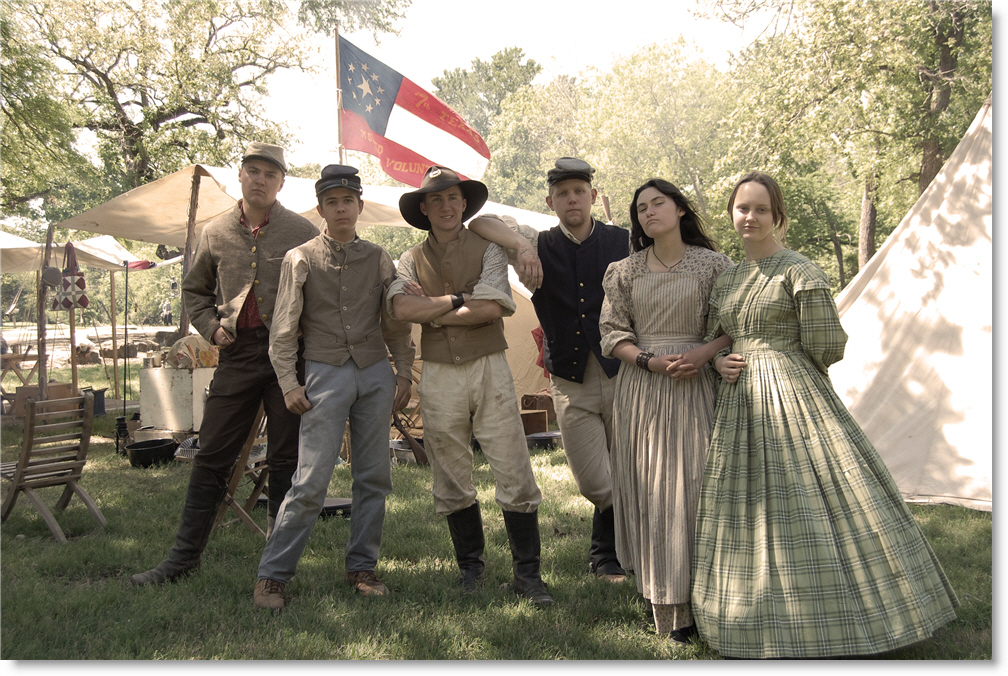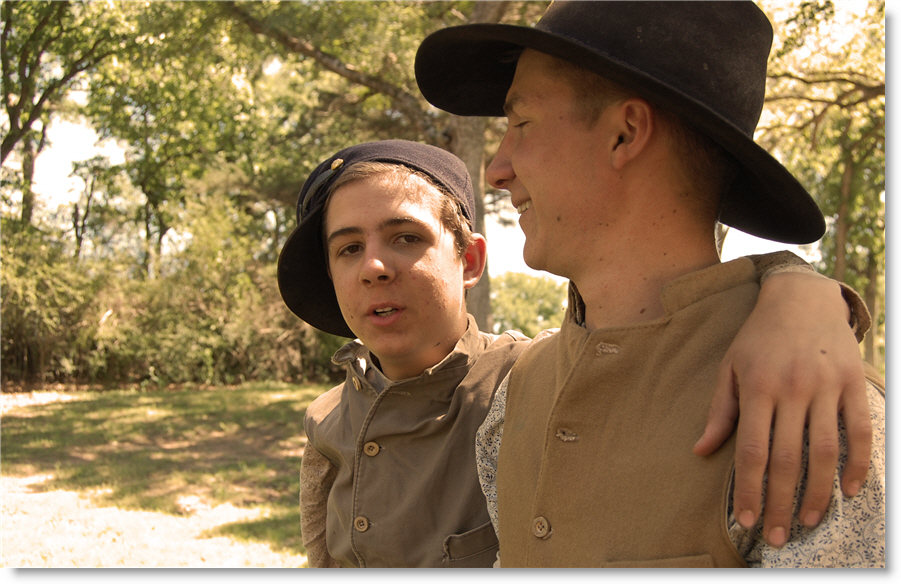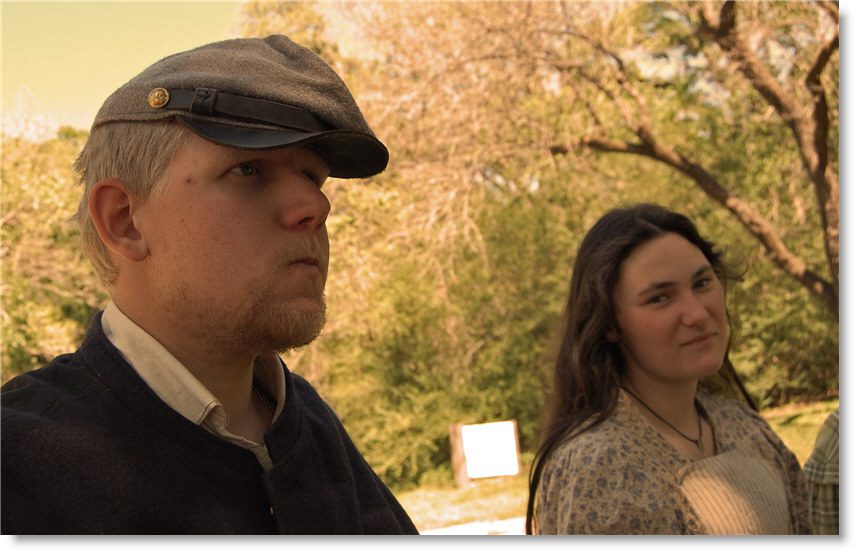 April Barnett with youngest daughter, Sophia.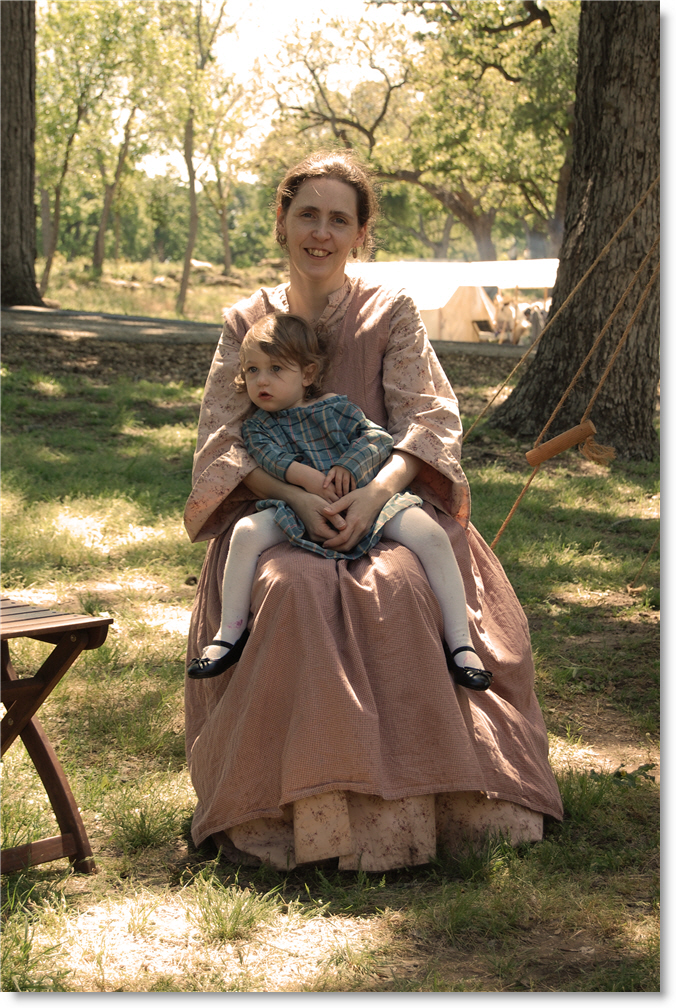 Cim finds an eager listener in Mason Dixon Barnett (a.k.a. Bubba).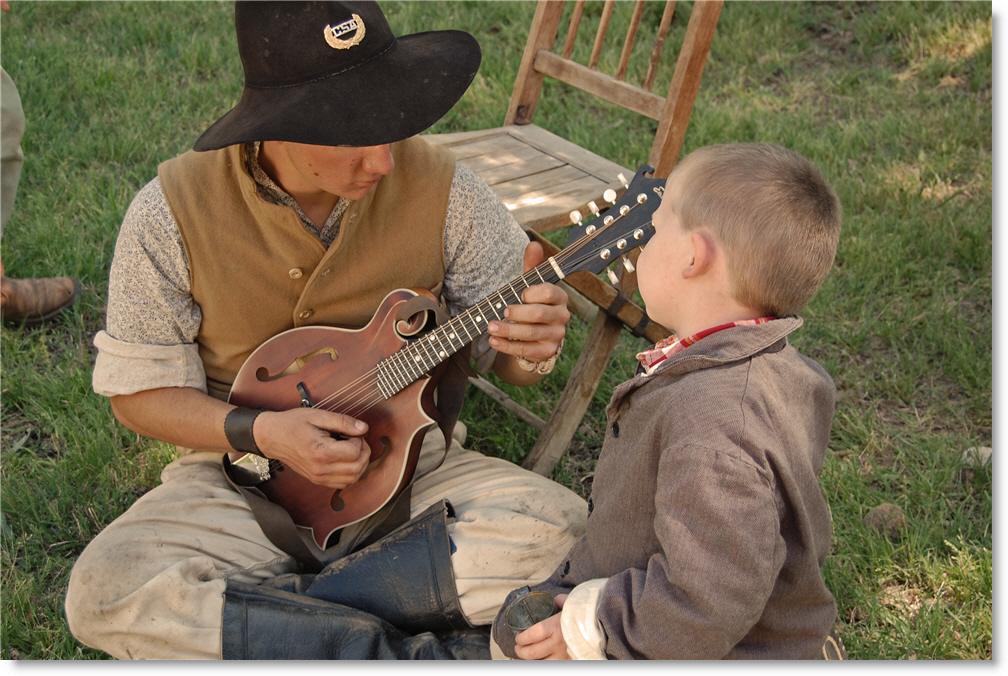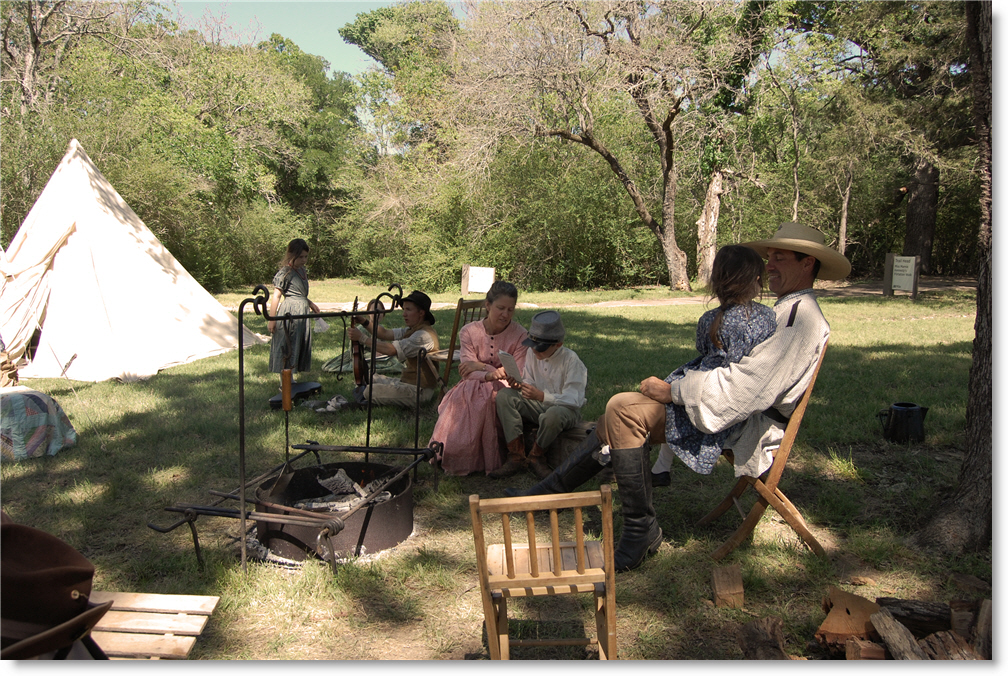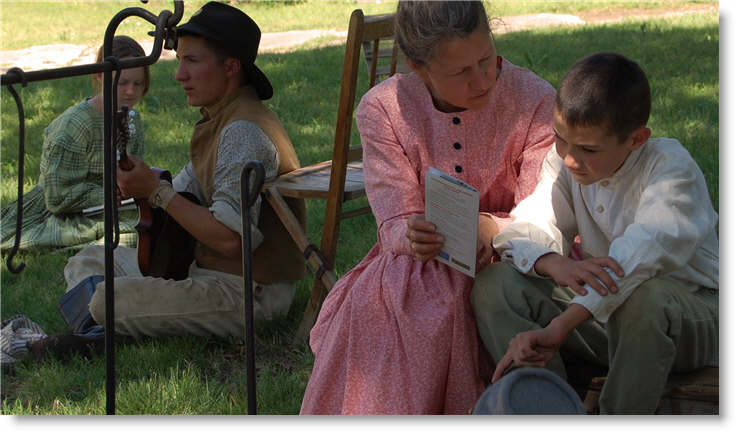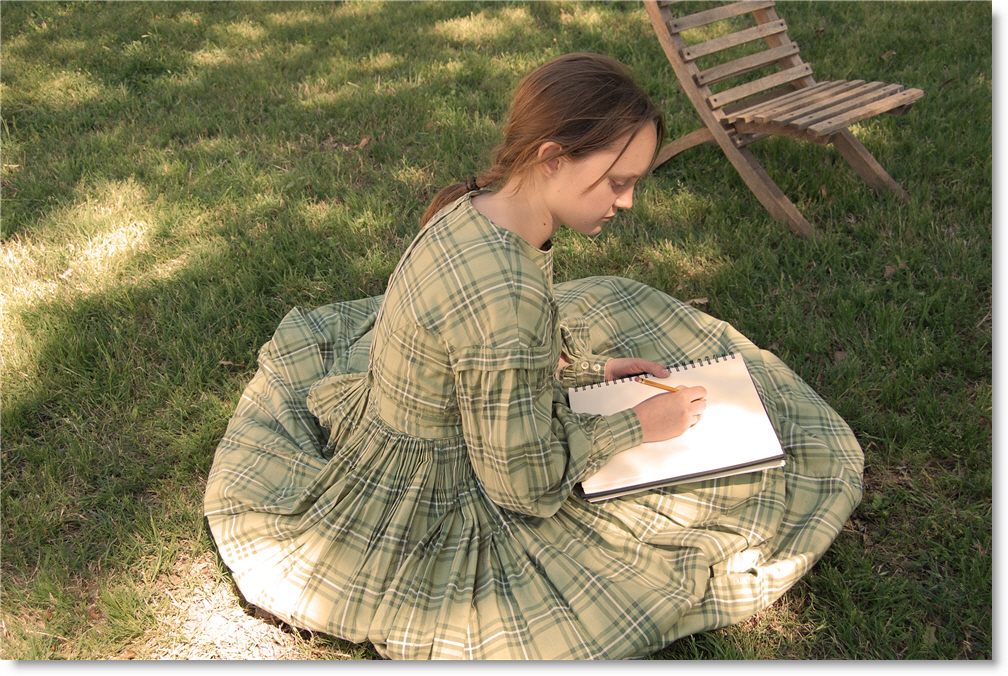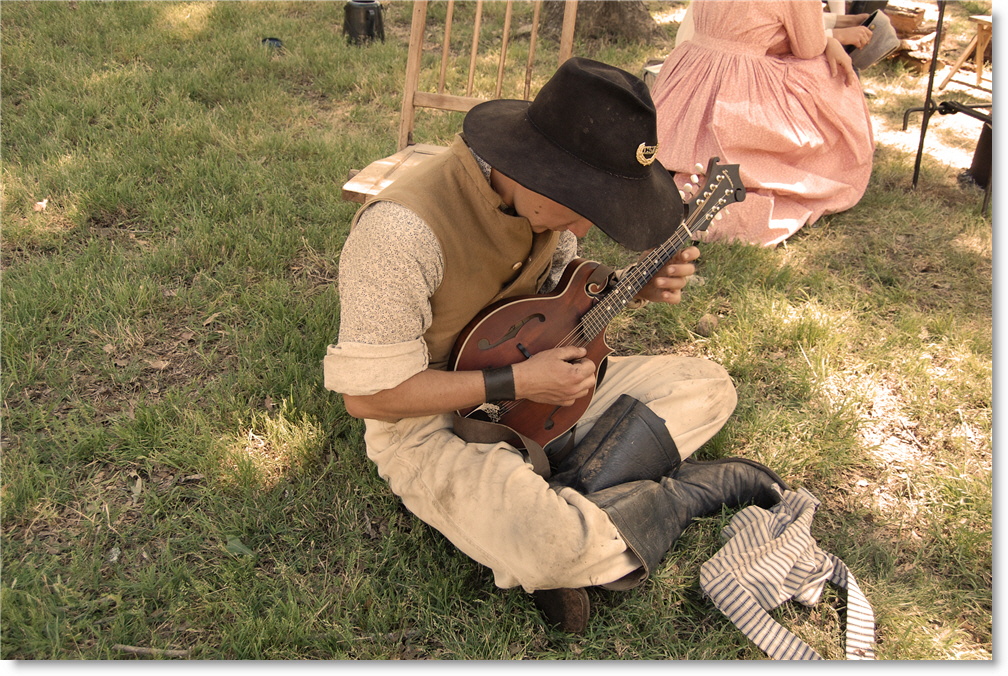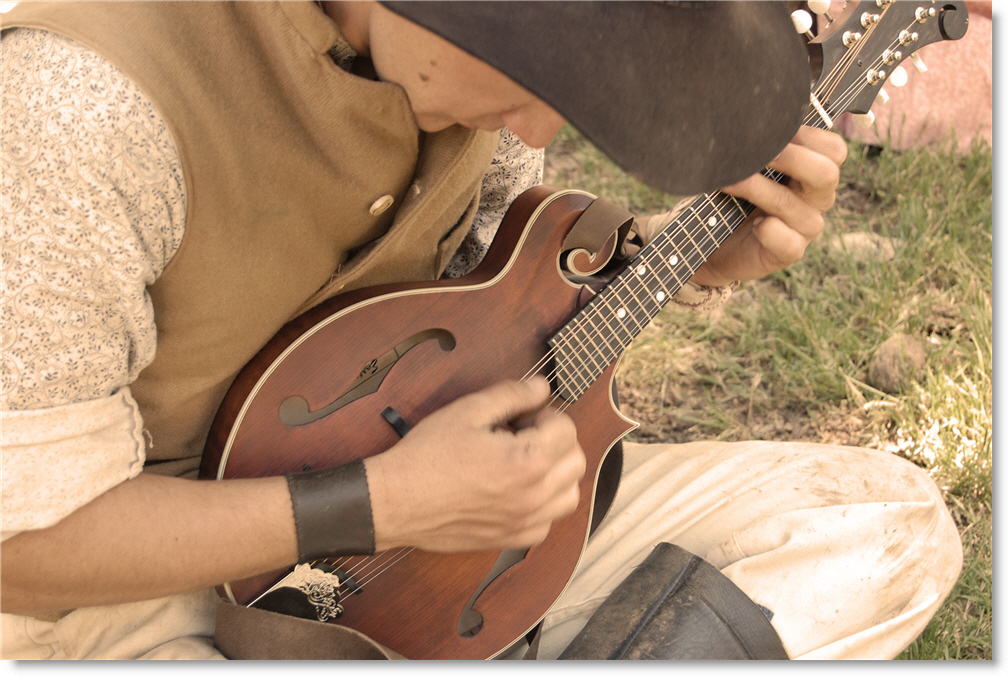 This popular tent houses the ice cream sutler.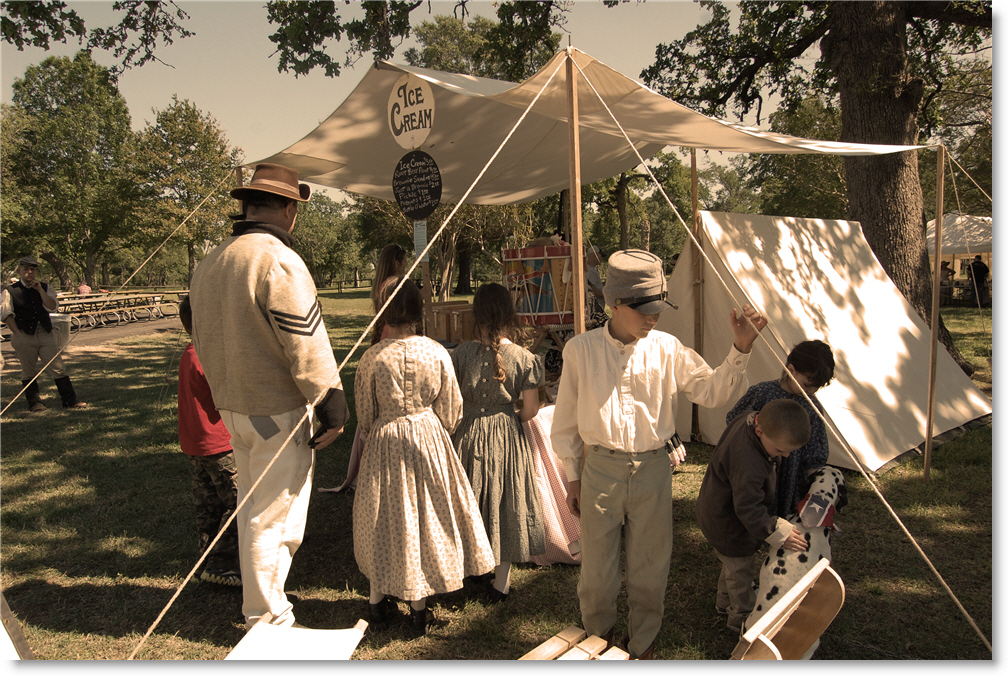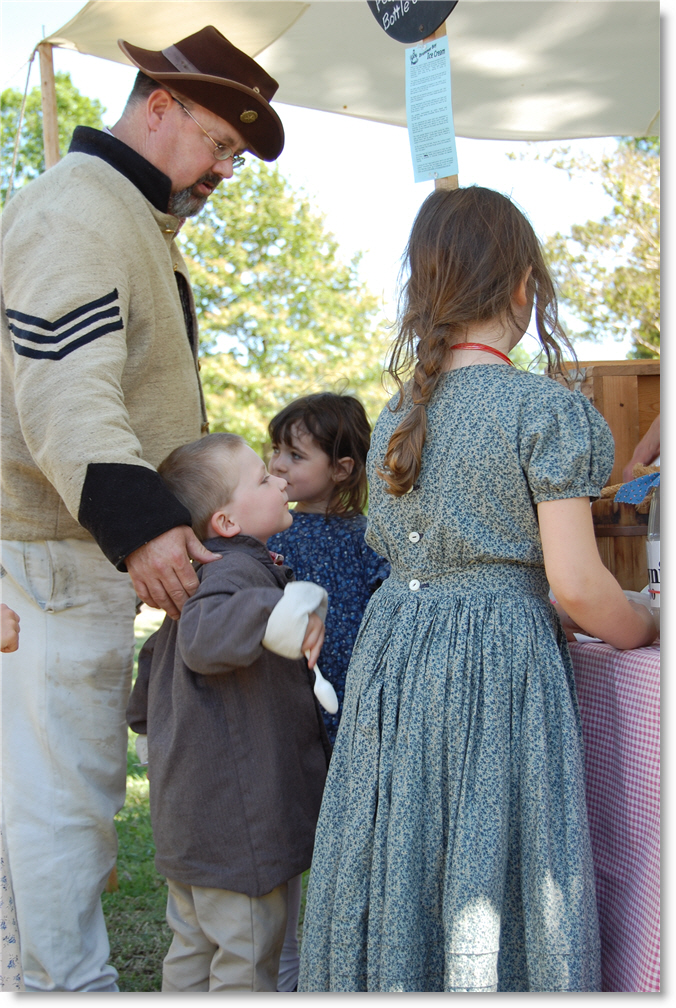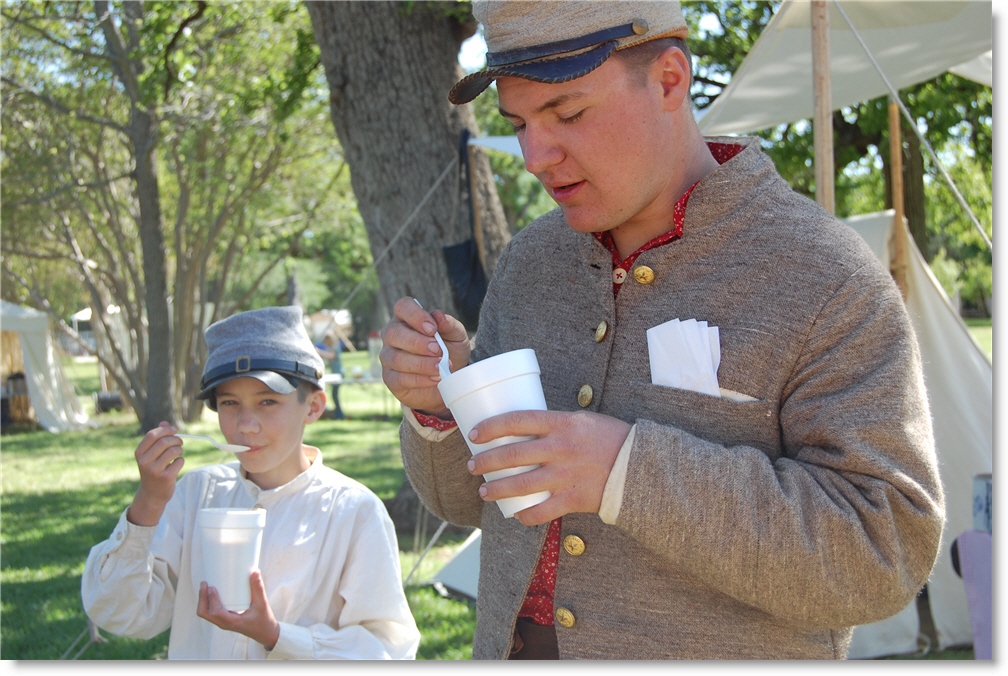 Girls ready for the Saturday night ball.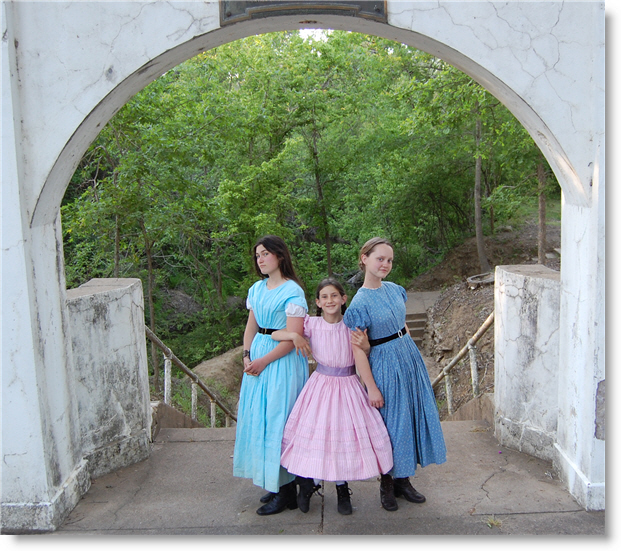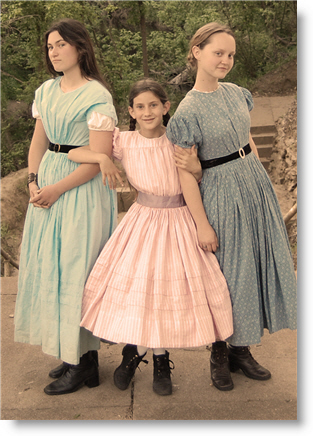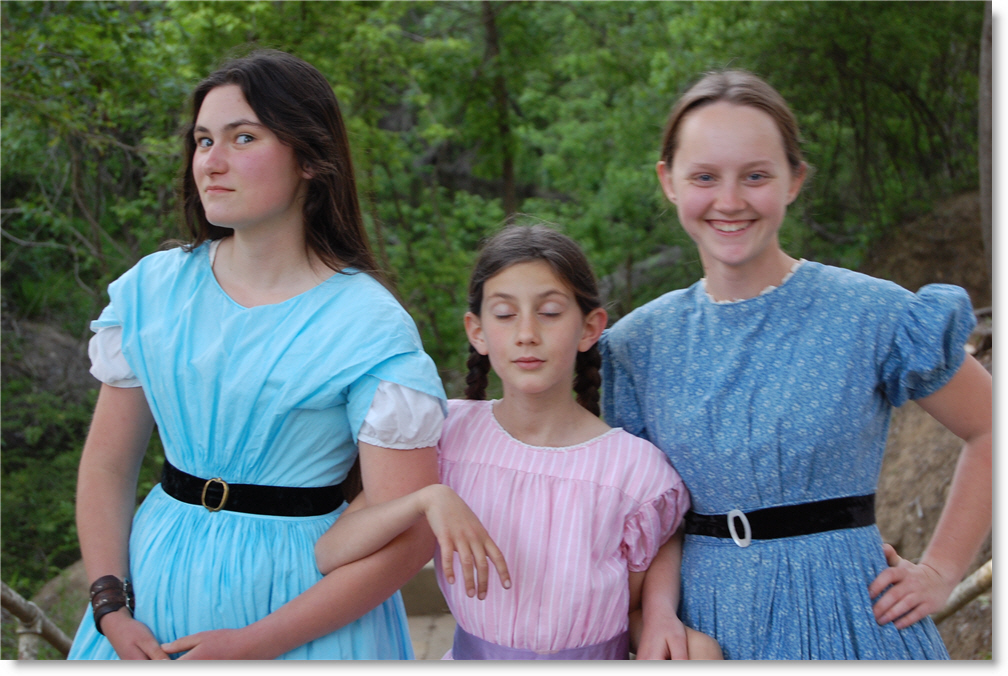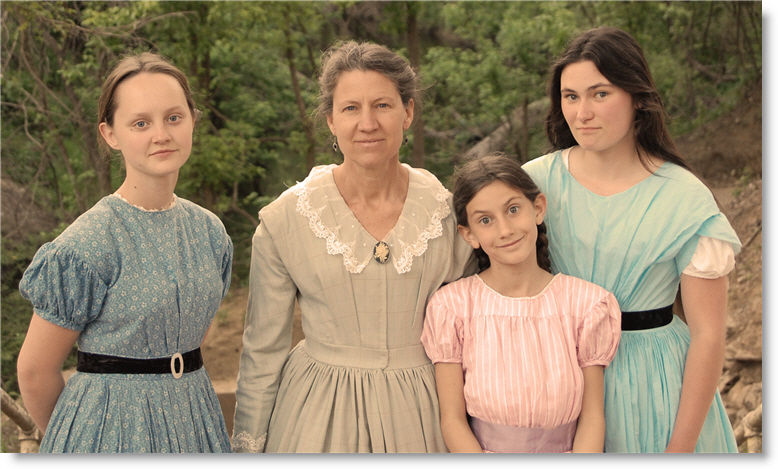 The whole gang with Nathan Hall in the back.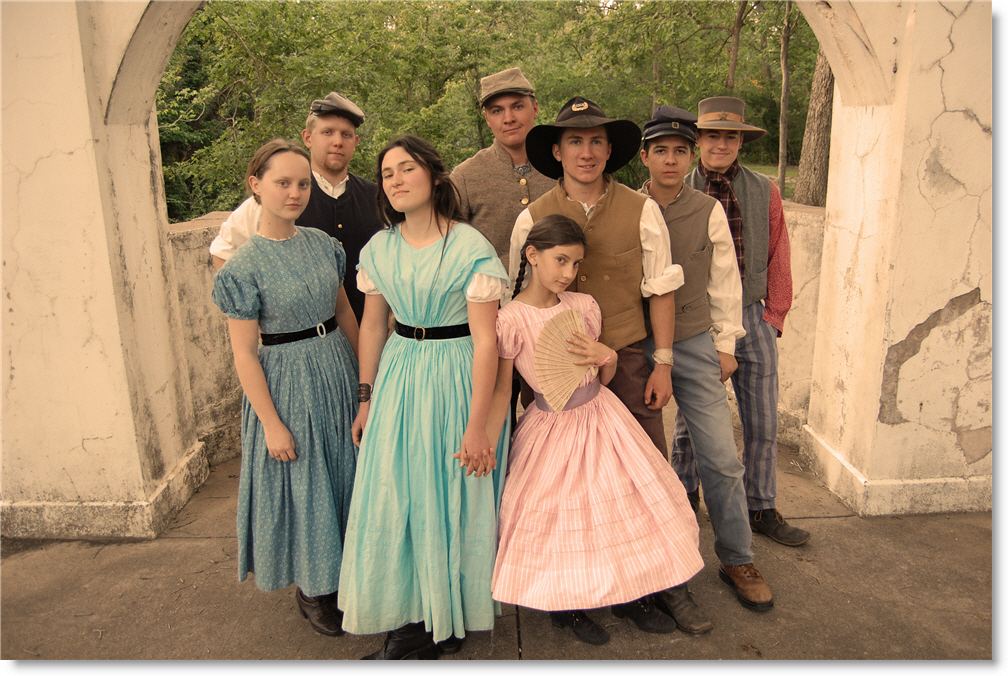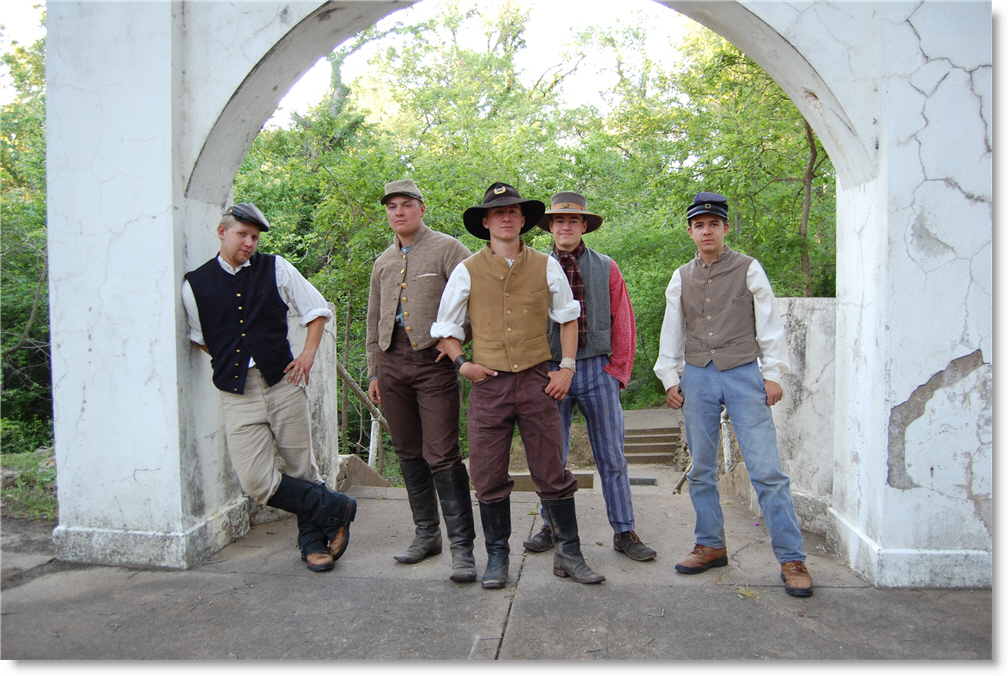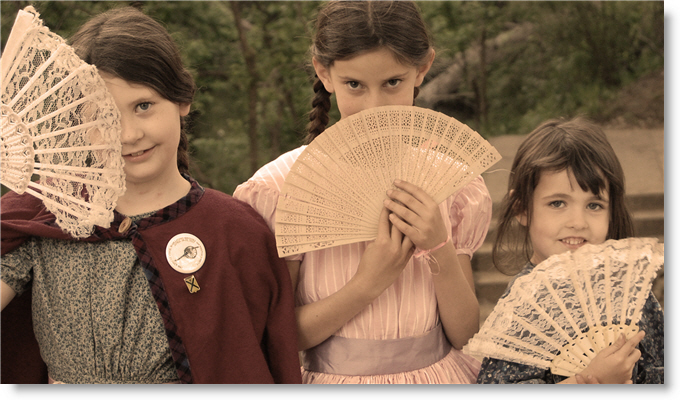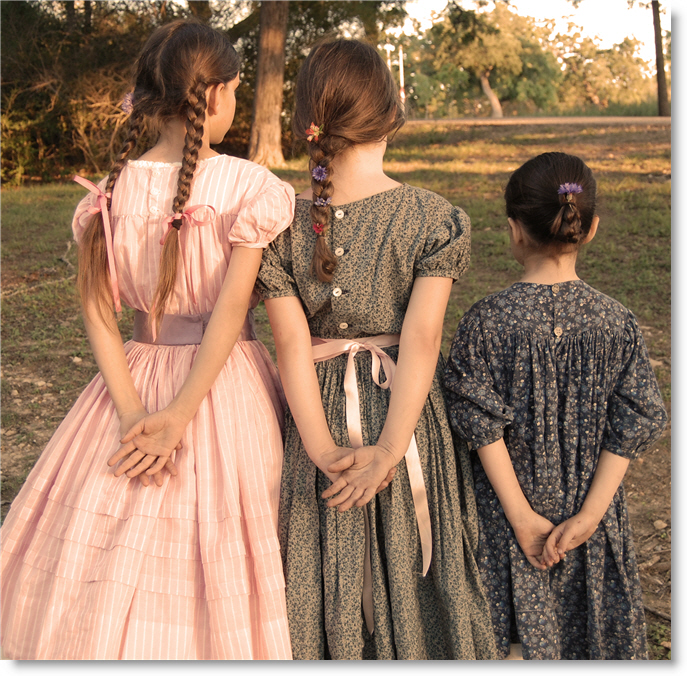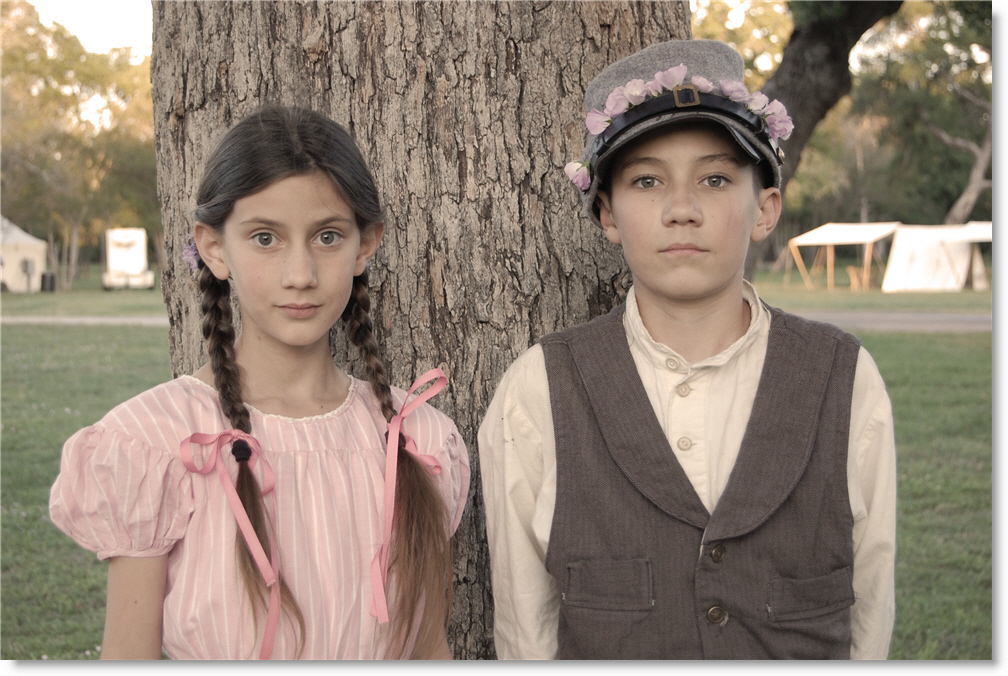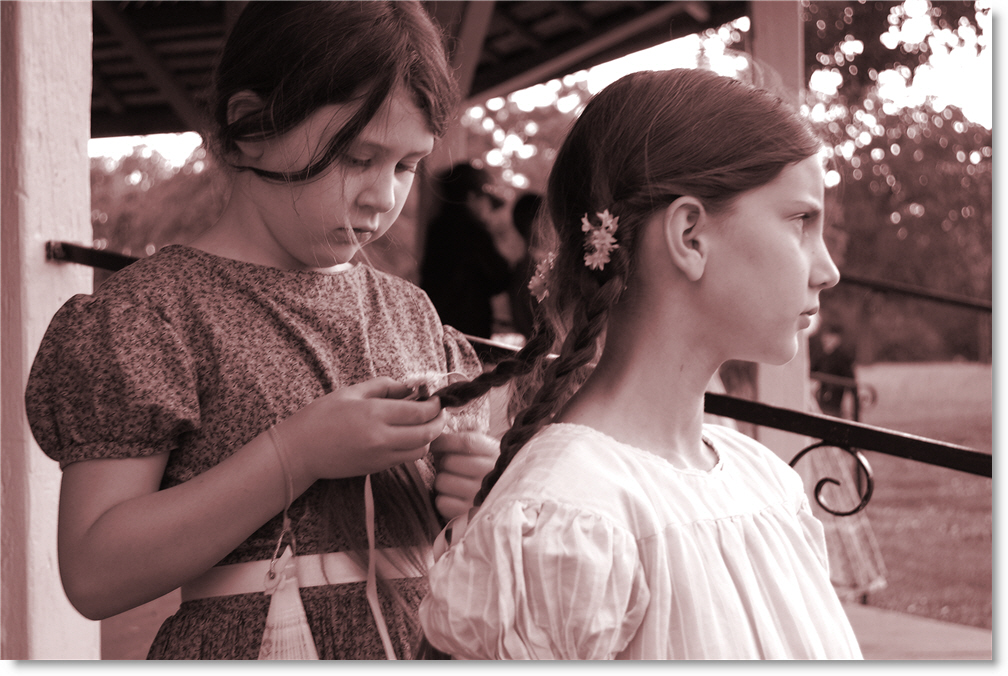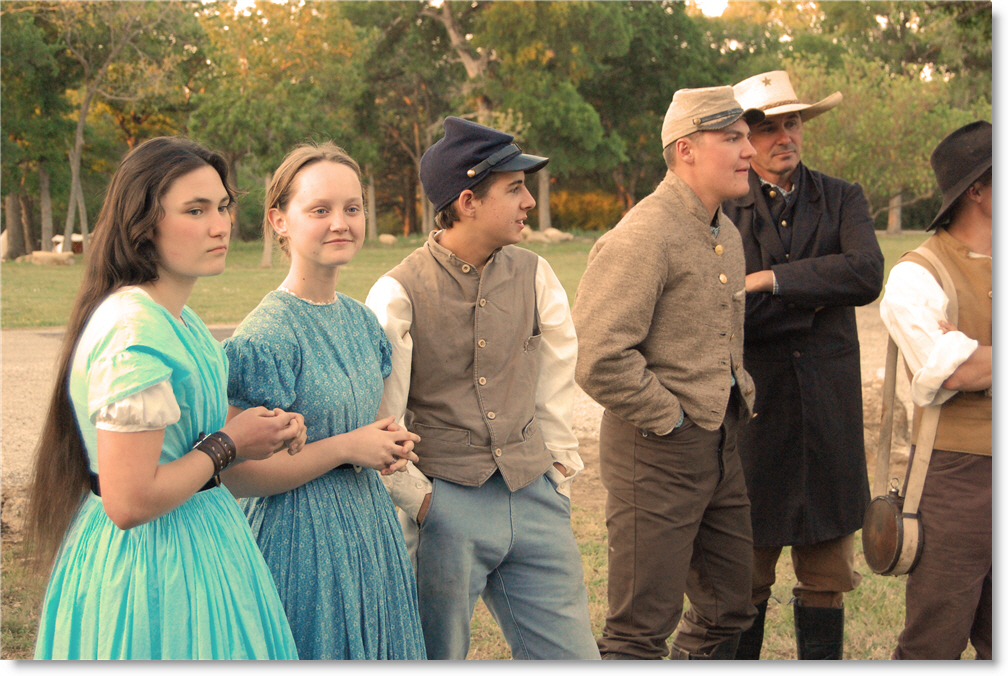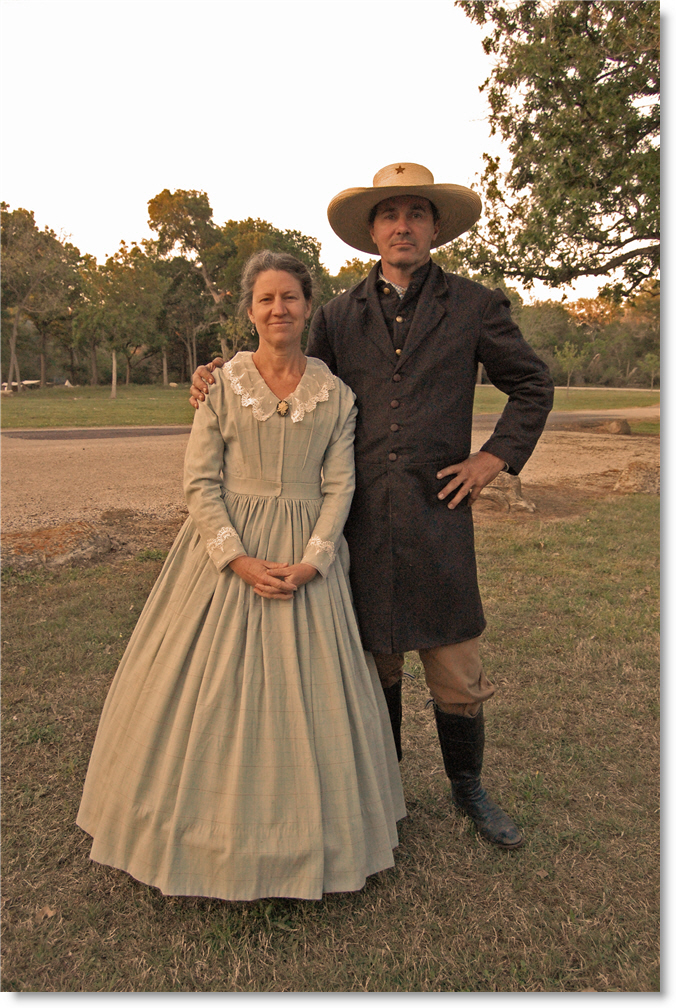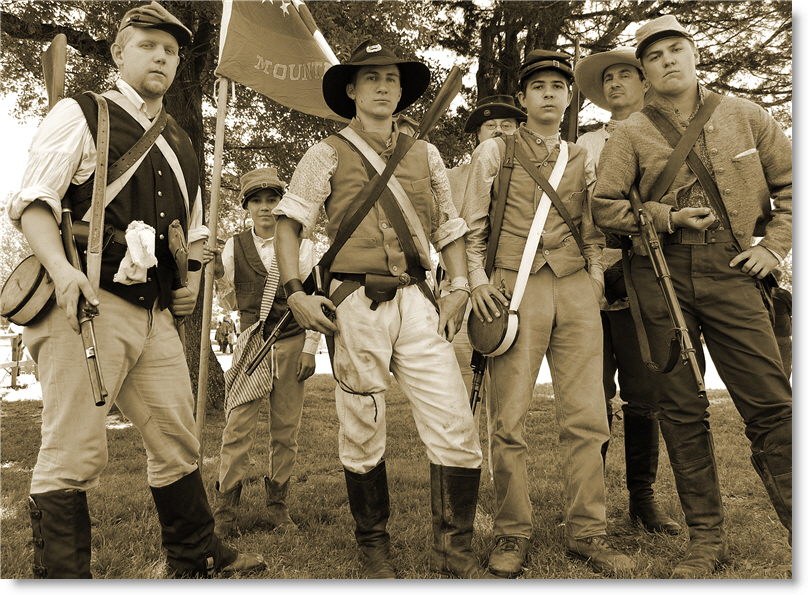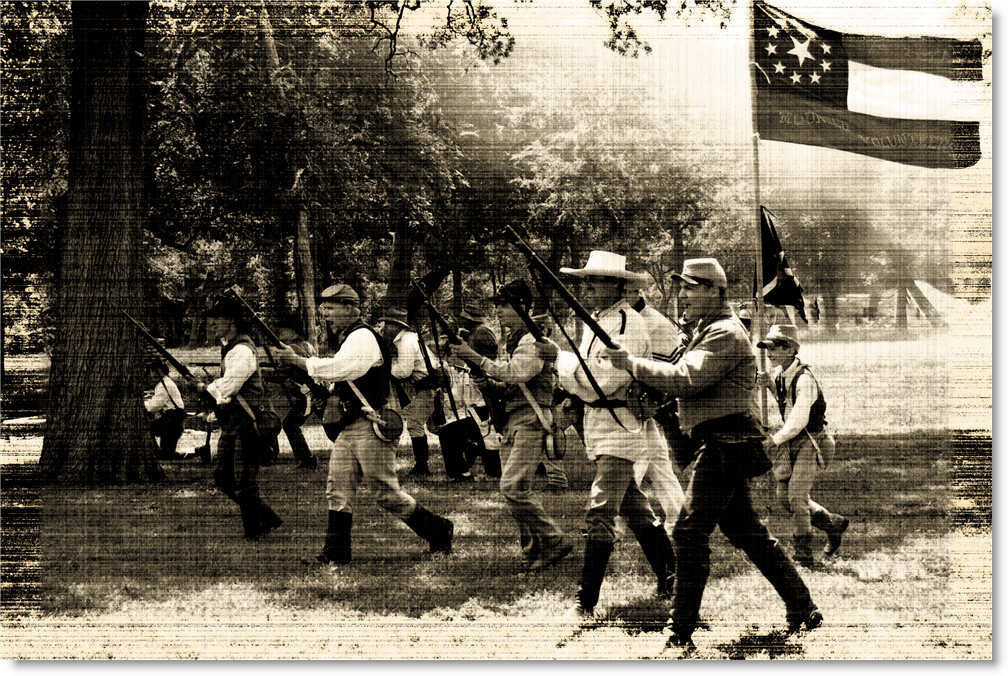 See more pictures below.
Sunday, April 14 - Almost a House Dog - A shoe in the doorway that was keeping the front door from closing allowed Rusty a chance to stick his nose in. I guess having your nose in the house is better than not being in the house at all.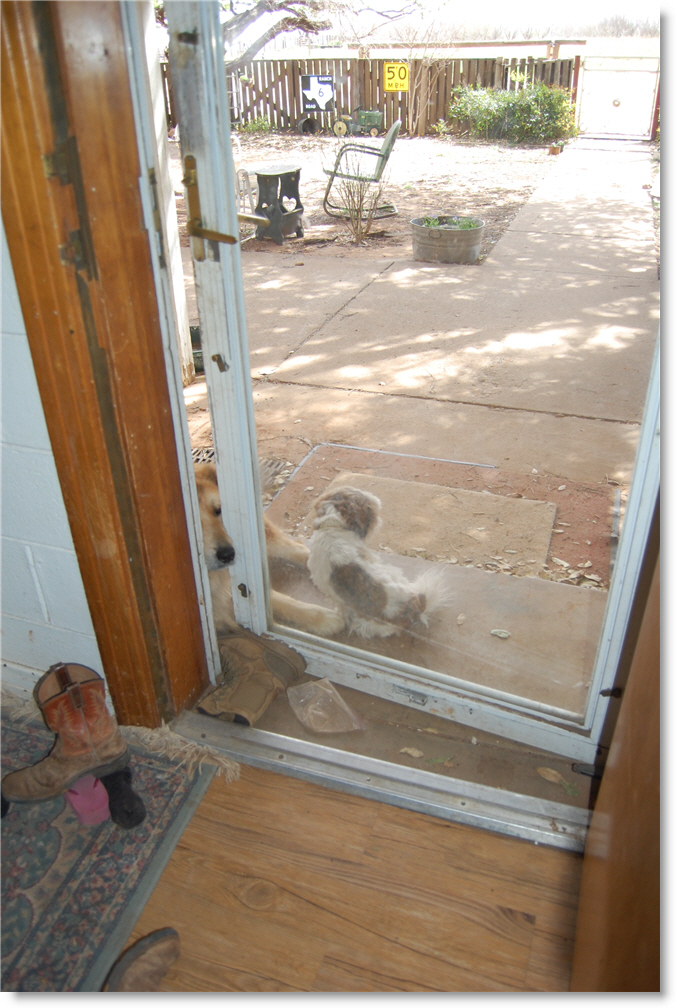 Saturday, April 13 - "One Goose, Two Geese - One Moose, Two Meese - One Noose, Two Niece - One Caboose, Two Cabeese...and so on." - Hank the Cow Dog.
Aspen's Sebastopol's enjoying their freshly grown fodder.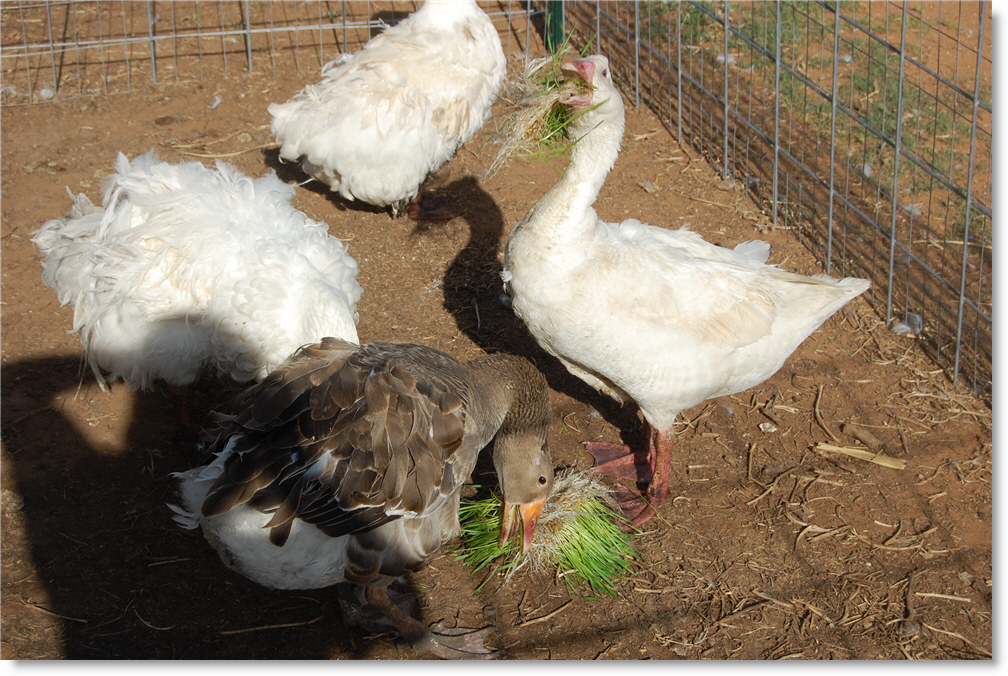 Goslings in their brooder, a reclaimed travel trailer bathtub.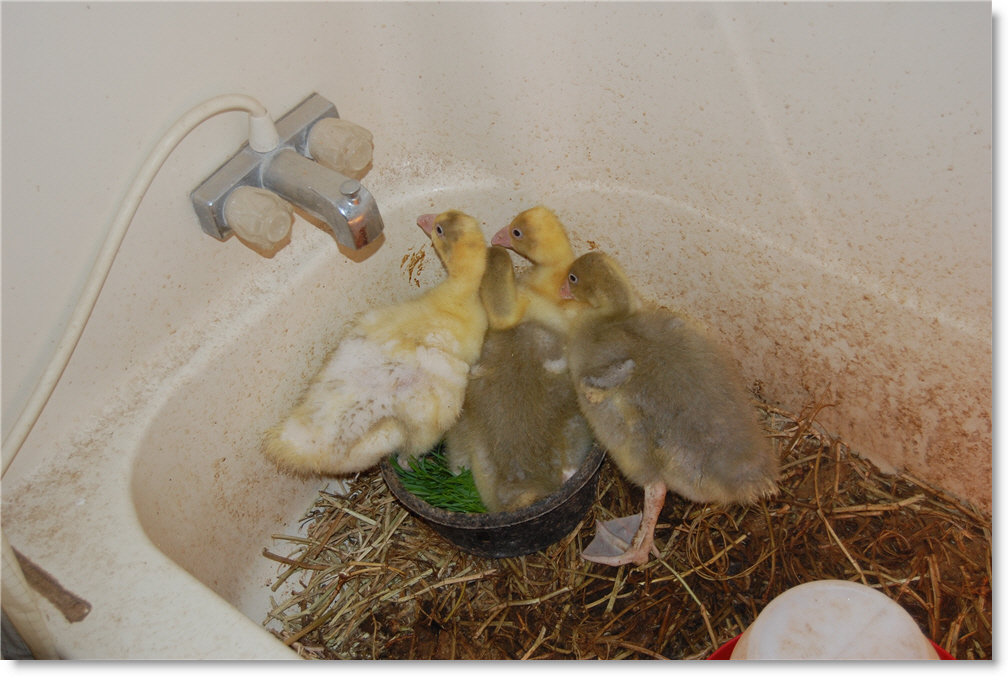 Friday, April 12 - Pink and Blue Sunrise - You know I couldn't miss this one!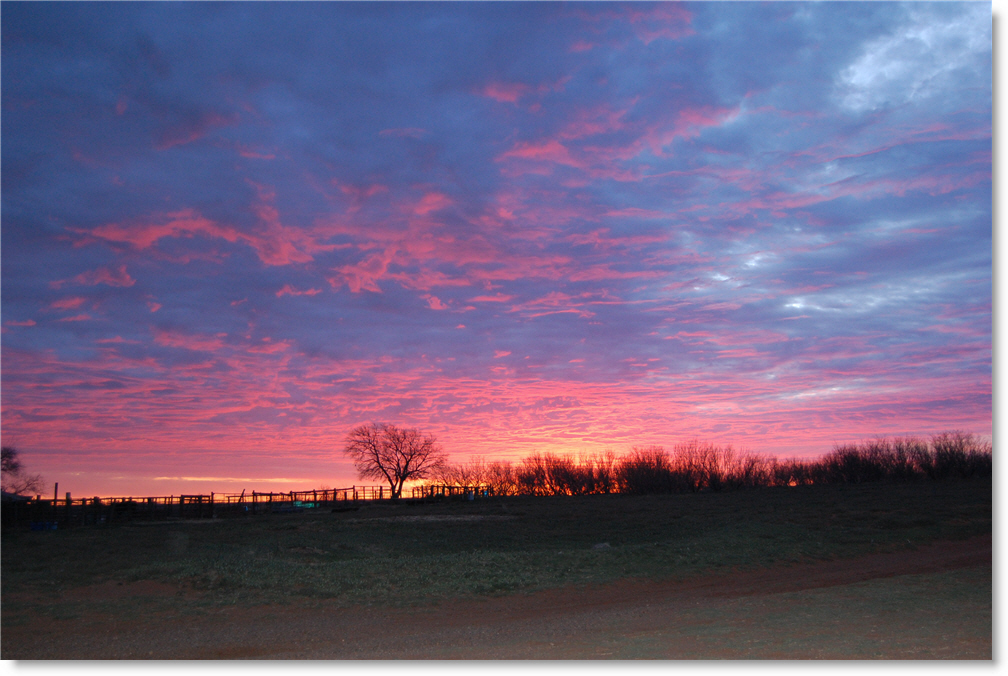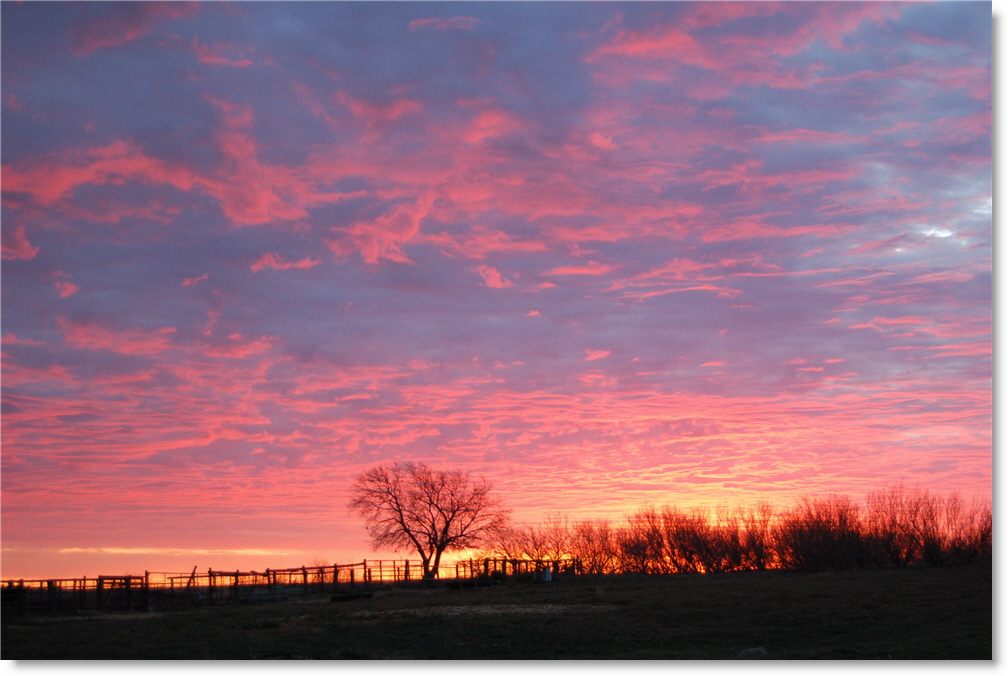 Wednesday, April 10 - Spring Blizzard - Okay, not exactly a blizzard, but still, very unusual weather considering it was 91 degrees yesterday. Just sayin'.
During the night we had sleet, hail, snow, rain, thunder and lightning.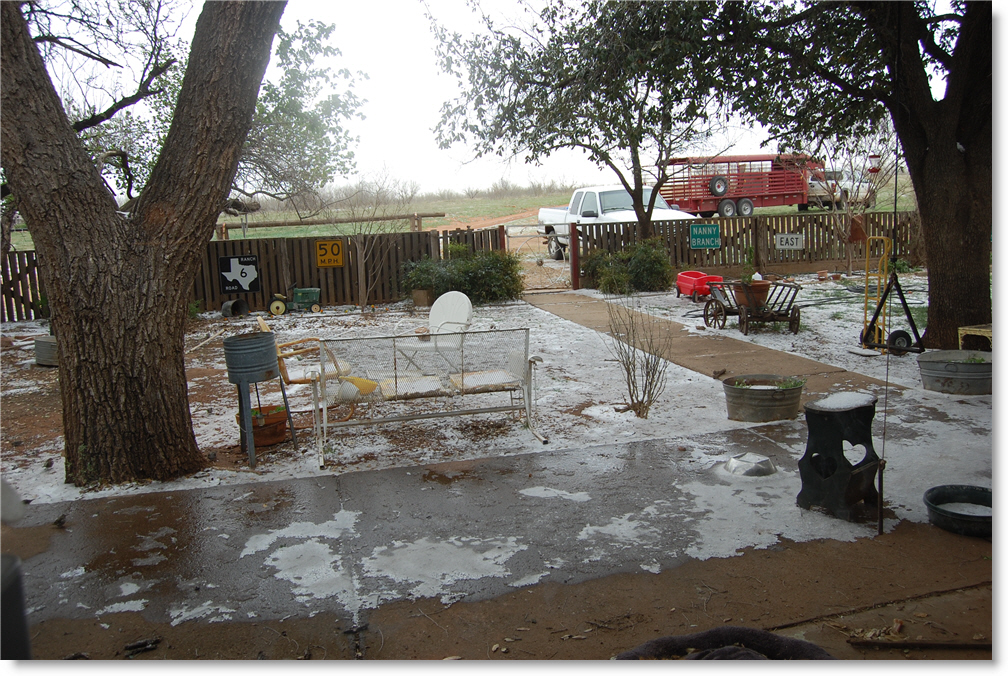 Along about noon it started to lightly snow again. Notice the birds in the foreground enjoying the sunflower seeds and the little orange marigolds in the background that Stockton planted Monday, trying to stay alive in 28 degree weather.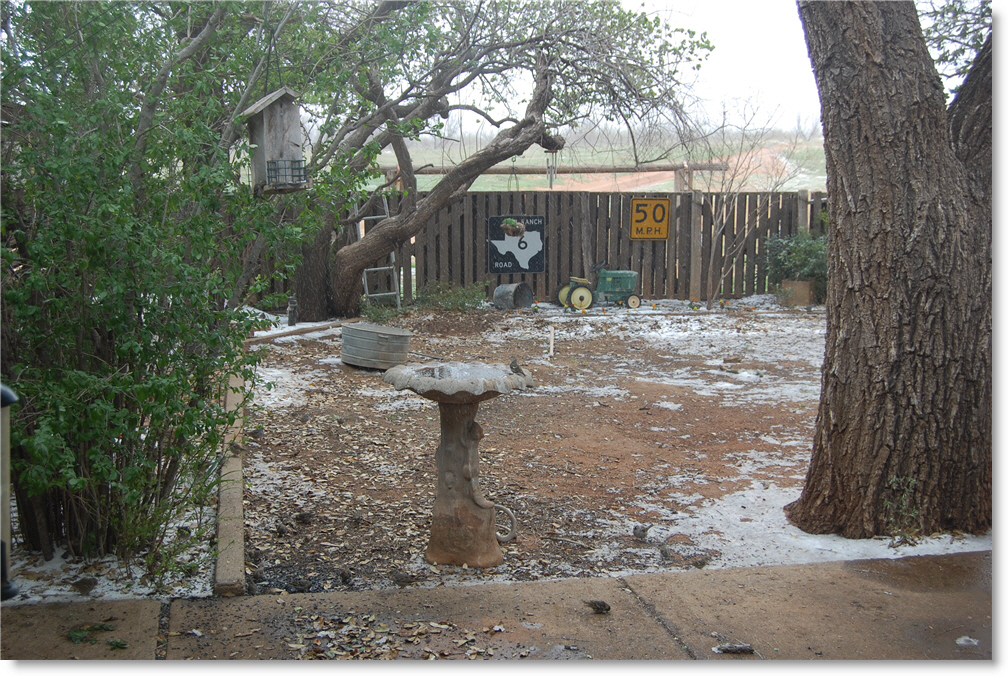 Tuesday, April 9 - Blizzard Arrives Early - During the night, a couple of our milk cow calves went under the fence and were roaming around. Since the front gate had been left open, one of them, named Blizzard (see New Calf, February 2013 News), decided to come on in for a visit.
Rusty wasn't too happy about the calf being in the wrong place.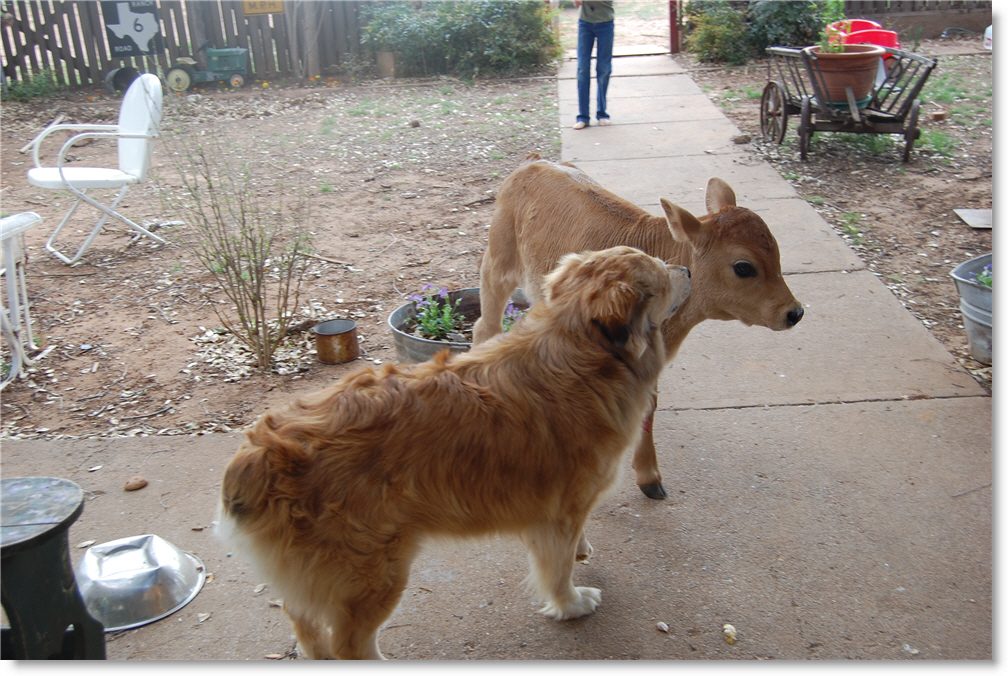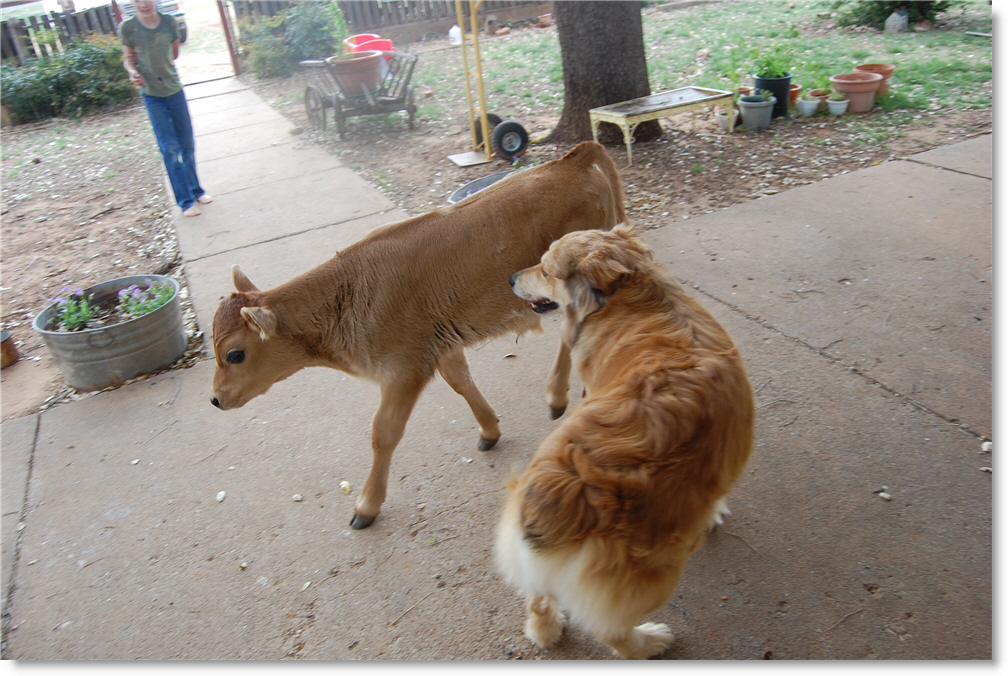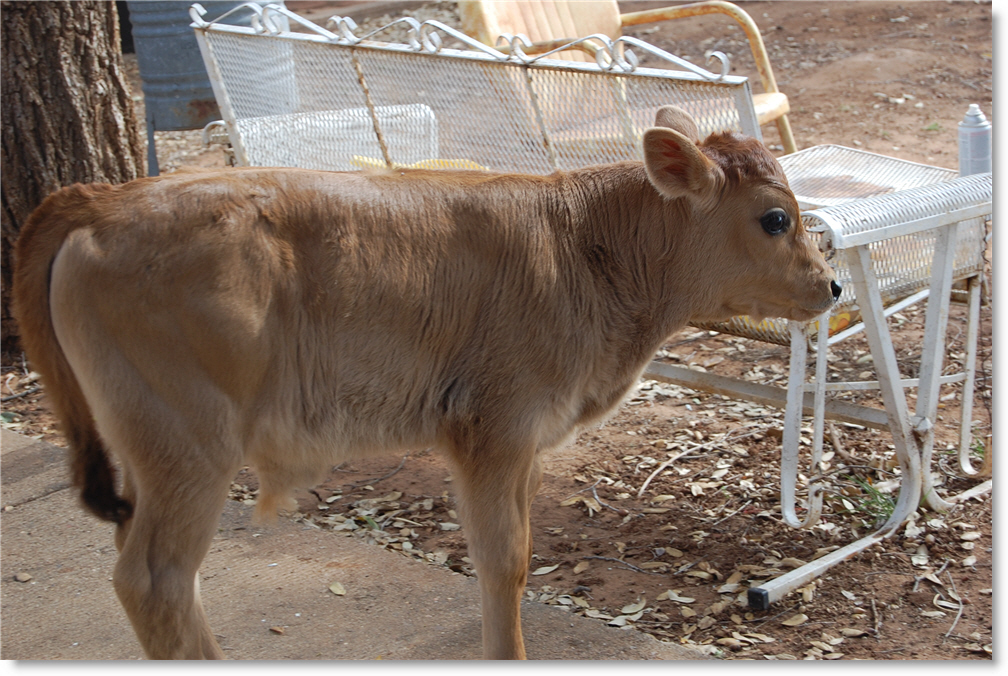 Finally, Rusty got him aimed in the right direction.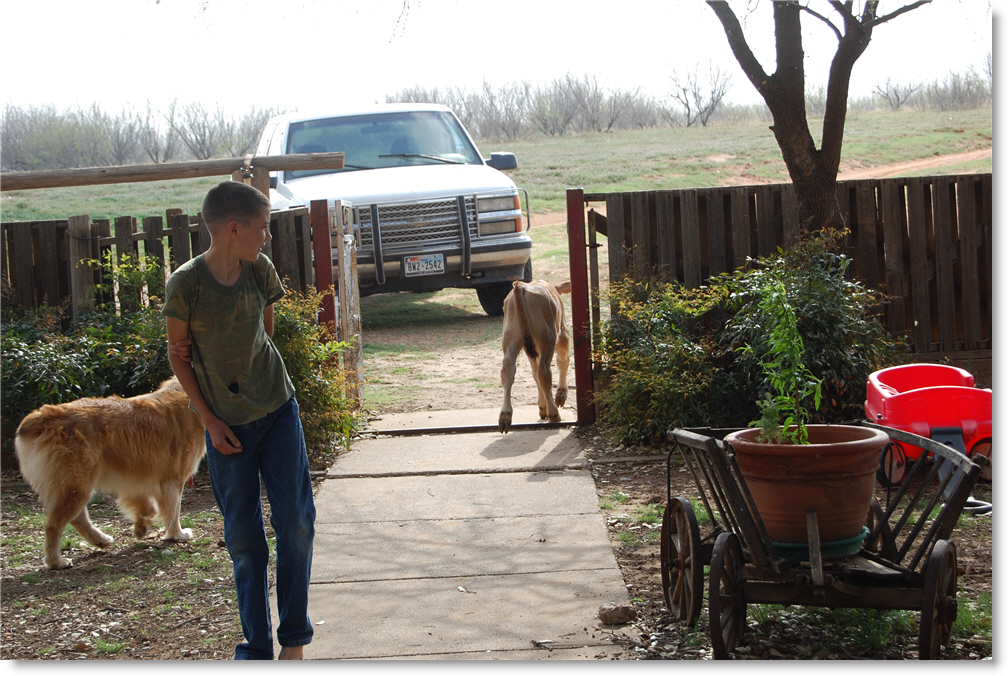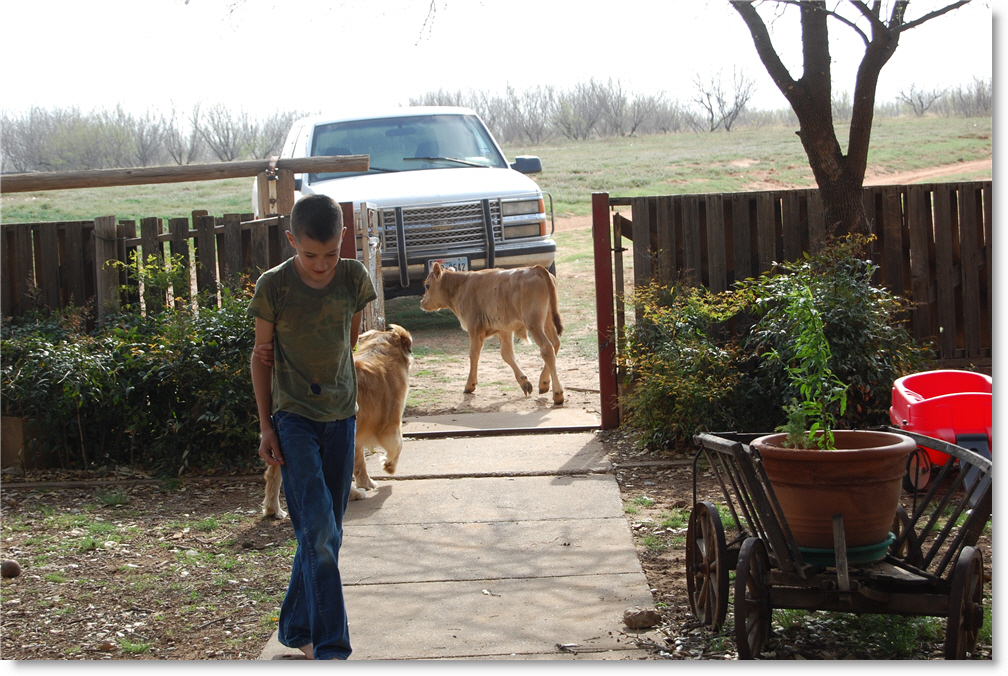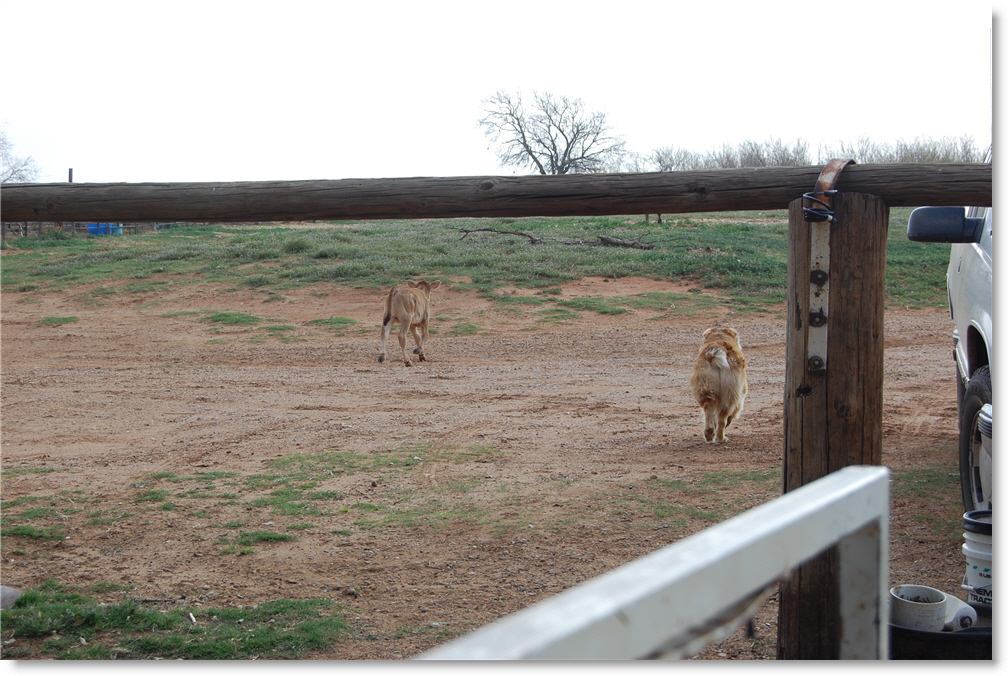 Monday, April 8 - New Furniture - Sunday afternoon we ran to Lubbock to pick up some antique furniture that we bought a month or so ago. We stored it in mom's shop until after Atlanta's wedding. Aspen and Carolina have big plans for decorating their new room.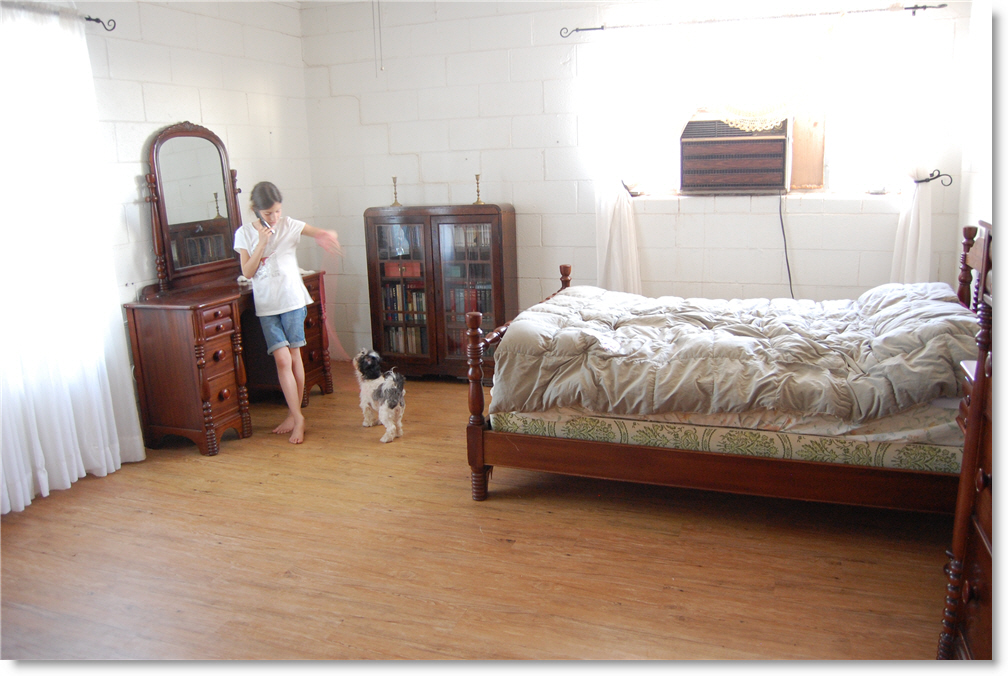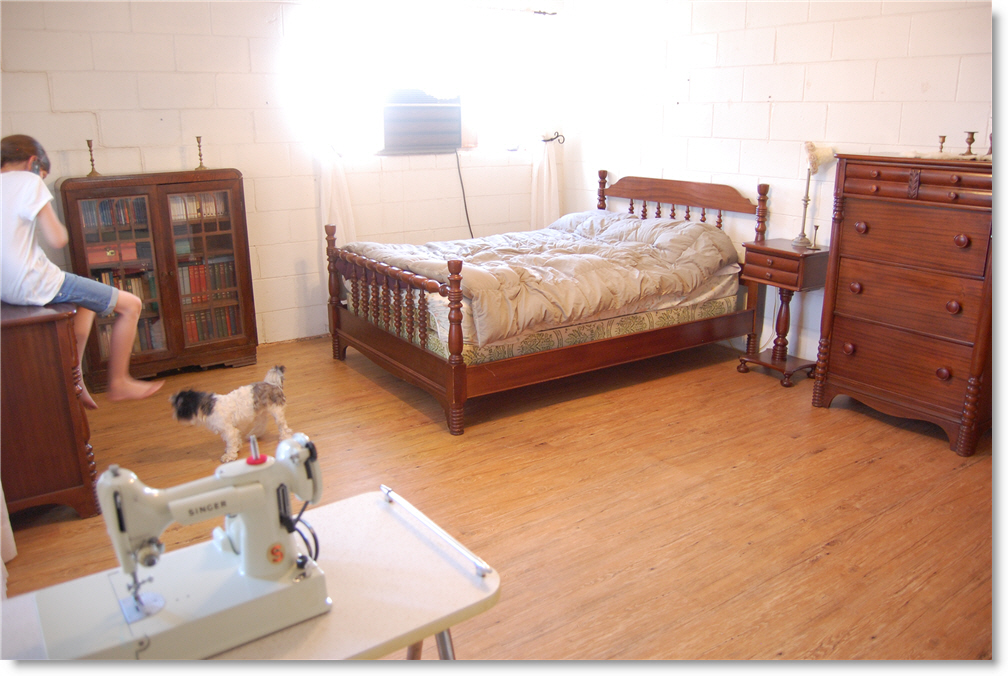 Back to the Fishing Hole - On Saturday, Stockton, Carolina and Nathan went fishing in the little spot down by the river. They caught three good-sized bass. Stockton brought them back and put them in the front yard tub tank to enjoy for a day or two. However, knowing how hard it is to keep them alive, today they returned them to the pond.
Stockton, holding his pet lizzard, takes a last look at his captive fish.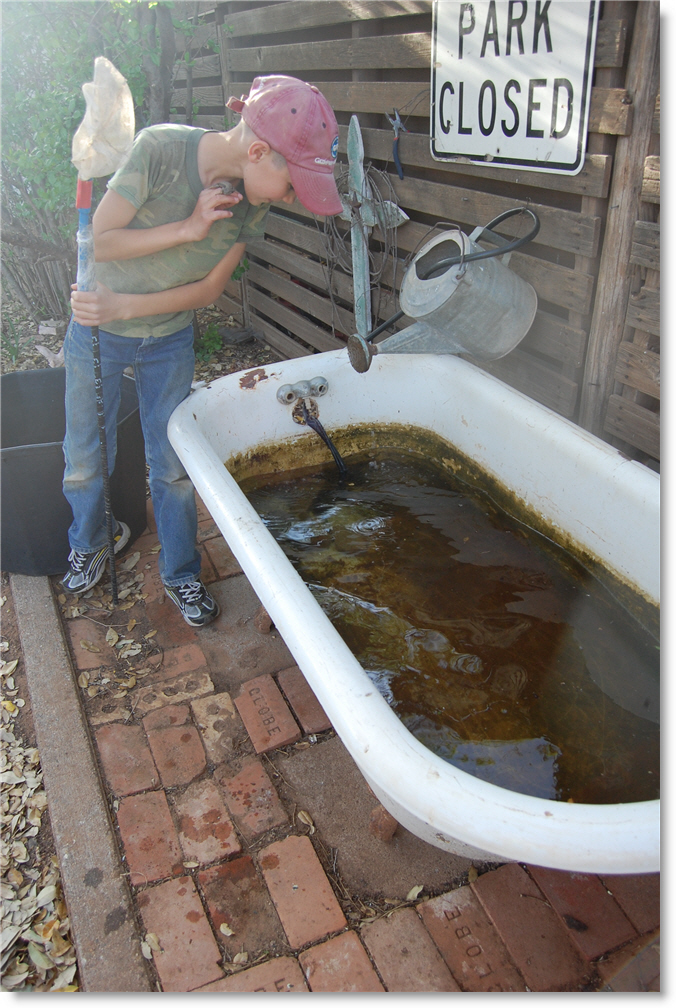 One of the bass in a five gallon bucket.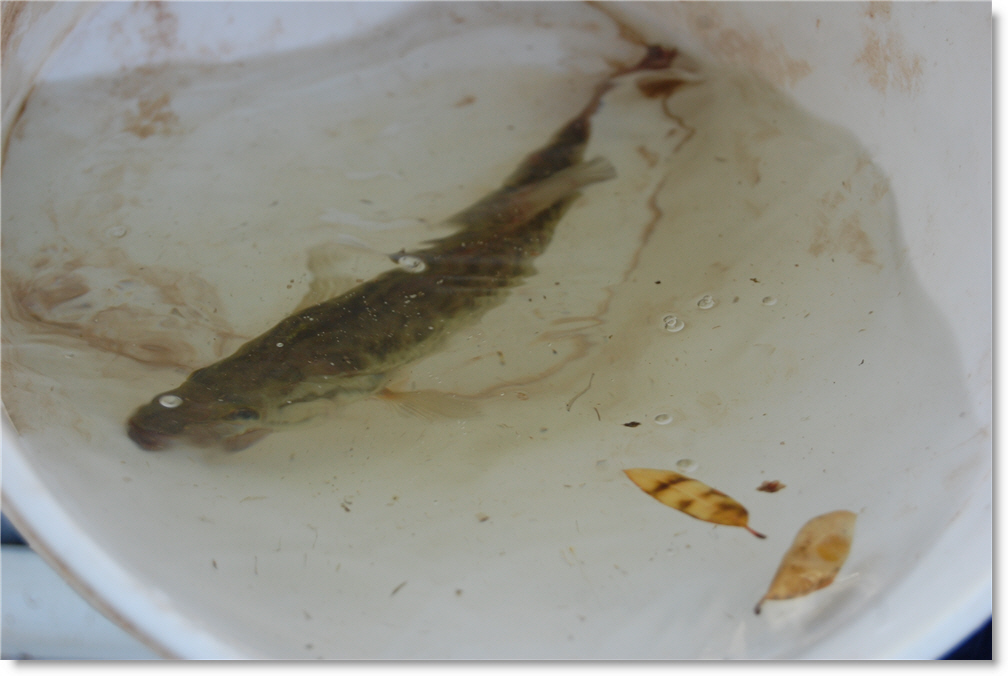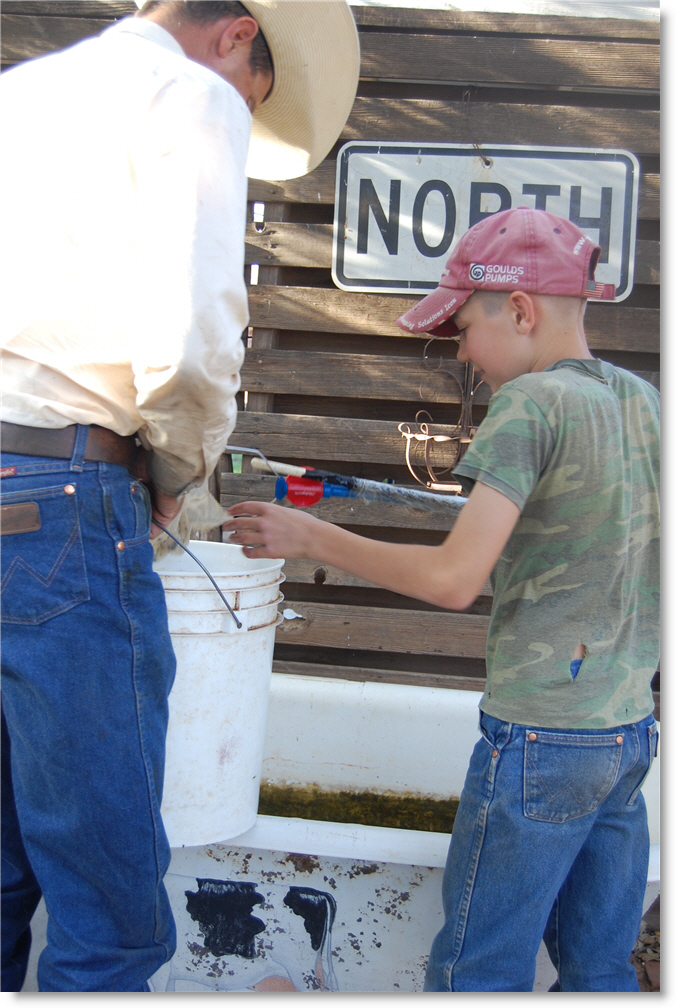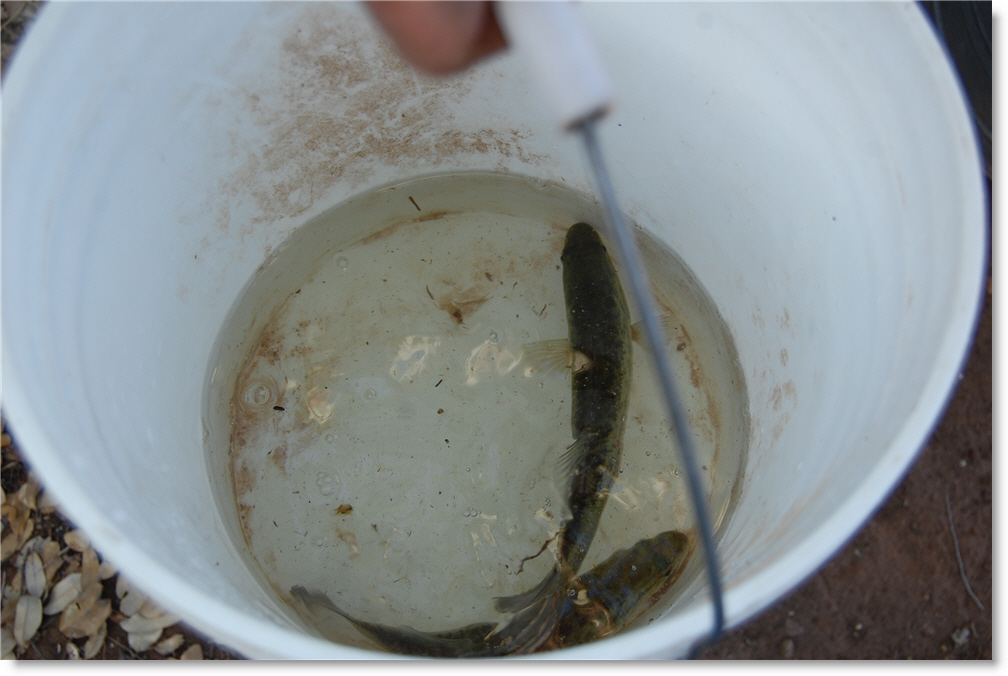 Right in Style - Georgia sent a box of goodies for the kids. Carolina shows off her new shirt, shorts and socks.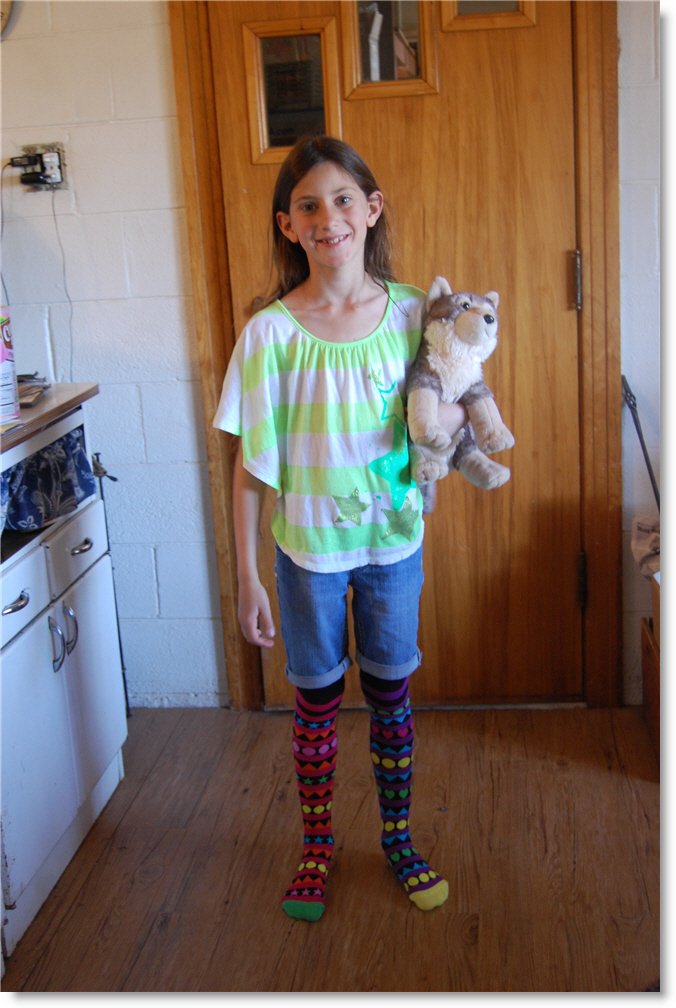 Friday, April 5 - Early Morning Visitor - Aspen looked out the front windows this morning and noticed Rusty looking up into the large live oak tree in our front yard.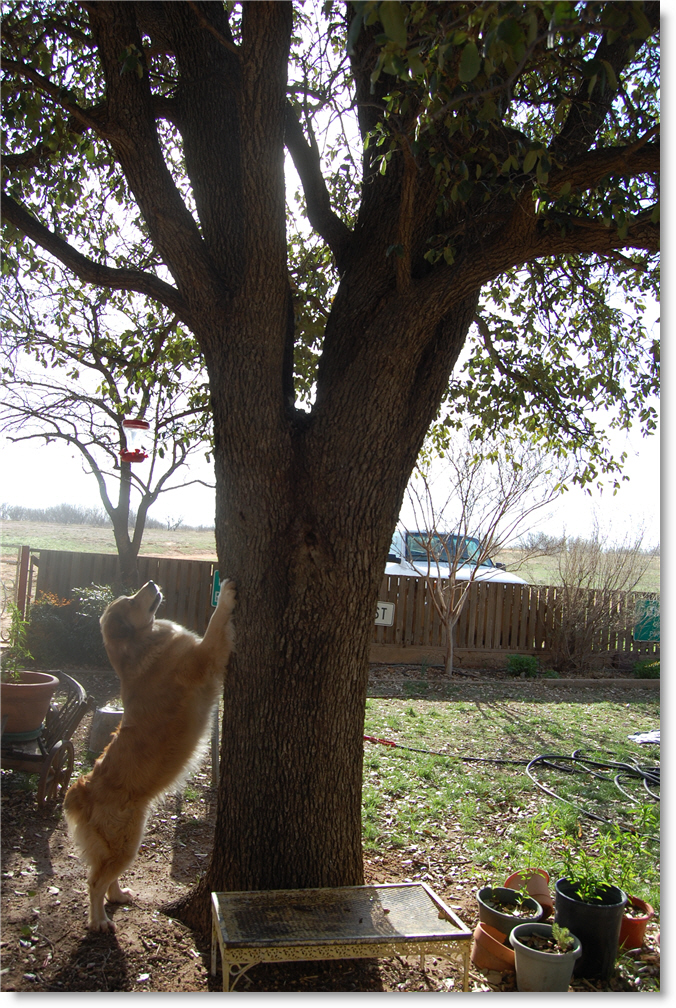 He wasn't close enough, so he went on to Plan B.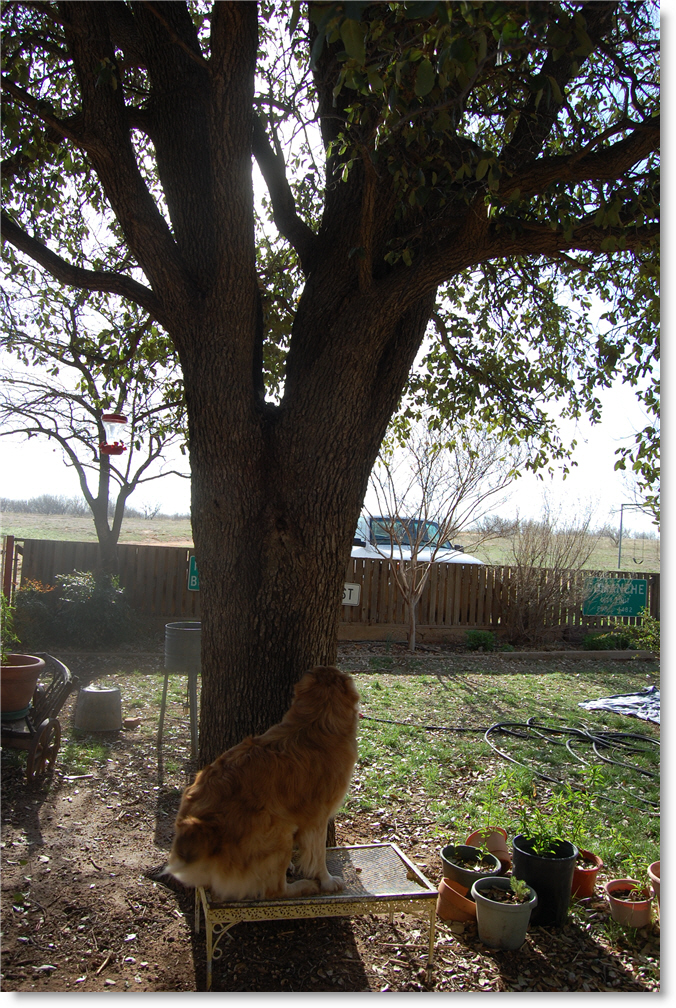 Now, that's better, I'm almost there!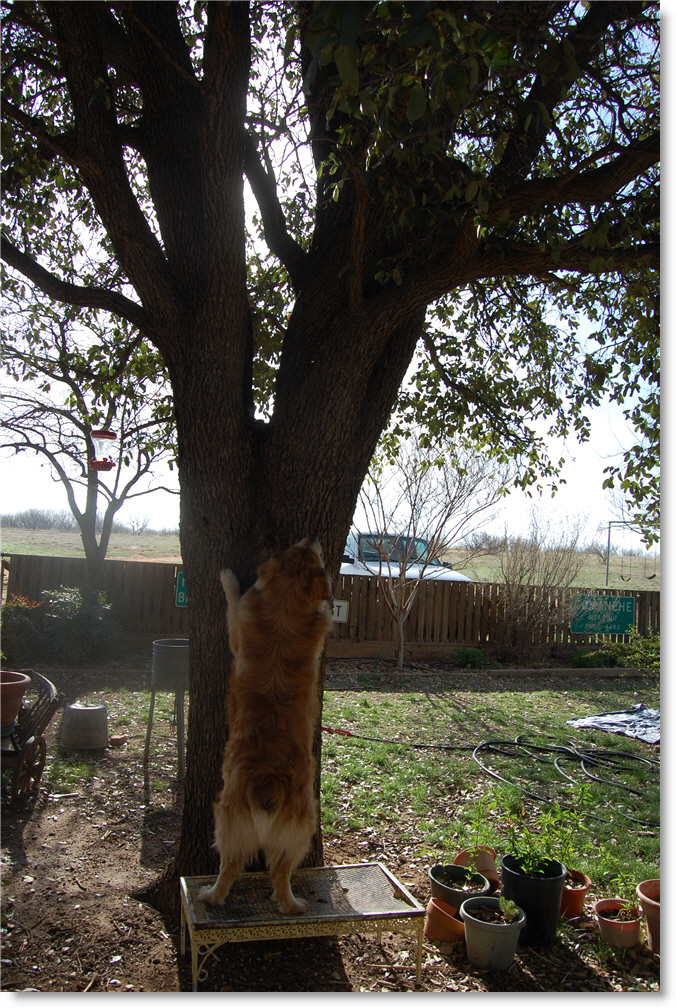 Guess who?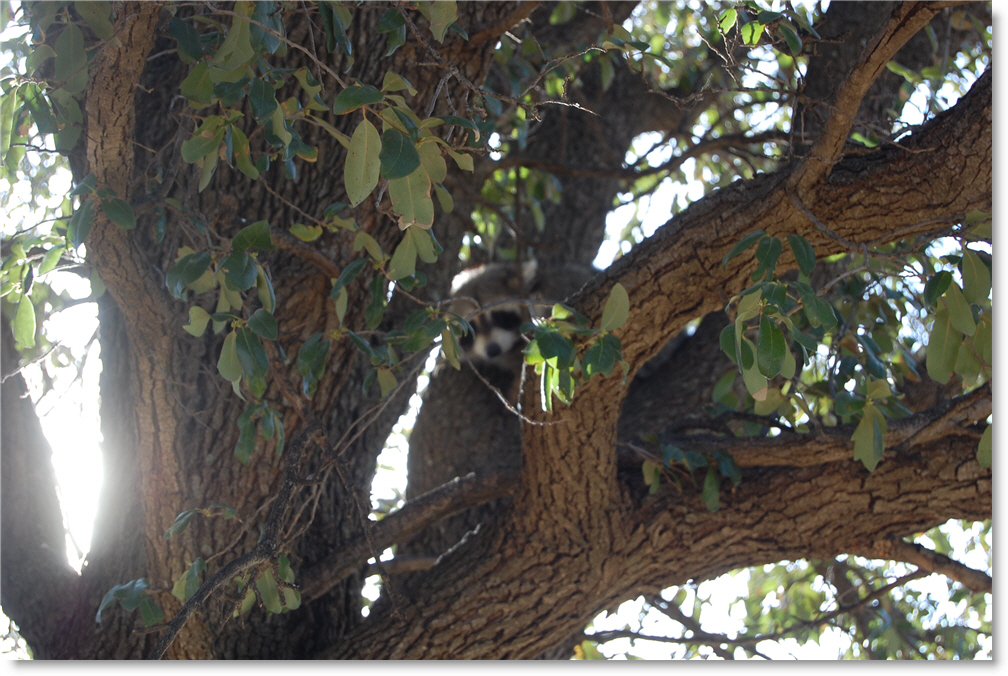 Dog gone, they're cute aren't they? But we all remember the cute little way one of these recently nibbled the cute little heads off three expensive geese. Sorry buddy, you've gotta go.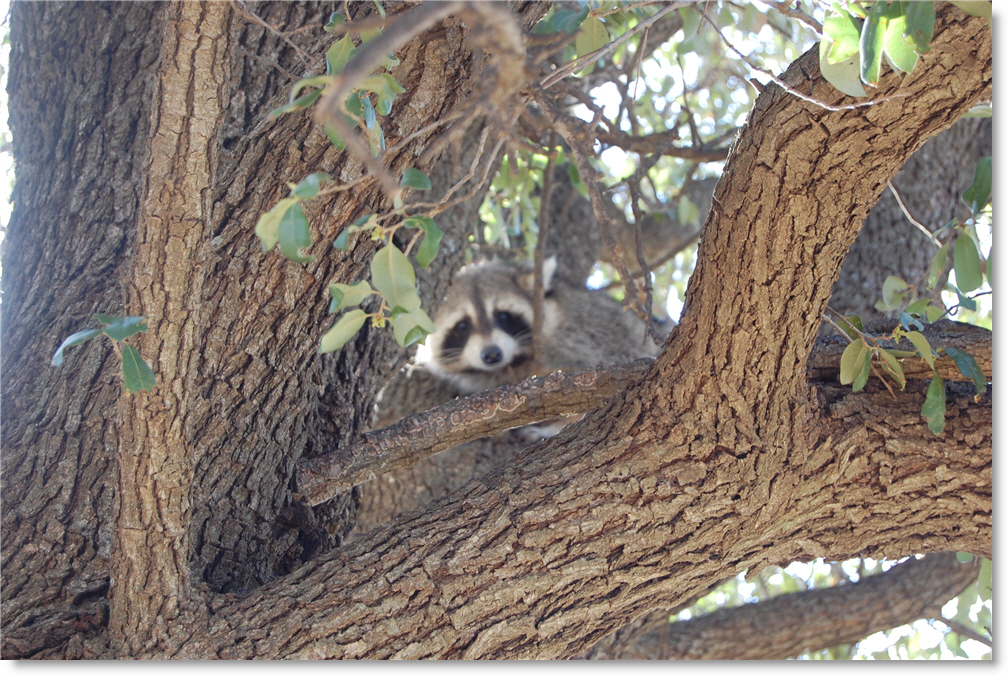 Atlanta usually takes the lead in these things when the big boys aren't around. Without her here, Stockton stepped up to the plate and downed this little rascal. He didn't even have time to put his shoes on.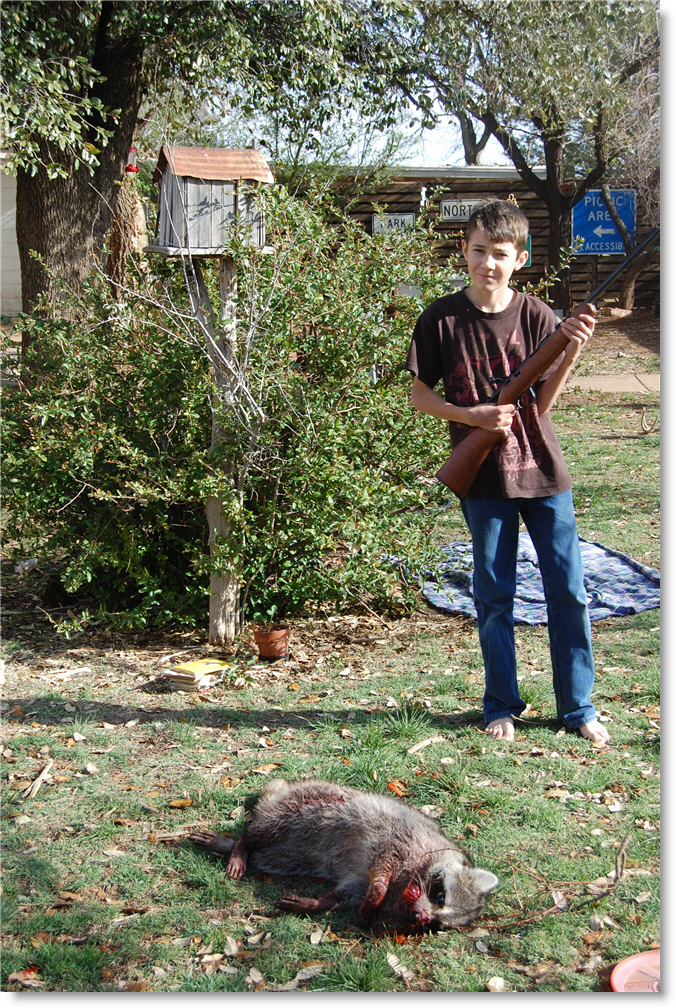 Thursday, April 4 - Honey Do's - Nathan and Laredo were at home most of the day today since they had to take one of the Well Service trucks to the shop for transmission work. So, they installed a couple of new doors in the school room and brought in Georgia's stove from storage for me to use until our propane line can be replaced. The propane company discovered we had a leak and had to turn off the gas. I'm not very used to an electric stove, but the boys haven't complained too much about the crunchy biscuits.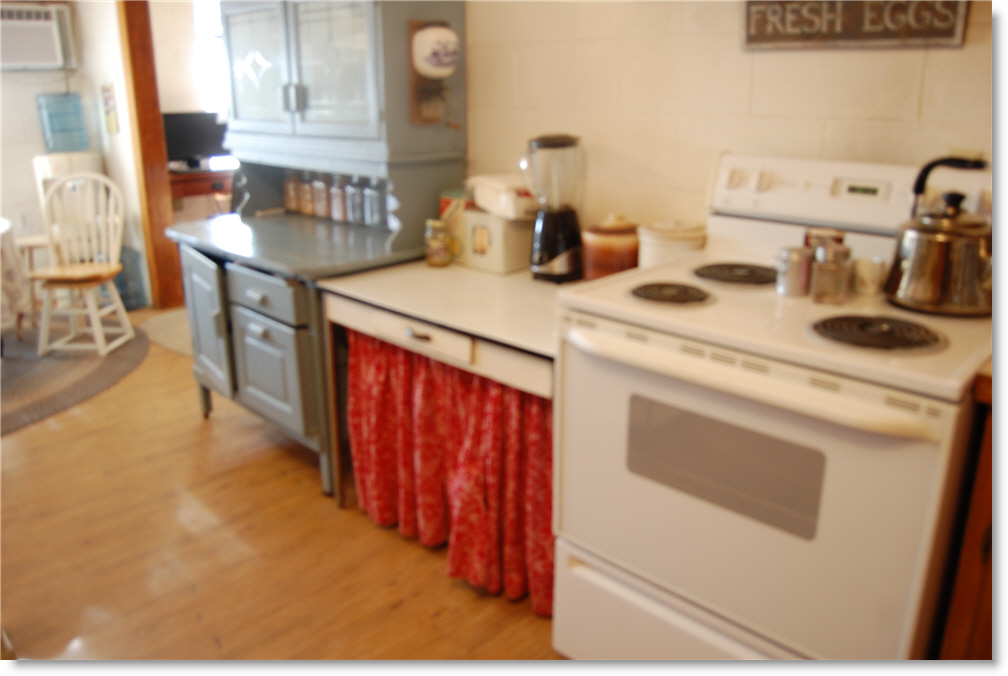 Monday, April 1 - Tornado Clouds! - We got home from Tennessee today around 3 o'clock in the afternoon. Before long, menacing clouds were forming in the northwest. All we ended up with was some rain, hail and high winds, but near Silverton (45 minutes northwest of us) a tornado touched down briefly. You can watch the video on youtube by clicking here.
Luckily, the super cell wasn't quite so super by the time it made it to our place. But it was still an impressive sight.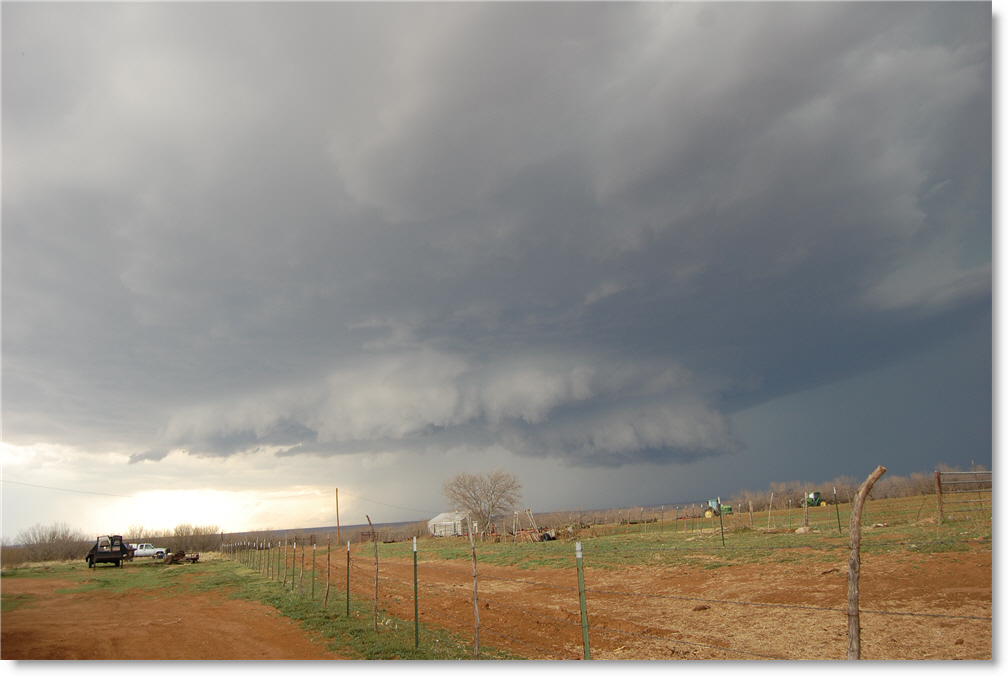 Meanwhile, the view in the front yard toward the east sets a completely different mood.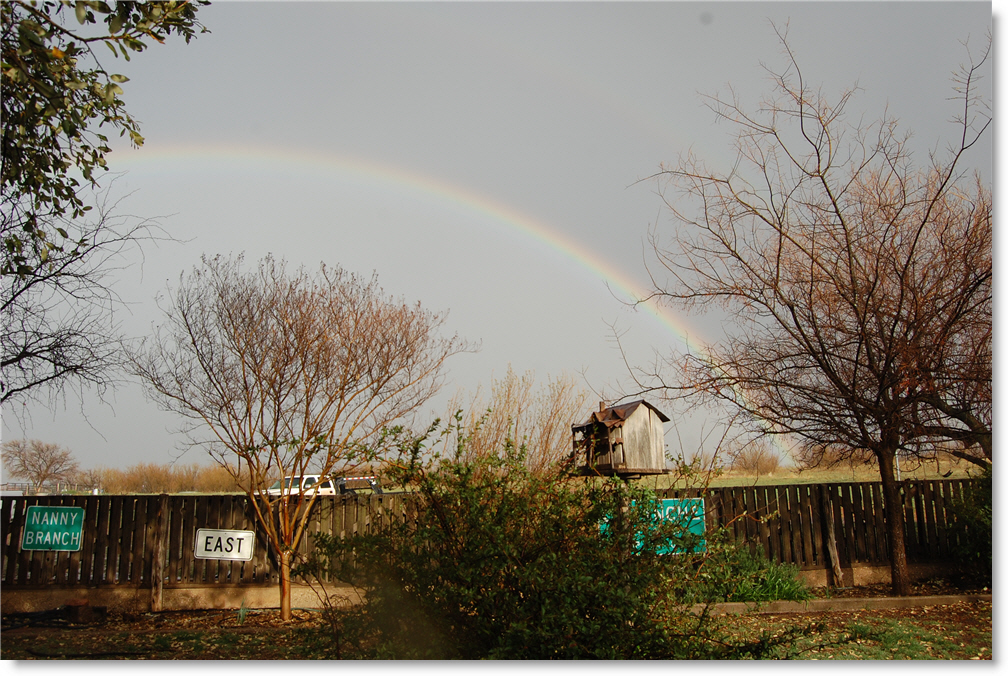 A couple of hours later, as the storm moved on to the east, this was the photo I snapped of the back of the cloud.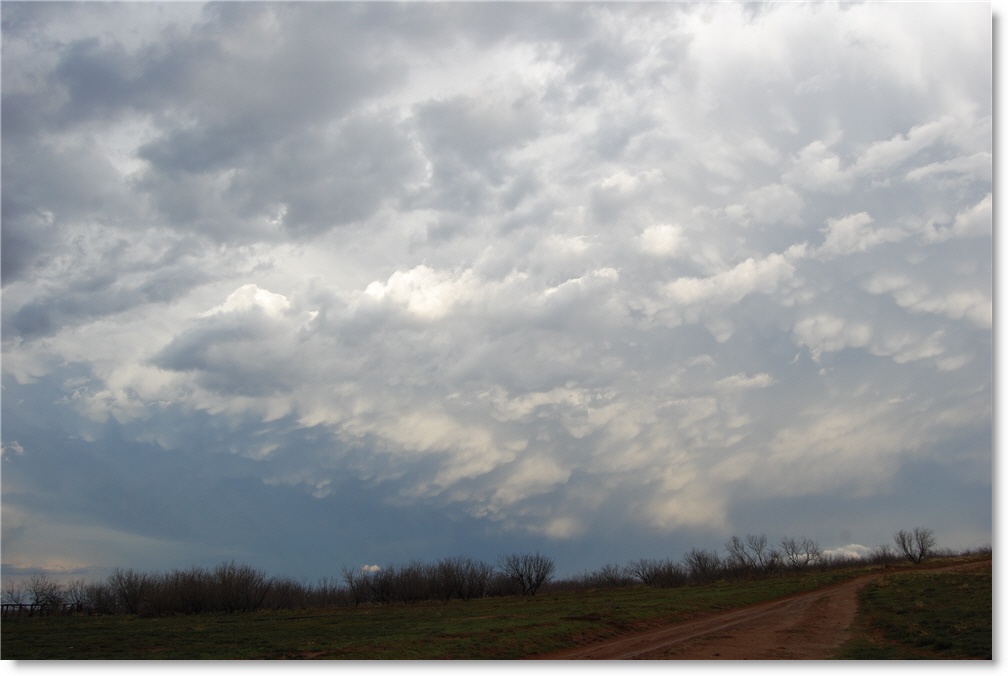 View to the south.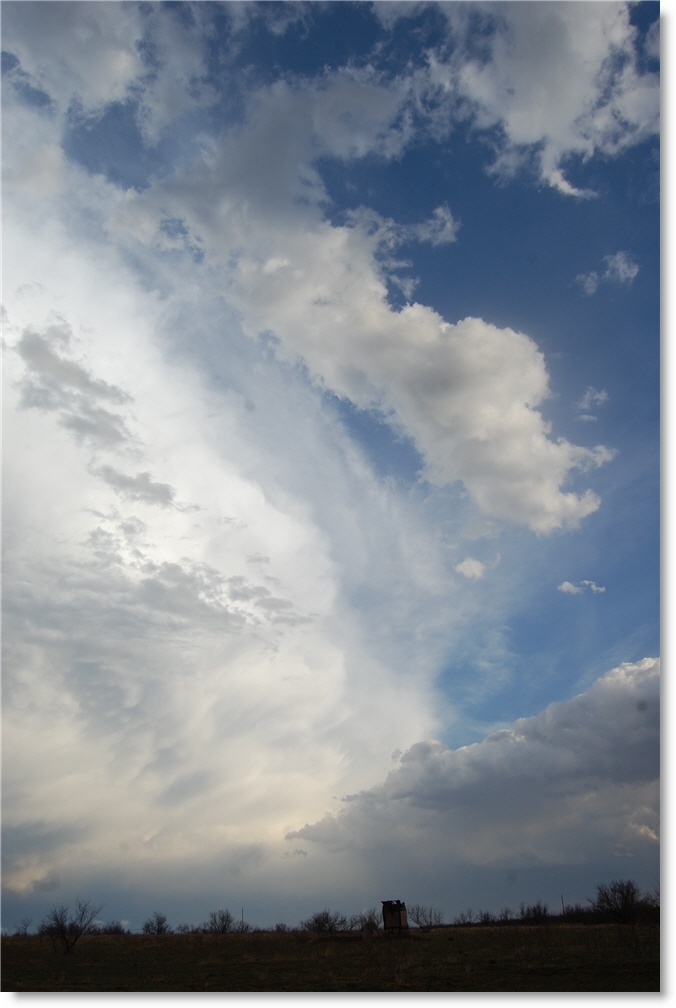 Check out our past news. Just click any link below: