Wednesday, May 30, 2012 - Needed Rains - We've been blessed to be getting some storms in the evenings. Some of them skirt around, but every now and then we get some moisture from them. These clouds had some unusual and dramatic shapes.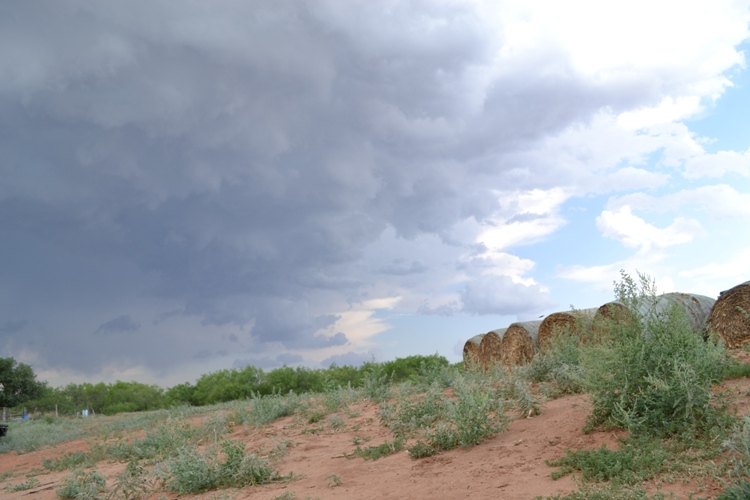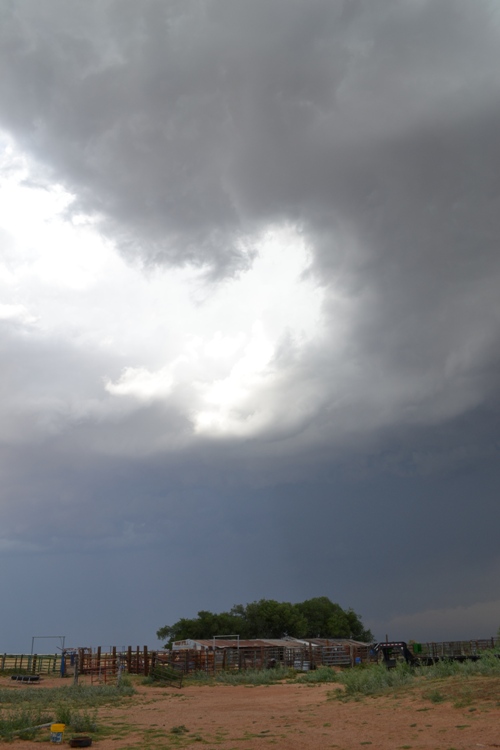 This year the kids planted some English peas in the garden. We found out we didn't plant enough, though, and we have to save up shelled peas in the freezer before we have a sufficient amount for a side dish.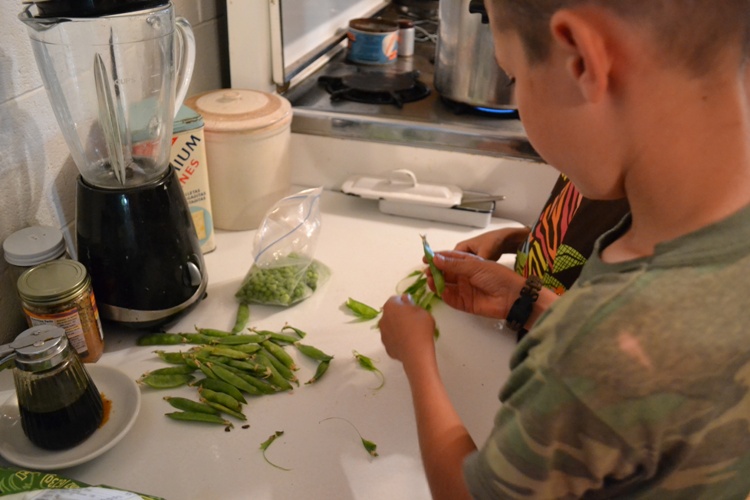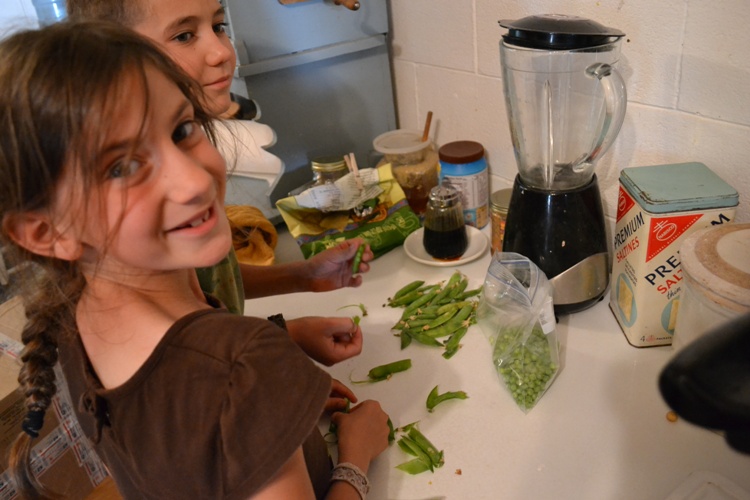 Monday, May 28 - Bouquet for Mom - Who wouldn't want to find this vase of flowers waiting for them one morning? Carolina was my secret admirer.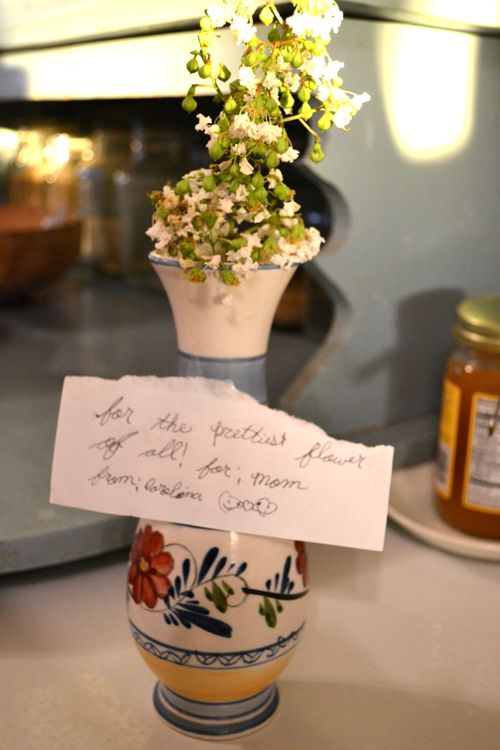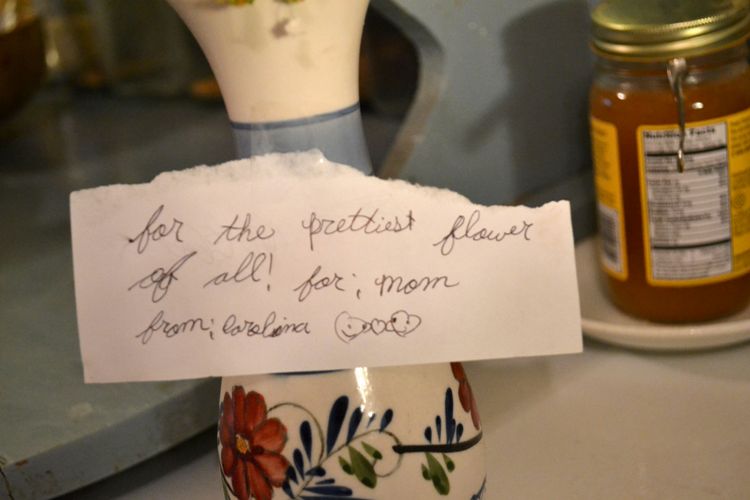 Friday, May 25 - Return of the Eastern Hognose - Rusty was acting strange and barking at something in the bushes this evening. We discovered it was our old friend the eastern hognose snake that was hanging around last year. This reptile, related to the puff adder, really puts on a show when it senses danger. It puffs up, hisses so loudly that it sounds like a rattlesnake, almost, and flattens out its head and neck like a cobra. Actually, it's harmless (unless you're a frog). I can guarantee it will make you scream when you happen upon it.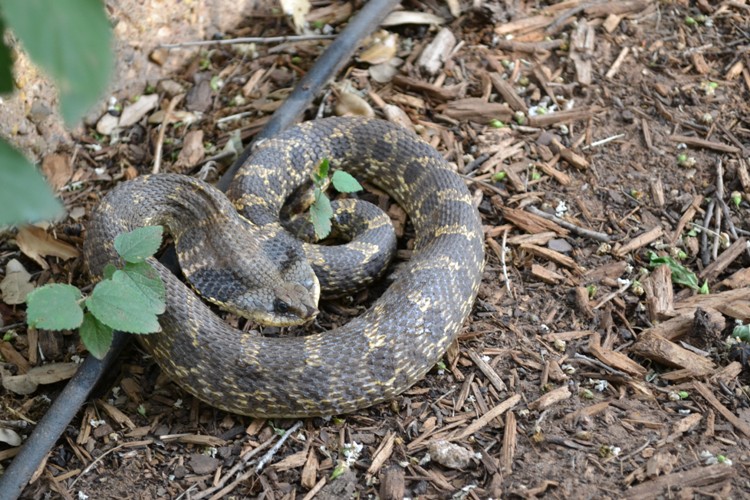 Thursday, May 24 - Homemade MRE - You've heard of an MRE, right? The dehydrated meal in a pouch upon which the military relies? Well, Stockton and Carolina made one just for me. They insisted I eat every bite. It wasn't easy, and it took me all day, but I did it (except for a few unused condiments).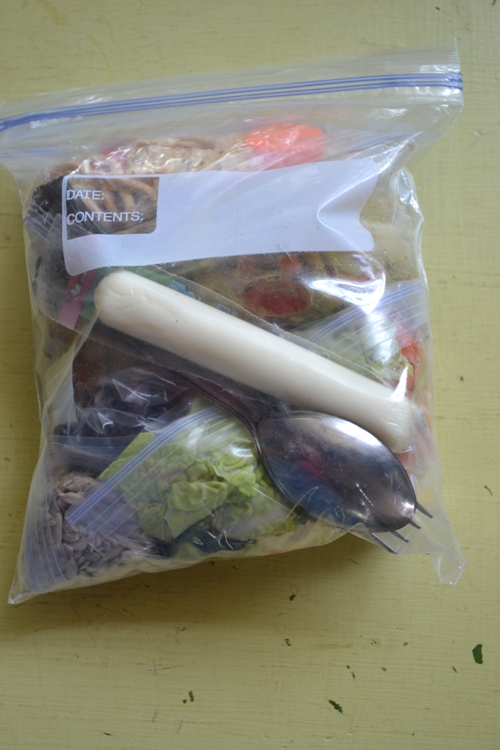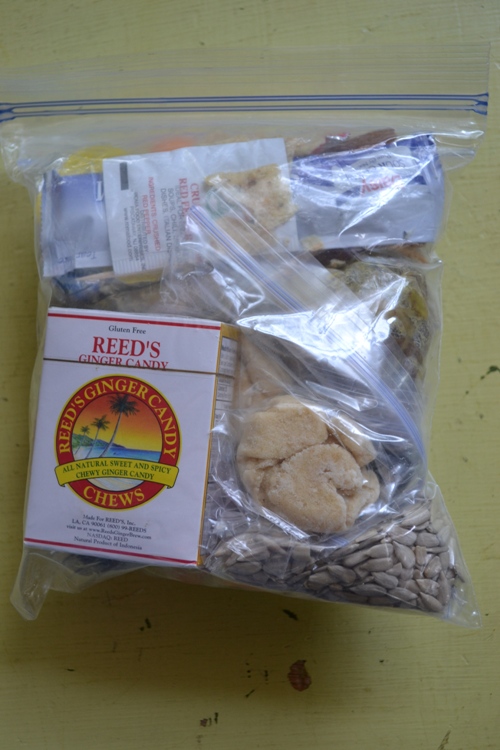 Here's what was inside my MRE: condiment pack, left over stir fry, 2 little biscuits, sunflower seeds, salad, dried cranberries, plastic spoon and fork, cheese stick and ginger candy.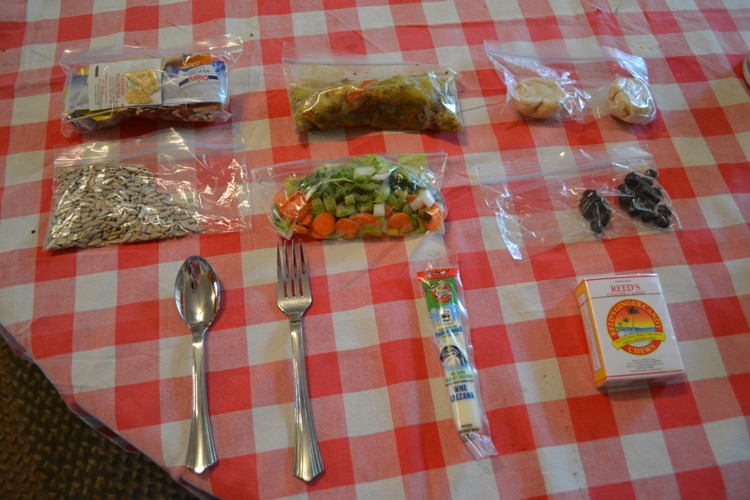 In the condiment bag: chips and Chinese noodles, ketchup, hot sauce, a pill box with an iodine tablet in it, honey, cocktail sauce, sour cream, crushed red pepper, catalina dressing, a vitamin C chew, and a toothpick.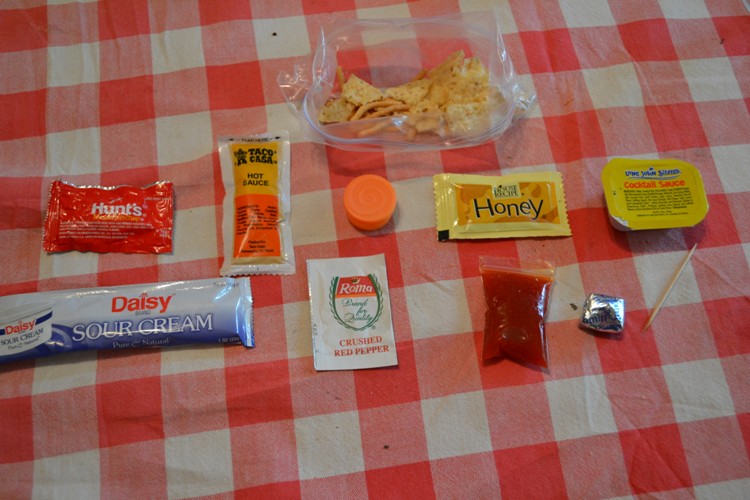 Nathan and Carolina are checking for wild plums.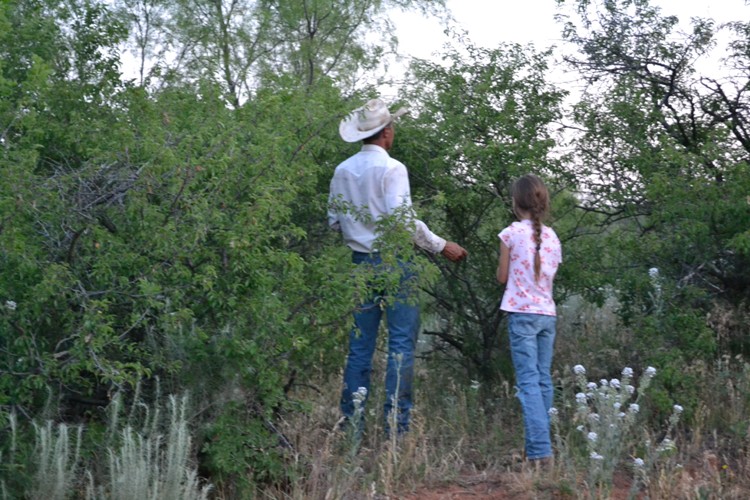 Painted Buntings in the Front Yard - How thrilling to see these showy little birds at the bird bath. They love the water and make their presence known especially on really hot days.
This male sits in a tree right above the bird bath, waiting for just the right moment to take the plunge.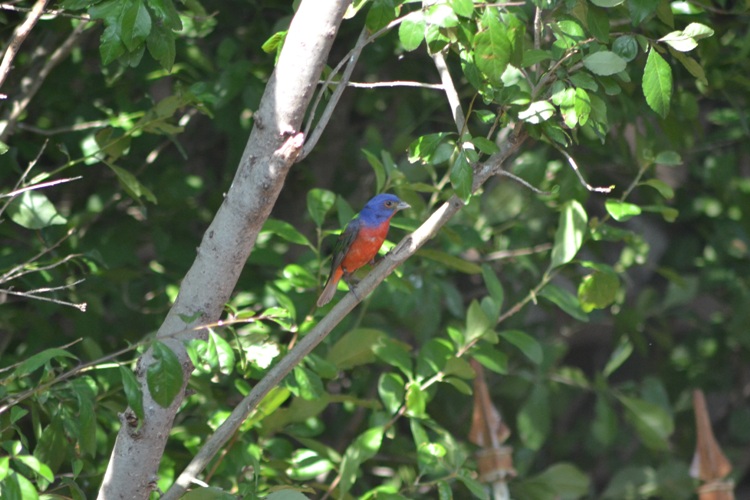 The female on the left is a solid green color with a bit of yellow underneath.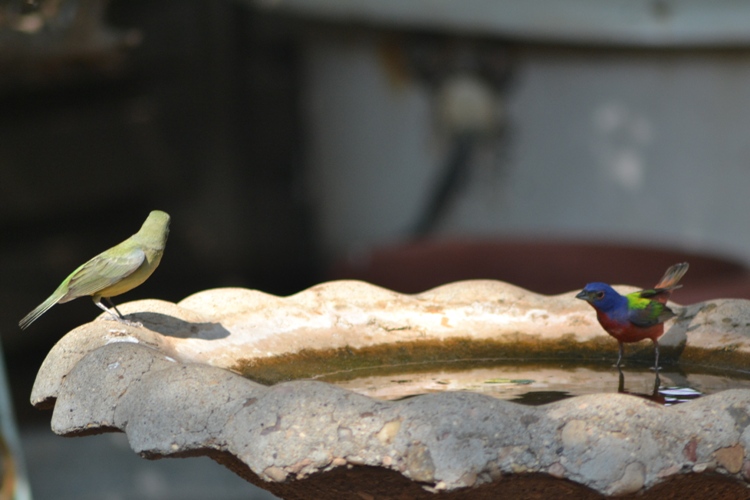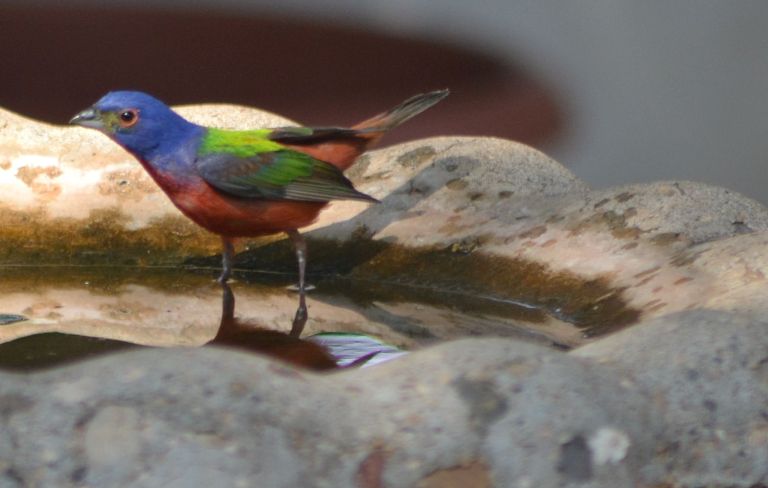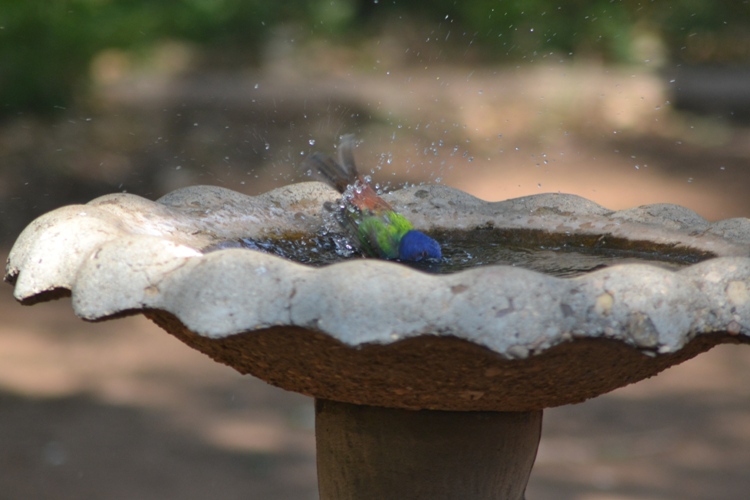 Wednesday, May 23 - Smoky Skies - Today grew consistently more smoky as the day wore on. I was curious as to where the fire was originating so I went to a website I like to visit that shows satellite pictures. I snagged some video of a 12 hour loop of satellite pictures from today. Watch it yourself below.
Monday, May 21, 2012 - EGGS!! - The chickens have really been laying and Aspen decided to boil some eggs to feed back to her flock.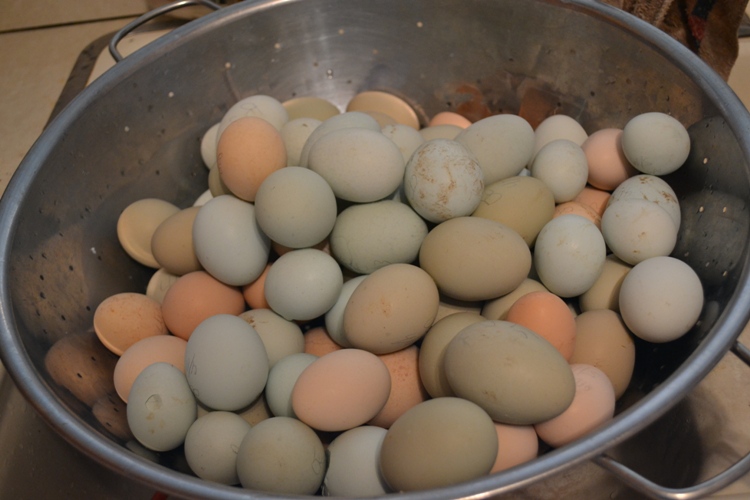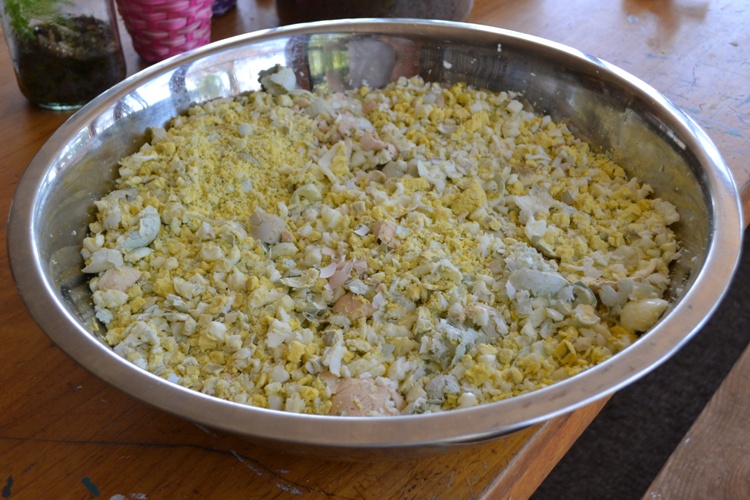 Cim's 20th Birthday Celebration - He turned 20 on the 16th, but some of us were out of town, so we had a belated birthday cake tonight.
Chocolate pound cake, Cim's favorite.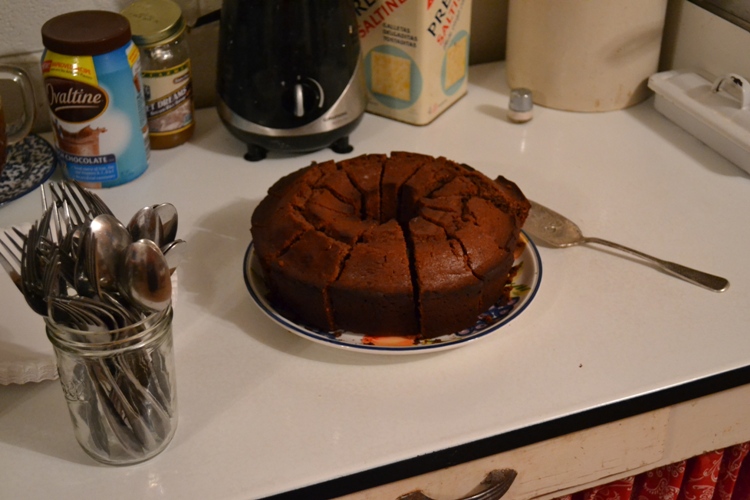 All the goodies lined up ready for self serve.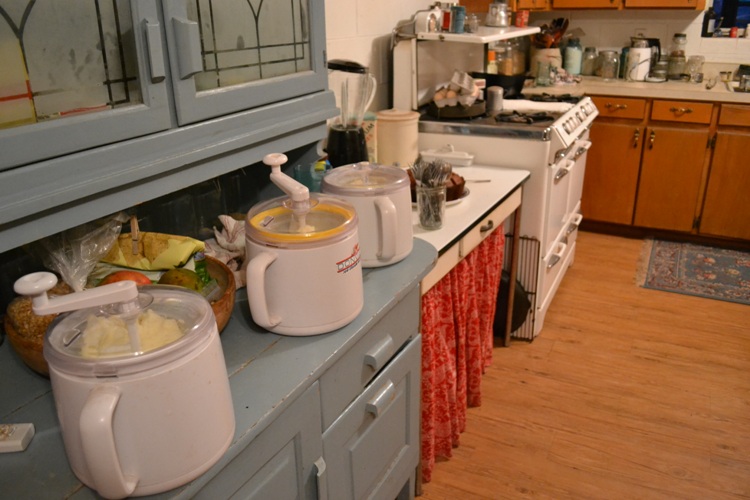 Vanilla ice cream made with our Donvier Ice Cream makers. The inside canisters are kept inside the freezer. When it's time to make ice cream, the frozen canister does the work and no ice, salt or electricity is needed.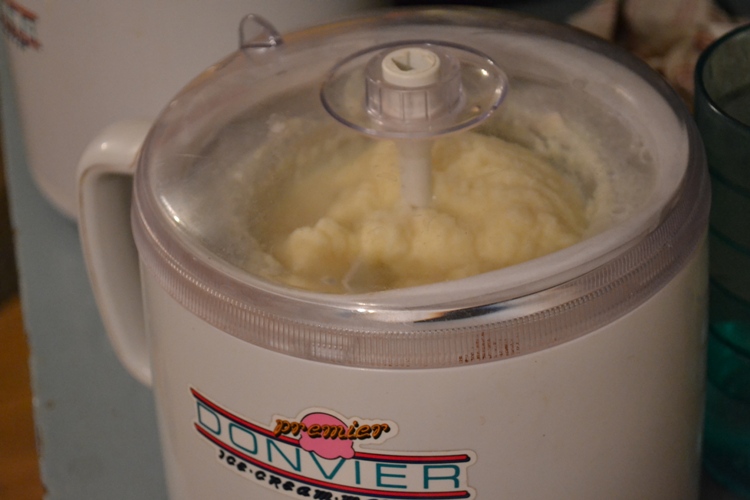 Sunday, May 20, 2012 - Atlanta's Creations - Some new items that Atlanta's been working on were photographed today in advance of being listed on her Etsy shop.
This Regency period dress is made out of the cutest sheer cotton fabric with a delicate flower and leaves pattern. It won't be listed long before it sells, I'm sure.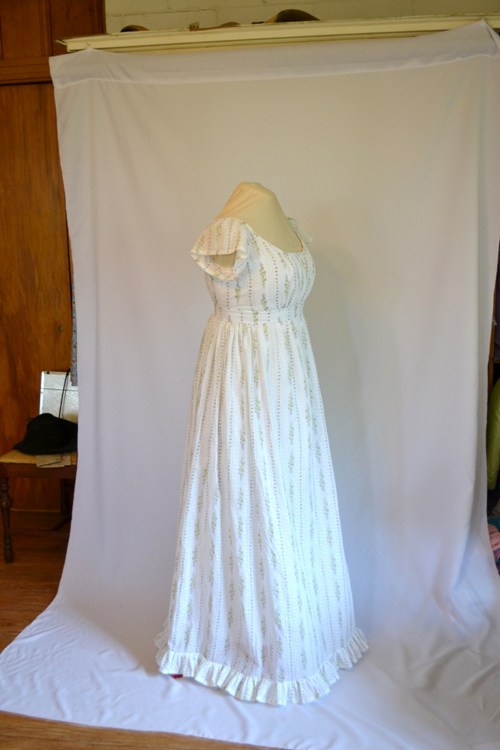 Carolina was recruited to model three new girl's princess costumes.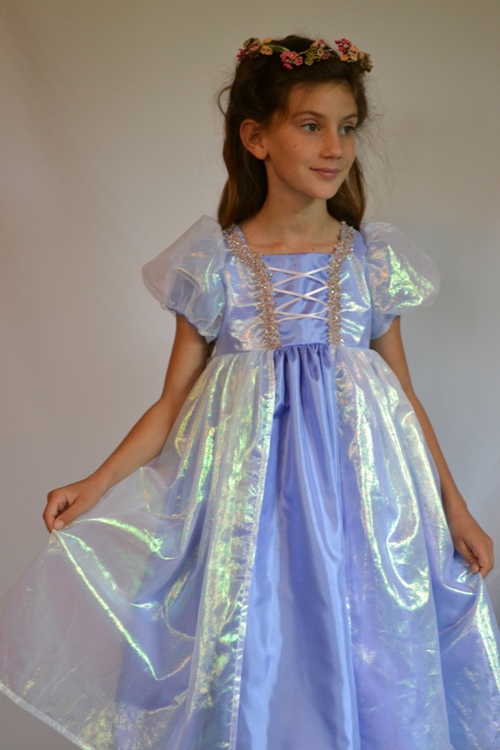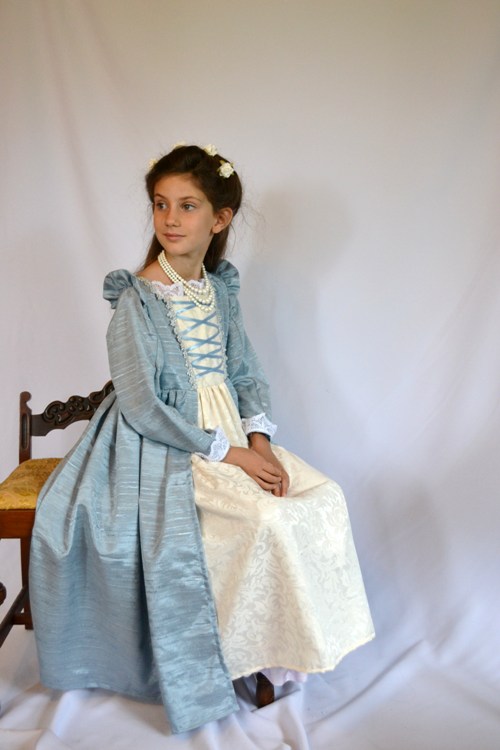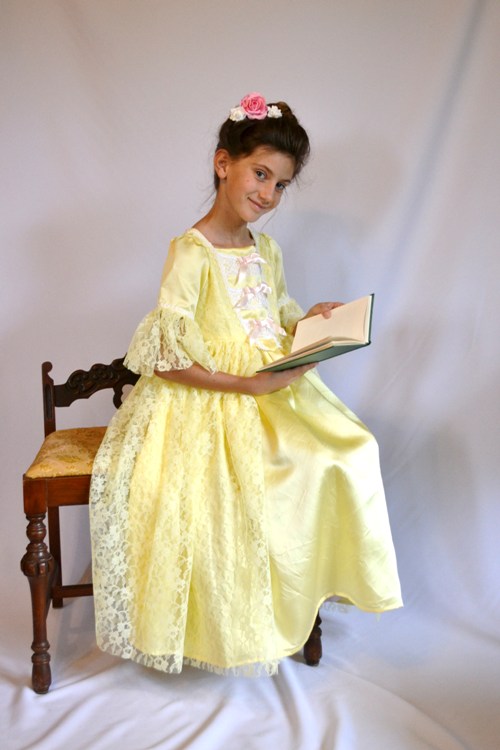 "Ring of Fire" Eclipse - I had heard about the rare phenomenon that was supposed to be visible from our area, but had forgotten about it. Then, while washing dishes I glanced up and saw this. We all ran outside for this breathtaking view.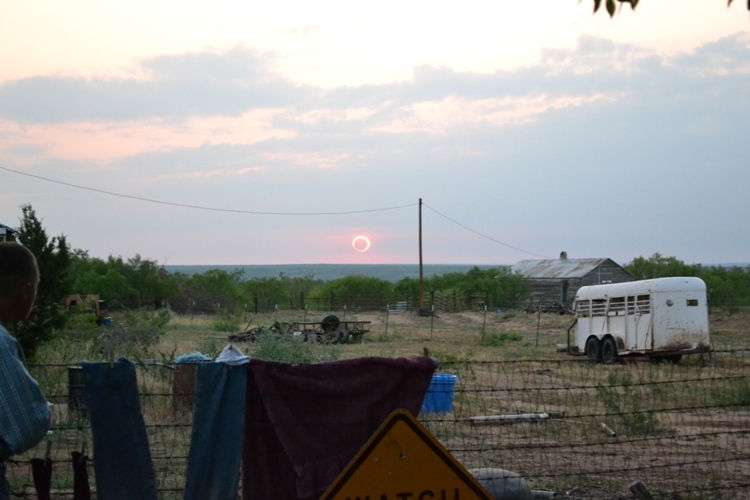 The blue clouds in the background enhance the fiery orange ring.
A short video of the event:
Ring of Fire Eclipse from Shannon Ranch on Vimeo.
A couple of years ago, Nathan brought us buckets full of peaches from his Dad's place at Cross Plains (see Peaches, Peaches, Everywhere, July 23, 2010). We threw all the peeling and pits into our raised garden beds to compost. This year, lots of little peach trees sprung up in that bed. I've planted 12 in the back yard. We put a sign (that we have left over from a TXDOT job) on the southwest side of each sapling to block the hot afternoon sun and the wind.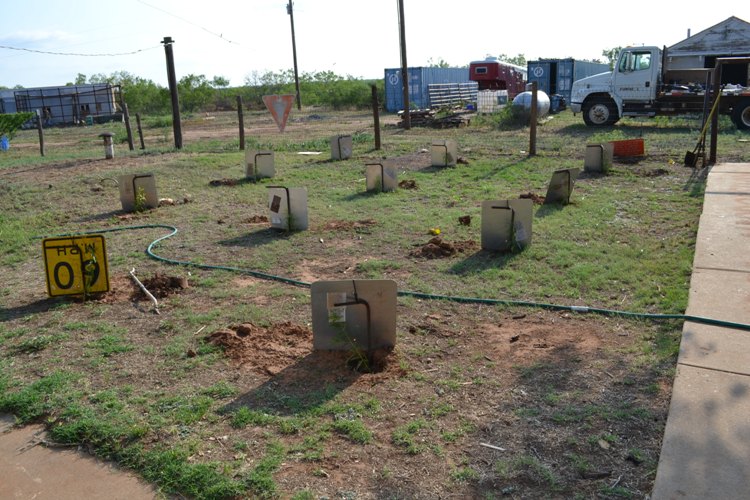 Sky Shots - I can't stop taking pictures of the clouds. Every day is a new painting from God!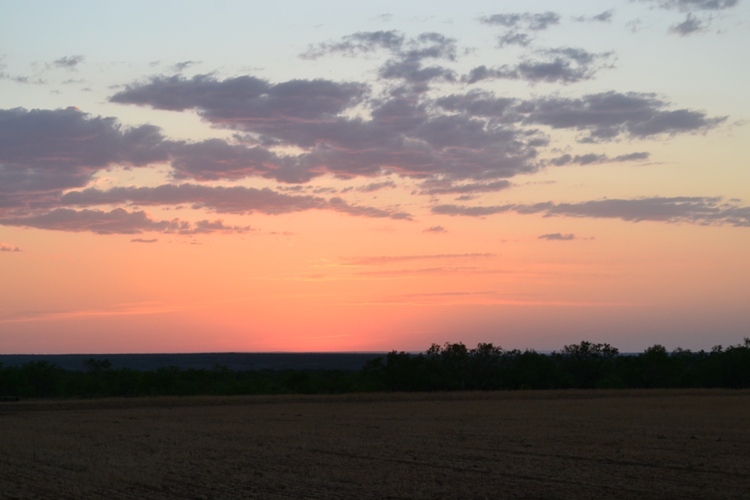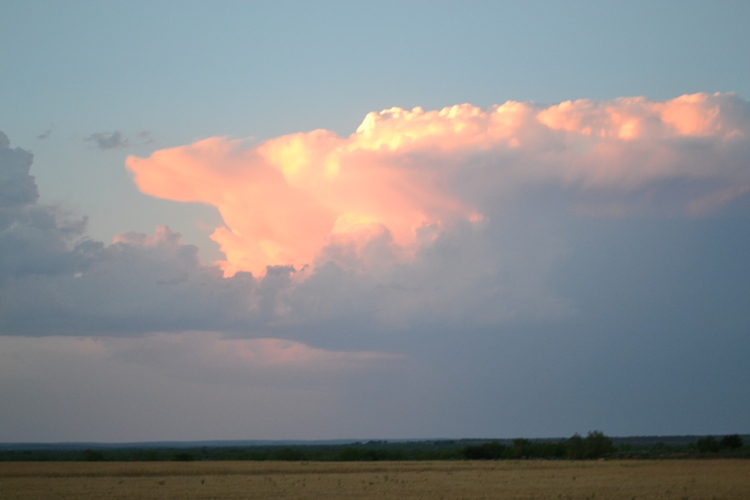 Friday, May 18 - Chicks and Keets - Cute new babies are hatching out around the ranch. Aspen has several incubators full of eggs. Tell all your friends to call Aspen if they need any poultry. (940-585-1115)
Guinea keets are very popular this year. These hardy birds are great free-rangers, very disease resistant and even make good watch dogs for snakes and other intruders, sounding a loud warning when they sense danger.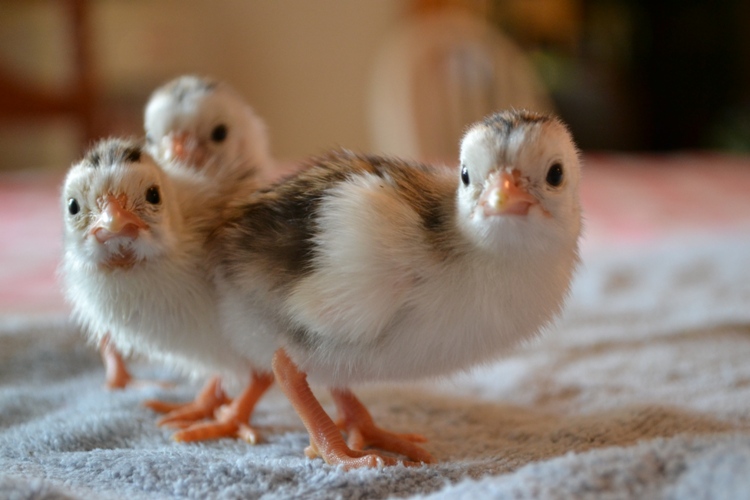 This solid white keet still has it's "egg tooth" on the end of its beak. It uses it to cut its way out of its shell. This falls off the second day or so after hatching.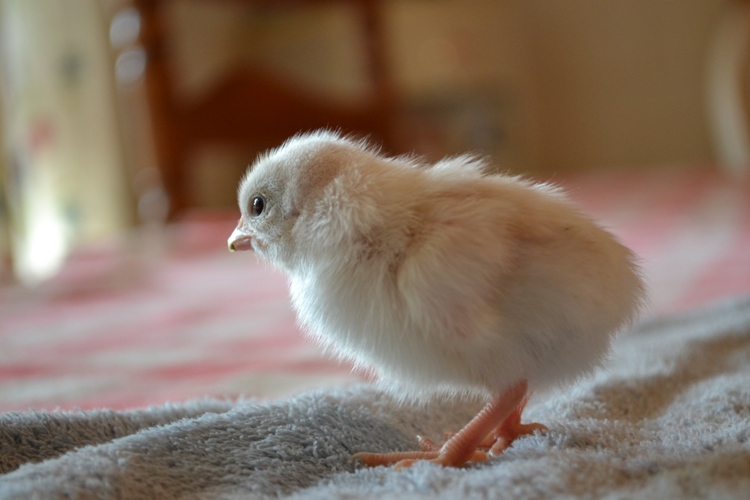 Could you ever believe those darling chicks could grow up to look like this? This adult lavender guinea is part of Aspen's flock.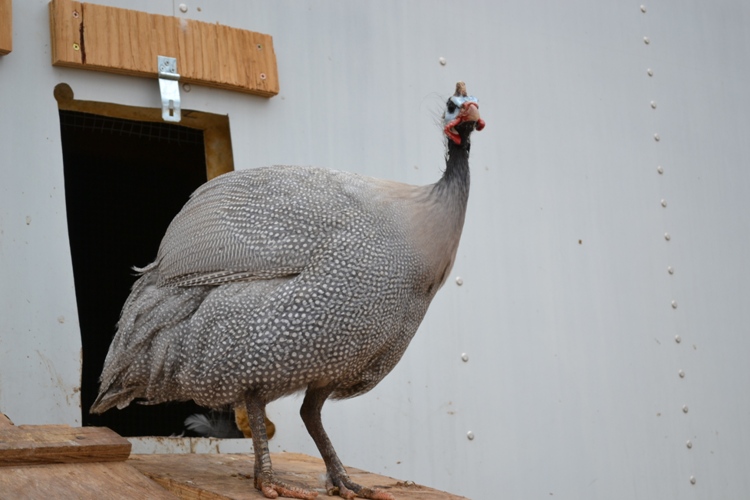 Wednesday, May 16 - Corporate Field Trip - We were asked by a friend of Eve Robert's to participate in a program used to train corporate employees to work as a team. These people were gathered in Ft. Worth for several days of training and were all BNSF employees (Burlington Northern Santa Fe Trains). One of the events, which was a surprise to the participants, was the event in which Stockton, Carolina and Michelle Roberts were involved. The employees were divided into groups before hand and a large tarp full of mystery items was placed on their table. They were told that a new member would be added to each team and that they were to make them feel comfortable, brief them on the team protocols and incorporate them into the project. Imagine their surprise when 12 kids were marched in and introduced as the new team members! When they opened up their tarps, they found lots of bike parts, but not necessarily parts to the same bike! The object of the exercise was to work together, delegating jobs and working with the other teams to try and solve the puzzle through negotiation and cooperation. The parents of the children watched from the back of the room. It looked like everyone was having fun and taking it all very seriously.
Stockton's team is trying to figure out which parts are missing.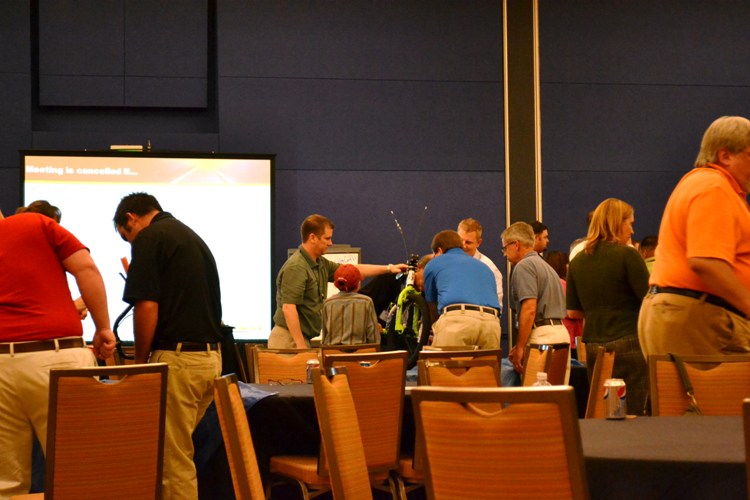 "Team Carolina" seems a little perplexed as they try to solve a "challenge" problem after which they will be rewarded with the combination to a lock that's been placed around the bike tire.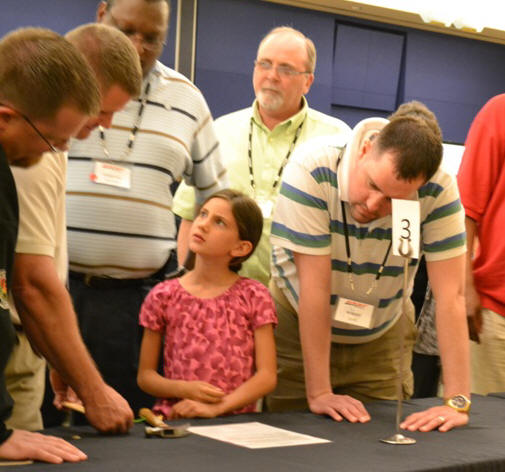 Michelle Roberts watches as her team bike takes shape.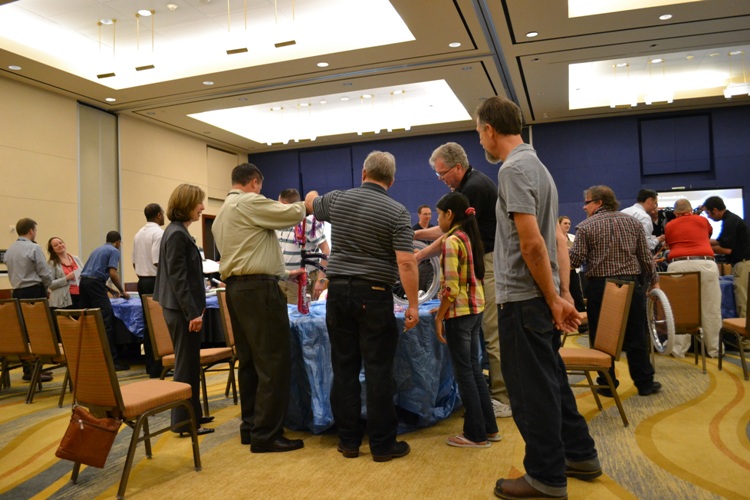 After the bike is completely assembled, team members pose for a picture and the child gets to take the bike home.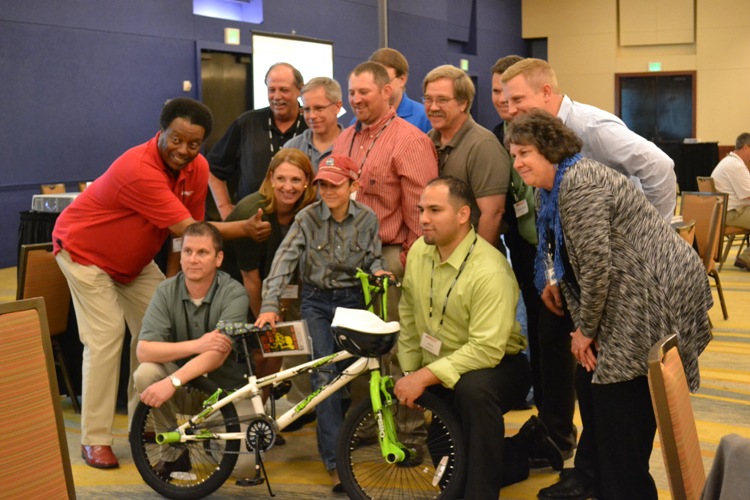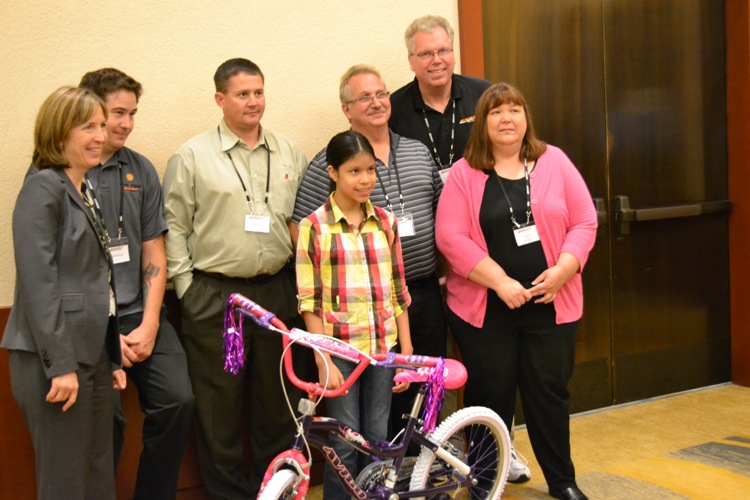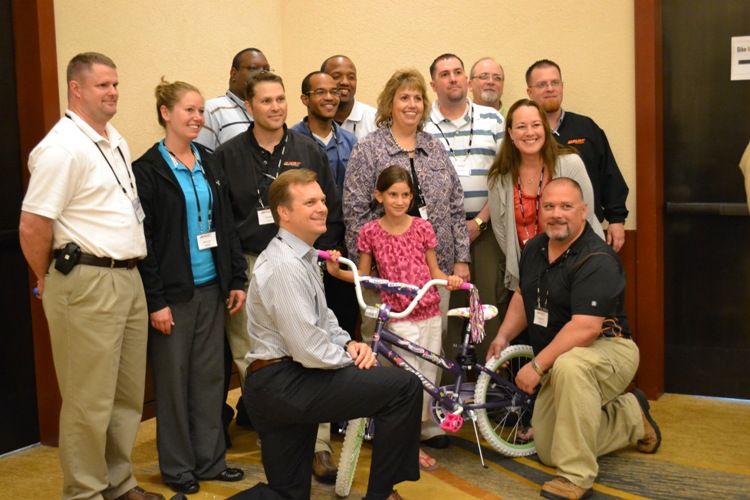 Saturday, May 12 - James' Birthday and Hyland's Visit - My sister, Misty, hosted a get together at her house so everyone could see Audrey (her oldest daughter), Joe (Audrey's husband) and Stanley (the all-important baby) who were in town from Rhode Island. In addition, Colby (Misty's second daughter) decided to have her son, James, birthday party the same afternoon while everyone was in town. It made for a fun day. Enjoy the pictures!
James' party had a fishing theme. Colby had everything decorated so cute. She did the cake herself.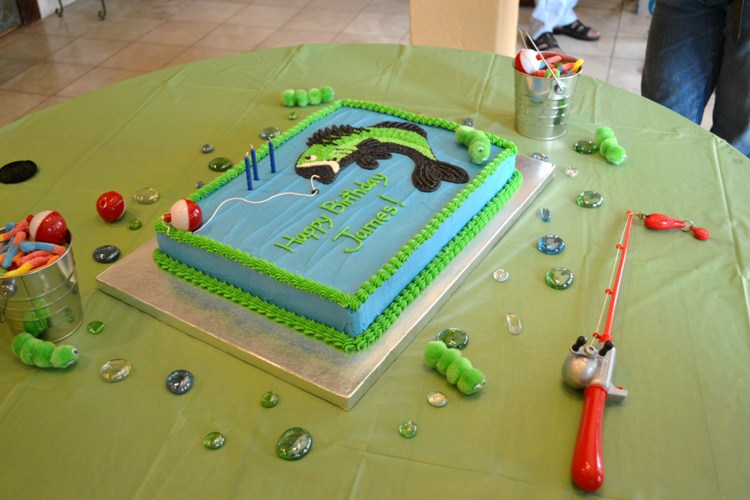 All the kids are assembled and ready.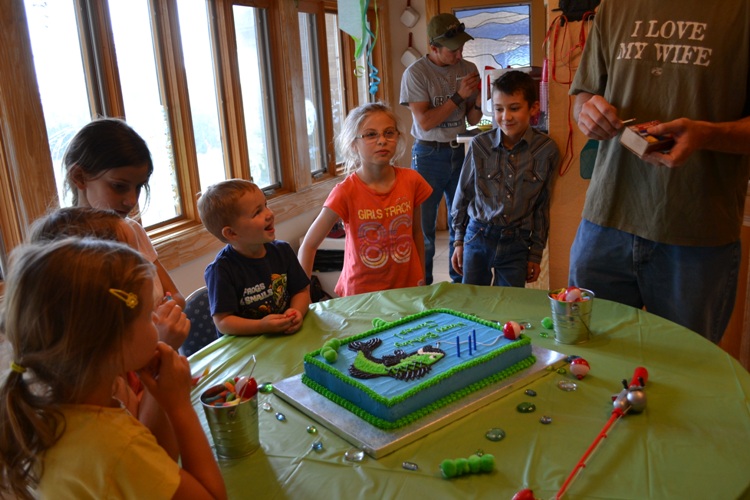 James anxiously awaits the lighting of the candles.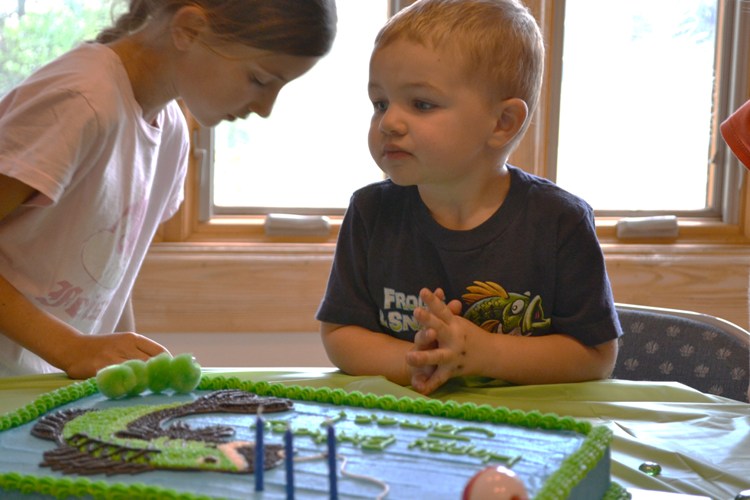 Audrey and Joe with darling Stanley Eugene.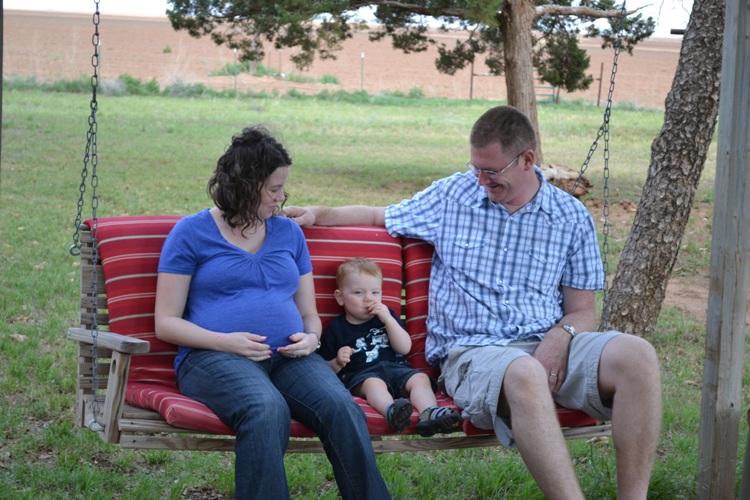 Stanley proves he's all boy by thoroughly splashing himself with dirty water--and loving it.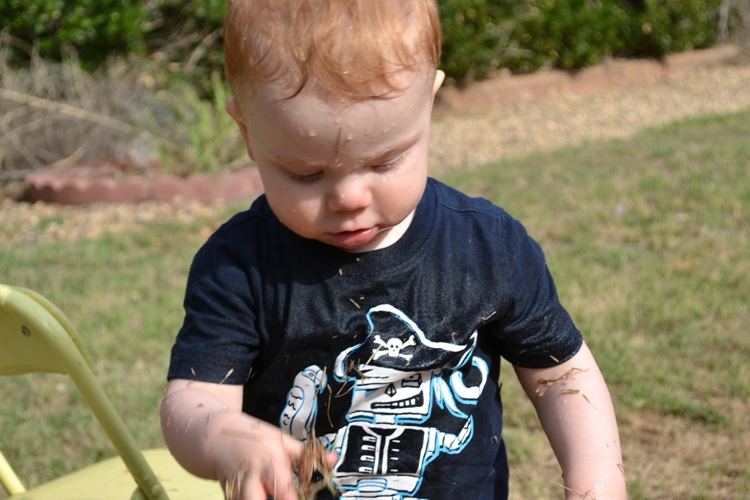 Mona Pringle and Granny watching the kids play. Earlier in the morning, Granny fell while walking in the mall and broke her right arm and left thumb. She didn't want to miss out on the fun although she must have been hurting. Thankfully, she's on the road to recovery, now.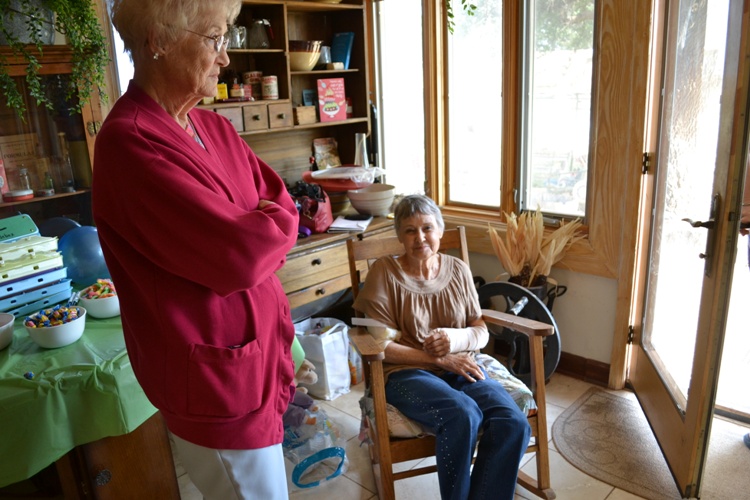 Hannah takes her turn trying to catch a "fish" prize.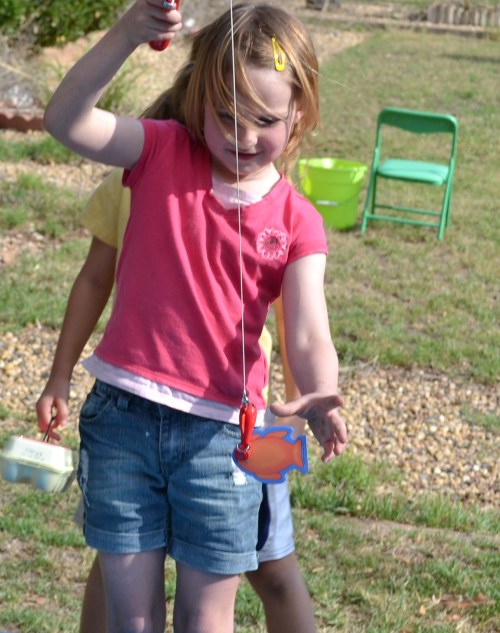 Blaine likes the balloons in the "fish tank".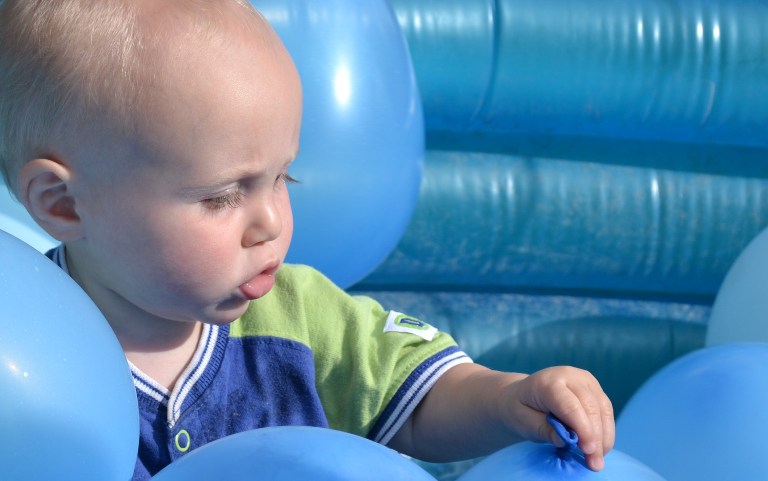 Stanley takes a shot at this fishin' thing.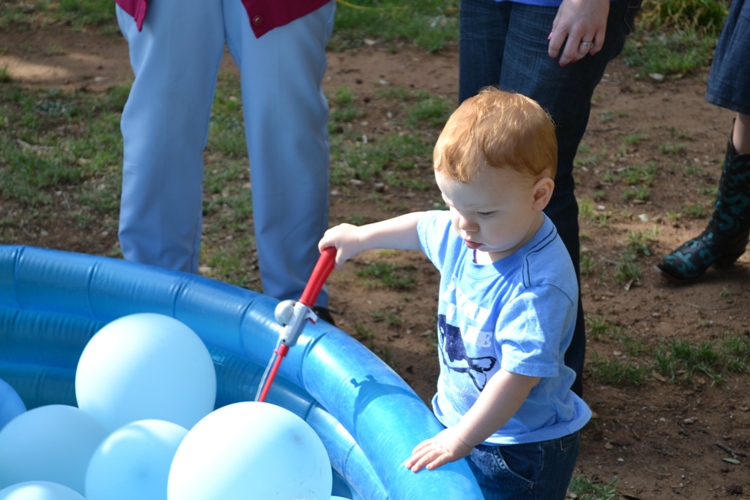 Audrey, Atlanta, Lora and Joe; all eyes are on the babies.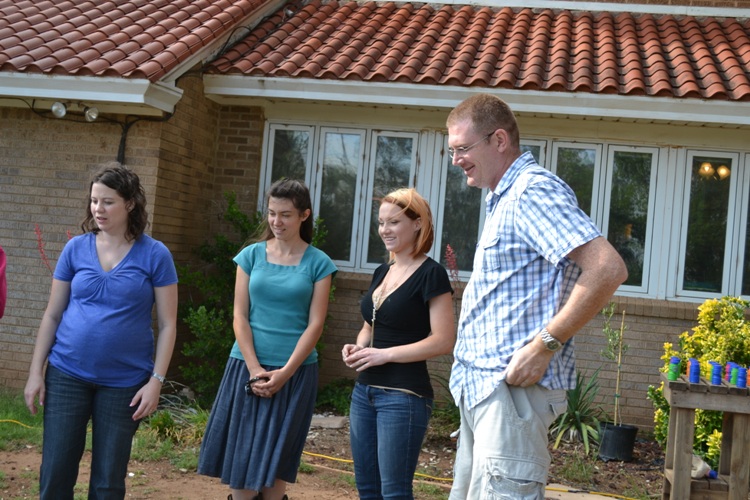 Cim patiently waits on the hamburgers and ice cream.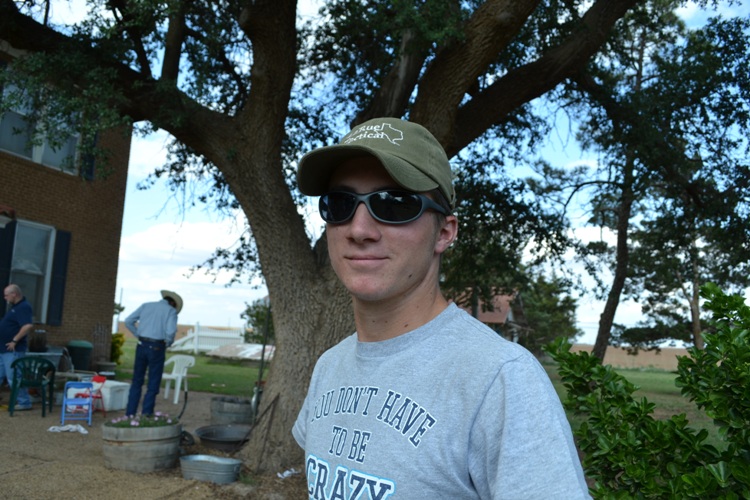 Audrey and Joe are expecting number 2 in September.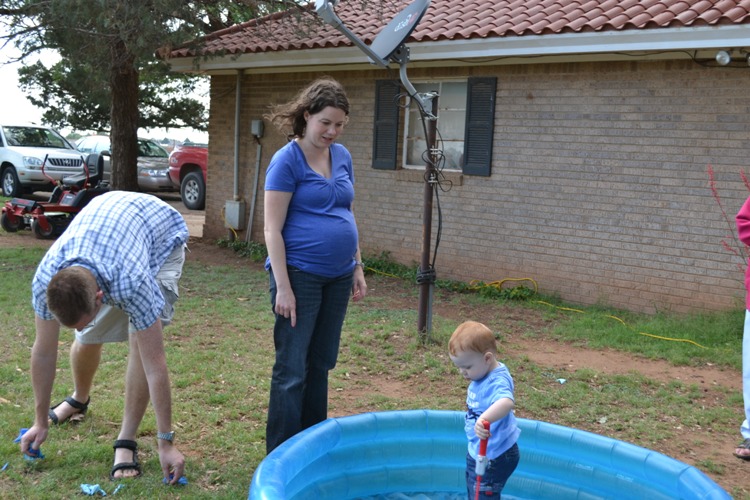 Colby puts on another fantastic party.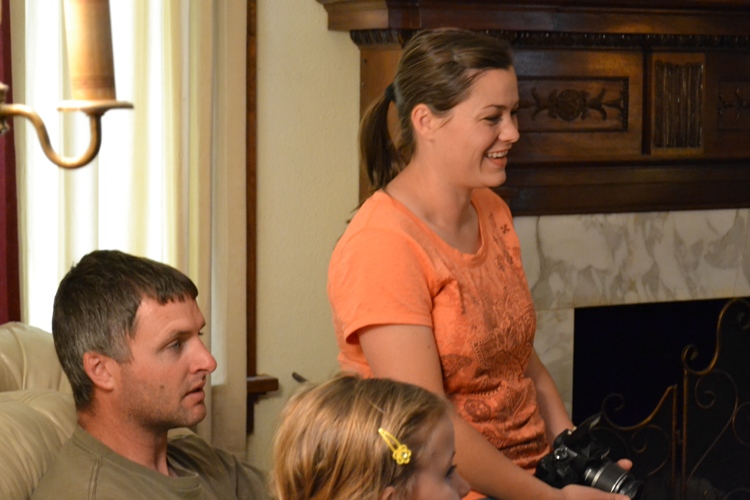 James opening his presents.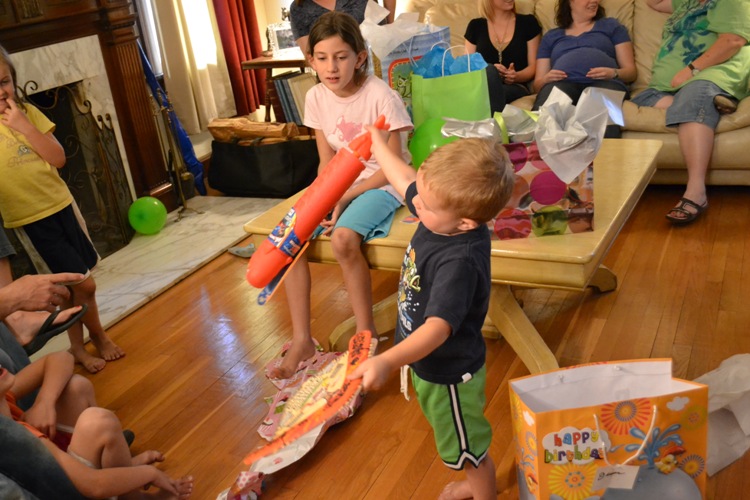 This was the first time Atlanta and the boys had seen Blaine or Stanley.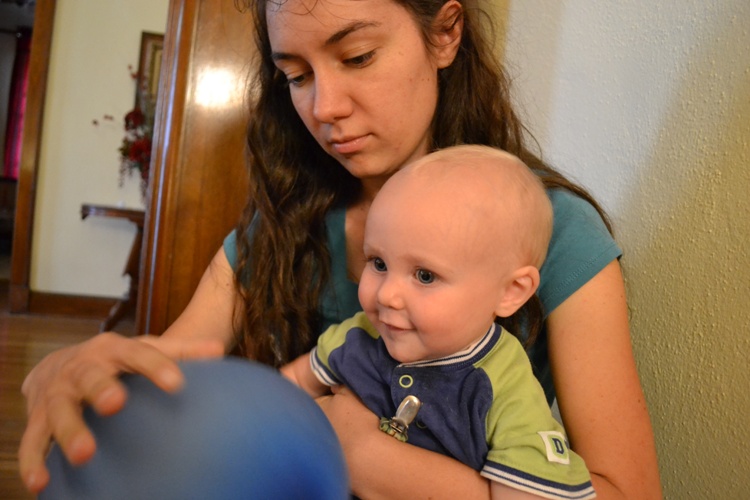 James tries out his new sword--baseball style.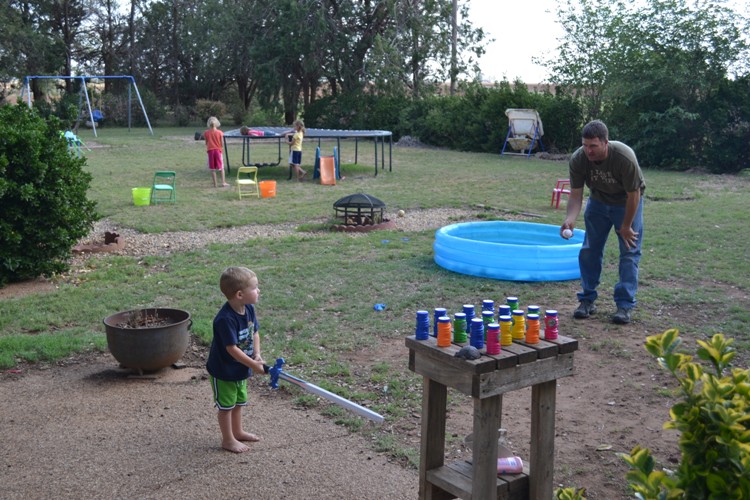 Windy tries to keep Stanley's attention on the fun so he'll let his great aunt carry him around.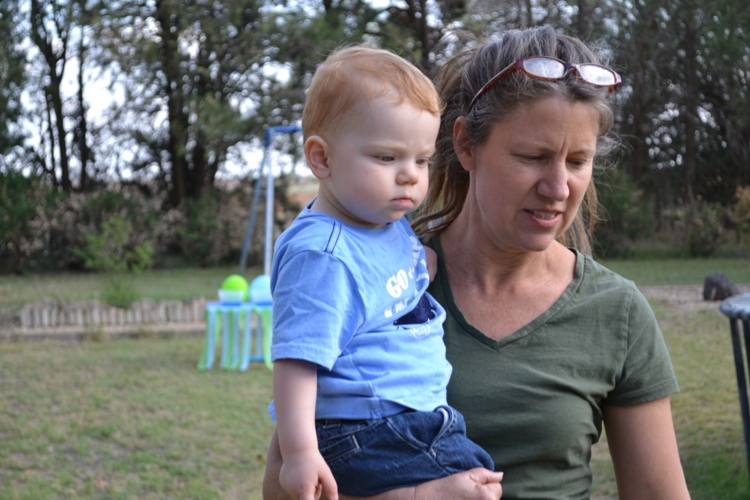 Blaine and Laredo having some rare fun.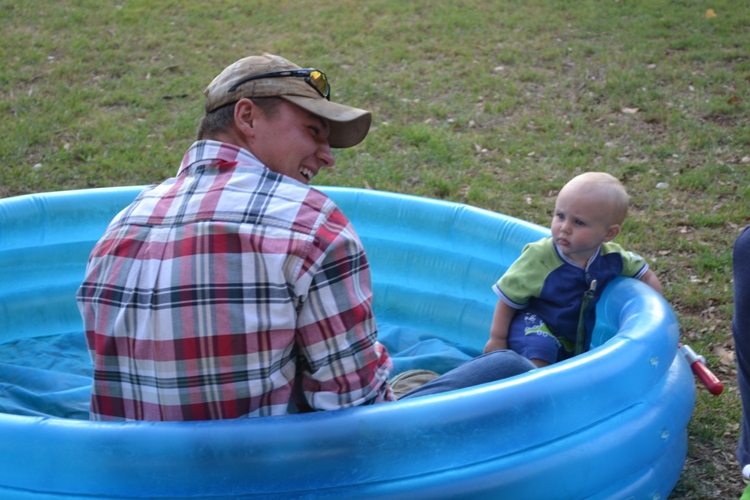 Atlanta and Laredo help Blaine discover some plastic fish in a bucket.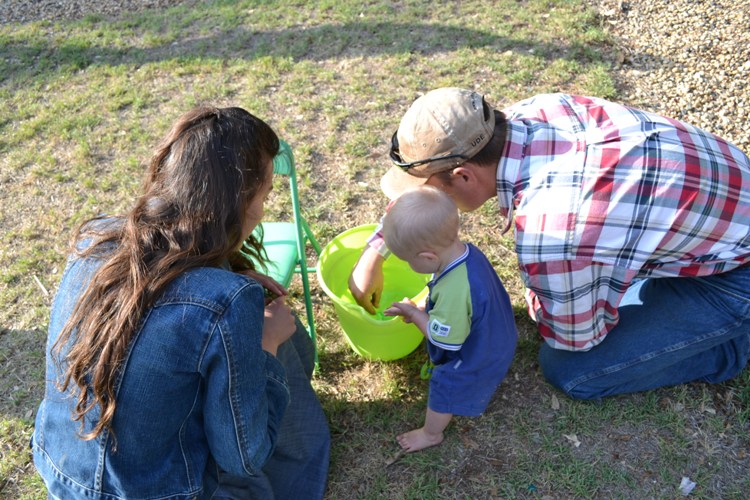 Maura Dendy joins the girls for a jump.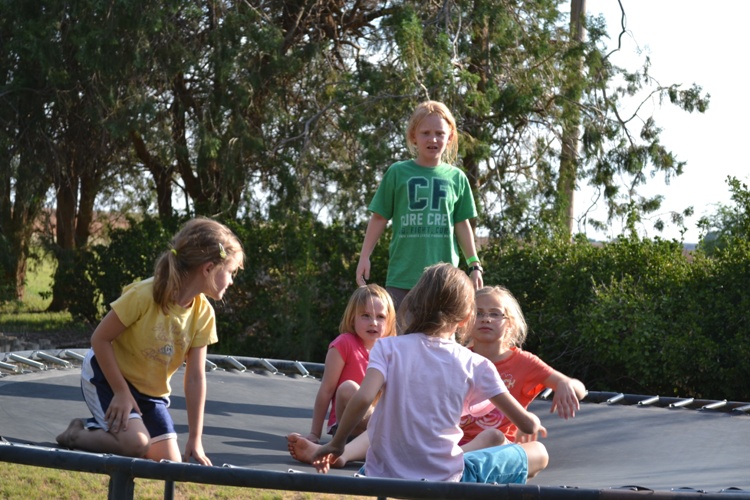 Sunny, Misty and Windy on the Trampoline--make that Hannah, Carly and Carolina.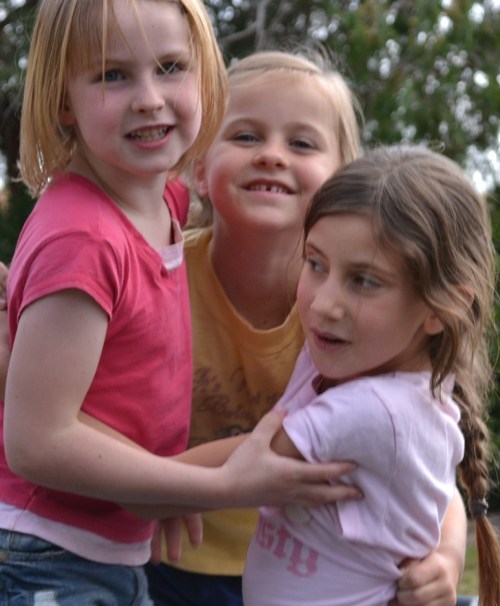 Saturday, May 5 - New Flooring - Last year we were able to put in new flooring in about half the house. This year our landlady wanted us to do the rest. We really love it, but it makes for a couple of hard, dirty days. I'll follow up with some pictures of how it all came out, soon.
The boys pull the carpet up on Saturday.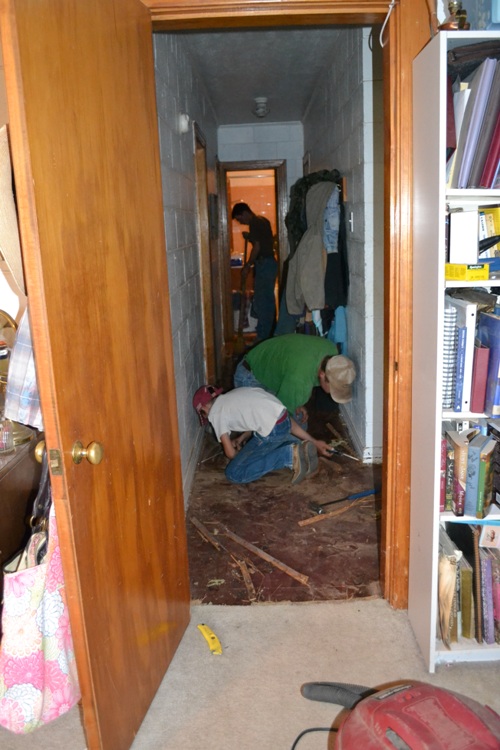 Then the new "wood" floors go down on Sunday.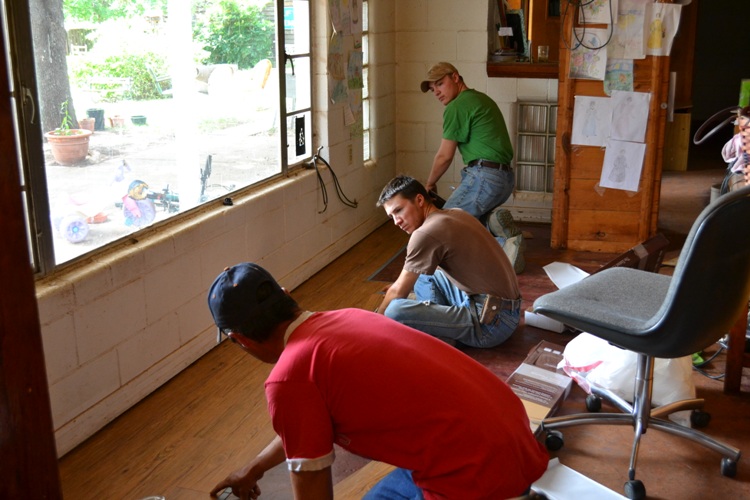 Early May Photos - See, I told you that I'd get around to posting pictures from the first part of the month. Enjoy these random shots from around the house and garden.
Our strawberry plants after a shower from the water hose.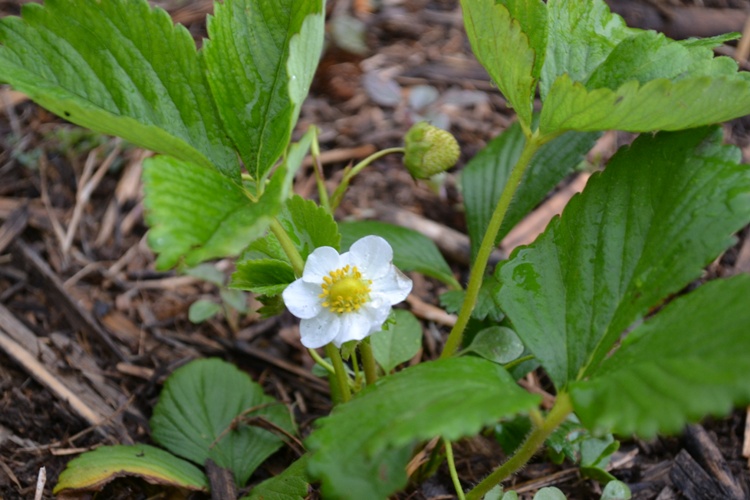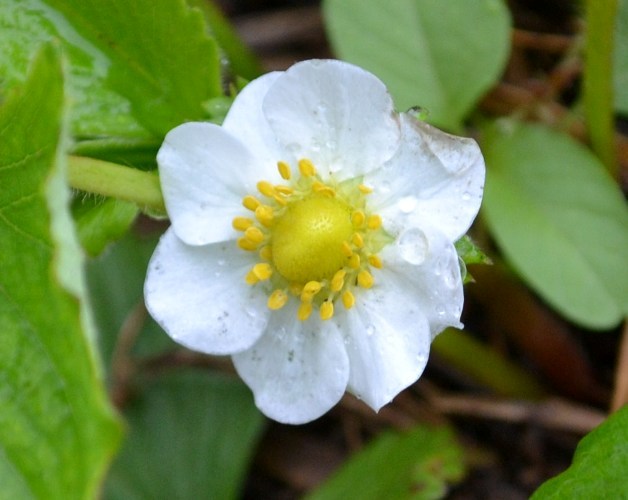 Atlanta harvests the first of the berries.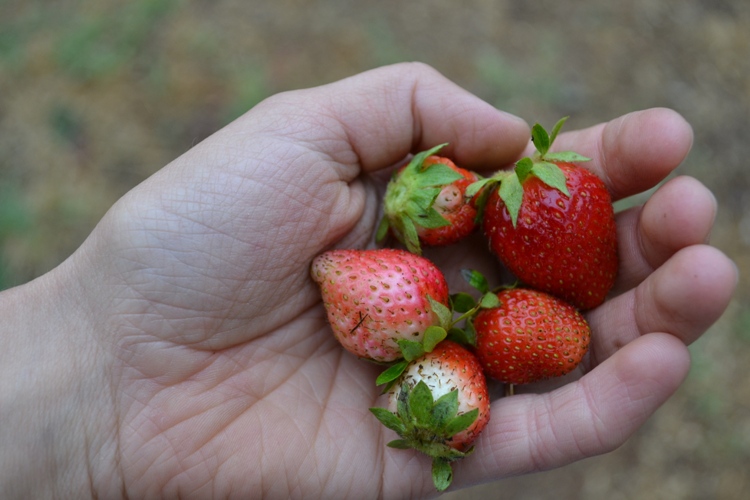 Aspen gets on a cooking spurt and makes some cobblers and homemade bread.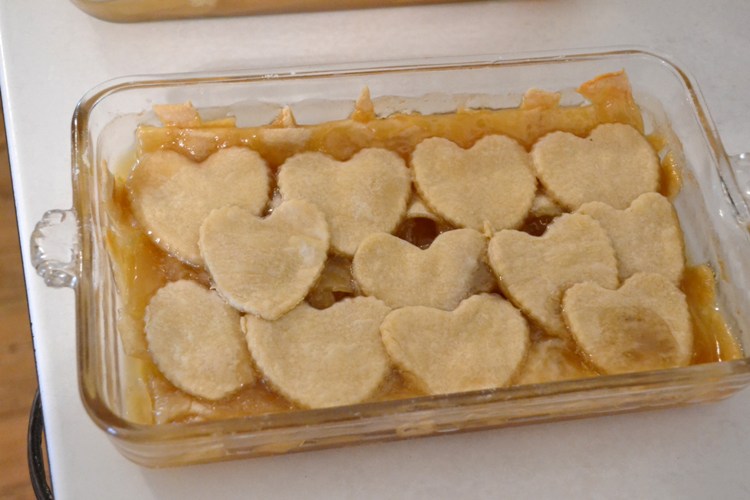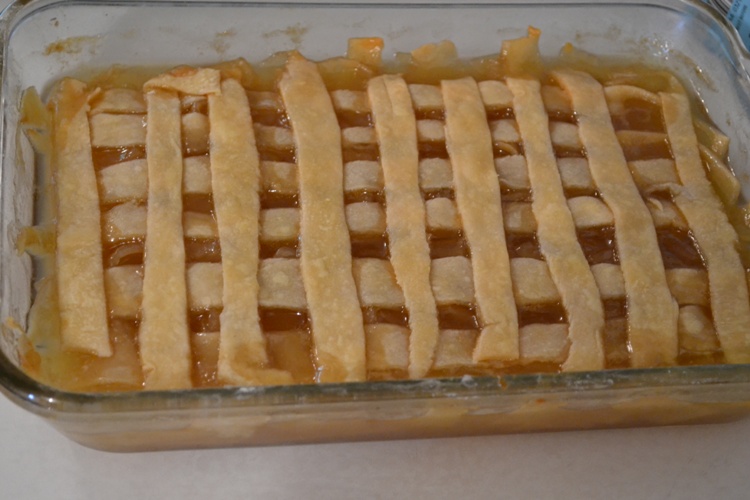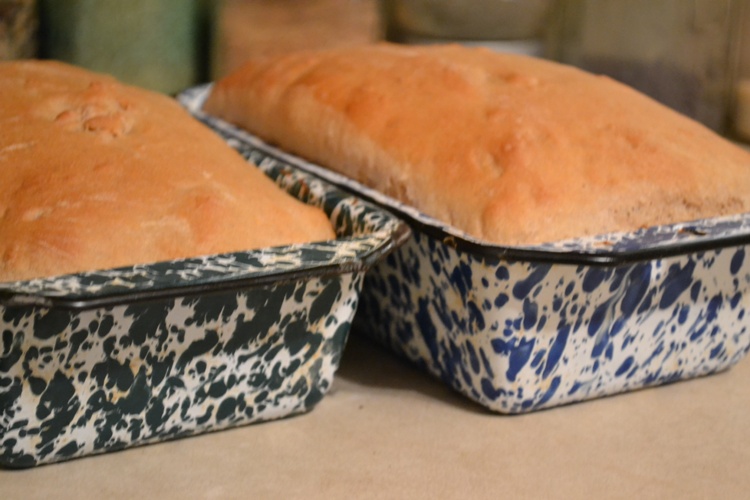 In an effort to come up with "something different" for the guy's lunches, we've started baking mini casseroles in glass canning jars. We warm them up in the mornings in a steamer before loading them into the lunch boxes. These are filled with cornbread casserole which is basically ground meat and onions layered with cornbread batter and cheese. We've also sent Mexican casserole, stir fry, beef stroganoff, pot pies and lasagna.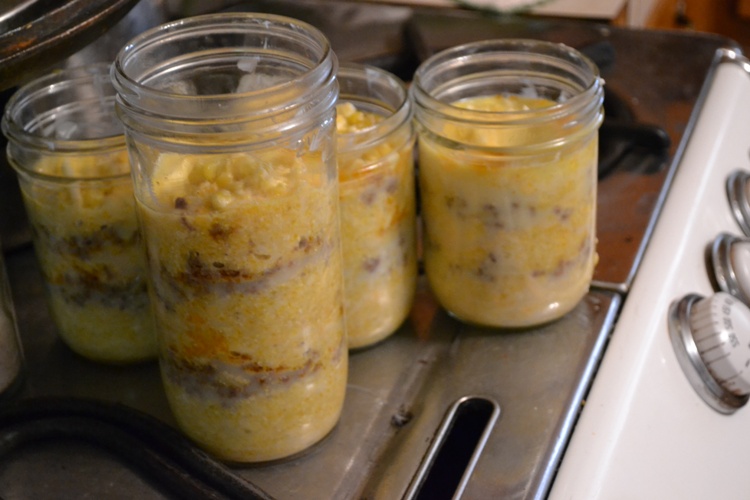 Atlanta made a new dress with an interesting story. Read about it by clicking here. This will take you to her blog, Story of a Seamstress, where you can read this posting and others and see her newly designed page banner. Also, check out her new facebook page, Bonny Blue Historical Clothing, here.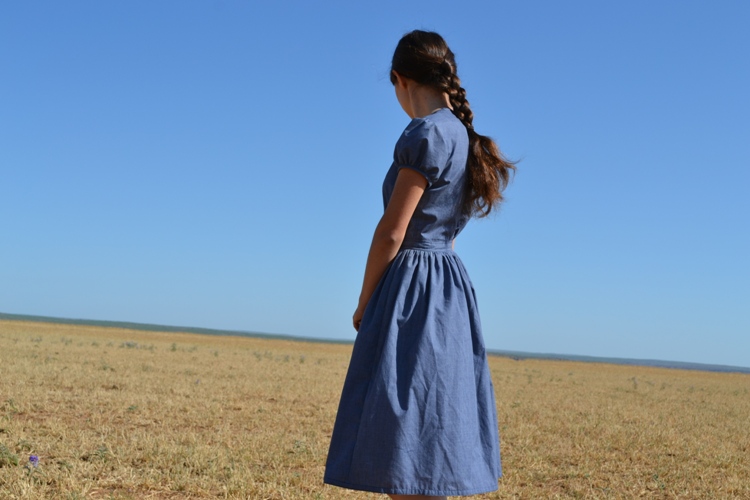 Check out our past news. Just click any link below: